Corneal Donor Tissue Preparation for Endothelial Keratoplasty
Published: 06-12-2012
ABSTRACT
Over the past ten years, corneal transplantation surgical techniques have undergone revolutionary changes1,2. Since its inception, traditional full thickness corneal transplantation has been the treatment to restore sight in those limited by corneal disease. Some disadvantages to this approach include a high degree of post-operative astigmatism, lack of predictable refractive outcome, and disturbance to the ocular surface. The development of Descemet's stripping endothelial keratoplasty (DSEK), transplanting only the posterior corneal stroma, Descemet's membrane, and endothelium, has dramatically changed treatment of corneal endothelial disease. DSEK is performed through a smaller incision; this technique avoids 'open sky' surgery with its risk of hemorrhage or expulsion, decreases the incidence of postoperative wound dehiscence, reduces unpredictable refractive outcomes, and may decrease the rate of transplant rejection3-6. Initially, cornea donor posterior lamellar dissection for DSEK was performed manually1 resulting in variable graft thickness and damage to the delicate corneal endothelial tissue during tissue processing. Automated lamellar dissection (Descemet's stripping automated endothelial keratoplasty, DSAEK) was developed to address these issues. Automated dissection utilizes the same technology as LASIK corneal flap creation with a mechanical microkeratome blade that helps to create uniform and thin tissue grafts for DSAEK surgery with minimal corneal endothelial cell loss in tissue processing. Eye banks have been providing full thickness corneas for surgical transplantation for many years. In 2006, eye banks began to develop methodologies for supplying precut corneal tissue for endothelial keratoplasty. With the input of corneal surgeons, eye banks have developed thorough protocols to safely and effectively prepare posterior lamellar tissue for DSAEK surgery. This can be performed preoperatively at the eye bank. Research shows no significant difference in terms of the quality of the tissue7 or patient outcomes8,9 using eye bank precut tissue versus surgeon-prepared tissue for DSAEK surgery. For most corneal surgeons, the availability of precut DSAEK corneal tissue saves time and money10, and reduces the stress of performing the donor corneal dissection in the operating room. In part because of the ability of the eye banks to provide high quality posterior lamellar corneal in a timely manner, DSAEK has become the standard of care for surgical management of corneal endothelial disease. The procedure that we are describing is the preparation of the posterior lamellar cornea at the eye bank for transplantation in DSAEK surgery (Figure 1).
18 Related JoVE Articles!
Corneal Donor Tissue Preparation for Descemet's Membrane Endothelial Keratoplasty
Institutions: University of Michigan, MidWest Eye Banks.

Descemet's Membrane Endothelial Keratoplasty (DMEK) is a form of corneal transplantation in which only a single cell layer, the corneal endothelium, along with its basement membrane (Descemet's membrane) is introduced onto the recipient's posterior stroma
3
. Unlike Descemet's Stripping Automated Endothelial Keratoplasty (DSAEK), where additional donor stroma is introduced, no unnatural stroma-to-stroma interface is created. As a result, the natural anatomy of the cornea is preserved as much as possible allowing for improved recovery time and visual acuity
4
. Endothelial Keratoplasty (EK) is the procedure of choice for treatment of endothelial dysfunction. The advantages of EK include rapid recovery of vision, preservation of ocular integrity and minimal refractive change due to use of a small, peripheral incision
1
. DSAEK utilizes donor tissue prepared with partial thickness stroma and endothelium. The rapid success and utilization of this procedure can be attributed to availability of eye-bank prepared precut tissue. The benefits of eye-bank preparation of donor tissue include elimination of need for specialized equipment in the operating room and availability of back up donor tissue in case of tissue perforation during preparation. In addition, high volume preparation of donor tissue by eye-bank technicians may provide improved quality of donor tissue. DSAEK may have limited best corrected visual acuity due to creation of a stromal interface between the donor and recipient cornea. Elimination of this interface with transplantation of only donor Descemet's membrane and endothelium in DMEK may improve visual outcomes and reduce complications after EK
5
. Similar to DSAEK, long term success and acceptance of DMEK is dependent on ease of availability of precut, eye-bank prepared donor tissue. Here we present a stepwise approach to donor tissue preparation which may reduce some barriers eye-banks face in providing DMEK grafts.
Medicine, Issue 91, DMEK, EK, endothelial keratoplasty, Descemet's membrane endothelial keratoplasty, corneal transplantation, eye bank, donor tissue preparation
51919
Murine Corneal Transplantation: A Model to Study the Most Common Form of Solid Organ Transplantation
Institutions: Saint Louis University.

Corneal transplantation is the most common form of organ transplantation in the United States with between 45,000 and 55,000 procedures performed each year. While several animal models exist for this procedure and mice are the species that is most commonly used. The reasons for using mice are the relative cost of using this species, the existence of many genetically defined strains that allow for the study of immune responses, and the existence of an extensive array of reagents that can be used to further define responses in this species. This model has been used to define factors in the cornea that are responsible for the relative immune privilege status of this tissue that enables corneal allografts to survive acute rejection in the absence of immunosuppressive therapy. It has also been used to define those factors that are most important in rejection of such allografts. Consequently, much of what we know concerning mechanisms of both corneal allograft acceptance and rejection are due to studies using a murine model of corneal transplantation. In addition to describing a model for acute corneal allograft rejection, we also present for the first time a model of late-term corneal allograft rejection.
Immunology, Issue 93, Transplantation, Allograft Responses, Immune Privilege, Cornea, Inflammatory cells, T cells, Macrophages
51830
A Simplified Technique for In situ Excision of Cornea and Evisceration of Retinal Tissue from Human Ocular Globe
Institutions: Fondazione Banca Degli Occhi del Veneto O.N.L.U.S. , Telethon Institute for Genetics & Medicine (T.I.G.E.M.).

Enucleation is the process of retrieving the ocular globe from a cadaveric donor leaving the rest of the globe undisturbed. Excision refers to the retrieval of ocular tissues, especially cornea, by cutting it separate from the ocular globe. Evisceration is the process of removing the internal organs referred here as retina. The ocular globe consists of the cornea, the sclera, the vitreous body, the lens, the iris, the retina, the choroid, muscles etc (Suppl.
Figure 1
). When a patient is suffering from corneal damage, the cornea needs to be removed and a healthy one must be transplanted by keratoplastic surgeries. Genetic disorders or defects in retinal function can compromise vision. Human ocular globes can be used for various surgical procedures such as eye banking, transplantation of human cornea or sclera and research on ocular tissues. However, there is little information available on human corneal and retinal excision, probably due to the limited accessibility to human tissues. Most of the studies describing similar procedures are performed on animal models. Research scientists rely on the availability of properly dissected and well-conserved ocular tissues in order to extend the knowledge on human eye development, homeostasis and function. As we receive high amount of ocular globes out of which approximately 40% (
Table 1
) of them are used for research purposes, we are able to perform huge amount of experiments on these tissues, defining techniques to excise and preserve them regularly. The cornea is an avascular tissue which enables the transmission of light onto the retina and for this purpose should always maintain a good degree of transparency. Within the cornea, the limbus region, which is a reservoir of the stem cells, helps the reconstruction of epithelial cells and restricts the overgrowth of the conjunctiva maintaining corneal transparency and clarity. The size and thickness of the cornea are critical for clear vision, as changes in either of them could lead to distracted, unclear vision. The cornea comprises of 5 layers; a) epithelium, b) Bowman's layer, c) stroma, d) Descemet's membrane and e) endothelium. All layers should function properly to ensure clear vision
4,5,6
. The choroid is the intermediate tunic between the sclera and retina, bounded on the interior by the Bruch's membrane and is responsible for blood flow in the eye. The choroid also helps to regulate the temperature and supplies nourishment to the outer layers of the retina
5,6
. The retina is a layer of nervous tissue that covers the back of the ocular globe (Suppl.
Figure 1
) and consists of two parts: a photoreceptive part and a non-receptive part. The retina helps to receive the light from the cornea and lens and converts it into the chemical energy eventually transmitted to the brain with help of the optic nerve
5,6
. The aim of this paper is to provide a protocol for the dissection of corneal and retinal tissues from human ocular globes. Avoiding cross-contamination with adjacent tissues and preserving RNA integrity is of fundamental importance as such tissues are indispensable for research purposes aimed at (i) characterizing the transcriptome of the ocular tissues, (ii) isolating stem cells for regenerative medicine projects, and (iii) evaluating histological differences between tissues from normal/affected subjects. In this paper we describe the technique we currently use to remove the cornea, the choroid and retinal tissues from an ocular globe. Here we provide a detailed protocol for the dissection of the human ocular globe and the excision of corneal and retinal tissues. The accompanying video will help researchers to learn an appropriate technique for the retrieval of precious human tissues which are difficult to find regularly.
Medicine, Issue 64, Physiology, Human cadaver ocular globe, in situ excision, corneal tissue, in situ evisceration, retinal tissue
3765
A Mouse Model of the Cornea Pocket Assay for Angiogenesis Study
Institutions: National Eye Institute.

A normal cornea is clear of vascular tissues. However, blood vessels can be induced to grow and survive in the cornea when potent angiogenic factors are administered
1
. This uniqueness has made the cornea pocket assay one of the most used models for angiogenesis studies. The cornea composes multiple layers of cells. It is therefore possible to embed a pellet containing the angiogenic factor of interest in the cornea to investigate its angiogenic effect
2,3
. Here, we provide a step by step demonstration of how to (I) produce the angiogenic factor-containing pellet (II) embed the pellet into the cornea (III) analyze the angiogenesis induced by the angiogenic factor of interest. Since the basic fibroblast growth factor (bFGF) is known as one of the most potent angiogenic factors
4
, it is used here to induce angiogenesis in the cornea.
Medicine, Issue 54, mouse cornea pocket assay, angiogenesis
3077
Heterotopic Heart Transplantation in Mice
Institutions: University of California, San Francisco - UCSF.

The mouse heterotopic heart transplantation has been used widely since it was introduced by Drs. Corry and Russell in 1973. It is particularly valuable for studying rejection and immune response now that newer transgenic and gene knockout mice are available, and a large number of immunologic reagents have been developed. The heart transplant model is less stringent than the skin transplant models, although technically more challenging. We have developed a modified technique and have completed over 1000 successful cases of heterotopic heart transplantation in mice. When making anastomosis of the ascending aorta and abdominal aorta, two stay sutures are placed at the proximal and distal apexes of recipient abdominal aorta with the donor s ascending aorta, then using 11-0 suture for anastomosis on both side of aorta with continuing sutures. The stay sutures make the anastomosis easier and 11-0 is an ideal suture size to avoid bleeding and thrombosis. When making anastomosis of pulmonary artery and inferior vena cava, two stay sutures are made at the proximal apex and distal apex of the recipient s inferior vena cava with the donor s pulmonary artery. The left wall of the inferior vena cava and donor s pulmonary artery is closed with continuing sutures in the inside of the inferior vena cava after, one knot with the proximal apex stay suture the right wall of the inferior vena cava and the donor s pulmonary artery are closed with continuing sutures outside the inferior vena cave with 10-0 sutures. This method is easier to perform because anastomosis is made just on the one side of the inferior vena cava and 10-0 sutures is the right size to avoid bleeding and thrombosis. In this article, we provide details of the technique to supplement the video.
Developmental Biology, Issue 6, Microsurgical Techniques, Heart Transplant, Allograft Rejection Model
238
Design of a Cyclic Pressure Bioreactor for the Ex Vivo Study of Aortic Heart Valves
Institutions: Mississippi State University.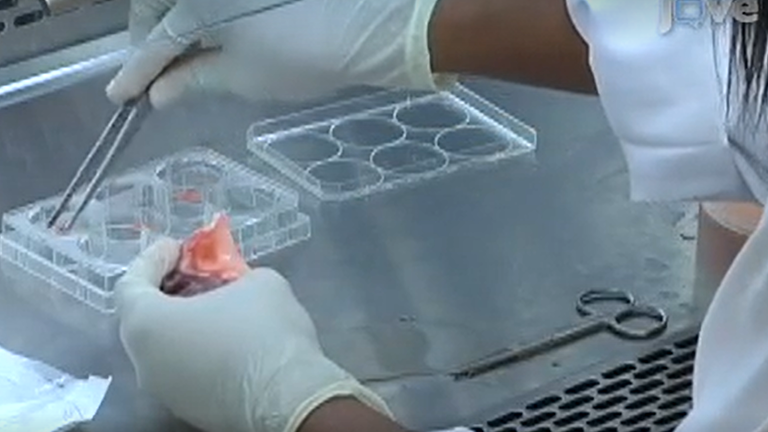 The aortic valve, located between the left ventricle and the aorta, allows for unidirectional blood flow, preventing backflow into the ventricle. Aortic valve leaflets are composed of interstitial cells suspended within an extracellular matrix (ECM) and are lined with an endothelial cell monolayer. The valve withstands a harsh, dynamic environment and is constantly exposed to shear, flexion, tension, and compression. Research has shown calcific lesions in diseased valves occur in areas of high mechanical stress as a result of endothelial disruption or interstitial matrix damage
1-3
. Hence, it is not surprising that epidemiological studies have shown high blood pressure to be a leading risk factor in the onset of aortic valve disease
4
. The only treatment option currently available for valve disease is surgical replacement of the diseased valve with a bioprosthetic or mechanical valve
5
. Improved understanding of valve biology in response to physical stresses would help elucidate the mechanisms of valve pathogenesis. In turn, this could help in the development of non-invasive therapies such as pharmaceutical intervention or prevention. Several bioreactors have been previously developed to study the mechanobiology of native or engineered heart valves
6-9
. Pulsatile bioreactors have also been developed to study a range of tissues including cartilage
10
, bone
11
and bladder
12
. The aim of this work was to develop a cyclic pressure system that could be used to elucidate the biological response of aortic valve leaflets to increased pressure loads. The system consisted of an acrylic chamber in which to place samples and produce cyclic pressure, viton diaphragm solenoid valves to control the timing of the pressure cycle, and a computer to control electrical devices. The pressure was monitored using a pressure transducer, and the signal was conditioned using a load cell conditioner. A LabVIEW program regulated the pressure using an analog device to pump compressed air into the system at the appropriate rate. The system mimicked the dynamic transvalvular pressure levels associated with the aortic valve; a saw tooth wave produced a gradual increase in pressure, typical of the transvalvular pressure gradient that is present across the valve during diastole, followed by a sharp pressure drop depicting valve opening in systole. The LabVIEW program allowed users to control the magnitude and frequency of cyclic pressure. The system was able to subject tissue samples to physiological and pathological pressure conditions. This device can be used to increase our understanding of how heart valves respond to changes in the local mechanical environment.
Bioengineering, Issue 54, Mechanobiology, Bioreactor, Aortic Heart Valve, Organ Culture
3316
Design of a Biaxial Mechanical Loading Bioreactor for Tissue Engineering
Institutions: The Warren Alpert Brown Medical School of Brown University and the Rhode Island Hospital, VA Medical Center, Providence, RI, University of Texas Southwestern Medical Center .

We designed a loading device that is capable of applying uniaxial or biaxial mechanical strain to a tissue engineered biocomposites fabricated for transplantation. While the device primarily functions as a bioreactor that mimics the native mechanical strains, it is also outfitted with a load cell for providing force feedback or mechanical testing of the constructs. The device subjects engineered cartilage constructs to biaxial mechanical loading with great precision of loading dose (amplitude and frequency) and is compact enough to fit inside a standard tissue culture incubator. It loads samples directly in a tissue culture plate, and multiple plate sizes are compatible with the system. The device has been designed using components manufactured for precision-guided laser applications. Bi-axial loading is accomplished by two orthogonal stages. The stages have a 50 mm travel range and are driven independently by stepper motor actuators, controlled by a closed-loop stepper motor driver that features micro-stepping capabilities, enabling step sizes of less than 50 nm. A polysulfone loading platen is coupled to the bi-axial moving platform. Movements of the stages are controlled by Thor-labs Advanced Positioning Technology (APT) software. The stepper motor driver is used with the software to adjust load parameters of frequency and amplitude of both shear and compression independently and simultaneously. Positional feedback is provided by linear optical encoders that have a bidirectional repeatability of 0.1 μm and a resolution of 20 nm, translating to a positional accuracy of less than 3 μm over the full 50 mm of travel. These encoders provide the necessary position feedback to the drive electronics to ensure true nanopositioning capabilities. In order to provide the force feedback to detect contact and evaluate loading responses, a precision miniature load cell is positioned between the loading platen and the moving platform. The load cell has high accuracies of 0.15% to 0.25% full scale.
Bioengineering, Issue 74, Biomedical Engineering, Biophysics, Cellular Biology, Medicine, Anatomy, Physiology, Cell Engineering, Bioreactors, Culture Techniques, Cell Engineering, Tissue Engineering, compression loads, shear loads, Tissues, bioreactor, mechanical loading, compression, shear, musculoskeletal, cartilage, bone, transplantation, cell culture
50387
Simultaneous Multicolor Imaging of Biological Structures with Fluorescence Photoactivation Localization Microscopy
Institutions: University of Maine.

Localization-based super resolution microscopy can be applied to obtain a spatial map (image) of the distribution of individual fluorescently labeled single molecules within a sample with a spatial resolution of tens of nanometers. Using either photoactivatable (PAFP) or photoswitchable (PSFP) fluorescent proteins fused to proteins of interest, or organic dyes conjugated to antibodies or other molecules of interest, fluorescence photoactivation localization microscopy (FPALM) can simultaneously image multiple species of molecules within single cells. By using the following approach, populations of large numbers (thousands to hundreds of thousands) of individual molecules are imaged in single cells and localized with a precision of ~10-30 nm. Data obtained can be applied to understanding the nanoscale spatial distributions of multiple protein types within a cell. One primary advantage of this technique is the dramatic increase in spatial resolution: while diffraction limits resolution to ~200-250 nm in conventional light microscopy, FPALM can image length scales more than an order of magnitude smaller. As many biological hypotheses concern the spatial relationships among different biomolecules, the improved resolution of FPALM can provide insight into questions of cellular organization which have previously been inaccessible to conventional fluorescence microscopy. In addition to detailing the methods for sample preparation and data acquisition, we here describe the optical setup for FPALM. One additional consideration for researchers wishing to do super-resolution microscopy is cost: in-house setups are significantly cheaper than most commercially available imaging machines. Limitations of this technique include the need for optimizing the labeling of molecules of interest within cell samples, and the need for post-processing software to visualize results. We here describe the use of PAFP and PSFP expression to image two protein species in fixed cells. Extension of the technique to living cells is also described.
Basic Protocol, Issue 82, Microscopy, Super-resolution imaging, Multicolor, single molecule, FPALM, Localization microscopy, fluorescent proteins
50680
Fabrication of Micro-tissues using Modules of Collagen Gel Containing Cells
Institutions: University of Toronto, University of Toronto.

This protocol describes the fabrication of a type of micro-tissues called modules. The module approach generates uniform, scalable and vascularized tissues. The modules can be made of collagen as well as other gelable or crosslinkable materials. They are approximately 2 mm in length and 0.7 mm in diameter upon fabrication but shrink in size with embedded cells or when the modules are coated with endothelial cells. The modules individually are small enough that the embedded cells are within the diffusion limit of oxygen and other nutrients but modules can be packed together to form larger tissues that are perfusable. These tissues are modular in construction because different cell types can be embedded in or coated on the modules before they are packed together to form complex tissues. There are three main steps to making the modules: (1) neutralizing the collagen and embedding cells in it, (2) gelling the collagen in the tube and cutting the modules and (3) coating the modules with endothelial cells.
Bioengineering, Issue 46, Tissue engineering, micro-tissue, endothelial cells, collagen gels, modules, 3D tissue culture.
2177
Setting-up an In Vitro Model of Rat Blood-brain Barrier (BBB): A Focus on BBB Impermeability and Receptor-mediated Transport
Institutions: VECT-HORUS SAS, CNRS, NICN UMR 7259.

The blood brain barrier (BBB) specifically regulates molecular and cellular flux between the blood and the nervous tissue. Our aim was to develop and characterize a highly reproducible rat syngeneic
in vitro
model of the BBB using co-cultures of primary rat brain endothelial cells (RBEC) and astrocytes to study receptors involved in transcytosis across the endothelial cell monolayer. Astrocytes were isolated by mechanical dissection following trypsin digestion and were frozen for later co-culture. RBEC were isolated from 5-week-old rat cortices. The brains were cleaned of meninges and white matter, and mechanically dissociated following enzymatic digestion. Thereafter, the tissue homogenate was centrifuged in bovine serum albumin to separate vessel fragments from nervous tissue. The vessel fragments underwent a second enzymatic digestion to free endothelial cells from their extracellular matrix. The remaining contaminating cells such as pericytes were further eliminated by plating the microvessel fragments in puromycin-containing medium. They were then passaged onto filters for co-culture with astrocytes grown on the bottom of the wells. RBEC expressed high levels of tight junction (TJ) proteins such as occludin, claudin-5 and ZO-1 with a typical localization at the cell borders. The transendothelial electrical resistance (TEER) of brain endothelial monolayers, indicating the tightness of TJs reached 300 ohm·cm
2
on average. The endothelial permeability coefficients (Pe) for lucifer yellow (LY) was highly reproducible with an average of 0.26 ± 0.11 x 10
-3
cm/min. Brain endothelial cells organized in monolayers expressed the efflux transporter P-glycoprotein (P-gp), showed a polarized transport of rhodamine 123, a ligand for P-gp, and showed specific transport of transferrin-Cy3 and DiILDL across the endothelial cell monolayer. In conclusion, we provide a protocol for setting up an
in vitro
BBB model that is highly reproducible due to the quality assurance methods, and that is suitable for research on BBB transporters and receptors.
Medicine, Issue 88, rat brain endothelial cells (RBEC), mouse, spinal cord, tight junction (TJ), receptor-mediated transport (RMT), low density lipoprotein (LDL), LDLR, transferrin, TfR, P-glycoprotein (P-gp), transendothelial electrical resistance (TEER),
51278
An Alkali-burn Injury Model of Corneal Neovascularization in the Mouse
Institutions: Tulane University, Tulane University.

Under normal conditions, the cornea is avascular, and this transparency is essential for maintaining good visual acuity. Neovascularization (NV) of the cornea, which can be caused by trauma, keratoplasty or infectious disease, breaks down the so called 'angiogenic privilege' of the cornea and forms the basis of multiple visual pathologies that may even lead to blindness. Although there are several treatment options available, the fundamental medical need presented by corneal neovascular pathologies remains unmet. In order to develop safe, effective, and targeted therapies, a reliable model of corneal NV and pharmacological intervention is required. Here, we describe an alkali-burn injury corneal neovascularization model in the mouse. This protocol provides a method for the application of a controlled alkali-burn injury to the cornea, administration of a pharmacological compound of interest, and visualization of the result. This method could prove instrumental for studying the mechanisms and opportunities for intervention in corneal NV and other neovascular disorders.
Medicine, Issue 86, Alkali-burn Injury, Corneal Neovascularization (NV), Corneal Blindness, Angiogenesis, Inflammation, Hemangiogenesis, Lymphangiogenesis
51159
Microwave-assisted Functionalization of Poly(ethylene glycol) and On-resin Peptides for Use in Chain Polymerizations and Hydrogel Formation
Institutions: University of Rochester, University of Rochester, University of Rochester Medical Center.

One of the main benefits to using poly(ethylene glycol) (PEG) macromers in hydrogel formation is synthetic versatility. The ability to draw from a large variety of PEG molecular weights and configurations (arm number, arm length, and branching pattern) affords researchers tight control over resulting hydrogel structures and properties, including Young's modulus and mesh size. This video will illustrate a rapid, efficient, solvent-free, microwave-assisted method to methacrylate PEG precursors into poly(ethylene glycol) dimethacrylate (PEGDM). This synthetic method provides much-needed starting materials for applications in drug delivery and regenerative medicine. The demonstrated method is superior to traditional methacrylation methods as it is significantly faster and simpler, as well as more economical and environmentally friendly, using smaller amounts of reagents and solvents. We will also demonstrate an adaptation of this technique for on-resin methacrylamide functionalization of peptides. This on-resin method allows the N-terminus of peptides to be functionalized with methacrylamide groups prior to deprotection and cleavage from resin. This allows for selective addition of methacrylamide groups to the N-termini of the peptides while amino acids with reactive side groups (
e.g.
 primary amine of lysine, primary alcohol of serine, secondary alcohols of threonine, and phenol of tyrosine) remain protected, preventing functionalization at multiple sites. This article will detail common analytical methods (proton Nuclear Magnetic Resonance spectroscopy (
;
H-NMR) and Matrix Assisted Laser Desorption Ionization Time of Flight mass spectrometry (MALDI-ToF)) to assess the efficiency of the functionalizations. Common pitfalls and suggested troubleshooting methods will be addressed, as will modifications of the technique which can be used to further tune macromer functionality and resulting hydrogel physical and chemical properties. Use of synthesized products for the formation of hydrogels for drug delivery and cell-material interaction studies will be demonstrated, with particular attention paid to modifying hydrogel composition to affect mesh size, controlling hydrogel stiffness and drug release.
Chemistry, Issue 80, Poly(ethylene glycol), peptides, polymerization, polymers, methacrylation, peptide functionalization, 1H-NMR, MALDI-ToF, hydrogels, macromer synthesis
50890
Nonhuman Primate Lung Decellularization and Recellularization Using a Specialized Large-organ Bioreactor
Institutions: Tulane University School of Medicine, Tulane National Primate Research Center, Tulane University School of Medicine, Tulane University School of Medicine.

There are an insufficient number of lungs available to meet current and future organ transplantation needs. Bioartificial tissue regeneration is an attractive alternative to classic organ transplantation. This technology utilizes an organ's natural biological extracellular matrix (ECM) as a scaffold onto which autologous or stem/progenitor cells may be seeded and cultured in such a way that facilitates regeneration of the original tissue. The natural ECM is isolated by a process called decellularization. Decellularization is accomplished by treating tissues with a series of detergents, salts, and enzymes to achieve effective removal of cellular material while leaving the ECM intact. Studies conducted utilizing decellularization and subsequent recellularization of rodent lungs demonstrated marginal success in generating pulmonary-like tissue which is capable of gas exchange
in vivo
. While offering essential proof-of-concept, rodent models are not directly translatable to human use. Nonhuman primates (NHP) offer a more suitable model in which to investigate the use of bioartificial organ production for eventual clinical use. The protocols for achieving complete decellularization of lungs acquired from the NHP rhesus macaque are presented. The resulting acellular lungs can be seeded with a variety of cells including mesenchymal stem cells and endothelial cells. The manuscript also describes the development of a bioreactor system in which cell-seeded macaque lungs can be cultured under conditions of mechanical stretch and strain provided by negative pressure ventilation as well as pulsatile perfusion through the vasculature; these forces are known to direct differentiation along pulmonary and endothelial lineages, respectively. Representative results of decellularization and cell seeding are provided.
Bioengineering, Issue 82, rhesus macaque, decellularization, recellularization, detergent, matrix, scaffold, large-organ bioreactor, mesenchymal stem cells
50825
Mechanical Stimulation-induced Calcium Wave Propagation in Cell Monolayers: The Example of Bovine Corneal Endothelial Cells
Institutions: KU Leuven.

Intercellular communication is essential for the coordination of physiological processes between cells in a variety of organs and tissues, including the brain, liver, retina, cochlea and vasculature. In experimental settings, intercellular Ca
2+
-waves can be elicited by applying a mechanical stimulus to a single cell. This leads to the release of the intracellular signaling molecules IP
3
and Ca
2+
that initiate the propagation of the Ca
2+
-wave concentrically from the mechanically stimulated cell to the neighboring cells. The main molecular pathways that control intercellular Ca
2+
-wave propagation are provided by gap junction channels through the direct transfer of IP
3
and by hemichannels through the release of ATP. Identification and characterization of the properties and regulation of different connexin and pannexin isoforms as gap junction channels and hemichannels are allowed by the quantification of the spread of the intercellular Ca
2+
-wave, siRNA, and the use of inhibitors of gap junction channels and hemichannels. Here, we describe a method to measure intercellular Ca
2+
-wave in monolayers of primary corneal endothelial cells loaded with Fluo4-AM in response to a controlled and localized mechanical stimulus provoked by an acute, short-lasting deformation of the cell as a result of touching the cell membrane with a micromanipulator-controlled glass micropipette with a tip diameter of less than 1 μm. We also describe the isolation of primary bovine corneal endothelial cells and its use as model system to assess Cx43-hemichannel activity as the driven force for intercellular Ca
2+
-waves through the release of ATP. Finally, we discuss the use, advantages, limitations and alternatives of this method in the context of gap junction channel and hemichannel research.
Cellular Biology, Issue 77, Molecular Biology, Medicine, Biomedical Engineering, Biophysics, Immunology, Ophthalmology, Gap Junctions, Connexins, Connexin 43, Calcium Signaling, Ca2+, Cell Communication, Paracrine Communication, Intercellular communication, calcium wave propagation, gap junctions, hemichannels, endothelial cells, cell signaling, cell, isolation, cell culture
50443
Combination of Microstereolithography and Electrospinning to Produce Membranes Equipped with Niches for Corneal Regeneration
Institutions: University of Sheffield, University of Sheffield, L. V. Prasad Eye Institute.

Corneal problems affect millions of people worldwide reducing their quality of life significantly. Corneal disease can be caused by illnesses such as Aniridia or Steven Johnson Syndrome as well as by external factors such as chemical burns or radiation. Current treatments are (i) the use of corneal grafts and (ii) the use of stem cell expanded in the laboratory and delivered on carriers (
e.g.
, amniotic membrane); these treatments are relatively successful but unfortunately they can fail after 3-5 years. There is a need to design and manufacture new corneal biomaterial devices able to mimic in detail the physiological environment where stem cells reside in the cornea. Limbal stem cells are located in the limbus (circular area between cornea and sclera) in specific niches known as the Palisades of Vogt. In this work we have developed a new platform technology which combines two cutting-edge manufacturing techniques (microstereolithography and electrospinning) for the fabrication of corneal membranes that mimic to a certain extent the limbus. Our membranes contain artificial micropockets which aim to provide cells with protection as the Palisades of Vogt do in the eye.
Bioengineering, Issue 91, electrospinning, microstereolithography, stem cell niche, storage, limbal explants
51826
Transplantation of Pulmonary Valve Using a Mouse Model of Heterotopic Heart Transplantation
Institutions: Nationwide Children's Hospital, Nationwide Children's Hospital, Nationwide Children's Hospital.
Tissue engineered heart valves, especially decellularized valves, are starting to gain momentum in clinical use of reconstructive surgery with mixed results. However, the cellular and molecular mechanisms of the neotissue development, valve thickening, and stenosis development are not researched extensively. To answer the above questions, we developed a murine heterotopic heart valve transplantation model. A heart valve was harvested from a valve donor mouse and transplanted to a heart donor mouse. The heart with a new valve was transplanted heterotopically to a recipient mouse. The transplanted heart showed its own heartbeat, independent of the recipient's heartbeat. The blood flow was quantified using a high frequency ultrasound system with a pulsed wave Doppler. The flow through the implanted pulmonary valve showed forward flow with minimal regurgitation and the peak flow was close to 100 mm/sec. This murine model of heart valve transplantation is highly versatile, so it can be modified and adapted to provide different hemodynamic environments and/or can be used with various transgenic mice to study neotissue development in a tissue engineered heart valve.
Medicine, Issue 89, tissue engineering, pulmonary valve, congenital heart defect, decellularized heart valve, transgenic mouse model, heterotopic heart transplantation
51695
Christopher Hughes: An in vitro model for the Study of Angiogenesis (Interview)
Institutions: University of California, Irvine (UCI).

Christopher C.W. Hughes describes the utility of his culture system for studying angiogenesis in vitro. He explains the importance of fibroblasts that secrete a critical, yet unidentified, soluble factor that allow endothelial cells to form vessels in culture that branch, form proper lumens, and undergo anastamosis.
Cellular Biology, Issue 3, angiogenesis, fibrin, endothelial, HUVEC, umbilical, Translational Research
175
Murine Skin Transplantation
Institutions: University of California, Irvine (UCI).

As one of the most stringent and least technically challenging models, skin transplantation is a standard method to assay host T cell responses to MHC-disparate donor antigens. The aim of this video-article is to provide the viewer with a step-by-step visual demonstration of skin transplantation using the mouse model. The protocol is divided into 5 main components: 1) harvesting donor skin; 2) preparing recipient for transplant; 3) skin transplant; 4) bandage removal and monitoring graft rejection; 5) helpful hints. Once proficient, the procedure itself should take <10 min to perform.
Immunology, Issue 11, allograft rejection, skin transplant, mouse
634