Seeded Synthesis of CdSe/CdS Rod and Tetrapod Nanocrystals
Published: 12-11-2013
ABSTRACT
We demonstrate a method for the synthesis of multicomponent nanostructures consisting of CdS and CdSe with rod and tetrapod morphologies. A seeded synthesis strategy is used in which spherical seeds of CdSe are prepared first using a hot-injection technique. By controlling the crystal structure of the seed to be either wurtzite or zinc-blende, the subsequent hot-injection growth of CdS off of the seed results in either a rod-shaped or tetrapod-shaped nanocrystal, respectively. The phase and morphology of the synthesized nanocrystals are confirmed using X-ray diffraction and transmission electron microscopy, demonstrating that the nanocrystals are phase-pure and have a consistent morphology. The extinction coefficient and quantum yield of the synthesized nanocrystals are calculated using UV-Vis absorption spectroscopy and photoluminescence spectroscopy. The rods and tetrapods exhibit extinction coefficients and quantum yields that are higher than that of the bare seeds. This synthesis demonstrates the precise arrangement of materials that can be achieved at the nanoscale by using a seeded synthetic approach.
25 Related JoVE Articles!
Angle-resolved Photoemission Spectroscopy At Ultra-low Temperatures
Institutions: IFW-Dresden, Institute of Metal Physics of National Academy of Sciences of Ukraine, Diamond Light Source LTD, University of Johannesburg, Università di Salerno, École Polytechnique Fédérale de Lausanne.
The physical properties of a material are defined by its electronic structure. Electrons in solids are characterized by energy (ω) and momentum (
k
) and the probability to find them in a particular state with given ω and
k
is described by the spectral function A(
k
, ω). This function can be directly measured in an experiment based on the well-known photoelectric effect, for the explanation of which Albert Einstein received the Nobel Prize back in 1921. In the photoelectric effect the light shone on a surface ejects electrons from the material. According to Einstein, energy conservation allows one to determine the energy of an electron inside the sample, provided the energy of the light photon and kinetic energy of the outgoing photoelectron are known. Momentum conservation makes it also possible to estimate
k
relating it to the momentum of the photoelectron by measuring the angle at which the photoelectron left the surface. The modern version of this technique is called Angle-Resolved Photoemission Spectroscopy (ARPES) and exploits both conservation laws in order to determine the electronic structure,
i.e.
energy and momentum of electrons inside the solid. In order to resolve the details crucial for understanding the topical problems of condensed matter physics, three quantities need to be minimized: uncertainty* in photon energy, uncertainty in kinetic energy of photoelectrons and temperature of the sample. In our approach we combine three recent achievements in the field of synchrotron radiation, surface science and cryogenics. We use synchrotron radiation with tunable photon energy contributing an uncertainty of the order of 1 meV, an electron energy analyzer which detects the kinetic energies with a precision of the order of 1 meV and a He
3
cryostat which allows us to keep the temperature of the sample below 1 K. We discuss the exemplary results obtained on single crystals of Sr
2
RuO
4
and some other materials. The electronic structure of this material can be determined with an unprecedented clarity.
Physics, Issue 68, Chemistry, electron energy bands, band structure of solids, superconducting materials, condensed matter physics, ARPES, angle-resolved photoemission synchrotron, imaging
50129
Rejection of Fluorescence Background in Resonance and Spontaneous Raman Microspectroscopy
Institutions: University of California, Davis, University of California, Davis.

Raman spectroscopy is often plagued by a strong fluorescent background, particularly for biological samples. If a sample is excited with a train of ultrafast pulses, a system that can temporally separate spectrally overlapping signals on a picosecond timescale can isolate promptly arriving Raman scattered light from late-arriving fluorescence light. Here we discuss the construction and operation of a complex nonlinear optical system that uses all-optical switching in the form of a low-power optical Kerr gate to isolate Raman and fluorescence signals. A single 808 nm laser with 2.4 W of average power and 80 MHz repetition rate is split, with approximately 200 mW of 808 nm light being converted to < 5 mW of 404 nm light sent to the sample to excite Raman scattering. The remaining unconverted 808 nm light is then sent to a nonlinear medium where it acts as the pump for the all-optical shutter. The shutter opens and closes in 800 fs with a peak efficiency of approximately 5%. Using this system we are able to successfully separate Raman and fluorescence signals at an 80 MHz repetition rate using pulse energies and average powers that remain biologically safe. Because the system has no spare capacity in terms of optical power, we detail several design and alignment considerations that aid in maximizing the throughput of the system. We also discuss our protocol for obtaining the spatial and temporal overlap of the signal and pump beams within the Kerr medium, as well as a detailed protocol for spectral acquisition. Finally, we report a few representative results of Raman spectra obtained in the presence of strong fluorescence using our time-gating system.
Microbiology, Issue 51, Raman scattering, all-optical gating, nonlinear optics, fluorescence, timeresolved spectroscopy.
2592
Coherent anti-Stokes Raman Scattering (CARS) Microscopy Visualizes Pharmaceutical Tablets During Dissolution
Institutions: University of Twente, Heinrich-Heine University, University of Helsinki.
Traditional pharmaceutical dissolution tests determine the amount of drug dissolved over time by measuring drug content in the dissolution medium. This method provides little direct information about what is happening on the surface of the dissolving tablet. As the tablet surface composition and structure can change during dissolution, it is essential to monitor it during dissolution testing. In this work coherent anti-Stokes Raman scattering microscopy is used to image the surface of tablets during dissolution while UV absorption spectroscopy is simultaneously providing inline analysis of dissolved drug concentration for tablets containing a 50% mixture of theophylline anhydrate and ethyl cellulose. The measurements showed that
in situ
CARS microscopy is capable of imaging selectively theophylline in the presence of ethyl cellulose. Additionally, the theophylline anhydrate converted to theophylline monohydrate during dissolution, with needle-shaped crystals growing on the tablet surface during dissolution. The conversion of theophylline anhydrate to monohydrate, combined with reduced exposure of the drug to the flowing dissolution medium resulted in decreased dissolution rates. Our results show that
in situ
CARS microscopy combined with inline UV absorption spectroscopy is capable of monitoring pharmaceutical tablet dissolution and correlating surface changes with changes in dissolution rate.
Physics, Issue 89, Coherent anti-Stokes Raman scattering, microscopy, pharmaceutics, dissolution, in situ analysis, theophylline, tablet
51847
High-throughput Crystallization of Membrane Proteins Using the Lipidic Bicelle Method
Institutions: University of California Los Angeles , David Geffen School of Medicine, UCLA.

Membrane proteins (MPs) play a critical role in many physiological processes such as pumping specific molecules across the otherwise impermeable membrane bilayer that surrounds all cells and organelles. Alterations in the function of MPs result in many human diseases and disorders; thus, an intricate understanding of their structures remains a critical objective for biological research. However, structure determination of MPs remains a significant challenge often stemming from their hydrophobicity. MPs have substantial hydrophobic regions embedded within the bilayer. Detergents are frequently used to solubilize these proteins from the bilayer generating a protein-detergent micelle that can then be manipulated in a similar manner as soluble proteins. Traditionally, crystallization trials proceed using a protein-detergent mixture, but they often resist crystallization or produce crystals of poor quality. These problems arise due to the detergent′s inability to adequately mimic the bilayer resulting in poor stability and heterogeneity. In addition, the detergent shields the hydrophobic surface of the MP reducing the surface area available for crystal contacts. To circumvent these drawbacks MPs can be crystallized in lipidic media, which more closely simulates their endogenous environment, and has recently become a de novo technique for MP crystallization. Lipidic cubic phase (LCP) is a three-dimensional lipid bilayer penetrated by an interconnected system of aqueous channels
1
. Although monoolein is the lipid of choice, related lipids such as monopalmitolein and monovaccenin have also been used to make LCP
2
. MPs are incorporated into the LCP where they diffuse in three dimensions and feed crystal nuclei. A great advantage of the LCP is that the protein remains in a more native environment, but the method has a number of technical disadvantages including high viscosity (requiring specialized apparatuses) and difficulties in crystal visualization and manipulation
3,4
. Because of these technical difficulties, we utilized another lipidic medium for crystallization-bicelles
5,6
(
Figure 1
). Bicelles are lipid/amphiphile mixtures formed by blending a phosphatidylcholine lipid (DMPC) with an amphiphile (CHAPSO) or a short-chain lipid (DHPC). Within each bicelle disc, the lipid molecules generate a bilayer while the amphiphile molecules line the apolar edges providing beneficial properties of both bilayers and detergents. Importantly, below their transition temperature, protein-bicelle mixtures have a reduced viscosity and are manipulated in a similar manner as detergent-solubilized MPs, making bicelles compatible with crystallization robots. Bicelles have been successfully used to crystallize several membrane proteins
5,7-11
(Table 1)
. This growing collection of proteins demonstrates the versatility of bicelles for crystallizing both alpha helical and beta sheet MPs from prokaryotic and eukaryotic sources. Because of these successes and the simplicity of high-throughput implementation, bicelles should be part of every membrane protein crystallographer′s arsenal. In this video, we describe the bicelle methodology and provide a step-by-step protocol for setting up high-throughput crystallization trials of purified MPs using standard robotics.
Molecular Biology, Issue 59, membrane proteins crystallization, bicelle, lipidic crystallization
3383
Iterative Optimization of DNA Duplexes for Crystallization of SeqA-DNA Complexes
Institutions: McMaster University .

Escherichia coli
SeqA is a negative regulator of DNA replication that prevents premature reinitiation events by sequestering hemimethylated GATC clusters within the origin of replication
1
. Beyond the origin, SeqA is found at the replication forks, where it organizes newly replicated DNA into higher ordered structures
2
. SeqA associates only weakly with single GATC sequences, but it forms high affinity complexes with DNA duplexes containing multiple GATC sites. The minimal functional and structural unit of SeqA is a dimer, thereby explaining the requirement of at least two GATC sequences to form a high-affinity complex with hemimethylated DNA
3
. Additionally, the SeqA architecture, with the oligomerization and DNA-binding domains separated by a flexible linker, allows binding to GATC repeats separated by up to three helical turns. Therefore, understanding the function of SeqA at a molecular level requires the structural analysis of SeqA bound to multiple GATC sequences. In protein-DNA crystallization, DNA can have none to an exceptional effect on the packing interactions depending on the relative sizes and architecture of the protein and the DNA. If the protein is larger than the DNA or footprints most of the DNA, the crystal packing is primarily mediated by protein-protein interactions. Conversely, when the protein is the same size or smaller than the DNA or it only covers a fraction of the DNA, DNA-DNA and DNA-protein interactions dominate crystal packing. Therefore, crystallization of protein-DNA complexes requires the systematic screening of DNA length
4
and DNA ends (blunt or overhang)
5-7
. In this report, we describe how to design, optimize, purify and crystallize hemimethylated DNA duplexes containing tandem GATC repeats in complex with a dimeric variant of SeqA (SeqAΔ(41-59)-A25R) to obtain crystals suitable for structure determination.
Structural Biology, Issue 69, SeqA, DNA replication, DNA purification, protein-DNA complexes, protein-DNA cocrystallization, X-ray crystallography
4266
Scanning-probe Single-electron Capacitance Spectroscopy
Institutions: Michigan State University, Mercyhurst University, Saint Louis University, Massachusetts Institute of Technology.
The integration of low-temperature scanning-probe techniques and single-electron capacitance spectroscopy represents a powerful tool to study the electronic quantum structure of small systems - including individual atomic dopants in semiconductors. Here we present a capacitance-based method, known as Subsurface Charge Accumulation (SCA) imaging, which is capable of resolving single-electron charging while achieving sufficient spatial resolution to image individual atomic dopants. The use of a capacitance technique enables observation of subsurface features, such as dopants buried many nanometers beneath the surface of a semiconductor material
1,2,3
. In principle, this technique can be applied to any system to resolve electron motion below an insulating surface. As in other electric-field-sensitive scanned-probe techniques
4
, the lateral spatial resolution of the measurement depends in part on the radius of curvature of the probe tip. Using tips with a small radius of curvature can enable spatial resolution of a few tens of nanometers. This fine spatial resolution allows investigations of small numbers (down to one) of subsurface dopants
1,2
. The charge resolution depends greatly on the sensitivity of the charge detection circuitry; using high electron mobility transistors (HEMT) in such circuits at cryogenic temperatures enables a sensitivity of approximately 0.01 electrons/Hz
½
at 0.3 K
5
.
Physics, Issue 77, Biophysics, Molecular Biology, Cellular Biology, Microscopy, Scanning Probe, Nanotechnology, Physics, Electronics, acceptors (solid state), donors (solid state), Solid-State Physics, tunneling microscopy, scanning capacitance microscopy, subsurface charge accumulation imaging, capacitance spectroscopy, scanning probe microscopy, single-electron spectroscopy, imaging
50676
Preparation and Use of Photocatalytically Active Segmented Ag|ZnO and Coaxial TiO2-Ag Nanowires Made by Templated Electrodeposition
Institutions: University of Twente.

Photocatalytically active nanostructures require a large specific surface area with the presence of many catalytically active sites for the oxidation and reduction half reactions, and fast electron (hole) diffusion and charge separation. Nanowires present suitable architectures to meet these requirements. Axially segmented Ag|ZnO and radially segmented (coaxial) TiO
2
-Ag nanowires with a diameter of 200 nm and a length of 6-20 µm were made by templated electrodeposition within the pores of polycarbonate track-etched (PCTE) or anodized aluminum oxide (AAO) membranes, respectively. In the photocatalytic experiments, the ZnO and TiO
2
phases acted as photoanodes, and Ag as cathode. No external circuit is needed to connect both electrodes, which is a key advantage over conventional photo-electrochemical cells. For making segmented Ag|ZnO nanowires, the Ag salt electrolyte was replaced after formation of the Ag segment to form a ZnO segment attached to the Ag segment. For making coaxial TiO
2
-Ag nanowires, a TiO
2
gel was first formed by the electrochemically induced sol-gel method. Drying and thermal annealing of the as-formed TiO
2
gel resulted in the formation of crystalline TiO
2
nanotubes. A subsequent Ag electrodeposition step inside the TiO
2
nanotubes resulted in formation of coaxial TiO
2
-Ag nanowires. Due to the combination of an
n
-type semiconductor (ZnO or TiO
2
) and a metal (Ag) within the same nanowire, a Schottky barrier was created at the interface between the phases. To demonstrate the photocatalytic activity of these nanowires, the Ag|ZnO nanowires were used in a photocatalytic experiment in which H
2
gas was detected upon UV illumination of the nanowires dispersed in a methanol/water mixture. After 17 min of illumination, approximately 0.2 vol% H
2
gas was detected from a suspension of ~0.1 g of Ag|ZnO nanowires in a 50 ml 80 vol% aqueous methanol solution.
Physics, Issue 87, Multicomponent nanowires, electrochemistry, sol-gel processes, photocatalysis, photochemistry, H2 evolution
51547
In Vitro Reconstitution of Light-harvesting Complexes of Plants and Green Algae
Institutions: VU University Amsterdam.

In plants and green algae, light is captured by the light-harvesting complexes (LHCs), a family of integral membrane proteins that coordinate chlorophylls and carotenoids.
In vivo
, these proteins are folded with pigments to form complexes which are inserted in the thylakoid membrane of the chloroplast. The high similarity in the chemical and physical properties of the members of the family, together with the fact that they can easily lose pigments during isolation, makes their purification in a native state challenging. An alternative approach to obtain homogeneous preparations of LHCs was developed by Plumley and Schmidt in 1987
1
, who showed that it was possible to reconstitute these complexes
in vitro
starting from purified pigments and unfolded apoproteins, resulting in complexes with properties very similar to that of native complexes. This opened the way to the use of bacterial expressed recombinant proteins for
in vitro
reconstitution. The reconstitution method is powerful for various reasons: (1) pure preparations of individual complexes can be obtained, (2) pigment composition can be controlled to assess their contribution to structure and function, (3) recombinant proteins can be mutated to study the functional role of the individual residues (
e.g.,
pigment binding sites) or protein domain (
e.g.,
protein-protein interaction, folding). This method has been optimized in several laboratories and applied to most of the light-harvesting complexes. The protocol described here details the method of reconstituting light-harvesting complexes
in vitro
currently used in our laboratory,
and examples describing applications of the method are provided.
Biochemistry, Issue 92, Reconstitution, Photosynthesis, Chlorophyll, Carotenoids, Light Harvesting Protein, Chlamydomonas reinhardtii, Arabidopsis thaliana
51852
Synthesis and Functionalization of Nitrogen-doped Carbon Nanotube Cups with Gold Nanoparticles as Cork Stoppers
Institutions: University of Pittsburgh.
Nitrogen-doped carbon nanotubes consist of many cup-shaped graphitic compartments termed as nitrogen-doped carbon nanotube cups (NCNCs). These as-synthesized graphitic nanocups from chemical vapor deposition (CVD) method were stacked in a head-to-tail fashion held only through noncovalent interactions. Individual NCNCs can be isolated out of their stacking structure through a series of chemical and physical separation processes. First, as-synthesized NCNCs were oxidized in a mixture of strong acids to introduce oxygen-containing defects on the graphitic walls. The oxidized NCNCs were then processed using high-intensity probe-tip sonication which effectively separated the stacked NCNCs into individual graphitic nanocups. Owing to their abundant oxygen and nitrogen surface functionalities, the resulted individual NCNCs are highly hydrophilic and can be effectively functionalized with gold nanoparticles (GNPs), which preferentially fit in the opening of the cups as cork stoppers. These graphitic nanocups corked with GNPs may find promising applications as nanoscale containers and drug carriers.
Physics, Issue 75, Chemistry, Chemical Engineering, Materials Science, Physical Chemistry, Nanotechnology, Metal Nanoparticles, carbon nanotubes (synthesis and properties), carbon nanotubes, chemical vapor deposition, CVD, gold nanoparticles, probe-tip sonication, nitrogen-doped carbon nanotube cups, nanotubes, nanoparticles, nanomaterial, synthesis
50383
Determining the Ice-binding Planes of Antifreeze Proteins by Fluorescence-based Ice Plane Affinity
Institutions: Queen's University, Porter Neuroscience Research Center, National Institute of Advanced Industrial Science and Technology, The Hebrew University of Jerusalem.
Antifreeze proteins (AFPs) are expressed in a variety of cold-hardy organisms to prevent or slow internal ice growth. AFPs bind to specific planes of ice through their ice-binding surfaces. Fluorescence-based ice plane affinity (FIPA) analysis is a modified technique used to determine the ice planes to which the AFPs bind. FIPA is based on the original ice-etching method for determining AFP-bound ice-planes. It produces clearer images in a shortened experimental time. In FIPA analysis, AFPs are fluorescently labeled with a chimeric tag or a covalent dye then slowly incorporated into a macroscopic single ice crystal, which has been preformed into a hemisphere and oriented to determine the
a-
and
c-
axes. The AFP-bound ice hemisphere is imaged under UV light to visualize AFP-bound planes using filters to block out nonspecific light. Fluorescent labeling of the AFPs allows real-time monitoring of AFP adsorption into ice. The labels have been found not to influence the planes to which AFPs bind. FIPA analysis also introduces the option to bind more than one differently tagged AFP on the same single ice crystal to help differentiate their binding planes. These applications of FIPA are helping to advance our understanding of how AFPs bind to ice to halt its growth and why many AFP-producing organisms express multiple AFP isoforms.
Chemistry, Issue 83, Materials, Life Sciences, Optics, antifreeze proteins, Ice adsorption, Fluorescent labeling, Ice lattice planes, ice-binding proteins, Single ice crystal
51185
Polymerase Chain Reaction: Basic Protocol Plus Troubleshooting and Optimization Strategies
Institutions: University of California, Los Angeles .

In the biological sciences there have been technological advances that catapult the discipline into golden ages of discovery. For example, the field of microbiology was transformed with the advent of Anton van Leeuwenhoek's microscope, which allowed scientists to visualize prokaryotes for the first time. The development of the polymerase chain reaction (PCR) is one of those innovations that changed the course of molecular science with its impact spanning countless subdisciplines in biology. The theoretical process was outlined by Keppe and coworkers in 1971; however, it was another 14 years until the complete PCR procedure was described and experimentally applied by Kary Mullis while at Cetus Corporation in 1985. Automation and refinement of this technique progressed with the introduction of a thermal stable DNA polymerase from the bacterium
Thermus aquaticus
, consequently the name
Taq
DNA polymerase. PCR is a powerful amplification technique that can generate an ample supply of a specific segment of DNA (i.e., an amplicon) from only a small amount of starting material (i.e., DNA template or target sequence). While straightforward and generally trouble-free, there are pitfalls that complicate the reaction producing spurious results. When PCR fails it can lead to many non-specific DNA products of varying sizes that appear as a ladder or smear of bands on agarose gels. Sometimes no products form at all. Another potential problem occurs when mutations are unintentionally introduced in the amplicons, resulting in a heterogeneous population of PCR products. PCR failures can become frustrating unless patience and careful troubleshooting are employed to sort out and solve the problem(s). This protocol outlines the basic principles of PCR, provides a methodology that will result in amplification of most target sequences, and presents strategies for optimizing a reaction. By following this PCR guide, students should be able to: ● Set up reactions and thermal cycling conditions for a conventional PCR experiment ● Understand the function of various reaction components and their overall effect on a PCR experiment ● Design and optimize a PCR experiment for any DNA template ● Troubleshoot failed PCR experiments
Basic Protocols, Issue 63, PCR, optimization, primer design, melting temperature, Tm, troubleshooting, additives, enhancers, template DNA quantification, thermal cycler, molecular biology, genetics
3998
Synthesis and Microdiffraction at Extreme Pressures and Temperatures
Institutions: University of Nevada, Las Vegas, University of Chicago, Carnegie Institution of Washington.
High pressure compounds and polymorphs are investigated for a broad range of purposes such as determine structures and processes of deep planetary interiors, design materials with novel properties, understand the mechanical behavior of materials exposed to very high stresses as in explosions or impacts. Synthesis and structural analysis of materials at extreme conditions of pressure and temperature entails remarkable technical challenges. In the laser heated diamond anvil cell (LH-DAC), very high pressure is generated between the tips of two opposing diamond anvils forced against each other; focused infrared laser beams, shined through the diamonds, allow to reach very high temperatures on samples absorbing the laser radiation. When the LH-DAC is installed in a synchrotron beamline that provides extremely brilliant x-ray radiation, the structure of materials under extreme conditions can be probed
in situ.
LH-DAC samples, although very small, can show highly variable grain size, phase and chemical composition. In order to obtain the high resolution structural analysis and the most comprehensive characterization of a sample, we collect diffraction data in 2D grids and combine powder, single crystal and multigrain diffraction techniques. Representative results obtained in the synthesis of a new iron oxide, Fe
4
O
5
1
will be shown.
Physics, Issue 80, x-ray diffraction, geochemistry, geophysics, solid-state physics, high-pressure, high-temperature, Diamond anvil cell, micro-diffraction, novel materials, iron oxides, mantle mineralogy
50613
Activating Molecules, Ions, and Solid Particles with Acoustic Cavitation
Institutions: UMR 5257 CEA-CNRS-UM2-ENSCM.

The chemical and physical effects of ultrasound arise not from a direct interaction of molecules with sound waves, but rather from the acoustic cavitation: the nucleation, growth, and implosive collapse of microbubbles in liquids submitted to power ultrasound. The violent implosion of bubbles leads to the formation of chemically reactive species and to the emission of light, named sonoluminescence. In this manuscript, we describe the techniques allowing study of extreme intrabubble conditions and chemical reactivity of acoustic cavitation in solutions. The analysis of sonoluminescence spectra of water sparged with noble gases provides evidence for nonequilibrium plasma formation. The photons and the "hot" particles generated by cavitation bubbles enable to excite the non-volatile species in solutions increasing their chemical reactivity. For example the mechanism of ultrabright sonoluminescence of uranyl ions in acidic solutions varies with uranium concentration: sonophotoluminescence dominates in diluted solutions, and collisional excitation contributes at higher uranium concentration. Secondary sonochemical products may arise from chemically active species that are formed inside the bubble, but then diffuse into the liquid phase and react with solution precursors to form a variety of products. For instance, the sonochemical reduction of Pt(IV) in pure water provides an innovative synthetic route for monodispersed nanoparticles of metallic platinum without any templates or capping agents. Many studies reveal the advantages of ultrasound to activate the divided solids. In general, the mechanical effects of ultrasound strongly contribute in heterogeneous systems in addition to chemical effects. In particular, the sonolysis of PuO
2
powder in pure water yields stable colloids of plutonium due to both effects.
Chemistry, Issue 86, Sonochemistry, sonoluminescence, ultrasound, cavitation, nanoparticles, actinides, colloids, nanocolloids
51237
Sputter Growth and Characterization of Metamagnetic B2-ordered FeRh Epilayers
Institutions: University of Leeds, University of Leeds, University of Edinburgh, Northeastern University, Northeastern University.

Chemically ordered alloys are useful in a variety of magnetic nanotechnologies. They are most conveniently prepared at an industrial scale using sputtering techniques. Here we describe a method for preparing epitaxial thin films of B2-ordered FeRh by sputter deposition onto single crystal MgO substrates. Deposition at a slow rate onto a heated substrate allows time for the adatoms to both settle into a lattice with a well-defined epitaxial relationship with the substrate and also to find their proper places in the Fe and Rh sublattices of the B2 structure. The structure is conveniently characterized with X-ray reflectometry and diffraction and can be visualised directly using transmission electron micrograph cross-sections. B2-ordered FeRh exhibits an unusual metamagnetic phase transition: the ground state is antiferromagnetic but the alloy transforms into a ferromagnet on heating with a typical transition temperature of about 380 K. This is accompanied by a 1% volume expansion of the unit cell: isotropic in bulk, but laterally clamped in an epilayer. The presence of the antiferromagnetic ground state and the associated first order phase transition is very sensitive to the correct equiatomic stoichiometry and proper B2 ordering, and so is a convenient means to demonstrate the quality of the layers that can be deposited with this approach. We also give some examples of the various techniques by which the change in phase can be detected.
Physics, Issue 80, Sputtering, epitaxial growth, magnetism, ordered alloys
50603
Measurement of Coherence Decay in GaMnAs Using Femtosecond Four-wave Mixing
Institutions: Dalhousie University, University of Notre Dame.
The application of femtosecond four-wave mixing to the study of fundamental properties of diluted magnetic semiconductors ((s,p)-d hybridization, spin-flip scattering) is described, using experiments on GaMnAs as a prototype III-Mn-V system.  Spectrally-resolved and time-resolved experimental configurations are described, including the use of zero-background autocorrelation techniques for pulse optimization.  The etching process used to prepare GaMnAs samples for four-wave mixing experiments is also highlighted.  The high temporal resolution of this technique, afforded by the use of short (20 fsec) optical pulses, permits the rapid spin-flip scattering process in this system to be studied directly in the time domain, providing new insight into the strong exchange coupling responsible for carrier-mediated ferromagnetism.  We also show that spectral resolution of the four-wave mixing signal allows one to extract clear signatures of (s,p)-d hybridization in this system, unlike linear spectroscopy techniques.   This increased sensitivity is due to the nonlinearity of the technique, which suppresses defect-related contributions to the optical response. This method may be used to measure the time scale for coherence decay (tied to the fastest scattering processes) in a wide variety of semiconductor systems of interest for next generation electronics and optoelectronics.
Physics, Issue 82, Four-wave mixing, spin-flip scattering, ultrafast, GaMnAs, diluted magnetic semiconductor, photon echo, dephasing, GaAs, low temperature grown semiconductor, exchange, ferromagnetic
51094
Fabrication of Nano-engineered Transparent Conducting Oxides by Pulsed Laser Deposition
Institutions: Politecnico di Milano, Instituto Italiano di Tecnologia.
Nanosecond Pulsed Laser Deposition (PLD) in the presence of a background gas allows the deposition of metal oxides with tunable morphology, structure, density and stoichiometry by a proper control of the plasma plume expansion dynamics. Such versatility can be exploited to produce nanostructured films from compact and dense to nanoporous characterized by a hierarchical assembly of nano-sized clusters. In particular we describe the detailed methodology to fabricate two types of Al-doped ZnO (AZO) films as transparent electrodes in photovoltaic devices: 1) at low O
2
pressure, compact films with electrical conductivity and optical transparency close to the state of the art transparent conducting oxides (TCO) can be deposited at room temperature, to be compatible with thermally sensitive materials such as polymers used in organic photovoltaics (OPVs); 2) highly light scattering hierarchical structures resembling a forest of nano-trees are produced at higher pressures. Such structures show high Haze factor (>80%) and may be exploited to enhance the light trapping capability. The method here described for AZO films can be applied to other metal oxides relevant for technological applications such as TiO
2
, Al
2
O
3
, WO
3
and Ag
4
O
4
.
Materials Science, Issue 72, Physics, Nanotechnology, Nanoengineering, Oxides, thin films, thin film theory, deposition and growth, Pulsed laser Deposition (PLD), Transparent conducting oxides (TCO), Hierarchically organized Nanostructured oxides, Al doped ZnO (AZO) films, enhanced light scattering capability, gases, deposition, nanoporus, nanoparticles, Van der Pauw, scanning electron microscopy, SEM
50297
Fabrication And Characterization Of Photonic Crystal Slow Light Waveguides And Cavities
Institutions: University of St Andrews.

Slow light has been one of the hot topics in the photonics community in the past decade, generating great interest both from a fundamental point of view and for its considerable potential for practical applications. Slow light photonic crystal waveguides, in particular, have played a major part and have been successfully employed for delaying optical signals
1-4
and the enhancement of both linear
5-7
and nonlinear devices.
8-11
Photonic crystal cavities achieve similar effects to that of slow light waveguides, but over a reduced band-width. These cavities offer high Q-factor/volume ratio, for the realization of optically
12
and electrically
13
pumped ultra-low threshold lasers and the enhancement of nonlinear effects.
14-16
Furthermore, passive filters
17
and modulators
18-19
have been demonstrated, exhibiting ultra-narrow line-width, high free-spectral range and record values of low energy consumption. To attain these exciting results, a robust repeatable fabrication protocol must be developed. In this paper we take an in-depth look at our fabrication protocol which employs electron-beam lithography for the definition of photonic crystal patterns and uses wet and dry etching techniques. Our optimised fabrication recipe results in photonic crystals that do not suffer from vertical asymmetry and exhibit very good edge-wall roughness. We discuss the results of varying the etching parameters and the detrimental effects that they can have on a device, leading to a diagnostic route that can be taken to identify and eliminate similar issues. The key to evaluating slow light waveguides is the passive characterization of transmission and group index spectra. Various methods have been reported, most notably resolving the Fabry-Perot fringes of the transmission spectrum
20-21
and interferometric techniques.
22-25
Here, we describe a direct, broadband measurement technique combining spectral interferometry with Fourier transform analysis.
26
Our method stands out for its simplicity and power, as we can characterise a bare photonic crystal with access waveguides, without need for on-chip interference components, and the setup only consists of a Mach-Zehnder interferometer, with no need for moving parts and delay scans. When characterising photonic crystal cavities, techniques involving internal sources
21
or external waveguides directly coupled to the cavity
27
impact on the performance of the cavity itself, thereby distorting the measurement. Here, we describe a novel and non-intrusive technique that makes use of a cross-polarised probe beam and is known as resonant scattering (RS), where the probe is coupled out-of plane into the cavity through an objective. The technique was first demonstrated by McCutcheon
et al.28
and further developed by Galli
et al.
29
Physics, Issue 69, Optics and Photonics, Astronomy, light scattering, light transmission, optical waveguides, photonics, photonic crystals, Slow-light, Cavities, Waveguides, Silicon, SOI, Fabrication, Characterization
50216
In Situ Neutron Powder Diffraction Using Custom-made Lithium-ion Batteries
Institutions: University of Sydney, University of Wollongong, Australian Synchrotron, Australian Nuclear Science and Technology Organisation, University of Wollongong, University of New South Wales.

Li-ion batteries are widely used in portable electronic devices and are considered as promising candidates for higher-energy applications such as electric vehicles.
1,2
However, many challenges, such as energy density and battery lifetimes, need to be overcome before this particular battery technology can be widely implemented in such applications.
3
This research is challenging, and we outline a method to address these challenges using
in situ
NPD to probe the crystal structure of electrodes undergoing electrochemical cycling (charge/discharge) in a battery. NPD data help determine the underlying structural mechanism responsible for a range of electrode properties, and this information can direct the development of better electrodes and batteries. We briefly review six types of battery designs custom-made for NPD experiments and detail the method to construct the 'roll-over' cell that we have successfully used on the high-intensity NPD instrument, WOMBAT, at the Australian Nuclear Science and Technology Organisation (ANSTO). The design considerations and materials used for cell construction are discussed in conjunction with aspects of the actual
in situ
NPD experiment and initial directions are presented on how to analyze such complex
in situ
data.
Physics, Issue 93, In operando, structure-property relationships, electrochemical cycling, electrochemical cells, crystallography, battery performance
52284
In Situ SIMS and IR Spectroscopy of Well-defined Surfaces Prepared by Soft Landing of Mass-selected Ions
Institutions: Pacific Northwest National Laboratory.

Soft landing of mass-selected ions onto surfaces is a powerful approach for the highly-controlled preparation of materials that are inaccessible using conventional synthesis techniques. Coupling soft landing with
in situ
characterization using secondary ion mass spectrometry (SIMS) and infrared reflection absorption spectroscopy (IRRAS) enables analysis of well-defined surfaces under clean vacuum conditions. The capabilities of three soft-landing instruments constructed in our laboratory are illustrated for the representative system of surface-bound organometallics prepared by soft landing of mass-selected ruthenium tris(bipyridine) dications, [Ru(bpy)
3
]
2+
(bpy = bipyridine), onto carboxylic acid terminated self-assembled monolayer surfaces on gold (COOH-SAMs).
In situ
time-of-flight (TOF)-SIMS provides insight into the reactivity of the soft-landed ions. In addition, the kinetics of charge reduction, neutralization and desorption occurring on the COOH-SAM both during and after ion soft landing are studied using
in situ
Fourier transform ion cyclotron resonance (FT-ICR)-SIMS measurements.
In situ
IRRAS experiments provide insight into how the structure of organic ligands surrounding metal centers is perturbed through immobilization of organometallic ions on COOH-SAM surfaces by soft landing. Collectively, the three instruments provide complementary information about the chemical composition, reactivity and structure of well-defined species supported on surfaces.
Chemistry, Issue 88, soft landing, mass selected ions, electrospray, secondary ion mass spectrometry, infrared spectroscopy, organometallic, catalysis
51344
Proton Transfer and Protein Conformation Dynamics in Photosensitive Proteins by Time-resolved Step-scan Fourier-transform Infrared Spectroscopy
Institutions: Freie Universität Berlin.

Monitoring the dynamics of protonation and protein backbone conformation changes during the function of a protein is an essential step towards understanding its mechanism. Protonation and conformational changes affect the vibration pattern of amino acid side chains and of the peptide bond, respectively, both of which can be probed by infrared (IR) difference spectroscopy. For proteins whose function can be repetitively and reproducibly triggered by light, it is possible to obtain infrared difference spectra with (sub)microsecond resolution over a broad spectral range using the step-scan Fourier transform infrared technique. With ~10
2
-10
3
repetitions of the photoreaction, the minimum number to complete a scan at reasonable spectral resolution and bandwidth, the noise level in the absorption difference spectra can be as low as ~10
-
4
, sufficient to follow the kinetics of protonation changes from a single amino acid. Lower noise levels can be accomplished by more data averaging and/or mathematical processing. The amount of protein required for optimal results is between 5-100 µg, depending on the sampling technique used. Regarding additional requirements, the protein needs to be first concentrated in a low ionic strength buffer and then dried to form a film. The protein film is hydrated prior to the experiment, either with little droplets of water or under controlled atmospheric humidity. The attained hydration level (g of water / g of protein) is gauged from an IR absorption spectrum. To showcase the technique, we studied the photocycle of the light-driven proton-pump bacteriorhodopsin in its native purple membrane environment, and of the light-gated ion channel channelrhodopsin-2 solubilized in detergent.
Biophysics, Issue 88, bacteriorhodopsin, channelrhodopsin, attenuated total reflection, proton transfer, protein dynamics, infrared spectroscopy, time-resolved spectroscopy, step-scan, membrane proteins, singular value decomposition
51622
Simultaneous Multicolor Imaging of Biological Structures with Fluorescence Photoactivation Localization Microscopy
Institutions: University of Maine.

Localization-based super resolution microscopy can be applied to obtain a spatial map (image) of the distribution of individual fluorescently labeled single molecules within a sample with a spatial resolution of tens of nanometers. Using either photoactivatable (PAFP) or photoswitchable (PSFP) fluorescent proteins fused to proteins of interest, or organic dyes conjugated to antibodies or other molecules of interest, fluorescence photoactivation localization microscopy (FPALM) can simultaneously image multiple species of molecules within single cells. By using the following approach, populations of large numbers (thousands to hundreds of thousands) of individual molecules are imaged in single cells and localized with a precision of ~10-30 nm. Data obtained can be applied to understanding the nanoscale spatial distributions of multiple protein types within a cell. One primary advantage of this technique is the dramatic increase in spatial resolution: while diffraction limits resolution to ~200-250 nm in conventional light microscopy, FPALM can image length scales more than an order of magnitude smaller. As many biological hypotheses concern the spatial relationships among different biomolecules, the improved resolution of FPALM can provide insight into questions of cellular organization which have previously been inaccessible to conventional fluorescence microscopy. In addition to detailing the methods for sample preparation and data acquisition, we here describe the optical setup for FPALM. One additional consideration for researchers wishing to do super-resolution microscopy is cost: in-house setups are significantly cheaper than most commercially available imaging machines. Limitations of this technique include the need for optimizing the labeling of molecules of interest within cell samples, and the need for post-processing software to visualize results. We here describe the use of PAFP and PSFP expression to image two protein species in fixed cells. Extension of the technique to living cells is also described.
Basic Protocol, Issue 82, Microscopy, Super-resolution imaging, Multicolor, single molecule, FPALM, Localization microscopy, fluorescent proteins
50680
Construction and Characterization of External Cavity Diode Lasers for Atomic Physics
Institutions: The Australian National University.

Since their development in the late 1980s, cheap, reliable external cavity diode lasers (ECDLs) have replaced complex and expensive traditional dye and Titanium Sapphire lasers as the workhorse laser of atomic physics labs
1,2
. Their versatility and prolific use throughout atomic physics in applications such as absorption spectroscopy and laser cooling
1,2
makes it imperative for incoming students to gain a firm practical understanding of these lasers. This publication builds upon the seminal work by Wieman
3
, updating components, and providing a video tutorial. The setup, frequency locking and performance characterization of an ECDL will be described. Discussion of component selection and proper mounting of both diodes and gratings, the factors affecting mode selection within the cavity, proper alignment for optimal external feedback, optics setup for coarse and fine frequency sensitive measurements, a brief overview of laser locking techniques, and laser linewidth measurements are included.
Physics, Issue 86, External Cavity Diode Laser, atomic spectroscopy, laser cooling, Bose-Einstein condensation, Zeeman modulation
51184
Characterization of Electrode Materials for Lithium Ion and Sodium Ion Batteries Using Synchrotron Radiation Techniques
Institutions: Lawrence Berkeley National Laboratory, University of Illinois at Chicago, Stanford Synchrotron Radiation Lightsource, Haldor Topsøe A/S, PolyPlus Battery Company.

Intercalation compounds such as transition metal oxides or phosphates are the most commonly used electrode materials in Li-ion and Na-ion batteries. During insertion or removal of alkali metal ions, the redox states of transition metals in the compounds change and structural transformations such as phase transitions and/or lattice parameter increases or decreases occur. These behaviors in turn determine important characteristics of the batteries such as the potential profiles, rate capabilities, and cycle lives. The extremely bright and tunable x-rays produced by synchrotron radiation allow rapid acquisition of high-resolution data that provide information about these processes. Transformations in the bulk materials, such as phase transitions, can be directly observed using X-ray diffraction (XRD), while X-ray absorption spectroscopy (XAS) gives information about the local electronic and geometric structures (
e.g.
 changes in redox states and bond lengths).
In situ
experiments carried out on operating cells are particularly useful because they allow direct correlation between the electrochemical and structural properties of the materials. These experiments are time-consuming and can be challenging to design due to the reactivity and air-sensitivity of the alkali metal anodes used in the half-cell configurations, and/or the possibility of signal interference from other cell components and hardware. For these reasons, it is appropriate to carry out
ex situ
experiments (
e.g.
 on electrodes harvested from partially charged or cycled cells) in some cases. Here, we present detailed protocols for the preparation of both
ex situ
and
in situ
samples for experiments involving synchrotron radiation and demonstrate how these experiments are done.
Physics, Issue 81, X-Ray Absorption Spectroscopy, X-Ray Diffraction, inorganic chemistry, electric batteries (applications), energy storage, Electrode materials, Li-ion battery, Na-ion battery, X-ray Absorption Spectroscopy (XAS), in situ X-ray diffraction (XRD)
50594
The Generation of Higher-order Laguerre-Gauss Optical Beams for High-precision Interferometry
Institutions: University of Birmingham.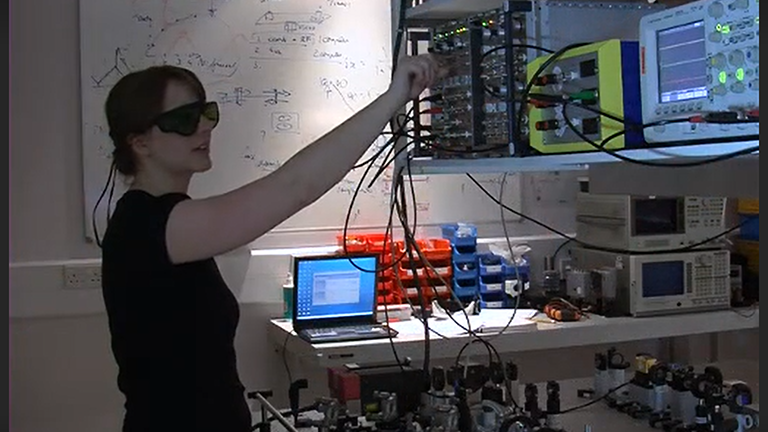 Thermal noise in high-reflectivity mirrors is a major impediment for several types of high-precision interferometric experiments that aim to reach the standard quantum limit or to cool mechanical systems to their quantum ground state. This is for example the case of future gravitational wave observatories, whose sensitivity to gravitational wave signals is expected to be limited in the most sensitive frequency band, by atomic vibration of their mirror masses. One promising approach being pursued to overcome this limitation is to employ higher-order Laguerre-Gauss (LG) optical beams in place of the conventionally used fundamental mode. Owing to their more homogeneous light intensity distribution these beams average more effectively over the thermally driven fluctuations of the mirror surface, which in turn reduces the uncertainty in the mirror position sensed by the laser light. We demonstrate a promising method to generate higher-order LG beams by shaping a fundamental Gaussian beam with the help of diffractive optical elements. We show that with conventional sensing and control techniques that are known for stabilizing fundamental laser beams, higher-order LG modes can be purified and stabilized just as well at a comparably high level. A set of diagnostic tools allows us to control and tailor the properties of generated LG beams. This enabled us to produce an LG beam with the highest purity reported to date. The demonstrated compatibility of higher-order LG modes with standard interferometry techniques and with the use of standard spherical optics makes them an ideal candidate for application in a future generation of high-precision interferometry.
Physics, Issue 78, Optics, Astronomy, Astrophysics, Gravitational waves, Laser interferometry, Metrology, Thermal noise, Laguerre-Gauss modes, interferometry
50564
Evaluating Plasmonic Transport in Current-carrying Silver Nanowires
Institutions: Université de Bourgogne, University of Science and Technology of China, CEMES, CNRS-UPR 8011.

Plasmonics is an emerging technology capable of simultaneously transporting a plasmonic signal and an electronic signal on the same information support
1,2,3
. In this context, metal nanowires are especially desirable for realizing dense routing networks
4
. A prerequisite to operate such shared nanowire-based platform relies on our ability to electrically contact individual metal nanowires and efficiently excite surface plasmon polaritons
5
in this information support. In this article, we describe a protocol to bring electrical terminals to chemically-synthesized silver nanowires
6
randomly distributed on a glass substrate
7
. The positions of the nanowire ends with respect to predefined landmarks are precisely located using standard optical transmission microscopy before encapsulation in an electron-sensitive resist. Trenches representing the electrode layout are subsequently designed by electron-beam lithography. Metal electrodes are then fabricated by thermally evaporating a Cr/Au layer followed by a chemical lift-off. The contacted silver nanowires are finally transferred to a leakage radiation microscope for surface plasmon excitation and characterization
8,9
. Surface plasmons are launched in the nanowires by focusing a near infrared laser beam on a diffraction-limited spot overlapping one nanowire extremity
5,9
. For sufficiently large nanowires, the surface plasmon mode leaks into the glass substrate
9,10
. This leakage radiation is readily detected, imaged, and analyzed in the different conjugate planes in leakage radiation microscopy
9,11
. The electrical terminals do not affect the plasmon propagation. However, a current-induced morphological deterioration of the nanowire drastically degrades the flow of surface plasmons. The combination of surface plasmon leakage radiation microscopy with a simultaneous analysis of the nanowire electrical transport characteristics reveals the intrinsic limitations of such plasmonic circuitry.
Physics, Issue 82, light transmission, optical waveguides, photonics, plasma oscillations, plasma waves, electron motion in conductors, nanofabrication, Information Transport, plasmonics, Silver Nanowires, Leakage radiation microscopy, Electromigration
51048