Analysis of Dendritic Spine Morphology in Cultured CNS Neurons
Published: 07-13-2011
ABSTRACT
Dendritic spines are the sites of the majority of excitatory connections within the brain, and form the post-synaptic compartment of synapses. These structures are rich in actin and have been shown to be highly dynamic. In response to classical Hebbian plasticity as well as neuromodulatory signals, dendritic spines can change shape and number, which is thought to be critical for the refinement of neural circuits and the processing and storage of information within the brain. Within dendritic spines, a complex network of proteins link extracellular signals with the actin cyctoskeleton allowing for control of dendritic spine morphology and number. Neuropathological studies have demonstrated that a number of disease states, ranging from schizophrenia to autism spectrum disorders, display abnormal dendritic spine morphology or numbers. Moreover, recent genetic studies have identified mutations in numerous genes that encode synaptic proteins, leading to suggestions that these proteins may contribute to aberrant spine plasticity that, in part, underlie the pathophysiology of these disorders. In order to study the potential role of these proteins in controlling dendritic spine morphologies/number, the use of cultured cortical neurons offers several advantages. Firstly, this system allows for high-resolution imaging of dendritic spines in fixed cells as well as time-lapse imaging of live cells. Secondly, this in vitro system allows for easy manipulation of protein function by expression of mutant proteins, knockdown by shRNA constructs, or pharmacological treatments. These techniques allow researchers to begin to dissect the role of disease-associated proteins and to predict how mutations of these proteins may function in vivo.
19 Related JoVE Articles!
Imaging Dendritic Spines of Rat Primary Hippocampal Neurons using Structured Illumination Microscopy
Institutions: University of Amsterdam, University of Amsterdam.

Dendritic spines are protrusions emerging from the dendrite of a neuron and represent the primary postsynaptic targets of excitatory inputs in the brain. Technological advances have identified these structures as key elements in neuron connectivity and synaptic plasticity. The quantitative analysis of spine morphology using light microscopy remains an essential problem due to technical limitations associated with light's intrinsic refraction limit. Dendritic spines can be readily identified by confocal laser-scanning fluorescence microscopy. However, measuring subtle changes in the shape and size of spines is difficult because spine dimensions other than length are usually smaller than conventional optical resolution fixed by light microscopy's theoretical resolution limit of 200 nm. Several recently developed super resolution techniques have been used to image cellular structures smaller than the 200 nm, including dendritic spines. These techniques are based on classical far-field operations and therefore allow the use of existing sample preparation methods and to image beyond the surface of a specimen. Described here is a working protocol to apply super resolution structured illumination microscopy (SIM) to the imaging of dendritic spines in primary hippocampal neuron cultures. Possible applications of SIM overlap with those of confocal microscopy. However, the two techniques present different applicability. SIM offers higher effective lateral resolution, while confocal microscopy, due to the usage of a physical pinhole, achieves resolution improvement at the expense of removal of out of focus light. In this protocol, primary neurons are cultured on glass coverslips using a standard protocol, transfected with DNA plasmids encoding fluorescent proteins and imaged using SIM. The whole protocol described herein takes approximately 2 weeks, because dendritic spines are imaged after 16-17 days
in vitro
, when dendritic development is optimal. After completion of the protocol, dendritic spines can be reconstructed in 3D from series of SIM image stacks using specialized software.
Neuroscience, Issue 87, Dendritic Spine, Microscopy, Confocal, Fluorescence, Neurosciences, hippocampus, primary neuron, super resolution microscopy, structured illumination microscopy (SIM), neuroscience, dendrite
51276
Post-embedding Immunogold Labeling of Synaptic Proteins in Hippocampal Slice Cultures
Institutions: Medical College of Wisconsin , Medical College of Wisconsin .

Immunoelectron microscopy is a powerful tool to study biological molecules at the subcellular level. Antibodies coupled to electron-dense markers such as colloidal gold can reveal the localization and distribution of specific antigens in various tissues
1
. The two most widely used techniques are pre-embedding and post-embedding techniques. In pre-embedding immunogold-electron microscopy (EM) techniques, the tissue must be permeabilized to allow antibody penetration before it is embedded. These techniques are ideal for preserving structures but poor penetration of the antibody (often only the first few micrometers) is a considerable drawback
2
. The post-embedding labeling methods can avoid this problem because labeling takes place on sections of fixed tissues where antigens are more easily accessible. Over the years, a number of modifications have improved the post-embedding methods to enhance immunoreactivity and to preserve ultrastructure
3-5
. Tissue fixation is a crucial part of EM studies. Fixatives chemically crosslink the macromolecules to lock the tissue structures in place. The choice of fixative affects not only structural preservation but also antigenicity and contrast. Osmium tetroxide (OsO
4
), formaldehyde, and glutaraldehyde have been the standard fixatives for decades, including for central nervous system (CNS) tissues that are especially prone to structural damage during chemical and physical processing. Unfortunately, OsO
4
is highly reactive and has been shown to mask antigens
6
, resulting in poor and insufficient labeling. Alternative approaches to avoid chemical fixation include freezing the tissues. But these techniques are difficult to perform and require expensive instrumentation. To address some of these problems and to improve CNS tissue labeling, Phend
et al
. replaced OsO
4
with uranyl acetate (UA) and tannic acid (TA), and successfully introduced additional modifications to improve the sensitivity of antigen detection and structural preservation in brain and spinal cord tissues
7
. We have adopted this osmium-free post-embedding method to rat brain tissue and optimized the immunogold labeling technique to detect and study synaptic proteins. We present here a method to determine the ultrastructural localization of synaptic proteins in rat hippocampal CA1 pyramidal neurons. We use organotypic hippocampal cultured slices. These slices maintain the trisynaptic circuitry of the hippocampus, and thus are especially useful for studying synaptic plasticity, a mechanism widely thought to underlie learning and memory. Organotypic hippocampal slices from postnatal day 5 and 6 mouse/rat pups can be prepared as described previously
8
, and are especially useful to acutely knockdown or overexpress exogenous proteins. We have previously used this protocol to characterize neurogranin (Ng), a neuron-specific protein with a critical role in regulating synaptic function
8,9
. We have also used it to characterize the ultrastructural localization of calmodulin (CaM) and Ca
2+
/CaM-dependent protein kinase II (CaMKII)
10
. As illustrated in the results, this protocol allows good ultrastructural preservation of dendritic spines and efficient labeling of Ng to help characterize its distribution in the spine
8
. Furthermore, the procedure described here can have wide applicability in studying many other proteins involved in neuronal functions.
Neuroscience, Issue 74, Immunology, Neurobiology, Biochemistry, Molecular Biology, Cellular Biology, Genetics, Proteins, Immunohistochemistry, Immunological Synapses, Synapses, Hippocampus, Microscopy, Electron, Neuronal Plasticity, plasticity, Nervous System, Organotypic cultures, hippocampus, electron microscopy, post-embedding, immunogold labeling, fixation, cell culture, imaging
50273
Visualisation and Quantification of Intracellular Interactions of Neisseria meningitidis and Human α-actinin by Confocal Imaging
Institutions: University of Bristol, UK.

The Opc protein of
Neisseria meningitidis
(Nm, meningococcus) is a surface-expressed integral outer membrane protein, which can act as an adhesin and an effective invasin for human epithelial and endothelial cells. We have identified endothelial surface-located integrins as major receptors for Opc, a process which requires Opc to first bind to integrin ligands such as vitronectin and via these to the cell-expressed receptors
1
. This process leads to bacterial invasion of endothelial cells
2
. More recently, we observed an interaction of Opc with a 100kDa protein found in whole cell lysates of human cells
3
. We initially observed this interaction when host cell proteins separated by electrophoresis and blotted on to nitrocellulose were overlaid with Opc-expressing Nm. The interaction was direct and did not involve intermediate molecules. By mass spectrometry, we established the identity of the protein as α-actinin. As no surface expressed α-actinin was found on any of the eight cell lines examined, and as Opc interactions with endothelial cells in the presence of serum lead to bacterial entry into the target cells, we examined the possibility of the two proteins interacting intracellularly. For this, cultured human brain microvascular endothelial cells (HBMECs) were infected with Opc-expressing Nm for extended periods and the locations of internalised bacteria and α-actinin were examined by confocal microscopy. We observed time-dependent increase in colocalisation of Nm with the cytoskeletal protein, which was considerable after an eight hour period of bacterial internalisation. In addition, the use of quantitative imaging software enabled us to obtain a relative measure of the colocalisation of Nm with α-actinin and other cytoskeletal proteins. Here we present a protocol for visualisation and quantification of the colocalisation of the bacterium with intracellular proteins after bacterial entry into human endothelial cells, although the procedure is also applicable to human epithelial cells.
Immunology, Issue 44, Neisseria meningitidis, Opc, α-actinin, colocalization
2045
Visualization and Genetic Manipulation of Dendrites and Spines in the Mouse Cerebral Cortex and Hippocampus using In utero Electroporation
Institutions: MRC National Institute for Medical Research, National Institute for Medical Research, Université de Bordeaux.

In utero electroporation (IUE) has become a powerful technique to study the development of different regions of the embryonic nervous system
1-5
. To date this tool has been widely used to study the regulation of cellular proliferation, differentiation and neuronal migration especially in the developing cerebral cortex
6-8
. Here we detail our protocol to electroporate in utero the cerebral cortex and the hippocampus and provide evidence that this approach can be used to study dendrites and spines in these two cerebral regions. Visualization and manipulation of neurons in primary cultures have contributed to a better understanding of the processes involved in dendrite, spine and synapse development. However neurons growing in vitro are not exposed to all the physiological cues that can affect dendrite and/or spine formation and maintenance during normal development. Our knowledge of dendrite and spine structures
in vivo
in wild-type or mutant mice comes mostly from observations using the Golgi-Cox method
9
. However, Golgi staining is considered to be unpredictable. Indeed, groups of nerve cells and fiber tracts are labeled randomly, with particular areas often appearing completely stained while adjacent areas are devoid of staining. Recent studies have shown that IUE of fluorescent constructs represents an attractive alternative method to study dendrites, spines as well as synapses in mutant / wild-type mice
10-11
(
Figure 1A
). Moreover in comparison to the generation of mouse knockouts, IUE represents a rapid approach to perform gain and loss of function studies in specific population of cells during a specific time window. In addition, IUE has been successfully used with inducible gene expression or inducible RNAi approaches to refine the temporal control over the expression of a gene or shRNA
12
. These advantages of IUE have thus opened new dimensions to study the effect of gene expression/suppression on dendrites and spines not only in specific cerebral structures (
Figure 1B
) but also at a specific time point of development (
Figure 1C
). Finally, IUE provides a useful tool to identify functional interactions between genes involved in dendrite, spine and/or synapse development. Indeed, in contrast to other gene transfer methods such as virus, it is straightforward to combine multiple RNAi or transgenes in the same population of cells. In summary, IUE is a powerful method that has already contributed to the characterization of molecular mechanisms underlying brain function and disease and it should also be useful in the study of dendrites and spines.
Neuroscience, Issue 65, Developmental Biology, Molecular Biology, Neuronal development, In utero electroporation, dendrite, spines, hippocampus, cerebral cortex, gain and loss of function
4163
Calcium Phosphate Transfection of Primary Hippocampal Neurons
Institutions: Rutgers University.
Calcium phosphate precipitation is a convenient and economical method for transfection of cultured cells. With optimization, it is possible to use this method on hard-to-transfect cells like primary neurons. Here we describe our detailed protocol for calcium phosphate transfection of hippocampal neurons cocultured with astroglial cells.
Neuroscience, Issue 81, Primary hippocampal neuron, calcium phosphate transfection, Coculture, astroglial cells, DNA
50808
Fluorescent Labeling of Drosophila Heart Structures
Institutions: San Diego State University, The Sanford Burnham Institute for Medical Research.

The
Drosophila melanogaster
dorsal vessel, or heart, is a tubular structure comprised of a single layer of contractile cardiomyocytes, pericardial cells that align along each side of the heart wall, supportive alary muscles and, in adults, a layer of ventral longitudinal muscle cells. The contractile fibers house conserved constituents of the muscle cytoarchitecture including densely packed bundles of myofibrils and cytoskeletal/submembranous protein complexes, which interact with homologous components of the extracellular matrix. Here we describe a protocol for the fixation and the fluorescent labeling of particular myocardial elements from the hearts of dissected larvae and semi-intact adult
Drosophila
. Specifically, we demonstrate the labeling of sarcomeric F-actin and of α-actinin in larval hearts. Additionally, we perform labeling of F-actin and α-actinin in myosin-GFP expressing adult flies and of α-actinin and pericardin, a type IV extracellular matrix collagen, in wild type adult hearts. Particular attention is given to a mounting strategy for semi-intact adult hearts that minimizes handling and optimizes the opportunity for maintaining the integrity of the cardiac tubes and the associated tissues. These preparations are suitable for imaging via fluorescent and confocal microscopy. Overall, this procedure allows for careful and detailed analysis of the structural characteristics of the heart from a powerful genetically tractable model system.
Cellular Biology, Issue 32, Cardiac, cardiomyopathy, dorsal vessel, fluorescence, staining, GFP, larva, immunohistochemistry, microscopy, imaging
1423
Examination of Synaptic Vesicle Recycling Using FM Dyes During Evoked, Spontaneous, and Miniature Synaptic Activities
Institutions: University of Iowa Carver College of Medicine, University of Bath.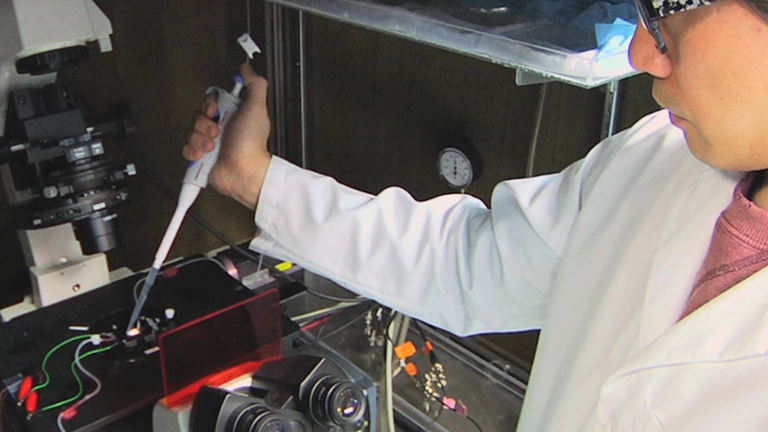 Synaptic vesicles in functional nerve terminals undergo exocytosis and endocytosis. This synaptic vesicle recycling can be effectively analyzed using styryl FM dyes, which reveal membrane turnover. Conventional protocols for the use of FM dyes were designed for analyzing neurons following stimulated (evoked) synaptic activity. Recently, protocols have become available for analyzing the FM signals that accompany weaker synaptic activities, such as spontaneous or miniature synaptic events. Analysis of these small changes in FM signals requires that the imaging system is sufficiently sensitive to detect small changes in intensity, yet that artifactual changes of large amplitude are suppressed. Here we describe a protocol that can be applied to evoked, spontaneous, and miniature synaptic activities, and use cultured hippocampal neurons as an example. This protocol also incorporates a means of assessing the rate of photobleaching of FM dyes, as this is a significant source of artifacts when imaging small changes in intensity.
Neuroscience, Issue 85, Presynaptic Terminals, Synaptic Vesicles, Microscopy, Biological Assay, Nervous System, Endocytosis, exocytosis, fluorescence imaging, FM dye, neuron, photobleaching
50557
Modeling Neural Immune Signaling of Episodic and Chronic Migraine Using Spreading Depression In Vitro
Institutions: The University of Chicago Medical Center, The University of Chicago Medical Center.

Migraine and its transformation to chronic migraine are healthcare burdens in need of improved treatment options. We seek to define how neural immune signaling modulates the susceptibility to migraine, modeled
in vitro
using spreading depression (SD), as a means to develop novel therapeutic targets for episodic and chronic migraine. SD is the likely cause of migraine aura and migraine pain. It is a paroxysmal loss of neuronal function triggered by initially increased neuronal activity, which slowly propagates within susceptible brain regions. Normal brain function is exquisitely sensitive to, and relies on, coincident low-level immune signaling. Thus, neural immune signaling likely affects electrical activity of SD, and therefore migraine. Pain perception studies of SD in whole animals are fraught with difficulties, but whole animals are well suited to examine systems biology aspects of migraine since SD activates trigeminal nociceptive pathways. However, whole animal studies alone cannot be used to decipher the cellular and neural circuit mechanisms of SD. Instead,
in vitro
preparations where environmental conditions can be controlled are necessary. Here, it is important to recognize limitations of acute slices and distinct advantages of hippocampal slice cultures. Acute brain slices cannot reveal subtle changes in immune signaling since preparing the slices alone triggers: pro-inflammatory changes that last days, epileptiform behavior due to high levels of oxygen tension needed to vitalize the slices, and irreversible cell injury at anoxic slice centers. In contrast, we examine immune signaling in mature hippocampal slice cultures since the cultures closely parallel their
in vivo
counterpart with mature trisynaptic function; show quiescent astrocytes, microglia, and cytokine levels; and SD is easily induced in an unanesthetized preparation. Furthermore, the slices are long-lived and SD can be induced on consecutive days without injury, making this preparation the sole means to-date capable of modeling the neuroimmune consequences of chronic SD, and thus perhaps chronic migraine. We use electrophysiological techniques and non-invasive imaging to
measure
neuronal cell and circuit functions coincident with SD. Neural immune gene expression variables are measured with qPCR screening, qPCR arrays, and, importantly, use of cDNA preamplification for detection of ultra-low level targets such as interferon-gamma using whole, regional, or specific cell enhanced (via laser dissection microscopy) sampling. Cytokine cascade signaling is further assessed with multiplexed phosphoprotein related targets with gene expression and phosphoprotein changes confirmed via cell-specific immunostaining. Pharmacological and siRNA strategies are used to
mimic
and
modulate
SD immune signaling.
Neuroscience, Issue 52, innate immunity, hormesis, microglia, T-cells, hippocampus, slice culture, gene expression, laser dissection microscopy, real-time qPCR, interferon-gamma
2910
Whole-cell Patch-clamp Recordings from Morphologically- and Neurochemically-identified Hippocampal Interneurons
Institutions: Charité Universitätmedizin.

GABAergic inhibitory interneurons play a central role within neuronal circuits of the brain. Interneurons comprise a small subset of the neuronal population (10-20%), but show a high level of physiological, morphological, and neurochemical heterogeneity, reflecting their diverse functions. Therefore, investigation of interneurons provides important insights into the organization principles and function of neuronal circuits. This, however, requires an integrated physiological and neuroanatomical approach for the selection and identification of individual interneuron types. Whole-cell patch-clamp recording from acute brain slices of transgenic animals, expressing fluorescent proteins under the promoters of interneuron-specific markers, provides an efficient method to target and electrophysiologically characterize intrinsic and synaptic properties of specific interneuron types. Combined with intracellular dye labeling, this approach can be extended with post-hoc morphological and immunocytochemical analysis, enabling systematic identification of recorded neurons. These methods can be tailored to suit a broad range of scientific questions regarding functional properties of diverse types of cortical neurons.
Neuroscience, Issue 91, electrophysiology, acute slice, whole-cell patch-clamp recording, neuronal morphology, immunocytochemistry, parvalbumin, hippocampus, inhibition, GABAergic interneurons, synaptic transmission, IPSC, GABA-B receptor
51706
Deriving the Time Course of Glutamate Clearance with a Deconvolution Analysis of Astrocytic Transporter Currents
Institutions: National Institutes of Health.

The highest density of glutamate transporters in the brain is found in astrocytes. Glutamate transporters couple the movement of glutamate across the membrane with the co-transport of 3 Na
+
and 1 H
+
and the counter-transport of 1 K
+
. The stoichiometric current generated by the transport process can be monitored with whole-cell patch-clamp recordings from astrocytes. The time course of the recorded current is shaped by the time course of the glutamate concentration profile to which astrocytes are exposed, the kinetics of glutamate transporters, and the passive electrotonic properties of astrocytic membranes. Here we describe the experimental and analytical methods that can be used to record glutamate transporter currents in astrocytes and isolate the time course of glutamate clearance from all other factors that shape the waveform of astrocytic transporter currents. The methods described here can be used to estimate the lifetime of flash-uncaged and synaptically-released glutamate at astrocytic membranes in any region of the central nervous system during health and disease.
Neurobiology, Issue 78, Neuroscience, Biochemistry, Molecular Biology, Cellular Biology, Anatomy, Physiology, Biophysics, Astrocytes, Synapses, Glutamic Acid, Membrane Transport Proteins, Astrocytes, glutamate transporters, uptake, clearance, hippocampus, stratum radiatum, CA1, gene, brain, slice, animal model
50708
Inhibitory Synapse Formation in a Co-culture Model Incorporating GABAergic Medium Spiny Neurons and HEK293 Cells Stably Expressing GABAA Receptors
Institutions: University College London.

Inhibitory neurons act in the central nervous system to regulate the dynamics and spatio-temporal co-ordination of neuronal networks. GABA (γ-aminobutyric acid) is the predominant inhibitory neurotransmitter in the brain. It is released from the presynaptic terminals of inhibitory neurons within highly specialized intercellular junctions known as synapses, where it binds to GABA
A
receptors (GABA
A
Rs) present at the plasma membrane of the synapse-receiving, postsynaptic neurons. Activation of these GABA-gated ion channels leads to influx of chloride resulting in postsynaptic potential changes that decrease the probability that these neurons will generate action potentials. During development, diverse types of inhibitory neurons with distinct morphological, electrophysiological and neurochemical characteristics have the ability to recognize their target neurons and form synapses which incorporate specific GABA
A
Rs subtypes. This principle of selective innervation of neuronal targets raises the question as to how the appropriate synaptic partners identify each other. To elucidate the underlying molecular mechanisms, a novel
in vitro
co-culture model system was established, in which medium spiny GABAergic neurons, a highly homogenous population of neurons isolated from the embryonic striatum, were cultured with stably transfected HEK293 cell lines that express different GABA
A
R subtypes. Synapses form rapidly, efficiently and selectively in this system, and are easily accessible for quantification. Our results indicate that various GABA
A
R subtypes differ in their ability to promote synapse formation, suggesting that this reduced
in vitro
model system can be used to reproduce, at least in part, the
in vivo
conditions required for the recognition of the appropriate synaptic partners and formation of specific synapses. Here the protocols for culturing the medium spiny neurons and generating HEK293 cells lines expressing GABA
A
Rs are first described, followed by detailed instructions on how to combine these two cell types in co-culture and analyze the formation of synaptic contacts.
Neuroscience, Issue 93, Developmental neuroscience, synaptogenesis, synaptic inhibition, co-culture, stable cell lines, GABAergic, medium spiny neurons, HEK 293 cell line
52115
Inducing Plasticity of Astrocytic Receptors by Manipulation of Neuronal Firing Rates
Institutions: University of California Riverside, University of California Riverside, University of California Riverside.

Close to two decades of research has established that astrocytes
in situ
and
in vivo
express numerous G protein-coupled receptors (GPCRs) that can be stimulated by neuronally-released transmitter. However, the ability of astrocytic receptors to exhibit plasticity in response to changes in neuronal activity has received little attention. Here we describe a model system that can be used to globally scale up or down astrocytic group I metabotropic glutamate receptors (mGluRs) in acute brain slices. Included are methods on how to prepare parasagittal hippocampal slices, construct chambers suitable for long-term slice incubation, bidirectionally manipulate neuronal action potential frequency, load astrocytes and astrocyte processes with fluorescent Ca
2+
indicator, and measure changes in astrocytic Gq GPCR activity by recording spontaneous and evoked astrocyte Ca
2+
events using confocal microscopy. In essence, a "calcium roadmap" is provided for how to measure plasticity of astrocytic Gq GPCRs. Applications of the technique for study of astrocytes are discussed. Having an understanding of how astrocytic receptor signaling is affected by changes in neuronal activity has important implications for both normal synaptic function as well as processes underlying neurological disorders and neurodegenerative disease.
Neuroscience, Issue 85, astrocyte, plasticity, mGluRs, neuronal Firing, electrophysiology, Gq GPCRs, Bolus-loading, calcium, microdomains, acute slices, Hippocampus, mouse
51458
Paired Whole Cell Recordings in Organotypic Hippocampal Slices
Institutions: University of Auckland, Stanford University.

Pair recordings involve simultaneous whole cell patch clamp recordings from two synaptically connected neurons, enabling not only direct electrophysiological characterization of the synaptic connections between individual neurons, but also pharmacological manipulation of either the presynaptic or the postsynaptic neuron. When carried out in organotypic hippocampal slice cultures, the probability that two neurons are synaptically connected is significantly increased. This preparation readily enables identification of cell types, and the neurons maintain their morphology and properties of synaptic function similar to that in native brain tissue. A major advantage of paired whole cell recordings is the highly precise information it can provide on the properties of synaptic transmission and plasticity that are not possible with other more crude techniques utilizing extracellular axonal stimulation. Paired whole cell recordings are often perceived as too challenging to perform. While there are challenging aspects to this technique, paired recordings can be performed by anyone trained in whole cell patch clamping provided specific hardware and methodological criteria are followed. The probability of attaining synaptically connected paired recordings significantly increases with healthy organotypic slices and stable micromanipulation allowing independent attainment of pre- and postsynaptic whole cell recordings. While CA3-CA3 pyramidal cell pairs are most widely used in the organotypic slice hippocampal preparation, this technique has also been successful in CA3-CA1 pairs and can be adapted to any neurons that are synaptically connected in the same slice preparation. In this manuscript we provide the detailed methodology and requirements for establishing this technique in any laboratory equipped for electrophysiology.
Neuroscience, Issue 91, hippocampus, paired recording, whole cell recording, organotypic slice, synapse, synaptic transmission, synaptic plasticity
51958
Multi-photon Intracellular Sodium Imaging Combined with UV-mediated Focal Uncaging of Glutamate in CA1 Pyramidal Neurons
Institutions: Heinrich Heine University Düsseldorf.
Multi-photon fluorescence microscopy has enabled the analysis of morphological and physiological parameters of brain cells in the intact tissue with high spatial and temporal resolution. Combined with electrophysiology, it is widely used to study activity-related calcium signals in small subcellular compartments such as dendrites and dendritic spines. In addition to calcium transients, synaptic activity also induces postsynaptic sodium signals, the properties of which are only marginally understood. Here, we describe a method for combined whole-cell patch-clamp and multi-photon sodium imaging in cellular micro domains of central neurons. Furthermore, we introduce a modified procedure for ultra-violet (UV)-light-induced uncaging of glutamate, which allows reliable and focal activation of glutamate receptors in the tissue. To this end, whole-cell recordings were performed on
Cornu Ammonis
subdivision 1 (CA1) pyramidal neurons in acute tissue slices of the mouse hippocampus. Neurons were filled with the sodium-sensitive fluorescent dye SBFI through the patch-pipette, and multi-photon excitation of SBFI enabled the visualization of dendrites and adjacent spines. To establish UV-induced focal uncaging, several parameters including light intensity, volume affected by the UV uncaging beam, positioning of the beam as well as concentration of the caged compound were tested and optimized. Our results show that local perfusion with caged glutamate (MNI-Glutamate) and its focal UV-uncaging result in inward currents and sodium transients in dendrites and spines. Time course and amplitude of both inward currents and sodium signals correlate with the duration of the uncaging pulse. Furthermore, our results show that intracellular sodium signals are blocked in the presence of blockers for ionotropic glutamate receptors, demonstrating that they are mediated by sodium influx though this pathway. In summary, our method provides a reliable tool for the investigation of intracellular sodium signals induced by focal receptor activation in intact brain tissue.
Neuroscience, Issue 92, Neurosciences, two-photon microscopy, patch-clamp, UV-flash photolysis, mouse, hippocampus, caged compounds, glutamate, brain slice, dendrite, sodium signals
52038
Preparation of Synaptic Plasma Membrane and Postsynaptic Density Proteins Using a Discontinuous Sucrose Gradient
Institutions: University of Toronto.
Neuronal subcellular fractionation techniques allow the quantification of proteins that are trafficked to and from the synapse. As originally described in the late 1960's, proteins associated with the synaptic plasma membrane can be isolated by ultracentrifugation on a sucrose density gradient. Once synaptic membranes are isolated, the macromolecular complex known as the post-synaptic density can be subsequently isolated due to its detergent insolubility. The techniques used to isolate synaptic plasma membranes and post-synaptic density proteins remain essentially the same after 40 years, and are widely used in current neuroscience research. This article details the fractionation of proteins associated with the synaptic plasma membrane and post-synaptic density using a discontinuous sucrose gradient. Resulting protein preparations are suitable for western blotting or 2D DIGE analysis.
Neurobiology, Issue 91, brain, synapse, western blot, ultracentrifugation, SPM, PSD
51896
Quantifying Synapses: an Immunocytochemistry-based Assay to Quantify Synapse Number
Institutions: Duke University, Duke University.

One of the most important goals in neuroscience is to understand the molecular cues that instruct early stages of synapse formation. As such it has become imperative to develop objective approaches to quantify changes in synaptic connectivity. Starting from sample fixation, this protocol details how to quantify synapse number both in dissociated neuronal culture and in brain sections using immunocytochemistry. Using compartment-specific antibodies, we label presynaptic terminals as well as sites of postsynaptic specialization. We define synapses as points of colocalization between the signals generated by these markers. The number of these colocalizations is quantified using a plug in Puncta Analyzer (written by Bary Wark, available upon request, c.eroglu@cellbio.duke.edu) under the ImageJ analysis software platform. The synapse assay described in this protocol can be applied to any neural tissue or culture preparation for which you have selective pre- and postsynaptic markers. This synapse assay is a valuable tool that can be widely utilized in the study of synaptic development.
Neuroscience, Issue 45, synapse, immunocytochemistry, brain, neuron, astrocyte
2270
Actin Co-Sedimentation Assay; for the Analysis of Protein Binding to F-Actin
Institutions: University of California, San Francisco - UCSF.

The actin cytoskeleton within the cell is a network of actin filaments that allows the movement of cells and cellular processes, and that generates tension and helps maintains cellular shape. Although the actin cytoskeleton is a rigid structure, it is a dynamic structure that is constantly remodeling. A number of proteins can bind to the actin cytoskeleton. The binding of a particular protein to F-actin is often desired to support cell biological observations or to further understand dynamic processes due to remodeling of the actin cytoskeleton. The actin co-sedimentation assay is an in vitro assay routinely used to analyze the binding of specific proteins or protein domains with F-actin. The basic principles of the assay involve an incubation of the protein of interest (full length or domain of) with F-actin, ultracentrifugation step to pellet F-actin and analysis of the protein co-sedimenting with F-actin. Actin co-sedimentation assays can be designed accordingly to measure actin binding affinities and in competition assays.
Biochemistry, Issue 13, F-actin, protein, in vitro binding, ultracentrifugation
690
Fluorescence Recovery After Photobleaching (FRAP) of Fluorescence Tagged Proteins in Dendritic Spines of Cultured Hippocampal Neurons
Institutions: National Institutes of Health, Bethesda.

FRAP has been used to quantify the mobility of GFP-tagged proteins. Using a strong excitation laser, the fluorescence of a GFP-tagged protein is bleached in the region of interest. The fluorescence of the region recovers when the unbleached GFP-tagged protein from outside of the region diffuses into the region of interest. The mobility of the protein is then analyzed by measuring the fluorescence recovery rate. This technique could be used to characterize protein mobility and turnover rate. In this study, we express the (enhanced
green
fluorescent protein) EGFP vector in cultured hippocampal neurons. Using the Zeiss 710 confocal microscope, we photobleach the fluorescence signal of the GFP protein in a single spine, and then take time lapse images to record the fluorescence recovery after photobleaching. Finally, we estimate the percentage of mobile and immobile fractions of the GFP in spines, by analyzing the imaging data using ImageJ and Graphpad softwares. This FRAP protocol shows how to perform a basic FRAP experiment as well as how to analyze the data.
Neuroscience, Issue 50, Spine, FRAP, hippocampal neurons, live cell imaging, protein mobility
2568
Monitoring Actin Disassembly with Time-lapse Microscopy
Institutions: Harvard Medical School.

Cellular Biology, Issue 1, cytoskeleton, actin, timelapse, filament, chamber
66