ABSTRACT
Nowadays, AgNPs are extensively used in the manufacture of consumer products,1 water disinfectants,2 therapeutics,1, 3 and biomedical devices4 due to their powerful antimicrobial properties.3-6 These nanoparticle applications are strongly influenced by the AgNP size and aggregation state. Many challenges exist in the controlled fabrication7 and size-based isolation4,8 of unfunctionalized, homogenous AgNPs that are free from chemically aggressive capping/stabilizing agents or organic solvents.7-13 Limitations emerge from the toxicity of reagents, high costs or reduced efficiency of the AgNP synthesis or isolation methods (e.g., centrifugation, size-dependent solubility, size-exclusion chromatography, etc.).10,14-18 To overcome this, we recently showed that TFU permits greater control over the size, concentration and aggregation state of Creighton AgNPs (300 ml of 15.3 μg ml-1 down to 10 ml of 198.7 μg ml-1) than conventional methods of isolation such as ultracentrifugation.19 TFU is a recirculation method commonly used for the weight-based isolation of proteins, viruses and cells.20,21 Briefly, the liquid sample is passed through a series of hollow fiber membranes with pore size ranging from 1,000 kD to 10 kD. Smaller suspended or dissolved constituents in the sample will pass through the porous barrier together with the solvent (filtrate), while the larger constituents are retained (retentate). TFU may be considered a "green" method as it neither damages the sample nor requires additional solvent to eliminate toxic excess reagents and byproducts. Furthermore, TFU may be applied to a large variety of nanoparticles as both hydrophobic and hydrophilic filters are available. The two main objectives of this study were: 1) to illustrate the experimental aspects of the TFU approach through an invited video experience and 2) to demonstrate the feasibility of the TFU method for larger volumes of colloidal nanoparticles and smaller volumes of retentate. First, unfuctionalized AgNPs (4 L, 15.2 μg ml-1) were synthesized using the well-established Creighton method22,23 by the reduction of AgNO3 with NaBH4. AgNP polydispersity was then minimized via a 3-step TFU using a 50-nm filter (460 cm2) to remove AgNPs and AgNP-aggregates larger than 50 nm, followed by two 100-kD (200 cm2 and 20 cm2) filters to concentrate the AgNPs. Representative samples were characterized using transmission electron microscopy, UV-Vis absorption spectrophotometry, Raman spectroscopy, and inductively coupled plasma optical emission spectroscopy. The final retentate consisted of highly concentrated (4 ml, 8,539.9 μg ml-1) yet lowly aggregated and homogeneous AgNPs of 1-20 nm in diameter. This corresponds to a silver concentration yield of about 62%.
22 Related JoVE Articles!
Polycrystalline Silicon Thin-film Solar cells with Plasmonic-enhanced Light-trapping
Institutions: University of New South Wales .

One of major approaches to cheaper solar cells is reducing the amount of semiconductor material used for their fabrication and making cells thinner. To compensate for lower light absorption such physically thin devices have to incorporate light-trapping which increases their optical thickness. Light scattering by textured surfaces is a common technique but it cannot be universally applied to all solar cell technologies. Some cells, for example those made of evaporated silicon, are planar as produced and they require an alternative light-trapping means suitable for planar devices. Metal nanoparticles formed on planar silicon cell surface and capable of light scattering due to surface plasmon resonance is an effective approach. The paper presents a fabrication procedure of evaporated polycrystalline silicon solar cells with plasmonic light-trapping and demonstrates how the cell quantum efficiency improves due to presence of metal nanoparticles. To fabricate the cells a film consisting of alternative boron and phosphorous doped silicon layers is deposited on glass substrate by electron beam evaporation. An Initially amorphous film is crystallised and electronic defects are mitigated by annealing and hydrogen passivation. Metal grid contacts are applied to the layers of opposite polarity to extract electricity generated by the cell. Typically, such a ~2 μm thick cell has a short-circuit current density (
Jsc
) of 14-16 mA/cm
2
, which can be increased up to 17-18 mA/cm
2
(~25% higher) after application of a simple diffuse back reflector made of a white paint. To implement plasmonic light-trapping a silver nanoparticle array is formed on the metallised cell silicon surface. A precursor silver film is deposited on the cell by thermal evaporation and annealed at 23°C to form silver nanoparticles. Nanoparticle size and coverage, which affect plasmonic light-scattering, can be tuned for enhanced cell performance by varying the precursor film thickness and its annealing conditions. An optimised nanoparticle array alone results in cell
Jsc
enhancement of about 28%, similar to the effect of the diffuse reflector. The photocurrent can be further increased by coating the nanoparticles by a low refractive index dielectric, like MgF
2
, and applying the diffused reflector. The complete plasmonic cell structure comprises the polycrystalline silicon film, a silver nanoparticle array, a layer of MgF
2
, and a diffuse reflector. The
Jsc
for such cell is 21-23 mA/cm
2
, up to 45% higher than
Jsc
of the original cell without light-trapping or ~25% higher than
Jsc
for the cell with the diffuse reflector only. Introduction Light-trapping in silicon solar cells is commonly achieved via light scattering at textured interfaces. Scattered light travels through a cell at oblique angles for a longer distance and when such angles exceed the critical angle at the cell interfaces the light is permanently trapped in the cell by total internal reflection
(Animation 1: Light-trapping)
. Although this scheme works well for most solar cells, there are developing technologies where ultra-thin Si layers are produced planar (e.g. layer-transfer technologies and epitaxial c-Si layers)
1
and or when such layers are not compatible with textures substrates (e.g. evaporated silicon)
2
. For such originally planar Si layer alternative light trapping approaches, such as diffuse white paint reflector
3
, silicon plasma texturing
4
or high refractive index nanoparticle reflector
5
have been suggested. Metal nanoparticles can effectively scatter incident light into a higher refractive index material, like silicon, due to the surface plasmon resonance effect
6
. They also can be easily formed on the planar silicon cell surface thus offering a light-trapping approach alternative to texturing. For a nanoparticle located at the air-silicon interface the scattered light fraction coupled into silicon exceeds 95% and a large faction of that light is scattered at angles above critical providing nearly ideal light-trapping condition
(Animation 2: Plasmons on NP)
. The resonance can be tuned to the wavelength region, which is most important for a particular cell material and design, by varying the nanoparticle average size, surface coverage and local dielectric environment
6,7
. Theoretical design principles of plasmonic nanoparticle solar cells have been suggested
8
. In practice, Ag nanoparticle array is an ideal light-trapping partner for poly-Si thin-film solar cells because most of these design principle are naturally met. The simplest way of forming nanoparticles by thermal annealing of a thin precursor Ag film results in a random array with a relatively wide size and shape distribution, which is particularly suitable for light-trapping because such an array has a wide resonance peak, covering the wavelength range of 700-900 nm, important for poly-Si solar cell performance. The nanoparticle array can only be located on the rear poly-Si cell surface thus avoiding destructive interference between incident and scattered light which occurs for front-located nanoparticles
9
. Moreover, poly-Si thin-film cells do not requires a passivating layer and the flat base-shaped nanoparticles (that naturally result from thermal annealing of a metal film) can be directly placed on silicon further increases plasmonic scattering efficiency due to surface plasmon-polariton resonance
10
. The cell with the plasmonic nanoparticle array as described above can have a photocurrent about 28% higher than the original cell. However, the array still transmits a significant amount of light which escapes through the rear of the cell and does not contribute into the current. This loss can be mitigated by adding a rear reflector to allow catching transmitted light and re-directing it back to the cell. Providing sufficient distance between the reflector and the nanoparticles (a few hundred nanometers) the reflected light will then experience one more plasmonic scattering event while passing through the nanoparticle array on re-entering the cell and the reflector itself can be made diffuse - both effects further facilitating light scattering and hence light-trapping. Importantly, the Ag nanoparticles have to be encapsulated with an inert and low refractive index dielectric, like MgF
2
or SiO
2
, from the rear reflector to avoid mechanical and chemical damage
7
. Low refractive index for this cladding layer is required to maintain a high coupling fraction into silicon and larger scattering angles, which are ensured by the high optical contrast between the media on both sides of the nanoparticle, silicon and dielectric
6
. The photocurrent of the plasmonic cell with the diffuse rear reflector can be up to 45% higher than the current of the original cell or up to 25% higher than the current of an equivalent cell with the diffuse reflector only.
Physics, Issue 65, Materials Science, Photovoltaics, Silicon thin-film solar cells, light-trapping, metal nanoparticles, surface plasmons
4092
Multi-analyte Biochip (MAB) Based on All-solid-state Ion-selective Electrodes (ASSISE) for Physiological Research
Institutions: Purdue University, NASA Ames Research Center, Pennsylvania State University Hazleton, Cooley LLP, NASA Headquarters.

Lab-on-a-chip (LOC) applications in environmental, biomedical, agricultural, biological, and spaceflight research require an ion-selective electrode (ISE) that can withstand prolonged storage in complex biological media
1-4
. An all-solid-state ion-selective-electrode (ASSISE) is especially attractive for the aforementioned applications. The electrode should have the following favorable characteristics: easy construction, low maintenance, and (potential for) miniaturization, allowing for batch processing. A microfabricated ASSISE intended for quantifying H
+
, Ca
2+
, and CO
3
2-
ions was constructed. It consists of a noble-metal electrode layer (
i.e.
Pt), a transduction layer, and an ion-selective membrane (ISM) layer. The transduction layer functions to transduce the concentration-dependent chemical potential of the ion-selective membrane into a measurable electrical signal. The lifetime of an ASSISE is found to depend on maintaining the potential at the conductive layer/membrane interface
5-7
. To extend the ASSISE working lifetime and thereby maintain stable potentials at the interfacial layers, we utilized the conductive polymer (CP) poly(3,4-ethylenedioxythiophene) (PEDOT)
7-9
in place of silver/silver chloride (Ag/AgCl) as the transducer layer. We constructed the ASSISE in a lab-on-a-chip format, which we called the multi-analyte biochip (MAB) (
Figure 1
). Calibrations in test solutions demonstrated that the MAB can monitor pH (operational range pH 4-9), CO
3
2-
(measured range 0.01 mM - 1 mM), and Ca
2+
(log-linear range 0.01 mM to 1 mM). The MAB for pH provides a near-Nernstian slope response after almost one month storage in algal medium. The carbonate biochips show a potentiometric profile similar to that of a conventional ion-selective electrode. Physiological measurements were employed to monitor biological activity of the model system, the microalga
Chlorella vulgaris
. The MAB conveys an advantage in size, versatility, and multiplexed analyte sensing capability, making it applicable to many confined monitoring situations, on Earth or in space. Biochip Design and Experimental Methods The biochip is 10 x 11 mm in dimension and has 9 ASSISEs designated as working electrodes (WEs) and 5 Ag/AgCl reference electrodes (REs). Each working electrode (WE) is 240 μm in diameter and is equally spaced at 1.4 mm from the REs, which are 480 μm in diameter. These electrodes are connected to electrical contact pads with a dimension of 0.5 mm x 0.5 mm. The schematic is shown in
Figure 2
. Cyclic voltammetry (CV) and galvanostatic deposition methods are used to electropolymerize the PEDOT films using a Bioanalytical Systems Inc. (BASI) C3 cell stand (
Figure 3
). The counter-ion for the PEDOT film is tailored to suit the analyte ion of interest. A PEDOT with poly(styrenesulfonate) counter ion (PEDOT/PSS) is utilized for H
+
and CO
3
2-
, while one with sulphate (added to the solution as CaSO
4
) is utilized for Ca
2+
. The electrochemical properties of the PEDOT-coated WE is analyzed using CVs in redox-active solution (
i.e.
2 mM potassium ferricyanide (K
3
Fe(CN)
6
)). Based on the CV profile, Randles-Sevcik analysis was used to determine the effective surface area
10
. Spin-coating at 1,500 rpm is used to cast ~2 μm thick ion-selective membranes (ISMs) on the MAB working electrodes (WEs). The MAB is contained in a microfluidic flow-cell chamber filled with a 150 μl volume of algal medium; the contact pads are electrically connected to the BASI system (
Figure 4
). The photosynthetic activity of
Chlorella vulgaris
is monitored in ambient light and dark conditions.
Bioengineering, Issue 74, Medicine, Biomedical Engineering, Chemical Engineering, Electrical Engineering, Mechanical Engineering, Chemistry, Biochemistry, Anatomy, Physiology, Miniaturization, Microtechnology, Electrochemical Techniques, electrochemical processes, astrobiology, Analytical, Diagnostic and Therapeutic Techniques and Equipment, Investigative Techniques, Technology, Industry, Agriculture, electrochemical sensor, all-solid-state ion-selective electrode (ASSISE), conductive polymer transducer, poly(3,4-ethylenedioxythiophene) (PEDOT), lab-on-a-chip, Chlorella vulgaris, photosynthesis, microfluidics
50020
Bacterial Delivery of RNAi Effectors: Transkingdom RNAi
Institutions: Charité Campus Mitte.

RNA interference (RNAi) represents a high effective mechanism for specific inhibition of mRNA expression. Besides its potential as a powerful laboratory tool, the RNAi pathway appears to be promising for therapeutic utilization. For development of RNA interference (RNAi)-based therapies, delivery of RNAi-mediating agents to target cells is one of the major obstacles. A novel strategy to overcome this hurdle is transkingdom RNAi (
tk
RNAi). This technology uses non-pathogenic bacteria, e.g.
Escherichia coli
, to produce and deliver therapeutic short hairpin RNA (shRNA) into target cells to induce RNAi. A first-generation
tk
RNAi-mediating vector, TRIP, contains the bacteriophage T7 promoter for expression regulation of a therapeutic shRNA of interest. Furthermore, TRIP has the
Inv
locus from
Yersinia pseudotuberculosis
that encodes invasin, which permits natural noninvasive bacteria to enter β1-integrin-positive mammalian cells and the
HlyA
gene from
Listeria monocytogenes
, which produces listeriolysin O. This enzyme allows the therapeutic shRNA to escape from entry vesicles within the cytoplasm of the target cell. TRIP constructs are introduced into a competent non-pathogenic
Escherichia coli
strain, which encodes T7 RNA polymerase necessary for the T7 promoter-driven synthesis of shRNAs. A well-characterized cancer-associated target molecule for different RNAi strategies is ABCB1 (MDR1/P-glycoprotein, MDR1/P-gp). This ABC-transporter acts as a drug extrusion pump and mediates the "classical" ABCB1-mediated multidrug resistance (MDR) phenotype of human cancer cells which is characterized by a specific cross resistance pattern. Different ABCB1-expressing MDR cancer cells were treated with anti-ABCB1 shRNA expression vector bearing
E. coli
. This procedure resulted in activation of the RNAi pathways within the cancer cells and a considerable down regulation of the ABCB1 encoding mRNA as well as the corresponding drug extrusion pump. Accordingly, drug accumulation was enhanced in the pristine drug-resistant cancer cells and the MDR phenotype was reversed. By means of this model the data provide the proof-of-concept that
tk
RNAi is suitable for modulation of cancer-associated factors, e.g. ABCB1, in human cancer cells.
Microbiology, Issue 42, Transkingdom RNAi, shRNA, gene therapy, cancer, multidrug resistance, bacteria
2099
Contrast Ultrasound Targeted Treatment of Gliomas in Mice via Drug-Bearing Nanoparticle Delivery and Microvascular Ablation
Institutions: University of Virginia , University of Virginia.

We are developing minimally-invasive contrast agent microbubble based therapeutic approaches in which the permeabilization and/or ablation of the microvasculature are controlled by varying ultrasound pulsing parameters. Specifically, we are testing whether such approaches may be used to treat malignant brain tumors through drug delivery and microvascular ablation. Preliminary studies have been performed to determine whether targeted drug-bearing nanoparticle delivery can be facilitated by the ultrasound mediated destruction of "composite" delivery agents comprised of 100nm poly(lactide-co-glycolide) (PLAGA) nanoparticles that are adhered to albumin shelled microbubbles. We denote these agents as microbubble-nanoparticle composite agents (MNCAs). When targeted to subcutaneous C6 gliomas with ultrasound, we observed an immediate 4.6-fold increase in nanoparticle delivery in MNCA treated tumors over tumors treated with microbubbles co-administered with nanoparticles and a 8.5 fold increase over non-treated tumors. Furthermore, in many cancer applications, we believe it may be desirable to perform targeted drug delivery in conjunction with ablation of the tumor microcirculation, which will lead to tumor hypoxia and apoptosis. To this end, we have tested the efficacy of non-theramal cavitation-induced microvascular ablation, showing that this approach elicits tumor perfusion reduction, apoptosis, significant growth inhibition, and necrosis. Taken together, these results indicate that our ultrasound-targeted approach has the potential to increase therapeutic efficiency by creating tumor necrosis through microvascular ablation and/or simultaneously enhancing the drug payload in gliomas.
Medicine, Issue 46, microbubbles, targeted drug delivery, nanoparticles, ultrasound
2145
Aseptic Laboratory Techniques: Plating Methods
Institutions: University of California, Los Angeles .

Microorganisms are present on all inanimate surfaces creating ubiquitous sources of possible contamination in the laboratory. Experimental success relies on the ability of a scientist to sterilize work surfaces and equipment as well as prevent contact of sterile instruments and solutions with non-sterile surfaces. Here we present the steps for several plating methods routinely used in the laboratory to isolate, propagate, or enumerate microorganisms such as bacteria and phage. All five methods incorporate aseptic technique, or procedures that maintain the sterility of experimental materials. Procedures described include (1) streak-plating bacterial cultures to isolate single colonies, (2) pour-plating and (3) spread-plating to enumerate viable bacterial colonies, (4) soft agar overlays to isolate phage and enumerate plaques, and (5) replica-plating to transfer cells from one plate to another in an identical spatial pattern. These procedures can be performed at the laboratory bench, provided they involve non-pathogenic strains of microorganisms (Biosafety Level 1, BSL-1). If working with BSL-2 organisms, then these manipulations must take place in a biosafety cabinet. Consult the most current edition of the
Biosafety in Microbiological and Biomedical Laboratories
(BMBL) as well as
Material Safety Data Sheets
(MSDS) for Infectious Substances to determine the biohazard classification as well as the safety precautions and containment facilities required for the microorganism in question. Bacterial strains and phage stocks can be obtained from research investigators, companies, and collections maintained by particular organizations such as the
American Type Culture Collection
(ATCC). It is recommended that non-pathogenic strains be used when learning the various plating methods. By following the procedures described in this protocol, students should be able to: ● Perform plating procedures without contaminating media. ● Isolate single bacterial colonies by the streak-plating method. ● Use pour-plating and spread-plating methods to determine the concentration of bacteria. ● Perform soft agar overlays when working with phage. ● Transfer bacterial cells from one plate to another using the replica-plating procedure. ● Given an experimental task, select the appropriate plating method.
Basic Protocols, Issue 63, Streak plates, pour plates, soft agar overlays, spread plates, replica plates, bacteria, colonies, phage, plaques, dilutions
3064
Tractable Mammalian Cell Infections with Protozoan-primed Bacteria
Institutions: Oregon Health & Science University.

Many intracellular bacterial pathogens use freshwater protozoans as a natural reservoir for proliferation in the environment.
Legionella pneumophila
, the causative agent of Legionnaires' pneumonia, gains a pathogenic advantage over
in vitro
cultured bacteria when first harvested from protozoan cells prior to infection of mammalian macrophages. This suggests that important virulence factors may not be properly expressed
in vitro
. We have developed a tractable system for priming
L. pneumophila
through its natural protozoan host
Acanthamoeba castellanii
prior to mammalian cell infection. The contribution of any virulence factor can be examined by comparing intracellular growth of a mutant strain to wild-type bacteria after protozoan priming. GFP-expressing wild-type and mutant
L. pneumophila
strains are used to infect protozoan monolayers in a priming step and allowed to reach late stages of intracellular growth. Fluorescent bacteria are then harvested from these infected cells and normalized by spectrophotometry to generate comparable numbers of bacteria for a subsequent infection into mammalian macrophages. For quantification, live bacteria are monitored after infection using fluorescence microscopy, flow cytometry, and by colony plating. This technique highlights and relies on the contribution of host cell-dependent gene expression by mimicking the environment that would be encountered in a natural acquisition route. This approach can be modified to accommodate any bacterium that uses an intermediary host as a means for gaining a pathogenic advantage.
Infection, Issue 74, Immunology, Microbiology, Infectious Diseases, Medicine, Cellular Biology, Bacteria, Bacterial Infections, Mycoses, Legionella, amoeba, macrophage, priming, intracellular pathogen, fluorescence microscopy, flow cytometry, cell
50300
Hydrogel Nanoparticle Harvesting of Plasma or Urine for Detecting Low Abundance Proteins
Institutions: George Mason University, Ceres Nanosciences.

Novel biomarker discovery plays a crucial role in providing more sensitive and specific disease detection. Unfortunately many low-abundance biomarkers that exist in biological fluids cannot be easily detected with mass spectrometry or immunoassays because they are present in very low concentration, are labile, and are often masked by high-abundance proteins such as albumin or immunoglobulin. Bait containing poly(N-isopropylacrylamide) (NIPAm) based nanoparticles are able to overcome these physiological barriers. In one step they are able to capture, concentrate and preserve biomarkers from body fluids. Low-molecular weight analytes enter the core of the nanoparticle and are captured by different organic chemical dyes, which act as high affinity protein baits. The nanoparticles are able to concentrate the proteins of interest by several orders of magnitude. This concentration factor is sufficient to increase the protein level such that the proteins are within the detection limit of current mass spectrometers, western blotting, and immunoassays. Nanoparticles can be incubated with a plethora of biological fluids and they are able to greatly enrich the concentration of low-molecular weight proteins and peptides while excluding albumin and other high-molecular weight proteins. Our data show that a 10,000 fold amplification in the concentration of a particular analyte can be achieved, enabling mass spectrometry and immunoassays to detect previously undetectable biomarkers.
Bioengineering, Issue 90, biomarker, hydrogel, low abundance, mass spectrometry, nanoparticle, plasma, protein, urine
51789
A Simple and Rapid Protocol for Measuring Neutral Lipids in Algal Cells Using Fluorescence
Institutions: University of Alberta, University of Calgary.
Algae are considered excellent candidates for renewable fuel sources due to their natural lipid storage capabilities. Robust monitoring of algal fermentation processes and screening for new oil-rich strains requires a fast and reliable protocol for determination of intracellular lipid content. Current practices rely largely on gravimetric methods to determine oil content, techniques developed decades ago that are time consuming and require large sample volumes. In this paper, Nile Red, a fluorescent dye that has been used to identify the presence of lipid bodies in numerous types of organisms, is incorporated into a simple, fast, and reliable protocol for measuring the neutral lipid content of
Auxenochlorella protothecoides
, a green alga. The method uses ethanol, a relatively mild solvent, to permeabilize the cell membrane before staining and a 96 well micro-plate to increase sample capacity during fluorescence intensity measurements. It has been designed with the specific application of monitoring bioprocess performance. Previously dried samples or live samples from a growing culture can be used in the assay.
Chemistry, Issue 87, engineering (general), microbiology, bioengineering (general), Eukaryota Algae, Nile Red, Fluorescence, Oil Content, Oil Extraction, Oil Quantification, Neutral Lipids, Optical Microscope, biomass
51441
Discovering Protein Interactions and Characterizing Protein Function Using HaloTag Technology
Institutions: Promega Corporation, MS Bioworks LLC.
Research in proteomics has exploded in recent years with advances in mass spectrometry capabilities that have led to the characterization of numerous proteomes, including those from viruses, bacteria, and yeast.  In comparison, analysis of the human proteome lags behind, partially due to the sheer number of proteins which must be studied, but also the complexity of networks and interactions these present. To specifically address the challenges of understanding the human proteome, we have developed HaloTag technology for protein isolation, particularly strong for isolation of multiprotein complexes and allowing more efficient capture of weak or transient interactions and/or proteins in low abundance.  HaloTag is a genetically encoded protein fusion tag, designed for covalent, specific, and rapid immobilization or labelling of proteins with various ligands. Leveraging these properties, numerous applications for mammalian cells were developed to characterize protein function and here we present methodologies including: protein pull-downs used for discovery of novel interactions or functional assays, and cellular localization. We find significant advantages in the speed, specificity, and covalent capture of fusion proteins to surfaces for proteomic analysis as compared to other traditional non-covalent approaches. We demonstrate these and the broad utility of the technology using two important epigenetic proteins as examples, the human bromodomain protein BRD4, and histone deacetylase HDAC1.  These examples demonstrate the power of this technology in enabling  the discovery of novel interactions and characterizing cellular localization in eukaryotes, which will together further understanding of human functional proteomics.              
Cellular Biology, Issue 89, proteomics, HaloTag, protein interactions, mass spectrometry, bromodomain proteins, BRD4, histone deacetylase (HDAC), HDAC cellular assays, and confocal imaging
51553
Synthesis, Assembly, and Characterization of Monolayer Protected Gold Nanoparticle Films for Protein Monolayer Electrochemistry
Institutions: University of Richmond, University of Richmond.

Colloidal gold nanoparticles protected with alkanethiolate ligands called monolayer protected gold clusters (MPCs) are synthesized and subsequently incorporated into film assemblies that serve as adsorption platforms for protein monolayer electrochemistry (PME). PME is utilized as the model system for studying electrochemical properties of redox proteins by confining them to an adsorption platform at a modified electrode, which also serves as a redox partner for electron transfer (ET) reactions. Studies have shown that gold nanoparticle film assemblies of this nature provide for a more homogeneous protein adsorption environment and promote ET without distance dependence compared to the more traditional systems modified with alkanethiol self-assembled monolayers (SAM).
1-3
In this paper, MPCs functionalized with hexanethiolate ligands are synthesized using a modified Brust reaction
4
and characterized with ultraviolet visible (UV-Vis) spectroscopy, transmission electron microscopy (TEM), and proton (
1
H) nuclear magnetic resonance (NMR). MPC films are assembled on SAM modified gold electrode interfaces by using a "dip cycle" method of alternating MPC layers and dithiol linking molecules. Film growth at gold electrode is tracked electrochemically by measuring changes to the double layer charging current of the system. Analogous films assembled on silane modified glass slides allow for optical monitoring of film growth and cross-sectional TEM analysis provides an estimated film thickness. During film assembly, manipulation of the MPC ligand protection as well as the interparticle linkage mechanism allow for networked films, that are readily adaptable, to interface with redox protein having different adsorption mechanism. For example,
Pseudomonas aeruginosa
azurin (AZ) can be adsorbed hydrophobically to dithiol-linked films of hexanethiolate MPCs and cytochrome
c
(cyt
c
) can be immobilized electrostatically at a carboxylic acid modified MPC interfacial layer. In this report, we focus on the film protocol for the AZ system exclusively. Investigations involving the adsorption of proteins on MPC modified synthetic platforms could further the understanding of interactions between biomolecules and man-made materials, and consequently aid the development of biosensor schemes, ET modeling systems, and synthetic biocompatible materials.
5-8
Bioengineering, Issue 56, Monolayer protected clusters, film assemblies, protein monolayer electrochemistry, azurin, self-assembled monolayers
3441
In Situ SIMS and IR Spectroscopy of Well-defined Surfaces Prepared by Soft Landing of Mass-selected Ions
Institutions: Pacific Northwest National Laboratory.

Soft landing of mass-selected ions onto surfaces is a powerful approach for the highly-controlled preparation of materials that are inaccessible using conventional synthesis techniques. Coupling soft landing with
in situ
characterization using secondary ion mass spectrometry (SIMS) and infrared reflection absorption spectroscopy (IRRAS) enables analysis of well-defined surfaces under clean vacuum conditions. The capabilities of three soft-landing instruments constructed in our laboratory are illustrated for the representative system of surface-bound organometallics prepared by soft landing of mass-selected ruthenium tris(bipyridine) dications, [Ru(bpy)
3
]
2+
(bpy = bipyridine), onto carboxylic acid terminated self-assembled monolayer surfaces on gold (COOH-SAMs).
In situ
time-of-flight (TOF)-SIMS provides insight into the reactivity of the soft-landed ions. In addition, the kinetics of charge reduction, neutralization and desorption occurring on the COOH-SAM both during and after ion soft landing are studied using
in situ
Fourier transform ion cyclotron resonance (FT-ICR)-SIMS measurements.
In situ
IRRAS experiments provide insight into how the structure of organic ligands surrounding metal centers is perturbed through immobilization of organometallic ions on COOH-SAM surfaces by soft landing. Collectively, the three instruments provide complementary information about the chemical composition, reactivity and structure of well-defined species supported on surfaces.
Chemistry, Issue 88, soft landing, mass selected ions, electrospray, secondary ion mass spectrometry, infrared spectroscopy, organometallic, catalysis
51344
Evaluating Plasmonic Transport in Current-carrying Silver Nanowires
Institutions: Université de Bourgogne, University of Science and Technology of China, CEMES, CNRS-UPR 8011.

Plasmonics is an emerging technology capable of simultaneously transporting a plasmonic signal and an electronic signal on the same information support
1,2,3
. In this context, metal nanowires are especially desirable for realizing dense routing networks
4
. A prerequisite to operate such shared nanowire-based platform relies on our ability to electrically contact individual metal nanowires and efficiently excite surface plasmon polaritons
5
in this information support. In this article, we describe a protocol to bring electrical terminals to chemically-synthesized silver nanowires
6
randomly distributed on a glass substrate
7
. The positions of the nanowire ends with respect to predefined landmarks are precisely located using standard optical transmission microscopy before encapsulation in an electron-sensitive resist. Trenches representing the electrode layout are subsequently designed by electron-beam lithography. Metal electrodes are then fabricated by thermally evaporating a Cr/Au layer followed by a chemical lift-off. The contacted silver nanowires are finally transferred to a leakage radiation microscope for surface plasmon excitation and characterization
8,9
. Surface plasmons are launched in the nanowires by focusing a near infrared laser beam on a diffraction-limited spot overlapping one nanowire extremity
5,9
. For sufficiently large nanowires, the surface plasmon mode leaks into the glass substrate
9,10
. This leakage radiation is readily detected, imaged, and analyzed in the different conjugate planes in leakage radiation microscopy
9,11
. The electrical terminals do not affect the plasmon propagation. However, a current-induced morphological deterioration of the nanowire drastically degrades the flow of surface plasmons. The combination of surface plasmon leakage radiation microscopy with a simultaneous analysis of the nanowire electrical transport characteristics reveals the intrinsic limitations of such plasmonic circuitry.
Physics, Issue 82, light transmission, optical waveguides, photonics, plasma oscillations, plasma waves, electron motion in conductors, nanofabrication, Information Transport, plasmonics, Silver Nanowires, Leakage radiation microscopy, Electromigration
51048
Preparation of Silica Nanoparticles Through Microwave-assisted Acid-catalysis
Institutions: Oak Ridge Institute for Science and Education, Airbase Technology Division, Clemson University.

Microwave-assisted synthetic techniques were used to quickly and reproducibly produce silica nanoparticle
sols
using an acid catalyst with nanoparticle diameters ranging from 30-250 nm by varying the reaction conditions. Through the selection of a microwave compatible solvent, silicic acid precursor, catalyst, and microwave irradiation time, these microwave-assisted methods were capable of overcoming the previously reported shortcomings associated with synthesis of silica nanoparticles using microwave reactors. The siloxane precursor was hydrolyzed using the acid catalyst, HCl. Acetone, a low-tan
δ
solvent, mediates the condensation reactions and has minimal interaction with the electromagnetic field. Condensation reactions begin when the silicic acid precursor couples with the microwave radiation, leading to silica nanoparticle
sol
formation. The silica nanoparticles were characterized by dynamic light scattering data and scanning electron microscopy, which show the materials' morphology and size to be dependent on the reaction conditions. Microwave-assisted reactions produce silica nanoparticles with roughened textured surfaces that are atypical for silica
sols
produced by Stöber's methods, which have smooth surfaces.
Chemistry, Issue 82, Chemistry, chemical manufacturing, chemistry (general), materials (general), nanocomposites, catalysts (chemical), chemistry of compounds, Chemistry and Materials (General), Composite Materials, Inorganic, Organic and Physical Chemistry, Engineering (General), Microwave, nanoparticle, silica, silicic acid, NP, SiO2, synthesis
51022
Protocols for Assessing Radiofrequency Interactions with Gold Nanoparticles and Biological Systems for Non-invasive Hyperthermia Cancer Therapy
Institutions: University of Texas M.D. Anderson Cancer Center, Rice University , Rice University .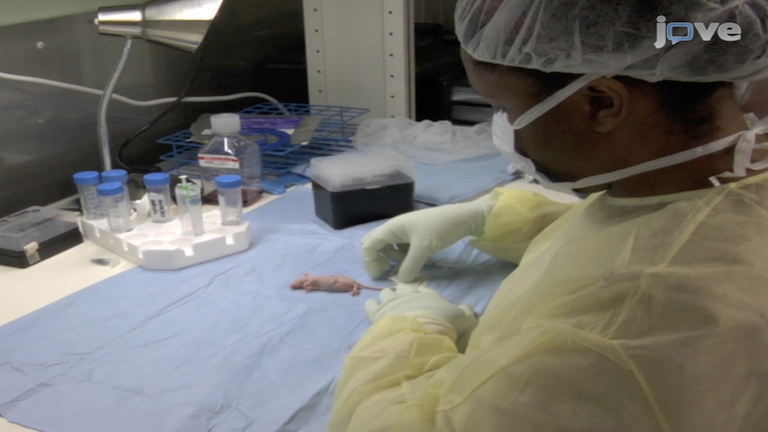 Cancer therapies which are less toxic and invasive than their existing counterparts are highly desirable. The use of RF electric-fields that penetrate deep into the body, causing minimal toxicity, are currently being studied as a viable means of non-invasive cancer therapy. It is envisioned that the interactions of RF energy with internalized nanoparticles (NPs) can liberate heat which can then cause overheating (hyperthermia) of the cell, ultimately ending in cell necrosis. In the case of non-biological systems, we present detailed protocols relating to quantifying the heat liberated by highly-concentrated NP colloids. For biological systems, in the case of
in vitro
experiments, we describe the techniques and conditions which must be adhered to in order to effectively expose cancer cells to RF energy without bulk media heating artifacts significantly obscuring the data. Finally, we give a detailed methodology for
in vivo
mouse models with ectopic hepatic cancer tumors.
Medicine, Issue 78, Electronics and Electrical Engineering, Life Sciences (General), Radiofrequency, Cancer, Nanoparticles, Hyperthermia, Gold
50480
Membrane Potentials, Synaptic Responses, Neuronal Circuitry, Neuromodulation and Muscle Histology Using the Crayfish: Student Laboratory Exercises
Institutions: University of Kentucky, University of Toronto.

The purpose of this report is to help develop an understanding of the effects caused by ion gradients across a biological membrane. Two aspects that influence a cell's membrane potential and which we address in these experiments are: (1) Ion concentration of K
+
on the outside of the membrane, and (2) the permeability of the membrane to specific ions. The crayfish abdominal extensor muscles are in groupings with some being tonic (slow) and others phasic (fast) in their biochemical and physiological phenotypes, as well as in their structure; the motor neurons that innervate these muscles are correspondingly different in functional characteristics. We use these muscles as well as the superficial, tonic abdominal flexor muscle to demonstrate properties in synaptic transmission. In addition, we introduce a sensory-CNS-motor neuron-muscle circuit to demonstrate the effect of cuticular sensory stimulation as well as the influence of neuromodulators on certain aspects of the circuit. With the techniques obtained in this exercise, one can begin to answer many questions remaining in other experimental preparations as well as in physiological applications related to medicine and health. We have demonstrated the usefulness of model invertebrate preparations to address fundamental questions pertinent to all animals.
Neuroscience, Issue 47, Invertebrate, Crayfish, neurophysiology, muscle, anatomy, electrophysiology
2322
Solubilization and Bio-conjugation of Quantum Dots and Bacterial Toxicity Assays by Growth Curve and Plate Count
Institutions: McGill University, Montreal, QC Canada.

Quantum dots (QDs) are fluorescent semiconductor nanoparticles with size-dependent emission spectra that can be excited by a broad choice of wavelengths. QDs have attracted a lot of interest for imaging, diagnostics, and therapy due to their bright, stable fluorescence
1,2 3,4,5
. QDs can be conjugated to a variety of bio-active molecules for binding to bacteria and mammalian cells
6
. QDs are also being widely investigated as cytotoxic agents for targeted killing of bacteria. The emergence of multiply-resistant bacterial strains is rapidly becoming a public health crisis, particularly in the case of Gram negative pathogens
7
. Because of the well-known antimicrobial effect of certain nanomaterials, especially Ag, there are hundreds of studies examining the toxicity of nanoparticles to bacteria
8
. Bacterial studies have been performed with other types of semiconductor nanoparticles as well, especially TiO
2
9,10-11
, but also ZnO
12
and others including CuO
13
. Some comparisons of bacterial strains have been performed in these studies, usually comparing a Gram negative strain with a Gram positive. With all of these particles, mechanisms of toxicity are attributed to oxidation: either the photogeneration of reactive oxygen species (ROS) by the particles or the direct release of metal ions that can cause oxidative toxicity. Even with these materials, results of different studies vary greatly. In some studies the Gram positive test strain is reportedly more sensitive than the Gram negative
10
; in others it is the opposite
14
. These studies have been well reviewed
15
. In all nanoparticle studies, particle composition, size, surface chemistry, sample aging/breakdown, and wavelength, power, and duration of light exposure can all dramatically affect the results. In addition, synthesis byproducts and solvents must be considered
16 17
. High-throughput screening techniques are needed to be able to develop effective new nanomedicine agents. CdTe QDs have anti-microbial effects alone
18
or in combination with antibiotics. In a previous study, we showed that coupling of antibiotics to CdTe can increase toxicity to bacteria but decrease toxicity to mammalian cells, due to decreased production of reactive oxygen species from the conjugates
19
. Although it is unlikely that cadmium-containing compounds will be approved for use in humans, such preparations could be used for disinfection of surfaces or sterilization of water. In this protocol, we give a straightforward approach to solubilizing CdTe QDs with mercaptopropionic acid (MPA). The QDs are ready to use within an hour. We then demonstrate coupling to an antimicrobial agent. The second part of the protocol demonstrates a 96-well bacterial inhibition assay using the conjugated and unconjugated QDs. The optical density is read over many hours, permitting the effects of QD addition and light exposure to be evaluated immediately as well as after a recovery period. We also illustrate a colony count for quantifying bacterial survival.
Biomedical Engineering, Issue 65, Bioengineering, Molecular Biology, Quantum dots, solubilization, conjugation, cytotoxicity, phototoxicity, growth curve, plate count
3969
Gold Nanostar Synthesis with a Silver Seed Mediated Growth Method
Institutions: The University of Texas at San Antonio, Centro de Investigaciones en Optica A. C., The University of Texas at San Antonio.
The physical, chemical and optical properties of nano-scale colloids depend on their material composition, size and shape
1-5
. There is a great interest in using nano-colloids for photo-thermal ablation, drug delivery and many other biomedical applications
6
. Gold is particularly used because of its low toxicity
7-9
. A property of metal nano-colloids is that they can have a strong surface plasmon resonance
10
. The peak of the surface plasmon resonance mode depends on the structure and composition of the metal nano-colloids. Since the surface plasmon resonance mode is stimulated with light there is a need to have the peak absorbance in the near infrared where biological tissue transmissivity is maximal
11, 12
. We present a method to synthesize star shaped colloidal gold, also known as star shaped nanoparticles
13-15
or nanostars
16
. This method is based on a solution containing silver seeds that are used as the nucleating agent for anisotropic growth of gold colloids
17-22
. Scanning electron microscopy (SEM) analysis of the resulting gold colloid showed that 70 % of the nanostructures were nanostars. The other 30 % of the particles were amorphous clusters of decahedra and rhomboids. The absorbance peak of the nanostars was detected to be in the near infrared (840 nm). Thus, our method produces gold nanostars suitable for biomedical applications, particularly for photo-thermal ablation.
Bioengineering, Issue 59, thermal ablation, surface plasmon resonance, nanoparticle, nanotechnology, silver seeds
3570
A Microplate Assay to Assess Chemical Effects on RBL-2H3 Mast Cell Degranulation: Effects of Triclosan without Use of an Organic Solvent
Institutions: University of Maine, Orono, University of Maine, Orono.

Mast cells play important roles in allergic disease and immune defense against parasites. Once activated (
e.g.
by an allergen), they degranulate, a process that results in the exocytosis of allergic mediators. Modulation of mast cell degranulation by drugs and toxicants may have positive or adverse effects on human health. Mast cell function has been dissected in detail with the use of rat basophilic leukemia mast cells (RBL-2H3), a widely accepted model of human mucosal mast cells
3-5
. Mast cell granule component and the allergic mediator β-hexosaminidase, which is released linearly in tandem with histamine from mast cells
6
, can easily and reliably be measured through reaction with a fluorogenic substrate, yielding measurable fluorescence intensity in a microplate assay that is amenable to high-throughput studies
1
. Originally published by Naal
et al.
1
, we have adapted this degranulation assay for the screening of drugs and toxicants and demonstrate its use here. Triclosan is a broad-spectrum antibacterial agent that is present in many consumer products and has been found to be a therapeutic aid in human allergic skin disease
7-11
, although the mechanism for this effect is unknown. Here we demonstrate an assay for the effect of triclosan on mast cell degranulation. We recently showed that triclosan strongly affects mast cell function
2
. In an effort to avoid use of an organic solvent, triclosan is dissolved directly into aqueous buffer with heat and stirring, and resultant concentration is confirmed using UV-Vis spectrophotometry (using ε
280
= 4,200 L/M/cm)
12
. This protocol has the potential to be used with a variety of chemicals to determine their effects on mast cell degranulation, and more broadly, their allergic potential.
Immunology, Issue 81, mast cell, basophil, degranulation, RBL-2H3, triclosan, irgasan, antibacterial, β-hexosaminidase, allergy, Asthma, toxicants, ionophore, antigen, fluorescence, microplate, UV-Vis
50671
Preparation and Use of Photocatalytically Active Segmented Ag|ZnO and Coaxial TiO2-Ag Nanowires Made by Templated Electrodeposition
Institutions: University of Twente.

Photocatalytically active nanostructures require a large specific surface area with the presence of many catalytically active sites for the oxidation and reduction half reactions, and fast electron (hole) diffusion and charge separation. Nanowires present suitable architectures to meet these requirements. Axially segmented Ag|ZnO and radially segmented (coaxial) TiO
2
-Ag nanowires with a diameter of 200 nm and a length of 6-20 µm were made by templated electrodeposition within the pores of polycarbonate track-etched (PCTE) or anodized aluminum oxide (AAO) membranes, respectively. In the photocatalytic experiments, the ZnO and TiO
2
phases acted as photoanodes, and Ag as cathode. No external circuit is needed to connect both electrodes, which is a key advantage over conventional photo-electrochemical cells. For making segmented Ag|ZnO nanowires, the Ag salt electrolyte was replaced after formation of the Ag segment to form a ZnO segment attached to the Ag segment. For making coaxial TiO
2
-Ag nanowires, a TiO
2
gel was first formed by the electrochemically induced sol-gel method. Drying and thermal annealing of the as-formed TiO
2
gel resulted in the formation of crystalline TiO
2
nanotubes. A subsequent Ag electrodeposition step inside the TiO
2
nanotubes resulted in formation of coaxial TiO
2
-Ag nanowires. Due to the combination of an
n
-type semiconductor (ZnO or TiO
2
) and a metal (Ag) within the same nanowire, a Schottky barrier was created at the interface between the phases. To demonstrate the photocatalytic activity of these nanowires, the Ag|ZnO nanowires were used in a photocatalytic experiment in which H
2
gas was detected upon UV illumination of the nanowires dispersed in a methanol/water mixture. After 17 min of illumination, approximately 0.2 vol% H
2
gas was detected from a suspension of ~0.1 g of Ag|ZnO nanowires in a 50 ml 80 vol% aqueous methanol solution.
Physics, Issue 87, Multicomponent nanowires, electrochemistry, sol-gel processes, photocatalysis, photochemistry, H2 evolution
51547
High Throughput Quantitative Expression Screening and Purification Applied to Recombinant Disulfide-rich Venom Proteins Produced in E. coli
Institutions: Aix-Marseille Université, Commissariat à l'énergie atomique et aux énergies alternatives (CEA) Saclay, France.

Escherichia coli (E. coli)
is the most widely used expression system for the production of recombinant proteins for structural and functional studies. However, purifying proteins is sometimes challenging since many proteins are expressed in an insoluble form. When working with difficult or multiple targets it is therefore recommended to use high throughput (HTP) protein expression screening on a small scale (1-4 ml cultures) to quickly identify conditions for soluble expression. To cope with the various structural genomics programs of the lab, a quantitative (within a range of 0.1-100 mg/L culture of recombinant protein) and HTP protein expression screening protocol was implemented and validated on thousands of proteins. The protocols were automated with the use of a liquid handling robot but can also be performed manually without specialized equipment. Disulfide-rich venom proteins are gaining increasing recognition for their potential as therapeutic drug leads. They can be highly potent and selective, but their complex disulfide bond networks make them challenging to produce. As a member of the FP7 European Venomics project (www.venomics.eu), our challenge is to develop successful production strategies with the aim of producing thousands of novel venom proteins for functional characterization. Aided by the redox properties of disulfide bond isomerase DsbC, we adapted our HTP production pipeline for the expression of oxidized, functional venom peptides in the
E. coli
cytoplasm. The protocols are also applicable to the production of diverse disulfide-rich proteins. Here we demonstrate our pipeline applied to the production of animal venom proteins. With the protocols described herein it is likely that soluble disulfide-rich proteins will be obtained in as little as a week. Even from a small scale, there is the potential to use the purified proteins for validating the oxidation state by mass spectrometry, for characterization in pilot studies, or for sensitive micro-assays.
Bioengineering, Issue 89, E. coli, expression, recombinant, high throughput (HTP), purification, auto-induction, immobilized metal affinity chromatography (IMAC), tobacco etch virus protease (TEV) cleavage, disulfide bond isomerase C (DsbC) fusion, disulfide bonds, animal venom proteins/peptides
51464
High-throughput Fluorometric Measurement of Potential Soil Extracellular Enzyme Activities
Institutions: Colorado State University, Oak Ridge National Laboratory, University of Colorado.

Microbes in soils and other environments produce extracellular enzymes to depolymerize and hydrolyze organic macromolecules so that they can be assimilated for energy and nutrients. Measuring soil microbial enzyme activity is crucial in understanding soil ecosystem functional dynamics. The general concept of the fluorescence enzyme assay is that synthetic C-, N-, or P-rich substrates bound with a fluorescent dye are added to soil samples. When intact, the labeled substrates do not fluoresce. Enzyme activity is measured as the increase in fluorescence as the fluorescent dyes are cleaved from their substrates, which allows them to fluoresce. Enzyme measurements can be expressed in units of molarity or activity. To perform this assay, soil slurries are prepared by combining soil with a pH buffer. The pH buffer (typically a 50 mM sodium acetate or 50 mM Tris buffer), is chosen for the buffer's particular acid dissociation constant (pKa) to best match the soil sample pH. The soil slurries are inoculated with a nonlimiting amount of fluorescently labeled (
i.e.
C-, N-, or P-rich) substrate. Using soil slurries in the assay serves to minimize limitations on enzyme and substrate diffusion. Therefore, this assay controls for differences in substrate limitation, diffusion rates, and soil pH conditions; thus detecting potential enzyme activity rates as a function of the difference in enzyme concentrations (per sample). Fluorescence enzyme assays are typically more sensitive than spectrophotometric (
i.e.
colorimetric) assays, but can suffer from interference caused by impurities and the instability of many fluorescent compounds when exposed to light; so caution is required when handling fluorescent substrates. Likewise, this method only assesses potential enzyme activities under laboratory conditions when substrates are not limiting. Caution should be used when interpreting the data representing cross-site comparisons with differing temperatures or soil types, as
in situ
soil type and temperature can influence enzyme kinetics.
Environmental Sciences, Issue 81, Ecological and Environmental Phenomena, Environment, Biochemistry, Environmental Microbiology, Soil Microbiology, Ecology, Eukaryota, Archaea, Bacteria, Soil extracellular enzyme activities (EEAs), fluorometric enzyme assays, substrate degradation, 4-methylumbelliferone (MUB), 7-amino-4-methylcoumarin (MUC), enzyme temperature kinetics, soil
50961
Nanogold Labeling of the Yeast Endosomal System for Ultrastructural Analyses
Institutions: University Medical Center Utrecht.

Endosomes are one of the major membrane sorting checkpoints in eukaryotic cells and they regulate recycling or destruction of proteins mostly from the plasma membrane and the Golgi. As a result the endosomal system plays a central role in maintaining cell homeostasis, and mutations in genes belonging to this network of organelles interconnected by vesicular transport, cause severe pathologies including cancer and neurobiological disorders. It is therefore of prime relevance to understand the mechanisms underlying the biogenesis and organization of the endosomal system. The yeast
Saccharomyces cerevisiae
has been pivotal in this task. To specifically label and analyze at the ultrastructural level the endosomal system of this model organism, we present here a detailed protocol for the positively charged nanogold uptake by spheroplasts followed by the visualization of these particles through a silver enhancement reaction. This method is also a valuable tool for the morphological examination of mutants with defects in endosomal trafficking. Moreover, it is not only applicable for ultrastructural examinations but it can also be combined with immunogold labelings for protein localization investigations.
Cellular Biology, Issue 89, positively charged nanogold, silver enhancement, Tokuyasu procedure, electron microscopy, immunogold labeling, yeast
51752