Lensless Fluorescent Microscopy on a Chip
Published: 08-17-2011
ABSTRACT
On-chip lensless imaging in general aims to replace bulky lens-based optical microscopes with simpler and more compact designs, especially for high-throughput screening applications. This emerging technology platform has the potential to eliminate the need for bulky and/or costly optical components through the help of novel theories and digital reconstruction algorithms. Along the same lines, here we demonstrate an on-chip fluorescent microscopy modality that can achieve e.g., <4μm spatial resolution over an ultra-wide field-of-view (FOV) of >0.6-8 cm2 without the use of any lenses, mechanical-scanning or thin-film based interference filters. In this technique, fluorescent excitation is achieved through a prism or hemispherical-glass interface illuminated by an incoherent source. After interacting with the entire object volume, this excitation light is rejected by total-internal-reflection (TIR) process that is occurring at the bottom of the sample micro-fluidic chip. The fluorescent emission from the excited objects is then collected by a fiber-optic faceplate or a taper and is delivered to an optoelectronic sensor array such as a charge-coupled-device (CCD). By using a compressive-sampling based decoding algorithm, the acquired lensfree raw fluorescent images of the sample can be rapidly processed to yield e.g., <4μm resolution over an FOV of >0.6-8 cm2. Moreover, vertically stacked micro-channels that are separated by e.g., 50-100 μm can also be successfully imaged using the same lensfree on-chip microscopy platform, which further increases the overall throughput of this modality. This compact on-chip fluorescent imaging platform, with a rapid compressive decoder behind it, could be rather valuable for high-throughput cytometry, rare-cell research and microarray-analysis.
22 Related JoVE Articles!
Wide-field Fluorescent Microscopy and Fluorescent Imaging Flow Cytometry on a Cell-phone
Institutions: University of California, Los Angeles , University of California, Los Angeles , University of California, Los Angeles .

Fluorescent microscopy and flow cytometry are widely used tools in biomedical research and clinical diagnosis. However these devices are in general relatively bulky and costly, making them less effective in the resource limited settings. To potentially address these limitations, we have recently demonstrated the integration of wide-field fluorescent microscopy and imaging flow cytometry tools on cell-phones using compact, light-weight, and cost-effective opto-fluidic attachments. In our flow cytometry design, fluorescently labeled cells are flushed through a microfluidic channel that is positioned above the existing cell-phone camera unit. Battery powered light-emitting diodes (LEDs) are butt-coupled to the side of this microfluidic chip, which effectively acts as a multi-mode slab waveguide, where the excitation light is guided to uniformly excite the fluorescent targets. The cell-phone camera records a time lapse movie of the fluorescent cells flowing through the microfluidic channel, where the digital frames of this movie are processed to count the number of the labeled cells within the target solution of interest. Using a similar opto-fluidic design, we can also image these fluorescently labeled cells in static mode by
e.g.
sandwiching the fluorescent particles between two glass slides and capturing their fluorescent images using the cell-phone camera, which can achieve a spatial resolution of
e.g.
~ 10 μm over a very large field-of-view of ~ 81 mm
2
. This cell-phone based fluorescent imaging flow cytometry and microscopy platform might be useful especially in resource limited settings, for
e.g.
counting of CD4+ T cells toward monitoring of HIV+ patients or for detection of water-borne parasites in drinking water.
Bioengineering, Issue 74, Biomedical Engineering, Medicine, Cellular Biology, Molecular Biology, Electrical Engineering, Telemedicine, Diagnostic Techniques and Procedures, Diagnostic Imaging, Microscopy, Optics and Photonics, Optics, fluorescent microscopy, imaging flow-cytometry, cell-phone microscopy, tele-medicine, global health, wireless health, clinical techniques
50451
Time Multiplexing Super Resolving Technique for Imaging from a Moving Platform
Institutions: Bar-Ilan University, Kfar Saba, Israel.

We propose a method for increasing the resolution of an object and overcoming the diffraction limit of an optical system installed on top of a moving imaging system, such as an airborne platform or satellite. The resolution improvement is obtained in a two-step process. First, three low resolution differently defocused images are being captured and the optical phase is retrieved using an improved iterative Gerchberg-Saxton based algorithm. The phase retrieval allows to numerically back propagate the field to the aperture plane. Second, the imaging system is shifted and the first step is repeated. The obtained optical fields at the aperture plane are combined and a synthetically increased lens aperture is generated along the direction of movement, yielding higher imaging resolution. The method resembles a well-known approach from the microwave regime called the Synthetic Aperture Radar (SAR) in which the antenna size is synthetically increased along the platform propagation direction. The proposed method is demonstrated through laboratory experiment.
Physics, Issue 84, Superresolution, Fourier optics, Remote Sensing and Sensors, Digital Image Processing, optics, resolution
51148
Lensless On-chip Imaging of Cells Provides a New Tool for High-throughput Cell-Biology and Medical Diagnostics
Institutions: University of California, Los Angeles, University of California, Los Angeles.
Conventional optical microscopes image cells by use of objective lenses that work together with other lenses and optical components. While quite effective, this classical approach has certain limitations for miniaturization of the imaging platform to make it compatible with the advanced state of the art in microfluidics. In this report, we introduce experimental details of a lensless on-chip imaging concept termed LUCAS (
L
ensless
U
ltra-wide field-of-view
C
ell monitoring
A
rray platform based on
S
hadow imaging) that does not require any microscope objectives or other bulky optical components to image a heterogeneous cell solution over an ultra-wide field of view that can span as large as ~18 cm
2
. Moreover, unlike conventional microscopes, LUCAS can image a heterogeneous cell solution of interest over a depth-of-field of ~5 mm without the need for refocusing which corresponds to up to ~9 mL sample volume. This imaging platform records the shadows (i.e., lensless digital holograms) of each cell of interest within its field of view, and automated digital processing of these cell shadows can determine the type, the count and the relative positions of cells within the solution. Because it does not require any bulky optical components or mechanical scanning stages it offers a significantly miniaturized platform that at the same time reduces the cost, which is quite important for especially point of care diagnostic tools. Furthermore, the imaging throughput of this platform is orders of magnitude better than conventional optical microscopes, which could be exceedingly valuable for high-throughput cell-biology experiments.
Cellular Biology, Issue 34, LUCAS, lensfree imaging, on-chip imaging, point-of-care diagnostics, global health, cell-biology, telemedicine, wireless health, microscopy, red blood cells
1650
Assessment of GFP Expression and Viability Using the Tali Image-Based Cytometer
Institutions: Life Technologies , Life Technologies .

Single-cell and population information are commonly obtained either by flow cytometry or fluorescence microscopy. However, these two methods provide different information. Flow cytometry gives quantitative multi-parametric information about physical characteristics and staining or expression, but doesn't allow for visualization. Stand-alone fluorescence microscopy provides visual data, but doesn't allow for straightforward quantitative measurements
1
. Image-based cytometry bridges the gap between these two methods, enabling the quick visualization and simultaneous quantitative analysis of thousands of cells in heterogeneous populations
2
. Here, we present a method for performing cell viability and green fluorescent protein (GFP) expression assays using the Tali Image-Based Cytometer
3
. The Tali instrument is a 3-channel (bright field, green fluorescence, red fluorescence) benchtop assay platform that offers several advantages over flow cytometry and fluorescence microscopy. The Tali cytometer is less expensive, takes up less bench space, requires less maintenance, and the work flow has been simplified so that the operation and analysis is much simpler and quicker. The Tali cytometer is capable of performing a range of suspension cell-based assays, including GFP and red fluorescent protein (RFP) expression, apoptosis
4-6
and cell viability analysis with propidium iodide (PI)
7-11
. Here, we demonstrate the use of the Tali instrument in performing a cell viability assay in cells expressing GFP. GFP-transduced cells are stained using the Tali Viability Kit - Dead Cell Red. The cells are then pipetted into a Tali Cellular Analysis Slide and loaded into the cytometer. Bright field, red fluorescence and green fluorescence images are captured and analyzed using assay specific algorithms. Histograms are then generated to display cell size, PI fluorescence intensity, and GFP fluorescence intensity. These parameters can then be thresholded to home in on a specific cell population. A side-by side comparison of the Tali Image-Based Cytometer and traditional flow cytometry demonstrates that the two methods provide comparable data regarding cell viability and protein expression. However, the Tali instrument provides additional visual information about the cell population that cannot be obtained using a flow cytometer.
Cell Biology, Issue 57, cytometry, imaging, image-based, cell viability, apoptosis, cell counting, expression assay, Dead-Cell Red, propidium iodide, PI, GFP expression, RFP expression, cell analysis, fluorescence protein expression
3659
Echo Particle Image Velocimetry
Institutions: University of New Hampshire.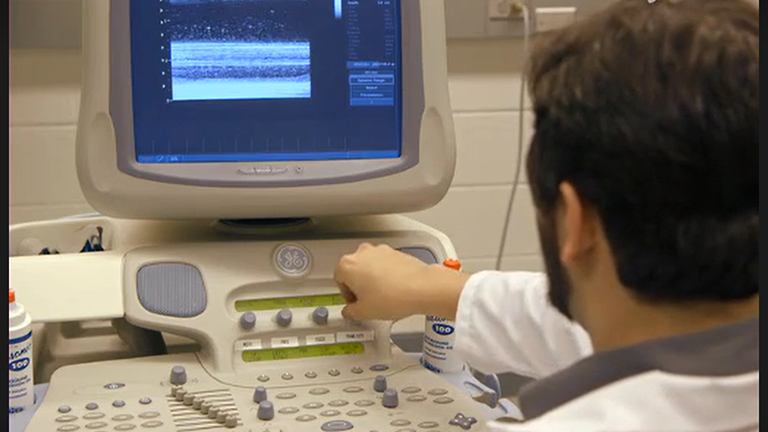 The transport of mass, momentum, and energy in fluid flows is ultimately determined by spatiotemporal distributions of the fluid velocity field.
1
Consequently, a prerequisite for understanding, predicting, and controlling fluid flows is the capability to measure the velocity field with adequate spatial and temporal resolution.
2
For velocity measurements in optically opaque fluids or through optically opaque geometries, echo particle image velocimetry (EPIV) is an attractive diagnostic technique to generate "instantaneous" two-dimensional fields of velocity.
3,4,5,6
In this paper, the operating protocol for an EPIV system built by integrating a commercial medical ultrasound machine
7
with a PC running commercial particle image velocimetry (PIV) software
8
is described, and validation measurements in Hagen-Poiseuille (
i.e.
, laminar pipe) flow are reported. For the EPIV measurements, a phased array probe connected to the medical ultrasound machine is used to generate a two-dimensional ultrasound image by pulsing the piezoelectric probe elements at different times. Each probe element transmits an ultrasound pulse into the fluid, and tracer particles in the fluid (either naturally occurring or seeded) reflect ultrasound echoes back to the probe where they are recorded. The amplitude of the reflected ultrasound waves and their time delay relative to transmission are used to create what is known as B-mode (brightness mode) two-dimensional ultrasound images. Specifically, the time delay is used to determine the position of the scatterer in the fluid and the amplitude is used to assign intensity to the scatterer. The time required to obtain a single B-mode image,
t
, is determined by the time it take to pulse all the elements of the phased array probe. For acquiring multiple B-mode images, the frame rate of the system in frames per second
(fps) = 1/δt
. (See 9 for a review of ultrasound imaging.) For a typical EPIV experiment, the frame rate is between 20-60 fps, depending on flow conditions, and 100-1000 B-mode images of the spatial distribution of the tracer particles in the flow are acquired. Once acquired, the B-mode ultrasound images are transmitted via an ethernet connection to the PC running the PIV commercial software. Using the PIV software, tracer particle displacement fields,
D(x,y)
[pixels], (where x and y denote horizontal and vertical spatial position in the ultrasound image, respectively) are acquired by applying cross correlation algorithms to successive ultrasound B-mode images.
10
The velocity fields,
u(x,y)
[m/s], are determined from the displacements fields, knowing the time step between image pairs,
ΔT
[s], and the image magnification,
M
[meter/pixel],
i.e.
,
u(x,y)
=
MD(x,y)/ΔT
. The time step between images
ΔT
=
1/fps + D(x,y)/B
, where
B
[pixels/s] is the time it takes for the ultrasound probe to sweep across the image width. In the present study, M = 77[μm/pixel],
fps
= 49.5[1/s], and
B
= 25,047[pixels/s]. Once acquired, the velocity fields can be analyzed to compute flow quantities of interest.
Mechanical Engineering, Issue 70, Physics, Engineering, Physical Sciences, Ultrasound, cross correlation, velocimetry, opaque fluids, particle, flow, fluid, EPIV
4265
A Microfluidic Technique to Probe Cell Deformability
Institutions: University of California, Los Angeles, University of Notre Dame, University of Southern California.
Here we detail the design, fabrication, and use of a microfluidic device to evaluate the deformability of a large number of individual cells in an efficient manner. Typically, data for ~10
2
cells can be acquired within a 1 hr experiment. An automated image analysis program enables efficient post-experiment analysis of image data, enabling processing to be complete within a few hours. Our device geometry is unique in that cells must deform through a series of micron-scale constrictions, thereby enabling the initial deformation and time-dependent relaxation of individual cells to be assayed. The applicability of this method to human promyelocytic leukemia (HL-60) cells is demonstrated. Driving cells to deform through micron-scale constrictions using pressure-driven flow, we observe that human promyelocytic (HL-60) cells momentarily occlude the first constriction for a median time of 9.3 msec before passaging more quickly through the subsequent constrictions with a median transit time of 4.0 msec per constriction. By contrast, all-trans retinoic acid-treated (neutrophil-type) HL-60 cells occlude the first constriction for only 4.3 msec before passaging through the subsequent constrictions with a median transit time of 3.3 msec. This method can provide insight into the viscoelastic nature of cells, and ultimately reveal the molecular origins of this behavior.
Cellular Biology, Issue 91, cell mechanics, microfluidics, pressure-driven flow, image processing, high-throughput diagnostics, microfabrication
51474
Microfluidic Picoliter Bioreactor for Microbial Single-cell Analysis: Fabrication, System Setup, and Operation
Institutions: Forschungszentrum Juelich GmbH.

In this protocol the fabrication, experimental setup and basic operation of the recently introduced microfluidic picoliter bioreactor (PLBR) is described in detail. The PLBR can be utilized for the analysis of single bacteria and microcolonies to investigate biotechnological and microbiological related questions concerning,
e.g.
 cell growth, morphology, stress response, and metabolite or protein production on single-cell level. The device features continuous media flow enabling constant environmental conditions for perturbation studies, but in addition allows fast medium changes as well as oscillating conditions to mimic any desired environmental situation. To fabricate the single use devices, a silicon wafer containing sub micrometer sized SU-8 structures served as the replication mold for rapid polydimethylsiloxane casting. Chips were cut, assembled, connected, and set up onto a high resolution and fully automated microscope suited for time-lapse imaging, a powerful tool for spatio-temporal cell analysis. Here, the biotechnological platform organism
Corynebacterium glutamicum 
was seeded into the PLBR and cell growth and intracellular fluorescence were followed over several hours unraveling time dependent population heterogeneity on single-cell level, not possible with conventional analysis methods such as flow cytometry. Besides insights into device fabrication, furthermore, the preparation of the preculture, loading, trapping of bacteria, and the PLBR cultivation of single cells and colonies is demonstrated. These devices will add a new dimension in microbiological research to analyze time dependent phenomena of single bacteria under tight environmental control. Due to the simple and relatively short fabrication process the technology can be easily adapted at any microfluidics lab and simply tailored towards specific needs.
Bioengineering, Issue 82, Soft lithography, SU-8 lithography, Picoliter bioreactor, Single-cell analysis, Polydimethylsiloxane, Corynebacterium glutamicum, Escherichia coli, Microfluidics, Lab-on-a-chip
50560
Detection of Architectural Distortion in Prior Mammograms via Analysis of Oriented Patterns
Institutions: University of Calgary , University of Calgary .

We demonstrate methods for the detection of architectural distortion in prior mammograms of interval-cancer cases based on analysis of the orientation of breast tissue patterns in mammograms. We hypothesize that architectural distortion modifies the normal orientation of breast tissue patterns in mammographic images before the formation of masses or tumors. In the initial steps of our methods, the oriented structures in a given mammogram are analyzed using Gabor filters and phase portraits to detect node-like sites of radiating or intersecting tissue patterns. Each detected site is then characterized using the node value, fractal dimension, and a measure of angular dispersion specifically designed to represent spiculating patterns associated with architectural distortion. Our methods were tested with a database of 106 prior mammograms of 56 interval-cancer cases and 52 mammograms of 13 normal cases using the features developed for the characterization of architectural distortion, pattern classification
via
quadratic discriminant analysis, and validation with the leave-one-patient out procedure. According to the results of free-response receiver operating characteristic analysis, our methods have demonstrated the capability to detect architectural distortion in prior mammograms, taken 15 months (on the average) before clinical diagnosis of breast cancer, with a sensitivity of 80% at about five false positives per patient.
Medicine, Issue 78, Anatomy, Physiology, Cancer Biology, angular spread, architectural distortion, breast cancer, Computer-Assisted Diagnosis, computer-aided diagnosis (CAD), entropy, fractional Brownian motion, fractal dimension, Gabor filters, Image Processing, Medical Informatics, node map, oriented texture, Pattern Recognition, phase portraits, prior mammograms, spectral analysis
50341
Lensfree On-chip Tomographic Microscopy Employing Multi-angle Illumination and Pixel Super-resolution
Institutions: University of California, Los Angeles , University of California, Los Angeles , University of California, Los Angeles .

Tomographic imaging has been a widely used tool in medicine as it can provide three-dimensional (3D) structural information regarding objects of different size scales. In micrometer and millimeter scales, optical microscopy modalities find increasing use owing to the non-ionizing nature of visible light, and the availability of a rich set of illumination sources (such as lasers and light-emitting-diodes) and detection elements (such as large format CCD and CMOS detector-arrays). Among the recently developed optical tomographic microscopy modalities, one can include optical coherence tomography, optical diffraction tomography, optical projection tomography and light-sheet microscopy.
1-6
These platforms provide sectional imaging of cells, microorganisms and model animals such as
C. elegans
, zebrafish and mouse embryos. Existing 3D optical imagers generally have relatively bulky and complex architectures, limiting the availability of these equipments to advanced laboratories, and impeding their integration with lab-on-a-chip platforms and microfluidic chips. To provide an alternative tomographic microscope, we recently developed lensfree optical tomography (LOT) as a high-throughput, compact and cost-effective optical tomography modality.
7
LOT discards the use of lenses and bulky optical components, and instead relies on multi-angle illumination and digital computation to achieve depth-resolved imaging of micro-objects over a large imaging volume. LOT can image biological specimen at a spatial resolution of <1 μm x <1 μm x <3 μm in the x, y and z dimensions, respectively, over a large imaging volume of 15-100 mm
3
, and can be particularly useful for lab-on-a-chip platforms.
Bioengineering, Issue 66, Electrical Engineering, Mechanical Engineering, lensfree imaging, lensless imaging, on-chip microscopy, lensfree tomography, 3D microscopy, pixel super-resolution, C. elegans, optical sectioning, lab-on-a-chip
4161
High-speed Particle Image Velocimetry Near Surfaces
Institutions: University of Michigan.
Multi-dimensional and transient flows play a key role in many areas of science, engineering, and health sciences but are often not well understood. The complex nature of these flows may be studied using particle image velocimetry (PIV), a laser-based imaging technique for optically accessible flows. Though many forms of PIV exist that extend the technique beyond the original planar two-component velocity measurement capabilities, the basic PIV system consists of a light source (laser), a camera, tracer particles, and analysis algorithms. The imaging and recording parameters, the light source, and the algorithms are adjusted to optimize the recording for the flow of interest and obtain valid velocity data. Common PIV investigations measure two-component velocities in a plane at a few frames per second. However, recent developments in instrumentation have facilitated high-frame rate (> 1 kHz) measurements capable of resolving transient flows with high temporal resolution. Therefore, high-frame rate measurements have enabled investigations on the evolution of the structure and dynamics of highly transient flows. These investigations play a critical role in understanding the fundamental physics of complex flows. A detailed description for performing high-resolution, high-speed planar PIV to study a transient flow near the surface of a flat plate is presented here. Details for adjusting the parameter constraints such as image and recording properties, the laser sheet properties, and processing algorithms to adapt PIV for any flow of interest are included.
Physics, Issue 76, Mechanical Engineering, Fluid Mechanics, flow measurement, fluid heat transfer, internal flow in turbomachinery (applications), boundary layer flow (general), flow visualization (instrumentation), laser instruments (design and operation), Boundary layer, micro-PIV, optical laser diagnostics, internal combustion engines, flow, fluids, particle, velocimetry, visualization
50559
Test Samples for Optimizing STORM Super-Resolution Microscopy
Institutions: National Physical Laboratory.

STORM is a recently developed super-resolution microscopy technique with up to 10 times better resolution than standard fluorescence microscopy techniques. However, as the image is acquired in a very different way than normal, by building up an image molecule-by-molecule, there are some significant challenges for users in trying to optimize their image acquisition. In order to aid this process and gain more insight into how STORM works we present the preparation of 3 test samples and the methodology of acquiring and processing STORM super-resolution images with typical resolutions of between 30-50 nm. By combining the test samples with the use of the freely available rainSTORM processing software it is possible to obtain a great deal of information about image quality and resolution. Using these metrics it is then possible to optimize the imaging procedure from the optics, to sample preparation, dye choice, buffer conditions, and image acquisition settings. We also show examples of some common problems that result in poor image quality, such as lateral drift, where the sample moves during image acquisition and density related problems resulting in the 'mislocalization' phenomenon.
Molecular Biology, Issue 79, Genetics, Bioengineering, Biomedical Engineering, Biophysics, Basic Protocols, HeLa Cells, Actin Cytoskeleton, Coated Vesicles, Receptor, Epidermal Growth Factor, Actins, Fluorescence, Endocytosis, Microscopy, STORM, super-resolution microscopy, nanoscopy, cell biology, fluorescence microscopy, test samples, resolution, actin filaments, fiducial markers, epidermal growth factor, cell, imaging
50579
Simultaneous Multicolor Imaging of Biological Structures with Fluorescence Photoactivation Localization Microscopy
Institutions: University of Maine.

Localization-based super resolution microscopy can be applied to obtain a spatial map (image) of the distribution of individual fluorescently labeled single molecules within a sample with a spatial resolution of tens of nanometers. Using either photoactivatable (PAFP) or photoswitchable (PSFP) fluorescent proteins fused to proteins of interest, or organic dyes conjugated to antibodies or other molecules of interest, fluorescence photoactivation localization microscopy (FPALM) can simultaneously image multiple species of molecules within single cells. By using the following approach, populations of large numbers (thousands to hundreds of thousands) of individual molecules are imaged in single cells and localized with a precision of ~10-30 nm. Data obtained can be applied to understanding the nanoscale spatial distributions of multiple protein types within a cell. One primary advantage of this technique is the dramatic increase in spatial resolution: while diffraction limits resolution to ~200-250 nm in conventional light microscopy, FPALM can image length scales more than an order of magnitude smaller. As many biological hypotheses concern the spatial relationships among different biomolecules, the improved resolution of FPALM can provide insight into questions of cellular organization which have previously been inaccessible to conventional fluorescence microscopy. In addition to detailing the methods for sample preparation and data acquisition, we here describe the optical setup for FPALM. One additional consideration for researchers wishing to do super-resolution microscopy is cost: in-house setups are significantly cheaper than most commercially available imaging machines. Limitations of this technique include the need for optimizing the labeling of molecules of interest within cell samples, and the need for post-processing software to visualize results. We here describe the use of PAFP and PSFP expression to image two protein species in fixed cells. Extension of the technique to living cells is also described.
Basic Protocol, Issue 82, Microscopy, Super-resolution imaging, Multicolor, single molecule, FPALM, Localization microscopy, fluorescent proteins
50680
Analysis of Tubular Membrane Networks in Cardiac Myocytes from Atria and Ventricles
Institutions: Heart Research Center Goettingen, University Medical Center Goettingen, German Center for Cardiovascular Research (DZHK) partner site Goettingen, University of Maryland School of Medicine.

In cardiac myocytes a complex network of membrane tubules - the transverse-axial tubule system (TATS) - controls deep intracellular signaling functions. While the outer surface membrane and associated TATS membrane components appear to be continuous, there are substantial differences in lipid and protein content. In ventricular myocytes (VMs), certain TATS components are highly abundant contributing to rectilinear tubule networks and regular branching 3D architectures. It is thought that peripheral TATS components propagate action potentials from the cell surface to thousands of remote intracellular sarcoendoplasmic reticulum (SER) membrane contact domains, thereby activating intracellular Ca
2+
release units (CRUs). In contrast to VMs, the organization and functional role of TATS membranes in atrial myocytes (AMs) is significantly different and much less understood. Taken together, quantitative structural characterization of TATS membrane networks in healthy and diseased myocytes is an essential prerequisite towards better understanding of functional plasticity and pathophysiological reorganization. Here, we present a strategic combination of protocols for direct quantitative analysis of TATS membrane networks in living VMs and AMs. For this, we accompany primary cell isolations of mouse VMs and/or AMs with critical quality control steps and direct membrane staining protocols for fluorescence imaging of TATS membranes. Using an optimized workflow for confocal or superresolution TATS image processing, binarized and skeletonized data are generated for quantitative analysis of the TATS network and its components. Unlike previously published indirect regional aggregate image analysis strategies, our protocols enable direct characterization of specific components and derive complex physiological properties of TATS membrane networks in living myocytes with high throughput and open access software tools. In summary, the combined protocol strategy can be readily applied for quantitative TATS network studies during physiological myocyte adaptation or disease changes, comparison of different cardiac or skeletal muscle cell types, phenotyping of transgenic models, and pharmacological or therapeutic interventions.
Bioengineering, Issue 92, cardiac myocyte, atria, ventricle, heart, primary cell isolation, fluorescence microscopy, membrane tubule, transverse-axial tubule system, image analysis, image processing, T-tubule, collagenase
51823
Super-resolution Imaging of the Cytokinetic Z Ring in Live Bacteria Using Fast 3D-Structured Illumination Microscopy (f3D-SIM)
Institutions: University of Technology, Sydney.

Imaging of biological samples using fluorescence microscopy has advanced substantially with new technologies to overcome the resolution barrier of the diffraction of light allowing super-resolution of live samples. There are currently three main types of super-resolution techniques – stimulated emission depletion (STED), single-molecule localization microscopy (including techniques such as PALM, STORM, and GDSIM), and structured illumination microscopy (SIM). While STED and single-molecule localization techniques show the largest increases in resolution, they have been slower to offer increased speeds of image acquisition. Three-dimensional SIM (3D-SIM) is a wide-field fluorescence microscopy technique that offers a number of advantages over both single-molecule localization and STED. Resolution is improved, with typical lateral and axial resolutions of 110 and 280 nm, respectively and depth of sampling of up to 30 µm from the coverslip, allowing for imaging of whole cells. Recent advancements (fast 3D-SIM) in the technology increasing the capture rate of raw images allows for fast capture of biological processes occurring in seconds, while significantly reducing photo-toxicity and photobleaching. Here we describe the use of one such method to image bacterial cells harboring the fluorescently-labelled cytokinetic FtsZ protein to show how cells are analyzed and the type of unique information that this technique can provide.
Molecular Biology, Issue 91, super-resolution microscopy, fluorescence microscopy, OMX, 3D-SIM, Blaze, cell division, bacteria, Bacillus subtilis, Staphylococcus aureus, FtsZ, Z ring constriction
51469
Reduced-gravity Environment Hardware Demonstrations of a Prototype Miniaturized Flow Cytometer and Companion Microfluidic Mixing Technology
Institutions: DNA Medicine Institute, Harvard Medical School, NASA Glenn Research Center, ZIN Technologies.

Until recently, astronaut blood samples were collected in-flight, transported to earth on the Space Shuttle, and analyzed in terrestrial laboratories. If humans are to travel beyond low Earth orbit, a transition towards space-ready, point-of-care (POC) testing is required. Such testing needs to be comprehensive, easy to perform in a reduced-gravity environment, and unaffected by the stresses of launch and spaceflight. Countless POC devices have been developed to mimic laboratory scale counterparts, but most have narrow applications and few have demonstrable use in an in-flight, reduced-gravity environment. In fact, demonstrations of biomedical diagnostics in reduced gravity are limited altogether, making component choice and certain logistical challenges difficult to approach when seeking to test new technology. To help fill the void, we are presenting a modular method for the construction and operation of a prototype blood diagnostic device and its associated parabolic flight test rig that meet the standards for flight-testing onboard a parabolic flight, reduced-gravity aircraft. The method first focuses on rig assembly for in-flight, reduced-gravity testing of a flow cytometer and a companion microfluidic mixing chip. Components are adaptable to other designs and some custom components, such as a microvolume sample loader and the micromixer may be of particular interest. The method then shifts focus to flight preparation, by offering guidelines and suggestions to prepare for a successful flight test with regard to user training, development of a standard operating procedure (SOP), and other issues. Finally, in-flight experimental procedures specific to our demonstrations are described.
Cellular Biology, Issue 93, Point-of-care, prototype, diagnostics, spaceflight, reduced gravity, parabolic flight, flow cytometry, fluorescence, cell counting, micromixing, spiral-vortex, blood mixing
51743
Characterizing the Composition of Molecular Motors on Moving Axonal Cargo Using "Cargo Mapping" Analysis
Institutions: The Scripps Research Institute, University of California San Diego, University of California San Diego, University of California San Diego School of Medicine.

Understanding the mechanisms by which molecular motors coordinate their activities to transport vesicular cargoes within neurons requires the quantitative analysis of motor/cargo associations at the single vesicle level. The goal of this protocol is to use quantitative fluorescence microscopy to correlate ("map") the position and directionality of movement of live cargo to the composition and relative amounts of motors associated with the same cargo. "Cargo mapping" consists of live imaging of fluorescently labeled cargoes moving in axons cultured on microfluidic devices, followed by chemical fixation during recording of live movement, and subsequent immunofluorescence (IF) staining of the exact same axonal regions with antibodies against motors. Colocalization between cargoes and their associated motors is assessed by assigning sub-pixel position coordinates to motor and cargo channels, by fitting Gaussian functions to the diffraction-limited point spread functions representing individual fluorescent point sources. Fixed cargo and motor images are subsequently superimposed to plots of cargo movement, to "map" them to their tracked trajectories. The strength of this protocol is the combination of live and IF data to record both the transport of vesicular cargoes in live cells and to determine the motors associated to these exact same vesicles. This technique overcomes previous challenges that use biochemical methods to determine the average motor composition of purified heterogeneous bulk vesicle populations, as these methods do not reveal compositions on single moving cargoes. Furthermore, this protocol can be adapted for the analysis of other transport and/or trafficking pathways in other cell types to correlate the movement of individual intracellular structures with their protein composition. Limitations of this protocol are the relatively low throughput due to low transfection efficiencies of cultured primary neurons and a limited field of view available for high-resolution imaging. Future applications could include methods to increase the number of neurons expressing fluorescently labeled cargoes.
Neuroscience, Issue 92, kinesin, dynein, single vesicle, axonal transport, microfluidic devices, primary hippocampal neurons, quantitative fluorescence microscopy
52029
From Fast Fluorescence Imaging to Molecular Diffusion Law on Live Cell Membranes in a Commercial Microscope
Institutions: Scuola Normale Superiore, Instituto Italiano di Tecnologia, University of California, Irvine.

It has become increasingly evident that the spatial distribution and the motion of membrane components like lipids and proteins are key factors in the regulation of many cellular functions. However, due to the fast dynamics and the tiny structures involved, a very high spatio-temporal resolution is required to catch the real behavior of molecules. Here we present the experimental protocol for studying the dynamics of fluorescently-labeled plasma-membrane proteins and lipids in live cells with high spatiotemporal resolution. Notably, this approach doesn't need to track each molecule, but it calculates population behavior using all molecules in a given region of the membrane. The starting point is a fast imaging of a given region on the membrane. Afterwards, a complete spatio-temporal autocorrelation function is calculated correlating acquired images at increasing time delays, for example each 2, 3, n repetitions. It is possible to demonstrate that the width of the peak of the spatial autocorrelation function increases at increasing time delay as a function of particle movement due to diffusion. Therefore, fitting of the series of autocorrelation functions enables to extract the actual protein mean square displacement from imaging (iMSD), here presented in the form of apparent diffusivity vs average displacement. This yields a quantitative view of the average dynamics of single molecules with nanometer accuracy. By using a GFP-tagged variant of the Transferrin Receptor (TfR) and an ATTO488 labeled 1-palmitoyl-2-hydroxy-
sn
-glycero-3-phosphoethanolamine (PPE) it is possible to observe the spatiotemporal regulation of protein and lipid diffusion on µm-sized membrane regions in the micro-to-milli-second time range.
Bioengineering, Issue 92, fluorescence, protein dynamics, lipid dynamics, membrane heterogeneity, transient confinement, single molecule, GFP
51994
Identification of a Murine Erythroblast Subpopulation Enriched in Enucleating Events by Multi-spectral Imaging Flow Cytometry
Institutions: University of Cincinnati College of Medicine, IBM.

Erythropoiesis in mammals concludes with the dramatic process of enucleation that results in reticulocyte formation. The mechanism of enucleation has not yet been fully elucidated. A common problem encountered when studying the localization of key proteins and structures within enucleating erythroblasts by microscopy is the difficulty to observe a sufficient number of cells undergoing enucleation. We have developed a novel analysis protocol using multiparameter high-speed cell imaging in flow (Multi-Spectral Imaging Flow Cytometry), a method that combines immunofluorescent microscopy with flow cytometry, in order to identify efficiently a significant number of enucleating events, that allows to obtain measurements and perform statistical analysis. We first describe here two
in vitro
erythropoiesis culture methods used in order to synchronize murine erythroblasts and increase the probability of capturing enucleation at the time of evaluation. Then, we describe in detail the staining of erythroblasts after fixation and permeabilization in order to study the localization of intracellular proteins or lipid rafts during enucleation by multi-spectral imaging flow cytometry. Along with size and DNA/Ter119 staining which are used to identify the orthochromatic erythroblasts, we utilize the parameters "aspect ratio" of a cell in the bright-field channel that aids in the recognition of elongated cells and "delta centroid XY Ter119/Draq5" that allows the identification of cellular events in which the center of Ter119 staining (nascent reticulocyte) is far apart from the center of Draq5 staining (nucleus undergoing extrusion), thus indicating a cell about to enucleate. The subset of the orthochromatic erythroblast population with high delta centroid and low aspect ratio is highly enriched in enucleating cells.
Basic Protocol, Issue 88, Erythropoiesis, Erythroblast enucleation, Reticulocyte, Multi-Spectral Imaging Flow Cytometry, FACS, Multiparameter high-speed cell imaging in flow, Aspect ratio, Delta centroid XY
50990
Stress-induced Antibiotic Susceptibility Testing on a Chip
Institutions: Fraunhofer USA Center for Manufacturing Innovation, Harvard Medical School, Boston University, Boston University.

We have developed a rapid microfluidic method for antibiotic susceptibility testing in a stress-based environment. Fluid is passed at high speeds over bacteria immobilized on the bottom of a microfluidic channel. In the presence of stress and antibiotic, susceptible strains of bacteria die rapidly. However, resistant bacteria survive these stressful conditions. The hypothesis behind this method is new: stress activation of biochemical pathways, which are targets of antibiotics, can accelerate antibiotic susceptibility testing. As compared to standard antibiotic susceptibility testing methods, the rate-limiting step - bacterial growth - is omitted during antibiotic application. The technical implementation of the method is in a combination of standard techniques and innovative approaches. The standard parts of the method include bacterial culture protocols, defining microfluidic channels in polydimethylsiloxane (PDMS), cell viability monitoring with fluorescence, and batch image processing for bacteria counting. Innovative parts of the method are in the use of culture media flow for mechanical stress application, use of enzymes to damage but not kill the bacteria, and use of microarray substrates for bacterial attachment. The developed platform can be used in antibiotic and nonantibiotic related drug development and testing. As compared to the standard bacterial suspension experiments, the effect of the drug can be turned on and off repeatedly over controlled time periods. Repetitive observation of the same bacterial population is possible over the course of the same experiment.
Bioengineering, Issue 83, antibiotic, susceptibility, resistance, microfluidics, microscopy, rapid, testing, stress, bacteria, fluorescence
50828
Applying Microfluidics to Electrophysiology
Institutions: University of Illinois, Chicago.

Microfluidics can be integrated with standard electrophysiology techniques to allow new experimental modalities. Specifically, the motivation for the microfluidic brain slice device is discussed including how the device docks to standard perfusion chambers and the technique of passive pumping which is used to deliver boluses of neuromodulators to the brain slice. By simplifying the device design, we are able to achieve a practical solution to the current unmet electrophysiology need of applying multiple neuromodulators across multiple regions of the brain slice. This is achieved by substituting the standard coverglass substrate of the perfusion chamber with a thin microfluidic device bonded to the coverglass substrate. This was then attached to the perfusion chamber and small holes connect the open-well of the perfusion chamber to the microfluidic channels buried within the microfluidic substrate. These microfluidic channels are interfaced with ports drilled into the edge of the perfusion chamber to access and deliver stimulants. This project represents how the field of microfluidics is transitioning away from proof-of concept device demonstrations and into practical solutions for unmet experimental and clinical needs.
Neuroscience, Issue 8, Biomedical Engineering, Microfluidics, Slice Recording, Electrophysiology, Neurotransmitter, Bioengineering
301
In vivo Micro-circulation Measurement in Skeletal Muscle by Intra-vital Microscopy
Institutions: Massachusetts General Hospital, and Harvard Medical School, The University of Tokyo.

BACKGROUND: Regulatory factors and detailed physiology of in vivo microcirculation have remained not fully clarified after many different modalities of imaging had invented. While many macroscopic parameters of blood flow reflect flow velocity, changes in blood flow velocity and red blood cell (RBC) flux does not hold linear relationship in the microscopic observations. There are reports of discrepancy between RBC velocity and RBC flux, RBC flux and plasma flow volume, and of spatial and temporal heterogeneity of flow regulation in the peripheral tissues in microscopic observations, a scientific basis for the requirement of more detailed studies in microcirculatory regulation using intravital microscopy. METHODS: We modified Jeff Lichtman's method of in vivo microscopic observation of mouse sternomastoid muscles. Mice are anesthetized, ventilated, and injected with PKH26L-fluorescently labeled RBCs for microscopic observation.RESULT & CONCLUSIONS: Fluorescently labeled RBCs are detected and distinguished well by a wide-field microscope. Muscle contraction evoked by electrical stimulation induced increase in RBC flux. Quantification of other parameters including RBC velocity and capillary density were feasible. Mice tolerated well the surgery, injection of stained RBCs, microscopic observation, and electrical stimulation. No muscle or blood vessel damage was observed, suggesting that our method is relatively less invasive and suited for long-term observations.
Cellular Biology, issue 4, mouse, skeletal muscle, microscopy, circulation
210
Microfluidic Applications for Disposable Diagnostics
Institutions: Boston University.

In this interview, Dr. Klapperich discusses the fabrication of thermoplastic microfluidic devices and their application for development of new diagnostics.
Cellular Biology, Issue 12, bioengineering, diagnostics, microfluidics, solid phase, purification
665