Preparation of Silica Nanoparticles Through Microwave-assisted Acid-catalysis
Published: 12-16-2013
ABSTRACT
Microwave-assisted synthetic techniques were used to quickly and reproducibly produce silica nanoparticle sols using an acid catalyst with nanoparticle diameters ranging from 30-250 nm by varying the reaction conditions. Through the selection of a microwave compatible solvent, silicic acid precursor, catalyst, and microwave irradiation time, these microwave-assisted methods were capable of overcoming the previously reported shortcomings associated with synthesis of silica nanoparticles using microwave reactors. The siloxane precursor was hydrolyzed using the acid catalyst, HCl. Acetone, a low-tan δ solvent, mediates the condensation reactions and has minimal interaction with the electromagnetic field. Condensation reactions begin when the silicic acid precursor couples with the microwave radiation, leading to silica nanoparticle sol formation. The silica nanoparticles were characterized by dynamic light scattering data and scanning electron microscopy, which show the materials' morphology and size to be dependent on the reaction conditions. Microwave-assisted reactions produce silica nanoparticles with roughened textured surfaces that are atypical for silica sols produced by Stöber's methods, which have smooth surfaces.
24 Related JoVE Articles!
Small and Wide Angle X-Ray Scattering Studies of Biological Macromolecules in Solution
Institutions: Rensselaer Polytechnic Institute.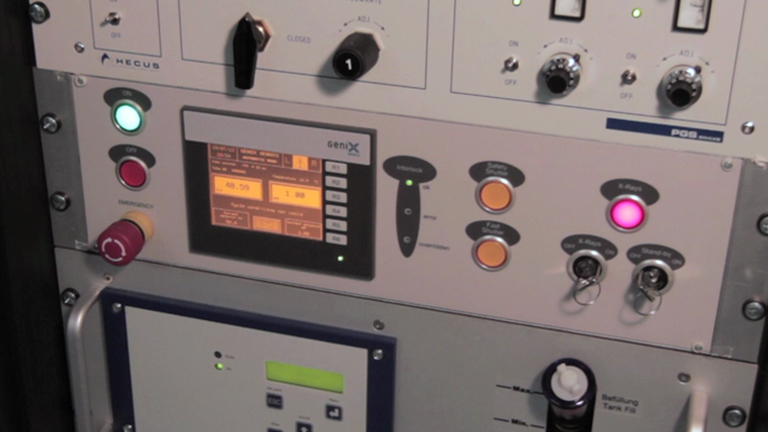 In this paper, Small and Wide Angle X-ray Scattering (SWAXS) analysis of macromolecules is demonstrated through experimentation. SWAXS is a technique where X-rays are elastically scattered by an inhomogeneous sample in the nm-range at small angles (typically 0.1 - 5°) and wide angles (typically > 5°). This technique provides information about the shape, size, and distribution of macromolecules, characteristic distances of partially ordered materials, pore sizes, and surface-to-volume ratio. Small Angle X-ray Scattering (SAXS) is capable of delivering structural information of macromolecules between 1 and 200 nm, whereas Wide Angle X-ray Scattering (WAXS) can resolve even smaller Bragg spacing of samples between 0.33 nm and 0.49 nm based on the specific system setup and detector. The spacing is determined from Bragg's law and is dependent on the wavelength and incident angle. In a SWAXS experiment, the materials can be solid or liquid and may contain solid, liquid or gaseous domains (so-called particles) of the same or another material in any combination. SWAXS applications are very broad and include colloids of all types: metals, composites, cement, oil, polymers, plastics, proteins, foods, and pharmaceuticals. For solid samples, the thickness is limited to approximately 5 mm. Usage of a lab-based SWAXS instrument is detailed in this paper. With the available software (
e.g.
, GNOM-ATSAS 2.3 package by D. Svergun EMBL-Hamburg and EasySWAXS software) for the SWAXS system, an experiment can be conducted to determine certain parameters of interest for the given sample. One example of a biological macromolecule experiment is the analysis of 2 wt% lysozyme in a water-based aqueous buffer which can be chosen and prepared through numerous methods. The preparation of the sample follows the guidelines below in the Preparation of the Sample section. Through SWAXS experimentation, important structural parameters of lysozyme,
e.g.
the radius of gyration, can be analyzed.
Bioengineering, Issue 71, Biophysics, Structural Biology, Physics, Molecular Biology, Mechanical Engineering, Nanotechnology, Small angle X-ray scattering, wide angle X-ray scattering, X-ray, biological macromolecules
4160
Synthesis of an In vivo MRI-detectable Apoptosis Probe
Institutions: Stanford University Medical Center, University of California, San Francisco , San Francisco VAMC.

Cellular apoptosis is a prominent feature of many diseases, and this programmed cell death typically occurs before clinical manifestations of disease are evident. A means to detect apoptosis in its earliest, reversible stages would afford a pre-clinical 'window' during which preventive or therapeutic measures could be taken to protect the heart from permanent damage. We present herein a simple and robust method to conjugate human Annexin V (ANX), which avidly binds to cells in the earliest, reversible stages of apoptosis, to superparamagnetic iron oxide (SPIO) nanoparticles, which serve as an MRI-detectable contrast agent. The conjugation method begins with an oxidation of the SPIO nanoparticles, which oxidizes carboxyl groups on the polysaccharide shell of SPIO. Purified ANX protein is then added in the setting of a sodium borate solution to facilitate covalent interaction of ANX with SPIO in a reducing buffer. A final reduction step with sodium borohydride is performed to complete the reduction, and then the reaction is quenched. Unconjugated ANX is removed from the mix by microcentrifuge filtration. The size and purity of the ANX-SPIO product is verified by dynamic light scattering (DLS). This method does not require addition to, or modification of, the polysaccharide SPIO shell, as opposed to cross-linked iron oxide particle conjugation methods or biotin-labeled nanoparticles. As a result, this method represents a simple, robust approach that may be extended to conjugation of other proteins of interest.
Molecular Biology, Issue 65, Biomedical Engineering, conjugation, annexin, iron oxide, nanoparticle, MRI, molecular imaging
3775
High-throughput Synthesis of Carbohydrates and Functionalization of Polyanhydride Nanoparticles
Institutions: Iowa State University, Iowa State University.

Transdisciplinary approaches involving areas such as material design, nanotechnology, chemistry, and immunology have to be utilized to rationally design efficacious vaccines carriers. Nanoparticle-based platforms can prolong the persistence of vaccine antigens, which could improve vaccine immunogenicity
1
. Several biodegradable polymers have been studied as vaccine delivery vehicles
1
; in particular, polyanhydride particles have demonstrated the ability to provide sustained release of stable protein antigens and to activate antigen presenting cells and modulate immune responses
2-12
. The molecular design of these vaccine carriers needs to integrate the rational selection of polymer properties as well as the incorporation of appropriate targeting agents. High throughput automated fabrication of targeting ligands and functionalized particles is a powerful tool that will enhance the ability to study a wide range of properties and will lead to the design of reproducible vaccine delivery devices. The addition of targeting ligands capable of being recognized by specific receptors on immune cells has been shown to modulate and tailor immune responses
10,11,13
C-type lectin receptors (CLRs) are pattern recognition receptors (PRRs) that recognize carbohydrates present on the surface of pathogens. The stimulation of immune cells via CLRs allows for enhanced internalization of antigen and subsequent presentation for further T cell activation
14,15
. Therefore, carbohydrate molecules play an important role in the study of immune responses; however, the use of these biomolecules often suffers from the lack of availability of structurally well-defined and pure carbohydrates. An automation platform based on iterative solution-phase reactions can enable rapid and controlled synthesis of these synthetically challenging molecules using significantly lower building block quantities than traditional solid-phase methods
16,17
. Herein we report a protocol for the automated solution-phase synthesis of oligosaccharides such as mannose-based targeting ligands with fluorous solid-phase extraction for intermediate purification. After development of automated methods to make the carbohydrate-based targeting agent, we describe methods for their attachment on the surface of polyanhydride nanoparticles employing an automated robotic set up operated by LabVIEW as previously described
10
. Surface functionalization with carbohydrates has shown efficacy in targeting CLRs
10,11
and increasing the throughput of the fabrication method to unearth the complexities associated with a multi-parametric system will be of great value (
Figure 1a
).
Bioengineering, Issue 65, Chemical Engineering, High-throughput, Automation, Carbohydrates, Synthesis, Polyanhydrides, Nanoparticles, Functionalization, Targeting, Fluorous Solid Phase Extraction
3967
Constant Pressure-controlled Extrusion Method for the Preparation of Nano-sized Lipid Vesicles
Institutions: University of Colorado Boulder, University of Colorado Boulder.

Liposomes are artificially prepared vesicles consisting of natural and synthetic phospholipids that are widely used as a cell membrane mimicking platform to study protein-protein and protein-lipid interactions
3
, monitor drug delivery
4,5
, and encapsulation
4
. Phospholipids naturally create curved lipid bilayers, distinguishing itself from a micelle.
6
Liposomes are traditionally classified by size and number of bilayers, i.e. large unilamellar vesicles (LUVs), small unilamellar vesicles (SUVs) and multilamellar vesicles (MLVs)
7
. In particular, the preparation of homogeneous liposomes of various sizes is important for studying membrane curvature that plays a vital role in cell signaling, endo- and exocytosis, membrane fusion, and protein trafficking
8
. Several groups analyze how proteins are used to modulate processes that involve membrane curvature and thus prepare liposomes of diameters <100 - 400 nm to study their behavior on cell functions
3
. Others focus on liposome-drug encapsulation, studying liposomes as vehicles to carry and deliver a drug of interest
9
. Drug encapsulation can be achieved as reported during liposome formation
9
. Our extrusion step should not affect the encapsulated drug for two reasons, i.e. (1) drug encapsulation should be achieved prior to this step and (2) liposomes should retain their natural biophysical stability, securely carrying the drug in the aqueous core. These research goals further suggest the need for an optimized method to design stable sub-micron lipid vesicles. Nonetheless, the current liposome preparation technologies (sonication
10
, freeze-and-thaw
10
, sedimentation) do not allow preparation of liposomes with highly curved surface (i.e. diameter <100 nm) with high consistency and efficiency
10,5
, which limits the biophysical studies of an emerging field of membrane curvature sensing. Herein, we present a robust preparation method for a variety of biologically relevant liposomes. Manual extrusion using gas-tight syringes and polycarbonate membranes
10,5
is a common practice but heterogeneity is often observed when using pore sizes <100 nm due to due to variability of manual pressure applied. We employed a constant pressure-controlled extrusion apparatus to prepare synthetic liposomes whose diameters range between 30 and 400 nm. Dynamic light scattering (DLS)
10
, electron microscopy
11
and nanoparticle tracking analysis (NTA)
12
were used to quantify the liposome sizes as described in our protocol, with commercial polystyrene (PS) beads used as a calibration standard. A near linear correlation was observed between the employed pore sizes and the experimentally determined liposomes, indicating high fidelity of our pressure-controlled liposome preparation method. Further, we have shown that this lipid vesicle preparation method is generally applicable, independent of various liposome sizes. Lastly, we have also demonstrated in a time course study that these prepared liposomes were stable for up to 16 hours. A representative nano-sized liposome preparation protocol is demonstrated below.
Bioengineering, Issue 64, Biomedical Engineering, Liposomes, particle extrusion, nano-sized vesicles, dynamic light scattering (DLS), nanoparticle tracking analysis (NTA)
4151
Procedure for Fabricating Biofunctional Nanofibers
Institutions: Clark Atlanta University, Clark Atlanta University, Cornell University.

Electrospinning is an effective processing method for preparing nanofibers decorated with functional groups. Nanofibers decorated with functional groups may be utilized to study material-biomarker interactions
i.e.
act as biosensors with potential as single molecule detectors. We have developed an effective approach for preparing functional polymers where the functionality has the capacity of specifically binding with a model protein. In our model system, the functional group is 2,4-dinitrophenyl (DNP) and the protein is anti-DNP IgE (Immunoglobulin E). The functional polymer, α,ω-bi[2,4-dinitrophenyl caproic][poly(ethylene oxide)-b-poly(2-methoxystyrene)-b-poly(ethylene oxide)] (CDNP-PEO-P2MS-PEO-CDNP), is prepared by anionic living polymerization. The difunctional initiator utilized in the polymerization was prepared by electron transfer reaction of α-methylstyrene and potassium (mirror) metal. The 2-methoxystyrene monomer was added first to the initiator, followed by the addition of the second monomer, ethylene oxide, and finally the living polymer was terminated by methanol. The α,ω-dihydroxyl polymer [HO-PEO-P2MS-PEO-OH] was reacted with N-2,4-DNP-∈-amino caproic acid, by DCC coupling, resulting in the formation of α,ω-bi[2,4-dinitrophenylcaproic][poly(ethyleneoxide)-b-poly(2-methoxystyrene)-b-poly(ethylene oxide)] (CDNP-PEO-P2MS-PEO-CDNP). The polymers were characterized by FT-IR,
1
H NMR and Gel Permeation Chromatography (GPC). The molecular weight distributions of the polymers were narrow (1.1-1.2) and polymers with molecular weights greater than 50,000 was used in this study. The polymers were yellow powders and soluble in tetrahydrofuran. A water soluble CDNP-PEO-P2MS-PEO-CDNP/ DMEG (dimethoxyethylene glycol) complex binds and achieves steady state binding with solution IgE within a few seconds. Higher molecular weight (water insoluble
i.e.
around 50,000) CDNP-PEO-P2MS-PEO-CDNP polymers, containing 1% single wall carbon nanotubes (SWCNT) were processed into electroactive nanofibers (100 nm to 500 nm in diameter) on silicon substrate. Fluorescence spectroscopy shows that anti-DNP IgE interacts with the nanofibers by binding with the DNP functional groups decorating the fibers. These observations suggest that appropriately functionalized nanofibers hold promise for developing biomarker detection device.
Chemistry, Issue 67, Bioengineering, Physics, Molecular Biology, Biomedical Engineering, Living polymerization, NMR Spectroscopy, Electrospinning, Nanofibers, I-V behavior, Biosensor, confocal microscopy
4135
An Analytical Tool-box for Comprehensive Biochemical, Structural and Transcriptome Evaluation of Oral Biofilms Mediated by Mutans Streptococci
Institutions: University of Rochester Medical Center, Sichuan University, Glostrup Hospital, Glostrup, Denmark, University of Rochester Medical Center.

Biofilms are highly dynamic, organized and structured communities of microbial cells enmeshed in an extracellular matrix of variable density and composition
1, 2
. In general, biofilms develop from initial microbial attachment on a surface followed by formation of cell clusters (or microcolonies) and further development and stabilization of the microcolonies, which occur in a complex extracellular matrix. The majority of biofilm matrices harbor exopolysaccharides (EPS), and dental biofilms are no exception; especially those associated with caries disease, which are mostly mediated by mutans streptococci
3
. The EPS are synthesized by microorganisms (
S. mutans
, a key contributor) by means of extracellular enzymes, such as glucosyltransferases using sucrose primarily as substrate
3
. Studies of biofilms formed on tooth surfaces are particularly challenging owing to their constant exposure to environmental challenges associated with complex diet-host-microbial interactions occurring in the oral cavity. Better understanding of the dynamic changes of the structural organization and composition of the matrix, physiology and transcriptome/proteome profile of biofilm-cells in response to these complex interactions would further advance the current knowledge of how oral biofilms modulate pathogenicity. Therefore, we have developed an analytical tool-box to facilitate biofilm analysis at structural, biochemical and molecular levels by combining commonly available and novel techniques with custom-made software for data analysis. Standard analytical (colorimetric assays, RT-qPCR and microarrays) and novel fluorescence techniques (for simultaneous labeling of bacteria and EPS) were integrated with specific software for data analysis to address the complex nature of oral biofilm research. The tool-box is comprised of 4 distinct but interconnected steps (Figure 1): 1) Bioassays, 2) Raw Data Input, 3) Data Processing, and 4) Data Analysis. We used our
in vitro
biofilm model and specific experimental conditions to demonstrate the usefulness and flexibility of the tool-box. The biofilm model is simple, reproducible and multiple replicates of a single experiment can be done simultaneously
4, 5
. Moreover, it allows temporal evaluation, inclusion of various microbial species
5
and assessment of the effects of distinct experimental conditions (e.g. treatments
6
; comparison of knockout mutants vs. parental strain
5
; carbohydrates availability
7
). Here, we describe two specific components of the tool-box, including (i) new software for microarray data mining/organization (MDV) and fluorescence imaging analysis (DUOSTAT), and (ii)
in situ
EPS-labeling. We also provide an experimental case showing how the tool-box can assist with biofilms analysis, data organization, integration and interpretation.
Microbiology, Issue 47, Extracellular matrix, polysaccharides, biofilm, mutans streptococci, glucosyltransferases, confocal fluorescence, microarray
2512
Hydrogel Nanoparticle Harvesting of Plasma or Urine for Detecting Low Abundance Proteins
Institutions: George Mason University, Ceres Nanosciences.

Novel biomarker discovery plays a crucial role in providing more sensitive and specific disease detection. Unfortunately many low-abundance biomarkers that exist in biological fluids cannot be easily detected with mass spectrometry or immunoassays because they are present in very low concentration, are labile, and are often masked by high-abundance proteins such as albumin or immunoglobulin. Bait containing poly(N-isopropylacrylamide) (NIPAm) based nanoparticles are able to overcome these physiological barriers. In one step they are able to capture, concentrate and preserve biomarkers from body fluids. Low-molecular weight analytes enter the core of the nanoparticle and are captured by different organic chemical dyes, which act as high affinity protein baits. The nanoparticles are able to concentrate the proteins of interest by several orders of magnitude. This concentration factor is sufficient to increase the protein level such that the proteins are within the detection limit of current mass spectrometers, western blotting, and immunoassays. Nanoparticles can be incubated with a plethora of biological fluids and they are able to greatly enrich the concentration of low-molecular weight proteins and peptides while excluding albumin and other high-molecular weight proteins. Our data show that a 10,000 fold amplification in the concentration of a particular analyte can be achieved, enabling mass spectrometry and immunoassays to detect previously undetectable biomarkers.
Bioengineering, Issue 90, biomarker, hydrogel, low abundance, mass spectrometry, nanoparticle, plasma, protein, urine
51789
PLGA Nanoparticles Formed by Single- or Double-emulsion with Vitamin E-TPGS
Institutions: Barrow Neurological Institute.
Poly(lactic-co-glycolic acid) (PLGA) is a biocompatible member of the aliphatic polyester family of biodegradable polymers. PLGA has long been a popular choice for drug delivery applications, particularly since it is already FDA-approved for use in humans in the form of resorbable sutures. Hydrophobic and hydrophilic drugs are encapsulated in PLGA particles via single- or double-emulsion. Briefly, the drug is dissolved with polymer or emulsified with polymer in an organic phase that is then emulsified with the aqueous phase. After the solvent has evaporated, particles are washed and collected via centrifugation for lyophilization and long term storage. PLGA degrades slowly via hydrolysis in aqueous environments, and encapsulated agents are released over a period of weeks to months. Although PLGA is a material that possesses many advantages for drug delivery, reproducible formation of nanoparticles can be challenging; considerable variability is introduced by the use of different equipment, reagents batch, and precise method of emulsification. Here, we describe in great detail the formation and characterization of microparticles and nanoparticles formed by single- or double-emulsion using the emulsifying agent vitamin E-TPGS. Particle morphology and size are determined with scanning electron microscopy (SEM). We provide representative SEM images for nanoparticles produced with varying emulsifier concentration, as well as examples of imaging artifacts and failed emulsifications. This protocol can be readily adapted to use alternative emulsifiers (
e.g.
poly(vinyl alcohol), PVA) or solvents (
e.g.
 dichloromethane, DCM).
Chemistry, Issue 82, Nanoparticles, Microparticles, PLGA, TPGS, drug delivery, scanning electron microscopy, emulsion, polymers
51015
Synthesis of Immunotargeted Magneto-plasmonic Nanoclusters
Institutions: University of Texas at Austin, University of Texas M.D. Anderson Cancer Center.

Magnetic and plasmonic properties combined in a single nanoparticle provide a synergy that is advantageous in a number of biomedical applications including contrast enhancement in novel magnetomotive imaging modalities, simultaneous capture and detection of circulating tumor cells (CTCs), and multimodal molecular imaging combined with photothermal therapy of cancer cells. These applications have stimulated significant interest in development of protocols for synthesis of magneto-plasmonic nanoparticles with optical absorbance in the near-infrared (NIR) region and a strong magnetic moment. Here, we present a novel protocol for synthesis of such hybrid nanoparticles that is based on an oil-in-water microemulsion method. The unique feature of the protocol described herein is synthesis of magneto-plasmonic nanoparticles of various sizes from primary blocks which also have magneto-plasmonic characteristics. This approach yields nanoparticles with a high density of magnetic and plasmonic functionalities which are uniformly distributed throughout the nanoparticle volume. The hybrid nanoparticles can be easily functionalized by attaching antibodies through the Fc moiety leaving the Fab portion that is responsible for antigen binding available for targeting.
Chemistry, Issue 90, nanoparticles, plasmonic, magnetic, nanocomposites, magnetic trapping, circulating tumor cells, dark-field imaging
52090
A Quantitative Evaluation of Cell Migration by the Phagokinetic Track Motility Assay
Institutions: Louisiana State University Health Sciences Center, Louisiana State University Health Sciences Center, SUNY Upstate Medical University, Louisiana State University Health Sciences Center.

Cellular motility is an important biological process for both unicellular and multicellular organisms. It is essential for movement of unicellular organisms towards a source of nutrients or away from unsuitable conditions, as well as in multicellular organisms for tissue development, immune surveillance and wound healing, just to mention a few roles
1,2,3
. Deregulation of this process can lead to serious neurological, cardiovascular and immunological diseases, as well as exacerbated tumor formation and spread
4,5
. Molecularly, actin polymerization and receptor recycling have been shown to play important roles in creating cellular extensions (lamellipodia), that drive the forward movement of the cell
6,7,8
. However, many biological questions about cell migration remain unanswered. The central role for cellular motility in human health and disease underlines the importance of understanding the specific mechanisms involved in this process and makes accurate methods for evaluating cell motility particularly important. Microscopes are usually used to visualize the movement of cells. However, cells move rather slowly, making the quantitative measurement of cell migration a resource-consuming process requiring expensive cameras and software to create quantitative time-lapsed movies of motile cells. Therefore, the ability to perform a quantitative measurement of cell migration that is cost-effective, non-laborious, and that utilizes common laboratory equipment is a great need for many researchers. The phagokinetic track motility assay utilizes the ability of a moving cell to clear gold particles from its path to create a measurable track on a colloidal gold-coated glass coverslip
9,10
. With the use of freely available software, multiple tracks can be evaluated for each treatment to accomplish statistical requirements. The assay can be utilized to assess motility of many cell types, such as cancer cells
11,12
, fibroblasts
9
, neutrophils
13
, skeletal muscle cells
14
, keratinocytes
15
, trophoblasts
16
, endothelial cells
17
, and monocytes
10,18-22
. The protocol involves the creation of slides coated with gold nanoparticles (Au°) that are generated by a reduction of chloroauric acid (Au
3+
) by sodium citrate. This method was developed by Turkevich
et al.
in 1951
23
and then improved in the 1970s by Frens
et al.
24,25
. As a result of this chemical reduction step, gold particles (10-20 nm in diameter) precipitate from the reaction mixture and can be applied to glass coverslips, which are then ready for use in cellular migration analyses
9,26,27
. In general, the phagokinetic track motility assay is a quick, quantitative and easy measure of cellular motility. In addition, it can be utilized as a simple high-throughput assay, for use with cell types that are not amenable to time-lapsed imaging, as well as other uses depending on the needs of the researcher. Together, the ability to quantitatively measure cellular motility of multiple cell types without the need for expensive microscopes and software, along with the use of common laboratory equipment and chemicals, make the phagokinetic track motility assay a solid choice for scientists with an interest in understanding cellular motility.
Immunology, Issue 70, Microbiology, Cellular Biology, Molecular Biology, gold nanoparticles, coverslips, cell migration, quantitative cell movement, microscopy, motility, assay
4165
Formulations for Freeze-drying of Bacteria and Their Influence on Cell Survival
Institutions: Swedish University of Agricultural Sciences, Uppsala University.

Cellular water can be removed to reversibly inactivate microorganisms to facilitate storage. One such method of removal is freeze-drying, which is considered a gentle dehydration method. To facilitate cell survival during drying, the cells are often formulated beforehand. The formulation forms a matrix that embeds the cells and protects them from various harmful stresses imposed on the cells during freezing and drying. We present here a general method to evaluate the survival rate of cells after freeze-drying and we illustrate it by comparing the results obtained with four different formulations: the disaccharide sucrose, the sucrose derived polymer Ficoll PM400, and the respective polysaccharides hydroxyethyl cellulose (HEC) and hydroxypropyl methyl cellulose (HPMC), on two strains of bacteria,
P. putida
KT2440 and
A. chlorophenolicus
A6. In this work we illustrate how to prepare formulations for freeze-drying and how to investigate the mechanisms of cell survival after rehydration by characterizing the formulation using of differential scanning calorimetry (DSC), surface tension measurements, X-ray analysis, and electron microscopy and relating those data to survival rates. The polymers were chosen to get a monomeric structure of the respective polysaccharide resembling sucrose to a varying degrees. Using this method setup we showed that polymers can support cell survival as effectively as disaccharides if certain physical properties of the formulation are controlled
1
.
Microbiology, Issue 78, Cellular Biology, Molecular Biology, Biochemistry, Biophysics, Basic Protocols, Cell survival, sucrose, polysaccharides, cellulose, Ficoll, freeze-drying, Pseudomonas putida, Arthrobacter chlorophenolicus, cells, cell culture
4058
Formulation of Diblock Polymeric Nanoparticles through Nanoprecipitation Technique
Institutions: University of North Carolina School of Medicine, University of North Carolina .
Nanotechnology is a relatively new branch of science that involves harnessing the unique properties of particles that are nanometers in scale (nanoparticles). Nanoparticles can be engineered in a precise fashion where their size, composition and surface chemistry can be carefully controlled. This enables unprecedented freedom to modify some of the fundamental properties of their cargo, such as solubility, diffusivity, biodistribution, release characteristics and immunogenicity. Since their inception, nanoparticles have been utilized in many areas of science and medicine, including drug delivery, imaging, and cell biology
1-4
. However, it has not been fully utilized outside of "nanotechnology laboratories" due to perceived technical barrier. In this article, we describe a simple method to synthesize a polymer based nanoparticle platform that has a wide range of potential applications. The first step is to synthesize a diblock co-polymer that has both a hydrophobic domain and hydrophilic domain. Using PLGA and PEG as model polymers, we described a conjugation reaction using EDC/NHS chemistry
5
(Fig 1). We also discuss the polymer purification process. The synthesized diblock co-polymer can self-assemble into nanoparticles in the nanoprecipitation process through hydrophobic-hydrophilic interactions. The described polymer nanoparticle is very versatile. The hydrophobic core of the nanoparticle can be utilized to carry poorly soluble drugs for drug delivery experiments6. Furthermore, the nanoparticles can overcome the problem of toxic solvents for poorly soluble molecular biology reagents, such as wortmannin, which requires a solvent like DMSO. However, DMSO can be toxic to cells and interfere with the experiment. These poorly soluble drugs and reagents can be effectively delivered using polymer nanoparticles with minimal toxicity. Polymer nanoparticles can also be loaded with fluorescent dye and utilized for intracellular trafficking studies. Lastly, these polymer nanoparticles can be conjugated to targeting ligands through surface PEG. Such targeted nanoparticles can be utilized to label specific epitopes on or in cells
7-10
.
Bioengineering, Issue 55, Nanoparticles, nanomedicine, drug delivery, polymeric micelles, polymeric nanoparticles, diblock co-polymers, nanoplatform, nanoparticle molecular imaging, polymer conjugation.
3398
Confocal Imaging of Confined Quiescent and Flowing Colloid-polymer Mixtures
Institutions: University of Houston.

The behavior of confined colloidal suspensions with attractive interparticle interactions is critical to the rational design of materials for directed assembly
1-3
, drug delivery
4
, improved hydrocarbon recovery
5-7
, and flowable electrodes for energy storage
8
. Suspensions containing fluorescent colloids and non-adsorbing polymers are appealing model systems, as the ratio of the polymer radius of gyration to the particle radius and concentration of polymer control the range and strength of the interparticle attraction, respectively. By tuning the polymer properties and the volume fraction of the colloids, colloid fluids, fluids of clusters, gels, crystals, and glasses can be obtained
9
. Confocal microscopy, a variant of fluorescence microscopy, allows an optically transparent and fluorescent sample to be imaged with high spatial and temporal resolution in three dimensions. In this technique, a small pinhole or slit blocks the emitted fluorescent light from regions of the sample that are outside the focal volume of the microscope optical system. As a result, only a thin section of the sample in the focal plane is imaged. This technique is particularly well suited to probe the structure and dynamics in dense colloidal suspensions at the single-particle scale: the particles are large enough to be resolved using visible light and diffuse slowly enough to be captured at typical scan speeds of commercial confocal systems
10
. Improvements in scan speeds and analysis algorithms have also enabled quantitative confocal imaging of flowing suspensions
11-16,37
. In this paper, we demonstrate confocal microscopy experiments to probe the confined phase behavior and flow properties of colloid-polymer mixtures. We first prepare colloid-polymer mixtures that are density- and refractive-index matched. Next, we report a standard protocol for imaging quiescent dense colloid-polymer mixtures under varying confinement in thin wedge-shaped cells. Finally, we demonstrate a protocol for imaging colloid-polymer mixtures during microchannel flow.
Chemistry, Issue 87, confocal microscopy, particle tracking, colloids, suspensions, confinement, gelation, microfluidics, image correlation, dynamics, suspension flow
51461
Therapeutic Gene Delivery and Transfection in Human Pancreatic Cancer Cells using Epidermal Growth Factor Receptor-targeted Gelatin Nanoparticles
Institutions: Northeastern University.

More than 32,000 patients are diagnosed with pancreatic cancer in the United States per year and the disease is associated with very high mortality
1
. Urgent need exists to develop novel clinically-translatable therapeutic strategies that can improve on the dismal survival statistics of pancreatic cancer patients. Although gene therapy in cancer has shown a tremendous promise, the major challenge is in the development of safe and effective delivery system, which can lead to sustained transgene expression. Gelatin is one of the most versatile natural biopolymer, widely used in food and pharmaceutical products. Previous studies from our laboratory have shown that type B gelatin could physical encapsulate DNA, which preserved the supercoiled structure of the plasmid and improved transfection efficiency upon intracellular delivery. By thiolation of gelatin, the sulfhydryl groups could be introduced into the polymer and would form disulfide bond within nanoparticles, which stabilizes the whole complex and once disulfide bond is broken due to the presence of glutathione in cytosol, payload would be released
2-5
. Poly(ethylene glycol) (PEG)-modified GENS, when administered into the systemic circulation, provides long-circulation times and preferentially targets to the tumor mass due to the hyper-permeability of the neovasculature by the
enhanced permeability and retention
effect
6
. Studies have shown over-expression of the epidermal growth factor receptor (EGFR) on Panc-1 human pancreatic adenocarcinoma cells
7
. In order to actively target pancreatic cancer cell line, EGFR specific peptide was conjugated on the particle surface through a PEG spacer.
8
Most anti-tumor gene therapies are focused on administration of the tumor suppressor genes, such as wild-type p53 (wt-p53), to restore the pro-apoptotic function in the cells
9
. The p53 mechanism functions as a critical signaling pathway in cell growth, which regulates apoptosis, cell cycle arrest, metabolism and other processes
10
. In pancreatic cancer, most cells have mutations in p53 protein, causing the loss of apoptotic activity. With the introduction of wt-p53, the apoptosis could be repaired and further triggers cell death in cancer cells
11
. Based on the above rationale, we have designed EGFR targeting peptide-modified thiolated gelatin nanoparticles for wt-p53 gene delivery and evaluated delivery efficiency and transfection in Panc-1 cells.
Bioengineering, Issue 59, Gelatin Nanoparticle, Gene Therapy, Targeted Delivery, Pancreatic Cancer, Epidermal Growth Factor Receptor, EGFR
3612
In Situ SIMS and IR Spectroscopy of Well-defined Surfaces Prepared by Soft Landing of Mass-selected Ions
Institutions: Pacific Northwest National Laboratory.

Soft landing of mass-selected ions onto surfaces is a powerful approach for the highly-controlled preparation of materials that are inaccessible using conventional synthesis techniques. Coupling soft landing with
in situ
characterization using secondary ion mass spectrometry (SIMS) and infrared reflection absorption spectroscopy (IRRAS) enables analysis of well-defined surfaces under clean vacuum conditions. The capabilities of three soft-landing instruments constructed in our laboratory are illustrated for the representative system of surface-bound organometallics prepared by soft landing of mass-selected ruthenium tris(bipyridine) dications, [Ru(bpy)
3
]
2+
(bpy = bipyridine), onto carboxylic acid terminated self-assembled monolayer surfaces on gold (COOH-SAMs).
In situ
time-of-flight (TOF)-SIMS provides insight into the reactivity of the soft-landed ions. In addition, the kinetics of charge reduction, neutralization and desorption occurring on the COOH-SAM both during and after ion soft landing are studied using
in situ
Fourier transform ion cyclotron resonance (FT-ICR)-SIMS measurements.
In situ
IRRAS experiments provide insight into how the structure of organic ligands surrounding metal centers is perturbed through immobilization of organometallic ions on COOH-SAM surfaces by soft landing. Collectively, the three instruments provide complementary information about the chemical composition, reactivity and structure of well-defined species supported on surfaces.
Chemistry, Issue 88, soft landing, mass selected ions, electrospray, secondary ion mass spectrometry, infrared spectroscopy, organometallic, catalysis
51344
Rapid High Throughput Amylose Determination in Freeze Dried Potato Tuber Samples
Institutions: University of Wisconsin - Madison, Colorado State University .
This protocol describes a high through put colorimetric method that relies on the formation of a complex between iodine and chains of glucose molecules in starch. Iodine forms complexes with both amylose and long chains within amylopectin. After the addition of iodine to a starch sample, the maximum absorption of amylose and amylopectin occurs at 620 and 550 nm, respectively. The amylose/amylopectin ratio can be estimated from the ratio of the 620 and 550 nm absorbance values and comparing them to a standard curve in which specific known concentrations are plotted against absorption values. This high throughput, inexpensive method is reliable and reproducible, allowing the evaluation of large populations of potato clones. 
Chemistry, Issue 80, Technology, Industry, and Agriculture, Life Sciences (General), Potato, amylose, amylopectin, colorimetric assay, iodine
50407
Molecular Entanglement and Electrospinnability of Biopolymers
Institutions: Pennsylvania State University.

Electrospinning is a fascinating technique to fabricate micro- to nano-scale fibers from a wide variety of materials. For biopolymers, molecular entanglement of the constituent polymers in the spinning dope was found to be an essential prerequisite for successful electrospinning. Rheology is a powerful tool to probe the molecular conformation and interaction of biopolymers. In this report, we demonstrate the protocol for utilizing rheology to evaluate the electrospinnability of two biopolymers, starch and pullulan, from their dimethyl sulfoxide (DMSO)/water dispersions. Well-formed starch and pullulan fibers with average diameters in the submicron to micron range were obtained. Electrospinnability was evaluated by visual and microscopic observation of the fibers formed. By correlating the rheological properties of the dispersions to their electrospinnability, we demonstrate that molecular conformation, molecular entanglement, and shear viscosity all affect electrospinning. Rheology is not only useful in solvent system selection and process optimization, but also in understanding the mechanism of fiber formation on a molecular level.
Bioengineering, Issue 91, electrospinning, rheology, molecular entanglement, fiber, nanofiber, biopolymer, polysaccharides, starch, pullulan
51933
Characterization of Electrode Materials for Lithium Ion and Sodium Ion Batteries Using Synchrotron Radiation Techniques
Institutions: Lawrence Berkeley National Laboratory, University of Illinois at Chicago, Stanford Synchrotron Radiation Lightsource, Haldor Topsøe A/S, PolyPlus Battery Company.

Intercalation compounds such as transition metal oxides or phosphates are the most commonly used electrode materials in Li-ion and Na-ion batteries. During insertion or removal of alkali metal ions, the redox states of transition metals in the compounds change and structural transformations such as phase transitions and/or lattice parameter increases or decreases occur. These behaviors in turn determine important characteristics of the batteries such as the potential profiles, rate capabilities, and cycle lives. The extremely bright and tunable x-rays produced by synchrotron radiation allow rapid acquisition of high-resolution data that provide information about these processes. Transformations in the bulk materials, such as phase transitions, can be directly observed using X-ray diffraction (XRD), while X-ray absorption spectroscopy (XAS) gives information about the local electronic and geometric structures (
e.g.
 changes in redox states and bond lengths).
In situ
experiments carried out on operating cells are particularly useful because they allow direct correlation between the electrochemical and structural properties of the materials. These experiments are time-consuming and can be challenging to design due to the reactivity and air-sensitivity of the alkali metal anodes used in the half-cell configurations, and/or the possibility of signal interference from other cell components and hardware. For these reasons, it is appropriate to carry out
ex situ
experiments (
e.g.
 on electrodes harvested from partially charged or cycled cells) in some cases. Here, we present detailed protocols for the preparation of both
ex situ
and
in situ
samples for experiments involving synchrotron radiation and demonstrate how these experiments are done.
Physics, Issue 81, X-Ray Absorption Spectroscopy, X-Ray Diffraction, inorganic chemistry, electric batteries (applications), energy storage, Electrode materials, Li-ion battery, Na-ion battery, X-ray Absorption Spectroscopy (XAS), in situ X-ray diffraction (XRD)
50594
Infinium Assay for Large-scale SNP Genotyping Applications
Institutions: Oklahoma Medical Research Foundation.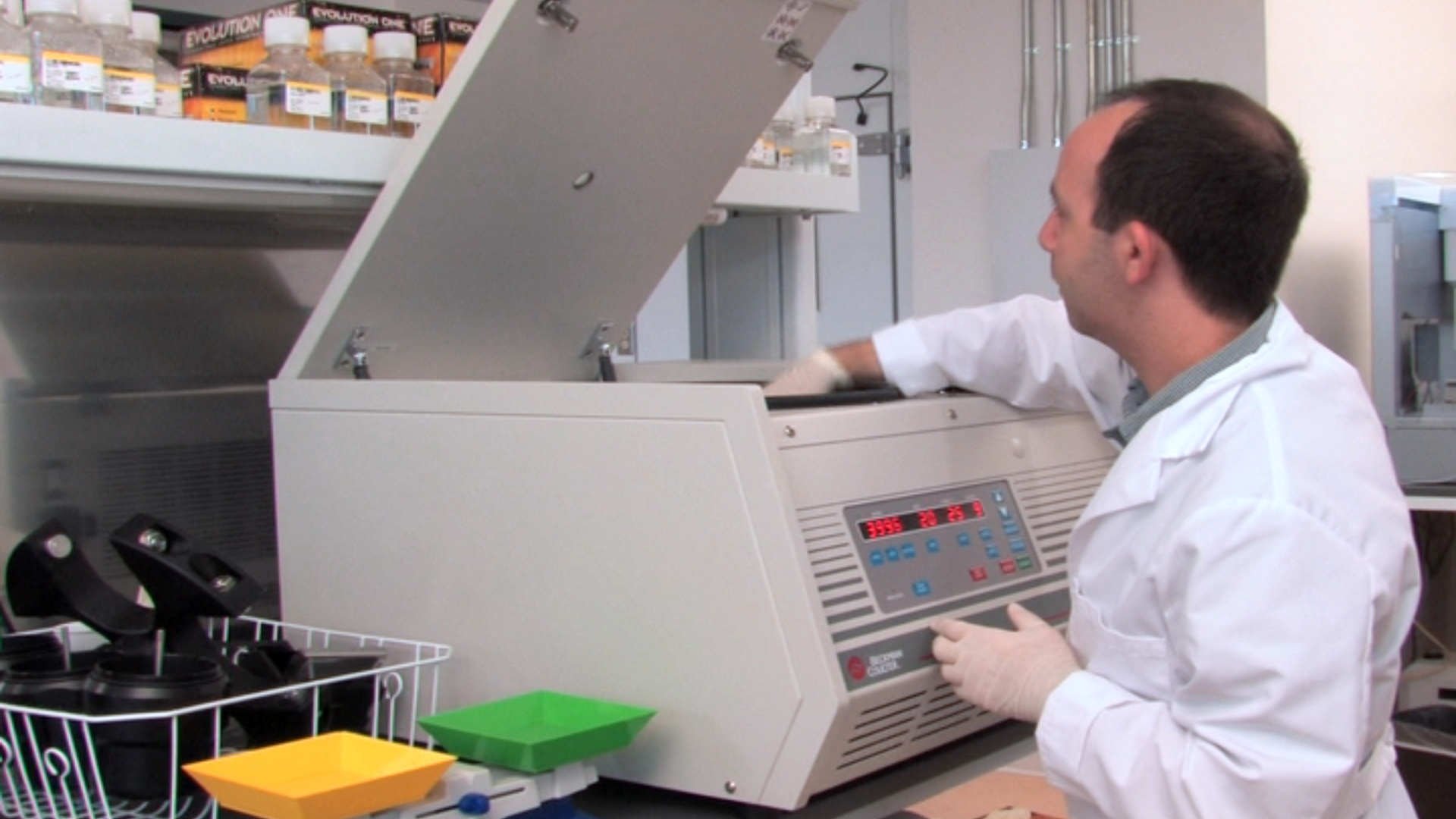 Genotyping variants in the human genome has proven to be an efficient method to identify genetic associations with phenotypes. The distribution of variants within families or populations can facilitate identification of the genetic factors of disease. Illumina's panel of genotyping BeadChips allows investigators to genotype thousands or millions of single nucleotide polymorphisms (SNPs) or to analyze other genomic variants, such as copy number, across a large number of DNA samples. These SNPs can be spread throughout the genome or targeted in specific regions in order to maximize potential discovery. The Infinium assay has been optimized to yield high-quality, accurate results quickly. With proper setup, a single technician can process from a few hundred to over a thousand DNA samples per week, depending on the type of array. This assay guides users through every step, starting with genomic DNA and ending with the scanning of the array. Using propriety reagents, samples are amplified, fragmented, precipitated, resuspended, hybridized to the chip, extended by a single base, stained, and scanned on either an iScan or Hi Scan high-resolution optical imaging system. One overnight step is required to amplify the DNA. The DNA is denatured and isothermally amplified by whole-genome amplification; therefore, no PCR is required. Samples are hybridized to the arrays during a second overnight step. By the third day, the samples are ready to be scanned and analyzed. Amplified DNA may be stockpiled in large quantities, allowing bead arrays to be processed every day of the week, thereby maximizing throughput.
Basic Protocol, Issue 81, genomics, SNP, Genotyping, Infinium, iScan, HiScan, Illumina
50683
Isolation of Fidelity Variants of RNA Viruses and Characterization of Virus Mutation Frequency
Institutions: Institut Pasteur .

RNA viruses use RNA dependent RNA polymerases to replicate their genomes. The intrinsically high error rate of these enzymes is a large contributor to the generation of extreme population diversity that facilitates virus adaptation and evolution. Increasing evidence shows that the intrinsic error rates, and the resulting mutation frequencies, of RNA viruses can be modulated by subtle amino acid changes to the viral polymerase. Although biochemical assays exist for some viral RNA polymerases that permit quantitative measure of incorporation fidelity, here we describe a simple method of measuring mutation frequencies of RNA viruses that has proven to be as accurate as biochemical approaches in identifying fidelity altering mutations. The approach uses conventional virological and sequencing techniques that can be performed in most biology laboratories. Based on our experience with a number of different viruses, we have identified the key steps that must be optimized to increase the likelihood of isolating fidelity variants and generating data of statistical significance. The isolation and characterization of fidelity altering mutations can provide new insights into polymerase structure and function
1-3
. Furthermore, these fidelity variants can be useful tools in characterizing mechanisms of virus adaptation and evolution
4-7
.
Immunology, Issue 52, Polymerase fidelity, RNA virus, mutation frequency, mutagen, RNA polymerase, viral evolution
2953
Optimized Negative Staining: a High-throughput Protocol for Examining Small and Asymmetric Protein Structure by Electron Microscopy
Institutions: The Molecular Foundry.

Structural determination of proteins is rather challenging for proteins with molecular masses between 40 - 200 kDa. Considering that more than half of natural proteins have a molecular mass between 40 - 200 kDa
1,2
, a robust and high-throughput method with a nanometer resolution capability is needed. Negative staining (NS) electron microscopy (EM) is an easy, rapid, and qualitative approach which has frequently been used in research laboratories to examine protein structure and protein-protein interactions. Unfortunately, conventional NS protocols often generate structural artifacts on proteins, especially with lipoproteins that usually form presenting rouleaux artifacts. By using images of lipoproteins from cryo-electron microscopy (cryo-EM) as a standard, the key parameters in NS specimen preparation conditions were recently screened and reported as the optimized NS protocol (OpNS), a modified conventional NS protocol
3
. Artifacts like rouleaux can be greatly limited by OpNS, additionally providing high contrast along with reasonably high‐resolution (near 1 nm) images of small and asymmetric proteins. These high-resolution and high contrast images are even favorable for an individual protein (a single object, no average) 3D reconstruction, such as a 160 kDa antibody, through the method of electron tomography
4,5
. Moreover, OpNS can be a high‐throughput tool to examine hundreds of samples of small proteins. For example, the previously published mechanism of 53 kDa cholesteryl ester transfer protein (CETP) involved the screening and imaging of hundreds of samples
6
. Considering cryo-EM rarely successfully images proteins less than 200 kDa has yet to publish any study involving screening over one hundred sample conditions, it is fair to call OpNS a high-throughput method for studying small proteins. Hopefully the OpNS protocol presented here can be a useful tool to push the boundaries of EM and accelerate EM studies into small protein structure, dynamics and mechanisms.
Environmental Sciences, Issue 90, small and asymmetric protein structure, electron microscopy, optimized negative staining
51087
Simultaneous Multicolor Imaging of Biological Structures with Fluorescence Photoactivation Localization Microscopy
Institutions: University of Maine.

Localization-based super resolution microscopy can be applied to obtain a spatial map (image) of the distribution of individual fluorescently labeled single molecules within a sample with a spatial resolution of tens of nanometers. Using either photoactivatable (PAFP) or photoswitchable (PSFP) fluorescent proteins fused to proteins of interest, or organic dyes conjugated to antibodies or other molecules of interest, fluorescence photoactivation localization microscopy (FPALM) can simultaneously image multiple species of molecules within single cells. By using the following approach, populations of large numbers (thousands to hundreds of thousands) of individual molecules are imaged in single cells and localized with a precision of ~10-30 nm. Data obtained can be applied to understanding the nanoscale spatial distributions of multiple protein types within a cell. One primary advantage of this technique is the dramatic increase in spatial resolution: while diffraction limits resolution to ~200-250 nm in conventional light microscopy, FPALM can image length scales more than an order of magnitude smaller. As many biological hypotheses concern the spatial relationships among different biomolecules, the improved resolution of FPALM can provide insight into questions of cellular organization which have previously been inaccessible to conventional fluorescence microscopy. In addition to detailing the methods for sample preparation and data acquisition, we here describe the optical setup for FPALM. One additional consideration for researchers wishing to do super-resolution microscopy is cost: in-house setups are significantly cheaper than most commercially available imaging machines. Limitations of this technique include the need for optimizing the labeling of molecules of interest within cell samples, and the need for post-processing software to visualize results. We here describe the use of PAFP and PSFP expression to image two protein species in fixed cells. Extension of the technique to living cells is also described.
Basic Protocol, Issue 82, Microscopy, Super-resolution imaging, Multicolor, single molecule, FPALM, Localization microscopy, fluorescent proteins
50680
Characterization of Surface Modifications by White Light Interferometry: Applications in Ion Sputtering, Laser Ablation, and Tribology Experiments
Institutions: Argonne National Laboratory, Argonne National Laboratory, MassThink LLC.

In materials science and engineering it is often necessary to obtain quantitative measurements of surface topography with micrometer lateral resolution. From the measured surface, 3D topographic maps can be subsequently analyzed using a variety of software packages to extract the information that is needed. In this article we describe how white light interferometry, and optical profilometry (OP) in general, combined with generic surface analysis software, can be used for materials science and engineering tasks. In this article, a number of applications of white light interferometry for investigation of surface modifications in mass spectrometry, and wear phenomena in tribology and lubrication are demonstrated. We characterize the products of the interaction of semiconductors and metals with energetic ions (sputtering), and laser irradiation (ablation), as well as
ex situ
measurements of wear of tribological test specimens. Specifically, we will discuss: Aspects of traditional ion sputtering-based mass spectrometry such as sputtering rates/yields measurements on Si and Cu and subsequent time-to-depth conversion. Results of quantitative characterization of the interaction of femtosecond laser irradiation with a semiconductor surface. These results are important for applications such as ablation mass spectrometry, where the quantities of evaporated material can be studied and controlled via pulse duration and energy per pulse. Thus, by determining the crater geometry one can define depth and lateral resolution versus experimental setup conditions. Measurements of surface roughness parameters in two dimensions, and quantitative measurements of the surface wear that occur as a result of friction and wear tests. Some inherent drawbacks, possible artifacts, and uncertainty assessments of the white light interferometry approach will be discussed and explained.
Materials Science, Issue 72, Physics, Ion Beams (nuclear interactions), Light Reflection, Optical Properties, Semiconductor Materials, White Light Interferometry, Ion Sputtering, Laser Ablation, Femtosecond Lasers, Depth Profiling, Time-of-flight Mass Spectrometry, Tribology, Wear Analysis, Optical Profilometry, wear, friction, atomic force microscopy, AFM, scanning electron microscopy, SEM, imaging, visualization
50260
Determination of the Transport Rate of Xenobiotics and Nanomaterials Across the Placenta using the ex vivo Human Placental Perfusion Model
Institutions: University Hospital Zurich, EMPA Swiss Federal Laboratories for Materials Testing and Research, University of Bern.

Decades ago the human placenta was thought to be an impenetrable barrier between mother and unborn child. However, the discovery of thalidomide-induced birth defects and many later studies afterwards proved the opposite. Today several harmful xenobiotics like nicotine, heroin, methadone or drugs as well as environmental pollutants were described to overcome this barrier. With the growing use of nanotechnology, the placenta is likely to come into contact with novel nanoparticles either accidentally through exposure or intentionally in the case of potential nanomedical applications. Data from animal experiments cannot be extrapolated to humans because the placenta is the most species-specific mammalian organ
1
. Therefore, the
ex vivo
dual recirculating human placental perfusion, developed by Panigel
et al.
in 1967
2
and continuously modified by Schneider
et al.
in 1972
3
, can serve as an excellent model to study the transfer of xenobiotics or particles. Here, we focus on the
ex vivo
dual recirculating human placental perfusion protocol and its further development to acquire reproducible results. The placentae were obtained after informed consent of the mothers from uncomplicated term pregnancies undergoing caesarean delivery. The fetal and maternal vessels of an intact cotyledon were cannulated and perfused at least for five hours. As a model particle fluorescently labelled polystyrene particles with sizes of 80 and 500 nm in diameter were added to the maternal circuit. The 80 nm particles were able to cross the placental barrier and provide a perfect example for a substance which is transferred across the placenta to the fetus while the 500 nm particles were retained in the placental tissue or maternal circuit. The
ex vivo
human placental perfusion model is one of few models providing reliable information about the transport behavior of xenobiotics at an important tissue barrier which delivers predictive and clinical relevant data.
Biomedical Engineering, Issue 76, Medicine, Bioengineering, Anatomy, Physiology, Molecular Biology, Biochemistry, Biophysics, Pharmacology, Obstetrics, Nanotechnology, Placenta, Pharmacokinetics, Nanomedicine, humans, ex vivo perfusion, perfusion, biological barrier, xenobiotics, nanomaterials, clinical model
50401