Design, Fabrication, and Experimental Characterization of Plasmonic Photoconductive Terahertz Emitters
Published: 07-08-2013
ABSTRACT
In this video article we present a detailed demonstration of a highly efficient method for generating terahertz waves. Our technique is based on photoconduction, which has been one of the most commonly used techniques for terahertz generation 1-8. Terahertz generation in a photoconductive emitter is achieved by pumping an ultrafast photoconductor with a pulsed or heterodyned laser illumination. The induced photocurrent, which follows the envelope of the pump laser, is routed to a terahertz radiating antenna connected to the photoconductor contact electrodes to generate terahertz radiation. Although the quantum efficiency of a photoconductive emitter can theoretically reach 100%, the relatively long transport path lengths of photo-generated carriers to the contact electrodes of conventional photoconductors have severely limited their quantum efficiency. Additionally, the carrier screening effect and thermal breakdown strictly limit the maximum output power of conventional photoconductive terahertz sources. To address the quantum efficiency limitations of conventional photoconductive terahertz emitters, we have developed a new photoconductive emitter concept which incorporates a plasmonic contact electrode configuration to offer high quantum-efficiency and ultrafast operation simultaneously. By using nano-scale plasmonic contact electrodes, we significantly reduce the average photo-generated carrier transport path to photoconductor contact electrodes compared to conventional photoconductors 9. Our method also allows increasing photoconductor active area without a considerable increase in the capacitive loading to the antenna, boosting the maximum terahertz radiation power by preventing the carrier screening effect and thermal breakdown at high optical pump powers. By incorporating plasmonic contact electrodes, we demonstrate enhancing the optical-to-terahertz power conversion efficiency of a conventional photoconductive terahertz emitter by a factor of 50 10.
23 Related JoVE Articles!
Utilization of Plasmonic and Photonic Crystal Nanostructures for Enhanced Micro- and Nanoparticle Manipulation
Institutions: University of Washington, Fred Hutchinson Cancer Research Center , University of Washington, Fred Hutchinson Cancer Research Center , Fred Hutchinson Cancer Research Center .

A method to manipulate the position and orientation of submicron particles nondestructively would be an incredibly useful tool for basic biological research. Perhaps the most widely used physical force to achieve noninvasive manipulation of small particles has been dielectrophoresis(DEP).
1
However, DEP on its own lacks the versatility and precision that are desired when manipulating cells since it is traditionally done with stationary electrodes. Optical tweezers, which utilize a three dimensional electromagnetic field gradient to exert forces on small particles, achieve this desired versatility and precision.
2
However, a major drawback of this approach is the high radiation intensity required to achieve the necessary force to trap a particle which can damage biological samples.
3
A solution that allows trapping and sorting with lower optical intensities are optoelectronic tweezers (OET) but OET's have limitations with fine manipulation of small particles; being DEP-based technology also puts constraint on the property of the solution.
4,5
This video article will describe two methods that decrease the intensity of the radiation needed for optical manipulation of living cells and also describe a method for orientation control. The first method is plasmonic tweezers which use a random gold nanoparticle (AuNP) array as a substrate for the sample as shown in Figure 1. The AuNP array converts the incident photons into localized surface plasmons (LSP) which consist of resonant dipole moments that radiate and generate a patterned radiation field with a large gradient in the cell solution. Initial work on surface plasmon enhanced trapping by Righini et al and our own modeling have shown the fields generated by the plasmonic substrate reduce the initial intensity required by enhancing the gradient field that traps the particle.
6,7,8
The plasmonic approach allows for fine orientation control of ellipsoidal particles and cells with low optical intensities because of more efficient optical energy conversion into mechanical energy and a dipole-dependent radiation field. These fields are shown in figure 2 and the low trapping intensities are detailed in figures 4 and 5. The main problems with plasmonic tweezers are that the LSP's generate a considerable amount of heat and the trapping is only two dimensional. This heat generates convective flows and thermophoresis which can be powerful enough to expel submicron particles from the trap.
9,10
The second approach that we will describe is utilizing periodic dielectric nanostructures to scatter incident light very efficiently into diffraction modes, as shown in figure 6.
11
Ideally, one would make this structure out of a dielectric material to avoid the same heating problems experienced with the plasmonic tweezers but in our approach an aluminum-coated diffraction grating is used as a one-dimensional periodic dielectric nanostructure. Although it is not a semiconductor, it did not experience significant heating and effectively trapped small particles with low trapping intensities, as shown in figure 7. Alignment of particles with the grating substrate conceptually validates the proposition that a 2-D photonic crystal could allow precise rotation of non-spherical micron sized particles.
10
The efficiencies of these optical traps are increased due to the enhanced fields produced by the nanostructures described in this paper.
Bioengineering, Issue 55, Surface plasmon, optical trapping, optical tweezers, plasmonic trapping, cell manipulation, optical manipulation
3390
Microwave Photonics Systems Based on Whispering-gallery-mode Resonators
Institutions: FEMTO-ST Institute.
Microwave photonics systems rely fundamentally on the interaction between microwave and optical signals. These systems are extremely promising for various areas of technology and applied science, such as aerospace and communication engineering, sensing, metrology, nonlinear photonics, and quantum optics. In this article, we present the principal techniques used in our lab to build microwave photonics systems based on ultra-high
Q
whispering gallery mode resonators. First detailed in this article is the protocol for resonator polishing, which is based on a grind-and-polish technique close to the ones used to polish optical components such as lenses or telescope mirrors. Then, a white light interferometric profilometer measures surface roughness, which is a key parameter to characterize the quality of the polishing. In order to launch light in the resonator, a tapered silica fiber with diameter in the micrometer range is used. To reach such small diameters, we adopt the "flame-brushing" technique, using simultaneously computer-controlled motors to pull the fiber apart, and a blowtorch to heat the fiber area to be tapered. The resonator and the tapered fiber are later approached to one another to visualize the resonance signal of the whispering gallery modes using a wavelength-scanning laser. By increasing the optical power in the resonator, nonlinear phenomena are triggered until the formation of a Kerr optical frequency comb is observed with a spectrum made of equidistant spectral lines. These Kerr comb spectra have exceptional characteristics that are suitable for several applications in science and technology. We consider the application related to ultra-stable microwave frequency synthesis and demonstrate the generation of a Kerr comb with GHz intermodal frequency.
Physics, Issue 78, Optics, Engineering, Electrical Engineering, Mechanical Engineering, Microwaves, nonlinear optics, optical fibers, microwave photonics, whispering-gallery-mode resonator, resonator
50423
Fabrication of Silica Ultra High Quality Factor Microresonators
Institutions: University of Southern California, University of Southern California.

Whispering gallery resonant cavities confine light in circular orbits at their periphery.
1-2
The photon storage lifetime in the cavity, quantified by the quality factor (Q) of the cavity, can be in excess of 500ns for cavities with Q factors above 100 million. As a result of their low material losses, silica microcavities have demonstrated some of the longest photon lifetimes to date
1-2
. Since a portion of the circulating light extends outside the resonator, these devices can also be used to probe the surroundings. This interaction has enabled numerous experiments in biology, such as single molecule biodetection and antibody-antigen kinetics, as well as discoveries in other fields, such as development of ultra-low-threshold microlasers, characterization of thin films, and cavity quantum electrodynamics studies.
3-7
The two primary silica resonant cavity geometries are the microsphere and the microtoroid. Both devices rely on a carbon dioxide laser reflow step to achieve their ultra-high-Q factors (Q>100 million).
1-2,8-9
However, there are several notable differences between the two structures. Silica microspheres are free-standing, supported by a single optical fiber, whereas silica microtoroids can be fabricated on a silicon wafer in large arrays using a combination of lithography and etching steps. These differences influence which device is optimal for a given experiment. Here, we present detailed fabrication protocols for both types of resonant cavities. While the fabrication of microsphere resonant cavities is fairly straightforward, the fabrication of microtoroid resonant cavities requires additional specialized equipment and facilities (cleanroom). Therefore, this additional requirement may also influence which device is selected for a given experiment. Introduction An optical resonator efficiently confines light at specific wavelengths, known as the resonant wavelengths of the device.
1-2
The common figure of merit for these optical resonators is the quality factor or Q. This term describes the photon lifetime (τ
o
) within the resonator, which is directly related to the resonator's optical losses. Therefore, an optical resonator with a high Q factor has low optical losses, long photon lifetimes, and very low photon decay rates (1/τ
o
). As a result of the long photon lifetimes, it is possible to build-up extremely large circulating optical field intensities in these devices. This very unique property has allowed these devices to be used as laser sources and integrated biosensors.
10
A unique sub-class of resonators is the whispering gallery mode optical microcavity. In these devices, the light is confined in circular orbits at the periphery. Therefore, the field is not completely confined within the device, but evanesces into the environment. Whispering gallery mode optical cavities have demonstrated some of the highest quality factors of any optical resonant cavity to date.
9,11
Therefore, these devices are used throughout science and engineering, including in fundamental physics studies and in telecommunications as well as in biodetection experiments.
3-7,12
Optical microcavities can be fabricated from a wide range of materials and in a wide variety of geometries. A few examples include silica and silicon microtoroids, silicon, silicon nitride, and silica microdisks, micropillars, and silica and polymer microrings.
13-17
The range in quality factor (Q) varies as dramatically as the geometry. Although both geometry and high Q are important considerations in any field, in many applications, there is far greater leverage in boosting device performance through Q enhancement. Among the numerous options detailed previously, the silica microsphere and the silica microtoroid resonator have achieved some of the highest Q factors to date.
1,9
Additionally, as a result of the extremely low optical loss of silica from the visible through the near-IR, both microspheres and microtoroids are able to maintain their Q factors over a wide range of testing wavelengths.
18
Finally, because silica is inherently biocompatible, it is routinely used in biodetection experiments. In addition to high material absorption, there are several other potential loss mechanisms, including surface roughness, radiation loss, and contamination loss.
2
Through an optimization of the device size, it is possible to eliminate radiation losses, which arise from poor optical field confinement within the device. Similarly, by storing a device in an appropriately clean environment, contamination of the surface can be minimized. Therefore, in addition to material loss, surface scattering is the primary loss mechanism of concern.
2,8
In silica devices, surface scattering is minimized by using a laser reflow technique, which melts the silica through surface tension induced reflow. While spherical optical resonators have been studied for many years, it is only with recent advances in fabrication technologies that researchers been able to fabricate high quality silica optical toroidal microresonators (Q>100 million) on a silicon substrate, thus paving the way for integration with microfluidics.
1
The present series of protocols details how to fabricate both silica microsphere and microtoroid resonant cavities. While silica microsphere resonant cavities are well-established, microtoroid resonant cavities were only recently invented.
1
As many of the fundamental methods used to fabricate the microsphere are also used in the more complex microtoroid fabrication procedure, by including both in a single protocol it will enable researchers to more easily trouble-shoot their experiments.
Materials Science, Issue 65, Chemical Engineering, Physics, Electrophysics, Biosensor, device fabrication, microcavity, optical resonator
4164
Construction and Characterization of External Cavity Diode Lasers for Atomic Physics
Institutions: The Australian National University.

Since their development in the late 1980s, cheap, reliable external cavity diode lasers (ECDLs) have replaced complex and expensive traditional dye and Titanium Sapphire lasers as the workhorse laser of atomic physics labs
1,2
. Their versatility and prolific use throughout atomic physics in applications such as absorption spectroscopy and laser cooling
1,2
makes it imperative for incoming students to gain a firm practical understanding of these lasers. This publication builds upon the seminal work by Wieman
3
, updating components, and providing a video tutorial. The setup, frequency locking and performance characterization of an ECDL will be described. Discussion of component selection and proper mounting of both diodes and gratings, the factors affecting mode selection within the cavity, proper alignment for optimal external feedback, optics setup for coarse and fine frequency sensitive measurements, a brief overview of laser locking techniques, and laser linewidth measurements are included.
Physics, Issue 86, External Cavity Diode Laser, atomic spectroscopy, laser cooling, Bose-Einstein condensation, Zeeman modulation
51184
Planar and Three-Dimensional Printing of Conductive Inks
Institutions: University of Illinois at Urbana-Champaign, Lawrence Livermore National Laboratory, University Of California Santa Barbara .

Printed electronics rely on low-cost, large-area fabrication routes to create flexible or multidimensional electronic, optoelectronic, and biomedical devices
1-3
. In this paper, we focus on one- (1D), two- (2D), and three-dimensional (3D) printing of conductive metallic inks in the form of flexible, stretchable, and spanning microelectrodes. Direct-write assembly
4,5
is a 1-to-3D printing technique that enables the fabrication of features ranging from simple lines to complex structures by the deposition of concentrated inks through fine nozzles (~0.1 - 250 μm). This printing method consists of a computer-controlled 3-axis translation stage, an ink reservoir and nozzle, and 10x telescopic lens for visualization. Unlike inkjet printing, a droplet-based process, direct-write assembly involves the extrusion of ink filaments either in- or out-of-plane. The printed filaments typically conform to the nozzle size. Hence, microscale features (< 1 μm) can be patterned and assembled into larger arrays and multidimensional architectures. In this paper, we first synthesize a highly concentrated silver nanoparticle ink for planar and 3D printing via direct-write assembly. Next, a standard protocol for printing microelectrodes in multidimensional motifs is demonstrated. Finally, applications of printed microelectrodes for electrically small antennas, solar cells, and light-emitting diodes are highlighted.
Bioengineering, Issue 58, Direct-write assembly, silver ink, 3D printing, planar, three-dimensional, microelectrodes, flexible electronics, printed electronics
3189
Seeded Synthesis of CdSe/CdS Rod and Tetrapod Nanocrystals
Institutions: UC Berkeley, UC Berkeley, UC Berkeley, Lawrence Berkeley National Laboratory, University of Chicago, Argonne National Laboratory.

We demonstrate a method for the synthesis of multicomponent nanostructures consisting of CdS and CdSe with rod and tetrapod morphologies. A seeded synthesis strategy is used in which spherical seeds of CdSe are prepared first using a hot-injection technique. By controlling the crystal structure of the seed to be either wurtzite or zinc-blende, the subsequent hot-injection growth of CdS off of the seed results in either a rod-shaped or tetrapod-shaped nanocrystal, respectively. The phase and morphology of the synthesized nanocrystals are confirmed using X-ray diffraction and transmission electron microscopy, demonstrating that the nanocrystals are phase-pure and have a consistent morphology. The extinction coefficient and quantum yield of the synthesized nanocrystals are calculated using UV-Vis absorption spectroscopy and photoluminescence spectroscopy. The rods and tetrapods exhibit extinction coefficients and quantum yields that are higher than that of the bare seeds. This synthesis demonstrates the precise arrangement of materials that can be achieved at the nanoscale by using a seeded synthetic approach.
Chemistry, Issue 82, nanostructures, synthesis, nanocrystals, seeded rods, tetrapods, nanoheterostructures
50731
The Crossmodal Congruency Task as a Means to Obtain an Objective Behavioral Measure in the Rubber Hand Illusion Paradigm
Institutions: Macquarie University, Macquarie University, Macquarie University.

The rubber hand illusion (RHI) is a popular experimental paradigm. Participants view touch on an artificial rubber hand while the participants' own hidden hand is touched. If the viewed and felt touches are given at the same time then this is sufficient to induce the compelling experience that the rubber hand is one's own hand. The RHI can be used to investigate exactly how the brain constructs distinct body representations for one's own body. Such representations are crucial for successful interactions with the external world. To obtain a subjective measure of the RHI, researchers typically ask participants to rate statements such as "I felt as if the rubber hand were my hand". Here we demonstrate how the crossmodal congruency task can be used to obtain an objective behavioral measure within this paradigm. The variant of the crossmodal congruency task we employ involves the presentation of tactile targets and visual distractors. Targets and distractors are spatially congruent (
i.e.
same finger) on some trials and incongruent (
i.e.
different finger) on others. The difference in performance between incongruent and congruent trials - the crossmodal congruency effect (CCE) - indexes multisensory interactions. Importantly, the CCE is modulated both by viewing a hand as well as the synchrony of viewed and felt touch which are both crucial factors for the RHI. The use of the crossmodal congruency task within the RHI paradigm has several advantages. It is a simple behavioral measure which can be repeated many times and which can be obtained during the illusion while participants view the artificial hand. Furthermore, this measure is not susceptible to observer and experimenter biases. The combination of the RHI paradigm with the crossmodal congruency task allows in particular for the investigation of multisensory processes which are critical for modulations of body representations as in the RHI.
Behavior, Issue 77, Neuroscience, Neurobiology, Medicine, Anatomy, Physiology, Psychology, Behavior and Behavior Mechanisms, Psychological Phenomena and Processes, Behavioral Sciences, rubber hand illusion, crossmodal congruency task, crossmodal congruency effect, multisensory processing, body ownership, peripersonal space, clinical techniques
50530
Clinical Assessment of Spatiotemporal Gait Parameters in Patients and Older Adults
Institutions: Schulthess Clinic.

Spatial and temporal characteristics of human walking are frequently evaluated to identify possible gait impairments, mainly in orthopedic and neurological patients
1-4
, but also in healthy older adults
5,6
. The quantitative gait analysis described in this protocol is performed with a recently-introduced photoelectric system (see Materials table) which has the potential to be used in the clinic because it is portable, easy to set up (no subject preparation is required before a test), and does not require maintenance and sensor calibration. The photoelectric system consists of series of high-density floor-based photoelectric cells with light-emitting and light-receiving diodes that are placed parallel to each other to create a corridor, and are oriented perpendicular to the line of progression
7
. The system simply detects interruptions in light signal, for instance due to the presence of feet within the recording area. Temporal gait parameters and 1D spatial coordinates of consecutive steps are subsequently calculated to provide common gait parameters such as step length, single limb support and walking velocity
8
, whose validity against a criterion instrument has recently been demonstrated
7,9
. The measurement procedures are very straightforward; a single patient can be tested in less than 5 min and a comprehensive report can be generated in less than 1 min.
Medicine, Issue 93, gait analysis, walking, floor-based photocells, spatiotemporal, elderly, orthopedic patients, neurological patients
51878
Quasi-light Storage for Optical Data Packets
Institutions: Hochschule für Telekommunikation, Leipzig.

Today's telecommunication is based on optical packets which transmit the information in optical fiber networks around the world. Currently, the processing of the signals is done in the electrical domain. Direct storage in the optical domain would avoid the transfer of the packets to the electrical and back to the optical domain in every network node and, therefore, increase the speed and possibly reduce the energy consumption of telecommunications. However, light consists of photons which propagate with the speed of light in vacuum. Thus, the storage of light is a big challenge. There exist some methods to slow down the speed of the light, or to store it in excitations of a medium. However, these methods cannot be used for the storage of optical data packets used in telecommunications networks. Here we show how the time-frequency-coherence, which holds for every signal and therefore for optical packets as well, can be exploited to build an optical memory. We will review the background and show in detail and through examples, how a frequency comb can be used for the copying of an optical packet which enters the memory. One of these time domain copies is then extracted from the memory by a time domain switch. We will show this method for intensity as well as for phase modulated signals.
Physics, Issue 84, optical communications, Optical Light Storage, stimulated Brillouin scattering, Optical Signal Processing, optical data packets, telecommunications
50468
Lensfree On-chip Tomographic Microscopy Employing Multi-angle Illumination and Pixel Super-resolution
Institutions: University of California, Los Angeles , University of California, Los Angeles , University of California, Los Angeles .

Tomographic imaging has been a widely used tool in medicine as it can provide three-dimensional (3D) structural information regarding objects of different size scales. In micrometer and millimeter scales, optical microscopy modalities find increasing use owing to the non-ionizing nature of visible light, and the availability of a rich set of illumination sources (such as lasers and light-emitting-diodes) and detection elements (such as large format CCD and CMOS detector-arrays). Among the recently developed optical tomographic microscopy modalities, one can include optical coherence tomography, optical diffraction tomography, optical projection tomography and light-sheet microscopy.
1-6
These platforms provide sectional imaging of cells, microorganisms and model animals such as
C. elegans
, zebrafish and mouse embryos. Existing 3D optical imagers generally have relatively bulky and complex architectures, limiting the availability of these equipments to advanced laboratories, and impeding their integration with lab-on-a-chip platforms and microfluidic chips. To provide an alternative tomographic microscope, we recently developed lensfree optical tomography (LOT) as a high-throughput, compact and cost-effective optical tomography modality.
7
LOT discards the use of lenses and bulky optical components, and instead relies on multi-angle illumination and digital computation to achieve depth-resolved imaging of micro-objects over a large imaging volume. LOT can image biological specimen at a spatial resolution of <1 μm x <1 μm x <3 μm in the x, y and z dimensions, respectively, over a large imaging volume of 15-100 mm
3
, and can be particularly useful for lab-on-a-chip platforms.
Bioengineering, Issue 66, Electrical Engineering, Mechanical Engineering, lensfree imaging, lensless imaging, on-chip microscopy, lensfree tomography, 3D microscopy, pixel super-resolution, C. elegans, optical sectioning, lab-on-a-chip
4161
Terahertz Microfluidic Sensing Using a Parallel-plate Waveguide Sensor
Institutions: Rice University .

Refractive index (RI) sensing is a powerful noninvasive and label-free sensing technique for the identification, detection and monitoring of microfluidic samples with a wide range of possible sensor designs such as interferometers and resonators
1,2
. Most of the existing RI sensing applications focus on biological materials in aqueous solutions in visible and IR frequencies, such as DNA hybridization and genome sequencing. At terahertz frequencies, applications include quality control, monitoring of industrial processes and sensing and detection applications involving nonpolar materials. Several potential designs for refractive index sensors in the terahertz regime exist, including photonic crystal waveguides
3
, asymmetric split-ring resonators
4
, and photonic band gap structures integrated into parallel-plate waveguides
5
. Many of these designs are based on optical resonators such as rings or cavities. The resonant frequencies of these structures are dependent on the refractive index of the material in or around the resonator. By monitoring the shifts in resonant frequency the refractive index of a sample can be accurately measured and this in turn can be used to identify a material, monitor contamination or dilution, etc. The sensor design we use here is based on a simple parallel-plate waveguide
6,7
. A rectangular groove machined into one face acts as a resonant cavity (
Figures 1 and 2
). When terahertz radiation is coupled into the waveguide and propagates in the lowest-order transverse-electric (TE
1
) mode, the result is a single strong resonant feature with a tunable resonant frequency that is dependent on the geometry of the groove
6,8
. This groove can be filled with nonpolar liquid microfluidic samples which cause a shift in the observed resonant frequency that depends on the amount of liquid in the groove and its refractive index
9
. Our technique has an advantage over other terahertz techniques in its simplicity, both in fabrication and implementation, since the procedure can be accomplished with standard laboratory equipment without the need for a clean room or any special fabrication or experimental techniques. It can also be easily expanded to multichannel operation by the incorporation of multiple grooves
10
. In this video we will describe our complete experimental procedure, from the design of the sensor to the data analysis and determination of the sample refractive index.
Physics, Issue 66, Electrical Engineering, Computer Engineering, Terahertz radiation, sensing, microfluidic, refractive index sensor, waveguide, optical sensing
4304
Absolute Quantum Yield Measurement of Powder Samples
Institutions: Hitachi High Technologies America.

Measurement of fluorescence quantum yield has become an important tool in the search for new solutions in the development, evaluation, quality control and research of illumination, AV equipment, organic EL material, films, filters and fluorescent probes for bio-industry. Quantum yield is calculated as the ratio of the number of photons absorbed, to the number of photons emitted by a material. The higher the quantum yield, the better the efficiency of the fluorescent material. For the measurements featured in this video, we will use the Hitachi F-7000 fluorescence spectrophotometer equipped with the Quantum Yield measuring accessory and Report Generator program. All the information provided applies to this system. Measurement of quantum yield in powder samples is performed following these steps: Generation of instrument correction factors for the excitation and emission monochromators. This is an important requirement for the correct measurement of quantum yield. It has been performed in advance for the full measurement range of the instrument and will not be shown in this video due to time limitations. Measurement of integrating sphere correction factors. The purpose of this step is to take into consideration reflectivity characteristics of the integrating sphere used for the measurements. Reference and Sample measurement using direct excitation and indirect excitation. Quantum Yield calculation using Direct and Indirect excitation. Direct excitation is when the sample is facing directly the excitation beam, which would be the normal measurement setup. However, because we use an integrating sphere, a portion of the emitted photons resulting from the sample fluorescence are reflected by the integrating sphere and will re-excite the sample, so we need to take into consideration indirect excitation. This is accomplished by measuring the sample placed in the port facing the emission monochromator, calculating indirect quantum yield and correcting the direct quantum yield calculation. Corrected quantum yield calculation. Chromaticity coordinates calculation using Report Generator program. The Hitachi F-7000 Quantum Yield Measurement System offer advantages for this application, as follows: High sensitivity (S/N ratio 800 or better RMS). Signal is the Raman band of water measured under the following conditions: Ex wavelength 350 nm, band pass Ex and Em 5 nm, response 2 sec), noise is measured at the maximum of the Raman peak. High sensitivity allows measurement of samples even with low quantum yield. Using this system we have measured quantum yields as low as 0.1 for a sample of salicylic acid and as high as 0.8 for a sample of magnesium tungstate. Highly accurate measurement with a dynamic range of 6 orders of magnitude allows for measurements of both sharp scattering peaks with high intensity, as well as broad fluorescence peaks of low intensity under the same conditions. High measuring throughput and reduced light exposure to the sample, due to a high scanning speed of up to 60,000 nm/minute and automatic shutter function. Measurement of quantum yield over a wide wavelength range from 240 to 800 nm. Accurate quantum yield measurements are the result of collecting instrument spectral response and integrating sphere correction factors before measuring the sample. Large selection of calculated parameters provided by dedicated and easy to use software. During this video we will measure sodium salicylate in powder form which is known to have a quantum yield value of 0.4 to 0.5.
Molecular Biology, Issue 63, Powders, Quantum, Yield, F-7000, Quantum Yield, phosphor, chromaticity, Photo-luminescence
3066
Video-rate Scanning Confocal Microscopy and Microendoscopy
Institutions: Harvard University , Harvard-MIT, Harvard Medical School.

Confocal microscopy has become an invaluable tool in biology and the biomedical sciences, enabling rapid, high-sensitivity, and high-resolution optical sectioning of complex systems. Confocal microscopy is routinely used, for example, to study specific cellular targets
1
, monitor dynamics in living cells
2-4
, and visualize the three dimensional evolution of entire organisms
5,6
. Extensions of confocal imaging systems, such as confocal microendoscopes, allow for high-resolution imaging
in vivo
7
and are currently being applied to disease imaging and diagnosis in clinical settings
8,9
. Confocal microscopy provides three-dimensional resolution by creating so-called "optical sections" using straightforward geometrical optics. In a standard wide-field microscope, fluorescence generated from a sample is collected by an objective lens and relayed directly to a detector. While acceptable for imaging thin samples, thick samples become blurred by fluorescence generated above and below the objective focal plane. In contrast, confocal microscopy enables virtual, optical sectioning of samples, rejecting out-of-focus light to build high resolution three-dimensional representations of samples. Confocal microscopes achieve this feat by using a confocal aperture in the detection beam path. The fluorescence collected from a sample by the objective is relayed back through the scanning mirrors and through the primary dichroic mirror, a mirror carefully selected to reflect shorter wavelengths such as the laser excitation beam while passing the longer, Stokes-shifted fluorescence emission. This long-wavelength fluorescence signal is then passed to a pair of lenses on either side of a pinhole that is positioned at a plane exactly conjugate with the focal plane of the objective lens. Photons collected from the focal volume of the object are collimated by the objective lens and are focused by the confocal lenses through the pinhole. Fluorescence generated above or below the focal plane will therefore not be collimated properly, and will not pass through the confocal pinhole
1
, creating an optical section in which only light from the microscope focus is visible. (
Fig 1
). Thus the pinhole effectively acts as a virtual aperture in the focal plane, confining the detected emission to only one limited spatial location. Modern commercial confocal microscopes offer users fully automated operation, making formerly complex imaging procedures relatively straightforward and accessible. Despite the flexibility and power of these systems, commercial confocal microscopes are not well suited for all confocal imaging tasks, such as many
in vivo
imaging applications. Without the ability to create customized imaging systems to meet their needs, important experiments can remain out of reach to many scientists. In this article, we provide a step-by-step method for the complete construction of a custom, video-rate confocal imaging system from basic components. The upright microscope will be constructed using a resonant galvanometric mirror to provide the fast scanning axis, while a standard speed resonant galvanometric mirror will scan the slow axis. To create a precise scanned beam in the objective lens focus, these mirrors will be positioned at the so-called telecentric planes using four relay lenses. Confocal detection will be accomplished using a standard, off-the-shelf photomultiplier tube (PMT), and the images will be captured and displayed using a Matrox framegrabber card and the included software.
Bioengineering, Issue 56, Microscopy, confocal microscopy, microendoscopy, video-rate, fluorescence, scanning, in vivo imaging
3252
The Generation of Higher-order Laguerre-Gauss Optical Beams for High-precision Interferometry
Institutions: University of Birmingham.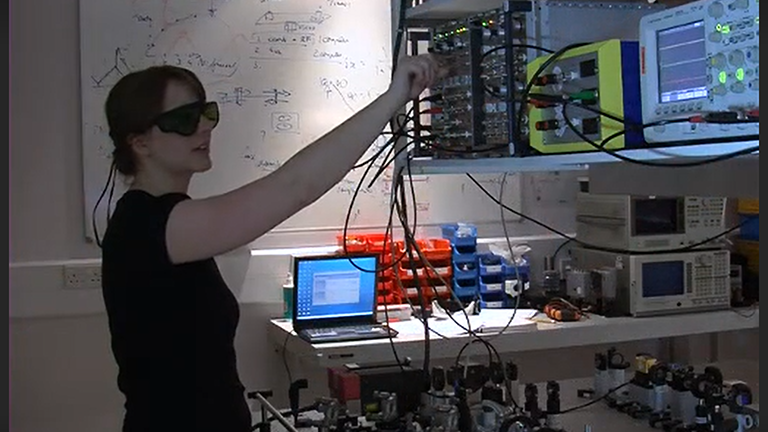 Thermal noise in high-reflectivity mirrors is a major impediment for several types of high-precision interferometric experiments that aim to reach the standard quantum limit or to cool mechanical systems to their quantum ground state. This is for example the case of future gravitational wave observatories, whose sensitivity to gravitational wave signals is expected to be limited in the most sensitive frequency band, by atomic vibration of their mirror masses. One promising approach being pursued to overcome this limitation is to employ higher-order Laguerre-Gauss (LG) optical beams in place of the conventionally used fundamental mode. Owing to their more homogeneous light intensity distribution these beams average more effectively over the thermally driven fluctuations of the mirror surface, which in turn reduces the uncertainty in the mirror position sensed by the laser light. We demonstrate a promising method to generate higher-order LG beams by shaping a fundamental Gaussian beam with the help of diffractive optical elements. We show that with conventional sensing and control techniques that are known for stabilizing fundamental laser beams, higher-order LG modes can be purified and stabilized just as well at a comparably high level. A set of diagnostic tools allows us to control and tailor the properties of generated LG beams. This enabled us to produce an LG beam with the highest purity reported to date. The demonstrated compatibility of higher-order LG modes with standard interferometry techniques and with the use of standard spherical optics makes them an ideal candidate for application in a future generation of high-precision interferometry.
Physics, Issue 78, Optics, Astronomy, Astrophysics, Gravitational waves, Laser interferometry, Metrology, Thermal noise, Laguerre-Gauss modes, interferometry
50564
Measurement of Coherence Decay in GaMnAs Using Femtosecond Four-wave Mixing
Institutions: Dalhousie University, University of Notre Dame.
The application of femtosecond four-wave mixing to the study of fundamental properties of diluted magnetic semiconductors ((s,p)-d hybridization, spin-flip scattering) is described, using experiments on GaMnAs as a prototype III-Mn-V system.  Spectrally-resolved and time-resolved experimental configurations are described, including the use of zero-background autocorrelation techniques for pulse optimization.  The etching process used to prepare GaMnAs samples for four-wave mixing experiments is also highlighted.  The high temporal resolution of this technique, afforded by the use of short (20 fsec) optical pulses, permits the rapid spin-flip scattering process in this system to be studied directly in the time domain, providing new insight into the strong exchange coupling responsible for carrier-mediated ferromagnetism.  We also show that spectral resolution of the four-wave mixing signal allows one to extract clear signatures of (s,p)-d hybridization in this system, unlike linear spectroscopy techniques.   This increased sensitivity is due to the nonlinearity of the technique, which suppresses defect-related contributions to the optical response. This method may be used to measure the time scale for coherence decay (tied to the fastest scattering processes) in a wide variety of semiconductor systems of interest for next generation electronics and optoelectronics.
Physics, Issue 82, Four-wave mixing, spin-flip scattering, ultrafast, GaMnAs, diluted magnetic semiconductor, photon echo, dephasing, GaAs, low temperature grown semiconductor, exchange, ferromagnetic
51094
Simultaneous Multicolor Imaging of Biological Structures with Fluorescence Photoactivation Localization Microscopy
Institutions: University of Maine.

Localization-based super resolution microscopy can be applied to obtain a spatial map (image) of the distribution of individual fluorescently labeled single molecules within a sample with a spatial resolution of tens of nanometers. Using either photoactivatable (PAFP) or photoswitchable (PSFP) fluorescent proteins fused to proteins of interest, or organic dyes conjugated to antibodies or other molecules of interest, fluorescence photoactivation localization microscopy (FPALM) can simultaneously image multiple species of molecules within single cells. By using the following approach, populations of large numbers (thousands to hundreds of thousands) of individual molecules are imaged in single cells and localized with a precision of ~10-30 nm. Data obtained can be applied to understanding the nanoscale spatial distributions of multiple protein types within a cell. One primary advantage of this technique is the dramatic increase in spatial resolution: while diffraction limits resolution to ~200-250 nm in conventional light microscopy, FPALM can image length scales more than an order of magnitude smaller. As many biological hypotheses concern the spatial relationships among different biomolecules, the improved resolution of FPALM can provide insight into questions of cellular organization which have previously been inaccessible to conventional fluorescence microscopy. In addition to detailing the methods for sample preparation and data acquisition, we here describe the optical setup for FPALM. One additional consideration for researchers wishing to do super-resolution microscopy is cost: in-house setups are significantly cheaper than most commercially available imaging machines. Limitations of this technique include the need for optimizing the labeling of molecules of interest within cell samples, and the need for post-processing software to visualize results. We here describe the use of PAFP and PSFP expression to image two protein species in fixed cells. Extension of the technique to living cells is also described.
Basic Protocol, Issue 82, Microscopy, Super-resolution imaging, Multicolor, single molecule, FPALM, Localization microscopy, fluorescent proteins
50680
Wide-field Fluorescent Microscopy and Fluorescent Imaging Flow Cytometry on a Cell-phone
Institutions: University of California, Los Angeles , University of California, Los Angeles , University of California, Los Angeles .

Fluorescent microscopy and flow cytometry are widely used tools in biomedical research and clinical diagnosis. However these devices are in general relatively bulky and costly, making them less effective in the resource limited settings. To potentially address these limitations, we have recently demonstrated the integration of wide-field fluorescent microscopy and imaging flow cytometry tools on cell-phones using compact, light-weight, and cost-effective opto-fluidic attachments. In our flow cytometry design, fluorescently labeled cells are flushed through a microfluidic channel that is positioned above the existing cell-phone camera unit. Battery powered light-emitting diodes (LEDs) are butt-coupled to the side of this microfluidic chip, which effectively acts as a multi-mode slab waveguide, where the excitation light is guided to uniformly excite the fluorescent targets. The cell-phone camera records a time lapse movie of the fluorescent cells flowing through the microfluidic channel, where the digital frames of this movie are processed to count the number of the labeled cells within the target solution of interest. Using a similar opto-fluidic design, we can also image these fluorescently labeled cells in static mode by
e.g.
sandwiching the fluorescent particles between two glass slides and capturing their fluorescent images using the cell-phone camera, which can achieve a spatial resolution of
e.g.
~ 10 μm over a very large field-of-view of ~ 81 mm
2
. This cell-phone based fluorescent imaging flow cytometry and microscopy platform might be useful especially in resource limited settings, for
e.g.
counting of CD4+ T cells toward monitoring of HIV+ patients or for detection of water-borne parasites in drinking water.
Bioengineering, Issue 74, Biomedical Engineering, Medicine, Cellular Biology, Molecular Biology, Electrical Engineering, Telemedicine, Diagnostic Techniques and Procedures, Diagnostic Imaging, Microscopy, Optics and Photonics, Optics, fluorescent microscopy, imaging flow-cytometry, cell-phone microscopy, tele-medicine, global health, wireless health, clinical techniques
50451
Models and Methods to Evaluate Transport of Drug Delivery Systems Across Cellular Barriers
Institutions: University of Maryland, University of Maryland.

Sub-micrometer carriers (nanocarriers; NCs) enhance efficacy of drugs by improving solubility, stability, circulation time, targeting, and release. Additionally, traversing cellular barriers in the body is crucial for both oral delivery of therapeutic NCs into the circulation and transport from the blood into tissues, where intervention is needed. NC transport across cellular barriers is achieved by: (i) the paracellular route, via transient disruption of the junctions that interlock adjacent cells, or (ii) the transcellular route, where materials are internalized by endocytosis, transported across the cell body, and secreted at the opposite cell surface (transyctosis). Delivery across cellular barriers can be facilitated by coupling therapeutics or their carriers with targeting agents that bind specifically to cell-surface markers involved in transport. Here, we provide methods to measure the extent and mechanism of NC transport across a model cell barrier, which consists of a monolayer of gastrointestinal (GI) epithelial cells grown on a porous membrane located in a transwell insert. Formation of a permeability barrier is confirmed by measuring transepithelial electrical resistance (TEER), transepithelial transport of a control substance, and immunostaining of tight junctions. As an example, ~200 nm polymer NCs are used, which carry a therapeutic cargo and are coated with an antibody that targets a cell-surface determinant. The antibody or therapeutic cargo is labeled with
125
I for radioisotope tracing and labeled NCs are added to the upper chamber over the cell monolayer for varying periods of time. NCs associated to the cells and/or transported to the underlying chamber can be detected. Measurement of free
125
I allows subtraction of the degraded fraction. The paracellular route is assessed by determining potential changes caused by NC transport to the barrier parameters described above. Transcellular transport is determined by addressing the effect of modulating endocytosis and transcytosis pathways.
Bioengineering, Issue 80, Antigens, Enzymes, Biological Therapy, bioengineering (general), Pharmaceutical Preparations, Macromolecular Substances, Therapeutics, Digestive System and Oral Physiological Phenomena, Biological Phenomena, Cell Physiological Phenomena, drug delivery systems, targeted nanocarriers, transcellular transport, epithelial cells, tight junctions, transepithelial electrical resistance, endocytosis, transcytosis, radioisotope tracing, immunostaining
50638
Setting-up an In Vitro Model of Rat Blood-brain Barrier (BBB): A Focus on BBB Impermeability and Receptor-mediated Transport
Institutions: VECT-HORUS SAS, CNRS, NICN UMR 7259.

The blood brain barrier (BBB) specifically regulates molecular and cellular flux between the blood and the nervous tissue. Our aim was to develop and characterize a highly reproducible rat syngeneic
in vitro
model of the BBB using co-cultures of primary rat brain endothelial cells (RBEC) and astrocytes to study receptors involved in transcytosis across the endothelial cell monolayer. Astrocytes were isolated by mechanical dissection following trypsin digestion and were frozen for later co-culture. RBEC were isolated from 5-week-old rat cortices. The brains were cleaned of meninges and white matter, and mechanically dissociated following enzymatic digestion. Thereafter, the tissue homogenate was centrifuged in bovine serum albumin to separate vessel fragments from nervous tissue. The vessel fragments underwent a second enzymatic digestion to free endothelial cells from their extracellular matrix. The remaining contaminating cells such as pericytes were further eliminated by plating the microvessel fragments in puromycin-containing medium. They were then passaged onto filters for co-culture with astrocytes grown on the bottom of the wells. RBEC expressed high levels of tight junction (TJ) proteins such as occludin, claudin-5 and ZO-1 with a typical localization at the cell borders. The transendothelial electrical resistance (TEER) of brain endothelial monolayers, indicating the tightness of TJs reached 300 ohm·cm
2
on average. The endothelial permeability coefficients (Pe) for lucifer yellow (LY) was highly reproducible with an average of 0.26 ± 0.11 x 10
-3
cm/min. Brain endothelial cells organized in monolayers expressed the efflux transporter P-glycoprotein (P-gp), showed a polarized transport of rhodamine 123, a ligand for P-gp, and showed specific transport of transferrin-Cy3 and DiILDL across the endothelial cell monolayer. In conclusion, we provide a protocol for setting up an
in vitro
BBB model that is highly reproducible due to the quality assurance methods, and that is suitable for research on BBB transporters and receptors.
Medicine, Issue 88, rat brain endothelial cells (RBEC), mouse, spinal cord, tight junction (TJ), receptor-mediated transport (RMT), low density lipoprotein (LDL), LDLR, transferrin, TfR, P-glycoprotein (P-gp), transendothelial electrical resistance (TEER),
51278
Evaluating Plasmonic Transport in Current-carrying Silver Nanowires
Institutions: Université de Bourgogne, University of Science and Technology of China, CEMES, CNRS-UPR 8011.

Plasmonics is an emerging technology capable of simultaneously transporting a plasmonic signal and an electronic signal on the same information support
1,2,3
. In this context, metal nanowires are especially desirable for realizing dense routing networks
4
. A prerequisite to operate such shared nanowire-based platform relies on our ability to electrically contact individual metal nanowires and efficiently excite surface plasmon polaritons
5
in this information support. In this article, we describe a protocol to bring electrical terminals to chemically-synthesized silver nanowires
6
randomly distributed on a glass substrate
7
. The positions of the nanowire ends with respect to predefined landmarks are precisely located using standard optical transmission microscopy before encapsulation in an electron-sensitive resist. Trenches representing the electrode layout are subsequently designed by electron-beam lithography. Metal electrodes are then fabricated by thermally evaporating a Cr/Au layer followed by a chemical lift-off. The contacted silver nanowires are finally transferred to a leakage radiation microscope for surface plasmon excitation and characterization
8,9
. Surface plasmons are launched in the nanowires by focusing a near infrared laser beam on a diffraction-limited spot overlapping one nanowire extremity
5,9
. For sufficiently large nanowires, the surface plasmon mode leaks into the glass substrate
9,10
. This leakage radiation is readily detected, imaged, and analyzed in the different conjugate planes in leakage radiation microscopy
9,11
. The electrical terminals do not affect the plasmon propagation. However, a current-induced morphological deterioration of the nanowire drastically degrades the flow of surface plasmons. The combination of surface plasmon leakage radiation microscopy with a simultaneous analysis of the nanowire electrical transport characteristics reveals the intrinsic limitations of such plasmonic circuitry.
Physics, Issue 82, light transmission, optical waveguides, photonics, plasma oscillations, plasma waves, electron motion in conductors, nanofabrication, Information Transport, plasmonics, Silver Nanowires, Leakage radiation microscopy, Electromigration
51048
Fabrication And Characterization Of Photonic Crystal Slow Light Waveguides And Cavities
Institutions: University of St Andrews.

Slow light has been one of the hot topics in the photonics community in the past decade, generating great interest both from a fundamental point of view and for its considerable potential for practical applications. Slow light photonic crystal waveguides, in particular, have played a major part and have been successfully employed for delaying optical signals
1-4
and the enhancement of both linear
5-7
and nonlinear devices.
8-11
Photonic crystal cavities achieve similar effects to that of slow light waveguides, but over a reduced band-width. These cavities offer high Q-factor/volume ratio, for the realization of optically
12
and electrically
13
pumped ultra-low threshold lasers and the enhancement of nonlinear effects.
14-16
Furthermore, passive filters
17
and modulators
18-19
have been demonstrated, exhibiting ultra-narrow line-width, high free-spectral range and record values of low energy consumption. To attain these exciting results, a robust repeatable fabrication protocol must be developed. In this paper we take an in-depth look at our fabrication protocol which employs electron-beam lithography for the definition of photonic crystal patterns and uses wet and dry etching techniques. Our optimised fabrication recipe results in photonic crystals that do not suffer from vertical asymmetry and exhibit very good edge-wall roughness. We discuss the results of varying the etching parameters and the detrimental effects that they can have on a device, leading to a diagnostic route that can be taken to identify and eliminate similar issues. The key to evaluating slow light waveguides is the passive characterization of transmission and group index spectra. Various methods have been reported, most notably resolving the Fabry-Perot fringes of the transmission spectrum
20-21
and interferometric techniques.
22-25
Here, we describe a direct, broadband measurement technique combining spectral interferometry with Fourier transform analysis.
26
Our method stands out for its simplicity and power, as we can characterise a bare photonic crystal with access waveguides, without need for on-chip interference components, and the setup only consists of a Mach-Zehnder interferometer, with no need for moving parts and delay scans. When characterising photonic crystal cavities, techniques involving internal sources
21
or external waveguides directly coupled to the cavity
27
impact on the performance of the cavity itself, thereby distorting the measurement. Here, we describe a novel and non-intrusive technique that makes use of a cross-polarised probe beam and is known as resonant scattering (RS), where the probe is coupled out-of plane into the cavity through an objective. The technique was first demonstrated by McCutcheon
et al.28
and further developed by Galli
et al.
29
Physics, Issue 69, Optics and Photonics, Astronomy, light scattering, light transmission, optical waveguides, photonics, photonic crystals, Slow-light, Cavities, Waveguides, Silicon, SOI, Fabrication, Characterization
50216
Hyperpolarized Xenon for NMR and MRI Applications
Institutions: Leibniz-Institut für Molekulare Pharmakologie.

Nuclear magnetic resonance (NMR) spectroscopy and imaging (MRI) suffer from intrinsic low sensitivity because even strong external magnetic fields of ~10 T generate only a small detectable net-magnetization of the sample at room temperature
1
. Hence, most NMR and MRI applications rely on the detection of molecules at relative high concentration (
e.g.
, water for imaging of biological tissue) or require excessive acquisition times. This limits our ability to exploit the very useful molecular specificity of NMR signals for many biochemical and medical applications. However, novel approaches have emerged in the past few years: Manipulation of the detected spin species prior to detection inside the NMR/MRI magnet can dramatically increase the magnetization and therefore allows detection of molecules at much lower concentration
2
. Here, we present a method for polarization of a xenon gas mixture (2-5% Xe, 10% N
2
, He balance) in a compact setup with a ca. 16000-fold signal enhancement. Modern line-narrowed diode lasers allow efficient polarization
7
and immediate use of gas mixture even if the noble gas is not separated from the other components. The SEOP apparatus is explained and determination of the achieved spin polarization is demonstrated for performance control of the method. The hyperpolarized gas can be used for void space imaging, including gas flow imaging or diffusion studies at the interfaces with other materials
8,9
. Moreover, the Xe NMR signal is extremely sensitive to its molecular environment
6
. This enables the option to use it as an NMR/MRI contrast agent when dissolved in aqueous solution with functionalized molecular hosts that temporarily trap the gas
10,11
. Direct detection and high-sensitivity indirect detection of such constructs is demonstrated in both spectroscopic and imaging mode.
Physics, Issue 67, NMR, MRI, hyperpolarization, optical pumping, SEOP, xenon, molecular imaging, biosensor
4268
High-Sensitivity Nuclear Magnetic Resonance at Giga-Pascal Pressures: A New Tool for Probing Electronic and Chemical Properties of Condensed Matter under Extreme Conditions
Institutions: University of Leipzig.

Nuclear Magnetic Resonance (NMR) is one of the most important techniques for the study of condensed matter systems, their chemical structure, and their electronic properties. The application of high pressure enables one to synthesize new materials, but the response of known materials to high pressure is a very useful tool for studying their electronic structure and developing theories. For example, high-pressure synthesis might be at the origin of life; and understanding the behavior of small molecules under extreme pressure will tell us more about fundamental processes in our universe. It is no wonder that there has always been great interest in having NMR available at high pressures. Unfortunately, the desired pressures are often well into the Giga-Pascal (GPa) range and require special anvil cell devices where only very small, secluded volumes are available. This has restricted the use of NMR almost entirely in the past, and only recently, a new approach to high-sensitivity GPa NMR, which has a resonating micro-coil inside the sample chamber, was put forward. This approach enables us to achieve high sensitivity with experiments that bring the power of NMR to Giga-Pascal pressure condensed matter research. First applications, the detection of a topological electronic transition in ordinary aluminum metal and the closing of the pseudo-gap in high-temperature superconductivity, show the power of such an approach. Meanwhile, the range of achievable pressures was increased tremendously with a new generation of anvil cells (up to 10.1 GPa), that fit standard-bore NMR magnets. This approach might become a new, important tool for the investigation of many condensed matter systems, in chemistry, geochemistry, and in physics, since we can now watch structural changes with the eyes of a very versatile probe.
Physics, Issue 92, NMR, micro-coil, anvil cell, high pressures, condensed matter, radio-frequency
52243