Polycrystalline Silicon Thin-film Solar cells with Plasmonic-enhanced Light-trapping
Published: 07-02-2012
ABSTRACT
One of major approaches to cheaper solar cells is reducing the amount of semiconductor material used for their fabrication and making cells thinner. To compensate for lower light absorption such physically thin devices have to incorporate light-trapping which increases their optical thickness. Light scattering by textured surfaces is a common technique but it cannot be universally applied to all solar cell technologies. Some cells, for example those made of evaporated silicon, are planar as produced and they require an alternative light-trapping means suitable for planar devices. Metal nanoparticles formed on planar silicon cell surface and capable of light scattering due to surface plasmon resonance is an effective approach. The paper presents a fabrication procedure of evaporated polycrystalline silicon solar cells with plasmonic light-trapping and demonstrates how the cell quantum efficiency improves due to presence of metal nanoparticles. To fabricate the cells a film consisting of alternative boron and phosphorous doped silicon layers is deposited on glass substrate by electron beam evaporation. An Initially amorphous film is crystallised and electronic defects are mitigated by annealing and hydrogen passivation. Metal grid contacts are applied to the layers of opposite polarity to extract electricity generated by the cell. Typically, such a ~2 μm thick cell has a short-circuit current density (Jsc) of 14-16 mA/cm2, which can be increased up to 17-18 mA/cm2 (~25% higher) after application of a simple diffuse back reflector made of a white paint. To implement plasmonic light-trapping a silver nanoparticle array is formed on the metallised cell silicon surface. A precursor silver film is deposited on the cell by thermal evaporation and annealed at 23°C to form silver nanoparticles. Nanoparticle size and coverage, which affect plasmonic light-scattering, can be tuned for enhanced cell performance by varying the precursor film thickness and its annealing conditions. An optimised nanoparticle array alone results in cell Jsc enhancement of about 28%, similar to the effect of the diffuse reflector. The photocurrent can be further increased by coating the nanoparticles by a low refractive index dielectric, like MgF2, and applying the diffused reflector. The complete plasmonic cell structure comprises the polycrystalline silicon film, a silver nanoparticle array, a layer of MgF2, and a diffuse reflector. The Jsc for such cell is 21-23 mA/cm2, up to 45% higher than Jsc of the original cell without light-trapping or ~25% higher than Jsc for the cell with the diffuse reflector only. Introduction Light-trapping in silicon solar cells is commonly achieved via light scattering at textured interfaces. Scattered light travels through a cell at oblique angles for a longer distance and when such angles exceed the critical angle at the cell interfaces the light is permanently trapped in the cell by total internal reflection (Animation 1: Light-trapping). Although this scheme works well for most solar cells, there are developing technologies where ultra-thin Si layers are produced planar (e.g. layer-transfer technologies and epitaxial c-Si layers) 1 and or when such layers are not compatible with textures substrates (e.g. evaporated silicon) 2. For such originally planar Si layer alternative light trapping approaches, such as diffuse white paint reflector 3, silicon plasma texturing 4 or high refractive index nanoparticle reflector 5 have been suggested. Metal nanoparticles can effectively scatter incident light into a higher refractive index material, like silicon, due to the surface plasmon resonance effect 6. They also can be easily formed on the planar silicon cell surface thus offering a light-trapping approach alternative to texturing. For a nanoparticle located at the air-silicon interface the scattered light fraction coupled into silicon exceeds 95% and a large faction of that light is scattered at angles above critical providing nearly ideal light-trapping condition (Animation 2: Plasmons on NP). The resonance can be tuned to the wavelength region, which is most important for a particular cell material and design, by varying the nanoparticle average size, surface coverage and local dielectric environment 6,7. Theoretical design principles of plasmonic nanoparticle solar cells have been suggested 8. In practice, Ag nanoparticle array is an ideal light-trapping partner for poly-Si thin-film solar cells because most of these design principle are naturally met. The simplest way of forming nanoparticles by thermal annealing of a thin precursor Ag film results in a random array with a relatively wide size and shape distribution, which is particularly suitable for light-trapping because such an array has a wide resonance peak, covering the wavelength range of 700-900 nm, important for poly-Si solar cell performance. The nanoparticle array can only be located on the rear poly-Si cell surface thus avoiding destructive interference between incident and scattered light which occurs for front-located nanoparticles 9. Moreover, poly-Si thin-film cells do not requires a passivating layer and the flat base-shaped nanoparticles (that naturally result from thermal annealing of a metal film) can be directly placed on silicon further increases plasmonic scattering efficiency due to surface plasmon-polariton resonance 10. The cell with the plasmonic nanoparticle array as described above can have a photocurrent about 28% higher than the original cell. However, the array still transmits a significant amount of light which escapes through the rear of the cell and does not contribute into the current. This loss can be mitigated by adding a rear reflector to allow catching transmitted light and re-directing it back to the cell. Providing sufficient distance between the reflector and the nanoparticles (a few hundred nanometers) the reflected light will then experience one more plasmonic scattering event while passing through the nanoparticle array on re-entering the cell and the reflector itself can be made diffuse - both effects further facilitating light scattering and hence light-trapping. Importantly, the Ag nanoparticles have to be encapsulated with an inert and low refractive index dielectric, like MgF2 or SiO2, from the rear reflector to avoid mechanical and chemical damage 7. Low refractive index for this cladding layer is required to maintain a high coupling fraction into silicon and larger scattering angles, which are ensured by the high optical contrast between the media on both sides of the nanoparticle, silicon and dielectric 6. The photocurrent of the plasmonic cell with the diffuse rear reflector can be up to 45% higher than the current of the original cell or up to 25% higher than the current of an equivalent cell with the diffuse reflector only.
24 Related JoVE Articles!
Nanomoulding of Functional Materials, a Versatile Complementary Pattern Replication Method to Nanoimprinting
Institutions: Ecole Polytechnique Fédérale de Lausanne (EPFL), University of California, Berkeley .

We describe a nanomoulding technique which allows low-cost nanoscale patterning of functional materials, materials stacks and full devices. Nanomoulding combined with layer transfer enables the replication of arbitrary surface patterns from a master structure onto the functional material. Nanomoulding can be performed on any nanoimprinting setup and can be applied to a wide range of materials and deposition processes. In particular we demonstrate the fabrication of patterned transparent zinc oxide electrodes for light trapping applications in solar cells.
Materials Science, Issue 71, Nanotechnology, Mechanical Engineering, Electrical Engineering, Computer Sciences, Physics, dielectrics (electronic application), light emitting diodes (LED), lithography (circuit fabrication), nanodevices (electronic), optoelectronics (applications), photoelectric devices, semiconductor devices, solar cells (electrical design), Surface patterning, nanoimprinting, nanomoulding, transfer moulding, functional materials, transparent conductive oxides, microengineering, photovoltaics
50177
Micro-masonry for 3D Additive Micromanufacturing
Institutions: University of Illinois at Urbana-Champaign.

Transfer printing is a method to transfer solid micro/nanoscale materials (herein called 'inks') from a substrate where they are generated to a different substrate by utilizing elastomeric stamps. Transfer printing enables the integration of heterogeneous materials to fabricate unexampled structures or functional systems that are found in recent advanced devices such as flexible and stretchable solar cells and LED arrays. While transfer printing exhibits unique features in material assembly capability, the use of adhesive layers or the surface modification such as deposition of self-assembled monolayer (SAM) on substrates for enhancing printing processes hinders its wide adaptation in microassembly of microelectromechanical system (MEMS) structures and devices. To overcome this shortcoming, we developed an advanced mode of transfer printing which deterministically assembles individual microscale objects solely through controlling surface contact area without any surface alteration. The absence of an adhesive layer or other modification and the subsequent material bonding processes ensure not only mechanical bonding, but also thermal and electrical connection between assembled materials, which further opens various applications in adaptation in building unusual MEMS devices.
Physics, Issue 90, Micro-masonry, microassembly, transfer printing, dry adhesives, additive manufacturing, printed processes, microfabrication, inks, microelectromechanical system (MEMS)
51974
Antifouling Self-assembled Monolayers on Microelectrodes for Patterning Biomolecules
Institutions: Texas A&M University (TAMU), Texas A&M University (TAMU).

We present a procedure for forming a poly(ethylene glycol) (PEG) trimethoxysilane self-assembled monolayer (SAM) on a silicon substrate with gold microelectrodes. The PEG-SAM is formed in a single assembly step and prevents biofouling on silicon and gold surfaces. The SAM is used to coat microelectrodes patterned with standard, positive-tone lithography. Using the microtubule as an example, we apply a DC voltage to induce electrophoretic migration to the SAM-coated electrode in a reversible manner. A flow chamber is used for imaging the electrophoretic migration and microtubule patterning
in situ
using epifluorescence microscopy. This method is generally applicable to biomolecule patterning, as it employs electrophoresis to immobilize target molecules and thus does not require specific molecular interactions. Further, it avoids problems encountered when attempting to pattern the SAM molecules directly using lithographic techniques. The compatibility with electron beam lithography allows this method to be used to pattern biomolecules at the nanoscale.
Biomedical Engineering, Issue 30, protein patterning, self-assembly, tubulin, kinesin, biofouling, bioNEMS, biosensor
1390
A Technique to Functionalize and Self-assemble Macroscopic Nanoparticle-ligand Monolayer Films onto Template-free Substrates
Institutions: Naval Research Laboratory.
This protocol describes a self-assembly technique to create macroscopic monolayer films composed of ligand-coated nanoparticles
1
,
2
. The simple, robust and scalable technique efficiently functionalizes metallic nanoparticles with thiol-ligands in a miscible water/organic solvent mixture allowing for rapid grafting of thiol groups onto the gold nanoparticle surface. The hydrophobic ligands on the nanoparticles then quickly phase separate the nanoparticles from the aqueous based suspension and confine them to the air-fluid interface. This drives the ligand-capped nanoparticles to form monolayer domains at the air-fluid interface.  The use of water-miscible organic solvents is important as it enables the transport of the nanoparticles from the interface onto template-free substrates.  The flow is mediated by a surface tension gradient
3
,
4
and creates macroscopic, high-density, monolayer nanoparticle-ligand films.  This self-assembly technique may be generalized to include the use of particles of different compositions, size, and shape and may lead to an efficient assembly method to produce low-cost, macroscopic, high-density, monolayer nanoparticle films for wide-spread applications.
Chemistry, Issue 87, phase transfer, nanoparticle, self-assembly, bottom-up, fabrication, low-cost, monolayer, thin film, nanostructure, array, metamaterial
51282
In vitro Synthesis of Native, Fibrous Long Spacing and Segmental Long Spacing Collagen
Institutions: University of Toronto, University of Toronto.

Collagen fibrils are present in the extracellular matrix of animal tissue to provide structural scaffolding and mechanical strength. These native collagen fibrils have a characteristic banding periodicity of ~67 nm and are formed
in vivo
through the hierarchical assembly of Type I collagen monomers, which are 300 nm in length and 1.4 nm in diameter.
In vitro
, by varying the conditions to which the monomer building blocks are exposed, unique structures ranging in length scales up to 50 microns can be constructed, including not only native type fibrils, but also fibrous long spacing and segmental long spacing collagen. Herein, we present procedures for forming the three different collagen structures from a common commercially available collagen monomer. Using the protocols that we and others have published in the past to make these three types typically lead to mixtures of structures. In particular, unbanded fibrils were commonly found when making native collagen, and native fibrils were often present when making fibrous long spacing collagen. These new procedures have the advantage of producing the desired collagen fibril type almost exclusively. The formation of the desired structures is verified by imaging using an atomic force microscope.
Bioengineering, Issue 67, Chemistry, Biochemistry, Tissue Engineering, Collagen, Self-assembly, Native, Fibrous long spacing, Segmental long spacing, AFM, atomic force microscopy
4417
Improving the Success Rate of Protein Crystallization by Random Microseed Matrix Screening
Institutions: University of Bristol, Douglas Instruments.

Random microseed matrix screening (rMMS) is a protein crystallization technique in which seed crystals are added to random screens. By increasing the likelihood that crystals will grow in the metastable zone of a protein's phase diagram, extra crystallization leads are often obtained, the quality of crystals produced may be increased, and a good supply of crystals for data collection and soaking experiments is provided. Here we describe a general method for rMMS that may be applied to either sitting drop or hanging drop vapor diffusion experiments, established either by hand or using liquid handling robotics, in 96-well or 24-well tray format.
Structural Biology, Issue 78, Crystallography, X-Ray, Biochemical Phenomena, Molecular Structure, Molecular Conformation, protein crystallization, seeding, protein structure
50548
Millifluidics for Chemical Synthesis and Time-resolved Mechanistic Studies
Institutions: Louisiana State University, Louisiana State University, Louisiana State University, Argonne National Laboratory.
Procedures utilizing millifluidic devices for chemical synthesis and time-resolved mechanistic studies are described by taking three examples. In the first, synthesis of ultra-small copper nanoclusters is described. The second example provides their utility for investigating time resolved kinetics of chemical reactions by analyzing gold nanoparticle formation using
in situ
X-ray absorption spectroscopy. The final example demonstrates continuous flow catalysis of reactions inside millifluidic channel coated with nanostructured catalyst.
Bioengineering, Issue 81, Millifluidics, Millifluidic Device, Time-resolved Kinetics, Synthesis, Catalysis, Nanomaterials, Lab-on-a-Chip
50711
Lignin Down-regulation of Zea mays via dsRNAi and Klason Lignin Analysis
Institutions: University of Arizona, Michigan State University, The Institute for Advanced Learning and Research, Michigan State University.

To facilitate the use of lignocellulosic biomass as an alternative bioenergy resource, during biological conversion processes, a pretreatment step is needed to open up the structure of the plant cell wall, increasing the accessibility of the cell wall carbohydrates. Lignin, a polyphenolic material present in many cell wall types, is known to be a significant hindrance to enzyme access. Reduction in lignin content to a level that does not interfere with the structural integrity and defense system of the plant might be a valuable step to reduce the costs of bioethanol production. In this study, we have genetically down-regulated one of the lignin biosynthesis-related genes, cinnamoyl-CoA reductase (
ZmCCR1
) via a double stranded RNA interference technique. The
ZmCCR1_RNAi
construct was integrated into the maize genome using the particle bombardment method. Transgenic maize plants grew normally as compared to the wild-type control plants without interfering with biomass growth or defense mechanisms, with the exception of displaying of brown-coloration in transgenic plants leaf mid-ribs, husks, and stems. The microscopic analyses, in conjunction with the histological assay, revealed that the leaf sclerenchyma fibers were thinned but the structure and size of other major vascular system components was not altered. The lignin content in the transgenic maize was reduced by 7-8.7%, the crystalline cellulose content was increased in response to lignin reduction, and hemicelluloses remained unchanged. The analyses may indicate that carbon flow might have been shifted from lignin biosynthesis to cellulose biosynthesis. This article delineates the procedures used to down-regulate the lignin content in maize via RNAi technology, and the cell wall compositional analyses used to verify the effect of the modifications on the cell wall structure.
Bioengineering, Issue 89, Zea mays, cinnamoyl-CoA reductase (CCR), dsRNAi, Klason lignin measurement, cell wall carbohydrate analysis, gas chromatography (GC)
51340
The Generation of Higher-order Laguerre-Gauss Optical Beams for High-precision Interferometry
Institutions: University of Birmingham.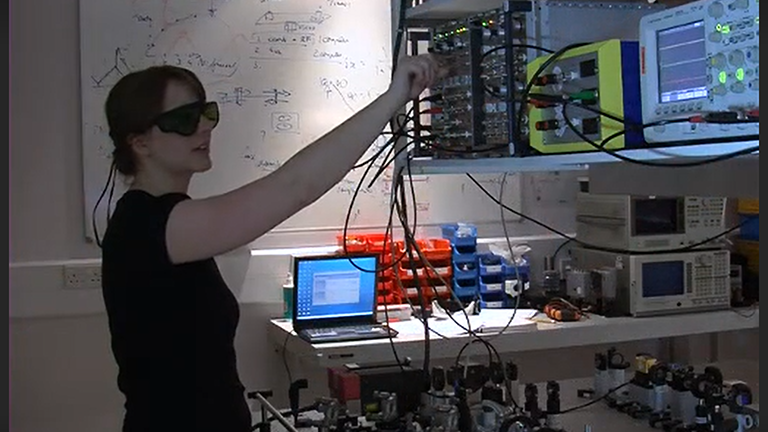 Thermal noise in high-reflectivity mirrors is a major impediment for several types of high-precision interferometric experiments that aim to reach the standard quantum limit or to cool mechanical systems to their quantum ground state. This is for example the case of future gravitational wave observatories, whose sensitivity to gravitational wave signals is expected to be limited in the most sensitive frequency band, by atomic vibration of their mirror masses. One promising approach being pursued to overcome this limitation is to employ higher-order Laguerre-Gauss (LG) optical beams in place of the conventionally used fundamental mode. Owing to their more homogeneous light intensity distribution these beams average more effectively over the thermally driven fluctuations of the mirror surface, which in turn reduces the uncertainty in the mirror position sensed by the laser light. We demonstrate a promising method to generate higher-order LG beams by shaping a fundamental Gaussian beam with the help of diffractive optical elements. We show that with conventional sensing and control techniques that are known for stabilizing fundamental laser beams, higher-order LG modes can be purified and stabilized just as well at a comparably high level. A set of diagnostic tools allows us to control and tailor the properties of generated LG beams. This enabled us to produce an LG beam with the highest purity reported to date. The demonstrated compatibility of higher-order LG modes with standard interferometry techniques and with the use of standard spherical optics makes them an ideal candidate for application in a future generation of high-precision interferometry.
Physics, Issue 78, Optics, Astronomy, Astrophysics, Gravitational waves, Laser interferometry, Metrology, Thermal noise, Laguerre-Gauss modes, interferometry
50564
Investigating Receptor-ligand Systems of the Cellulosome with AFM-based Single-molecule Force Spectroscopy
Institutions: Ludwig-Maximilians-Universität.
Cellulosomes are discrete multienzyme complexes used by a subset of anaerobic bacteria and fungi to digest lignocellulosic substrates. Assembly of the enzymes onto the noncatalytic scaffold protein is directed by interactions among a family of related receptor-ligand pairs comprising interacting cohesin and dockerin modules. The extremely strong binding between cohesin and dockerin modules results in dissociation constants in the low picomolar to nanomolar range, which may hamper accurate off-rate measurements with conventional bulk methods. Single-molecule force spectroscopy (SMFS) with the atomic force microscope measures the response of individual biomolecules to force, and in contrast to other single-molecule manipulation methods (
i.e.
 optical tweezers), is optimal for studying high-affinity receptor-ligand interactions because of its ability to probe the high-force regime (>120 pN). Here we present our complete protocol for studying cellulosomal protein assemblies at the single-molecule level. Using a protein topology derived from the native cellulosome, we worked with enzyme-dockerin and carbohydrate binding module-cohesin (CBM-cohesin) fusion proteins, each with an accessible free thiol group at an engineered cysteine residue. We present our site-specific surface immobilization protocol, along with our measurement and data analysis procedure for obtaining detailed binding parameters for the high-affinity complex. We demonstrate how to quantify single subdomain unfolding forces, complex rupture forces, kinetic off-rates, and potential widths of the binding well. The successful application of these methods in characterizing the cohesin-dockerin interaction responsible for assembly of multidomain cellulolytic complexes is further described.
Bioengineering, Issue 82, biophysics, protein unfolding, atomic force microscopy, surface immobilization
50950
Revealing Dynamic Processes of Materials in Liquids Using Liquid Cell Transmission Electron Microscopy
Institutions: Lawrence Berkeley National Laboratory.

The recent development for in situ transmission electron microscopy, which allows imaging through liquids with high spatial resolution, has attracted significant interests across the research fields of materials science, physics, chemistry and biology. The key enabling technology is a liquid cell. We fabricate liquid cells with thin viewing windows through a sequential microfabrication process, including silicon nitride membrane deposition, photolithographic patterning, wafer etching, cell bonding, etc. A liquid cell with the dimensions of a regular TEM grid can fit in any standard TEM sample holder. About 100 nanoliters reaction solution is loaded into the reservoirs and about 30 picoliters liquid is drawn into the viewing windows by capillary force. Subsequently, the cell is sealed and loaded into a microscope for in situ imaging. Inside the TEM, the electron beam goes through the thin liquid layer sandwiched between two silicon nitride membranes. Dynamic processes of nanoparticles in liquids, such as nucleation and growth of nanocrystals, diffusion and assembly of nanoparticles, etc., have been imaged in real time with sub-nanometer resolution. We have also applied this method to other research areas,
e.g.
, imaging proteins in water. Liquid cell TEM is poised to play a major role in revealing dynamic processes of materials in their working environments. It may also bring high impact in the study of biological processes in their native environment.
Materials Science, Issue 70, Chemical Engineering, Chemistry, Physics, Engineering, Life sciences, Liquid cell, Transmission Electron Microscopy, TEM, In situ TEM, Single nanoparticle trajectory, dynamic imaging, nanocrystals
50122
Monolayer Contact Doping of Silicon Surfaces and Nanowires Using Organophosphorus Compounds
Institutions: The Hebrew University of Jerusalem, The Hebrew University of Jerusalem.

Monolayer Contact Doping (MLCD) is a simple method for doping of surfaces and nanostructures
1
. MLCD results in the formation of highly controlled, ultra shallow and sharp doping profiles at the nanometer scale. In MLCD process the dopant source is a monolayer containing dopant atoms. In this article a detailed procedure for surface doping of silicon substrate as well as silicon nanowires is demonstrated. Phosphorus dopant source was formed using tetraethyl methylenediphosphonate monolayer on a silicon substrate. This monolayer containing substrate was brought to contact with a pristine intrinsic silicon target substrate and annealed while in contact. Sheet resistance of the target substrate was measured using 4 point probe. Intrinsic silicon nanowires were synthesized by chemical vapor deposition (CVD) process using a vapor-liquid-solid (VLS) mechanism; gold nanoparticles were used as catalyst for nanowire growth. The nanowires were suspended in ethanol by mild sonication. This suspension was used to dropcast the nanowires on silicon substrate with a silicon nitride dielectric top layer. These nanowires were doped with phosphorus in similar manner as used for the intrinsic silicon wafer. Standard photolithography process was used to fabricate metal electrodes for the formation of nanowire based field effect transistor (NW-FET). The electrical properties of a representative nanowire device were measured by a semiconductor device analyzer and a probe station.
Basic Protocol, Issue 82, nanotechnology, chemistry, monolayer contact doping (MLCD), nanowire, silicon substrate, chemical vapor deposition (CVD),
50770
A Microfluidic-based Electrochemical Biochip for Label-free DNA Hybridization Analysis
Institutions: University of Maryland, University of Maryland.

Miniaturization of analytical benchtop procedures into the micro-scale provides significant advantages in regards to reaction time, cost, and integration of pre-processing steps. Utilizing these devices towards the analysis of DNA hybridization events is important because it offers a technology for real time assessment of biomarkers at the point-of-care for various diseases. However, when the device footprint decreases the dominance of various physical phenomena increases. These phenomena influence the fabrication precision and operation reliability of the device. Therefore, there is a great need to accurately fabricate and operate these devices in a reproducible manner in order to improve the overall performance. Here, we describe the protocols and the methods used for the fabrication and the operation of a microfluidic-based electrochemical biochip for accurate analysis of DNA hybridization events. The biochip is composed of two parts: a microfluidic chip with three parallel micro-channels made of polydimethylsiloxane (PDMS), and a 3 x 3 arrayed electrochemical micro-chip. The DNA hybridization events are detected using electrochemical impedance spectroscopy (EIS) analysis. The EIS analysis enables monitoring variations of the properties of the electrochemical system that are dominant at these length scales. With the ability to monitor changes of both charge transfer and diffusional resistance with the biosensor, we demonstrate the selectivity to complementary ssDNA targets, a calculated detection limit of 3.8 nM, and a 13% cross-reactivity with other non-complementary ssDNA following 20 min of incubation. This methodology can improve the performance of miniaturized devices by elucidating on the behavior of diffusion at the micro-scale regime and by enabling the study of DNA hybridization events.
Bioengineering, Issue 91, electrochemical impedance spectroscopy, DNA hybridization, biosensor, biochip, microfluidics, label-free detection, restricted diffusion, microfabrication
51797
In Situ SIMS and IR Spectroscopy of Well-defined Surfaces Prepared by Soft Landing of Mass-selected Ions
Institutions: Pacific Northwest National Laboratory.

Soft landing of mass-selected ions onto surfaces is a powerful approach for the highly-controlled preparation of materials that are inaccessible using conventional synthesis techniques. Coupling soft landing with
in situ
characterization using secondary ion mass spectrometry (SIMS) and infrared reflection absorption spectroscopy (IRRAS) enables analysis of well-defined surfaces under clean vacuum conditions. The capabilities of three soft-landing instruments constructed in our laboratory are illustrated for the representative system of surface-bound organometallics prepared by soft landing of mass-selected ruthenium tris(bipyridine) dications, [Ru(bpy)
3
]
2+
(bpy = bipyridine), onto carboxylic acid terminated self-assembled monolayer surfaces on gold (COOH-SAMs).
In situ
time-of-flight (TOF)-SIMS provides insight into the reactivity of the soft-landed ions. In addition, the kinetics of charge reduction, neutralization and desorption occurring on the COOH-SAM both during and after ion soft landing are studied using
in situ
Fourier transform ion cyclotron resonance (FT-ICR)-SIMS measurements.
In situ
IRRAS experiments provide insight into how the structure of organic ligands surrounding metal centers is perturbed through immobilization of organometallic ions on COOH-SAM surfaces by soft landing. Collectively, the three instruments provide complementary information about the chemical composition, reactivity and structure of well-defined species supported on surfaces.
Chemistry, Issue 88, soft landing, mass selected ions, electrospray, secondary ion mass spectrometry, infrared spectroscopy, organometallic, catalysis
51344
Preparation and Use of Photocatalytically Active Segmented Ag|ZnO and Coaxial TiO2-Ag Nanowires Made by Templated Electrodeposition
Institutions: University of Twente.

Photocatalytically active nanostructures require a large specific surface area with the presence of many catalytically active sites for the oxidation and reduction half reactions, and fast electron (hole) diffusion and charge separation. Nanowires present suitable architectures to meet these requirements. Axially segmented Ag|ZnO and radially segmented (coaxial) TiO
2
-Ag nanowires with a diameter of 200 nm and a length of 6-20 µm were made by templated electrodeposition within the pores of polycarbonate track-etched (PCTE) or anodized aluminum oxide (AAO) membranes, respectively. In the photocatalytic experiments, the ZnO and TiO
2
phases acted as photoanodes, and Ag as cathode. No external circuit is needed to connect both electrodes, which is a key advantage over conventional photo-electrochemical cells. For making segmented Ag|ZnO nanowires, the Ag salt electrolyte was replaced after formation of the Ag segment to form a ZnO segment attached to the Ag segment. For making coaxial TiO
2
-Ag nanowires, a TiO
2
gel was first formed by the electrochemically induced sol-gel method. Drying and thermal annealing of the as-formed TiO
2
gel resulted in the formation of crystalline TiO
2
nanotubes. A subsequent Ag electrodeposition step inside the TiO
2
nanotubes resulted in formation of coaxial TiO
2
-Ag nanowires. Due to the combination of an
n
-type semiconductor (ZnO or TiO
2
) and a metal (Ag) within the same nanowire, a Schottky barrier was created at the interface between the phases. To demonstrate the photocatalytic activity of these nanowires, the Ag|ZnO nanowires were used in a photocatalytic experiment in which H
2
gas was detected upon UV illumination of the nanowires dispersed in a methanol/water mixture. After 17 min of illumination, approximately 0.2 vol% H
2
gas was detected from a suspension of ~0.1 g of Ag|ZnO nanowires in a 50 ml 80 vol% aqueous methanol solution.
Physics, Issue 87, Multicomponent nanowires, electrochemistry, sol-gel processes, photocatalysis, photochemistry, H2 evolution
51547
Towards Biomimicking Wood: Fabricated Free-standing Films of Nanocellulose, Lignin, and a Synthetic Polycation
Institutions: Virginia Tech, Virginia Tech, Illinois Institute of Technology- Moffett Campus, University of Guadalajara, Virginia Tech, Virginia Tech.

Woody materials are comprised of plant cell walls that contain a layered secondary cell wall composed of structural polymers of polysaccharides and lignin. Layer-by-layer (LbL) assembly process which relies on the assembly of oppositely charged molecules from aqueous solutions was used to build a freestanding composite film of isolated wood polymers of lignin and oxidized nanofibril cellulose (NFC). To facilitate the assembly of these negatively charged polymers, a positively charged polyelectrolyte, poly(diallyldimethylammomium chloride) (PDDA), was used as a linking layer to create this simplified model cell wall. The layered adsorption process was studied quantitatively using quartz crystal microbalance with dissipation monitoring (QCM-D) and ellipsometry. The results showed that layer mass/thickness per adsorbed layer increased as a function of total number of layers. The surface coverage of the adsorbed layers was studied with atomic force microscopy (AFM). Complete coverage of the surface with lignin in all the deposition cycles was found for the system, however, surface coverage by NFC increased with the number of layers. The adsorption process was carried out for 250 cycles (500 bilayers) on a cellulose acetate (CA) substrate. Transparent free-standing LBL assembled nanocomposite films were obtained when the CA substrate was later dissolved in acetone. Scanning electron microscopy (SEM) of the fractured cross-sections showed a lamellar structure, and the thickness per adsorption cycle (PDDA-Lignin-PDDA-NC) was estimated to be 17 nm for two different lignin types used in the study. The data indicates a film with highly controlled architecture where nanocellulose and lignin are spatially deposited on the nanoscale (a polymer-polymer nanocomposites), similar to what is observed in the native cell wall.
Plant Biology, Issue 88, nanocellulose, thin films, quartz crystal microbalance, layer-by-layer, LbL
51257
Soft Lithographic Functionalization and Patterning Oxide-free Silicon and Germanium
Institutions: Duke University , University of Rochester , University of Rochester .

The development of hybrid electronic devices relies in large part on the integration of (bio)organic materials and inorganic semiconductors through a stable interface that permits efficient electron transport and protects underlying substrates from oxidative degradation. Group IV semiconductors can be effectively protected with highly-ordered self-assembled monolayers (SAMs) composed of simple alkyl chains that act as impervious barriers to both organic and aqueous solutions. Simple alkyl SAMs, however, are inert and not amenable to traditional patterning techniques. The motivation for immobilizing organic molecular systems on semiconductors is to impart new functionality to the surface that can provide optical, electronic, and mechanical function, as well as chemical and biological activity. Microcontact printing (
μ
CP) is a soft-lithographic technique for patterning SAMs on myriad surfaces.
1-9
Despite its simplicity and versatility, the approach has been largely limited to noble metal surfaces and has not been well developed for pattern transfer to technologically important substrates such as oxide-free silicon and germanium. Furthermore, because this technique relies on the ink diffusion to transfer pattern from the elastomer to substrate, the resolution of such traditional printing is essentially limited to near 1
μ
m.
10-16
In contrast to traditional printing, inkless
μ
CP patterning relies on a specific reaction between a surface-immobilized substrate and a stamp-bound catalyst. Because the technique does not rely on diffusive SAM formation, it significantly expands the diversity of patternable surfaces. In addition, the inkless technique obviates the feature size limitations imposed by molecular diffusion, facilitating replication of very small (<200 nm) features.
17-23
However, up till now, inkless
μ
CP has been mainly used for patterning relatively disordered molecular systems, which do not protect underlying surfaces from degradation. Here, we report a simple, reliable high-throughput method for patterning passivated silicon and germanium with reactive organic monolayers and demonstrate selective functionalization of the patterned substrates with both small molecules and proteins. The technique utilizes a preformed NHS-reactive bilayered system on oxide-free silicon and germanium. The NHS moiety is hydrolyzed in a pattern-specific manner with a sulfonic acid-modified acrylate stamp to produce chemically distinct patterns of NHS-activated and free carboxylic acids. A significant limitation to the resolution of many
μ
CP techniques is the use of PDMS material which lacks the mechanical rigidity necessary for high fidelity transfer. To alleviate this limitation we utilized a polyurethane acrylate polymer, a relatively rigid material that can be easily functionalized with different organic moieties. Our patterning approach completely protects both silicon and germanium from chemical oxidation, provides precise control over the shape and size of the patterned features, and gives ready access to chemically discriminated patterns that can be further functionalized with both organic and biological molecules. The approach is general and applicable to other technologically-relevant surfaces.
Bioengineering, Issue 58, Soft lithography, microcontact printing, protein arrays, catalytic printing, oxide-free silicon
3478
Physical, Chemical and Biological Characterization of Six Biochars Produced for the Remediation of Contaminated Sites
Institutions: Royal Military College of Canada, Queen's University.

The physical and chemical properties of biochar vary based on feedstock sources and production conditions, making it possible to engineer biochars with specific functions (
e.g.
carbon sequestration, soil quality improvements, or contaminant sorption). In 2013, the International Biochar Initiative (IBI) made publically available their Standardized Product Definition and Product Testing Guidelines (Version 1.1) which set standards for physical and chemical characteristics for biochar. Six biochars made from three different feedstocks and at two temperatures were analyzed for characteristics related to their use as a soil amendment. The protocol describes analyses of the feedstocks and biochars and includes: cation exchange capacity (CEC), specific surface area (SSA), organic carbon (OC) and moisture percentage, pH, particle size distribution, and proximate and ultimate analysis. Also described in the protocol are the analyses of the feedstocks and biochars for contaminants including polycyclic aromatic hydrocarbons (PAHs), polychlorinated biphenyls (PCBs), metals and mercury as well as nutrients (phosphorous, nitrite and nitrate and ammonium as nitrogen). The protocol also includes the biological testing procedures, earthworm avoidance and germination assays. Based on the quality assurance / quality control (QA/QC) results of blanks, duplicates, standards and reference materials, all methods were determined adequate for use with biochar and feedstock materials. All biochars and feedstocks were well within the criterion set by the IBI and there were little differences among biochars, except in the case of the biochar produced from construction waste materials. This biochar (referred to as Old biochar) was determined to have elevated levels of arsenic, chromium, copper, and lead, and failed the earthworm avoidance and germination assays. Based on these results, Old biochar would not be appropriate for use as a soil amendment for carbon sequestration, substrate quality improvements or remediation.
Environmental Sciences, Issue 93, biochar, characterization, carbon sequestration, remediation, International Biochar Initiative (IBI), soil amendment
52183
Preparation of Silica Nanoparticles Through Microwave-assisted Acid-catalysis
Institutions: Oak Ridge Institute for Science and Education, Airbase Technology Division, Clemson University.

Microwave-assisted synthetic techniques were used to quickly and reproducibly produce silica nanoparticle
sols
using an acid catalyst with nanoparticle diameters ranging from 30-250 nm by varying the reaction conditions. Through the selection of a microwave compatible solvent, silicic acid precursor, catalyst, and microwave irradiation time, these microwave-assisted methods were capable of overcoming the previously reported shortcomings associated with synthesis of silica nanoparticles using microwave reactors. The siloxane precursor was hydrolyzed using the acid catalyst, HCl. Acetone, a low-tan
δ
solvent, mediates the condensation reactions and has minimal interaction with the electromagnetic field. Condensation reactions begin when the silicic acid precursor couples with the microwave radiation, leading to silica nanoparticle
sol
formation. The silica nanoparticles were characterized by dynamic light scattering data and scanning electron microscopy, which show the materials' morphology and size to be dependent on the reaction conditions. Microwave-assisted reactions produce silica nanoparticles with roughened textured surfaces that are atypical for silica
sols
produced by Stöber's methods, which have smooth surfaces.
Chemistry, Issue 82, Chemistry, chemical manufacturing, chemistry (general), materials (general), nanocomposites, catalysts (chemical), chemistry of compounds, Chemistry and Materials (General), Composite Materials, Inorganic, Organic and Physical Chemistry, Engineering (General), Microwave, nanoparticle, silica, silicic acid, NP, SiO2, synthesis
51022
Fabrication of Uniform Nanoscale Cavities via Silicon Direct Wafer Bonding
Institutions: The State University of New York at Buffalo, University of Maryland, The National Institute of Standards and Technology, NASA Goddard Space Flight Center, HRL Laboratories.

Measurements of the heat capacity and superfluid fraction of confined
4
He have been performed near the lambda transition using lithographically patterned and bonded silicon wafers. Unlike confinements in porous materials often used for these types of experiments
3
, bonded wafers provide predesigned uniform spaces for confinement. The geometry of each cell is well known, which removes a large source of ambiguity in the interpretation of data. Exceptionally flat, 5 cm diameter, 375 µm thick Si wafers with about 1 µm variation over the entire wafer can be obtained commercially (from Semiconductor Processing Company, for example). Thermal oxide is grown on the wafers to define the confinement dimension in the z-direction. A pattern is then etched in the oxide using lithographic techniques so as to create a desired enclosure upon bonding. A hole is drilled in one of the wafers (the top) to allow for the introduction of the liquid to be measured. The wafers are cleaned
2
in RCA solutions and then put in a microclean chamber where they are rinsed with deionized water
4
. The wafers are bonded at RT and then annealed at ~1,100 °C. This forms a strong and permanent bond. This process can be used to make uniform enclosures for measuring thermal and hydrodynamic properties of confined liquids from the nanometer to the micrometer scale.
Physics, Issue 83, silicon direct wafer bonding, nanoscale, bonded wafers, silicon wafer, confined liquids, lithographic techniques
51179
Conducting Miller-Urey Experiments
Institutions: Georgia Institute of Technology, Tokyo Institute of Technology, Institute for Advanced Study, NASA Johnson Space Center, NASA Goddard Space Flight Center, University of California at San Diego.

In 1953, Stanley Miller reported the production of biomolecules from simple gaseous starting materials, using an apparatus constructed to simulate the primordial Earth's atmosphere-ocean system. Miller introduced 200 ml of water, 100 mmHg of H
2
, 200 mmHg of CH
4
, and 200 mmHg of NH
3
into the apparatus, then subjected this mixture, under reflux, to an electric discharge for a week, while the water was simultaneously heated. The purpose of this manuscript is to provide the reader with a general experimental protocol that can be used to conduct a Miller-Urey type spark discharge experiment, using a simplified 3 L reaction flask. Since the experiment involves exposing inflammable gases to a high voltage electric discharge, it is worth highlighting important steps that reduce the risk of explosion. The general procedures described in this work can be extrapolated to design and conduct a wide variety of electric discharge experiments simulating primitive planetary environments.
Chemistry, Issue 83, Geosciences (General), Exobiology, Miller-Urey, Prebiotic chemistry, amino acids, spark discharge
51039
Fabrication And Characterization Of Photonic Crystal Slow Light Waveguides And Cavities
Institutions: University of St Andrews.

Slow light has been one of the hot topics in the photonics community in the past decade, generating great interest both from a fundamental point of view and for its considerable potential for practical applications. Slow light photonic crystal waveguides, in particular, have played a major part and have been successfully employed for delaying optical signals
1-4
and the enhancement of both linear
5-7
and nonlinear devices.
8-11
Photonic crystal cavities achieve similar effects to that of slow light waveguides, but over a reduced band-width. These cavities offer high Q-factor/volume ratio, for the realization of optically
12
and electrically
13
pumped ultra-low threshold lasers and the enhancement of nonlinear effects.
14-16
Furthermore, passive filters
17
and modulators
18-19
have been demonstrated, exhibiting ultra-narrow line-width, high free-spectral range and record values of low energy consumption. To attain these exciting results, a robust repeatable fabrication protocol must be developed. In this paper we take an in-depth look at our fabrication protocol which employs electron-beam lithography for the definition of photonic crystal patterns and uses wet and dry etching techniques. Our optimised fabrication recipe results in photonic crystals that do not suffer from vertical asymmetry and exhibit very good edge-wall roughness. We discuss the results of varying the etching parameters and the detrimental effects that they can have on a device, leading to a diagnostic route that can be taken to identify and eliminate similar issues. The key to evaluating slow light waveguides is the passive characterization of transmission and group index spectra. Various methods have been reported, most notably resolving the Fabry-Perot fringes of the transmission spectrum
20-21
and interferometric techniques.
22-25
Here, we describe a direct, broadband measurement technique combining spectral interferometry with Fourier transform analysis.
26
Our method stands out for its simplicity and power, as we can characterise a bare photonic crystal with access waveguides, without need for on-chip interference components, and the setup only consists of a Mach-Zehnder interferometer, with no need for moving parts and delay scans. When characterising photonic crystal cavities, techniques involving internal sources
21
or external waveguides directly coupled to the cavity
27
impact on the performance of the cavity itself, thereby distorting the measurement. Here, we describe a novel and non-intrusive technique that makes use of a cross-polarised probe beam and is known as resonant scattering (RS), where the probe is coupled out-of plane into the cavity through an objective. The technique was first demonstrated by McCutcheon
et al.28
and further developed by Galli
et al.
29
Physics, Issue 69, Optics and Photonics, Astronomy, light scattering, light transmission, optical waveguides, photonics, photonic crystals, Slow-light, Cavities, Waveguides, Silicon, SOI, Fabrication, Characterization
50216
Utilization of Microscale Silicon Cantilevers to Assess Cellular Contractile Function In Vitro
Institutions: University of Central Florida.

The development of more predictive and biologically relevant
in vitro
assays is predicated on the advancement of versatile cell culture systems which facilitate the functional assessment of the seeded cells. To that end, microscale cantilever technology offers a platform with which to measure the contractile functionality of a range of cell types, including skeletal, cardiac, and smooth muscle cells, through assessment of contraction induced substrate bending. Application of multiplexed cantilever arrays provides the means to develop moderate to high-throughput protocols for assessing drug efficacy and toxicity, disease phenotype and progression, as well as neuromuscular and other cell-cell interactions. This manuscript provides the details for fabricating reliable cantilever arrays for this purpose, and the methods required to successfully culture cells on these surfaces. Further description is provided on the steps necessary to perform functional analysis of contractile cell types maintained on such arrays using a novel laser and photo-detector system. The representative data provided highlights the precision and reproducible nature of the analysis of contractile function possible using this system, as well as the wide range of studies to which such technology can be applied. Successful widespread adoption of this system could provide investigators with the means to perform rapid, low cost functional studies
in vitro,
leading to more accurate predictions of tissue performance, disease development and response to novel therapeutic treatment.
Bioengineering, Issue 92, cantilever, in vitro, contraction, skeletal muscle, NMJ, cardiomyocytes, functional
51866
Silicon Microchips for Manipulating Cell-cell Interaction
Institutions: MIT - Massachusetts Institute of Technology.

The role of the cellular microenvironment is recognized as crucial in determining cell fate and function in virtually all mammalian tissues from development to malignant transformation.  In particular, interaction with neighboring stroma has been implicated in a plethora of biological phenomena; however, conventional techniques limit the ability to interrogate the spatial and dynamic elements of such interactions. In Micromechanical Reconfigurable Culture (RC), we employ a micromachined silicon substrate with moving parts to dynamically control cell-cell interactions through mechanical repositioning. Previously, this method has been applied to investigate intercellular communication in co-cultures of hepatocytes and non-parenchymal cells, demonstrating time-dependent interactions and a limited range for soluble signaling
1
. Here, we describe in detail the preparation and use of the RC system. We begin by demonstrating the handling of the device parts using tweezers, including actuating between the gap and contact configurations (cell populations separated by a narrow 80-µm gap, or in direct intimate contact). Next, we detail the process of preparing the substrates for culture, and the multi-step cell seeding process required for obtaining confluent cell monolayers. Using live microscopy, we then illustrate real-time manipulation of cells between the different possible experimental configurations. Finally, we demonstrate the steps required in order to regenerate the device surface for reuse: toluene and piranha cleaning, polystyrene coating, and oxygen plasma treatment.
Issue 7, tissue engineering, MEMS, microfabrication, microenvironment, Bioengineering
268