Mesenteric Artery Contraction and Relaxation Studies Using Automated Wire Myography
Published: 09-22-2011
ABSTRACT
Proximal resistance vessels, such as the mesenteric arteries, contribute substantially to the peripheral resistance. These small vessels of between 100-400 μm in diameter function primarily in directing blood flow to various organs according to the overall requirements of the body. The rat mesenteric artery has a diameter greater than 100 μm. The myography technique, first described by Mulvay and Halpern1, was based on the method proposed by Bevan and Osher2. The technique provides information about small vessels under isometric conditions, where substantial shortening of the muscle preparation is prevented. Since force production and sensitivity of vessels to different agonists is dependent on the extent of stretch, according to active tension-length relation, it is essential to conduct contraction studies under isometric conditions to prevent compliance of the mounting wires. Stainless steel wires are preferred to tungsten wires because of oxidation of the latter, which affects recorded responses3.The technique allows for the comparison of agonist-induced contractions of mounted vessels to obtain evidence for normal function of vascular smooth muscle cell receptors. We have shown in several studies that isolated mesenteric arteries that are contracted with phenylyephrine relax upon addition of cumulative concentrations of extracellular calcium (Ca2+e). The findings led us to conclude that perivascular sensory nerves, which express the G protein-coupled Ca2+-sensing receptor (CaR), mediate this vasorelaxation response. Using an automated wire myography method, we show here that mesenteric arteries from Wistar, Dahl salt-sensitive(DS) and Dahl salt-resistant (DR) rats respond differently to Ca2+e. Tissues from Wistar rats showed higher Ca2+-sensitivity compared to those from DR and DS. Reduced CaR expression in mesenteric arteries from DS rats correlates with reduced Ca2+e-induced relaxation of isolated, pre-contracted arteries. The data suggest that the CaR is required for relaxation of mesenteric arteries under increased adrenergic tone, as occurs in hypertension, and indicate an inherent defect in the CaR signaling pathway in Dahl animals, which is much more severe in DS. The method is useful in determining vascular reactivity ex vivo in mesenteric resistance arteries and similar small blood vessels and comparisons between different agonists and/or antagonists can be easily and consistently assessed side-by-side6,7,8.
20 Related JoVE Articles!
Assessing Murine Resistance Artery Function Using Pressure Myography
Institutions: Massachusetts General Hospital, Harvard Medical School.

Pressure myograph systems are exquisitely useful in the functional assessment of small arteries, pressurized to a suitable transmural pressure. The near physiological condition achieved in pressure myography permits in-depth characterization of intrinsic responses to pharmacological and physiological stimuli, which can be extrapolated to the
in vivo
behavior of the vascular bed. Pressure myograph has several advantages over conventional wire myographs. For example, smaller resistance vessels can be studied at tightly controlled and physiologically relevant intraluminal pressures. Here, we study the ability of 3
rd
order mesenteric arteries (3-4 mm long), preconstricted with phenylephrine, to vaso-relax in response to acetylcholine. Mesenteric arteries are mounted on two cannulas connected to a pressurized and sealed system that is maintained at constant pressure of 60 mmHg. The lumen and outer diameter of the vessel are continuously recorded using a video camera, allowing real time quantification of the vasoconstriction and vasorelaxation in response to phenylephrine and acetylcholine, respectively. To demonstrate the applicability of pressure myography to study the etiology of cardiovascular disease, we assessed endothelium-dependent vascular function in a murine model of systemic hypertension. Mice deficient in the α
1
subunit of soluble guanylate cyclase (sGCα
1
-/-
) are hypertensive when on a 129S6 (S6) background (sGCα
1
-/-S6
) but not when on a C57BL/6 (B6) background (sGCα
1
-/-B6
). Using pressure myography, we demonstrate that sGCα
1
-deficiency results in impaired endothelium-dependent vasorelaxation. The vascular dysfunction is more pronounced in sGCα
1
-/-S6
than in sGCα
1
-/-B6
mice, likely contributing to the higher blood pressure in sGCα
1
-/-S6
than in sGCα
1
-/-B6
mice. Pressure myography is a relatively simple, but sensitive and mechanistically useful technique that can be used to assess the effect of various stimuli on vascular contraction and relaxation, thereby augmenting our insight into the mechanisms underlying cardiovascular disease.
Physiology, Issue 76, Biomedical Engineering, Medicine, Biophysics, Bioengineering, Anatomy, Cardiology, Hematology, Vascular Diseases, Cardiovascular System, mice, resistance arteries, pressure myography, myography, myograph, NO-cGMP signaling, signaling, animal model
50328
Focal Cerebral Ischemia Model by Endovascular Suture Occlusion of the Middle Cerebral Artery in the Rat
Institutions: University of Wisconsin-Madison.

Stroke is the leading cause of disability and the third leading cause of death in adults worldwide
1
. In human stroke, there exists a highly variable clinical state; in the development of animal models of focal ischemia, however, achieving reproducibility of experimentally induced infarct volume is essential. The rat is a widely used animal model for stroke due to its relatively low animal husbandry costs and to the similarity of its cranial circulation to that of humans
2,3
. In humans, the middle cerebral artery (MCA) is most commonly affected in stroke syndromes and multiple methods of MCA occlusion (MCAO) have been described to mimic this clinical syndrome in animal models. Because recanalization commonly occurs following an acute stroke in the human, reperfusion after a period of occlusion has been included in many of these models. In this video, we demonstrate the transient endovascular suture MCAO model in the spontaneously hypertensive rat (SHR). A filament with a silicon tip coating is placed intraluminally at the MCA origin for 60 minutes, followed by reperfusion. Note that the optimal occlusion period may vary in other rat strains, such as Wistar or Sprague-Dawley. Several behavioral indicators of stroke in the rat are shown. Focal ischemia is confirmed using T2-weighted magnetic resonance images and by staining brain sections with 2,3,5-triphenyltetrazolium chloride (TTC) 24 hours after MCAO.
Neuroscience, Issue 48, Stroke, cerebral ischemia, middle cerebral artery occlusion, intraluminal filament, rat, magnetic resonance imaging, surgery, neuroscience, brain
1978
Exploring Arterial Smooth Muscle Kv7 Potassium Channel Function using Patch Clamp Electrophysiology and Pressure Myography
Institutions: Loyola University Chicago.

Contraction or relaxation of smooth muscle cells within the walls of resistance arteries determines the artery diameter and thereby controls flow of blood through the vessel and contributes to systemic blood pressure. The contraction process is regulated primarily by cytosolic calcium concentration ([Ca
2+
]
cyt
), which is in turn controlled by a variety of ion transporters and channels. Ion channels are common intermediates in signal transduction pathways activated by vasoactive hormones to effect vasoconstriction or vasodilation. And ion channels are often targeted by therapeutic agents either intentionally (
e.g.
calcium channel blockers used to induce vasodilation and lower blood pressure) or unintentionally (
e.g.
to induce unwanted cardiovascular side effects). Kv7 (KCNQ) voltage-activated potassium channels have recently been implicated as important physiological and therapeutic targets for regulation of smooth muscle contraction. To elucidate the specific roles of Kv7 channels in both physiological signal transduction and in the actions of therapeutic agents, we need to study how their activity is modulated at the cellular level as well as evaluate their contribution in the context of the intact artery. The rat mesenteric arteries provide a useful model system. The arteries can be easily dissected, cleaned of connective tissue, and used to prepare isolated arterial myocytes for patch clamp electrophysiology, or cannulated and pressurized for measurements of vasoconstrictor/vasodilator responses under relatively physiological conditions. Here we describe the methods used for both types of measurements and provide some examples of how the experimental design can be integrated to provide a clearer understanding of the roles of these ion channels in the regulation of vascular tone.
Physiology, Issue 67, Molecular Biology, Medicine, Anatomy, Vascular smooth muscle, mesenteric artery, patch clamp, Kv channel, vasoconstriction, electrophysiology
4263
Rat Mesentery Exteriorization: A Model for Investigating the Cellular Dynamics Involved in Angiogenesis
Institutions: Tulane University, University of Virginia , Tulane University.

Microvacular network growth and remodeling are critical aspects of wound healing, inflammation, diabetic retinopathy, tumor growth and other disease conditions
1, 2
. Network growth is commonly attributed to angiogenesis, defined as the growth of new vessels from pre-existing vessels. The angiogenic process is also directly linked to arteriogenesis, defined as the capillary acquisition of a perivascular cell coating and vessel enlargement. Needless to say, angiogenesis is complex and involves multiple players at the cellular and molecular level
3
. Understanding how a microvascular network grows requires identifying the spatial and temporal dynamics along the hierarchy of a network over the time course of angiogenesis. This information is critical for the development of therapies aimed at manipulating vessel growth. The exteriorization model described in this article represents a simple, reproducible model for stimulating angiogenesis in the rat mesentery. It was adapted from wound-healing models in the rat mesentery
4-7
, and is an alternative to stimulate angiogenesis in the mesentery via i.p. injections of pro-angiogenic agents
8, 9
. The exteriorization model is attractive because it requires minimal surgical intervention and produces dramatic, reproducible increases in capillary sprouts, vascular area and vascular density over a relatively short time course in a tissue that allows for the two-dimensional visualization of entire microvascular networks down to single cell level. The stimulated growth reflects natural angiogenic responses in a physiological environment without interference of foreign angiogenic molecules. Using immunohistochemical labeling methods, this model has been proven extremely useful in identifying novel cellular events involved in angiogenesis. Investigators can readily correlate the angiogenic metrics during the time course of remodeling with time specific dynamics, such as cellular phenotypic changes or cellular interactions
4, 5, 7, 10, 11
.
Cellular Biology, Issue 63, mesentery, rat, angiogenesis, microcirculation, microvascular, remodeling
3954
Inducing Dendritic Growth in Cultured Sympathetic Neurons
Institutions: University of California, Davis.

The shape of the dendritic arbor determines the total synaptic input a neuron can receive
1-3
, and influences the types and distribution of these inputs
4-6
. Altered patterns of dendritic growth and plasticity are associated with impaired neurobehavioral function in experimental models
7
, and are thought to contribute to clinical symptoms observed in both neurodevelopmental disorders
8-10
and neurodegenerative diseases
11-13
. Such observations underscore the functional importance of precisely regulating dendritic morphology, and suggest that identifying mechanisms that control dendritic growth will not only advance understanding of how neuronal connectivity is regulated during normal development, but may also provide insight on novel therapeutic strategies for diverse neurological diseases. Mechanistic studies of dendritic growth would be greatly facilitated by the availability of a model system that allows neurons to be experimentally switched from a state in which they do not extend dendrites to one in which they elaborate a dendritic arbor comparable to that of their
in vivo
counterparts. Primary cultures of sympathetic neurons dissociated from the superior cervical ganglia (SCG) of perinatal rodents provide such a model. When cultured in defined medium in the absence of serum and ganglionic glial cells, sympathetic neurons extend a single process which is axonal, and this unipolar state persists for weeks to months in culture
14,15
. However, the addition of either bone morphogenetic protein-7 (BMP-7)
16,17
or Matrigel
18
to the culture medium triggers these neurons to extend multiple processes that meet the morphologic, biochemical and functional criteria for dendrites. Sympathetic neurons dissociated from the SCG of perinatal rodents and grown under defined conditions are a homogenous population of neurons
19
that respond uniformly to the dendrite-promoting activity of Matrigel, BMP-7 and other BMPs of the decapentaplegic (dpp) and 60A subfamilies
17,18,20,21
. Importantly, Matrigel- and BMP-induced dendrite formation occurs in the absence of changes in cell survival or axonal growth
17,18
. Here, we describe how to set up dissociated cultures of sympathetic neurons derived from the SCG of perinatal rats so that they are responsive to the selective dendrite-promoting activity of Matrigel or BMPs.
Neuroscience, Issue 61, Bone morphogenetic proteins (BMPs), Matrigel, dendrite, dendritogenesis, neuronal morphogenesis, sympathetic neurons
3546
Design of a Cyclic Pressure Bioreactor for the Ex Vivo Study of Aortic Heart Valves
Institutions: Mississippi State University.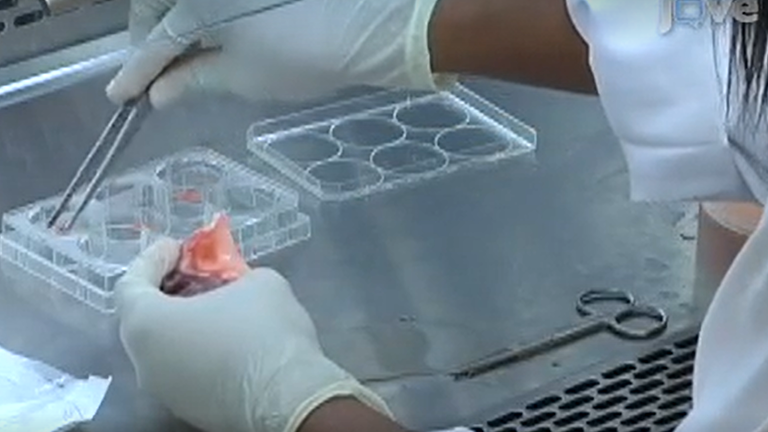 The aortic valve, located between the left ventricle and the aorta, allows for unidirectional blood flow, preventing backflow into the ventricle. Aortic valve leaflets are composed of interstitial cells suspended within an extracellular matrix (ECM) and are lined with an endothelial cell monolayer. The valve withstands a harsh, dynamic environment and is constantly exposed to shear, flexion, tension, and compression. Research has shown calcific lesions in diseased valves occur in areas of high mechanical stress as a result of endothelial disruption or interstitial matrix damage
1-3
. Hence, it is not surprising that epidemiological studies have shown high blood pressure to be a leading risk factor in the onset of aortic valve disease
4
. The only treatment option currently available for valve disease is surgical replacement of the diseased valve with a bioprosthetic or mechanical valve
5
. Improved understanding of valve biology in response to physical stresses would help elucidate the mechanisms of valve pathogenesis. In turn, this could help in the development of non-invasive therapies such as pharmaceutical intervention or prevention. Several bioreactors have been previously developed to study the mechanobiology of native or engineered heart valves
6-9
. Pulsatile bioreactors have also been developed to study a range of tissues including cartilage
10
, bone
11
and bladder
12
. The aim of this work was to develop a cyclic pressure system that could be used to elucidate the biological response of aortic valve leaflets to increased pressure loads. The system consisted of an acrylic chamber in which to place samples and produce cyclic pressure, viton diaphragm solenoid valves to control the timing of the pressure cycle, and a computer to control electrical devices. The pressure was monitored using a pressure transducer, and the signal was conditioned using a load cell conditioner. A LabVIEW program regulated the pressure using an analog device to pump compressed air into the system at the appropriate rate. The system mimicked the dynamic transvalvular pressure levels associated with the aortic valve; a saw tooth wave produced a gradual increase in pressure, typical of the transvalvular pressure gradient that is present across the valve during diastole, followed by a sharp pressure drop depicting valve opening in systole. The LabVIEW program allowed users to control the magnitude and frequency of cyclic pressure. The system was able to subject tissue samples to physiological and pathological pressure conditions. This device can be used to increase our understanding of how heart valves respond to changes in the local mechanical environment.
Bioengineering, Issue 54, Mechanobiology, Bioreactor, Aortic Heart Valve, Organ Culture
3316
Laser-Induced Chronic Ocular Hypertension Model on SD Rats
Institutions: The University of Hong Kong - HKU.

Glaucoma is one of the major causes of blindness in the world. Elevated intraocular pressure is a major risk factor. Laser photocoagulation induced ocular hypertension is one of the well established animal models. This video demonstrates how to induce ocular hypertension by Argon laser photocoagulation in rat.
Neuroscience, Issue 10, glaucoma, ocular hypertension, rat
549
Imaging Leukocyte Adhesion to the Vascular Endothelium at High Intraluminal Pressure
Institutions: Monash University.

Worldwide, hypertension is reported to be in approximately a quarter of the population and is the leading biomedical risk factor for mortality worldwide. In the vasculature hypertension is associated with endothelial dysfunction and increased inflammation leading to atherosclerosis and various disease states such as chronic kidney disease
2
, stroke
3
and heart failure
4
. An initial step in vascular inflammation leading to atherogenesis is the adhesion cascade which involves the rolling, tethering, adherence and subsequent transmigration of leukocytes through the endothelium. Recruitment and accumulation of leukocytes to the endothelium is mediated by an upregulation of adhesion molecules such as vascular cell adhesion molecule-1 (VCAM-1), intracellular cell adhesion molecule-1 (ICAM-1) and E-selectin as well as increases in cytokine and chemokine release and an upregulation of reactive oxygen species
5
.
In vitro
methods such as static adhesion assays help to determine mechanisms involved in cell-to-cell adhesion as well as the analysis of cell adhesion molecules. Methods employed in previous
in vitro
studies have demonstrated that acute increases in pressure on the endothelium can lead to monocyte adhesion, an upregulation of adhesion molecules and inflammatory markers
6
however, similar to many
in vitro
assays, these findings have not been performed in real time under physiological flow conditions, nor with whole blood. Therefore,
in vivo
assays are increasingly utilised in animal models to demonstrate vascular inflammation and plaque development. Intravital microscopy is now widely used to assess leukocyte adhesion, rolling, migration and transmigration
7-9
. When combining the effects of pressure on leukocyte to endothelial adhesion the
in vivo
studies are less extensive. One such study examines the real time effects of flow and shear on arterial growth and remodelling but inflammatory markers were only assessed via immunohistochemistry
10
. Here we present a model for recording leukocyte adhesion in real time in intact pressurised blood vessels using whole blood perfusion. The methodology is a modification of an
ex vivo
vessel chamber perfusion model
9
which enables real-time analysis of leukocyte -endothelial adhesive interactions in intact vessels. Our modification enables the manipulation of the intraluminal pressure up to 200 mmHg allowing for study not only under physiological flow conditions but also pressure conditions. While pressure myography systems have been previously demonstrated to observe vessel wall and lumen diameter
11
as well as vessel contraction this is the first time demonstrating leukocyte-endothelial interactions in real time. Here we demonstrate the technique using carotid arteries harvested from rats and cannulated to a custom-made flow chamber coupled to a fluorescent microscope. The vessel chamber is equipped with a large bottom coverglass allowing a large diameter objective lens with short working distance to image the vessel. Furthermore, selected agonist and/or antagonists can be utilized to further investigate the mechanisms controlling cell adhesion. Advantages of this method over intravital microscopy include no involvement of invasive surgery and therefore a higher throughput can be obtained. This method also enables the use of localised inhibitor treatment to the desired vessel whereas intravital only enables systemic inhibitor treatment.
Immunology, Issue 54, Leukocyte adhesion, intraluminal pressure, endothelial dysfunction, inflammation, hypertension
3221
Assessing Cerebral Autoregulation via Oscillatory Lower Body Negative Pressure and Projection Pursuit Regression
Institutions: Harvard Medical School, Spaulding Hospital Cambridge.
The process by which cerebral perfusion is maintained constant over a wide range of systemic pressures is known as "cerebral autoregulation." Effective dampening of flow against pressure changes occurs over periods as short as ~15 sec and becomes progressively greater over longer time periods. Thus, slower changes in blood pressure are effectively blunted and faster changes or fluctuations pass through to cerebral blood flow relatively unaffected. The primary difficulty in characterizing the frequency dependence of cerebral autoregulation is the lack of prominent spontaneous fluctuations in arterial pressure around the frequencies of interest (less than ~0.07 Hz or ~15 sec). Oscillatory lower body negative pressure (OLBNP) can be employed to generate oscillations in central venous return that result in arterial pressure fluctuations at the frequency of OLBNP. Moreover, Projection Pursuit Regression (PPR) provides a nonparametric method to characterize nonlinear relations inherent in the system without
a priori
assumptions and reveals the characteristic non-linearity of cerebral autoregulation. OLBNP generates larger fluctuations in arterial pressure as the frequency of negative pressure oscillations become slower; however, fluctuations in cerebral blood flow become progressively lesser. Hence, the PPR shows an increasingly more prominent autoregulatory region at OLBNP frequencies of 0.05 Hz and below (20 sec cycles). The goal of this approach it to allow laboratory-based determination of the characteristic nonlinear relationship between pressure and cerebral flow and could provide unique insight to integrated cerebrovascular control as well as to physiological alterations underlying impaired cerebral autoregulation (
e.g.
, after traumatic brain injury, stroke,
etc.
).
Medicine, Issue 94, cerebral blood flow, lower body negative pressure, autoregulation, sympathetic nervous system
51082
Setting-up an In Vitro Model of Rat Blood-brain Barrier (BBB): A Focus on BBB Impermeability and Receptor-mediated Transport
Institutions: VECT-HORUS SAS, CNRS, NICN UMR 7259.

The blood brain barrier (BBB) specifically regulates molecular and cellular flux between the blood and the nervous tissue. Our aim was to develop and characterize a highly reproducible rat syngeneic
in vitro
model of the BBB using co-cultures of primary rat brain endothelial cells (RBEC) and astrocytes to study receptors involved in transcytosis across the endothelial cell monolayer. Astrocytes were isolated by mechanical dissection following trypsin digestion and were frozen for later co-culture. RBEC were isolated from 5-week-old rat cortices. The brains were cleaned of meninges and white matter, and mechanically dissociated following enzymatic digestion. Thereafter, the tissue homogenate was centrifuged in bovine serum albumin to separate vessel fragments from nervous tissue. The vessel fragments underwent a second enzymatic digestion to free endothelial cells from their extracellular matrix. The remaining contaminating cells such as pericytes were further eliminated by plating the microvessel fragments in puromycin-containing medium. They were then passaged onto filters for co-culture with astrocytes grown on the bottom of the wells. RBEC expressed high levels of tight junction (TJ) proteins such as occludin, claudin-5 and ZO-1 with a typical localization at the cell borders. The transendothelial electrical resistance (TEER) of brain endothelial monolayers, indicating the tightness of TJs reached 300 ohm·cm
2
on average. The endothelial permeability coefficients (Pe) for lucifer yellow (LY) was highly reproducible with an average of 0.26 ± 0.11 x 10
-3
cm/min. Brain endothelial cells organized in monolayers expressed the efflux transporter P-glycoprotein (P-gp), showed a polarized transport of rhodamine 123, a ligand for P-gp, and showed specific transport of transferrin-Cy3 and DiILDL across the endothelial cell monolayer. In conclusion, we provide a protocol for setting up an
in vitro
BBB model that is highly reproducible due to the quality assurance methods, and that is suitable for research on BBB transporters and receptors.
Medicine, Issue 88, rat brain endothelial cells (RBEC), mouse, spinal cord, tight junction (TJ), receptor-mediated transport (RMT), low density lipoprotein (LDL), LDLR, transferrin, TfR, P-glycoprotein (P-gp), transendothelial electrical resistance (TEER),
51278
Bladder Smooth Muscle Strip Contractility as a Method to Evaluate Lower Urinary Tract Pharmacology
Institutions: University of Pittsburgh School of Medicine, University of Pittsburgh School of Medicine.

We describe an
in vitro
method to measure bladder smooth muscle contractility, and its use for investigating physiological and pharmacological properties of the smooth muscle as well as changes induced by pathology. This method provides critical information for understanding bladder function while overcoming major methodological difficulties encountered in
in vivo
experiments, such as surgical and pharmacological manipulations that affect stability and survival of the preparations, the use of human tissue, and/or the use of expensive chemicals. It also provides a way to investigate the properties of each bladder component (
i.e.
smooth muscle, mucosa, nerves) in healthy and pathological conditions. The urinary bladder is removed from an anesthetized animal, placed in Krebs solution and cut into strips. Strips are placed into a chamber filled with warm Krebs solution. One end is attached to an isometric tension transducer to measure contraction force, the other end is attached to a fixed rod. Tissue is stimulated by directly adding compounds to the bath or by electric field stimulation electrodes that activate nerves, similar to triggering bladder contractions
in vivo
. We demonstrate the use of this method to evaluate spontaneous smooth muscle contractility during development and after an experimental spinal cord injury, the nature of neurotransmission (transmitters and receptors involved), factors involved in modulation of smooth muscle activity, the role of individual bladder components, and species and organ differences in response to pharmacological agents. Additionally, it could be used for investigating intracellular pathways involved in contraction and/or relaxation of the smooth muscle, drug structure-activity relationships and evaluation of transmitter release. The
in vitro
smooth muscle contractility method has been used extensively for over 50 years, and has provided data that significantly contributed to our understanding of bladder function as well as to pharmaceutical development of compounds currently used clinically for bladder management.
Medicine, Issue 90, Krebs, species differences, in vitro, smooth muscle contractility, neural stimulation
51807
Monitoring of Systemic and Hepatic Hemodynamic Parameters in Mice
Institutions: Jena University Hospital, Jena University Hospital, The First Affiliated Hospital of Wenzhou Medical University.

The use of mouse models in experimental research is of enormous importance for the study of hepatic physiology and pathophysiological disturbances. However, due to the small size of the mouse, technical details of the intraoperative monitoring procedure suitable for the mouse were rarely described. Previously we have reported a monitoring procedure to obtain hemodynamic parameters for rats. Now, we adapted the procedure to acquire systemic and hepatic hemodynamic parameters in mice, a species ten-fold smaller than rats. This film demonstrates the instrumentation of the animals as well as the data acquisition process needed to assess systemic and hepatic hemodynamics in mice. Vital parameters, including body temperature, respiratory rate and heart rate were recorded throughout the whole procedure. Systemic hemodynamic parameters consist of carotid artery pressure (CAP) and central venous pressure (CVP). Hepatic perfusion parameters include portal vein pressure (PVP), portal flow rate as well as the flow rate of the common hepatic artery (table 1). Instrumentation and data acquisition to record the normal values was completed within 1.5 h. Systemic and hepatic hemodynamic parameters remained within normal ranges during this procedure. This procedure is challenging but feasible. We have already applied this procedure to assess hepatic hemodynamics in normal mice as well as during 70% partial hepatectomy and in liver lobe clamping experiments. Mean PVP after resection (n= 20), was 11.41±2.94 cmH
2
O which was significantly higher (P<0.05) than before resection (6.87±2.39 cmH
2
O). The results of liver lobe clamping experiment indicated that this monitoring procedure is sensitive and suitable for detecting small changes in portal pressure and portal flow rate. In conclusion, this procedure is reliable in the hands of an experienced micro-surgeon but should be limited to experiments where mice are absolutely needed.
Medicine, Issue 92, mice, hemodynamics, hepatic perfusion, CAP, CVP, surgery, intraoperative monitoring, portal vein pressure, blood flow
51955
Inducing Plasticity of Astrocytic Receptors by Manipulation of Neuronal Firing Rates
Institutions: University of California Riverside, University of California Riverside, University of California Riverside.

Close to two decades of research has established that astrocytes
in situ
and
in vivo
express numerous G protein-coupled receptors (GPCRs) that can be stimulated by neuronally-released transmitter. However, the ability of astrocytic receptors to exhibit plasticity in response to changes in neuronal activity has received little attention. Here we describe a model system that can be used to globally scale up or down astrocytic group I metabotropic glutamate receptors (mGluRs) in acute brain slices. Included are methods on how to prepare parasagittal hippocampal slices, construct chambers suitable for long-term slice incubation, bidirectionally manipulate neuronal action potential frequency, load astrocytes and astrocyte processes with fluorescent Ca
2+
indicator, and measure changes in astrocytic Gq GPCR activity by recording spontaneous and evoked astrocyte Ca
2+
events using confocal microscopy. In essence, a "calcium roadmap" is provided for how to measure plasticity of astrocytic Gq GPCRs. Applications of the technique for study of astrocytes are discussed. Having an understanding of how astrocytic receptor signaling is affected by changes in neuronal activity has important implications for both normal synaptic function as well as processes underlying neurological disorders and neurodegenerative disease.
Neuroscience, Issue 85, astrocyte, plasticity, mGluRs, neuronal Firing, electrophysiology, Gq GPCRs, Bolus-loading, calcium, microdomains, acute slices, Hippocampus, mouse
51458
Analysis of Tubular Membrane Networks in Cardiac Myocytes from Atria and Ventricles
Institutions: Heart Research Center Goettingen, University Medical Center Goettingen, German Center for Cardiovascular Research (DZHK) partner site Goettingen, University of Maryland School of Medicine.

In cardiac myocytes a complex network of membrane tubules - the transverse-axial tubule system (TATS) - controls deep intracellular signaling functions. While the outer surface membrane and associated TATS membrane components appear to be continuous, there are substantial differences in lipid and protein content. In ventricular myocytes (VMs), certain TATS components are highly abundant contributing to rectilinear tubule networks and regular branching 3D architectures. It is thought that peripheral TATS components propagate action potentials from the cell surface to thousands of remote intracellular sarcoendoplasmic reticulum (SER) membrane contact domains, thereby activating intracellular Ca
2+
release units (CRUs). In contrast to VMs, the organization and functional role of TATS membranes in atrial myocytes (AMs) is significantly different and much less understood. Taken together, quantitative structural characterization of TATS membrane networks in healthy and diseased myocytes is an essential prerequisite towards better understanding of functional plasticity and pathophysiological reorganization. Here, we present a strategic combination of protocols for direct quantitative analysis of TATS membrane networks in living VMs and AMs. For this, we accompany primary cell isolations of mouse VMs and/or AMs with critical quality control steps and direct membrane staining protocols for fluorescence imaging of TATS membranes. Using an optimized workflow for confocal or superresolution TATS image processing, binarized and skeletonized data are generated for quantitative analysis of the TATS network and its components. Unlike previously published indirect regional aggregate image analysis strategies, our protocols enable direct characterization of specific components and derive complex physiological properties of TATS membrane networks in living myocytes with high throughput and open access software tools. In summary, the combined protocol strategy can be readily applied for quantitative TATS network studies during physiological myocyte adaptation or disease changes, comparison of different cardiac or skeletal muscle cell types, phenotyping of transgenic models, and pharmacological or therapeutic interventions.
Bioengineering, Issue 92, cardiac myocyte, atria, ventricle, heart, primary cell isolation, fluorescence microscopy, membrane tubule, transverse-axial tubule system, image analysis, image processing, T-tubule, collagenase
51823
Mechanical Stimulation-induced Calcium Wave Propagation in Cell Monolayers: The Example of Bovine Corneal Endothelial Cells
Institutions: KU Leuven.

Intercellular communication is essential for the coordination of physiological processes between cells in a variety of organs and tissues, including the brain, liver, retina, cochlea and vasculature. In experimental settings, intercellular Ca
2+
-waves can be elicited by applying a mechanical stimulus to a single cell. This leads to the release of the intracellular signaling molecules IP
3
and Ca
2+
that initiate the propagation of the Ca
2+
-wave concentrically from the mechanically stimulated cell to the neighboring cells. The main molecular pathways that control intercellular Ca
2+
-wave propagation are provided by gap junction channels through the direct transfer of IP
3
and by hemichannels through the release of ATP. Identification and characterization of the properties and regulation of different connexin and pannexin isoforms as gap junction channels and hemichannels are allowed by the quantification of the spread of the intercellular Ca
2+
-wave, siRNA, and the use of inhibitors of gap junction channels and hemichannels. Here, we describe a method to measure intercellular Ca
2+
-wave in monolayers of primary corneal endothelial cells loaded with Fluo4-AM in response to a controlled and localized mechanical stimulus provoked by an acute, short-lasting deformation of the cell as a result of touching the cell membrane with a micromanipulator-controlled glass micropipette with a tip diameter of less than 1 μm. We also describe the isolation of primary bovine corneal endothelial cells and its use as model system to assess Cx43-hemichannel activity as the driven force for intercellular Ca
2+
-waves through the release of ATP. Finally, we discuss the use, advantages, limitations and alternatives of this method in the context of gap junction channel and hemichannel research.
Cellular Biology, Issue 77, Molecular Biology, Medicine, Biomedical Engineering, Biophysics, Immunology, Ophthalmology, Gap Junctions, Connexins, Connexin 43, Calcium Signaling, Ca2+, Cell Communication, Paracrine Communication, Intercellular communication, calcium wave propagation, gap junctions, hemichannels, endothelial cells, cell signaling, cell, isolation, cell culture
50443
Ultrasound Assessment of Endothelial-Dependent Flow-Mediated Vasodilation of the Brachial Artery in Clinical Research
Institutions: University of California, San Francisco, Veterans Affairs Medical Center, San Francisco, Veterans Affairs Medical Center, San Francisco.

The vascular endothelium is a monolayer of cells that cover the interior of blood vessels and provide both structural and functional roles. The endothelium acts as a barrier, preventing leukocyte adhesion and aggregation, as well as controlling permeability to plasma components. Functionally, the endothelium affects vessel tone. Endothelial dysfunction is an imbalance between the chemical species which regulate vessel tone, thombroresistance, cellular proliferation and mitosis. It is the first step in atherosclerosis and is associated with coronary artery disease, peripheral artery disease, heart failure, hypertension, and hyperlipidemia. The first demonstration of endothelial dysfunction involved direct infusion of acetylcholine and quantitative coronary angiography. Acetylcholine binds to muscarinic receptors on the endothelial cell surface, leading to an increase of intracellular calcium and increased nitric oxide (NO) production. In subjects with an intact endothelium, vasodilation was observed while subjects with endothelial damage experienced paradoxical vasoconstriction. There exists a non-invasive,
in vivo
method for measuring endothelial function in peripheral arteries using high-resolution B-mode ultrasound. The endothelial function of peripheral arteries is closely related to coronary artery function. This technique measures the percent diameter change in the brachial artery during a period of reactive hyperemia following limb ischemia. This technique, known as endothelium-dependent, flow-mediated vasodilation (FMD) has value in clinical research settings. However, a number of physiological and technical issues can affect the accuracy of the results and appropriate guidelines for the technique have been published. Despite the guidelines, FMD remains heavily operator dependent and presents a steep learning curve. This article presents a standardized method for measuring FMD in the brachial artery on the upper arm and offers suggestions to reduce intra-operator variability.
Medicine, Issue 92, endothelial function, endothelial dysfunction, brachial artery, peripheral artery disease, ultrasound, vascular, endothelium, cardiovascular disease.
52070
Microsurgical Clip Obliteration of Middle Cerebral Aneurysm Using Intraoperative Flow Assessment
Institutions: Havard Medical School, Massachusetts General Hospital.

Cerebral aneurysms are abnormal widening or ballooning of a localized segment of an intracranial blood vessel. Surgical clipping is an important treatment for aneurysms which attempts to exclude blood from flowing into the aneurysmal segment of the vessel while preserving blood flow in a normal fashion. Improper clip placement may result in residual aneurysm with the potential for subsequent aneurysm rupture or partial or full occlusion of distal arteries resulting in cerebral infarction. Here we describe the use of an ultrasonic flow probe to provide quantitative evaluation of arterial flow before and after microsurgical clip placement at the base of a middle cerebral artery aneurysm. This information helps ensure adequate aneurysm reconstruction with preservation of normal distal blood flow.
Medicine, Issue 31, Aneurysm, intraoperative, brain, surgery, surgical clipping, blood flow, aneurysmal segment, ultrasonic flow probe
1294
A Swine Model of Neonatal Asphyxia
Institutions: University of Alberta, University of Alberta.

Annually more than 1 million neonates die worldwide as related to asphyxia. Asphyxiated neonates commonly have multi-organ failure including hypotension, perfusion deficit, hypoxic-ischemic encephalopathy, pulmonary hypertension, vasculopathic enterocolitis, renal failure and thrombo-embolic complications. Animal models are developed to help us understand the patho-physiology and pharmacology of neonatal asphyxia. In comparison to rodents and newborn lambs, the newborn piglet has been proven to be a valuable model. The newborn piglet has several advantages including similar development as that of 36-38 weeks human fetus with comparable body systems, large body size (˜1.5-2 kg at birth) that allows the instrumentation and monitoring of the animal and controls the confounding variables of hypoxia and hemodynamic derangements. We here describe an experimental protocol to simulate neonatal asphyxia and allow us to examine the systemic and regional hemodynamic changes during the asphyxiating and reoxygenation process as well as the respective effects of interventions. Further, the model has the advantage of studying multi-organ failure or dysfunction simultaneously and the interaction with various body systems. The experimental model is a non-survival procedure that involves the surgical instrumentation of newborn piglets (1-3 day-old and 1.5-2.5 kg weight, mixed breed) to allow the establishment of mechanical ventilation, vascular (arterial and central venous) access and the placement of catheters and flow probes (Transonic Inc.) for the continuously monitoring of intra-vascular pressure and blood flow across different arteries including main pulmonary, common carotid, superior mesenteric and left renal arteries. Using these surgically instrumented piglets, after stabilization for 30-60 minutes as defined by Z<10% variation in hemodynamic parameters and normal blood gases, we commence an experimental protocol of severe hypoxemia which is induced via normocapnic alveolar hypoxia. The piglet is ventilated with 10-15% oxygen by increasing the inhaled concentration of nitrogen gas for 2h, aiming for arterial oxygen saturations of 30-40%. This degree of hypoxemia will produce clinical asphyxia with severe metabolic acidosis, systemic hypotension and cardiogenic shock with hypoperfusion to vital organs. The hypoxia is followed by reoxygenation with 100% oxygen for 0.5h and then 21% oxygen for 3.5h. Pharmacologic interventions can be introduced in due course and their effects investigated in a blinded, block-randomized fashion.
Medicine, Issue 56, Developmental Biology, pigs, newborn, hypoxia, asphyxia, reoxygenation
3166
Non-invasive Assessment of Microvascular and Endothelial Function
Institutions: Thomas Jefferson University , Thomas Jefferson University, Thomas Jefferson University .

The authors have utilized capillaroscopy and forearm blood flow techniques to investigate the role of microvascular dysfunction in pathogenesis of cardiovascular disease. Capillaroscopy is a non-invasive, relatively inexpensive methodology for directly visualizing the microcirculation. Percent capillary recruitment is assessed by dividing the increase in capillary density induced by postocclusive reactive hyperemia (postocclusive reactive hyperemia capillary density minus baseline capillary density), by the maximal capillary density (observed during passive venous occlusion). Percent perfused capillaries represents the proportion of all capillaries present that are perfused (functionally active), and is calculated by dividing postocclusive reactive hyperemia capillary density by the maximal capillary density. Both percent capillary recruitment and percent perfused capillaries reflect the number of functional capillaries. The forearm blood flow (FBF) technique provides accepted non-invasive measures of endothelial function: The ratio FBF
max
/FBF
base
is computed as an estimate of vasodilation, by dividing the mean of the four FBF
max
values by the mean of the four FBF
base
values. Forearm vascular resistance at maximal vasodilation (FVR
max
) is calculated as the mean arterial pressure (MAP) divided by FBF
max
. Both the capillaroscopy and forearm techniques are readily acceptable to patients and can be learned quickly. The microvascular and endothelial function measures obtained using the methodologies described in this paper may have future utility in clinical patient cardiovascular risk-reduction strategies. As we have published reports demonstrating that microvascular and endothelial dysfunction are found in initial stages of hypertension including prehypertension, microvascular and endothelial function measures may eventually aid in early identification, risk-stratification and prevention of end-stage vascular pathology, with its potentially fatal consequences.
Medicine, Issue 71, Anatomy, Physiology, Immunology, Pharmacology, Hematology, Diseases, Health Care, Life sciences, Microcirculation, endothelial dysfunction, capillary density, microvascular function, blood vessels, capillaries, capillary, venous occlusion, circulation, experimental therapeutics, capillaroscopy
50008
Preparation of 2-dGuo-Treated Thymus Organ Cultures
Institutions: University of Birmingham .

In the thymus, interactions between developing T-cell precursors and stromal cells that include cortical and medullary epithelial cells are known to play a key role in the development of a functionally competent T-cell pool. However, the complexity of T-cell development in the thymus
in vivo
can limit analysis of individual cellular components and particular stages of development.
In vitro
culture systems provide a readily accessible means to study multiple complex cellular processes. Thymus organ culture systems represent a widely used approach to study intrathymic development of T-cells under defined conditions
in vitro
. Here we describe a system in which mouse embryonic thymus lobes can be depleted of endogenous haemopoeitic elements by prior organ culture in 2-deoxyguanosine, a compound that is selectively toxic to haemopoeitic cells. As well as providing a readily accessible source of thymic stromal cells to investigate the role of thymic microenvironments in the development and selection of T-cells, this technique also underpins further experimental approaches that include the reconstitution of alymphoid thymus lobes
in vitro
with defined haemopoietic elements, the transplantation of alymphoid thymuses into recipient mice, and the formation of reaggregate thymus organ cultures. (This article is based on work first reported Methods in Molecular Biology 2007, Vol. 380 pages 185-196).
Immunology, Issue 18, Springer Protocols, Thymus, 2-dGuo, Thymus Organ Cultures, Immune Tolerance, Positive and Negative Selection, Lymphoid Development
906