ABSTRACT
Elastin-like polypeptides are repetitive biopolymers that exhibit a lower critical solution temperature phase transition behavior, existing as soluble unimers below a characteristic transition temperature and aggregating into micron-scale coacervates above their transition temperature. The design of elastin-like polypeptides at the genetic level permits precise control of their sequence and length, which dictates their thermal properties. Elastin-like polypeptides are used in a variety of applications including biosensing, tissue engineering, and drug delivery, where the transition temperature and biopolymer architecture of the ELP can be tuned for the specific application of interest. Furthermore, the lower critical solution temperature phase transition behavior of elastin-like polypeptides allows their purification by their thermal response, such that their selective coacervation and resolubilization allows the removal of both soluble and insoluble contaminants following expression in Escherichia coli. This approach can be used for the purification of elastin-like polypeptides alone or as a purification tool for peptide or protein fusions where recombinant peptides or proteins genetically appended to elastin-like polypeptide tags can be purified without chromatography. This protocol describes the purification of elastin-like polypeptides and their peptide or protein fusions and discusses basic characterization techniques to assess the thermal behavior of pure elastin-like polypeptide products.
21 Related JoVE Articles!
Formulation of Diblock Polymeric Nanoparticles through Nanoprecipitation Technique
Institutions: University of North Carolina School of Medicine, University of North Carolina .
Nanotechnology is a relatively new branch of science that involves harnessing the unique properties of particles that are nanometers in scale (nanoparticles). Nanoparticles can be engineered in a precise fashion where their size, composition and surface chemistry can be carefully controlled. This enables unprecedented freedom to modify some of the fundamental properties of their cargo, such as solubility, diffusivity, biodistribution, release characteristics and immunogenicity. Since their inception, nanoparticles have been utilized in many areas of science and medicine, including drug delivery, imaging, and cell biology
1-4
. However, it has not been fully utilized outside of "nanotechnology laboratories" due to perceived technical barrier. In this article, we describe a simple method to synthesize a polymer based nanoparticle platform that has a wide range of potential applications. The first step is to synthesize a diblock co-polymer that has both a hydrophobic domain and hydrophilic domain. Using PLGA and PEG as model polymers, we described a conjugation reaction using EDC/NHS chemistry
5
(Fig 1). We also discuss the polymer purification process. The synthesized diblock co-polymer can self-assemble into nanoparticles in the nanoprecipitation process through hydrophobic-hydrophilic interactions. The described polymer nanoparticle is very versatile. The hydrophobic core of the nanoparticle can be utilized to carry poorly soluble drugs for drug delivery experiments6. Furthermore, the nanoparticles can overcome the problem of toxic solvents for poorly soluble molecular biology reagents, such as wortmannin, which requires a solvent like DMSO. However, DMSO can be toxic to cells and interfere with the experiment. These poorly soluble drugs and reagents can be effectively delivered using polymer nanoparticles with minimal toxicity. Polymer nanoparticles can also be loaded with fluorescent dye and utilized for intracellular trafficking studies. Lastly, these polymer nanoparticles can be conjugated to targeting ligands through surface PEG. Such targeted nanoparticles can be utilized to label specific epitopes on or in cells
7-10
.
Bioengineering, Issue 55, Nanoparticles, nanomedicine, drug delivery, polymeric micelles, polymeric nanoparticles, diblock co-polymers, nanoplatform, nanoparticle molecular imaging, polymer conjugation.
3398
Ex Vivo Red Blood Cell Hemolysis Assay for the Evaluation of pH-responsive Endosomolytic Agents for Cytosolic Delivery of Biomacromolecular Drugs
Institutions: Vanderbilt University, Vanderbilt University, Vanderbilt University, Vanderbilt University Medical Center, Vanderbilt University, Vanderbilt University.
Phospholipid bilayers that constitute endo-lysosomal vesicles can pose a barrier to delivery of biologic drugs to intracellular targets. To overcome this barrier, a number of synthetic drug carriers have been engineered to actively disrupt the endosomal membrane and deliver cargo into the cytoplasm. Here, we describe the hemolysis assay, which can be used as rapid, high-throughput screen for the cytocompatibility and endosomolytic activity of intracellular drug delivery systems. In the hemolysis assay, human red blood cells and test materials are co-incubated in buffers at defined pHs that mimic extracellular, early endosomal, and late endo-lysosomal environments. Following a centrifugation step to pellet intact red blood cells, the amount of hemoglobin released into the medium is spectrophotometrically measured (405 nm for best dynamic range). The percent red blood cell disruption is then quantified relative to positive control samples lysed with a detergent. In this model system the erythrocyte membrane serves as a surrogate for the lipid bilayer membrane that enclose endo-lysosomal vesicles. The desired result is negligible hemolysis at physiologic pH (7.4) and robust hemolysis in the endo-lysosomal pH range from approximately pH 5-6.8.
Immunology, Issue 73, Cellular Biology, Medicine, Biomedical Engineering, Bioengineering, Cancer Biology, Molecular Biology, Erythrocytes, Endosomes, Small Interfering RNA, Gene Therapy, Nanomedicine, Gene delivery, Nanoparticles, Endosome Escape, Intracellular Trafficking, Cytosolic Drug Delivery, red blood cells, assay
50166
Slow-release Drug Delivery through Elvax 40W to the Rat Retina: Implications for the Treatment of Chronic Conditions
Institutions: University of L'Aquila, ARC Centre of Excellence in Vision Science, Australian National University, Australian National University.

Diseases of the retina are difficult to treat as the retina lies deep within the eye. Invasive methods of drug delivery are often needed to treat these diseases. Chronic retinal diseases such as retinal oedema or neovascularization usually require multiple intraocular injections to effectively treat the condition. However, the risks associated with these injections increase with repeated delivery of the drug. Therefore, alternative delivery methods need to be established in order to minimize the risks of reinjection. Several other investigations have developed methods to deliver drugs over extended time, through materials capable of releasing chemicals slowly into the eye. In this investigation, we outline the use of Elvax 40W, a copolymer resin, to act as a vehicle for drug delivery to the adult rat retina. The resin is made and loaded with the drug. The drug-resin complex is then implanted into the vitreous cavity, where it will slowly release the drug over time. This method was tested using 2-amino-4-phosphonobutyrate (APB), a glutamate analogue that blocks the light response of the retina. It was demonstrated that the APB was slowly released from the resin, and was able to block the retinal response by 7 days after implantation. This indicates that slow-release drug delivery using this copolymer resin is effective for treating the retina, and could be used therapeutically with further testing.
Medicine, Issue 91, slow-release drug delivery, Elvax 40W, co-polymer resin, eye, retina, rat, APB, retinal degeneration, treatment of chronic retinal conditions
51563
Generation of Alginate Microspheres for Biomedical Applications
Institutions: Illinois Institute of Technology, Illinois Institute of Technology, University of California at Irvine, Wake Forest University Health Sciences, Hines Veterans Administration Hospital.

Alginate-based materials have received considerable attention for biomedical applications because of their hydrophilic nature, biocompatibility, and physical architecture. Applications include cell encapsulation, drug delivery, stem cell culture, and tissue engineering scaffolds. In fact, clinical trials are currently being performed in which islets are encapsulated in PLO coated alginate microbeads as a treatment of type I diabetes. However, large numbers of islets are required for efficacy due to poor survival following transplantation. The ability to locally stimulate microvascular network formation around the encapsulated cells may increase their viability through improved transport of oxygen, glucose and other vital nutrients. Fibroblast growth factor-1 (FGF-1) is a naturally occurring growth factor that is able to stimulate blood vessel formation and improve oxygen levels in ischemic tissues. The efficacy of FGF-1 is enhanced when it is delivered in a sustained fashion rather than a single large-bolus administration. The local long-term release of growth factors from islet encapsulation systems could stimulate the growth of blood vessels directly towards the transplanted cells, potentially improving functional graft outcomes. In this article, we outline procedures for the preparation of alginate microspheres for use in biomedical applications. In addition, we describe a method we developed for generating multilayered alginate microbeads. Cells can be encapsulated in the inner alginate core, and angiogenic proteins in the outer alginate layer. The release of proteins from this outer layer would stimulate the formation of local microvascular networks directly towards the transplanted islets.
Medicine, Issue 66, Biomedical Engineering, Bioengineering, Chemical Engineering, Molecular Biology, Alginate, angiogenesis, FGF-1, encapsulation
3388
ECM Protein Nanofibers and Nanostructures Engineered Using Surface-initiated Assembly
Institutions: Carnegie Mellon University, Carnegie Mellon University.
The extracellular matrix (ECM) in tissues is synthesized and assembled by cells to form a 3D fibrillar, protein network with tightly regulated fiber diameter, composition and organization. In addition to providing structural support, the physical and chemical properties of the ECM play an important role in multiple cellular processes including adhesion, differentiation, and apoptosis.
In vivo
, the ECM is assembled by exposing cryptic self-assembly (fibrillogenesis) sites within proteins. This process varies for different proteins, but fibronectin (FN) fibrillogenesis is well-characterized and serves as a model system for cell-mediated ECM assembly. Specifically, cells use integrin receptors on the cell membrane to bind FN dimers and actomyosin-generated contractile forces to unfold and expose binding sites for assembly into insoluble fibers. This receptor-mediated process enables cells to assemble and organize the ECM from the cellular to tissue scales. Here, we present a method termed surface-initiated assembly (SIA), which recapitulates cell-mediated matrix assembly using protein-surface interactions to unfold ECM proteins and assemble them into insoluble fibers. First, ECM proteins are adsorbed onto a hydrophobic polydimethylsiloxane (PDMS) surface where they partially denature (unfold) and expose cryptic binding domains. The unfolded proteins are then transferred in well-defined micro- and nanopatterns through microcontact printing onto a thermally responsive poly(N-isopropylacrylamide) (PIPAAm) surface. Thermally-triggered dissolution of the PIPAAm leads to final assembly and release of insoluble ECM protein nanofibers and nanostructures with well-defined geometries. Complex architectures are possible by engineering defined patterns on the PDMS stamps used for microcontact printing. In addition to FN, the SIA process can be used with laminin, fibrinogen and collagens type I and IV to create multi-component ECM nanostructures. Thus, SIA can be used to engineer ECM protein-based materials with precise control over the protein composition, fiber geometry and scaffold architecture in order to recapitulate the structure and composition of the ECM
in vivo
.
Bioengineering, Issue 86, Nanofibers, Nanofabrics, Extracellular Matrix Proteins, Microcontact Printing, Fibronectin, Laminin, Tissue Engineering, poly(N-isopropylacrylamide), Surface-Initiated Assembly
51176
Gyroid Nickel Nanostructures from Diblock Copolymer Supramolecules
Institutions: University of Groningen, University of Groningen, ICTM - Center for Catalysis and Chemical Engineering.
Nanoporous metal foams possess a unique combination of properties - they are catalytically active, thermally and electrically conductive, and furthermore, have high porosity, high surface-to-volume and strength-to-weight ratio. Unfortunately, common approaches for preparation of metallic nanostructures render materials with highly disordered architecture, which might have an adverse effect on their mechanical properties. Block copolymers have the ability to self-assemble into ordered nanostructures and can be applied as templates for the preparation of well-ordered metal nanofoams. Here we describe the application of a block copolymer-based supramolecular complex - polystyrene-
block
-poly(4-vinylpyridine)(pentadecylphenol) PS-
b
-P4VP(PDP) - as a precursor for well-ordered nickel nanofoam. The supramolecular complexes exhibit a phase behavior similar to conventional block copolymers and can self-assemble into the bicontinuous gyroid morphology with two PS networks placed in a P4VP(PDP) matrix. PDP can be dissolved in ethanol leading to the formation of a porous structure that can be backfilled with metal. Using electroless plating technique, nickel can be inserted into the template's channels. Finally, the remaining polymer can be removed
via
pyrolysis from the polymer/inorganic nanohybrid resulting in nanoporous nickel foam with inverse gyroid morphology.
Chemistry, Issue 86, polymers, polymer matrix composites, foam materials, block copolymers, self-assembly, supramolecules, gyroid, nanoporous, electroless plating, metal nanofoams
50673
Particles without a Box: Brush-first Synthesis of Photodegradable PEG Star Polymers under Ambient Conditions
Institutions: Massachusetts Institute of Technology.

Convenient methods for the rapid, parallel synthesis of diversely functionalized nanoparticles will enable discovery of novel formulations for drug delivery, biological imaging, and supported catalysis. In this report, we demonstrate parallel synthesis of brush-arm star polymer (BASP) nanoparticles by the "brush-first" method. In this method, a norbornene-terminated poly(ethylene glycol) (PEG) macromonomer (PEG-MM) is first polymerized via ring-opening metathesis polymerization (ROMP) to generate a living brush macroinitiator. Aliquots of this initiator stock solution are added to vials that contain varied amounts of a photodegradable bis-norbornene crosslinker. Exposure to crosslinker initiates a series of kinetically-controlled brush+brush and star+star coupling reactions that ultimately yields BASPs with cores comprised of the crosslinker and coronas comprised of PEG. The final BASP size depends on the amount of crosslinker added. We carry out the synthesis of three BASPs on the benchtop with no special precautions to remove air and moisture. The samples are characterized by gel permeation chromatography (GPC); results agreed closely with our previous report that utilized inert (glovebox) conditions. Key practical features, advantages, and potential disadvantages of the brush-first method are discussed.
Chemistry, Issue 80, Chemical Engineering, Nanoparticles, Polymers, Drug Delivery Systems, Polymerization, polymers, Biomedical and Dental Materials, brush first, polyethylene glycol, photodegradable, ring opening metathesis polymerization, brush polymer, star polymer, drug delivery, gel permeation chromatography, arm first, core functional, photocleavable
50874
Bridging the Bio-Electronic Interface with Biofabrication
Institutions: University of Maryland , University of Maryland , University of Maryland .

Advancements in lab-on-a-chip technology promise to revolutionize both research and medicine through lower costs, better sensitivity, portability, and higher throughput. The incorporation of biological components onto biological microelectromechanical systems (bioMEMS) has shown great potential for achieving these goals. Microfabricated electronic chips allow for micrometer-scale features as well as an electrical connection for sensing and actuation. Functional biological components give the system the capacity for specific detection of analytes, enzymatic functions, and whole-cell capabilities. Standard microfabrication processes and bio-analytical techniques have been successfully utilized for decades in the computer and biological industries, respectively. Their combination and interfacing in a lab-on-a-chip environment, however, brings forth new challenges. There is a call for techniques that can build an interface between the electrode and biological component that is mild and is easy to fabricate and pattern. Biofabrication, described here, is one such approach that has shown great promise for its easy-to-assemble incorporation of biological components with versatility in the on-chip functions that are enabled. Biofabrication uses biological materials and biological mechanisms (self-assembly, enzymatic assembly) for bottom-up hierarchical assembly. While our labs have demonstrated these concepts in many formats
1,2,3
, here we demonstrate the assembly process based on electrodeposition followed by multiple applications of signal-based interactions. The assembly process consists of the electrodeposition of biocompatible stimuli-responsive polymer films on electrodes and their subsequent functionalization with biological components such as DNA, enzymes, or live cells
4,5
. Electrodeposition takes advantage of the pH gradient created at the surface of a biased electrode from the electrolysis of water
6,7
,. Chitosan and alginate are stimuli-responsive biological polymers that can be triggered to self-assemble into hydrogel films in response to imposed electrical signals
8
. The thickness of these hydrogels is determined by the extent to which the pH gradient extends from the electrode. This can be modified using varying current densities and deposition times
6,7
. This protocol will describe how chitosan films are deposited and functionalized by covalently attaching biological components to the abundant primary amine groups present on the film through either enzymatic or electrochemical methods
9,10
. Alginate films and their entrapment of live cells will also be addressed
11
. Finally, the utility of biofabrication is demonstrated through examples of signal-based interaction, including chemical-to-electrical, cell-to-cell, and also enzyme-to-cell signal transmission. Both the electrodeposition and functionalization can be performed under near-physiological conditions without the need for reagents and thus spare labile biological components from harsh conditions. Additionally, both chitosan and alginate have long been used for biologically-relevant purposes
12,13
. Overall, biofabrication, a rapid technique that can be simply performed on a benchtop, can be used for creating micron scale patterns of functional biological components on electrodes and can be used for a variety of lab-on-a-chip applications.
Bioengineering, Issue 64, Biomedical Engineering, electrodeposition, biofabrication, chitosan, alginate, lab-on-a-chip, microfluidic, DTRA
4231
Multi-Scale Modification of Metallic Implants With Pore Gradients, Polyelectrolytes and Their Indirect Monitoring In vivo
Institutions: INSERM, Hôpitaux Universitaires de Strasbourg, Université de Strasbourg.

Metallic implants, especially titanium implants, are widely used in clinical applications. Tissue in-growth and integration to these implants in the tissues are important parameters for successful clinical outcomes. In order to improve tissue integration, porous metallic implants have being developed. Open porosity of metallic foams is very advantageous, since the pore areas can be functionalized without compromising the mechanical properties of the whole structure. Here we describe such modifications using porous titanium implants based on titanium microbeads. By using inherent physical properties such as hydrophobicity of titanium, it is possible to obtain hydrophobic pore gradients within microbead based metallic implants and at the same time to have a basement membrane mimic based on hydrophilic, natural polymers. 3D pore gradients are formed by synthetic polymers such as Poly-L-lactic acid (PLLA) by freeze-extraction method. 2D nanofibrillar surfaces are formed by using collagen/alginate followed by a crosslinking step with a natural crosslinker (genipin). This nanofibrillar film was built up by layer by layer (LbL) deposition method of the two oppositely charged molecules, collagen and alginate. Finally, an implant where different areas can accommodate different cell types, as this is necessary for many multicellular tissues, can be obtained. By, this way cellular movement in different directions by different cell types can be controlled. Such a system is described for the specific case of trachea regeneration, but it can be modified for other target organs. Analysis of cell migration and the possible methods for creating different pore gradients are elaborated. The next step in the analysis of such implants is their characterization after implantation. However, histological analysis of metallic implants is a long and cumbersome process, thus for monitoring host reaction to metallic implants
in vivo
an alternative method based on monitoring CGA and different blood proteins is also described. These methods can be used for developing
in vitro
custom-made migration and colonization tests and also be used for analysis of functionalized metallic implants
in vivo
without histology.
Biomedical Engineering, Issue 77, Bioengineering, Medicine, Anatomy, Physiology, Biophysics, Cellular Biology, Molecular Biology, Materials Science, Biomedical and Dental Materials, Composite Materials, Metals and Metallic Materials, Engineering (General), Titanium, pore gradient, implant, in vivo, blood analysis, freeze-extraction, foams, implants, transplantation, clinical applications
50533
Ex vivo Mechanical Loading of Tendon
Institutions: University of California, Berkeley , University of California, San Francisco.

Injuries to the tendon (e.g., wrist tendonitis, epicondyltis) due to overuse are common in sports activities and the workplace. Most are associated with repetitive, high force hand activities. The mechanisms of cellular and structural damage due to cyclical loading are not well known. The purpose of this video is to present a new system that can simultaneously load four tendons in tissue culture. The video describes the methods of sterile tissue harvest and how the tendons are loaded onto a clamping system that is subsequently immersed into media and maintained at 37°C. One clamp is fixed while the other one is moved with a linear actuator. Tendon tensile force is monitored with a load cell in series with the mobile clamp. The actuators are controlled with a LabView program. The four tendons can be repetitively loaded with different patterns of loading, repetition rate, rate of loading, and duration. Loading can continue for a few minutes to 48 hours. At the end of loading, the tendons are removed and the mid-substance extracted for biochemical analyses. This system allows for the investigation of the effects of loading patterns on gene expression and structural changes in tendon. Ultimately, mechanisms of injury due to overuse can be studies with the findings applied to treatment and prevention.
Developmental biology, issue 4, tendon, tension
209
Hydrophobic Salt-modified Nafion for Enzyme Immobilization and Stabilization
Institutions: University of Utah .

Over the last decade, there has been a wealth of application for immobilized and stabilized enzymes including biocatalysis, biosensors, and biofuel cells.
1-3
In most bioelectrochemical applications, enzymes or organelles are immobilized onto an electrode surface with the use of some type of polymer matrix. This polymer scaffold should keep the enzymes stable and allow for the facile diffusion of molecules and ions in and out of the matrix. Most polymers used for this type of immobilization are based on polyamines or polyalcohols - polymers that mimic the natural environment of the enzymes that they encapsulate and stabilize the enzyme through hydrogen or ionic bonding. Another method for stabilizing enzymes involves the use of micelles, which contain hydrophobic regions that can encapsulate and stabilize enzymes.
4,5
In particular, the Minteer group has developed a micellar polymer based on commercially available Nafion.
6,7
Nafion itself is a micellar polymer that allows for the channel-assisted diffusion of protons and other small cations, but the micelles and channels are extremely small and the polymer is very acidic due to sulfonic acid side chains, which is unfavorable for enzyme immobilization. However, when Nafion is mixed with an excess of hydrophobic alkyl ammonium salts such as tetrabutylammonium bromide (TBAB), the quaternary ammonium cations replace the protons and become the counter ions to the sulfonate groups on the polymer side chains (
Figure 1
). This results in larger micelles and channels within the polymer that allow for the diffusion of large substrates and ions that are necessary for enzymatic function such as nicotinamide adenine dinucleotide (NAD). This modified Nafion polymer has been used to immobilize many different types of enzymes as well as mitochondria for use in biosensors and biofuel cells.
8-12
This paper describes a novel procedure for making this micellar polymer enzyme immobilization membrane that can stabilize enzymes. The synthesis of the micellar enzyme immobilization membrane, the procedure for immobilizing enzymes within the membrane, and the assays for studying enzymatic specific activity of the immobilized enzyme are detailed below.
Bioengineering, Issue 65, Materials Science, Chemical Engineering, enzyme immobilization, polymer modification, Nafion, enzyme stabilization, enzyme activity assays
3949
Combinatorial Synthesis of and High-throughput Protein Release from Polymer Film and Nanoparticle Libraries
Institutions: Iowa State University.

Polyanhydrides are a class of biomaterials with excellent biocompatibility and drug delivery capabilities. While they have been studied extensively with conventional one-sample-at-a-time synthesis techniques, a more recent high-throughput approach has been developed enabling the synthesis and testing of large libraries of polyanhydrides
1
. This will facilitate more efficient optimization and design process of these biomaterials for drug and vaccine delivery applications. The method in this work describes the combinatorial synthesis of biodegradable polyanhydride film and nanoparticle libraries and the high-throughput detection of protein release from these libraries. In this robotically operated method (
Figure 1
), linear actuators and syringe pumps are controlled by LabVIEW, which enables a hands-free automated protocol, eliminating user error. Furthermore, this method enables the rapid fabrication of micro-scale polymer libraries, reducing the batch size while resulting in the creation of multivariant polymer systems. This combinatorial approach to polymer synthesis facilitates the synthesis of up to 15 different polymers in an equivalent amount of time it would take to synthesize one polymer conventionally. In addition, the combinatorial polymer library can be fabricated into blank or protein-loaded geometries including films or nanoparticles upon dissolution of the polymer library in a solvent and precipitation into a non-solvent (for nanoparticles) or by vacuum drying (for films). Upon loading a fluorochrome-conjugated protein into the polymer libraries, protein release kinetics can be assessed at high-throughput using a fluorescence-based detection method (
Figures 2
and
3
) as described previously
1
. This combinatorial platform has been validated with conventional methods
2
and the polyanhydride film and nanoparticle libraries have been characterized with
1
H NMR and FTIR. The libraries have been screened for protein release kinetics, stability and antigenicity;
in vitro
cellular toxicity, cytokine production, surface marker expression, adhesion, proliferation and differentiation; and
in vivo
biodistribution and mucoadhesion
1-11
. The combinatorial method developed herein enables high-throughput polymer synthesis and fabrication of protein-loaded nanoparticle and film libraries, which can, in turn, be screened
in vitro
and
in vivo
for optimization of biomaterial performance.
Bioengineering, Issue 67, combinatorial, high-throughput, polymer synthesis, polyanhydrides, nanoparticle fabrication, release kinetics, protein delivery
3882
PLGA Nanoparticles Formed by Single- or Double-emulsion with Vitamin E-TPGS
Institutions: Barrow Neurological Institute.
Poly(lactic-co-glycolic acid) (PLGA) is a biocompatible member of the aliphatic polyester family of biodegradable polymers. PLGA has long been a popular choice for drug delivery applications, particularly since it is already FDA-approved for use in humans in the form of resorbable sutures. Hydrophobic and hydrophilic drugs are encapsulated in PLGA particles via single- or double-emulsion. Briefly, the drug is dissolved with polymer or emulsified with polymer in an organic phase that is then emulsified with the aqueous phase. After the solvent has evaporated, particles are washed and collected via centrifugation for lyophilization and long term storage. PLGA degrades slowly via hydrolysis in aqueous environments, and encapsulated agents are released over a period of weeks to months. Although PLGA is a material that possesses many advantages for drug delivery, reproducible formation of nanoparticles can be challenging; considerable variability is introduced by the use of different equipment, reagents batch, and precise method of emulsification. Here, we describe in great detail the formation and characterization of microparticles and nanoparticles formed by single- or double-emulsion using the emulsifying agent vitamin E-TPGS. Particle morphology and size are determined with scanning electron microscopy (SEM). We provide representative SEM images for nanoparticles produced with varying emulsifier concentration, as well as examples of imaging artifacts and failed emulsifications. This protocol can be readily adapted to use alternative emulsifiers (
e.g.
poly(vinyl alcohol), PVA) or solvents (
e.g.
 dichloromethane, DCM).
Chemistry, Issue 82, Nanoparticles, Microparticles, PLGA, TPGS, drug delivery, scanning electron microscopy, emulsion, polymers
51015
Reconstitution of a Kv Channel into Lipid Membranes for Structural and Functional Studies
Institutions: University of Texas Southwestern Medical Center at Dallas.

To study the lipid-protein interaction in a reductionistic fashion, it is necessary to incorporate the membrane proteins into membranes of well-defined lipid composition. We are studying the lipid-dependent gating effects in a prototype voltage-gated potassium (Kv) channel, and have worked out detailed procedures to reconstitute the channels into different membrane systems. Our reconstitution procedures take consideration of both detergent-induced fusion of vesicles and the fusion of protein/detergent micelles with the lipid/detergent mixed micelles as well as the importance of reaching an equilibrium distribution of lipids among the protein/detergent/lipid and the detergent/lipid mixed micelles. Our data suggested that the insertion of the channels in the lipid vesicles is relatively random in orientations, and the reconstitution efficiency is so high that no detectable protein aggregates were seen in fractionation experiments. We have utilized the reconstituted channels to determine the conformational states of the channels in different lipids, record electrical activities of a small number of channels incorporated in planar lipid bilayers, screen for conformation-specific ligands from a phage-displayed peptide library, and support the growth of 2D crystals of the channels in membranes. The reconstitution procedures described here may be adapted for studying other membrane proteins in lipid bilayers, especially for the investigation of the lipid effects on the eukaryotic voltage-gated ion channels.
Molecular Biology, Issue 77, Biochemistry, Genetics, Cellular Biology, Structural Biology, Biophysics, Membrane Lipids, Phospholipids, Carrier Proteins, Membrane Proteins, Micelles, Molecular Motor Proteins, life sciences, biochemistry, Amino Acids, Peptides, and Proteins, lipid-protein interaction, channel reconstitution, lipid-dependent gating, voltage-gated ion channel, conformation-specific ligands, lipids
50436
Measuring Material Microstructure Under Flow Using 1-2 Plane Flow-Small Angle Neutron Scattering
Institutions: University of Delaware, National Institute of Standards and Technology, Institut Laue-Langevin.

A new small-angle neutron scattering (SANS) sample environment optimized for studying the microstructure of complex fluids under simple shear flow is presented. The SANS shear cell consists of a concentric cylinder Couette geometry that is sealed and rotating about a horizontal axis so that the vorticity direction of the flow field is aligned with the neutron beam enabling scattering from the 1-2 plane of shear (velocity-velocity gradient, respectively). This approach is an advance over previous shear cell sample environments as there is a strong coupling between the bulk rheology and microstructural features in the 1-2 plane of shear. Flow-instabilities, such as shear banding, can also be studied by spatially resolved measurements. This is accomplished in this sample environment by using a narrow aperture for the neutron beam and scanning along the velocity gradient direction. Time resolved experiments, such as flow start-ups and large amplitude oscillatory shear flow are also possible by synchronization of the shear motion and time-resolved detection of scattered neutrons. Representative results using the methods outlined here demonstrate the useful nature of spatial resolution for measuring the microstructure of a wormlike micelle solution that exhibits shear banding, a phenomenon that can only be investigated by resolving the structure along the velocity gradient direction. Finally, potential improvements to the current design are discussed along with suggestions for supplementary experiments as motivation for future experiments on a broad range of complex fluids in a variety of shear motions.
Physics, Issue 84, Surfactants, Rheology, Shear Banding, Nanostructure, Neutron Scattering, Complex Fluids, Flow-induced Structure
51068
Synthesis of an Intein-mediated Artificial Protein Hydrogel
Institutions: Texas A&M University, College Station, Texas A&M University, College Station.

We present the synthesis of a highly stable protein hydrogel mediated by a split-intein-catalyzed protein
trans
-splicing reaction. The building blocks of this hydrogel are two protein block-copolymers each containing a subunit of a trimeric protein that serves as a crosslinker and one half of a split intein. A highly hydrophilic random coil is inserted into one of the block-copolymers for water retention. Mixing of the two protein block copolymers triggers an intein
trans
-splicing reaction, yielding a polypeptide unit with crosslinkers at either end that rapidly self-assembles into a hydrogel. This hydrogel is very stable under both acidic and basic conditions, at temperatures up to 50 °C, and in organic solvents. The hydrogel rapidly reforms after shear-induced rupture. Incorporation of a "docking station peptide" into the hydrogel building block enables convenient incorporation of "docking protein"-tagged target proteins. The hydrogel is compatible with tissue culture growth media, supports the diffusion of 20 kDa molecules, and enables the immobilization of bioactive globular proteins. The application of the intein-mediated protein hydrogel as an organic-solvent-compatible biocatalyst was demonstrated by encapsulating the horseradish peroxidase enzyme and corroborating its activity.
Bioengineering, Issue 83, split-intein, self-assembly, shear-thinning, enzyme, immobilization, organic synthesis
51202
Microwave-assisted Functionalization of Poly(ethylene glycol) and On-resin Peptides for Use in Chain Polymerizations and Hydrogel Formation
Institutions: University of Rochester, University of Rochester, University of Rochester Medical Center.

One of the main benefits to using poly(ethylene glycol) (PEG) macromers in hydrogel formation is synthetic versatility. The ability to draw from a large variety of PEG molecular weights and configurations (arm number, arm length, and branching pattern) affords researchers tight control over resulting hydrogel structures and properties, including Young's modulus and mesh size. This video will illustrate a rapid, efficient, solvent-free, microwave-assisted method to methacrylate PEG precursors into poly(ethylene glycol) dimethacrylate (PEGDM). This synthetic method provides much-needed starting materials for applications in drug delivery and regenerative medicine. The demonstrated method is superior to traditional methacrylation methods as it is significantly faster and simpler, as well as more economical and environmentally friendly, using smaller amounts of reagents and solvents. We will also demonstrate an adaptation of this technique for on-resin methacrylamide functionalization of peptides. This on-resin method allows the N-terminus of peptides to be functionalized with methacrylamide groups prior to deprotection and cleavage from resin. This allows for selective addition of methacrylamide groups to the N-termini of the peptides while amino acids with reactive side groups (
e.g.
 primary amine of lysine, primary alcohol of serine, secondary alcohols of threonine, and phenol of tyrosine) remain protected, preventing functionalization at multiple sites. This article will detail common analytical methods (proton Nuclear Magnetic Resonance spectroscopy (
;
H-NMR) and Matrix Assisted Laser Desorption Ionization Time of Flight mass spectrometry (MALDI-ToF)) to assess the efficiency of the functionalizations. Common pitfalls and suggested troubleshooting methods will be addressed, as will modifications of the technique which can be used to further tune macromer functionality and resulting hydrogel physical and chemical properties. Use of synthesized products for the formation of hydrogels for drug delivery and cell-material interaction studies will be demonstrated, with particular attention paid to modifying hydrogel composition to affect mesh size, controlling hydrogel stiffness and drug release.
Chemistry, Issue 80, Poly(ethylene glycol), peptides, polymerization, polymers, methacrylation, peptide functionalization, 1H-NMR, MALDI-ToF, hydrogels, macromer synthesis
50890
Inducing Plasticity of Astrocytic Receptors by Manipulation of Neuronal Firing Rates
Institutions: University of California Riverside, University of California Riverside, University of California Riverside.

Close to two decades of research has established that astrocytes
in situ
and
in vivo
express numerous G protein-coupled receptors (GPCRs) that can be stimulated by neuronally-released transmitter. However, the ability of astrocytic receptors to exhibit plasticity in response to changes in neuronal activity has received little attention. Here we describe a model system that can be used to globally scale up or down astrocytic group I metabotropic glutamate receptors (mGluRs) in acute brain slices. Included are methods on how to prepare parasagittal hippocampal slices, construct chambers suitable for long-term slice incubation, bidirectionally manipulate neuronal action potential frequency, load astrocytes and astrocyte processes with fluorescent Ca
2+
indicator, and measure changes in astrocytic Gq GPCR activity by recording spontaneous and evoked astrocyte Ca
2+
events using confocal microscopy. In essence, a "calcium roadmap" is provided for how to measure plasticity of astrocytic Gq GPCRs. Applications of the technique for study of astrocytes are discussed. Having an understanding of how astrocytic receptor signaling is affected by changes in neuronal activity has important implications for both normal synaptic function as well as processes underlying neurological disorders and neurodegenerative disease.
Neuroscience, Issue 85, astrocyte, plasticity, mGluRs, neuronal Firing, electrophysiology, Gq GPCRs, Bolus-loading, calcium, microdomains, acute slices, Hippocampus, mouse
51458
A Microplate Assay to Assess Chemical Effects on RBL-2H3 Mast Cell Degranulation: Effects of Triclosan without Use of an Organic Solvent
Institutions: University of Maine, Orono, University of Maine, Orono.

Mast cells play important roles in allergic disease and immune defense against parasites. Once activated (
e.g.
by an allergen), they degranulate, a process that results in the exocytosis of allergic mediators. Modulation of mast cell degranulation by drugs and toxicants may have positive or adverse effects on human health. Mast cell function has been dissected in detail with the use of rat basophilic leukemia mast cells (RBL-2H3), a widely accepted model of human mucosal mast cells
3-5
. Mast cell granule component and the allergic mediator β-hexosaminidase, which is released linearly in tandem with histamine from mast cells
6
, can easily and reliably be measured through reaction with a fluorogenic substrate, yielding measurable fluorescence intensity in a microplate assay that is amenable to high-throughput studies
1
. Originally published by Naal
et al.
1
, we have adapted this degranulation assay for the screening of drugs and toxicants and demonstrate its use here. Triclosan is a broad-spectrum antibacterial agent that is present in many consumer products and has been found to be a therapeutic aid in human allergic skin disease
7-11
, although the mechanism for this effect is unknown. Here we demonstrate an assay for the effect of triclosan on mast cell degranulation. We recently showed that triclosan strongly affects mast cell function
2
. In an effort to avoid use of an organic solvent, triclosan is dissolved directly into aqueous buffer with heat and stirring, and resultant concentration is confirmed using UV-Vis spectrophotometry (using ε
280
= 4,200 L/M/cm)
12
. This protocol has the potential to be used with a variety of chemicals to determine their effects on mast cell degranulation, and more broadly, their allergic potential.
Immunology, Issue 81, mast cell, basophil, degranulation, RBL-2H3, triclosan, irgasan, antibacterial, β-hexosaminidase, allergy, Asthma, toxicants, ionophore, antigen, fluorescence, microplate, UV-Vis
50671
Models and Methods to Evaluate Transport of Drug Delivery Systems Across Cellular Barriers
Institutions: University of Maryland, University of Maryland.

Sub-micrometer carriers (nanocarriers; NCs) enhance efficacy of drugs by improving solubility, stability, circulation time, targeting, and release. Additionally, traversing cellular barriers in the body is crucial for both oral delivery of therapeutic NCs into the circulation and transport from the blood into tissues, where intervention is needed. NC transport across cellular barriers is achieved by: (i) the paracellular route, via transient disruption of the junctions that interlock adjacent cells, or (ii) the transcellular route, where materials are internalized by endocytosis, transported across the cell body, and secreted at the opposite cell surface (transyctosis). Delivery across cellular barriers can be facilitated by coupling therapeutics or their carriers with targeting agents that bind specifically to cell-surface markers involved in transport. Here, we provide methods to measure the extent and mechanism of NC transport across a model cell barrier, which consists of a monolayer of gastrointestinal (GI) epithelial cells grown on a porous membrane located in a transwell insert. Formation of a permeability barrier is confirmed by measuring transepithelial electrical resistance (TEER), transepithelial transport of a control substance, and immunostaining of tight junctions. As an example, ~200 nm polymer NCs are used, which carry a therapeutic cargo and are coated with an antibody that targets a cell-surface determinant. The antibody or therapeutic cargo is labeled with
125
I for radioisotope tracing and labeled NCs are added to the upper chamber over the cell monolayer for varying periods of time. NCs associated to the cells and/or transported to the underlying chamber can be detected. Measurement of free
125
I allows subtraction of the degraded fraction. The paracellular route is assessed by determining potential changes caused by NC transport to the barrier parameters described above. Transcellular transport is determined by addressing the effect of modulating endocytosis and transcytosis pathways.
Bioengineering, Issue 80, Antigens, Enzymes, Biological Therapy, bioengineering (general), Pharmaceutical Preparations, Macromolecular Substances, Therapeutics, Digestive System and Oral Physiological Phenomena, Biological Phenomena, Cell Physiological Phenomena, drug delivery systems, targeted nanocarriers, transcellular transport, epithelial cells, tight junctions, transepithelial electrical resistance, endocytosis, transcytosis, radioisotope tracing, immunostaining
50638
Formation of Ordered Biomolecular Structures by the Self-assembly of Short Peptides
Institutions: The Hebrew University of Jerusalem.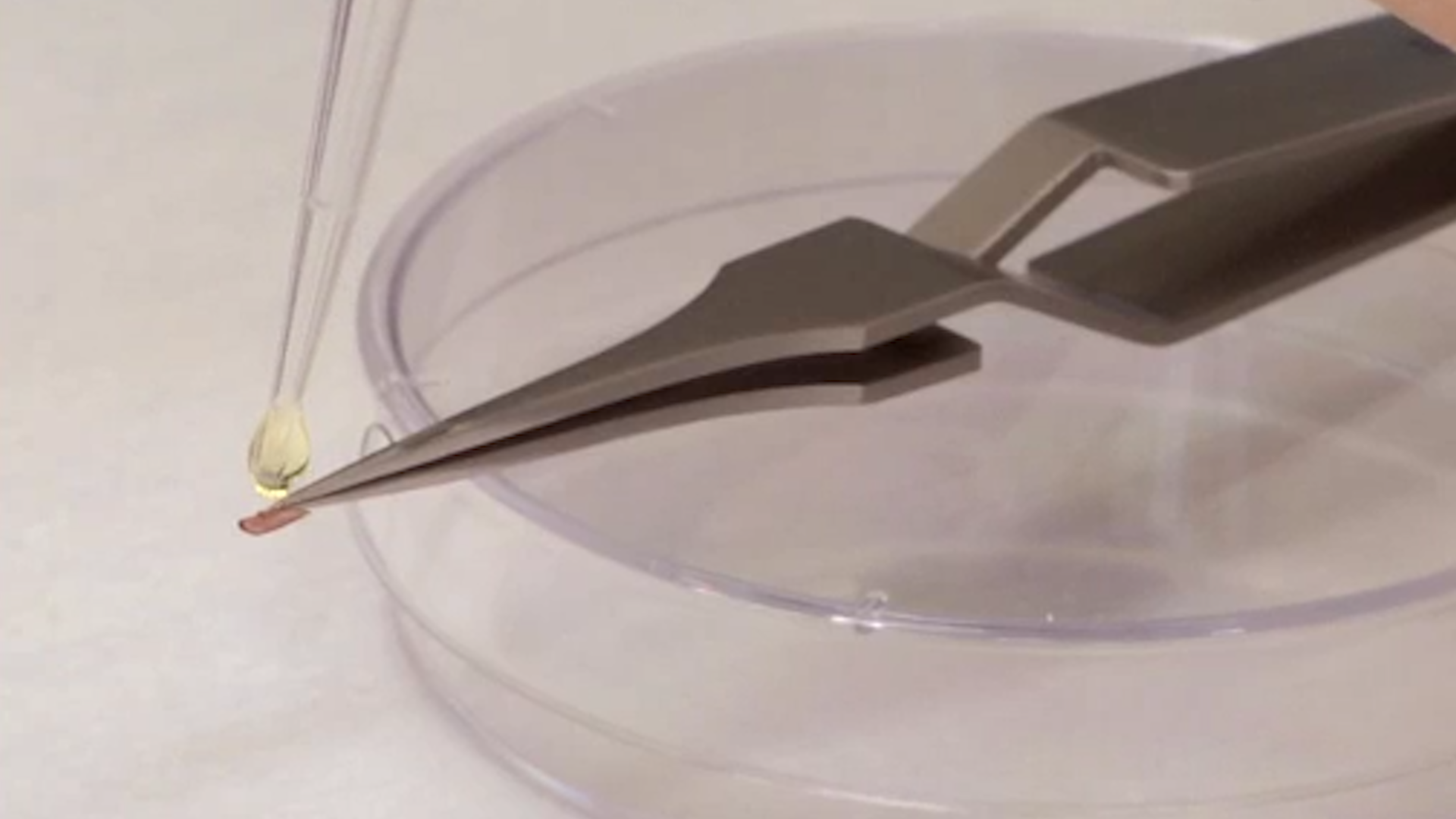 In nature, complex functional structures are formed by the self-assembly of biomolecules under mild conditions. Understanding the forces that control self-assembly and mimicking this process
in vitro
will bring about major advances in the areas of materials science and nanotechnology. Among the available biological building blocks, peptides have several advantages as they present substantial diversity, their synthesis in large scale is straightforward, and they can easily be modified with biological and chemical entities
1,2
. Several classes of designed peptides such as cyclic peptides, amphiphile peptides and peptide-conjugates self-assemble into ordered structures in solution. Homoaromatic dipeptides, are a class of short self-assembled peptides that contain all the molecular information needed to form ordered structures such as nanotubes, spheres and fibrils
3-8
. A large variety of these peptides is commercially available. This paper presents a procedure that leads to the formation of ordered structures by the self-assembly of homoaromatic peptides. The protocol requires only commercial reagents and basic laboratory equipment. In addition, the paper describes some of the methods available for the characterization of peptide-based assemblies. These methods include electron and atomic force microscopy and Fourier-Transform Infrared Spectroscopy (FT-IR). Moreover, the manuscript demonstrates the blending of peptides (coassembly) and the formation of a "beads on a string"-like structure by this process.
9
The protocols presented here can be adapted to other classes of peptides or biological building blocks and can potentially lead to the discovery of new peptide-based structures and to better control of their assembly.
Chemistry, Issue 81, Materials (General), self-assembly, peptides, diphenylalanine, atomatic interactions, coassembly, molecular recognition
50946