Analyzing Murine Schwann Cell Development Along Growing Axons
Published: 11-21-2012
ABSTRACT
The development of peripheral nerves is an intriguing process. Neurons send out axons to innervate specific targets, which in humans are often more than 100 cm away from the soma of the neuron. Neuronal survival during development depends on target-derived growth factors but also on the support of Schwann cells (SCs). To this end SC ensheath axons from the region of the neuronal soma (or the transition from central to peripheral nervous system) to the synapse or neuromuscular junction. Schwann cells are derivatives of the neural crest and migrate as precursors along emerging axons until the entire axon is covered with SCs. This shows the importance of SC migration for the development of the peripheral nervous system and underlines the necessity to investigate this process. In order to analyze SC development, a setup is needed which next to the SCs also includes their physiological substrate for migration, the axon. Due to intrauterine development in vivo time-lapse imaging, however, is not feasible in placental vertebrates like mouse (mus musculus). To circumvent this, we adapted the superior cervical ganglion (SCG) explant technique. Upon treatment with nerve growth factor (NGF) SCG explants extend axons, followed by SC precursors migrating along the axons from the ganglion to the periphery. The beauty of this system is that the SC are derived from a pool of endogenous SC and that they migrate along their own physiological axons which are growing at the same time. This system is especially intriguing, because the SC development along axons can be analyzed by time-lapse imaging, opening further possibilities to gain insights into SC migration.
24 Related JoVE Articles!
Genetic Study of Axon Regeneration with Cultured Adult Dorsal Root Ganglion Neurons
Institutions: Johns Hopkins University School of Medicine, Johns Hopkins University School of Medicine.

It is well known that mature neurons in the central nervous system (CNS) cannot regenerate their axons after injuries due to diminished intrinsic ability to support axon growth and a hostile environment in the mature CNS
1,2
. In contrast, mature neurons in the peripheral nervous system (PNS) regenerate readily after injuries
3
. Adult dorsal root ganglion (DRG) neurons are well known to regenerate robustly after peripheral nerve injuries. Each DRG neuron grows one axon from the cell soma, which branches into two axonal branches: a peripheral branch innervating peripheral targets and a central branch extending into the spinal cord. Injury of the DRG peripheral axons results in substantial axon regeneration, whereas central axons in the spinal cord regenerate poorly after the injury. However, if the peripheral axonal injury occurs prior to the spinal cord injury (a process called the conditioning lesion), regeneration of central axons is greatly improved
4
. Moreover, the central axons of DRG neurons share the same hostile environment as descending corticospinal axons in the spinal cord. Together, it is hypothesized that the molecular mechanisms controlling axon regeneration of adult DRG neurons can be harnessed to enhance CNS axon regeneration. As a result, adult DRG neurons are now widely used as a model system to study regenerative axon growth
5-7
. Here we describe a method of adult DRG neuron culture that can be used for genetic study of axon regeneration
in vitro
. In this model adult DRG neurons are genetically manipulated via electroporation-mediated gene transfection
6,8
. By transfecting neurons with DNA plasmid or si/shRNA, this approach enables both gain- and loss-of-function experiments to investigate the role of any gene-of-interest in axon growth from adult DRG neurons. When neurons are transfected with si/shRNA, the targeted endogenous protein is usually depleted after 3-4 days in culture, during which time robust axon growth has already occurred, making the loss-of-function studies less effective. To solve this problem, the method described here includes a re-suspension and re-plating step after transfection, which allows axons to re-grow from neurons in the absence of the targeted protein. Finally, we provide an example of using this
in vitro
model to study the role of an axon regeneration-associated gene, c-Jun, in mediating axon growth from adult DRG neurons
9
.
Neuroscience, Issue 66, Physiology, Developmental Biology, cell culture, axon regeneration, axon growth, dorsal root ganglion, spinal cord injury
4141
Lectin-based Isolation and Culture of Mouse Embryonic Motoneurons
Institutions: Ruhr-University Bochum, University of Wuerzburg.

Spinal motoneurons develop towards postmitotic stages through early embryonic nervous system development and subsequently grow out dendrites and axons. Neuroepithelial cells of the neural tube that express Nkx6.1 are the unique precursor cells for spinal motoneurons
1
. Though postmitotic motoneurons move towards their final position and organize themselves into columns along the spinal tract
2,3
. More than 90% of all these differentiated and positioned motoneurons express the transcription factors Islet 1/2. They innervate the muscles of the limbs as well as those of the body and the inner organs. Among others, motoneurons typically express the high affinity receptors for brain derived neurotrophic factor (BDNF) and Neurotrophin-3 (NT-3), the tropomyosin-related kinase B and C (TrkB, TrkC). They do not express the tropomyosin-related kinase A (TrkA)
4
. Beside the two high affinity receptors, motoneurons do express the low affinity neurotrophin receptor p75
NTR
. The p75
NTR
can bind all neurotrophins with similar but lower affinity to all neurotrophins than the high affinity receptors would bind the mature neurotrophins. Within the embryonic spinal cord, the p75
NTR
is exclusively expressed by the spinal motoneurons
5
. This has been used to develop motoneuron isolation techniques to purify the cells from the vast majority of surrounding cells
6
. Isolating motoneurons with the help of specific antibodies (panning) against the extracellular domains of p75
NTR
has turned out to be an expensive method as the amount of antibody used for a single experiment is high due to the size of the plate used for panning. A much more economical alternative is the use of lectin. Lectin has been shown to specifically bind to p75
NTR
as well
7
. The following method describes an alternative technique using wheat germ agglutinin for a preplating procedure instead of the p75
NTR
antibody. The lectin is an extremely inexpensive alternative to the p75
NTR
antibody and the purification grades using lectin are comparable to that of the p75
NTR
antibody. Motoneurons from the embryonic spinal cord can be isolated by this method, survive and grow out neurites.
Neuroscience, Issue 55, p75NTR, spinal cord, lectin, axon, dendrite
3200
Study Glial Cell Heterogeneity Influence on Axon Growth Using a New Coculture Method
Institutions: Cedars Sinai Medical Center, UCLA, Fourth Military Medical University, David Geffen School of Medicine, UCLA, Fourth Military Medical Univeristy.

In the central nervous system of all mammals, severed axons after injury are unable to regenerate to their original targets and functional recovery is very poor
1
. The failure of axon regeneration is a combined result of several factors including the hostile glial cell environment, inhibitory myelin related molecules and decreased intrinsic neuron regenerative capacity
2
. Astrocytes are the most predominant glial cell type in central nervous system and play important role in axon functions under physiology and pathology conditions
3
. Contrast to the homologous oligodendrocytes, astrocytes are a heterogeneous cell population composed by different astrocyte subpopulations with diverse morphologies and gene expression
4
. The functional significance of this heterogeneity, such as their influences on axon growth, is largely unknown. To study the glial cell, especially the function of astrocyte heterogeneity in neuron behavior, we established a new method by co-culturing high purified dorsal root ganglia neurons with glial cells obtained from the rat cortex. By this technique, we were able to directly compare neuron adhesion and axon growth on different astrocytes subpopulations under the same condition. In this report, we give the detailed protocol of this method for astrocytes isolation and culture, dorsal root ganglia neurons isolation and purification, and the co-culture of DRG neurons with astrocytes. This method could also be extended to other brain regions to study cellular or regional specific interaction between neurons and glial cells.
Neuroscience, Issue 43, Dorsal root ganglia, glial cell, heterogeneity, co-culture, regeneration, axon growth
2111
Reproducible Mouse Sciatic Nerve Crush and Subsequent Assessment of Regeneration by Whole Mount Muscle Analysis
Institutions: Temple University .

Regeneration in the peripheral nervous system (PNS) is widely studied both for its relevance to human disease and to understand the robust regenerative response mounted by PNS neurons thereby possibly illuminating the failures of CNS regeneration
1
. Sciatic nerve crush (axonotmesis) is one of the most common models of peripheral nerve injury in rodents
2
. Crushing interrupts all axons but Schwann cell basal laminae are preserved so that regeneration is optimal
3,4
. This allows the investigator to study precisely the ability of a growing axon to interact with both the Schwann cell and basal laminae
4
. Rats have generally been the preferred animal models for experimental nerve crush. They are widely available and their lesioned sciatic nerve provides a reasonable approximation of human nerve lesions
5,4
. Though smaller in size than rat nerve, the mouse nerve has many similar qualities. Most importantly though, mouse models are increasingly valuable because of the wide availability of transgenic lines now allows for a detailed dissection of the individual molecules critical for nerve regeneration
6, 7
. Prior investigators have used multiple methods to produce a nerve crush or injury including simple angled forceps, chilled forceps, hemostatic forceps, vascular clamps, and investigator-designed clamps
8,9,10,11,12
. Investigators have also used various methods of marking the injury site including suture, carbon particles and fluorescent beads
13,14,1
. We describe our method to obtain a reproducibly complete sciatic nerve crush with accurate and persistent marking of the crush-site using a fine hemostatic forceps and subsequent carbon crush-site marking. As part of our description of the sciatic nerve crush procedure we have also included a relatively simple method of muscle whole mount we use to subsequently quantify regeneration.
Neuroscience, Issue 60, Sciatic nerve crush, regeneration, neuromuscular junction, muscle whole mount, mouse
3606
Derivation of Enriched Oligodendrocyte Cultures and Oligodendrocyte/Neuron Myelinating Co-cultures from Post-natal Murine Tissues
Institutions: Ottawa Hospital Research Institute, University of Ottawa , Stony Brook University, University of Ottawa .

Identifying the molecular mechanisms underlying OL development is not only critical to furthering our knowledge of OL biology, but also has implications for understanding the pathogenesis of demyelinating diseases such as Multiple Sclerosis (MS). Cellular development is commonly studied with primary cell culture models. Primary cell culture facilitates the evaluation of a given cell type by providing a controlled environment, free of the extraneous variables that are present
in vivo
. While OL cultures derived from rats have provided a vast amount of insight into OL biology, similar efforts at establishing OL cultures from mice has been met with major obstacles. Developing methods to culture murine primary OLs is imperative in order to take advantage of the available transgenic mouse lines. Multiple methods for extraction of OPCs from rodent tissue have been described, ranging from neurosphere derivation, differential adhesion purification and immunopurification
1-3
. While many methods offer success, most require extensive culture times and/or costly equipment/reagents. To circumvent this, purifying OPCs from murine tissue with an adaptation of the method originally described by McCarthy & de Vellis
2
is preferred. This method involves physically separating OPCs from a mixed glial culture derived from neonatal rodent cortices. The result is a purified OPC population that can be differentiated into an OL-enriched culture. This approach is appealing due to its relatively short culture time and the unnecessary requirement for growth factors or immunopanning antibodies. While exploring the mechanisms of OL development in a purified culture is informative, it does not provide the most physiologically relevant environment for assessing myelin sheath formation. Co-culturing OLs with neurons would lend insight into the molecular underpinnings regulating OL-mediated myelination of axons. For many OL/neuron co-culture studies, dorsal root ganglion neurons (DRGNs) have proven to be the neuron type of choice. They are ideal for co-culture with OLs due to their ease of extraction, minimal amount of contaminating cells, and formation of dense neurite beds. While studies using rat/mouse myelinating xenocultures have been published
4-6
, a method for the derivation of such OL/DRGN myelinating co-cultures from post-natal murine tissue has not been described. Here we present detailed methods on how to effectively produce such cultures, along with examples of expected results. These methods are useful for addressing questions relevant to OL development/myelinating function, and are useful tools in the field of neuroscience.
Neuroscience, Issue 54, Oligodendrocyte, myelination, in vitro, dorsal root ganglion neuron, co-culture, primary cells, mouse, neuroscience
3324
Isolation and Culture of Mouse Cortical Astrocytes
Institutions: University of Freiburg , University of Freiburg .

Astrocytes are an abundant cell type in the mammalian brain, yet much remains to be learned about their molecular and functional characteristics.
In vitro
astrocyte cell culture systems can be used to study the biological functions of these glial cells in detail. This video protocol shows how to obtain pure astrocytes by isolation and culture of mixed cortical cells of mouse pups. The method is based on the absence of viable neurons and the separation of astrocytes, oligodendrocytes and microglia, the three main glial cell populations of the central nervous system, in culture. Representative images during the first days of culture demonstrate the presence of a mixed cell population and indicate the timepoint, when astrocytes become confluent and should be separated from microglia and oligodendrocytes. Moreover, we demonstrate purity and astrocytic morphology of cultured astrocytes using immunocytochemical stainings for well established and newly described astrocyte markers. This culture system can be easily used to obtain pure mouse astrocytes and astrocyte-conditioned medium for studying various aspects of astrocyte biology.
Neuroscience, Issue 71, Neurobiology, Cellular Biology, Medicine, Molecular Biology, Anatomy, Physiology, brain, mouse, astrocyte culture, astrocyte, fibroblast, fibrinogen, chondroitin sulfate proteoglycan, neuronal regeneration, cell culture, animal model
50079
Primary Culture of Human Vestibular Schwannomas
Institutions: University of Iowa Hospitals and Clinics.

Vestibular schwannomas (VSs) represent Schwann cell (SC) tumors of the vestibular nerve, compromising 10% of all intracranial neoplasms. VSs occur in either sporadic or familial (neurofibromatosis type 2, NF2) forms, both associated with inactivating defects in the NF2 tumor suppressor
gene. Treatment for VSs is generally surgical resection or radiosurgery, however the morbidity of such procedures has driven investigations into less invasive treatments. Historically, lack of access to fresh tissue specimens and the fact that schwannoma cells are not immortalized have significantly hampered the use of primary cultures for investigation of schwannoma tumorigenesis. To overcome the limited supply of primary cultures, the immortalized HEI193 VS cell line was generated by transduction with HPV E6 and E7 oncogenes. This oncogenic transduction introduced significant molecular and phenotypic alterations to the cells, which limit their use as a model for human schwannoma tumors. We therefore illustrate a simplified, reproducible protocol for culture of primary human VS cells. This easily mastered technique allows for molecular and cellular investigations that more accurately recapitulate the complexity of VS disease.
Medicine, Issue 89, Primary Vestibular Schwannoma, Cranial Nerve Schwannoma, Primary Acoustic Neuroma, Cell Culture
51093
Investigating Protein-protein Interactions in Live Cells Using Bioluminescence Resonance Energy Transfer
Institutions: Max Planck Institute for Psycholinguistics, Donders Institute for Brain, Cognition and Behaviour.

Assays based on Bioluminescence Resonance Energy Transfer (BRET) provide a sensitive and reliable means to monitor protein-protein interactions in live cells. BRET is the non-radiative transfer of energy from a 'donor' luciferase enzyme to an 'acceptor' fluorescent protein. In the most common configuration of this assay, the donor is
Renilla reniformis
luciferase and the acceptor is Yellow Fluorescent Protein (YFP). Because the efficiency of energy transfer is strongly distance-dependent, observation of the BRET phenomenon requires that the donor and acceptor be in close proximity. To test for an interaction between two proteins of interest in cultured mammalian cells, one protein is expressed as a fusion with luciferase and the second as a fusion with YFP. An interaction between the two proteins of interest may bring the donor and acceptor sufficiently close for energy transfer to occur. Compared to other techniques for investigating protein-protein interactions, the BRET assay is sensitive, requires little hands-on time and few reagents, and is able to detect interactions which are weak, transient, or dependent on the biochemical environment found within a live cell. It is therefore an ideal approach for confirming putative interactions suggested by yeast two-hybrid or mass spectrometry proteomics studies, and in addition it is well-suited for mapping interacting regions, assessing the effect of post-translational modifications on protein-protein interactions, and evaluating the impact of mutations identified in patient DNA.
Cellular Biology, Issue 87, Protein-protein interactions, Bioluminescence Resonance Energy Transfer, Live cell, Transfection, Luciferase, Yellow Fluorescent Protein, Mutations
51438
Motor Nerve Transection and Time-lapse Imaging of Glial Cell Behaviors in Live Zebrafish
Institutions: University of Virginia .

The nervous system is often described as a hard-wired component of the body even though it is a considerably fluid organ system that reacts to external stimuli in a consistent, stereotyped manner, while maintaining incredible flexibility and plasticity. Unlike the central nervous system (CNS), the peripheral nervous system (PNS) is capable of significant repair, but we have only just begun to understand the cellular and molecular mechanisms that govern this phenomenon. Using zebrafish as a model system, we have the unprecedented opportunity to couple regenerative studies with
in vivo
imaging and genetic manipulation. Peripheral nerves are composed of axons surrounded by layers of glia and connective tissue. Axons are ensheathed by myelinating or non-myelinating Schwann cells, which are in turn wrapped into a fascicle by a cellular sheath called the perineurium. Following an injury, adult peripheral nerves have the remarkable capacity to remove damaged axonal debris and re-innervate targets. To investigate the roles of all peripheral glia in PNS regeneration, we describe here an axon transection assay that uses a commercially available nitrogen-pumped dye laser to axotomize motor nerves in live transgenic zebrafish. We further describe the methods to couple these experiments to time-lapse imaging of injured and control nerves. This experimental paradigm can be used to not only assess the role that glia play in nerve regeneration, but can also be the platform for elucidating the molecular mechanisms that govern nervous system repair.
Neuroscience, Issue 76, Neurobiology, Cellular Biology, Molecular Biology, Genetics, Developmental Biology, Neuroglia, Zebrafish, Danio rerio, Nerve Regeneration, laser transection, nerve injury, glia, glial cell, in vivo imaging, imaging, nerves, embryos, CNS, PNS, confocal microscopy, microdissection, animal model
50621
Optic Nerve Transection: A Model of Adult Neuron Apoptosis in the Central Nervous System
Institutions: University of Toronto.

Retinal ganglion cells (RGCs) are CNS neurons that output visual information from the retina to the brain, via the optic nerve. The optic nerve can be accessed within the orbit of the eye and completely transected (axotomized), cutting the axons of the entire RGC population. Optic nerve transection is a reproducible model of apoptotic neuronal cell death in the adult CNS
1-4
. This model is particularly attractive because the vitreous chamber of the eye acts as a capsule for drug delivery to the retina, permitting experimental manipulations via intraocular injections. The diffusion of chemicals through the vitreous fluid ensures that they act upon the entire RGC population. Moreover, RGCs can be selectively transfected by applying short interfering RNAs (siRNAs), plasmids, or viral vectors to the cut end of the optic nerve
5-7
or injecting vectors into their target, the superior colliculus
8
. This allows researchers to study apoptotic mechanisms in the desired neuronal population without confounding effects on other bystander neurons or surrounding glia. An additional benefit is the ease and accuracy with which cell survival can be quantified after injury. The retina is a flat, layered tissue and RGCs are localized in the innermost layer, the ganglion cell layer. The survival of RGCs can be tracked over time by applying a fluorescent tracer (3% Fluorogold) to the cut end of the optic nerve at the time of axotomy, or by injecting the tracer into the superior colliculus (RGC target) one week prior to axotomy. The tracer is retrogradely transported, labeling the entire RGC population. Because the ganglion cell layer is a monolayer (one cell thick), RGC densities can be quantified in flat-mounted tissue, without the need for stereology. Optic nerve transection leads to the apoptotic death of 90% of injured RGCs within 14 days postaxotomy
9-11
. RGC apoptosis has a characteristic time-course whereby cell death is delayed 3-4 days postaxotomy, after which the cells rapidly degenerate. This provides a time window for experimental manipulations directed against pathways involved in apoptosis.
Neuroscience, issue 51, Central Nervous System, Retina, Apoptosis, Retinal Ganglion Cell, Axotomy, Optic Nerve Transection, Rat, Retrograde Labeling, Rat Model
2241
Combining Peripheral Nerve Grafting and Matrix Modulation to Repair the Injured Rat Spinal Cord
Institutions: Drexel University College of Medicine.

Traumatic injury to the spinal cord (SCI) causes death of neurons, disruption of motor and sensory nerve fiber (axon) pathways and disruption of communication with the brain. One of the goals of our research is to promote axon regeneration to restore connectivity across the lesion site. To accomplish this we developed a peripheral nerve (PN) grafting technique where segments of sciatic nerve are either placed directly between the damaged ends of the spinal cord or are used to form a bridge across the lesion. There are several advantages to this approach compared to transplantation of other neural tissues; regenerating axons can be directed towards a specific target area, the number and source of regenerating axons is easily determined by tracing techniques, the graft can be used for electrophysiological experiments to measure functional recovery associated with axons in the graft, and it is possible to use an autologous nerve to reduce the possibility of graft rejection. In our lab we have performed both autologous (donor and recipient are the same animal) and heterologous (donor and recipient are different animals) grafts with comparable results. This approach has been used successfully in both acute and chronic injury situations. Regenerated axons that reach the distal end of the PN graft often fail to extend back into the spinal cord, so we use microinjections of chondroitinase to degrade inhibitory molecules associated with the scar tissue surrounding the area of SCI. At the same time we have found that providing exogenous growth and trophic molecules encourages longer distance axonal regrowth into the spinal cord. Several months after transplantation we perform a variety of anatomical, behavioral and electrophysiological tests to evaluate the recovery of function in our spinal cord injured animals. This experimental approach has been used successfully in several spinal cord injury models, at different levels of injury and in different species (mouse, rat and cat). Importantly, the peripheral nerve grafting approach is effective in promoting regeneration by acute and chronically injured neurons.
Neurobiology, Issue 33, transplantation, SCI, regeneration, tract tracing, electrophysiology
1324
Dorsal Column Steerability with Dual Parallel Leads using Dedicated Power Sources: A Computational Model
Institutions: Neuromodulation.

In spinal cord stimulation (SCS), concordance of stimulation-induced paresthesia over painful body regions is a necessary condition for therapeutic efficacy. Since patient pain patterns can be unique, a common stimulation configuration is the placement of two leads in parallel in the dorsal epidural space. This construct provides flexibility in steering stimulation current mediolaterally over the dorsal column to achieve better pain-paresthesia overlap. Using a mathematical model with an accurate fiber diameter distribution, we studied the ability of dual parallel leads to steer stimulation between adjacent contacts on dual parallel leads using (1) a single source system, and (2) a multi-source system, with a dedicated current source for each contact. The volume conductor model of a low-thoracic spinal cord with epidurally-positioned dual parallel (2 mm separation) percutaneous leads was first created, and the electric field was calculated using ANSYS, a finite element modeling tool. The activating function for 10 um fibers was computed as the second difference of the extracellular potential along the nodes of Ranvier on the nerve fibers in the dorsal column. The volume of activation (VOA) and the central point of the VOA were computed using a predetermined threshold of the activating function. The model compared the field steering results with single source versus dedicated power source systems on dual 8-contact stimulation leads. The model predicted that the multi-source system can target more central points of stimulation on the dorsal column than a single source system (100 vs. 3) and the mean steering step for mediolateral steering is 0.02 mm for multi-source systems vs 1 mm for single source systems, a 50-fold improvement. The ability to center stimulation regions in the dorsal column with high resolution may allow for better optimization of paresthesia-pain overlap in patients.
Medicine, Issue 48, spinal cord stimulation, dorsal columns, current steering, field steering
2443
Sequential Photo-bleaching to Delineate Single Schwann Cells at the Neuromuscular Junction
Institutions: Technische Universität München, Technische Universität München, Technische Universität München, Technische Universität München.

Sequential photo-bleaching provides a non-invasive way to label individual SCs at the NMJ. The NMJ is the largest synapse of the mammalian nervous system and has served as guiding model to study synaptic structure and function. In mouse NMJs motor axon terminals form pretzel-like contact sites with muscle fibers. The motor axon and its terminal are sheathed by SCs. Over the past decades, several transgenic mice have been generated to visualize motor neurons and SCs, for example
Thy1
-XFP
1
and
Plp
-GFP mice
2
, respectively. Along motor axons, myelinating axonal SCs are arranged in non-overlapping internodes, separated by nodes of Ranvier, to enable saltatory action potential propagation. In contrast, terminal SCs at the synapse are specialized glial cells, which monitor and promote neurotransmission, digest debris and guide regenerating axons. NMJs are tightly covered by up to half a dozen non-myelinating terminal SCs - these, however, cannot be individually resolved by light microscopy, as they are in direct membrane contact
3
. Several approaches exist to individually visualize terminal SCs. None of these are flawless, though. For instance, dye filling, where single cells are impaled with a dye-filled microelectrode, requires destroying a labelled cell before filling a second one. This is not compatible with subsequent time-lapse recordings
3
. Multi-spectral "Brainbow" labeling of SCs has been achieved by using combinatorial expression of fluorescent proteins
4
. However, this technique requires combining several transgenes and is limited by the expression pattern of the promoters used. In the future, expression of "photo-switchable" proteins in SCs might be yet another alternative
5
. Here we present sequential photo-bleaching, where single cells are bleached, and their image obtained by subtraction. We believe that this approach - due to its ease and versatility - represents a lasting addition to the neuroscientist's technology palette, especially as it can be used
in vivo
and transferred to others cell types, anatomical sites or species
6
. In the following protocol, we detail the application of sequential bleaching and subsequent confocal time-lapse microscopy to terminal SCs in triangularis sterni muscle explants. This thin, superficial and easily dissected nerve-muscle preparation
7,8
has proven useful for studies of NMJ development, physiology and pathology
9
. Finally, we explain how the triangularis sterni muscle is prepared after fixation to perform correlated high-resolution confocal imaging, immunohistochemistry or ultrastructural examinations.
Neuroscience, Issue 71, Cellular Biology, Molecular Biology, Neurobiology, Immunology, Medicine, Anatomy, Physiology, Surgery, Triangularis sterni, explant, Schwann cells, imaging, neuromuscular junction, immunohistochemistry, bleaching, muscle, nerve, mouse, animal model
4460
Growing Neural Stem Cells from Conventional and Nonconventional Regions of the Adult Rodent Brain
Institutions: University of Dresden, Center for Regerative Therapies Dresden.
Recent work demonstrates that central nervous system (CNS) regeneration and tumorigenesis involves populations of stem cells (SCs) resident within the adult brain. However, the mechanisms these normally quiescent cells employ to ensure proper functioning of neural networks, as well as their role in recovery from injury and mitigation of neurodegenerative processes are little understood. These cells reside in regions referred to as "niches" that provide a sustaining environment involving modulatory signals from both the vascular and immune systems. The isolation, maintenance, and differentiation of CNS SCs under defined culture conditions which exclude unknown factors, makes them accessible to treatment by pharmacological or genetic means, thus providing insight into their
in vivo
behavior. Here we offer detailed information on the methods for generating cultures of CNS SCs from distinct regions of the adult brain and approaches to assess their differentiation potential into neurons, astrocytes, and oligodendrocytes
in vitro
. This technique yields a homogeneous cell population as a monolayer culture that can be visualized to study individual SCs and their progeny. Furthermore, it can be applied across different animal model systems and clinical samples, being used previously to predict regenerative responses in the damaged adult nervous system.
Neuroscience, Issue 81, adult neural stem cells, proliferation, differentiation, cell culture, growth factors
50880
Analysis of Schwann-astrocyte Interactions Using In Vitro Assays
Institutions: University of Cambridge.

Schwann cells are one of the commonly used cells in repair strategies following spinal cord injuries. Schwann cells are capable of supporting axonal regeneration and sprouting by secreting growth factors
1,2
and providing growth promoting adhesion molecules
3
and extracellular matrix molecules
4
. In addition they myelinate the demyelinated axons at the site of injury
5
. However following transplantation, Schwann cells do not migrate from the site of implant and do not intermingle with the host astrocytes
6,7
. This results in formation of a sharp boundary between the Schwann cells and astrocytes, creating an obstacle for growing axons trying to exit the graft back into the host tissue proximally and distally. Astrocytes in contact with Schwann cells also undergo hypertrophy and up-regulate the inhibitory molecules
8-13
.
In vitro
assays have been used to model Schwann cell-astrocyte interactions and have been important in understanding the mechanism underlying the cellular behaviour. These
in vitro
assays include boundary assay, where a co-culture is made using two different cells with each cell type occupying different territories with only a small gap separating the two cell fronts. As the cells divide and migrate, the two cellular fronts get closer to each other and finally collide. This allows the behaviour of the two cellular populations to be analyzed at the boundary. Another variation of the same technique is to mix the two cellular populations in culture and over time the two cell types segregate with Schwann cells clumped together as islands in between astrocytes together creating multiple Schwann-astrocyte boundaries. The second assay used in studying the interaction of two cell types is the migration assay where cellular movement can be tracked on the surface of the other cell type monolayer
14,15
. This assay is commonly known as inverted coverslip assay. Schwann cells are cultured on small glass fragments and they are inverted face down onto the surface of astrocyte monolayers and migration is assessed from the edge of coverslip. Both assays have been instrumental in studying the underlying mechanisms involved in the cellular exclusion and boundary formation. Some of the molecules identified using these techniques include N-Cadherins 15, Chondroitin Sulphate proteoglycans(CSPGs)
16,17
, FGF/Heparin
18
, Eph/Ephrins
19
. This article intends to describe boundary assay and migration assay in stepwise fashion and elucidate the possible technical problems that might occur.
Cellular Biology, Issue 47, Schwann cell, astrocyte, boundary, migration, repulsion
2214
An Ex Vivo Laser-induced Spinal Cord Injury Model to Assess Mechanisms of Axonal Degeneration in Real-time
Institutions: University of Louisville, University of Calgary.

Injured CNS axons fail to regenerate and often retract away from the injury site. Axons spared from the initial injury may later undergo secondary axonal degeneration. Lack of growth cone formation, regeneration, and loss of additional myelinated axonal projections within the spinal cord greatly limits neurological recovery following injury. To assess how central myelinated axons of the spinal cord respond to injury, we developed an
ex vivo
living spinal cord model utilizing transgenic mice that express yellow fluorescent protein in axons and a focal and highly reproducible laser-induced spinal cord injury to document the fate of axons and myelin (lipophilic fluorescent dye Nile Red) over time using two-photon excitation time-lapse microscopy. Dynamic processes such as acute axonal injury, axonal retraction, and myelin degeneration are best studied in real-time. However, the non-focal nature of contusion-based injuries and movement artifacts encountered during
in vivo
spinal cord imaging make differentiating primary and secondary axonal injury responses using high resolution microscopy challenging. The
ex vivo
spinal cord model described here mimics several aspects of clinically relevant contusion/compression-induced axonal pathologies including axonal swelling, spheroid formation, axonal transection, and peri-axonal swelling providing a useful model to study these dynamic processes in real-time. Major advantages of this model are excellent spatiotemporal resolution that allows differentiation between the primary insult that directly injures axons and secondary injury mechanisms; controlled infusion of reagents directly to the perfusate bathing the cord; precise alterations of the environmental milieu (
e.g.,
calcium, sodium ions, known contributors to axonal injury, but near impossible to manipulate
in vivo
); and murine models also offer an advantage as they provide an opportunity to visualize and manipulate genetically identified cell populations and subcellular structures. Here, we describe how to isolate and image the living spinal cord from mice to capture dynamics of acute axonal injury.
Neuroscience, Issue 93, spinal cord injury, axon, myelin, two-photon excitation microscopy, Nile Red, axonal degeneration, axonal dieback, axonal retraction
52173
Modeling Neural Immune Signaling of Episodic and Chronic Migraine Using Spreading Depression In Vitro
Institutions: The University of Chicago Medical Center, The University of Chicago Medical Center.

Migraine and its transformation to chronic migraine are healthcare burdens in need of improved treatment options. We seek to define how neural immune signaling modulates the susceptibility to migraine, modeled
in vitro
using spreading depression (SD), as a means to develop novel therapeutic targets for episodic and chronic migraine. SD is the likely cause of migraine aura and migraine pain. It is a paroxysmal loss of neuronal function triggered by initially increased neuronal activity, which slowly propagates within susceptible brain regions. Normal brain function is exquisitely sensitive to, and relies on, coincident low-level immune signaling. Thus, neural immune signaling likely affects electrical activity of SD, and therefore migraine. Pain perception studies of SD in whole animals are fraught with difficulties, but whole animals are well suited to examine systems biology aspects of migraine since SD activates trigeminal nociceptive pathways. However, whole animal studies alone cannot be used to decipher the cellular and neural circuit mechanisms of SD. Instead,
in vitro
preparations where environmental conditions can be controlled are necessary. Here, it is important to recognize limitations of acute slices and distinct advantages of hippocampal slice cultures. Acute brain slices cannot reveal subtle changes in immune signaling since preparing the slices alone triggers: pro-inflammatory changes that last days, epileptiform behavior due to high levels of oxygen tension needed to vitalize the slices, and irreversible cell injury at anoxic slice centers. In contrast, we examine immune signaling in mature hippocampal slice cultures since the cultures closely parallel their
in vivo
counterpart with mature trisynaptic function; show quiescent astrocytes, microglia, and cytokine levels; and SD is easily induced in an unanesthetized preparation. Furthermore, the slices are long-lived and SD can be induced on consecutive days without injury, making this preparation the sole means to-date capable of modeling the neuroimmune consequences of chronic SD, and thus perhaps chronic migraine. We use electrophysiological techniques and non-invasive imaging to
measure
neuronal cell and circuit functions coincident with SD. Neural immune gene expression variables are measured with qPCR screening, qPCR arrays, and, importantly, use of cDNA preamplification for detection of ultra-low level targets such as interferon-gamma using whole, regional, or specific cell enhanced (via laser dissection microscopy) sampling. Cytokine cascade signaling is further assessed with multiplexed phosphoprotein related targets with gene expression and phosphoprotein changes confirmed via cell-specific immunostaining. Pharmacological and siRNA strategies are used to
mimic
and
modulate
SD immune signaling.
Neuroscience, Issue 52, innate immunity, hormesis, microglia, T-cells, hippocampus, slice culture, gene expression, laser dissection microscopy, real-time qPCR, interferon-gamma
2910
Modeling Astrocytoma Pathogenesis In Vitro and In Vivo Using Cortical Astrocytes or Neural Stem Cells from Conditional, Genetically Engineered Mice
Institutions: University of North Carolina School of Medicine, University of North Carolina School of Medicine, University of North Carolina School of Medicine, University of North Carolina School of Medicine, University of North Carolina School of Medicine, Emory University School of Medicine, University of North Carolina School of Medicine.

Current astrocytoma models are limited in their ability to define the roles of oncogenic mutations in specific brain cell types during disease pathogenesis and their utility for preclinical drug development. In order to design a better model system for these applications, phenotypically wild-type cortical astrocytes and neural stem cells (NSC) from conditional, genetically engineered mice (GEM) that harbor various combinations of floxed oncogenic alleles were harvested and grown in culture. Genetic recombination was induced
in vitro
using adenoviral Cre-mediated recombination, resulting in expression of mutated oncogenes and deletion of tumor suppressor genes. The phenotypic consequences of these mutations were defined by measuring proliferation, transformation, and drug response
in vitro
. Orthotopic allograft models, whereby transformed cells are stereotactically injected into the brains of immune-competent, syngeneic littermates, were developed to define the role of oncogenic mutations and cell type on tumorigenesis
in vivo
. Unlike most established human glioblastoma cell line xenografts, injection of transformed GEM-derived cortical astrocytes into the brains of immune-competent littermates produced astrocytomas, including the most aggressive subtype, glioblastoma, that recapitulated the histopathological hallmarks of human astrocytomas, including diffuse invasion of normal brain parenchyma. Bioluminescence imaging of orthotopic allografts from transformed astrocytes engineered to express luciferase was utilized to monitor
in vivo
tumor growth over time. Thus, astrocytoma models using astrocytes and NSC harvested from GEM with conditional oncogenic alleles provide an integrated system to study the genetics and cell biology of astrocytoma pathogenesis
in vitro
and
in vivo
and may be useful in preclinical drug development for these devastating diseases.
Neuroscience, Issue 90, astrocytoma, cortical astrocytes, genetically engineered mice, glioblastoma, neural stem cells, orthotopic allograft
51763
Setting-up an In Vitro Model of Rat Blood-brain Barrier (BBB): A Focus on BBB Impermeability and Receptor-mediated Transport
Institutions: VECT-HORUS SAS, CNRS, NICN UMR 7259.

The blood brain barrier (BBB) specifically regulates molecular and cellular flux between the blood and the nervous tissue. Our aim was to develop and characterize a highly reproducible rat syngeneic
in vitro
model of the BBB using co-cultures of primary rat brain endothelial cells (RBEC) and astrocytes to study receptors involved in transcytosis across the endothelial cell monolayer. Astrocytes were isolated by mechanical dissection following trypsin digestion and were frozen for later co-culture. RBEC were isolated from 5-week-old rat cortices. The brains were cleaned of meninges and white matter, and mechanically dissociated following enzymatic digestion. Thereafter, the tissue homogenate was centrifuged in bovine serum albumin to separate vessel fragments from nervous tissue. The vessel fragments underwent a second enzymatic digestion to free endothelial cells from their extracellular matrix. The remaining contaminating cells such as pericytes were further eliminated by plating the microvessel fragments in puromycin-containing medium. They were then passaged onto filters for co-culture with astrocytes grown on the bottom of the wells. RBEC expressed high levels of tight junction (TJ) proteins such as occludin, claudin-5 and ZO-1 with a typical localization at the cell borders. The transendothelial electrical resistance (TEER) of brain endothelial monolayers, indicating the tightness of TJs reached 300 ohm·cm
2
on average. The endothelial permeability coefficients (Pe) for lucifer yellow (LY) was highly reproducible with an average of 0.26 ± 0.11 x 10
-3
cm/min. Brain endothelial cells organized in monolayers expressed the efflux transporter P-glycoprotein (P-gp), showed a polarized transport of rhodamine 123, a ligand for P-gp, and showed specific transport of transferrin-Cy3 and DiILDL across the endothelial cell monolayer. In conclusion, we provide a protocol for setting up an
in vitro
BBB model that is highly reproducible due to the quality assurance methods, and that is suitable for research on BBB transporters and receptors.
Medicine, Issue 88, rat brain endothelial cells (RBEC), mouse, spinal cord, tight junction (TJ), receptor-mediated transport (RMT), low density lipoprotein (LDL), LDLR, transferrin, TfR, P-glycoprotein (P-gp), transendothelial electrical resistance (TEER),
51278
Identifying DNA Mutations in Purified Hematopoietic Stem/Progenitor Cells
Institutions: UT Health Science Center at San Antonio, UT Health Science Center at San Antonio, UT Health Science Center at San Antonio, UT Health Science Center at San Antonio, UT Health Science Center at San Antonio.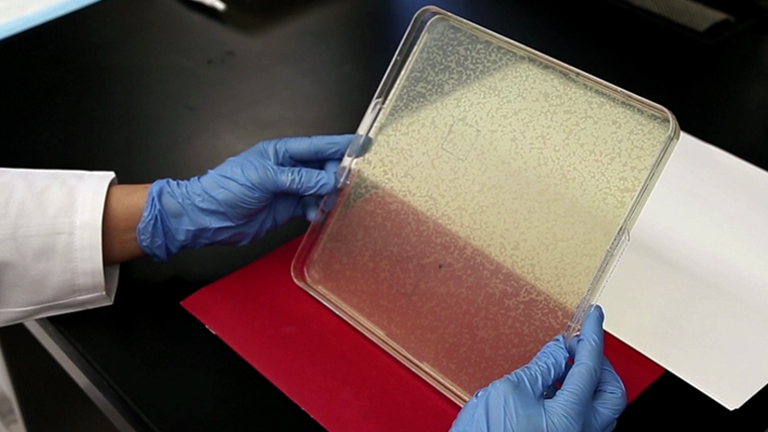 In recent years, it has become apparent that genomic instability is tightly related to many developmental disorders, cancers, and aging. Given that stem cells are responsible for ensuring tissue homeostasis and repair throughout life, it is reasonable to hypothesize that the stem cell population is critical for preserving genomic integrity of tissues. Therefore, significant interest has arisen in assessing the impact of endogenous and environmental factors on genomic integrity in stem cells and their progeny, aiming to understand the etiology of stem-cell based diseases.
LacI
transgenic mice carry a recoverable λ phage vector encoding the
LacI
reporter system, in which the
LacI
gene serves as the mutation reporter. The result of a mutated
LacI
gene is the production of β-galactosidase that cleaves a chromogenic substrate, turning it blue. The
LacI
reporter system is carried in all cells, including stem/progenitor cells and can easily be recovered and used to subsequently infect
E. coli
. After incubating infected
E. coli
on agarose that contains the correct substrate, plaques can be scored; blue plaques indicate a mutant
LacI
gene, while clear plaques harbor wild-type. The frequency of blue (among clear) plaques indicates the mutant frequency in the original cell population the DNA was extracted from. Sequencing the mutant
LacI
gene will show the location of the mutations in the gene and the type of mutation. The
LacI
transgenic mouse model is well-established as an
in vivo
mutagenesis assay. Moreover, the mice and the reagents for the assay are commercially available. Here we describe in detail how this model can be adapted to measure the frequency of spontaneously occurring DNA mutants in stem cell-enriched Lin
-
IL7R
-
Sca-1
+
cKit
++
(LSK) cells and other subpopulations of the hematopoietic system.
Infection, Issue 84, In vivo mutagenesis, hematopoietic stem/progenitor cells, LacI mouse model, DNA mutations, E. coli
50752
Promotion of Survival and Differentiation of Neural Stem Cells with Fibrin and Growth Factor Cocktails after Severe Spinal Cord Injury
Institutions: Veterans Administration Medical Center, San Diego, University of California, San Diego.

Neural stem cells (NSCs) can self-renew and differentiate into neurons and glia. Transplanted NSCs can replace lost neurons and glia after spinal cord injury (SCI), and can form functional relays to re-connect spinal cord segments above and below a lesion. Previous studies grafting neural stem cells have been limited by incomplete graft survival within the spinal cord lesion cavity. Further, tracking of graft cell survival, differentiation, and process extension had not been optimized. Finally, in previous studies, cultured rat NSCs were typically reported to differentiate into glia when grafted to the injured spinal cord, rather than neurons, unless fate was driven to a specific cell type. To address these issues, we developed new methods to improve the survival, integration and differentiation of NSCs to sites of even severe SCI. NSCs were freshly isolated from embryonic day 14 spinal cord (E14) from a stable transgenic Fischer 344 rat line expressing green fluorescent protein (GFP) and were embedded into a fibrin matrix containing growth factors; this formulation aimed to retain grafted cells in the lesion cavity and support cell survival. NSCs in the fibrin/growth factor cocktail were implanted two weeks after thoracic level-3 (T3) complete spinal cord transections, thereby avoiding peak periods of inflammation. Resulting grafts completely filled the lesion cavity and differentiated into both neurons, which extended axons into the host spinal cord over remarkably long distances, and glia. Grafts of cultured human NSCs expressing GFP resulted in similar findings. Thus, methods are defined for improving neural stem cell grafting, survival and analysis of
in vivo
findings.
Neuroscience, Issue 89, nervous system diseases, wounds and injuries, biological factors, therapeutics, surgical procedures, neural stem cells, transplantation, spinal cord injury, fibrin, growth factors
50641
Inhibitory Synapse Formation in a Co-culture Model Incorporating GABAergic Medium Spiny Neurons and HEK293 Cells Stably Expressing GABAA Receptors
Institutions: University College London.

Inhibitory neurons act in the central nervous system to regulate the dynamics and spatio-temporal co-ordination of neuronal networks. GABA (γ-aminobutyric acid) is the predominant inhibitory neurotransmitter in the brain. It is released from the presynaptic terminals of inhibitory neurons within highly specialized intercellular junctions known as synapses, where it binds to GABA
A
receptors (GABA
A
Rs) present at the plasma membrane of the synapse-receiving, postsynaptic neurons. Activation of these GABA-gated ion channels leads to influx of chloride resulting in postsynaptic potential changes that decrease the probability that these neurons will generate action potentials. During development, diverse types of inhibitory neurons with distinct morphological, electrophysiological and neurochemical characteristics have the ability to recognize their target neurons and form synapses which incorporate specific GABA
A
Rs subtypes. This principle of selective innervation of neuronal targets raises the question as to how the appropriate synaptic partners identify each other. To elucidate the underlying molecular mechanisms, a novel
in vitro
co-culture model system was established, in which medium spiny GABAergic neurons, a highly homogenous population of neurons isolated from the embryonic striatum, were cultured with stably transfected HEK293 cell lines that express different GABA
A
R subtypes. Synapses form rapidly, efficiently and selectively in this system, and are easily accessible for quantification. Our results indicate that various GABA
A
R subtypes differ in their ability to promote synapse formation, suggesting that this reduced
in vitro
model system can be used to reproduce, at least in part, the
in vivo
conditions required for the recognition of the appropriate synaptic partners and formation of specific synapses. Here the protocols for culturing the medium spiny neurons and generating HEK293 cells lines expressing GABA
A
Rs are first described, followed by detailed instructions on how to combine these two cell types in co-culture and analyze the formation of synaptic contacts.
Neuroscience, Issue 93, Developmental neuroscience, synaptogenesis, synaptic inhibition, co-culture, stable cell lines, GABAergic, medium spiny neurons, HEK 293 cell line
52115
FtsZ Polymerization Assays: Simple Protocols and Considerations
Institutions: University of Groningen.

During bacterial cell division, the essential protein FtsZ assembles in the middle of the cell to form the so-called Z-ring. FtsZ polymerizes into long filaments in the presence of GTP
in vitro
, and polymerization is regulated by several accessory proteins. FtsZ polymerization has been extensively studied
in vitro
using basic methods including light scattering, sedimentation, GTP hydrolysis assays and electron microscopy. Buffer conditions influence both the polymerization properties of FtsZ, and the ability of FtsZ to interact with regulatory proteins. Here, we describe protocols for FtsZ polymerization studies and validate conditions and controls using
Escherichia coli
and
Bacillus subtilis
FtsZ as model proteins. A low speed sedimentation assay is introduced that allows the study of the interaction of FtsZ with proteins that bundle or tubulate FtsZ polymers. An improved GTPase assay protocol is described that allows testing of GTP hydrolysis over time using various conditions in a 96-well plate setup, with standardized incubation times that abolish variation in color development in the phosphate detection reaction. The preparation of samples for light scattering studies and electron microscopy is described. Several buffers are used to establish suitable buffer pH and salt concentration for FtsZ polymerization studies. A high concentration of KCl is the best for most of the experiments. Our methods provide a starting point for the
in vitro
characterization of FtsZ, not only from
E. coli
and
B. subtilis
but from any other bacterium. As such, the methods can be used for studies of the interaction of FtsZ with regulatory proteins or the testing of antibacterial drugs which may affect FtsZ polymerization.
Basic Protocols, Issue 81, FtsZ, protein polymerization, cell division, GTPase, sedimentation assay, light scattering
50844
A Protocol for Detecting and Scavenging Gas-phase Free Radicals in Mainstream Cigarette Smoke
Institutions: CDCF-AOX Lab, Cornell University.

Cigarette smoking is associated with human cancers. It has been reported that most of the lung cancer deaths are caused by cigarette smoking
5,6,7,12
. Although tobacco tars and related products in the particle phase of cigarette smoke are major causes of carcinogenic and mutagenic related diseases, cigarette smoke contains significant amounts of free radicals that are also considered as an important group of carcinogens
9,10
. Free radicals attack cell constituents by damaging protein structure, lipids and DNA sequences and increase the risks of developing various types of cancers. Inhaled radicals produce adducts that contribute to many of the negative health effects of tobacco smoke in the lung
3
. Studies have been conducted to reduce free radicals in cigarette smoke to decrease risks of the smoking-induced damage. It has been reported that haemoglobin and heme-containing compounds could partially scavenge nitric oxide, reactive oxidants and carcinogenic volatile nitrosocompounds of cigarette smoke
4
. A 'bio-filter' consisted of haemoglobin and activated carbon was used to scavenge the free radicals and to remove up to 90% of the free radicals from cigarette smoke
14
. However, due to the cost-ineffectiveness, it has not been successfully commercialized. Another study showed good scavenging efficiency of shikonin, a component of Chinese herbal medicine
8
. In the present study, we report a protocol for introducing common natural antioxidant extracts into the cigarette filter for scavenging gas phase free radicals in cigarette smoke and measurement of the scavenge effect on gas phase free radicals in mainstream cigarette smoke (MCS) using spin-trapping Electron Spin Resonance (ESR) Spectroscopy
1,2,14
. We showed high scavenging capacity of lycopene and grape seed extract which could point to their future application in cigarette filters. An important advantage of these prospective scavengers is that they can be obtained in large quantities from byproducts of tomato or wine industry respectively
11,13
Bioengineering, Issue 59, Cigarette smoke, free radical, spin-trap, ESR
3406