Modeling Stroke in Mice: Permanent Coagulation of the Distal Middle Cerebral Artery
Published: 07-31-2014
ABSTRACT
Stroke is the third most common cause of death and a main cause of acquired adult disability in developed countries. Only very limited therapeutical options are available for a small proportion of stroke patients in the acute phase. Current research is intensively searching for novel therapeutic strategies and is increasingly focusing on the sub-acute and chronic phase after stroke because more patients might be eligible for therapeutic interventions in a prolonged time window. These delayed mechanisms include important pathophysiological pathways such as post-stroke inflammation, angiogenesis, neuronal plasticity and regeneration. In order to analyze these mechanisms and to subsequently evaluate novel drug targets, experimental stroke models with clinical relevance, low mortality and high reproducibility are sought after. Moreover, mice are the smallest mammals in which a focal stroke lesion can be induced and for which a broad spectrum of transgenic models are available. Therefore, we describe here the mouse model of transcranial, permanent coagulation of the middle cerebral artery via electrocoagulation distal of the lenticulostriatal arteries, the so-called "coagulation model". The resulting infarct in this model is located mainly in the cortex; the relative infarct volume in relation to brain size corresponds to the majority of human strokes. Moreover, the model fulfills the above-mentioned criteria of reproducibility and low mortality. In this video we demonstrate the surgical methods of stroke induction in the "coagulation model" and report histological and functional analysis tools.
23 Related JoVE Articles!
Reproducable Paraplegia by Thoracic Aortic Occlusion in a Murine Model of Spinal Cord Ischemia-reperfusion
Institutions: University of Colorado, University of Colorado.
Background
Lower extremity paralysis continues to complicate aortic interventions. The lack of understanding of the underlying pathology has hindered advancements to decrease the occurrence this injury. The current model demonstrates reproducible lower extremity paralysis following thoracic aortic occlusion.
Methods
Adult male C57BL6 mice were anesthetized with isoflurane. Through a cervicosternal incision the aorta was exposed. The descending thoracic aorta and left subclavian arteries were identified without entrance into pleural space. Skeletonization of these arteries was followed by immediate closure (Sham) or occlusion for 4 min (moderate ischemia) or 8 min (prolonged ischemia). The sternotomy and skin were closed and the mouse was transferred to warming bed for recovery.  Following recovery, functional analysis was obtained at 12 hr intervals until 48 hr.
Results
Mice that underwent sham surgery showed no observable hind limb deficit. Mice subjected to moderate ischemia for 4 min had minimal functional deficit at 12 hr followed by progression to complete paralysis at 48 hr. Mice subjected to prolonged ischemia had an immediate paralysis with no observable hind-limb movement at any point in the postoperative period. There was no observed intraoperative or post operative mortality.
Conclusion
Reproducible lower extremity paralysis whether immediate or delayed can be achieved in a murine model. Additionally, by using a median sternotomy and careful dissection, high survival rates, and reproducibility can be achieved.
Medicine, Issue 85, Spinal cord injury, thoracic aorta, paraplegia, Ischemia, reperfusion, murine model
50910
Mouse Model of Intraluminal MCAO: Cerebral Infarct Evaluation by Cresyl Violet Staining
Institutions: Clinical Research Institute of Montreal, Laval University.

Stroke is the third cause of mortality and the leading cause of disability in the World. Ischemic stroke accounts for approximately 80% of all strokes. However, the thrombolytic tissue plasminogen activator (tPA) is the only treatment of acute ischemic stroke that exists. This led researchers to develop several ischemic stroke models in a variety of species. Two major types of rodent models have been developed: models of global cerebral ischemia or focal cerebral ischemia. To mimic ischemic stroke in patients, in whom approximately 80% thrombotic or embolic strokes occur in the territory of the middle cerebral artery (MCA), the intraluminal middle cerebral artery occlusion (MCAO) model is quite relevant for stroke studies. This model was first developed in rats by Koizumi
et al.
in 1986
1
. Because of the ease of genetic manipulation in mice, these models have also been developed in this species
2-3
. Herein, we present the transient MCA occlusion procedure in C57/Bl6 mice. Previous studies have reported that physical properties of the occluder such as tip diameter, length, shape, and flexibility are critical for the reproducibility of the infarct volume
4
. Herein, a commercial silicon coated monofilaments (Doccol Corporation) have been used. Another great advantage is that this monofilament reduces the risk to induce subarachnoid hemorrhages. Using the Zeiss stereo-microscope Stemi 2000, the silicon coated monofilament was introduced into the internal carotid artery (ICA)
via
a cut in the external carotid artery (ECA) until the monofilament occludes the base of the MCA. Blood flow was restored 1 hour later by removal of the monofilament to mimic the restoration of blood flow after lysis of a thromboembolic clot in humans. The extent of cerebral infarct may be evaluated first by a neurologic score and by the measurement of the infarct volume. Ischemic mice were thus analyzed for their neurologic score at different post-reperfusion times. To evaluate the infarct volume, staining with 2,3,5-triphenyltetrazolium chloride (TTC) was usually performed. Herein, we used cresyl violet staining since it offers the opportunity to test many critical markers by immunohistochemistry. In this video, we report the MCAO procedure; neurological scores and the evaluation of the infarct volume by cresyl violet staining.
Medicine, Issue 69, Neuroscience, Biochemistry, Anatomy, Physiology, transient ischemic stroke, middle cerebral artery occlusion, intraluminal model, neuroscore, cresyl violet staining, mice, imaging
4038
Permanent Cerebral Vessel Occlusion via Double Ligature and Transection
Institutions: University of California, Irvine, University of California, Irvine, University of California, Irvine, University of California, Irvine.

Stroke is a leading cause of death, disability, and socioeconomic loss worldwide. The majority of all strokes result from an interruption in blood flow (ischemia)
1
. Middle cerebral artery (MCA) delivers a great majority of blood to the lateral surface of the cortex
2
, is the most common site of human stroke
3
, and ischemia within its territory can result in extensive dysfunction or death
1,4,5
. Survivors of ischemic stroke often suffer loss or disruption of motor capabilities, sensory deficits, and infarct. In an effort to capture these key characteristics of stroke, and thereby develop effective treatment, a great deal of emphasis is placed upon animal models of ischemia in MCA. Here we present a method of permanently occluding a cortical surface blood vessel. We will present this method using an example of a relevant vessel occlusion that models the most common type, location, and outcome of human stroke, permanent middle cerebral artery occlusion (pMCAO). In this model, we surgically expose MCA in the adult rat and subsequently occlude via double ligature and transection of the vessel. This pMCAO blocks the proximal cortical branch of MCA, causing ischemia in all of MCA cortical territory, a large portion of the cortex. This method of occlusion can also be used to occlude more distal portions of cortical vessels in order to achieve more focal ischemia targeting a smaller region of cortex. The primary disadvantages of pMCAO are that the surgical procedure is somewhat invasive as a small craniotomy is required to access MCA, though this results in minimal tissue damage. The primary advantages of this model, however, are: the site of occlusion is well defined, the degree of blood flow reduction is consistent, functional and neurological impairment occurs rapidly, infarct size is consistent, and the high rate of survival allows for long-term chronic assessment.
Medicine, Issue 77, Biomedical Engineering, Anatomy, Physiology, Neurobiology, Neuroscience, Behavior, Surgery, Therapeutics, Surgical Procedures, Operative, Investigative Techniques, Life Sciences (General), Behavioral Sciences, Animal models, Stroke, ischemia, imaging, middle cerebral artery, vessel occlusion, rodent model, surgical techniques, animal model
50418
Permanent Ligation of the Left Anterior Descending Coronary Artery in Mice: A Model of Post-myocardial Infarction Remodelling and Heart Failure
Institutions: Catholic University of Leuven.
Heart failure is a syndrome in which the heart fails to pump blood at a rate commensurate with cellular oxygen requirements at rest or during stress. It is characterized by fluid retention, shortness of breath, and fatigue, in particular on exertion. Heart failure is a growing public health problem, the leading cause of hospitalization, and a major cause of mortality. Ischemic heart disease is the main cause of heart failure. Ventricular remodelling refers to changes in structure, size, and shape of the left ventricle. This architectural remodelling of the left ventricle is induced by injury (
e.g.,
myocardial infarction), by pressure overload (
e.g.,
systemic arterial hypertension or aortic stenosis), or by volume overload. Since ventricular remodelling affects wall stress, it has a profound impact on cardiac function and on the development of heart failure. A model of permanent ligation of the left anterior descending coronary artery in mice is used to investigate ventricular remodelling and cardiac function post-myocardial infarction. This model is fundamentally different in terms of objectives and pathophysiological relevance compared to the model of transient ligation of the left anterior descending coronary artery. In this latter model of ischemia/reperfusion injury, the initial extent of the infarct may be modulated by factors that affect myocardial salvage following reperfusion. In contrast, the infarct area at 24 hr after permanent ligation of the left anterior descending coronary artery is fixed. Cardiac function in this model will be affected by 1) the process of infarct expansion, infarct healing, and scar formation; and 2) the concomitant development of left ventricular dilatation, cardiac hypertrophy, and ventricular remodelling. Besides the model of permanent ligation of the left anterior descending coronary artery, the technique of invasive hemodynamic measurements in mice is presented in detail.
Medicine, Issue 94, Myocardial infarction, cardiac remodelling, infarct expansion, heart failure, cardiac function, invasive hemodynamic measurements
52206
Bilateral Common Carotid Artery Occlusion as an Adequate Preconditioning Stimulus to Induce Early Ischemic Tolerance to Focal Cerebral Ischemia
Institutions: Charité - Universitätsmedizin Berlin, Germany.

There is accumulating evidence, that ischemic preconditioning - a non-damaging ischemic challenge to the brain - confers a transient protection to a subsequent damaging ischemic insult. We have established bilateral common carotid artery occlusion as a preconditioning stimulus to induce early ischemic tolerance to transient focal cerebral ischemia in C57Bl6/J mice. In this video, we will demonstrate the methodology used for this study.
Medicine, Issue 75, Neurobiology, Anatomy, Physiology, Neuroscience, Immunology, Surgery, stroke, cerebral ischemia, ischemic preconditioning, ischemic tolerance, IT, ischemic stroke, middle cerebral artery occlusion, MCAO, bilateral common carotid artery occlusion, BCCAO, brain, ischemia, occlusion, reperfusion, mice, animal model, surgical techniques
4387
Embolic Middle Cerebral Artery Occlusion (MCAO) for Ischemic Stroke with Homologous Blood Clots in Rats
Institutions: Louisiana State University Health Science Center, Shreveport.

Clinically, thrombolytic therapy with use of recombinant tissue plasminogen activator (tPA) remains the most effective treatment for acute ischemic stroke. However, the use of tPA is limited by its narrow therapeutic window and by increased risk of hemorrhagic transformation. There is an urgent need to develop suitable stroke models to study new thrombolytic agents and strategies for treatment of ischemic stroke. At present, two major types of ischemic stroke models have been developed in rats and mice: intraluminal suture MCAO and embolic MCAO. Although MCAO models via the intraluminal suture technique have been widely used in mechanism-driven stroke research, these suture models do not mimic the clinical situation and are not suitable for thrombolytic studies. Among these models, the embolic MCAO model closely mimics human ischemic stroke and is suitable for preclinical investigation of thrombolytic therapy. This embolic model was first developed in rats by Overgaard
et al.
1
in 1992 and further characterized by Zhang
et al.
in 1997
2
. Although embolic MCAO has gained increasing attention, there are technical problems faced by many laboratories. To meet increasing needs for thrombolytic research, we present a highly reproducible model of embolic MCAO in the rat, which can develop a predictable infarct volume within the MCA territory. In brief, a modified PE-50 tube is gently advanced from the external carotid artery (ECA) into the lumen of the internal carotid artery (ICA) until the tip of the catheter reaches the origin of the MCA. Through the catheter, a single homologous blood clot is placed at the origin of the MCA. To identify the success of MCA occlusion, regional cerebral blood flow was monitored, neurological deficits and infarct volumes were measured. The techniques presented in this paper should help investigators to overcome technical problems for establishing this model for stroke research.
Medicine, Issue 91, ischemic stroke, model, embolus, middle cerebral artery occlusion, thrombolytic therapy
51956
Endothelin-1 Induced Middle Cerebral Artery Occlusion Model for Ischemic Stroke with Laser Doppler Flowmetry Guidance in Rat
Institutions: University of Florida , Shiraz University of Medical Sciences, Shiraz, Iran , University of Florida , University of Florida .
Stroke is the number one cause of disability and third leading cause of death in the world, costing an estimated $70 billion in the United States in 2009
1, 2
. Several models of cerebral ischemia have been developed to mimic the human condition of stroke. It has been suggested that up to 80% of all strokes result from ischemic damage in the middle cerebral artery (MCA) area
3
. In the early 1990s, endothelin-1 (ET-1)
4
was used to induce ischemia by applying it directly adjacent to the surface of the MCA after craniotomy. Later, this model was modified
5
by using a stereotaxic injection of ET-1 adjacent to the MCA to produce focal cerebral ischemia. The main advantages of this model include the ability to perform the procedure quickly, the ability to control artery constriction by altering the dose of ET-1 delivered, no need to manipulate the extracranial vessels supplying blood to the brain as well as gradual reperfusion rates that more closely mimics the reperfusion in humans
5-7
. On the other hand, the ET-1 model has disadvantages that include the need for a craniotomy, as well as higher variability in stroke volume
8
. This variability can be reduced with the use of laser Doppler flowmetry (LDF) to verify cerebral ischemia during ET-1 infusion. Factors that affect stroke variability include precision of infusion and the batch of the ET-1 used
6
. Another important consideration is that although reperfusion is a common occurrence in human stroke, the duration of occlusion for ET-1 induced MCAO may not closely mimic that of human stroke where many patients have partial reperfusion over a period of hours to days following occlusion
9, 10
. This protocol will describe in detail the ET-1 induced MCAO model for ischemic stroke in rats. It will also draw attention to special considerations and potential drawbacks throughout the procedure.
Medicine, Issue 72, Neuroscience, Neurobiology, Biomedical Engineering, Surgery, Anatomy, Physiology, Nervous System Diseases, Ischemic stroke, Endothelin-1, Cerebrovascular, brain, artery, stroke, occlusion, laser, doppley, flowmetry, rat, animal model
50014
Intraluminal Middle Cerebral Artery Occlusion (MCAO) Model for Ischemic Stroke with Laser Doppler Flowmetry Guidance in Mice
Institutions: University of Florida, Shiraz University of Medical Sciences.

Stroke is the third leading cause of death and the leading cause of disability in the world, with an estimated cost of near $70 billion in the United States in 2009
1,2
. The intraluminal middle cerebral artery occlusion (MCAO) model was developed by Koizumi
4
in 1986 to simulate this impactful human pathology in the rat. A modification of the MCAO method was later presented by Longa
3
. Both techniques have been widely used to identify molecular mechanisms of brain injury resulting from ischemic stroke and potential therapeutic modalities
5
. This relatively noninvasive method in rats has been extended to use in mice to take advantage of transgenic and knockout strains
6,7
. To model focal cerebral ischemia, an intraluminal suture is advanced via the internal carotid artery to occlude the base of the MCA. Retracting the suture after a specified period of time mimics spontaneous reperfusion, but the suture can also be permanently retained. This video will be demonstrating the two major approaches for performing intraluminal MCAO procedure in mice in a stepwise fashion, as well as providing insights for potential drawbacks and pitfalls. The ischemic brain tissue will subsequently be stained by 2,3,5-triphenyltetrazolium chloride (TTC) to evaluate the extent of cerebral infarction
8
.
Medicine, Issue 51, Cerebral ischemia, mouse, middle cerebral artery occlusion, intraluminal suture, Laser Doppler
2879
The Application Of Permanent Middle Cerebral Artery Ligation in the Mouse
Institutions: University of Rochester, University of Alabama at Birmingham, University of Rochester.

Focal cerebral ischemia is among the most common type of stroke seen in patients. Due to the clinical significance there has been a prolonged effort to develop suitable animal models to study the events that unfold during ischemic insult. These techniques include transient or permanent, focal or global ischemia models using many different animal models, with the most common being rodents. The permanent MCA ligation method which is also referred as pMCAo in the literature is used extensively as a focal ischemia model in rodents
1-6
. This method was originally described for rats by Tamura et al. in 1981
7
. In this protocol a craniotomy was used to access the MCA and the proximal regions were occluded by electrocoagulation. The infarcts involve mostly cortical and sometimes striatal regions depending on the location of the occlusion. This technique is now well established and used in many laboratories
8-13
. Early use of this technique led to the definition and description of "infarct core" and "penumbra"
14-16
, and it is often used to evaluate potential neuroprotective compounds
10, 12, 13, 17
. Although the initial studies were performed in rats, permanent MCA ligation has been used successfully in mice with slight modifications
18-20
. This model yields reproducible infarcts and increased post-survival rates. Approximately 80% of the ischemic strokes in humans happen in the MCA area
21
and thus this is a very relevant model for stroke studies. Currently, there is a paucity of effective treatments available to stroke patients, and thus there is a need for good models to test potential pharmacological compounds and evaluate physiological outcomes. This method can also be used for studying intracellular hypoxia response mechanisms
in vivo
. Here, we present the MCA ligation surgery in a C57/BL6 mouse. We describe the pre-surgical preparation, MCA ligation surgery and 2,3,5 Triphenyltetrazolium chloride (TTC) staining for quantification of infarct volumes.
Medicine, Issue 53, brain, stroke, mouse, middle cerebral artery ligation
3039
Bronchial Thermoplasty: A Novel Therapeutic Approach to Severe Asthma
Institutions: Virginia Hospital Center, Virginia Hospital Center.
Bronchial thermoplasty is a non-drug procedure for severe persistent asthma that delivers thermal energy to the airway wall in a precisely controlled manner to reduce excessive airway smooth muscle. Reducing airway smooth muscle decreases the ability of the airways to constrict, thereby reducing the frequency of asthma attacks. Bronchial thermoplasty is delivered by the Alair System and is performed in three outpatient procedure visits, each scheduled approximately three weeks apart. The first procedure treats the airways of the right lower lobe, the second treats the airways of the left lower lobe and the third and final procedure treats the airways in both upper lobes. After all three procedures are performed the bronchial thermoplasty treatment is complete. Bronchial thermoplasty is performed during bronchoscopy with the patient under moderate sedation. All accessible airways distal to the mainstem bronchi between 3 and 10 mm in diameter, with the exception of the right middle lobe, are treated under bronchoscopic visualization. Contiguous and non-overlapping activations of the device are used, moving from distal to proximal along the length of the airway, and systematically from airway to airway as described previously. Although conceptually straightforward, the actual execution of bronchial thermoplasty is quite intricate and procedural duration for the treatment of a single lobe is often substantially longer than encountered during routine bronchoscopy. As such, bronchial thermoplasty should be considered a complex interventional bronchoscopy and is intended for the experienced bronchoscopist. Optimal patient management is critical in any such complex and longer duration bronchoscopic procedure. This article discusses the importance of careful patient selection, patient preparation, patient management, procedure duration, postoperative care and follow-up to ensure that bronchial thermoplasty is performed safely. Bronchial thermoplasty is expected to complement asthma maintenance medications by providing long-lasting asthma control and improving asthma-related quality of life of patients with severe asthma. In addition, bronchial thermoplasty has been demonstrated to reduce severe exacerbations (asthma attacks) emergency rooms visits for respiratory symptoms, and time lost from work, school and other daily activities due to asthma.
Medicine, Issue 45, bronchial thermoplasty, severe asthma, airway smooth muscle, bronchoscopy, radiofrequency energy, patient management, moderate sedation
2428
Nerve Excitability Assessment in Chemotherapy-induced Neurotoxicity
Institutions: University of New South Wales , University of New South Wales , University of New South Wales .

Chemotherapy-induced neurotoxicity is a serious consequence of cancer treatment, which occurs with some of the most commonly used chemotherapies
1,2
. Chemotherapy-induced peripheral neuropathy produces symptoms of numbness and paraesthesia in the limbs and may progress to difficulties with fine motor skills and walking, leading to functional impairment. In addition to producing troubling symptoms, chemotherapy-induced neuropathy may limit treatment success leading to dose reduction or early cessation of treatment. Neuropathic symptoms may persist long-term, leaving permanent nerve damage in patients with an otherwise good prognosis
3
. As chemotherapy is utilised more often as a preventative measure, and survival rates increase, the importance of long-lasting and significant neurotoxicity will increase. There are no established neuroprotective or treatment options and a lack of sensitive assessment methods. Appropriate assessment of neurotoxicity will be critical as a prognostic factor and as suitable endpoints for future trials of neuroprotective agents. Current methods to assess the severity of chemotherapy-induced neuropathy utilise clinician-based grading scales which have been demonstrated to lack sensitivity to change and inter-observer objectivity
4
. Conventional nerve conduction studies provide information about compound action potential amplitude and conduction velocity, which are relatively non-specific measures and do not provide insight into ion channel function or resting membrane potential. Accordingly, prior studies have demonstrated that conventional nerve conduction studies are not sensitive to early change in chemotherapy-induced neurotoxicity
4-6
. In comparison, nerve excitability studies utilize threshold tracking techniques which have been developed to enable assessment of ion channels, pumps and exchangers
in vivo
in large myelinated human axons
7-9
. Nerve excitability techniques have been established as a tool to examine the development and severity of chemotherapy-induced neurotoxicity
10-13
. Comprising a number of excitability parameters, nerve excitability studies can be used to assess acute neurotoxicity arising immediately following infusion and the development of chronic, cumulative neurotoxicity. Nerve excitability techniques are feasible in the clinical setting, with each test requiring only 5 -10 minutes to complete. Nerve excitability equipment is readily commercially available, and a portable system has been devised so that patients can be tested
in situ
in the infusion centre setting. In addition, these techniques can be adapted for use in multiple chemotherapies. In patients treated with the chemotherapy oxaliplatin, primarily utilised for colorectal cancer, nerve excitability techniques provide a method to identify patients at-risk for neurotoxicity prior to the onset of chronic neuropathy. Nerve excitability studies have revealed the development of an acute Na
+
channelopathy in motor and sensory axons
10-13
. Importantly, patients who demonstrated changes in excitability in early treatment were subsequently more likely to develop moderate to severe neurotoxicity
11
. However, across treatment, striking longitudinal changes were identified only in sensory axons which were able to predict clinical neurological outcome in 80% of patients
10
. These changes demonstrated a different pattern to those seen acutely following oxaliplatin infusion, and most likely reflect the development of significant axonal damage and membrane potential change in sensory nerves which develops longitudinally during oxaliplatin treatment
10
. Significant abnormalities developed during early treatment, prior to any reduction in conventional measures of nerve function, suggesting that excitability parameters may provide a sensitive biomarker.
Neuroscience, Issue 62, Chemotherapy, Neurotoxicity, Neuropathy, Nerve excitability, Ion channel function, Oxaliplatin, oncology, medicine
3439
Improved Method for the Preparation of a Human Cell-based, Contact Model of the Blood-Brain Barrier
Institutions: Monash University.

The blood-brain barrier (BBB) comprises impermeable but adaptable brain capillaries which tightly control the brain environment. Failure of the BBB has been implied in the etiology of many brain pathologies, creating a need for development of human
in vitro
BBB models to assist in clinically-relevant research. Among the numerous BBB models thus far described, a static (without flow), contact BBB model, where astrocytes and brain endothelial cells (BECs) are cocultured on the opposite sides of a porous membrane, emerged as a simplified yet authentic system to simulate the BBB with high throughput screening capacity. Nevertheless the generation of such model presents few technical challenges. Here, we describe a protocol for preparation of a contact human BBB model utilizing a novel combination of primary human BECs and immortalized human astrocytes. Specifically, we detail an innovative method for cell-seeding on inverted inserts as well as specify insert staining techniques and exemplify how we use our model for BBB-related research.
Bioengineering, Issue 81, Blood-brain barrier, model, cell culture, astrocytes, brain endothelial cells, insert, membranes
50934
Prehospital Thrombolysis: A Manual from Berlin
Institutions: Charité - Universitätsmedizin Berlin, Charité - Universitätsmedizin Berlin, Universitätsklinikum Hamburg - Eppendorf, Berliner Feuerwehr, STEMO-Consortium.

In acute ischemic stroke, time from symptom onset to intervention is a decisive prognostic factor. In order to reduce this time, prehospital thrombolysis at the emergency site would be preferable. However, apart from neurological expertise and laboratory investigations a computed tomography (CT) scan is necessary to exclude hemorrhagic stroke prior to thrombolysis. Therefore, a specialized ambulance equipped with a CT scanner and point-of-care laboratory was designed and constructed. Further, a new stroke identifying interview algorithm was developed and implemented in the Berlin emergency medical services. Since February 2011 the identification of suspected stroke in the dispatch center of the Berlin Fire Brigade prompts the deployment of this ambulance, a stroke emergency mobile (STEMO). On arrival, a neurologist, experienced in stroke care and with additional training in emergency medicine, takes a neurological examination. If stroke is suspected a CT scan excludes intracranial hemorrhage. The CT-scans are telemetrically transmitted to the neuroradiologist on-call. If coagulation status of the patient is normal and patient's medical history reveals no contraindication, prehospital thrombolysis is applied according to current guidelines (intravenous recombinant tissue plasminogen activator, iv rtPA, alteplase, Actilyse). Thereafter patients are transported to the nearest hospital with a certified stroke unit for further treatment and assessment of strokeaetiology. After a pilot-phase, weeks were randomized into blocks either with or without STEMO care. Primary end-point of this study is time from alarm to the initiation of thrombolysis. We hypothesized that alarm-to-treatment time can be reduced by at least 20 min compared to regular care.
Medicine, Issue 81, Telemedicine, Emergency Medical Services, Stroke, Tomography, X-Ray Computed, Emergency Treatment,[stroke, thrombolysis, prehospital, emergency medical services, ambulance
50534
A Research Method For Detecting Transient Myocardial Ischemia In Patients With Suspected Acute Coronary Syndrome Using Continuous ST-segment Analysis
Institutions: University of Nevada, Reno, St. Joseph's Medical Center, University of Rochester Medical Center .

Each year, an estimated 785,000 Americans will have a new coronary attack, or acute coronary syndrome (ACS). The pathophysiology of ACS involves rupture of an atherosclerotic plaque; hence, treatment is aimed at plaque stabilization in order to prevent cellular death. However, there is considerable debate among clinicians, about which treatment pathway is best: early invasive using percutaneous coronary intervention (PCI/stent) when indicated or a conservative approach (
i.e.
, medication only with PCI/stent if recurrent symptoms occur). There are three types of ACS: ST elevation myocardial infarction (STEMI), non-ST elevation MI (NSTEMI), and unstable angina (UA). Among the three types, NSTEMI/UA is nearly four times as common as STEMI. Treatment decisions for NSTEMI/UA are based largely on symptoms and resting or exercise electrocardiograms (ECG). However, because of the dynamic and unpredictable nature of the atherosclerotic plaque, these methods often under detect myocardial ischemia because symptoms are unreliable, and/or continuous ECG monitoring was not utilized. Continuous 12-lead ECG monitoring, which is both inexpensive and non-invasive, can identify transient episodes of myocardial ischemia, a precursor to MI, even when asymptomatic. However, continuous 12-lead ECG monitoring is not usual hospital practice; rather, only two leads are typically monitored. Information obtained with 12-lead ECG monitoring might provide useful information for deciding the best ACS treatment.
Purpose.
Therefore, using 12-lead ECG monitoring, the COMPARE Study (electro
C
ardiographic evaluati
O
n of ische
M
ia com
P
aring inv
A
sive to pha
R
macological tr
E
atment) was designed to assess the frequency and clinical consequences of transient myocardial ischemia, in patients with NSTEMI/UA treated with either early invasive PCI/stent or those managed conservatively (medications or PCI/stent following recurrent symptoms). The purpose of this manuscript is to describe the methodology used in the COMPARE Study.
Method.
Permission to proceed with this study was obtained from the Institutional Review Board of the hospital and the university. Research nurses identify hospitalized patients from the emergency department and telemetry unit with suspected ACS. Once consented, a 12-lead ECG Holter monitor is applied, and remains in place during the patient's entire hospital stay. Patients are also maintained on the routine bedside ECG monitoring system per hospital protocol. Off-line ECG analysis is done using sophisticated software and careful human oversight.
Medicine, Issue 70, Anatomy, Physiology, Cardiology, Myocardial Ischemia, Cardiovascular Diseases, Health Occupations, Health Care, transient myocardial ischemia, Acute Coronary Syndrome, electrocardiogram, ST-segment monitoring, Holter monitoring, research methodology
50124
Utilizing Repetitive Transcranial Magnetic Stimulation to Improve Language Function in Stroke Patients with Chronic Non-fluent Aphasia
Institutions: University of Pennsylvania , University of Pennsylvania , Veterans Affairs Boston Healthcare System, Boston University School of Medicine, Boston University School of Medicine.
Transcranial magnetic stimulation (TMS) has been shown to significantly improve language function in patients with non-fluent aphasia
1
. In this experiment, we demonstrate the administration of low-frequency repetitive TMS (rTMS) to an optimal stimulation site in the right hemisphere in patients with chronic non-fluent aphasia. A battery of standardized language measures is administered in order to assess baseline performance. Patients are subsequently randomized to either receive real rTMS or initial sham stimulation. Patients in the real stimulation undergo a site-finding phase, comprised of a series of six rTMS sessions administered over five days; stimulation is delivered to a different site in the right frontal lobe during each of these sessions. Each site-finding session consists of 600 pulses of 1 Hz rTMS, preceded and followed by a picture-naming task. By comparing the degree of transient change in naming ability elicited by stimulation of candidate sites, we are able to locate the area of optimal response for each individual patient. We then administer rTMS to this site during the treatment phase. During treatment, patients undergo a total of ten days of stimulation over the span of two weeks; each session is comprised of 20 min of 1 Hz rTMS delivered at 90% resting motor threshold. Stimulation is paired with an fMRI-naming task on the first and last days of treatment. After the treatment phase is complete, the language battery obtained at baseline is repeated two and six months following stimulation in order to identify rTMS-induced changes in performance. The fMRI-naming task is also repeated two and six months following treatment. Patients who are randomized to the sham arm of the study undergo sham site-finding, sham treatment, fMRI-naming studies, and repeat language testing two months after completing sham treatment. Sham patients then cross over into the real stimulation arm, completing real site-finding, real treatment, fMRI, and two- and six-month post-stimulation language testing.
Medicine, Issue 77, Neurobiology, Neuroscience, Anatomy, Physiology, Biomedical Engineering, Molecular Biology, Neurology, Stroke, Aphasia, Transcranial Magnetic Stimulation, TMS, language, neurorehabilitation, optimal site-finding, functional magnetic resonance imaging, fMRI, brain, stimulation, imaging, clinical techniques, clinical applications
50228
The Use of Magnetic Resonance Spectroscopy as a Tool for the Measurement of Bi-hemispheric Transcranial Electric Stimulation Effects on Primary Motor Cortex Metabolism
Institutions: University of Montréal, McGill University, University of Minnesota.

Transcranial direct current stimulation (tDCS) is a neuromodulation technique that has been increasingly used over the past decade in the treatment of neurological and psychiatric disorders such as stroke and depression. Yet, the mechanisms underlying its ability to modulate brain excitability to improve clinical symptoms remains poorly understood
33
. To help improve this understanding, proton magnetic resonance spectroscopy (
1
H-MRS) can be used as it allows the
in vivo
quantification of brain metabolites such as γ-aminobutyric acid (GABA) and glutamate in a region-specific manner
41
. In fact, a recent study demonstrated that
1
H-MRS is indeed a powerful means to better understand the effects of tDCS on neurotransmitter concentration
34
. This article aims to describe the complete protocol for combining tDCS (NeuroConn MR compatible stimulator) with
1
H-MRS at 3 T using a MEGA-PRESS sequence. We will describe the impact of a protocol that has shown great promise for the treatment of motor dysfunctions after stroke, which consists of bilateral stimulation of primary motor cortices
27,30,31
. Methodological factors to consider and possible modifications to the protocol are also discussed.
Neuroscience, Issue 93, proton magnetic resonance spectroscopy, transcranial direct current stimulation, primary motor cortex, GABA, glutamate, stroke
51631
Breathing-controlled Electrical Stimulation (BreEStim) for Management of Neuropathic Pain and Spasticity
Institutions: University of Texas Health Science Center at Houston , TIRR Memorial Hermann Hospital, TIRR Memorial Hermann Hospital.

Electrical stimulation (EStim) refers to the application of electrical current to muscles or nerves in order to achieve functional and therapeutic goals. It has been extensively used in various clinical settings. Based upon recent discoveries related to the systemic effects of voluntary breathing and intrinsic physiological interactions among systems during voluntary breathing, a new EStim protocol, Breathing-controlled Electrical Stimulation (BreEStim), has been developed to augment the effects of electrical stimulation. In BreEStim, a single-pulse electrical stimulus is triggered and delivered to the target area when the airflow rate of an isolated voluntary inspiration reaches the threshold. BreEStim integrates intrinsic physiological interactions that are activated during voluntary breathing and has demonstrated excellent clinical efficacy. Two representative applications of BreEStim are reported with detailed protocols: management of post-stroke finger flexor spasticity and neuropathic pain in spinal cord injury.
Medicine, Issue 71, Neuroscience, Neurobiology, Anatomy, Physiology, Behavior, electrical stimulation, BreEStim, electrode, voluntary breathing, respiration, inspiration, pain, neuropathic pain, pain management, spasticity, stroke, spinal cord injury, brain, central nervous system, CNS, clinical, electromyogram, neuromuscular electrical stimulation
50077
Technique and Considerations in the Use of 4x1 Ring High-definition Transcranial Direct Current Stimulation (HD-tDCS)
Institutions: Spaulding Rehabilitation Hospital and Massachusetts General Hospital, Harvard Medical School, Pontifical Catholic University of Ecuador, Charité University Medicine Berlin, The City College of The City University of New York, University of Michigan.

High-definition transcranial direct current stimulation (HD-tDCS) has recently been developed as a noninvasive brain stimulation approach that increases the accuracy of current delivery to the brain by using arrays of smaller "high-definition" electrodes, instead of the larger pad-electrodes of conventional tDCS. Targeting is achieved by energizing electrodes placed in predetermined configurations. One of these is the 4x1-ring configuration. In this approach, a center ring electrode (anode or cathode) overlying the target cortical region is surrounded by four return electrodes, which help circumscribe the area of stimulation. Delivery of 4x1-ring HD-tDCS is capable of inducing significant neurophysiological and clinical effects in both healthy subjects and patients. Furthermore, its tolerability is supported by studies using intensities as high as 2.0 milliamperes for up to twenty minutes. Even though 4x1 HD-tDCS is simple to perform, correct electrode positioning is important in order to accurately stimulate target cortical regions and exert its neuromodulatory effects. The use of electrodes and hardware that have specifically been tested for HD-tDCS is critical for safety and tolerability. Given that most published studies on 4x1 HD-tDCS have targeted the primary motor cortex (M1), particularly for pain-related outcomes, the purpose of this article is to systematically describe its use for M1 stimulation, as well as the considerations to be taken for safe and effective stimulation. However, the methods outlined here can be adapted for other HD-tDCS configurations and cortical targets.
Medicine, Issue 77, Neurobiology, Neuroscience, Physiology, Anatomy, Biomedical Engineering, Biophysics, Neurophysiology, Nervous System Diseases, Diagnosis, Therapeutics, Anesthesia and Analgesia, Investigative Techniques, Equipment and Supplies, Mental Disorders, Transcranial direct current stimulation, tDCS, High-definition transcranial direct current stimulation, HD-tDCS, Electrical brain stimulation, Transcranial electrical stimulation (tES), Noninvasive Brain Stimulation, Neuromodulation, non-invasive, brain, stimulation, clinical techniques
50309
Identification of Disease-related Spatial Covariance Patterns using Neuroimaging Data
Institutions: The Feinstein Institute for Medical Research.

The scaled subprofile model (SSM)
1-4
is a multivariate PCA-based algorithm that identifies major sources of variation in patient and control group brain image data while rejecting lesser components (
Figure 1
). Applied directly to voxel-by-voxel covariance data of steady-state multimodality images, an entire group image set can be reduced to a few significant linearly independent covariance patterns and corresponding subject scores. Each pattern, termed a group invariant subprofile (GIS), is an orthogonal principal component that represents a spatially distributed network of functionally interrelated brain regions. Large global mean scalar effects that can obscure smaller network-specific contributions are removed by the inherent logarithmic conversion and mean centering of the data
2,5,6
. Subjects express each of these patterns to a variable degree represented by a simple scalar score that can correlate with independent clinical or psychometric descriptors
7,8
. Using logistic regression analysis of subject scores (
i.e.
pattern expression values), linear coefficients can be derived to combine multiple principal components into single disease-related spatial covariance patterns,
i.e.
composite networks with improved discrimination of patients from healthy control subjects
5,6
. Cross-validation within the derivation set can be performed using bootstrap resampling techniques
9
. Forward validation is easily confirmed by direct score evaluation of the derived patterns in prospective datasets
10
. Once validated, disease-related patterns can be used to score individual patients with respect to a fixed reference sample, often the set of healthy subjects that was used (with the disease group) in the original pattern derivation
11
. These standardized values can in turn be used to assist in differential diagnosis
12,13
and to assess disease progression and treatment effects at the network level
7,14-16
. We present an example of the application of this methodology to FDG PET data of Parkinson's Disease patients and normal controls using our in-house software to derive a characteristic covariance pattern biomarker of disease.
Medicine, Issue 76, Neurobiology, Neuroscience, Anatomy, Physiology, Molecular Biology, Basal Ganglia Diseases, Parkinsonian Disorders, Parkinson Disease, Movement Disorders, Neurodegenerative Diseases, PCA, SSM, PET, imaging biomarkers, functional brain imaging, multivariate spatial covariance analysis, global normalization, differential diagnosis, PD, brain, imaging, clinical techniques
50319
Community-based Adapted Tango Dancing for Individuals with Parkinson's Disease and Older Adults
Institutions: Emory University School of Medicine, Brigham and Woman's Hospital and Massachusetts General Hospital.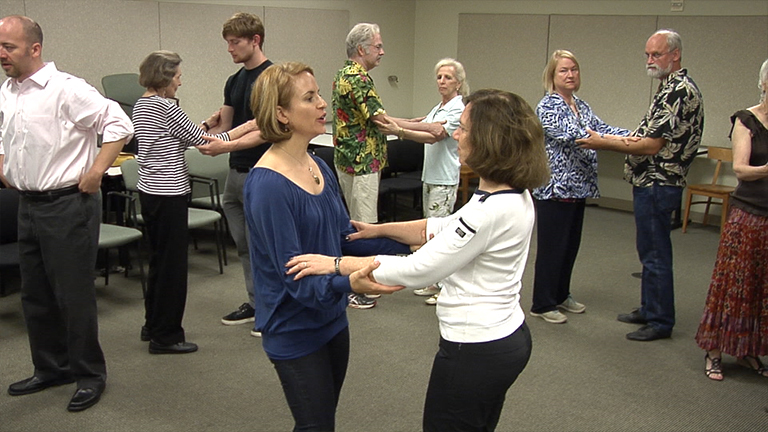 Adapted tango dancing improves mobility and balance in older adults and additional populations with balance impairments. It is composed of very simple step elements. Adapted tango involves movement initiation and cessation, multi-directional perturbations, varied speeds and rhythms. Focus on foot placement, whole body coordination, and attention to partner, path of movement, and aesthetics likely underlie adapted tango's demonstrated efficacy for improving mobility and balance. In this paper, we describe the methodology to disseminate the adapted tango teaching methods to dance instructor trainees and to implement the adapted tango by the trainees in the community for older adults and individuals with Parkinson's Disease (PD). Efficacy in improving mobility (measured with the Timed Up and Go, Tandem stance, Berg Balance Scale, Gait Speed and 30 sec chair stand), safety and fidelity of the program is maximized through targeted instructor and volunteer training and a structured detailed syllabus outlining class practices and progression.
Behavior, Issue 94, Dance, tango, balance, pedagogy, dissemination, exercise, older adults, Parkinson's Disease, mobility impairments, falls
52066
Tilt Testing with Combined Lower Body Negative Pressure: a "Gold Standard" for Measuring Orthostatic Tolerance
Institutions: Simon Fraser University .

Orthostatic tolerance (OT) refers to the ability to maintain cardiovascular stability when upright, against the hydrostatic effects of gravity, and hence to maintain cerebral perfusion and prevent syncope (fainting). Various techniques are available to assess OT and the effects of gravitational stress upon the circulation, typically by reproducing a presyncopal event (near-fainting episode) in a controlled laboratory environment. The time and/or degree of stress required to provoke this response provides the measure of OT. Any technique used to determine OT should: enable distinction between patients with orthostatic intolerance (of various causes) and asymptomatic control subjects; be highly reproducible, enabling evaluation of therapeutic interventions; avoid invasive procedures, which are known to impair OT
1
. In the late 1980s head-upright tilt testing was first utilized for diagnosing syncope
2
. Since then it has been used to assess OT in patients with syncope of unknown cause, as well as in healthy subjects to study postural cardiovascular reflexes
2-6
. Tilting protocols comprise three categories: passive tilt; passive tilt accompanied by pharmacological provocation; and passive tilt with combined lower body negative pressure (LBNP). However, the effects of tilt testing (and other orthostatic stress testing modalities) are often poorly reproducible, with low sensitivity and specificity to diagnose orthostatic intolerance
7
. Typically, a passive tilt includes 20-60 min of orthostatic stress continued until the onset of presyncope in patients
2-6
. However, the main drawback of this procedure is its inability to invoke presyncope in all individuals undergoing the test, and corresponding low sensitivity
8,9
. Thus, different methods were explored to increase the orthostatic stress and improve sensitivity. Pharmacological provocation has been used to increase the orthostatic challenge, for example using isoprenaline
4,7,10,11
or sublingual nitrate
12,13
. However, the main drawback of these approaches are increases in sensitivity at the cost of unacceptable decreases in specificity
10,14
, with a high positive response rate immediately after administration
15
. Furthermore, invasive procedures associated with some pharmacological provocations greatly increase the false positive rate
1
. Another approach is to combine passive tilt testing with LBNP, providing a stronger orthostatic stress without invasive procedures or drug side-effects, using the technique pioneered by Professor Roger Hainsworth in the 1990s
16-18
. This approach provokes presyncope in almost all subjects (allowing for symptom recognition in patients with syncope), while discriminating between patients with syncope and healthy controls, with a specificity of 92%, sensitivity of 85%, and repeatability of 1.1±0.6 min
16,17
. This allows not only diagnosis and pathophysiological assessment
19-22
, but also the evaluation of treatments for orthostatic intolerance due to its high repeatability
23-30
. For these reasons, we argue this should be the "gold standard" for orthostatic stress testing, and accordingly this will be the method described in this paper.
Medicine, Issue 73, Anatomy, Physiology, Biomedical Engineering, Neurobiology, Kinesiology, Cardiology, tilt test, lower body negative pressure, orthostatic stress, syncope, orthostatic tolerance, fainting, gravitational stress, head upright, stroke, clinical techniques
4315
Catheter Ablation in Combination With Left Atrial Appendage Closure for Atrial Fibrillation
Institutions: St. Antonius Hospital, The Netherlands.

Atrial fibrillation (AF) is the most common sustained cardiac arrhythmia, affecting millions of individuals worldwide
1-3
. The rapid, irregular, and disordered electrical activity in the atria gives rise to palpitations, fatigue, dyspnea, chest pain and dizziness with or without syncope
4, 5
. Patients with AF have a five-fold higher risk of stroke
6
. Oral anticoagulation (OAC) with warfarin is commonly used for stroke prevention in patients with AF and has been shown to reduce the risk of stroke by 64%
7
. Warfarin therapy has several major disadvantages, however, including bleeding, non-tolerance, interactions with other medications and foods, non-compliance and a narrow therapeutic range
8-11
. These issues, together with poor appreciation of the risk-benefit ratio, unawareness of guidelines, or absence of an OAC monitoring outpatient clinic may explain why only 30-60% of patients with AF are prescribed this drug
8
. The problems associated with warfarin, combined with the limited efficacy and/or serious side effects associated with other medications used for AF
12,13
, highlight the need for effective non-pharmacological approaches to treatment. One such approach is catheter ablation (CA), a procedure in which a radiofrequency electrical current is applied to regions of the heart to create small ablation lesions that electrically isolate potential AF triggers
4
. CA is a well-established treatment for AF symptoms
14, 15
, that may also decrease the risk of stroke. Recent data showed a significant decrease in the relative risk of stroke and transient ischemic attack events among patients who underwent ablation compared with those undergoing antiarrhythmic drug therapy
16
. Since the left atrial appendage (LAA) is the source of thrombi in more than 90% of patients with non-valvular atrial fibrillation
17
, another approach to stroke prevention is to physically block clots from exiting the LAA. One method for occluding the LAA is via percutaneous placement of the WATCHMAN LAA closure device. The WATCHMAN device resembles a small parachute. It consists of a nitinol frame covered by fabric polyethyl terephthalate that prevents emboli, but not blood, from exiting during the healing process. Fixation anchors around the perimeter secure the device in the LAA (
Figure 1
). To date, the WATCHMAN is the only implanted percutaneous device for which a randomized clinical trial has been reported. In this study, implantation of the WATCHMAN was found to be at least as effective as warfarin in preventing stroke (all-causes) and death (all-causes)
18
. This device received the
Conformité Européenne
(CE) mark for use in the European Union for warfarin eligible patients and in those who have a contraindication to anticoagulation therapy
19
. Given the proven effectiveness of CA to alleviate AF symptoms and the promising data with regard to reduction of thromboembolic events with both CA and WATCHMAN implantation, combining the two procedures is hoped to further reduce the incidence of stroke in high-risk patients while simultaneously relieving symptoms. The combined procedure may eventually enable patients to undergo implantation of the WATCHMAN device without subsequent warfarin treatment, since the CA procedure itself reduces thromboembolic events. This would present an avenue of treatment previously unavailable to patients ineligible for warfarin treatment because of recurrent bleeding
20
or other warfarin-associated problems. The combined procedure is performed under general anesthesia with biplane fluoroscopy and TEE guidance. Catheter ablation is followed by implantation of the WATCHMAN LAA closure device. Data from a non-randomized trial with 10 patients demonstrates that this procedure can be safely performed in patients with a CHADS
2
score of greater than 1
21
. Further studies to examine the effectiveness of the combined procedure in reducing symptoms from AF and associated stroke are therefore warranted.
Medicine, Issue 72, Anatomy, Physiology, Biomedical Engineering, Immunology, Cardiology, Surgery, catheter ablation, WATCHMAN, LAA occlusion, atrial fibrillation, left atrial appendage, warfarin, oral anticoagulation alternatives, catheterization, ischemia, stroke, heart, vein, clinical, surgical device, surgical techniques, Vitamin K antagonist
3818
Interview: Glycolipid Antigen Presentation by CD1d and the Therapeutic Potential of NKT cell Activation
Institutions: La Jolla Institute for Allergy and Immunology.

Natural Killer T cells (NKT) are critical determinants of the immune response to cancer, regulation of autioimmune disease, clearance of infectious agents, and the development of artheriosclerotic plaques. In this interview, Mitch Kronenberg discusses his laboratory's efforts to understand the mechanism through which NKT cells are activated by glycolipid antigens. Central to these studies is CD1d - the antigen presenting molecule that presents glycolipids to NKT cells. The advent of CD1d tetramer technology, a technique developed by the Kronenberg lab, is critical for the sorting and identification of subsets of specific glycolipid-reactive T cells. Mitch explains how glycolipid agonists are being used as therapeutic agents to activate NKT cells in cancer patients and how CD1d tetramers can be used to assess the state of the NKT cell population in vivo following glycolipid agonist therapy. Current status of ongoing clinical trials using these agonists are discussed as well as Mitch's prediction for areas in the field of immunology that will have emerging importance in the near future.
Immunology, Issue 10, Natural Killer T cells, NKT cells, CD1 Tetramers, antigen presentation, glycolipid antigens, CD1d, Mucosal Immunity, Translational Research
635