Concurrent Quantitative Conductivity and Mechanical Properties Measurements of Organic Photovoltaic Materials using AFM
Published: 01-23-2013
ABSTRACT
Organic photovoltaic (OPV) materials are inherently inhomogeneous at the nanometer scale. Nanoscale inhomogeneity of OPV materials affects performance of photovoltaic devices. Thus, understanding of spatial variations in composition as well as electrical properties of OPV materials is of paramount importance for moving PV technology forward.1,2 In this paper, we describe a protocol for quantitative measurements of electrical and mechanical properties of OPV materials with sub-100 nm resolution. Currently, materials properties measurements performed using commercially available AFM-based techniques (PeakForce, conductive AFM) generally provide only qualitative information. The values for resistance as well as Young's modulus measured using our method on the prototypical ITO/PEDOT:PSS/P3HT:PC61BM system correspond well with literature data. The P3HT:PC61BM blend separates onto PC61BM-rich and P3HT-rich domains. Mechanical properties of PC61BM-rich and P3HT-rich domains are different, which allows for domain attribution on the surface of the film. Importantly, combining mechanical and electrical data allows for correlation of the domain structure on the surface of the film with electrical properties variation measured through the thickness of the film.
20 Related JoVE Articles!
Fabrication of Nano-engineered Transparent Conducting Oxides by Pulsed Laser Deposition
Institutions: Politecnico di Milano, Instituto Italiano di Tecnologia.
Nanosecond Pulsed Laser Deposition (PLD) in the presence of a background gas allows the deposition of metal oxides with tunable morphology, structure, density and stoichiometry by a proper control of the plasma plume expansion dynamics. Such versatility can be exploited to produce nanostructured films from compact and dense to nanoporous characterized by a hierarchical assembly of nano-sized clusters. In particular we describe the detailed methodology to fabricate two types of Al-doped ZnO (AZO) films as transparent electrodes in photovoltaic devices: 1) at low O
2
pressure, compact films with electrical conductivity and optical transparency close to the state of the art transparent conducting oxides (TCO) can be deposited at room temperature, to be compatible with thermally sensitive materials such as polymers used in organic photovoltaics (OPVs); 2) highly light scattering hierarchical structures resembling a forest of nano-trees are produced at higher pressures. Such structures show high Haze factor (>80%) and may be exploited to enhance the light trapping capability. The method here described for AZO films can be applied to other metal oxides relevant for technological applications such as TiO
2
, Al
2
O
3
, WO
3
and Ag
4
O
4
.
Materials Science, Issue 72, Physics, Nanotechnology, Nanoengineering, Oxides, thin films, thin film theory, deposition and growth, Pulsed laser Deposition (PLD), Transparent conducting oxides (TCO), Hierarchically organized Nanostructured oxides, Al doped ZnO (AZO) films, enhanced light scattering capability, gases, deposition, nanoporus, nanoparticles, Van der Pauw, scanning electron microscopy, SEM
50297
Neurocircuit Assays for Seizures in Epilepsy Mutants of Drosophila
Institutions: University of California, Berkeley, University of California, Berkeley.

Drosophila melanogaster
is a useful tool for studying seizure like activity. A variety of mutants in which seizures can be induced through either physical shock or electrical stimulation is available for study of various aspects of seizure activity and behavior. All flies, including wild-type, will undergo seizure-like activity if stimulated at a high enough voltage. Seizure like activity is an all-or-nothing response and each genotype has a specific seizure threshold. The seizure threshold of a specific genotype of fly can be altered either by treatment with a drug or by genetic suppression or enhancement. The threshold is easily measured by electrophysiology. Seizure-like activity can be induced via high frequency electrical stimulation delivered directly to the brain and recorded through the dorsal longitudinal muscles (DLMs) in the thorax. The DLMs are innervated by part of the giant fiber system. Starting with low voltage, high frequency stimulation, and subsequently raising the voltage in small increments, the seizure threshold for a single fly can be measured.
Neuroscience, Issue 26, elecrophysiology, Drosophila, seizures, epilepsy, giant fiber
1121
Nanomoulding of Functional Materials, a Versatile Complementary Pattern Replication Method to Nanoimprinting
Institutions: Ecole Polytechnique Fédérale de Lausanne (EPFL), University of California, Berkeley .

We describe a nanomoulding technique which allows low-cost nanoscale patterning of functional materials, materials stacks and full devices. Nanomoulding combined with layer transfer enables the replication of arbitrary surface patterns from a master structure onto the functional material. Nanomoulding can be performed on any nanoimprinting setup and can be applied to a wide range of materials and deposition processes. In particular we demonstrate the fabrication of patterned transparent zinc oxide electrodes for light trapping applications in solar cells.
Materials Science, Issue 71, Nanotechnology, Mechanical Engineering, Electrical Engineering, Computer Sciences, Physics, dielectrics (electronic application), light emitting diodes (LED), lithography (circuit fabrication), nanodevices (electronic), optoelectronics (applications), photoelectric devices, semiconductor devices, solar cells (electrical design), Surface patterning, nanoimprinting, nanomoulding, transfer moulding, functional materials, transparent conductive oxides, microengineering, photovoltaics
50177
Construction and Testing of Coin Cells of Lithium Ion Batteries
Institutions: Clemson University, Clemson University.

Rechargeable lithium ion batteries have wide applications in electronics, where customers always demand more capacity and longer lifetime. Lithium ion batteries have also been considered to be used in electric and hybrid vehicles
1
or even electrical grid stabilization systems
2
. All these applications simulate a dramatic increase in the research and development of battery materials
3-7
, including new materials
3,8
, doping
9
, nanostructuring
10-13
, coatings or surface modifications
14-17
and novel binders
18
. Consequently, an increasing number of physicists, chemists and materials scientists have recently ventured into this area. Coin cells are widely used in research laboratories to test new battery materials; even for the research and development that target large-scale and high-power applications, small coin cells are often used to test the capacities and rate capabilities of new materials in the initial stage. In 2010, we started a National Science Foundation (NSF) sponsored research project to investigate the surface adsorption and disordering in battery materials (grant no. DMR-1006515). In the initial stage of this project, we have struggled to learn the techniques of assembling and testing coin cells, which cannot be achieved without numerous help of other researchers in other universities (through frequent calls, email exchanges and two site visits). Thus, we feel that it is beneficial to document, by both text and video, a protocol of assembling and testing a coin cell, which will help other new researchers in this field. This effort represents the "Broader Impact" activities of our NSF project, and it will also help to educate and inspire students. In this video article, we document a protocol to assemble a CR2032 coin cell with a LiCoO
2
working electrode, a Li counter electrode, and (the mostly commonly used) polyvinylidene fluoride (PVDF) binder. To ensure new learners to readily repeat the protocol, we keep the protocol as specific and explicit as we can. However, it is important to note that in specific research and development work, many parameters adopted here can be varied. First, one can make coin cells of different sizes and test the working electrode against a counter electrode other than Li. Second, the amounts of C black and binder added into the working electrodes are often varied to suit the particular purpose of research; for example, large amounts of C black or even inert powder were added to the working electrode to test the "intrinsic" performance of cathode materials
14
. Third, better binders (other than PVDF) have also developed and used
18
. Finally, other types of electrolytes (instead of LiPF
6
) can also be used; in fact, certain high-voltage electrode materials will require the uses of special electrolytes
7
.
Materials Science, Issue 66, Chemistry, Chemical Engineering, Electrical Engineering, Physics, Battery, coin cells, CR2032, lithium, lithium ion
4104
Fabrication of Spatially Confined Complex Oxides
Institutions: Oak Ridge National Laboratory, University of Tennessee, Knoxville.
Complex materials such as high Tc superconductors, multiferroics, and colossal magnetoresistors have electronic and magnetic properties that arise from the inherent strong electron correlations that reside within them. These materials can also possess electronic phase separation in which regions of vastly different resistive and magnetic behavior can coexist within a single crystal alloy material. By reducing the scale of these materials to length scales at and below the inherent size of the electronic domains, novel behaviors can be exposed. Because of this and the fact that spin-charge-lattice-orbital order parameters each involve correlation lengths, spatially reducing these materials for transport measurements is a critical step in understanding the fundamental physics that drives complex behaviors. These materials also offer great potential to become the next generation of electronic devices
1-3
. Thus, the fabrication of low dimensional nano- or micro-structures is extremely important to achieve new functionality. This involves multiple controllable processes from high quality thin film growth to accurate electronic property characterization. Here, we present fabrication protocols of high quality microstructures for complex oxide manganite devices. Detailed descriptions and required equipment of thin film growth, photo-lithography, and wire-bonding are presented.
Materials Science, Issue 77, Physics, Chemistry, Chemical Engineering, Mechanical Engineering, Nanotechnology, electrical transport properties in solids, condensed matter physics, thin films (theory, deposition and growth), conductivity (solid state), Pulsed laser deposition, oxides thin films, photolithography, wire-bonding, thin film, etching, fabrication, nanofabrication
50573
Dry Oxidation and Vacuum Annealing Treatments for Tuning the Wetting Properties of Carbon Nanotube Arrays
Institutions: California Institute of Technology.

In this article, we describe a simple method to reversibly tune the wetting properties of vertically aligned carbon nanotube (CNT) arrays. Here, CNT arrays are defined as densely packed multi-walled carbon nanotubes oriented perpendicular to the growth substrate as a result of a growth process by the standard thermal chemical vapor deposition (CVD) technique.
1,2
These CNT arrays are then exposed to vacuum annealing treatment to make them more hydrophobic or to dry oxidation treatment to render them more hydrophilic. The hydrophobic CNT arrays can be turned hydrophilic by exposing them to dry oxidation treatment, while the hydrophilic CNT arrays can be turned hydrophobic by exposing them to vacuum annealing treatment. Using a combination of both treatments, CNT arrays can be repeatedly switched between hydrophilic and hydrophobic.
2
Therefore, such combination show a very high potential in many industrial and consumer applications, including drug delivery system and high power density supercapacitors.
3-5
The key to vary the wettability of CNT arrays is to control the surface concentration of oxygen adsorbates. Basically oxygen adsorbates can be introduced by exposing the CNT arrays to any oxidation treatment. Here we use dry oxidation treatments, such as oxygen plasma and UV/ozone, to functionalize the surface of CNT with oxygenated functional groups. These oxygenated functional groups allow hydrogen bond between the surface of CNT and water molecules to form, rendering the CNT hydrophilic. To turn them hydrophobic, adsorbed oxygen must be removed from the surface of CNT. Here we employ vacuum annealing treatment to induce oxygen desorption process. CNT arrays with extremely low surface concentration of oxygen adsorbates exhibit a superhydrophobic behavior.
Chemistry, Issue 74, Chemical Engineering, Materials Science, Nanotechnology, Engineering, Nanotubes, Carbon, Oxidation-Reduction, Surface Properties, carbon nanotubes (synthesis and properties), Carbon nanotube, Wettability, Hydrophobic, Hydrophilic, UV/ozone, Oxygen Plasma, Vacuum Annealing
50378
A Tactile Automated Passive-Finger Stimulator (TAPS)
Institutions: Duquesne University, McMaster University.

Although tactile spatial acuity tests are used in both neuroscience research and clinical assessment, few automated devices exist for delivering controlled spatially structured stimuli to the skin. Consequently, investigators often apply tactile stimuli manually. Manual stimulus application is time consuming, requires great care and concentration on the part of the investigator, and leaves many stimulus parameters uncontrolled. We describe here a computer-controlled tactile stimulus system, the Tactile Automated Passive-finger Stimulator (TAPS), that applies spatially structured stimuli to the skin, controlling for onset velocity, contact force, and contact duration. TAPS is a versatile, programmable system, capable of efficiently conducting a variety of psychophysical procedures. We describe the components of TAPS, and show how TAPS is used to administer a two-interval forced-choice tactile grating orientation test. Corresponding Author: Daniel Goldreich
Medicine, Neuroscience, Issue 28, tactile, somatosensory, touch, cutaneous, acuity, psychophysics, Bayesian, grating orientation, sensory neuroscience, spatial discrimination
1374
Conducting Miller-Urey Experiments
Institutions: Georgia Institute of Technology, Tokyo Institute of Technology, Institute for Advanced Study, NASA Johnson Space Center, NASA Goddard Space Flight Center, University of California at San Diego.

In 1953, Stanley Miller reported the production of biomolecules from simple gaseous starting materials, using an apparatus constructed to simulate the primordial Earth's atmosphere-ocean system. Miller introduced 200 ml of water, 100 mmHg of H
2
, 200 mmHg of CH
4
, and 200 mmHg of NH
3
into the apparatus, then subjected this mixture, under reflux, to an electric discharge for a week, while the water was simultaneously heated. The purpose of this manuscript is to provide the reader with a general experimental protocol that can be used to conduct a Miller-Urey type spark discharge experiment, using a simplified 3 L reaction flask. Since the experiment involves exposing inflammable gases to a high voltage electric discharge, it is worth highlighting important steps that reduce the risk of explosion. The general procedures described in this work can be extrapolated to design and conduct a wide variety of electric discharge experiments simulating primitive planetary environments.
Chemistry, Issue 83, Geosciences (General), Exobiology, Miller-Urey, Prebiotic chemistry, amino acids, spark discharge
51039
Voltage Biasing, Cyclic Voltammetry, & Electrical Impedance Spectroscopy for Neural Interfaces
Institutions: Purdue University, University of Wisconsin-Madison, University of Michigan , Purdue University.

Electrical impedance spectroscopy (EIS) and cyclic voltammetry (CV) measure properties of the electrode-tissue interface without additional invasive procedures, and can be used to monitor electrode performance over the long term. EIS measures electrical impedance at multiple frequencies, and increases in impedance indicate increased glial scar formation around the device, while cyclic voltammetry measures the charge carrying capacity of the electrode, and indicates how charge is transferred at different voltage levels. As implanted electrodes age, EIS and CV data change, and electrode sites that previously recorded spiking neurons often exhibit significantly lower efficacy for neural recording. The application of a brief voltage pulse to implanted electrode arrays, known as rejuvenation, can bring back spiking activity on otherwise silent electrode sites for a period of time. Rejuvenation alters EIS and CV, and can be monitored by these complementary methods. Typically, EIS is measured daily as an indication of the tissue response at the electrode site. If spikes are absent in a channel that previously had spikes, then CV is used to determine the charge carrying capacity of the electrode site, and rejuvenation can be applied to improve the interface efficacy. CV and EIS are then repeated to check the changes at the electrode-tissue interface, and neural recordings are collected. The overall goal of rejuvenation is to extend the functional lifetime of implanted arrays.
Neuroscience, Issue 60, neuroprosthesis, electrode-tissue interface, rejuvenation, neural engineering, neuroscience, neural implant, electrode, brain-computer interface, electrochemistry
3566
Sputter Growth and Characterization of Metamagnetic B2-ordered FeRh Epilayers
Institutions: University of Leeds, University of Leeds, University of Edinburgh, Northeastern University, Northeastern University.

Chemically ordered alloys are useful in a variety of magnetic nanotechnologies. They are most conveniently prepared at an industrial scale using sputtering techniques. Here we describe a method for preparing epitaxial thin films of B2-ordered FeRh by sputter deposition onto single crystal MgO substrates. Deposition at a slow rate onto a heated substrate allows time for the adatoms to both settle into a lattice with a well-defined epitaxial relationship with the substrate and also to find their proper places in the Fe and Rh sublattices of the B2 structure. The structure is conveniently characterized with X-ray reflectometry and diffraction and can be visualised directly using transmission electron micrograph cross-sections. B2-ordered FeRh exhibits an unusual metamagnetic phase transition: the ground state is antiferromagnetic but the alloy transforms into a ferromagnet on heating with a typical transition temperature of about 380 K. This is accompanied by a 1% volume expansion of the unit cell: isotropic in bulk, but laterally clamped in an epilayer. The presence of the antiferromagnetic ground state and the associated first order phase transition is very sensitive to the correct equiatomic stoichiometry and proper B2 ordering, and so is a convenient means to demonstrate the quality of the layers that can be deposited with this approach. We also give some examples of the various techniques by which the change in phase can be detected.
Physics, Issue 80, Sputtering, epitaxial growth, magnetism, ordered alloys
50603
The Preparation of Electrohydrodynamic Bridges from Polar Dielectric Liquids
Institutions: Wetsus - Centre of Excellence for Sustainable Water Technology, IRCAM GmbH, Graz University of Technology.

Horizontal and vertical liquid bridges are simple and powerful tools for exploring the interaction of high intensity electric fields (8-20 kV/cm) and polar dielectric liquids. These bridges are unique from capillary bridges in that they exhibit extensibility beyond a few millimeters, have complex bi-directional mass transfer patterns, and emit non-Planck infrared radiation. A number of common solvents can form such bridges as well as low conductivity solutions and colloidal suspensions. The macroscopic behavior is governed by electrohydrodynamics and provides a means of studying fluid flow phenomena without the presence of rigid walls. Prior to the onset of a liquid bridge several important phenomena can be observed including advancing meniscus height (electrowetting), bulk fluid circulation (the Sumoto effect), and the ejection of charged droplets (electrospray). The interaction between surface, polarization, and displacement forces can be directly examined by varying applied voltage and bridge length. The electric field, assisted by gravity, stabilizes the liquid bridge against Rayleigh-Plateau instabilities. Construction of basic apparatus for both vertical and horizontal orientation along with operational examples, including thermographic images, for three liquids (
e.g.
, water, DMSO, and glycerol) is presented.
Physics, Issue 91, floating water bridge, polar dielectric liquids, liquid bridge, electrohydrodynamics, thermography, dielectrophoresis, electrowetting, Sumoto effect, Armstrong effect
51819
Designing Silk-silk Protein Alloy Materials for Biomedical Applications
Institutions: Rowan University, Rowan University, Cooper Medical School of Rowan University, Rowan University.

Fibrous proteins display different sequences and structures that have been used for various applications in biomedical fields such as biosensors, nanomedicine, tissue regeneration, and drug delivery. Designing materials based on the molecular-scale interactions between these proteins will help generate new multifunctional protein alloy biomaterials with tunable properties. Such alloy material systems also provide advantages in comparison to traditional synthetic polymers due to the materials biodegradability, biocompatibility, and tenability in the body. This article used the protein blends of wild tussah silk (
Antheraea pernyi
) and domestic mulberry silk (
Bombyx mori
) as an example to provide useful protocols regarding these topics, including how to predict protein-protein interactions by computational methods, how to produce protein alloy solutions, how to verify alloy systems by thermal analysis, and how to fabricate variable alloy materials including optical materials with diffraction gratings, electric materials with circuits coatings, and pharmaceutical materials for drug release and delivery. These methods can provide important information for designing the next generation multifunctional biomaterials based on different protein alloys.
Bioengineering, Issue 90, protein alloys, biomaterials, biomedical, silk blends, computational simulation, implantable electronic devices
50891
Electric Cell-substrate Impedance Sensing for the Quantification of Endothelial Proliferation, Barrier Function, and Motility
Institutions: Institute for Cardiovascular Research, VU University Medical Center, Institute for Cardiovascular Research, VU University Medical Center.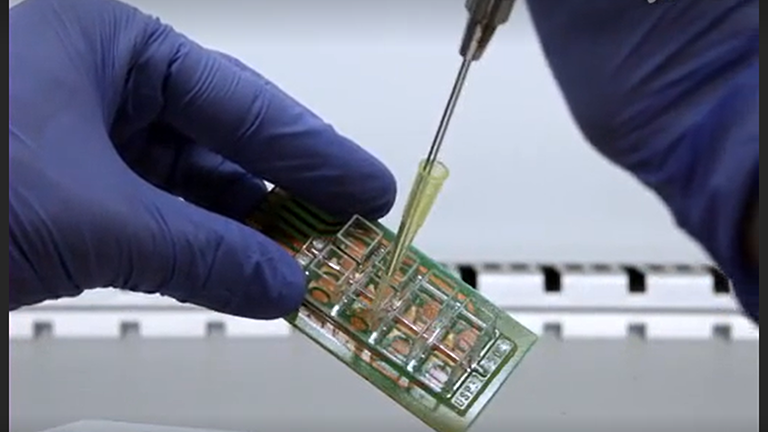 Electric Cell-substrate Impedance Sensing (ECIS) is an
in vitro
impedance measuring system to quantify the behavior of cells within adherent cell layers. To this end, cells are grown in special culture chambers on top of opposing, circular gold electrodes. A constant small alternating current is applied between the electrodes and the potential across is measured. The insulating properties of the cell membrane create a resistance towards the electrical current flow resulting in an increased electrical potential between the electrodes. Measuring cellular impedance in this manner allows the automated study of cell attachment, growth, morphology, function, and motility. Although the ECIS measurement itself is straightforward and easy to learn, the underlying theory is complex and selection of the right settings and correct analysis and interpretation of the data is not self-evident. Yet, a clear protocol describing the individual steps from the experimental design to preparation, realization, and analysis of the experiment is not available. In this article the basic measurement principle as well as possible applications, experimental considerations, advantages and limitations of the ECIS system are discussed. A guide is provided for the study of cell attachment, spreading and proliferation; quantification of cell behavior in a confluent layer, with regard to barrier function, cell motility, quality of cell-cell and cell-substrate adhesions; and quantification of wound healing and cellular responses to vasoactive stimuli. Representative results are discussed based on human microvascular (MVEC) and human umbilical vein endothelial cells (HUVEC), but are applicable to all adherent growing cells.
Bioengineering, Issue 85, ECIS, Impedance Spectroscopy, Resistance, TEER, Endothelial Barrier, Cell Adhesions, Focal Adhesions, Proliferation, Migration, Motility, Wound Healing
51300
Long-term Behavioral Tracking of Freely Swimming Weakly Electric Fish
Institutions: University of Ottawa, University of Ottawa, University of Ottawa.

Long-term behavioral tracking can capture and quantify natural animal behaviors, including those occurring infrequently. Behaviors such as exploration and social interactions can be best studied by observing unrestrained, freely behaving animals. Weakly electric fish (WEF) display readily observable exploratory and social behaviors by emitting electric organ discharge (EOD). Here, we describe three effective techniques to synchronously measure the EOD, body position, and posture of a free-swimming WEF for an extended period of time. First, we describe the construction of an experimental tank inside of an isolation chamber designed to block external sources of sensory stimuli such as light, sound, and vibration. The aquarium was partitioned to accommodate four test specimens, and automated gates remotely control the animals' access to the central arena. Second, we describe a precise and reliable real-time EOD timing measurement method from freely swimming WEF. Signal distortions caused by the animal's body movements are corrected by spatial averaging and temporal processing stages. Third, we describe an underwater near-infrared imaging setup to observe unperturbed nocturnal animal behaviors. Infrared light pulses were used to synchronize the timing between the video and the physiological signal over a long recording duration. Our automated tracking software measures the animal's body position and posture reliably in an aquatic scene. In combination, these techniques enable long term observation of spontaneous behavior of freely swimming weakly electric fish in a reliable and precise manner. We believe our method can be similarly applied to the study of other aquatic animals by relating their physiological signals with exploratory or social behaviors.
Neuroscience, Issue 85, animal tracking, weakly electric fish, electric organ discharge, underwater infrared imaging, automated image tracking, sensory isolation chamber, exploratory behavior
50962
In Situ Neutron Powder Diffraction Using Custom-made Lithium-ion Batteries
Institutions: University of Sydney, University of Wollongong, Australian Synchrotron, Australian Nuclear Science and Technology Organisation, University of Wollongong, University of New South Wales.

Li-ion batteries are widely used in portable electronic devices and are considered as promising candidates for higher-energy applications such as electric vehicles.
1,2
However, many challenges, such as energy density and battery lifetimes, need to be overcome before this particular battery technology can be widely implemented in such applications.
3
This research is challenging, and we outline a method to address these challenges using
in situ
NPD to probe the crystal structure of electrodes undergoing electrochemical cycling (charge/discharge) in a battery. NPD data help determine the underlying structural mechanism responsible for a range of electrode properties, and this information can direct the development of better electrodes and batteries. We briefly review six types of battery designs custom-made for NPD experiments and detail the method to construct the 'roll-over' cell that we have successfully used on the high-intensity NPD instrument, WOMBAT, at the Australian Nuclear Science and Technology Organisation (ANSTO). The design considerations and materials used for cell construction are discussed in conjunction with aspects of the actual
in situ
NPD experiment and initial directions are presented on how to analyze such complex
in situ
data.
Physics, Issue 93, In operando, structure-property relationships, electrochemical cycling, electrochemical cells, crystallography, battery performance
52284
Development of a 3D Graphene Electrode Dielectrophoretic Device
Institutions: Michigan Technological University, Michigan Technological University, XG Sciences, Inc..
The design and fabrication of a novel 3D electrode microdevice using 50 µm thick graphene paper and 100 µm double sided tape is described. The protocol details the procedures to construct a versatile, reusable, multiple layer, laminated dielectrophoresis chamber. Specifically, six layers of 50 µm x 0.7 cm x 2 cm graphene paper and five layers of double sided tape were alternately stacked together, then clamped to a glass slide. Then a 700 μm diameter micro-well was drilled through the laminated structure using a computer-controlled micro drilling machine. Insulating properties of the tape layer between adjacent graphene layers were assured by resistance tests. Silver conductive epoxy connected alternate layers of graphene paper and formed stable connections between the graphene paper and external copper wire electrodes. The finished device was then clamped and sealed to a glass slide. The electric field gradient was modeled within the multi-layer device. Dielectrophoretic behaviors of 6 μm polystyrene beads were demonstrated in the 1 mm deep micro-well, with medium conductivities ranging from 0.0001 S/m to 1.3 S/m, and applied signal frequencies from 100 Hz to 10 MHz. Negative dielectrophoretic responses were observed in three dimensions over most of the conductivity-frequency space and cross-over frequency values are consistent with previously reported literature values. The device did not prevent AC electroosmosis and electrothermal flows, which occurred in the low and high frequency regions, respectively. The graphene paper utilized in this device is versatile and could subsequently function as a biosensor after dielectrophoretic characterizations are complete.
Physics, Issue 88, graphene paper, dielectrophoresis, graphene electrodes, 3D laminated microdevice, polystyrene beads, cell diagnostics
51696
Preparation and Use of Photocatalytically Active Segmented Ag|ZnO and Coaxial TiO2-Ag Nanowires Made by Templated Electrodeposition
Institutions: University of Twente.

Photocatalytically active nanostructures require a large specific surface area with the presence of many catalytically active sites for the oxidation and reduction half reactions, and fast electron (hole) diffusion and charge separation. Nanowires present suitable architectures to meet these requirements. Axially segmented Ag|ZnO and radially segmented (coaxial) TiO
2
-Ag nanowires with a diameter of 200 nm and a length of 6-20 µm were made by templated electrodeposition within the pores of polycarbonate track-etched (PCTE) or anodized aluminum oxide (AAO) membranes, respectively. In the photocatalytic experiments, the ZnO and TiO
2
phases acted as photoanodes, and Ag as cathode. No external circuit is needed to connect both electrodes, which is a key advantage over conventional photo-electrochemical cells. For making segmented Ag|ZnO nanowires, the Ag salt electrolyte was replaced after formation of the Ag segment to form a ZnO segment attached to the Ag segment. For making coaxial TiO
2
-Ag nanowires, a TiO
2
gel was first formed by the electrochemically induced sol-gel method. Drying and thermal annealing of the as-formed TiO
2
gel resulted in the formation of crystalline TiO
2
nanotubes. A subsequent Ag electrodeposition step inside the TiO
2
nanotubes resulted in formation of coaxial TiO
2
-Ag nanowires. Due to the combination of an
n
-type semiconductor (ZnO or TiO
2
) and a metal (Ag) within the same nanowire, a Schottky barrier was created at the interface between the phases. To demonstrate the photocatalytic activity of these nanowires, the Ag|ZnO nanowires were used in a photocatalytic experiment in which H
2
gas was detected upon UV illumination of the nanowires dispersed in a methanol/water mixture. After 17 min of illumination, approximately 0.2 vol% H
2
gas was detected from a suspension of ~0.1 g of Ag|ZnO nanowires in a 50 ml 80 vol% aqueous methanol solution.
Physics, Issue 87, Multicomponent nanowires, electrochemistry, sol-gel processes, photocatalysis, photochemistry, H2 evolution
51547
Models and Methods to Evaluate Transport of Drug Delivery Systems Across Cellular Barriers
Institutions: University of Maryland, University of Maryland.

Sub-micrometer carriers (nanocarriers; NCs) enhance efficacy of drugs by improving solubility, stability, circulation time, targeting, and release. Additionally, traversing cellular barriers in the body is crucial for both oral delivery of therapeutic NCs into the circulation and transport from the blood into tissues, where intervention is needed. NC transport across cellular barriers is achieved by: (i) the paracellular route, via transient disruption of the junctions that interlock adjacent cells, or (ii) the transcellular route, where materials are internalized by endocytosis, transported across the cell body, and secreted at the opposite cell surface (transyctosis). Delivery across cellular barriers can be facilitated by coupling therapeutics or their carriers with targeting agents that bind specifically to cell-surface markers involved in transport. Here, we provide methods to measure the extent and mechanism of NC transport across a model cell barrier, which consists of a monolayer of gastrointestinal (GI) epithelial cells grown on a porous membrane located in a transwell insert. Formation of a permeability barrier is confirmed by measuring transepithelial electrical resistance (TEER), transepithelial transport of a control substance, and immunostaining of tight junctions. As an example, ~200 nm polymer NCs are used, which carry a therapeutic cargo and are coated with an antibody that targets a cell-surface determinant. The antibody or therapeutic cargo is labeled with
125
I for radioisotope tracing and labeled NCs are added to the upper chamber over the cell monolayer for varying periods of time. NCs associated to the cells and/or transported to the underlying chamber can be detected. Measurement of free
125
I allows subtraction of the degraded fraction. The paracellular route is assessed by determining potential changes caused by NC transport to the barrier parameters described above. Transcellular transport is determined by addressing the effect of modulating endocytosis and transcytosis pathways.
Bioengineering, Issue 80, Antigens, Enzymes, Biological Therapy, bioengineering (general), Pharmaceutical Preparations, Macromolecular Substances, Therapeutics, Digestive System and Oral Physiological Phenomena, Biological Phenomena, Cell Physiological Phenomena, drug delivery systems, targeted nanocarriers, transcellular transport, epithelial cells, tight junctions, transepithelial electrical resistance, endocytosis, transcytosis, radioisotope tracing, immunostaining
50638
Simultaneous fMRI and Electrophysiology in the Rodent Brain
Institutions: Emory University, Georgia Institute of Technology, Emory University.

To examine the neural basis of the blood oxygenation level dependent (BOLD) magnetic resonance imaging (MRI) signal, we have developed a rodent model in which functional MRI data and
in vivo
intracortical recording can be performed simultaneously. The combination of MRI and electrical recording is technically challenging because the electrodes used for recording distort the MRI images and the MRI acquisition induces noise in the electrical recording. To minimize the mutual interference of the two modalities, glass microelectrodes were used rather than metal and a noise removal algorithm was implemented for the electrophysiology data. In our studies, two microelectrodes were separately implanted in bilateral primary somatosensory cortices (SI) of the rat and fixed in place. One coronal slice covering the electrode tips was selected for functional MRI. Electrode shafts and fixation positions were not included in the image slice to avoid imaging artifacts. The removed scalp was replaced with toothpaste to reduce susceptibility mismatch and prevent Gibbs ringing artifacts in the images. The artifact structure induced in the electrical recordings by the rapidly-switching magnetic fields during image acquisition was characterized by averaging all cycles of scans for each run. The noise structure during imaging was then subtracted from original recordings. The denoised time courses were then used for further analysis in combination with the fMRI data. As an example, the simultaneous acquisition was used to determine the relationship between spontaneous fMRI BOLD signals and band-limited intracortical electrical activity. Simultaneous fMRI and electrophysiological recording in the rodent will provide a platform for many exciting applications in neuroscience in addition to elucidating the relationship between the fMRI BOLD signal and neuronal activity.
Neuroscience, Issue 42, fMRI, electrophysiology, rat, BOLD, brain, resting state
1901
Micro-scale Engineering for Cell Biology
Institutions: MIT - Massachusetts Institute of Technology.

Cellular Biology, Issue 8, stem cells, tissue engineering, bioengineering
317