Corneal Donor Tissue Preparation for Descemet's Membrane Endothelial Keratoplasty
Published: 09-17-2014
ABSTRACT
Descemet's Membrane Endothelial Keratoplasty (DMEK) is a form of corneal transplantation in which only a single cell layer, the corneal endothelium, along with its basement membrane (Descemet's membrane) is introduced onto the recipient's posterior stroma3. Unlike Descemet's Stripping Automated Endothelial Keratoplasty (DSAEK), where additional donor stroma is introduced, no unnatural stroma-to-stroma interface is created. As a result, the natural anatomy of the cornea is preserved as much as possible allowing for improved recovery time and visual acuity4. Endothelial Keratoplasty (EK) is the procedure of choice for treatment of endothelial dysfunction. The advantages of EK include rapid recovery of vision, preservation of ocular integrity and minimal refractive change due to use of a small, peripheral incision1. DSAEK utilizes donor tissue prepared with partial thickness stroma and endothelium. The rapid success and utilization of this procedure can be attributed to availability of eye-bank prepared precut tissue. The benefits of eye-bank preparation of donor tissue include elimination of need for specialized equipment in the operating room and availability of back up donor tissue in case of tissue perforation during preparation. In addition, high volume preparation of donor tissue by eye-bank technicians may provide improved quality of donor tissue. DSAEK may have limited best corrected visual acuity due to creation of a stromal interface between the donor and recipient cornea. Elimination of this interface with transplantation of only donor Descemet's membrane and endothelium in DMEK may improve visual outcomes and reduce complications after EK5. Similar to DSAEK, long term success and acceptance of DMEK is dependent on ease of availability of precut, eye-bank prepared donor tissue. Here we present a stepwise approach to donor tissue preparation which may reduce some barriers eye-banks face in providing DMEK grafts.
19 Related JoVE Articles!
Corneal Donor Tissue Preparation for Endothelial Keratoplasty
Institutions: University of Michigan , MidWest Eye Banks.
Over the past ten years, corneal transplantation surgical techniques have undergone revolutionary changes
1,2
. Since its inception, traditional full thickness corneal transplantation has been the treatment to restore sight in those limited by corneal disease. Some disadvantages to this approach include a high degree of post-operative astigmatism, lack of predictable refractive outcome, and disturbance to the ocular surface. The development of Descemet's stripping endothelial keratoplasty (DSEK), transplanting only the posterior corneal stroma, Descemet's membrane, and endothelium, has dramatically changed treatment of corneal endothelial disease. DSEK is performed through a smaller incision; this technique avoids 'open sky' surgery with its risk of hemorrhage or expulsion, decreases the incidence of postoperative wound dehiscence, reduces unpredictable refractive outcomes, and may decrease the rate of transplant rejection
3-6
. Initially, cornea donor posterior lamellar dissection for DSEK was performed manually
1
resulting in variable graft thickness and damage to the delicate corneal endothelial tissue during tissue processing. Automated lamellar dissection (Descemet's stripping automated endothelial keratoplasty, DSAEK) was developed to address these issues. Automated dissection utilizes the same technology as LASIK corneal flap creation with a mechanical microkeratome blade that helps to create uniform and thin tissue grafts for DSAEK surgery with minimal corneal endothelial cell loss in tissue processing. Eye banks have been providing full thickness corneas for surgical transplantation for many years. In 2006, eye banks began to develop methodologies for supplying precut corneal tissue for endothelial keratoplasty. With the input of corneal surgeons, eye banks have developed thorough protocols to safely and effectively prepare posterior lamellar tissue for DSAEK surgery. This can be performed preoperatively at the eye bank. Research shows no significant difference in terms of the quality of the tissue
7
or patient outcomes
8,9
using eye bank precut tissue versus surgeon-prepared tissue for DSAEK surgery. For most corneal surgeons, the availability of precut DSAEK corneal tissue saves time and money
10
, and reduces the stress of performing the donor corneal dissection in the operating room. In part because of the ability of the eye banks to provide high quality posterior lamellar corneal in a timely manner, DSAEK has become the standard of care for surgical management of corneal endothelial disease. The procedure that we are describing is the preparation of the posterior lamellar cornea at the eye bank for transplantation in DSAEK surgery (
Figure 1
).
Medicine, Issue 64, Physiology, Cornea, transplantation, DSAEK, DSEK, endothelial keratoplasty, lamellar, graft, Moria, microkeratome, precut, Fuchs dystrophy
3847
A Simplified Technique for In situ Excision of Cornea and Evisceration of Retinal Tissue from Human Ocular Globe
Institutions: Fondazione Banca Degli Occhi del Veneto O.N.L.U.S. , Telethon Institute for Genetics & Medicine (T.I.G.E.M.).

Enucleation is the process of retrieving the ocular globe from a cadaveric donor leaving the rest of the globe undisturbed. Excision refers to the retrieval of ocular tissues, especially cornea, by cutting it separate from the ocular globe. Evisceration is the process of removing the internal organs referred here as retina. The ocular globe consists of the cornea, the sclera, the vitreous body, the lens, the iris, the retina, the choroid, muscles etc (Suppl.
Figure 1
). When a patient is suffering from corneal damage, the cornea needs to be removed and a healthy one must be transplanted by keratoplastic surgeries. Genetic disorders or defects in retinal function can compromise vision. Human ocular globes can be used for various surgical procedures such as eye banking, transplantation of human cornea or sclera and research on ocular tissues. However, there is little information available on human corneal and retinal excision, probably due to the limited accessibility to human tissues. Most of the studies describing similar procedures are performed on animal models. Research scientists rely on the availability of properly dissected and well-conserved ocular tissues in order to extend the knowledge on human eye development, homeostasis and function. As we receive high amount of ocular globes out of which approximately 40% (
Table 1
) of them are used for research purposes, we are able to perform huge amount of experiments on these tissues, defining techniques to excise and preserve them regularly. The cornea is an avascular tissue which enables the transmission of light onto the retina and for this purpose should always maintain a good degree of transparency. Within the cornea, the limbus region, which is a reservoir of the stem cells, helps the reconstruction of epithelial cells and restricts the overgrowth of the conjunctiva maintaining corneal transparency and clarity. The size and thickness of the cornea are critical for clear vision, as changes in either of them could lead to distracted, unclear vision. The cornea comprises of 5 layers; a) epithelium, b) Bowman's layer, c) stroma, d) Descemet's membrane and e) endothelium. All layers should function properly to ensure clear vision
4,5,6
. The choroid is the intermediate tunic between the sclera and retina, bounded on the interior by the Bruch's membrane and is responsible for blood flow in the eye. The choroid also helps to regulate the temperature and supplies nourishment to the outer layers of the retina
5,6
. The retina is a layer of nervous tissue that covers the back of the ocular globe (Suppl.
Figure 1
) and consists of two parts: a photoreceptive part and a non-receptive part. The retina helps to receive the light from the cornea and lens and converts it into the chemical energy eventually transmitted to the brain with help of the optic nerve
5,6
. The aim of this paper is to provide a protocol for the dissection of corneal and retinal tissues from human ocular globes. Avoiding cross-contamination with adjacent tissues and preserving RNA integrity is of fundamental importance as such tissues are indispensable for research purposes aimed at (i) characterizing the transcriptome of the ocular tissues, (ii) isolating stem cells for regenerative medicine projects, and (iii) evaluating histological differences between tissues from normal/affected subjects. In this paper we describe the technique we currently use to remove the cornea, the choroid and retinal tissues from an ocular globe. Here we provide a detailed protocol for the dissection of the human ocular globe and the excision of corneal and retinal tissues. The accompanying video will help researchers to learn an appropriate technique for the retrieval of precious human tissues which are difficult to find regularly.
Medicine, Issue 64, Physiology, Human cadaver ocular globe, in situ excision, corneal tissue, in situ evisceration, retinal tissue
3765
Murine Corneal Transplantation: A Model to Study the Most Common Form of Solid Organ Transplantation
Institutions: Saint Louis University.

Corneal transplantation is the most common form of organ transplantation in the United States with between 45,000 and 55,000 procedures performed each year. While several animal models exist for this procedure and mice are the species that is most commonly used. The reasons for using mice are the relative cost of using this species, the existence of many genetically defined strains that allow for the study of immune responses, and the existence of an extensive array of reagents that can be used to further define responses in this species. This model has been used to define factors in the cornea that are responsible for the relative immune privilege status of this tissue that enables corneal allografts to survive acute rejection in the absence of immunosuppressive therapy. It has also been used to define those factors that are most important in rejection of such allografts. Consequently, much of what we know concerning mechanisms of both corneal allograft acceptance and rejection are due to studies using a murine model of corneal transplantation. In addition to describing a model for acute corneal allograft rejection, we also present for the first time a model of late-term corneal allograft rejection.
Immunology, Issue 93, Transplantation, Allograft Responses, Immune Privilege, Cornea, Inflammatory cells, T cells, Macrophages
51830
An Alkali-burn Injury Model of Corneal Neovascularization in the Mouse
Institutions: Tulane University, Tulane University.

Under normal conditions, the cornea is avascular, and this transparency is essential for maintaining good visual acuity. Neovascularization (NV) of the cornea, which can be caused by trauma, keratoplasty or infectious disease, breaks down the so called 'angiogenic privilege' of the cornea and forms the basis of multiple visual pathologies that may even lead to blindness. Although there are several treatment options available, the fundamental medical need presented by corneal neovascular pathologies remains unmet. In order to develop safe, effective, and targeted therapies, a reliable model of corneal NV and pharmacological intervention is required. Here, we describe an alkali-burn injury corneal neovascularization model in the mouse. This protocol provides a method for the application of a controlled alkali-burn injury to the cornea, administration of a pharmacological compound of interest, and visualization of the result. This method could prove instrumental for studying the mechanisms and opportunities for intervention in corneal NV and other neovascular disorders.
Medicine, Issue 86, Alkali-burn Injury, Corneal Neovascularization (NV), Corneal Blindness, Angiogenesis, Inflammation, Hemangiogenesis, Lymphangiogenesis
51159
A Novel Technique of Rescuing Capsulorhexis Radial Tear-out using a Cystotome
Institutions: Hairmyres Hospital, NHS Lanarkshire, Royal Devon and Exeter NHS Foundation Trust, National Institute of Ophthalmology, South Devon Healthcare NHS Trust.

Part 1 : Purpose: To demonstrate a capsulorhexis radial tear out rescue technique using a cystotome on a virtual reality cataract surgery simulator and in a human eye. Part 2 : Method: Steps: When a capsulorhexis begins to veer radially towards the periphery beyond the pupillary margin the following steps should be applied without delay. 2.1) Stop further capsulorhexis manoeuvre and reassess the situation. 2.2) Fill the anterior chamber with ophthalmic viscosurgical device (OVD). We recommend mounting the cystotome to a syringe containing OVD so that the anterior chamber can be reinflated rapidly. 2.3) The capsulorhexis flap is then left unfolded on the lens surface. 2.4) The cystotome tip is tilted horizontally to avoid cutting or puncturing the flap and is engaged on the flap near the leading edge of the tear but not too close to the point of tear. 2.5) Gently push or pull the leading edge of tear opposite to the direction of tear. 2.6) The leading tearing edge will start to do a 'U-Turn'. Maintain the tension on the flap until the tearing edge returns to the desired trajectory. Part 3 : Results: Using our technique, a surgeon can respond instantly to radial tear out without having to change surgical instruments. Changing surgical instruments at this critical stage runs a risk of further radial tear due to sudden shallowing of anterior chamber as a result of forward pressure from the vitreous. Our technique also has the advantage of reducing corneal wound distortion and subsequent anterior chamber collapse. Part 4 : Discussion The EYESI Surgical Simulator is a realistic training platform for surgeons to practice complex capsulorhexis tear-out techniques. Capsulorhexis is the most important and complex part of phacoemulsification and endocapsular intraocular lens implantation procedure. A successful cataract surgery depends on achieving a good capsulorhexis. During capsulorhexis, surgeons may face a challenging situation like a capsulorhexis radial tear-out. A surgeon must learn to tackle the problem promptly without making the situation worse. Some other methods of rescuing the situation have been described using a capsulorhexis forceps. However, we believe our method is quicker, more effective and easier to manipulate as demonstrated on the EYESi surgical simulator and on a human eye. Acknowledgments: List acknowledgements and funding sources. We would like to thank Dr. Wael El Gendy, for video clip. Disclosures: describe potential conflicting interests or state We have nothing to disclose. References: 1. Brian C. Little, Jennifer H. Smith, Mark Packer. J Cataract Refract Surg 2006; 32:1420 1422, Issue-9. 2. Neuhann T. Theorie und Operationstechnik der Kapsulorhexis. Klin Monatsbl Augenheilkd. 1987; 1990: 542-545. 3. Gimbel HV, Neuhann T. Development, advantages and methods of the continuous circular capsulorhexis technique. J Cataract Refract Surg. 1990; 16: 31-37. 4. Gimbel HV, Neuhann T. Continuous curvilinear capsulorhexis. (letter) J Cataract Refract Sur. 1991; 17: 110-111.
Medicine, Issue 47, Phacoemulsification surgery, cataract surgery, capsulorhexis, capsulotomy, technique, Continuous curvilinear capsulorhexis, cystotome, capsulorhexis radial tear, capulorhexis COMPLICATION
2317
High Throughput Quantitative Expression Screening and Purification Applied to Recombinant Disulfide-rich Venom Proteins Produced in E. coli
Institutions: Aix-Marseille Université, Commissariat à l'énergie atomique et aux énergies alternatives (CEA) Saclay, France.

Escherichia coli (E. coli)
is the most widely used expression system for the production of recombinant proteins for structural and functional studies. However, purifying proteins is sometimes challenging since many proteins are expressed in an insoluble form. When working with difficult or multiple targets it is therefore recommended to use high throughput (HTP) protein expression screening on a small scale (1-4 ml cultures) to quickly identify conditions for soluble expression. To cope with the various structural genomics programs of the lab, a quantitative (within a range of 0.1-100 mg/L culture of recombinant protein) and HTP protein expression screening protocol was implemented and validated on thousands of proteins. The protocols were automated with the use of a liquid handling robot but can also be performed manually without specialized equipment. Disulfide-rich venom proteins are gaining increasing recognition for their potential as therapeutic drug leads. They can be highly potent and selective, but their complex disulfide bond networks make them challenging to produce. As a member of the FP7 European Venomics project (www.venomics.eu), our challenge is to develop successful production strategies with the aim of producing thousands of novel venom proteins for functional characterization. Aided by the redox properties of disulfide bond isomerase DsbC, we adapted our HTP production pipeline for the expression of oxidized, functional venom peptides in the
E. coli
cytoplasm. The protocols are also applicable to the production of diverse disulfide-rich proteins. Here we demonstrate our pipeline applied to the production of animal venom proteins. With the protocols described herein it is likely that soluble disulfide-rich proteins will be obtained in as little as a week. Even from a small scale, there is the potential to use the purified proteins for validating the oxidation state by mass spectrometry, for characterization in pilot studies, or for sensitive micro-assays.
Bioengineering, Issue 89, E. coli, expression, recombinant, high throughput (HTP), purification, auto-induction, immobilized metal affinity chromatography (IMAC), tobacco etch virus protease (TEV) cleavage, disulfide bond isomerase C (DsbC) fusion, disulfide bonds, animal venom proteins/peptides
51464
Tissue Triage and Freezing for Models of Skeletal Muscle Disease
Institutions: Medical College of Wisconsin, The Ohio State University, Virginia Tech, University of Kentucky, Boston Children's Hospital, Harvard Medical School, Cure Congenital Muscular Dystrophy, Joshua Frase Foundation, University of Washington, University of Arizona.

Skeletal muscle is a unique tissue because of its structure and function, which requires specific protocols for tissue collection to obtain optimal results from functional, cellular, molecular, and pathological evaluations. Due to the subtlety of some pathological abnormalities seen in congenital muscle disorders and the potential for fixation to interfere with the recognition of these features, pathological evaluation of frozen muscle is preferable to fixed muscle when evaluating skeletal muscle for congenital muscle disease. Additionally, the potential to produce severe freezing artifacts in muscle requires specific precautions when freezing skeletal muscle for histological examination that are not commonly used when freezing other tissues. This manuscript describes a protocol for rapid freezing of skeletal muscle using isopentane (2-methylbutane) cooled with liquid nitrogen to preserve optimal skeletal muscle morphology. This procedure is also effective for freezing tissue intended for genetic or protein expression studies. Furthermore, we have integrated our freezing protocol into a broader procedure that also describes preferred methods for the short term triage of tissue for (1) single fiber functional studies and (2) myoblast cell culture, with a focus on the minimum effort necessary to collect tissue and transport it to specialized research or reference labs to complete these studies. Overall, this manuscript provides an outline of how fresh tissue can be effectively distributed for a variety of phenotypic studies and thereby provides standard operating procedures (SOPs) for pathological studies related to congenital muscle disease.
Basic Protocol, Issue 89, Tissue, Freezing, Muscle, Isopentane, Pathology, Functional Testing, Cell Culture
51586
Development of an IFN-γ ELISpot Assay to Assess Varicella-Zoster Virus-specific Cell-mediated Immunity Following Umbilical Cord Blood Transplantation
Institutions: Université de Montréal, Université de Montréal, Université de Montréal.

Varicella zoster virus (VZV) is a significant cause of morbidity and mortality following umbilical cord blood transplantation (UCBT). For this reason, antiherpetic prophylaxis is administrated systematically to pediatric UCBT recipients to prevent complications associated with VZV infection, but there is no strong, evidence based consensus that defines its optimal duration. Because T cell mediated immunity is responsible for the control of VZV infection, assessing the reconstitution of VZV specific T cell responses following UCBT could provide indications as to whether prophylaxis should be maintained or can be discontinued. To this end, a VZV specific gamma interferon (IFN-γ) enzyme-linked immunospot (ELISpot) assay was developed to characterize IFN-γ production by T lymphocytes in response to
in vitro
stimulation with irradiated live attenuated VZV vaccine. This assay provides a rapid, reproducible and sensitive measurement of VZV specific cell mediated immunity suitable for monitoring the reconstitution of VZV specific immunity in a clinical setting and assessing immune responsiveness to VZV antigens.  
Immunology, Issue 89, Varicella zoster virus, cell-mediated immunity, T cells, interferon gamma, ELISpot, umbilical cord blood transplantation
51643
Compensatory Limb Use and Behavioral Assessment of Motor Skill Learning Following Sensorimotor Cortex Injury in a Mouse Model of Ischemic Stroke
Institutions: Illinois Wesleyan University, University of Victoria.

Mouse models have become increasingly popular in the field of behavioral neuroscience, and specifically in studies of experimental stroke. As models advance, it is important to develop sensitive behavioral measures specific to the mouse. The present protocol describes a skilled motor task for use in mouse models of stroke. The Pasta Matrix Reaching Task functions as a versatile and sensitive behavioral assay that permits experimenters to collect accurate outcome data and manipulate limb use to mimic human clinical phenomena including compensatory strategies (
i.e.
, learned non-use) and focused rehabilitative training. When combined with neuroanatomical tools, this task also permits researchers to explore the mechanisms that support behavioral recovery of function (or lack thereof) following stroke. The task is both simple and affordable to set up and conduct, offering a variety of training and testing options for numerous research questions concerning functional outcome following injury. Though the task has been applied to mouse models of stroke, it may also be beneficial in studies of functional outcome in other upper extremity injury models.
Behavior, Issue 89, Upper extremity impairment, Murine model, Rehabilitation, Reaching, Non-paretic limb training, Good limb training, Less-affected limb training, Learned non-use, Pasta matrix reaching task
51602
A Novel Capsulorhexis Technique Using Shearing Forces with Cystotome
Institutions: Hairmyres Hospital, NHS Lanarkshire, Department of Ophthalmology, South Devon Healthcare NHS Trust.
Purpose: To demonstrate a capsulorhexis technique using predominantly shearing forces with a cystotome on a virtual reality simulator and on a human eye. Method: Our technique involves creating the initial anterior capsular tear with a cystotome to raise a flap. The flap left unfolded on the lens surface. The cystotome tip is tilted horizontally and is engaged on the flap near the leading edge of the tear. The cystotome is moved in a circular fashion to direct the vector forces. The loose flap is constantly swept towards the centre so that it does not obscure the view on the tearing edge. Results: Our technique has the advantage of reducing corneal wound distortion and subsequent anterior chamber collapse. The capsulorhexis flap is moved away from the tear leading edge allowing better visualisation of the direction of tear. This technique offers superior control of the capsulorhexis by allowing the surgeon to change the direction of the tear to achieve the desired capsulorhexis size. Conclusions: The EYESI Surgical Simulator is a realistic training platform for surgeons to practice complex capsulorhexis techniques. The shearing forces technique is a suitable alternative and in some cases a far better technique in achieving the desired capsulorhexis.
JoVE Medicine, Issue 39, Phacoemulsification surgery, cataract surgery, capsulorhexis, capsulotomy, technique, Continuous curvilinear capsulorhexis, cystotome
1962
Corneal Confocal Microscopy: A Novel Non-invasive Technique to Quantify Small Fibre Pathology in Peripheral Neuropathies
Institutions: University of Manchester.

The accurate quantification of peripheral neuropathy is important to define at risk patients, anticipate deterioration, and assess new therapies. Conventional methods assess neurological deficits and electrophysiology and quantitative sensory testing quantifies functional alterations to detect neuropathy. However, the earliest damage appears to be to the small fibres and yet these tests primarily assess large fibre dysfunction and have a limited ability to demonstrate regeneration and repair. The only techniques which allow a direct examination of unmyelinated nerve fibre damage and repair are sural nerve biopsy with electron microscopy and skin-punch biopsy. However, both are invasive procedures and require lengthy laboratory procedures and considerable expertise. Corneal Confocal microscopy is a non-invasive clinical technique which provides
in-vivo
imaging of corneal nerve fibres. We have demonstrated early nerve damage, which precedes loss of intraepidermal nerve fibres in skin biopsies together with stratification of neuropathic severity and repair following pancreas transplantation in diabetic patients. We have also demonstrated nerve damage in idiopathic small fibre neuropathy and Fabry's disease.
Medicine, Issue 47, Corneal Confocal Microscopy, Corneal nerves, Peripheral Neuropathy, Diabetic Neuropathy
2194
Magnetic Tweezers for the Measurement of Twist and Torque
Institutions: Delft University of Technology.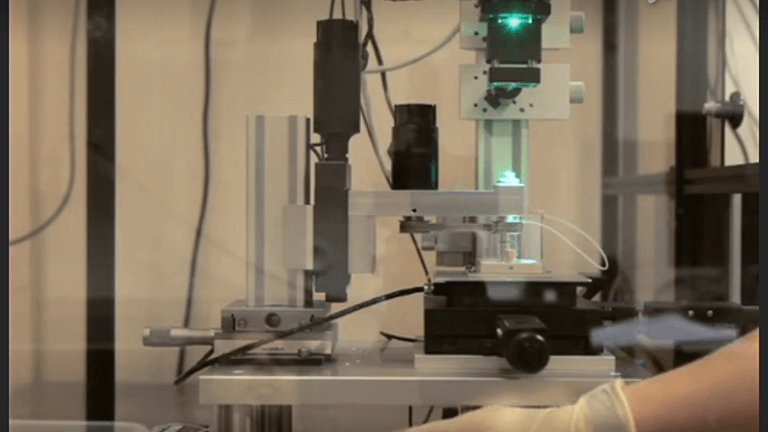 Single-molecule techniques make it possible to investigate the behavior of individual biological molecules in solution in real time. These techniques include so-called force spectroscopy approaches such as atomic force microscopy, optical tweezers, flow stretching, and magnetic tweezers. Amongst these approaches, magnetic tweezers have distinguished themselves by their ability to apply torque while maintaining a constant stretching force. Here, it is illustrated how such a "conventional" magnetic tweezers experimental configuration can, through a straightforward modification of its field configuration to minimize the magnitude of the transverse field, be adapted to measure the degree of twist in a biological molecule. The resulting configuration is termed the freely-orbiting magnetic tweezers. Additionally, it is shown how further modification of the field configuration can yield a transverse field with a magnitude intermediate between that of the "conventional" magnetic tweezers and the freely-orbiting magnetic tweezers, which makes it possible to directly measure the torque stored in a biological molecule. This configuration is termed the magnetic torque tweezers. The accompanying video explains in detail how the conversion of conventional magnetic tweezers into freely-orbiting magnetic tweezers and magnetic torque tweezers can be accomplished, and demonstrates the use of these techniques. These adaptations maintain all the strengths of conventional magnetic tweezers while greatly expanding the versatility of this powerful instrument.
Bioengineering, Issue 87, magnetic tweezers, magnetic torque tweezers, freely-orbiting magnetic tweezers, twist, torque, DNA, single-molecule techniques
51503
Characterization of Electrode Materials for Lithium Ion and Sodium Ion Batteries Using Synchrotron Radiation Techniques
Institutions: Lawrence Berkeley National Laboratory, University of Illinois at Chicago, Stanford Synchrotron Radiation Lightsource, Haldor Topsøe A/S, PolyPlus Battery Company.

Intercalation compounds such as transition metal oxides or phosphates are the most commonly used electrode materials in Li-ion and Na-ion batteries. During insertion or removal of alkali metal ions, the redox states of transition metals in the compounds change and structural transformations such as phase transitions and/or lattice parameter increases or decreases occur. These behaviors in turn determine important characteristics of the batteries such as the potential profiles, rate capabilities, and cycle lives. The extremely bright and tunable x-rays produced by synchrotron radiation allow rapid acquisition of high-resolution data that provide information about these processes. Transformations in the bulk materials, such as phase transitions, can be directly observed using X-ray diffraction (XRD), while X-ray absorption spectroscopy (XAS) gives information about the local electronic and geometric structures (
e.g.
 changes in redox states and bond lengths).
In situ
experiments carried out on operating cells are particularly useful because they allow direct correlation between the electrochemical and structural properties of the materials. These experiments are time-consuming and can be challenging to design due to the reactivity and air-sensitivity of the alkali metal anodes used in the half-cell configurations, and/or the possibility of signal interference from other cell components and hardware. For these reasons, it is appropriate to carry out
ex situ
experiments (
e.g.
 on electrodes harvested from partially charged or cycled cells) in some cases. Here, we present detailed protocols for the preparation of both
ex situ
and
in situ
samples for experiments involving synchrotron radiation and demonstrate how these experiments are done.
Physics, Issue 81, X-Ray Absorption Spectroscopy, X-Ray Diffraction, inorganic chemistry, electric batteries (applications), energy storage, Electrode materials, Li-ion battery, Na-ion battery, X-ray Absorption Spectroscopy (XAS), in situ X-ray diffraction (XRD)
50594
The Use of Magnetic Resonance Spectroscopy as a Tool for the Measurement of Bi-hemispheric Transcranial Electric Stimulation Effects on Primary Motor Cortex Metabolism
Institutions: University of Montréal, McGill University, University of Minnesota.

Transcranial direct current stimulation (tDCS) is a neuromodulation technique that has been increasingly used over the past decade in the treatment of neurological and psychiatric disorders such as stroke and depression. Yet, the mechanisms underlying its ability to modulate brain excitability to improve clinical symptoms remains poorly understood
33
. To help improve this understanding, proton magnetic resonance spectroscopy (
1
H-MRS) can be used as it allows the
in vivo
quantification of brain metabolites such as γ-aminobutyric acid (GABA) and glutamate in a region-specific manner
41
. In fact, a recent study demonstrated that
1
H-MRS is indeed a powerful means to better understand the effects of tDCS on neurotransmitter concentration
34
. This article aims to describe the complete protocol for combining tDCS (NeuroConn MR compatible stimulator) with
1
H-MRS at 3 T using a MEGA-PRESS sequence. We will describe the impact of a protocol that has shown great promise for the treatment of motor dysfunctions after stroke, which consists of bilateral stimulation of primary motor cortices
27,30,31
. Methodological factors to consider and possible modifications to the protocol are also discussed.
Neuroscience, Issue 93, proton magnetic resonance spectroscopy, transcranial direct current stimulation, primary motor cortex, GABA, glutamate, stroke
51631
Mechanical Stimulation-induced Calcium Wave Propagation in Cell Monolayers: The Example of Bovine Corneal Endothelial Cells
Institutions: KU Leuven.

Intercellular communication is essential for the coordination of physiological processes between cells in a variety of organs and tissues, including the brain, liver, retina, cochlea and vasculature. In experimental settings, intercellular Ca
2+
-waves can be elicited by applying a mechanical stimulus to a single cell. This leads to the release of the intracellular signaling molecules IP
3
and Ca
2+
that initiate the propagation of the Ca
2+
-wave concentrically from the mechanically stimulated cell to the neighboring cells. The main molecular pathways that control intercellular Ca
2+
-wave propagation are provided by gap junction channels through the direct transfer of IP
3
and by hemichannels through the release of ATP. Identification and characterization of the properties and regulation of different connexin and pannexin isoforms as gap junction channels and hemichannels are allowed by the quantification of the spread of the intercellular Ca
2+
-wave, siRNA, and the use of inhibitors of gap junction channels and hemichannels. Here, we describe a method to measure intercellular Ca
2+
-wave in monolayers of primary corneal endothelial cells loaded with Fluo4-AM in response to a controlled and localized mechanical stimulus provoked by an acute, short-lasting deformation of the cell as a result of touching the cell membrane with a micromanipulator-controlled glass micropipette with a tip diameter of less than 1 μm. We also describe the isolation of primary bovine corneal endothelial cells and its use as model system to assess Cx43-hemichannel activity as the driven force for intercellular Ca
2+
-waves through the release of ATP. Finally, we discuss the use, advantages, limitations and alternatives of this method in the context of gap junction channel and hemichannel research.
Cellular Biology, Issue 77, Molecular Biology, Medicine, Biomedical Engineering, Biophysics, Immunology, Ophthalmology, Gap Junctions, Connexins, Connexin 43, Calcium Signaling, Ca2+, Cell Communication, Paracrine Communication, Intercellular communication, calcium wave propagation, gap junctions, hemichannels, endothelial cells, cell signaling, cell, isolation, cell culture
50443
A Microplate Assay to Assess Chemical Effects on RBL-2H3 Mast Cell Degranulation: Effects of Triclosan without Use of an Organic Solvent
Institutions: University of Maine, Orono, University of Maine, Orono.

Mast cells play important roles in allergic disease and immune defense against parasites. Once activated (
e.g.
by an allergen), they degranulate, a process that results in the exocytosis of allergic mediators. Modulation of mast cell degranulation by drugs and toxicants may have positive or adverse effects on human health. Mast cell function has been dissected in detail with the use of rat basophilic leukemia mast cells (RBL-2H3), a widely accepted model of human mucosal mast cells
3-5
. Mast cell granule component and the allergic mediator β-hexosaminidase, which is released linearly in tandem with histamine from mast cells
6
, can easily and reliably be measured through reaction with a fluorogenic substrate, yielding measurable fluorescence intensity in a microplate assay that is amenable to high-throughput studies
1
. Originally published by Naal
et al.
1
, we have adapted this degranulation assay for the screening of drugs and toxicants and demonstrate its use here. Triclosan is a broad-spectrum antibacterial agent that is present in many consumer products and has been found to be a therapeutic aid in human allergic skin disease
7-11
, although the mechanism for this effect is unknown. Here we demonstrate an assay for the effect of triclosan on mast cell degranulation. We recently showed that triclosan strongly affects mast cell function
2
. In an effort to avoid use of an organic solvent, triclosan is dissolved directly into aqueous buffer with heat and stirring, and resultant concentration is confirmed using UV-Vis spectrophotometry (using ε
280
= 4,200 L/M/cm)
12
. This protocol has the potential to be used with a variety of chemicals to determine their effects on mast cell degranulation, and more broadly, their allergic potential.
Immunology, Issue 81, mast cell, basophil, degranulation, RBL-2H3, triclosan, irgasan, antibacterial, β-hexosaminidase, allergy, Asthma, toxicants, ionophore, antigen, fluorescence, microplate, UV-Vis
50671
In Vivo Modeling of the Morbid Human Genome using Danio rerio
Institutions: Duke University Medical Center, Duke University, Duke University Medical Center.

Here, we present methods for the development of assays to query potentially clinically significant nonsynonymous changes using
in vivo
complementation in zebrafish. Zebrafish (
Danio rerio
) are a useful animal system due to their experimental tractability; embryos are transparent to enable facile viewing, undergo rapid development
ex vivo,
and can be genetically manipulated.
1
These aspects have allowed for significant advances in the analysis of embryogenesis, molecular processes, and morphogenetic signaling. Taken together, the advantages of this vertebrate model make zebrafish highly amenable to modeling the developmental defects in pediatric disease, and in some cases, adult-onset disorders. Because the zebrafish genome is highly conserved with that of humans (~70% orthologous), it is possible to recapitulate human disease states in zebrafish. This is accomplished either through the injection of mutant human mRNA to induce dominant negative or gain of function alleles, or utilization of morpholino (MO) antisense oligonucleotides to suppress genes to mimic loss of function variants. Through complementation of MO-induced phenotypes with capped human mRNA, our approach enables the interpretation of the deleterious effect of mutations on human protein sequence based on the ability of mutant mRNA to rescue a measurable, physiologically relevant phenotype. Modeling of the human disease alleles occurs through microinjection of zebrafish embryos with MO and/or human mRNA at the 1-4 cell stage, and phenotyping up to seven days post fertilization (dpf). This general strategy can be extended to a wide range of disease phenotypes, as demonstrated in the following protocol. We present our established models for morphogenetic signaling, craniofacial, cardiac, vascular integrity, renal function, and skeletal muscle disorder phenotypes, as well as others.
Molecular Biology, Issue 78, Genetics, Biomedical Engineering, Medicine, Developmental Biology, Biochemistry, Anatomy, Physiology, Bioengineering, Genomics, Medical, zebrafish, in vivo, morpholino, human disease modeling, transcription, PCR, mRNA, DNA, Danio rerio, animal model
50338
Proper Care and Cleaning of the Microscope
Institutions: University of Texas Health Science Center at San Antonio (UTHSCSA).

Keeping the microscope optics clean is important for high-quality imaging. Dust, fingerprints, excess immersion oil, or mounting medium on or in a microscope causes reduction in contrast and resolution. DIC is especially sensitive to contamination and scratches on the lens surfaces. This protocol details the procedure for keeping the microscope clean.
Basic Protocols, Issue 18, Current Protocols Wiley, Microscopy, Cleaning the Microscope
842
Regulatory T cells: Therapeutic Potential for Treating Transplant Rejection and Type I Diabetes
Institutions: University of California, San Francisco - UCSF.

Issue 7, Immunology, Pancreatic Islets, Cell Culture, Diabetes, Ficoll Gradient, Translational Research
257