Fabrication And Characterization Of Photonic Crystal Slow Light Waveguides And Cavities
Published: 11-30-2012
ABSTRACT
Slow light has been one of the hot topics in the photonics community in the past decade, generating great interest both from a fundamental point of view and for its considerable potential for practical applications. Slow light photonic crystal waveguides, in particular, have played a major part and have been successfully employed for delaying optical signals1-4 and the enhancement of both linear5-7 and nonlinear devices.8-11 Photonic crystal cavities achieve similar effects to that of slow light waveguides, but over a reduced band-width. These cavities offer high Q-factor/volume ratio, for the realization of optically12 and electrically13 pumped ultra-low threshold lasers and the enhancement of nonlinear effects.14-16 Furthermore, passive filters17 and modulators18-19 have been demonstrated, exhibiting ultra-narrow line-width, high free-spectral range and record values of low energy consumption. To attain these exciting results, a robust repeatable fabrication protocol must be developed. In this paper we take an in-depth look at our fabrication protocol which employs electron-beam lithography for the definition of photonic crystal patterns and uses wet and dry etching techniques. Our optimised fabrication recipe results in photonic crystals that do not suffer from vertical asymmetry and exhibit very good edge-wall roughness. We discuss the results of varying the etching parameters and the detrimental effects that they can have on a device, leading to a diagnostic route that can be taken to identify and eliminate similar issues. The key to evaluating slow light waveguides is the passive characterization of transmission and group index spectra. Various methods have been reported, most notably resolving the Fabry-Perot fringes of the transmission spectrum20-21 and interferometric techniques.22-25 Here, we describe a direct, broadband measurement technique combining spectral interferometry with Fourier transform analysis.26 Our method stands out for its simplicity and power, as we can characterise a bare photonic crystal with access waveguides, without need for on-chip interference components, and the setup only consists of a Mach-Zehnder interferometer, with no need for moving parts and delay scans. When characterising photonic crystal cavities, techniques involving internal sources21 or external waveguides directly coupled to the cavity27 impact on the performance of the cavity itself, thereby distorting the measurement. Here, we describe a novel and non-intrusive technique that makes use of a cross-polarised probe beam and is known as resonant scattering (RS), where the probe is coupled out-of plane into the cavity through an objective. The technique was first demonstrated by McCutcheon et al.28 and further developed by Galli et al.29
17 Related JoVE Articles!
Design, Fabrication, and Experimental Characterization of Plasmonic Photoconductive Terahertz Emitters
Institutions: University of Michigan .

In this video article we present a detailed demonstration of a highly efficient method for generating terahertz waves. Our technique is based on photoconduction, which has been one of the most commonly used techniques for terahertz generation
1-8
. Terahertz generation in a photoconductive emitter is achieved by pumping an ultrafast photoconductor with a pulsed or heterodyned laser illumination. The induced photocurrent, which follows the envelope of the pump laser, is routed to a terahertz radiating antenna connected to the photoconductor contact electrodes to generate terahertz radiation. Although the quantum efficiency of a photoconductive emitter can theoretically reach 100%, the relatively long transport path lengths of photo-generated carriers to the contact electrodes of conventional photoconductors have severely limited their quantum efficiency. Additionally, the carrier screening effect and thermal breakdown strictly limit the maximum output power of conventional photoconductive terahertz sources. To address the quantum efficiency limitations of conventional photoconductive terahertz emitters, we have developed a new photoconductive emitter concept which incorporates a plasmonic contact electrode configuration to offer high quantum-efficiency and ultrafast operation simultaneously. By using nano-scale plasmonic contact electrodes, we significantly reduce the average photo-generated carrier transport path to photoconductor contact electrodes compared to conventional photoconductors
9
. Our method also allows increasing photoconductor active area without a considerable increase in the capacitive loading to the antenna, boosting the maximum terahertz radiation power by preventing the carrier screening effect and thermal breakdown at high optical pump powers. By incorporating plasmonic contact electrodes, we demonstrate enhancing the optical-to-terahertz power conversion efficiency of a conventional photoconductive terahertz emitter by a factor of 50
10
.
Physics, Issue 77, Electrical Engineering, Computer Science, Materials Science, Electronics and Electrical Engineering, Instrumentation and Photography, Lasers and Masers, Optics, Solid-State Physics, Terahertz, Plasmonic, Time-Domain Spectroscopy, Photoconductive Emitter, electronics
50517
Quasi-light Storage for Optical Data Packets
Institutions: Hochschule für Telekommunikation, Leipzig.

Today's telecommunication is based on optical packets which transmit the information in optical fiber networks around the world. Currently, the processing of the signals is done in the electrical domain. Direct storage in the optical domain would avoid the transfer of the packets to the electrical and back to the optical domain in every network node and, therefore, increase the speed and possibly reduce the energy consumption of telecommunications. However, light consists of photons which propagate with the speed of light in vacuum. Thus, the storage of light is a big challenge. There exist some methods to slow down the speed of the light, or to store it in excitations of a medium. However, these methods cannot be used for the storage of optical data packets used in telecommunications networks. Here we show how the time-frequency-coherence, which holds for every signal and therefore for optical packets as well, can be exploited to build an optical memory. We will review the background and show in detail and through examples, how a frequency comb can be used for the copying of an optical packet which enters the memory. One of these time domain copies is then extracted from the memory by a time domain switch. We will show this method for intensity as well as for phase modulated signals.
Physics, Issue 84, optical communications, Optical Light Storage, stimulated Brillouin scattering, Optical Signal Processing, optical data packets, telecommunications
50468
Preparation of Hydroxy-PAAm Hydrogels for Decoupling the Effects of Mechanotransduction Cues
Institutions: Université de Mons.
It is now well established that many cellular functions are regulated by interactions of cells with physicochemical and mechanical cues of their extracellular matrix (ECM) environment. Eukaryotic cells constantly sense their local microenvironment through surface mechanosensors to transduce physical changes of ECM into biochemical signals, and integrate these signals to achieve specific changes in gene expression. Interestingly, physicochemical and mechanical parameters of the ECM can couple with each other to regulate cell fate. Therefore, a key to understanding mechanotransduction is to decouple the relative contribution of ECM cues on cellular functions. Here we present a detailed experimental protocol to rapidly and easily generate biologically relevant hydrogels for the independent tuning of mechanotransduction cues
in vitro
. We chemically modified polyacrylamide hydrogels (PAAm) to surmount their intrinsically non-adhesive properties by incorporating hydroxyl-functionalized acrylamide monomers during the polymerization. We obtained a novel PAAm hydrogel, called hydroxy-PAAm, which permits immobilization of any desired nature of ECM proteins. The combination of hydroxy-PAAm hydrogels with microcontact printing allows to independently control the morphology of single-cells, the matrix stiffness, the nature and the density of ECM proteins. We provide a simple and rapid method that can be set up in every biology lab to study
in vitro
cell mechanotransduction processes. We validate this novel two-dimensional platform by conducting experiments on endothelial cells that demonstrate a mechanical coupling between ECM stiffness and the nucleus.
Bioengineering, Issue 90, hydrogels, mechanotransduction, polyacrylamide, microcontact printing, cell shape, stiffness, durotaxis, cell-ligand density
51010
Utilization of Plasmonic and Photonic Crystal Nanostructures for Enhanced Micro- and Nanoparticle Manipulation
Institutions: University of Washington, Fred Hutchinson Cancer Research Center , University of Washington, Fred Hutchinson Cancer Research Center , Fred Hutchinson Cancer Research Center .

A method to manipulate the position and orientation of submicron particles nondestructively would be an incredibly useful tool for basic biological research. Perhaps the most widely used physical force to achieve noninvasive manipulation of small particles has been dielectrophoresis(DEP).
1
However, DEP on its own lacks the versatility and precision that are desired when manipulating cells since it is traditionally done with stationary electrodes. Optical tweezers, which utilize a three dimensional electromagnetic field gradient to exert forces on small particles, achieve this desired versatility and precision.
2
However, a major drawback of this approach is the high radiation intensity required to achieve the necessary force to trap a particle which can damage biological samples.
3
A solution that allows trapping and sorting with lower optical intensities are optoelectronic tweezers (OET) but OET's have limitations with fine manipulation of small particles; being DEP-based technology also puts constraint on the property of the solution.
4,5
This video article will describe two methods that decrease the intensity of the radiation needed for optical manipulation of living cells and also describe a method for orientation control. The first method is plasmonic tweezers which use a random gold nanoparticle (AuNP) array as a substrate for the sample as shown in Figure 1. The AuNP array converts the incident photons into localized surface plasmons (LSP) which consist of resonant dipole moments that radiate and generate a patterned radiation field with a large gradient in the cell solution. Initial work on surface plasmon enhanced trapping by Righini et al and our own modeling have shown the fields generated by the plasmonic substrate reduce the initial intensity required by enhancing the gradient field that traps the particle.
6,7,8
The plasmonic approach allows for fine orientation control of ellipsoidal particles and cells with low optical intensities because of more efficient optical energy conversion into mechanical energy and a dipole-dependent radiation field. These fields are shown in figure 2 and the low trapping intensities are detailed in figures 4 and 5. The main problems with plasmonic tweezers are that the LSP's generate a considerable amount of heat and the trapping is only two dimensional. This heat generates convective flows and thermophoresis which can be powerful enough to expel submicron particles from the trap.
9,10
The second approach that we will describe is utilizing periodic dielectric nanostructures to scatter incident light very efficiently into diffraction modes, as shown in figure 6.
11
Ideally, one would make this structure out of a dielectric material to avoid the same heating problems experienced with the plasmonic tweezers but in our approach an aluminum-coated diffraction grating is used as a one-dimensional periodic dielectric nanostructure. Although it is not a semiconductor, it did not experience significant heating and effectively trapped small particles with low trapping intensities, as shown in figure 7. Alignment of particles with the grating substrate conceptually validates the proposition that a 2-D photonic crystal could allow precise rotation of non-spherical micron sized particles.
10
The efficiencies of these optical traps are increased due to the enhanced fields produced by the nanostructures described in this paper.
Bioengineering, Issue 55, Surface plasmon, optical trapping, optical tweezers, plasmonic trapping, cell manipulation, optical manipulation
3390
Evaluating Plasmonic Transport in Current-carrying Silver Nanowires
Institutions: Université de Bourgogne, University of Science and Technology of China, CEMES, CNRS-UPR 8011.

Plasmonics is an emerging technology capable of simultaneously transporting a plasmonic signal and an electronic signal on the same information support
1,2,3
. In this context, metal nanowires are especially desirable for realizing dense routing networks
4
. A prerequisite to operate such shared nanowire-based platform relies on our ability to electrically contact individual metal nanowires and efficiently excite surface plasmon polaritons
5
in this information support. In this article, we describe a protocol to bring electrical terminals to chemically-synthesized silver nanowires
6
randomly distributed on a glass substrate
7
. The positions of the nanowire ends with respect to predefined landmarks are precisely located using standard optical transmission microscopy before encapsulation in an electron-sensitive resist. Trenches representing the electrode layout are subsequently designed by electron-beam lithography. Metal electrodes are then fabricated by thermally evaporating a Cr/Au layer followed by a chemical lift-off. The contacted silver nanowires are finally transferred to a leakage radiation microscope for surface plasmon excitation and characterization
8,9
. Surface plasmons are launched in the nanowires by focusing a near infrared laser beam on a diffraction-limited spot overlapping one nanowire extremity
5,9
. For sufficiently large nanowires, the surface plasmon mode leaks into the glass substrate
9,10
. This leakage radiation is readily detected, imaged, and analyzed in the different conjugate planes in leakage radiation microscopy
9,11
. The electrical terminals do not affect the plasmon propagation. However, a current-induced morphological deterioration of the nanowire drastically degrades the flow of surface plasmons. The combination of surface plasmon leakage radiation microscopy with a simultaneous analysis of the nanowire electrical transport characteristics reveals the intrinsic limitations of such plasmonic circuitry.
Physics, Issue 82, light transmission, optical waveguides, photonics, plasma oscillations, plasma waves, electron motion in conductors, nanofabrication, Information Transport, plasmonics, Silver Nanowires, Leakage radiation microscopy, Electromigration
51048
Using Neutron Spin Echo Resolved Grazing Incidence Scattering to Investigate Organic Solar Cell Materials
Institutions: University of Sheffield, The University of Sheffield, Rutherford Appleton Laboratory.

The spin echo resolved grazing incidence scattering (SERGIS) technique has been used to probe the length-scales associated with irregularly shaped crystallites. Neutrons are passed through two well defined regions of magnetic field; one before and one after the sample. The two magnetic field regions have opposite polarity and are tuned such that neutrons travelling through both regions, without being perturbed, will undergo the same number of precessions in opposing directions. In this case the neutron precession in the second arm is said to "echo" the first, and the original polarization of the beam is preserved. If the neutron interacts with a sample and scatters elastically the path through the second arm is not the same as the first and the original polarization is not recovered. Depolarization of the neutron beam is a highly sensitive probe at very small angles (<50 μrad) but still allows a high intensity, divergent beam to be used. The decrease in polarization of the beam reflected from the sample as compared to that from the reference sample can be directly related to structure within the sample. In comparison to scattering observed in neutron reflection measurements the SERGIS signals are often weak and are unlikely to be observed if the in-plane structures within the sample under investigation are dilute, disordered, small in size and polydisperse or the neutron scattering contrast is low. Therefore, good results will most likely be obtained using the SERGIS technique if the sample being measured consist of thin films on a flat substrate and contain scattering features that contains a high density of moderately sized features (30 nm to 5 µm) which scatter neutrons strongly or the features are arranged on a lattice. An advantage of the SERGIS technique is that it can probe structures in the plane of the sample.
Physics, Issue 83, Spin Echo Resolved Grazing Incidence Scattering, Neutron, Crystallite, Organic solar cell, PCBM, P3HT
51129
Construction and Characterization of External Cavity Diode Lasers for Atomic Physics
Institutions: The Australian National University.

Since their development in the late 1980s, cheap, reliable external cavity diode lasers (ECDLs) have replaced complex and expensive traditional dye and Titanium Sapphire lasers as the workhorse laser of atomic physics labs
1,2
. Their versatility and prolific use throughout atomic physics in applications such as absorption spectroscopy and laser cooling
1,2
makes it imperative for incoming students to gain a firm practical understanding of these lasers. This publication builds upon the seminal work by Wieman
3
, updating components, and providing a video tutorial. The setup, frequency locking and performance characterization of an ECDL will be described. Discussion of component selection and proper mounting of both diodes and gratings, the factors affecting mode selection within the cavity, proper alignment for optimal external feedback, optics setup for coarse and fine frequency sensitive measurements, a brief overview of laser locking techniques, and laser linewidth measurements are included.
Physics, Issue 86, External Cavity Diode Laser, atomic spectroscopy, laser cooling, Bose-Einstein condensation, Zeeman modulation
51184
Fabrication and Testing of Microfluidic Optomechanical Oscillators
Institutions: University of Illinois at Urbana-Champaign, University of Michigan, University of Michigan.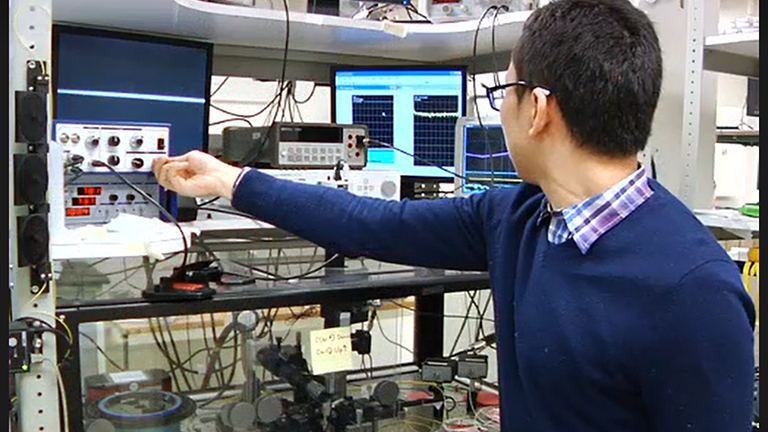 Cavity optomechanics experiments that parametrically couple the phonon modes and photon modes have been investigated in various optical systems including microresonators. However, because of the increased acoustic radiative losses during direct liquid immersion of optomechanical devices, almost all published optomechanical experiments have been performed in solid phase. This paper discusses a recently introduced hollow microfluidic optomechanical resonator. Detailed methodology is provided to fabricate these ultra-high-Q microfluidic resonators, perform optomechanical testing, and measure radiation pressure-driven breathing mode and SBS-driven whispering gallery mode parametric vibrations. By confining liquids inside the capillary resonator, high mechanical- and optical- quality factors are simultaneously maintained.
Physics, Issue 87, Optomechanics, Radiation pressure, Stimulated Brillouin scattering (SBS), Whispering gallery resonators (WGR), Oscillators, Microfluidics, Nonlinear Optics
51497
Simultaneous Multicolor Imaging of Biological Structures with Fluorescence Photoactivation Localization Microscopy
Institutions: University of Maine.

Localization-based super resolution microscopy can be applied to obtain a spatial map (image) of the distribution of individual fluorescently labeled single molecules within a sample with a spatial resolution of tens of nanometers. Using either photoactivatable (PAFP) or photoswitchable (PSFP) fluorescent proteins fused to proteins of interest, or organic dyes conjugated to antibodies or other molecules of interest, fluorescence photoactivation localization microscopy (FPALM) can simultaneously image multiple species of molecules within single cells. By using the following approach, populations of large numbers (thousands to hundreds of thousands) of individual molecules are imaged in single cells and localized with a precision of ~10-30 nm. Data obtained can be applied to understanding the nanoscale spatial distributions of multiple protein types within a cell. One primary advantage of this technique is the dramatic increase in spatial resolution: while diffraction limits resolution to ~200-250 nm in conventional light microscopy, FPALM can image length scales more than an order of magnitude smaller. As many biological hypotheses concern the spatial relationships among different biomolecules, the improved resolution of FPALM can provide insight into questions of cellular organization which have previously been inaccessible to conventional fluorescence microscopy. In addition to detailing the methods for sample preparation and data acquisition, we here describe the optical setup for FPALM. One additional consideration for researchers wishing to do super-resolution microscopy is cost: in-house setups are significantly cheaper than most commercially available imaging machines. Limitations of this technique include the need for optimizing the labeling of molecules of interest within cell samples, and the need for post-processing software to visualize results. We here describe the use of PAFP and PSFP expression to image two protein species in fixed cells. Extension of the technique to living cells is also described.
Basic Protocol, Issue 82, Microscopy, Super-resolution imaging, Multicolor, single molecule, FPALM, Localization microscopy, fluorescent proteins
50680
Scanning-probe Single-electron Capacitance Spectroscopy
Institutions: Michigan State University, Mercyhurst University, Saint Louis University, Massachusetts Institute of Technology.
The integration of low-temperature scanning-probe techniques and single-electron capacitance spectroscopy represents a powerful tool to study the electronic quantum structure of small systems - including individual atomic dopants in semiconductors. Here we present a capacitance-based method, known as Subsurface Charge Accumulation (SCA) imaging, which is capable of resolving single-electron charging while achieving sufficient spatial resolution to image individual atomic dopants. The use of a capacitance technique enables observation of subsurface features, such as dopants buried many nanometers beneath the surface of a semiconductor material
1,2,3
. In principle, this technique can be applied to any system to resolve electron motion below an insulating surface. As in other electric-field-sensitive scanned-probe techniques
4
, the lateral spatial resolution of the measurement depends in part on the radius of curvature of the probe tip. Using tips with a small radius of curvature can enable spatial resolution of a few tens of nanometers. This fine spatial resolution allows investigations of small numbers (down to one) of subsurface dopants
1,2
. The charge resolution depends greatly on the sensitivity of the charge detection circuitry; using high electron mobility transistors (HEMT) in such circuits at cryogenic temperatures enables a sensitivity of approximately 0.01 electrons/Hz
½
at 0.3 K
5
.
Physics, Issue 77, Biophysics, Molecular Biology, Cellular Biology, Microscopy, Scanning Probe, Nanotechnology, Physics, Electronics, acceptors (solid state), donors (solid state), Solid-State Physics, tunneling microscopy, scanning capacitance microscopy, subsurface charge accumulation imaging, capacitance spectroscopy, scanning probe microscopy, single-electron spectroscopy, imaging
50676
Gradient Echo Quantum Memory in Warm Atomic Vapor
Institutions: The Australian National University.

Gradient echo memory (GEM) is a protocol for storing optical quantum states of light in atomic ensembles. The primary motivation for such a technology is that quantum key distribution (QKD), which uses Heisenberg uncertainty to guarantee security of cryptographic keys, is limited in transmission distance. The development of a quantum repeater is a possible path to extend QKD range, but a repeater will need a quantum memory. In our experiments we use a gas of rubidium 87 vapor that is contained in a warm gas cell. This makes the scheme particularly simple. It is also a highly versatile scheme that enables in-memory refinement of the stored state, such as frequency shifting and bandwidth manipulation. The basis of the GEM protocol is to absorb the light into an ensemble of atoms that has been prepared in a magnetic field gradient. The reversal of this gradient leads to rephasing of the atomic polarization and thus recall of the stored optical state. We will outline how we prepare the atoms and this gradient and also describe some of the pitfalls that need to be avoided, in particular four-wave mixing, which can give rise to optical gain.
Physics, Issue 81, quantum memory, photon echo, rubidium vapor, gas cell, optical memory, gradient echo memory (GEM)
50552
Microwave Photonics Systems Based on Whispering-gallery-mode Resonators
Institutions: FEMTO-ST Institute.
Microwave photonics systems rely fundamentally on the interaction between microwave and optical signals. These systems are extremely promising for various areas of technology and applied science, such as aerospace and communication engineering, sensing, metrology, nonlinear photonics, and quantum optics. In this article, we present the principal techniques used in our lab to build microwave photonics systems based on ultra-high
Q
whispering gallery mode resonators. First detailed in this article is the protocol for resonator polishing, which is based on a grind-and-polish technique close to the ones used to polish optical components such as lenses or telescope mirrors. Then, a white light interferometric profilometer measures surface roughness, which is a key parameter to characterize the quality of the polishing. In order to launch light in the resonator, a tapered silica fiber with diameter in the micrometer range is used. To reach such small diameters, we adopt the "flame-brushing" technique, using simultaneously computer-controlled motors to pull the fiber apart, and a blowtorch to heat the fiber area to be tapered. The resonator and the tapered fiber are later approached to one another to visualize the resonance signal of the whispering gallery modes using a wavelength-scanning laser. By increasing the optical power in the resonator, nonlinear phenomena are triggered until the formation of a Kerr optical frequency comb is observed with a spectrum made of equidistant spectral lines. These Kerr comb spectra have exceptional characteristics that are suitable for several applications in science and technology. We consider the application related to ultra-stable microwave frequency synthesis and demonstrate the generation of a Kerr comb with GHz intermodal frequency.
Physics, Issue 78, Optics, Engineering, Electrical Engineering, Mechanical Engineering, Microwaves, nonlinear optics, optical fibers, microwave photonics, whispering-gallery-mode resonator, resonator
50423
Development of Whispering Gallery Mode Polymeric Micro-optical Electric Field Sensors
Institutions: Southern Methodist University.

Optical modes of dielectric micro-cavities have received significant attention in recent years for their potential in a broad range of applications. The optical modes are frequently referred to as "whispering gallery modes" (WGM) or "morphology dependent resonances" (MDR) and exhibit high optical quality factors. Some proposed applications of micro-cavity optical resonators are in spectroscopy
1
, micro-cavity laser technology
2
, optical communications
3-6
as well as sensor technology. The WGM-based sensor applications include those in biology
7
, trace gas detection
8
, and impurity detection in liquids
9
. Mechanical sensors based on microsphere resonators have also been proposed, including those for force
10,11
, pressure
12
, acceleration
13
and wall shear stress
14
. In the present, we demonstrate a WGM-based electric field sensor, which builds on our previous studies
15,16
. A candidate application of this sensor is in the detection of neuronal action potential. The electric field sensor is based on polymeric multi-layered dielectric microspheres. The external electric field induces surface and body forces on the spheres (electrostriction effect) leading to elastic deformation. This change in the morphology of the spheres, leads to shifts in the WGM. The electric field-induced WGM shifts are interrogated by exciting the optical modes of the spheres by laser light. Light from a distributed feedback (DFB) laser (nominal wavelength of ~ 1.3 μm) is side-coupled into the microspheres using a tapered section of a single mode optical fiber. The base material of the spheres is polydimethylsiloxane (PDMS). Three microsphere geometries are used: (1) PDMS sphere with a 60:1 volumetric ratio of base-to-curing agent mixture, (2) multi layer sphere with 60:1 PDMS core, in order to increase the dielectric constant of the sphere, a middle layer of 60:1 PDMS that is mixed with varying amounts (2% to 10% by volume) of barium titanate and an outer layer of 60:1 PDMS and (3) solid silica sphere coated with a thin layer of uncured PDMS base. In each type of sensor, laser light from the tapered fiber is coupled into the outermost layer that provides high optical quality factor WGM (Q ~ 10
6
). The microspheres are poled for several hours at electric fields of ~ 1 MV/m to increase their sensitivity to electric field.
Mechanical Engineering, Issue 71, Physics, Optics, Materials Science, Chemical Engineering, electrostatics, optical fibers, optical materials, optical waveguides, optics, optoelectronics, photonics, geometrical optics, sensors, electric field, dielectric resonators, micro-spheres, whispering gallery mode, morphology dependent resonance, PDMS
50199
Simulation, Fabrication and Characterization of THz Metamaterial Absorbers
Institutions: University of Glasgow.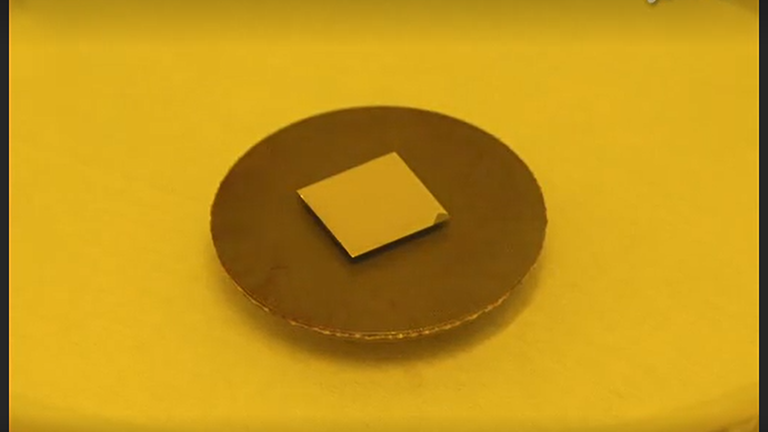 Metamaterials (MM), artificial materials engineered to have properties that may not be found in nature, have been widely explored since the first theoretical
1
and experimental demonstration
2
of their unique properties. MMs can provide a highly controllable electromagnetic response, and to date have been demonstrated in every technologically relevant spectral range including the optical
3
, near IR
4
, mid IR
5
, THz
6
, mm-wave
7
, microwave
8
and radio
9
bands. Applications include perfect lenses
10
, sensors
11
, telecommunications
12
, invisibility cloaks
13
and filters
14,15
. We have recently developed single band
16
, dual band
17
and broadband
18
THz metamaterial absorber devices capable of greater than 80% absorption at the resonance peak. The concept of a MM absorber is especially important at THz frequencies where it is difficult to find strong frequency selective THz absorbers
19
. In our MM absorber the THz radiation is absorbed in a thickness of ~ λ/20, overcoming the thickness limitation of traditional quarter wavelength absorbers. MM absorbers naturally lend themselves to THz detection applications, such as thermal sensors, and if integrated with suitable THz sources (
e.g.
QCLs), could lead to compact, highly sensitive, low cost, real time THz imaging systems.
Materials Science, Issue 70, Physics, Engineering, Metamaterial, terahertz, sensing, fabrication, clean room, simulation, FTIR, spectroscopy
50114
Terahertz Microfluidic Sensing Using a Parallel-plate Waveguide Sensor
Institutions: Rice University .

Refractive index (RI) sensing is a powerful noninvasive and label-free sensing technique for the identification, detection and monitoring of microfluidic samples with a wide range of possible sensor designs such as interferometers and resonators
1,2
. Most of the existing RI sensing applications focus on biological materials in aqueous solutions in visible and IR frequencies, such as DNA hybridization and genome sequencing. At terahertz frequencies, applications include quality control, monitoring of industrial processes and sensing and detection applications involving nonpolar materials. Several potential designs for refractive index sensors in the terahertz regime exist, including photonic crystal waveguides
3
, asymmetric split-ring resonators
4
, and photonic band gap structures integrated into parallel-plate waveguides
5
. Many of these designs are based on optical resonators such as rings or cavities. The resonant frequencies of these structures are dependent on the refractive index of the material in or around the resonator. By monitoring the shifts in resonant frequency the refractive index of a sample can be accurately measured and this in turn can be used to identify a material, monitor contamination or dilution, etc. The sensor design we use here is based on a simple parallel-plate waveguide
6,7
. A rectangular groove machined into one face acts as a resonant cavity (
Figures 1 and 2
). When terahertz radiation is coupled into the waveguide and propagates in the lowest-order transverse-electric (TE
1
) mode, the result is a single strong resonant feature with a tunable resonant frequency that is dependent on the geometry of the groove
6,8
. This groove can be filled with nonpolar liquid microfluidic samples which cause a shift in the observed resonant frequency that depends on the amount of liquid in the groove and its refractive index
9
. Our technique has an advantage over other terahertz techniques in its simplicity, both in fabrication and implementation, since the procedure can be accomplished with standard laboratory equipment without the need for a clean room or any special fabrication or experimental techniques. It can also be easily expanded to multichannel operation by the incorporation of multiple grooves
10
. In this video we will describe our complete experimental procedure, from the design of the sensor to the data analysis and determination of the sample refractive index.
Physics, Issue 66, Electrical Engineering, Computer Engineering, Terahertz radiation, sensing, microfluidic, refractive index sensor, waveguide, optical sensing
4304
Hyperpolarized Xenon for NMR and MRI Applications
Institutions: Leibniz-Institut für Molekulare Pharmakologie.

Nuclear magnetic resonance (NMR) spectroscopy and imaging (MRI) suffer from intrinsic low sensitivity because even strong external magnetic fields of ~10 T generate only a small detectable net-magnetization of the sample at room temperature
1
. Hence, most NMR and MRI applications rely on the detection of molecules at relative high concentration (
e.g.
, water for imaging of biological tissue) or require excessive acquisition times. This limits our ability to exploit the very useful molecular specificity of NMR signals for many biochemical and medical applications. However, novel approaches have emerged in the past few years: Manipulation of the detected spin species prior to detection inside the NMR/MRI magnet can dramatically increase the magnetization and therefore allows detection of molecules at much lower concentration
2
. Here, we present a method for polarization of a xenon gas mixture (2-5% Xe, 10% N
2
, He balance) in a compact setup with a ca. 16000-fold signal enhancement. Modern line-narrowed diode lasers allow efficient polarization
7
and immediate use of gas mixture even if the noble gas is not separated from the other components. The SEOP apparatus is explained and determination of the achieved spin polarization is demonstrated for performance control of the method. The hyperpolarized gas can be used for void space imaging, including gas flow imaging or diffusion studies at the interfaces with other materials
8,9
. Moreover, the Xe NMR signal is extremely sensitive to its molecular environment
6
. This enables the option to use it as an NMR/MRI contrast agent when dissolved in aqueous solution with functionalized molecular hosts that temporarily trap the gas
10,11
. Direct detection and high-sensitivity indirect detection of such constructs is demonstrated in both spectroscopic and imaging mode.
Physics, Issue 67, NMR, MRI, hyperpolarization, optical pumping, SEOP, xenon, molecular imaging, biosensor
4268
Using Microwave and Macroscopic Samples of Dielectric Solids to Study the Photonic Properties of Disordered Photonic Bandgap Materials
Institutions: San Francisco State University.

Recently, disordered photonic materials have been suggested as an alternative to periodic crystals for the formation of a complete photonic bandgap (PBG). In this article we will describe the methods for constructing and characterizing macroscopic disordered photonic structures using microwaves. The microwave regime offers the most convenient experimental sample size to build and test PBG media. Easily manipulated dielectric lattice components extend flexibility in building various 2D structures on top of pre-printed plastic templates. Once built, the structures could be quickly modified with point and line defects to make freeform waveguides and filters. Testing is done using a widely available Vector Network Analyzer and pairs of microwave horn antennas. Due to the scale invariance property of electromagnetic fields, the results we obtained in the microwave region can be directly applied to infrared and optical regions. Our approach is simple but delivers exciting new insight into the nature of light and disordered matter interaction. Our representative results include the first experimental demonstration of the existence of a complete and isotropic PBG in a two-dimensional (2D) hyperuniform disordered dielectric structure. Additionally we demonstrate experimentally the ability of this novel photonic structure to guide electromagnetic waves (EM) through freeform waveguides of arbitrary shape.
Physics, Issue 91, optics and photonics, photonic crystals, photonic bandgap, hyperuniform, disordered media, waveguides
51614