ABSTRACT
Platelet derived growth factors have been shown to stimulate cell proliferation efficiently in vivo1,2 and in vitro. This effect has been reported for mesenchymal stromal cells (MSCs), fibroblasts and endothelial colony-forming cells with platelets activated by thrombin3-5 or lysed by freeze/thaw cycles6-14 before the platelet releasate is added to the cell culture medium. The trophic effect of platelet derived growth factors has already been tested in several trials for tissue engineering and regenerative therapy.1,15-17 Varying efficiency is considered to be at least in part due to individually divergent concentrations of growth factors18,19 and a current lack of standardized protocols for platelet preparation.15,16 This protocol presents a practicable procedure to generate a pool of human platelet lysate (pHPL) derived from routinely produced platelet rich plasma (PRP) of forty to fifty single blood donations. By several freeze/thaw cycles the platelet membranes are damaged and growth factors are efficiently released into the plasma. Finally, the platelet fragments are removed by centrifugation to avoid extensive aggregate formation and deplete potential antigens. The implementation of pHPL into standard culture protocols represents a promising tool for further development of cell therapeutics propagated in an animal protein-free system.
20 Related JoVE Articles!
An Optogenetic Approach for Assessing Formation of Neuronal Connections in a Co-culture System
Institutions: Duke-NUS Graduate Medical School, Nanyang Technological University.

Here we describe a protocol to generate a co-culture consisting of 2 different neuronal populations. Induced pluripotent stem cells (iPSCs) are reprogrammed from human fibroblasts using episomal vectors. Colonies of iPSCs can be observed 30 days after initiation of fibroblast reprogramming. Pluripotent colonies are manually picked and grown in neural induction medium to permit differentiation into neural progenitor cells (NPCs). iPSCs rapidly convert into neuroepithelial cells within 1 week and retain the capability to self-renew when maintained at a high culture density. Primary mouse NPCs are differentiated into astrocytes by exposure to a serum-containing medium for 7 days and form a monolayer upon which embryonic day 18 (E18) rat cortical neurons (transfected with channelrhodopsin-2 (ChR2)) are added. Human NPCs tagged with the fluorescent protein, tandem dimer Tomato (tdTomato), are then seeded onto the astrocyte/cortical neuron culture the following day and allowed to differentiate for 28 to 35 days. We demonstrate that this system forms synaptic connections between iPSC-derived neurons and cortical neurons, evident from an increase in the frequency of synaptic currents upon photostimulation of the cortical neurons. This co-culture system provides a novel platform for evaluating the ability of iPSC-derived neurons to create synaptic connections with other neuronal populations.
Developmental Biology, Issue 96, Neuroscience, Channelrhodopsin-2, Co-culture, Neurons, Astrocytes, induced Pluripotent Stem Cells, Neural progenitors, Differentiation, Cell culture, Cortex
52408
A Guide to Generating and Using hiPSC Derived NPCs for the Study of Neurological Diseases
Institutions: Icahn School of Medicine at Mount Sinai, Icahn School of Medicine at Mount Sinai.

Post-mortem studies of neurological diseases are not ideal for identifying the underlying causes of disease initiation, as many diseases include a long period of disease progression prior to the onset of symptoms. Because fibroblasts from patients and healthy controls can be efficiently reprogrammed into human induced pluripotent stem cells (hiPSCs), and subsequently differentiated into neural progenitor cells (NPCs) and neurons for the study of these diseases, it is now possible to recapitulate the developmental events that occurred prior to symptom onset in patients. We present a method by which to efficiently differentiate hiPSCs into NPCs, which in addition to being capable of further differentiation into functional neurons, can also be robustly passaged, freeze-thawed or transitioned to grow as neurospheres, enabling rapid genetic screening to identify the molecular factors that impact cellular phenotypes including replication, migration, oxidative stress and/or apoptosis. Patient derived hiPSC NPCs are a unique platform, ideally suited for the empirical testing of the cellular or molecular consequences of manipulating gene expression.
Medicine, Issue 96, Induced pluripotent stem cells, neural differentiation, neural progenitor cells, psychiatric disease, lentiviral transduction, neurosphere migration assay
52495
Efficient Generation of hiPSC Neural Lineage Specific Knockin Reporters Using the CRISPR/Cas9 and Cas9 Double Nickase System
Institutions: The University of Texas Health Science Center at Houston, The University of Texas Health Science Center at Houston, The University of Texas Health Science Center at Houston, The University of Texas Health Science Center at Houston, Shengjing Hospital, China Medical University, Shanghai Jiaotong University School of Medicine, University of West Georgia.

Gene targeting is a critical approach for characterizing gene functions in modern biomedical research. However, the efficiency of gene targeting in human cells has been low, which prevents the generation of human cell lines at a desired rate. The past two years have witnessed a rapid progression on improving efficiency of genetic manipulation by genome editing tools such as the CRISPR (Clustered Regularly Interspaced Short Palindromic Repeats)/Cas (CRISPR-associated) system. This manuscript describes a protocol for generating lineage specific human induced pluripotent stem cell (hiPSC) reporters using CRISPR/Cas system assisted homologous recombination. Procedures for obtaining necessary components for making neural lineage reporter lines using the CRISPR/Cas system, focusing on construction of targeting vectors and single guide RNAs, are described. This protocol can be extended to platform establishment and mutation correction in hiPSCs.
Developmental Biology, Issue 99, CRISPR, Cas9, double nickase, gene targeting, reporter cell line, genetic engineering, human induced pluripotent stem cells, genome editing, homologous recombination
52539
Generation and Grafting of Tissue-engineered Vessels in a Mouse Model
Institutions: King's College London BHF Centre.
The construction of vascular conduits is a fundamental strategy for surgical repair of damaged and injured vessels resulting from cardiovascular diseases. The current protocol presents an efficient and reproducible strategy in which functional tissue engineered vessel grafts can be generated using partially induced pluripotent stem cell (PiPSC) from human fibroblasts. We designed a decellularized vessel scaffold bioreactor, which closely mimics the matrix protein structure and blood flow that exists within a native vessel, for seeding of PiPSC-endothelial cells or smooth muscle cells prior to grafting into mice. This approach was demonstrated to be advantageous because immune-deficient mice engrafted with the PiPSC-derived grafts presented with markedly increased survival rate 3 weeks after surgery. This protocol represents a valuable tool for regenerative medicine, tissue engineering and potentially patient-specific cell-therapy in the near future.
Bioengineering, Issue 97, stem cells, partially induced pluripotent stem cells, tissue engineering, bioreactor, vascular differentiation, vessel graft, mouse models
52565
Derivation of Highly Purified Cardiomyocytes from Human Induced Pluripotent Stem Cells Using Small Molecule-modulated Differentiation and Subsequent Glucose Starvation
Institutions: Stanford University School of Medicine, Stanford University School of Medicine.

Human induced pluripotent stem cell-derived cardiomyocytes (hiPSC-CMs) have become an important cell source to address the lack of primary cardiomyocytes available for basic research and translational applications. To differentiate hiPSCs into cardiomyocytes, various protocols including embryoid body (EB)-based differentiation and growth factor induction have been developed. However, these protocols are inefficient and highly variable in their ability to generate purified cardiomyocytes. Recently, a small molecule-based protocol utilizing modulation of Wnt/β-Catenin signaling was shown to promote cardiac differentiation with high efficiency. With this protocol, greater than 50%-60% of differentiated cells were cardiac troponin-positive cardiomyocytes were consistently observed. To further increase cardiomyocyte purity, the differentiated cells were subjected to glucose starvation to specifically eliminate non-cardiomyocytes based on the metabolic differences between cardiomyocytes and non-cardiomyocytes. Using this selection strategy, we consistently obtained a greater than 30% increase in the ratio of cardiomyocytes to non-cardiomyocytes in a population of differentiated cells. These highly purified cardiomyocytes should enhance the reliability of results from human iPSC-based
in vitro
disease modeling studies and drug screening assays.
Developmental Biology, Issue 97, Human induced pluripotent stem cells, cardiac differentiation, small molecule compounds, cardiomyocytes, glucose starvation
52628
Analyzing the Functions of Mast Cells In Vivo Using 'Mast Cell Knock-in' Mice
Institutions: Stanford University School of Medicine, Stanford University School of Medicine.

Mast cells (MCs) are hematopoietic cells which reside in various tissues, and are especially abundant at sites exposed to the external environment, such as skin, airways and gastrointestinal tract. Best known for their detrimental role in IgE-dependent allergic reactions, MCs have also emerged as important players in host defense against venom and invading bacteria and parasites. MC phenotype and function can be influenced by microenvironmental factors that may differ according to anatomic location and/or based on the type or stage of development of immune responses. For this reason, we and others have favored
in vivo
approaches over
in vitro
methods to gain insight into MC functions. Here, we describe methods for the generation of mouse bone marrow-derived cultured MCs (BMCMCs), their adoptive transfer into genetically MC-deficient mice, and the analysis of the numbers and distribution of adoptively transferred MCs at different anatomical sites. This method, named the '
mast cell knock-in'
approach, has been extensively used over the past 30 years to assess the functions of MCs and MC-derived products
in vivo
. We discuss the advantages and limitations of this method, in light of alternative approaches that have been developed in recent years.
Immunology, Issue 99, c-kit, stem cell factor, FcεRI, immunoglobulin E, mouse model, adoptive transfer, immunology, allergy
52753
Scalable 96-well Plate Based iPSC Culture and Production Using a Robotic Liquid Handling System
Institutions: InvivoSciences, Inc., Gilson, Inc..

Continued advancement in pluripotent stem cell culture is closing the gap between bench and bedside for using these cells in regenerative medicine, drug discovery and safety testing. In order to produce stem cell derived biopharmaceutics and cells for tissue engineering and transplantation, a cost-effective cell-manufacturing technology is essential. Maintenance of pluripotency and stable performance of cells in downstream applications (
e.g.
, cell differentiation) over time is paramount to large scale cell production. Yet that can be difficult to achieve especially if cells are cultured manually where the operator can introduce significant variability as well as be prohibitively expensive to scale-up. To enable high-throughput, large-scale stem cell production and remove operator influence novel stem cell culture protocols using a bench-top multi-channel liquid handling robot were developed that require minimal technician involvement or experience. With these protocols human induced pluripotent stem cells (iPSCs) were cultured in feeder-free conditions directly from a frozen stock and maintained in 96-well plates. Depending on cell line and desired scale-up rate, the operator can easily determine when to passage based on a series of images showing the optimal colony densities for splitting. Then the necessary reagents are prepared to perform a colony split to new plates without a centrifugation step. After 20 passages (~3 months), two iPSC lines maintained stable karyotypes, expressed stem cell markers, and differentiated into cardiomyocytes with high efficiency. The system can perform subsequent high-throughput screening of new differentiation protocols or genetic manipulation designed for 96-well plates. This technology will reduce the labor and technical burden to produce large numbers of identical stem cells for a myriad of applications.
Developmental Biology, Issue 99, iPSC, high-throughput, robotic, liquid-handling, scalable, stem cell, automated stem cell culture, 96-well
52755
Derivation of Adult Human Fibroblasts and their Direct Conversion into Expandable Neural Progenitor Cells
Institutions: University of Würzburg, University of Bonn, German Cancer Research Center, Heidelberg.

Generation of induced pluripotent stem cell (iPSCs) from adult skin fibroblasts and subsequent differentiation into somatic cells provides fascinating prospects for the derivation of autologous transplants that circumvent histocompatibility barriers. However, progression through a pluripotent state and subsequent complete differentiation into desired lineages remains a roadblock for the clinical translation of iPSC technology because of the associated neoplastic potential and genomic instability. Recently, we and others showed that somatic cells cannot only be converted into iPSCs but also into different types of multipotent somatic stem cells by using defined factors, thereby circumventing progression through the pluripotent state. In particular, the direct conversion of human fibroblasts into induced neural progenitor cells (iNPCs) heralds the possibility of a novel autologous cell source for various applications such as cell replacement, disease modeling and drug screening. Here, we describe the isolation of adult human primary fibroblasts by skin biopsy and their efficient direct conversion into iNPCs by timely restricted expression of Oct4, Sox2, Klf4, as well as c-Myc. Sox2-positive neuroepithelial colonies appear after 17 days of induction and iNPC lines can be established efficiently by monoclonal isolation and expansion. Precise adjustment of viral multiplicity of infection and supplementation of leukemia inhibitory factor during the induction phase represent critical factors to achieve conversion efficiencies of up to 0.2%. Thus far, patient-specific iNPC lines could be expanded for more than 12 passages and uniformly display morphological and molecular features of neural stem/progenitor cells, such as the expression of Nestin and Sox2. The iNPC lines can be differentiated into neurons and astrocytes as judged by staining against TUJ1 and GFAP, respectively. In conclusion, we report a robust protocol for the derivation and direct conversion of human fibroblasts into stably expandable neural progenitor cells that might provide a cellular source for biomedical applications such as autologous neural cell replacement and disease modeling.
Neuroscience, Issue 101, Direct conversion, lineage reprogramming, transgene-free reprogrammed cells, neural stem cells, transdifferentiation, neuronal differentiation, glial differentiation, stem cell biology, disease modeling, neural cell replacement, stem cell therapy.
52831
Direct Induction of Human Neural Stem Cells from Peripheral Blood Hematopoietic Progenitor Cells
Institutions: National Institutes of Health, National Institutes of Health.

Human disease specific neuronal cultures are essential for generating
in vitro
models for human neurological diseases. However, the lack of access to primary human adult neural cultures raises unique challenges. Recent developments in induced pluripotent stem cells (iPSC) provides an alternative approach to derive neural cultures from skin fibroblasts through patient specific iPSC, but this process is labor intensive, requires special expertise and large amounts of resources, and can take several months. This prevents the wide application of this technology to the study of neurological diseases. To overcome some of these issues, we have developed a method to derive neural stem cells directly from human adult peripheral blood, bypassing the iPSC derivation process. Hematopoietic progenitor cells enriched from human adult peripheral blood were cultured
in vitro
and transfected with Sendai virus vectors containing transcriptional factors Sox2, Oct3/4, Klf4, and c-Myc. The transfection results in morphological changes in the cells which are further selected by using human neural progenitor medium containing basic fibroblast growth factor (bFGF) and vascular endothelial growth factor (VEGF). The resulting cells are characterized by the expression for neural stem cell markers, such as nestin and SOX2. These neural stem cells could be further differentiated to neurons, astroglia and oligodendrocytes in specified differentiation media. Using easily accessible human peripheral blood samples, this method could be used to derive neural stem cells for further differentiation to neural cells for
in vitro
modeling of neurological disorders and may advance studies related to the pathogenesis and treatment of those diseases.
Developmental Biology, Issue 95, Hematopoietic progenitor cell, neural stem cell, blood, Sendai virus, neuron, differentiation
52298
Deriving Retinal Pigment Epithelium (RPE) from Induced Pluripotent Stem (iPS) Cells by Different Sizes of Embryoid Bodies
Institutions: U.S. Army Institute of Surgical Research.
Pluripotent stem cells possess the ability to proliferate indefinitely and to differentiate into almost any cell type. Additionally, the development of techniques to reprogram somatic cells into induced pluripotent stem (iPS) cells has generated interest and excitement towards the possibility of customized personal regenerative medicine. However, the efficiency of stem cell differentiation towards a desired lineage remains low. The purpose of this study is to describe a protocol to derive retinal pigment epithelium (RPE) from iPS cells (iPS-RPE) by applying a tissue engineering approach to generate homogenous populations of embryoid bodies (EBs), a common intermediate during
in vitro
differentiation. The protocol applies the formation of specific size of EBs using microwell plate technology. The methods for identifying protein and gene markers of RPE by immunocytochemistry and reverse-transcription polymerase chain reaction (RT-PCR) are also explained. Finally, the efficiency of differentiation in different sizes of EBs monitored by fluorescence-activated cell sorting (FACS) analysis of RPE markers is described. These techniques will facilitate the differentiation of iPS cells into RPE for future applications.
Stem Cell Biology, Issue 96, Induced pluripotent stem (iPS) cells, retinal pigment epithelium (RPE), retinal pigment epithelium derived from induced pluripotent stem (iPS-RPE) cells, tissue engineering, embryoid bodies (EBs).
52262
Derivation and Characterization of a Transgene-free Human Induced Pluripotent Stem Cell Line and Conversion into Defined Clinical-grade Conditions
Institutions: University of California, Los Angeles (UCLA), University of California, Los Angeles (UCLA).

Human induced pluripotent stem cells (hiPSCs) can be generated with lentiviral-based reprogramming methodologies. However, traces of potentially oncogenic genes remaining in actively transcribed regions of the genome, limit their potential for use in human therapeutic applications
1
. Additionally, non-human antigens derived from stem cell reprogramming or differentiation into therapeutically relevant derivatives preclude these hiPSCs from being used in a human clinical context
2
. In this video, we present a procedure for reprogramming and analyzing factor-free hiPSCs free of exogenous transgenes. These hiPSCs then can be analyzed for gene expression abnormalities in the specific intron containing the lentivirus. This analysis may be conducted using sensitive quantitative polymerase chain reaction (PCR), which has an advantage over less sensitive techniques previously used to detect gene expression differences
3
. Full conversion into clinical-grade good manufacturing practice (GMP) conditions, allows human clinical relevance. Our protocol offers another methodology—provided that current safe-harbor criteria will expand and include factor-free characterized hiPSC-based derivatives for human therapeutic applications—for deriving GMP-grade hiPSCs, which should eliminate any immunogenicity risk due to non-human antigens. This protocol is broadly applicable to lentiviral reprogrammed cells of any type and provides a reproducible method for converting reprogrammed cells into GMP-grade conditions.
Stem Cell Biology, Issue 93, Human induced pluripotent stem cells, STEMCCA, factor-free, GMP, xeno-free, quantitative PCR
52158
Selecting and Isolating Colonies of Human Induced Pluripotent Stem Cells Reprogrammed from Adult Fibroblasts
Institutions: University of Texas M.D. Anderson Cancer Center, Poznan University of Medical Sciences, The Scripps Research Institute.

Herein we present a protocol of reprogramming human adult fibroblasts into human induced pluripotent stem cells (hiPSC) using retroviral vectors encoding Oct3/4, Sox2, Klf4 and c-myc (OSKM) in the presence of sodium butyrate
1-3
. We used this method to reprogram late passage (>p10) human adult fibroblasts derived from Friedreich's ataxia patient (GM03665, Coriell Repository). The reprogramming approach includes highly efficient transduction protocol using repetitive centrifugation of fibroblasts in the presence of virus-containing media. The reprogrammed hiPSC colonies were identified using live immunostaining for Tra-1-81, a surface marker of pluripotent cells, separated from non-reprogrammed fibroblasts and manually passaged
4,5
. These hiPSC were then transferred to Matrigel plates and grown in feeder-free conditions, directly from the reprogramming plate. Starting from the first passage, hiPSC colonies demonstrate characteristic hES-like morphology. Using this protocol more than 70% of selected colonies can be successfully expanded and established into cell lines. The established hiPSC lines displayed characteristic pluripotency markers including surface markers TRA-1-60 and SSEA-4, as well as nuclear markers Oct3/4, Sox2 and Nanog. The protocol presented here has been established and tested using adult fibroblasts obtained from Friedreich's ataxia patients and control individuals
6
, human newborn fibroblasts, as well as human keratinocytes.
Developmental Biology, Issue 60, stem cells, induced pluripotent stem cells, iPSC, somatic cell reprogramming, pluripotency, retroviral transduction
3416
A Simple Protocol for Platelet-mediated Clumping of Plasmodium falciparum-infected Erythrocytes in a Resource Poor Setting
Institutions: Malawi-Liverpool-Wellcome Trust Clinical Research Programme, Liverpool School of Tropical Medicine, New York University School of Medicine.

P. falciparum
causes the majority of severe malarial infections. The pathophysiological mechanisms underlying cerebral malaria (CM) are not fully understood and several hypotheses have been put forward, including mechanical obstruction of microvessels by
P. falciparum
-parasitized red blood cells (pRBC). Indeed, during the intra-erythrocytic stage of its life cycle,
P. falciparum
has the unique ability to modify the surface of the infected erythrocyte by exporting surface antigens with varying adhesive properties onto the RBC membrane. This allows the sequestration of pRBC in multiple tissues and organs by adhesion to endothelial cells lining the microvasculature of post-capillary venules
1
. By doing so, the mature forms of the parasite avoid splenic clearance of the deformed infected erythrocytes
2
and restrict their environment to a more favorable low oxygen pressure
3
. As a consequence of this sequestration, it is only immature asexual parasites and gametocytes that can be detected in peripheral blood. Cytoadherence and sequestration of mature pRBC to the numerous host receptors expressed on microvascular beds occurs in severe and uncomplicated disease. However, several lines of evidence suggest that only specific adhesive phenotypes are likely to be associated with severe pathological outcomes of malaria. One example of such specific host-parasite interactions has been demonstrated
in vitro
, where the ability of intercellular adhesion molecule-1 to support binding of pRBC with particular adhesive properties has been linked to development of cerebral malaria
4,5
. The placenta has also been recognized as a site of preferential pRBC accumulation in malaria-infected pregnant women, with chondrotin sulphate A expressed on syncytiotrophoblasts that line the placental intervillous space as the main receptor
6
. Rosetting of pRBC to uninfected erythrocytes via the complement receptor 1 (CD35)
7,8
has also been associated with severe disease
9
. One of the most recently described
P. falciparum
cytoadherence phenotypes is the ability of the pRBC to form platelet-mediated clumps
in vitro
. The formation of such pRBC clumps requires CD36, a glycoprotein expressed on the surface of platelets. Another human receptor, gC1qR/HABP1/p32, expressed on diverse cell types including endothelial cells and platelets, has also been shown to facilitate pRBC adhesion on platelets to form clumps
10
. Whether clumping occurs
in vivo
remains unclear, but it may account for the significant accumulation of platelets described in brain microvasculature of Malawian children who died from CM
11
. In addition, the ability of clinical isolate cultures to clump
in vitro
was directly linked to the severity of disease in Malawian
12
and Mozambican patients
13
, (although not in Malian
14
). With several aspects of the pRBC clumping phenotype poorly characterized, current studies on this subject have not followed a standardized procedure. This is an important issue because of the known high variability inherent in the assay
15
. Here, we present a method for
in vitro
platelet-mediated clumping of
P. falciparum
with hopes that it will provide a platform for a consistent method for other groups and raise awareness of the limitations in investigating this phenotype in future studies. Being based in Malawi, we provide a protocol specifically designed for a limited resource setting, with the advantage that freshly collected clinical isolates can be examined for phenotype without need for cryopreservation.
Infection, Issue 75, Infectious Diseases, Immunology, Medicine, Microbiology, Molecular Biology, Cellular Biology, Parasitology, Clumping, platelets, Plasmodium falciparum, CD36, malaria, malarial infections, parasites, red blood cells, plasma, limited resources, clinical techniques, assay
4316
Preparation and Pathogen Inactivation of Double Dose Buffy Coat Platelet Products using the INTERCEPT Blood System
Institutions: Örebro University Hospital.

Blood centers are faced with many challenges including maximizing production yield from the blood product donations they receive as well as ensuring the highest possible level of safety for transfusion patients, including protection from transfusion transmitted diseases. This must be accomplished in a fiscally responsible manner which minimizes operating expenses including consumables, equipment, waste, and personnel costs, among others. Several methods are available to produce platelet concentrates for transfusion. One of the most common is the buffy coat method in which a single therapeutic platelet unit (≥ 2.0 x10
11
platelets per unit or per local regulations) is prepared by pooling the buffy coat layer from up to six whole blood donations. A procedure for producing "double dose" whole blood derived platelets has only recently been developed. Presented here is a novel method for preparing double dose whole blood derived platelet concentrates from pools of 7 buffy coats and subsequently treating the double dose units with the INTERCEPT Blood System for pathogen inactivation. INTERCEPT was developed to inactivate viruses, bacteria, parasites, and contaminating donor white cells which may be present in donated blood. Pairing INTERCEPT with the double dose buffy coat method by utilizing the INTERCEPT Processing Set with Dual Storage Containers (the "DS set"), allows blood centers to treat each of their double dose units in a single pathogen inactivation processing set, thereby maximizing patient safety while minimizing costs. The double dose buffy coat method requires fewer buffy coats and reduces the use of consumables by up to 50% (
e.g.
pooling sets, filter sets, platelet additive solution, and sterile connection wafers) compared to preparation and treatment of single dose buffy coat platelet units. Other cost savings include less waste, less equipment maintenance, lower power requirements, reduced personnel time, and lower collection cost compared to the apheresis technique.
Medicine, Issue 70, Immunology, Hematology, Infectious Disease, Pathology, pathogen inactivation, pathogen reduction, double-dose platelets, INTERCEPT Blood System, amotosalen, UVA, platelet, blood processing, buffy coat, IBS, transfusion
4414
An In vitro Model to Study Heterogeneity of Human Macrophage Differentiation and Polarization
Institutions: University of Heidelberg .

Monocyte-derived macrophages represent an important cell type of the innate immune system. Mouse models studying macrophage biology suffer from the phenotypic and functional differences between murine and human monocyte-derived macrophages. Therefore, we here describe an
in vitro
model to generate and study primary human macrophages. Briefly, after density gradient centrifugation of peripheral blood drawn from a forearm vein, monocytes are isolated from peripheral blood mononuclear cells using negative magnetic bead isolation. These monocytes are then cultured for six days under specific conditions to induce different types of macrophage differentiation or polarization. The model is easy to use and circumvents the problems caused by species-specific differences between mouse and man. Furthermore, it is closer to the
in vivo
conditions than the use of immortalized cell lines. In conclusion, the model described here is suitable to study macrophage biology, identify disease mechanisms and novel therapeutic targets. Even though not fully replacing experiments with animals or human tissues obtained
post mortem
, the model described here allows identification and validation of disease mechanisms and therapeutic targets that may be highly relevant to various human diseases.
Immunology, Issue 76, Infection, Medicine, Cellular Biology, Molecular Biology, Inflammation, Monocyte-Macrophage Precursor Cells, Myeloid Cells, Immune System, Macrophages, Mononuclear Phagocyte System, Cells, in vitro model, human, cell culture, differentiation, polarization
50332
Enrichment and Purging of Human Embryonic Stem Cells by Detection of Cell Surface Antigens Using the Monoclonal Antibodies TG30 and GCTM-2
Institutions: CSIRO.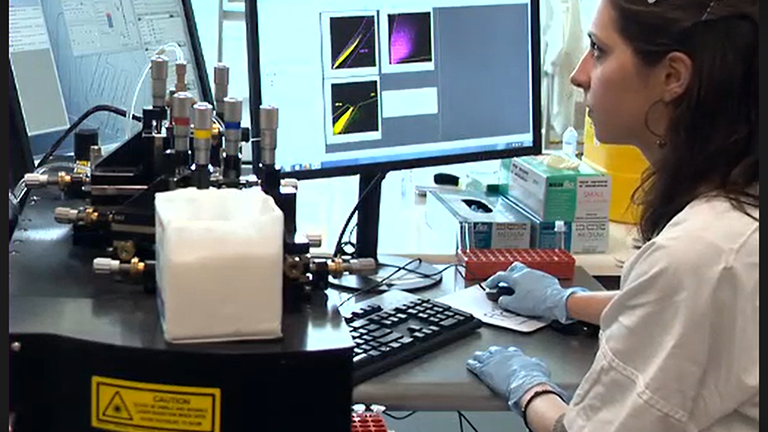 Human embryonic stem cells (hESC) can self-renew indefinitely
in vitro
, and with the appropriate cues can be induced to differentiate into potentially all somatic cell lineages. Differentiated hESC derivatives can potentially be used in transplantation therapies to treat a variety of cell-degenerative diseases. However, hESC differentiation protocols usually yield a mixture of differentiated target and off-target cell types as well as residual undifferentiated cells. For the translation of differentiated hESC-derivatives from the laboratory to the clinic, it is important to be able to discriminate between undifferentiated (pluripotent) and differentiated cells, and generate methods to separate these populations. Safe application of hESC-derived somatic cell types can only be accomplished with pluripotent stem cell-free populations, as residual hESCs could induce tumors known as teratomas following transplantation. Towards this end, here we describe a methodology to detect pluripotency associated cell surface antigens with the monoclonal antibodies TG30 (CD9) and GCTM-2 via fluorescence activated cell sorting (FACS) for the identification of pluripotent TG30
Hi
-GCTM-2
Hi
hESCs using positive selection. Using negative selection with our TG30/GCTM-2 FACS methodology, we were able to detect and purge undifferentiated hESCs in populations undergoing very early-stage differentiation (TG30
Neg
-GCTM-2
Neg
). In a further study, pluripotent stem cell-free samples of differentiated TG30
Neg
-GCTM-2
Neg
cells selected using our TG30/GCTM-2 FACS protocol did not form teratomas once transplanted into immune-compromised mice, supporting the robustness of our protocol. On the other hand, TG30/GCTM-2 FACS-mediated consecutive passaging of enriched pluripotent TG30
Hi
-GCTM-2
Hi
hESCs did not affect their ability to self-renew
in vitro
or their intrinsic pluripotency. Therefore, the characteristics of our TG30/GCTM-2 FACS methodology provide a sensitive assay to obtain highly enriched populations of hPSC as inputs for differentiation assays and to rid potentially tumorigenic (or residual) hESC from derivative cell populations.
Stem Cell Biology, Issue 82, Stem cells, cell surface antigens, antibodies, FACS, purging stem cells, differentiation, pluripotency, teratoma, human embryonic stem cells (hESC)
50856
Efficient Generation Human Induced Pluripotent Stem Cells from Human Somatic Cells with Sendai-virus
Institutions: Johns Hopkins University School of Medicine.

A few years ago, the establishment of human induced pluripotent stem cells (iPSCs) ushered in a new era in biomedicine. Potential uses of human iPSCs include modeling pathogenesis of human genetic diseases, autologous cell therapy after gene correction, and personalized drug screening by providing a source of patient-specific and symptom relevant cells. However, there are several hurdles to overcome, such as eliminating the remaining reprogramming factor transgene expression after human iPSCs production. More importantly, residual transgene expression in undifferentiated human iPSCs could hamper proper differentiations and misguide the interpretation of disease-relevant
in vitro
phenotypes. With this reason, integration-free and/or transgene-free human iPSCs have been developed using several methods, such as adenovirus, the piggyBac system, minicircle vector, episomal vectors, direct protein delivery and synthesized mRNA. However, efficiency of reprogramming using integration-free methods is quite low in most cases. Here, we present a method to isolate human iPSCs by using Sendai-virus (RNA virus) based reprogramming system. This reprogramming method shows consistent results and high efficiency in cost-effective manner.
Stem Cell Biology, Issue 86, Induced pluripotent stem cells, Human embryonic stem cells, Sendai-virus
51406
Feeder-free Derivation of Neural Crest Progenitor Cells from Human Pluripotent Stem Cells
Institutions: Sloan-Kettering Institute for Cancer Research, The Rockefeller University.

Human pluripotent stem cells (hPSCs) have great potential for studying human embryonic development, for modeling human diseases in the dish and as a source of transplantable cells for regenerative applications after disease or accidents. Neural crest (NC) cells are the precursors for a large variety of adult somatic cells, such as cells from the peripheral nervous system and glia, melanocytes and mesenchymal cells. They are a valuable source of cells to study aspects of human embryonic development, including cell fate specification and migration. Further differentiation of NC progenitor cells into terminally differentiated cell types offers the possibility to model human diseases
in vitro
, investigate disease mechanisms and generate cells for regenerative medicine. This article presents the adaptation of a currently available
in vitro
differentiation protocol for the derivation of NC cells from hPSCs. This new protocol requires 18 days of differentiation, is feeder-free, easily scalable and highly reproducible among human embryonic stem cell (hESC) lines as well as human induced pluripotent stem cell (hiPSC) lines. Both old and new protocols yield NC cells of equal identity.
Neuroscience, Issue 87, Embryonic Stem Cells (ESCs), Pluripotent Stem Cells, Induced Pluripotent Stem Cells (iPSCs), Neural Crest, Peripheral Nervous System (PNS), pluripotent stem cells, neural crest cells, in vitro differentiation, disease modeling, differentiation protocol, human embryonic stem cells, human pluripotent stem cells
51609
High Efficiency Differentiation of Human Pluripotent Stem Cells to Cardiomyocytes and Characterization by Flow Cytometry
Institutions: Medical College of Wisconsin, Stanford University School of Medicine, Medical College of Wisconsin, Hong Kong University, Johns Hopkins University School of Medicine, Medical College of Wisconsin.

There is an urgent need to develop approaches for repairing the damaged heart, discovering new therapeutic drugs that do not have toxic effects on the heart, and improving strategies to accurately model heart disease. The potential of exploiting human induced pluripotent stem cell (hiPSC) technology to generate cardiac muscle "in a dish" for these applications continues to generate high enthusiasm. In recent years, the ability to efficiently generate cardiomyogenic cells from human pluripotent stem cells (hPSCs) has greatly improved, offering us new opportunities to model very early stages of human cardiac development not otherwise accessible. In contrast to many previous methods, the cardiomyocyte differentiation protocol described here does not require cell aggregation or the addition of Activin A or BMP4 and robustly generates cultures of cells that are highly positive for cardiac troponin I and T (TNNI3, TNNT2), iroquois-class homeodomain protein IRX-4 (IRX4), myosin regulatory light chain 2, ventricular/cardiac muscle isoform (MLC2v) and myosin regulatory light chain 2, atrial isoform (MLC2a) by day 10 across all human embryonic stem cell (hESC) and hiPSC lines tested to date. Cells can be passaged and maintained for more than 90 days in culture. The strategy is technically simple to implement and cost-effective. Characterization of cardiomyocytes derived from pluripotent cells often includes the analysis of reference markers, both at the mRNA and protein level. For protein analysis, flow cytometry is a powerful analytical tool for assessing quality of cells in culture and determining subpopulation homogeneity. However, technical variation in sample preparation can significantly affect quality of flow cytometry data. Thus, standardization of staining protocols should facilitate comparisons among various differentiation strategies. Accordingly, optimized staining protocols for the analysis of IRX4, MLC2v, MLC2a, TNNI3, and TNNT2 by flow cytometry are described.
Cellular Biology, Issue 91, human induced pluripotent stem cell, flow cytometry, directed differentiation, cardiomyocyte, IRX4, TNNI3, TNNT2, MCL2v, MLC2a
52010
Generation of Induced Pluripotent Stem Cells from Frozen Buffy Coats using Non-integrating Episomal Plasmids
Institutions: European Academy Bozen/Bolzano (EURAC), Fondazione IRCCS Ca´ Granda, Ospedale Maggiore Policlinico, Sanford-Burnham Medical Research Institute.

Somatic cells can be reprogrammed into induced pluripotent stem cells (iPSCs) by forcing the expression of four transcription factors (Oct-4, Sox-2, Klf-4, and c-Myc), typically expressed by human embryonic stem cells (hESCs). Due to their similarity with hESCs, iPSCs have become an important tool for potential patient-specific regenerative medicine, avoiding ethical issues associated with hESCs. In order to obtain cells suitable for clinical application, transgene-free iPSCs need to be generated to avoid transgene reactivation, altered gene expression and misguided differentiation. Moreover, a highly efficient and inexpensive reprogramming method is necessary to derive sufficient iPSCs for therapeutic purposes. Given this need, an efficient non-integrating episomal plasmid approach is the preferable choice for iPSC derivation. Currently the most common cell type used for reprogramming purposes are fibroblasts, the isolation of which requires tissue biopsy, an invasive surgical procedure for the patient. Therefore, human peripheral blood represents the most accessible and least invasive tissue for iPSC generation. In this study, a cost-effective and viral-free protocol using non-integrating episomal plasmids is reported for the generation of iPSCs from human peripheral blood mononuclear cells (PBMNCs) obtained from frozen buffy coats after whole blood centrifugation and without density gradient separation.
Developmental Biology, Issue 100, Stem cell biology, cellular biology, molecular biology, induced pluripotent stem cells, peripheral blood mononuclear cells, reprogramming, episomal plasmids.
52885