Rapid Genetic Analysis of Epithelial-Mesenchymal Signaling During Hair Regeneration
Published: 02-28-2013
ABSTRACT
Hair follicle morphogenesis, a complex process requiring interaction between epithelia-derived keratinocytes and the underlying mesenchyme, is an attractive model system to study organ development and tissue-specific signaling. Although hair follicle development is genetically tractable, fast and reproducible analysis of factors essential for this process remains a challenge. Here we describe a procedure to generate targeted overexpression or shRNA-mediated knockdown of factors using lentivirus in a tissue-specific manner. Using a modified version of a hair regeneration model 5, 6, 11, we can achieve robust gain- or loss-of-function analysis in primary mouse keratinocytes or dermal cells to facilitate study of epithelial-mesenchymal signaling pathways that lead to hair follicle morphogenesis. We describe how to isolate fresh primary mouse keratinocytes and dermal cells, which contain dermal papilla cells and their precursors, deliver lentivirus containing either shRNA or cDNA to one of the cell populations, and combine the cells to generate fully formed hair follicles on the backs of nude mice. This approach allows analysis of tissue-specific factors required to generate hair follicles within three weeks and provides a fast and convenient companion to existing genetic models.
25 Related JoVE Articles!
Propagation of Human Embryonic Stem (ES) Cells
Institutions: MGH - Massachusetts General Hospital.

Cellular Biology, Issue 1, ES, embryonic stem cells, tissue culture
119
From MEFs to Matrigel I: Passaging hESCs in the Presence of MEFs
Institutions: University of California, Los Angeles.

This video demonstrates how to grow human embryonic stem cells (hESCs) on mouse embryonic fibroblast (MEF) feeder cells.
Cellular Biology, Issue 16, human embryonic stem cell (hESC), mouse embryonic fibroblast (MEF), matrigel, conditioned-media, feeder cell, pluripotency
722
Isolation and Culture of Adult Epithelial Stem Cells from Human Skin
Institutions: University of Massachusetts Medical School.

The homeostasis of all self-renewing tissues is dependent on adult stem cells. As undifferentiated stem cells undergo asymmetric divisions, they generate daughter cells that retain the stem cell phenotype and transit-amplifying cells (TA cells) that migrate from the stem cell niche, undergo rapid proliferation and terminally differentiate to repopulate the tissue. Epithelial stem cells have been identified in the epidermis, hair follicle, and intestine as cells with a high
in vitro
proliferative potential and as slow-cycling label-retaining cells
in vivo
1-3
. Adult, tissue-specific stem cells are responsible for the regeneration of the tissues in which they reside during normal physiologic turnover as well as during times of stress
4-5
. Moreover, stem cells are generally considered to be multi-potent, possessing the capacity to give rise to multiple cell types within the tissue
6
. For example, rodent hair follicle stem cells can generate epidermis, sebaceous glands, and hair follicles
7-9
. We have shown that stem cells from the human hair follicle bulge region exhibit multi-potentiality
10
. Stem cells have become a valuable tool in biomedical research, due to their utility as an
in vitro
system for studying developmental biology, differentiation, tumorigenesis and for their possible therapeutic utility. It is likely that adult epithelial stem cells will be useful in the treatment of diseases such as ectodermal dysplasias, monilethrix, Netherton syndrome, Menkes disease, hereditary epidermolysis bullosa and alopecias
11-13
. Additionally, other skin problems such as burn wounds, chronic wounds and ulcers will benefit from stem cell related therapies
14,15
. Given the potential for reprogramming of adult cells into a pluripotent state (iPS cells)
16,17
, the readily accessible and expandable adult stem cells in human skin may provide a valuable source of cells for induction and downstream therapy for a wide range of disease including diabetes and Parkinson's disease.
Cellular Biology, Issue 49, Stem cells, skin, hair follicle, keratinocyte
2561
From MEFs to Matrigel 2: Splitting hESCs from MEFs onto Matrigel
Institutions: University of California, Los Angeles.

This video demonstrates how to grow human embryonic stem cells (hESCs) on mouse embryonic fibroblast (MEF) feeder cells, how to passage hESCs from MEF plates to feeder cell-free Matrigel plates.
Cellular Biology, Issue 16, human embryonic stem cell (hESC), mouse embryonic fibroblast (MEF), matrigel, conditioned-media, feeder cell, pluripotency
831
From MEFs to Matrigel 3: Passaging hESCs from Matrigel onto Matrigel
Institutions: University of California, Los Angeles.

This video demonstrates how to maintain the growth of human embryonic stem cells (hESCs) in feeder cell-free conditions and how to continuously passage hESCs in feeder cell-free conditions. Confirmation of hESC pluripotency grown in feeder cell-free conditions by immunofluorescence microscopy is also demonstrated.
Cellular Biology, Issue 16, human embryonic stem cell (hESC), mouse embryonic fibroblast (MEF), matrigel, conditioned-media, feeder cell, pluripotency
832
Scalable 96-well Plate Based iPSC Culture and Production Using a Robotic Liquid Handling System
Institutions: InvivoSciences, Inc., Gilson, Inc..

Continued advancement in pluripotent stem cell culture is closing the gap between bench and bedside for using these cells in regenerative medicine, drug discovery and safety testing. In order to produce stem cell derived biopharmaceutics and cells for tissue engineering and transplantation, a cost-effective cell-manufacturing technology is essential. Maintenance of pluripotency and stable performance of cells in downstream applications (
e.g.
, cell differentiation) over time is paramount to large scale cell production. Yet that can be difficult to achieve especially if cells are cultured manually where the operator can introduce significant variability as well as be prohibitively expensive to scale-up. To enable high-throughput, large-scale stem cell production and remove operator influence novel stem cell culture protocols using a bench-top multi-channel liquid handling robot were developed that require minimal technician involvement or experience. With these protocols human induced pluripotent stem cells (iPSCs) were cultured in feeder-free conditions directly from a frozen stock and maintained in 96-well plates. Depending on cell line and desired scale-up rate, the operator can easily determine when to passage based on a series of images showing the optimal colony densities for splitting. Then the necessary reagents are prepared to perform a colony split to new plates without a centrifugation step. After 20 passages (~3 months), two iPSC lines maintained stable karyotypes, expressed stem cell markers, and differentiated into cardiomyocytes with high efficiency. The system can perform subsequent high-throughput screening of new differentiation protocols or genetic manipulation designed for 96-well plates. This technology will reduce the labor and technical burden to produce large numbers of identical stem cells for a myriad of applications.
Developmental Biology, Issue 99, iPSC, high-throughput, robotic, liquid-handling, scalable, stem cell, automated stem cell culture, 96-well
52755
Derivation of Adult Human Fibroblasts and their Direct Conversion into Expandable Neural Progenitor Cells
Institutions: University of Würzburg, University of Bonn, German Cancer Research Center, Heidelberg.

Generation of induced pluripotent stem cell (iPSCs) from adult skin fibroblasts and subsequent differentiation into somatic cells provides fascinating prospects for the derivation of autologous transplants that circumvent histocompatibility barriers. However, progression through a pluripotent state and subsequent complete differentiation into desired lineages remains a roadblock for the clinical translation of iPSC technology because of the associated neoplastic potential and genomic instability. Recently, we and others showed that somatic cells cannot only be converted into iPSCs but also into different types of multipotent somatic stem cells by using defined factors, thereby circumventing progression through the pluripotent state. In particular, the direct conversion of human fibroblasts into induced neural progenitor cells (iNPCs) heralds the possibility of a novel autologous cell source for various applications such as cell replacement, disease modeling and drug screening. Here, we describe the isolation of adult human primary fibroblasts by skin biopsy and their efficient direct conversion into iNPCs by timely restricted expression of Oct4, Sox2, Klf4, as well as c-Myc. Sox2-positive neuroepithelial colonies appear after 17 days of induction and iNPC lines can be established efficiently by monoclonal isolation and expansion. Precise adjustment of viral multiplicity of infection and supplementation of leukemia inhibitory factor during the induction phase represent critical factors to achieve conversion efficiencies of up to 0.2%. Thus far, patient-specific iNPC lines could be expanded for more than 12 passages and uniformly display morphological and molecular features of neural stem/progenitor cells, such as the expression of Nestin and Sox2. The iNPC lines can be differentiated into neurons and astrocytes as judged by staining against TUJ1 and GFAP, respectively. In conclusion, we report a robust protocol for the derivation and direct conversion of human fibroblasts into stably expandable neural progenitor cells that might provide a cellular source for biomedical applications such as autologous neural cell replacement and disease modeling.
Neuroscience, Issue 101, Direct conversion, lineage reprogramming, transgene-free reprogrammed cells, neural stem cells, transdifferentiation, neuronal differentiation, glial differentiation, stem cell biology, disease modeling, neural cell replacement, stem cell therapy.
52831
Derivation and Characterization of a Transgene-free Human Induced Pluripotent Stem Cell Line and Conversion into Defined Clinical-grade Conditions
Institutions: University of California, Los Angeles (UCLA), University of California, Los Angeles (UCLA).

Human induced pluripotent stem cells (hiPSCs) can be generated with lentiviral-based reprogramming methodologies. However, traces of potentially oncogenic genes remaining in actively transcribed regions of the genome, limit their potential for use in human therapeutic applications
1
. Additionally, non-human antigens derived from stem cell reprogramming or differentiation into therapeutically relevant derivatives preclude these hiPSCs from being used in a human clinical context
2
. In this video, we present a procedure for reprogramming and analyzing factor-free hiPSCs free of exogenous transgenes. These hiPSCs then can be analyzed for gene expression abnormalities in the specific intron containing the lentivirus. This analysis may be conducted using sensitive quantitative polymerase chain reaction (PCR), which has an advantage over less sensitive techniques previously used to detect gene expression differences
3
. Full conversion into clinical-grade good manufacturing practice (GMP) conditions, allows human clinical relevance. Our protocol offers another methodology—provided that current safe-harbor criteria will expand and include factor-free characterized hiPSC-based derivatives for human therapeutic applications—for deriving GMP-grade hiPSCs, which should eliminate any immunogenicity risk due to non-human antigens. This protocol is broadly applicable to lentiviral reprogrammed cells of any type and provides a reproducible method for converting reprogrammed cells into GMP-grade conditions.
Stem Cell Biology, Issue 93, Human induced pluripotent stem cells, STEMCCA, factor-free, GMP, xeno-free, quantitative PCR
52158
Deriving Retinal Pigment Epithelium (RPE) from Induced Pluripotent Stem (iPS) Cells by Different Sizes of Embryoid Bodies
Institutions: U.S. Army Institute of Surgical Research.
Pluripotent stem cells possess the ability to proliferate indefinitely and to differentiate into almost any cell type. Additionally, the development of techniques to reprogram somatic cells into induced pluripotent stem (iPS) cells has generated interest and excitement towards the possibility of customized personal regenerative medicine. However, the efficiency of stem cell differentiation towards a desired lineage remains low. The purpose of this study is to describe a protocol to derive retinal pigment epithelium (RPE) from iPS cells (iPS-RPE) by applying a tissue engineering approach to generate homogenous populations of embryoid bodies (EBs), a common intermediate during
in vitro
differentiation. The protocol applies the formation of specific size of EBs using microwell plate technology. The methods for identifying protein and gene markers of RPE by immunocytochemistry and reverse-transcription polymerase chain reaction (RT-PCR) are also explained. Finally, the efficiency of differentiation in different sizes of EBs monitored by fluorescence-activated cell sorting (FACS) analysis of RPE markers is described. These techniques will facilitate the differentiation of iPS cells into RPE for future applications.
Stem Cell Biology, Issue 96, Induced pluripotent stem (iPS) cells, retinal pigment epithelium (RPE), retinal pigment epithelium derived from induced pluripotent stem (iPS-RPE) cells, tissue engineering, embryoid bodies (EBs).
52262
Directed Dopaminergic Neuron Differentiation from Human Pluripotent Stem Cells
Institutions: Stanford University School of Medicine, Stanford University School of Medicine.

Dopaminergic (DA) neurons in the substantia nigra pars compacta (also known as A9 DA neurons) are the specific cell type that is lost in Parkinson's disease (PD). There is great interest in deriving A9 DA neurons from human pluripotent stem cells (hPSCs) for regenerative cell replacement therapy for PD. During neural development, A9 DA neurons originate from the floor plate (FP) precursors located at the ventral midline of the central nervous system. Here, we optimized the culture conditions for the stepwise differentiation of hPSCs to A9 DA neurons, which mimics embryonic DA neuron development. In our protocol, we first describe the efficient generation of FP precursor cells from hPSCs using a small molecule method, and then convert the FP cells to A9 DA neurons, which could be maintained
in vitro
for several months. This efficient, repeatable and controllable protocol works well in human embryonic stem cells (hESCs) and human induced pluripotent stem cells (hiPSCs) from normal persons and PD patients, in which one could derive A9 DA neurons to perform
in vitro
disease modeling and drug screening and
in vivo
cell transplantation therapy for PD.
Neuroscience, Issue 91, dopaminergic neuron, substantia nigra pars compacta, midbrain, Parkinson's disease, directed differentiation, human pluripotent stem cells, floor plate
51737
Direct Induction of Human Neural Stem Cells from Peripheral Blood Hematopoietic Progenitor Cells
Institutions: National Institutes of Health, National Institutes of Health.

Human disease specific neuronal cultures are essential for generating
in vitro
models for human neurological diseases. However, the lack of access to primary human adult neural cultures raises unique challenges. Recent developments in induced pluripotent stem cells (iPSC) provides an alternative approach to derive neural cultures from skin fibroblasts through patient specific iPSC, but this process is labor intensive, requires special expertise and large amounts of resources, and can take several months. This prevents the wide application of this technology to the study of neurological diseases. To overcome some of these issues, we have developed a method to derive neural stem cells directly from human adult peripheral blood, bypassing the iPSC derivation process. Hematopoietic progenitor cells enriched from human adult peripheral blood were cultured
in vitro
and transfected with Sendai virus vectors containing transcriptional factors Sox2, Oct3/4, Klf4, and c-Myc. The transfection results in morphological changes in the cells which are further selected by using human neural progenitor medium containing basic fibroblast growth factor (bFGF) and vascular endothelial growth factor (VEGF). The resulting cells are characterized by the expression for neural stem cell markers, such as nestin and SOX2. These neural stem cells could be further differentiated to neurons, astroglia and oligodendrocytes in specified differentiation media. Using easily accessible human peripheral blood samples, this method could be used to derive neural stem cells for further differentiation to neural cells for
in vitro
modeling of neurological disorders and may advance studies related to the pathogenesis and treatment of those diseases.
Developmental Biology, Issue 95, Hematopoietic progenitor cell, neural stem cell, blood, Sendai virus, neuron, differentiation
52298
Rapid Fibroblast Removal from High Density Human Embryonic Stem Cell Cultures
Institutions: University of California, Merced.

Mouse embryonic fibroblasts (MEFs) were used to establish human embryonic stem cells (hESCs) cultures after blastocyst isolation
1
. This feeder system maintains hESCs from undergoing spontaneous differentiation during cell expansion. However, this co-culture method is labor intensive, requires highly trained personnel, and yields low hESC purity
4
. Many laboratories have attempted to minimize the number of feeder cells in hESC cultures (
i.e.
incorporating matrix-coated dishes or other feeder cell types
5-8
). These modified culture systems have shown some promise, but have not supplanted the standard method for culturing hESCs with mitomycin C-treated mouse embyronic fibroblasts in order to retard unwanted spontaneous differentiation of the hESC cultures. Therefore, the feeder cells used in hESC expansion should be removed during differentiation experiments. Although several techniques are available for purifying the hESC colonies (FACS, MACS, or use of drug resistant vectors) from feeders, these techniques are labor intensive, costly and/or destructive to the hESC. The aim of this project was to invent a method of purification that enables the harvesting of a purer population of hESCs. We have observed that in a confluent hESC culture, the MEF population can be removed using a simple and rapid aspiration of the MEF sheet. This removal is dependent on several factors, including lateral cell-to-cell binding of MEFs that have a lower binding affinity to the styrene culture dish, and the ability of the stem cell colonies to push the fibroblasts outward during the generation of their own "niche". The hESC were then examined for SSEA-4, Oct3/4 and Tra 1-81 expression up to 10 days after MEF removal to ensure maintenance of pluripotency. Moreover, hESC colonies were able to continue growing from into larger formations after MEF removal, providing an additional level of hESC expansion.
Cellular Biology, Issue 68, Human Embryonic Stem Cells, Cell Culture, Cell Isolation, Oct, Cell Purification, MEF Removal, SSEA-4
3951
Isolation and Culture of Neural Crest Stem Cells from Human Hair Follicles
Institutions: School of Medicine, University of Pennsylvania.

Hair follicles undergo lifelong growth and hair cycle is a well-controlled process involving stem cell proliferation and quiescence. Hair bulge is a well-characterized niche for adult stem cells
1
. This segment of the outer root sheath contains a number of different types of stem cells, including epithelial stem cells
2
, melanocyte stem cells
3
and neural crest like stem cells
4-7
. Hair follicles represent an accessible and rich source for different types of human stem cells. We and others have isolated neural crest stem cells (NCSCs) from human fetal and adult hair follicles
4,5
. These human stem cells are label-retaining cells and are capable of self-renewal through asymmetric cell division
in vitro
. They express immature neural crest cell markers but not differentiation markers. Our expression profiling study showed that they share a similar gene expression pattern with murine skin immature neural crest cells. They exhibit clonal multipotency that can give rise to myogenic, melanocytic, and neuronal cell lineages after
in vitro
clonal single cell culture. Differentiated cells not only acquire lineage-specific markers but also demonstrate appropriate functions in
ex vivo
conditions. In addition, these NCSCs show differentiation potential toward mesenchymal lineages. Differentiated neuronal cells can persist in mouse brain and retain neuronal differentiation markers. It has been shown that hair follicle derived NCSCs can help nerve regrowth, and they improve motor function in mice transplanted with these stem cells following transecting spinal cord injury
8
. Furthermore, peripheral nerves have been repaired with stem cell grafts
9
, and implantation of skin-derived precursor cells adjacent to crushed sciatic nerves has resulted in remyelination
10
. Therefore, the hair follicle/skin derived NCSCs have already shown promising results for regenerative therapy in preclinical models. Somatic cell reprogramming to induced pluripotent stem (iPS) cells has shown enormous potential for regenerative medicine. However, there are still many issues with iPS cells, particularly the long term effect of oncogene/virus integration and potential tumorigenicity of pluripotent stem cells have not been adequately addressed. There are still many hurdles to be overcome before iPS cells can be used for regenerative medicine. Whereas the adult stem cells are known to be safe and they have been used clinically for many years, such as bone marrow transplant. Many patients have already benefited from the treatment. Autologous adult stem cells are still preferred cells for transplantation. Therefore, the readily accessible and expandable adult stem cells in human skin/hair follicles are a valuable source for regenerative medicine.
Stem Cell Biology, Issue 74, Medicine, Neuroscience, Neurobiology, Bioengineering, Biomedical Engineering, Molecular Biology, Cellular Biology, Anatomy, Physiology, stem cells, neural crest, hair, human, bulge, flow cytometry, hair follicles, regenerative medicine, iPS cells, isolation, cell culture
3194
Feeder-free Derivation of Neural Crest Progenitor Cells from Human Pluripotent Stem Cells
Institutions: Sloan-Kettering Institute for Cancer Research, The Rockefeller University.

Human pluripotent stem cells (hPSCs) have great potential for studying human embryonic development, for modeling human diseases in the dish and as a source of transplantable cells for regenerative applications after disease or accidents. Neural crest (NC) cells are the precursors for a large variety of adult somatic cells, such as cells from the peripheral nervous system and glia, melanocytes and mesenchymal cells. They are a valuable source of cells to study aspects of human embryonic development, including cell fate specification and migration. Further differentiation of NC progenitor cells into terminally differentiated cell types offers the possibility to model human diseases
in vitro
, investigate disease mechanisms and generate cells for regenerative medicine. This article presents the adaptation of a currently available
in vitro
differentiation protocol for the derivation of NC cells from hPSCs. This new protocol requires 18 days of differentiation, is feeder-free, easily scalable and highly reproducible among human embryonic stem cell (hESC) lines as well as human induced pluripotent stem cell (hiPSC) lines. Both old and new protocols yield NC cells of equal identity.
Neuroscience, Issue 87, Embryonic Stem Cells (ESCs), Pluripotent Stem Cells, Induced Pluripotent Stem Cells (iPSCs), Neural Crest, Peripheral Nervous System (PNS), pluripotent stem cells, neural crest cells, in vitro differentiation, disease modeling, differentiation protocol, human embryonic stem cells, human pluripotent stem cells
51609
Generation of Induced Pluripotent Stem Cells from Frozen Buffy Coats using Non-integrating Episomal Plasmids
Institutions: European Academy Bozen/Bolzano (EURAC), Fondazione IRCCS Ca´ Granda, Ospedale Maggiore Policlinico, Sanford-Burnham Medical Research Institute.

Somatic cells can be reprogrammed into induced pluripotent stem cells (iPSCs) by forcing the expression of four transcription factors (Oct-4, Sox-2, Klf-4, and c-Myc), typically expressed by human embryonic stem cells (hESCs). Due to their similarity with hESCs, iPSCs have become an important tool for potential patient-specific regenerative medicine, avoiding ethical issues associated with hESCs. In order to obtain cells suitable for clinical application, transgene-free iPSCs need to be generated to avoid transgene reactivation, altered gene expression and misguided differentiation. Moreover, a highly efficient and inexpensive reprogramming method is necessary to derive sufficient iPSCs for therapeutic purposes. Given this need, an efficient non-integrating episomal plasmid approach is the preferable choice for iPSC derivation. Currently the most common cell type used for reprogramming purposes are fibroblasts, the isolation of which requires tissue biopsy, an invasive surgical procedure for the patient. Therefore, human peripheral blood represents the most accessible and least invasive tissue for iPSC generation. In this study, a cost-effective and viral-free protocol using non-integrating episomal plasmids is reported for the generation of iPSCs from human peripheral blood mononuclear cells (PBMNCs) obtained from frozen buffy coats after whole blood centrifugation and without density gradient separation.
Developmental Biology, Issue 100, Stem cell biology, cellular biology, molecular biology, induced pluripotent stem cells, peripheral blood mononuclear cells, reprogramming, episomal plasmids.
52885
Alternative Cultures for Human Pluripotent Stem Cell Production, Maintenance, and Genetic Analysis
Institutions: National Institutes of Health, National Institutes of Health.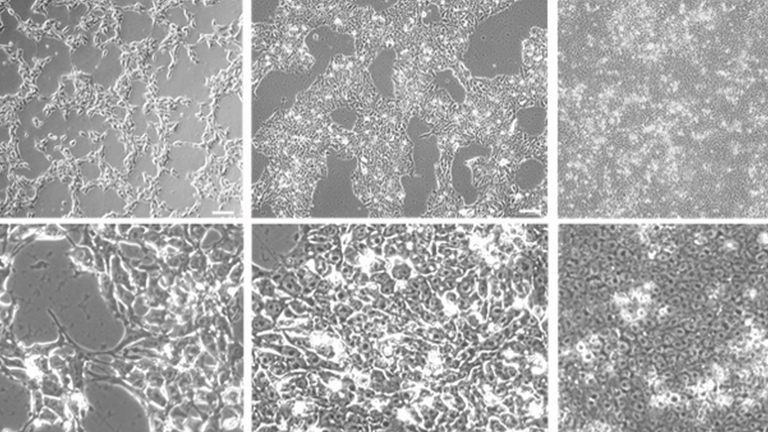 Human pluripotent stem cells (hPSCs) hold great promise for regenerative medicine and biopharmaceutical applications. Currently, optimal culture and efficient expansion of large amounts of clinical-grade hPSCs are critical issues in hPSC-based therapies. Conventionally, hPSCs are propagated as colonies on both feeder and feeder-free culture systems. However, these methods have several major limitations, including low cell yields and generation of heterogeneously differentiated cells. To improve current hPSC culture methods, we have recently developed a new method, which is based on non-colony type monolayer (NCM) culture of dissociated single cells. Here, we present detailed NCM protocols based on the Rho-associated kinase (ROCK) inhibitor Y-27632. We also provide new information regarding NCM culture with different small molecules such as Y-39983 (ROCK I inhibitor), phenylbenzodioxane (ROCK II inhibitor), and thiazovivin (a novel ROCK inhibitor). We further extend our basic protocol to cultivate hPSCs on defined extracellular proteins such as the laminin isoform 521 (LN-521) without the use of ROCK inhibitors. Moreover, based on NCM, we have demonstrated efficient transfection or transduction of plasmid DNAs, lentiviral particles, and oligonucleotide-based microRNAs into hPSCs in order to genetically modify these cells for molecular analyses and drug discovery. The NCM-based methods overcome the major shortcomings of colony-type culture, and thus may be suitable for producing large amounts of homogeneous hPSCs for future clinical therapies, stem cell research, and drug discovery.
Stem Cell Biology, Issue 89, Pluripotent stem cells, human embryonic stem cells, induced pluripotent stem cells, cell culture, non-colony type monolayer, single cell, plating efficiency, Rho-associated kinase, Y-27632, transfection, transduction
51519
High Efficiency Differentiation of Human Pluripotent Stem Cells to Cardiomyocytes and Characterization by Flow Cytometry
Institutions: Medical College of Wisconsin, Stanford University School of Medicine, Medical College of Wisconsin, Hong Kong University, Johns Hopkins University School of Medicine, Medical College of Wisconsin.

There is an urgent need to develop approaches for repairing the damaged heart, discovering new therapeutic drugs that do not have toxic effects on the heart, and improving strategies to accurately model heart disease. The potential of exploiting human induced pluripotent stem cell (hiPSC) technology to generate cardiac muscle "in a dish" for these applications continues to generate high enthusiasm. In recent years, the ability to efficiently generate cardiomyogenic cells from human pluripotent stem cells (hPSCs) has greatly improved, offering us new opportunities to model very early stages of human cardiac development not otherwise accessible. In contrast to many previous methods, the cardiomyocyte differentiation protocol described here does not require cell aggregation or the addition of Activin A or BMP4 and robustly generates cultures of cells that are highly positive for cardiac troponin I and T (TNNI3, TNNT2), iroquois-class homeodomain protein IRX-4 (IRX4), myosin regulatory light chain 2, ventricular/cardiac muscle isoform (MLC2v) and myosin regulatory light chain 2, atrial isoform (MLC2a) by day 10 across all human embryonic stem cell (hESC) and hiPSC lines tested to date. Cells can be passaged and maintained for more than 90 days in culture. The strategy is technically simple to implement and cost-effective. Characterization of cardiomyocytes derived from pluripotent cells often includes the analysis of reference markers, both at the mRNA and protein level. For protein analysis, flow cytometry is a powerful analytical tool for assessing quality of cells in culture and determining subpopulation homogeneity. However, technical variation in sample preparation can significantly affect quality of flow cytometry data. Thus, standardization of staining protocols should facilitate comparisons among various differentiation strategies. Accordingly, optimized staining protocols for the analysis of IRX4, MLC2v, MLC2a, TNNI3, and TNNT2 by flow cytometry are described.
Cellular Biology, Issue 91, human induced pluripotent stem cell, flow cytometry, directed differentiation, cardiomyocyte, IRX4, TNNI3, TNNT2, MCL2v, MLC2a
52010
Human Pluripotent Stem Cell Based Developmental Toxicity Assays for Chemical Safety Screening and Systems Biology Data Generation
Institutions: University of Cologne, University of Konstanz, Technical University of Dortmund, Technical University of Dortmund.

Efficient protocols to differentiate human pluripotent stem cells to various tissues in combination with -omics technologies opened up new horizons for
in vitro
toxicity testing of potential drugs. To provide a solid scientific basis for such assays, it will be important to gain quantitative information on the time course of development and on the underlying regulatory mechanisms by systems biology approaches. Two assays have therefore been tuned here for these requirements. In the UKK test system, human embryonic stem cells (hESC) (or other pluripotent cells) are left to spontaneously differentiate for 14 days in embryoid bodies, to allow generation of cells of all three germ layers. This system recapitulates key steps of early human embryonic development, and it can predict human-specific early embryonic toxicity/teratogenicity, if cells are exposed to chemicals during differentiation. The UKN1 test system is based on hESC differentiating to a population of neuroectodermal progenitor (NEP) cells for 6 days. This system recapitulates early neural development and predicts early developmental neurotoxicity and epigenetic changes triggered by chemicals. Both systems, in combination with transcriptome microarray studies, are suitable for identifying toxicity biomarkers. Moreover, they may be used in combination to generate input data for systems biology analysis. These test systems have advantages over the traditional toxicological studies requiring large amounts of animals. The test systems may contribute to a reduction of the costs for drug development and chemical safety evaluation. Their combination sheds light especially on compounds that may influence neurodevelopment specifically.
Developmental Biology, Issue 100, Human embryonic stem cells, developmental toxicity, neurotoxicity, neuroectodermal progenitor cells, immunoprecipitation, differentiation, cytotoxicity, embryopathy, embryoid body
52333
Examination of Thymic Positive and Negative Selection by Flow Cytometry
Institutions: University of Alberta.

A healthy immune system requires that T cells respond to foreign antigens while remaining tolerant to self-antigens. Random rearrangement of the T cell receptor (TCR) α and β loci generates a T cell repertoire with vast diversity in antigen specificity, both to self and foreign. Selection of the repertoire during development in the thymus is critical for generating safe and useful T cells. Defects in thymic selection contribute to the development of autoimmune and immunodeficiency disorders
1-4
. T cell progenitors enter the thymus as double negative (DN) thymocytes that do not express CD4 or CD8 co-receptors. Expression of the αβTCR and both co-receptors occurs at the double positive (DP) stage. Interaction of the αβTCR with self-peptide-MHC (pMHC) presented by thymic cells determines the fate of the DP thymocyte. High affinity interactions lead to negative selection and elimination of self-reactive thymocytes. Low affinity interactions result in positive selection and development of CD4 or CD8 single positive (SP) T cells capable of recognizing foreign antigens presented by self-MHC
5
. Positive selection can be studied in mice with a polyclonal (wildtype) TCR repertoire by observing the generation of mature T cells. However, they are not ideal for the study of negative selection, which involves deletion of small antigen-specific populations. Many model systems have been used to study negative selection but vary in their ability to recapitulate physiological events
6
. For example,
in vitro
stimulation of thymocytes lacks the thymic environment that is intimately involved in selection, while administration of exogenous antigen can lead to non-specific deletion of thymocytes
7-9
. Currently, the best tools for studying
in vivo
negative selection are mice that express a transgenic TCR specific for endogenous self-antigen. However, many classical TCR transgenic models are characterized by premature expression of the transgenic TCRα chain at the DN stage, resulting in premature negative selection. Our lab has developed the HY
cd4
model, in which the transgenic HY TCRα is conditionally expressed at the DP stage, allowing negative selection to occur during the DP to SP transition as occurs in wildtype mice
10
. Here, we describe a flow cytometry-based protocol to examine thymic positive and negative selection in the HY
cd4
mouse model. While negative selection in HY
cd4
mice is highly physiological, these methods can also be applied to other TCR transgenic models. We will also present general strategies for analyzing positive selection in a polyclonal repertoire applicable to any genetically manipulated mice.
Immunology, Issue 68, Medicine, Cellular Biology, Anatomy, Physiology, Thymus, T cell, negative selection, positive selection, autoimmunity, flow cytometry
4269
Enrichment and Purging of Human Embryonic Stem Cells by Detection of Cell Surface Antigens Using the Monoclonal Antibodies TG30 and GCTM-2
Institutions: CSIRO.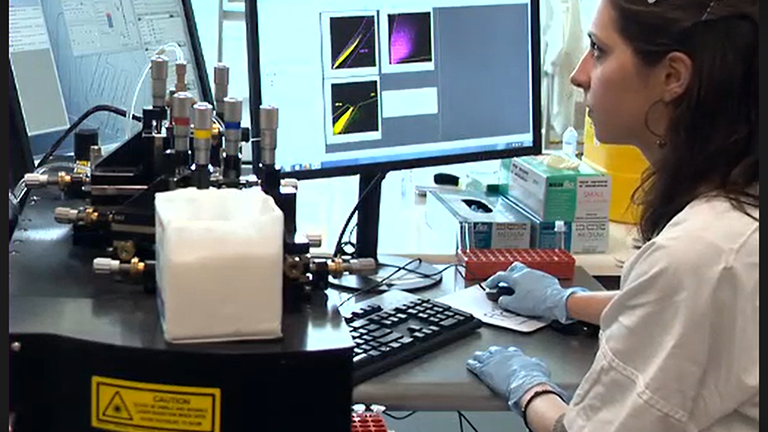 Human embryonic stem cells (hESC) can self-renew indefinitely
in vitro
, and with the appropriate cues can be induced to differentiate into potentially all somatic cell lineages. Differentiated hESC derivatives can potentially be used in transplantation therapies to treat a variety of cell-degenerative diseases. However, hESC differentiation protocols usually yield a mixture of differentiated target and off-target cell types as well as residual undifferentiated cells. For the translation of differentiated hESC-derivatives from the laboratory to the clinic, it is important to be able to discriminate between undifferentiated (pluripotent) and differentiated cells, and generate methods to separate these populations. Safe application of hESC-derived somatic cell types can only be accomplished with pluripotent stem cell-free populations, as residual hESCs could induce tumors known as teratomas following transplantation. Towards this end, here we describe a methodology to detect pluripotency associated cell surface antigens with the monoclonal antibodies TG30 (CD9) and GCTM-2 via fluorescence activated cell sorting (FACS) for the identification of pluripotent TG30
Hi
-GCTM-2
Hi
hESCs using positive selection. Using negative selection with our TG30/GCTM-2 FACS methodology, we were able to detect and purge undifferentiated hESCs in populations undergoing very early-stage differentiation (TG30
Neg
-GCTM-2
Neg
). In a further study, pluripotent stem cell-free samples of differentiated TG30
Neg
-GCTM-2
Neg
cells selected using our TG30/GCTM-2 FACS protocol did not form teratomas once transplanted into immune-compromised mice, supporting the robustness of our protocol. On the other hand, TG30/GCTM-2 FACS-mediated consecutive passaging of enriched pluripotent TG30
Hi
-GCTM-2
Hi
hESCs did not affect their ability to self-renew
in vitro
or their intrinsic pluripotency. Therefore, the characteristics of our TG30/GCTM-2 FACS methodology provide a sensitive assay to obtain highly enriched populations of hPSC as inputs for differentiation assays and to rid potentially tumorigenic (or residual) hESC from derivative cell populations.
Stem Cell Biology, Issue 82, Stem cells, cell surface antigens, antibodies, FACS, purging stem cells, differentiation, pluripotency, teratoma, human embryonic stem cells (hESC)
50856
Synthesis of an Intein-mediated Artificial Protein Hydrogel
Institutions: Texas A&M University, College Station, Texas A&M University, College Station.

We present the synthesis of a highly stable protein hydrogel mediated by a split-intein-catalyzed protein
trans
-splicing reaction. The building blocks of this hydrogel are two protein block-copolymers each containing a subunit of a trimeric protein that serves as a crosslinker and one half of a split intein. A highly hydrophilic random coil is inserted into one of the block-copolymers for water retention. Mixing of the two protein block copolymers triggers an intein
trans
-splicing reaction, yielding a polypeptide unit with crosslinkers at either end that rapidly self-assembles into a hydrogel. This hydrogel is very stable under both acidic and basic conditions, at temperatures up to 50 °C, and in organic solvents. The hydrogel rapidly reforms after shear-induced rupture. Incorporation of a "docking station peptide" into the hydrogel building block enables convenient incorporation of "docking protein"-tagged target proteins. The hydrogel is compatible with tissue culture growth media, supports the diffusion of 20 kDa molecules, and enables the immobilization of bioactive globular proteins. The application of the intein-mediated protein hydrogel as an organic-solvent-compatible biocatalyst was demonstrated by encapsulating the horseradish peroxidase enzyme and corroborating its activity.
Bioengineering, Issue 83, split-intein, self-assembly, shear-thinning, enzyme, immobilization, organic synthesis
51202
Development, Expansion, and In vivo Monitoring of Human NK Cells from Human Embryonic Stem Cells (hESCs) and Induced Pluripotent Stem Cells (iPSCs)
Institutions: University of Minnesota, Minneapolis, University of Minnesota, Minneapolis.

We present a method for deriving natural killer (NK) cells from undifferentiated hESCs and iPSCs using a feeder-free approach. This method gives rise to high levels of NK cells after 4 weeks culture and can undergo further 2-log expansion with artificial antigen presenting cells. hESC- and iPSC-derived NK cells developed in this system have a mature phenotype and function. The production of large numbers of genetically modifiable NK cells is applicable for both basic mechanistic as well as anti-tumor studies. Expression of firefly luciferase in hESC-derived NK cells allows a non-invasive approach to follow NK cell engraftment, distribution, and function. We also describe a dual-imaging scheme that allows separate monitoring of two different cell populations to more distinctly characterize their interactions
in vivo
. This method of derivation, expansion, and dual
in vivo
imaging provides a reliable approach for producing NK cells and their evaluation which is necessary to improve current NK cell adoptive therapies.
Stem Cell Biology, Issue 74, Bioengineering, Biomedical Engineering, Medicine, Physiology, Anatomy, Cellular Biology, Molecular Biology, Biochemistry, Hematology, Embryonic Stem Cells, ESCs, ES Cells, Hematopoietic Stem Cells, HSC, Pluripotent Stem Cells, Induced Pluripotent Stem Cells, iPSCs, Luciferases, Firefly, Immunotherapy, Immunotherapy, Adoptive, stem cells, differentiation, NK cells, in vivo imaging, fluorescent imaging, turboFP650, FACS, cell culture
50337
Targeted Expression of GFP in the Hair Follicle Using Ex Vivo Viral Transduction
Institutions: AntiCancer, Inc..

There are many cell types in the hair follicle, including hair matrix cells which form the hair shaft and stem cells which can initiate the hair shaft during early anagen, the growth phase of the hair cycle, as well as pluripotent stem cells that play a role in hair follicle growth but have the potential to differentiate to non-follicle cells such as neurons. These properties of the hair follicle are discussed. The various cell types of the hair follicle are potential targets for gene therapy. Gene delivery system for the hair follicle using viral vectors or liposomes for gene targeting to the various cell types in the hair follicle and the results obtained are also discussed.
Cellular Biology, Issue 13, Springer Protocols, hair follicles, liposomes, adenovirus, genes, stem cells
708
Mouse Epidermal Neural Crest Stem Cell (EPI-NCSC) Cultures
Institutions: Newcastle University, Medical College of Wisconsin .

EPI-NCSC are remnants of the embryonic neural crest in an adult location, the bulge of hair follicles. They are multipotent stem cells that have the physiological property to generate a wide array of differentiated cell types, including neurons, nerve supporting cells, smooth muscle cells, bone/cartilage cells and melanocytes. EPI-NCSC are easily accessible in the hairy skin and can be isolated as a highly pure population of stem cells. This video provides a detailed protocol for preparing mouse EPI-NCSC cultures from whisker follicles. The whisker pad of an adult mouse is removed, and whisker follicles dissected. The follicles are then cut longitudinally and subsequently transversely above and below the bulge region. The bulge is removed from the collagen capsule and placed in a culture plate. EPI-NCSC start to emigrate from the bulge explants 3 to 4 days later.
Neuroscience, Issue 15, epidermal neural crest stem cells, EPI-NCSC, mouse, primary explant, cell culture,
772
Cell Surface Marker Mediated Purification of iPS Cell Intermediates from a Reprogrammable Mouse Model
Institutions: Monash University, Monash University.

Mature cells can be reprogrammed to a pluripotent state. These so called induced pluripotent stem (iPS) cells are able to give rise to all cell types of the body and consequently have vast potential for regenerative medicine applications. Traditionally iPS cells are generated by viral introduction of transcription factors Oct-4, Klf-4, Sox-2, and c-Myc (OKSM) into fibroblasts. However, reprogramming is an inefficient process with only 0.1-1% of cells reverting towards a pluripotent state, making it difficult to study the reprogramming mechanism. A proven methodology that has allowed the study of the reprogramming process is to separate the rare intermediates of the reaction from the refractory bulk population. In the case of mouse embryonic fibroblasts (MEFs), we and others have previously shown that reprogramming cells undergo a distinct series of changes in the expression profile of cell surface markers which can be used for the separation of these cells. During the early stages of OKSM expression successfully reprogramming cells lose fibroblast identity marker Thy-1.2 and up-regulate pluripotency associated marker Ssea-1. The final transition of a subset of Ssea-1 positive cells towards the pluripotent state is marked by the expression of Epcam during the late stages of reprogramming. Here we provide a detailed description of the methodology used to isolate reprogramming intermediates from cultures of reprogramming MEFs. In order to increase experimental reproducibility we use a reprogrammable mouse strain that has been engineered to express a transcriptional transactivator (m2rtTA) under control of the Rosa26 locus and OKSM under control of a doxycycline responsive promoter. Cells isolated from these mice are isogenic and express OKSM homogenously upon addition of doxycycline. We describe in detail the establishment of the reprogrammable mice, the derivation of MEFs, and the subsequent isolation of intermediates during reprogramming into iPS cells via fluorescent activated cells sorting (FACS).
Stem Cell Biology, Issue 91, Induced pluripotent stem cells; reprogramming; intermediates; fluorescent activated cells sorting; cell surface marker; reprogrammable mouse model; derivation of mouse embryonic fibroblasts
51728