ABSTRACT
The cryoballoon catheter ablates atrial fibrillation (AF) triggers in the left atrium (LA) and pulmonary veins (PVs) via transseptal access. The typical transseptal puncture site is the fossa ovalis (FO) – the atrial septum's thinnest section. A potentially beneficial transseptal site, for the cryoballoon, is near the inferior limbus (IL). This study examines an alternative transseptal site near the IL, which may decrease the frequency of acute iatrogenic atrial septal defect (IASD). Also, the study evaluates the acute pulmonary vein isolation (PVI) success rate utilizing the IL location. 200 patients were evaluated by retrospective chart review for acute PVI success rate with an IL transseptal site. An additional 128 IL transseptal patients were compared to 45 FO transseptal patients by performing Doppler intracardiac echocardiography (ICE) post-ablation to assess transseptal flow after removal of the transseptal sheath. After sheath removal and by Doppler ICE imaging, 42 of 128 (33%) IL transseptal patients demonstrated acute transseptal flow, while 45 of 45 (100%) FO transseptal puncture patients had acute transseptal flow. The difference in acute transseptal flow detection between FO and IL sites was statistically significant (P <0.0001). Furthermore, 186 of 200 patients (with an IL transseptal puncture) did not need additional ablation(s) and had achieved an acute PVI by a "cryoballoon only" technique. An IL transseptal puncture site for cryoballoon AF ablations is an effective location to mediate PVI at all four PVs. Additionally, an IL transseptal location can lower the incidence of acute transseptal flow by Doppler ICE when compared to the FO. Potentially, the IL transseptal site may reduce later IASD complications post-cryoballoon procedures.
19 Related JoVE Articles!
Direct Pressure Monitoring Accurately Predicts Pulmonary Vein Occlusion During Cryoballoon Ablation
Institutions: Piedmont Heart Institute, Medtronic Inc..

Cryoballoon ablation (CBA) is an established therapy for atrial fibrillation (AF). Pulmonary vein (PV) occlusion is essential for achieving antral contact and PV isolation and is typically assessed by contrast injection. We present a novel method of direct pressure monitoring for assessment of PV occlusion. Transcatheter pressure is monitored during balloon advancement to the PV antrum. Pressure is recorded via a single pressure transducer connected to the inner lumen of the cryoballoon. Pressure curve characteristics are used to assess occlusion in conjunction with fluoroscopic or intracardiac echocardiography (ICE) guidance. PV occlusion is confirmed when loss of typical left atrial (LA) pressure waveform is observed with recordings of PA pressure characteristics (no A wave and rapid V wave upstroke). Complete pulmonary vein occlusion as assessed with this technique has been confirmed with concurrent contrast utilization during the initial testing of the technique and has been shown to be highly accurate and readily reproducible. We evaluated the efficacy of this novel technique in 35 patients. A total of 128 veins were assessed for occlusion with the cryoballoon utilizing the pressure monitoring technique; occlusive pressure was demonstrated in 113 veins with resultant successful pulmonary vein isolation in 111 veins (98.2%). Occlusion was confirmed with subsequent contrast injection during the initial ten procedures, after which contrast utilization was rapidly reduced or eliminated given the highly accurate identification of occlusive pressure waveform with limited initial training. Verification of PV occlusive pressure during CBA is a novel approach to assessing effective PV occlusion and it accurately predicts electrical isolation. Utilization of this method results in significant decrease in fluoroscopy time and volume of contrast.
Medicine, Issue 72, Anatomy, Physiology, Cardiology, Biomedical Engineering, Surgery, Cardiovascular System, Cardiovascular Diseases, Surgical Procedures, Operative, Investigative Techniques, Atrial fibrillation, Cryoballoon Ablation, Pulmonary Vein Occlusion, Pulmonary Vein Isolation, electrophysiology, catheterizatoin, heart, vein, clinical, surgical device, surgical techniques
50247
Robotic Ablation of Atrial Fibrillation
Institutions: Charité — Universitätsmedizin Berlin, Campus Virchow, University Hospital Zurich.

Background: Pulmonary vein isolation (PVI) is an established treatment for atrial fibrillation (AF). During PVI an electrical conduction block between pulmonary vein (PV) and left atrium (LA) is created. This conduction block prevents AF, which is triggered by irregular electric activity originating from the PV. However, transmural atrial lesions are required which can be challenging. Re-conduction and AF recurrence occur in 20 - 40% of the cases. Robotic catheter systems aim to improve catheter steerability. Here, a procedure with a new remote catheter system (RCS), is presented. Objective of this article is to show feasibility of robotic AF ablation with a novel system. Materials and Methods: After interatrial trans-septal puncture is performed using a long sheath and needle under fluoroscopic guidance. The needle is removed and a guide wire is placed in the left superior PV. Then an ablation catheter is positioned in the LA, using the sheath and wire as guide to the LA. LA angiography is performed over the sheath. A circular mapping catheter is positioned via the long sheath into the LA and a three-dimensional (3-D) anatomical reconstruction of the LA is performed. The handle of the ablation catheter is positioned in the robotic arm of the Amigo system and the ablation procedure begins. During the ablation procedure, the operator manipulates the ablation catheter via the robotic arm with the use of a remote control. The ablation is performed by creating point-by-point lesions around the left and right PV ostia. Contact force is measured at the catheter tip to provide feedback of catheter-tissue contact. Conduction block is confirmed by recording the PV potentials on the circular mapping catheter and by pacing maneuvers. The operator stays out of the radiationfield during ablation. Conclusion: The novel catheter system allows ablation with high stability on low operator fluoroscopy exposure.
Medicine, Issue 99, Atrial fibrillation, catheter ablation, robotic ablation, remote navigation, fluoroscopy, radiation exposure, cardiac arrhythmia
52560
Non-fluoroscopic Catheter Tracking for Fluoroscopy Reduction in Interventional Electrophysiology
Institutions: University of Leipzig.
A technological platform (MediGuide) has been recently introduced for non-fluoroscopic catheter tracking. In several studies, we have demonstrated that the application of this non-fluoroscopic catheter visualization system (NFCV) reduces fluoroscopy time and dose by 90-95% in a variety of electrophysiology (EP) procedures. This can be of relevance not only to the patients, but also to the nurses and physicians working in the EP lab. Furthermore, in a subset of indications such as supraventricular tachycardias, NFCV enables a fully non-fluoroscopic procedure and allows the lab staff to work without wearing lead aprons. With this protocol, we demonstrate that even complex procedures such as ablations of atrial fibrillation, that are typically associated with fluoroscopy times of >30 min in conventional settings, can safely be performed with a reduction of >90% in fluoroscopy exposure by the additional use of NFCV.
Medicine, Issue 99, Fluoroscopy, ablation, radiation exposure, atrial fibrillation, 3D mapping, electrophysiology
52606
The Supraclavicular Fossa Ultrasound View for Central Venous Catheter Placement and Catheter Change Over Guidewire
Institutions: University Hospital Bonn.

The supraclavicular fossa ultrasound view can be useful for central venous catheter (CVC) placement. Venipuncture of the internal jugular veins (IJV) or subclavian veins is performed with a micro-convex ultrasound probe, using a neonatal abdominal preset with a probe frequency of 10 Mhz at a depth of 10-12 cm. Following insertion of the guidewire into the vein, the probe is shifted to the right supraclavicular fossa to obtain a view of the superior vena cava (SVC), right pulmonary artery and ascending aorta. Under real-time ultrasound view, the guidewire and its J-tip is visualized and pushed forward to the lower SVC. Insertion depth is read from guidewire marks using central venous catheter. CVC is then inserted following skin and venous dilation. The supraclavicular fossa view is most suitable for right IJV CVC insertion. If other insertion sites are chosen the right supraclavicular fossa should be within the sterile field. Scanning of the IJVs, brachiocephalic veins and SVC can reveal significant thrombosis before venipuncture. Misplaced CVCs can be corrected with a change over guidewire technique under real-time ultrasound guidance. In conjunction with a diagnostic lung ultrasound scan, this technique has a potential to replace chest radiograph for confirmation of CVC tip position and exclusion of pneumothorax. Moreover, this view is of advantage in patients with a non-p-wave cardiac rhythm were an intra-cardiac electrocardiography (ECG) is not feasible for CVC tip position confirmation. Limitations of the method are lack of availability of a micro-convex probe and the need for training.
Medicine, Issue 94, ultrasound, central venous catheter, internal jugular vein, subclavian vein superior vena cava, right pulmonary artery, guidewire
52160
Introduction to the Ultrasound Targeted Microbubble Destruction Technique
Institutions: University of Hawaii.

In UTMD, bioactive molecules, such as negatively charged plasmid DNA vectors encoding a gene of interest, are added to the cationic shells of lipid microbubble contrast agents
7-9
. In mice these vector-carrying microbubbles can be administered intravenously or directly to the left ventricle of the heart. In larger animals they can also be infused through an intracoronary catheter. The subsequent delivery from the circulation to a target organ occurs by acoustic cavitation at a resonant frequency of the microbubbles. It seems likely that the mechanical energy generated by the microbubble destruction results in transient pore formation in or between the endothelial cells of the microvasculature of the targeted region
10
. As a result of this sonoporation effect, the transfection efficiency into and across the endothelial cells is enhanced, and transgene-encoding vectors are deposited into the surrounding tissue. Plasmid DNA remaining in the circulation is rapidly degraded by nucleases in the blood, which further reduces the likelihood of delivery to non-sonicated tissues and leads to highly specific target-organ transfection.
Bioengineering, Issue 52, Gene therapy, cavitation, ultrasound, microbubbles
2963
The WATCHMAN Left Atrial Appendage Closure Device for Atrial Fibrillation
Institutions: University of Leipzig Heart Center.

Atrial fibrillation (AF) is the most common cardiac arrhythmia, affecting an estimated 6 million people in the United States
1
. Since AF affects primarily elderly people, its prevalence increases parallel with age. As such, it is expected that 15.9 million Americans will be affected by the year 2050
2
. Ischemic stroke occurs in 5% of non-anticoagulated AF patients each year. Current treatments for AF include rate control, rhythm control and prevention of stroke
3
. The American College of Cardiology, American Heart Association, and European Society of Cardiology currently recommended rate control as the first course of therapy for AF
3
. Rate control is achieved by administration of pharmacological agents, such as β-blockers, that lower the heart rate until it reaches a less symptomatic state
3
. Rhythm control aims to return the heart to its normal sinus rhythm and is typically achieved through administration of antiarrhythmic drugs such as amiodarone, electrical cardioversion or ablation therapy. Rhythm control methods, however, have not been demonstrated to be superior to rate-control methods
4-6
. In fact, certain antiarrhythmic drugs have been shown to be associated with higher hospitalization rates, serious adverse effects
3
, or even increases in mortality in patients with structural heart defects
7
. Thus, treatment with antiarrhythmics is more often used when rate-control drugs are ineffective or contraindicated. Rate-control and antiarrhythmic agents relieve the symptoms of AF, including palpitations, shortness of breath, and fatigue
8
, but don't reliably prevent thromboembolic events
6
. Treatment with the anticoagulant drug warfarin significantly reduces the rate of stroke or embolism
9,10
. However, because of problems associated with its use, fewer than 50% of patients are treated with it. The therapeutic dose is affected by drug, dietary, and metabolic interactions, and thus requires detailed monitoring. In addition, warfarin has the potential to cause severe, sometimes lethal, bleeding
2
. As an alternative, aspirin is commonly prescribed. While aspirin is typically well tolerated, it is far less effective at preventing stroke
10
. Other alternatives to warfarin, such as dabigatran
11
or rivaroxaban
12
demonstrate non-inferiority to warfarin with respect to thromboembolic events (in fact, dabigatran given as a high dose of 150 mg twice a day has shown superiority). While these drugs have the advantage of eliminating dietary concerns and eliminating the need for regular blood monitoring, major bleeding and associated complications, while somewhat less so than with warfarin, remain an issue
13-15
. Since 90% of AF-associated strokes result from emboli that arise from the left atrial appendage (LAA)
2
, one alternative approach to warfarin therapy has been to exclude the LAA using an implanted device to trap blood clots before they exit. Here, we demonstrate a procedure for implanting the WATCHMAN Left Atrial Appendage Closure Device. A transseptal cannula is inserted through the femoral vein, and under fluoroscopic guidance, inter-atrial septum is crossed. Once access to the left atrium has been achieved, a guidewire is placed in the upper pulmonary vein and the WATCHMAN Access Sheath and dilator are advanced over the wire into the left atrium. The guidewire is removed, and the access sheath is carefully advanced into the distal portion of the LAA over a pigtail catheter. The WATCHMAN Delivery System is prepped, inserted into the access sheath, and slowly advanced. The WATCHMAN device is then deployed into the LAA. The device release criteria are confirmed via fluoroscopy and transesophageal echocardiography (TEE) and the device is released.
Medicine, Issue 60, atrial fibrillation, cardiology, cardiac, interventional cardiology, medical procedures, medicine, WATCHMAN, medical device, left atrial appendage
3671
Technique of Porcine Liver Procurement and Orthotopic Transplantation using an Active Porto-Caval Shunt
Institutions: Toronto General Hospital.

The success of liver transplantation has resulted in a dramatic organ shortage. Each year, a considerable number of patients on the liver transplantation waiting list die without receiving an organ transplant or are delisted due to disease progression. Even after a successful transplantation, rejection and side effects of immunosuppression remain major concerns for graft survival and patient morbidity. Experimental animal research has been essential to the success of liver transplantation and still plays a pivotal role in the development of clinical transplantation practice. In particular, the porcine orthotopic liver transplantation model (OLTx) is optimal for clinically oriented research for its close resemblance to human size, anatomy, and physiology. Decompression of intestinal congestion during the anhepatic phase of porcine OLTx is important to guarantee reliable animal survival. The use of an active porto-caval-jugular shunt achieves excellent intestinal decompression. The system can be used for short-term as well as long-term survival experiments. The following protocol contains all technical information for a stable and reproducible liver transplantation model in pigs including post-operative animal care.
Medicine, Issue 99, Orthotopic Liver Transplantation, Hepatic, Porcine Model, Pig, Experimental, Transplantation, Graft Preservation, Ischemia Reperfusion Injury, Transplant Immunology, Bile Duct Reconstruction, Animal Handling
52055
Shock Wave Application to Cell Cultures
Institutions: Innsbruck Medical University, Goethe-University Hospital.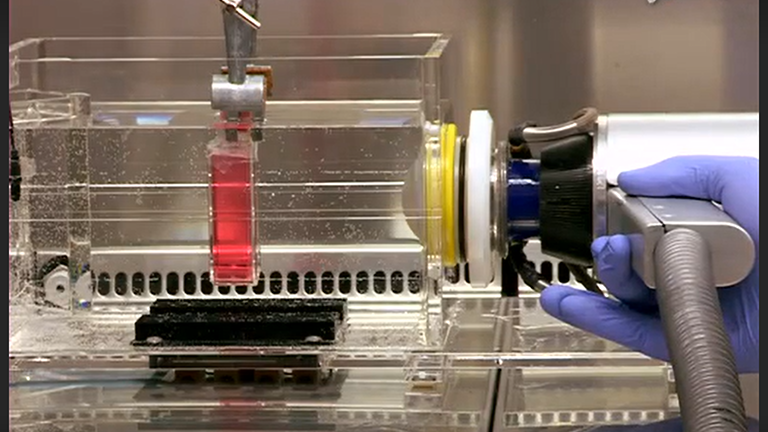 Shock waves nowadays are well known for their regenerative effects. Basic research findings showed that shock waves do cause a biological stimulus to target cells or tissue without any subsequent damage. Therefore,
in vitro
experiments are of increasing interest. Various methods of applying shock waves onto cell cultures have been described. In general, all existing models focus on how to best apply shock waves onto cells. However, this question remains: What happens to the waves after passing the cell culture? The difference of the acoustic impedance of the cell culture medium and the ambient air is that high, that more than 99% of shock waves get reflected! We therefore developed a model that mainly consists of a Plexiglas built container that allows the waves to propagate in water after passing the cell culture. This avoids cavitation effects as well as reflection of the waves that would otherwise disturb upcoming ones. With this model we are able to mimic
in vivo
conditions and thereby gain more and more knowledge about how the physical stimulus of shock waves gets translated into a biological cell signal ("mechanotransduction").
Bioengineering, Issue 86, shock wave therapy (SWT), cell culture, mechanotransduction, human umbilical vein endothelial cells (HUVECs), In Vitro shock wave trials (IVSWT)
51076
Myocardial Infarction and Functional Outcome Assessment in Pigs
Institutions: University Medical Center Utrecht, Interuniversity Cardiology Institute of the Netherlands.

Introduction of newly discovered cardiovascular therapeutics into first-in-man trials depends on a strictly regulated ethical and legal roadmap. One important prerequisite is a good understanding of all safety and efficacy aspects obtained in a large animal model that validly reflect the human scenario of myocardial infarction (MI). Pigs are widely used in this regard since their cardiac size, hemodynamics, and coronary anatomy are close to that of humans. Here, we present an effective protocol for using the porcine MI model using a closed-chest coronary balloon occlusion of the left anterior descending artery (LAD), followed by reperfusion. This approach is based on 90 min of myocardial ischemia, inducing large left ventricle infarction of the anterior, septal and inferoseptal walls. Furthermore, we present protocols for various measures of outcome that provide a wide range of information on the heart, such as cardiac systolic and diastolic function, hemodynamics, coronary flow velocity, microvascular resistance, and infarct size. This protocol can be easily tailored to meet study specific requirements for the validation of novel cardioregenerative biologics at different stages (
i.e.
directly after the acute ischemic insult, in the subacute setting or even in the chronic MI once scar formation has been completed). This model therefore provides a useful translational tool to study MI, subsequent adverse remodeling, and the potential of novel cardioregenerative agents.
Medicine, Issue 86, myocardial infarction (MI), AMI, large animal model, pig, translational medicine, ischemic heart disease
51269
Transformation of Plasmid DNA into E. coli Using the Heat Shock Method
Institutions: University of California, Irvine (UCI).

Transformation of plasmid DNA into E. coli using the heat shock method is a basic technique of molecular biology. It consists of inserting a foreign plasmid or ligation product into bacteria. This video protocol describes the traditional method of transformation using commercially available chemically competent bacteria from Genlantis. After a short incubation in ice, a mixture of chemically competent bacteria and DNA is placed at 42°C for 45 seconds (heat shock) and then placed back in ice. SOC media is added and the transformed cells are incubated at 37°C for 30 min with agitation. To be assured of isolating colonies irrespective of transformation efficiency, two quantities of transformed bacteria are plated. This traditional protocol can be used successfully to transform most commercially available competent bacteria. The turbocells from Genlantis can also be used in a novel 3-minute transformation protocol, described in the instruction manual.
Issue 6, Basic Protocols, DNA, transformation, plasmid, cloning
253
Catheter Ablation in Combination With Left Atrial Appendage Closure for Atrial Fibrillation
Institutions: St. Antonius Hospital, The Netherlands.

Atrial fibrillation (AF) is the most common sustained cardiac arrhythmia, affecting millions of individuals worldwide
1-3
. The rapid, irregular, and disordered electrical activity in the atria gives rise to palpitations, fatigue, dyspnea, chest pain and dizziness with or without syncope
4, 5
. Patients with AF have a five-fold higher risk of stroke
6
. Oral anticoagulation (OAC) with warfarin is commonly used for stroke prevention in patients with AF and has been shown to reduce the risk of stroke by 64%
7
. Warfarin therapy has several major disadvantages, however, including bleeding, non-tolerance, interactions with other medications and foods, non-compliance and a narrow therapeutic range
8-11
. These issues, together with poor appreciation of the risk-benefit ratio, unawareness of guidelines, or absence of an OAC monitoring outpatient clinic may explain why only 30-60% of patients with AF are prescribed this drug
8
. The problems associated with warfarin, combined with the limited efficacy and/or serious side effects associated with other medications used for AF
12,13
, highlight the need for effective non-pharmacological approaches to treatment. One such approach is catheter ablation (CA), a procedure in which a radiofrequency electrical current is applied to regions of the heart to create small ablation lesions that electrically isolate potential AF triggers
4
. CA is a well-established treatment for AF symptoms
14, 15
, that may also decrease the risk of stroke. Recent data showed a significant decrease in the relative risk of stroke and transient ischemic attack events among patients who underwent ablation compared with those undergoing antiarrhythmic drug therapy
16
. Since the left atrial appendage (LAA) is the source of thrombi in more than 90% of patients with non-valvular atrial fibrillation
17
, another approach to stroke prevention is to physically block clots from exiting the LAA. One method for occluding the LAA is via percutaneous placement of the WATCHMAN LAA closure device. The WATCHMAN device resembles a small parachute. It consists of a nitinol frame covered by fabric polyethyl terephthalate that prevents emboli, but not blood, from exiting during the healing process. Fixation anchors around the perimeter secure the device in the LAA (
Figure 1
). To date, the WATCHMAN is the only implanted percutaneous device for which a randomized clinical trial has been reported. In this study, implantation of the WATCHMAN was found to be at least as effective as warfarin in preventing stroke (all-causes) and death (all-causes)
18
. This device received the
Conformité Européenne
(CE) mark for use in the European Union for warfarin eligible patients and in those who have a contraindication to anticoagulation therapy
19
. Given the proven effectiveness of CA to alleviate AF symptoms and the promising data with regard to reduction of thromboembolic events with both CA and WATCHMAN implantation, combining the two procedures is hoped to further reduce the incidence of stroke in high-risk patients while simultaneously relieving symptoms. The combined procedure may eventually enable patients to undergo implantation of the WATCHMAN device without subsequent warfarin treatment, since the CA procedure itself reduces thromboembolic events. This would present an avenue of treatment previously unavailable to patients ineligible for warfarin treatment because of recurrent bleeding
20
or other warfarin-associated problems. The combined procedure is performed under general anesthesia with biplane fluoroscopy and TEE guidance. Catheter ablation is followed by implantation of the WATCHMAN LAA closure device. Data from a non-randomized trial with 10 patients demonstrates that this procedure can be safely performed in patients with a CHADS
2
score of greater than 1
21
. Further studies to examine the effectiveness of the combined procedure in reducing symptoms from AF and associated stroke are therefore warranted.
Medicine, Issue 72, Anatomy, Physiology, Biomedical Engineering, Immunology, Cardiology, Surgery, catheter ablation, WATCHMAN, LAA occlusion, atrial fibrillation, left atrial appendage, warfarin, oral anticoagulation alternatives, catheterization, ischemia, stroke, heart, vein, clinical, surgical device, surgical techniques, Vitamin K antagonist
3818
Thermal Ablation for the Treatment of Abdominal Tumors
Institutions: University of Wisconsin-Madison, University of Wisconsin-Madison.

Percutaneous thermal ablation is an emerging treatment option for many tumors of the abdomen not amenable to conventional treatments. During a thermal ablation procedure, a thin applicator is guided into the target tumor under imaging guidance. Energy is then applied to the tissue until temperatures rise to cytotoxic levels (50-60 °C). Various energy sources are available to heat biological tissues, including radiofrequency (RF) electrical current, microwaves, laser light and ultrasonic waves. Of these, RF and microwave ablation are most commonly used worldwide. During RF ablation, alternating electrical current (~500 kHz) produces resistive heating around the interstitial electrode. Skin surface electrodes (ground pads) are used to complete the electrical circuit. RF ablation has been in use for nearly 20 years, with good results for local tumor control, extended survival and low complication rates
1,2
. Recent studies suggest RF ablation may be a first-line treatment option for small hepatocellular carcinoma and renal-cell carcinoma
3-5
. However, RF heating is hampered by local blood flow and high electrical impedance tissues (eg, lung, bone, desiccated or charred tissue)
6,7
. Microwaves may alleviate some of these problems by producing faster, volumetric heating
8-10
. To create larger or conformal ablations, multiple microwave antennas can be used simultaneously while RF electrodes require sequential operation, which limits their efficiency. Early experiences with microwave systems suggest efficacy and safety similar to, or better than RF devices
11-13
. Alternatively, cryoablation freezes the target tissues to lethal levels (-20 to -40 °C). Percutaneous cryoablation has been shown to be effective against RCC and many metastatic tumors, particularly colorectal cancer, in the liver
14-16
. Cryoablation may also be associated with less post-procedure pain and faster recovery for some indications
17
. Cryoablation is often contraindicated for primary liver cancer due to underlying coagulopathy and associated bleeding risks frequently seen in cirrhotic patients. In addition, sudden release of tumor cellular contents when the frozen tissue thaws can lead to a potentially serious condition known as cryoshock
16
. Thermal tumor ablation can be performed at open surgery, laparoscopy or using a percutaneous approach. When performed percutaneously, the ablation procedure relies on imaging for diagnosis, planning, applicator guidance, treatment monitoring and follow-up. Ultrasound is the most popular modality for guidance and treatment monitoring worldwide, but computed tomography (CT) and magnetic resonance imaging (MRI) are commonly used as well. Contrast-enhanced CT or MRI are typically employed for diagnosis and follow-up imaging.
Medicine, Issue 49, Thermal ablation, interventional oncology, image-guided therapy, radiology, cancer
2596
Establishment and Characterization of UTI and CAUTI in a Mouse Model
Institutions: Washington University School of Medicine.

Urinary tract infections (UTI) are highly prevalent, a significant cause of morbidity and are increasingly resistant to treatment with antibiotics. Females are disproportionately afflicted by UTI: 50% of all women will have a UTI in their lifetime. Additionally, 20-40% of these women who have an initial UTI will suffer a recurrence with some suffering frequent recurrences with serious deterioration in the quality of life, pain and discomfort, disruption of daily activities, increased healthcare costs, and few treatment options other than long-term antibiotic prophylaxis. Uropathogenic
Escherichia coli
(UPEC) is the primary causative agent of community acquired UTI. Catheter-associated UTI (CAUTI) is the most common hospital acquired infection accounting for a million occurrences in the US annually and dramatic healthcare costs. While UPEC is also the primary cause of CAUTI, other causative agents are of increased significance including
Enterococcus faecalis
. Here we utilize two well-established mouse models that recapitulate many of the clinical characteristics of these human diseases. For UTI, a C3H/HeN model recapitulates many of the features of UPEC virulence observed in humans including host responses, IBC formation and filamentation. For CAUTI, a model using C57BL/6 mice, which retain catheter bladder implants, has been shown to be susceptible to
E. faecalis
bladder infection. These representative models are being used to gain striking new insights into the pathogenesis of UTI disease, which is leading to the development of novel therapeutics and management or prevention strategies.
Medicine, Issue 100, Escherichia coli, UPEC, Enterococcus faecalis, uropathogenic, catheter, urinary tract infection, IBC, chronic cystitis
52892
Constructing a Low-budget Laser Axotomy System to Study Axon Regeneration in C. elegans
Institutions: University of Utah.

Laser axotomy followed by time-lapse microscopy is a sensitive assay for axon regeneration phenotypes in
C. elegans
1
. The main difficulty of this assay is the perceived cost ($25-100K) and technical expertise required for implementing a laser ablation system
2,3
. However, solid-state pulse lasers of modest costs (<$10K) can provide robust performance for laser ablation in transparent preparations where target axons are "close" to the tissue surface. Construction and alignment of a system can be accomplished in a day. The optical path provided by light from the focused condenser to the ablation laser provides a convenient alignment guide. An intermediate module with all optics removed can be dedicated to the ablation laser and assures that no optical elements need be moved during a laser ablation session. A dichroic in the intermediate module allows simultaneous imaging and laser ablation. Centering the laser beam to the outgoing beam from the focused microscope condenser lens guides the initial alignment of the system. A variety of lenses are used to condition and expand the laser beam to fill the back aperture of the chosen objective lens. Final alignment and testing is performed with a front surface mirrored glass slide target. Laser power is adjusted to give a minimum size ablation spot (<1um). The ablation spot is centered with fine adjustments of the last kinematically mounted mirror to cross hairs fixed in the imaging window. Laser power for axotomy will be approximately 10X higher than needed for the minimum ablation spot on the target slide (this may vary with the target you use). Worms can be immobilized for laser axotomy and time-lapse imaging by mounting on agarose pads (or in microfluidic chambers
4
). Agarose pads are easily made with 10% agarose in balanced saline melted in a microwave. A drop of molten agarose is placed on a glass slide and flattened with another glass slide into a pad approximately 200 um thick (a single layer of time tape on adjacent slides is used as a spacer). A "Sharpie" cap is used to cut out a uniformed diameter circular pad of 13mm. Anesthetic (1ul Muscimol 20mM) and Microspheres (Chris Fang-Yen personal communication) (1ul 2.65% Polystyrene 0.1 um in water) are added to the center of the pad followed by 3-5 worms oriented so they are lying on their left sides. A glass coverslip is applied and then Vaseline is used to seal the coverslip and prevent evaporation of the sample.
Neuroscience, Issue 57, laser axotomy, regeneration, growth cone, time lapse, C. elegans, neuroscience, Nd:Yag laser
3331
Generation and Quantitative Analysis of Pulsed Low Frequency Ultrasound to Determine the Sonic Sensitivity of Untreated and Treated Neoplastic Cells
Institutions: Syracuse University.
Low frequency ultrasound in the 20 to 60 kHz range is a novel physical modality by which to induce selective cell lysis and death in neoplastic cells. In addition, this method can be used in combination with specialized agents known as sonosensitizers to increase the extent of preferential damage exerted by ultrasound against neoplastic cells, an approach referred to as sonodynamic therapy (SDT). The methodology for generating and applying low frequency ultrasound in a preclinical
in vitro
setting is presented to demonstrate that reproducible cell destruction can be attained in order to examine and compare the effects of sonication on neoplastic and normal cells. This offers a means by which to reliably sonicate neoplastic cells at a level of consistency required for preclinical therapeutic assessment. In addition, the effects of cholesterol-depleting and cytoskeletal-directed agents on potentiating ultrasonic sensitivity in neoplastic cells are discussed in order to elaborate on mechanisms of action conducive to sonochemotherapeutic approaches.
Medicine, Issue 101, Sonodynamic therapy, Low frequency ultrasound, Cancer, Leukemia, Sonosensitizers
53060
Characterization of Surface Modifications by White Light Interferometry: Applications in Ion Sputtering, Laser Ablation, and Tribology Experiments
Institutions: Argonne National Laboratory, Argonne National Laboratory, MassThink LLC.

In materials science and engineering it is often necessary to obtain quantitative measurements of surface topography with micrometer lateral resolution. From the measured surface, 3D topographic maps can be subsequently analyzed using a variety of software packages to extract the information that is needed. In this article we describe how white light interferometry, and optical profilometry (OP) in general, combined with generic surface analysis software, can be used for materials science and engineering tasks. In this article, a number of applications of white light interferometry for investigation of surface modifications in mass spectrometry, and wear phenomena in tribology and lubrication are demonstrated. We characterize the products of the interaction of semiconductors and metals with energetic ions (sputtering), and laser irradiation (ablation), as well as
ex situ
measurements of wear of tribological test specimens. Specifically, we will discuss: Aspects of traditional ion sputtering-based mass spectrometry such as sputtering rates/yields measurements on Si and Cu and subsequent time-to-depth conversion. Results of quantitative characterization of the interaction of femtosecond laser irradiation with a semiconductor surface. These results are important for applications such as ablation mass spectrometry, where the quantities of evaporated material can be studied and controlled via pulse duration and energy per pulse. Thus, by determining the crater geometry one can define depth and lateral resolution versus experimental setup conditions. Measurements of surface roughness parameters in two dimensions, and quantitative measurements of the surface wear that occur as a result of friction and wear tests. Some inherent drawbacks, possible artifacts, and uncertainty assessments of the white light interferometry approach will be discussed and explained.
Materials Science, Issue 72, Physics, Ion Beams (nuclear interactions), Light Reflection, Optical Properties, Semiconductor Materials, White Light Interferometry, Ion Sputtering, Laser Ablation, Femtosecond Lasers, Depth Profiling, Time-of-flight Mass Spectrometry, Tribology, Wear Analysis, Optical Profilometry, wear, friction, atomic force microscopy, AFM, scanning electron microscopy, SEM, imaging, visualization
50260
Evaluation of a Novel Laser-assisted Coronary Anastomotic Connector - the Trinity Clip - in a Porcine Off-pump Bypass Model
Institutions: University Medical Center Utrecht, Vascular Connect b.v., University Medical Center Utrecht, University Medical Center Utrecht.

To simplify and facilitate beating heart (
i.e.,
off-pump), minimally invasive coronary artery bypass surgery, a new coronary anastomotic connector, the Trinity Clip, is developed based on the excimer laser-assisted nonocclusive anastomosis technique. The Trinity Clip connector enables simplified, sutureless, and nonocclusive connection of the graft to the coronary artery, and an excimer laser catheter laser-punches the opening of the anastomosis. Consequently, owing to the complete nonocclusive anastomosis construction, coronary conditioning (
i.e.,
occluding or shunting) is not necessary, in contrast to the conventional anastomotic technique, hence simplifying the off-pump bypass procedure. Prior to clinical application in coronary artery bypass grafting, the safety and quality of this novel connector will be evaluated in a long-term experimental porcine off-pump coronary artery bypass (OPCAB) study. In this paper, we describe how to evaluate the coronary anastomosis in the porcine OPCAB model using various techniques to assess its quality. Representative results are summarized and visually demonstrated.
Medicine, Issue 93, Anastomosis, coronary, anastomotic connector, anastomotic coupler, excimer laser-assisted nonocclusive anastomosis (ELANA), coronary artery bypass graft (CABG), off-pump coronary artery bypass (OPCAB), beating heart surgery, excimer laser, porcine model, experimental, medical device
52127
Remote Magnetic Navigation for Accurate, Real-time Catheter Positioning and Ablation in Cardiac Electrophysiology Procedures
Institutions: La Paz University Hospital, Magnetecs Corp., Geffen School of Medicine at UCLA Los Angeles.

New remote navigation systems have been developed to improve current limitations of conventional manually guided catheter ablation in complex cardiac substrates such as left atrial flutter. This protocol describes all the clinical and invasive interventional steps performed during a human electrophysiological study and ablation to assess the accuracy, safety and real-time navigation of the Catheter Guidance, Control and Imaging (CGCI) system. Patients who underwent ablation of a right or left atrium flutter substrate were included. Specifically, data from three left atrial flutter and two counterclockwise right atrial flutter procedures are shown in this report. One representative left atrial flutter procedure is shown in the movie. This system is based on eight coil-core electromagnets, which generate a dynamic magnetic field focused on the heart. Remote navigation by rapid changes (msec) in the magnetic field magnitude and a very flexible magnetized catheter allow real-time closed-loop integration and accurate, stable positioning and ablation of the arrhythmogenic substrate.
Medicine, Issue 74, Anatomy, Physiology, Biomedical Engineering, Surgery, Cardiology, catheter ablation, remote navigation, magnetic, robotic, catheter, positioning, electrophysiology, clinical techniques
3658
A Coupled Experiment-finite Element Modeling Methodology for Assessing High Strain Rate Mechanical Response of Soft Biomaterials
Institutions: Mississippi State University, Mississippi State University.

This study offers a combined experimental and finite element (FE) simulation approach for examining the mechanical behavior of soft biomaterials (
e.g.
brain, liver, tendon, fat,
etc.
) when exposed to high strain rates. This study utilized a Split-Hopkinson Pressure Bar (SHPB) to generate strain rates of 100-1,500 sec
-1
. The SHPB employed a striker bar consisting of a viscoelastic material (polycarbonate). A sample of the biomaterial was obtained shortly postmortem and prepared for SHPB testing. The specimen was interposed between the incident and transmitted bars, and the pneumatic components of the SHPB were activated to drive the striker bar toward the incident bar. The resulting impact generated a compressive stress wave (
i.e.
incident wave) that traveled through the incident bar. When the compressive stress wave reached the end of the incident bar, a portion continued forward through the sample and transmitted bar (
i.e.
transmitted wave) while another portion reversed through the incident bar as a tensile wave (
i.e.
reflected wave). These waves were measured using strain gages mounted on the incident and transmitted bars. The true stress-strain behavior of the sample was determined from equations based on wave propagation and dynamic force equilibrium. The experimental stress-strain response was three dimensional in nature because the specimen bulged. As such, the hydrostatic stress (first invariant) was used to generate the stress-strain response. In order to extract the uniaxial (one-dimensional) mechanical response of the tissue, an iterative coupled optimization was performed using experimental results and Finite Element Analysis (FEA), which contained an Internal State Variable (ISV) material model used for the tissue. The ISV material model used in the FE simulations of the experimental setup was iteratively calibrated (
i.e.
optimized) to the experimental data such that the experiment and FEA strain gage values and first invariant of stresses were in good agreement.
Bioengineering, Issue 99, Split-Hopkinson Pressure Bar, High Strain Rate, Finite Element Modeling, Soft Biomaterials, Dynamic Experiments, Internal State Variable Modeling, Brain, Liver, Tendon, Fat
51545