Generation of Recombinant Human IgG Monoclonal Antibodies from Immortalized Sorted B Cells
Published: 06-05-2015
ABSTRACT
Finding new methods for generating human monoclonal antibodies is an active research field that is important for both basic and applied sciences, including the development of immunotherapeutics. However, the techniques to identify and produce such antibodies tend to be arduous and sometimes the heavy and light chain pair of the antibodies are dissociated. Here, we describe a relatively simple, straightforward protocol to produce human recombinant monoclonal antibodies from human peripheral blood mononuclear cells using immortalization with Epstein-Barr Virus (EBV) and Toll-like receptor 9 activation. With an adequate staining, B cells producing antibodies can be isolated for subsequent immortalization and clonal expansion. The antibody transcripts produced by the immortalized B cell clones can be amplified by PCR, sequenced as corresponding heavy and light chain pairs and cloned into immunoglobulin expression vectors. The antibodies obtained with this technique can be powerful tools to study relevant human immune responses, including autoimmunity, and create the basis for new therapeutics.
25 Related JoVE Articles!
Methods for Quantitative Detection of Antibody-induced Complement Activation on Red Blood Cells
Institutions: University of Amsterdam, University of Amsterdam.

Antibodies against red blood cells (RBCs) can lead to complement activation resulting in an accelerated clearance via complement receptors in the liver (extravascular hemolysis) or leading to intravascular lysis of RBCs. Alloantibodies (
e.g.
ABO) or autoantibodies to RBC antigens (as seen in autoimmune hemolytic anemia, AIHA) leading to complement activation are potentially harmful and can be - especially when leading to intravascular lysis - fatal
1
. Currently, complement activation due to (auto)-antibodies on RBCs is assessed
in vitro
by using the Coombs test reflecting complement deposition on RBC or by a nonquantitative hemolytic assay reflecting RBC lysis
1-4
. However, to assess the efficacy of complement inhibitors, it is mandatory to have quantitative techniques. Here we describe two such techniques. First, an assay to detect C3 and C4 deposition on red blood cells that is induced by antibodies in patient serum is presented. For this, FACS analysis is used with fluorescently labeled anti-C3 or anti-C4 antibodies. Next, a quantitative hemolytic assay is described. In this assay, complement-mediated hemolysis induced by patient serum is measured making use of spectrophotometric detection of the released hemoglobin. Both of these assays are very reproducible and quantitative, facilitating studies of antibody-induced complement activation.
Immunology, Issue 83, Complement, red blood cells, auto-immune hemolytic anemia, hemolytic assay, FACS, antibodies, C1-inhibitor
51161
Antibody Profiling by Luciferase Immunoprecipitation Systems (LIPS)
Institutions: National Institute of Dental and Craniofacial Research, National Institutes of Health.

Technologies for comprehensively understanding and quantifying antibody profiles to autoantigens and infectious agents may yield new insights into disease mechanisms and may elucidate new markers to substratify disease with different clinical features and better understand pathogenesis. We have developed a highly quantitative method called Luciferase Immunoprecipitation Systems (LIPS) for profiling patient sera antibody responses to autoantigens and pathogen antigens associated with infection. Unlike ELISAs, the highly sensitive LIPS is easily implemented to survey humoral serological response profiles to different antigens in a universal format and produces dynamic antibody titer ranges up to 6 log
10
for some antigens. In these studies, quantitative profiling by LIPS of patient humoral responses against panels of antigens or even the entire proteome of some pathogens (i.e. HIV), is typically more informative than testing a single antigen by ELISA. In addition, LIPS also eliminates time and effort needed to produce highly purified antigens as well as the labor-intensive assay optimization steps needed for standard ELISAs. Here we provide a detailed protocol describing the technical aspects of performing LIPS assays for readily profiling antibody responses to single or multiple antigens.
Immunology, Issue 32, Antigen, Autoantibodies, Biomarker, Diagnostic, ELISA, Proteome
1549
Multiplexed Fluorometric ImmunoAssay Testing Methodology and Troubleshooting
Institutions: Charles River .

To ensure the quality of animal models used in biomedical research we have developed a number of diagnostic testing strategies and methods to determine if animals have been exposed to adventitious infectious agents (viruses, mycoplasma, and other fastidious microorganisms). Infections of immunocompetent animals are generally transient, yet serum antibody responses to infection often can be detected within days to weeks and persist throughout the life of the host. Serology is the primary diagnostic methodology by which laboratory animals are monitored. Historically the indirect enzyme-linked immunosorbent assay (ELISA) has been the main screening method for serosurveillance. The ELISA is performed as a singleplex, in which one microbial antigen-antibody reaction is measured per well. In comparison the MFIA is performed as a
multiplexed
assay. Since the microspheres come in 100 distinct color sets, as many as 100 different assays can be performed simultaneously in a single microplate well. This innovation decreases the amount of serum, reagents and disposables required for routine testing while increasing the amount of information obtained from a single test well. In addition, we are able to incorporate multiple internal control beads to verify sample and system suitability and thereby assure the accuracy of results. These include tissue control and IgG anti-test serum species immunoglobulin (αIg) coated bead sets to evaluate sample suitability. As in the ELISA and IFA, the tissue control detects non-specific binding of serum immunoglobulin. The αIg control (Serum control) confirms that serum has been added and contains a sufficient immunoglobulin concentration while the IgG control bead (System Suitability control), coated with serum species immunoglobulin, demonstrates that the labeled reagents and Luminex reader are functioning properly.
Basic Protocols, Issue 58, Multiplexed Fluorometric ImmunoAssay, MFIA, bead, serum, BAG, SPE, aggregate, microarray
3715
Recognition of Epidermal Transglutaminase by IgA and Tissue Transglutaminase 2 Antibodies in a Rare Case of Rhesus Dermatitis
Institutions: Tulane National Primate Research Center, Tulane National Primate Research Center, Tulane National Primate Research Center.

Tissue transglutaminase 2 (tTG2) is an intestinal digestive enzyme which deamidates already partially digested dietary gluten e.g. gliadin peptides. In genetically predisposed individuals, tTG2 triggers autoimmune responses that are characterized by the production of tTG2 antibodies and their direct deposition into small intestinal wall
1,2
. The presence of such antibodies constitutes one of the major hallmarks of the celiac disease (CD). Epidermal transglutaminase (eTG) is another member of the transglutaminase family that can also function as an autoantigen in a small minority of CD patients. In these relatively rare cases, eTG triggers an autoimmune reaction (a skin rash) clinically known as dermatitis herpetiformis (DH). Although the exact mechanism of CD and DH pathogenesis is not well understood, it is known that tTG2 and eTG share antigenic epitopes that can be recognized by serum antibodies from both CD and DH patients
3,4
. In this study, the confocal microscopy examination of biopsy samples from skin lesions of two rhesus macaques (
Macaca mulatta
) with dermatitis (Table 1, Fig. 1 and 2) was used to study the affected tissues. In one animal (EM96) a spectral overlap of IgA and tTG2 antibodies (Fig. 3) was demonstrated. The presence of double-positive tTG2+IgA+ cells was focused in the deep epidermis, around the dermal papillae. This is consistent with lesions described in DH patients
3
. When EM96 was placed on a gluten-free diet, the dermatitis, as well as tTG2+IgA+ deposits disappeared and were no longer detectable (Figs. 1-3). Dermatitis reappeared however, based on re-introduction of dietary gluten in EM96 (not shown). In other macaques including animal with unrelated dermatitis, the tTG2+IgA+ deposits were not detected. Gluten-free diet-dependent remission of dermatitis in EM96 together with presence of tTG2+IgA+ cells in its skin suggest an autoimmune, DH-like mechanism for the development of this condition. This is the first report of DH-like dermatitis in any non-human primate.
Immunology, Issue 58, Gluten sensitivity, transglutaminase, autoimmunity, dermatitis, confocal microscopy, skin, rhesus monkey, Macaca mulatta
3154
Examining the Role of Nasopharyngeal-associated Lymphoreticular Tissue (NALT) in Mouse Responses to Vaccines
Institutions: U.S. Army Medical Research Institute of Infectious Diseases.

The nasopharyngeal-associated lymphoreticular tissues (NALT) found in humans, rodents, and other mammals, contribute to immunity in the nasal sinuses
1-3
. The NALT are two parallel bell-shaped structures located in the nasal passages above the hard palate, and are usually considered to be secondary components of the mucosal-associated lymphoid system
4-6
. Located within the NALT are discrete compartments of B and T lymphocytes interspersed with antigen-presenting dendritic cells
4,7,8
. These cells are surrounded by an epithelial cell layer intercalated with M-cells that are responsible for antigen retrieval from the mucosal surfaces of the air passages
9,10
. Naive lymphocytes circulating through the NALT are poised to respond to first encounters with respiratory pathogens
7
. While NALT disappear in humans by the age of two years, the Waldeyer's Ring and similarly structured lymphatic organs continue to persist throughout life
6
. In contrast to humans, mice retain NALT throughout life, thus providing a convenient animal model for the study of immune responses originating within the nasal sinuses
11
. Cultures of single-cell suspensions of NALT are not practical due to low yields of mononuclear cells. However, NALT biology can be examined by
ex vivo
culturing of the intact organ, and this method has the additional advantage of maintaining the natural tissue structure. For
in vivo
studies, genetic knockout models presenting defects limited to NALT are not currently available due to a poor understanding of the developmental pathway. For example, while lymphotoxin-α knockout mice have atrophied NALT, the Peyer's patches, peripheral lymph nodes, follicular dendritic cells and other lymphoid tissues are also altered in these genetically manipulated mice
12,13
. As an alternative to gene knockout mice, surgical ablation permanently eliminates NALT from the nasal passage without affecting other tissues. The resulting mouse model has been used to establish relationships between NALT and immune responses to vaccines
1,3
. Serial collection of serum, saliva, nasal washes and vaginal secretions is necessary for establishing the basis of host responses to vaccination, while immune responses originating directly from NALT can be confirmed by tissue culture. The following procedures outline the surgeries, tissue culture and sample collection necessary to examine local and systemic humoral immune responses to intranasal (IN) vaccination.
Infectious Diseases, Issue 66, Immunology, nasal vaccination, nasopharyngeal-associated lymphoreticular tissue, mouse, antibody, mucosal immunity, NALT ablation, NALT culture, NALT-deficient mice
3960
Immunocytochemistry: Human Neural Stem Cells
Institutions: University of California, Irvine (UCI).

Immunocytochemistry is a very powerful and fairly straightforward method for determining the presence, subcellular localization, and relative abundance of an antigen of interest, most commonly a protein, in cultured cells. This protocol presents an easy-to-follow series of steps that will enable researchers to conserve primary and secondary antibodies while getting high quality, reproducible qualitative and quantitative data out of their staining. There are two aspects of this protocol that help to conserve the volume of antibody necessary for staining. For one, the cells are grown on small, circular coverslips that are placed in wells of a tissue culture plate. After fixation, the cells on coverslips can be removed from the wells of the plate. For antibody staining, the coverslip with cells is inverted onto a small drop of antibody solution on parafilm and is covered with a second piece of parafilm to prevent drying. Using this method, only ~25 μl of antibody solution is needed for each coverslip (or sample) to be stained. This protocol describes immunostaining of human neural stem/precursor cells (hNSPCs), but can be used for many other cell types.
Issue 7, Basic Protocols, Stem Cells, Immunocytochemistry, Cell Culture, antibody staining
267
Progenitor-derived Oligodendrocyte Culture System from Human Fetal Brain
Institutions: National Institute of Neurological Disorders and Stroke, National Institutes of Health, National Institute of Neurological Disorders and Stroke, National Institutes of Health.

Differentiation of human neural progenitors into neuronal and glial cell types offers a model to study and compare molecular regulation of neural cell lineage development.
In vitro
expansion of neural progenitors from fetal CNS tissue has been well characterized. Despite the identification and isolation of glial progenitors from adult human sub-cortical white matter and development of various culture conditions to direct differentiation of fetal neural progenitors into myelin producing oligodendrocytes, acquiring sufficient human oligodendrocytes for
in vitro
experimentation remains difficult. Differentiation of galactocerebroside
+
(GalC) and O4
+
oligodendrocyte precursor or progenitor cells (OPC) from neural precursor cells has been reported using second trimester fetal brain. However, these cells do not proliferate in the absence of support cells including astrocytes and neurons, and are lost quickly over time in culture. The need remains for a culture system to produce cells of the oligodendrocyte lineage suitable for
in vitro
experimentation. Culture of primary human oligodendrocytes could, for example, be a useful model to study the pathogenesis of neurotropic infectious agents like the human polyomavirus, JCV, that
in vivo
infects those cells. These cultured cells could also provide models of other demyelinating diseases of the central nervous system (CNS). Primary, human fetal brain-derived, multipotential neural progenitor cells proliferate
in vitro
while maintaining the capacity to differentiate into neurons (progenitor-derived neurons, PDN) and astrocytes (progenitor-derived astrocytes, PDA) This study shows that neural progenitors can be induced to differentiate through many of the stages of oligodendrocytic lineage development (progenitor-derived oligodendrocytes, PDO). We culture neural progenitor cells in DMEM-F12 serum-free media supplemented with basic fibroblast growth factor (bFGF), platelet derived growth factor (PDGF-AA), Sonic hedgehog (Shh), neurotrophic factor 3 (NT-3), N-2 and triiodothyronine (T3). The cultured cells are passaged at 2.5e6 cells per 75cm flasks approximately every seven days. Using these conditions, the majority of the cells in culture maintain a morphology characterized by few processes and express markers of pre-oligodendrocyte cells, such as A2B5 and O-4. When we remove the four growth factors (GF) (bFGF, PDGF-AA, Shh, NT-3) and add conditioned media from PDN, the cells start to acquire more processes and express markers specific of oligodendrocyte differentiation, such as GalC and myelin basic protein (MBP). We performed phenotypic characterization using multicolor flow cytometry to identify unique markers of oligodendrocyte.
Neuroscience, Issue 70, Developmental Biology, Medicine, Stem Cell Biology, Molecular Biology, Cellular Biology, Physiology, lineage characterization, neural progenitors, differentiation, cell culture model
4274
Production and Use of Lentivirus to Selectively Transduce Primary Oligodendrocyte Precursor Cells for In Vitro Myelination Assays
Institutions: The University of Melbourne, The University of Melbourne.

Myelination is a complex process that involves both neurons and the myelin forming glial cells, oligodendrocytes in the central nervous system (CNS) and Schwann cells in the peripheral nervous system (PNS). We use an
in vitro
myelination assay, an established model for studying CNS myelination
in vitro
. To do this, oligodendrocyte precursor cells (OPCs) are added to the purified primary rodent dorsal root ganglion (DRG) neurons to form myelinating co-cultures. In order to specifically interrogate the roles that particular proteins expressed by oligodendrocytes exert upon myelination we have developed protocols that selectively transduce OPCs using the lentivirus overexpressing wild type, constitutively active or dominant negative proteins before being seeded onto the DRG neurons. This allows us to specifically interrogate the roles of these oligodendroglial proteins in regulating myelination. The protocols can also be applied in the study of other cell types, thus providing an approach that allows selective manipulation of proteins expressed by a desired cell type, such as oligodendrocytes for the targeted study of signaling and compensation mechanisms. In conclusion, combining the
in vitro
myelination assay with lentiviral infected OPCs provides a strategic tool for the analysis of molecular mechanisms involved in myelination.
Developmental Biology, Issue 95, lentivirus, cocultures, oligodendrocyte, myelination, oligodendrocyte precursor cells, dorsal root ganglion neurons
52179
Assessing Somatic Hypermutation in Ramos B Cells after Overexpression or Knockdown of Specific Genes
Institutions: Duke University .

B cells start their life with low affinity antibodies generated by V(D)J recombination. However, upon detecting a pathogen, the variable (V) region of an immunoglobulin (Ig) gene is mutated approximately 100,000-fold more than the rest of the genome through somatic hypermutation (SHM), resulting in high affinity antibodies
1,2
. In addition, class switch recombination (CSR) produces antibodies with different effector functions depending on the kind of immune response that is needed for a particular pathogen. Both CSR and SHM are initiated by activation-induced cytidine deaminase (AID), which deaminates cytosine residues in DNA to produce uracils. These uracils are processed by error-prone forms of repair pathways, eventually leading to mutations and recombination
1-3
. Our current understanding of the molecular details of SHM and CSR come from a combination of studies in mice, primary cells, cell lines, and cell-free experiments. Mouse models remain the gold standard with genetic knockouts showing critical roles for many repair factors (e.g. Ung, Msh2, Msh6, Exo1, and polymerase η)
4-10
. However, not all genes are amenable for knockout studies. For example, knockouts of several double-strand break repair proteins are embryonically lethal or impair B-cell development
11-14
. Moreover, sometimes the specific function of a protein in SHM or CSR may be masked by more global defects caused by the knockout. In addition, since experiments in mice can be lengthy, altering expression of individual genes in cell lines has become an increasingly popular first step to identifying and characterizing candidate genes
15-18
. Ramos – a Burkitt lymphoma cell line that constitutively undergoes SHM – has been a popular cell-line model to study SHM
18-24
. One advantage of Ramos cells is that they have a built-in convenient semi-quantitative measure of SHM. Wild type cells express IgM and, as they pick up mutations, some of the mutations knock out IgM expression. Therefore, assaying IgM loss by fluorescence-activated cell scanning (FACS) provides a quick read-out for the level of SHM. A more quantitative measurement of SHM can be obtained by directly sequencing the antibody genes. Since Ramos cells are difficult to transfect, we produce stable derivatives that have increased or lowered expression of an individual gene by infecting cells with retroviral or lentiviral constructs that contain either an overexpression cassette or a short hairpin RNA (shRNA), respectively. Here, we describe how we infect Ramos cells and then use these cells to investigate the role of specific genes on SHM (Figure 1).
Immunology, Issue 57, activation-induced cytidine deaminase, lentiviral infection, retroviral infection, Ramos, shRNA, somatic hypermutation
3573
Enrichment and Purging of Human Embryonic Stem Cells by Detection of Cell Surface Antigens Using the Monoclonal Antibodies TG30 and GCTM-2
Institutions: CSIRO.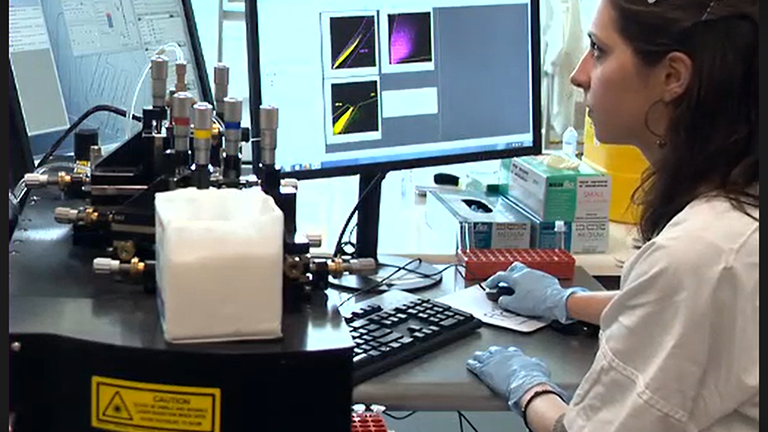 Human embryonic stem cells (hESC) can self-renew indefinitely
in vitro
, and with the appropriate cues can be induced to differentiate into potentially all somatic cell lineages. Differentiated hESC derivatives can potentially be used in transplantation therapies to treat a variety of cell-degenerative diseases. However, hESC differentiation protocols usually yield a mixture of differentiated target and off-target cell types as well as residual undifferentiated cells. For the translation of differentiated hESC-derivatives from the laboratory to the clinic, it is important to be able to discriminate between undifferentiated (pluripotent) and differentiated cells, and generate methods to separate these populations. Safe application of hESC-derived somatic cell types can only be accomplished with pluripotent stem cell-free populations, as residual hESCs could induce tumors known as teratomas following transplantation. Towards this end, here we describe a methodology to detect pluripotency associated cell surface antigens with the monoclonal antibodies TG30 (CD9) and GCTM-2 via fluorescence activated cell sorting (FACS) for the identification of pluripotent TG30
Hi
-GCTM-2
Hi
hESCs using positive selection. Using negative selection with our TG30/GCTM-2 FACS methodology, we were able to detect and purge undifferentiated hESCs in populations undergoing very early-stage differentiation (TG30
Neg
-GCTM-2
Neg
). In a further study, pluripotent stem cell-free samples of differentiated TG30
Neg
-GCTM-2
Neg
cells selected using our TG30/GCTM-2 FACS protocol did not form teratomas once transplanted into immune-compromised mice, supporting the robustness of our protocol. On the other hand, TG30/GCTM-2 FACS-mediated consecutive passaging of enriched pluripotent TG30
Hi
-GCTM-2
Hi
hESCs did not affect their ability to self-renew
in vitro
or their intrinsic pluripotency. Therefore, the characteristics of our TG30/GCTM-2 FACS methodology provide a sensitive assay to obtain highly enriched populations of hPSC as inputs for differentiation assays and to rid potentially tumorigenic (or residual) hESC from derivative cell populations.
Stem Cell Biology, Issue 82, Stem cells, cell surface antigens, antibodies, FACS, purging stem cells, differentiation, pluripotency, teratoma, human embryonic stem cells (hESC)
50856
A Simple and Rapid Protocol to Non-enzymatically Dissociate Fresh Human Tissues for the Analysis of Infiltrating Lymphocytes
Institutions: Université Libre de Bruxelles, Université Libre de Bruxelles, Université Libre de Bruxelles, Université Libre de Bruxelles.

The ability of malignant cells to evade the immune system, characterized by tumor escape from both innate and adaptive immune responses, is now accepted as an important hallmark of cancer. Our research on breast cancer focuses on the active role that tumor infiltrating lymphocytes play in tumor progression and patient outcome. Toward this goal, we developed a methodology for the rapid isolation of intact lymphoid cells from normal and abnormal tissues in an effort to evaluate them proximate to their native state. Homogenates prepared using a mechanical dissociator show both increased viability and cell recovery while preserving surface receptor expression compared to enzyme-digested tissues. Furthermore, enzymatic digestion of the remaining insoluble material did not recover additional CD45
+
cells indicating that quantitative and qualitative measurements in the primary homogenate likely genuinely reflect infiltrating subpopulations in the tissue fragment. The lymphoid cells in these homogenates can be easily characterized using immunological (phenotype, proliferation,
etc.
) or molecular (DNA, RNA and/or protein) approaches. CD45
+
cells can also be used for subpopulation purification,
in vitro
expansion or cryopreservation. An additional benefit of this approach is that the primary tissue supernatant from the homogenates can be used to characterize and compare cytokines, chemokines, immunoglobulins and antigens present in normal and malignant tissues. This protocol functions extremely well for human breast tissues and should be applicable to a wide variety of normal and abnormal tissues.
Immunology, Issue 94, Tumor immunology, tumor infiltrating lymphocytes, CD45+, breast cancer, fresh tissue homogenate, non-enzymatic dissociation, primary tissue supernatant
52392
Vertical T-maze Choice Assay for Arthropod Response to Odorants
Institutions: University of Florida .

Given the economic importance of insects and arachnids as pests of agricultural crops, urban environments or as vectors of plant and human diseases, various technologies are being developed as control tools. A subset of these tools focuses on modifying the behavior of arthropods by attraction or repulsion. Therefore, arthropods are often the focus of behavioral investigations. Various tools have been developed to measure arthropod behavior, including wind tunnels, flight mills, servospheres, and various types of olfactometers. The purpose of these tools is to measure insect or arachnid response to visual or more often olfactory cues. The vertical T-maze oflactometer described here measures choices performed by insects in response to attractants or repellents. It is a high throughput assay device that takes advantage of the positive phototaxis (attraction to light) and negative geotaxis (tendency to walk or fly upward) exhibited by many arthropods. The olfactometer consists of a 30 cm glass tube that is divided in half with a Teflon strip forming a T-maze. Each half serves as an arm of the olfactometer enabling the test subjects to make a choice between two potential odor fields in assays involving attractants. In assays involving repellents, lack of normal response to known attractants can also be measured as a third variable.
Biochemistry, Issue 72, Molecular Biology, Basic Protocols, Entomology, Behavior, Eukaryota, Organic Chemicals, Chemical Actions and Uses, Life Sciences (General), Behavioral Sciences, Arthropod behavior, chemical ecology, olfactometer, chemotaxis, olfaction, attraction, repulsion, odorant, T-maze, psyllid, Diaphorina citri, insect, anthropod, insect model
50229
Induction and Assessment of Class Switch Recombination in Purified Murine B Cells
Institutions: University of Toronto.

Humoral immunity is the branch of the immune system maintained by B cells and mediated through the secretion of antibodies. Upon B cell activation, the immunoglobulin locus undergoes a series of genetic modifications to alter the binding capacity and effector function of secreted antibodies. This process is highlighted by a genomic recombination event known as class switch recombination (CSR) in which the default IgM antibody isotype is substituted for one of IgG, IgA, or IgE. Each isotype possesses distinct effector functions thereby making CSR crucial to the maintenance of immunity. Diversification of the immunoglobulin locus is mediated by the enzyme activation-induced cytidine deaminase (AID). A schematic video describing this process in detail is available online (https://video.med.utoronto.ca/videoprojects/immunology/aam.html). AID's activity and the CSR pathway are commonly studied in the assessment of B cell function and humoral immunity in mice. The protocol outlined in this report presents a method of B cell isolation from murine spleens and subsequent stimulation with bacterial lipopolysaccharide (LPS) to induce class switching to IgG3 (for other antibody isotypes see Table 1). In addition, the fluorescent cell staining dye Carboxyfluorescein succinimidyl ester (CFSE) is used to monitor cell division of stimulated cells, a process crucial to isotype switching
1, 2
. The regulation of AID and the mechanism by which CSR occurs are still unclear and thus
in vitro
class switch assays provide a reliable method for testing these processes in various mouse models. These assays have been previously used in the context of gene deficiency using knockout mice
3
. Furthermore,
in vitro
switching of B cells can be preceded by viral transduction to modulate gene expression by RNA knockdown or transgene expression
4-6
. The data from these types of experiments have impacted our understanding of AID activity, resolution of the CSR reaction, and antibody-mediated immunity in the mouse.
Immunology, Issue 42, Activation-induced Cytidine Deaminase, B cell, Antibody, Class Switch Recombination, Humoral Immunity, Proliferation, Lipopolysaccharide, CFSE
2130
High Efficiency Differentiation of Human Pluripotent Stem Cells to Cardiomyocytes and Characterization by Flow Cytometry
Institutions: Medical College of Wisconsin, Stanford University School of Medicine, Medical College of Wisconsin, Hong Kong University, Johns Hopkins University School of Medicine, Medical College of Wisconsin.

There is an urgent need to develop approaches for repairing the damaged heart, discovering new therapeutic drugs that do not have toxic effects on the heart, and improving strategies to accurately model heart disease. The potential of exploiting human induced pluripotent stem cell (hiPSC) technology to generate cardiac muscle "in a dish" for these applications continues to generate high enthusiasm. In recent years, the ability to efficiently generate cardiomyogenic cells from human pluripotent stem cells (hPSCs) has greatly improved, offering us new opportunities to model very early stages of human cardiac development not otherwise accessible. In contrast to many previous methods, the cardiomyocyte differentiation protocol described here does not require cell aggregation or the addition of Activin A or BMP4 and robustly generates cultures of cells that are highly positive for cardiac troponin I and T (TNNI3, TNNT2), iroquois-class homeodomain protein IRX-4 (IRX4), myosin regulatory light chain 2, ventricular/cardiac muscle isoform (MLC2v) and myosin regulatory light chain 2, atrial isoform (MLC2a) by day 10 across all human embryonic stem cell (hESC) and hiPSC lines tested to date. Cells can be passaged and maintained for more than 90 days in culture. The strategy is technically simple to implement and cost-effective. Characterization of cardiomyocytes derived from pluripotent cells often includes the analysis of reference markers, both at the mRNA and protein level. For protein analysis, flow cytometry is a powerful analytical tool for assessing quality of cells in culture and determining subpopulation homogeneity. However, technical variation in sample preparation can significantly affect quality of flow cytometry data. Thus, standardization of staining protocols should facilitate comparisons among various differentiation strategies. Accordingly, optimized staining protocols for the analysis of IRX4, MLC2v, MLC2a, TNNI3, and TNNT2 by flow cytometry are described.
Cellular Biology, Issue 91, human induced pluripotent stem cell, flow cytometry, directed differentiation, cardiomyocyte, IRX4, TNNI3, TNNT2, MCL2v, MLC2a
52010
Chemically-blocked Antibody Microarray for Multiplexed High-throughput Profiling of Specific Protein Glycosylation in Complex Samples
Institutions: Institute for Hepatitis and Virus Research, Thomas Jefferson University , Drexel University College of Medicine, Van Andel Research Institute, Serome Biosciences Inc..

In this study, we describe an effective protocol for use in a multiplexed high-throughput antibody microarray with glycan binding protein detection that allows for the glycosylation profiling of specific proteins. Glycosylation of proteins is the most prevalent post-translational modification found on proteins, and leads diversified modifications of the physical, chemical, and biological properties of proteins. Because the glycosylation machinery is particularly susceptible to disease progression and malignant transformation, aberrant glycosylation has been recognized as early detection biomarkers for cancer and other diseases. However, current methods to study protein glycosylation typically are too complicated or expensive for use in most normal laboratory or clinical settings and a more practical method to study protein glycosylation is needed. The new protocol described in this study makes use of a chemically blocked antibody microarray with glycan-binding protein (GBP) detection and significantly reduces the time, cost, and lab equipment requirements needed to study protein glycosylation. In this method, multiple immobilized glycoprotein-specific antibodies are printed directly onto the microarray slides and the N-glycans on the antibodies are blocked. The blocked, immobilized glycoprotein-specific antibodies are able to capture and isolate glycoproteins from a complex sample that is applied directly onto the microarray slides. Glycan detection then can be performed by the application of biotinylated lectins and other GBPs to the microarray slide, while binding levels can be determined using Dylight 549-Streptavidin. Through the use of an antibody panel and probing with multiple biotinylated lectins, this method allows for an effective glycosylation profile of the different proteins found in a given human or animal sample to be developed. Introduction Glycosylation of protein, which is the most ubiquitous post-translational modification on proteins, modifies the physical, chemical, and biological properties of a protein, and plays a fundamental role in various biological processes
1-6
. Because the glycosylation machinery is particularly susceptible to disease progression and malignant transformation, aberrant glycosylation has been recognized as early detection biomarkers for cancer and other diseases
7-12
. In fact, most current cancer biomarkers, such as the L3 fraction of α-1 fetoprotein (AFP) for hepatocellular carcinoma
13-15
, and CA199 for pancreatic cancer
16, 17
are all aberrant glycan moieties on glycoproteins. However, methods to study protein glycosylation have been complicated, and not suitable for routine laboratory and clinical settings. Chen
et al.
has recently invented a chemically blocked antibody microarray with a glycan-binding protein (GBP) detection method for high-throughput and multiplexed profile glycosylation of native glycoproteins in a complex sample
18
. In this affinity based microarray method, multiple immobilized glycoprotein-specific antibodies capture and isolate glycoproteins from the complex mixture directly on the microarray slide, and the glycans on each individual captured protein are measured by GBPs. Because all normal antibodies contain N-glycans which could be recognized by most GBPs, the critical step of this method is to chemically block the glycans on the antibodies from binding to GBP. In the procedure, the
cis
-diol groups of the glycans on the antibodies were first oxidized to aldehyde groups by using NaIO
4
in sodium acetate buffer avoiding light. The aldehyde groups were then conjugated to the hydrazide group of a cross-linker, 4-(4-N-MaleimidoPhenyl)butyric acid Hydrazide HCl (MPBH), followed by the conjugation of a dipeptide, Cys-Gly, to the maleimide group of the MPBH. Thus, the cis-diol groups on glycans of antibodies were converted into bulky none hydroxyl groups, which hindered the lectins and other GBPs bindings to the capture antibodies. This blocking procedure makes the GBPs and lectins bind only to the glycans of captured proteins. After this chemically blocking, serum samples were incubated with the antibody microarray, followed by the glycans detection by using different biotinylated lectins and GBPs, and visualized with Cy3-streptavidin. The parallel use of an antibody panel and multiple lectin probing provides discrete glycosylation profiles of multiple proteins in a given sample
18-20
. This method has been used successfully in multiple different labs
1, 7, 13, 19-31
. However, stability of MPBH and Cys-Gly, complicated and extended procedure in this method affect the reproducibility, effectiveness and efficiency of the method. In this new protocol, we replaced both MPBH and Cys-Gly with one much more stable reagent glutamic acid hydrazide (Glu-hydrazide), which significantly improved the reproducibility of the method, simplified and shorten the whole procedure so that the it can be completed within one working day. In this new protocol, we describe the detailed procedure of the protocol which can be readily adopted by normal labs for routine protein glycosylation study and techniques which are necessary to obtain reproducible and repeatable results.
Molecular Biology, Issue 63, Glycoproteins, glycan-binding protein, specific protein glycosylation, multiplexed high-throughput glycan blocked antibody microarray
3791
Detection of True IgE-expressing Mouse B Lineage Cells
Institutions: Brigham and Women's Hospital and Harvard Medical School.

B lymphocyte immunoglobulin heavy chain (IgH) class switch recombination (CSR) is a process wherein initially expressed IgM switches to other IgH isotypes, such as IgA, IgE and IgG. Measurement of IgH CSR
in vitro
is a key method for the study of a number of biologic processes ranging from DNA recombination and repair to aspects of molecular and cellular immunology.
In vitro
CSR assay involves the flow cytometric measurement surface Ig expression on activated B cells. While measurement of IgA and IgG subclasses is straightforward, measurement of IgE by this method is problematic due to soluble IgE binding to FcεRII/CD23 expressed on the surface of activated B cells. Here we describe a unique procedure for accurate measurement of IgE-producing mouse B cells that have undergone CSR in culture. The method is based on trypsin-mediated cleavage of IgE-CD23 complexes on cell surfaces, allowing for detection of IgE-producing B lineage cells by cytoplasmic staining. This procedure offers a convenient solution for flow cytometric analysis of CSR to IgE.
Immunology, Issue 94, Class switch recombination, AID, B cell activation, IgE, IgG1, CD23/FcεRII, flow cytometry, trypsin, cytosolic staining
52264
Application of Long-term cultured Interferon-γ Enzyme-linked Immunospot Assay for Assessing Effector and Memory T Cell Responses in Cattle
Institutions: United States Department of Agriculture, Iowa State University, UK Veterinary Laboratories Agency, United States Department of Agriculture.

Effector and memory T cells are generated through developmental programing of naïve cells following antigen recognition. If the infection is controlled up to 95 % of the T cells generated during the expansion phase are eliminated (
i.e
., contraction phase) and memory T cells remain, sometimes for a lifetime. In humans, two functionally distinct subsets of memory T cells have been described based on the expression of lymph node homing receptors. Central memory T cells express C-C chemokine receptor 7 and CD45RO and are mainly located in T-cell areas of secondary lymphoid organs. Effector memory T cells express CD45RO, lack CCR7 and display receptors associated with lymphocyte homing to peripheral or inflamed tissues. Effector T cells do not express either CCR7 or CD45RO but upon encounter with antigen produce effector cytokines, such as interferon-γ. Interferon-γ release assays are used for the diagnosis of bovine and human tuberculosis and detect primarily effector and effector memory T cell responses. Central memory T cell responses by CD4
+
T cells to vaccination, on the other hand, may be used to predict vaccine efficacy, as demonstrated with simian immunodeficiency virus infection of non-human primates, tuberculosis in mice, and malaria in humans. Several studies with mice and humans as well as unpublished data on cattle, have demonstrated that interferon-γ ELISPOT assays measure central memory T cell responses. With this assay, peripheral blood mononuclear cells are cultured in decreasing concentration of antigen for 10 to 14 days (long-term culture), allowing effector responses to peak and wane; facilitating central memory T cells to differentiate and expand within the culture.
Immunology, Issue 101, Immunology, bovine tuberculosis, CD4 T cells, vaccine
52833
Characterization of Complex Systems Using the Design of Experiments Approach: Transient Protein Expression in Tobacco as a Case Study
Institutions: RWTH Aachen University, Fraunhofer Gesellschaft.

Plants provide multiple benefits for the production of biopharmaceuticals including low costs, scalability, and safety. Transient expression offers the additional advantage of short development and production times, but expression levels can vary significantly between batches thus giving rise to regulatory concerns in the context of good manufacturing practice. We used a design of experiments (DoE) approach to determine the impact of major factors such as regulatory elements in the expression construct, plant growth and development parameters, and the incubation conditions during expression, on the variability of expression between batches. We tested plants expressing a model anti-HIV monoclonal antibody (2G12) and a fluorescent marker protein (DsRed). We discuss the rationale for selecting certain properties of the model and identify its potential limitations. The general approach can easily be transferred to other problems because the principles of the model are broadly applicable: knowledge-based parameter selection, complexity reduction by splitting the initial problem into smaller modules, software-guided setup of optimal experiment combinations and step-wise design augmentation. Therefore, the methodology is not only useful for characterizing protein expression in plants but also for the investigation of other complex systems lacking a mechanistic description. The predictive equations describing the interconnectivity between parameters can be used to establish mechanistic models for other complex systems.
Bioengineering, Issue 83, design of experiments (DoE), transient protein expression, plant-derived biopharmaceuticals, promoter, 5'UTR, fluorescent reporter protein, model building, incubation conditions, monoclonal antibody
51216
Detection of the Genome and Transcripts of a Persistent DNA Virus in Neuronal Tissues by Fluorescent In situ Hybridization Combined with Immunostaining
Institutions: CNRS UMR 5534, Université de Lyon 1, LabEX DEVweCAN, CNRS UPR 3296, CNRS UMR 5286.

Single cell codetection of a gene, its RNA product and cellular regulatory proteins is critical to study gene expression regulation. This is a challenge in the field of virology; in particular for nuclear-replicating persistent DNA viruses that involve animal models for their study. Herpes simplex virus type 1 (HSV-1) establishes a life-long latent infection in peripheral neurons. Latent virus serves as reservoir, from which it reactivates and induces a new herpetic episode. The cell biology of HSV-1 latency remains poorly understood, in part due to the lack of methods to detect HSV-1 genomes
in situ
in animal models. We describe a DNA-fluorescent
in situ
hybridization (FISH) approach efficiently detecting low-copy viral genomes within sections of neuronal tissues from infected animal models. The method relies on heat-based antigen unmasking, and directly labeled home-made DNA probes, or commercially available probes. We developed a triple staining approach, combining DNA-FISH with RNA-FISH and immunofluorescence, using peroxidase based signal amplification to accommodate each staining requirement. A major improvement is the ability to obtain, within 10 µm tissue sections, low-background signals that can be imaged at high resolution by confocal microscopy and wide-field conventional epifluorescence. Additionally, the triple staining worked with a wide range of antibodies directed against cellular and viral proteins. The complete protocol takes 2.5 days to accommodate antibody and probe penetration within the tissue.
Neuroscience, Issue 83, Life Sciences (General), Virology, Herpes Simplex Virus (HSV), Latency, In situ hybridization, Nuclear organization, Gene expression, Microscopy
51091
Rapid Genotyping of Animals Followed by Establishing Primary Cultures of Brain Neurons
Institutions: University of Iowa Carver College of Medicine, University of Iowa Carver College of Medicine, EZ BioResearch LLC.

High-resolution analysis of the morphology and function of mammalian neurons often requires the genotyping of individual animals followed by the analysis of primary cultures of neurons. We describe a set of procedures for: labeling newborn mice to be genotyped, rapid genotyping, and establishing low-density cultures of brain neurons from these mice. Individual mice are labeled by tattooing, which allows for long-term identification lasting into adulthood. Genotyping by the described protocol is fast and efficient, and allows for automated extraction of nucleic acid with good reliability. This is useful under circumstances where sufficient time for conventional genotyping is not available,
e.g.,
in mice that suffer from neonatal lethality. Primary neuronal cultures are generated at low density, which enables imaging experiments at high spatial resolution. This culture method requires the preparation of glial feeder layers prior to neuronal plating. The protocol is applied in its entirety to a mouse model of the movement disorder DYT1 dystonia (ΔE-torsinA knock-in mice), and neuronal cultures are prepared from the hippocampus, cerebral cortex and striatum of these mice. This protocol can be applied to mice with other genetic mutations, as well as to animals of other species. Furthermore, individual components of the protocol can be used for isolated sub-projects. Thus this protocol will have wide applications, not only in neuroscience but also in other fields of biological and medical sciences.
Neuroscience, Issue 95, AP2, genotyping, glial feeder layer, mouse tail, neuronal culture, nucleic-acid extraction, PCR, tattoo, torsinA
51879
Viability Assays for Cells in Culture
Institutions: Duquesne University.
Manual cell counts on a microscope are a sensitive means of assessing cellular viability but are time-consuming and therefore expensive. Computerized viability assays are expensive in terms of equipment but can be faster and more objective than manual cell counts. The present report describes the use of three such viability assays. Two of these assays are infrared and one is luminescent. Both infrared assays rely on a 16 bit Odyssey Imager. One infrared assay uses the DRAQ5 stain for nuclei combined with the Sapphire stain for cytosol and is visualized in the 700 nm channel. The other infrared assay, an In-Cell Western, uses antibodies against cytoskeletal proteins (α-tubulin or microtubule associated protein 2) and labels them in the 800 nm channel. The third viability assay is a commonly used luminescent assay for ATP, but we use a quarter of the recommended volume to save on cost. These measurements are all linear and correlate with the number of cells plated, but vary in sensitivity. All three assays circumvent time-consuming microscopy and sample the entire well, thereby reducing sampling error. Finally, all of the assays can easily be completed within one day of the end of the experiment, allowing greater numbers of experiments to be performed within short timeframes. However, they all rely on the assumption that cell numbers remain in proportion to signal strength after treatments, an assumption that is sometimes not met, especially for cellular ATP. Furthermore, if cells increase or decrease in size after treatment, this might affect signal strength without affecting cell number. We conclude that all viability assays, including manual counts, suffer from a number of caveats, but that computerized viability assays are well worth the initial investment. Using all three assays together yields a comprehensive view of cellular structure and function.
Cellular Biology, Issue 83, In-cell Western, DRAQ5, Sapphire, Cell Titer Glo, ATP, primary cortical neurons, toxicity, protection, N-acetyl cysteine, hormesis
50645
Forward Genetics Screens Using Macrophages to Identify Toxoplasma gondii Genes Important for Resistance to IFN-γ-Dependent Cell Autonomous Immunity
Institutions: New York Medical College.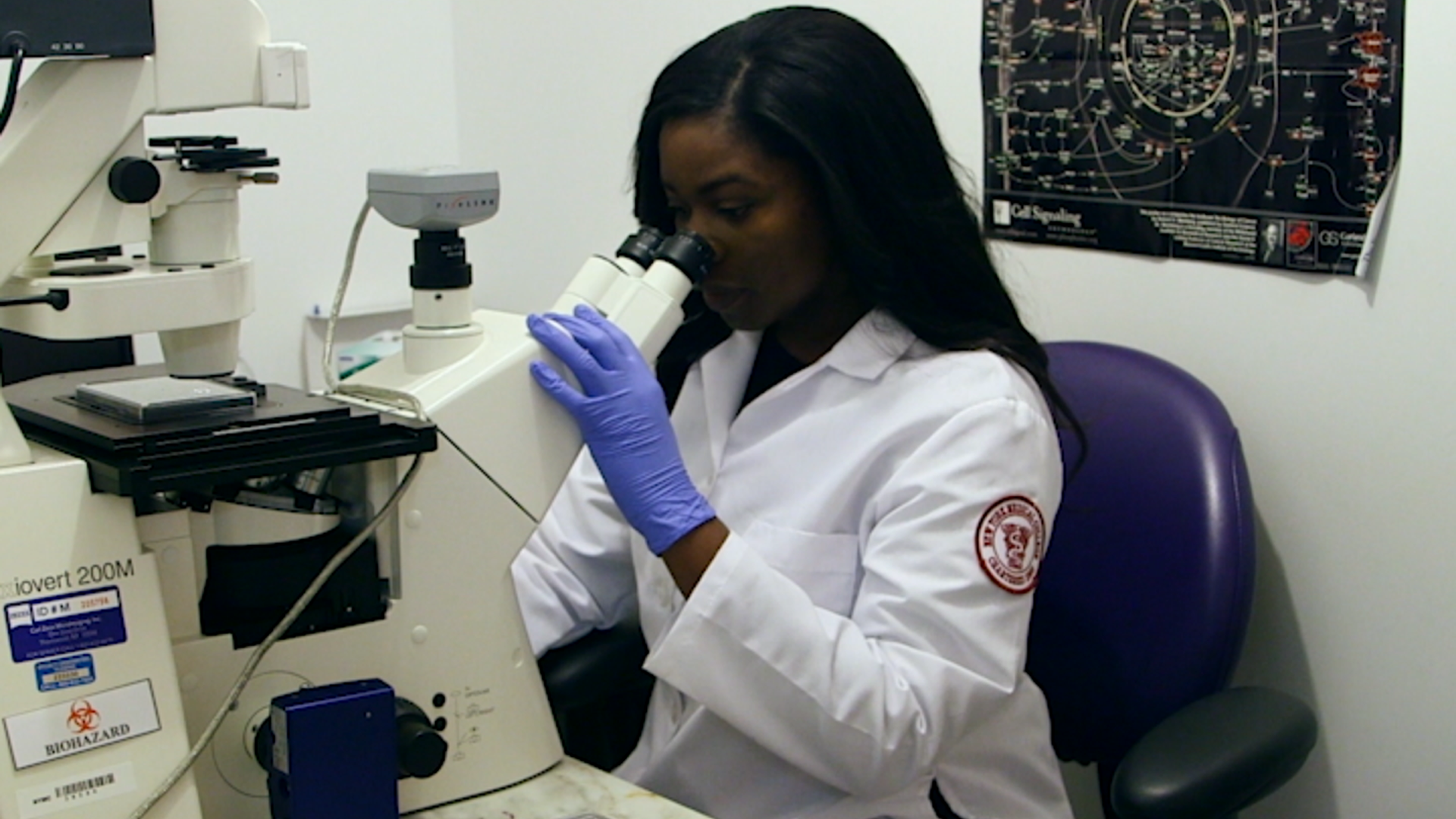 Toxoplasma gondii,
the causative agent of toxoplasmosis, is an obligate intracellular protozoan pathogen. The parasite invades and replicates within virtually any warm blooded vertebrate cell type. During parasite invasion of a host cell, the parasite creates a parasitophorous vacuole (PV) that originates from the host cell membrane independent of phagocytosis within which the parasite replicates. While IFN-dependent-innate and cell mediated immunity is important for eventual control of infection, innate immune cells, including neutrophils, monocytes and dendritic cells, can also serve as vehicles for systemic dissemination of the parasite early in infection. An approach is described that utilizes the host innate immune response, in this case macrophages, in a forward genetic screen to identify parasite mutants with a fitness defect in infected macrophages following activation but normal invasion and replication in naïve macrophages. Thus, the screen isolates parasite mutants that have a specific defect in their ability to resist the effects of macrophage activation. The paper describes two broad phenotypes of mutant parasites following activation of infected macrophages: parasite stasis versus parasite degradation, often in amorphous vacuoles. The parasite mutants are then analyzed to identify the responsible parasite genes specifically important for resistance to induced mediators of cell autonomous immunity. The paper presents a general approach for the forward genetics screen that, in theory, can be modified to target parasite genes important for resistance to specific antimicrobial mediators. It also describes an approach to evaluate the specific macrophage antimicrobial mediators to which the parasite mutant is susceptible. Activation of infected macrophages can also promote parasite differentiation from the tachyzoite to bradyzoite stage that maintains chronic infection. Therefore, methodology is presented to evaluate the importance of the identified parasite gene to establishment of chronic infection.
Immunology, Issue 97, Toxoplasma, macrophages, innate immunity, intracellular pathogen, immune evasion, infectious disease, forward genetics, parasite
52556
Isolation and Quantification of Botulinum Neurotoxin From Complex Matrices Using the BoTest Matrix Assays
Institutions: BioSentinel Inc., Madison, WI.

Accurate detection and quantification of botulinum neurotoxin (BoNT) in complex matrices is required for pharmaceutical, environmental, and food sample testing. Rapid BoNT testing of foodstuffs is needed during outbreak forensics, patient diagnosis, and food safety testing while accurate potency testing is required for BoNT-based drug product manufacturing and patient safety. The widely used mouse bioassay for BoNT testing is highly sensitive but lacks the precision and throughput needed for rapid and routine BoNT testing. Furthermore, the bioassay's use of animals has resulted in calls by drug product regulatory authorities and animal-rights proponents in the US and abroad to replace the mouse bioassay for BoNT testing. Several
in vitro
replacement assays have been developed that work well with purified BoNT in simple buffers, but most have not been shown to be applicable to testing in highly complex matrices. Here, a protocol for the detection of BoNT in complex matrices using the BoTest Matrix assays is presented. The assay consists of three parts: The first part involves preparation of the samples for testing, the second part is an immunoprecipitation step using anti-BoNT antibody-coated paramagnetic beads to purify BoNT from the matrix, and the third part quantifies the isolated BoNT's proteolytic activity using a fluorogenic reporter. The protocol is written for high throughput testing in 96-well plates using both liquid and solid matrices and requires about 2 hr of manual preparation with total assay times of 4-26 hr depending on the sample type, toxin load, and desired sensitivity. Data are presented for BoNT/A testing with phosphate-buffered saline, a drug product, culture supernatant, 2% milk, and fresh tomatoes and includes discussion of critical parameters for assay success.
Neuroscience, Issue 85, Botulinum, food testing, detection, quantification, complex matrices, BoTest Matrix, Clostridium, potency testing
51170
Depletion of Specific Cell Populations by Complement Depletion
Institutions: Blood Research Institute.

The purification of immune cell populations is often required in order to study their unique functions. In particular, molecular approaches such as real-time PCR and microarray analysis require the isolation of cell populations with high purity. Commonly used purification strategies include fluorescent activated cell sorting (FACS), magnetic bead separation and complement depletion. Of the three strategies, complement depletion offers the advantages of being fast, inexpensive, gentle on the cells and a high cell yield. The complement system is composed of a large number of plasma proteins that when activated initiate a proteolytic cascade culminating in the formation of a membrane-attack complex that forms a pore on a cell surface resulting in cell death
1
. The classical pathway is activated by IgM and IgG antibodies and was first described as a mechanism for killing bacteria. With the generation of monoclonal antibodies (mAb), the complement cascade can be used to lyse any cell population in an antigen-specific manner. Depletion of cells by the complement cascade is achieved by the addition of complement fixing antigen-specific antibodies and rabbit complement to the starting cell population. The cells are incubated for one hour at 37°C and the lysed cells are subsequently removed by two rounds of washing. MAb with a high efficiency for complement fixation typically deplete 95-100% of the targeted cell population. Depending on the purification strategy for the targeted cell population, complement depletion can be used for cell purification or for the enrichment of cell populations that then can be further purified by a subsequent method.
JoVE Immunology, Issue 36, rabbit, complement, cell isolation, cell depletion
1487
Analysis of the Epithelial Damage Produced by Entamoeba histolytica Infection
Institutions: Center for Research and Advanced Studies of the National Polytechnic Institute, Center for Research and Advanced Studies of the National Polytechnic Institute, Center for Research and Advanced Studies of the National Polytechnic Institute.

Entamoeba histolytica
is the causative agent of human amoebiasis, a major cause of diarrhea and hepatic abscess in tropical countries. Infection is initiated by interaction of the pathogen with intestinal epithelial cells. This interaction leads to disruption of intercellular structures such as tight junctions (TJ). TJ ensure sealing of the epithelial layer to separate host tissue from gut lumen. Recent studies provide evidence that disruption of TJ by the parasitic protein EhCPADH112 is a prerequisite for
E. histolytica
invasion that is accompanied by epithelial barrier dysfunction. Thus, the analysis of molecular mechanisms involved in TJ disassembly during
E. histolytica
invasion is of paramount importance to improve our understanding of amoebiasis pathogenesis. This article presents an easy model that allows the assessment of initial host-pathogen interactions and the parasite invasion potential. Parameters to be analyzed include transepithelial electrical resistance, interaction of EhCPADH112 with epithelial surface receptors, changes in expression and localization of epithelial junctional markers and localization of parasite molecules within epithelial cells.
Immunology, Issue 88, Entamoeba histolytica, EhCPADH112, cell adhesion, MDCK, Caco-2, tight junction disruption, amoebiasis, host-pathogen interaction, infection model, actin cytoskeleton
51668