Analysis of SNARE-mediated Membrane Fusion Using an Enzymatic Cell Fusion Assay
Published: 10-19-2012
ABSTRACT
The interactions of SNARE (soluble N-ethylmaleimide-sensitive factor attachment protein receptor) proteins on vesicles (v-SNAREs) and on target membranes (t-SNAREs) catalyze intracellular vesicle fusion1-4. Reconstitution assays are essential for dissecting the mechanism and regulation of SNARE-mediated membrane fusion5. In a cell fusion assay6,7, SNARE proteins are expressed ectopically at the cell surface. These "flipped" SNARE proteins drive cell-cell fusion, demonstrating that SNAREs are sufficient to fuse cellular membranes. Because the cell fusion assay is based on microscopic analysis, it is less efficient when used to analyze multiple v- and t-SNARE interactions quantitatively. Here we describe a new assay8 that quantifies SNARE-mediated cell fusion events by activated expression of β-galactosidase. Two components of the Tet-Off gene expression system9 are used as a readout system: the tetracycline-controlled transactivator (tTA) and a reporter plasmid that encodes the LacZ gene under control of the tetracycline-response element (TRE-LacZ). We transfect tTA into COS-7 cells that express flipped v-SNARE proteins at the cell surface (v-cells) and transfect TRE-LacZ into COS-7 cells that express flipped t-SNARE proteins at the cell surface (t-cells). SNARE-dependent fusion of the v- and t-cells results in the binding of tTA to TRE, the transcriptional activation of LacZ and expression of β-galactosidase. The activity of β-galactosidase is quantified using a colorimetric method by absorbance at 420 nm. The vesicle-associated membrane proteins (VAMPs) are v-SNAREs that reside in various post-Golgi vesicular compartments10-15. By expressing VAMPs 1, 3, 4, 5, 7 and 8 at the same level, we compare their membrane fusion activities using the enzymatic cell fusion assay. Based on spectrometric measurement, this assay offers a quantitative approach for analyzing SNARE-mediated membrane fusion and for high-throughput studies.
21 Related JoVE Articles!
A High Content Imaging Assay for Identification of Botulinum Neurotoxin Inhibitors
Institutions: Perkin Elmer Inc., Henry M. Jackson Foundation, The Geneva Foundation, ORISE, Frederick National Laboratory for Cancer Research, US Army Medical Research Institute of Infectious Diseases, US Army Medical Research and Materiel Command (USAMRMC).
Synaptosomal-associated protein-25 (SNAP-25) is a component of the soluble NSF attachment protein receptor (SNARE) complex that is essential for synaptic neurotransmitter release. Botulinum neurotoxin serotype A (BoNT/A) is a zinc metalloprotease that blocks exocytosis of neurotransmitter by cleaving the SNAP-25 component of the SNARE complex. Currently there are no licensed medicines to treat BoNT/A poisoning after internalization of the toxin by motor neurons. The development of effective therapeutic measures to counter BoNT/A intoxication has been limited, due in part to the lack of robust high-throughput assays for screening small molecule libraries. Here we describe a high content imaging (HCI) assay with utility for identification of BoNT/A inhibitors. Initial optimization efforts focused on improving the reproducibility of inter-plate results across multiple, independent experiments. Automation of immunostaining, image acquisition, and image analysis were found to increase assay consistency and minimize variability while enabling the multiparameter evaluation of experimental compounds in a murine motor neuron system.
Neuroscience, Issue 93, neuroscience, neurobiology, Botulinum neurotoxin, Clostridium botulinum, high content imaging system, neurotoxicity
51915
Adenovirus-mediated Genetic Removal of Signaling Molecules in Cultured Primary Mouse Embryonic Fibroblasts
Institutions: University of Guelph.

The ability to genetically remove specific components of various cell signalling cascades has been an integral tool in modern signal transduction analysis. One particular method to achieve this conditional deletion is via the use of the Cre-loxP system. This method involves flanking the gene of interest with loxP sites, which are specific recognition sequences for the Cre recombinase protein. Exposure of the so-called floxed (flanked by loxP site) DNA to this enzyme results in a Cre-mediated recombination event at the loxP sites, and subsequent excision of the intervening gene
3
. Several different methods exist to administer Cre recombinase to the site of interest. In this video, we demonstrate the use of an adenovirus containing the Cre recombinase gene to infect primary mouse embryonic fibroblasts (MEFs) obtained from embryos containing a floxed Rac1 allele
1
. Our rationale for selecting Rac1 MEFs for our experiments is that clear morphological changes can be seen upon deletion of Rac1, due to alterations in the actin cytoskeleton
2,5
. 72 hours following viral transduction and Cre expression, cells were stained using the actin dye phalloidin and imaged using confocal laser scanning microscopy. It was observed that MEFs which had been exposed to the adeno-Cre virus appeared contracted and elongated in morphology compared to uninfected cells, consistent with previous reports
2,5
. The adenovirus method of Cre recombinase delivery is advantageous as the adeno-Cre virus is easily available, and gene deletion via Cre in nearly 100% of the cells can be achieved with optimized adenoviral infection.
Cellular Biology, Issue 43, Cre-loxP, andenovirus, MEF, actin cytoskeleton, cell culture
2160
Engineering Cell-permeable Protein
Institutions: University of Bonn - Life & Brain Center and Hertie Foundation.

The protein transduction technique enables the direct delivery of biologically active material into mammalian cells [for review see
1,2
]. For this one can make use of the translocating ability of so-called cell penetrating peptides (CPPs), also designated as protein transduction domains (PTDs). The TAT-CPP derived from the human immunodeficiency virus type 1 (HIV-1) Tat (trans-activator of transcription) protein has been widely used. The positively charged TAT promotes cell permeability thereby overcoming the barriers of the cellular membrane by endocytosis or/and direct membrane penetration
2
. In combination with a nuclear localization signal (NLS) fusion proteins are able to enter the nucleus exhibiting functionality. Our video presentation demonstrates, as an exemplification for the engineering of cell-permeable proteins, the construction, production and application of a cell-permeable version of the DNA-modifying enzyme Cre. Cre is a site-specific recombinase that is able to recognize and recombine 34 base pair loxP sites in mammalian cells
in vitro
and
in vivo
. Therefore the Cre/loxP system is widely used to conditionally induce mutations in the genome of living cells
3,4
. The delivery of active Cre recombinase to cells, however, represents a limitation. We describe the pSESAME vector system, which allows a direct insertion of the gene-of-interest and provides a platform to rapidly clone different domains and tags used within the vector in a convenient and standardized manner. Rearranging of the different tags has been shown to modify the biochemical properties of the fusion proteins providing a possibility to achieve higher yield and better solubility. We demonstrate how to express and purify recombinant cell-permeant proteins in and from E. coli. The functionality of the recombinant Cre protein is finally validated in cell culture by assessing its intracellular recombinase activity.
Cellular Biology, Issue 34, Protein transduction, Cell penetrating peptide, Site-specific recombination, Stem cells, Protein purification
1627
Mosaic Analysis of Gene Function in Postnatal Mouse Brain Development by Using Virus-based Cre Recombination
Institutions: Keck School of Medicine, University of Southern California, University of Southern California, Keck School of Medicine, University of Southern California.
Normal brain function relies not only on embryonic development when major neuronal pathways are established, but also on postnatal development when neural circuits are matured and refined. Misregulation at this stage may lead to neurological and psychiatric disorders such as autism and schizophrenia
1,2
. Many genes have been studied in the prenatal brain and found crucial to many developmental processes
3-5
. However, their function in the postnatal brain is largely unknown, partly because their deletion in mice often leads to lethality during neonatal development, and partly because their requirement in early development hampers the postnatal analysis. To overcome these obstacles, floxed alleles of these genes are currently being generated in mice
6
. When combined with transgenic alleles that express Cre recombinase in specific cell types, conditional deletion can be achieved to study gene function in the postnatal brain. However, this method requires additional alleles and extra time (3-6 months) to generate the mice with appropriate genotypes, thereby limiting the expansion of the genetic analysis to a large scale in the mouse brain. Here we demonstrate a complementary approach that uses virally-expressed Cre to study these floxed alleles rapidly and systematically in postnatal brain development. By injecting recombinant adeno-associated viruses (rAAVs)
7,8
encoding Cre into the neonatal brain, we are able to delete the gene of interest in different regions of the brain. By controlling the viral titer and coexpressing a fluorescent protein marker, we can simultaneously achieve mosaic gene inactivation and sparse neuronal labeling. This method bypasses the requirement of many genes in early development, and allows us to study their cell autonomous function in many critical processes in postnatal brain development, including axonal and dendritic growth, branching, and tiling, as well as synapse formation and refinement. This method has been used successfully in our own lab (unpublished results) and others
8,9
, and can be extended to other viruses, such as lentivirus
9
, as well as to the expression of shRNA or dominant active proteins
10
. Furthermore, by combining this technique with electrophysiology as well as recently-developed optical imaging tools
11
, this method provides a new strategy to study how genetic pathways influence neural circuit development and function in mice and rats.
Neuroscience, Issue 54, Adeno-associated virus, Cre, mosaic analysis, sparse labeling, mouse, postnatal, brain development
2823
A Cre-Lox P Recombination Approach for the Detection of Cell Fusion In Vivo
Institutions: University of Wisconsin-Madison, University of Wisconsin-Madison.

The ability of two or more cells of the same type to fuse has been utilized in metazoans throughout evolution to form many complex organs, including skeletal muscle, bone and placenta. Contemporary studies demonstrate fusion of cells of the same type confers enhanced function. For example, when the trophoblast cells of the placenta fuse to form the syncytiotrophoblast, the syncytiotrophoblast is better able to transport nutrients and hormones across the maternal-fetal barrier than unfused trophoblasts
1-4
. More recent studies demonstrate fusion of cells of different types can direct cell fate. The "reversion" or modification of cell fate by fusion was once thought to be limited to cell culture systems. But the advent of stem cell transplantation led to the discovery by us and others that stem cells can fuse with somatic cells
in vivo
and that fusion facilitates stem cell differentiation
5-7
. Thus, cell fusion is a regulated process capable of promoting cell survival and differentiation and thus could be of central importance for development, repair of tissues and even the pathogenesis of disease. Limiting the study of cell fusion, is lack of appropriate technology to 1) accurately identify fusion products and to 2) track fusion products over time. Here we present a novel approach to address both limitations via induction of bioluminescence upon fusion (
Figure 1
); bioluminescence can be detected with high sensitivity
in vivo
8-15
.
We utilize a construct encoding the firefly luciferase (Photinus pyralis) gene placed adjacent to a stop codon flanked by LoxP sequences.
When cells expressing this gene fuse with cells expressing the Cre recombinase protein, the LoxP sites are cleaved and the stop signal is excised allowing transcription of luciferase.
Because the signal is inducible, the incidence of false-positive signals is very low. Unlike existing methods which utilize the Cre/
LoxP
system
16, 17
, we have incorporated a "living" detection signal and thereby afford for the first time the opportunity to track the kinetics of cell fusion
in vivo
.
To demonstrate the approach, mice ubiquitously expressing Cre recombinase served as recipients of stem cells transfected with a construct to express luciferase downstream of a floxed stop codon.
Stem cells were transplanted via intramyocardial injection and after transplantation intravital image analysis was conducted to track the presence of fusion products in the heart and surrounding tissues over time. This approach could be adapted to analyze cell fusion in any tissue type at any stage of development, disease or adult tissue repair.
Bioengineering, Issue 59, Cell fusion, stem cell, fusogen, cre recombinase, biophotonic imaging, cellular transplantation
3581
Studying Proteolysis of Cyclin B at the Single Cell Level in Whole Cell Populations
Institutions: University Medical Center Freiburg.

Equal distribution of chromosomes between the two daughter cells during cell division is a prerequisite for guaranteeing genetic stability
1
. Inaccuracies during chromosome separation are a hallmark of malignancy and associated with progressive disease
2-4
. The spindle assembly checkpoint (SAC) is a mitotic surveillance mechanism that holds back cells at metaphase until every single chromosome has established a stable bipolar attachment to the mitotic spindle
1
. The SAC exerts its function by interference with the activating APC/C subunit Cdc20 to block proteolysis of securin and cyclin B and thus chromosome separation and mitotic exit. Improper attachment of chromosomes prevents silencing of SAC signaling and causes continued inhibition of APC/C
Cdc20
until the problem is solved to avoid chromosome missegregation, aneuploidy and malignant growths
1
. Most studies that addressed the influence of improper chromosomal attachment on APC/C-dependent proteolysis took advantage of spindle disruption using depolymerizing or microtubule-stabilizing drugs to interfere with chromosomal attachment to microtubules. Since interference with microtubule kinetics can affect the transport and localization of critical regulators, these procedures bear a risk of inducing artificial effects
5
. To study how the SAC interferes with APC/C-dependent proteolysis of cyclin B during mitosis in unperturbed cell populations, we established a histone H2-GFP-based system which allowed the simultaneous monitoring of metaphase alignment of mitotic chromosomes and proteolysis of cyclin B
6
. To depict proteolytic profiles, we generated a chimeric cyclin B reporter molecule with a C-terminal SNAP moiety
6
(
Figure 1
). In a self-labeling reaction, the SNAP-moiety is able to form covalent bonds with alkylguanine-carriers (SNAP substrate)
7,8
(
Figure 1
). SNAP substrate molecules are readily available and carry a broad spectrum of different fluorochromes. Chimeric cyclin B-SNAP molecules become labeled upon addition of the membrane-permeable SNAP substrate to the growth medium
7
(
Figure 1
). Following the labeling reaction, the cyclin B-SNAP fluorescence intensity drops in a pulse-chase reaction-like manner and fluorescence intensities reflect levels of cyclin B degradation
6
(
Figure 1
). Our system facilitates the monitoring of mitotic APC/C-dependent proteolysis in large numbers of cells (or several cell populations) in parallel. Thereby, the system may be a valuable tool to identify agents/small molecules that are able to interfere with proteolytic activity at the metaphase to anaphase transition. Moreover, as synthesis of cyclin B during mitosis has recently been suggested as an important mechanism in fostering a mitotic block in mice and humans by keeping cyclin B expression levels stable
9,10
, this system enabled us to analyze cyclin B proteolysis as one element of a balanced equilibrium
6
.
Genetics, Issue 67, Cellular Biology, Molecular Biology, Proteomics, Cyclin B, spindle assembly checkpoint, anaphase-promoting complex, mitosis, proteasome-dependent proteolysis, SNAP, cell cycle
4239
A High-throughput-compatible FRET-based Platform for Identification and Characterization of Botulinum Neurotoxin Light Chain Modulators
Institutions: The Scripps Research Institute, The Scripps Research Institute.

Botulinum neurotoxin (BoNT) is a potent and potentially lethal bacterial toxin that binds to host motor neurons, is internalized into the cell, and cleaves intracellular proteins that are essential for neurotransmitter release. BoNT is comprised of a heavy chain (HC), which mediates host cell binding and internalization, and a light chain (LC), which cleaves intracellular host proteins essential for acetylcholine release. While therapies that inhibit toxin binding/internalization have a small time window of administration, compounds that target intracellular LC activity have a much larger time window of administrations, particularly relevant given the extremely long half-life of the toxin. In recent years, small molecules have been heavily analyzed as potential LC inhibitors based on their increased cellular permeability relative to larger therapeutics (peptides, aptamers,
etc.
). Lead identification often involves high-throughput screening (HTS), where large libraries of small molecules are screened based on their ability to modulate therapeutic target function. Here we describe a FRET-based assay with a commercial BoNT/A LC substrate and recombinant LC that can be automated for HTS of potential BoNT inhibitors. Moreover, we describe a manual technique that can be used for follow-up secondary screening, or for comparing the potency of several candidate compounds.
Chemistry, Issue 82, BoNT/A, botulinum neurotoxin, high-throughput screening, FRET, inhibitor, FRET peptide substrate, activator
50908
Isolation and Quantification of Botulinum Neurotoxin From Complex Matrices Using the BoTest Matrix Assays
Institutions: BioSentinel Inc., Madison, WI.

Accurate detection and quantification of botulinum neurotoxin (BoNT) in complex matrices is required for pharmaceutical, environmental, and food sample testing. Rapid BoNT testing of foodstuffs is needed during outbreak forensics, patient diagnosis, and food safety testing while accurate potency testing is required for BoNT-based drug product manufacturing and patient safety. The widely used mouse bioassay for BoNT testing is highly sensitive but lacks the precision and throughput needed for rapid and routine BoNT testing. Furthermore, the bioassay's use of animals has resulted in calls by drug product regulatory authorities and animal-rights proponents in the US and abroad to replace the mouse bioassay for BoNT testing. Several
in vitro
replacement assays have been developed that work well with purified BoNT in simple buffers, but most have not been shown to be applicable to testing in highly complex matrices. Here, a protocol for the detection of BoNT in complex matrices using the BoTest Matrix assays is presented. The assay consists of three parts: The first part involves preparation of the samples for testing, the second part is an immunoprecipitation step using anti-BoNT antibody-coated paramagnetic beads to purify BoNT from the matrix, and the third part quantifies the isolated BoNT's proteolytic activity using a fluorogenic reporter. The protocol is written for high throughput testing in 96-well plates using both liquid and solid matrices and requires about 2 hr of manual preparation with total assay times of 4-26 hr depending on the sample type, toxin load, and desired sensitivity. Data are presented for BoNT/A testing with phosphate-buffered saline, a drug product, culture supernatant, 2% milk, and fresh tomatoes and includes discussion of critical parameters for assay success.
Neuroscience, Issue 85, Botulinum, food testing, detection, quantification, complex matrices, BoTest Matrix, Clostridium, potency testing
51170
High Efficiency Differentiation of Human Pluripotent Stem Cells to Cardiomyocytes and Characterization by Flow Cytometry
Institutions: Medical College of Wisconsin, Stanford University School of Medicine, Medical College of Wisconsin, Hong Kong University, Johns Hopkins University School of Medicine, Medical College of Wisconsin.

There is an urgent need to develop approaches for repairing the damaged heart, discovering new therapeutic drugs that do not have toxic effects on the heart, and improving strategies to accurately model heart disease. The potential of exploiting human induced pluripotent stem cell (hiPSC) technology to generate cardiac muscle "in a dish" for these applications continues to generate high enthusiasm. In recent years, the ability to efficiently generate cardiomyogenic cells from human pluripotent stem cells (hPSCs) has greatly improved, offering us new opportunities to model very early stages of human cardiac development not otherwise accessible. In contrast to many previous methods, the cardiomyocyte differentiation protocol described here does not require cell aggregation or the addition of Activin A or BMP4 and robustly generates cultures of cells that are highly positive for cardiac troponin I and T (TNNI3, TNNT2), iroquois-class homeodomain protein IRX-4 (IRX4), myosin regulatory light chain 2, ventricular/cardiac muscle isoform (MLC2v) and myosin regulatory light chain 2, atrial isoform (MLC2a) by day 10 across all human embryonic stem cell (hESC) and hiPSC lines tested to date. Cells can be passaged and maintained for more than 90 days in culture. The strategy is technically simple to implement and cost-effective. Characterization of cardiomyocytes derived from pluripotent cells often includes the analysis of reference markers, both at the mRNA and protein level. For protein analysis, flow cytometry is a powerful analytical tool for assessing quality of cells in culture and determining subpopulation homogeneity. However, technical variation in sample preparation can significantly affect quality of flow cytometry data. Thus, standardization of staining protocols should facilitate comparisons among various differentiation strategies. Accordingly, optimized staining protocols for the analysis of IRX4, MLC2v, MLC2a, TNNI3, and TNNT2 by flow cytometry are described.
Cellular Biology, Issue 91, human induced pluripotent stem cell, flow cytometry, directed differentiation, cardiomyocyte, IRX4, TNNI3, TNNT2, MCL2v, MLC2a
52010
Fluorescent Labeling of COS-7 Expressing SNAP-tag Fusion Proteins for Live Cell Imaging
Institutions: New England Biolabs.

SNAP-tag and CLIP-tag protein labeling systems enable the specific, covalent attachment of molecules, including fluorescent dyes, to a protein of interest in live cells. These systems offer a broad selection of fluorescent substrates optimized for a range of imaging instrumentation. Once cloned and expressed, the tagged protein can be used with a variety of substrates for numerous downstream applications without having to clone again. There are two steps to using this system: cloning and expression of the protein of interest as a SNAP-tag fusion, and labeling of the fusion with the SNAP-tag substrate of choice. The SNAP-tag is a small protein based on human O
6
-alkylguanine-DNA-alkyltransferase (hAGT), a DNA repair protein. SNAP-tag labels are dyes conjugated to guanine or chloropyrimidine leaving groups via a benzyl linker. In the labeling reaction, the substituted benzyl group of the substrate is covalently attached to the SNAP-tag. CLIP-tag is a modified version of SNAP-tag, engineered to react with benzylcytosine rather than benzylguanine derivatives. When used in conjunction with SNAP-tag, CLIP-tag enables the orthogonal and complementary labeling of two proteins simultaneously in the same cells.
Cellular Biology, Issue 39, fluorescence, labeling, imaging, SNAP-tag, tag, microscopy, AGT, surface, intracellular, fusion
1876
Molecular Evolution of the Tre Recombinase
Institutions: Max Plank Institute for Molecular Cell Biology and Genetics, Dresden.

Here we report the generation of Tre recombinase through directed, molecular evolution. Tre recombinase recognizes a pre-defined target sequence within the LTR sequences of the HIV-1 provirus, resulting in the excision and eradication of the provirus from infected human cells. We started with Cre, a 38-kDa recombinase, that recognizes a 34-bp double-stranded DNA sequence known as loxP. Because Cre can effectively eliminate genomic sequences, we set out to tailor a recombinase that could remove the sequence between the 5'-LTR and 3'-LTR of an integrated HIV-1 provirus. As a first step we identified sequences within the LTR sites that were similar to loxP and tested for recombination activity. Initially Cre and mutagenized Cre libraries failed to recombine the chosen loxLTR sites of the HIV-1 provirus. As the start of any directed molecular evolution process requires at least residual activity, the original asymmetric loxLTR sequences were split into subsets and tested again for recombination activity. Acting as intermediates, recombination activity was shown with the subsets. Next, recombinase libraries were enriched through reiterative evolution cycles. Subsequently, enriched libraries were shuffled and recombined. The combination of different mutations proved synergistic and recombinases were created that were able to recombine loxLTR1 and loxLTR2. This was evidence that an evolutionary strategy through intermediates can be successful. After a total of 126 evolution cycles individual recombinases were functionally and structurally analyzed. The most active recombinase -- Tre -- had 19 amino acid changes as compared to Cre. Tre recombinase was able to excise the HIV-1 provirus from the genome HIV-1 infected HeLa cells (see "HIV-1 Proviral DNA Excision Using an Evolved Recombinase", Hauber J., Heinrich-Pette-Institute for Experimental Virology and Immunology, Hamburg, Germany). While still in its infancy, directed molecular evolution will allow the creation of custom enzymes that will serve as tools of "molecular surgery" and molecular medicine.
Cell Biology, Issue 15, HIV-1, Tre recombinase, Site-specific recombination, molecular evolution
791
Principles of Site-Specific Recombinase (SSR) Technology
Institutions: Max Plank Institute for Molecular Cell Biology and Genetics, Dresden.

Site-specific recombinase (SSR) technology allows the manipulation of gene structure to explore gene function and has become an integral tool of molecular biology. Site-specific recombinases are proteins that bind to distinct DNA target sequences. The Cre/lox system was first described in bacteriophages during the 1980's. Cre recombinase is a Type I topoisomerase that catalyzes site-specific recombination of DNA between two loxP (locus of X-over P1) sites. The Cre/lox system does not require any cofactors. LoxP sequences contain distinct binding sites for Cre recombinases that surround a directional core sequence where recombination and rearrangement takes place. When cells contain loxP sites and express the Cre recombinase, a recombination event occurs. Double-stranded DNA is cut at both loxP sites by the Cre recombinase, rearranged, and ligated ("scissors and glue"). Products of the recombination event depend on the relative orientation of the asymmetric sequences. SSR technology is frequently used as a tool to explore gene function. Here the gene of interest is flanked with Cre target sites loxP ("floxed"). Animals are then crossed with animals expressing the Cre recombinase under the control of a tissue-specific promoter. In tissues that express the Cre recombinase it binds to target sequences and excises the floxed gene. Controlled gene deletion allows the investigation of gene function in specific tissues and at distinct time points. Analysis of gene function employing SSR technology --- conditional mutagenesis -- has significant advantages over traditional knock-outs where gene deletion is frequently lethal.
Cellular Biology, Issue 15, Molecular Biology, Site-Specific Recombinase, Cre recombinase, Cre/lox system, transgenic animals, transgenic technology
718
Functional Evaluation of Biological Neurotoxins in Networked Cultures of Stem Cell-derived Central Nervous System Neurons
Institutions: United States Army Medical Research Institute of Chemical Defense.
Therapeutic and mechanistic studies of the presynaptically targeted clostridial neurotoxins (CNTs) have been limited by the need for a scalable, cell-based model that produces functioning synapses and undergoes physiological responses to intoxication. Here we describe a simple and robust method to efficiently differentiate murine embryonic stem cells (ESCs) into defined lineages of synaptically active, networked neurons. Following an 8 day differentiation protocol, mouse embryonic stem cell-derived neurons (ESNs) rapidly express and compartmentalize neurotypic proteins, form neuronal morphologies and develop intrinsic electrical responses. By 18 days after differentiation (DIV 18), ESNs exhibit active glutamatergic and γ-aminobutyric acid (GABA)ergic synapses and emergent network behaviors characterized by an excitatory:inhibitory balance. To determine whether intoxication with CNTs functionally antagonizes synaptic neurotransmission, thereby replicating the
in vivo
pathophysiology that is responsible for clinical manifestations of botulism or tetanus, whole-cell patch clamp electrophysiology was used to quantify spontaneous miniature excitatory post-synaptic currents (mEPSCs) in ESNs exposed to tetanus neurotoxin (TeNT) or botulinum neurotoxin (BoNT) serotypes /A-/G. In all cases, ESNs exhibited near-complete loss of synaptic activity within 20 hr. Intoxicated neurons remained viable, as demonstrated by unchanged resting membrane potentials and intrinsic electrical responses. To further characterize the sensitivity of this approach, dose-dependent effects of intoxication on synaptic activity were measured 20 hr after addition of BoNT/A. Intoxication with 0.005 pM BoNT/A resulted in a significant decrement in mEPSCs, with a median inhibitory concentration (IC
50
) of 0.013 pM. Comparisons of median doses indicate that functional measurements of synaptic inhibition are faster, more specific and more sensitive than SNARE cleavage assays or the mouse lethality assay. These data validate the use of synaptically coupled, stem cell-derived neurons for the highly specific and sensitive detection of CNTs.
Neuroscience, Issue 96, embryonic stem cells, stem cell-derived neurons, botulinum neurotoxin detection, electrophysiology, synapse, neuronal networks, glutamatergic synapse, GABAergic synapse
52361
Modeling Astrocytoma Pathogenesis In Vitro and In Vivo Using Cortical Astrocytes or Neural Stem Cells from Conditional, Genetically Engineered Mice
Institutions: University of North Carolina School of Medicine, University of North Carolina School of Medicine, University of North Carolina School of Medicine, University of North Carolina School of Medicine, University of North Carolina School of Medicine, Emory University School of Medicine, University of North Carolina School of Medicine.

Current astrocytoma models are limited in their ability to define the roles of oncogenic mutations in specific brain cell types during disease pathogenesis and their utility for preclinical drug development. In order to design a better model system for these applications, phenotypically wild-type cortical astrocytes and neural stem cells (NSC) from conditional, genetically engineered mice (GEM) that harbor various combinations of floxed oncogenic alleles were harvested and grown in culture. Genetic recombination was induced
in vitro
using adenoviral Cre-mediated recombination, resulting in expression of mutated oncogenes and deletion of tumor suppressor genes. The phenotypic consequences of these mutations were defined by measuring proliferation, transformation, and drug response
in vitro
. Orthotopic allograft models, whereby transformed cells are stereotactically injected into the brains of immune-competent, syngeneic littermates, were developed to define the role of oncogenic mutations and cell type on tumorigenesis
in vivo
. Unlike most established human glioblastoma cell line xenografts, injection of transformed GEM-derived cortical astrocytes into the brains of immune-competent littermates produced astrocytomas, including the most aggressive subtype, glioblastoma, that recapitulated the histopathological hallmarks of human astrocytomas, including diffuse invasion of normal brain parenchyma. Bioluminescence imaging of orthotopic allografts from transformed astrocytes engineered to express luciferase was utilized to monitor
in vivo
tumor growth over time. Thus, astrocytoma models using astrocytes and NSC harvested from GEM with conditional oncogenic alleles provide an integrated system to study the genetics and cell biology of astrocytoma pathogenesis
in vitro
and
in vivo
and may be useful in preclinical drug development for these devastating diseases.
Neuroscience, Issue 90, astrocytoma, cortical astrocytes, genetically engineered mice, glioblastoma, neural stem cells, orthotopic allograft
51763
Genetic Manipulation in Δku80 Strains for Functional Genomic Analysis of Toxoplasma gondii
Institutions: The Geisel School of Medicine at Dartmouth.

Targeted genetic manipulation using homologous recombination is the method of choice for functional genomic analysis to obtain a detailed view of gene function and phenotype(s). The development of mutant strains with targeted gene deletions, targeted mutations, complemented gene function, and/or tagged genes provides powerful strategies to address gene function, particularly if these genetic manipulations can be efficiently targeted to the gene locus of interest using integration mediated by double cross over homologous recombination. Due to very high rates of nonhomologous recombination, functional genomic analysis of
Toxoplasma gondii
has been previously limited by the absence of efficient methods for targeting gene deletions and gene replacements to specific genetic loci. Recently, we abolished the major pathway of nonhomologous recombination in type I and type II strains of
T. gondii
by deleting the gene encoding the KU80 protein
1,2
. The
Δku80
strains behave normally during tachyzoite (acute) and bradyzoite (chronic) stages
in vitro
and
in vivo
and exhibit essentially a 100% frequency of homologous recombination. The Δ
ku80
strains make functional genomic studies feasible on the single gene as well as on the genome scale
1-4
. Here, we report methods for using type I and type II
Δku80Δhxgprt
strains to advance gene targeting approaches in
T. gondii
. We outline efficient methods for generating gene deletions, gene replacements, and tagged genes by targeted insertion or deletion of the hypoxanthine-xanthine-guanine phosphoribosyltransferase (
HXGPRT
) selectable marker. The described gene targeting protocol can be used in a variety of ways in
Δku80
strains to advance functional analysis of the parasite genome and to develop single strains that carry multiple targeted genetic manipulations. The application of this genetic method and subsequent phenotypic assays will reveal fundamental and unique aspects of the biology of
T. gondii
and related significant human pathogens that cause malaria (
Plasmodium
sp.) and cryptosporidiosis (
Cryptosporidium
).
Infectious Diseases, Issue 77, Genetics, Microbiology, Infection, Medicine, Immunology, Molecular Biology, Cellular Biology, Biomedical Engineering, Bioengineering, Genomics, Parasitology, Pathology, Apicomplexa, Coccidia, Toxoplasma, Genetic Techniques, Gene Targeting, Eukaryota, Toxoplasma gondii, genetic manipulation, gene targeting, gene deletion, gene replacement, gene tagging, homologous recombination, DNA, sequencing
50598
Inhibitory Synapse Formation in a Co-culture Model Incorporating GABAergic Medium Spiny Neurons and HEK293 Cells Stably Expressing GABAA Receptors
Institutions: University College London.

Inhibitory neurons act in the central nervous system to regulate the dynamics and spatio-temporal co-ordination of neuronal networks. GABA (γ-aminobutyric acid) is the predominant inhibitory neurotransmitter in the brain. It is released from the presynaptic terminals of inhibitory neurons within highly specialized intercellular junctions known as synapses, where it binds to GABA
A
receptors (GABA
A
Rs) present at the plasma membrane of the synapse-receiving, postsynaptic neurons. Activation of these GABA-gated ion channels leads to influx of chloride resulting in postsynaptic potential changes that decrease the probability that these neurons will generate action potentials. During development, diverse types of inhibitory neurons with distinct morphological, electrophysiological and neurochemical characteristics have the ability to recognize their target neurons and form synapses which incorporate specific GABA
A
Rs subtypes. This principle of selective innervation of neuronal targets raises the question as to how the appropriate synaptic partners identify each other. To elucidate the underlying molecular mechanisms, a novel
in vitro
co-culture model system was established, in which medium spiny GABAergic neurons, a highly homogenous population of neurons isolated from the embryonic striatum, were cultured with stably transfected HEK293 cell lines that express different GABA
A
R subtypes. Synapses form rapidly, efficiently and selectively in this system, and are easily accessible for quantification. Our results indicate that various GABA
A
R subtypes differ in their ability to promote synapse formation, suggesting that this reduced
in vitro
model system can be used to reproduce, at least in part, the
in vivo
conditions required for the recognition of the appropriate synaptic partners and formation of specific synapses. Here the protocols for culturing the medium spiny neurons and generating HEK293 cells lines expressing GABA
A
Rs are first described, followed by detailed instructions on how to combine these two cell types in co-culture and analyze the formation of synaptic contacts.
Neuroscience, Issue 93, Developmental neuroscience, synaptogenesis, synaptic inhibition, co-culture, stable cell lines, GABAergic, medium spiny neurons, HEK 293 cell line
52115
Rapid Genotyping of Animals Followed by Establishing Primary Cultures of Brain Neurons
Institutions: University of Iowa Carver College of Medicine, University of Iowa Carver College of Medicine, EZ BioResearch LLC.

High-resolution analysis of the morphology and function of mammalian neurons often requires the genotyping of individual animals followed by the analysis of primary cultures of neurons. We describe a set of procedures for: labeling newborn mice to be genotyped, rapid genotyping, and establishing low-density cultures of brain neurons from these mice. Individual mice are labeled by tattooing, which allows for long-term identification lasting into adulthood. Genotyping by the described protocol is fast and efficient, and allows for automated extraction of nucleic acid with good reliability. This is useful under circumstances where sufficient time for conventional genotyping is not available,
e.g.,
in mice that suffer from neonatal lethality. Primary neuronal cultures are generated at low density, which enables imaging experiments at high spatial resolution. This culture method requires the preparation of glial feeder layers prior to neuronal plating. The protocol is applied in its entirety to a mouse model of the movement disorder DYT1 dystonia (ΔE-torsinA knock-in mice), and neuronal cultures are prepared from the hippocampus, cerebral cortex and striatum of these mice. This protocol can be applied to mice with other genetic mutations, as well as to animals of other species. Furthermore, individual components of the protocol can be used for isolated sub-projects. Thus this protocol will have wide applications, not only in neuroscience but also in other fields of biological and medical sciences.
Neuroscience, Issue 95, AP2, genotyping, glial feeder layer, mouse tail, neuronal culture, nucleic-acid extraction, PCR, tattoo, torsinA
51879
Induction of Protein Deletion Through In Utero Electroporation to Define Deficits in Neuronal Migration in Transgenic Models
Institutions: University of Ottawa.

Genetic deletion using the Cre-Lox system in transgenic mouse lines is a powerful tool used to study protein function. However, except in very specific Cre models, deletion of a protein throughout a tissue or cell population often leads to complex phenotypes resulting from multiple interacting mechanisms. Determining whether a phenotype results from disruption of a cell autonomous mechanism, which is intrinsic to the cell in question, or from a non-cell autonomous mechanism, which would result from impairment of that cell's environment, can be difficult to discern. To gain insight into protein function in an
in vivo
context,
in utero
electroporation (IUE) enables gene deletion in a small subset of cells within the developing cortex or some other selected brain region. IUE can be used to target specific brain areas, including the dorsal telencephalon, medial telencephalon, hippocampus, or ganglionic eminence. This facilitates observation of the consequences of cell autonomous gene deletion in the context of a healthy environment. The goal of this protocol is to show how IUE can be used to analyze a defect in radial migration in a floxed transgenic mouse line, with an emphasis on distinguishing between the cell autonomous and non-cell autonomous effects of protein deletion. By comparing the phenotype resulting from gene deletion within the entire cortex versus IUE-mediated gene deletion in a limited cell population, greater insight into protein function in brain development can be obtained than by using either technique in isolation.
Developmental Biology, Issue 95, In utero electroporation, brain development, neural migration, transgenic, cell autonomous, mouse model
51983
Analyzing the Functions of Mast Cells In Vivo Using 'Mast Cell Knock-in' Mice
Institutions: Stanford University School of Medicine, Stanford University School of Medicine.

Mast cells (MCs) are hematopoietic cells which reside in various tissues, and are especially abundant at sites exposed to the external environment, such as skin, airways and gastrointestinal tract. Best known for their detrimental role in IgE-dependent allergic reactions, MCs have also emerged as important players in host defense against venom and invading bacteria and parasites. MC phenotype and function can be influenced by microenvironmental factors that may differ according to anatomic location and/or based on the type or stage of development of immune responses. For this reason, we and others have favored
in vivo
approaches over
in vitro
methods to gain insight into MC functions. Here, we describe methods for the generation of mouse bone marrow-derived cultured MCs (BMCMCs), their adoptive transfer into genetically MC-deficient mice, and the analysis of the numbers and distribution of adoptively transferred MCs at different anatomical sites. This method, named the '
mast cell knock-in'
approach, has been extensively used over the past 30 years to assess the functions of MCs and MC-derived products
in vivo
. We discuss the advantages and limitations of this method, in light of alternative approaches that have been developed in recent years.
Immunology, Issue 99, c-kit, stem cell factor, FcεRI, immunoglobulin E, mouse model, adoptive transfer, immunology, allergy
52753
The Neuromuscular Junction: Measuring Synapse Size, Fragmentation and Changes in Synaptic Protein Density Using Confocal Fluorescence Microscopy
Institutions: University of Sydney, Macquarie University, University of Sydney.

The neuromuscular junction (NMJ) is the large, cholinergic relay synapse through which mammalian motor neurons control voluntary muscle contraction. Structural changes at the NMJ can result in neurotransmission failure, resulting in weakness, atrophy and even death of the muscle fiber. Many studies have investigated how genetic modifications or disease can alter the structure of the mouse NMJ. Unfortunately, it can be difficult to directly compare findings from these studies because they often employed different parameters and analytical methods. Three protocols are described here. The first uses maximum intensity projection confocal images to measure the area of acetylcholine receptor (AChR)-rich postsynaptic membrane domains at the endplate and the area of synaptic vesicle staining in the overlying presynaptic nerve terminal. The second protocol compares the relative intensities of immunostaining for synaptic proteins in the postsynaptic membrane. The third protocol uses Fluorescence Resonance Energy Transfer (FRET) to detect changes in the packing of postsynaptic AChRs at the endplate. The protocols have been developed and refined over a series of studies. Factors that influence the quality and consistency of results are discussed and normative data are provided for NMJs in healthy young adult mice.
Neuroscience, Issue 94, neuromuscular, motor endplate, motor control, sarcopenia, myasthenia gravis, amyotrophic lateral sclerosis, morphometry, confocal, immunofluorescence
52220
Reconstitution Of β-catenin Degradation In Xenopus Egg Extract
Institutions: Vanderbilt University Medical Center, Cincinnati Children's Hospital Medical Center, Vanderbilt University School of Medicine.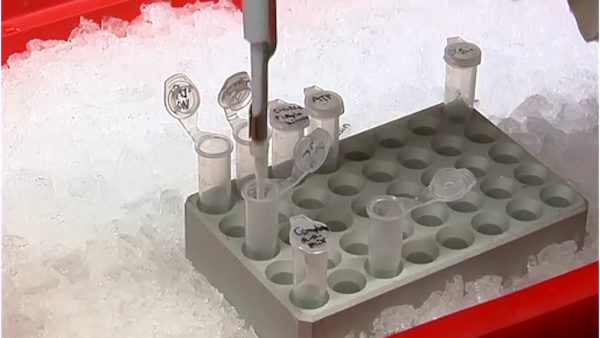 Xenopus laevis
egg extract is a well-characterized, robust system for studying the biochemistry of diverse cellular processes.
Xenopus
egg extract has been used to study protein turnover in many cellular contexts, including the cell cycle and signal transduction pathways
1-3
. Herein, a method is described for isolating
Xenopus
egg extract that has been optimized to promote the degradation of the critical Wnt pathway component, β-catenin. Two different methods are described to assess β-catenin protein degradation in
Xenopus
egg extract. One method is visually informative ([
35
S]-radiolabeled proteins), while the other is more readily scaled for high-throughput assays (firefly luciferase-tagged fusion proteins). The techniques described can be used to, but are not limited to, assess β-catenin protein turnover and identify molecular components contributing to its turnover. Additionally, the ability to purify large volumes of homogenous
Xenopus
egg extract combined with the quantitative and facile readout of luciferase-tagged proteins allows this system to be easily adapted for high-throughput screening for modulators of β-catenin degradation.
Molecular Biology, Issue 88, Xenopus laevis, Xenopus egg extracts, protein degradation, radiolabel, luciferase, autoradiography, high-throughput screening
51425