Staining Protocols for Human Pancreatic Islets
Published: 05-23-2012
ABSTRACT
Estimates of islet area and numbers and endocrine cell composition in the adult human pancreas vary from several hundred thousand to several million and beta mass ranges from 500 to 1500 mg 1-3. With this known heterogeneity, a standard processing and staining procedure was developed so that pancreatic regions were clearly defined and islets characterized using rigorous histopathology and immunolocalization examinations. Standardized procedures for processing human pancreas recovered from organ donors are described in part 1 of this series. The pancreas is processed into 3 main regions (head, body, tail) followed by transverse sections. Transverse sections from the pancreas head are further divided, as indicated based on size, and numbered alphabetically to denote subsections. This standardization allows for a complete cross sectional analysis of the head region including the uncinate region which contains islets composed primarily of pancreatic polypeptide cells to the tail region. The current report comprises part 2 of this series and describes the procedures used for serial sectioning and histopathological characterization of the pancreatic paraffin sections with an emphasis on islet endocrine cells, replication, and T-cell infiltrates. Pathology of pancreatic sections is intended to characterize both exocrine, ductular, and endocrine components. The exocrine compartment is evaluated for the presence of pancreatitis (active or chronic), atrophy, fibrosis, and fat, as well as the duct system, particularly in relationship to the presence of pancreatic intraductal neoplasia4. Islets are evaluated for morphology, size, and density, endocrine cells, inflammation, fibrosis, amyloid, and the presence of replicating or apoptotic cells using H&E and IHC stains. The final component described in part 2 is the provision of the stained slides as digitized whole slide images. The digitized slides are organized by case and pancreas region in an online pathology database creating a virtual biobank. Access to this online collection is currently provided to over 200 clinicians and scientists involved in type 1 diabetes research. The online database provides a means for rapid and complete data sharing and for investigators to select blocks for paraffin or frozen serial sections.
27 Related JoVE Articles!
Isolation of Human Islets from Partially Pancreatectomized Patients
Institutions: University Hospital Carl Gustav Carus, University of Technology Dresden, Paul Langerhans Institute Dresden, University Hospital Carl Gustav Carus, University of Technology Dresden.

Investigations into the pathogenesis of type 2 diabetes and islets of Langerhans malfunction
1
have been hampered by the limited availability of type 2 diabetic islets from organ donors
2
. Here we share our protocol for isolating islets from human pancreatic tissue obtained from type 2 diabetic and non-diabetic patients who have undergone partial pancreatectomy due to different pancreatic diseases (benign or malignant pancreatic tumors, chronic pancreatitis, and common bile duct or duodenal tumors). All patients involved gave their consent to this study, which had also been approved by the local ethics committee. The surgical specimens were immediately delivered to the pathologist who selected soft and healthy appearing pancreatic tissue for islet isolation, retaining the damaged tissue for diagnostic purposes. We found that to isolate more than 1,000 islets, we had to begin with at least 2 g of pancreatic tissue. Also essential to our protocol was to visibly distend the tissue when injecting the enzyme-containing media and subsequently mince it to aid digestion by increasing the surface area. To extend the applicability of our protocol to include the occasional case in which a large amount (>15g) of human pancreatic tissue is available , we used a Ricordi chamber (50 ml) to digest the tissue. During digestion, we manually shook the Ricordi chamber
3
at an intensity that varied by specimen according to its level of tissue fibrosis. A discontinous Ficoll gradient was then used to separate the islets from acinar tissue. We noted that the tissue pellet should be small enough to be homogenously resuspended in Ficoll medium with a density of 1.125 g/ml. After isolation, we cultured the islets under stress free conditions (no shaking or rotation) with 5% CO
2
at 37 °C for at least 48 h in order to facilitate their functional recovery. Widespread application of our protocol and its future improvement could enable the timely harvesting of large quantities of human islets from diabetic and clinically matched non-diabetic subjects, greatly advancing type 2 diabetes research.
Medicine, Issue 53, human islets, Diabetes mellitus, partial pancreatectomy, human islet isolation
2962
Leprdb Mouse Model of Type 2 Diabetes: Pancreatic Islet Isolation and Live-cell 2-Photon Imaging Of Intact Islets
Institutions: The University of Queensland.
Type 2 diabetes is a chronic disease affecting 382 million people in 2013, and is expected to rise to 592 million by 2035
1
. During the past 2 decades, the role of beta-cell dysfunction in type 2 diabetes has been clearly established
2
. Research progress has required methods for the isolation of pancreatic islets. The protocol of the islet isolation presented here shares many common steps with protocols from other groups, with some modifications to improve the yield and quality of isolated islets from both the wild type and diabetic Lepr
db
(db/db) mice. A live-cell 2-photon imaging method is then presented that can be used to investigate the control of insulin secretion within islets.
Medicine, Issue 99, Pancreatic islets, Leprdb, db/db, isolation, liberase, collagenase, 2-photon imaging, exocytosis, insulin, beta cell, diabetes
52632
In situ Quantification of Pancreatic Beta-cell Mass in Mice
Institutions: University of Chicago.

Tracing changes of specific cell populations in health and disease is an important goal of biomedical research. The process of monitoring pancreatic beta-cell proliferation and islet growth is particularly challenging. We have developed a method to capture the distribution of beta-cells in the intact pancreas of transgenic mice with fluorescence-tagged beta-cells with a macro written for ImageJ (rsb.info.nih.gov/ij/). Following pancreatic dissection and tissue clearing, the entire pancreas is captured as a virtual slice, after which the GFP-tagged beta-cells are examined. The analysis includes the quantification of total beta-cell area, islet number and size distribution with reference to specific parameters and locations for each islet and for small clusters of beta-cells. The entire distribution of islets can be plotted in three dimensions, and the information from the distribution on the size and shape of each islet allows a quantitative and qualitative comparison of changes in overall beta-cell area at a glance.
Cellular Biology, Issue 40, beta-cells, islets, mouse, pancreas
1970
Endothelial Cell Co-culture Mediates Maturation of Human Embryonic Stem Cell to Pancreatic Insulin Producing Cells in a Directed Differentiation Approach
Institutions: University of Pittsburgh, University of Pittsburgh.

Embryonic stem cells (ESC) have two main characteristics: they can be indefinitely propagated
in vitro
in an undifferentiated state and they are pluripotent, thus having the potential to differentiate into multiple lineages. Such properties make ESCs extremely attractive for cell based therapy and regenerative treatment applications
1
. However for its full potential to be realized the cells have to be differentiated into mature and functional phenotypes, which is a daunting task. A promising approach in inducing cellular differentiation is to closely mimic the path of organogenesis in the
in vitro
setting. Pancreatic development is known to occur in specific stages
2
, starting with endoderm, which can develop into several organs, including liver and pancreas. Endoderm induction can be achieved by modulation of the nodal pathway through addition of Activin A
3
in combination with several growth factors
4-7
. Definitive endoderm cells then undergo pancreatic commitment by inhibition of sonic hedgehog inhibition, which can be achieved
in vitro
by addition of cyclopamine
8
. Pancreatic maturation is mediated by several parallel events including inhibition of notch signaling; aggregation of pancreatic progenitors into 3-dimentional clusters; induction of vascularization; to name a few. By far the most successful
in vitro
maturation of ESC derived pancreatic progenitor cells have been achieved through inhibition of notch signaling by DAPT supplementation
9
. Although successful, this results in low yield of the mature phenotype with reduced functionality. A less studied area is the effect of endothelial cell signaling in pancreatic maturation, which is increasingly being appreciated as an important contributing factor in in-vivo pancreatic islet maturation
10,11
. The current study explores such effect of endothelial cell signaling in maturation of human ESC derived pancreatic progenitor cells into insulin producing islet-like cells. We report a multi-stage directed differentiation protocol where the human ESCs are first induced towards endoderm by Activin A along with inhibition of PI3K pathway. Pancreatic specification of endoderm cells is achieved by inhibition of sonic hedgehog signaling by Cyclopamine along with retinoid induction by addition of Retinoic Acid. The final stage of maturation is induced by endothelial cell signaling achieved by a co-culture configuration. While several endothelial cells have been tested in the co-culture, herein we present our data with rat heart microvascular endothelial Cells (RHMVEC), primarily for the ease of analysis.
Stem Cell Biology, Issue 61, Human embryonic stem cells, Endothelial cells, Pancreatic differentiation, Co-culture
3759
Isolation of Human Lymphatic Endothelial Cells by Multi-parameter Fluorescence-activated Cell Sorting
Institutions: The Royal Children's Hospital, The University of Melbourne, Monash University, Clayton.

Lymphatic system disorders such as primary lymphedema, lymphatic malformations and lymphatic tumors are rare conditions that cause significant morbidity but little is known about their biology. Isolating highly pure human lymphatic endothelial cells (LECs) from diseased and healthy tissue would facilitate studies of the lymphatic endothelium at genetic, molecular and cellular levels. It is anticipated that these investigations may reveal targets for new therapies that may change the clinical management of these conditions. A protocol describing the isolation of human foreskin LECs and lymphatic malformation lymphatic endothelial cells (LM LECs) is presented. To obtain a single cell suspension tissue was minced and enzymatically treated using dispase II and collagenase II. The resulting single cell suspension was then labelled with antibodies to cluster of differentiation (CD) markers CD34, CD31, Vascular Endothelial Growth Factor-3 (VEGFR-3) and PODOPLANIN. Stained viable cells were sorted on a fluorescently activated cell sorter (FACS) to separate the CD34
Low
CD31
Pos
VEGFR-3
Pos
PODOPLANIN
Pos
LM LEC population from other endothelial and non-endothelial cells. The sorted LM LECs were cultured and expanded on fibronectin-coated flasks for further experimental use.
Medicine, Issue 99, lymphatic endothelial cell, lymphatic malformation, flow cytometric sorting, cell culture, cell surface markers
52691
A Reverse Genetic Approach to Test Functional Redundancy During Embryogenesis
Institutions: Weill Cornell Medical College of Cornell University.

Gene function during embryogenesis is typically defined by loss-of-function experiments, for example by targeted mutagenesis (knockout) in the mouse. In the zebrafish model, effective reverse genetic techniques have been developed using microinjection of gene-specific antisense morpholinos. Morpholinos target an mRNA through specific base-pairing and block gene function transiently by inhibiting translation or splicing for several days during embryogenesis (knockdown). However, in vertebrates such as mouse or zebrafish, some gene functions can be obscured by these approaches due to the presence of another gene that compensates for the loss. This is especially true for gene families containing sister genes that are co-expressed in the same developing tissues. In zebrafish, functional compensation can be tested in a relatively high-throughput manner, by co-injection of morpholinos that target knockdown of both genes simultaneously. Likewise, using morpholinos, a genetic interaction between any two genes can be demonstrated by knockdown of both genes together at sub-threshold levels. For example, morpholinos can be titrated such that neither individual knockdown generates a phenotype. If, under these conditions, co-injection of both morpholinos causes a phenotype, a genetic interaction is shown. Here we demonstrate how to show functional redundancy in the context of two related GATA transcription factors. GATA factors are essential for specification of cardiac progenitors, but this is revealed only by the loss of both Gata5 and Gata6. We show how to carry out microinjection experiments, validate the morpholinos, and evaluate the compensated phenotype for cardiogenesis.
Developmental Biology, Issue 42, protocol, zebrafish, morpholinos, cardiogenesis,
2020
Implantation of Total Artificial Heart in Congenital Heart Disease
Institutions: Texas Children's Hospital, Baylor College of Medicine, The University of Cincinnati College of Medicine.

In patients with end-stage heart failure (HF), a total artificial heart (TAH) may be implanted as a bridge to cardiac transplant. However, in congenital heart disease (CHD), the malformed heart presents a challenge to TAH implantation. In the case presented here, a 17 year-old patient with congenital transposition of the great arteries (CCTGA) experienced progressively worsening HF due to his congenital condition. He was hospitalized multiple times and received an implantable cardioverter defibrillator (ICD). However, his condition soon deteriorated to end-stage HF with multisystem organ failure. Due to the patient's grave clinical condition and the presence of complex cardiac lesions, the decision was made to proceed with a TAH. The abnormal arrangement of the patient's ventricles and great arteries required modifications to the TAH during implantation. With the TAH in place, the patient was able to return home and regain strength and physical well-being while awaiting a donor heart. He was successfully bridged to heart transplantation 5 months after receiving the device. This report highlights the TAH is feasible even in patients with structurally abnormal hearts, with technical modification.
Medicine, Issue 89, total artificial heart, transposition of the great arteries, congenital heart disease, aortic insufficiency, ventricular outflow tract obstruction, conduit obstruction, heart failure
51569
Transplantation of Pulmonary Valve Using a Mouse Model of Heterotopic Heart Transplantation
Institutions: Nationwide Children's Hospital, Nationwide Children's Hospital, Nationwide Children's Hospital.
Tissue engineered heart valves, especially decellularized valves, are starting to gain momentum in clinical use of reconstructive surgery with mixed results. However, the cellular and molecular mechanisms of the neotissue development, valve thickening, and stenosis development are not researched extensively. To answer the above questions, we developed a murine heterotopic heart valve transplantation model. A heart valve was harvested from a valve donor mouse and transplanted to a heart donor mouse. The heart with a new valve was transplanted heterotopically to a recipient mouse. The transplanted heart showed its own heartbeat, independent of the recipient's heartbeat. The blood flow was quantified using a high frequency ultrasound system with a pulsed wave Doppler. The flow through the implanted pulmonary valve showed forward flow with minimal regurgitation and the peak flow was close to 100 mm/sec. This murine model of heart valve transplantation is highly versatile, so it can be modified and adapted to provide different hemodynamic environments and/or can be used with various transgenic mice to study neotissue development in a tissue engineered heart valve.
Medicine, Issue 89, tissue engineering, pulmonary valve, congenital heart defect, decellularized heart valve, transgenic mouse model, heterotopic heart transplantation
51695
Tissue Triage and Freezing for Models of Skeletal Muscle Disease
Institutions: Medical College of Wisconsin, The Ohio State University, Virginia Tech, University of Kentucky, Boston Children's Hospital, Harvard Medical School, Cure Congenital Muscular Dystrophy, Joshua Frase Foundation, University of Washington, University of Arizona.

Skeletal muscle is a unique tissue because of its structure and function, which requires specific protocols for tissue collection to obtain optimal results from functional, cellular, molecular, and pathological evaluations. Due to the subtlety of some pathological abnormalities seen in congenital muscle disorders and the potential for fixation to interfere with the recognition of these features, pathological evaluation of frozen muscle is preferable to fixed muscle when evaluating skeletal muscle for congenital muscle disease. Additionally, the potential to produce severe freezing artifacts in muscle requires specific precautions when freezing skeletal muscle for histological examination that are not commonly used when freezing other tissues. This manuscript describes a protocol for rapid freezing of skeletal muscle using isopentane (2-methylbutane) cooled with liquid nitrogen to preserve optimal skeletal muscle morphology. This procedure is also effective for freezing tissue intended for genetic or protein expression studies. Furthermore, we have integrated our freezing protocol into a broader procedure that also describes preferred methods for the short term triage of tissue for (1) single fiber functional studies and (2) myoblast cell culture, with a focus on the minimum effort necessary to collect tissue and transport it to specialized research or reference labs to complete these studies. Overall, this manuscript provides an outline of how fresh tissue can be effectively distributed for a variety of phenotypic studies and thereby provides standard operating procedures (SOPs) for pathological studies related to congenital muscle disease.
Basic Protocol, Issue 89, Tissue, Freezing, Muscle, Isopentane, Pathology, Functional Testing, Cell Culture
51586
Use of Ultra-high Field MRI in Small Rodent Models of Polycystic Kidney Disease for In Vivo Phenotyping and Drug Monitoring
Institutions: Mayo Clinic, Mayo Clinic.

Several
in vivo
pre-clinical studies in Polycystic Kidney Disease (PKD) utilize orthologous rodent models to identify and study the genetic and molecular mechanisms responsible for the disease, and are very convenient for rapid drug screening and testing of promising therapies. A limiting factor in these studies is often the lack of efficient non-invasive methods for sequentially analyzing the anatomical and functional changes in the kidney. Magnetic resonance imaging (MRI) is the current gold standard imaging technique to follow autosomal dominant polycystic kidney disease (ADPKD) patients, providing excellent soft tissue contrast and anatomic detail and allowing Total Kidney Volume (TKV) measurements.A major advantage of MRI in rodent models of PKD is the possibility for
in vivo
imaging allowing for longitudinal studies that use the same animal and therefore reducing the total number of animals required. In this manuscript, we will focus on using Ultra-high field (UHF) MRI to non-invasively acquire
in vivo
images of rodent models for PKD. The main goal of this work is to introduce the use of MRI as a tool for
in vivo
phenotypical characterization and drug monitoring in rodent models for PKD.
Medicine, Issue 100, Magnetic Resonance Imaging (MRI), Ultra-high field (UHF) MRI, rodent, phenotype, kidney, cysts, polycystic kidney disease (PKD), Autosomal dominant polycystic kidney disease (ADPKD), Autosomal-recessive polycystic kidney disease (ARPKD), progression, interventions,Total Kidney Volume (TKV).
52757
Murine Fetal Echocardiography
Institutions: University of Chicago.

Transgenic mice displaying abnormalities in cardiac development and function represent a powerful tool for the understanding the molecular mechanisms underlying both normal cardiovascular function and the pathophysiological basis of human cardiovascular disease. Fetal and perinatal death is a common feature when studying genetic alterations affecting cardiac development
1-3
. In order to study the role of genetic or pharmacologic alterations in the early development of cardiac function, ultrasound imaging of the live fetus has become an important tool for early recognition of abnormalities and longitudinal follow-up. Noninvasive ultrasound imaging is an ideal method for detecting and studying congenital malformations and the impact on cardiac function prior to death
4
. It allows early recognition of abnormalities in the living fetus and the progression of disease can be followed in utero with longitudinal studies
5,6
. Until recently, imaging of fetal mouse hearts frequently involved invasive methods. The fetus had to be sacrificed to perform magnetic resonance microscopy and electron microscopy or surgically delivered for transillumination microscopy. An application of high-frequency probes with conventional 2-D and pulsed-wave Doppler imaging has been shown to provide measurements of cardiac contraction and heart rates during embryonic development with databases of normal developmental changes now available
6-10
. M-mode imaging further provides important functional data, although, the proper imaging planes are often difficult to obtain. High-frequency ultrasound imaging of the fetus has improved 2-D resolution and can provide excellent information on the early development of cardiac structures
11
.
Biomedical Engineering, Issue 72, Medicine, Molecular Biology, Anatomy, Physiology, Cardiology, echocardiography, echocardiograph, cardiac development, pulse Doppler, non-invasive imaging, ultrasound, cardiovascular disease, cardiac structure, imaging, transgenic mice, mouse, animal model
4416
In utero Measurement of Heart Rate in Mouse by Noninvasive M-mode Echocardiography
Institutions: Institut de Recherches Cliniques de Montréal.

Congenital heart disease (CHD) is the most frequent noninfectious cause of death at birth. The incidence of CHD ranges from 4 to 50/1,000 births (Disease and injury regional estimates, World Health Organization, 2004). Surgeries that often compromise the quality of life are required to correct heart defects, reminding us of the importance of finding the causes of CHD. Mutant mouse models and live imaging technology have become essential tools to study the etiology of this disease. Although advanced methods allow live imaging of abnormal hearts in embryos, the physiological and hemodynamic states of the latter are often compromised due to surgical and/or lengthy procedures. Noninvasive ultrasound imaging, however, can be used without surgically exposing the embryos, thereby maintaining their physiology. Herein, we use simple M-mode ultrasound to assess heart rates of embryos at E18.5
in utero
. The detection of abnormal heart rates is indeed a good indicator of dysfunction of the heart and thus constitutes a first step in the identification of developmental defects that may lead to heart failure.
Medicine, Issue 81, M-mode echocardiography, cardiac development, congenital heart disease, arrhythmia, mouse embryo, heart rate, in utero imaging, noninvasive imaging
50994
Bioluminescent Orthotopic Model of Pancreatic Cancer Progression
Institutions: Monash University, University of Bern, University of California Los Angeles .

Pancreatic cancer has an extremely poor five-year survival rate of 4-6%. New therapeutic options are critically needed and depend on improved understanding of pancreatic cancer biology. To better understand the interaction of cancer cells with the pancreatic microenvironment, we demonstrate an orthotopic model of pancreatic cancer that permits non-invasive monitoring of cancer progression. Luciferase-tagged pancreatic cancer cells are resuspended in Matrigel and delivered into the pancreatic tail during laparotomy. Matrigel solidifies at body temperature to prevent leakage of cancer cells during injection. Primary tumor growth and metastasis to distant organs are monitored following injection of the luciferase substrate luciferin, using
in vivo
imaging of bioluminescence emission from the cancer cells.
In vivo
imaging also may be used to track primary tumor recurrence after resection. This orthotopic model is suited to both syngeneic and xenograft models and may be used in pre-clinical trials to investigate the impact of novel anti-cancer therapeutics on the growth of the primary pancreatic tumor and metastasis.
Cancer Biology, Issue 76, Medicine, Molecular Biology, Cellular Biology, Genetics, Biomedical Engineering, Surgery, Neoplasms, Pancreatic Cancer, Cancer, Orthotopic Model, Bioluminescence, In Vivo Imaging, Matrigel, Metastasis, pancreas, tumor, cancer, cell culture, laparotomy, animal model, imaging
50395
Human Pancreatic Islet Isolation: Part II: Purification and Culture of Human Islets
Institutions: University of Illinois, Chicago.

Management of Type 1 diabetes is burdensome, both to the individual and society, costing over 100 billion dollars annually. Despite the widespread use of glucose monitoring and new insulin formulations, many individuals still develop devastating secondary complications. Pancreatic islet transplantation can restore near normal glucose control in diabetic patients
1
, without the risk of serious hypoglycemic episodes that are associated with intensive insulin therapy. Providing sufficient islet mass is important for successful islet transplantation. However, donor characteristics, organ procurement and preservation affect the isolation outcome
2
. At University of Illinois at Chicago (UIC) we developed a successful isolation protocol with an improved purification gradient
3
. The program started in January 2004 and more than 300 isolations were performed up to November 2008. The pancreata were sent in cold preservation solutions (UW, University of Wisconsin or HTK, Histidine-Tryptophan Ketoglutarate)
4-7
to the Cell Isolation Laboratory at UIC for islet isolation. Pancreatic islets were isolated using the UIC method, which is a modified version of the method originally described by Ricordi
et al
8
. As described in Part I: Digestion and Collection of Pancreatic Tissue, human pancreas was trimmed, cannulated, perfused, and digested. After collection and at least 30 minutes of incubation in UW solution, the tissue was loaded in the cell separator (COBE 2991, Cobe, Lakewood, CO) for purification
3
. Following purification, islet yield (expressed as islet equivalents, IEQ), tissue volume, and purity was determined according to standard methods
9
. Isolated islets were cultured in CMRL-1066 media (Mediatech, Herndon, VA), supplemented with 1.5% human albumin, 0.1% insulin-transferrin-selenium (ITS), 1 ml of Ciprofloxacin, 5 ml o f 1M HEPES, and 14.5 ml of 7.5% Sodium Bicarbonate in T175 flasks at 37°C overnight culture before islets were transplanted or used for research.
Medicine, Issue 27, Human islets, Type 1 diabetes, human islet purification, human islet transplantation
1343
gDNA Enrichment by a Transposase-based Technology for NGS Analysis of the Whole Sequence of BRCA1, BRCA2, and 9 Genes Involved in DNA Damage Repair
Institutions: Centre Georges-François Leclerc.

The widespread use of Next Generation Sequencing has opened up new avenues for cancer research and diagnosis. NGS will bring huge amounts of new data on cancer, and especially cancer genetics. Current knowledge and future discoveries will make it necessary to study a huge number of genes that could be involved in a genetic predisposition to cancer. In this regard, we developed a Nextera design to study 11 complete genes involved in DNA damage repair. This protocol was developed to safely study 11 genes (
ATM
,
BARD1
,
BRCA1
,
BRCA2
,
BRIP1
,
CHEK2
,
PALB2
,
RAD50
,
RAD51C
,
RAD80
, and
TP53
) from promoter to 3'-UTR in 24 patients simultaneously. This protocol, based on transposase technology and gDNA enrichment, gives a great advantage in terms of time for the genetic diagnosis thanks to sample multiplexing. This protocol can be safely used with blood gDNA.
Genetics, Issue 92, gDNA enrichment, Nextera, NGS, DNA damage, BRCA1, BRCA2
51902
A Method for Mouse Pancreatic Islet Isolation and Intracellular cAMP Determination
Institutions: University of Wisconsin-Madison, University of Wisconsin-Madison, University of Waterloo.

Uncontrolled glycemia is a hallmark of diabetes mellitus and promotes morbidities like neuropathy, nephropathy, and retinopathy. With the increasing prevalence of diabetes, both immune-mediated type 1 and obesity-linked type 2, studies aimed at delineating diabetes pathophysiology and therapeutic mechanisms are of critical importance. The β-cells of the pancreatic islets of Langerhans are responsible for appropriately secreting insulin in response to elevated blood glucose concentrations. In addition to glucose and other nutrients, the β-cells are also stimulated by specific hormones, termed incretins, which are secreted from the gut in response to a meal and act on β-cell receptors that increase the production of intracellular cyclic adenosine monophosphate (cAMP). Decreased β-cell function, mass, and incretin responsiveness are well-understood to contribute to the pathophysiology of type 2 diabetes, and are also being increasingly linked with type 1 diabetes. The present mouse islet isolation and cAMP determination protocol can be a tool to help delineate mechanisms promoting disease progression and therapeutic interventions, particularly those that are mediated by the incretin receptors or related receptors that act through modulation of intracellular cAMP production. While only cAMP measurements will be described, the described islet isolation protocol creates a clean preparation that also allows for many other downstream applications, including glucose stimulated insulin secretion, [3
H
]-thymidine incorporation, protein abundance, and mRNA expression.
Physiology, Issue 88, islet, isolation, insulin secretion, β-cell, diabetes, cAMP production, mouse
50374
Isolation, Culture, and Imaging of Human Fetal Pancreatic Cell Clusters
Institutions: University of California, San Diego.

For almost 30 years, scientists have demonstrated that human fetal ICCs transplanted under the kidney capsule of nude mice matured into functioning endocrine cells, as evidenced by a significant increase in circulating human C-peptide following glucose stimulation
1-9
. However
in vitro,
genesis of insulin producing cells from human fetal ICCs is low
10
; results reminiscent of recent experiments performed with human embryonic stem cells (hESC), a renewable source of cells that hold great promise as a potential therapeutic treatment for type 1 diabetes. Like ICCs, transplantation of partially differentiated hESC generate glucose responsive, insulin producing cells, but
in vitro
genesis of insulin producing cells from hESC is much less robust
11-17
. A complete understanding of the factors that influence the growth and differentiation of endocrine precursor cells will likely require data generated from both ICCs and hESC. While a number of protocols exist to generate insulin producing cells from hESC
in vitro
11-22
, far fewer exist for ICCs
10,23,24
. Part of that discrepancy likely comes from the difficulty of working with human fetal pancreas. Towards that end, we have continued to build upon existing methods to isolate fetal islets from human pancreases with gestational ages ranging from 12 to 23 weeks, grow the cells as a monolayer or in suspension, and image for cell proliferation, pancreatic markers and human hormones including glucagon and C-peptide. ICCs generated by the protocol described below result in C-peptide release after transplantation under the kidney capsule of nude mice that are similar to C-peptide levels obtained by transplantation of fresh tissue
6
. Although the examples presented here focus upon the pancreatic endoderm proliferation and β cell genesis, the protocol can be employed to study other aspects of pancreatic development, including exocrine, ductal, and other hormone producing cells.
Medicine, Issue 87, human fetal pancreas, islet cell cluster (ICC), transplantation, immunofluorescence, endocrine cell proliferation, differentiation, C-peptide
50796
Investigating Protein-protein Interactions in Live Cells Using Bioluminescence Resonance Energy Transfer
Institutions: Max Planck Institute for Psycholinguistics, Donders Institute for Brain, Cognition and Behaviour.

Assays based on Bioluminescence Resonance Energy Transfer (BRET) provide a sensitive and reliable means to monitor protein-protein interactions in live cells. BRET is the non-radiative transfer of energy from a 'donor' luciferase enzyme to an 'acceptor' fluorescent protein. In the most common configuration of this assay, the donor is
Renilla reniformis
luciferase and the acceptor is Yellow Fluorescent Protein (YFP). Because the efficiency of energy transfer is strongly distance-dependent, observation of the BRET phenomenon requires that the donor and acceptor be in close proximity. To test for an interaction between two proteins of interest in cultured mammalian cells, one protein is expressed as a fusion with luciferase and the second as a fusion with YFP. An interaction between the two proteins of interest may bring the donor and acceptor sufficiently close for energy transfer to occur. Compared to other techniques for investigating protein-protein interactions, the BRET assay is sensitive, requires little hands-on time and few reagents, and is able to detect interactions which are weak, transient, or dependent on the biochemical environment found within a live cell. It is therefore an ideal approach for confirming putative interactions suggested by yeast two-hybrid or mass spectrometry proteomics studies, and in addition it is well-suited for mapping interacting regions, assessing the effect of post-translational modifications on protein-protein interactions, and evaluating the impact of mutations identified in patient DNA.
Cellular Biology, Issue 87, Protein-protein interactions, Bioluminescence Resonance Energy Transfer, Live cell, Transfection, Luciferase, Yellow Fluorescent Protein, Mutations
51438
A Method for Murine Islet Isolation and Subcapsular Kidney Transplantation
Institutions: The Ohio State University, The Ohio State University, The Ohio State University.

Since the early pioneering work of Ballinger and Reckard demonstrating that transplantation of islets of Langerhans into diabetic rodents could normalize their blood glucose levels, islet transplantation has been proposed to be a potential treatment for type 1 diabetes
1,2
. More recently, advances in human islet transplantation have further strengthened this view
1,3
. However, two major limitations prevent islet transplantation from being a widespread clinical reality: (a) the requirement for large numbers of islets per patient, which severely reduces the number of potential recipients, and (b) the need for heavy immunosuppression, which significantly affects the pediatric population of patients due to their vulnerability to long-term immunosuppression. Strategies that can overcome these limitations have the potential to enhance the therapeutic utility of islet transplantation. Islet transplantation under the mouse kidney capsule is a widely accepted model to investigate various strategies to improve islet transplantation. This experiment requires the isolation of high quality islets and implantation of islets to the diabetic recipients. Both procedures require surgical steps that can be better demonstrated by video than by text. Here, we document the detailed steps for these procedures by both video and written protocol. We also briefly discuss different transplantation models: syngeneic, allogeneic, syngeneic autoimmune, and allogeneic autoimmune.
Medicine, Issue 50, islet isolation, islet transplantation, diabetes, murine, pancreas
2096
Studying Pancreatic Cancer Stem Cell Characteristics for Developing New Treatment Strategies
Institutions: Spanish National Cancer Research Center, Institute for Research in Biomedicine (IRB Barcelona), Queen Mary University of London.
Pancreatic ductal adenocarcinoma (PDAC) contains a subset of exclusively tumorigenic cancer stem cells (CSCs) which have been shown to drive tumor initiation, metastasis and resistance to radio- and chemotherapy. Here we describe a specific methodology for culturing primary human pancreatic CSCs as tumor spheres in anchorage-independent conditions. Cells are grown in serum-free, non-adherent conditions in order to enrich for CSCs while their more differentiated progenies do not survive and proliferate during the initial phase following seeding of single cells. This assay can be used to estimate the percentage of CSCs present in a population of tumor cells. Both size (which can range from 35 to 250 micrometers) and number of tumor spheres formed represents CSC activity harbored in either bulk populations of cultured cancer cells or freshly harvested and digested tumors
1,2
. Using this assay, we recently found that metformin selectively ablates pancreatic CSCs; a finding that was subsequently further corroborated by demonstrating diminished expression of pluripotency-associated genes/surface markers and reduced
in vivo
tumorigenicity of metformin-treated cells. As the final step for preclinical development we treated mice bearing established tumors with metformin and found significantly prolonged survival. Clinical studies testing the use of metformin in patients with PDAC are currently underway (
e.g.,
NCT01210911, NCT01167738, and NCT01488552). Mechanistically, we found that metformin induces a fatal energy crisis in CSCs by enhancing reactive oxygen species (ROS) production and reducing mitochondrial transmembrane potential. In contrast, non-CSCs were not eliminated by metformin treatment, but rather underwent reversible cell cycle arrest. Therefore, our study serves as a successful example for the potential of
in vitro
sphere formation as a screening tool to identify compounds that potentially target CSCs, but this technique will require further
in vitro
and
in vivo
validation to eliminate false discoveries.
Medicine, Issue 100, Pancreatic ductal adenocarcinoma, cancer stem cells, spheres, metformin (met), metabolism
52801
In Vivo Modeling of the Morbid Human Genome using Danio rerio
Institutions: Duke University Medical Center, Duke University, Duke University Medical Center.

Here, we present methods for the development of assays to query potentially clinically significant nonsynonymous changes using
in vivo
complementation in zebrafish. Zebrafish (
Danio rerio
) are a useful animal system due to their experimental tractability; embryos are transparent to enable facile viewing, undergo rapid development
ex vivo,
and can be genetically manipulated.
1
These aspects have allowed for significant advances in the analysis of embryogenesis, molecular processes, and morphogenetic signaling. Taken together, the advantages of this vertebrate model make zebrafish highly amenable to modeling the developmental defects in pediatric disease, and in some cases, adult-onset disorders. Because the zebrafish genome is highly conserved with that of humans (~70% orthologous), it is possible to recapitulate human disease states in zebrafish. This is accomplished either through the injection of mutant human mRNA to induce dominant negative or gain of function alleles, or utilization of morpholino (MO) antisense oligonucleotides to suppress genes to mimic loss of function variants. Through complementation of MO-induced phenotypes with capped human mRNA, our approach enables the interpretation of the deleterious effect of mutations on human protein sequence based on the ability of mutant mRNA to rescue a measurable, physiologically relevant phenotype. Modeling of the human disease alleles occurs through microinjection of zebrafish embryos with MO and/or human mRNA at the 1-4 cell stage, and phenotyping up to seven days post fertilization (dpf). This general strategy can be extended to a wide range of disease phenotypes, as demonstrated in the following protocol. We present our established models for morphogenetic signaling, craniofacial, cardiac, vascular integrity, renal function, and skeletal muscle disorder phenotypes, as well as others.
Molecular Biology, Issue 78, Genetics, Biomedical Engineering, Medicine, Developmental Biology, Biochemistry, Anatomy, Physiology, Bioengineering, Genomics, Medical, zebrafish, in vivo, morpholino, human disease modeling, transcription, PCR, mRNA, DNA, Danio rerio, animal model
50338
In Vitro Pancreas Organogenesis from Dispersed Mouse Embryonic Progenitors
Institutions: Swiss Institute for Experimental Cancer Research, University of Copenhagen.

The pancreas is an essential organ that regulates glucose homeostasis and secretes digestive enzymes. Research on pancreas embryogenesis has led to the development of protocols to produce pancreatic cells from stem cells
1
. The whole embryonic organ can be cultured at multiple stages of development
2-4
. These culture methods have been useful to test drugs and to image developmental processes. However the expansion of the organ is very limited and morphogenesis is not faithfully recapitulated since the organ flattens. We propose three-dimensional (3D) culture conditions that enable the efficient expansion of dissociated mouse embryonic pancreatic progenitors. By manipulating the composition of the culture medium it is possible to generate either hollow spheres, mainly composed of pancreatic progenitors expanding in their initial state, or, complex organoids which progress to more mature expanding progenitors and differentiate into endocrine, acinar and ductal cells and which spontaneously self-organize to resemble the embryonic pancreas. We show here that the
in vitro
process recapitulates many aspects of natural pancreas development. This culture system is suitable to investigate how cells cooperate to form an organ by reducing its initial complexity to few progenitors. It is a model that reproduces the 3D architecture of the pancreas and that is therefore useful to study morphogenesis, including polarization of epithelial structures and branching. It is also appropriate to assess the response to mechanical cues of the niche such as stiffness and the effects on cell´s tensegrity.
Developmental Biology, Issue 89, Pancreas, Progenitors, Branching Epithelium, Development, Organ Culture, 3D Culture, Diabetes, Differentiation, Morphogenesis, Cell organization, Beta Cell.
51725
Mosaic Zebrafish Transgenesis for Functional Genomic Analysis of Candidate Cooperative Genes in Tumor Pathogenesis
Institutions: Mayo Clinic College of Medicine, Center for Individualized Medicine, Tufts University School of Medicine, Mayo Clinic.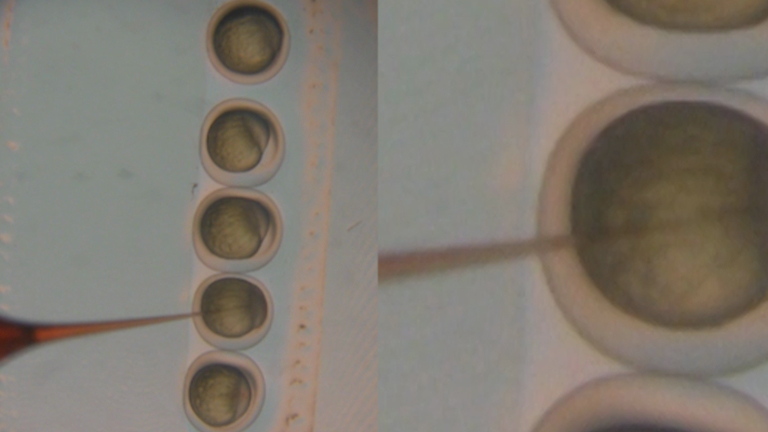 Comprehensive genomic analysis has uncovered surprisingly large numbers of genetic alterations in various types of cancers. To robustly and efficiently identify oncogenic "drivers" among these tumors and define their complex relationships with concurrent genetic alterations during tumor pathogenesis remains a daunting task. Recently, zebrafish have emerged as an important animal model for studying human diseases, largely because of their ease of maintenance, high fecundity, obvious advantages for
in vivo
imaging, high conservation of oncogenes and their molecular pathways, susceptibility to tumorigenesis and, most importantly, the availability of transgenic techniques suitable for use in the fish. Transgenic zebrafish models of cancer have been widely used to dissect oncogenic pathways in diverse tumor types. However, developing a stable transgenic fish model is both tedious and time-consuming, and it is even more difficult and more time-consuming to dissect the cooperation of multiple genes in disease pathogenesis using this approach, which requires the generation of multiple transgenic lines with overexpression of the individual genes of interest followed by complicated breeding of these stable transgenic lines. Hence, use of a mosaic transient transgenic approach in zebrafish offers unique advantages for functional genomic analysis
in vivo
. Briefly, candidate transgenes can be coinjected into one-cell-stage wild-type or transgenic zebrafish embryos and allowed to integrate together into each somatic cell in a mosaic pattern that leads to mixed genotypes in the same primarily injected animal. This permits one to investigate in a faster and less expensive manner whether and how the candidate genes can collaborate with each other to drive tumorigenesis. By transient overexpression of activated
ALK
in the transgenic fish overexpressing
MYCN
, we demonstrate here the cooperation of these two oncogenes in the pathogenesis of a pediatric cancer, neuroblastoma that has resisted most forms of contemporary treatment.
Developmental Biology, Issue 97, zebrafish, animal model, mosaic transgenesis, coinjection, functional genomics, tumor initiation
52567
Regulatory T cells: Therapeutic Potential for Treating Transplant Rejection and Type I Diabetes
Institutions: University of California, San Francisco - UCSF.

Issue 7, Immunology, Pancreatic Islets, Cell Culture, Diabetes, Ficoll Gradient, Translational Research
257
A Strategy to Identify de Novo Mutations in Common Disorders such as Autism and Schizophrenia
Institutions: Universite de Montreal, Universite de Montreal, Universite de Montreal.

There are several lines of evidence supporting the role of
de novo
mutations as a mechanism for common disorders, such as autism and schizophrenia. First, the
de novo
mutation rate in humans is relatively high, so new mutations are generated at a high frequency in the population. However,
de novo
mutations have not been reported in most common diseases. Mutations in genes leading to severe diseases where there is a strong negative selection against the phenotype, such as lethality in embryonic stages or reduced reproductive fitness, will not be transmitted to multiple family members, and therefore will not be detected by linkage gene mapping or association studies. The observation of very high concordance in monozygotic twins and very low concordance in dizygotic twins also strongly supports the hypothesis that a significant fraction of cases may result from new mutations. Such is the case for diseases such as autism and schizophrenia. Second, despite reduced reproductive fitness
1
and extremely variable environmental factors, the incidence of some diseases is maintained worldwide at a relatively high and constant rate. This is the case for autism and schizophrenia, with an incidence of approximately 1% worldwide. Mutational load can be thought of as a balance between selection for or against a deleterious mutation and its production by
de novo
mutation. Lower rates of reproduction constitute a negative selection factor that should reduce the number of mutant alleles in the population, ultimately leading to decreased disease prevalence. These selective pressures tend to be of different intensity in different environments. Nonetheless, these severe mental disorders have been maintained at a constant relatively high prevalence in the worldwide population across a wide range of cultures and countries despite a strong negative selection against them
2
. This is not what one would predict in diseases with reduced reproductive fitness, unless there was a high new mutation rate. Finally, the effects of paternal age: there is a significantly increased risk of the disease with increasing paternal age, which could result from the age related increase in paternal
de novo
mutations. This is the case for autism and schizophrenia
3
. The male-to-female ratio of mutation rate is estimated at about 4–6:1, presumably due to a higher number of germ-cell divisions with age in males. Therefore, one would predict that
de novo
mutations would more frequently come from males, particularly older males
4
. A high rate of new mutations may in part explain why genetic studies have so far failed to identify many genes predisposing to complexes diseases genes, such as autism and schizophrenia, and why diseases have been identified for a mere 3% of genes in the human genome. Identification for
de novo
mutations as a cause of a disease requires a targeted molecular approach, which includes studying parents and affected subjects. The process for determining if the genetic basis of a disease may result in part from
de novo
mutations and the molecular approach to establish this link will be illustrated, using autism and schizophrenia as examples.
Medicine, Issue 52, de novo mutation, complex diseases, schizophrenia, autism, rare variations, DNA sequencing
2534
Human Pancreatic Islet Isolation: Part I: Digestion and Collection of Pancreatic Tissue
Institutions: University of Illinois, Chicago.

Management of Type 1 diabetes is burdensome, both to the individual and society, costing over 100 billion dollars annually. Despite the widespread use of glucose monitoring and new insulin formulations, many individuals still develop devastating secondary complications. Pancreatic islet transplantation can restore near normal glucose control in diabetic patients
1
, without the risk of serious hypoglycemic episodes that are associated with intensive insulin therapy. Providing sufficient islet mass is important for successful islet transplantation. However, donor characteristic, organ procurement and preservation affect the isolation outcome
2
. At University of Illinois at Chicago (UIC) we have developed a successful isolation protocol with an improved purification gradient
3
. The program started in January 2004, and more than 300 isolations were performed up to November 2008. The pancreata were sent in cold preservation solutions (UW, University of Wisconsin or HTK, Histidine-Tryptophan Ketoglutarate)
4-7
to the Cell Isolation Laboratory at UIC for islet isolation. Pancreatic islets were isolated using the UIC method, which is a modified version of the method originally described by Ricordi
et al
8
. Briefly, after cleaning the pancreas from the surrounding tissue, it was perfused with enzyme solution (Serva Collagenase + Neutral Protease or Sigma V enzyme). The distended pancreas was then transferred to the Ricordi digestion chamber, connected to a modified, closed circulation tubing system, and warmed up to 37°C. During the digestion, the chamber was shaken gently. Samples were taken continuously to monitor the digestion progress. Once free islets were detected under the microscope, the digestion was stopped by flushing cold (4°C) RPMI dilution solution (Mediatech, Herndon, VA) into the circulation system to dilute the enzyme. After being collected and washed in M199 media supplemented with human albumin, the tissue was sampled for pre-purification count and incubated with UW solution before purification. Purification process will be described in Part II: Purification and Culture of Human Islets.
Medicine, Issue 27, Human islets, Type 1 diabetes, pancreatic tissue, digestion, human islet transplantation
1125
Human Pluripotent Stem Cell Based Developmental Toxicity Assays for Chemical Safety Screening and Systems Biology Data Generation
Institutions: University of Cologne, University of Konstanz, Technical University of Dortmund, Technical University of Dortmund.

Efficient protocols to differentiate human pluripotent stem cells to various tissues in combination with -omics technologies opened up new horizons for
in vitro
toxicity testing of potential drugs. To provide a solid scientific basis for such assays, it will be important to gain quantitative information on the time course of development and on the underlying regulatory mechanisms by systems biology approaches. Two assays have therefore been tuned here for these requirements. In the UKK test system, human embryonic stem cells (hESC) (or other pluripotent cells) are left to spontaneously differentiate for 14 days in embryoid bodies, to allow generation of cells of all three germ layers. This system recapitulates key steps of early human embryonic development, and it can predict human-specific early embryonic toxicity/teratogenicity, if cells are exposed to chemicals during differentiation. The UKN1 test system is based on hESC differentiating to a population of neuroectodermal progenitor (NEP) cells for 6 days. This system recapitulates early neural development and predicts early developmental neurotoxicity and epigenetic changes triggered by chemicals. Both systems, in combination with transcriptome microarray studies, are suitable for identifying toxicity biomarkers. Moreover, they may be used in combination to generate input data for systems biology analysis. These test systems have advantages over the traditional toxicological studies requiring large amounts of animals. The test systems may contribute to a reduction of the costs for drug development and chemical safety evaluation. Their combination sheds light especially on compounds that may influence neurodevelopment specifically.
Developmental Biology, Issue 100, Human embryonic stem cells, developmental toxicity, neurotoxicity, neuroectodermal progenitor cells, immunoprecipitation, differentiation, cytotoxicity, embryopathy, embryoid body
52333