ABSTRACT
We describe an indoor, portable, standardized course that can be used to evaluate obstacle avoidance in persons who have ultralow vision. Six sighted controls and 36 completely blind but otherwise healthy adult male (n=29) and female (n=13) subjects (age range 19-85 years), were enrolled in one of three studies involving testing of the BrainPort sensory substitution device. Subjects were asked to navigate the course prior to, and after, BrainPort training. They completed a total of 837 course runs in two different locations. Means and standard deviations were calculated across control types, courses, lights, and visits. We used a linear mixed effects model to compare different categories in the PPWS (percent preferred walking speed) and error percent data to show that the course iterations were properly designed. The course is relatively inexpensive, simple to administer, and has been shown to be a feasible way to test mobility function. Data analysis demonstrates that for the outcome of percent error as well as for percentage preferred walking speed, that each of the three courses is different, and that within each level, each of the three iterations are equal. This allows for randomization of the courses during administration. Abbreviations: preferred walking speed (PWS) course speed (CS) percentage preferred walking speed (PPWS)
23 Related JoVE Articles!
Establishment of a Clinically Relevant Ex Vivo Mock Cataract Surgery Model for Investigating Epithelial Wound Repair in a Native Microenvironment
Institutions: Thomas Jefferson University.

The major impediment to understanding how an epithelial tissue executes wound repair is the limited availability of models in which it is possible to follow and manipulate the wound response
ex vivo
in an environment that closely mimics that of epithelial tissue injury
in vivo
. This issue was addressed by creating a clinically relevant epithelial
ex vivo
injury-repair model based on cataract surgery. In this culture model, the response of the lens epithelium to wounding can be followed live in the cells' native microenvironment, and the molecular mediators of wound repair easily manipulated during the repair process. To prepare the cultures, lenses are removed from the eye and a small incision is made in the anterior of the lens from which the inner mass of lens fiber cells is removed. This procedure creates a circular wound on the posterior lens capsule, the thick basement membrane that surrounds the lens. This wound area where the fiber cells were attached is located just adjacent to a continuous monolayer of lens epithelial cells that remains linked to the lens capsule during the surgical procedure. The wounded epithelium, the cell type from which fiber cells are derived during development, responds to the injury of fiber cell removal by moving collectively across the wound area, led by a population of vimentin-rich repair cells whose mesenchymal progenitors are endogenous to the lens
1
. These properties are typical of a normal epithelial wound healing response. In this model, as
in vivo
, wound repair is dependent on signals supplied by the endogenous environment that is uniquely maintained in this
ex vivo
culture system, providing an ideal opportunity for discovery of the mechanisms that regulate repair of an epithelium following wounding.
Developmental Biology, Issue 100, Wound healing, injury, repair, collective migration, collective movement, epithelial sheet movement, epithelial wound healing, lens
52886
Corneal Donor Tissue Preparation for Descemet's Membrane Endothelial Keratoplasty
Institutions: University of Michigan, MidWest Eye Banks.

Descemet's Membrane Endothelial Keratoplasty (DMEK) is a form of corneal transplantation in which only a single cell layer, the corneal endothelium, along with its basement membrane (Descemet's membrane) is introduced onto the recipient's posterior stroma
3
. Unlike Descemet's Stripping Automated Endothelial Keratoplasty (DSAEK), where additional donor stroma is introduced, no unnatural stroma-to-stroma interface is created. As a result, the natural anatomy of the cornea is preserved as much as possible allowing for improved recovery time and visual acuity
4
. Endothelial Keratoplasty (EK) is the procedure of choice for treatment of endothelial dysfunction. The advantages of EK include rapid recovery of vision, preservation of ocular integrity and minimal refractive change due to use of a small, peripheral incision
1
. DSAEK utilizes donor tissue prepared with partial thickness stroma and endothelium. The rapid success and utilization of this procedure can be attributed to availability of eye-bank prepared precut tissue. The benefits of eye-bank preparation of donor tissue include elimination of need for specialized equipment in the operating room and availability of back up donor tissue in case of tissue perforation during preparation. In addition, high volume preparation of donor tissue by eye-bank technicians may provide improved quality of donor tissue. DSAEK may have limited best corrected visual acuity due to creation of a stromal interface between the donor and recipient cornea. Elimination of this interface with transplantation of only donor Descemet's membrane and endothelium in DMEK may improve visual outcomes and reduce complications after EK
5
. Similar to DSAEK, long term success and acceptance of DMEK is dependent on ease of availability of precut, eye-bank prepared donor tissue. Here we present a stepwise approach to donor tissue preparation which may reduce some barriers eye-banks face in providing DMEK grafts.
Medicine, Issue 91, DMEK, EK, endothelial keratoplasty, Descemet's membrane endothelial keratoplasty, corneal transplantation, eye bank, donor tissue preparation
51919
A Laser-induced Mouse Model of Chronic Ocular Hypertension to Characterize Visual Defects
Institutions: Northwestern University, Northwestern University.

Glaucoma, frequently associated with elevated intraocular pressure (IOP), is one of the leading causes of blindness. We sought to establish a mouse model of ocular hypertension to mimic human high-tension glaucoma. Here laser illumination is applied to the corneal limbus to photocoagulate the aqueous outflow, inducing angle closure. The changes of IOP are monitored using a rebound tonometer before and after the laser treatment. An optomotor behavioral test is used to measure corresponding changes in visual capacity. The representative result from one mouse which developed sustained IOP elevation after laser illumination is shown. A decreased visual acuity and contrast sensitivity is observed in this ocular hypertensive mouse. Together, our study introduces a valuable model system to investigate neuronal degeneration and the underlying molecular mechanisms in glaucomatous mice.
Medicine, Issue 78, Biomedical Engineering, Neurobiology, Anatomy, Physiology, Neuroscience, Cellular Biology, Molecular Biology, Ophthalmology, Retinal Neurons, Retinal Neurons, Retinal Ganglion Cells, Neurodegenerative Diseases, Ocular Hypertension, Retinal Degeneration, Vision Tests, Visual Acuity, Eye Diseases, Retinal Ganglion Cell (RGC), Ocular Hypertension, Laser Photocoagulation, Intraocular pressure (IOP), Tonometer; Visual Acuity, Contrast Sensitivity, Optomotor, animal model
50440
Characterization of Molecular Mechanisms of In vivo UVR Induced Cataract
Institutions: Karolinska Institutet, Uppsala University .

Cataract is the leading cause of blindness in the world
1
. The World Health Organization defines cataract as a clouding of the lens of the eye which impedes the transfer of light. Cataract is a multi-factorial disease associated with diabetes, smoking, ultraviolet radiation (UVR), alcohol, ionizing radiation, steroids and hypertension. There is strong experimental
2-4
and epidemiological evidence
5,6
that UVR causes cataract. We developed an animal model for UVR B induced cataract in both anesthetized
7
and non-anesthetized animals
8
. The only cure for cataract is surgery but this treatment is not accessible to all. It has been estimated that a delay of onset of cataract for 10 years could reduce the need for cataract surgery by 50%
9
. To delay the incidence of cataract, it is needed to understand the mechanisms of cataract formation and find effective prevention strategies. Among the mechanisms for cataract development, apoptosis plays a crucial role in initiation of cataract in humans and animals
10
. Our focus has recently been apoptosis in the lens as the mechanism for cataract development
8,11,12
. It is anticipated that a better understanding of the effect of UVR on the apoptosis pathway will provide possibilities for discovery of new pharmaceuticals to prevent cataract. In this article, we describe how cataract can be experimentally induced by
in vivo
exposure to UVR-B. Further RT-PCR and immunohistochemistry are presented as tools to study molecular mechanisms of UVR-B induced cataract.
Medicine, Issue 69, Neuroscience, Molecular Biology, Ophthalmology, Immunology, UVR-B, lens, cataract, qRT-PCR, PCR, immunohistochemistry, rat restrainer, animal model
4016
Glutamate and Hypoxia as a Stress Model for the Isolated Perfused Vertebrate Retina
Institutions: University Eye Hospital Tübingen.

Neuroprotection has been a strong field of investigation in ophthalmological research in the past decades and affects diseases such as glaucoma, retinal vascular occlusion, retinal detachment, and diabetic retinopathy. It was the object of this study to introduce a standardized stress model for future preclinical therapeutic testing. Bovine retinas were prepared and perfused with an oxygen saturated standard solution, and the ERG was recorded. After recording stable b-waves, hypoxia (pure N
2
) or glutamate stress (250 µm glutamate) was exerted for 45 min. To investigate the effects on photoreceptor function alone, 1 mM aspartate was added to obtain a-waves. ERG-recovery was monitored for 75 min. For hypoxia, a decrease in a-wave amplitude of 87.0% was noted (p <0.01) after an exposition time of 45 min (decrease of 36.5% after the end of the washout p = 0.03). Additionally, an initial decrease in b-wave amplitudes of 87.23% was recorded, that reached statistical significance (p <0.01, decrease of 25.5% at the end of the washout, p = 0.03). For 250 µm glutamate, an initial 7.8% reduction of a-wave amplitudes (p >0.05) followed by a reduction of 1.9% (p >0.05). A reduction of 83.7% of b-wave amplitudes (p <0.01) was noted; after a washout of 75 min the reduction was 2.3% (p = 0.62). In this study, a standardized stress model is presented that may be useful to identify possible neuroprotective effects in the future.
Medicine, Issue 97, Glutamate, Hypoxia, retinal toxicity, electroretinogram, intraocular toxicity, superfused retina
52270
Performing Subretinal Injections in Rodents to Deliver Retinal Pigment Epithelium Cells in Suspension
Institutions: The Scripps Research Institute, Lowy Medical Research Institute.

The conversion of light into electrical impulses occurs in the outer retina and is accomplished largely by rod and cone photoreceptors and retinal pigment epithelium (RPE) cells. RPE provide critical support for photoreceptors and death or dysfunction of RPE cells is characteristic of age-related macular degeneration (AMD), the leading cause of permanent vision loss in people age 55 and older. While no cure for AMD has been identified, implantation of healthy RPE in diseased eyes may prove to be an effective treatment, and large numbers of RPE cells can be readily generated from pluripotent stem cells. Several interesting questions regarding the safety and efficacy of RPE cell delivery can still be examined in animal models, and well-accepted protocols used to inject RPE have been developed. The technique described here has been used by multiple groups in various studies and involves first creating a hole in the eye with a sharp needle. Then a syringe with a blunt needle loaded with cells is inserted through the hole and passed through the vitreous until it gently touches the RPE. Using this injection method, which is relatively simple and requires minimal equipment, we achieve consistent and efficient integration of stem cell-derived RPE cells in between the host RPE that prevents significant amount of photoreceptor degeneration in animal models. While not part of the actual protocol, we also describe how to determine the extent of the trauma induced by the injection, and how to verify that the cells were injected into the subretinal space using
in vivo
imaging modalities. Finally, the use of this protocol is not limited to RPE cells; it may be used to inject any compound or cell into the subretinal space.
Medicine, Issue 95, Retinal pigment epithelium, subretinal injections, translational medicine, age-related macular degeneration, cell-based delivery
52247
Techniques for Processing Eyes Implanted With a Retinal Prosthesis for Localized Histopathological Analysis
Institutions: Bionics Institute, St Vincent's Hospital Melbourne, University of Melbourne, University of Melbourne.

With the recent development of retinal prostheses, it is important to develop reliable techniques for assessing the safety of these devices in preclinical studies. However, the standard fixation, preparation, and automated histology procedures are not ideal. Here we describe new procedures for evaluating the health of the retina directly adjacent to an implant. Retinal prostheses feature electrode arrays in contact with eye tissue. Previous methods have not been able to spatially localize the ocular tissue adjacent to individual electrodes within the array. In addition, standard histological processing often results in gross artifactual detachment of the retinal layers when assessing implanted eyes. Consequently, it has been difficult to assess localized damage, if present, caused by implantation and stimulation of an implanted electrode array. Therefore, we developed a method for identifying and localizing the ocular tissue adjacent to implanted electrodes using a (color-coded) dye marking scheme, and we modified an eye fixation technique to minimize artifactual retinal detachment. This method also rendered the sclera translucent, enabling localization of individual electrodes and specific parts of an implant. Finally, we used a matched control to increase the power of the histopathological assessments. In summary, this method enables reliable and efficient discrimination and assessment of the retinal cytoarchitecture in an implanted eye.
Medicine, Issue 78, Anatomy, Physiology, Biomedical Engineering, Bioengineering, Surgery, Ophthalmology, Pathology, Tissue Engineering, Prosthesis Implantation, Implantable Neurostimulators, Implants, Experimental, Histology, bionics, Retina, Prosthesis, Bionic Eye, Retinal, Implant, Suprachoroidal, Fixation, Localization, Safety, Preclinical, dissection, embedding, staining, tissue, surgical techniques, clinical techniques
50411
A Simplified Technique for In situ Excision of Cornea and Evisceration of Retinal Tissue from Human Ocular Globe
Institutions: Fondazione Banca Degli Occhi del Veneto O.N.L.U.S. , Telethon Institute for Genetics & Medicine (T.I.G.E.M.).

Enucleation is the process of retrieving the ocular globe from a cadaveric donor leaving the rest of the globe undisturbed. Excision refers to the retrieval of ocular tissues, especially cornea, by cutting it separate from the ocular globe. Evisceration is the process of removing the internal organs referred here as retina. The ocular globe consists of the cornea, the sclera, the vitreous body, the lens, the iris, the retina, the choroid, muscles etc (Suppl.
Figure 1
). When a patient is suffering from corneal damage, the cornea needs to be removed and a healthy one must be transplanted by keratoplastic surgeries. Genetic disorders or defects in retinal function can compromise vision. Human ocular globes can be used for various surgical procedures such as eye banking, transplantation of human cornea or sclera and research on ocular tissues. However, there is little information available on human corneal and retinal excision, probably due to the limited accessibility to human tissues. Most of the studies describing similar procedures are performed on animal models. Research scientists rely on the availability of properly dissected and well-conserved ocular tissues in order to extend the knowledge on human eye development, homeostasis and function. As we receive high amount of ocular globes out of which approximately 40% (
Table 1
) of them are used for research purposes, we are able to perform huge amount of experiments on these tissues, defining techniques to excise and preserve them regularly. The cornea is an avascular tissue which enables the transmission of light onto the retina and for this purpose should always maintain a good degree of transparency. Within the cornea, the limbus region, which is a reservoir of the stem cells, helps the reconstruction of epithelial cells and restricts the overgrowth of the conjunctiva maintaining corneal transparency and clarity. The size and thickness of the cornea are critical for clear vision, as changes in either of them could lead to distracted, unclear vision. The cornea comprises of 5 layers; a) epithelium, b) Bowman's layer, c) stroma, d) Descemet's membrane and e) endothelium. All layers should function properly to ensure clear vision
4,5,6
. The choroid is the intermediate tunic between the sclera and retina, bounded on the interior by the Bruch's membrane and is responsible for blood flow in the eye. The choroid also helps to regulate the temperature and supplies nourishment to the outer layers of the retina
5,6
. The retina is a layer of nervous tissue that covers the back of the ocular globe (Suppl.
Figure 1
) and consists of two parts: a photoreceptive part and a non-receptive part. The retina helps to receive the light from the cornea and lens and converts it into the chemical energy eventually transmitted to the brain with help of the optic nerve
5,6
. The aim of this paper is to provide a protocol for the dissection of corneal and retinal tissues from human ocular globes. Avoiding cross-contamination with adjacent tissues and preserving RNA integrity is of fundamental importance as such tissues are indispensable for research purposes aimed at (i) characterizing the transcriptome of the ocular tissues, (ii) isolating stem cells for regenerative medicine projects, and (iii) evaluating histological differences between tissues from normal/affected subjects. In this paper we describe the technique we currently use to remove the cornea, the choroid and retinal tissues from an ocular globe. Here we provide a detailed protocol for the dissection of the human ocular globe and the excision of corneal and retinal tissues. The accompanying video will help researchers to learn an appropriate technique for the retrieval of precious human tissues which are difficult to find regularly.
Medicine, Issue 64, Physiology, Human cadaver ocular globe, in situ excision, corneal tissue, in situ evisceration, retinal tissue
3765
Techniques for Processing Eyes Implanted with a Retinal Prosthesis for Localized Histopathological Analysis: Part 2 Epiretinal Implants with Retinal Tacks
Institutions: Bionics Institute, The University of Melbourne, Cochlear Limited, St Vincent's Hospital Melbourne, The University of Melbourne.
Retinal prostheses for the treatment of certain forms of blindness are gaining traction in clinical trials around the world with commercial devices currently entering the market. In order to evaluate the safety of these devices, in preclinical studies, reliable techniques are needed. However, the hard metal components utilised in some retinal implants are not compatible with traditional histological processes, particularly in consideration for the delicate nature of the surrounding tissue. Here we describe techniques for assessing the health of the eye directly adjacent to a retinal implant secured epiretinally with a metal tack. Retinal prostheses feature electrode arrays in contact with eye tissue. The most commonly used location for implantation is the epiretinal location (posterior chamber of the eye), where the implant is secured to the retina with a metal tack that penetrates all the layers of the eye. Previous methods have not been able to assess the proximal ocular tissue with the tack
in situ
, due to the inability of traditional histological techniques to cut metal objects. Consequently, it has been difficult to assess localized damage, if present, caused by tack insertion. Therefore, we developed a technique for visualizing the tissue around a retinal tack and implant. We have modified an established technique, used for processing and visualizing hard bony tissue around a cochlear implant, for the soft delicate tissues of the eye. We orientated and embedded the fixed eye tissue, including the implant and retinal tack, in epoxy resin, to stabilise and protect the structure of the sample. Embedded samples were then ground, polished, stained, and imaged under various magnifications at incremental depths through the sample. This technique allowed the reliable assessment of eye tissue integrity and cytoarchitecture adjacent to the metal tack.
Medicine, Issue 96, Retinal Prosthesis, Implant, Epiretinal, Histology, Fixation, Tack, Grinding, In Situ
52348
Large-Scale Purification of Porcine or Bovine Photoreceptor Outer Segments for Phagocytosis Assays on Retinal Pigment Epithelial Cells
Institutions: INSERM, U968, Institut de la Vision, CNRS, UMR_7210, Fordham University.

Analysis of one of the vital functions of retinal pigment epithelial (RPE) cells, the phagocytosis of spent aged distal fragments of photoreceptor outer segments (POS) can be performed
in vitro
. Photoreceptor outer segments with stacks of membranous discs containing the phototransduction machinery are continuously renewed in the retina. Spent POS are eliminated daily by RPE cells. Rodent, porcine/bovine and human RPE cells recognize POS from various species in a similar manner. To facilitate performing large series of experiments with little variability, a large stock of POS can be isolated from porcine eyes and stored frozen in aliquots. This protocol takes advantage of the characteristic of photopigments that display an orange color when kept in the dark. Under dim red light, retinae are collected in a buffer from opened eyecups cut in halves. The retinal cell suspension is homogenized, filtered and loaded onto a continuous sucrose gradient. After centrifugation, POS are located in a discrete band in the upper part of the gradient that has a characteristic orange color. POS are then collected, spun, resuspended sequentially in wash buffers, counted and aliquoted. POS obtained this way can be used for phagocytosis assays and analysis of protein activation, localization or interaction at various times after POS challenge. Alternatively, POS can be labeled with fluorophores,
e
.
g
., FITC, before aliquoting for subsequent fluorescence quantification of POS binding or engulfment. Other possible applications include the use of modified POS or POS challenge combined with stress conditions to study the effect of oxidative stress or aging on RPE cells.
Immunology, Issue 94, Retina, photoreceptor, outer segment, sucrose gradient, purification, ultracentrifugation, phagocytosis assay, retinal pigment epithelium
52100
An "All-laser" Endothelial Transplant
Institutions: Italian National Research Council, Nuovo Ospedale Santo Stefano.
The "all laser" assisted endothelial keratoplasty is a procedure that is performed with a femtosecond laser used to cut the donor tissue at an intended depth, and a near infrared diode laser to weld the corneal tissue. The proposed technique enables to reach the three main goals in endothelial keratoplasty: a precise control in the thickness of the donor tissue; its easy insertion in the recipient bed and a reduced risk of donor lenticule dislocation. The donor cornea thickness is measured in the surgery room with optical coherence tomography (OCT), in order to correctly design the donor tissue dimensions. A femtosecond laser is used to cut the donor cornea. The recipient eye is prepared by manual stripping of the descemetic membrane. The donor endothelium is inserted into a Busin-injector, the peripheral inner side is stained with a proper chromophore (a water solution of Indocyanine Green) and then it is pulled in the anterior chamber. The transplanted tissue is placed in the final and correct location and then diode laser welding is induced from outside the eyeball. The procedure has been performed on more than 15 patients evidencing an improvement in surgery performances, with a good recovery of visual acuity and a reduced donor lenticule dislocation event.
Medicine, Issue 101, Endothelium, laser welding, femtosecond laser, corneal transplantation, diode laser, Indocyanine Green, donor tissue thickness, optical coherence tomography
52939
Intravitreous Injection for Establishing Ocular Diseases Model
Institutions: The University of Hong Kong - HKU.

Intravitreous injection is a widely used technique in visual sciences research. It can be used to establish animal models with ocular diseases or as direct application of local treatment. This video introduces how to use simple and inexpensive tools to finish the intravitreous injection procedure. Use of a 1 ml syringe, instead of a hemilton syringe, is used. Practical tips for how to make appropriate injection needles using glass pipettes with perfect tips, and how to easily connect the syringe needle with the glass pipette tightly together, are given. To conduct a good intravitreous injection, there are three aspects to be observed: 1) injection site should not disrupt retina structure; 2) bleeding should be avoided to reduce the risk of infection; 3) lens should be untouched to avoid traumatic cataract. In brief, the most important point is to reduce the interruption of normal ocular structure. To avoid interruption of retina, the superior nasal region of rat eye was chosen. Also, the puncture point of the needle was at the par planar, which was about 1.5 mm from the limbal region of the rat eye. A small amount of vitreous is gently pushed out through the puncture hole to reduce the intraocular pressure before injection. With the 45° injection angle, it is less likely to cause traumatic cataract in the rat eye, thus avoiding related complications and influence from lenticular factors. In this operation, there was no cutting of the conjunctiva and ocular muscle, no bleeding. With quick and minor injury, a successful intravitreous injection can be done in minutes. The injection set outlined in this particular protocol is specific for intravitreous injection. However, the methods and materials presented here can also be used for other injection procedures in drug delivery to the brain, spinal cord or other organs in small mammals.
Neuroscience, Issue 8, eye, injection, rat
313
A Novel Capsulorhexis Technique Using Shearing Forces with Cystotome
Institutions: Hairmyres Hospital, NHS Lanarkshire, Department of Ophthalmology, South Devon Healthcare NHS Trust.
Purpose: To demonstrate a capsulorhexis technique using predominantly shearing forces with a cystotome on a virtual reality simulator and on a human eye. Method: Our technique involves creating the initial anterior capsular tear with a cystotome to raise a flap. The flap left unfolded on the lens surface. The cystotome tip is tilted horizontally and is engaged on the flap near the leading edge of the tear. The cystotome is moved in a circular fashion to direct the vector forces. The loose flap is constantly swept towards the centre so that it does not obscure the view on the tearing edge. Results: Our technique has the advantage of reducing corneal wound distortion and subsequent anterior chamber collapse. The capsulorhexis flap is moved away from the tear leading edge allowing better visualisation of the direction of tear. This technique offers superior control of the capsulorhexis by allowing the surgeon to change the direction of the tear to achieve the desired capsulorhexis size. Conclusions: The EYESI Surgical Simulator is a realistic training platform for surgeons to practice complex capsulorhexis techniques. The shearing forces technique is a suitable alternative and in some cases a far better technique in achieving the desired capsulorhexis.
JoVE Medicine, Issue 39, Phacoemulsification surgery, cataract surgery, capsulorhexis, capsulotomy, technique, Continuous curvilinear capsulorhexis, cystotome
1962
Dynamic Visual Tests to Identify and Quantify Visual Damage and Repair Following Demyelination in Optic Neuritis Patients
Institutions: Hadassah Hebrew-University Medical Center.

In order to follow optic neuritis patients and evaluate the effectiveness of their treatment, a handy, accurate and quantifiable tool is required to assess changes in myelination at the central nervous system (CNS). However, standard measurements, including routine visual tests and MRI scans, are not sensitive enough for this purpose. We present two visual tests addressing dynamic monocular and binocular functions which may closely associate with the extent of myelination along visual pathways. These include Object From Motion (OFM) extraction and Time-constrained stereo protocols. In the OFM test, an array of dots compose an object, by moving the dots within the image rightward while moving the dots outside the image leftward or vice versa. The dot pattern generates a camouflaged object that cannot be detected when the dots are stationary or moving as a whole. Importantly, object recognition is critically dependent on motion perception. In the Time-constrained Stereo protocol, spatially disparate images are presented for a limited length of time, challenging binocular 3-dimensional integration in time. Both tests are appropriate for clinical usage and provide a simple, yet powerful, way to identify and quantify processes of demyelination and remyelination along visual pathways. These protocols may be efficient to diagnose and follow optic neuritis and multiple sclerosis patients. In the diagnostic process, these protocols may reveal visual deficits that cannot be identified via current standard visual measurements. Moreover, these protocols sensitively identify the basis of the currently unexplained continued visual complaints of patients following recovery of visual acuity. In the longitudinal follow up course, the protocols can be used as a sensitive marker of demyelinating and remyelinating processes along time. These protocols may therefore be used to evaluate the efficacy of current and evolving therapeutic strategies, targeting myelination of the CNS.
Medicine, Issue 86, Optic neuritis, visual impairment, dynamic visual functions, motion perception, stereopsis, demyelination, remyelination
51107
Slow-release Drug Delivery through Elvax 40W to the Rat Retina: Implications for the Treatment of Chronic Conditions
Institutions: University of L'Aquila, ARC Centre of Excellence in Vision Science, Australian National University, Australian National University.

Diseases of the retina are difficult to treat as the retina lies deep within the eye. Invasive methods of drug delivery are often needed to treat these diseases. Chronic retinal diseases such as retinal oedema or neovascularization usually require multiple intraocular injections to effectively treat the condition. However, the risks associated with these injections increase with repeated delivery of the drug. Therefore, alternative delivery methods need to be established in order to minimize the risks of reinjection. Several other investigations have developed methods to deliver drugs over extended time, through materials capable of releasing chemicals slowly into the eye. In this investigation, we outline the use of Elvax 40W, a copolymer resin, to act as a vehicle for drug delivery to the adult rat retina. The resin is made and loaded with the drug. The drug-resin complex is then implanted into the vitreous cavity, where it will slowly release the drug over time. This method was tested using 2-amino-4-phosphonobutyrate (APB), a glutamate analogue that blocks the light response of the retina. It was demonstrated that the APB was slowly released from the resin, and was able to block the retinal response by 7 days after implantation. This indicates that slow-release drug delivery using this copolymer resin is effective for treating the retina, and could be used therapeutically with further testing.
Medicine, Issue 91, slow-release drug delivery, Elvax 40W, co-polymer resin, eye, retina, rat, APB, retinal degeneration, treatment of chronic retinal conditions
51563
Community-based Adapted Tango Dancing for Individuals with Parkinson's Disease and Older Adults
Institutions: Emory University School of Medicine, Brigham and Woman's Hospital and Massachusetts General Hospital.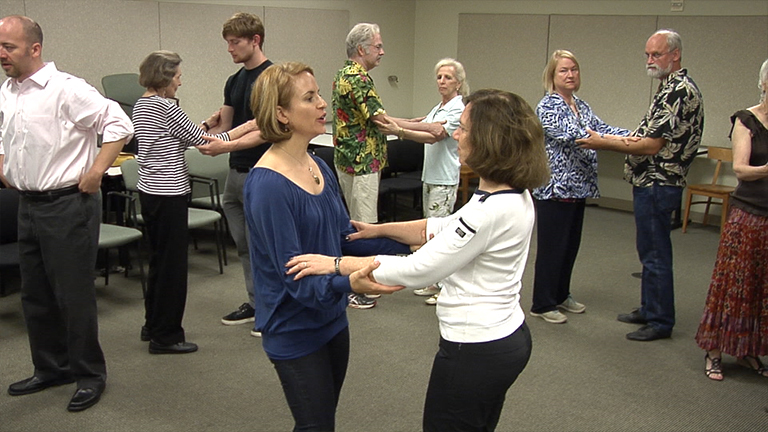 Adapted tango dancing improves mobility and balance in older adults and additional populations with balance impairments. It is composed of very simple step elements. Adapted tango involves movement initiation and cessation, multi-directional perturbations, varied speeds and rhythms. Focus on foot placement, whole body coordination, and attention to partner, path of movement, and aesthetics likely underlie adapted tango's demonstrated efficacy for improving mobility and balance. In this paper, we describe the methodology to disseminate the adapted tango teaching methods to dance instructor trainees and to implement the adapted tango by the trainees in the community for older adults and individuals with Parkinson's Disease (PD). Efficacy in improving mobility (measured with the Timed Up and Go, Tandem stance, Berg Balance Scale, Gait Speed and 30 sec chair stand), safety and fidelity of the program is maximized through targeted instructor and volunteer training and a structured detailed syllabus outlining class practices and progression.
Behavior, Issue 94, Dance, tango, balance, pedagogy, dissemination, exercise, older adults, Parkinson's Disease, mobility impairments, falls
52066
Vision Training Methods for Sports Concussion Mitigation and Management
Institutions: University of Cincinnati, University of Cincinnati, University of Cincinnati, University of Cincinnati, University of Cincinnati, Cincinnati Children's Hospital Medical Center.

There is emerging evidence supporting the use vision training, including light board training tools, as a concussion baseline and neuro-diagnostic tool and potentially as a supportive component to concussion prevention strategies. This paper is focused on providing detailed methods for select vision training tools and reporting normative data for comparison when vision training is a part of a sports management program. The overall program includes standard vision training methods including tachistoscope, Brock's string, and strobe glasses, as well as specialized light board training algorithms. Stereopsis is measured as a means to monitor vision training affects. In addition, quantitative results for vision training methods as well as baseline and post-testing *A and Reaction Test measures with progressive scores are reported. Collegiate athletes consistently improve after six weeks of training in their stereopsis, *A and Reaction Test scores. When vision training is initiated as a team wide exercise, the incidence of concussion decreases in players who participate in training compared to players who do not receive the vision training. Vision training produces functional and performance changes that, when monitored, can be used to assess the success of the vision training and can be initiated as part of a sports medical intervention for concussion prevention.
Behavior, Issue 99, Vision training, peripheral vision, functional peripheral vision, concussion, concussion management, diagnosis, rehabilitation, eyes, sight, seeing, sight
52648
Getting to Compliance in Forced Exercise in Rodents: A Critical Standard to Evaluate Exercise Impact in Aging-related Disorders and Disease
Institutions: Louisiana State University Health Sciences Center.

There is a major increase in the awareness of the positive impact of exercise on improving several disease states with neurobiological basis; these include improving cognitive function and physical performance. As a result, there is an increase in the number of animal studies employing exercise. It is argued that one intrinsic value of forced exercise is that the investigator has control over the factors that can influence the impact of exercise on behavioral outcomes, notably exercise frequency, duration, and intensity of the exercise regimen. However, compliance in forced exercise regimens may be an issue, particularly if potential confounds of employing foot-shock are to be avoided. It is also important to consider that since most cognitive and locomotor impairments strike in the aged individual, determining impact of exercise on these impairments should consider using aged rodents with a highest possible level of compliance to ensure minimal need for test subjects. Here, the pertinent steps and considerations necessary to achieve nearly 100% compliance to treadmill exercise in an aged rodent model will be presented and discussed. Notwithstanding the particular exercise regimen being employed by the investigator, our protocol should be of use to investigators that are particularly interested in the potential impact of forced exercise on aging-related impairments, including aging-related Parkinsonism and Parkinson's disease.
Behavior, Issue 90, Exercise, locomotor, Parkinson's disease, aging, treadmill, bradykinesia, Parkinsonism
51827
The Multiple Sclerosis Performance Test (MSPT): An iPad-Based Disability Assessment Tool
Institutions: Cleveland Clinic Foundation, Cleveland Clinic Foundation, Cleveland Clinic Foundation, Cleveland Clinic Foundation.

Precise measurement of neurological and neuropsychological impairment and disability in multiple sclerosis is challenging. We report a new test, the Multiple Sclerosis Performance Test (MSPT), which represents a new approach to quantifying MS related disability. The MSPT takes advantage of advances in computer technology, information technology, biomechanics, and clinical measurement science. The resulting MSPT represents a computer-based platform for precise, valid measurement of MS severity. Based on, but extending the Multiple Sclerosis Functional Composite (MSFC), the MSPT provides precise, quantitative data on walking speed, balance, manual dexterity, visual function, and cognitive processing speed. The MSPT was tested by 51 MS patients and 49 healthy controls (HC). MSPT scores were highly reproducible, correlated strongly with technician-administered test scores, discriminated MS from HC and severe from mild MS, and correlated with patient reported outcomes. Measures of reliability, sensitivity, and clinical meaning for MSPT scores were favorable compared with technician-based testing. The MSPT is a potentially transformative approach for collecting MS disability outcome data for patient care and research. Because the testing is computer-based, test performance can be analyzed in traditional or novel ways and data can be directly entered into research or clinical databases. The MSPT could be widely disseminated to clinicians in practice settings who are not connected to clinical trial performance sites or who are practicing in rural settings, drastically improving access to clinical trials for clinicians and patients. The MSPT could be adapted to out of clinic settings, like the patient's home, thereby providing more meaningful real world data. The MSPT represents a new paradigm for neuroperformance testing. This method could have the same transformative effect on clinical care and research in MS as standardized computer-adapted testing has had in the education field, with clear potential to accelerate progress in clinical care and research.
Medicine, Issue 88, Multiple Sclerosis, Multiple Sclerosis Functional Composite, computer-based testing, 25-foot walk test, 9-hole peg test, Symbol Digit Modalities Test, Low Contrast Visual Acuity, Clinical Outcome Measure
51318
Computerized Dynamic Posturography for Postural Control Assessment in Patients with Intermittent Claudication
Institutions: University of Sydney, University of Hull, Hull and East Yorkshire Hospitals, Addenbrookes Hospital.

Computerized dynamic posturography with the EquiTest is an objective technique for measuring postural strategies under challenging static and dynamic conditions. As part of a diagnostic assessment, the early detection of postural deficits is important so that appropriate and targeted interventions can be prescribed. The Sensory Organization Test (SOT) on the EquiTest determines an individual's use of the sensory systems (somatosensory, visual, and vestibular) that are responsible for postural control. Somatosensory and visual input are altered by the calibrated sway-referenced support surface and visual surround, which move in the anterior-posterior direction in response to the individual's postural sway. This creates a conflicting sensory experience. The Motor Control Test (MCT) challenges postural control by creating unexpected postural disturbances in the form of backwards and forwards translations. The translations are graded in magnitude and the time to recover from the perturbation is computed. Intermittent claudication, the most common symptom of peripheral arterial disease, is characterized by a cramping pain in the lower limbs and caused by muscle ischemia secondary to reduced blood flow to working muscles during physical exertion. Claudicants often display poor balance, making them susceptible to falls and activity avoidance. The Ankle Brachial Pressure Index (ABPI) is a noninvasive method for indicating the presence of peripheral arterial disease and intermittent claudication, a common symptom in the lower extremities. ABPI is measured as the highest systolic pressure from either the dorsalis pedis or posterior tibial artery divided by the highest brachial artery systolic pressure from either arm. This paper will focus on the use of computerized dynamic posturography in the assessment of balance in claudicants.
Medicine, Issue 82, Posture, Computerized dynamic posturography, Ankle brachial pressure index, Peripheral arterial disease, Intermittent claudication, Balance, Posture, EquiTest, Sensory Organization Test, Motor Control Test
51077
Mindfulness in Motion (MIM): An Onsite Mindfulness Based Intervention (MBI) for Chronically High Stress Work Environments to Increase Resiliency and Work Engagement
Institutions: The Ohio State University College of Medicine, Wexner Medical Center, The Ohio State University College of Medicine.

A pragmatic mindfulness intervention to benefit personnel working in chronically high-stress environments, delivered onsite during the workday, is timely and valuable to employee and employer alike. Mindfulness in Motion (MIM) is a Mindfulness Based Intervention (MBI) offered as a modified, less time intensive method (compared to Mindfulness-Based Stress Reduction), delivered onsite, during work, and intends to enable busy working adults to experience the benefits of mindfulness. It teaches mindful awareness principles, rehearses mindfulness as a group, emphasizes the use of gentle yoga stretches, and utilizes relaxing music in the background of both the group sessions and individual mindfulness practice. MIM is delivered in a group format, for 1 hr/week/8 weeks. CDs and a DVD are provided to facilitate individual practice. The yoga movement is emphasized in the protocol to facilitate a quieting of the mind. The music is included for participants to associate the relaxed state experienced in the group session with their individual practice. To determine the intervention feasibility/efficacy we conducted a randomized wait-list control group in Intensive Care Units (ICUs). ICUs represent a high-stress work environment where personnel experience chronic exposure to catastrophic situations as they care for seriously injured/ill patients. Despite high levels of work-related stress, few interventions have been developed and delivered onsite for such environments. The intervention is delivered on site in the ICU, during work hours, with participants receiving time release to attend sessions. The intervention is well received with 97% retention rate. Work engagement and resiliency increase significantly in the intervention group, compared to the wait-list control group, while participant respiration rates decrease significantly pre-post in 6/8 of the weekly sessions. Participants value institutional support, relaxing music, and the instructor as pivotal to program success. This provides evidence that MIM is feasible, well accepted, and can be effectively implemented in a chronically high-stress work environment.
Behavior, Issue 101, Mindfulness, resiliency, work-engagement, stress-reduction, workplace, non-reactivity, Intensive-care, chronic stress, work environment
52359
A Novel Technique of Rescuing Capsulorhexis Radial Tear-out using a Cystotome
Institutions: Hairmyres Hospital, NHS Lanarkshire, Royal Devon and Exeter NHS Foundation Trust, National Institute of Ophthalmology, South Devon Healthcare NHS Trust.

Part 1 : Purpose: To demonstrate a capsulorhexis radial tear out rescue technique using a cystotome on a virtual reality cataract surgery simulator and in a human eye. Part 2 : Method: Steps: When a capsulorhexis begins to veer radially towards the periphery beyond the pupillary margin the following steps should be applied without delay. 2.1) Stop further capsulorhexis manoeuvre and reassess the situation. 2.2) Fill the anterior chamber with ophthalmic viscosurgical device (OVD). We recommend mounting the cystotome to a syringe containing OVD so that the anterior chamber can be reinflated rapidly. 2.3) The capsulorhexis flap is then left unfolded on the lens surface. 2.4) The cystotome tip is tilted horizontally to avoid cutting or puncturing the flap and is engaged on the flap near the leading edge of the tear but not too close to the point of tear. 2.5) Gently push or pull the leading edge of tear opposite to the direction of tear. 2.6) The leading tearing edge will start to do a 'U-Turn'. Maintain the tension on the flap until the tearing edge returns to the desired trajectory. Part 3 : Results: Using our technique, a surgeon can respond instantly to radial tear out without having to change surgical instruments. Changing surgical instruments at this critical stage runs a risk of further radial tear due to sudden shallowing of anterior chamber as a result of forward pressure from the vitreous. Our technique also has the advantage of reducing corneal wound distortion and subsequent anterior chamber collapse. Part 4 : Discussion The EYESI Surgical Simulator is a realistic training platform for surgeons to practice complex capsulorhexis tear-out techniques. Capsulorhexis is the most important and complex part of phacoemulsification and endocapsular intraocular lens implantation procedure. A successful cataract surgery depends on achieving a good capsulorhexis. During capsulorhexis, surgeons may face a challenging situation like a capsulorhexis radial tear-out. A surgeon must learn to tackle the problem promptly without making the situation worse. Some other methods of rescuing the situation have been described using a capsulorhexis forceps. However, we believe our method is quicker, more effective and easier to manipulate as demonstrated on the EYESi surgical simulator and on a human eye. Acknowledgments: List acknowledgements and funding sources. We would like to thank Dr. Wael El Gendy, for video clip. Disclosures: describe potential conflicting interests or state We have nothing to disclose. References: 1. Brian C. Little, Jennifer H. Smith, Mark Packer. J Cataract Refract Surg 2006; 32:1420 1422, Issue-9. 2. Neuhann T. Theorie und Operationstechnik der Kapsulorhexis. Klin Monatsbl Augenheilkd. 1987; 1990: 542-545. 3. Gimbel HV, Neuhann T. Development, advantages and methods of the continuous circular capsulorhexis technique. J Cataract Refract Surg. 1990; 16: 31-37. 4. Gimbel HV, Neuhann T. Continuous curvilinear capsulorhexis. (letter) J Cataract Refract Sur. 1991; 17: 110-111.
Medicine, Issue 47, Phacoemulsification surgery, cataract surgery, capsulorhexis, capsulotomy, technique, Continuous curvilinear capsulorhexis, cystotome, capsulorhexis radial tear, capulorhexis COMPLICATION
2317
Retinal Detachment Model in Rodents by Subretinal Injection of Sodium Hyaluronate
Institutions: Massachusetts Eye and Ear Infirmary, Harvard Medical School.

Subretinal injection of sodium hyaluronate is a widely accepted method of inducing retinal detachment (RD). However, the height and duration of RD or the occurrence of subretinal hemorrhage can affect photoreceptor cell death in the detached retina. Hence, it is advantageous to create reproducible RDs without subretinal hemorrhage for evaluating photoreceptor cell death. We modified a previously reported method to create bullous and persistent RDs in a reproducible location with rare occurrence of subretinal hemorrhage. The critical step of this modified method is the creation of a self-sealing scleral incision, which can prevent leakage of sodium hyaluronate after injection into the subretinal space. To make the self-sealing scleral incision, a scleral tunnel is created, followed by scleral penetration into the choroid with a 30 G needle. Although choroidal hemorrhage may occur during this step, astriction with a surgical spear reduces the rate of choroidal hemorrhage. This method allows a more reproducible and reliable model of photoreceptor death in diseases that involve RD such as rhegmatogenous RD, retinopathy of prematurity, diabetic retinopathy, central serous chorioretinopathy, and age-related macular degeneration (AMD).
Medicine, Issue 79, Photoreceptor Cells, Rodentia, Retinal Degeneration, Retinal Detachment, animal models, Neuroscience, ophthalmology, retina, mouse, photoreceptor cell death, retinopathy, age-related macular degeneration (AMD)
50660