A Microfluidic Chip for the Versatile Chemical Analysis of Single Cells
Published: 10-15-2013
ABSTRACT
We present a microfluidic device that enables the quantitative determination of intracellular biomolecules in multiple single cells in parallel. For this purpose, the cells are passively trapped in the middle of a microchamber. Upon activation of the control layer, the cell is isolated from the surrounding volume in a small chamber. The surrounding volume can then be exchanged without affecting the isolated cell. However, upon short opening and closing of the chamber, the solution in the chamber can be replaced within a few hundred milliseconds. Due to the reversibility of the chambers, the cells can be exposed to different solutions sequentially in a highly controllable fashion, e.g. for incubation, washing, and finally, cell lysis. The tightly sealed microchambers enable the retention of the lysate, minimize and control the dilution after cell lysis. Since lysis and analysis occur at the same location, high sensitivity is retained because no further dilution or loss of the analytes occurs during transport. The microchamber design therefore enables the reliable and reproducible analysis of very small copy numbers of intracellular molecules (attomoles, zeptomoles) released from individual cells. Furthermore, many microchambers can be arranged in an array format, allowing the analysis of many cells at once, given that suitable optical instruments are used for monitoring. We have already used the platform for proof-of-concept studies to analyze intracellular proteins, enzymes, cofactors and second messengers in either relative or absolute quantifiable manner.
29 Related JoVE Articles!
Developing Custom Chinese Hamster Ovary-host Cell Protein Assays using Acoustic Membrane Microparticle Technology
Institutions: BioScale, Inc., BioScale, Inc..

Custom assays for unique proteins are often limited to time consuming manual detection and quantitation techniques such as ELISA or Western blots due to the complexity of development on alternate platforms. BioScale's proprietary Acoustic Membrane MicroParticle (AMMP) technology allows sandwich immunoassays to be easily developed for use on the ViBE platform, providing better sensitivity, reproducibility, and automated operation. Provided as an example, this protocol outlines the procedure for developing a custom Chinese Hamster Ovary- Host Cell Protein (CHO-HCP) assay. The general principles outlined here can be followed for the development of a wide variety of immunoassays. An AMMP assay measures antigen concentration by measuring changes in oscillation frequency caused by the binding of microparticles to the sensor surface to calculate. It consists of four major components: (1) a cartridge that contains a functionalized eight sensor chip (2) antibody labeled magnetic microparticles, (3) hapten tagged antibody that binds to the surface of the functionalized chip (4) samples containing the antigen of interest. BioScale's biosensor is a resonant device that contains eight individual membranes with separate fluidic paths. The membranes change oscillation frequency in response to mass accumulating on the surface and this frequency change is used to quantitate the amount of added mass. To facilitate use in a wide variety of immunoassays the sensor is functionalized with an anti-hapten antibody. Assay specific antibodies are modified through the covalent conjugation of a hapten tag to one antibody and biotin to the other. The biotin label is used to bind the antibody to streptavidin coupled magnetic beads which, in combination with the hapten-tagged antibody, are used to capture the analyte in a sandwich. The complex binds to the chip through the anti-hapten/hapten interaction. At the end of each assay run the sensors are cleaned with a dilute acid enabling the sequential analysis of columns from a 96-well plate. Here, we present the method for developing a custom CHO-HCP AMMP assay for bioprocess development. Developing AMMP assays or modifying existing assays into AMMP assays can provide better performance (reproducibility, sensitivity) in complex samples and reduced operator time. The protocol shows the steps for development and the discussion section reviews representative results. For a more in-depth explanation of assay optimization and customization parameters contact BioScale. This kit offers generic bioprocess development assays such as Residual Protein A, Product titer, and CHO-HCP.
Bioengineering, Issue 48, Immunoassays, Chinese Hamster Ovary Host Cell Protein, Residual Protein A assay, Assay development, Biomarker detection and quantitation, Phospho-AKT, Gadd34, tissue sample, tumor sample, bioreactor sample
2493
Thermal Measurement Techniques in Analytical Microfluidic Devices
Institutions: Marquette University.

Thermal measurement techniques have been used for many applications such as thermal characterization of materials and chemical reaction detection. Micromachining techniques allow reduction of the thermal mass of fabricated structures and introduce the possibility to perform high sensitivity thermal measurements in the micro-scale and nano-scale devices. Combining thermal measurement techniques with microfluidic devices allows performing different analytical measurements with low sample consumption and reduced measurement time by integrating the miniaturized system on a single chip. The procedures of thermal measurement techniques for particle detection, material characterization, and chemical detection are introduced in this paper.
Engineering, Issue 100, Thermal Particle Detection, Thermal Wave Analysis, Heat Penetration Time, Thermal Time Constant, Enthalpy Assay, Thermal Conductivity and Specific Heat
52828
Fabrication of the Thermoplastic Microfluidic Channels
Institutions: Boston University.

In our lab, we have successfully isolated nucleic acids directly from microliter and submicroliter volumes of human blood, urine and stool using polymer/nanoparticle composite microscale lysis and solid phase extraction columns. The recovered samples are concentrated, small volume samples that are PCRable, without any additional cleanup. Here, we demonstrate how to fabricate thermoplastic microfluidic chips using hot embossing and heat sealing. Then, we demonstrate how to use in situ light directed surface grafting and polymerization through the sealed chip to form the composite solid phase columns. We demonstrate grafting and polymerization of a carbon nanotube/polymer composite column for bacterial cell lysis. We then show the lysis process followed by solid phase extraction of nucleic acids from the sample on chip using a silica/polymer composite column. The attached protocols contain detailed instructions on how to make both lysis and solid phase extraction columns.
Cellular Biology, Issue 12, bioengineering, purification, microfluidics, DNA, RNA, solid phase, column
664
Low Molecular Weight Protein Enrichment on Mesoporous Silica Thin Films for Biomarker Discovery
Institutions: The Methodist Hospital Research Institute, National Center for Nanoscience and Technology.

The identification of circulating biomarkers holds great potential for non invasive approaches in early diagnosis and prognosis, as well as for the monitoring of therapeutic efficiency.
1-3
The circulating low molecular weight proteome (LMWP) composed of small proteins shed from tissues and cells or peptide fragments derived from the proteolytic degradation of larger proteins, has been associated with the pathological condition in patients and likely reflects the state of disease.
4,5
Despite these potential clinical applications, the use of Mass Spectrometry (MS) to profile the LMWP from biological fluids has proven to be very challenging due to the large dynamic range of protein and peptide concentrations in serum.
6
Without sample pre-treatment, some of the more highly abundant proteins obscure the detection of low-abundance species in serum/plasma. Current proteomic-based approaches, such as two-dimensional polyacrylamide gel-electrophoresis (2D-PAGE) and shotgun proteomics methods are labor-intensive, low throughput and offer limited suitability for clinical applications.
7-9
Therefore, a more effective strategy is needed to isolate LMWP from blood and allow the high throughput screening of clinical samples. Here, we present a fast, efficient and reliable multi-fractionation system based on mesoporous silica chips to specifically target and enrich LMWP.
10,11
Mesoporous silica (MPS) thin films with tunable features at the nanoscale were fabricated using the triblock copolymer template pathway. Using different polymer templates and polymer concentrations in the precursor solution, various pore size distributions, pore structures, connectivity and surface properties were determined and applied for selective recovery of low mass proteins. The selective parsing of the enriched peptides into different subclasses according to their physicochemical properties will enhance the efficiency of recovery and detection of low abundance species. In combination with mass spectrometry and statistic analysis, we demonstrated the correlation between the nanophase characteristics of the mesoporous silica thin films and the specificity and efficacy of low mass proteome harvesting. The results presented herein reveal the potential of the nanotechnology-based technology to provide a powerful alternative to conventional methods for LMWP harvesting from complex biological fluids. Because of the ability to tune the material properties, the capability for low-cost production, the simplicity and rapidity of sample collection, and the greatly reduced sample requirements for analysis, this novel nanotechnology will substantially impact the field of proteomic biomarker research and clinical proteomic assessment.
Bioengineering, Issue 62, Nanoporous silica chip, Low molecular weight proteomics, Peptidomics, MALDI-TOF mass spectrometry, early diagnostics, proteomics
3876
A Sensitive and Specific Quantitation Method for Determination of Serum Cardiac Myosin Binding Protein-C by Electrochemiluminescence Immunoassay
Institutions: Loyola University Chicago.
Biomarkers are becoming increasingly more important in clinical decision-making, as well as basic science. Diagnosing myocardial infarction (MI) is largely driven by detecting cardiac-specific proteins in patients' serum or plasma as an indicator of myocardial injury. Having recently shown that cardiac myosin binding protein-C (cMyBP-C) is detectable in the serum after MI, we have proposed it as a potential biomarker for MI. Biomarkers are typically detected by traditional sandwich enzyme-linked immunosorbent assays. However, this technique requires a large sample volume, has a small dynamic range, and can measure only one protein at a time. Here we show a multiplex immunoassay in which three cardiac proteins can be measured simultaneously with high sensitivity. Measuring cMyBP-C in uniplex or together with creatine kinase MB and cardiac troponin I showed comparable sensitivity. This technique uses the Meso Scale Discovery (MSD) method of multiplexing in a 96-well plate combined with electrochemiluminescence for detection. While only small sample volumes are required, high sensitivity and a large dynamic range are achieved. Using this technique, we measured cMyBP-C, creatine kinase MB, and cardiac troponin I levels in serum samples from 16 subjects with MI and compared the results with 16 control subjects. We were able to detect all three markers in these samples and found all three biomarkers to be increased after MI. This technique is, therefore, suitable for the sensitive detection of cardiac biomarkers in serum samples.
Molecular Biology, Issue 78, Cellular Biology, Biochemistry, Genetics, Biomedical Engineering, Medicine, Cardiology, Heart Diseases, Myocardial Ischemia, Myocardial Infarction, Cardiovascular Diseases, cardiovascular disease, immunoassay, cardiac myosin binding protein-C, cardiac troponin I, creatine kinase MB, electrochemiluminescence, multiplex biomarkers, ELISA, assay
50786
Probe-based Real-time PCR Approaches for Quantitative Measurement of microRNAs
Institutions: The University of Sydney, The University of Sydney.
Probe-based quantitative PCR (qPCR) is a favoured method for measuring transcript abundance, since it is one of the most sensitive detection methods that provides an accurate and reproducible analysis. Probe-based chemistry offers the least background fluorescence as compared to other (dye-based) chemistries. Presently, there are several platforms available that use probe-based chemistry to quantitate transcript abundance. qPCR in a 96 well plate is the most routinely used method, however only a maximum of 96 samples or miRNAs can be tested in a single run. This is time-consuming and tedious if a large number of samples/miRNAs are to be analyzed. High-throughput probe-based platforms such as microfluidics (
e.g.
TaqMan Array Card) and nanofluidics arrays (
e.g.
OpenArray) offer ease to reproducibly and efficiently detect the abundance of multiple microRNAs in a large number of samples in a short time. Here, we demonstrate the experimental setup and protocol for miRNA quantitation from serum or plasma-EDTA samples, using probe-based chemistry and three different platforms (96 well plate, microfluidics and nanofluidics arrays) offering increasing levels of throughput.
Molecular Biology, Issue 98, microRNA, ncRNA, probe-based assays, high-throughput PCR, Nanofluidics / Open Arrays, reverse-transcription, pre-amplification, qPCR
52586
High Throughput Sequential ELISA for Validation of Biomarkers of Acute Graft-Versus-Host Disease
Institutions: University of Michigan .

Unbiased discovery proteomics strategies have the potential to identify large numbers of novel biomarkers that can improve diagnostic and prognostic testing in a clinical setting and may help guide therapeutic interventions. When large numbers of candidate proteins are identified, it may be difficult to validate candidate biomarkers in a timely and efficient fashion from patient plasma samples that are event-driven, of finite volume and irreplaceable, such as at the onset of acute graft-versus-host disease (GVHD), a potentially life-threatening complication of allogeneic hematopoietic stem cell transplantation (HSCT). Here we describe the process of performing commercially available ELISAs for six validated GVHD proteins: IL-2Rα
5
, TNFR1
6
, HGF
7
, IL-8
8
, elafin
2
, and REG3α
3
(also known as PAP1) in a sequential fashion to minimize freeze-thaw cycles, thawed plasma time and plasma usage. For this procedure we perform the ELISAs in sequential order as determined by sample dilution factor as established in our laboratory using manufacturer ELISA kits and protocols with minor adjustments to facilitate optimal sequential ELISA performance. The resulting plasma biomarker concentrations can then be compiled and analyzed for significant findings within a patient cohort. While these biomarkers are currently for research purposes only, their incorporation into clinical care is currently being investigated in clinical trials. This technique can be applied to perform ELISAs for multiple proteins/cytokines of interest on the same sample(s) provided the samples do not need to be mixed with other reagents. If ELISA kits do not come with pre-coated plates, 96-well half-well plates or 384-well plates can be used to further minimize use of samples/reagents.
Medicine, Issue 68, ELISA, Sequential ELISA, Cytokine, Blood plasma, biomarkers, proteomics, graft-versus-host disease, Small sample, Quantification
4247
Contrast Imaging in Mouse Embryos Using High-frequency Ultrasound
Institutions: University of Toronto, Sunnybrook Research Institute, Mount Sinai Hospital, Toronto.
Ultrasound contrast-enhanced imaging can convey essential quantitative information regarding tissue vascularity and perfusion and, in targeted applications, facilitate the detection and measure of vascular biomarkers at the molecular level. Within the mouse embryo, this noninvasive technique may be used to uncover basic mechanisms underlying vascular development in the early mouse circulatory system and in genetic models of cardiovascular disease. The mouse embryo also presents as an excellent model for studying the adhesion of microbubbles to angiogenic targets (including vascular endothelial growth factor receptor 2 (VEGFR2) or α
v
β
3
) and for assessing the quantitative nature of molecular ultrasound. We therefore developed a method to introduce ultrasound contrast agents into the vasculature of living, isolated embryos. This allows freedom in terms of injection control and positioning, reproducibility of the imaging plane without obstruction and motion, and simplified image analysis and quantification. Late gestational stage (embryonic day (E)16.6 and E17.5) murine embryos were isolated from the uterus, gently exteriorized from the yolk sac and microbubble contrast agents were injected into veins accessible on the chorionic surface of the placental disc. Nonlinear contrast ultrasound imaging was then employed to collect a number of basic perfusion parameters (peak enhancement, wash-in rate and time to peak) and quantify targeted microbubble binding in an endoglin mouse model. We show the successful circulation of microbubbles within living embryos and the utility of this approach in characterizing embryonic vasculature and microbubble behavior.
Developmental Biology, Issue 97, Micro-ultrasound, Molecular imaging, Mouse embryo, Microbubble, Ultrasound contrast agent, Perfusion
52520
Detection of Exosomal Biomarker by Electric Field-induced Release and Measurement (EFIRM)
Institutions: University of California, Los Angeles, University of California, Los Angeles.
Exosomes are microvesicular structures that play a mediating role in intercellular communication. It is of interest to study the internal cargo of exosomes to determine if they carry disease discriminatory biomarkers. For performing exosomal analysis, it is necessary to develop a method for extracting and analyzing exosomes from target biofluids without damaging the internal content. Electric field-induced release and measurement (EFIRM) is a method for specifically extracting exosomes from biofluids, unloading their cargo, and testing their internal RNA/protein content. Using an anti-human CD63 specific antibody magnetic microparticle, exosomes are first precipitated from biofluids. Following extraction, low-voltage electric cyclic square waves (CSW) are applied to disrupt the vesicular membrane and cause cargo unloading. The content of the exosome is hybridized to DNA primers or antibodies immobilized on an electrode surface for quantification of molecular content. The EFIRM method is advantageous for extraction of exosomes and unloading cargo for analysis without lysis buffer. This method is capable of performing specific detection of both RNA and protein biomarker targets in the exosome. EFIRM extracts exosomes specifically based on their surface markers as opposed to size-based techniques. Transmission electron microscopy (TEM) and assay demonstrate the functionality of the method for exosome capture and analysis. The EFIRM method was applied to exosomal analysis of 9 mice injected with human lung cancer H640 cells (a cell line transfected to express the exosome marker human CD63-GFP) in order to test their exosome profile against 11 mice receiving saline controls. Elevated levels of exosomal biomarkers (reference gene GAPDH and protein surface marker human CD63-GFP) were found for the H640 injected mice in both serum and saliva samples. Furthermore, saliva and serum samples were demonstrated to have linearity (
R
= 0.79). These results are suggestive for the viability of salivary exosome biomarkers for detection of distal diseases.
Bioengineering, Issue 95, Exosome, Electrochemical sensors, Tumor biomarkers, Lung cancer, Salivary diagnostics
52439
Chemically-blocked Antibody Microarray for Multiplexed High-throughput Profiling of Specific Protein Glycosylation in Complex Samples
Institutions: Institute for Hepatitis and Virus Research, Thomas Jefferson University , Drexel University College of Medicine, Van Andel Research Institute, Serome Biosciences Inc..

In this study, we describe an effective protocol for use in a multiplexed high-throughput antibody microarray with glycan binding protein detection that allows for the glycosylation profiling of specific proteins. Glycosylation of proteins is the most prevalent post-translational modification found on proteins, and leads diversified modifications of the physical, chemical, and biological properties of proteins. Because the glycosylation machinery is particularly susceptible to disease progression and malignant transformation, aberrant glycosylation has been recognized as early detection biomarkers for cancer and other diseases. However, current methods to study protein glycosylation typically are too complicated or expensive for use in most normal laboratory or clinical settings and a more practical method to study protein glycosylation is needed. The new protocol described in this study makes use of a chemically blocked antibody microarray with glycan-binding protein (GBP) detection and significantly reduces the time, cost, and lab equipment requirements needed to study protein glycosylation. In this method, multiple immobilized glycoprotein-specific antibodies are printed directly onto the microarray slides and the N-glycans on the antibodies are blocked. The blocked, immobilized glycoprotein-specific antibodies are able to capture and isolate glycoproteins from a complex sample that is applied directly onto the microarray slides. Glycan detection then can be performed by the application of biotinylated lectins and other GBPs to the microarray slide, while binding levels can be determined using Dylight 549-Streptavidin. Through the use of an antibody panel and probing with multiple biotinylated lectins, this method allows for an effective glycosylation profile of the different proteins found in a given human or animal sample to be developed. Introduction Glycosylation of protein, which is the most ubiquitous post-translational modification on proteins, modifies the physical, chemical, and biological properties of a protein, and plays a fundamental role in various biological processes
1-6
. Because the glycosylation machinery is particularly susceptible to disease progression and malignant transformation, aberrant glycosylation has been recognized as early detection biomarkers for cancer and other diseases
7-12
. In fact, most current cancer biomarkers, such as the L3 fraction of α-1 fetoprotein (AFP) for hepatocellular carcinoma
13-15
, and CA199 for pancreatic cancer
16, 17
are all aberrant glycan moieties on glycoproteins. However, methods to study protein glycosylation have been complicated, and not suitable for routine laboratory and clinical settings. Chen
et al.
has recently invented a chemically blocked antibody microarray with a glycan-binding protein (GBP) detection method for high-throughput and multiplexed profile glycosylation of native glycoproteins in a complex sample
18
. In this affinity based microarray method, multiple immobilized glycoprotein-specific antibodies capture and isolate glycoproteins from the complex mixture directly on the microarray slide, and the glycans on each individual captured protein are measured by GBPs. Because all normal antibodies contain N-glycans which could be recognized by most GBPs, the critical step of this method is to chemically block the glycans on the antibodies from binding to GBP. In the procedure, the
cis
-diol groups of the glycans on the antibodies were first oxidized to aldehyde groups by using NaIO
4
in sodium acetate buffer avoiding light. The aldehyde groups were then conjugated to the hydrazide group of a cross-linker, 4-(4-N-MaleimidoPhenyl)butyric acid Hydrazide HCl (MPBH), followed by the conjugation of a dipeptide, Cys-Gly, to the maleimide group of the MPBH. Thus, the cis-diol groups on glycans of antibodies were converted into bulky none hydroxyl groups, which hindered the lectins and other GBPs bindings to the capture antibodies. This blocking procedure makes the GBPs and lectins bind only to the glycans of captured proteins. After this chemically blocking, serum samples were incubated with the antibody microarray, followed by the glycans detection by using different biotinylated lectins and GBPs, and visualized with Cy3-streptavidin. The parallel use of an antibody panel and multiple lectin probing provides discrete glycosylation profiles of multiple proteins in a given sample
18-20
. This method has been used successfully in multiple different labs
1, 7, 13, 19-31
. However, stability of MPBH and Cys-Gly, complicated and extended procedure in this method affect the reproducibility, effectiveness and efficiency of the method. In this new protocol, we replaced both MPBH and Cys-Gly with one much more stable reagent glutamic acid hydrazide (Glu-hydrazide), which significantly improved the reproducibility of the method, simplified and shorten the whole procedure so that the it can be completed within one working day. In this new protocol, we describe the detailed procedure of the protocol which can be readily adopted by normal labs for routine protein glycosylation study and techniques which are necessary to obtain reproducible and repeatable results.
Molecular Biology, Issue 63, Glycoproteins, glycan-binding protein, specific protein glycosylation, multiplexed high-throughput glycan blocked antibody microarray
3791
Analysis of Tubular Membrane Networks in Cardiac Myocytes from Atria and Ventricles
Institutions: Heart Research Center Goettingen, University Medical Center Goettingen, German Center for Cardiovascular Research (DZHK) partner site Goettingen, University of Maryland School of Medicine.

In cardiac myocytes a complex network of membrane tubules - the transverse-axial tubule system (TATS) - controls deep intracellular signaling functions. While the outer surface membrane and associated TATS membrane components appear to be continuous, there are substantial differences in lipid and protein content. In ventricular myocytes (VMs), certain TATS components are highly abundant contributing to rectilinear tubule networks and regular branching 3D architectures. It is thought that peripheral TATS components propagate action potentials from the cell surface to thousands of remote intracellular sarcoendoplasmic reticulum (SER) membrane contact domains, thereby activating intracellular Ca
2+
release units (CRUs). In contrast to VMs, the organization and functional role of TATS membranes in atrial myocytes (AMs) is significantly different and much less understood. Taken together, quantitative structural characterization of TATS membrane networks in healthy and diseased myocytes is an essential prerequisite towards better understanding of functional plasticity and pathophysiological reorganization. Here, we present a strategic combination of protocols for direct quantitative analysis of TATS membrane networks in living VMs and AMs. For this, we accompany primary cell isolations of mouse VMs and/or AMs with critical quality control steps and direct membrane staining protocols for fluorescence imaging of TATS membranes. Using an optimized workflow for confocal or superresolution TATS image processing, binarized and skeletonized data are generated for quantitative analysis of the TATS network and its components. Unlike previously published indirect regional aggregate image analysis strategies, our protocols enable direct characterization of specific components and derive complex physiological properties of TATS membrane networks in living myocytes with high throughput and open access software tools. In summary, the combined protocol strategy can be readily applied for quantitative TATS network studies during physiological myocyte adaptation or disease changes, comparison of different cardiac or skeletal muscle cell types, phenotyping of transgenic models, and pharmacological or therapeutic interventions.
Bioengineering, Issue 92, cardiac myocyte, atria, ventricle, heart, primary cell isolation, fluorescence microscopy, membrane tubule, transverse-axial tubule system, image analysis, image processing, T-tubule, collagenase
51823
Isolation, Culture, and Functional Characterization of Adult Mouse Cardiomyoctyes
Institutions: Beth Israel Deaconess Medical Center, Harvard Medical School, Sapienza University.

The use of primary cardiomyocytes (CMs) in culture has provided a powerful complement to murine models of heart disease in advancing our understanding of heart disease. In particular, the ability to study ion homeostasis, ion channel function, cellular excitability and excitation-contraction coupling and their alterations in diseased conditions and by disease-causing mutations have led to significant insights into cardiac diseases. Furthermore, the lack of an adequate immortalized cell line to mimic adult CMs, and the limitations of neonatal CMs (which lack many of the structural and functional biomechanics characteristic of adult CMs) in culture have hampered our understanding of the complex interplay between signaling pathways, ion channels and contractile properties in the adult heart strengthening the importance of studying adult isolated cardiomyocytes. Here, we present methods for the isolation, culture, manipulation of gene expression by adenoviral-expressed proteins, and subsequent functional analysis of cardiomyocytes from the adult mouse. The use of these techniques will help to develop mechanistic insight into signaling pathways that regulate cellular excitability, Ca
2+
dynamics and contractility and provide a much more physiologically relevant characterization of cardiovascular disease.
Cellular Biology, Issue 79, Medicine, Cardiology, Cellular Biology, Anatomy, Physiology, Mice, Ion Channels, Primary Cell Culture, Cardiac Electrophysiology, adult mouse cardiomyocytes, cell isolation, IonOptix, Cell Culture, adenoviral transfection, patch clamp, fluorescent nanosensor
50289
High Efficiency Differentiation of Human Pluripotent Stem Cells to Cardiomyocytes and Characterization by Flow Cytometry
Institutions: Medical College of Wisconsin, Stanford University School of Medicine, Medical College of Wisconsin, Hong Kong University, Johns Hopkins University School of Medicine, Medical College of Wisconsin.

There is an urgent need to develop approaches for repairing the damaged heart, discovering new therapeutic drugs that do not have toxic effects on the heart, and improving strategies to accurately model heart disease. The potential of exploiting human induced pluripotent stem cell (hiPSC) technology to generate cardiac muscle "in a dish" for these applications continues to generate high enthusiasm. In recent years, the ability to efficiently generate cardiomyogenic cells from human pluripotent stem cells (hPSCs) has greatly improved, offering us new opportunities to model very early stages of human cardiac development not otherwise accessible. In contrast to many previous methods, the cardiomyocyte differentiation protocol described here does not require cell aggregation or the addition of Activin A or BMP4 and robustly generates cultures of cells that are highly positive for cardiac troponin I and T (TNNI3, TNNT2), iroquois-class homeodomain protein IRX-4 (IRX4), myosin regulatory light chain 2, ventricular/cardiac muscle isoform (MLC2v) and myosin regulatory light chain 2, atrial isoform (MLC2a) by day 10 across all human embryonic stem cell (hESC) and hiPSC lines tested to date. Cells can be passaged and maintained for more than 90 days in culture. The strategy is technically simple to implement and cost-effective. Characterization of cardiomyocytes derived from pluripotent cells often includes the analysis of reference markers, both at the mRNA and protein level. For protein analysis, flow cytometry is a powerful analytical tool for assessing quality of cells in culture and determining subpopulation homogeneity. However, technical variation in sample preparation can significantly affect quality of flow cytometry data. Thus, standardization of staining protocols should facilitate comparisons among various differentiation strategies. Accordingly, optimized staining protocols for the analysis of IRX4, MLC2v, MLC2a, TNNI3, and TNNT2 by flow cytometry are described.
Cellular Biology, Issue 91, human induced pluripotent stem cell, flow cytometry, directed differentiation, cardiomyocyte, IRX4, TNNI3, TNNT2, MCL2v, MLC2a
52010
Biomolecular Detection employing the Interferometric Reflectance Imaging Sensor (IRIS)
Institutions: Boston University , Boston University , Boston University , Boston University School of Medicine, Boston University School of Medicine, Istituto di Chimica del Riconoscimento Molecolare.

The sensitive measurement of biomolecular interactions has use in many fields and industries such as basic biology and microbiology, environmental/agricultural/biodefense monitoring, nanobiotechnology, and more. For diagnostic applications, monitoring (detecting) the presence, absence, or abnormal expression of targeted proteomic or genomic biomarkers found in patient samples can be used to determine treatment approaches or therapy efficacy. In the research arena, information on molecular affinities and specificities are useful for fully characterizing the systems under investigation. Many of the current systems employed to determine molecular concentrations or affinities rely on the use of labels. Examples of these systems include immunoassays such as the enzyme-linked immunosorbent assay (ELISA), polymerase chain reaction (PCR) techniques, gel electrophoresis assays, and mass spectrometry (MS). Generally, these labels are fluorescent, radiological, or colorimetric in nature and are directly or indirectly attached to the molecular target of interest. Though the use of labels is widely accepted and has some benefits, there are drawbacks which are stimulating the development of new label-free methods for measuring these interactions. These drawbacks include practical facets such as increased assay cost, reagent lifespan and usability, storage and safety concerns, wasted time and effort in labelling, and variability among the different reagents due to the labelling processes or labels themselves. On a scientific research basis, the use of these labels can also introduce difficulties such as concerns with effects on protein functionality/structure due to the presence of the attached labels and the inability to directly measure the interactions in real time. Presented here is the use of a new label-free optical biosensor that is amenable to microarray studies, termed the Interferometric Reflectance Imaging Sensor (IRIS), for detecting proteins, DNA, antigenic material, whole pathogens (virions) and other biological material. The IRIS system has been demonstrated to have high sensitivity, precision, and reproducibility for different biomolecular interactions [1-3]. Benefits include multiplex imaging capacity, real time and endpoint measurement capabilities, and other high-throughput attributes such as reduced reagent consumption and a reduction in assay times. Additionally, the IRIS platform is simple to use, requires inexpensive equipment, and utilizes silicon-based solid phase assay components making it compatible with many contemporary surface chemistry approaches. Here, we present the use of the IRIS system from preparation of probe arrays to incubation and measurement of target binding to analysis of the results in an endpoint format. The model system will be the capture of target antibodies which are specific for human serum albumin (HSA) on HSA-spotted substrates.
Bioengineering, Issue 51, Interferometry, label-free, biosensing, microarray, quantification, real-time detection
2694
Lensless Fluorescent Microscopy on a Chip
Institutions: University of California, Los Angeles .

On-chip lensless imaging in general aims to replace bulky lens-based optical microscopes with simpler and more compact designs, especially for high-throughput screening applications. This emerging technology platform has the potential to eliminate the need for bulky and/or costly optical components through the help of novel theories and digital reconstruction algorithms. Along the same lines, here we demonstrate an on-chip fluorescent microscopy modality that can achieve e.g., <4μm spatial resolution over an ultra-wide field-of-view (FOV) of >0.6-8 cm
2
without the use of any lenses, mechanical-scanning or thin-film based interference filters. In this technique, fluorescent excitation is achieved through a prism or hemispherical-glass interface illuminated by an incoherent source. After interacting with the entire object volume, this excitation light is rejected by total-internal-reflection (TIR) process that is occurring at the bottom of the sample micro-fluidic chip. The fluorescent emission from the excited objects is then collected by a fiber-optic faceplate or a taper and is delivered to an optoelectronic sensor array such as a charge-coupled-device (CCD). By using a compressive-sampling based decoding algorithm, the acquired lensfree raw fluorescent images of the sample can be rapidly processed to yield e.g., <4μm resolution over an FOV of >0.6-8 cm
2
. Moreover, vertically stacked micro-channels that are separated by e.g., 50-100 μm can also be successfully imaged using the same lensfree on-chip microscopy platform, which further increases the overall throughput of this modality. This compact on-chip fluorescent imaging platform, with a rapid compressive decoder behind it, could be rather valuable for high-throughput cytometry, rare-cell research and microarray-analysis.
Bioengineering, Issue 54, Lensless Microscopy, Fluorescent On-chip Imaging, Wide-field Microscopy, On-Chip Cytometry, Compressive Sampling/Sensing
3181
Nanomechanics of Drug-target Interactions and Antibacterial Resistance Detection
Institutions: University College London.

The cantilever sensor, which acts as a transducer of reactions between model bacterial cell wall matrix immobilized on its surface and antibiotic drugs in solution, has shown considerable potential in biochemical sensing applications with unprecedented sensitivity and specificity
1-5
. The drug-target interactions generate surface stress, causing the cantilever to bend, and the signal can be analyzed optically when it is illuminated by a laser. The change in surface stress measured with nano-scale precision allows disruptions of the biomechanics of model bacterial cell wall targets to be tracked in real time. Despite offering considerable advantages, multiple cantilever sensor arrays have never been applied in quantifying drug-target binding interactions. Here, we report on the use of silicon multiple cantilever arrays coated with alkanethiol self-assembled monolayers mimicking bacterial cell wall matrix to quantitatively study antibiotic binding interactions. To understand the impact of vancomycin on the mechanics of bacterial cell wall structures
1,6,7
. We developed a new model
1
which proposes that cantilever bending can be described by two independent factors; i) namely a chemical factor, which is given by a classical Langmuir adsorption isotherm, from which we calculate the thermodynamic equilibrium dissociation constant (
Kd
) and ii) a geometrical factor, essentially a measure of how bacterial peptide receptors are distributed on the cantilever surface. The surface distribution of peptide receptors (
p
) is used to investigate the dependence of geometry and ligand loading. It is shown that a threshold value of
p ~
10% is critical to sensing applications. Below which there is no detectable bending signal while above this value, the bending signal increases almost linearly, revealing that stress is a product of a local chemical binding factor and a geometrical factor combined by the mechanical connectivity of reacted regions and provides a new paradigm for design of powerful agents to combat superbug infections.
Immunology, Issue 80, Engineering, Technology, Diagnostic Techniques and Procedures, Early Diagnosis, Bacterial Infections and Mycoses, Lipids, Amino Acids, Peptides, and Proteins, Chemical Actions and Uses, Diagnosis, Therapeutics, Surface stress, vancomycin, mucopeptides, cantilever sensor
50719
Utilization of Microscale Silicon Cantilevers to Assess Cellular Contractile Function In Vitro
Institutions: University of Central Florida.

The development of more predictive and biologically relevant
in vitro
assays is predicated on the advancement of versatile cell culture systems which facilitate the functional assessment of the seeded cells. To that end, microscale cantilever technology offers a platform with which to measure the contractile functionality of a range of cell types, including skeletal, cardiac, and smooth muscle cells, through assessment of contraction induced substrate bending. Application of multiplexed cantilever arrays provides the means to develop moderate to high-throughput protocols for assessing drug efficacy and toxicity, disease phenotype and progression, as well as neuromuscular and other cell-cell interactions. This manuscript provides the details for fabricating reliable cantilever arrays for this purpose, and the methods required to successfully culture cells on these surfaces. Further description is provided on the steps necessary to perform functional analysis of contractile cell types maintained on such arrays using a novel laser and photo-detector system. The representative data provided highlights the precision and reproducible nature of the analysis of contractile function possible using this system, as well as the wide range of studies to which such technology can be applied. Successful widespread adoption of this system could provide investigators with the means to perform rapid, low cost functional studies
in vitro,
leading to more accurate predictions of tissue performance, disease development and response to novel therapeutic treatment.
Bioengineering, Issue 92, cantilever, in vitro, contraction, skeletal muscle, NMJ, cardiomyocytes, functional
51866
Using Microfluidics Chips for Live Imaging and Study of Injury Responses in Drosophila Larvae
Institutions: University of Michigan, University of Michigan, University of Michigan, University of Michigan, University of Michigan.

Live imaging is an important technique for studying cell biological processes, however this can be challenging in live animals. The translucent cuticle of the
Drosophila
larva makes it an attractive model organism for live imaging studies. However, an important challenge for live imaging techniques is to noninvasively immobilize and position an animal on the microscope. This protocol presents a simple and easy to use method for immobilizing and imaging
Drosophila
larvae on a polydimethylsiloxane (PDMS) microfluidic device, which we call the 'larva chip'. The larva chip is comprised of a snug-fitting PDMS microchamber that is attached to a thin glass coverslip, which, upon application of a vacuum via a syringe, immobilizes the animal and brings ventral structures such as the nerve cord, segmental nerves, and body wall muscles, within close proximity to the coverslip. This allows for high-resolution imaging, and importantly, avoids the use of anesthetics and chemicals, which facilitates the study of a broad range of physiological processes. Since larvae recover easily from the immobilization, they can be readily subjected to multiple imaging sessions. This allows for longitudinal studies over time courses ranging from hours to days. This protocol describes step-by-step how to prepare the chip and how to utilize the chip for live imaging of neuronal events in 3
rd
instar larvae. These events include the rapid transport of organelles in axons, calcium responses to injury, and time-lapse studies of the trafficking of photo-convertible proteins over long distances and time scales. Another application of the chip is to study regenerative and degenerative responses to axonal injury, so the second part of this protocol describes a new and simple procedure for injuring axons within peripheral nerves by a segmental nerve crush.
Bioengineering, Issue 84, Drosophila melanogaster, Live Imaging, Microfluidics, axonal injury, axonal degeneration, calcium imaging, photoconversion, laser microsurgery
50998
Reduced-gravity Environment Hardware Demonstrations of a Prototype Miniaturized Flow Cytometer and Companion Microfluidic Mixing Technology
Institutions: DNA Medicine Institute, Harvard Medical School, NASA Glenn Research Center, ZIN Technologies.

Until recently, astronaut blood samples were collected in-flight, transported to earth on the Space Shuttle, and analyzed in terrestrial laboratories. If humans are to travel beyond low Earth orbit, a transition towards space-ready, point-of-care (POC) testing is required. Such testing needs to be comprehensive, easy to perform in a reduced-gravity environment, and unaffected by the stresses of launch and spaceflight. Countless POC devices have been developed to mimic laboratory scale counterparts, but most have narrow applications and few have demonstrable use in an in-flight, reduced-gravity environment. In fact, demonstrations of biomedical diagnostics in reduced gravity are limited altogether, making component choice and certain logistical challenges difficult to approach when seeking to test new technology. To help fill the void, we are presenting a modular method for the construction and operation of a prototype blood diagnostic device and its associated parabolic flight test rig that meet the standards for flight-testing onboard a parabolic flight, reduced-gravity aircraft. The method first focuses on rig assembly for in-flight, reduced-gravity testing of a flow cytometer and a companion microfluidic mixing chip. Components are adaptable to other designs and some custom components, such as a microvolume sample loader and the micromixer may be of particular interest. The method then shifts focus to flight preparation, by offering guidelines and suggestions to prepare for a successful flight test with regard to user training, development of a standard operating procedure (SOP), and other issues. Finally, in-flight experimental procedures specific to our demonstrations are described.
Cellular Biology, Issue 93, Point-of-care, prototype, diagnostics, spaceflight, reduced gravity, parabolic flight, flow cytometry, fluorescence, cell counting, micromixing, spiral-vortex, blood mixing
51743
The Multi-organ Chip - A Microfluidic Platform for Long-term Multi-tissue Coculture
Institutions: Technische Universität Berlin, TissUse GmbH, Fraunhofer IWS.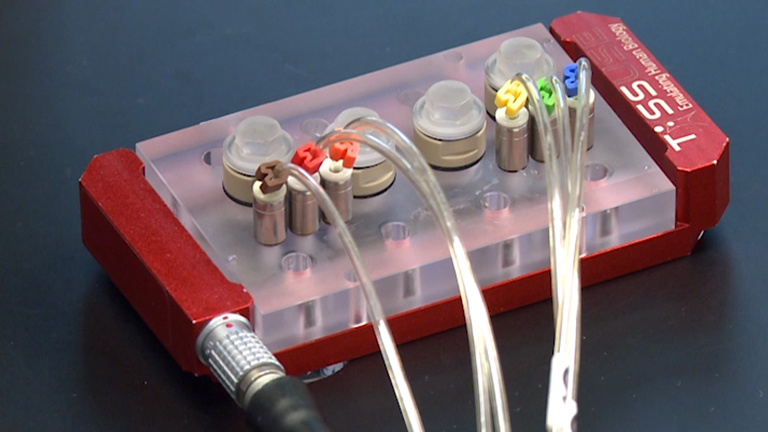 The ever growing amount of new substances released onto the market and the limited predictability of current
in vitro
test systems has led to a high need for new solutions for substance testing. Many drugs that have been removed from the market due to drug-induced liver injury released their toxic potential only after several doses of chronic testing in humans. However, a controlled microenvironment is pivotal for long-term multiple dosing experiments, as even minor alterations in extracellular conditions may greatly influence the cell physiology. We focused within our research program on the generation of a microengineered bioreactor, which can be dynamically perfused by an on-chip pump and combines at least two culture spaces for multi-organ applications. This circulatory system mimics the
in vivo
conditions of primary cell cultures better and assures a steadier, more quantifiable extracellular relay of signals to the cells. For demonstration purposes, human liver equivalents, generated by aggregating differentiated HepaRG cells with human hepatic stellate cells in hanging drop plates, were cocultured with human skin punch biopsies for up to 28 days inside the microbioreactor. The use of cell culture inserts enables the skin to be cultured at an air-liquid interface, allowing topical substance exposure. The microbioreactor system is capable of supporting these cocultures at near physiologic fluid flow and volume-to-liquid ratios, ensuring stable and organotypic culture conditions. The possibility of long-term cultures enables the repeated exposure to substances. Furthermore, a vascularization of the microfluidic channel circuit using human dermal microvascular endothelial cells yields a physiologically more relevant vascular model.
Bioengineering, Issue 98, Multi-organ chip, human-on-a-chip, body-on-a-chip, organs-on-a-chip, microphysiological systems, organoids, tissue engineering, in vitro substance testing, toxicity test, liver, skin, vasculature
52526
Infinium Assay for Large-scale SNP Genotyping Applications
Institutions: Oklahoma Medical Research Foundation.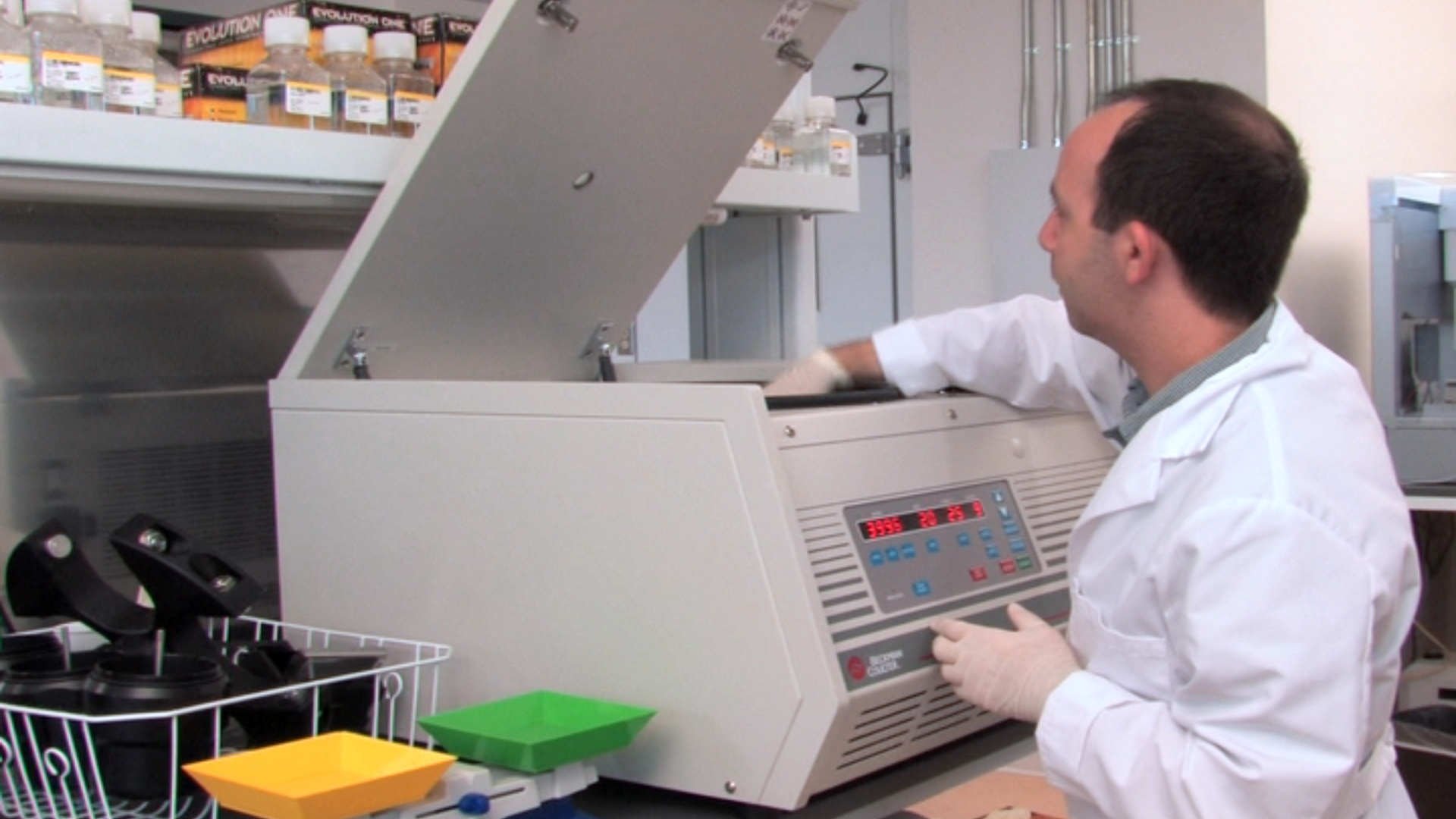 Genotyping variants in the human genome has proven to be an efficient method to identify genetic associations with phenotypes. The distribution of variants within families or populations can facilitate identification of the genetic factors of disease. Illumina's panel of genotyping BeadChips allows investigators to genotype thousands or millions of single nucleotide polymorphisms (SNPs) or to analyze other genomic variants, such as copy number, across a large number of DNA samples. These SNPs can be spread throughout the genome or targeted in specific regions in order to maximize potential discovery. The Infinium assay has been optimized to yield high-quality, accurate results quickly. With proper setup, a single technician can process from a few hundred to over a thousand DNA samples per week, depending on the type of array. This assay guides users through every step, starting with genomic DNA and ending with the scanning of the array. Using propriety reagents, samples are amplified, fragmented, precipitated, resuspended, hybridized to the chip, extended by a single base, stained, and scanned on either an iScan or Hi Scan high-resolution optical imaging system. One overnight step is required to amplify the DNA. The DNA is denatured and isothermally amplified by whole-genome amplification; therefore, no PCR is required. Samples are hybridized to the arrays during a second overnight step. By the third day, the samples are ready to be scanned and analyzed. Amplified DNA may be stockpiled in large quantities, allowing bead arrays to be processed every day of the week, thereby maximizing throughput.
Basic Protocol, Issue 81, genomics, SNP, Genotyping, Infinium, iScan, HiScan, Illumina
50683
Automating ChIP-seq Experiments to Generate Epigenetic Profiles on 10,000 HeLa Cells
Institutions: Diagenode S.A., Diagenode Inc..
Chromatin immunoprecipitation followed by next generation sequencing (ChIP-seq) is a technique of choice for studying protein-DNA interactions. ChIP-seq has been used for mapping protein-DNA interactions and allocating histones modifications. The procedure is tedious and time consuming, and one of the major limitations is the requirement for high amounts of starting material, usually millions of cells. Automation of chromatin immunoprecipitation assays is possible when the procedure is based on the use of magnetic beads. Successful automated protocols of chromatin immunoprecipitation and library preparation have been specifically designed on a commercially available robotic liquid handling system dedicated mainly to automate epigenetic assays. First, validation of automated ChIP-seq assays using antibodies directed against various histone modifications was shown, followed by optimization of the automated protocols to perform chromatin immunoprecipitation and library preparation starting with low cell numbers. The goal of these experiments is to provide a valuable tool for future epigenetic analysis of specific cell types, sub-populations, and biopsy samples.
Molecular Biology, Issue 94, Automation, chromatin immunoprecipitation, low DNA amounts, histone antibodies, sequencing, library preparation
52150
A Microfluidic-based Electrochemical Biochip for Label-free DNA Hybridization Analysis
Institutions: University of Maryland, University of Maryland.

Miniaturization of analytical benchtop procedures into the micro-scale provides significant advantages in regards to reaction time, cost, and integration of pre-processing steps. Utilizing these devices towards the analysis of DNA hybridization events is important because it offers a technology for real time assessment of biomarkers at the point-of-care for various diseases. However, when the device footprint decreases the dominance of various physical phenomena increases. These phenomena influence the fabrication precision and operation reliability of the device. Therefore, there is a great need to accurately fabricate and operate these devices in a reproducible manner in order to improve the overall performance. Here, we describe the protocols and the methods used for the fabrication and the operation of a microfluidic-based electrochemical biochip for accurate analysis of DNA hybridization events. The biochip is composed of two parts: a microfluidic chip with three parallel micro-channels made of polydimethylsiloxane (PDMS), and a 3 x 3 arrayed electrochemical micro-chip. The DNA hybridization events are detected using electrochemical impedance spectroscopy (EIS) analysis. The EIS analysis enables monitoring variations of the properties of the electrochemical system that are dominant at these length scales. With the ability to monitor changes of both charge transfer and diffusional resistance with the biosensor, we demonstrate the selectivity to complementary ssDNA targets, a calculated detection limit of 3.8 nM, and a 13% cross-reactivity with other non-complementary ssDNA following 20 min of incubation. This methodology can improve the performance of miniaturized devices by elucidating on the behavior of diffusion at the micro-scale regime and by enabling the study of DNA hybridization events.
Bioengineering, Issue 91, electrochemical impedance spectroscopy, DNA hybridization, biosensor, biochip, microfluidics, label-free detection, restricted diffusion, microfabrication
51797
Atomically Traceable Nanostructure Fabrication
Institutions: Zyvex Labs, University of Texas at Dallas, University of Texas at Dallas, University of North Texas, National Institute of Standards and Technology.

Reducing the scale of etched nanostructures below the 10 nm range eventually will require an atomic scale understanding of the entire fabrication process being used in order to maintain exquisite control over both feature size and feature density. Here, we demonstrate a method for tracking atomically resolved and controlled structures from initial template definition through final nanostructure metrology, opening up a pathway for top-down atomic control over nanofabrication. Hydrogen depassivation lithography is the first step of the nanoscale fabrication process followed by selective atomic layer deposition of up to 2.8 nm of titania to make a nanoscale etch mask. Contrast with the background is shown, indicating different mechanisms for growth on the desired patterns and on the H passivated background. The patterns are then transferred into the bulk using reactive ion etching to form 20 nm tall nanostructures with linewidths down to ~6 nm. To illustrate the limitations of this process, arrays of holes and lines are fabricated. The various nanofabrication process steps are performed at disparate locations, so process integration is discussed. Related issues are discussed including using fiducial marks for finding nanostructures on a macroscopic sample and protecting the chemically reactive patterned Si(100)-H surface against degradation due to atmospheric exposure.
Engineering, Issue 101, Nanolithography, Scanning Tunneling Microscopy, Atomic Layer Deposition, Reactive Ion Etching
52900
Bacterial Detection & Identification Using Electrochemical Sensors
Institutions: Veterans Affairs Greater Los Angeles Healthcare System, University of California, Los Angeles , GeneFluidics, Veterans Affairs Greater Los Angeles Healthcare System, University of California, Los Angeles .

Electrochemical sensors are widely used for rapid and accurate measurement of blood glucose and can be adapted for detection of a wide variety of analytes. Electrochemical sensors operate by transducing a biological recognition event into a useful electrical signal. Signal transduction occurs by coupling the activity of a redox enzyme to an amperometric electrode. Sensor specificity is either an inherent characteristic of the enzyme, glucose oxidase in the case of a glucose sensor, or a product of linkage between the enzyme and an antibody or probe. Here, we describe an electrochemical sensor assay method to directly detect and identify bacteria. In every case, the probes described here are DNA oligonucleotides. This method is based on sandwich hybridization of capture and detector probes with target ribosomal RNA (rRNA). The capture probe is anchored to the sensor surface, while the detector probe is linked to horseradish peroxidase (HRP). When a substrate such as 3,3',5,5'-tetramethylbenzidine (TMB) is added to an electrode with capture-target-detector complexes bound to its surface, the substrate is oxidized by HRP and reduced by the working electrode. This redox cycle results in shuttling of electrons by the substrate from the electrode to HRP, producing current flow in the electrode.
Bioengineering, Issue 74, Microbiology, Genetics, Molecular Biology, Cellular Biology, Biochemistry, Biomedical Engineering, Medicine, Immunology, Bacteria, Electrochemical sensor, ribosomal RNA, rRNA, 16S RNA, DNA, probe, assay
4282
Laser-induced Forward Transfer for Flip-chip Packaging of Single Dies
Institutions: Ghent University-imec.
Flip-chip (FC) packaging is a key technology for realizing high performance, ultra-miniaturized and high-density circuits in the micro-electronics industry. In this technique the chip and/or the substrate is bumped and the two are bonded via these conductive bumps. Many bumping techniques have been developed and intensively investigated since the introduction of the FC technology in 1960
1
such as stencil printing, stud bumping, evaporation and electroless/electroplating
2
. Despite the progress that these methods have made they all suffer from one or more than one drawbacks that need to be addressed such as cost, complex processing steps, high processing temperatures, manufacturing time and most importantly the lack of flexibility. In this paper, we demonstrate a simple and cost-effective laser-based bump forming technique known as Laser-induced Forward Transfer (LIFT)
3
. Using the LIFT technique a wide range of bump materials can be printed in a single-step with great flexibility, high speed and accuracy at RT. In addition, LIFT enables the bumping and bonding down to chip-scale, which is critical for fabricating ultra-miniature circuitry.
Physics, Issue 97, LIFT, direct-write, flip-chip, interconnects, indium, micro-bumps, thermo-compression, VCSEL
52623
Chip-based Three-dimensional Cell Culture in Perfused Micro-bioreactors
Institutions: Forschungszentrum Karlsruhe.

We have developed a chip-based cell culture system for the three-dimensional cultivation of cells. The chip is typically manufactured from non-biodegradable polymers, e.g., polycarbonate or polymethyl methacrylate by micro injection molding, micro hot embossing or micro thermoforming. But, it can also be manufactured from bio-degradable polymers. Its overall dimensions are 0.7 1 x 20 x 20 x 0.7 1 mm (h x w x l). The main features of the chips used are either a grid of up to 1156 cubic micro-containers (cf-chip) each the size of 120-300 x 300 x 300 μ (h x w x l) or round recesses with diameters of 300 μ and a depth of 300 μ (r-chip). The scaffold can house 10 Mio. cells in a three-dimensional configuration. For an optimal nutrient and gas supply, the chip is inserted in a bioreactor housing. The bioreactor is part of a closed steril circulation loop that, in the simplest configuration, is additionaly comprised of a roller pump and a medium reservoir with a gas supply. The bioreactor can be run in perfusion, superfusion, or even a mixed operation mode. We have successfully cultivated cell lines as well as primary cells over periods of several weeks. For rat primary liver cells we could show a preservation of organotypic functions for more than 2 weeks. For hepatocellular carcinoma cell lines we could show the induction of liver specific genes not or only slightly expressed in standard monolayer culture. The system might also be useful as a stem cell cultivation system since first differentiation experiments with stem cell lines were promising.
Cellular biology, Issue 15, three-dimensional, chip, bioreactor, perfusion
564
Patterning of Embryonic Stem Cells Using the Bio Flip Chip
Institutions: MIT - Massachusetts Institute of Technology, MIT - Massachusetts Institute of Technology.

Cell-cell interactions consisting of diffusible signaling and cell-cell contact (juxtacrine signaling) are important in numerous biological processes such as tumor growth, stem cell differentiation, and stem cell self-renewal. A number of methods currently exist to modulate cell signaling in vitro. One method of modulating the total amount of diffusible signaling is to vary the cell seeding density during culture. Due to the random nature of cell seeding, this results in considerable variation in the actual cell-cell spacing and amount of cell-cell contact, and cannot prescribe the local environment. A more specific approach for modulating cell signaling is to use molecular inhibitors or genetic approaches to knock down specific signaling proteins, but both of these methods are best suited to manipulating small numbers of molecules. Here, we demonstrate a new approach to modulating cell-cell signaling that modulates the local environment of a cluster of cells by placing different numbers of cells at desired locations on a substrate. This method provides a complementary way to control the local diffusible and juxtacrine signaling between cells. Our method makes use of the Bio Flip Chip (BFC), a microfabricated silicone chip containing hundreds-to-thousands of microwells, each sized to hold either a single cell or small numbers of cells. We load the chip with cells simply by pipetting them onto the array of wells and washing unloaded cells off the array. The chip is then flipped onto a substrate, whereby the cells fall out of the wells and onto the substrate, maintaining their patterning. After the cells have attached, the chip can be removed (or left on). This approach to cell patterning is unique in that it: 1) doesn't alter the chemistry of the substrate, thus allowing cells to proliferate and migrate; 2) allows patterning onto any substrate, including tissue-culture polystyrene, glass, matrigel, and even feeder cell layers; and 3) is compatible with traditional microcontact printing, allowing the creation of extracellular matrix islands with cells placed inside those islands. In this video, we demonstrate the patterning of mouse embryonic stem cells onto tissue-culture polystyrene using the BFC.
Cellular Biology,Issue 8, tissue engineering, stem cells, patterning, bioengineering, signaling, diffusible, autocrine, juxtacrine
318
Harmonic Nanoparticles for Regenerative Research
Institutions: University of Geneva, University of Geneva, École Polytechnique Fédérale de Lausanne, Trinity College Dublin, Trinity College Dublin, Nikon AG Instruments.
In this visualized experiment, protocol details are provided for
in vitro
labeling of human embryonic stem cells (hESC) with second harmonic generation nanoparticles (HNPs). The latter are a new family of probes recently introduced for labeling biological samples for multi-photon imaging. HNPs are capable of doubling the frequency of excitation light by the nonlinear optical process of second harmonic generation with no restriction on the excitation wavelength. Multi-photon based methodologies for hESC differentiation into cardiac clusters (maintained as long term air-liquid cultures) are presented in detail. In particular, evidence on how to maximize the intense second harmonic (SH) emission of isolated HNPs during 3D monitoring of beating cardiac tissue in 3D is shown. The analysis of the resulting images to retrieve 3D displacement patterns is also detailed.
Bioengineering, Issue 87, multi-photon imaging, human embryonic stem cells (ESC), nanoparticles, embryoid bodies (EBs), cardiomyocyte differentiation, cardiac contraction, air-liquid cultures
51333