Corneal Donor Tissue Preparation for Descemet's Membrane Endothelial Keratoplasty
Published: 09-17-2014
ABSTRACT
Descemet's Membrane Endothelial Keratoplasty (DMEK) is a form of corneal transplantation in which only a single cell layer, the corneal endothelium, along with its basement membrane (Descemet's membrane) is introduced onto the recipient's posterior stroma3. Unlike Descemet's Stripping Automated Endothelial Keratoplasty (DSAEK), where additional donor stroma is introduced, no unnatural stroma-to-stroma interface is created. As a result, the natural anatomy of the cornea is preserved as much as possible allowing for improved recovery time and visual acuity4. Endothelial Keratoplasty (EK) is the procedure of choice for treatment of endothelial dysfunction. The advantages of EK include rapid recovery of vision, preservation of ocular integrity and minimal refractive change due to use of a small, peripheral incision1. DSAEK utilizes donor tissue prepared with partial thickness stroma and endothelium. The rapid success and utilization of this procedure can be attributed to availability of eye-bank prepared precut tissue. The benefits of eye-bank preparation of donor tissue include elimination of need for specialized equipment in the operating room and availability of back up donor tissue in case of tissue perforation during preparation. In addition, high volume preparation of donor tissue by eye-bank technicians may provide improved quality of donor tissue. DSAEK may have limited best corrected visual acuity due to creation of a stromal interface between the donor and recipient cornea. Elimination of this interface with transplantation of only donor Descemet's membrane and endothelium in DMEK may improve visual outcomes and reduce complications after EK5. Similar to DSAEK, long term success and acceptance of DMEK is dependent on ease of availability of precut, eye-bank prepared donor tissue. Here we present a stepwise approach to donor tissue preparation which may reduce some barriers eye-banks face in providing DMEK grafts.
19 Related JoVE Articles!
Corneal Donor Tissue Preparation for Endothelial Keratoplasty
Institutions: University of Michigan , MidWest Eye Banks.
Over the past ten years, corneal transplantation surgical techniques have undergone revolutionary changes
1,2
. Since its inception, traditional full thickness corneal transplantation has been the treatment to restore sight in those limited by corneal disease. Some disadvantages to this approach include a high degree of post-operative astigmatism, lack of predictable refractive outcome, and disturbance to the ocular surface. The development of Descemet's stripping endothelial keratoplasty (DSEK), transplanting only the posterior corneal stroma, Descemet's membrane, and endothelium, has dramatically changed treatment of corneal endothelial disease. DSEK is performed through a smaller incision; this technique avoids 'open sky' surgery with its risk of hemorrhage or expulsion, decreases the incidence of postoperative wound dehiscence, reduces unpredictable refractive outcomes, and may decrease the rate of transplant rejection
3-6
. Initially, cornea donor posterior lamellar dissection for DSEK was performed manually
1
resulting in variable graft thickness and damage to the delicate corneal endothelial tissue during tissue processing. Automated lamellar dissection (Descemet's stripping automated endothelial keratoplasty, DSAEK) was developed to address these issues. Automated dissection utilizes the same technology as LASIK corneal flap creation with a mechanical microkeratome blade that helps to create uniform and thin tissue grafts for DSAEK surgery with minimal corneal endothelial cell loss in tissue processing. Eye banks have been providing full thickness corneas for surgical transplantation for many years. In 2006, eye banks began to develop methodologies for supplying precut corneal tissue for endothelial keratoplasty. With the input of corneal surgeons, eye banks have developed thorough protocols to safely and effectively prepare posterior lamellar tissue for DSAEK surgery. This can be performed preoperatively at the eye bank. Research shows no significant difference in terms of the quality of the tissue
7
or patient outcomes
8,9
using eye bank precut tissue versus surgeon-prepared tissue for DSAEK surgery. For most corneal surgeons, the availability of precut DSAEK corneal tissue saves time and money
10
, and reduces the stress of performing the donor corneal dissection in the operating room. In part because of the ability of the eye banks to provide high quality posterior lamellar corneal in a timely manner, DSAEK has become the standard of care for surgical management of corneal endothelial disease. The procedure that we are describing is the preparation of the posterior lamellar cornea at the eye bank for transplantation in DSAEK surgery (
Figure 1
).
Medicine, Issue 64, Physiology, Cornea, transplantation, DSAEK, DSEK, endothelial keratoplasty, lamellar, graft, Moria, microkeratome, precut, Fuchs dystrophy
3847
An "All-laser" Endothelial Transplant
Institutions: Italian National Research Council, Nuovo Ospedale Santo Stefano.
The "all laser" assisted endothelial keratoplasty is a procedure that is performed with a femtosecond laser used to cut the donor tissue at an intended depth, and a near infrared diode laser to weld the corneal tissue. The proposed technique enables to reach the three main goals in endothelial keratoplasty: a precise control in the thickness of the donor tissue; its easy insertion in the recipient bed and a reduced risk of donor lenticule dislocation. The donor cornea thickness is measured in the surgery room with optical coherence tomography (OCT), in order to correctly design the donor tissue dimensions. A femtosecond laser is used to cut the donor cornea. The recipient eye is prepared by manual stripping of the descemetic membrane. The donor endothelium is inserted into a Busin-injector, the peripheral inner side is stained with a proper chromophore (a water solution of Indocyanine Green) and then it is pulled in the anterior chamber. The transplanted tissue is placed in the final and correct location and then diode laser welding is induced from outside the eyeball. The procedure has been performed on more than 15 patients evidencing an improvement in surgery performances, with a good recovery of visual acuity and a reduced donor lenticule dislocation event.
Medicine, Issue 101, Endothelium, laser welding, femtosecond laser, corneal transplantation, diode laser, Indocyanine Green, donor tissue thickness, optical coherence tomography
52939
Murine Corneal Transplantation: A Model to Study the Most Common Form of Solid Organ Transplantation
Institutions: Saint Louis University.

Corneal transplantation is the most common form of organ transplantation in the United States with between 45,000 and 55,000 procedures performed each year. While several animal models exist for this procedure and mice are the species that is most commonly used. The reasons for using mice are the relative cost of using this species, the existence of many genetically defined strains that allow for the study of immune responses, and the existence of an extensive array of reagents that can be used to further define responses in this species. This model has been used to define factors in the cornea that are responsible for the relative immune privilege status of this tissue that enables corneal allografts to survive acute rejection in the absence of immunosuppressive therapy. It has also been used to define those factors that are most important in rejection of such allografts. Consequently, much of what we know concerning mechanisms of both corneal allograft acceptance and rejection are due to studies using a murine model of corneal transplantation. In addition to describing a model for acute corneal allograft rejection, we also present for the first time a model of late-term corneal allograft rejection.
Immunology, Issue 93, Transplantation, Allograft Responses, Immune Privilege, Cornea, Inflammatory cells, T cells, Macrophages
51830
A Simplified Technique for In situ Excision of Cornea and Evisceration of Retinal Tissue from Human Ocular Globe
Institutions: Fondazione Banca Degli Occhi del Veneto O.N.L.U.S. , Telethon Institute for Genetics & Medicine (T.I.G.E.M.).

Enucleation is the process of retrieving the ocular globe from a cadaveric donor leaving the rest of the globe undisturbed. Excision refers to the retrieval of ocular tissues, especially cornea, by cutting it separate from the ocular globe. Evisceration is the process of removing the internal organs referred here as retina. The ocular globe consists of the cornea, the sclera, the vitreous body, the lens, the iris, the retina, the choroid, muscles etc (Suppl.
Figure 1
). When a patient is suffering from corneal damage, the cornea needs to be removed and a healthy one must be transplanted by keratoplastic surgeries. Genetic disorders or defects in retinal function can compromise vision. Human ocular globes can be used for various surgical procedures such as eye banking, transplantation of human cornea or sclera and research on ocular tissues. However, there is little information available on human corneal and retinal excision, probably due to the limited accessibility to human tissues. Most of the studies describing similar procedures are performed on animal models. Research scientists rely on the availability of properly dissected and well-conserved ocular tissues in order to extend the knowledge on human eye development, homeostasis and function. As we receive high amount of ocular globes out of which approximately 40% (
Table 1
) of them are used for research purposes, we are able to perform huge amount of experiments on these tissues, defining techniques to excise and preserve them regularly. The cornea is an avascular tissue which enables the transmission of light onto the retina and for this purpose should always maintain a good degree of transparency. Within the cornea, the limbus region, which is a reservoir of the stem cells, helps the reconstruction of epithelial cells and restricts the overgrowth of the conjunctiva maintaining corneal transparency and clarity. The size and thickness of the cornea are critical for clear vision, as changes in either of them could lead to distracted, unclear vision. The cornea comprises of 5 layers; a) epithelium, b) Bowman's layer, c) stroma, d) Descemet's membrane and e) endothelium. All layers should function properly to ensure clear vision
4,5,6
. The choroid is the intermediate tunic between the sclera and retina, bounded on the interior by the Bruch's membrane and is responsible for blood flow in the eye. The choroid also helps to regulate the temperature and supplies nourishment to the outer layers of the retina
5,6
. The retina is a layer of nervous tissue that covers the back of the ocular globe (Suppl.
Figure 1
) and consists of two parts: a photoreceptive part and a non-receptive part. The retina helps to receive the light from the cornea and lens and converts it into the chemical energy eventually transmitted to the brain with help of the optic nerve
5,6
. The aim of this paper is to provide a protocol for the dissection of corneal and retinal tissues from human ocular globes. Avoiding cross-contamination with adjacent tissues and preserving RNA integrity is of fundamental importance as such tissues are indispensable for research purposes aimed at (i) characterizing the transcriptome of the ocular tissues, (ii) isolating stem cells for regenerative medicine projects, and (iii) evaluating histological differences between tissues from normal/affected subjects. In this paper we describe the technique we currently use to remove the cornea, the choroid and retinal tissues from an ocular globe. Here we provide a detailed protocol for the dissection of the human ocular globe and the excision of corneal and retinal tissues. The accompanying video will help researchers to learn an appropriate technique for the retrieval of precious human tissues which are difficult to find regularly.
Medicine, Issue 64, Physiology, Human cadaver ocular globe, in situ excision, corneal tissue, in situ evisceration, retinal tissue
3765
Ex Vivo Organotypic Corneal Model of Acute Epithelial Herpes Simplex Virus Type I Infection
Institutions: Drexel University College of Medicine.

Herpes keratitis is one of the most severe pathologies associated with the herpes simplex virus-type 1 (HSV-1). Herpes keratitis is currently the leading cause of both cornea-derived and infection-associated blindness in the developed world. Typical presentation of herpes keratitis includes infection of the corneal epithelium and sometimes the deeper corneal stroma and endothelium, leading to such permanent corneal pathologies as scarring, thinning, and opacity
1
. Corneal HSV-1 infection is traditionally studied in two types of experimental models. The
in vitro
model, in which cultured monolayers of corneal epithelial cells are infected in a Petri dish, offers simplicity, high level of replicability, fast experiments, and relatively low costs. On the other hand, the
in vivo
model, in which animals such as rabbits or mice are inoculated directly in the cornea, offers a highly sophisticated physiological system, but has higher costs, longer experiments, necessary animal care, and a greater degree of variability. In this video article, we provide a detailed demonstration of a new
ex vivo
model of corneal epithelial HSV-1 infection, which combines the strengths of both the
in vitro
and the
in vivo
models. The
ex vivo
model utilizes intact corneas organotypically maintained in culture and infected with HSV-1. The use of the
ex vivo
model allows for highly physiologically-based conclusions, yet it is rather inexpensive and requires time commitment comparable to that of the
in vitro
model.
Neuroscience, Issue 69, Virology, herpes, cornea, HSV, ex vivo, explant, corneal epithelium, organotypic, keratitis, eye, vision, ophthalmology
3631
A Mouse Model of the Cornea Pocket Assay for Angiogenesis Study
Institutions: National Eye Institute.

A normal cornea is clear of vascular tissues. However, blood vessels can be induced to grow and survive in the cornea when potent angiogenic factors are administered
1
. This uniqueness has made the cornea pocket assay one of the most used models for angiogenesis studies. The cornea composes multiple layers of cells. It is therefore possible to embed a pellet containing the angiogenic factor of interest in the cornea to investigate its angiogenic effect
2,3
. Here, we provide a step by step demonstration of how to (I) produce the angiogenic factor-containing pellet (II) embed the pellet into the cornea (III) analyze the angiogenesis induced by the angiogenic factor of interest. Since the basic fibroblast growth factor (bFGF) is known as one of the most potent angiogenic factors
4
, it is used here to induce angiogenesis in the cornea.
Medicine, Issue 54, mouse cornea pocket assay, angiogenesis
3077
Mouse Models for Graft Arteriosclerosis
Institutions: Yale University School of Medicine , Yale University School of Medicine .

Graft arteriosclerois (GA), also called allograft vasculopathy, is a pathologic lesion that develops over months to years in transplanted organs characterized by diffuse, circumferential stenosis of the entire graft vascular tree. The most critical component of GA pathogenesis is the proliferation of smooth muscle-like cells within the intima. When a human coronary artery segment is interposed into the infra-renal aortae of immunodeficient mice, the intimas could be expand in response to adoptively transferred human T cells allogeneic to the artery donor or exogenous human IFN-γ in the absence of human T cells. Interposition of a mouse aorta from one strain into another mouse strain recipient is limited as a model for chronic rejection in humans because the acute cell-mediated rejection response in this mouse model completely eliminates all donor-derived vascular cells from the graft within two-three weeks. We have recently developed two new mouse models to circumvent these problems. The first model involves interposition of a vessel segment from a male mouse into a female recipient of the same inbred strain (C57BL/6J). Graft rejection in this case is directed only against minor histocompatibility antigens encoded by the Y chromosome (present in the male but not the female) and the rejection response that ensues is sufficiently indolent to preserve donor-derived smooth muscle cells for several weeks. The second model involves interposing an artery segment from a wild type C57BL/6J mouse donor into a host mouse of the same strain and gender that lacks the receptor for IFN-γ followed by administration of mouse IFN-γ (delivered via infection of the mouse liver with an adenoviral vector. There is no rejection in this case as both donor and recipient mice are of the same strain and gender but donor smooth muscle cells proliferate in response to the cytokine while host-derived cells, lacking receptor for this cytokine, are unresponsive. By backcrossing additional genetic changes into the vessel donor, both models can be used to assess the effect of specific genes on GA progression. Here, we describe detailed protocols for our mouse GA models.
Medicine, Issue 75, Anatomy, Physiology, Biomedical Engineering, Bioengineering, Cardiology, Pathology, Surgery, Tissue Engineering, Cardiovascular Diseases, vascular biology, graft arteriosclerosis, GA, mouse models, transplantation, graft, vessels, arteries, mouse, animal model, surgical techniques
50290
Evaluation of a Novel Laser-assisted Coronary Anastomotic Connector - the Trinity Clip - in a Porcine Off-pump Bypass Model
Institutions: University Medical Center Utrecht, Vascular Connect b.v., University Medical Center Utrecht, University Medical Center Utrecht.

To simplify and facilitate beating heart (
i.e.,
off-pump), minimally invasive coronary artery bypass surgery, a new coronary anastomotic connector, the Trinity Clip, is developed based on the excimer laser-assisted nonocclusive anastomosis technique. The Trinity Clip connector enables simplified, sutureless, and nonocclusive connection of the graft to the coronary artery, and an excimer laser catheter laser-punches the opening of the anastomosis. Consequently, owing to the complete nonocclusive anastomosis construction, coronary conditioning (
i.e.,
occluding or shunting) is not necessary, in contrast to the conventional anastomotic technique, hence simplifying the off-pump bypass procedure. Prior to clinical application in coronary artery bypass grafting, the safety and quality of this novel connector will be evaluated in a long-term experimental porcine off-pump coronary artery bypass (OPCAB) study. In this paper, we describe how to evaluate the coronary anastomosis in the porcine OPCAB model using various techniques to assess its quality. Representative results are summarized and visually demonstrated.
Medicine, Issue 93, Anastomosis, coronary, anastomotic connector, anastomotic coupler, excimer laser-assisted nonocclusive anastomosis (ELANA), coronary artery bypass graft (CABG), off-pump coronary artery bypass (OPCAB), beating heart surgery, excimer laser, porcine model, experimental, medical device
52127
Athymic Rat Model for Evaluation of Engineered Anterior Cruciate Ligament Grafts
Institutions: University of California Los Angeles, University of California Los Angeles.

Anterior cruciate ligament (ACL) rupture is a common ligamentous injury that often requires surgery because the ACL does not heal well without intervention. Current treatment strategies include ligament reconstruction with either autograft or allograft, which each have their associated limitations. Thus, there is interest in designing a tissue-engineered graft for use in ACL reconstruction. We describe the fabrication of an electrospun polymer graft for use in ACL tissue engineering. This polycaprolactone graft is biocompatible, biodegradable, porous, and is comprised of aligned fibers. Because an animal model is necessary to evaluate such a graft, this paper describes an intra-articular athymic rat model of ACL reconstruction that can be used to evaluate engineered grafts, including those seeded with xenogeneic cells. Representative histology and biomechanical testing results at 16 weeks postoperatively are presented, with grafts tested immediately post-implantation and contralateral native ACLs serving as controls. The present study provides a reproducible animal model with which to evaluate tissue engineered ACL grafts, and demonstrates the potential of a regenerative medicine approach to treatment of ACL rupture.
Bioengineering, Issue 97, Anterior cruciate ligament, tissue engineering, animal model, biodegradable scaffold, rat, knee
52797
Corneal Confocal Microscopy: A Novel Non-invasive Technique to Quantify Small Fibre Pathology in Peripheral Neuropathies
Institutions: University of Manchester.

The accurate quantification of peripheral neuropathy is important to define at risk patients, anticipate deterioration, and assess new therapies. Conventional methods assess neurological deficits and electrophysiology and quantitative sensory testing quantifies functional alterations to detect neuropathy. However, the earliest damage appears to be to the small fibres and yet these tests primarily assess large fibre dysfunction and have a limited ability to demonstrate regeneration and repair. The only techniques which allow a direct examination of unmyelinated nerve fibre damage and repair are sural nerve biopsy with electron microscopy and skin-punch biopsy. However, both are invasive procedures and require lengthy laboratory procedures and considerable expertise. Corneal Confocal microscopy is a non-invasive clinical technique which provides
in-vivo
imaging of corneal nerve fibres. We have demonstrated early nerve damage, which precedes loss of intraepidermal nerve fibres in skin biopsies together with stratification of neuropathic severity and repair following pancreas transplantation in diabetic patients. We have also demonstrated nerve damage in idiopathic small fibre neuropathy and Fabry's disease.
Medicine, Issue 47, Corneal Confocal Microscopy, Corneal nerves, Peripheral Neuropathy, Diabetic Neuropathy
2194
Using Learning Outcome Measures to assess Doctoral Nursing Education
Institutions: Harris College of Nursing and Health Sciences, Texas Christian University.

Education programs at all levels must be able to demonstrate successful program outcomes. Grades alone do not represent a comprehensive measurement methodology for assessing student learning outcomes at either the course or program level. The development and application of assessment rubrics provides an unequivocal measurement methodology to ensure a quality learning experience by providing a foundation for improvement based on qualitative and quantitatively measurable, aggregate course and program outcomes. Learning outcomes are the embodiment of the total learning experience and should incorporate assessment of both qualitative and quantitative program outcomes. The assessment of qualitative measures represents a challenge for educators in any level of a learning program. Nursing provides a unique challenge and opportunity as it is the application of science through the art of caring. Quantification of desired student learning outcomes may be enhanced through the development of assessment rubrics designed to measure quantitative and qualitative aspects of the nursing education and learning process. They provide a mechanism for uniform assessment by nursing faculty of concepts and constructs that are otherwise difficult to describe and measure. A protocol is presented and applied to a doctoral nursing education program with recommendations for application and transformation of the assessment rubric to other education programs. Through application of these specially designed rubrics, all aspects of an education program can be adequately assessed to provide information for program assessment that facilitates the closure of the gap between desired and actual student learning outcomes for any desired educational competency.
Medicine, Issue 40, learning, outcomes, measurement, program, assessment, rubric
2048
Using Visual and Narrative Methods to Achieve Fair Process in Clinical Care
Institutions: Brandeis University, Brandeis University.

The Institute of Medicine has targeted patient-centeredness as an important area of quality improvement. A major dimension of patient-centeredness is respect for patient's values, preferences, and expressed needs. Yet specific approaches to gaining this understanding and translating it to quality care in the clinical setting are lacking. From a patient perspective quality is not a simple concept but is best understood in terms of five dimensions: technical outcomes; decision-making efficiency; amenities and convenience; information and emotional support; and overall patient satisfaction. Failure to consider quality from this five-pronged perspective results in a focus on medical outcomes, without considering the processes central to quality from the patient's perspective and vital to achieving good outcomes. In this paper, we argue for applying the concept of fair process in clinical settings. Fair process involves using a collaborative approach to exploring diagnostic issues and treatments with patients, explaining the rationale for decisions, setting expectations about roles and responsibilities, and implementing a core plan and ongoing evaluation. Fair process opens the door to bringing patient expertise into the clinical setting and the work of developing health care goals and strategies. This paper provides a step by step illustration of an innovative visual approach, called photovoice or photo-elicitation, to achieve fair process in clinical work with acquired brain injury survivors and others living with chronic health conditions. Applying this visual tool and methodology in the clinical setting will enhance patient-provider communication; engage patients as partners in identifying challenges, strengths, goals, and strategies; and support evaluation of progress over time. Asking patients to bring visuals of their lives into the clinical interaction can help to illuminate gaps in clinical knowledge, forge better therapeutic relationships with patients living with chronic conditions such as brain injury, and identify patient-centered goals and possibilities for healing. The process illustrated here can be used by clinicians, (primary care physicians, rehabilitation therapists, neurologists, neuropsychologists, psychologists, and others) working with people living with chronic conditions such as acquired brain injury, mental illness, physical disabilities, HIV/AIDS, substance abuse, or post-traumatic stress, and by leaders of support groups for the types of patients described above and their family members or caregivers.
Medicine, Issue 48, person-centered care, participatory visual methods, photovoice, photo-elicitation, narrative medicine, acquired brain injury, disability, rehabilitation, palliative care
2342
Combination of Microstereolithography and Electrospinning to Produce Membranes Equipped with Niches for Corneal Regeneration
Institutions: University of Sheffield, University of Sheffield, L. V. Prasad Eye Institute.

Corneal problems affect millions of people worldwide reducing their quality of life significantly. Corneal disease can be caused by illnesses such as Aniridia or Steven Johnson Syndrome as well as by external factors such as chemical burns or radiation. Current treatments are (i) the use of corneal grafts and (ii) the use of stem cell expanded in the laboratory and delivered on carriers (
e.g.
, amniotic membrane); these treatments are relatively successful but unfortunately they can fail after 3-5 years. There is a need to design and manufacture new corneal biomaterial devices able to mimic in detail the physiological environment where stem cells reside in the cornea. Limbal stem cells are located in the limbus (circular area between cornea and sclera) in specific niches known as the Palisades of Vogt. In this work we have developed a new platform technology which combines two cutting-edge manufacturing techniques (microstereolithography and electrospinning) for the fabrication of corneal membranes that mimic to a certain extent the limbus. Our membranes contain artificial micropockets which aim to provide cells with protection as the Palisades of Vogt do in the eye.
Bioengineering, Issue 91, electrospinning, microstereolithography, stem cell niche, storage, limbal explants
51826
The Multiple Sclerosis Performance Test (MSPT): An iPad-Based Disability Assessment Tool
Institutions: Cleveland Clinic Foundation, Cleveland Clinic Foundation, Cleveland Clinic Foundation, Cleveland Clinic Foundation.

Precise measurement of neurological and neuropsychological impairment and disability in multiple sclerosis is challenging. We report a new test, the Multiple Sclerosis Performance Test (MSPT), which represents a new approach to quantifying MS related disability. The MSPT takes advantage of advances in computer technology, information technology, biomechanics, and clinical measurement science. The resulting MSPT represents a computer-based platform for precise, valid measurement of MS severity. Based on, but extending the Multiple Sclerosis Functional Composite (MSFC), the MSPT provides precise, quantitative data on walking speed, balance, manual dexterity, visual function, and cognitive processing speed. The MSPT was tested by 51 MS patients and 49 healthy controls (HC). MSPT scores were highly reproducible, correlated strongly with technician-administered test scores, discriminated MS from HC and severe from mild MS, and correlated with patient reported outcomes. Measures of reliability, sensitivity, and clinical meaning for MSPT scores were favorable compared with technician-based testing. The MSPT is a potentially transformative approach for collecting MS disability outcome data for patient care and research. Because the testing is computer-based, test performance can be analyzed in traditional or novel ways and data can be directly entered into research or clinical databases. The MSPT could be widely disseminated to clinicians in practice settings who are not connected to clinical trial performance sites or who are practicing in rural settings, drastically improving access to clinical trials for clinicians and patients. The MSPT could be adapted to out of clinic settings, like the patient's home, thereby providing more meaningful real world data. The MSPT represents a new paradigm for neuroperformance testing. This method could have the same transformative effect on clinical care and research in MS as standardized computer-adapted testing has had in the education field, with clear potential to accelerate progress in clinical care and research.
Medicine, Issue 88, Multiple Sclerosis, Multiple Sclerosis Functional Composite, computer-based testing, 25-foot walk test, 9-hole peg test, Symbol Digit Modalities Test, Low Contrast Visual Acuity, Clinical Outcome Measure
51318
A Comprehensive Protocol for Manual Segmentation of the Medial Temporal Lobe Structures
Institutions: University of Illinois Urbana-Champaign, University of Illinois Urbana-Champaign, University of Illinois Urbana-Champaign.

The present paper describes a comprehensive protocol for manual tracing of the set of brain regions comprising the medial temporal lobe (MTL): amygdala, hippocampus, and the associated parahippocampal regions (perirhinal, entorhinal, and parahippocampal proper). Unlike most other tracing protocols available, typically focusing on certain MTL areas (
e.g.
, amygdala and/or hippocampus), the integrative perspective adopted by the present tracing guidelines allows for clear localization of all MTL subregions. By integrating information from a variety of sources, including extant tracing protocols separately targeting various MTL structures, histological reports, and brain atlases, and with the complement of illustrative visual materials, the present protocol provides an accurate, intuitive, and convenient guide for understanding the MTL anatomy. The need for such tracing guidelines is also emphasized by illustrating possible differences between automatic and manual segmentation protocols. This knowledge can be applied toward research involving not only structural MRI investigations but also structural-functional colocalization and fMRI signal extraction from anatomically defined ROIs, in healthy and clinical groups alike.
Neuroscience, Issue 89, Anatomy, Segmentation, Medial Temporal Lobe, MRI, Manual Tracing, Amygdala, Hippocampus, Perirhinal Cortex, Entorhinal Cortex, Parahippocampal Cortex
50991
Community-based Adapted Tango Dancing for Individuals with Parkinson's Disease and Older Adults
Institutions: Emory University School of Medicine, Brigham and Woman's Hospital and Massachusetts General Hospital.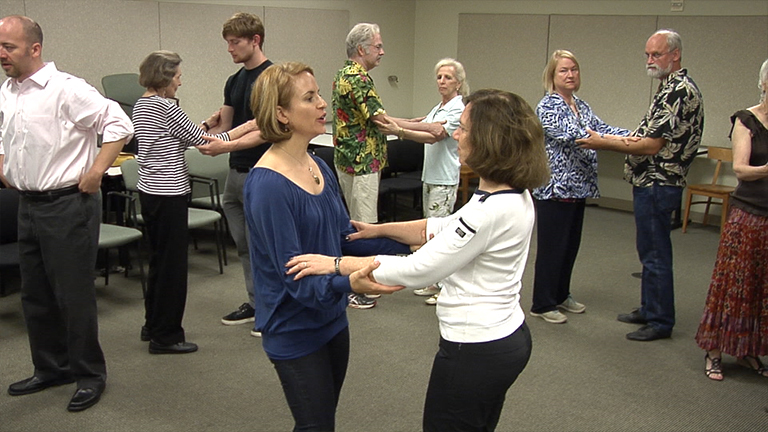 Adapted tango dancing improves mobility and balance in older adults and additional populations with balance impairments. It is composed of very simple step elements. Adapted tango involves movement initiation and cessation, multi-directional perturbations, varied speeds and rhythms. Focus on foot placement, whole body coordination, and attention to partner, path of movement, and aesthetics likely underlie adapted tango's demonstrated efficacy for improving mobility and balance. In this paper, we describe the methodology to disseminate the adapted tango teaching methods to dance instructor trainees and to implement the adapted tango by the trainees in the community for older adults and individuals with Parkinson's Disease (PD). Efficacy in improving mobility (measured with the Timed Up and Go, Tandem stance, Berg Balance Scale, Gait Speed and 30 sec chair stand), safety and fidelity of the program is maximized through targeted instructor and volunteer training and a structured detailed syllabus outlining class practices and progression.
Behavior, Issue 94, Dance, tango, balance, pedagogy, dissemination, exercise, older adults, Parkinson's Disease, mobility impairments, falls
52066
Mindfulness in Motion (MIM): An Onsite Mindfulness Based Intervention (MBI) for Chronically High Stress Work Environments to Increase Resiliency and Work Engagement
Institutions: The Ohio State University College of Medicine, Wexner Medical Center, The Ohio State University College of Medicine.

A pragmatic mindfulness intervention to benefit personnel working in chronically high-stress environments, delivered onsite during the workday, is timely and valuable to employee and employer alike. Mindfulness in Motion (MIM) is a Mindfulness Based Intervention (MBI) offered as a modified, less time intensive method (compared to Mindfulness-Based Stress Reduction), delivered onsite, during work, and intends to enable busy working adults to experience the benefits of mindfulness. It teaches mindful awareness principles, rehearses mindfulness as a group, emphasizes the use of gentle yoga stretches, and utilizes relaxing music in the background of both the group sessions and individual mindfulness practice. MIM is delivered in a group format, for 1 hr/week/8 weeks. CDs and a DVD are provided to facilitate individual practice. The yoga movement is emphasized in the protocol to facilitate a quieting of the mind. The music is included for participants to associate the relaxed state experienced in the group session with their individual practice. To determine the intervention feasibility/efficacy we conducted a randomized wait-list control group in Intensive Care Units (ICUs). ICUs represent a high-stress work environment where personnel experience chronic exposure to catastrophic situations as they care for seriously injured/ill patients. Despite high levels of work-related stress, few interventions have been developed and delivered onsite for such environments. The intervention is delivered on site in the ICU, during work hours, with participants receiving time release to attend sessions. The intervention is well received with 97% retention rate. Work engagement and resiliency increase significantly in the intervention group, compared to the wait-list control group, while participant respiration rates decrease significantly pre-post in 6/8 of the weekly sessions. Participants value institutional support, relaxing music, and the instructor as pivotal to program success. This provides evidence that MIM is feasible, well accepted, and can be effectively implemented in a chronically high-stress work environment.
Behavior, Issue 101, Mindfulness, resiliency, work-engagement, stress-reduction, workplace, non-reactivity, Intensive-care, chronic stress, work environment
52359
Mouse Model of Alloimmune-induced Vascular Rejection and Transplant Arteriosclerosis
Institutions: Simon Fraser University.

Vascular rejection that leads to transplant arteriosclerosis (TA) is the leading representation of chronic heart transplant failure. In TA, the immune system of the recipient causes damage of the arterial wall and dysfunction of endothelial cells and smooth muscle cells. This triggers a pathological repair response that is characterized by intimal thickening and luminal occlusion. Understanding the mechanisms by which the immune system causes vasculature rejection and TA may inform the development of novel ways to manage graft failure. Here, we describe a mouse aortic interposition model that can be used to study the pathogenic mechanisms of vascular rejection and TA. The model involves grafting of an aortic segment from a donor animal into an allogeneic recipient. Rejection of the artery segment involves alloimmune reactions and results in arterial changes that resemble vascular rejection. The basic technical approach we describe can be used with different mouse strains and targeted interventions to answer specific questions related to vascular rejection and TA.
Medicine, Issue 99, Transplantation, Vascular rejection, Transplant arteriosclerosis, Artery, Aorta
52800
Transplantation of Tail Skin to Study Allogeneic CD4 T Cell Responses in Mice
Institutions: University of Basel and University Hospital Basel.

The study of T cell responses and their consequences during allo-antigen recognition requires a model that enables one to distinguish between donor and host T cells, to easily monitor the graft, and to adapt the system in order to answer different immunological questions. Medawar and colleagues established allogeneic tail-skin transplantation in mice in 1955. Since then, the skin transplantation model has been continuously modified and adapted to answer specific questions. The use of tail-skin renders this model easy to score for graft rejection, requires neither extensive preparation nor deep anesthesia, is applicable to animals of all genetic background, discourages ischemic necrosis, and permits chemical and biological intervention. In general, both CD4
+
and CD8
+
allogeneic T cells are responsible for the rejection of allografts since they recognize mismatched major histocompatibility antigens from different mouse strains. Several models have been described for activating allogeneic T cells in skin-transplanted mice. The identification of major histocompatibility complex (MHC) class I and II molecules in different mouse strains including C57BL/6 mice was an important step toward understanding and studying T cell-mediated alloresponses. In the tail-skin transplantation model described here, a three-point mutation (I-A
bm12
) in the antigen-presenting groove of the MHC-class II (I-A
b
) molecule is sufficient to induce strong allogeneic CD4
+
T cell activation in C57BL/6 mice. Skin grafts from I-A
bm12
mice on C57BL/6 mice are rejected within 12-15 days, while syngeneic grafts are accepted for up to 100 days. The absence of T cells (CD3
-/-
and Rag2
-/-
mice) allows skin graft acceptance up to 100 days, which can be overcome by transferring 2 x 10
4
wild type or transgenic T cells. Adoptively transferred T cells proliferate and produce IFN-γ in I-A
bm12
-transplanted Rag2
-/-
mice.
Immunology, Issue 89, Tail-skin transplantation, I-Abm12 mismatch, CD4+ T cell, ABM, Rejection, Tolerance
51724