ABSTRACT
Enucleation is the process of retrieving the ocular globe from a cadaveric donor leaving the rest of the globe undisturbed. Excision refers to the retrieval of ocular tissues, especially cornea, by cutting it separate from the ocular globe. Evisceration is the process of removing the internal organs referred here as retina. The ocular globe consists of the cornea, the sclera, the vitreous body, the lens, the iris, the retina, the choroid, muscles etc (Suppl. Figure 1). When a patient is suffering from corneal damage, the cornea needs to be removed and a healthy one must be transplanted by keratoplastic surgeries. Genetic disorders or defects in retinal function can compromise vision. Human ocular globes can be used for various surgical procedures such as eye banking, transplantation of human cornea or sclera and research on ocular tissues. However, there is little information available on human corneal and retinal excision, probably due to the limited accessibility to human tissues. Most of the studies describing similar procedures are performed on animal models. Research scientists rely on the availability of properly dissected and well-conserved ocular tissues in order to extend the knowledge on human eye development, homeostasis and function. As we receive high amount of ocular globes out of which approximately 40% (Table 1) of them are used for research purposes, we are able to perform huge amount of experiments on these tissues, defining techniques to excise and preserve them regularly. The cornea is an avascular tissue which enables the transmission of light onto the retina and for this purpose should always maintain a good degree of transparency. Within the cornea, the limbus region, which is a reservoir of the stem cells, helps the reconstruction of epithelial cells and restricts the overgrowth of the conjunctiva maintaining corneal transparency and clarity. The size and thickness of the cornea are critical for clear vision, as changes in either of them could lead to distracted, unclear vision. The cornea comprises of 5 layers; a) epithelium, b) Bowman's layer, c) stroma, d) Descemet's membrane and e) endothelium. All layers should function properly to ensure clear vision4,5,6. The choroid is the intermediate tunic between the sclera and retina, bounded on the interior by the Bruch's membrane and is responsible for blood flow in the eye. The choroid also helps to regulate the temperature and supplies nourishment to the outer layers of the retina5,6. The retina is a layer of nervous tissue that covers the back of the ocular globe (Suppl. Figure 1) and consists of two parts: a photoreceptive part and a non-receptive part. The retina helps to receive the light from the cornea and lens and converts it into the chemical energy eventually transmitted to the brain with help of the optic nerve5,6. The aim of this paper is to provide a protocol for the dissection of corneal and retinal tissues from human ocular globes. Avoiding cross-contamination with adjacent tissues and preserving RNA integrity is of fundamental importance as such tissues are indispensable for research purposes aimed at (i) characterizing the transcriptome of the ocular tissues, (ii) isolating stem cells for regenerative medicine projects, and (iii) evaluating histological differences between tissues from normal/affected subjects. In this paper we describe the technique we currently use to remove the cornea, the choroid and retinal tissues from an ocular globe. Here we provide a detailed protocol for the dissection of the human ocular globe and the excision of corneal and retinal tissues. The accompanying video will help researchers to learn an appropriate technique for the retrieval of precious human tissues which are difficult to find regularly.
18 Related JoVE Articles!
Corneal Donor Tissue Preparation for Endothelial Keratoplasty
Institutions: University of Michigan , MidWest Eye Banks.
Over the past ten years, corneal transplantation surgical techniques have undergone revolutionary changes
1,2
. Since its inception, traditional full thickness corneal transplantation has been the treatment to restore sight in those limited by corneal disease. Some disadvantages to this approach include a high degree of post-operative astigmatism, lack of predictable refractive outcome, and disturbance to the ocular surface. The development of Descemet's stripping endothelial keratoplasty (DSEK), transplanting only the posterior corneal stroma, Descemet's membrane, and endothelium, has dramatically changed treatment of corneal endothelial disease. DSEK is performed through a smaller incision; this technique avoids 'open sky' surgery with its risk of hemorrhage or expulsion, decreases the incidence of postoperative wound dehiscence, reduces unpredictable refractive outcomes, and may decrease the rate of transplant rejection
3-6
. Initially, cornea donor posterior lamellar dissection for DSEK was performed manually
1
resulting in variable graft thickness and damage to the delicate corneal endothelial tissue during tissue processing. Automated lamellar dissection (Descemet's stripping automated endothelial keratoplasty, DSAEK) was developed to address these issues. Automated dissection utilizes the same technology as LASIK corneal flap creation with a mechanical microkeratome blade that helps to create uniform and thin tissue grafts for DSAEK surgery with minimal corneal endothelial cell loss in tissue processing. Eye banks have been providing full thickness corneas for surgical transplantation for many years. In 2006, eye banks began to develop methodologies for supplying precut corneal tissue for endothelial keratoplasty. With the input of corneal surgeons, eye banks have developed thorough protocols to safely and effectively prepare posterior lamellar tissue for DSAEK surgery. This can be performed preoperatively at the eye bank. Research shows no significant difference in terms of the quality of the tissue
7
or patient outcomes
8,9
using eye bank precut tissue versus surgeon-prepared tissue for DSAEK surgery. For most corneal surgeons, the availability of precut DSAEK corneal tissue saves time and money
10
, and reduces the stress of performing the donor corneal dissection in the operating room. In part because of the ability of the eye banks to provide high quality posterior lamellar corneal in a timely manner, DSAEK has become the standard of care for surgical management of corneal endothelial disease. The procedure that we are describing is the preparation of the posterior lamellar cornea at the eye bank for transplantation in DSAEK surgery (
Figure 1
).
Medicine, Issue 64, Physiology, Cornea, transplantation, DSAEK, DSEK, endothelial keratoplasty, lamellar, graft, Moria, microkeratome, precut, Fuchs dystrophy
3847
Murine Corneal Transplantation: A Model to Study the Most Common Form of Solid Organ Transplantation
Institutions: Saint Louis University.

Corneal transplantation is the most common form of organ transplantation in the United States with between 45,000 and 55,000 procedures performed each year. While several animal models exist for this procedure and mice are the species that is most commonly used. The reasons for using mice are the relative cost of using this species, the existence of many genetically defined strains that allow for the study of immune responses, and the existence of an extensive array of reagents that can be used to further define responses in this species. This model has been used to define factors in the cornea that are responsible for the relative immune privilege status of this tissue that enables corneal allografts to survive acute rejection in the absence of immunosuppressive therapy. It has also been used to define those factors that are most important in rejection of such allografts. Consequently, much of what we know concerning mechanisms of both corneal allograft acceptance and rejection are due to studies using a murine model of corneal transplantation. In addition to describing a model for acute corneal allograft rejection, we also present for the first time a model of late-term corneal allograft rejection.
Immunology, Issue 93, Transplantation, Allograft Responses, Immune Privilege, Cornea, Inflammatory cells, T cells, Macrophages
51830
Corneal Donor Tissue Preparation for Descemet's Membrane Endothelial Keratoplasty
Institutions: University of Michigan, MidWest Eye Banks.

Descemet's Membrane Endothelial Keratoplasty (DMEK) is a form of corneal transplantation in which only a single cell layer, the corneal endothelium, along with its basement membrane (Descemet's membrane) is introduced onto the recipient's posterior stroma
3
. Unlike Descemet's Stripping Automated Endothelial Keratoplasty (DSAEK), where additional donor stroma is introduced, no unnatural stroma-to-stroma interface is created. As a result, the natural anatomy of the cornea is preserved as much as possible allowing for improved recovery time and visual acuity
4
. Endothelial Keratoplasty (EK) is the procedure of choice for treatment of endothelial dysfunction. The advantages of EK include rapid recovery of vision, preservation of ocular integrity and minimal refractive change due to use of a small, peripheral incision
1
. DSAEK utilizes donor tissue prepared with partial thickness stroma and endothelium. The rapid success and utilization of this procedure can be attributed to availability of eye-bank prepared precut tissue. The benefits of eye-bank preparation of donor tissue include elimination of need for specialized equipment in the operating room and availability of back up donor tissue in case of tissue perforation during preparation. In addition, high volume preparation of donor tissue by eye-bank technicians may provide improved quality of donor tissue. DSAEK may have limited best corrected visual acuity due to creation of a stromal interface between the donor and recipient cornea. Elimination of this interface with transplantation of only donor Descemet's membrane and endothelium in DMEK may improve visual outcomes and reduce complications after EK
5
. Similar to DSAEK, long term success and acceptance of DMEK is dependent on ease of availability of precut, eye-bank prepared donor tissue. Here we present a stepwise approach to donor tissue preparation which may reduce some barriers eye-banks face in providing DMEK grafts.
Medicine, Issue 91, DMEK, EK, endothelial keratoplasty, Descemet's membrane endothelial keratoplasty, corneal transplantation, eye bank, donor tissue preparation
51919
Ex Vivo Organotypic Corneal Model of Acute Epithelial Herpes Simplex Virus Type I Infection
Institutions: Drexel University College of Medicine.

Herpes keratitis is one of the most severe pathologies associated with the herpes simplex virus-type 1 (HSV-1). Herpes keratitis is currently the leading cause of both cornea-derived and infection-associated blindness in the developed world. Typical presentation of herpes keratitis includes infection of the corneal epithelium and sometimes the deeper corneal stroma and endothelium, leading to such permanent corneal pathologies as scarring, thinning, and opacity
1
. Corneal HSV-1 infection is traditionally studied in two types of experimental models. The
in vitro
model, in which cultured monolayers of corneal epithelial cells are infected in a Petri dish, offers simplicity, high level of replicability, fast experiments, and relatively low costs. On the other hand, the
in vivo
model, in which animals such as rabbits or mice are inoculated directly in the cornea, offers a highly sophisticated physiological system, but has higher costs, longer experiments, necessary animal care, and a greater degree of variability. In this video article, we provide a detailed demonstration of a new
ex vivo
model of corneal epithelial HSV-1 infection, which combines the strengths of both the
in vitro
and the
in vivo
models. The
ex vivo
model utilizes intact corneas organotypically maintained in culture and infected with HSV-1. The use of the
ex vivo
model allows for highly physiologically-based conclusions, yet it is rather inexpensive and requires time commitment comparable to that of the
in vitro
model.
Neuroscience, Issue 69, Virology, herpes, cornea, HSV, ex vivo, explant, corneal epithelium, organotypic, keratitis, eye, vision, ophthalmology
3631
An "All-laser" Endothelial Transplant
Institutions: Italian National Research Council, Nuovo Ospedale Santo Stefano.
The "all laser" assisted endothelial keratoplasty is a procedure that is performed with a femtosecond laser used to cut the donor tissue at an intended depth, and a near infrared diode laser to weld the corneal tissue. The proposed technique enables to reach the three main goals in endothelial keratoplasty: a precise control in the thickness of the donor tissue; its easy insertion in the recipient bed and a reduced risk of donor lenticule dislocation. The donor cornea thickness is measured in the surgery room with optical coherence tomography (OCT), in order to correctly design the donor tissue dimensions. A femtosecond laser is used to cut the donor cornea. The recipient eye is prepared by manual stripping of the descemetic membrane. The donor endothelium is inserted into a Busin-injector, the peripheral inner side is stained with a proper chromophore (a water solution of Indocyanine Green) and then it is pulled in the anterior chamber. The transplanted tissue is placed in the final and correct location and then diode laser welding is induced from outside the eyeball. The procedure has been performed on more than 15 patients evidencing an improvement in surgery performances, with a good recovery of visual acuity and a reduced donor lenticule dislocation event.
Medicine, Issue 101, Endothelium, laser welding, femtosecond laser, corneal transplantation, diode laser, Indocyanine Green, donor tissue thickness, optical coherence tomography
52939
Recurrent Herpetic Stromal Keratitis in Mice, a Model for Studying Human HSK
Institutions: Saint Louis University.

Herpetic eye disease, termed herpetic stromal keratitis (HSK), is a potentially blinding infection of the cornea that results in over 300,000 clinical visits each year for treatment. Between 1 and 2 percent of those patients with clinical disease will experience loss of vision of the infected cornea. The vast majority of these cases are the result of reactivation of a latent infection by herpes simplex type I virus and not due to acute disease. Interestingly, the acute infection is the model most often used to study this disease. However, it was felt that a recurrent model of HSK would be more reflective of what occurs during clinical disease. The recurrent animal models for HSK have employed both rabbits and mice. The advantage of rabbits is that they experience reactivation from latency absent any known stimulus. That said, it is difficult to explore the role that many immunological factors play in recurrent HSK because the rabbit model does not have the immunological and genetic resources that the mouse has. We chose to use the mouse model for recurrent HSK because it has the advantage of there being many resources available and also we know when reactivation will occur because reactivation is induced by exposure to UV-B light. Thus far, this model has allowed those laboratories using it to define several immunological factors that are important to this disease. It has also allowed us to test both therapeutic and vaccine efficacy.
Infection, Issue 70, Immunology, Virology, Medicine, Infectious Diseases, Ophthalmology, Herpes, herpetic stromal keratitis, HSK, keratitis, pathogenesis, clinical evaluation, virus, eye, mouse, animal model
4276
A Mouse Model of the Cornea Pocket Assay for Angiogenesis Study
Institutions: National Eye Institute.

A normal cornea is clear of vascular tissues. However, blood vessels can be induced to grow and survive in the cornea when potent angiogenic factors are administered
1
. This uniqueness has made the cornea pocket assay one of the most used models for angiogenesis studies. The cornea composes multiple layers of cells. It is therefore possible to embed a pellet containing the angiogenic factor of interest in the cornea to investigate its angiogenic effect
2,3
. Here, we provide a step by step demonstration of how to (I) produce the angiogenic factor-containing pellet (II) embed the pellet into the cornea (III) analyze the angiogenesis induced by the angiogenic factor of interest. Since the basic fibroblast growth factor (bFGF) is known as one of the most potent angiogenic factors
4
, it is used here to induce angiogenesis in the cornea.
Medicine, Issue 54, mouse cornea pocket assay, angiogenesis
3077
The Corneal Micropocket Assay: A Model of Angiogenesis in the Mouse Eye
Institutions: Boston Children's Hospital, The Hebrew University of Jerusalem, Harvard Medical School.

The mouse corneal micropocket assay is a robust and quantitative
in vivo
assay for evaluating angiogenesis. By using standardized slow-release pellets containing specific growth factors that trigger blood vessel growth throughout the naturally avascular cornea, angiogenesis can be measured and quantified. In this assay the angiogenic response is generated over the course of several days, depending on the type and dose of growth factor used. The induction of neovascularization is commonly triggered by either basic fibroblast growth factor (bFGF) or vascular endothelial growth factor (VEGF). By combining these growth factors with sucralfate and hydron (poly-HEMA (poly(2-hydroxyethyl methacrylate))) and casting the mixture into pellets, they can be surgically implanted in the mouse eye. These uniform pellets slowly-release the growth factors over five or six days (bFGF or VEGF respectively) enabling sufficient angiogenic response required for vessel area quantification using a slit lamp. This assay can be used for different applications, including the evaluation of angiogenic modulator drugs or treatments as well as comparison between different genetic backgrounds affecting angiogenesis. A skilled investigator after practicing this assay can implant a pellet in less than 5 min per eye.
Neuroscience, Issue 90, Angiogensis, neovasculatization, in vivo assay, model, fibroblast growth factor, vascular endothelial growth factor
51375
Real-time Imaging of Endothelial Cell-cell Junctions During Neutrophil Transmigration Under Physiological Flow
Institutions: Sanquin Research and Landsteiner Laboratory, AMC at University of Amsterdam.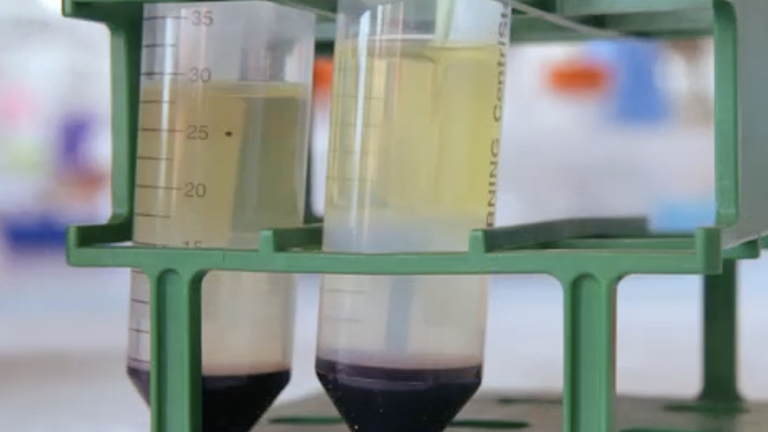 During inflammation, leukocytes leave the circulation and cross the endothelium to fight invading pathogens in underlying tissues. This process is known as leukocyte transendothelial migration. Two routes for leukocytes to cross the endothelial monolayer have been described: the paracellular route,
i.e.,
through the cell-cell junctions and the transcellular route,
i.e.,
through the endothelial cell body. However, it has been technically difficult to discriminate between the para- and transcellular route. We developed a simple
in vitro
assay to study the distribution of endogenous VE-cadherin and PECAM-1 during neutrophil transendothelial migration under physiological flow conditions. Prior to neutrophil perfusion, endothelial cells were briefly treated with fluorescently-labeled antibodies against VE-cadherin and PECAM-1. These antibodies did not interfere with the function of both proteins, as was determined by electrical cell-substrate impedance sensing and FRAP measurements. Using this assay, we were able to follow the distribution of endogenous VE-cadherin and PECAM-1 during transendothelial migration under flow conditions and discriminate between the para- and transcellular migration routes of the leukocytes across the endothelium.
Immunology, Issue 90, Leukocytes, Human Umbilical Vein Endothelial Cells (HUVECs), transmigration, VE-cadherin, PECAM-1, endothelium, transcellular, paracellular
51766
Corneal Confocal Microscopy: A Novel Non-invasive Technique to Quantify Small Fibre Pathology in Peripheral Neuropathies
Institutions: University of Manchester.

The accurate quantification of peripheral neuropathy is important to define at risk patients, anticipate deterioration, and assess new therapies. Conventional methods assess neurological deficits and electrophysiology and quantitative sensory testing quantifies functional alterations to detect neuropathy. However, the earliest damage appears to be to the small fibres and yet these tests primarily assess large fibre dysfunction and have a limited ability to demonstrate regeneration and repair. The only techniques which allow a direct examination of unmyelinated nerve fibre damage and repair are sural nerve biopsy with electron microscopy and skin-punch biopsy. However, both are invasive procedures and require lengthy laboratory procedures and considerable expertise. Corneal Confocal microscopy is a non-invasive clinical technique which provides
in-vivo
imaging of corneal nerve fibres. We have demonstrated early nerve damage, which precedes loss of intraepidermal nerve fibres in skin biopsies together with stratification of neuropathic severity and repair following pancreas transplantation in diabetic patients. We have also demonstrated nerve damage in idiopathic small fibre neuropathy and Fabry's disease.
Medicine, Issue 47, Corneal Confocal Microscopy, Corneal nerves, Peripheral Neuropathy, Diabetic Neuropathy
2194
Characterization of Complex Systems Using the Design of Experiments Approach: Transient Protein Expression in Tobacco as a Case Study
Institutions: RWTH Aachen University, Fraunhofer Gesellschaft.

Plants provide multiple benefits for the production of biopharmaceuticals including low costs, scalability, and safety. Transient expression offers the additional advantage of short development and production times, but expression levels can vary significantly between batches thus giving rise to regulatory concerns in the context of good manufacturing practice. We used a design of experiments (DoE) approach to determine the impact of major factors such as regulatory elements in the expression construct, plant growth and development parameters, and the incubation conditions during expression, on the variability of expression between batches. We tested plants expressing a model anti-HIV monoclonal antibody (2G12) and a fluorescent marker protein (DsRed). We discuss the rationale for selecting certain properties of the model and identify its potential limitations. The general approach can easily be transferred to other problems because the principles of the model are broadly applicable: knowledge-based parameter selection, complexity reduction by splitting the initial problem into smaller modules, software-guided setup of optimal experiment combinations and step-wise design augmentation. Therefore, the methodology is not only useful for characterizing protein expression in plants but also for the investigation of other complex systems lacking a mechanistic description. The predictive equations describing the interconnectivity between parameters can be used to establish mechanistic models for other complex systems.
Bioengineering, Issue 83, design of experiments (DoE), transient protein expression, plant-derived biopharmaceuticals, promoter, 5'UTR, fluorescent reporter protein, model building, incubation conditions, monoclonal antibody
51216
Analysis of Nephron Composition and Function in the Adult Zebrafish Kidney
Institutions: University of Notre Dame.

The zebrafish model has emerged as a relevant system to study kidney development, regeneration and disease. Both the embryonic and adult zebrafish kidneys are composed of functional units known as nephrons, which are highly conserved with other vertebrates, including mammals. Research in zebrafish has recently demonstrated that two distinctive phenomena transpire after adult nephrons incur damage: first, there is robust regeneration within existing nephrons that replaces the destroyed tubule epithelial cells; second, entirely new nephrons are produced from renal progenitors in a process known as neonephrogenesis. In contrast, humans and other mammals seem to have only a limited ability for nephron epithelial regeneration. To date, the mechanisms responsible for these kidney regeneration phenomena remain poorly understood. Since adult zebrafish kidneys undergo both nephron epithelial regeneration and neonephrogenesis, they provide an outstanding experimental paradigm to study these events. Further, there is a wide range of genetic and pharmacological tools available in the zebrafish model that can be used to delineate the cellular and molecular mechanisms that regulate renal regeneration. One essential aspect of such research is the evaluation of nephron structure and function. This protocol describes a set of labeling techniques that can be used to gauge renal composition and test nephron functionality in the adult zebrafish kidney. Thus, these methods are widely applicable to the future phenotypic characterization of adult zebrafish kidney injury paradigms, which include but are not limited to, nephrotoxicant exposure regimes or genetic methods of targeted cell death such as the nitroreductase mediated cell ablation technique. Further, these methods could be used to study genetic perturbations in adult kidney formation and could also be applied to assess renal status during chronic disease modeling.
Cellular Biology, Issue 90, zebrafish; kidney; nephron; nephrology; renal; regeneration; proximal tubule; distal tubule; segment; mesonephros; physiology; acute kidney injury (AKI)
51644
Using Fluorescence Activated Cell Sorting to Examine Cell-Type-Specific Gene Expression in Rat Brain Tissue
Institutions: University of Delaware.

The brain is comprised of four primary cell types including neurons, astrocytes, microglia and oligodendrocytes. Though they are not the most abundant cell type in the brain, neurons are the most widely studied of these cell types given their direct role in impacting behaviors. Other cell types in the brain also impact neuronal function and behavior via the signaling molecules they produce. Neuroscientists must understand the interactions between the cell types in the brain to better understand how these interactions impact neural function and disease. To date, the most common method of analyzing protein or gene expression utilizes the homogenization of whole tissue samples, usually with blood, and without regard for cell type. This approach is an informative approach for examining general changes in gene or protein expression that may influence neural function and behavior; however, this method of analysis does not lend itself to a greater understanding of cell-type-specific gene expression and the effect of cell-to-cell communication on neural function. Analysis of behavioral epigenetics has been an area of growing focus which examines how modifications of the deoxyribonucleic acid (DNA) structure impact long-term gene expression and behavior; however, this information may only be relevant if analyzed in a cell-type-specific manner given the differential lineage and thus epigenetic markers that may be present on certain genes of individual neural cell types. The Fluorescence Activated Cell Sorting (FACS) technique described below provides a simple and effective way to isolate individual neural cells for the subsequent analysis of gene expression, protein expression, or epigenetic modifications of DNA. This technique can also be modified to isolate more specific neural cell types in the brain for subsequent cell-type-specific analysis.
Neuroscience, Issue 99, Fluorescence activated cell sorting, GLT-1, Thy1, CD11b, real-time PCR, gene expression
52537
Combination of Microstereolithography and Electrospinning to Produce Membranes Equipped with Niches for Corneal Regeneration
Institutions: University of Sheffield, University of Sheffield, L. V. Prasad Eye Institute.

Corneal problems affect millions of people worldwide reducing their quality of life significantly. Corneal disease can be caused by illnesses such as Aniridia or Steven Johnson Syndrome as well as by external factors such as chemical burns or radiation. Current treatments are (i) the use of corneal grafts and (ii) the use of stem cell expanded in the laboratory and delivered on carriers (
e.g.
, amniotic membrane); these treatments are relatively successful but unfortunately they can fail after 3-5 years. There is a need to design and manufacture new corneal biomaterial devices able to mimic in detail the physiological environment where stem cells reside in the cornea. Limbal stem cells are located in the limbus (circular area between cornea and sclera) in specific niches known as the Palisades of Vogt. In this work we have developed a new platform technology which combines two cutting-edge manufacturing techniques (microstereolithography and electrospinning) for the fabrication of corneal membranes that mimic to a certain extent the limbus. Our membranes contain artificial micropockets which aim to provide cells with protection as the Palisades of Vogt do in the eye.
Bioengineering, Issue 91, electrospinning, microstereolithography, stem cell niche, storage, limbal explants
51826
An Alkali-burn Injury Model of Corneal Neovascularization in the Mouse
Institutions: Tulane University, Tulane University.

Under normal conditions, the cornea is avascular, and this transparency is essential for maintaining good visual acuity. Neovascularization (NV) of the cornea, which can be caused by trauma, keratoplasty or infectious disease, breaks down the so called 'angiogenic privilege' of the cornea and forms the basis of multiple visual pathologies that may even lead to blindness. Although there are several treatment options available, the fundamental medical need presented by corneal neovascular pathologies remains unmet. In order to develop safe, effective, and targeted therapies, a reliable model of corneal NV and pharmacological intervention is required. Here, we describe an alkali-burn injury corneal neovascularization model in the mouse. This protocol provides a method for the application of a controlled alkali-burn injury to the cornea, administration of a pharmacological compound of interest, and visualization of the result. This method could prove instrumental for studying the mechanisms and opportunities for intervention in corneal NV and other neovascular disorders.
Medicine, Issue 86, Alkali-burn Injury, Corneal Neovascularization (NV), Corneal Blindness, Angiogenesis, Inflammation, Hemangiogenesis, Lymphangiogenesis
51159
Mechanical Stimulation-induced Calcium Wave Propagation in Cell Monolayers: The Example of Bovine Corneal Endothelial Cells
Institutions: KU Leuven.

Intercellular communication is essential for the coordination of physiological processes between cells in a variety of organs and tissues, including the brain, liver, retina, cochlea and vasculature. In experimental settings, intercellular Ca
2+
-waves can be elicited by applying a mechanical stimulus to a single cell. This leads to the release of the intracellular signaling molecules IP
3
and Ca
2+
that initiate the propagation of the Ca
2+
-wave concentrically from the mechanically stimulated cell to the neighboring cells. The main molecular pathways that control intercellular Ca
2+
-wave propagation are provided by gap junction channels through the direct transfer of IP
3
and by hemichannels through the release of ATP. Identification and characterization of the properties and regulation of different connexin and pannexin isoforms as gap junction channels and hemichannels are allowed by the quantification of the spread of the intercellular Ca
2+
-wave, siRNA, and the use of inhibitors of gap junction channels and hemichannels. Here, we describe a method to measure intercellular Ca
2+
-wave in monolayers of primary corneal endothelial cells loaded with Fluo4-AM in response to a controlled and localized mechanical stimulus provoked by an acute, short-lasting deformation of the cell as a result of touching the cell membrane with a micromanipulator-controlled glass micropipette with a tip diameter of less than 1 μm. We also describe the isolation of primary bovine corneal endothelial cells and its use as model system to assess Cx43-hemichannel activity as the driven force for intercellular Ca
2+
-waves through the release of ATP. Finally, we discuss the use, advantages, limitations and alternatives of this method in the context of gap junction channel and hemichannel research.
Cellular Biology, Issue 77, Molecular Biology, Medicine, Biomedical Engineering, Biophysics, Immunology, Ophthalmology, Gap Junctions, Connexins, Connexin 43, Calcium Signaling, Ca2+, Cell Communication, Paracrine Communication, Intercellular communication, calcium wave propagation, gap junctions, hemichannels, endothelial cells, cell signaling, cell, isolation, cell culture
50443
Setting-up an In Vitro Model of Rat Blood-brain Barrier (BBB): A Focus on BBB Impermeability and Receptor-mediated Transport
Institutions: VECT-HORUS SAS, CNRS, NICN UMR 7259.

The blood brain barrier (BBB) specifically regulates molecular and cellular flux between the blood and the nervous tissue. Our aim was to develop and characterize a highly reproducible rat syngeneic
in vitro
model of the BBB using co-cultures of primary rat brain endothelial cells (RBEC) and astrocytes to study receptors involved in transcytosis across the endothelial cell monolayer. Astrocytes were isolated by mechanical dissection following trypsin digestion and were frozen for later co-culture. RBEC were isolated from 5-week-old rat cortices. The brains were cleaned of meninges and white matter, and mechanically dissociated following enzymatic digestion. Thereafter, the tissue homogenate was centrifuged in bovine serum albumin to separate vessel fragments from nervous tissue. The vessel fragments underwent a second enzymatic digestion to free endothelial cells from their extracellular matrix. The remaining contaminating cells such as pericytes were further eliminated by plating the microvessel fragments in puromycin-containing medium. They were then passaged onto filters for co-culture with astrocytes grown on the bottom of the wells. RBEC expressed high levels of tight junction (TJ) proteins such as occludin, claudin-5 and ZO-1 with a typical localization at the cell borders. The transendothelial electrical resistance (TEER) of brain endothelial monolayers, indicating the tightness of TJs reached 300 ohm·cm
2
on average. The endothelial permeability coefficients (Pe) for lucifer yellow (LY) was highly reproducible with an average of 0.26 ± 0.11 x 10
-3
cm/min. Brain endothelial cells organized in monolayers expressed the efflux transporter P-glycoprotein (P-gp), showed a polarized transport of rhodamine 123, a ligand for P-gp, and showed specific transport of transferrin-Cy3 and DiILDL across the endothelial cell monolayer. In conclusion, we provide a protocol for setting up an
in vitro
BBB model that is highly reproducible due to the quality assurance methods, and that is suitable for research on BBB transporters and receptors.
Medicine, Issue 88, rat brain endothelial cells (RBEC), mouse, spinal cord, tight junction (TJ), receptor-mediated transport (RMT), low density lipoprotein (LDL), LDLR, transferrin, TfR, P-glycoprotein (P-gp), transendothelial electrical resistance (TEER),
51278
Isolation of Human Lymphatic Endothelial Cells by Multi-parameter Fluorescence-activated Cell Sorting
Institutions: The Royal Children's Hospital, The University of Melbourne, Monash University, Clayton.

Lymphatic system disorders such as primary lymphedema, lymphatic malformations and lymphatic tumors are rare conditions that cause significant morbidity but little is known about their biology. Isolating highly pure human lymphatic endothelial cells (LECs) from diseased and healthy tissue would facilitate studies of the lymphatic endothelium at genetic, molecular and cellular levels. It is anticipated that these investigations may reveal targets for new therapies that may change the clinical management of these conditions. A protocol describing the isolation of human foreskin LECs and lymphatic malformation lymphatic endothelial cells (LM LECs) is presented. To obtain a single cell suspension tissue was minced and enzymatically treated using dispase II and collagenase II. The resulting single cell suspension was then labelled with antibodies to cluster of differentiation (CD) markers CD34, CD31, Vascular Endothelial Growth Factor-3 (VEGFR-3) and PODOPLANIN. Stained viable cells were sorted on a fluorescently activated cell sorter (FACS) to separate the CD34
Low
CD31
Pos
VEGFR-3
Pos
PODOPLANIN
Pos
LM LEC population from other endothelial and non-endothelial cells. The sorted LM LECs were cultured and expanded on fibronectin-coated flasks for further experimental use.
Medicine, Issue 99, lymphatic endothelial cell, lymphatic malformation, flow cytometric sorting, cell culture, cell surface markers
52691