ABSTRACT
Gene therapy, used to achieve functional recovery from sensorineural deafness, promises to grant better understanding of the underlying molecular and genetic mechanisms that contribute to hearing loss. Introduction of vectors into the inner ear must be done in a way that widely distributes the agent throughout the cochlea while minimizing injury to the existing structures. This manuscript describes a post-auricular surgical approach that can be used for mouse cochlear therapy using molecular, pharmacologic, and viral delivery to mice postnatal day 10 and older via the round window membrane (RWM). This surgical approach enables rapid and direct delivery into the scala tympani while minimizing blood loss and avoiding animal mortality. This technique involves negligible or no damage to essential structures of the inner and middle ear as well as neck muscles while wholly preserving hearing. To demonstrate the efficacy of this surgical technique, the vesicular glutamate transporter 3 knockout (VGLUT3 KO) mice will be used as an example of a mouse model of congenital deafness that recovers hearing after delivery of VGLUT3 to the inner ear using an adeno-associated virus (AAV-1).
22 Related JoVE Articles!
Dissection of Adult Mouse Utricle and Adenovirus-mediated Supporting-cell Infection
Institutions: Medical University of South Carolina, Medical University of South Carolina, National Institutes of Health.

Hearing loss and balance disturbances are often caused by death of mechanosensory hair cells, which are the receptor cells of the inner ear. Since there is no cell line that satisfactorily represents mammalian hair cells, research on hair cells relies on primary organ cultures. The best-characterized
in vitro
model system of mature mammalian hair cells utilizes organ cultures of utricles from adult mice (
Figure 1
)
1-6
. The utricle is a vestibular organ, and the hair cells of the utricle are similar in both structure and function to the hair cells in the auditory organ, the organ of Corti. The adult mouse utricle preparation represents a mature sensory epithelium for studies of the molecular signals that regulate the survival, homeostasis, and death of these cells. Mammalian cochlear hair cells are terminally differentiated and are not regenerated when they are lost. In non-mammalian vertebrates, auditory or vestibular hair cell death is followed by robust regeneration which restores hearing and balance functions
7, 8
. Hair cell regeneration is mediated by glia-like supporting cells, which contact the basolateral surfaces of hair cells in the sensory epithelium
9, 10
. Supporting cells are also important mediators of hair cell survival and death
11
. We have recently developed a technique for infection of supporting cells in cultured utricles using adenovirus. Using adenovirus type 5 (dE1/E3) to deliver a transgene containing GFP under the control of the CMV promoter, we find that adenovirus specifically and efficiently infects supporting cells. Supporting cell infection efficiency is approximately 25-50%, and hair cells are not infected (
Figure 2
). Importantly, we find that adenoviral infection of supporting cells does not result in toxicity to hair cells or supporting cells, as cell counts in Ad-GFP infected utricles are equivalent to those in non-infected utricles (
Figure 3
). Thus adenovirus-mediated gene expression in supporting cells of cultured utricles provides a powerful tool to study the roles of supporting cells as mediators of hair cell survival, death, and regeneration.
Neuroscience, Issue 61, Hair cell, ototoxicity, hearing loss, organ culture
3734
Culture of Embryonic Mouse Cochlear Explants and Gene Transfer by Electroporation
Institutions: Medical University of South Carolina, College of Medicine, NIDCD, NIH.
Auditory hair cells located within the mouse organ of Corti detect and transmit sound information to the central nervous system. The mechanosensory hair cells are aligned in one row of inner hair cells and three rows of outer hair cells that extend along the basal to apical axis of the cochlea. The explant culture technique described here provides an efficient method to isolate and maintain cochlear explants from the embryonic mouse inner ear. Also, the morphology and molecular characteristics of sensory hair cells and nonsensory supporting cells within the cochlear explant cultures resemble those observed
in vivo
and can be studied within its intrinsic cellular environment. The cochlear explants can serve as important experimental tools for the identification and characterization of molecular and genetic pathways that are involved in cellular specification and patterning. Although transgenic mouse models provide an effective approach for gene expression studies, a considerable number of mouse mutants die during embryonic development thereby hindering the analysis and interpretation of developmental phenotypes. The organ of Corti from mutant mice that die before birth can be cultured so that their
in vitro
development and responses to different factors can be analyzed. Additionally, we describe a technique for electroporating embryonic cochlear explants
ex vivo
which can be used to downregulate or overexpress specific gene(s) and analyze their potential endogenous function and test whether specific gene product is necessary or sufficient in a given context to influence mammalian cochlear development
1-8
.
Developmental Biology, Issue 95, sensory epithelial cells, organ of Corti, cochlear explant cultures, electroporation, hearing, cell fate specification, differentiation
52260
Investigating Outer Hair Cell Motility with a Combination of External Alternating Electrical Field Stimulation and High-speed Image Analysis
Institutions: House Ear Institute.

OHCs are cylindrical sensorimotor cells located in the Organ of Corti, the auditory organ inside the mammalian inner ear. The name "hair cells" derives from their characteristic apical bundle of stereocilia, a critical element for detection and transduction of sound energy
1
. OHCs are able to change shape —elongate, shorten and bend— in response to electrical, mechanical and chemical stimulation, a motor response considered crucial for cochlear amplification of acoustic signals
2
. OHC stimulation induces two different motile responses: i) electromotility, a.k.a fast motility, changes in length in the microsecond range derived from electrically-driven conformational changes in motor proteins densely packed in OHC plasma membrane, and ii) slow motility, shape changes in the millisecond to seconds range involving cytoskeletal reorganization
2, 3
. OHC bending is associated with electromotility, and result either from an asymmetric distribution of motor proteins in the lateral plasma membrane, or asymmetric electrical stimulation of those motor proteins (e.g., with an electrical field perpendicular to the long axis of the cells)
4
. Mechanical and chemical stimuli induce essentially slow motile responses, even though changes in the ionic conditions of the cells and/or their environment can also stimulate the plasma membrane-embedded motor proteins
5, 6
. Since OHC motile responses are an essential component of the cochlear amplifier, the qualitative and quantitative analysis of these motile responses at acoustic frequencies (roughly from 20 Hz to 20 kHz in humans) is a very important matter in the field of hearing research
7
. The development of new imaging technology combining high-speed videocameras, LED-based illumination systems, and sophisticated image analysis software now provides the ability to perform reliable qualitative and quantitative studies of the motile response of isolated OHCs to an external alternating electrical field (EAEF)
8
. This is a simple and non-invasive technique that circumvents most of the limitations of previous approaches
9-11
. Moreover, the LED-based illumination system provides extreme brightness with insignificant thermal effects on the samples and, because of the use of video microscopy, optical resolution is at least 10-fold higher than with conventional light microscopy techniques
12
. For instance, with the experimental setup described here, changes in cell length of about 20 nm can be routinely and reliably detected at frequencies of 10 kHz, and this resolution can be further improved at lower frequencies. We are confident that this experimental approach will help to extend our understanding of the cellular and molecular mechanisms underlying OHC motility.
Neuroscience, Issue 53, Outer Hair Cell, Electromotility, Slow Motility, External Alternating Electrical Field, High-speed Imaging Analysis, Cochlea
2965
Direct Visualization of the Murine Dorsal Cochlear Nucleus for Optogenetic Stimulation of the Auditory Pathway
Institutions: Harvard Medical School, Worcester State University.
Investigation into the use of virus-mediated gene transfer to arrest or reverse hearing loss has largely been relegated to the peripheral auditory system. Few studies have examined gene transfer to the central auditory system. The dorsal cochlear nucleus (DCN) of the brainstem, which contains second order neurons of the auditory pathway, is a potential site for gene transfer. In this protocol, a technique for direct and maximal exposure of the murine DCN via a posterior fossa approach is demonstrated. This approach allows for either acute or survival surgery. Following direct visualization of the DCN, a host of experiments are possible, including injection of opsins into the cochlear nucleus and subsequent stimulation by an optical fiber coupled to a blue light laser. Other neurophysiology experiments, such as electrical stimulation and neural injector tracings are also feasible. The level of visualization and the duration of stimulation achievable make this approach applicable to a wide range of experiments.
Neuroscience, Issue 95, Optogenetics, dorsal cochlear nucleus, virus-mediated gene transfer, auditory system
52426
A Cre-Lox P Recombination Approach for the Detection of Cell Fusion In Vivo
Institutions: University of Wisconsin-Madison, University of Wisconsin-Madison.

The ability of two or more cells of the same type to fuse has been utilized in metazoans throughout evolution to form many complex organs, including skeletal muscle, bone and placenta. Contemporary studies demonstrate fusion of cells of the same type confers enhanced function. For example, when the trophoblast cells of the placenta fuse to form the syncytiotrophoblast, the syncytiotrophoblast is better able to transport nutrients and hormones across the maternal-fetal barrier than unfused trophoblasts
1-4
. More recent studies demonstrate fusion of cells of different types can direct cell fate. The "reversion" or modification of cell fate by fusion was once thought to be limited to cell culture systems. But the advent of stem cell transplantation led to the discovery by us and others that stem cells can fuse with somatic cells
in vivo
and that fusion facilitates stem cell differentiation
5-7
. Thus, cell fusion is a regulated process capable of promoting cell survival and differentiation and thus could be of central importance for development, repair of tissues and even the pathogenesis of disease. Limiting the study of cell fusion, is lack of appropriate technology to 1) accurately identify fusion products and to 2) track fusion products over time. Here we present a novel approach to address both limitations via induction of bioluminescence upon fusion (
Figure 1
); bioluminescence can be detected with high sensitivity
in vivo
8-15
.
We utilize a construct encoding the firefly luciferase (Photinus pyralis) gene placed adjacent to a stop codon flanked by LoxP sequences.
When cells expressing this gene fuse with cells expressing the Cre recombinase protein, the LoxP sites are cleaved and the stop signal is excised allowing transcription of luciferase.
Because the signal is inducible, the incidence of false-positive signals is very low. Unlike existing methods which utilize the Cre/
LoxP
system
16, 17
, we have incorporated a "living" detection signal and thereby afford for the first time the opportunity to track the kinetics of cell fusion
in vivo
.
To demonstrate the approach, mice ubiquitously expressing Cre recombinase served as recipients of stem cells transfected with a construct to express luciferase downstream of a floxed stop codon.
Stem cells were transplanted via intramyocardial injection and after transplantation intravital image analysis was conducted to track the presence of fusion products in the heart and surrounding tissues over time. This approach could be adapted to analyze cell fusion in any tissue type at any stage of development, disease or adult tissue repair.
Bioengineering, Issue 59, Cell fusion, stem cell, fusogen, cre recombinase, biophotonic imaging, cellular transplantation
3581
MISSION LentiPlex Pooled shRNA Library Screening in Mammalian Cells
Institutions: Sigma-Aldrich.

RNA interference (RNAi) is an intrinsic cellular mechanism for the regulation of gene expression. Harnessing the innate power of this system enables us to knockdown gene expression levels in loss of gene function studies. There are two main methods for performing RNAi. The first is the use of small interfering RNAs (siRNAs) that are chemically synthesized, and the second utilizes short-hairpin RNAs (shRNAs) encoded within plasmids
1
. The latter can be transfected into cells directly or packaged into replication incompetent lentiviral particles. The main advantages of using lentiviral shRNAs is the ease of introduction into a wide variety of cell types, their ability to stably integrate into the genome for long term gene knockdown and selection, and their efficacy in conducting high-throughput loss of function screens. To facilitate this we have created the LentiPlex pooled shRNA library. The MISSION LentiPlex Human shRNA Pooled Library is a genome-wide lentiviral pool produced using a proprietary process. The library consists of over 75,000 shRNA constructs from the TRC collection targeting 15,000+ human genes
2
. Each library is tested for shRNA representation before product release to ensure robust library coverage. The library is provided in a ready-to-use lentiviral format at titers of at least 5 x 10
8
TU/ml via p24 assay and is pre-divided into ten subpools of approximately 8,000 shRNA constructs each. Amplification and sequencing primers are also provided for downstream target identification. Previous studies established a synergistic antitumor activity of TRAIL when combined with Paclitaxel in A549 cells, a human lung carcinoma cell line
3, 4
. In this study we demonstrate the application of a pooled LentiPlex shRNA library to rapidly conduct a positive selection screen for genes involved in the cytotoxicity of A549 cells when exposed to TRAIL and Paclitaxel. One barrier often encountered with high-throughput screens is the cost and difficulty in deconvolution; we also detail a cost-effective polyclonal approach utilizing traditional sequencing.
Molecular Biology, Issue 58, LentiPlex, shRNA, RNAi, High-Throughput Screening, Deconvolution, TRAIL, Paclitaxel, A549
3305
Functional Imaging of Auditory Cortex in Adult Cats using High-field fMRI
Institutions: University of Western Ontario, University of Western Ontario, University of Western Ontario, University of Western Ontario, University of Western Ontario, University of Western Ontario, University of Western Ontario.

Current knowledge of sensory processing in the mammalian auditory system is mainly derived from electrophysiological studies in a variety of animal models, including monkeys, ferrets, bats, rodents, and cats. In order to draw suitable parallels between human and animal models of auditory function, it is important to establish a bridge between human functional imaging studies and animal electrophysiological studies. Functional magnetic resonance imaging (fMRI) is an established, minimally invasive method of measuring broad patterns of hemodynamic activity across different regions of the cerebral cortex. This technique is widely used to probe sensory function in the human brain, is a useful tool in linking studies of auditory processing in both humans and animals and has been successfully used to investigate auditory function in monkeys and rodents. The following protocol describes an experimental procedure for investigating auditory function in anesthetized adult cats by measuring stimulus-evoked hemodynamic changes in auditory cortex using fMRI. This method facilitates comparison of the hemodynamic responses across different models of auditory function thus leading to a better understanding of species-independent features of the mammalian auditory cortex.
Neuroscience, Issue 84, Central Nervous System, Ear, Animal Experimentation, Models, Animal, Functional Neuroimaging, Brain Mapping, Nervous System, Sense Organs, auditory cortex, BOLD signal change, hemodynamic response, hearing, acoustic stimuli
50872
A Cognitive Paradigm to Investigate Interference in Working Memory by Distractions and Interruptions
Institutions: University of New Mexico, University of California, San Francisco, University of California, San Francisco, University of California, San Francisco.

Goal-directed behavior is often impaired by interference from the external environment, either in the form of distraction by irrelevant information that one attempts to ignore, or by interrupting information that demands attention as part of another (secondary) task goal. Both forms of external interference have been shown to detrimentally impact the ability to maintain information in working memory (WM). Emerging evidence suggests that these different types of external interference exert different effects on behavior and may be mediated by distinct neural mechanisms. Better characterizing the distinct neuro-behavioral impact of irrelevant distractions versus attended interruptions is essential for advancing an understanding of top-down attention, resolution of external interference, and how these abilities become degraded in healthy aging and in neuropsychiatric conditions. This manuscript describes a novel cognitive paradigm developed the Gazzaley lab that has now been modified into several distinct versions used to elucidate behavioral and neural correlates of interference, by to-be-ignored
distractors
versus to-be-attended
interruptors
. Details are provided on variants of this paradigm for investigating interference in visual and auditory modalities, at multiple levels of stimulus complexity, and with experimental timing optimized for electroencephalography (EEG) or functional magnetic resonance imaging (fMRI) studies. In addition, data from younger and older adult participants obtained using this paradigm is reviewed and discussed in the context of its relationship with the broader literatures on external interference and age-related neuro-behavioral changes in resolving interference in working memory.
Behavior, Issue 101, Attention, interference, distraction, interruption, working memory, aging, multi-tasking, top-down attention, EEG, fMRI
52226
Gene Transfer to the Developing Mouse Inner Ear by In Vivo Electroporation
Institutions: Oregon Health & Science University.

The mammalian inner ear has 6 distinct sensory epithelia: 3 cristae in the ampullae of the semicircular canals; maculae in the utricle and saccule; and the organ of Corti in the coiled cochlea. The cristae and maculae contain vestibular hair cells that transduce mechanical stimuli to subserve the special sense of balance, while auditory hair cells in the organ of Corti are the primary transducers for hearing
1
. Cell fate specification in these sensory epithelia and morphogenesis of the semicircular canals and cochlea take place during the second week of gestation in the mouse and are largely completed before birth
2,3
. Developmental studies of the mouse inner ear are routinely conducted by harvesting transgenic embryos at different embryonic or postnatal stages to gain insight into the molecular basis of cellular and/or morphological phenotypes
4,5
. We hypothesize that gene transfer to the developing mouse inner ear
in utero
in the context of gain- and loss-of-function studies represents a complimentary approach to traditional mouse transgenesis for the interrogation of the genetic mechanisms underlying mammalian inner ear development
6
. The experimental paradigm to conduct gene misexpression studies in the developing mouse inner ear demonstrated here resolves into three general steps: 1) ventral laparotomy; 2) transuterine microinjection; and 3)
in vivo
electroporation. Ventral laparotomy is a mouse survival surgical technique that permits externalization of the uterus to gain experimental access to the implanted embryos
7
. Transuterine microinjection is the use of beveled, glass capillary micropipettes to introduce expression plasmid into the lumen of the otic vesicle or otocyst.
In vivo
electroporation is the application of square wave, direct current pulses to drive expression plasmid into progenitor cells
8-10
. We previously described this electroporation-based gene transfer technique and included detailed notes on each step of the protocol
11
. Mouse experimental embryological techniques can be difficult to learn from prose and still images alone. In the present work, we demonstrate the 3 steps in the gene transfer procedure. Most critically, we deploy digital video microscopy to show precisely how to: 1) identify embryo orientation
in utero
; 2) reorient embryos for targeting injections to the otocyst; 3) microinject DNA mixed with tracer dye solution into the otocyst at embryonic days 11.5 and 12.5; 4) electroporate the injected otocyst; and 5) label electroporated embryos for postnatal selection at birth. We provide representative examples of successfully transfected inner ears; a pictorial guide to the most common causes of otocyst mistargeting; discuss how to avoid common methodological errors; and present guidelines for writing an
in utero
gene transfer animal care protocol.
Neuroscience, Issue 64, Developmental Biology, Physiology, Genetics, Inner ear, otocyst, in vivo electroporation, ventral laparotomy, transuterine microinjection, video microscopy
3653
Testing Sensory and Multisensory Function in Children with Autism Spectrum Disorder
Institutions: Vanderbilt University Medical Center, University of Toronto, Vanderbilt University.

In addition to impairments in social communication and the presence of restricted interests and repetitive behaviors, deficits in sensory processing are now recognized as a core symptom in autism spectrum disorder (ASD). Our ability to perceive and interact with the external world is rooted in sensory processing. For example, listening to a conversation entails processing the auditory cues coming from the speaker (speech content, prosody, syntax) as well as the associated visual information (facial expressions, gestures). Collectively, the "integration" of these multisensory (
i.e.
, combined audiovisual) pieces of information results in better comprehension. Such multisensory integration has been shown to be strongly dependent upon the temporal relationship of the paired stimuli. Thus, stimuli that occur in close temporal proximity are highly likely to result in behavioral and perceptual benefits – gains believed to be reflective of the perceptual system's judgment of the likelihood that these two stimuli came from the same source. Changes in this temporal integration are expected to strongly alter perceptual processes, and are likely to diminish the ability to accurately perceive and interact with our world. Here, a battery of tasks designed to characterize various aspects of sensory and multisensory temporal processing in children with ASD is described. In addition to its utility in autism, this battery has great potential for characterizing changes in sensory function in other clinical populations, as well as being used to examine changes in these processes across the lifespan.
Behavior, Issue 98, Temporal processing, multisensory integration, psychophysics, computer based assessments, sensory deficits, autism spectrum disorder
52677
Primary Culture and Plasmid Electroporation of the Murine Organ of Corti.
Institutions: Harvard Medical School, Massachusetts Eye and Ear Infirmary, Emerson College, Harvard.

In all mammals, the sensory epithelium for audition is located along the spiraling organ of Corti that resides within the conch shaped cochlea of the inner ear (fig 1). Hair cells in the developing cochlea, which are the mechanosensory cells of the auditory system, are aligned in one row of inner hair cells and three (in the base and mid-turns) to four (in the apical turn) rows of outer hair cells that span the length of the organ of Corti. Hair cells transduce sound-induced mechanical vibrations of the basilar membrane into neural impulses that the brain can interpret. Most cases of sensorineural hearing loss are caused by death or dysfunction of cochlear hair cells. An increasingly essential tool in auditory research is the isolation and
in vitro
culture of the organ explant
1,2,9
. Once isolated, the explants may be utilized in several ways to provide information regarding normative, anomalous, or therapeutic physiology. Gene expression, stereocilia motility, cell and molecular biology, as well as biological approaches for hair cell regeneration are examples of experimental applications of organ of Corti explants. This protocol describes a method for the isolation and culture of the organ of Corti from neonatal mice. The accompanying video includes stepwise directions for the isolation of the temporal bone from mouse pups, and subsequent isolation of the cochlea, spiral ligament, and organ of Corti. Once isolated, the sensory epithelium can be plated and cultured
in vitro
in its entirety, or as a further dissected micro-isolate that lacks the spiral limbus and spiral ganglion neurons. Using this method, primary explants can be maintained for 7-10 days. As an example of the utility of this procedure, organ of Corti explants will be electroporated with an exogenous DsRed reporter gene. This method provides an improvement over other published methods because it provides reproducible, unambiguous, and stepwise directions for the isolation, microdissection, and primary culture of the organ of Corti.
Neuroscience, Issue 36, hearing, mice, cochlea, organ of Corti, organotypic, culture, hair cell, stem cell, gene expression, in vitro
1685
Gross and Fine Dissection of Inner Ear Sensory Epithelia in Adult Zebrafish (Danio rerio)
Institutions: National Human Genome Research Institute, University of Maryland.

Neurosensory epithelia in the inner ear are the crucial structures for hearing and balance functions. Therefore, it is important to understand the cellular and molecular features of the epithelia, which are mainly composed of two types of cells: hair cells (HCs) and supporting cells (SCs). Here we choose to study the inner ear sensory epithelia in adult zebrafish not only because the epithelial structures are highly conserved in all vertebrates studied, but also because the adult zebrafish is able to regenerate HCs, an ability that mammals lose shortly after birth. We use the inner ear of adult zebrafish as a model system to study the mechanisms of inner ear HC regeneration in adult vertebrates that could be helpful for clinical therapy of hearing/balance deficits in human as a result of HC loss. Here we demonstrate how to do gross and fine dissections of inner ear sensory epithelia in adult zebrafish. The gross dissection removes the tissues surrounding the inner ear and is helpful for preparing tissue sections, which allows us to examine the detailed structure of the sensory epithelia. The fine dissection cleans up the non-sensory-epithelial tissues of each individual epithelium and enables us to examine the heterogeneity of the whole epithelium easily in whole-mount epithelial samples.
Neuroscience, Issue 27, zebrafish, dissection, inner ear, sensory epithelia, hair cell, regeneration
1211
Preparation of Quality Inositol Pyrophosphates
Institutions: University College London.

Myo-inositol is present in nature either unmodified or in more complex phosphorylated derivates. Of the latest, the two most abundant in eukaryotic cells are inositol pentakisphosphate (IP
5
) and inositol hexakisphosphate (phytic acid or IP
6
). IP
5
and IP
6
are the precursors of inositol pyrophosphate molecules that contain one or more pyrophosphate bonds
1
. Phosphorylation of IP
6
generates diphoshoinositolpentakisphosphate (IP
7
or PP-IP
5
) and bisdiphoshoinositoltetrakisphosphate (IP
8
or (PP)
2
-IP
4
). Inositol pyrophosphates have been isolated from all eukaryotic organisms so far studied. In addition, the two distinct classes of enzymes responsible for inositol pyrophosphate synthesis are highly conserved throughout evolution
2-4
. The IP
6
kinases (IP
6
Ks) posses an enormous catalytic flexibility, converting IP
5
and IP
6
to PP-IP
4
and IP
7
respectively and subsequently, by using these products as substrates, promote the generation of more complex molecules
5,6
. Recently, a second class of pyrophosphate generating enzymes was identified in the form of the yeast protein VIP
1
(also referred as PP-IP
5
K), which is able to convert IP
6
to IP
7
and IP
8
7,8
. Inositol pyrophosphates regulate many disparate cellular processes such as insulin secretion
9
, telomere length
10,11
, chemotaxis
12
, vesicular trafficking
13
, phosphate homeostasis
14
and HIV-1 gag release
15
. Two mechanisms of actions have been proposed for this class of molecules. They can affect cellular function by allosterically interacting with specific proteins like AKT
16
. Alternatively, the pyrophosphate group can donate a phosphate to pre-phosphorylated proteins
17
. The enormous potential of this research field is hampered by the absence of a commercial source of inositol pyrophosphates, which is preventing many scientists from studying these molecules and this new post-translational modification. The methods currently available to isolate inositol pyrophosphates require sophisticated chromatographic apparatus
18,19
. These procedures use acidic conditions that might lead to inositol pyrophosphate degradation
20
and thus to poor recovery. Furthermore, the cumbersome post-column desalting procedures restrict their use to specialized laboratories. In this study we describe an undemanding method for the generation, isolation and purification of the products of the IP
6
-kinase and PP-IP
5
-kinases reactions. This method was possible by the ability of polyacrylamide gel electrophoresis (PAGE) to resolve highly phosphorylated inositol polyphosphates
20
. Following IP
6
K1 and PP-IP
5
K enzymatic reactions using IP
6
as the substrate, PAGE was used to separate the generated inositol pyrophosphates that were subsequently eluted in water.
Molecular Biology, Issue 55, Polyacrilamyde Gel Electrophoresis (PAGE), inositol hexakisphosphate (IP6), phytic acid, diphosphoinositol pentakisphosphate (IP7), bisdiphoshoinositol tetrakisphosphate (IP8), IP6-kinase (IP6K), PP-IP5K, VIP1
3027
RNA-seq Analysis of Transcriptomes in Thrombin-treated and Control Human Pulmonary Microvascular Endothelial Cells
Institutions: Children's Mercy Hospital and Clinics, School of Medicine, University of Missouri-Kansas City.

The characterization of gene expression in cells via measurement of mRNA levels is a useful tool in determining how the transcriptional machinery of the cell is affected by external signals (
e.g.
drug treatment), or how cells differ between a healthy state and a diseased state. With the advent and continuous refinement of next-generation DNA sequencing technology, RNA-sequencing (RNA-seq) has become an increasingly popular method of transcriptome analysis to catalog all species of transcripts, to determine the transcriptional structure of all expressed genes and to quantify the changing expression levels of the total set of transcripts in a given cell, tissue or organism
1,2
. RNA-seq is gradually replacing DNA microarrays as a preferred method for transcriptome analysis because it has the advantages of profiling a complete transcriptome, providing a digital type datum (copy number of any transcript) and not relying on any known genomic sequence
3
. Here, we present a complete and detailed protocol to apply RNA-seq to profile transcriptomes in human pulmonary microvascular endothelial cells with or without thrombin treatment. This protocol is based on our recent published study entitled "RNA-seq Reveals Novel Transcriptome of Genes and Their Isoforms in Human Pulmonary Microvascular Endothelial Cells Treated with Thrombin,"
4
in which we successfully performed the first complete transcriptome analysis of human pulmonary microvascular endothelial cells treated with thrombin using RNA-seq. It yielded unprecedented resources for further experimentation to gain insights into molecular mechanisms underlying thrombin-mediated endothelial dysfunction in the pathogenesis of inflammatory conditions, cancer, diabetes, and coronary heart disease, and provides potential new leads for therapeutic targets to those diseases. The descriptive text of this protocol is divided into four parts. The first part describes the treatment of human pulmonary microvascular endothelial cells with thrombin and RNA isolation, quality analysis and quantification. The second part describes library construction and sequencing. The third part describes the data analysis. The fourth part describes an RT-PCR validation assay. Representative results of several key steps are displayed. Useful tips or precautions to boost success in key steps are provided in the Discussion section. Although this protocol uses human pulmonary microvascular endothelial cells treated with thrombin, it can be generalized to profile transcriptomes in both mammalian and non-mammalian cells and in tissues treated with different stimuli or inhibitors, or to compare transcriptomes in cells or tissues between a healthy state and a disease state.
Genetics, Issue 72, Molecular Biology, Immunology, Medicine, Genomics, Proteins, RNA-seq, Next Generation DNA Sequencing, Transcriptome, Transcription, Thrombin, Endothelial cells, high-throughput, DNA, genomic DNA, RT-PCR, PCR
4393
Modeling Astrocytoma Pathogenesis In Vitro and In Vivo Using Cortical Astrocytes or Neural Stem Cells from Conditional, Genetically Engineered Mice
Institutions: University of North Carolina School of Medicine, University of North Carolina School of Medicine, University of North Carolina School of Medicine, University of North Carolina School of Medicine, University of North Carolina School of Medicine, Emory University School of Medicine, University of North Carolina School of Medicine.

Current astrocytoma models are limited in their ability to define the roles of oncogenic mutations in specific brain cell types during disease pathogenesis and their utility for preclinical drug development. In order to design a better model system for these applications, phenotypically wild-type cortical astrocytes and neural stem cells (NSC) from conditional, genetically engineered mice (GEM) that harbor various combinations of floxed oncogenic alleles were harvested and grown in culture. Genetic recombination was induced
in vitro
using adenoviral Cre-mediated recombination, resulting in expression of mutated oncogenes and deletion of tumor suppressor genes. The phenotypic consequences of these mutations were defined by measuring proliferation, transformation, and drug response
in vitro
. Orthotopic allograft models, whereby transformed cells are stereotactically injected into the brains of immune-competent, syngeneic littermates, were developed to define the role of oncogenic mutations and cell type on tumorigenesis
in vivo
. Unlike most established human glioblastoma cell line xenografts, injection of transformed GEM-derived cortical astrocytes into the brains of immune-competent littermates produced astrocytomas, including the most aggressive subtype, glioblastoma, that recapitulated the histopathological hallmarks of human astrocytomas, including diffuse invasion of normal brain parenchyma. Bioluminescence imaging of orthotopic allografts from transformed astrocytes engineered to express luciferase was utilized to monitor
in vivo
tumor growth over time. Thus, astrocytoma models using astrocytes and NSC harvested from GEM with conditional oncogenic alleles provide an integrated system to study the genetics and cell biology of astrocytoma pathogenesis
in vitro
and
in vivo
and may be useful in preclinical drug development for these devastating diseases.
Neuroscience, Issue 90, astrocytoma, cortical astrocytes, genetically engineered mice, glioblastoma, neural stem cells, orthotopic allograft
51763
An In Vitro Dormancy Model of Estrogen-sensitive Breast Cancer in the Bone Marrow: A Tool for Molecular Mechanism Studies and Hypothesis Generation
Institutions: Rutgers New Jersey Medical School.

The study of breast cancer dormancy in the bone marrow is an exceptionally difficult undertaking due to the complexity of the interactions of dormant cells with their microenvironment, their rarity and the overwhelming excess of hematopoietic cells. Towards this end, we developed an
in vitro
2D clonogenic model of dormancy of estrogen-sensitive breast cancer cells in the bone marrow. The model consists of a few key elements necessary for dormancy. These include 1) the use of estrogen sensitive breast cancer cells, which are the type likely to remain dormant for extended periods, 2) incubation of cells at clonogenic density, where the structural interaction of each cell is primarily with the substratum, 3) fibronectin, a key structural element of the marrow and 4) FGF-2, a growth factor abundantly synthesized by bone marrow stromal cells and heavily deposited in the extracellular matrix. Cells incubated with FGF-2 form dormant clones after 6 days, which consist of 12 or less cells that have a distinct flat appearance, are significantly larger and more spread out than growing cells and have large cytoplasm to nucleus ratios. In contrast, cells incubated without FGF-2 form primarily growing colonies consisting of >30 relatively small cells. Perturbations of the system with antibodies, inhibitors, peptides or nucleic acids on day 3 after incubation can significantly affect various phenotypic and molecular aspects of the dormant cells at 6 days and can be used to assess the roles of membrane-localized or intracellular molecules, factors or signaling pathways on the dormant state or survival of dormant cells. While recognizing the
in vitro
nature of the assay, it can function as a highly useful tool to glean significant information about the molecular mechanisms necessary for establishment and survival of dormant cells. This data can be used to generate hypotheses to be tested
in vivo
models.
Medicine, Issue 100, Dormancy, Bone marrow stroma, FGF-2, Fibronectin, Breast cancer, Colony assay
52672
In Vivo Modeling of the Morbid Human Genome using Danio rerio
Institutions: Duke University Medical Center, Duke University, Duke University Medical Center.

Here, we present methods for the development of assays to query potentially clinically significant nonsynonymous changes using
in vivo
complementation in zebrafish. Zebrafish (
Danio rerio
) are a useful animal system due to their experimental tractability; embryos are transparent to enable facile viewing, undergo rapid development
ex vivo,
and can be genetically manipulated.
1
These aspects have allowed for significant advances in the analysis of embryogenesis, molecular processes, and morphogenetic signaling. Taken together, the advantages of this vertebrate model make zebrafish highly amenable to modeling the developmental defects in pediatric disease, and in some cases, adult-onset disorders. Because the zebrafish genome is highly conserved with that of humans (~70% orthologous), it is possible to recapitulate human disease states in zebrafish. This is accomplished either through the injection of mutant human mRNA to induce dominant negative or gain of function alleles, or utilization of morpholino (MO) antisense oligonucleotides to suppress genes to mimic loss of function variants. Through complementation of MO-induced phenotypes with capped human mRNA, our approach enables the interpretation of the deleterious effect of mutations on human protein sequence based on the ability of mutant mRNA to rescue a measurable, physiologically relevant phenotype. Modeling of the human disease alleles occurs through microinjection of zebrafish embryos with MO and/or human mRNA at the 1-4 cell stage, and phenotyping up to seven days post fertilization (dpf). This general strategy can be extended to a wide range of disease phenotypes, as demonstrated in the following protocol. We present our established models for morphogenetic signaling, craniofacial, cardiac, vascular integrity, renal function, and skeletal muscle disorder phenotypes, as well as others.
Molecular Biology, Issue 78, Genetics, Biomedical Engineering, Medicine, Developmental Biology, Biochemistry, Anatomy, Physiology, Bioengineering, Genomics, Medical, zebrafish, in vivo, morpholino, human disease modeling, transcription, PCR, mRNA, DNA, Danio rerio, animal model
50338
High Efficiency Differentiation of Human Pluripotent Stem Cells to Cardiomyocytes and Characterization by Flow Cytometry
Institutions: Medical College of Wisconsin, Stanford University School of Medicine, Medical College of Wisconsin, Hong Kong University, Johns Hopkins University School of Medicine, Medical College of Wisconsin.

There is an urgent need to develop approaches for repairing the damaged heart, discovering new therapeutic drugs that do not have toxic effects on the heart, and improving strategies to accurately model heart disease. The potential of exploiting human induced pluripotent stem cell (hiPSC) technology to generate cardiac muscle "in a dish" for these applications continues to generate high enthusiasm. In recent years, the ability to efficiently generate cardiomyogenic cells from human pluripotent stem cells (hPSCs) has greatly improved, offering us new opportunities to model very early stages of human cardiac development not otherwise accessible. In contrast to many previous methods, the cardiomyocyte differentiation protocol described here does not require cell aggregation or the addition of Activin A or BMP4 and robustly generates cultures of cells that are highly positive for cardiac troponin I and T (TNNI3, TNNT2), iroquois-class homeodomain protein IRX-4 (IRX4), myosin regulatory light chain 2, ventricular/cardiac muscle isoform (MLC2v) and myosin regulatory light chain 2, atrial isoform (MLC2a) by day 10 across all human embryonic stem cell (hESC) and hiPSC lines tested to date. Cells can be passaged and maintained for more than 90 days in culture. The strategy is technically simple to implement and cost-effective. Characterization of cardiomyocytes derived from pluripotent cells often includes the analysis of reference markers, both at the mRNA and protein level. For protein analysis, flow cytometry is a powerful analytical tool for assessing quality of cells in culture and determining subpopulation homogeneity. However, technical variation in sample preparation can significantly affect quality of flow cytometry data. Thus, standardization of staining protocols should facilitate comparisons among various differentiation strategies. Accordingly, optimized staining protocols for the analysis of IRX4, MLC2v, MLC2a, TNNI3, and TNNT2 by flow cytometry are described.
Cellular Biology, Issue 91, human induced pluripotent stem cell, flow cytometry, directed differentiation, cardiomyocyte, IRX4, TNNI3, TNNT2, MCL2v, MLC2a
52010
Forward Genetics Screens Using Macrophages to Identify Toxoplasma gondii Genes Important for Resistance to IFN-γ-Dependent Cell Autonomous Immunity
Institutions: New York Medical College.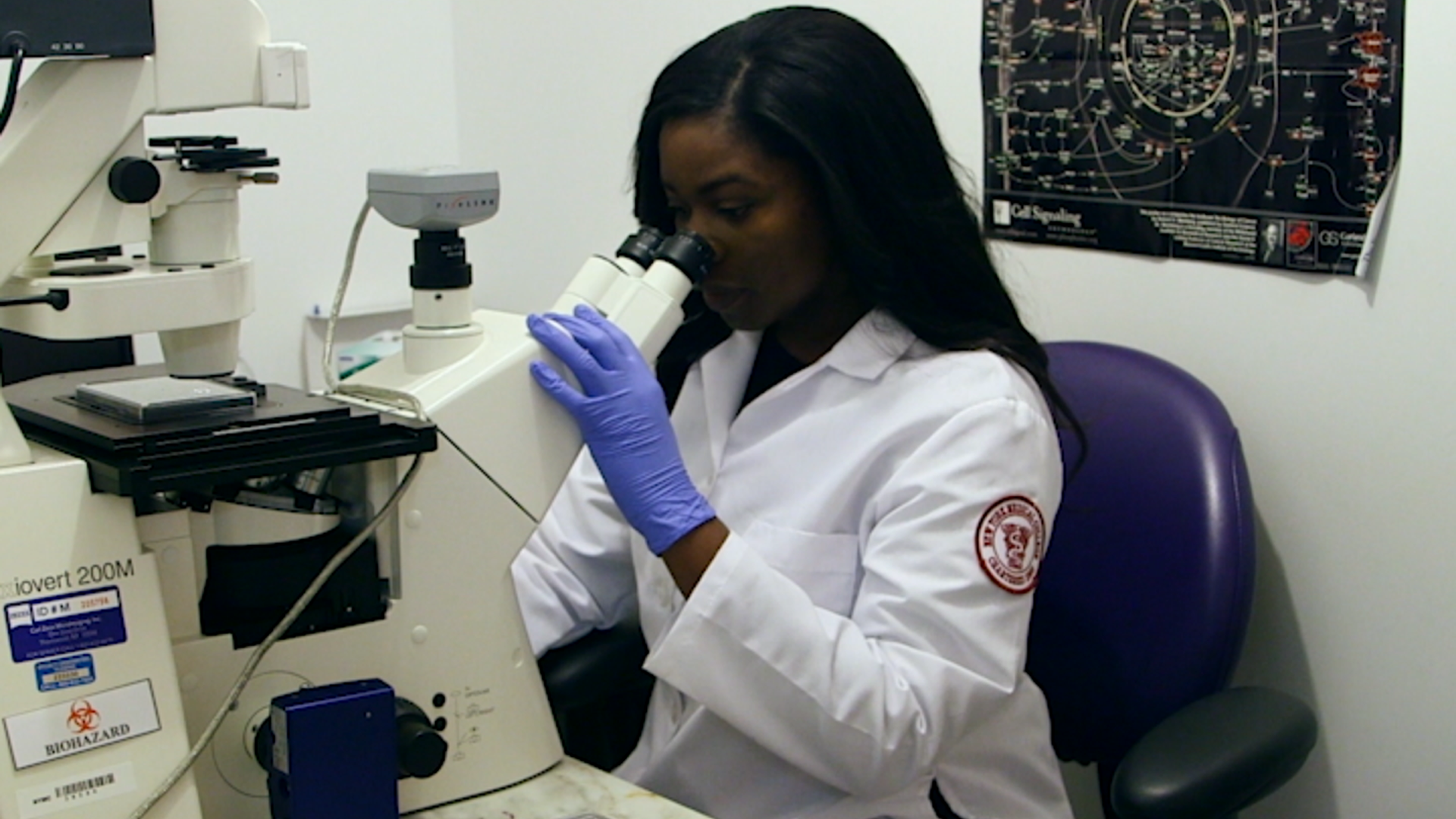 Toxoplasma gondii,
the causative agent of toxoplasmosis, is an obligate intracellular protozoan pathogen. The parasite invades and replicates within virtually any warm blooded vertebrate cell type. During parasite invasion of a host cell, the parasite creates a parasitophorous vacuole (PV) that originates from the host cell membrane independent of phagocytosis within which the parasite replicates. While IFN-dependent-innate and cell mediated immunity is important for eventual control of infection, innate immune cells, including neutrophils, monocytes and dendritic cells, can also serve as vehicles for systemic dissemination of the parasite early in infection. An approach is described that utilizes the host innate immune response, in this case macrophages, in a forward genetic screen to identify parasite mutants with a fitness defect in infected macrophages following activation but normal invasion and replication in naïve macrophages. Thus, the screen isolates parasite mutants that have a specific defect in their ability to resist the effects of macrophage activation. The paper describes two broad phenotypes of mutant parasites following activation of infected macrophages: parasite stasis versus parasite degradation, often in amorphous vacuoles. The parasite mutants are then analyzed to identify the responsible parasite genes specifically important for resistance to induced mediators of cell autonomous immunity. The paper presents a general approach for the forward genetics screen that, in theory, can be modified to target parasite genes important for resistance to specific antimicrobial mediators. It also describes an approach to evaluate the specific macrophage antimicrobial mediators to which the parasite mutant is susceptible. Activation of infected macrophages can also promote parasite differentiation from the tachyzoite to bradyzoite stage that maintains chronic infection. Therefore, methodology is presented to evaluate the importance of the identified parasite gene to establishment of chronic infection.
Immunology, Issue 97, Toxoplasma, macrophages, innate immunity, intracellular pathogen, immune evasion, infectious disease, forward genetics, parasite
52556
Drug-induced Sensitization of Adenylyl Cyclase: Assay Streamlining and Miniaturization for Small Molecule and siRNA Screening Applications
Institutions: Purdue University, Eli Lilly and Company.

Sensitization of adenylyl cyclase (AC) signaling has been implicated in a variety of neuropsychiatric and neurologic disorders including substance abuse and Parkinson's disease. Acute activation of Gαi/o-linked receptors inhibits AC activity, whereas persistent activation of these receptors results in heterologous sensitization of AC and increased levels of intracellular cAMP. Previous studies have demonstrated that this enhancement of AC responsiveness is observed both
in vitro
and
in vivo
following the chronic activation of several types of Gαi/o-linked receptors including D
2
dopamine and μ opioid receptors. Although heterologous sensitization of AC was first reported four decades ago, the mechanism(s) that underlie this phenomenon remain largely unknown. The lack of mechanistic data presumably reflects the complexity involved with this adaptive response, suggesting that nonbiased approaches could aid in identifying the molecular pathways involved in heterologous sensitization of AC. Previous studies have implicated kinase and Gbγ signaling as overlapping components that regulate the heterologous sensitization of AC. To identify unique and additional overlapping targets associated with sensitization of AC, the development and validation of a scalable cAMP sensitization assay is required for greater throughput. Previous approaches to study sensitization are generally cumbersome involving continuous cell culture maintenance as well as a complex methodology for measuring cAMP accumulation that involves multiple wash steps. Thus, the development of a robust cell-based assay that can be used for high throughput screening (HTS) in a 384 well format would facilitate future studies. Using two D
2
dopamine receptor cellular models (
i.e
. CHO-D
2L
and HEK-AC6/D
2L
), we have converted our 48-well sensitization assay (>20 steps 4-5 days) to a five-step, single day assay in 384-well format. This new format is amenable to small molecule screening, and we demonstrate that this assay design can also be readily used for reverse transfection of siRNA in anticipation of targeted siRNA library screening.
Bioengineering, Issue 83, adenylyl cyclase, cAMP, heterologous sensitization, superactivation, D2 dopamine, μ opioid, siRNA
51218
Targeted Expression of GFP in the Hair Follicle Using Ex Vivo Viral Transduction
Institutions: AntiCancer, Inc..

There are many cell types in the hair follicle, including hair matrix cells which form the hair shaft and stem cells which can initiate the hair shaft during early anagen, the growth phase of the hair cycle, as well as pluripotent stem cells that play a role in hair follicle growth but have the potential to differentiate to non-follicle cells such as neurons. These properties of the hair follicle are discussed. The various cell types of the hair follicle are potential targets for gene therapy. Gene delivery system for the hair follicle using viral vectors or liposomes for gene targeting to the various cell types in the hair follicle and the results obtained are also discussed.
Cellular Biology, Issue 13, Springer Protocols, hair follicles, liposomes, adenovirus, genes, stem cells
708
Selective Tracing of Auditory Fibers in the Avian Embryonic Vestibulocochlear Nerve
Institutions: University of California, Irvine.
The embryonic chick is a widely used model for the study of peripheral and central ganglion cell projections. In the auditory system, selective labeling of auditory axons within the VIIIth cranial nerve would enhance the study of central auditory circuit development. This approach is challenging because multiple sensory organs of the inner ear contribute to the VIIIth nerve
1
. Moreover, markers that reliably distinguish auditory versus vestibular groups of axons within the avian VIIIth nerve have yet to be identified. Auditory and vestibular pathways cannot be distinguished functionally in early embryos, as sensory-evoked responses are not present before the circuits are formed. Centrally projecting VIIIth nerve axons have been traced in some studies, but auditory axon labeling was accompanied by labeling from other VIIIth nerve components
2,3
. Here, we describe a method for anterograde tracing from the acoustic ganglion to selectively label auditory axons within the developing VIIIth nerve. First, after partial dissection of the anterior cephalic region of an 8-day chick embryo immersed in oxygenated artificial cerebrospinal fluid, the cochlear duct is identified by anatomical landmarks. Next, a fine pulled glass micropipette is positioned to inject a small amount of rhodamine dextran amine into the duct and adjacent deep region where the acoustic ganglion cells are located. Within thirty minutes following the injection, auditory axons are traced centrally into the hindbrain and can later be visualized following histologic preparation. This method provides a useful tool for developmental studies of peripheral to central auditory circuit formation.
Neurobiology, Issue 73, Neuroscience, Behavior, Developmental Biology, Anatomy, Biomedical Engineering, Surgery, Development, Inner Ear, Cochlea, Auditory, Chick, Axon Tracing, VIIIth Cranial Nerve, nerve, ganglion, fiber, cochlear duct, basilar papilla, embryo, microinjection, animal model
50305