ABSTRACT
The mechanisms controlling stress-induced phenotypic plasticity in animals are frequently complex and difficult to study in vivo. A classic example of stress-induced plasticity is the dauer stage of C. elegans. Dauers are an alternative developmental larval stage formed under conditions of low concentrations of bacterial food and high concentrations of a dauer pheromone. Dauers display extensive developmental and behavioral plasticity. For example, a set of four inner-labial quadrant (IL2Q) neurons undergo extensive reversible remodeling during dauer formation. Utilizing the well-known environmental pathways regulating dauer entry, a previously established method for the production of crude dauer pheromone from large-scale liquid nematode cultures is demonstrated. With this method, a concentration of 50,000 - 75,000 nematodes/ml of liquid culture is sufficient to produce a highly potent crude dauer pheromone. The crude pheromone potency is determined by a dose-response bioassay. Finally, the methods used for in vivo time-lapse imaging of the IL2Qs during dauer formation are described.
22 Related JoVE Articles!
Preparation of Aplysia Sensory-motor Neuronal Cell Cultures
Institutions: University of California, Los Angeles, University of California, Los Angeles, University of California, Los Angeles.

The nervous system of the marine mollusk
Aplysia californica
is relatively simple, consisting of approximately 20,000 neurons. The neurons are large (up to 1 mm in diameter) and identifiable, with distinct sizes, shapes, positions and pigmentations, and the cell bodies are externally exposed in five paired ganglia distributed throughout the body of the animal. These properties have allowed investigators to delineate the circuitry underlying specific behaviors in the animal
1
. The monosynaptic connection between sensory and motor neurons is a central component of the gill-withdrawal reflex in the animal, a simple defensive reflex in which the animal withdraws its gill in response to tactile stimulation of the siphon. This reflex undergoes forms of non-associative and associative learning, including sensitization, habituation and classical conditioning. Of particular benefit to the study of synaptic plasticity, the sensory-motor synapse can be reconstituted in culture, where well-characterized stimuli elicit forms of plasticity that have direct correlates in the behavior of the animal
2,3
. Specifically, application of serotonin produces a synaptic strengthening that, depending on the application protocol, lasts for minutes (short-term facilitation), hours (intermediate-term facilitation) or days (long-term facilitation). In contrast, application of the peptide transmitter FMRFamide produces a synaptic weakening or depression that, depending on the application protocol, can last from minutes to days (long-term depression). The large size of the neurons allows for repeated sharp electrode recording of synaptic strength over periods of days together with microinjection of expression vectors, siRNAs and other compounds to target specific signaling cascades and molecules and thereby identify the molecular and cell biological steps that underlie the changes in synaptic efficacy. An additional advantage of the
Aplysia
culture system comes from the fact that the neurons demonstrate synapse-specificity in culture
4,5
. Thus, sensory neurons do not form synapses with themselves (autapses) or with other sensory neurons, nor do they form synapses with non-target identified motor neurons in culture. The varicosities, sites of synaptic contact between sensory and motor neurons, are large enough (2-7 microns in diameter) to allow synapse formation (as well as changes in synaptic morphology) with target motor neurons to be studied at the light microscopic level. In this video, we demonstrate each step of preparing sensory-motor neuron cultures, including anesthetizing adult and juvenile
Aplysia
, dissecting their ganglia, protease digestion of the ganglia, removal of the connective tissue by microdissection, identification of both sensory and motor neurons and removal of each cell type by microdissection, plating of the motor neuron, addition of the sensory neuron and manipulation of the sensory neurite to form contact with the cultured motor neuron.
Neuroscience, Issue 28, Aplysia Californica, Synaptic Plasticity, Sensory Motor Neuronal Cultures, Invertebrates, Short-Term Facilitation, Monosynaptic, Intermediate-Term Facilitation, Ganglia, Long-Term Depression, Autapses, Sirnas, Glutamatergic Synapses, Somata
1355
Performing Vaginal Lavage, Crystal Violet Staining, and Vaginal Cytological Evaluation for Mouse Estrous Cycle Staging Identification
Institutions: Neural Regeneration Laboratory and Ottawa Institute of Systems Biology, University of Ottawa , University of Ottawa , Azrieli School of Architecture and Urbanism.

A rapid means of assessing reproductive status in rodents is useful not only in the study of reproductive dysfunction but is also required for the production of new mouse models of disease and investigations into the hormonal regulation of tissue degeneration (or regeneration) following pathological challenge. The murine reproductive (or estrous) cycle is divided into 4 stages: proestrus, estrus, metestrus, and diestrus. Defined fluctuations in circulating levels of the ovarian steroids 17-β-estradiol and progesterone, the gonadotropins luteinizing and follicle stimulating hormones, and the luteotropic hormone prolactin signal transition through these reproductive stages. Changes in cell typology within the murine vaginal canal reflect these underlying endocrine events. Daily assessment of the relative ratio of nucleated epithelial cells, cornified squamous epithelial cells, and leukocytes present in vaginal smears can be used to identify murine estrous stages. The degree of invasiveness, however, employed in collecting these samples can alter reproductive status and elicit an inflammatory response that can confound cytological assessment of smears. Here, we describe a simple, non-invasive protocol that can be used to determine the stage of the estrous cycle of a female mouse without altering her reproductive cycle. We detail how to differentiate between the four stages of the estrous cycle by collection and analysis of predominant cell typology in vaginal smears and we show how these changes can be interpreted with respect to endocrine status.
Medicine, Issue 67, Biochemistry, Immunology, Microbiology, Physiology, Anatomy, estrous cycle, vaginal cytology, hormonal status, murine reproduction, 17-beta-estradiol, progesterone, luteinizing hormone, follicle-stimulating hormone, prolactin
4389
Homarus Americanus Stomatogastric Nervous System Dissection
Institutions: Brandeis.

With the goal of understanding how nervous systems produce activity and respond to the environment, neuroscientists turn to model systems that exhibit the activity of interest and are accessible and amenable to experimental methods. The stomatogastric nervous system (STNS) of the American lobster (
Homarus americanus
; also know was the Atlantic or Maine lobster) has been established as a model system for studying rhythm generating networks and neuromodulation of networks. The STNS consists of 3 anterior ganglia (2 commissural ganglia and an oesophageal ganglion), containing modulatory neurons that project centrally to the stomatogastric ganglion (STG). The STG contains approximately 30 neurons that comprise two central pattern generating networks, the pyloric and gastric networks that underlie feeding behaviors in crustaceans
1,2
. While it is possible to study this system
in vivo
3
, the STNS continues to produce its rhythmic activity when isolated
in vitro
. Physical isolation of the STNS in a dish allows for easy access to the somata in the ganglia for intracellular electrophysiological recordings and to the nerves of the STNS for extracellular recordings. Isolating the STNS is a two-part process. The first part, dissecting the stomach from the animal, is described in an accompanying video article
4
. In this video article, fine dissection techniques are used to isolate the STNS from the stomach. This procedure results in a nervous system preparation that is available for electrophysiological recordings.
Neuroscience, Issue 27, lobster, stomach, neural network, dissection, central pattern generator
1171
Localized RNAi and Ectopic Gene Expression in the Medicinal Leech
Institutions: University of California San Diego - UCSD, University of California San Diego - UCSD.
In this video, we show the use of a pneumatic capillary gun for the accurate biolistic delivery of reagents into live tissue. We use the procedure to perturb gene expression patterns in selected segments of leech embryos, leaving the untreated segments as internal controls. The pneumatic capillary gun can be used to reach internal layers of cells at early stages of development without opening the specimen. As a method for localized introduction of substances into living tissues, the biolistic delivery with the gun has several advantages: it is fast, contact-free and non-destructive. In addition, a single capillary gun can be used for independent delivery of different substances. The delivery region can have lateral dimensions of ~50-150 µm and extends over ~15 µm around the mean penetration depth, which is adjustable between 0 and 50 µm. This delivery has the advantage of being able to target a limited number of cells in a selected location intermediate between single cell knock down by microinjection and systemic knockdown through extracellular injections or by means of genetic approaches. For knocking down or knocking in the expression of the axon guidance molecule Netrin, which is naturally expressed by some central neurons and in the ventral body wall, but not the dorsal domain, we deliver molecules of dsRNA or plasmid-DNA into the body wall and central ganglia. This procedure includes the following steps: (i) preparation of the experimental setup for a specific assay (adjusting the accelerating pressure), (ii) coating the particles with molecules of dsRNA or DNA, (iii) loading the coated particles into the gun, up to two reagents in one assay, (iv) preparing the animals for the particle delivery, (v) delivery of coated particles into the target tissue (body wall or ganglia), and (vi) processing the embryos (immunostaining, immunohistochemistry and neuronal labeling) to visualize the results, usually 2 to 3 days after the delivery. When the particles were coated with netrin dsRNA, they caused clearly visible knock-down of netrin expression that only occurred in cells containing particles (usually, 1-2 particles per cell). Particles coated with a plasmid encoding EGFP induced fluorescence in neuronal cells when they stopped in their nuclei.
Neuroscience, Issue 14, leech, netrin, axon guidance, development, mechanosensory neurons, gene gun, RNAi
697
Measures of Heart and Ventilatory Rates in Freely Moving Crayfish
Institutions: University of Kentucky.

The fear, flight or fight response serves as the fundamental physiological basis for examining an organism's awareness of its environment under an impending predator attack. Although it is not known whether invertebrates posses an autonomic nervous system identical to that of vertebrates, evidence shows invertebrates have a sympathetic-like response to regulate the internal environment and ready the organism to act behaviorally to a given stimuli. Furthermore, this physiological response can be feasibly measured and it acts as a biological index for the animal's internal state. Measurements of the physiological response can be directly related to internal and external stressors through changes in the central nervous system controlled coordination of the cardio-vascular and respiratory systems. More specifically, monitoring heart and ventilation rates provide quantifiable measures of the stress response not always behaviorally observed. Crayfish are good model organisms for heart and ventilatory rate measurements due to the feasibility of recording, as well as the rich history known of the morphology of the crayfish, dating back to Huxley in 1888, and the well-studied typical behaviors.
Physiology, Issue 32, invertebrate, autonomic nervous system, behavior, crustacean
1594
Cancer Borealis Stomatogastric Nervous System Dissection
Institutions: Brandeis.

The stomatogastric ganglion (STG) is an excellent model for studying cellular and network interactions because it contains a relatively small number of cells (approximately 25 in
C. borealis
) which are well characterized. The cells in the STG exhibit a broad range of outputs and are responsible for the motor actions of the stomach. The stomach contains the gastric mill which breaks down food with three internal teeth, and the pylorus which filters the food before it reaches the midgut. The STG produces two rhythmic outputs to control the gastric mill and pylorus known as central pattern generators (CPGs). Each cell in the STG can participate in one or both of these rhythms. These CPGs allow for the study of neuromodulation, homeostasis, cellular and network variability, network development, and network recovery. The dissection of the stomatogastric nervous system (STNS) from the Jonah crab (
Cancer borealis
) is done in two parts; the gross and fine dissection. In the gross dissection the entire stomach is dissected from the crab. During the fine dissection the STNS is extracted from the stomach using a dissection microscope and micro-dissection tools (see figure 1). The STNS includes the STG, the oesophageal ganglion (OG), and the commissural ganglia (CoG) as well as the nerves that innervate the stomach muscles. Here, we show how to perform a complete dissection of the STNS in preparation for an electrophysiology experiment where the cells in the STG would be recorded from intracellularly and the peripheral nerves would be used for extracellular recordings. The proper technique for finding the desired nerves is shown as well as our technique of desheathing the ganglion to reveal the somata and neuropil.
neuroscience, Issue 25, STG, crab, STNS, neural network, central pattern generator, CPG
1207
A Modified In vitro Invasion Assay to Determine the Potential Role of Hormones, Cytokines and/or Growth Factors in Mediating Cancer Cell Invasion
Institutions: Roswell Park Cancer Institute, D'Youville College.

Blood serum serves as a chemoattractant towards which cancer cells migrate and invade, facilitating their intravasation into microvessels. However, the actual molecules towards which the cells migrate remain elusive. This modified invasion assay has been developed to identify targets which drive cell migration and invasion. This technique compares the invasion index under three conditions to determine whether a specific hormone, growth factor, or cytokine plays a role in mediating the invasive potential of a cancer cell. These conditions include i) normal fetal bovine serum (FBS), ii) charcoal-stripped FBS (CS-FBS), which removes hormones, growth factors, and cytokines and iii) CS-FBS + molecule (denoted "X"). A significant change in cell invasion with CS-FBS as compared to FBS, indicates the involvement of hormones, cytokines or growth factors in mediating the change. Individual molecules can then be added back to CS-FBS to assay their ability to reverse or rescue the invasion phenotype. Furthermore, two or more factors can be combined to evaluate the additive or synergistic effects of multiple molecules in driving or inhibiting invasion. Overall, this method enables the investigator to determine whether hormones, cytokines, and/or growth factors play a role in cell invasion by serving as chemoattractants or inhibitors of invasion for a particular type of cancer cell or a specific mutant. By identifying specific chemoattractants and inhibitors, this modified invasion assay may help to elucidate signaling pathways that direct cancer cell invasion.
Medicine, Issue 98, hormone, cytokine, growth factor, migration, invasion, collagen, cancer
51480
A Microplate Assay to Assess Chemical Effects on RBL-2H3 Mast Cell Degranulation: Effects of Triclosan without Use of an Organic Solvent
Institutions: University of Maine, Orono, University of Maine, Orono.

Mast cells play important roles in allergic disease and immune defense against parasites. Once activated (
e.g.
by an allergen), they degranulate, a process that results in the exocytosis of allergic mediators. Modulation of mast cell degranulation by drugs and toxicants may have positive or adverse effects on human health. Mast cell function has been dissected in detail with the use of rat basophilic leukemia mast cells (RBL-2H3), a widely accepted model of human mucosal mast cells
3-5
. Mast cell granule component and the allergic mediator β-hexosaminidase, which is released linearly in tandem with histamine from mast cells
6
, can easily and reliably be measured through reaction with a fluorogenic substrate, yielding measurable fluorescence intensity in a microplate assay that is amenable to high-throughput studies
1
. Originally published by Naal
et al.
1
, we have adapted this degranulation assay for the screening of drugs and toxicants and demonstrate its use here. Triclosan is a broad-spectrum antibacterial agent that is present in many consumer products and has been found to be a therapeutic aid in human allergic skin disease
7-11
, although the mechanism for this effect is unknown. Here we demonstrate an assay for the effect of triclosan on mast cell degranulation. We recently showed that triclosan strongly affects mast cell function
2
. In an effort to avoid use of an organic solvent, triclosan is dissolved directly into aqueous buffer with heat and stirring, and resultant concentration is confirmed using UV-Vis spectrophotometry (using ε
280
= 4,200 L/M/cm)
12
. This protocol has the potential to be used with a variety of chemicals to determine their effects on mast cell degranulation, and more broadly, their allergic potential.
Immunology, Issue 81, mast cell, basophil, degranulation, RBL-2H3, triclosan, irgasan, antibacterial, β-hexosaminidase, allergy, Asthma, toxicants, ionophore, antigen, fluorescence, microplate, UV-Vis
50671
Renal Capsule Xenografting and Subcutaneous Pellet Implantation for the Evaluation of Prostate Carcinogenesis and Benign Prostatic Hyperplasia
Institutions: University of Wisconsin-Madison, University of Rochester School of Medicine & Dentistry, University of Wisconsin-Madison.

New therapies for two common prostate diseases, prostate cancer (PrCa) and benign prostatic hyperplasia (BPH), depend critically on experiments evaluating their hormonal regulation. Sex steroid hormones (notably androgens and estrogens) are important in PrCa and BPH; we probe their respective roles in inducing prostate growth and carcinogenesis in mice with experiments using compressed hormone pellets. Hormone and/or drug pellets are easily manufactured with a pellet press, and surgically implanted into the subcutaneous tissue of the male mouse host. We also describe a protocol for the evaluation of hormonal carcinogenesis by combining subcutaneous hormone pellet implantation with xenografting of prostate cell recombinants under the renal capsule of immunocompromised mice. Moreover, subcutaneous hormone pellet implantation, in combination with renal capsule xenografting of BPH tissue, is useful to better understand hormonal regulation of benign prostate growth, and to test new therapies targeting sex steroid hormone pathways.
Medicine, Issue 78, Cancer Biology, Prostatic Hyperplasia, Prostatic Neoplasms, Neoplastic Processes, Estradiol, Testosterone, Transplantation, Heterologous, Growth, Xenotransplantation, Heterologous Transplantation, Hormones, Prostate, Testosterone, 17beta-Estradiol, Benign prostatic hyperplasia, Prostate Cancer, animal model
50574
Physiological Experimentation with the Crayfish Hindgut: A Student Laboratory Exercise
Institutions: University of Kentucky, Brock University.

The purpose of the report is to describe dissection techniques for preparing the crayfish hindgut and to demonstrate how to make physiological recordings with a force transducer to monitor the strength of contraction. In addition, we demonstrate how to visually monitor peristaltic activity, which can be used as a bioassay for various peptides, biogenic amines and neurotransmitters. This preparation is amenable to student laboratories in physiology and for demonstrating pharmacological concepts to students. This preparation has been in use for over 100 years, and it still offers much as a model for investigating the generation and regulation of peristaltic rhythms and for describing the mechanisms underlying their modulation. The pharmacological assays and receptor sub-typing that were started over 50 years ago on the hindgut still contribute to research today. This robust preparation is well suited to training students in physiology and pharmacology.
Neuroscience, Issue 47, invertebrate, crayfish, student laboratory, physiology
2324
In Vitro Nuclear Assembly Using Fractionated Xenopus Egg Extracts
Institutions: Emory University.

Nuclear membrane assembly is an essential step in the cell division cycle; this process can be replicated in the test tube by combining Xenopus sperm chromatin, cytosol, and light membrane fractions. Complete nuclei are formed, including nuclear membranes with pore complexes, and these reconstituted nuclei are capable of normal nuclear processes.
Cellular Biology, Issue 19, Current Protocols Wiley, Xenopus Egg Extracts, Nuclear Assembly, Nuclear Membrane
908
RNA-seq Analysis of Transcriptomes in Thrombin-treated and Control Human Pulmonary Microvascular Endothelial Cells
Institutions: Children's Mercy Hospital and Clinics, School of Medicine, University of Missouri-Kansas City.

The characterization of gene expression in cells via measurement of mRNA levels is a useful tool in determining how the transcriptional machinery of the cell is affected by external signals (
e.g.
drug treatment), or how cells differ between a healthy state and a diseased state. With the advent and continuous refinement of next-generation DNA sequencing technology, RNA-sequencing (RNA-seq) has become an increasingly popular method of transcriptome analysis to catalog all species of transcripts, to determine the transcriptional structure of all expressed genes and to quantify the changing expression levels of the total set of transcripts in a given cell, tissue or organism
1,2
. RNA-seq is gradually replacing DNA microarrays as a preferred method for transcriptome analysis because it has the advantages of profiling a complete transcriptome, providing a digital type datum (copy number of any transcript) and not relying on any known genomic sequence
3
. Here, we present a complete and detailed protocol to apply RNA-seq to profile transcriptomes in human pulmonary microvascular endothelial cells with or without thrombin treatment. This protocol is based on our recent published study entitled "RNA-seq Reveals Novel Transcriptome of Genes and Their Isoforms in Human Pulmonary Microvascular Endothelial Cells Treated with Thrombin,"
4
in which we successfully performed the first complete transcriptome analysis of human pulmonary microvascular endothelial cells treated with thrombin using RNA-seq. It yielded unprecedented resources for further experimentation to gain insights into molecular mechanisms underlying thrombin-mediated endothelial dysfunction in the pathogenesis of inflammatory conditions, cancer, diabetes, and coronary heart disease, and provides potential new leads for therapeutic targets to those diseases. The descriptive text of this protocol is divided into four parts. The first part describes the treatment of human pulmonary microvascular endothelial cells with thrombin and RNA isolation, quality analysis and quantification. The second part describes library construction and sequencing. The third part describes the data analysis. The fourth part describes an RT-PCR validation assay. Representative results of several key steps are displayed. Useful tips or precautions to boost success in key steps are provided in the Discussion section. Although this protocol uses human pulmonary microvascular endothelial cells treated with thrombin, it can be generalized to profile transcriptomes in both mammalian and non-mammalian cells and in tissues treated with different stimuli or inhibitors, or to compare transcriptomes in cells or tissues between a healthy state and a disease state.
Genetics, Issue 72, Molecular Biology, Immunology, Medicine, Genomics, Proteins, RNA-seq, Next Generation DNA Sequencing, Transcriptome, Transcription, Thrombin, Endothelial cells, high-throughput, DNA, genomic DNA, RT-PCR, PCR
4393
RNAi-mediated Double Gene Knockdown and Gustatory Perception Measurement in Honey Bees (Apis mellifera)
Institutions: Arizona State University , Norwegian University of Life Sciences.

This video demonstrates novel techniques of RNA interference (RNAi) which downregulate two genes simultaneously in honey bees using double-stranded RNA (dsRNA) injections. It also presents a protocol of proboscis extension response (PER) assay for measuring gustatory perception. RNAi-mediated gene knockdown is an effective technique downregulating target gene expression. This technique is usually used for single gene manipulation, but it has limitations to detect interactions and joint effects between genes. In the first part of this video, we present two strategies to simultaneously knock down two genes (called double gene knockdown). We show both strategies are able to effectively suppress two genes, vitellogenin (
vg
) and ultraspiracle (
usp
), which are in a regulatory feedback loop. This double gene knockdown approach can be used to dissect interrelationships between genes and can be readily applied in different insect species. The second part of this video is a demonstration of proboscis extension response (PER) assay in honey bees after the treatment of double gene knockdown. The PER assay is a standard test for measuring gustatory perception in honey bees, which is a key predictor for how fast a honey bee's behavioral maturation is. Greater gustatory perception of nest bees indicates increased behavioral development which is often associated with an earlier age at onset of foraging and foraging specialization in pollen. In addition, PER assay can be applied to identify metabolic states of satiation or hunger in honey bees. Finally, PER assay combined with pairing different odor stimuli for conditioning the bees is also widely used for learning and memory studies in honey bees.
Neuroscience, Issue 77, Genetics, Behavior, Neurobiology, Molecular Biology, Chemistry, Biochemistry, biology (general), genetics (animal and plant), animal biology, RNA interference, RNAi, double stranded RNA, dsRNA, double gene knockdown, vitellogenin gene, vg, ultraspiracle gene, usp, vitellogenin protein, Vg, ultraspiracle protein, USP, green fluorescence protein, GFP, gustatory perception, proboscis extension response, PER, honey bees, Apis mellifera, animal model, assay
50446
Proprioception and Tension Receptors in Crab Limbs: Student Laboratory Exercises
Institutions: University of Kentucky, University of Kentucky, University of Oregon.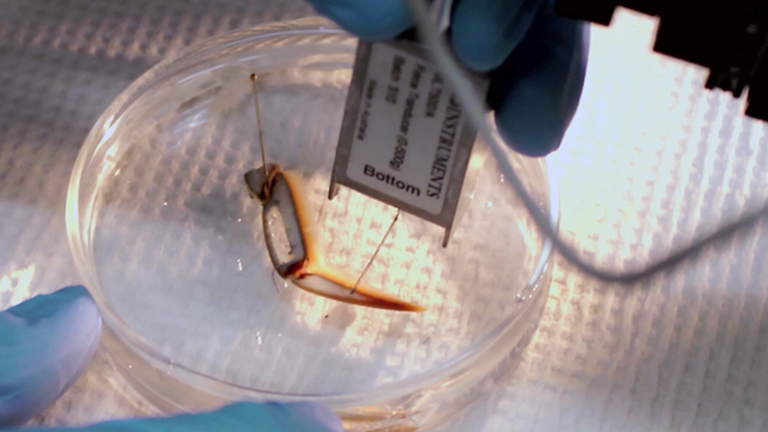 The primary purpose of these procedures is to demonstrate for teaching and research purposes how to record the activity of living primary sensory neurons responsible for proprioception as they are detecting joint position and movement, and muscle tension. Electrical activity from crustacean proprioceptors and tension receptors is recorded by basic neurophysiological instrumentation, and a transducer is used to simultaneously measure force that is generated by stimulating a motor nerve. In addition, we demonstrate how to stain the neurons for a quick assessment of their anatomical arrangement or for permanent fixation. Staining reveals anatomical organization that is representative of chordotonal organs in most crustaceans. Comparing the tension nerve responses to the proprioceptive responses is an effective teaching tool in determining how these sensory neurons are defined functionally and how the anatomy is correlated to the function. Three staining techniques are presented allowing researchers and instructors to choose a method that is ideal for their laboratory.
Neuroscience, Issue 80, Crustacean, joint, Muscle, sensory, teaching, educational, neuroscience
51050
Profiling of Estrogen-regulated MicroRNAs in Breast Cancer Cells
Institutions: University of Houston.

Estrogen plays vital roles in mammary gland development and breast cancer progression. It mediates its function by binding to and activating the estrogen receptors (ERs), ERα, and ERβ. ERα is frequently upregulated in breast cancer and drives the proliferation of breast cancer cells. The ERs function as transcription factors and regulate gene expression. Whereas ERα's regulation of protein-coding genes is well established, its regulation of noncoding microRNA (miRNA) is less explored. miRNAs play a major role in the post-transcriptional regulation of genes, inhibiting their translation or degrading their mRNA. miRNAs can function as oncogenes or tumor suppressors and are also promising biomarkers. Among the miRNA assays available, microarray and quantitative real-time polymerase chain reaction (qPCR) have been extensively used to detect and quantify miRNA levels. To identify miRNAs regulated by estrogen signaling in breast cancer, their expression in ERα-positive breast cancer cell lines were compared before and after estrogen-activation using both the µParaflo-microfluidic microarrays and Dual Labeled Probes-low density arrays. Results were validated using specific qPCR assays, applying both Cyanine dye-based and Dual Labeled Probes-based chemistry. Furthermore, a time-point assay was used to identify regulations over time. Advantages of the miRNA assay approach used in this study is that it enables a fast screening of mature miRNA regulations in numerous samples, even with limited sample amounts. The layout, including the specific conditions for cell culture and estrogen treatment, biological and technical replicates, and large-scale screening followed by in-depth confirmations using separate techniques, ensures a robust detection of miRNA regulations, and eliminates false positives and other artifacts. However, mutated or unknown miRNAs, or regulations at the primary and precursor transcript level, will not be detected. The method presented here represents a thorough investigation of estrogen-mediated miRNA regulation.
Medicine, Issue 84, breast cancer, microRNA, estrogen, estrogen receptor, microarray, qPCR
51285
Membrane Potentials, Synaptic Responses, Neuronal Circuitry, Neuromodulation and Muscle Histology Using the Crayfish: Student Laboratory Exercises
Institutions: University of Kentucky, University of Toronto.

The purpose of this report is to help develop an understanding of the effects caused by ion gradients across a biological membrane. Two aspects that influence a cell's membrane potential and which we address in these experiments are: (1) Ion concentration of K
+
on the outside of the membrane, and (2) the permeability of the membrane to specific ions. The crayfish abdominal extensor muscles are in groupings with some being tonic (slow) and others phasic (fast) in their biochemical and physiological phenotypes, as well as in their structure; the motor neurons that innervate these muscles are correspondingly different in functional characteristics. We use these muscles as well as the superficial, tonic abdominal flexor muscle to demonstrate properties in synaptic transmission. In addition, we introduce a sensory-CNS-motor neuron-muscle circuit to demonstrate the effect of cuticular sensory stimulation as well as the influence of neuromodulators on certain aspects of the circuit. With the techniques obtained in this exercise, one can begin to answer many questions remaining in other experimental preparations as well as in physiological applications related to medicine and health. We have demonstrated the usefulness of model invertebrate preparations to address fundamental questions pertinent to all animals.
Neuroscience, Issue 47, Invertebrate, Crayfish, neurophysiology, muscle, anatomy, electrophysiology
2322
A Noninvasive Method For In situ Determination of Mating Success in Female American Lobsters (Homarus americanus)
Institutions: University of New Hampshire, Massachusetts Division of Marine Fisheries, Boston University, Middle College.

Despite being one of the most productive fisheries in the Northwest Atlantic, much remains unknown about the natural reproductive dynamics of American lobsters. Recent work in exploited crustacean populations (crabs and lobsters) suggests that there are circumstances where mature females are unable to achieve their full reproductive potential due to sperm limitation. To examine this possibility in different regions of the American lobster fishery, a reliable and noninvasive method was developed for sampling large numbers of female lobsters at sea. This method involves inserting a blunt-tipped needle into the female's seminal receptacle to determine the presence or absence of a sperm plug and to withdraw a sample that can be examined for the presence of sperm. A series of control studies were conducted at the dock and in the laboratory to test the reliability of this technique. These efforts entailed sampling 294 female lobsters to confirm that the presence of a sperm plug was a reliable indicator of sperm within the receptacle and thus, mating. This paper details the methodology and the results obtained from a subset of the total females sampled. Of the 230 female lobsters sampled from George's Bank and Cape Ann, MA (size range = 71-145 mm in carapace length), 90.3% were positive for sperm. Potential explanations for the absence of sperm in some females include: immaturity (lack of physiological maturity), breakdown of the sperm plug after being used to fertilize a clutch of eggs, and lack of mating activity. The surveys indicate that this technique for examining the mating success of female lobsters is a reliable proxy that can be used in the field to document reproductive activity in natural populations.
Environmental Sciences, Issue 84, sperm limitation, spermatophore, lobster fishery, sex ratios, sperm receptacle, mating, American lobster, Homarus americanus
50498
Inducing Plasticity of Astrocytic Receptors by Manipulation of Neuronal Firing Rates
Institutions: University of California Riverside, University of California Riverside, University of California Riverside.

Close to two decades of research has established that astrocytes
in situ
and
in vivo
express numerous G protein-coupled receptors (GPCRs) that can be stimulated by neuronally-released transmitter. However, the ability of astrocytic receptors to exhibit plasticity in response to changes in neuronal activity has received little attention. Here we describe a model system that can be used to globally scale up or down astrocytic group I metabotropic glutamate receptors (mGluRs) in acute brain slices. Included are methods on how to prepare parasagittal hippocampal slices, construct chambers suitable for long-term slice incubation, bidirectionally manipulate neuronal action potential frequency, load astrocytes and astrocyte processes with fluorescent Ca
2+
indicator, and measure changes in astrocytic Gq GPCR activity by recording spontaneous and evoked astrocyte Ca
2+
events using confocal microscopy. In essence, a "calcium roadmap" is provided for how to measure plasticity of astrocytic Gq GPCRs. Applications of the technique for study of astrocytes are discussed. Having an understanding of how astrocytic receptor signaling is affected by changes in neuronal activity has important implications for both normal synaptic function as well as processes underlying neurological disorders and neurodegenerative disease.
Neuroscience, Issue 85, astrocyte, plasticity, mGluRs, neuronal Firing, electrophysiology, Gq GPCRs, Bolus-loading, calcium, microdomains, acute slices, Hippocampus, mouse
51458
Detection of the Genome and Transcripts of a Persistent DNA Virus in Neuronal Tissues by Fluorescent In situ Hybridization Combined with Immunostaining
Institutions: CNRS UMR 5534, Université de Lyon 1, LabEX DEVweCAN, CNRS UPR 3296, CNRS UMR 5286.

Single cell codetection of a gene, its RNA product and cellular regulatory proteins is critical to study gene expression regulation. This is a challenge in the field of virology; in particular for nuclear-replicating persistent DNA viruses that involve animal models for their study. Herpes simplex virus type 1 (HSV-1) establishes a life-long latent infection in peripheral neurons. Latent virus serves as reservoir, from which it reactivates and induces a new herpetic episode. The cell biology of HSV-1 latency remains poorly understood, in part due to the lack of methods to detect HSV-1 genomes
in situ
in animal models. We describe a DNA-fluorescent
in situ
hybridization (FISH) approach efficiently detecting low-copy viral genomes within sections of neuronal tissues from infected animal models. The method relies on heat-based antigen unmasking, and directly labeled home-made DNA probes, or commercially available probes. We developed a triple staining approach, combining DNA-FISH with RNA-FISH and immunofluorescence, using peroxidase based signal amplification to accommodate each staining requirement. A major improvement is the ability to obtain, within 10 µm tissue sections, low-background signals that can be imaged at high resolution by confocal microscopy and wide-field conventional epifluorescence. Additionally, the triple staining worked with a wide range of antibodies directed against cellular and viral proteins. The complete protocol takes 2.5 days to accommodate antibody and probe penetration within the tissue.
Neuroscience, Issue 83, Life Sciences (General), Virology, Herpes Simplex Virus (HSV), Latency, In situ hybridization, Nuclear organization, Gene expression, Microscopy
51091
Larval RNA Interference in the Red Flour Beetle, Tribolium castaneum
Institutions: Miami University.

The red flour beetle,
Tribolium castaneum
, offers a repertoire of experimental tools for genetic and developmental studies, including a fully annotated genome sequence, transposon-based transgenesis, and effective RNA interference (RNAi). Among these advantages, RNAi-based gene knockdown techniques are at the core of
Tribolium
research.
T. castaneum
show a robust systemic RNAi response, making it possible to perform RNAi at any life stage by simply injecting double-stranded RNA (dsRNA) into the beetle's body cavity. In this report, we provide an overview of our larval RNAi technique in
T. castaneum
. The protocol includes (i) isolation of the proper stage of
T. castaneum
larvae for injection, (ii) preparation for the injection setting, and (iii) dsRNA injection. Larval RNAi is a simple, but powerful technique that provides us with quick access to loss-of-function phenotypes, including multiple gene knockdown phenotypes as well as a series of hypomorphic phenotypes. Since virtually all
T. castaneum
tissues are susceptible to extracellular dsRNA, the larval RNAi technique allows researchers to study a wide variety of tissues in diverse contexts, including the genetic basis of organismal responses to the outside environment. In addition, the simplicity of this technique stimulates more student involvement in research, making
T. castaneum
an ideal genetic system for use in a classroom setting.
Molecular Biology, Issue 92, RNA interference, RNAi, gene knockdown, red flour beetle, Tribolium castaneum, injection, double-stranded RNA, functional analysis, teaching laboratories
52059
The Swimmeret System of Crayfish: A Practical Guide for the Dissection of the Nerve Cord and Extracellular Recordings of the Motor Pattern
Institutions: University of Cologne.

Here we demonstrate the dissection of the crayfish abdominal nerve cord. The preparation comprises the last two thoracic ganglia (T4, T5) and the chain of abdominal ganglia (A1 to A6). This chain of ganglia includes the part of the central nervous system (CNS) that drives coordinated locomotion of the pleopods (swimmerets): the swimmeret system. It is known for over five decades that in crayfish each swimmeret is driven by its own independent pattern generating kernel that generates rhythmic alternating activity
1-3
. The motor neurons innervating the musculature of each swimmeret comprise two anatomically and functionally distinct populations
4
. One is responsible for the retraction (power stroke, PS) of the swimmeret. The other drives the protraction (return stroke, RS) of the swimmeret. Motor neurons of the swimmeret system are able to produce spontaneously a fictive motor pattern, which is identical to the pattern recorded
in vivo
1
. The aim of this report is to introduce an interesting and convenient model system for studying rhythm generating networks and coordination of independent microcircuits for students' practical laboratory courses. The protocol provided includes step-by-step instructions for the dissection of the crayfish's abdominal nerve cord, pinning of the isolated chain of ganglia, desheathing the ganglia and recording the swimmerets fictive motor pattern extracellularly from the isolated nervous system. Additionally, we can monitor the activity of swimmeret neurons recorded intracellularly from dendrites. Here we also describe briefly these techniques and provide some examples. Furthermore, the morphology of swimmeret neurons can be assessed using various staining techniques. Here we provide examples of intracellular (by iontophoresis) dye filled neurons and backfills of pools of swimmeret motor neurons. In our lab we use this preparation to study basic functions of fictive locomotion, the effect of sensory feedback on the activity of the CNS, and coordination between microcircuits on a cellular level.
Neurobiology, Issue 93, crustacean, dissection, extracellular recording, fictive locomotion, motor neurons, locomotion
52109
Understanding Early Organogenesis Using a Simplified In Situ Hybridization Protocol in Xenopus
Institutions: Hospital for Sick Children, University of Western Ontario, University of Western Ontario, Hospital for Sick Children, University of Western Ontario.

Organogenesis is the study of how organs are specified and then acquire their specific shape and functions during development. The
Xenopuslaevis
embryo is very useful for studying organogenesis because their large size makes them very suitable for identifying organs at the earliest steps in organogenesis. At this time, the primary method used for identifying a specific organ or primordium is whole mount
in situ
hybridization with labeled antisense RNA probes specific to a gene that is expressed in the organ of interest. In addition, it is relatively easy to manipulate genes or signaling pathways in
Xenopus
and
in situ
hybridization allows one to then assay for changes in the presence or morphology of a target organ. Whole mount
in situ
hybridization is a multi-day protocol with many steps involved. Here we provide a simplified protocol with reduced numbers of steps and reagents used that works well for routine assays.
In situ
hybridization robots have greatly facilitated the process and we detail how and when we utilize that technology in the process. Once an
in situ
hybridization is complete, capturing the best image of the result can be frustrating. We provide advice on how to optimize imaging of
in situ
hybridization results. Although the protocol describes assessing organogenesis in
Xenopus laevis
, the same basic protocol can almost certainly be adapted to
Xenopus tropicalis
and other model systems.
Developmental Biology, Issue 95, Xenopus, organogenesis, in situ hybridization, RNA methods, embryology, imaging, whole mount
51526