A Microfluidic-based Electrochemical Biochip for Label-free DNA Hybridization Analysis
Published: 09-10-2014
ABSTRACT
Miniaturization of analytical benchtop procedures into the micro-scale provides significant advantages in regards to reaction time, cost, and integration of pre-processing steps. Utilizing these devices towards the analysis of DNA hybridization events is important because it offers a technology for real time assessment of biomarkers at the point-of-care for various diseases. However, when the device footprint decreases the dominance of various physical phenomena increases. These phenomena influence the fabrication precision and operation reliability of the device. Therefore, there is a great need to accurately fabricate and operate these devices in a reproducible manner in order to improve the overall performance. Here, we describe the protocols and the methods used for the fabrication and the operation of a microfluidic-based electrochemical biochip for accurate analysis of DNA hybridization events. The biochip is composed of two parts: a microfluidic chip with three parallel micro-channels made of polydimethylsiloxane (PDMS), and a 3 x 3 arrayed electrochemical micro-chip. The DNA hybridization events are detected using electrochemical impedance spectroscopy (EIS) analysis. The EIS analysis enables monitoring variations of the properties of the electrochemical system that are dominant at these length scales. With the ability to monitor changes of both charge transfer and diffusional resistance with the biosensor, we demonstrate the selectivity to complementary ssDNA targets, a calculated detection limit of 3.8 nM, and a 13% cross-reactivity with other non-complementary ssDNA following 20 min of incubation. This methodology can improve the performance of miniaturized devices by elucidating on the behavior of diffusion at the micro-scale regime and by enabling the study of DNA hybridization events.
26 Related JoVE Articles!
Microfluidic Applications for Disposable Diagnostics
Institutions: Boston University.

In this interview, Dr. Klapperich discusses the fabrication of thermoplastic microfluidic devices and their application for development of new diagnostics.
Cellular Biology, Issue 12, bioengineering, diagnostics, microfluidics, solid phase, purification
665
High Speed Droplet-based Delivery System for Passive Pumping in Microfluidic Devices
Institutions: University of Wisconsin-Madison, University of Wisconsin-Madison.

A novel microfluidic system has been developed that uses the phenomenon of passive pumping along with a user controlled droplet based fluid delivery system. Passive pumping is the phenomenon by which surface tension induced pressure differences drive fluid movement in closed channels. The automated fluid delivery system consists of a set of voltage controlled valves with micro-nozzles connected to a fluid reservoir and a control system. These voltage controlled valves offer a volumetrically precise way to deliver fluid droplets to the inlet of a microfluidic device in a high frequency manner. Based on the dimensions demonstrated in the current study example, the system is capable of flowing 4 milliliters per minute (through a 2.2mm by 260um cross-sectional channel). Based on these same channel dimensions, fluid exchange of a point inside the channel can be achieved in as little as eight milliseconds. It is observed that there is interplay between momentum of the system (imparted by a combination of the droplets created by the valves and the fluid velocity in the channel), and the surface tension of the liquid. Where momentum provides velocity to the fluid flow (or vice-versa), equilibration of surface tension at the inlet provides a sudden stop to any flow. This sudden stop allows the user to control the flow characteristics of the channel and opens the door for a variety of biological applications, ranging anywhere from reagent delivery to drug-cell studies. It is also observed that when nozzles are aimed at the inlet at shallow angles, the droplet momentum can cause additional interesting fluid phenomena, such as mixing of multiple droplets in the inlet.
Biomedical Engineering, Issue 31, automated, passive pumping, microfluidic device, high speed, high flow rate
1329
The Microfluidic Probe: Operation and Use for Localized Surface Processing
Institutions: McGill University.

Microfluidic devices allow assays to be performed using minute amounts of sample and have recently been used to control the microenvironment of cells. Microfluidics is commonly associated with closed microchannels which limit their use to samples that can be introduced, and cultured in the case of cells, within a confined volume. On the other hand, micropipetting system have been used to locally perfuse cells and surfaces, notably using push-pull setups where one pipette acts as source and the other one as sink, but the confinement of the flow is difficult in three dimensions. Furthermore, pipettes are fragile and difficult to position and hence are used in static configuration only. The microfluidic probe (MFP) circumvents the constraints imposed by the construction of closed microfluidic channels and instead of enclosing the sample into the microfluidic system, the microfluidic flow can be directly delivered onto the sample, and scanned across the sample, using the MFP. . The injection and aspiration openings are located within a few tens of micrometers of one another so that a microjet injected into the gap is confined by the hydrodynamic forces of the surrounding liquid and entirely aspirated back into the other opening. The microjet can be flushed across the substrate surface and provides a precise tool for localized deposition/delivery of reagents which can be used over large areas by scanning the probe across the surface. In this video we present the microfluidic probe
1
(MFP). We explain in detail how to assemble the MFP, mount it atop an inverted microscope, and align it relative to the substrate surface, and finally show how to use it to process a substrate surface immersed in a buffer.
Bioengineering, Issue 28, microfluidics, integrated microfluidic system, bioMEMs
1418
Time-lapse Fluorescence Imaging of Arabidopsis Root Growth with Rapid Manipulation of The Root Environment Using The RootChip
Institutions: Carnegie Institution for Science, Howard Hughes Medical Institute, Stanford University , University of Freiburg .

The root functions as the physical anchor of the plant and is the organ responsible for uptake of water and mineral nutrients such as nitrogen, phosphorus, sulfate and trace elements that plants acquire from the soil. If we want to develop sustainable approaches to producing high crop yield, we need to better understand how the root develops, takes up a wide spectrum of nutrients, and interacts with symbiotic and pathogenic organisms. To accomplish these goals, we need to be able to explore roots in microscopic detail over time periods ranging from minutes to days. We developed the RootChip, a polydimethylsiloxane (PDMS)- based microfluidic device, which allows us to grow and image roots from Arabidopsis seedlings while avoiding any physical stress to roots during preparation for imaging
1
(
Figure 1
). The device contains a bifurcated channel structure featuring micromechanical valves to guide the fluid flow from solution inlets to each of the eight observation chambers
2
. This perfusion system allows the root microenvironment to be controlled and modified with precision and speed. The volume of the chambers is approximately 400 nl, thus requiring only minimal amounts of test solution. Here we provide a detailed protocol for studying root biology on the RootChip using imaging-based approaches with real time resolution. Roots can be analyzed over several days using time lapse microscopy. Roots can be perfused with nutrient solutions or inhibitors, and up to eight seedlings can be analyzed in parallel. This system has the potential for a wide range of applications, including analysis of root growth in the presence or absence of chemicals, fluorescence-based analysis of gene expression, and the analysis of biosensors, e.g. FRET nanosensors
3
.
Bioengineering, Issue 65, Plant Biology, Physics, Plant Physiology, roots, microfluidics, imaging, hydroponics, Arabidopsis
4290
Fabrication, Operation and Flow Visualization in Surface-acoustic-wave-driven Acoustic-counterflow Microfluidics
Institutions: Istituto Italiano di Tecnologia, Scuola Normale Superiore and Istituto Nanoscienze-CNR.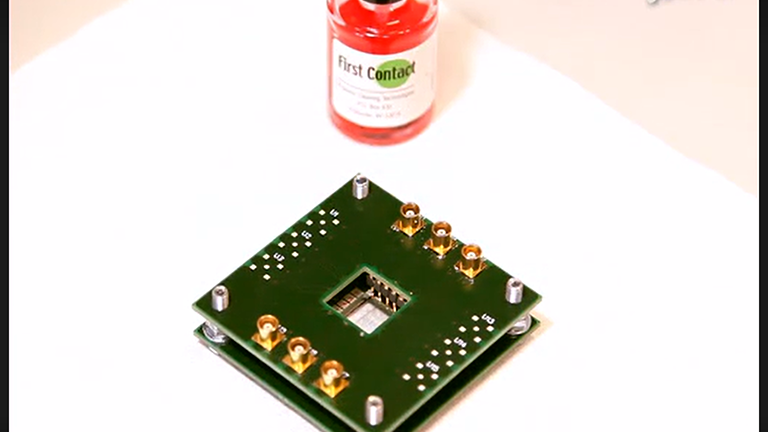 Surface acoustic waves (SAWs) can be used to drive liquids in portable microfluidic chips via the acoustic counterflow phenomenon. In this video we present the fabrication protocol for a multilayered SAW acoustic counterflow device. The device is fabricated starting from a lithium niobate (LN) substrate onto which two interdigital transducers (IDTs) and appropriate markers are patterned. A polydimethylsiloxane (PDMS) channel cast on an SU8 master mold is finally bonded on the patterned substrate. Following the fabrication procedure, we show the techniques that allow the characterization and operation of the acoustic counterflow device in order to pump fluids through the PDMS channel grid. We finally present the procedure to visualize liquid flow in the channels. The protocol is used to show on-chip fluid pumping under different flow regimes such as laminar flow and more complicated dynamics characterized by vortices and particle accumulation domains.
Physics, Issue 78, Microfluidics, Acoustics, Engineering, flow characteristics, flow measurement, flow visualization (general applications), fluidics, surface acoustic wave, flow visualization, acoustofluidics, MEMS, STICS, PIV, microfabrication, acoustics, particle dynamics, fluids, flow, imaging, visualization
50524
High-throughput Protein Expression Generator Using a Microfluidic Platform
Institutions: Bar-Ilan University.

Rapidly increasing fields, such as systems biology, require the development and implementation of new technologies, enabling high-throughput and high-fidelity measurements of large systems. Microfluidics promises to fulfill many of these requirements, such as performing high-throughput screening experiments on-chip, encompassing biochemical, biophysical, and cell-based assays
1
. Since the early days of microfluidics devices, this field has drastically evolved, leading to the development of microfluidic large-scale integration
2,3
. This technology allows for the integration of thousands of micromechanical valves on a single device with a postage-sized footprint (
Figure 1
). We have developed a high-throughput microfluidic platform for generating
in vitro
expression of protein arrays (
Figure 2
) named PING (Protein Interaction Network Generator). These arrays can serve as a template for many experiments such as protein-protein
4
, protein-RNA
5
or protein-DNA
6
interactions. The device consist of thousands of reaction chambers, which are individually programmed using a microarrayer. Aligning of these printed microarrays to microfluidics devices programs each chamber with a single spot eliminating potential contamination or cross-reactivity Moreover, generating microarrays using standard microarray spotting techniques is also very modular, allowing for the arraying of proteins
7
, DNA
8
, small molecules, and even colloidal suspensions. The potential impact of microfluidics on biological sciences is significant. A number of microfluidics based assays have already provided novel insights into the structure and function of biological systems, and the field of microfluidics will continue to impact biology.
Bioengineering, Issue 66, Genetics, Chemistry, Molecular Biology, In vitro protein expression, microfluidics, protein microarray, systems biology, high-throughput, screening
3849
Microscale Vortex-assisted Electroporator for Sequential Molecular Delivery
Institutions: Harvard University.
Electroporation has received increasing attention in the past years, because it is a very powerful technique for physically introducing non-permeant exogenous molecular probes into cells. This work reports a microfluidic electroporation platform capable of performing multiple molecule delivery to mammalian cells with precise and molecular-dependent parameter control. The system's ability to isolate cells with uniform size distribution allows for less variation in electroporation efficiency per given electric field strength; hence enhanced sample viability. Moreover, its process visualization feature allows for observation of the fluorescent molecular uptake process in real-time, which permits prompt molecular delivery parameter adjustments
in situ
for efficiency enhancement. To show the vast capabilities of the reported platform, macromolecules with different sizes and electrical charges (
e.g.,
Dextran with MW of 3,000 and 70,000 Da) were delivered to metastatic breast cancer cells with high delivery efficiencies (>70%) for all tested molecules. The developed platform has proven its potential for use in the expansion of research fields where on-chip electroporation techniques can be beneficial.
Bioengineering, Issue 90, electroporation, microfluidics, cell isolation, inertial focusing, macromolecule delivery, molecular delivery mechanism
51702
Acquiring Fluorescence Time-lapse Movies of Budding Yeast and Analyzing Single-cell Dynamics using GRAFTS
Institutions: Massachusetts Institute of Technology.

Fluorescence time-lapse microscopy has become a powerful tool in the study of many biological processes at the single-cell level. In particular, movies depicting the temporal dependence of gene expression provide insight into the dynamics of its regulation; however, there are many technical challenges to obtaining and analyzing fluorescence movies of single cells. We describe here a simple protocol using a commercially available microfluidic culture device to generate such data, and a MATLAB-based, graphical user interface (GUI) -based software package to quantify the fluorescence images. The software segments and tracks cells, enables the user to visually curate errors in the data, and automatically assigns lineage and division times. The GUI further analyzes the time series to produce whole cell traces as well as their first and second time derivatives. While the software was designed for
S. cerevisiae
, its modularity and versatility should allow it to serve as a platform for studying other cell types with few modifications.
Microbiology, Issue 77, Cellular Biology, Molecular Biology, Genetics, Biophysics, Saccharomyces cerevisiae, Microscopy, Fluorescence, Cell Biology, microscopy/fluorescence and time-lapse, budding yeast, gene expression dynamics, segmentation, lineage tracking, image tracking, software, yeast, cells, imaging
50456
Probe-based Real-time PCR Approaches for Quantitative Measurement of microRNAs
Institutions: The University of Sydney, The University of Sydney.
Probe-based quantitative PCR (qPCR) is a favoured method for measuring transcript abundance, since it is one of the most sensitive detection methods that provides an accurate and reproducible analysis. Probe-based chemistry offers the least background fluorescence as compared to other (dye-based) chemistries. Presently, there are several platforms available that use probe-based chemistry to quantitate transcript abundance. qPCR in a 96 well plate is the most routinely used method, however only a maximum of 96 samples or miRNAs can be tested in a single run. This is time-consuming and tedious if a large number of samples/miRNAs are to be analyzed. High-throughput probe-based platforms such as microfluidics (
e.g.
TaqMan Array Card) and nanofluidics arrays (
e.g.
OpenArray) offer ease to reproducibly and efficiently detect the abundance of multiple microRNAs in a large number of samples in a short time. Here, we demonstrate the experimental setup and protocol for miRNA quantitation from serum or plasma-EDTA samples, using probe-based chemistry and three different platforms (96 well plate, microfluidics and nanofluidics arrays) offering increasing levels of throughput.
Molecular Biology, Issue 98, microRNA, ncRNA, probe-based assays, high-throughput PCR, Nanofluidics / Open Arrays, reverse-transcription, pre-amplification, qPCR
52586
Thermal Measurement Techniques in Analytical Microfluidic Devices
Institutions: Marquette University.

Thermal measurement techniques have been used for many applications such as thermal characterization of materials and chemical reaction detection. Micromachining techniques allow reduction of the thermal mass of fabricated structures and introduce the possibility to perform high sensitivity thermal measurements in the micro-scale and nano-scale devices. Combining thermal measurement techniques with microfluidic devices allows performing different analytical measurements with low sample consumption and reduced measurement time by integrating the miniaturized system on a single chip. The procedures of thermal measurement techniques for particle detection, material characterization, and chemical detection are introduced in this paper.
Engineering, Issue 100, Thermal Particle Detection, Thermal Wave Analysis, Heat Penetration Time, Thermal Time Constant, Enthalpy Assay, Thermal Conductivity and Specific Heat
52828
Extracellularly Identifying Motor Neurons for a Muscle Motor Pool in Aplysia californica
Institutions: Case Western Reserve University , Case Western Reserve University , Case Western Reserve University .

In animals with large identified neurons (
e.g.
mollusks), analysis of motor pools is done using intracellular techniques
1,2,3,4
. Recently, we developed a technique to extracellularly stimulate and record individual neurons in
Aplysia californica
5
. We now describe a protocol for using this technique to uniquely identify and characterize motor neurons within a motor pool. This extracellular technique has advantages. First, extracellular electrodes can stimulate and record neurons through the sheath
5
, so it does not need to be removed. Thus, neurons will be healthier in extracellular experiments than in intracellular ones. Second, if ganglia are rotated by appropriate pinning of the sheath, extracellular electrodes can access neurons on both sides of the ganglion, which makes it easier and more efficient to identify multiple neurons in the same preparation. Third, extracellular electrodes do not need to penetrate cells, and thus can be easily moved back and forth among neurons, causing less damage to them. This is especially useful when one tries to record multiple neurons during repeating motor patterns that may only persist for minutes. Fourth, extracellular electrodes are more flexible than intracellular ones during muscle movements. Intracellular electrodes may pull out and damage neurons during muscle contractions. In contrast, since extracellular electrodes are gently pressed onto the sheath above neurons, they usually stay above the same neuron during muscle contractions, and thus can be used in more intact preparations. To uniquely identify motor neurons for a motor pool (in particular, the I1/I3 muscle in
Aplysia
) using extracellular electrodes, one can use features that do not require intracellular measurements as criteria: soma size and location, axonal projection, and muscle innervation
4,6,7
. For the particular motor pool used to illustrate the technique, we recorded from buccal nerves 2 and 3 to measure axonal projections, and measured the contraction forces of the I1/I3 muscle to determine the pattern of muscle innervation for the individual motor neurons. We demonstrate the complete process of first identifying motor neurons using muscle innervation, then characterizing their timing during motor patterns, creating a simplified diagnostic method for rapid identification. The simplified and more rapid diagnostic method is superior for more intact preparations,
e.g.
in the suspended buccal mass preparation
8
or
in vivo
9
. This process can also be applied in other motor pools
10,11,12
in
Aplysia
or in other animal systems
2,3,13,14
.
Neuroscience, Issue 73, Physiology, Biomedical Engineering, Anatomy, Behavior, Neurobiology, Animal, Neurosciences, Neurophysiology, Electrophysiology, Aplysia, Aplysia californica, California sea slug, invertebrate, feeding, buccal mass, ganglia, motor neurons, neurons, extracellular stimulation and recordings, extracellular electrodes, animal model
50189
Microfluidic Chips Controlled with Elastomeric Microvalve Arrays
Institutions: University of Washington.

Miniaturized microfluidic systems provide simple and effective solutions for low-cost point-of-care diagnostics and high-throughput biomedical assays. Robust flow control and precise fluidic volumes are two critical requirements for these applications. We have developed microfluidic chips featuring elastomeric polydimethylsiloxane (PDMS) microvalve arrays that: 1) need no extra energy source to close the fluidic path, hence the loaded device is highly portable; and 2) allow for microfabricating deep (up to 1 mm) channels with vertical sidewalls and resulting in very precise features. The PDMS microvalves-based devices consist of three layers: a fluidic layer containing fluidic paths and microchambers of various sizes, a control layer containing the microchannels necessary to actuate the fluidic path with microvalves, and a middle thin PDMS membrane that is bound to the control layer. Fluidic layer and control layers are made by replica molding of PDMS from SU-8 photoresist masters, and the thin PDMS membrane is made by spinning PDMS at specified heights. The control layer is bonded to the thin PDMS membrane after oxygen activation of both, and then assembled with the fluidic layer. The microvalves are closed at rest and can be opened by applying negative pressure (e.g., house vacuum). Microvalve closure and opening are automated via solenoid valves controlled by computer software. Here, we demonstrate two microvalve-based microfluidic chips for two different applications. The first chip allows for storing and mixing precise sub-nanoliter volumes of aqueous solutions at various mixing ratios. The second chip allows for computer-controlled perfusion of microfluidic cell cultures. The devices are easy to fabricate and simple to control. Due to the biocompatibility of PDMS, these microchips could have broad applications in miniaturized diagnostic assays as well as basic cell biology studies.
Cellular Biology, Issue 8, BioMEMs, Microvalves, Soft lithography, PDMS, Parallel Mixer, Integrated microfluidic system, Herringbone mixer, Diffusion Gradients, Bioengineering
296
A Multi-compartment CNS Neuron-glia Co-culture Microfluidic Platform
Institutions: Texas A&M University (TAMU), Texas A&M University (TAMU).

We present a novel multi-compartment neuron co-culture microsystem platform for
in vitro
CNS axon-glia interaction research, capable of conducting up to six independent experiments in parallel for higher-throughput. We developed a new fabrication method to create microfluidic devices having both micro and macro scale structures within the same device through a single soft-lithography process, enabling mass fabrication with good repeatability. The multi-compartment microfluidic co-culture platform is composed of one soma compartment for neurons and six axon/glia compartments for oligodendrocytes (OLs). The soma compartment and axon/glia compartments are connected by arrays of axon-guiding microchannels that function as physical barriers to confine neuronal soma in the soma compartment, while allowing axons to grow into axon/glia compartments. OLs loaded into axon/glia compartments can interact only with axons but not with neuronal soma or dendrites, enabling localized axon-glia interaction studies. The microchannels also enabled fluidic isolation between compartments, allowing six independent experiments to be conducted on a single device for higher throughput. Soft-lithography using poly(dimethylsiloxane) (PDMS) is a commonly used technique in biomedical microdevices. Reservoirs on these devices are commonly defined by manual punching. Although simple, poor alignment and time consuming nature of the process makes this process not suitable when large numbers of reservoirs have to be repeatedly created. The newly developed method did not require manual punching of reservoirs, overcoming such limitations. First, seven reservoirs (depth: 3.5 mm) were made on a poly(methyl methacrylate) (PMMA) block using a micro-milling machine. Then, arrays of ridge microstructures, fabricated on a glass substrate, were hot-embossed against the PMMA block to define microchannels that connect the soma and axon/glia compartments. This process resulted in macro-scale reservoirs (3.5 mm) and micro-scale channels (2.5 μm) to coincide within a single PMMA master. A PDMS replica that served as a mold master was obtained using soft-lithography and the final PDMS device was replicated from this master. Primary neurons from E16-18 rats were loaded to the soma compartment and cultured for two weeks. After one week of cell culture, axons crossed microchannels and formed axonal only network layer inside axon/glia compartments. Axons grew uniformly throughout six axon/glia compartments and OLs from P1-2 rats were added to axon/glia compartments at 14 days
in vitro
for co-culture.
Biomedical Engineering, Issue 31, Neuron culture, neuron-glia interaction, microfluidics, cell culture microsystem
1399
Terahertz Microfluidic Sensing Using a Parallel-plate Waveguide Sensor
Institutions: Rice University .

Refractive index (RI) sensing is a powerful noninvasive and label-free sensing technique for the identification, detection and monitoring of microfluidic samples with a wide range of possible sensor designs such as interferometers and resonators
1,2
. Most of the existing RI sensing applications focus on biological materials in aqueous solutions in visible and IR frequencies, such as DNA hybridization and genome sequencing. At terahertz frequencies, applications include quality control, monitoring of industrial processes and sensing and detection applications involving nonpolar materials. Several potential designs for refractive index sensors in the terahertz regime exist, including photonic crystal waveguides
3
, asymmetric split-ring resonators
4
, and photonic band gap structures integrated into parallel-plate waveguides
5
. Many of these designs are based on optical resonators such as rings or cavities. The resonant frequencies of these structures are dependent on the refractive index of the material in or around the resonator. By monitoring the shifts in resonant frequency the refractive index of a sample can be accurately measured and this in turn can be used to identify a material, monitor contamination or dilution, etc. The sensor design we use here is based on a simple parallel-plate waveguide
6,7
. A rectangular groove machined into one face acts as a resonant cavity (
Figures 1 and 2
). When terahertz radiation is coupled into the waveguide and propagates in the lowest-order transverse-electric (TE
1
) mode, the result is a single strong resonant feature with a tunable resonant frequency that is dependent on the geometry of the groove
6,8
. This groove can be filled with nonpolar liquid microfluidic samples which cause a shift in the observed resonant frequency that depends on the amount of liquid in the groove and its refractive index
9
. Our technique has an advantage over other terahertz techniques in its simplicity, both in fabrication and implementation, since the procedure can be accomplished with standard laboratory equipment without the need for a clean room or any special fabrication or experimental techniques. It can also be easily expanded to multichannel operation by the incorporation of multiple grooves
10
. In this video we will describe our complete experimental procedure, from the design of the sensor to the data analysis and determination of the sample refractive index.
Physics, Issue 66, Electrical Engineering, Computer Engineering, Terahertz radiation, sensing, microfluidic, refractive index sensor, waveguide, optical sensing
4304
A Microfluidic Chip for the Versatile Chemical Analysis of Single Cells
Institutions: ETH Zurich, Switzerland.

We present a microfluidic device that enables the quantitative determination of intracellular biomolecules in multiple single cells in parallel. For this purpose, the cells are passively trapped in the middle of a microchamber. Upon activation of the control layer, the cell is isolated from the surrounding volume in a small chamber. The surrounding volume can then be exchanged without affecting the isolated cell. However, upon short opening and closing of the chamber, the solution in the chamber can be replaced within a few hundred milliseconds. Due to the reversibility of the chambers, the cells can be exposed to different solutions sequentially in a highly controllable fashion,
e.g.
for incubation, washing, and finally, cell lysis. The tightly sealed microchambers enable the retention of the lysate, minimize and control the dilution after cell lysis. Since lysis and analysis occur at the same location, high sensitivity is retained because no further dilution or loss of the analytes occurs during transport. The microchamber design therefore enables the reliable and reproducible analysis of very small copy numbers of intracellular molecules (attomoles, zeptomoles) released from individual cells. Furthermore, many microchambers can be arranged in an array format, allowing the analysis of many cells at once, given that suitable optical instruments are used for monitoring. We have already used the platform for proof-of-concept studies to analyze intracellular proteins, enzymes, cofactors and second messengers in either relative or absolute quantifiable manner.
Immunology, Issue 80, Microfluidics, proteomics, systems biology, single-cell analysis, Immunoassays, Lab on a chip, chemical analysis
50618
The Multi-organ Chip - A Microfluidic Platform for Long-term Multi-tissue Coculture
Institutions: Technische Universität Berlin, TissUse GmbH, Fraunhofer IWS.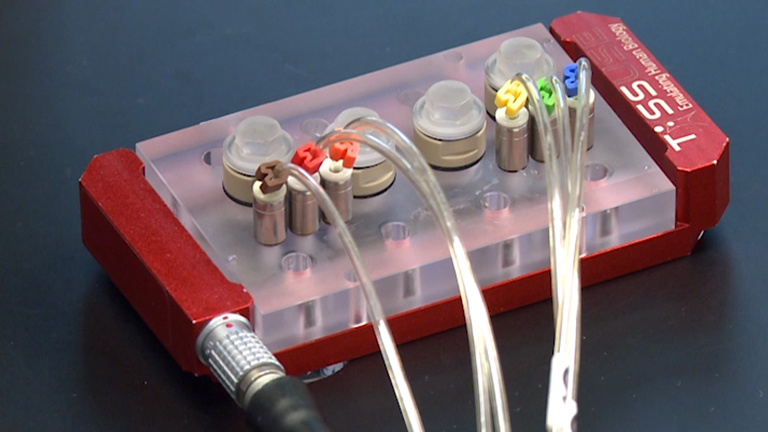 The ever growing amount of new substances released onto the market and the limited predictability of current
in vitro
test systems has led to a high need for new solutions for substance testing. Many drugs that have been removed from the market due to drug-induced liver injury released their toxic potential only after several doses of chronic testing in humans. However, a controlled microenvironment is pivotal for long-term multiple dosing experiments, as even minor alterations in extracellular conditions may greatly influence the cell physiology. We focused within our research program on the generation of a microengineered bioreactor, which can be dynamically perfused by an on-chip pump and combines at least two culture spaces for multi-organ applications. This circulatory system mimics the
in vivo
conditions of primary cell cultures better and assures a steadier, more quantifiable extracellular relay of signals to the cells. For demonstration purposes, human liver equivalents, generated by aggregating differentiated HepaRG cells with human hepatic stellate cells in hanging drop plates, were cocultured with human skin punch biopsies for up to 28 days inside the microbioreactor. The use of cell culture inserts enables the skin to be cultured at an air-liquid interface, allowing topical substance exposure. The microbioreactor system is capable of supporting these cocultures at near physiologic fluid flow and volume-to-liquid ratios, ensuring stable and organotypic culture conditions. The possibility of long-term cultures enables the repeated exposure to substances. Furthermore, a vascularization of the microfluidic channel circuit using human dermal microvascular endothelial cells yields a physiologically more relevant vascular model.
Bioengineering, Issue 98, Multi-organ chip, human-on-a-chip, body-on-a-chip, organs-on-a-chip, microphysiological systems, organoids, tissue engineering, in vitro substance testing, toxicity test, liver, skin, vasculature
52526
A Method for Selecting Structure-switching Aptamers Applied to a Colorimetric Gold Nanoparticle Assay
Institutions: Wright-Patterson Air Force Base, The Henry M. Jackson Foundation, UES, Inc..

Small molecules provide rich targets for biosensing applications due to their physiological implications as biomarkers of various aspects of human health and performance. Nucleic acid aptamers have been increasingly applied as recognition elements on biosensor platforms, but selecting aptamers toward small molecule targets requires special design considerations. This work describes modification and critical steps of a method designed to select structure-switching aptamers to small molecule targets. Binding sequences from a DNA library hybridized to complementary DNA capture probes on magnetic beads are separated from nonbinders via a target-induced change in conformation. This method is advantageous because sequences binding the support matrix (beads) will not be further amplified, and it does not require immobilization of the target molecule. However, the melting temperature of the capture probe and library is kept at or slightly above RT, such that sequences that dehybridize based on thermodynamics will also be present in the supernatant solution. This effectively limits the partitioning efficiency (ability to separate target binding sequences from nonbinders), and therefore many selection rounds will be required to remove background sequences. The reported method differs from previous structure-switching aptamer selections due to implementation of negative selection steps, simplified enrichment monitoring, and extension of the length of the capture probe following selection enrichment to provide enhanced stringency. The selected structure-switching aptamers are advantageous in a gold nanoparticle assay platform that reports the presence of a target molecule by the conformational change of the aptamer. The gold nanoparticle assay was applied because it provides a simple, rapid colorimetric readout that is beneficial in a clinical or deployed environment. Design and optimization considerations are presented for the assay as proof-of-principle work in buffer to provide a foundation for further extension of the work toward small molecule biosensing in physiological fluids.
Molecular Biology, Issue 96, Aptamer, structure-switching, SELEX, small molecule, cortisol, next generation sequencing, gold nanoparticle, assay
52545
Reduced-gravity Environment Hardware Demonstrations of a Prototype Miniaturized Flow Cytometer and Companion Microfluidic Mixing Technology
Institutions: DNA Medicine Institute, Harvard Medical School, NASA Glenn Research Center, ZIN Technologies.

Until recently, astronaut blood samples were collected in-flight, transported to earth on the Space Shuttle, and analyzed in terrestrial laboratories. If humans are to travel beyond low Earth orbit, a transition towards space-ready, point-of-care (POC) testing is required. Such testing needs to be comprehensive, easy to perform in a reduced-gravity environment, and unaffected by the stresses of launch and spaceflight. Countless POC devices have been developed to mimic laboratory scale counterparts, but most have narrow applications and few have demonstrable use in an in-flight, reduced-gravity environment. In fact, demonstrations of biomedical diagnostics in reduced gravity are limited altogether, making component choice and certain logistical challenges difficult to approach when seeking to test new technology. To help fill the void, we are presenting a modular method for the construction and operation of a prototype blood diagnostic device and its associated parabolic flight test rig that meet the standards for flight-testing onboard a parabolic flight, reduced-gravity aircraft. The method first focuses on rig assembly for in-flight, reduced-gravity testing of a flow cytometer and a companion microfluidic mixing chip. Components are adaptable to other designs and some custom components, such as a microvolume sample loader and the micromixer may be of particular interest. The method then shifts focus to flight preparation, by offering guidelines and suggestions to prepare for a successful flight test with regard to user training, development of a standard operating procedure (SOP), and other issues. Finally, in-flight experimental procedures specific to our demonstrations are described.
Cellular Biology, Issue 93, Point-of-care, prototype, diagnostics, spaceflight, reduced gravity, parabolic flight, flow cytometry, fluorescence, cell counting, micromixing, spiral-vortex, blood mixing
51743
Characterization of Complex Systems Using the Design of Experiments Approach: Transient Protein Expression in Tobacco as a Case Study
Institutions: RWTH Aachen University, Fraunhofer Gesellschaft.

Plants provide multiple benefits for the production of biopharmaceuticals including low costs, scalability, and safety. Transient expression offers the additional advantage of short development and production times, but expression levels can vary significantly between batches thus giving rise to regulatory concerns in the context of good manufacturing practice. We used a design of experiments (DoE) approach to determine the impact of major factors such as regulatory elements in the expression construct, plant growth and development parameters, and the incubation conditions during expression, on the variability of expression between batches. We tested plants expressing a model anti-HIV monoclonal antibody (2G12) and a fluorescent marker protein (DsRed). We discuss the rationale for selecting certain properties of the model and identify its potential limitations. The general approach can easily be transferred to other problems because the principles of the model are broadly applicable: knowledge-based parameter selection, complexity reduction by splitting the initial problem into smaller modules, software-guided setup of optimal experiment combinations and step-wise design augmentation. Therefore, the methodology is not only useful for characterizing protein expression in plants but also for the investigation of other complex systems lacking a mechanistic description. The predictive equations describing the interconnectivity between parameters can be used to establish mechanistic models for other complex systems.
Bioengineering, Issue 83, design of experiments (DoE), transient protein expression, plant-derived biopharmaceuticals, promoter, 5'UTR, fluorescent reporter protein, model building, incubation conditions, monoclonal antibody
51216
Microfluidic Picoliter Bioreactor for Microbial Single-cell Analysis: Fabrication, System Setup, and Operation
Institutions: Forschungszentrum Juelich GmbH.

In this protocol the fabrication, experimental setup and basic operation of the recently introduced microfluidic picoliter bioreactor (PLBR) is described in detail. The PLBR can be utilized for the analysis of single bacteria and microcolonies to investigate biotechnological and microbiological related questions concerning,
e.g.
 cell growth, morphology, stress response, and metabolite or protein production on single-cell level. The device features continuous media flow enabling constant environmental conditions for perturbation studies, but in addition allows fast medium changes as well as oscillating conditions to mimic any desired environmental situation. To fabricate the single use devices, a silicon wafer containing sub micrometer sized SU-8 structures served as the replication mold for rapid polydimethylsiloxane casting. Chips were cut, assembled, connected, and set up onto a high resolution and fully automated microscope suited for time-lapse imaging, a powerful tool for spatio-temporal cell analysis. Here, the biotechnological platform organism
Corynebacterium glutamicum 
was seeded into the PLBR and cell growth and intracellular fluorescence were followed over several hours unraveling time dependent population heterogeneity on single-cell level, not possible with conventional analysis methods such as flow cytometry. Besides insights into device fabrication, furthermore, the preparation of the preculture, loading, trapping of bacteria, and the PLBR cultivation of single cells and colonies is demonstrated. These devices will add a new dimension in microbiological research to analyze time dependent phenomena of single bacteria under tight environmental control. Due to the simple and relatively short fabrication process the technology can be easily adapted at any microfluidics lab and simply tailored towards specific needs.
Bioengineering, Issue 82, Soft lithography, SU-8 lithography, Picoliter bioreactor, Single-cell analysis, Polydimethylsiloxane, Corynebacterium glutamicum, Escherichia coli, Microfluidics, Lab-on-a-chip
50560
Adapting Human Videofluoroscopic Swallow Study Methods to Detect and Characterize Dysphagia in Murine Disease Models
Institutions: University of Missouri, University of Missouri, University of Missouri.

This study adapted human videofluoroscopic swallowing study (VFSS) methods for use with murine disease models for the purpose of facilitating translational dysphagia research. Successful outcomes are dependent upon three critical components: test chambers that permit self-feeding while standing unrestrained in a confined space, recipes that mask the aversive taste/odor of commercially-available oral contrast agents, and a step-by-step test protocol that permits quantification of swallow physiology. Elimination of one or more of these components will have a detrimental impact on the study results. Moreover, the energy level capability of the fluoroscopy system will determine which swallow parameters can be investigated. Most research centers have high energy fluoroscopes designed for use with people and larger animals, which results in exceptionally poor image quality when testing mice and other small rodents. Despite this limitation, we have identified seven VFSS parameters that are consistently quantifiable in mice when using a high energy fluoroscope in combination with the new murine VFSS protocol. We recently obtained a low energy fluoroscopy system with exceptionally high imaging resolution and magnification capabilities that was designed for use with mice and other small rodents. Preliminary work using this new system, in combination with the new murine VFSS protocol, has identified 13 swallow parameters that are consistently quantifiable in mice, which is nearly double the number obtained using conventional
(i.e.,
high energy) fluoroscopes. Identification of additional swallow parameters is expected as we optimize the capabilities of this new system. Results thus far demonstrate the utility of using a low energy fluoroscopy system to detect and quantify subtle changes in swallow physiology that may otherwise be overlooked when using high energy fluoroscopes to investigate murine disease models.
Medicine, Issue 97, mouse, murine, rodent, swallowing, deglutition, dysphagia, videofluoroscopy, radiation, iohexol, barium, palatability, taste, translational, disease models
52319
Rapid and Low-cost Prototyping of Medical Devices Using 3D Printed Molds for Liquid Injection Molding
Institutions: University of California, San Francisco, University of California, San Francisco, University of Southern California.

Biologically inert elastomers such as silicone are favorable materials for medical device fabrication, but forming and curing these elastomers using traditional liquid injection molding processes can be an expensive process due to tooling and equipment costs. As a result, it has traditionally been impractical to use liquid injection molding for low-cost, rapid prototyping applications. We have devised a method for rapid and low-cost production of liquid elastomer injection molded devices that utilizes fused deposition modeling 3D printers for mold design and a modified desiccator as an injection system. Low costs and rapid turnaround time in this technique lower the barrier to iteratively designing and prototyping complex elastomer devices. Furthermore, CAD models developed in this process can be later adapted for metal mold tooling design, enabling an easy transition to a traditional injection molding process. We have used this technique to manufacture intravaginal probes involving complex geometries, as well as overmolding over metal parts, using tools commonly available within an academic research laboratory. However, this technique can be easily adapted to create liquid injection molded devices for many other applications.
Bioengineering, Issue 88, liquid injection molding, reaction injection molding, molds, 3D printing, fused deposition modeling, rapid prototyping, medical devices, low cost, low volume, rapid turnaround time.
51745
Development of a 3D Graphene Electrode Dielectrophoretic Device
Institutions: Michigan Technological University, Michigan Technological University, XG Sciences, Inc..
The design and fabrication of a novel 3D electrode microdevice using 50 µm thick graphene paper and 100 µm double sided tape is described. The protocol details the procedures to construct a versatile, reusable, multiple layer, laminated dielectrophoresis chamber. Specifically, six layers of 50 µm x 0.7 cm x 2 cm graphene paper and five layers of double sided tape were alternately stacked together, then clamped to a glass slide. Then a 700 μm diameter micro-well was drilled through the laminated structure using a computer-controlled micro drilling machine. Insulating properties of the tape layer between adjacent graphene layers were assured by resistance tests. Silver conductive epoxy connected alternate layers of graphene paper and formed stable connections between the graphene paper and external copper wire electrodes. The finished device was then clamped and sealed to a glass slide. The electric field gradient was modeled within the multi-layer device. Dielectrophoretic behaviors of 6 μm polystyrene beads were demonstrated in the 1 mm deep micro-well, with medium conductivities ranging from 0.0001 S/m to 1.3 S/m, and applied signal frequencies from 100 Hz to 10 MHz. Negative dielectrophoretic responses were observed in three dimensions over most of the conductivity-frequency space and cross-over frequency values are consistent with previously reported literature values. The device did not prevent AC electroosmosis and electrothermal flows, which occurred in the low and high frequency regions, respectively. The graphene paper utilized in this device is versatile and could subsequently function as a biosensor after dielectrophoretic characterizations are complete.
Physics, Issue 88, graphene paper, dielectrophoresis, graphene electrodes, 3D laminated microdevice, polystyrene beads, cell diagnostics
51696
Applying Microfluidics to Electrophysiology
Institutions: University of Illinois, Chicago.

Microfluidics can be integrated with standard electrophysiology techniques to allow new experimental modalities. Specifically, the motivation for the microfluidic brain slice device is discussed including how the device docks to standard perfusion chambers and the technique of passive pumping which is used to deliver boluses of neuromodulators to the brain slice. By simplifying the device design, we are able to achieve a practical solution to the current unmet electrophysiology need of applying multiple neuromodulators across multiple regions of the brain slice. This is achieved by substituting the standard coverglass substrate of the perfusion chamber with a thin microfluidic device bonded to the coverglass substrate. This was then attached to the perfusion chamber and small holes connect the open-well of the perfusion chamber to the microfluidic channels buried within the microfluidic substrate. These microfluidic channels are interfaced with ports drilled into the edge of the perfusion chamber to access and deliver stimulants. This project represents how the field of microfluidics is transitioning away from proof-of concept device demonstrations and into practical solutions for unmet experimental and clinical needs.
Neuroscience, Issue 8, Biomedical Engineering, Microfluidics, Slice Recording, Electrophysiology, Neurotransmitter, Bioengineering
301
Brain Slice Stimulation Using a Microfluidic Network and Standard Perfusion Chamber
Institutions: University of Illinois, Chicago, University of Illinois, Chicago.

We have demonstrated the fabrication of a two-level microfluidic device that can be easily integrated with existing electrophysiology setups. The two-level microfluidic device is fabricated using a two-step standard negative resist lithography process
1
. The first level contains microchannels with inlet and outlet ports at each end. The second level contains microscale circular holes located midway of the channel length and centered along with channel width. Passive pumping method is used to pump fluids from the inlet port to the outlet port
2
. The microfluidic device is integrated with off-the-shelf perfusion chambers and allows seamless integration with the electrophysiology setup. The fluids introduced at the inlet ports flow through the microchannels towards the outlet ports and also escape through the circular openings located on top of the microchannels into the bath of the perfusion. Thus the bottom surface of the brain slice placed in the perfusion chamber bath and above the microfluidic device can be exposed with different neurotransmitters. The microscale thickness of the microfluidic device and the transparent nature of the materials [glass coverslip and PDMS (polydimethylsiloxane)] used to make the microfluidic device allow microscopy of the brain slice. The microfluidic device allows modulation (both spatial and temporal) of the chemical stimuli introduced to the brain slice microenvironments.
Neuroscience, Issue 8, Biomedical Engineering, Microfluidics, Slice Recording, Soft Lithography, Electrophysiology, Neurotransmitter, Bioengineering
302
Contrast Imaging in Mouse Embryos Using High-frequency Ultrasound
Institutions: University of Toronto, Sunnybrook Research Institute, Mount Sinai Hospital, Toronto.
Ultrasound contrast-enhanced imaging can convey essential quantitative information regarding tissue vascularity and perfusion and, in targeted applications, facilitate the detection and measure of vascular biomarkers at the molecular level. Within the mouse embryo, this noninvasive technique may be used to uncover basic mechanisms underlying vascular development in the early mouse circulatory system and in genetic models of cardiovascular disease. The mouse embryo also presents as an excellent model for studying the adhesion of microbubbles to angiogenic targets (including vascular endothelial growth factor receptor 2 (VEGFR2) or α
v
β
3
) and for assessing the quantitative nature of molecular ultrasound. We therefore developed a method to introduce ultrasound contrast agents into the vasculature of living, isolated embryos. This allows freedom in terms of injection control and positioning, reproducibility of the imaging plane without obstruction and motion, and simplified image analysis and quantification. Late gestational stage (embryonic day (E)16.6 and E17.5) murine embryos were isolated from the uterus, gently exteriorized from the yolk sac and microbubble contrast agents were injected into veins accessible on the chorionic surface of the placental disc. Nonlinear contrast ultrasound imaging was then employed to collect a number of basic perfusion parameters (peak enhancement, wash-in rate and time to peak) and quantify targeted microbubble binding in an endoglin mouse model. We show the successful circulation of microbubbles within living embryos and the utility of this approach in characterizing embryonic vasculature and microbubble behavior.
Developmental Biology, Issue 97, Micro-ultrasound, Molecular imaging, Mouse embryo, Microbubble, Ultrasound contrast agent, Perfusion
52520