ABSTRACT
An experimental study is performed to measure the terminal settling velocities of spherical particles in surfactant based shear thinning viscoelastic (VES) fluids. The measurements are made for particles settling in unbounded fluids and fluids between parallel walls. VES fluids over a wide range of rheological properties are prepared and rheologically characterized. The rheological characterization involves steady shear-viscosity and dynamic oscillatory-shear measurements to quantify the viscous and elastic properties respectively. The settling velocities under unbounded conditions are measured in beakers having diameters at least 25x the diameter of particles. For measuring settling velocities between parallel walls, two experimental cells with different wall spacing are constructed. Spherical particles of varying sizes are gently dropped in the fluids and allowed to settle. The process is recorded with a high resolution video camera and the trajectory of the particle is recorded using image analysis software. Terminal settling velocities are calculated from the data. The impact of elasticity on settling velocity in unbounded fluids is quantified by comparing the experimental settling velocity to the settling velocity calculated by the inelastic drag predictions of Renaud et al.1 Results show that elasticity of fluids can increase or decrease the settling velocity. The magnitude of reduction/increase is a function of the rheological properties of the fluids and properties of particles. Confining walls are observed to cause a retardation effect on settling and the retardation is measured in terms of wall factors.
20 Related JoVE Articles!
Controlled Microfluidic Environment for Dynamic Investigation of Red Blood Cell Aggregation
Institutions: University of Ottawa.
Blood, as a non-Newtonian biofluid, represents the focus of numerous studies in the hemorheology field. Blood constituents include red blood cells, white blood cells and platelets that are suspended in blood plasma. Due to the abundance of the RBCs (40% to 45% of the blood volume), their behavior dictates the rheological behavior of blood especially in the microcirculation. At very low shear rates, RBCs are seen to assemble and form entities called aggregates, which causes the non-Newtonian behavior of blood. It is important to understand the conditions of the aggregates formation to comprehend the blood rheology in microcirculation. The protocol described here details the experimental procedure to determine quantitatively the RBC aggregates in microcirculation under constant shear rate, based on image processing. For this purpose, RBC-suspensions are tested and analyzed in 120 x 60 µm poly-dimethyl-siloxane (PDMS) microchannels. The RBC-suspensions are entrained using a second fluid in order to obtain a linear velocity profile within the blood layer and thus achieve a wide range of constant shear rates. The shear rate is determined using a micro Particle Image Velocimetry (µPIV) system, while RBC aggregates are visualized using a high speed camera. The videos captured of the RBC aggregates are analyzed using image processing techniques in order to determine the aggregate sizes based on the images intensities.
Bioengineering, Issue 100, Red blood cells, aggregation, microcirculation, microfluidics, micro particle image velocimetry, blood rheology
52719
Micro-particle Image Velocimetry for Velocity Profile Measurements of Micro Blood Flows
Institutions: University of Ottawa , University of Ottawa.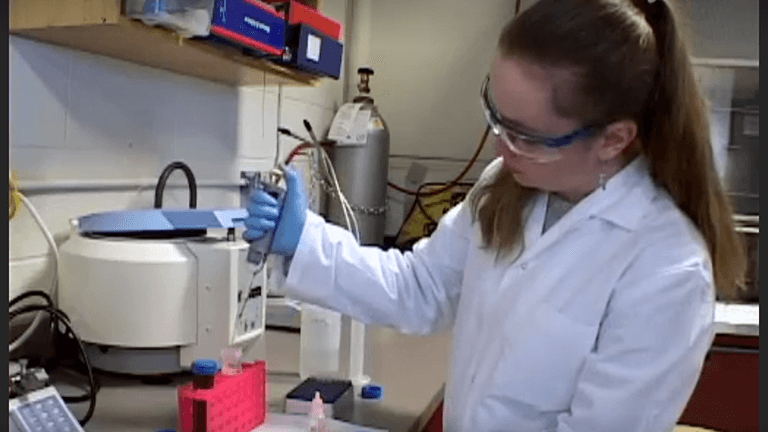 Micro-particle image velocimetry (μPIV) is used to visualize paired images of micro particles seeded in blood flows. The images are cross-correlated to give an accurate velocity profile. A protocol is presented for μPIV measurements of blood flows in microchannels. At the scale of the microcirculation, blood cannot be considered a homogeneous fluid, as it is a suspension of flexible particles suspended in plasma, a Newtonian fluid. Shear rate, maximum velocity, velocity profile shape, and flow rate can be derived from these measurements. Several key parameters such as focal depth, particle concentration, and system compliance, are presented in order to ensure accurate, useful data along with examples and representative results for various hematocrits and flow conditions.
Bioengineering, Issue 74, Biophysics, Chemical Engineering, Mechanical Engineering, Biomedical Engineering, Medicine, Anatomy, Physiology, Cellular Biology, Molecular Biology, Hematology, Blood Physiological Phenomena, Hemorheology, Hematocrit, flow characteristics, flow measurement, flow visualization, rheology, Red blood cells, cross correlation, micro blood flows, microfluidics, microhemorheology, microcirculation, velocimetry, visualization, imaging
50314
Fast Imaging Technique to Study Drop Impact Dynamics of Non-Newtonian Fluids
Institutions: The University of Chicago, The University of Chicago, Yale University.
In the field of fluid mechanics, many dynamical processes not only occur over a very short time interval but also require high spatial resolution for detailed observation, scenarios that make it challenging to observe with conventional imaging systems. One of these is the drop impact of liquids, which usually happens within one tenth of millisecond. To tackle this challenge, a fast imaging technique is introduced that combines a high-speed camera (capable of up to one million frames per second) with a macro lens with long working distance to bring the spatial resolution of the image down to 10 µm/pixel. The imaging technique enables precise measurement of relevant fluid dynamic quantities, such as the flow field, the spreading distance and the splashing speed, from analysis of the recorded video. To demonstrate the capabilities of this visualization system, the impact dynamics when droplets of non-Newtonian fluids impinge on a flat hard surface are characterized. Two situations are considered: for oxidized liquid metal droplets we focus on the spreading behavior, and for densely packed suspensions we determine the onset of splashing. More generally, the combination of high temporal and spatial imaging resolution introduced here offers advantages for studying fast dynamics across a wide range of microscale phenomena.
Physics, Issue 85, fluid mechanics, fast camera, dense suspension, liquid metal, drop impact, splashing
51249
On-Chip Endothelial Inflammatory Phenotyping
Institutions: University of California, Davis .

Atherogenesis is potentiated by metabolic abnormalities that contribute to a heightened state of systemic inflammation resulting in endothelial dysfunction. However, early functional changes in endothelium that signify an individual's level of risk are not directly assessed clinically to help guide therapeutic strategy. Moreover, the regulation of inflammation by local hemodynamics contributes to the non-random spatial distribution of atherosclerosis, but the mechanisms are difficult to delineate
in vivo
. We describe a
lab-on-a-chip
based approach to quantitatively assay metabolic perturbation of inflammatory events in human endothelial cells (EC) and monocytes under precise flow conditions. Standard methods of soft lithography are used to microfabricate
vascular mimetic microfluidic chambers (VMMC)
, which are bound directly to cultured EC monolayers.
1
These devices have the advantage of using small volumes of reagents while providing a platform for directly imaging the inflammatory events at the membrane of EC exposed to a well-defined shear field. We have successfully applied these devices to investigate cytokine-,
2
lipid-
3, 4
and RAGE-induced
5
inflammation in human aortic EC (HAEC). Here we document the use of the VMMC to assay monocytic cell (THP-1) rolling and arrest on HAEC monolayers that are conditioned under differential shear characteristics and activated by the inflammatory cytokine TNF-α. Studies such as these are providing mechanistic insight into atherosusceptibility under metabolic risk factors.
Biomedical Engineering, Issue 65, Bioengineering, Immunology, Molecular Biology, Genetics, endothelial cell, monocyte arrest, microfluidics, shear stress, cytokine, atherosclerosis, inflammation
4169
Pulse Wave Velocity Testing in the Baltimore Longitudinal Study of Aging
Institutions: National Institute of Aging.

Carotid-femoral pulse wave velocity is considered the gold standard for measurements of central arterial stiffness obtained through noninvasive methods
1
. Subjects are placed in the supine position and allowed to rest quietly for at least 10 min prior to the start of the exam. The proper cuff size is selected and a blood pressure is obtained using an oscillometric device. Once a resting blood pressure has been obtained, pressure waveforms are acquired from the right femoral and right common carotid arteries. The system then automatically calculates the pulse transit time between these two sites (using the carotid artery as a surrogate for the descending aorta). Body surface measurements are used to determine the distance traveled by the pulse wave between the two sampling sites. This distance is then divided by the pulse transit time resulting in the pulse wave velocity. The measurements are performed in triplicate and the average is used for analysis.
Medicine, Issue 84, Pulse Wave Velocity (PWV), Pulse Wave Analysis (PWA), Arterial stiffness, Aging, Cardiovascular, Carotid-femoral pulse
50817
Quantifying Mixing using Magnetic Resonance Imaging
Institutions: University of California, Davis, Procter & Gamble Company.

Mixing is a unit operation that combines two or more components into a homogeneous mixture. This work involves mixing two viscous liquid streams using an in-line static mixer. The mixer is a split-and-recombine design that employs shear and extensional flow to increase the interfacial contact between the components. A prototype split-and-recombine (SAR) mixer was constructed by aligning a series of thin laser-cut Poly (methyl methacrylate) (PMMA) plates held in place in a PVC pipe. Mixing in this device is illustrated in the photograph in
Fig. 1
. Red dye was added to a portion of the test fluid and used as the minor component being mixed into the major (undyed) component. At the inlet of the mixer, the injected layer of tracer fluid is split into two layers as it flows through the mixing section. On each subsequent mixing section, the number of horizontal layers is duplicated. Ultimately, the single stream of dye is uniformly dispersed throughout the cross section of the device. Using a non-Newtonian test fluid of 0.2% Carbopol and a doped tracer fluid of similar composition, mixing in the unit is visualized using magnetic resonance imaging (MRI). MRI is a very powerful experimental probe of molecular chemical and physical environment as well as sample structure on the length scales from microns to centimeters. This sensitivity has resulted in broad application of these techniques to characterize physical, chemical and/or biological properties of materials ranging from humans to foods to porous media
1, 2
. The equipment and conditions used here are suitable for imaging liquids containing substantial amounts of NMR mobile
1
H such as ordinary water and organic liquids including oils. Traditionally MRI has utilized super conducting magnets which are not suitable for industrial environments and not portable within a laboratory (
Fig. 2
). Recent advances in magnet technology have permitted the construction of large volume industrially compatible magnets suitable for imaging process flows. Here, MRI provides spatially resolved component concentrations at different axial locations during the mixing process. This work documents real-time mixing of highly viscous fluids via distributive mixing with an application to personal care products.
Biophysics, Issue 59, Magnetic resonance imaging, MRI, mixing, rheology, static mixer, split-and-recombine mix
3493
An Injectable and Drug-loaded Supramolecular Hydrogel for Local Catheter Injection into the Pig Heart
Institutions: Eindhoven University of Technology, University Medical Center Utrecht.
Regeneration of lost myocardium is an important goal for future therapies because of the increasing occurrence of chronic ischemic heart failure and the limited access to donor hearts. An example of a treatment to recover the function of the heart consists of the local delivery of drugs and bioactives from a hydrogel. In this paper a method is introduced to formulate and inject a drug-loaded hydrogel non-invasively and side-specific into the pig heart using a long, flexible catheter. The use of 3-D electromechanical mapping and injection via a catheter allows side-specific treatment of the myocardium. To provide a hydrogel compatible with this catheter, a supramolecular hydrogel is used because of the convenient switching from a gel to a solution state using environmental triggers. At basic pH this ureido-pyrimidinone modified poly(ethylene glycol) acts as a Newtonian fluid which can be easily injected, but at physiological pH the solution rapidly switches into a gel. These mild switching conditions allow for the incorporation of bioactive drugs and bioactive species, such as growth factors and exosomes as we present here in both
in vitro
and
in vivo
experiments. The
in vitro
experiments give an on forehand indication of the gel stability and drug release, which allows for tuning of the gel and release properties before the subsequent application
in vivo.
This combination allows for the optimal tuning of the gel to the used bioactive compounds and species, and the injection system.
Bioengineering, Issue 100, supramolecular polymers, hydrogels, catheter injection, drug delivery, pH switchability, pig model
52450
Permanent Ligation of the Left Anterior Descending Coronary Artery in Mice: A Model of Post-myocardial Infarction Remodelling and Heart Failure
Institutions: Catholic University of Leuven.
Heart failure is a syndrome in which the heart fails to pump blood at a rate commensurate with cellular oxygen requirements at rest or during stress. It is characterized by fluid retention, shortness of breath, and fatigue, in particular on exertion. Heart failure is a growing public health problem, the leading cause of hospitalization, and a major cause of mortality. Ischemic heart disease is the main cause of heart failure. Ventricular remodelling refers to changes in structure, size, and shape of the left ventricle. This architectural remodelling of the left ventricle is induced by injury (
e.g.,
myocardial infarction), by pressure overload (
e.g.,
systemic arterial hypertension or aortic stenosis), or by volume overload. Since ventricular remodelling affects wall stress, it has a profound impact on cardiac function and on the development of heart failure. A model of permanent ligation of the left anterior descending coronary artery in mice is used to investigate ventricular remodelling and cardiac function post-myocardial infarction. This model is fundamentally different in terms of objectives and pathophysiological relevance compared to the model of transient ligation of the left anterior descending coronary artery. In this latter model of ischemia/reperfusion injury, the initial extent of the infarct may be modulated by factors that affect myocardial salvage following reperfusion. In contrast, the infarct area at 24 hr after permanent ligation of the left anterior descending coronary artery is fixed. Cardiac function in this model will be affected by 1) the process of infarct expansion, infarct healing, and scar formation; and 2) the concomitant development of left ventricular dilatation, cardiac hypertrophy, and ventricular remodelling. Besides the model of permanent ligation of the left anterior descending coronary artery, the technique of invasive hemodynamic measurements in mice is presented in detail.
Medicine, Issue 94, Myocardial infarction, cardiac remodelling, infarct expansion, heart failure, cardiac function, invasive hemodynamic measurements
52206
A Methodological Approach to Non-invasive Assessments of Vascular Function and Morphology
Institutions: Bangor University, Russells Hall Hospital, University of Manchester.

The endothelium is the innermost lining of the vasculature and is involved in the maintenance of vascular homeostasis. Damage to the endothelium may predispose the vessel to atherosclerosis and increase the risk for cardiovascular disease. Assessments of peripheral endothelial function are good indicators of early abnormalities in the vascular wall and correlate well with assessments of coronary endothelial function. The present manuscript details the important methodological steps necessary for the assessment of microvascular endothelial function using laser Doppler imaging with iontophoresis, large vessel endothelial function using flow-mediated dilatation, and carotid atherosclerosis using carotid artery ultrasound. A discussion on the methodological considerations for each of the techniques is also presented, and recommendations are made for future research.
Medicine, Issue 96, Endothelium, Cardiovascular, Flow-mediated dilatation, Carotid intima-media thickness, Atherosclerosis, Nitric oxide, Microvasculature, Laser Doppler Imaging
52339
Assessment of Vascular Function in Patients With Chronic Kidney Disease
Institutions: University of Colorado, Denver, University of Colorado, Boulder.

Patients with chronic kidney disease (CKD) have significantly increased risk of cardiovascular disease (CVD) compared to the general population, and this is only partially explained by traditional CVD risk factors. Vascular dysfunction is an important non-traditional risk factor, characterized by vascular endothelial dysfunction (most commonly assessed as impaired endothelium-dependent dilation [EDD]) and stiffening of the large elastic arteries. While various techniques exist to assess EDD and large elastic artery stiffness, the most commonly used are brachial artery flow-mediated dilation (FMD
BA
) and aortic pulse-wave velocity (aPWV), respectively. Both of these noninvasive measures of vascular dysfunction are independent predictors of future cardiovascular events in patients with and without kidney disease. Patients with CKD demonstrate both impaired FMD
BA
, and increased aPWV. While the exact mechanisms by which vascular dysfunction develops in CKD are incompletely understood, increased oxidative stress and a subsequent reduction in nitric oxide (NO) bioavailability are important contributors. Cellular changes in oxidative stress can be assessed by collecting vascular endothelial cells from the antecubital vein and measuring protein expression of markers of oxidative stress using immunofluorescence. We provide here a discussion of these methods to measure FMD
BA
, aPWV, and vascular endothelial cell protein expression.
Medicine, Issue 88, chronic kidney disease, endothelial cells, flow-mediated dilation, immunofluorescence, oxidative stress, pulse-wave velocity
51478
Preparation and Characterization of SDF-1α-Chitosan-Dextran Sulfate Nanoparticles
Institutions: Brigham and Women's Hospital and Harvard Medical School, Boston Children's Hospital.
Chitosan (CS) and dextran sulfate (DS) are charged polysaccharides (glycans), which form polyelectrolyte complex-based nanoparticles when mixed under appropriate conditions. The glycan nanoparticles are useful carriers for protein factors, which facilitate the
in vivo
delivery of the proteins and sustain their retention in the targeted tissue. The glycan polyelectrolyte complexes are also ideal for protein delivery, as the incorporation is carried out in aqueous solution, which reduces the likelihood of inactivation of the proteins. Proteins with a heparin-binding site adhere to dextran sulfate readily, and are, in turn, stabilized by the binding. These particles are also less inflammatory and toxic when delivered
in vivo
. In the protocol described below, SDF-1α (Stromal cell-derived factor-1α), a stem cell homing factor, is first mixed and incubated with dextran sulfate. Chitosan is added to the mixture to form polyelectrolyte complexes, followed by zinc sulfate to stabilize the complexes with zinc bridges. The resultant SDF-1α-DS-CS particles are measured for size (diameter) and surface charge (zeta potential). The amount of the incorporated SDF-1α is determined, followed by measurements of its
in vitro
release rate and its chemotactic activity in a particle-bound form.
Chemistry, Issue 95, Dextran sulfate, chitosan, glycan, SDF-1α, nanoparticle, polyelectrolyte complex
52323
Human T Lymphocyte Isolation, Culture and Analysis of Migration In Vitro
Institutions: University of Rochester.

The migration of T lymphocytes involves the adhesive interaction of cell surface integrins with ligands expressed on other cells or with extracellular matrix proteins. The precise spatiotemporal activation of integrins from a low affinity state to a high affinity state at the cell leading edge is important for T lymphocyte migration
1
. Likewise, retraction of the cell trailing edge, or uropod, is a necessary step in maintaining persistent integrin-dependent T lymphocyte motility
2
. Many therapeutic approaches to autoimmune or inflammatory diseases target integrins as a means to inhibit the excessive recruitment and migration of leukocytes
3
. To study the molecular events that regulate human T lymphocyte migration, we have utilized an
in vitro
system to analyze cell migration on a two-dimensional substrate that mimics the environment that a T lymphocyte encounters during recruitment from the vasculature. T lymphocytes are first isolated from human donors and are then stimulated and cultured for seven to ten days. During the assay, T lymphocytes are allowed to adhere and migrate on a substrate coated with intercellular adhesion molecule-1 (ICAM-1), a ligand for integrin LFA-1, and stromal cell-derived factor-1 (SDF-1). Our data show that T lymphocytes exhibit a migratory velocity of ~15 μm/min. T lymphocyte migration can be inhibited by integrin blockade
1
or by inhibitors of the cellular actomyosin machinery that regulates cell migration
2
.
Immunology, Issue 40, T lymphocyte, Migration, Integrin, LFA-1, ICAM-1, Chemokine
2017
Intravital Microscopy of the Microcirculation in the Mouse Cremaster Muscle for the Analysis of Peripheral Stem Cell Migration
Institutions: University Rostock, University of Rostock.

In the era of intravascular cell application protocols in the context of regenerative cell therapy, the underlying mechanisms of stem cell migration to nonmarrow tissue have not been completely clarified. We describe here the technique of intravital microscopy applied to the mouse cremaster microcirculation for analysis of peripheral bone marrow stem cell migration
in vivo
. Intravital microscopy of the M. cremaster has been previously introduced in the field of inflammatory research for direct observation of leucocyte interaction with the vascular endothelium. Since sufficient peripheral stem and progenitor cell migration includes similar initial steps of rolling along and firm adhesion at the endothelial lining it is conceivable to apply the M. cremaster model for the observation and quantification of the interaction of intravasculary administered stem cells with the endothelium. As various chemical components can be selectively applied to the target tissue by simple superfusion techniques, it is possible to establish essential microenvironmental preconditions, for initial stem cell recruitment to take place in a living organism outside the bone marrow.
Stem Cell Biology, Issue 81, migration, intravital microscopy, cremaster muscle, bone marrow, endothelium, microsurgery
50485
Setting-up an In Vitro Model of Rat Blood-brain Barrier (BBB): A Focus on BBB Impermeability and Receptor-mediated Transport
Institutions: VECT-HORUS SAS, CNRS, NICN UMR 7259.

The blood brain barrier (BBB) specifically regulates molecular and cellular flux between the blood and the nervous tissue. Our aim was to develop and characterize a highly reproducible rat syngeneic
in vitro
model of the BBB using co-cultures of primary rat brain endothelial cells (RBEC) and astrocytes to study receptors involved in transcytosis across the endothelial cell monolayer. Astrocytes were isolated by mechanical dissection following trypsin digestion and were frozen for later co-culture. RBEC were isolated from 5-week-old rat cortices. The brains were cleaned of meninges and white matter, and mechanically dissociated following enzymatic digestion. Thereafter, the tissue homogenate was centrifuged in bovine serum albumin to separate vessel fragments from nervous tissue. The vessel fragments underwent a second enzymatic digestion to free endothelial cells from their extracellular matrix. The remaining contaminating cells such as pericytes were further eliminated by plating the microvessel fragments in puromycin-containing medium. They were then passaged onto filters for co-culture with astrocytes grown on the bottom of the wells. RBEC expressed high levels of tight junction (TJ) proteins such as occludin, claudin-5 and ZO-1 with a typical localization at the cell borders. The transendothelial electrical resistance (TEER) of brain endothelial monolayers, indicating the tightness of TJs reached 300 ohm·cm
2
on average. The endothelial permeability coefficients (Pe) for lucifer yellow (LY) was highly reproducible with an average of 0.26 ± 0.11 x 10
-3
cm/min. Brain endothelial cells organized in monolayers expressed the efflux transporter P-glycoprotein (P-gp), showed a polarized transport of rhodamine 123, a ligand for P-gp, and showed specific transport of transferrin-Cy3 and DiILDL across the endothelial cell monolayer. In conclusion, we provide a protocol for setting up an
in vitro
BBB model that is highly reproducible due to the quality assurance methods, and that is suitable for research on BBB transporters and receptors.
Medicine, Issue 88, rat brain endothelial cells (RBEC), mouse, spinal cord, tight junction (TJ), receptor-mediated transport (RMT), low density lipoprotein (LDL), LDLR, transferrin, TfR, P-glycoprotein (P-gp), transendothelial electrical resistance (TEER),
51278
A Coupled Experiment-finite Element Modeling Methodology for Assessing High Strain Rate Mechanical Response of Soft Biomaterials
Institutions: Mississippi State University, Mississippi State University.

This study offers a combined experimental and finite element (FE) simulation approach for examining the mechanical behavior of soft biomaterials (
e.g.
brain, liver, tendon, fat,
etc.
) when exposed to high strain rates. This study utilized a Split-Hopkinson Pressure Bar (SHPB) to generate strain rates of 100-1,500 sec
-1
. The SHPB employed a striker bar consisting of a viscoelastic material (polycarbonate). A sample of the biomaterial was obtained shortly postmortem and prepared for SHPB testing. The specimen was interposed between the incident and transmitted bars, and the pneumatic components of the SHPB were activated to drive the striker bar toward the incident bar. The resulting impact generated a compressive stress wave (
i.e.
incident wave) that traveled through the incident bar. When the compressive stress wave reached the end of the incident bar, a portion continued forward through the sample and transmitted bar (
i.e.
transmitted wave) while another portion reversed through the incident bar as a tensile wave (
i.e.
reflected wave). These waves were measured using strain gages mounted on the incident and transmitted bars. The true stress-strain behavior of the sample was determined from equations based on wave propagation and dynamic force equilibrium. The experimental stress-strain response was three dimensional in nature because the specimen bulged. As such, the hydrostatic stress (first invariant) was used to generate the stress-strain response. In order to extract the uniaxial (one-dimensional) mechanical response of the tissue, an iterative coupled optimization was performed using experimental results and Finite Element Analysis (FEA), which contained an Internal State Variable (ISV) material model used for the tissue. The ISV material model used in the FE simulations of the experimental setup was iteratively calibrated (
i.e.
optimized) to the experimental data such that the experiment and FEA strain gage values and first invariant of stresses were in good agreement.
Bioengineering, Issue 99, Split-Hopkinson Pressure Bar, High Strain Rate, Finite Element Modeling, Soft Biomaterials, Dynamic Experiments, Internal State Variable Modeling, Brain, Liver, Tendon, Fat
51545
Ultrasound Assessment of Endothelial-Dependent Flow-Mediated Vasodilation of the Brachial Artery in Clinical Research
Institutions: University of California, San Francisco, Veterans Affairs Medical Center, San Francisco, Veterans Affairs Medical Center, San Francisco.

The vascular endothelium is a monolayer of cells that cover the interior of blood vessels and provide both structural and functional roles. The endothelium acts as a barrier, preventing leukocyte adhesion and aggregation, as well as controlling permeability to plasma components. Functionally, the endothelium affects vessel tone. Endothelial dysfunction is an imbalance between the chemical species which regulate vessel tone, thombroresistance, cellular proliferation and mitosis. It is the first step in atherosclerosis and is associated with coronary artery disease, peripheral artery disease, heart failure, hypertension, and hyperlipidemia. The first demonstration of endothelial dysfunction involved direct infusion of acetylcholine and quantitative coronary angiography. Acetylcholine binds to muscarinic receptors on the endothelial cell surface, leading to an increase of intracellular calcium and increased nitric oxide (NO) production. In subjects with an intact endothelium, vasodilation was observed while subjects with endothelial damage experienced paradoxical vasoconstriction. There exists a non-invasive,
in vivo
method for measuring endothelial function in peripheral arteries using high-resolution B-mode ultrasound. The endothelial function of peripheral arteries is closely related to coronary artery function. This technique measures the percent diameter change in the brachial artery during a period of reactive hyperemia following limb ischemia. This technique, known as endothelium-dependent, flow-mediated vasodilation (FMD) has value in clinical research settings. However, a number of physiological and technical issues can affect the accuracy of the results and appropriate guidelines for the technique have been published. Despite the guidelines, FMD remains heavily operator dependent and presents a steep learning curve. This article presents a standardized method for measuring FMD in the brachial artery on the upper arm and offers suggestions to reduce intra-operator variability.
Medicine, Issue 92, endothelial function, endothelial dysfunction, brachial artery, peripheral artery disease, ultrasound, vascular, endothelium, cardiovascular disease.
52070
Generation and 3-Dimensional Quantitation of Arterial Lesions in Mice Using Optical Projection Tomography
Institutions: The Queen's Medical Research Institute.

The generation and analysis of vascular lesions in appropriate animal models is a cornerstone of research into cardiovascular disease, generating important information on the pathogenesis of lesion formation and the action of novel therapies. Use of atherosclerosis-prone mice, surgical methods of lesion induction, and dietary modification has dramatically improved understanding of the mechanisms that contribute to disease development and the potential of new treatments. Classically, analysis of lesions is performed
ex vivo
using 2-dimensional histological techniques. This article describes application of optical projection tomography (OPT) to 3-dimensional quantitation of arterial lesions. As this technique is non-destructive, it can be used as an adjunct to standard histological and immunohistochemical analyses. Neointimal lesions were induced by wire-insertion or ligation of the mouse femoral artery whilst atherosclerotic lesions were generated by administration of an atherogenic diet to apoE-deficient mice. Lesions were examined using OPT imaging of autofluorescent emission followed by complementary histological and immunohistochemical analysis. OPT clearly distinguished lesions from the underlying vascular wall. Lesion size was calculated in 2-dimensional sections using planimetry, enabling calculation of lesion volume and maximal cross-sectional area. Data generated using OPT were consistent with measurements obtained using histology, confirming the accuracy of the technique and its potential as a complement (rather than alternative) to traditional methods of analysis. This work demonstrates the potential of OPT for imaging atherosclerotic and neointimal lesions. It provides a rapid, much needed
ex vivo
technique for the routine 3-dimensional quantification of vascular remodelling.
Medicine, Issue 99, neointima, mouse femoral artery, atherosclerosis, brachiocephalic trunk, optical projection tomography
50627
A Novel Three-dimensional Flow Chamber Device to Study Chemokine-directed Extravasation of Cells Circulating under Physiological Flow Conditions
Institutions: Torrey Pines Institute for Molecular Studies, Cascade LifeSciences Inc..

Extravasation of circulating cells from the bloodstream plays a central role in many physiological and pathophysiological processes, including stem cell homing and tumor metastasis. The three-dimensional flow chamber device (hereafter the 3D device) is a novel
in vitro
technology that recreates physiological shear stress and allows each step of the cell extravasation cascade to be quantified. The 3D device consists of an upper compartment in which the cells of interest circulate under shear stress, and a lower compartment of static wells that contain the chemoattractants of interest. The two compartments are separated by porous inserts coated with a monolayer of endothelial cells (EC). An optional second insert with microenvironmental cells of interest can be placed immediately beneath the EC layer. A gas exchange unit allows the optimal CO
2
tension to be maintained and provides an access point to add or withdraw cells or compounds during the experiment. The test cells circulate in the upper compartment at the desired shear stress (flow rate) controlled by a peristaltic pump. At the end of the experiment, the circulating and migrated cells are collected for further analyses. The 3D device can be used to examine cell rolling on and adhesion to EC under shear stress, transmigration in response to chemokine gradients, resistance to shear stress, cluster formation, and cell survival. In addition, the optional second insert allows the effects of crosstalk between EC and microenvironmental cells to be examined. The translational applications of the 3D device include testing of drug candidates that target cell migration and predicting the
in vivo
behavior of cells after intravenous injection. Thus, the novel 3D device is a versatile and inexpensive tool to study the molecular mechanisms that mediate cellular extravasation.
Bioengineering, Issue 77, Cellular Biology, Biophysics, Physiology, Molecular Biology, Biomedical Engineering, Immunology, Cells, Biological Factors, Equipment and Supplies, Cell Physiological Phenomena, Natural Science Disciplines, Life Sciences (General), circulating cells, extravasation, physiological shear stress, endothelial cells, microenvironment, chemokine gradient, flow, chamber, cell culture, assay
50959
Confocal Imaging of Confined Quiescent and Flowing Colloid-polymer Mixtures
Institutions: University of Houston.

The behavior of confined colloidal suspensions with attractive interparticle interactions is critical to the rational design of materials for directed assembly
1-3
, drug delivery
4
, improved hydrocarbon recovery
5-7
, and flowable electrodes for energy storage
8
. Suspensions containing fluorescent colloids and non-adsorbing polymers are appealing model systems, as the ratio of the polymer radius of gyration to the particle radius and concentration of polymer control the range and strength of the interparticle attraction, respectively. By tuning the polymer properties and the volume fraction of the colloids, colloid fluids, fluids of clusters, gels, crystals, and glasses can be obtained
9
. Confocal microscopy, a variant of fluorescence microscopy, allows an optically transparent and fluorescent sample to be imaged with high spatial and temporal resolution in three dimensions. In this technique, a small pinhole or slit blocks the emitted fluorescent light from regions of the sample that are outside the focal volume of the microscope optical system. As a result, only a thin section of the sample in the focal plane is imaged. This technique is particularly well suited to probe the structure and dynamics in dense colloidal suspensions at the single-particle scale: the particles are large enough to be resolved using visible light and diffuse slowly enough to be captured at typical scan speeds of commercial confocal systems
10
. Improvements in scan speeds and analysis algorithms have also enabled quantitative confocal imaging of flowing suspensions
11-16,37
. In this paper, we demonstrate confocal microscopy experiments to probe the confined phase behavior and flow properties of colloid-polymer mixtures. We first prepare colloid-polymer mixtures that are density- and refractive-index matched. Next, we report a standard protocol for imaging quiescent dense colloid-polymer mixtures under varying confinement in thin wedge-shaped cells. Finally, we demonstrate a protocol for imaging colloid-polymer mixtures during microchannel flow.
Chemistry, Issue 87, confocal microscopy, particle tracking, colloids, suspensions, confinement, gelation, microfluidics, image correlation, dynamics, suspension flow
51461
Monitoring of Systemic and Hepatic Hemodynamic Parameters in Mice
Institutions: Jena University Hospital, Jena University Hospital, The First Affiliated Hospital of Wenzhou Medical University.

The use of mouse models in experimental research is of enormous importance for the study of hepatic physiology and pathophysiological disturbances. However, due to the small size of the mouse, technical details of the intraoperative monitoring procedure suitable for the mouse were rarely described. Previously we have reported a monitoring procedure to obtain hemodynamic parameters for rats. Now, we adapted the procedure to acquire systemic and hepatic hemodynamic parameters in mice, a species ten-fold smaller than rats. This film demonstrates the instrumentation of the animals as well as the data acquisition process needed to assess systemic and hepatic hemodynamics in mice. Vital parameters, including body temperature, respiratory rate and heart rate were recorded throughout the whole procedure. Systemic hemodynamic parameters consist of carotid artery pressure (CAP) and central venous pressure (CVP). Hepatic perfusion parameters include portal vein pressure (PVP), portal flow rate as well as the flow rate of the common hepatic artery (table 1). Instrumentation and data acquisition to record the normal values was completed within 1.5 h. Systemic and hepatic hemodynamic parameters remained within normal ranges during this procedure. This procedure is challenging but feasible. We have already applied this procedure to assess hepatic hemodynamics in normal mice as well as during 70% partial hepatectomy and in liver lobe clamping experiments. Mean PVP after resection (n= 20), was 11.41±2.94 cmH
2
O which was significantly higher (P<0.05) than before resection (6.87±2.39 cmH
2
O). The results of liver lobe clamping experiment indicated that this monitoring procedure is sensitive and suitable for detecting small changes in portal pressure and portal flow rate. In conclusion, this procedure is reliable in the hands of an experienced micro-surgeon but should be limited to experiments where mice are absolutely needed.
Medicine, Issue 92, mice, hemodynamics, hepatic perfusion, CAP, CVP, surgery, intraoperative monitoring, portal vein pressure, blood flow
51955