Development of Amelogenin-chitosan Hydrogel for In Vitro Enamel Regrowth with a Dense Interface
Published: 07-10-2014
ABSTRACT
Biomimetic enamel reconstruction is a significant topic in material science and dentistry as a novel approach for the treatment of dental caries or erosion. Amelogenin has been proven to be a critical protein for controlling the organized growth of apatite crystals. In this paper, we present a detailed protocol for superficial enamel reconstruction by using a novel amelogenin-chitosan hydrogel. Compared to other conventional treatments, such as topical fluoride and mouthwash, this method not only has the potential to prevent the development of dental caries but also promotes significant and durable enamel restoration. The organized enamel-like microstructure regulated by amelogenin assemblies can significantly improve the mechanical properties of etched enamel, while the dense enamel-restoration interface formed by an in situ regrowth of apatite crystals can improve the effectiveness and durability of restorations. Furthermore, chitosan hydrogel is easy to use and can suppress bacterial infection, which is the major risk factor for the occurrence of dental caries. Therefore, this biocompatible and biodegradable amelogenin-chitosan hydrogel shows promise as a biomaterial for the prevention, restoration, and treatment of defective enamel.
20 Related JoVE Articles!
An Analytical Tool-box for Comprehensive Biochemical, Structural and Transcriptome Evaluation of Oral Biofilms Mediated by Mutans Streptococci
Institutions: University of Rochester Medical Center, Sichuan University, Glostrup Hospital, Glostrup, Denmark, University of Rochester Medical Center.

Biofilms are highly dynamic, organized and structured communities of microbial cells enmeshed in an extracellular matrix of variable density and composition
1, 2
. In general, biofilms develop from initial microbial attachment on a surface followed by formation of cell clusters (or microcolonies) and further development and stabilization of the microcolonies, which occur in a complex extracellular matrix. The majority of biofilm matrices harbor exopolysaccharides (EPS), and dental biofilms are no exception; especially those associated with caries disease, which are mostly mediated by mutans streptococci
3
. The EPS are synthesized by microorganisms (
S. mutans
, a key contributor) by means of extracellular enzymes, such as glucosyltransferases using sucrose primarily as substrate
3
. Studies of biofilms formed on tooth surfaces are particularly challenging owing to their constant exposure to environmental challenges associated with complex diet-host-microbial interactions occurring in the oral cavity. Better understanding of the dynamic changes of the structural organization and composition of the matrix, physiology and transcriptome/proteome profile of biofilm-cells in response to these complex interactions would further advance the current knowledge of how oral biofilms modulate pathogenicity. Therefore, we have developed an analytical tool-box to facilitate biofilm analysis at structural, biochemical and molecular levels by combining commonly available and novel techniques with custom-made software for data analysis. Standard analytical (colorimetric assays, RT-qPCR and microarrays) and novel fluorescence techniques (for simultaneous labeling of bacteria and EPS) were integrated with specific software for data analysis to address the complex nature of oral biofilm research. The tool-box is comprised of 4 distinct but interconnected steps (Figure 1): 1) Bioassays, 2) Raw Data Input, 3) Data Processing, and 4) Data Analysis. We used our
in vitro
biofilm model and specific experimental conditions to demonstrate the usefulness and flexibility of the tool-box. The biofilm model is simple, reproducible and multiple replicates of a single experiment can be done simultaneously
4, 5
. Moreover, it allows temporal evaluation, inclusion of various microbial species
5
and assessment of the effects of distinct experimental conditions (e.g. treatments
6
; comparison of knockout mutants vs. parental strain
5
; carbohydrates availability
7
). Here, we describe two specific components of the tool-box, including (i) new software for microarray data mining/organization (MDV) and fluorescence imaging analysis (DUOSTAT), and (ii)
in situ
EPS-labeling. We also provide an experimental case showing how the tool-box can assist with biofilms analysis, data organization, integration and interpretation.
Microbiology, Issue 47, Extracellular matrix, polysaccharides, biofilm, mutans streptococci, glucosyltransferases, confocal fluorescence, microarray
2512
Isolation and Culture of Dental Epithelial Stem Cells from the Adult Mouse Incisor
Institutions: University of California, San Francisco, University of California, San Francisco, Zhongshan Hospital of Dalian University, Université Paris Descartes, Sorbonne Paris Cite, UMR S872, Université Pierre et Marie Curie, UMR S872, INSERM U872, University of California, San Francisco, University of California, San Francisco.
Understanding the cellular and molecular mechanisms that underlie tooth regeneration and renewal has become a topic of great interest
1-4
, and the mouse incisor provides a model for these processes. This remarkable organ grows continuously throughout the animal's life and generates all the necessary cell types from active pools of adult stem cells housed in the labial (toward the lip) and lingual (toward the tongue) cervical loop (CL) regions. Only the dental stem cells from the labial CL give rise to ameloblasts that generate enamel, the outer covering of teeth, on the labial surface. This asymmetric enamel formation allows abrasion at the incisor tip, and progenitors and stem cells in the proximal incisor ensure that the dental tissues are constantly replenished. The ability to isolate and grow these progenitor or stem cells
in vitro
allows their expansion and opens doors to numerous experiments not achievable
in vivo
, such as high throughput testing of potential stem cell regulatory factors. Here, we describe and demonstrate a reliable and consistent method to culture cells from the labial CL of the mouse incisor.
Stem Cell Biology, Issue 87, Epithelial Stem Cells, Adult Stem Cells, Incisor, Cervical Loop, Cell Culture
51266
Rejection of Fluorescence Background in Resonance and Spontaneous Raman Microspectroscopy
Institutions: University of California, Davis, University of California, Davis.

Raman spectroscopy is often plagued by a strong fluorescent background, particularly for biological samples. If a sample is excited with a train of ultrafast pulses, a system that can temporally separate spectrally overlapping signals on a picosecond timescale can isolate promptly arriving Raman scattered light from late-arriving fluorescence light. Here we discuss the construction and operation of a complex nonlinear optical system that uses all-optical switching in the form of a low-power optical Kerr gate to isolate Raman and fluorescence signals. A single 808 nm laser with 2.4 W of average power and 80 MHz repetition rate is split, with approximately 200 mW of 808 nm light being converted to < 5 mW of 404 nm light sent to the sample to excite Raman scattering. The remaining unconverted 808 nm light is then sent to a nonlinear medium where it acts as the pump for the all-optical shutter. The shutter opens and closes in 800 fs with a peak efficiency of approximately 5%. Using this system we are able to successfully separate Raman and fluorescence signals at an 80 MHz repetition rate using pulse energies and average powers that remain biologically safe. Because the system has no spare capacity in terms of optical power, we detail several design and alignment considerations that aid in maximizing the throughput of the system. We also discuss our protocol for obtaining the spatial and temporal overlap of the signal and pump beams within the Kerr medium, as well as a detailed protocol for spectral acquisition. Finally, we report a few representative results of Raman spectra obtained in the presence of strong fluorescence using our time-gating system.
Microbiology, Issue 51, Raman scattering, all-optical gating, nonlinear optics, fluorescence, timeresolved spectroscopy.
2592
Differential Imaging of Biological Structures with Doubly-resonant Coherent Anti-stokes Raman Scattering (CARS)
Institutions: University of California, Davis, University of California, Davis.

Coherent Raman imaging techniques have seen a dramatic increase in activity over the past decade due to their promise to enable label-free optical imaging with high molecular specificity
1
. The sensitivity of these techniques, however, is many orders of magnitude weaker than fluorescence, requiring milli-molar molecular concentrations
1,2
. Here, we describe a technique that can enable the detection of weak or low concentrations of Raman-active molecules by amplifying their signal with that obtained from strong or abundant Raman scatterers. The interaction of short pulsed lasers in a biological sample generates a variety of coherent Raman scattering signals, each of which carry unique chemical information about the sample. Typically, only one of these signals, e.g. Coherent Anti-stokes Raman scattering (CARS), is used to generate an image while the others are discarded. However, when these other signals, including 3-color CARS and four-wave mixing (FWM), are collected and compared to the CARS signal, otherwise difficult to detect information can be extracted
3
. For example, doubly-resonant CARS (DR-CARS) is the result of the constructive interference between two resonant signals
4
. We demonstrate how tuning of the three lasers required to produce DR-CARS signals to the 2845 cm
-1
CH stretch vibration in lipids and the 2120 cm
-1
CD stretching vibration of a deuterated molecule (e.g. deuterated sugars, fatty acids, etc.) can be utilized to probe both Raman resonances simultaneously. Under these conditions, in addition to CARS signals from each resonance, a combined DR-CARS signal probing both is also generated. We demonstrate how detecting the difference between the DR-CARS signal and the amplifying signal from an abundant molecule's vibration can be used to enhance the sensitivity for the weaker signal. We further demonstrate that this approach even extends to applications where both signals are generated from different molecules, such that e.g. using the strong Raman signal of a solvent can enhance the weak Raman signal of a dilute solute.
Cellular Biology, Issue 44, Raman scattering, Four-wave mixing, Coherent anti-Stokes Raman scattering, Microscopy, Coherent Raman Scattering
2085
Probing and Mapping Electrode Surfaces in Solid Oxide Fuel Cells
Institutions: Georgia Institute of Technology , Georgia Institute of Technology .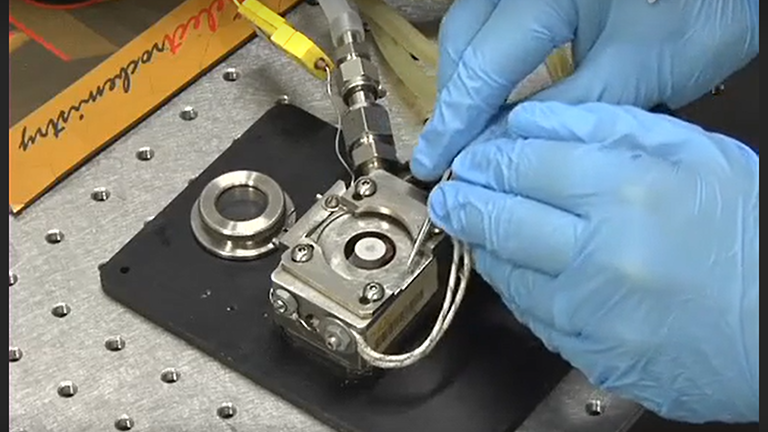 Solid oxide fuel cells (SOFCs) are potentially the most efficient and cost-effective solution to utilization of a wide variety of fuels beyond hydrogen
1-7
. The performance of SOFCs and the rates of many chemical and energy transformation processes in energy storage and conversion devices in general are limited primarily by charge and mass transfer along electrode surfaces and across interfaces. Unfortunately, the mechanistic understanding of these processes is still lacking, due largely to the difficulty of characterizing these processes under
in situ
conditions. This knowledge gap is a chief obstacle to SOFC commercialization. The development of tools for probing and mapping surface chemistries relevant to electrode reactions is vital to unraveling the mechanisms of surface processes and to achieving rational design of new electrode materials for more efficient energy storage and conversion
2
. Among the relatively few
in situ
surface analysis methods, Raman spectroscopy can be performed even with high temperatures and harsh atmospheres, making it ideal for characterizing chemical processes relevant to SOFC anode performance and degradation
8-12
. It can also be used alongside electrochemical measurements, potentially allowing direct correlation of electrochemistry to surface chemistry in an operating cell. Proper
in situ
Raman mapping measurements would be useful for pin-pointing important anode reaction mechanisms because of its sensitivity to the relevant species, including anode performance degradation through carbon deposition
8, 10, 13, 14
("coking") and sulfur poisoning
11, 15
and the manner in which surface modifications stave off this degradation
16
. The current work demonstrates significant progress towards this capability. In addition, the family of scanning probe microscopy (SPM) techniques provides a special approach to interrogate the electrode surface with nanoscale resolution. Besides the surface topography that is routinely collected by AFM and STM, other properties such as local electronic states, ion diffusion coefficient and surface potential can also be investigated
17-22
. In this work, electrochemical measurements, Raman spectroscopy, and SPM were used in conjunction with a novel test electrode platform that consists of a Ni mesh electrode embedded in an yttria-stabilized zirconia (YSZ) electrolyte. Cell performance testing and impedance spectroscopy under fuel containing H
2
S was characterized, and Raman mapping was used to further elucidate the nature of sulfur poisoning.
In situ
Raman monitoring was used to investigate coking behavior. Finally, atomic force microscopy (AFM) and electrostatic force microscopy (EFM) were used to further visualize carbon deposition on the nanoscale. From this research, we desire to produce a more complete picture of the SOFC anode.
Materials Science, Issue 67, Chemistry, Electrical Engineering, Physics, electrochemistry, catalysts (chemical), spectroscopic chemical analysis (application), microscopes, Fuel cell, Raman, AFM, SOFC, Surface, Electrode
50161
Oral Biofilm Analysis of Palatal Expanders by Fluorescence In-Situ Hybridization and Confocal Laser Scanning Microscopy
Institutions: Medical University of Graz, Medical University of Graz, Medical University of Graz, Karl-Franzens-University Graz.

Confocal laser scanning microscopy (CLSM) of natural heterogeneous biofilm is today facilitated by a comprehensive range of staining techniques, one of them being fluorescence
in situ
hybridization (FISH).
1,2
We performed a pilot study in which oral biofilm samples collected from fixed orthodontic appliances (palatal expanders) were stained by FISH, the objective being to assess the three-dimensional organization of natural biofilm and plaque accumulation.
3,4
FISH creates an opportunity to stain cells in their native biofilm environment by the use of fluorescently labeled 16S rRNA-targeting probes.
4-7,19
Compared to alternative techniques like immunofluorescent labeling, this is an inexpensive, precise and straightforward labeling technique to investigate different bacterial groups in mixed biofilm consortia.
18,20
General probes were used that bind to Eubacteria (EUB338 + EUB338II + EUB338III; hereafter EUBmix),
8-10
Firmicutes (LGC354 A-C; hereafter LGCmix),
9,10
and Bacteroidetes (Bac303).
11
In addition, specific probes binding to
Streptococcus mutans
(MUT590)
12,13
and
Porphyromonas gingivalis
(POGI)
13,14
were used. The extreme hardness of the surface materials involved (stainless steel and acrylic resin) compelled us to find new ways of preparing the biofilm. As these surface materials could not be readily cut with a cryotome, various sampling methods were explored to obtain intact oral biofilm. The most workable of these approaches is presented in this communication. Small flakes of the biofilm-carrying acrylic resin were scraped off with a sterile scalpel, taking care not to damage the biofilm structure. Forceps were used to collect biofilm from the steel surfaces. Once collected, the samples were fixed and placed directly on polysine coated glass slides. FISH was performed directly on these slides with the probes mentioned above. Various FISH protocols were combined and modified to create a new protocol that was easy to handle.
5,10,14,15
Subsequently the samples were analyzed by confocal laser scanning microscopy. Well-known configurations
3,4,16,17
could be visualized, including mushroom-style formations and clusters of coccoid bacteria pervaded by channels. In addition, the bacterial composition of these typical biofilm structures were analyzed and 2D and 3D images created.
Medicine, Issue 56, fluorescence in situ hybridization, FISH, confocal laser scanning microscopy, CLSM, orthodontic appliances, oral biofilm
2967
Therapeutic Effectiveness of a Dietary Supplement for Management of Halitosis in Dogs
Institutions: Azienda Ospedaliero-Universitaria Policlinico di Modena, Universtity of Modena and Reggio Emilia, Sanypet S.p.a, AIRMO Center Milan.
Halitosis is a common complaint involving social and communicational problems in humans and also affects the pet-owner relationship. In this randomized placebo-controlled crossover clinical evaluation, we assessed the effectiveness of a dedicated dietary supplement to improve chronic halitosis in 32 dogs of different breeds and ages. This protocol describes how to evalute the presence of oral volatile suphur compunds,
e.g.
methyl mercaptan, hydrogen sulfide and dimethyl sulfide, by means of a portable gas chromatograph device coupled with a syringe, which was used to collect the breath, and a dedicated software, which allows the operator to monitor each compound concentration during each measurement, in a relatively short time (8 min). A significant modification of halitosis parameters was observed after 30 days since the beginning of treatment (p <0.05), while a long-lasting effect was still observed even 20 days after the suspension of the treatment. Portable gas chromatograph, which is also widely used in clinical practice, can be therefore used to confirm and control halitosis in humans and animals. Even though human and animal species present some differences, this innovative and alternative therapy for halitosis management might be extended to human clinical practice as an adjuvant dietary approach.
Medicine, Issue 101, halitosis, dietary supplement, dogs, portable gas chromatograph, human, clinical practice
52717
Sampling Human Indigenous Saliva Peptidome Using a Lollipop-Like Ultrafiltration Probe: Simplify and Enhance Peptide Detection for Clinical Mass Spectrometry
Institutions: Sanford-Burnham Medical Research Institute, University of California, San Diego , VA San Diego Healthcare Center, University of California, San Diego .

Although human saliva proteome and peptidome have been revealed
1-2
they were majorly identified from tryptic digests of saliva proteins. Identification of indigenous peptidome of human saliva without prior digestion with exogenous enzymes becomes imperative, since native peptides in human saliva provide potential values for diagnosing disease, predicting disease progression, and monitoring therapeutic efficacy. Appropriate sampling is a critical step for enhancement of identification of human indigenous saliva peptidome. Traditional methods of sampling human saliva involving centrifugation to remove debris
3-4
may be too time-consuming to be applicable for clinical use. Furthermore, debris removal by centrifugation may be unable to clean most of the infected pathogens and remove the high abundance proteins that often hinder the identification of low abundance peptidome. Conventional proteomic approaches that primarily utilize two-dimensional gel electrophoresis (2-DE) gels in conjugation with in-gel digestion are capable of identifying many saliva proteins
5-6
. However, this approach is generally not sufficiently sensitive to detect low abundance peptides/proteins. Liquid chromatography-Mass spectrometry (LC-MS) based proteomics is an alternative that can identify proteins without prior 2-DE separation. Although this approach provides higher sensitivity, it generally needs prior sample pre-fractionation
7
and pre-digestion with trypsin, which makes it difficult for clinical use. To circumvent the hindrance in mass spectrometry due to sample preparation, we have developed a technique called capillary ultrafiltration (CUF) probes
8-11
. Data from our laboratory demonstrated that the CUF probes are capable of capturing proteins
in vivo
from various microenvironments in animals in a dynamic and minimally invasive manner
8-11
. No centrifugation is needed since a negative pressure is created by simply syringe withdrawing during sample collection. The CUF probes combined with LC-MS have successfully identified tryptic-digested proteins
8-11
. In this study, we upgraded the ultrafiltration sampling technique by creating a lollipop-like ultrafiltration (LLUF) probe that can easily fit in the human oral cavity. The direct analysis by LC-MS without trypsin digestion showed that human saliva indigenously contains many peptide fragments derived from various proteins. Sampling saliva with LLUF probes avoided centrifugation but effectively removed many larger and high abundance proteins. Our mass spectrometric results illustrated that many low abundance peptides became detectable after filtering out larger proteins with LLUF probes. Detection of low abundance saliva peptides was independent of multiple-step sample separation with chromatography. For clinical application, the LLUF probes incorporated with LC-MS could potentially be used in the future to monitor disease progression from saliva.
Medicine, Issue 66, Molecular Biology, Genetics, Sampling, Saliva, Peptidome, Ultrafiltration, Mass spectrometry
4108
Use of a High-throughput In Vitro Microfluidic System to Develop Oral Multi-species Biofilms
Institutions: The University of Michigan, Newcastle University.

There are few high-throughput
in vitro
systems which facilitate the development of multi-species biofilms that contain numerous species commonly detected within
in vivo
oral biofilms. Furthermore, a system that uses natural human saliva as the nutrient source, instead of artificial media, is particularly desirable in order to support the expression of cellular and biofilm-specific properties that mimic the
in vivo
communities. We describe a method for the development of multi-species oral biofilms that are comparable, with respect to species composition, to supragingival dental plaque, under conditions similar to the human oral cavity. Specifically, this methods article will describe how a commercially available microfluidic system can be adapted to facilitate the development of multi-species oral biofilms derived from and grown within pooled saliva. Furthermore, a description of how the system can be used in conjunction with a confocal laser scanning microscope to generate 3-D biofilm reconstructions for architectural and viability analyses will be presented. Given the broad diversity of microorganisms that grow within biofilms in the microfluidic system (including
Streptococcus
,
Neisseria
,
Veillonella
,
Gemella
, and
Porphyromonas
), a protocol will also be presented describing how to harvest the biofilm cells for further subculture or DNA extraction and analysis. The limits of both the microfluidic biofilm system and the current state-of-the-art data analyses will be addressed. Ultimately, it is envisioned that this article will provide a baseline technique that will improve the study of oral biofilms and aid in the development of additional technologies that can be integrated with the microfluidic platform.
Bioengineering, Issue 94, Dental plaque, biofilm, confocal laser scanning microscopy, three-dimensional structure, pyrosequencing, image analysis, image reconstruction, saliva, modeling, COMSTAT, IMARIS, IMAGEJ, multi-species biofilm communities.
52467
Reconstitution of a Kv Channel into Lipid Membranes for Structural and Functional Studies
Institutions: University of Texas Southwestern Medical Center at Dallas.

To study the lipid-protein interaction in a reductionistic fashion, it is necessary to incorporate the membrane proteins into membranes of well-defined lipid composition. We are studying the lipid-dependent gating effects in a prototype voltage-gated potassium (Kv) channel, and have worked out detailed procedures to reconstitute the channels into different membrane systems. Our reconstitution procedures take consideration of both detergent-induced fusion of vesicles and the fusion of protein/detergent micelles with the lipid/detergent mixed micelles as well as the importance of reaching an equilibrium distribution of lipids among the protein/detergent/lipid and the detergent/lipid mixed micelles. Our data suggested that the insertion of the channels in the lipid vesicles is relatively random in orientations, and the reconstitution efficiency is so high that no detectable protein aggregates were seen in fractionation experiments. We have utilized the reconstituted channels to determine the conformational states of the channels in different lipids, record electrical activities of a small number of channels incorporated in planar lipid bilayers, screen for conformation-specific ligands from a phage-displayed peptide library, and support the growth of 2D crystals of the channels in membranes. The reconstitution procedures described here may be adapted for studying other membrane proteins in lipid bilayers, especially for the investigation of the lipid effects on the eukaryotic voltage-gated ion channels.
Molecular Biology, Issue 77, Biochemistry, Genetics, Cellular Biology, Structural Biology, Biophysics, Membrane Lipids, Phospholipids, Carrier Proteins, Membrane Proteins, Micelles, Molecular Motor Proteins, life sciences, biochemistry, Amino Acids, Peptides, and Proteins, lipid-protein interaction, channel reconstitution, lipid-dependent gating, voltage-gated ion channel, conformation-specific ligands, lipids
50436
Lesion Explorer: A Video-guided, Standardized Protocol for Accurate and Reliable MRI-derived Volumetrics in Alzheimer's Disease and Normal Elderly
Institutions: Sunnybrook Health Sciences Centre, University of Toronto.

Obtaining
in vivo
human brain tissue volumetrics from MRI is often complicated by various technical and biological issues. These challenges are exacerbated when significant brain atrophy and age-related white matter changes (
e.g.
Leukoaraiosis) are present. Lesion Explorer (LE) is an accurate and reliable neuroimaging pipeline specifically developed to address such issues commonly observed on MRI of Alzheimer's disease and normal elderly. The pipeline is a complex set of semi-automatic procedures which has been previously validated in a series of internal and external reliability tests
1,2
. However, LE's accuracy and reliability is highly dependent on properly trained manual operators to execute commands, identify distinct anatomical landmarks, and manually edit/verify various computer-generated segmentation outputs. LE can be divided into 3 main components, each requiring a set of commands and manual operations: 1) Brain-Sizer, 2) SABRE, and 3) Lesion-Seg. Brain-Sizer's manual operations involve editing of the automatic skull-stripped total intracranial vault (TIV) extraction mask, designation of ventricular cerebrospinal fluid (vCSF), and removal of subtentorial structures. The SABRE component requires checking of image alignment along the anterior and posterior commissure (ACPC) plane, and identification of several anatomical landmarks required for regional parcellation. Finally, the Lesion-Seg component involves manual checking of the automatic lesion segmentation of subcortical hyperintensities (SH) for false positive errors. While on-site training of the LE pipeline is preferable, readily available visual teaching tools with interactive training images are a viable alternative. Developed to ensure a high degree of accuracy and reliability, the following is a step-by-step, video-guided, standardized protocol for LE's manual procedures.
Medicine, Issue 86, Brain, Vascular Diseases, Magnetic Resonance Imaging (MRI), Neuroimaging, Alzheimer Disease, Aging, Neuroanatomy, brain extraction, ventricles, white matter hyperintensities, cerebrovascular disease, Alzheimer disease
50887
Non-contact, Label-free Monitoring of Cells and Extracellular Matrix using Raman Spectroscopy
Institutions: Eberhard Karls University, Tübingen, Fraunhofer Institute of Interfacial Engineering and Biotechnology (IGB) Stuttgart, Germany, University of Stuttgart, Germany, Julius-Maximillians University, Würzburg, Germany.

Non-destructive, non-contact and label-free technologies to monitor cell and tissue cultures are needed in the field of biomedical research.
1-5
However, currently available routine methods require processing steps and alter sample integrity. Raman spectroscopy is a fast method that enables the measurement of biological samples without the need for further processing steps. This laser-based technology detects the inelastic scattering of monochromatic light.
6
As every chemical vibration is assigned to a specific Raman band (wavenumber in cm
-1
), each biological sample features a typical spectral pattern due to their inherent biochemical composition.
7-9
Within Raman spectra, the peak intensities correlate with the amount of the present molecular bonds.
1
Similarities and differences of the spectral data sets can be detected by employing a multivariate analysis (e.g. principal component analysis (PCA)).
10
Here, we perform Raman spectroscopy of living cells and native tissues. Cells are either seeded on glass bottom dishes or kept in suspension under normal cell culture conditions (37 °C, 5% CO
2
) before measurement. Native tissues are dissected and stored in phosphate buffered saline (PBS) at 4 °C prior measurements. Depending on our experimental set up, we then either focused on the cell nucleus or extracellular matrix (ECM) proteins such as elastin and collagen. For all studies, a minimum of 30 cells or 30 random points of interest within the ECM are measured. Data processing steps included background subtraction and normalization.
Bioengineering, Issue 63, Raman spectroscopy, label-free analysis, living cells, extracellular matrix, tissue engineering
3977
In situ Compressive Loading and Correlative Noninvasive Imaging of the Bone-periodontal Ligament-tooth Fibrous Joint
Institutions: University of California San Francisco, University of California San Francisco, Xradia Inc..

This study demonstrates a novel biomechanics testing protocol. The advantage of this protocol includes the use of an
in situ
loading device coupled to a high resolution X-ray microscope, thus enabling visualization of internal structural elements under simulated physiological loads and wet conditions. Experimental specimens will include intact bone-periodontal ligament (PDL)-tooth fibrous joints. Results will illustrate three important features of the protocol as they can be applied to organ level biomechanics: 1) reactionary force vs. displacement: tooth displacement within the alveolar socket and its reactionary response to loading, 2) three-dimensional (3D) spatial configuration and morphometrics: geometric relationship of the tooth with the alveolar socket, and 3) changes in readouts 1 and 2 due to a change in loading axis,
i.e.
from concentric to eccentric loads. Efficacy of the proposed protocol will be evaluated by coupling mechanical testing readouts to 3D morphometrics and overall biomechanics of the joint. In addition, this technique will emphasize on the need to equilibrate experimental conditions, specifically reactionary loads prior to acquiring tomograms of fibrous joints. It should be noted that the proposed protocol is limited to testing specimens under
ex vivo
conditions, and that use of contrast agents to visualize soft tissue mechanical response could lead to erroneous conclusions about tissue and organ-level biomechanics.
Bioengineering, Issue 85, biomechanics, bone-periodontal ligament-tooth complex, concentric loads, eccentric loads, contrast agent
51147
Characterization of Electrode Materials for Lithium Ion and Sodium Ion Batteries Using Synchrotron Radiation Techniques
Institutions: Lawrence Berkeley National Laboratory, University of Illinois at Chicago, Stanford Synchrotron Radiation Lightsource, Haldor Topsøe A/S, PolyPlus Battery Company.

Intercalation compounds such as transition metal oxides or phosphates are the most commonly used electrode materials in Li-ion and Na-ion batteries. During insertion or removal of alkali metal ions, the redox states of transition metals in the compounds change and structural transformations such as phase transitions and/or lattice parameter increases or decreases occur. These behaviors in turn determine important characteristics of the batteries such as the potential profiles, rate capabilities, and cycle lives. The extremely bright and tunable x-rays produced by synchrotron radiation allow rapid acquisition of high-resolution data that provide information about these processes. Transformations in the bulk materials, such as phase transitions, can be directly observed using X-ray diffraction (XRD), while X-ray absorption spectroscopy (XAS) gives information about the local electronic and geometric structures (
e.g.
 changes in redox states and bond lengths).
In situ
experiments carried out on operating cells are particularly useful because they allow direct correlation between the electrochemical and structural properties of the materials. These experiments are time-consuming and can be challenging to design due to the reactivity and air-sensitivity of the alkali metal anodes used in the half-cell configurations, and/or the possibility of signal interference from other cell components and hardware. For these reasons, it is appropriate to carry out
ex situ
experiments (
e.g.
 on electrodes harvested from partially charged or cycled cells) in some cases. Here, we present detailed protocols for the preparation of both
ex situ
and
in situ
samples for experiments involving synchrotron radiation and demonstrate how these experiments are done.
Physics, Issue 81, X-Ray Absorption Spectroscopy, X-Ray Diffraction, inorganic chemistry, electric batteries (applications), energy storage, Electrode materials, Li-ion battery, Na-ion battery, X-ray Absorption Spectroscopy (XAS), in situ X-ray diffraction (XRD)
50594
The Slice Culture Method for Following Development of Tooth Germs In Explant Culture
Institutions: King's College London, King Saud University, Kingdom of Saudi Arabia.

Explant culture allows manipulation of developing organs at specific time points and is therefore an important method for the developmental biologist. For many organs it is difficult to access developing tissue to allow monitoring during
ex vivo
culture. The slice culture method allows access to tissue so that morphogenetic movements can be followed and specific cell populations can be targeted for manipulation or lineage tracing. In this paper we describe a method of slice culture that has been very successful for culture of tooth germs in a range of species. The method provides excellent access to the tooth germs, which develop at a similar rate to that observed
in vivo
, surrounded by the other jaw tissues. This allows tissue interactions between the tooth and surrounding tissue to be monitored. Although this paper concentrates on tooth germs, the same protocol can be applied to follow development of a number of other organs, such as salivary glands, Meckel's cartilage, nasal glands, tongue, and ear.
Anatomy, Issue 81, Tooth, Culture Techniques, Embryo Culture Techniques, Organ Culture Techniques, Developmental Biology, animal biology, animal models, Tooth germ, live slice, development, tissue chopper, lineage tracing, molar, incisor, gland
50824
Shrinkage of Dental Composite in Simulated Cavity Measured with Digital Image Correlation
Institutions: University of Minnesota.

Polymerization shrinkage of dental resin composites can lead to restoration debonding or cracked tooth tissues in composite-restored teeth. In order to understand where and how shrinkage strain and stress develop in such restored teeth, Digital Image Correlation (DIC) was used to provide a comprehensive view of the displacement and strain distributions within model restorations that had undergone polymerization shrinkage. Specimens with model cavities were made of cylindrical glass rods with both diameter and length being 10 mm. The dimensions of the mesial-occlusal-distal (MOD) cavity prepared in each specimen measured 3 mm and 2 mm in width and depth, respectively. After filling the cavity with resin composite, the surface under observation was sprayed with first a thin layer of white paint and then fine black charcoal powder to create high-contrast speckles. Pictures of that surface were then taken before curing and 5 min after. Finally, the two pictures were correlated using DIC software to calculate the displacement and strain distributions. The resin composite shrunk vertically towards the bottom of the cavity, with the top center portion of the restoration having the largest downward displacement. At the same time, it shrunk horizontally towards its vertical midline. Shrinkage of the composite stretched the material in the vicinity of the "tooth-restoration" interface, resulting in cuspal deflections and high tensile strains around the restoration. Material close to the cavity walls or floor had direct strains mostly in the directions perpendicular to the interfaces. Summation of the two direct strain components showed a relatively uniform distribution around the restoration and its magnitude equaled approximately to the volumetric shrinkage strain of the material.
Medicine, Issue 89, image processing, computer-assisted, polymer matrix composites, testing of materials (composite materials), dental composite restoration, polymerization shrinkage, digital image correlation, full-field strain measurement, interfacial debonding
51191
High-definition Fourier Transform Infrared (FT-IR) Spectroscopic Imaging of Human Tissue Sections towards Improving Pathology
Institutions: University of Illinois at Chicago, University of Illinois at Chicago, University of Illinois at Chicago, University of Illinois at Chicago, University of Illinois at Chicago.
High-definition Fourier Transform Infrared (FT-IR) spectroscopic imaging is an emerging approach to obtain detailed images that have associated biochemical information. FT-IR imaging of tissue is based on the principle that different regions of the mid-infrared are absorbed by different chemical bonds (
e.g.,
C=O, C-H, N-H) within cells or tissue that can then be related to the presence and composition of biomolecules (
e.g.,
lipids, DNA, glycogen, protein, collagen). In an FT-IR image, every pixel within the image comprises an entire Infrared (IR) spectrum that can give information on the biochemical status of the cells that can then be exploited for cell-type or disease-type classification. In this paper, we show: how to obtain IR images from human tissues using an FT-IR system, how to modify existing instrumentation to allow for high-definition imaging capabilities, and how to visualize FT-IR images. We then present some applications of FT-IR for pathology using the liver and kidney as examples. FT-IR imaging holds exciting applications in providing a novel route to obtain biochemical information from cells and tissue in an entirely label-free non-perturbing route towards giving new insight into biomolecular changes as part of disease processes. Additionally, this biochemical information can potentially allow for objective and automated analysis of certain aspects of disease diagnosis.
Medicine, Issue 95, Spectroscopy, Imaging, Fourier Transform, Pathology, Cancer, Liver, Kidney, Hyperspectral, Biopsy, Infrared, Optics, Tissue
52332
Metabolomic Analysis of Rat Brain by High Resolution Nuclear Magnetic Resonance Spectroscopy of Tissue Extracts
Institutions: Aix-Marseille Université, Aix-Marseille Université.

Studies of gene expression on the RNA and protein levels have long been used to explore biological processes underlying disease. More recently, genomics and proteomics have been complemented by comprehensive quantitative analysis of the metabolite pool present in biological systems. This strategy, termed metabolomics, strives to provide a global characterization of the small-molecule complement involved in metabolism. While the genome and the proteome define the tasks cells can perform, the metabolome is part of the actual phenotype. Among the methods currently used in metabolomics, spectroscopic techniques are of special interest because they allow one to simultaneously analyze a large number of metabolites without prior selection for specific biochemical pathways, thus enabling a broad unbiased approach. Here, an optimized experimental protocol for metabolomic analysis by high-resolution NMR spectroscopy is presented, which is the method of choice for efficient quantification of tissue metabolites. Important strengths of this method are (i) the use of crude extracts, without the need to purify the sample and/or separate metabolites; (ii) the intrinsically quantitative nature of NMR, permitting quantitation of all metabolites represented by an NMR spectrum with one reference compound only; and (iii) the nondestructive nature of NMR enabling repeated use of the same sample for multiple measurements. The dynamic range of metabolite concentrations that can be covered is considerable due to the linear response of NMR signals, although metabolites occurring at extremely low concentrations may be difficult to detect. For the least abundant compounds, the highly sensitive mass spectrometry method may be advantageous although this technique requires more intricate sample preparation and quantification procedures than NMR spectroscopy. We present here an NMR protocol adjusted to rat brain analysis; however, the same protocol can be applied to other tissues with minor modifications.
Neuroscience, Issue 91, metabolomics, brain tissue, rodents, neurochemistry, tissue extracts, NMR spectroscopy, quantitative metabolite analysis, cerebral metabolism, metabolic profile
51829
In Situ SIMS and IR Spectroscopy of Well-defined Surfaces Prepared by Soft Landing of Mass-selected Ions
Institutions: Pacific Northwest National Laboratory.

Soft landing of mass-selected ions onto surfaces is a powerful approach for the highly-controlled preparation of materials that are inaccessible using conventional synthesis techniques. Coupling soft landing with
in situ
characterization using secondary ion mass spectrometry (SIMS) and infrared reflection absorption spectroscopy (IRRAS) enables analysis of well-defined surfaces under clean vacuum conditions. The capabilities of three soft-landing instruments constructed in our laboratory are illustrated for the representative system of surface-bound organometallics prepared by soft landing of mass-selected ruthenium tris(bipyridine) dications, [Ru(bpy)
3
]
2+
(bpy = bipyridine), onto carboxylic acid terminated self-assembled monolayer surfaces on gold (COOH-SAMs).
In situ
time-of-flight (TOF)-SIMS provides insight into the reactivity of the soft-landed ions. In addition, the kinetics of charge reduction, neutralization and desorption occurring on the COOH-SAM both during and after ion soft landing are studied using
in situ
Fourier transform ion cyclotron resonance (FT-ICR)-SIMS measurements.
In situ
IRRAS experiments provide insight into how the structure of organic ligands surrounding metal centers is perturbed through immobilization of organometallic ions on COOH-SAM surfaces by soft landing. Collectively, the three instruments provide complementary information about the chemical composition, reactivity and structure of well-defined species supported on surfaces.
Chemistry, Issue 88, soft landing, mass selected ions, electrospray, secondary ion mass spectrometry, infrared spectroscopy, organometallic, catalysis
51344
Meal Duration as a Measure of Orofacial Nociceptive Responses in Rodents
Institutions: Texas A&M University Baylor College of Dentistry.

A lengthening in meal duration can be used to measure an increase in orofacial mechanical hyperalgesia having similarities to the guarding behavior of humans with orofacial pain. To measure meal duration unrestrained rats are continuously kept in sound attenuated, computerized feeding modules for days to weeks to record feeding behavior. These sound-attenuated chambers are equipped with chow pellet dispensers. The dispenser has a pellet trough with a photobeam placed at the bottom of the trough and when a rodent removes a pellet from the feeder trough this beam is no longer blocked, signaling the computer to drop another pellet. The computer records the date and time when the pellets were taken from the trough and from this data the experimenter can calculate the meal parameters. When calculating meal parameters a meal was defined based on previous work and was set at 10 min (in other words when the animal does not eat for 10 min that would be the end of the animal's meal) also the minimum meal size was set at 3 pellets. The meal duration, meal number, food intake, meal size and inter-meal interval can then be calculated by the software for any time period that the operator desires. Of the feeding parameters that can be calculated meal duration has been shown to be a continuous noninvasive biological marker of orofacial nociception in male rats and mice and female rats. Meal duration measurements are quantitative, require no training or animal manipulation, require cortical participation, and do not compete with other experimentally induced behaviors. These factors distinguish this assay from other operant or reflex methods for recording orofacial nociception.
Behavior, Issue 83, Pain, rat, nociception, myofacial, orofacial, tooth, temporomandibular joint (TMJ)
50745