Cell Co-culture Patterning Using Aqueous Two-phase Systems
Published: 03-26-2013
ABSTRACT
Cell patterning technologies that are fast, easy to use and affordable will be required for the future development of high throughput cell assays, platforms for studying cell-cell interactions and tissue engineered systems. This detailed protocol describes a method for generating co-cultures of cells using biocompatible solutions of dextran (DEX) and polyethylene glycol (PEG) that phase-separate when combined above threshold concentrations. Cells can be patterned in a variety of configurations using this method. Cell exclusion patterning can be performed by printing droplets of DEX on a substrate and covering them with a solution of PEG containing cells. The interfacial tension formed between the two polymer solutions causes cells to fall around the outside of the DEX droplet and form a circular clearing that can be used for migration assays. Cell islands can be patterned by dispensing a cell-rich DEX phase into a PEG solution or by covering the DEX droplet with a solution of PEG. Co-cultures can be formed directly by combining cell exclusion with DEX island patterning. These methods are compatible with a variety of liquid handling approaches, including manual micropipetting, and can be used with virtually any adherent cell type.
25 Related JoVE Articles!
RNA Extraction from Neuroprecursor Cells Using the Bio-Rad Total RNA Kit
Institutions: University of California, Irvine (UCI), University of California, Irvine (UCI).

Basic Protocols, Issue 9, RNA, Purification, Brain
405
Patterning Cells on Optically Transparent Indium Tin Oxide Electrodes
Institutions: University of California, Davis.

The ability to exercise precise spatial and temporal control over cell-surface interactions is an important prerequisite to the assembly of multi-cellular constructs serving as in vitro mimics of native tissues. In this study, photolithography and wet etching techniques were used to fabricate individually addressable indium tin oxide (ITO) electrodes on glass substrates. The glass substrates containing ITO microelectrodes were modified with poly(ethylene glycol) (PEG) silane to make them protein and cell resistive. Presence of insulating PEG molecules on the electrode surface was verified by cyclic voltammetry employing potassium ferricyanide as a redox reporter molecule. Importantly, the application of reductive potential caused desorption of the PEG layer, resulting in regeneration of the conductive electrode surface and appearance of typical ferricyanide redox peaks. Application of reductive potential also corresponded to switching of ITO electrode properties from cell non-adhesive to cell-adhesive. Electrochemical stripping of PEG-silane layer from ITO microelectrodes allowed for cell adhesion to take place in a spatially defined fashion, with cellular patterns corresponding closely to electrode patterns. Micropatterning of several cell types was demonstrated on these substrates. In the future, the control of the biointerfacial properties afforded by this method will allow to engineer cellular microenvironments through the assembly of three or more cell types into a precise geometric configuration on an optically transparent substrate.
Cellular Biology, Issue 7, indium tin oxide, surface modification, electrochemistry, cell patterning
259
Primer-Free Aptamer Selection Using A Random DNA Library
Institutions: Pennsylvania State University, Pennsylvania State University, Pennsylvania State University, Pennsylvania State University.

Aptamers are highly structured oligonucleotides (DNA or RNA) that can bind to targets with affinities comparable to antibodies
1
. They are identified through an in vitro selection process called Systematic Evolution of Ligands by EXponential enrichment (SELEX) to recognize a wide variety of targets, from small molecules to proteins and other macromolecules
2-4
. Aptamers have properties that are well suited for in vivo diagnostic and/or therapeutic applications: Besides good specificity and affinity, they are easily synthesized, survive more rigorous processing conditions, they are poorly immunogenic, and their relatively small size can result in facile penetration of tissues. Aptamers that are identified through the standard SELEX process usually comprise ~80 nucleotides (nt), since they are typically selected from nucleic acid libraries with ~40 nt long randomized regions plus fixed primer sites of ~20 nt on each side. The fixed primer sequences thus can comprise nearly ~50% of the library sequences, and therefore may positively or negatively compromise identification of aptamers in the selection process
3
, although bioinformatics approaches suggest that the fixed sequences do not contribute significantly to aptamer structure after selection
5
. To address these potential problems, primer sequences have been blocked by complementary oligonucleotides or switched to different sequences midway during the rounds of SELEX
6
, or they have been trimmed to 6-9 nt
7, 8
. Wen and Gray
9
designed a primer-free genomic SELEX method, in which the primer sequences were completely removed from the library before selection and were then regenerated to allow amplification of the selected genomic fragments. However, to employ the technique, a unique genomic library has to be constructed, which possesses limited diversity, and regeneration after rounds of selection relies on a linear reamplification step. Alternatively, efforts to circumvent problems caused by fixed primer sequences using high efficiency partitioning are met with problems regarding PCR amplification
10
. We have developed a primer-free (PF) selection method that significantly simplifies SELEX procedures and effectively eliminates primer-interference problems
11, 12
. The protocols work in a straightforward manner. The central random region of the library is purified without extraneous flanking sequences and is bound to a suitable target (for example to a purified protein or complex mixtures such as cell lines). Then the bound sequences are obtained, reunited with flanking sequences, and re-amplified to generate selected sub-libraries. As an example, here we selected aptamers to S100B, a protein marker for melanoma. Binding assays showed Kd s in the 10
-7
- 10
-8
M range after a few rounds of selection, and we demonstrate that the aptamers function effectively in a sandwich binding format.
Cellular Biology, Issue 41, aptamer, selection, S100B, sandwich
2039
Solid-state Graft Copolymer Electrolytes for Lithium Battery Applications
Institutions: Massachusetts Institute of Technology, Massachusetts Institute of Technology.

Battery safety has been a very important research area over the past decade. Commercially available lithium ion batteries employ low flash point (<80 °C), flammable, and volatile organic electrolytes. These organic based electrolyte systems are viable at ambient temperatures, but require a cooling system to ensure that temperatures do not exceed 80 °C. These cooling systems tend to increase battery costs and can malfunction which can lead to battery malfunction and explosions, thus endangering human life. Increases in petroleum prices lead to a huge demand for safe, electric hybrid vehicles that are more economically viable to operate as oil prices continue to rise. Existing organic based electrolytes used in lithium ion batteries are not applicable to high temperature automotive applications. A safer alternative to organic electrolytes is solid polymer electrolytes. This work will highlight the synthesis for a graft copolymer electrolyte (GCE) poly(oxyethylene) methacrylate (POEM) to a block with a lower glass transition temperature (
Tg
) poly(oxyethylene) acrylate (POEA). The conduction mechanism has been discussed and it has been demonstrated the relationship between polymer segmental motion and ionic conductivity indeed has a Vogel-Tammann-Fulcher (VTF) dependence. Batteries containing commercially available LP30 organic (LiPF
6
in ethylene carbonate (EC):dimethyl carbonate (DMC) at a 1:1 ratio) and GCE were cycled at ambient temperature. It was found that at ambient temperature, the batteries containing GCE showed a greater overpotential when compared to LP30 electrolyte. However at temperatures greater than 60 °C, the GCE cell exhibited much lower overpotential due to fast polymer electrolyte conductivity and nearly the full theoretical specific capacity of 170 mAh/g was accessed.
Materials Science, Issue 78, Physics, Chemistry, Chemical Engineering, Chemistry and Materials, Engineering, Lithium Batteries, Polymer Electrolytes, Polyethylene oxide, Graft Copolymer, LiFePO4, synthesis, polymers
50067
Density Gradient Multilayered Polymerization (DGMP): A Novel Technique for Creating Multi-compartment, Customizable Scaffolds for Tissue Engineering
Institutions: University of California, San Diego , University of California, San Diego , University of California, San Diego .

Complex tissue culture matrices, in which types and concentrations of biological stimuli (
e.g.
growth factors, inhibitors, or small molecules) or matrix structure (
e.g.
composition, concentration, or stiffness of the matrix) vary over space, would enable a wide range of investigations concerning how these variables affect cell differentiation, migration, and other phenomena. The major challenge in creating layered matrices is maintaining the structural integrity of layer interfaces without diffusion of individual components from each layer
1
. Current methodologies to achieve this include photopatterning
2-3
, lithography
4
, sequential functionalization5, freeze drying
6
, microfluidics
7
, or centrifugation
8
, many of which require sophisticated instrumentation and technical skills. Others rely on sequential attachment of individual layers, which may lead to delamination of layers
9
. DGMP overcomes these issues by using an inert density modifier such as iodixanol to create layers of varying densities
10
. Since the density modifier can be mixed with any prepolymer or bioactive molecule, DGMP allows each scaffold layer to be customized. Simply varying the concentration of the density modifier prevents mixing of adjacent layers while they remain aqueous. Subsequent single step polymerization gives rise to a structurally continuous multilayered scaffold, in which each layer has distinct chemical and mechanical properties. The density modifier can be easily removed with sufficient rinsing without perturbation of the individual layers or their components. This technique is therefore well suited for creating hydrogels of various sizes, shapes, and materials. A protocol for fabricating a 2D-polyethylene glycol (PEG) gel, in which alternating layers incorporate RGDS-350, is outlined below. We use PEG because it is biocompatible and inert. RGDS, a cell adhesion peptide
11
, is used to demonstrate spatial restriction of a biological cue, and the conjugation of a fluorophore (Alexa Fluor 350) enables us to visually distinguish various layers. This procedure can be adapted for other materials (
e.g.
collagen, hyaluronan, etc.) and can be extended to fabricate 3D gels with some modifications
10
.
Bioengineering, Issue 72, Biomedical Engineering, Tissue Engineering, Cell Culture Techniques, Tissue Culture Techniques, hydrogels, life sciences, bioengineering (general), Scaffolds, hydrogels, cell culture, polyethylene glycol, RGDS
50018
Particles without a Box: Brush-first Synthesis of Photodegradable PEG Star Polymers under Ambient Conditions
Institutions: Massachusetts Institute of Technology.

Convenient methods for the rapid, parallel synthesis of diversely functionalized nanoparticles will enable discovery of novel formulations for drug delivery, biological imaging, and supported catalysis. In this report, we demonstrate parallel synthesis of brush-arm star polymer (BASP) nanoparticles by the "brush-first" method. In this method, a norbornene-terminated poly(ethylene glycol) (PEG) macromonomer (PEG-MM) is first polymerized via ring-opening metathesis polymerization (ROMP) to generate a living brush macroinitiator. Aliquots of this initiator stock solution are added to vials that contain varied amounts of a photodegradable bis-norbornene crosslinker. Exposure to crosslinker initiates a series of kinetically-controlled brush+brush and star+star coupling reactions that ultimately yields BASPs with cores comprised of the crosslinker and coronas comprised of PEG. The final BASP size depends on the amount of crosslinker added. We carry out the synthesis of three BASPs on the benchtop with no special precautions to remove air and moisture. The samples are characterized by gel permeation chromatography (GPC); results agreed closely with our previous report that utilized inert (glovebox) conditions. Key practical features, advantages, and potential disadvantages of the brush-first method are discussed.
Chemistry, Issue 80, Chemical Engineering, Nanoparticles, Polymers, Drug Delivery Systems, Polymerization, polymers, Biomedical and Dental Materials, brush first, polyethylene glycol, photodegradable, ring opening metathesis polymerization, brush polymer, star polymer, drug delivery, gel permeation chromatography, arm first, core functional, photocleavable
50874
Characteristics of Precipitation-formed Polyethylene Glycol Microgels Are Controlled by Molecular Weight of Reactants
Institutions: The University of Akron, Saint Vincent Saint Mary's High School.
This work describes the formation of poly(ethylene glycol) (PEG) microgels via a photopolymerized precipitation reaction. Precipitation reactions offer several advantages over traditional microsphere fabrication techniques. Contrary to emulsion, suspension, and dispersion techniques, microgels formed by precipitation are of uniform shape and size,
i.e.
 low polydispersity index, without the use of organic solvents or stabilizers. The mild conditions of the precipitation reaction, customizable properties of the microgels, and low viscosity for injections make them applicable for
in vivo
purposes. Unlike other fabrication techniques, microgel characteristics can be modified by changing the starting polymer molecular weight. Increasing the starting PEG molecular weight increased microgel diameter and swelling ratio. Further modifications are suggested such as encapsulating molecules during microgel crosslinking. Simple adaptations to the PEG microgel building blocks are explored for future applications of microgels as drug delivery vehicles and tissue engineering scaffolds.
Bioengineering, Issue 82, hydrogels, microgels, polyethylene glycol, molecuar weight, photopolymerized precipitation reaction, polymers, polydispersity index
51002
Surface Passivation for Single-molecule Protein Studies
Institutions: Delft University of Technology, Seoul National University.

Single-molecule fluorescence spectroscopy has proven to be instrumental in understanding a wide range of biological phenomena at the nanoscale. Important examples of what this technique can yield to biological sciences are the mechanistic insights on protein-protein and protein-nucleic acid interactions. When interactions of proteins are probed at the single-molecule level, the proteins or their substrates are often immobilized on a glass surface, which allows for a long-term observation. This immobilization scheme may introduce unwanted surface artifacts. Therefore, it is essential to passivate the glass surface to make it inert. Surface coating using polyethylene glycol (PEG) stands out for its high performance in preventing proteins from non-specifically interacting with a glass surface. However, the polymer coating procedure is difficult, due to the complication arising from a series of surface treatments and the stringent requirement that a surface needs to be free of any fluorescent molecules at the end of the procedure. Here, we provide a robust protocol with step-by-step instructions. It covers surface cleaning including piranha etching, surface functionalization with amine groups, and finally PEG coating. To obtain a high density of a PEG layer, we introduce a new strategy of treating the surface with PEG molecules over two rounds, which remarkably improves the quality of passivation. We provide representative results as well as practical advice for each critical step so that anyone can achieve the high quality surface passivation.
Chemistry, Issue 86, single-molecule spectroscopy, polymer, polyethylene glycol (PEG), piranha etching, amino-silanization, surface passivation, fluorescence, glass surface coating.
50549
Compact Quantum Dots for Single-molecule Imaging
Institutions: Emory University, Georgia Institute of Technology .

Single-molecule imaging is an important tool for understanding the mechanisms of biomolecular function and for visualizing the spatial and temporal heterogeneity of molecular behaviors that underlie cellular biology
1-4
. To image an individual molecule of interest, it is typically conjugated to a fluorescent tag (dye, protein, bead, or quantum dot) and observed with epifluorescence or total internal reflection fluorescence (TIRF) microscopy. While dyes and fluorescent proteins have been the mainstay of fluorescence imaging for decades, their fluorescence is unstable under high photon fluxes necessary to observe individual molecules, yielding only a few seconds of observation before complete loss of signal. Latex beads and dye-labeled beads provide improved signal stability but at the expense of drastically larger hydrodynamic size, which can deleteriously alter the diffusion and behavior of the molecule under study. Quantum dots (QDs) offer a balance between these two problematic regimes. These nanoparticles are composed of semiconductor materials and can be engineered with a hydrodynamically compact size with exceptional resistance to photodegradation
5
. Thus in recent years QDs have been instrumental in enabling long-term observation of complex macromolecular behavior on the single molecule level. However these particles have still been found to exhibit impaired diffusion in crowded molecular environments such as the cellular cytoplasm and the neuronal synaptic cleft, where their sizes are still too large
4,6,7
. Recently we have engineered the cores and surface coatings of QDs for minimized hydrodynamic size, while balancing offsets to colloidal stability, photostability, brightness, and nonspecific binding that have hindered the utility of compact QDs in the past
8,9
. The goal of this article is to demonstrate the synthesis, modification, and characterization of these optimized nanocrystals, composed of an alloyed Hg
x
Cd
1-x
Se core coated with an insulating Cd
y
Zn
1-y
S shell, further coated with a multidentate polymer ligand modified with short polyethylene glycol (PEG) chains (
Figure 1
). Compared with conventional CdSe nanocrystals, Hg
x
Cd
1-x
Se alloys offer greater quantum yields of fluorescence, fluorescence at red and near-infrared wavelengths for enhanced signal-to-noise in cells, and excitation at non-cytotoxic visible wavelengths. Multidentate polymer coatings bind to the nanocrystal surface in a closed and flat conformation to minimize hydrodynamic size, and PEG neutralizes the surface charge to minimize nonspecific binding to cells and biomolecules. The end result is a brightly fluorescent nanocrystal with emission between 550-800 nm and a total hydrodynamic size near 12 nm. This is in the same size range as many soluble globular proteins in cells, and substantially smaller than conventional PEGylated QDs (25-35 nm).
Physics, Issue 68, Biomedical Engineering, Chemistry, Nanotechnology, Nanoparticle, nanocrystal, synthesis, fluorescence, microscopy, imaging, conjugation, dynamics, intracellular, receptor
4236
Engineering a Bilayered Hydrogel to Control ASC Differentiation
Institutions: United States Army Institute of Surgical Research, The University of Texas at Austin.

Natural polymers over the years have gained more importance because of their host biocompatibility and ability to interact with cells
in vitro
and
in vivo.
An area of research that holds promise in regenerative medicine is the combinatorial use of novel biomaterials and stem cells. A fundamental strategy in the field of tissue engineering is the use of three-dimensional scaffold (e.g., decellularized extracellular matrix, hydrogels, micro/nano particles) for directing cell function. This technology has evolved from the discovery that cells need a substrate upon which they can adhere, proliferate, and express their differentiated cellular phenotype and function
2-3
. More recently, it has also been determined that cells not only use these substrates for adherence, but also interact and take cues from the matrix substrate (e.g., extracellular matrix, ECM)
4
. Therefore, the cells and scaffolds have a reciprocal connection that serves to control tissue development, organization, and ultimate function. Adipose-derived stem cells (ASCs) are mesenchymal, non-hematopoetic stem cells present in adipose tissue that can exhibit multi-lineage differentiation and serve as a readily available source of cells (i.e. pre-vascular endothelia and pericytes). Our hypothesis is that adipose-derived stem cells can be directed toward differing phenotypes simultaneously by simply co-culturing them in bilayered matrices
1
. Our laboratory is focused on dermal wound healing. To this end, we created a single composite matrix from the natural biomaterials, fibrin, collagen, and chitosan that can mimic the characteristics and functions of a dermal-specific wound healing ECM environment.
Bioengineering, Issue 63, Biomedical Engineering, Tissue Engineering, chitosan, microspheres, collagen, hydrogel, PEG fibrin, cell delivery, adipose-derived stem cells, ASC, CSM
3953
A Guided Materials Screening Approach for Developing Quantitative Sol-gel Derived Protein Microarrays
Institutions: McMaster University .

Microarrays have found use in the development of high-throughput assays for new materials and discovery of small-molecule drug leads. Herein we describe a guided material screening approach to identify sol-gel based materials that are suitable for producing three-dimensional protein microarrays. The approach first identifies materials that can be printed as microarrays, narrows down the number of materials by identifying those that are compatible with a given enzyme assay, and then hones in on optimal materials based on retention of maximum enzyme activity. This approach is applied to develop microarrays suitable for two different enzyme assays, one using acetylcholinesterase and the other using a set of four key kinases involved in cancer. In each case, it was possible to produce microarrays that could be used for quantitative small-molecule screening assays and production of dose-dependent inhibitor response curves. Importantly, the ability to screen many materials produced information on the types of materials that best suited both microarray production and retention of enzyme activity. The materials data provide insight into basic material requirements necessary for tailoring optimal, high-density sol-gel derived microarrays.
Chemistry, Issue 78, Biochemistry, Chemical Engineering, Molecular Biology, Genetics, Bioengineering, Biomedical Engineering, Chemical Biology, Biocompatible Materials, Siloxanes, Enzymes, Immobilized, chemical analysis techniques, chemistry (general), materials (general), spectroscopic analysis (chemistry), polymer matrix composites, testing of materials (composite materials), Sol-gel, microarray, high-throughput screening, acetylcholinesterase, kinase, drug discovery, assay
50689
Electrophoretic Separation of Proteins
Institutions: Keck Graduate Institute of Applied Life Sciences.

Electrophoresis is used to separate complex mixtures of proteins (e.g., from cells, subcellular fractions, column fractions, or immunoprecipitates), to investigate subunit compositions, and to verify homogeneity of protein samples. It can also serve to purify proteins for use in further applications. In polyacrylamide gel electrophoresis, proteins migrate in response to an electrical field through pores in a polyacrylamide gel matrix; pore size decreases with increasing acrylamide concentration. The combination of pore size and protein charge, size, and shape determines the migration rate of the protein. In this unit, the standard Laemmli method is described for discontinuous gel electrophoresis under denaturing conditions, i.e., in the presence of sodium dodecyl sulfate (SDS).
Basic Protocols, Issue 16, Current Protocols Wiley, Electrophoresis, Biochemistry, Protein Separage, Polyacrylamide Gel Electrophoresis, PAGE
758
Procedure for Fabricating Biofunctional Nanofibers
Institutions: Clark Atlanta University, Clark Atlanta University, Cornell University.

Electrospinning is an effective processing method for preparing nanofibers decorated with functional groups. Nanofibers decorated with functional groups may be utilized to study material-biomarker interactions
i.e.
act as biosensors with potential as single molecule detectors. We have developed an effective approach for preparing functional polymers where the functionality has the capacity of specifically binding with a model protein. In our model system, the functional group is 2,4-dinitrophenyl (DNP) and the protein is anti-DNP IgE (Immunoglobulin E). The functional polymer, α,ω-bi[2,4-dinitrophenyl caproic][poly(ethylene oxide)-b-poly(2-methoxystyrene)-b-poly(ethylene oxide)] (CDNP-PEO-P2MS-PEO-CDNP), is prepared by anionic living polymerization. The difunctional initiator utilized in the polymerization was prepared by electron transfer reaction of α-methylstyrene and potassium (mirror) metal. The 2-methoxystyrene monomer was added first to the initiator, followed by the addition of the second monomer, ethylene oxide, and finally the living polymer was terminated by methanol. The α,ω-dihydroxyl polymer [HO-PEO-P2MS-PEO-OH] was reacted with N-2,4-DNP-∈-amino caproic acid, by DCC coupling, resulting in the formation of α,ω-bi[2,4-dinitrophenylcaproic][poly(ethyleneoxide)-b-poly(2-methoxystyrene)-b-poly(ethylene oxide)] (CDNP-PEO-P2MS-PEO-CDNP). The polymers were characterized by FT-IR,
1
H NMR and Gel Permeation Chromatography (GPC). The molecular weight distributions of the polymers were narrow (1.1-1.2) and polymers with molecular weights greater than 50,000 was used in this study. The polymers were yellow powders and soluble in tetrahydrofuran. A water soluble CDNP-PEO-P2MS-PEO-CDNP/ DMEG (dimethoxyethylene glycol) complex binds and achieves steady state binding with solution IgE within a few seconds. Higher molecular weight (water insoluble
i.e.
around 50,000) CDNP-PEO-P2MS-PEO-CDNP polymers, containing 1% single wall carbon nanotubes (SWCNT) were processed into electroactive nanofibers (100 nm to 500 nm in diameter) on silicon substrate. Fluorescence spectroscopy shows that anti-DNP IgE interacts with the nanofibers by binding with the DNP functional groups decorating the fibers. These observations suggest that appropriately functionalized nanofibers hold promise for developing biomarker detection device.
Chemistry, Issue 67, Bioengineering, Physics, Molecular Biology, Biomedical Engineering, Living polymerization, NMR Spectroscopy, Electrospinning, Nanofibers, I-V behavior, Biosensor, confocal microscopy
4135
Insertion of Flexible Neural Probes Using Rigid Stiffeners Attached with Biodissolvable Adhesive
Institutions: Lawrence Livermore National Laboratory, University of California, San Francisco.

Microelectrode arrays for neural interface devices that are made of biocompatible thin-film polymer are expected to have extended functional lifetime because the flexible material may minimize adverse tissue response caused by micromotion. However, their flexibility prevents them from being accurately inserted into neural tissue. This article demonstrates a method to temporarily attach a flexible microelectrode probe to a rigid stiffener using biodissolvable polyethylene glycol (PEG) to facilitate precise, surgical insertion of the probe. A unique stiffener design allows for uniform distribution of the PEG adhesive along the length of the probe. Flip-chip bonding, a common tool used in microelectronics packaging, enables accurate and repeatable alignment and attachment of the probe to the stiffener. The probe and stiffener are surgically implanted together, then the PEG is allowed to dissolve so that the stiffener can be extracted leaving the probe in place. Finally, an
in vitro
test method is used to evaluate stiffener extraction in an agarose gel model of brain tissue. This approach to implantation has proven particularly advantageous for longer flexible probes (>3 mm). It also provides a feasible method to implant dual-sided flexible probes. To date, the technique has been used to obtain various
in vivo
recording data from the rat cortex.
Bioengineering, Issue 79, Nervous System Diseases, Surgical Procedures, Operative, Investigative Techniques, Nonmetallic Materials, Engineering (General), neural interfaces, polymer neural probes, surgical insertion, polyethylene glycol, microelectrode arrays, chronic implantation
50609
Microwave-assisted Functionalization of Poly(ethylene glycol) and On-resin Peptides for Use in Chain Polymerizations and Hydrogel Formation
Institutions: University of Rochester, University of Rochester, University of Rochester Medical Center.

One of the main benefits to using poly(ethylene glycol) (PEG) macromers in hydrogel formation is synthetic versatility. The ability to draw from a large variety of PEG molecular weights and configurations (arm number, arm length, and branching pattern) affords researchers tight control over resulting hydrogel structures and properties, including Young's modulus and mesh size. This video will illustrate a rapid, efficient, solvent-free, microwave-assisted method to methacrylate PEG precursors into poly(ethylene glycol) dimethacrylate (PEGDM). This synthetic method provides much-needed starting materials for applications in drug delivery and regenerative medicine. The demonstrated method is superior to traditional methacrylation methods as it is significantly faster and simpler, as well as more economical and environmentally friendly, using smaller amounts of reagents and solvents. We will also demonstrate an adaptation of this technique for on-resin methacrylamide functionalization of peptides. This on-resin method allows the N-terminus of peptides to be functionalized with methacrylamide groups prior to deprotection and cleavage from resin. This allows for selective addition of methacrylamide groups to the N-termini of the peptides while amino acids with reactive side groups (
e.g.
 primary amine of lysine, primary alcohol of serine, secondary alcohols of threonine, and phenol of tyrosine) remain protected, preventing functionalization at multiple sites. This article will detail common analytical methods (proton Nuclear Magnetic Resonance spectroscopy (
;
H-NMR) and Matrix Assisted Laser Desorption Ionization Time of Flight mass spectrometry (MALDI-ToF)) to assess the efficiency of the functionalizations. Common pitfalls and suggested troubleshooting methods will be addressed, as will modifications of the technique which can be used to further tune macromer functionality and resulting hydrogel physical and chemical properties. Use of synthesized products for the formation of hydrogels for drug delivery and cell-material interaction studies will be demonstrated, with particular attention paid to modifying hydrogel composition to affect mesh size, controlling hydrogel stiffness and drug release.
Chemistry, Issue 80, Poly(ethylene glycol), peptides, polymerization, polymers, methacrylation, peptide functionalization, 1H-NMR, MALDI-ToF, hydrogels, macromer synthesis
50890
RNA Secondary Structure Prediction Using High-throughput SHAPE
Institutions: Frederick National Laboratory for Cancer Research.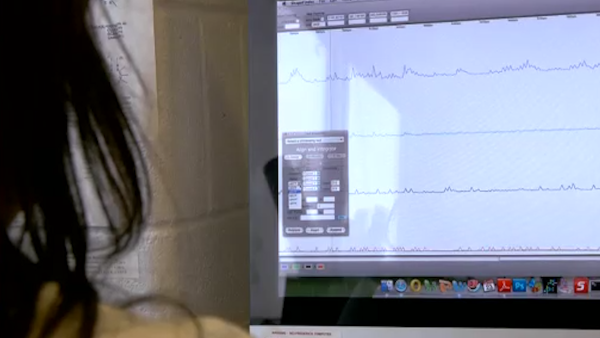 Understanding the function of RNA involved in biological processes requires a thorough knowledge of RNA structure. Toward this end, the methodology dubbed "high-throughput selective 2' hydroxyl acylation analyzed by primer extension", or SHAPE, allows prediction of RNA secondary structure with single nucleotide resolution. This approach utilizes chemical probing agents that preferentially acylate single stranded or flexible regions of RNA in aqueous solution. Sites of chemical modification are detected by reverse transcription of the modified RNA, and the products of this reaction are fractionated by automated capillary electrophoresis (CE). Since reverse transcriptase pauses at those RNA nucleotides modified by the SHAPE reagents, the resulting cDNA library indirectly maps those ribonucleotides that are single stranded in the context of the folded RNA. Using ShapeFinder software, the electropherograms produced by automated CE are processed and converted into nucleotide reactivity tables that are themselves converted into pseudo-energy constraints used in the RNAStructure (v5.3) prediction algorithm. The two-dimensional RNA structures obtained by combining SHAPE probing with
in silico
RNA secondary structure prediction have been found to be far more accurate than structures obtained using either method alone.
Genetics, Issue 75, Molecular Biology, Biochemistry, Virology, Cancer Biology, Medicine, Genomics, Nucleic Acid Probes, RNA Probes, RNA, High-throughput SHAPE, Capillary electrophoresis, RNA structure, RNA probing, RNA folding, secondary structure, DNA, nucleic acids, electropherogram, synthesis, transcription, high throughput, sequencing
50243
Purifying the Impure: Sequencing Metagenomes and Metatranscriptomes from Complex Animal-associated Samples
Institutions: San Diego State University, DOE Joint Genome Institute, University of Colorado, University of Colorado.

The accessibility of high-throughput sequencing has revolutionized many fields of biology. In order to better understand host-associated viral and microbial communities, a comprehensive workflow for DNA and RNA extraction was developed. The workflow concurrently generates viral and microbial metagenomes, as well as metatranscriptomes, from a single sample for next-generation sequencing. The coupling of these approaches provides an overview of both the taxonomical characteristics and the community encoded functions. The presented methods use Cystic Fibrosis (CF) sputum, a problematic sample type, because it is exceptionally viscous and contains high amount of mucins, free neutrophil DNA, and other unknown contaminants. The protocols described here target these problems and successfully recover viral and microbial DNA with minimal human DNA contamination. To complement the metagenomics studies, a metatranscriptomics protocol was optimized to recover both microbial and host mRNA that contains relatively few ribosomal RNA (rRNA) sequences. An overview of the data characteristics is presented to serve as a reference for assessing the success of the methods. Additional CF sputum samples were also collected to (i) evaluate the consistency of the microbiome profiles across seven consecutive days within a single patient, and (ii) compare the consistency of metagenomic approach to a 16S ribosomal RNA gene-based sequencing. The results showed that daily fluctuation of microbial profiles without antibiotic perturbation was minimal and the taxonomy profiles of the common CF-associated bacteria were highly similar between the 16S rDNA libraries and metagenomes generated from the hypotonic lysis (HL)-derived DNA. However, the differences between 16S rDNA taxonomical profiles generated from total DNA and HL-derived DNA suggest that hypotonic lysis and the washing steps benefit in not only removing the human-derived DNA, but also microbial-derived extracellular DNA that may misrepresent the actual microbial profiles.
Molecular Biology, Issue 94, virome, microbiome, metagenomics, metatranscriptomics, cystic fibrosis, mucosal-surface
52117
Metabolic Labeling of Newly Transcribed RNA for High Resolution Gene Expression Profiling of RNA Synthesis, Processing and Decay in Cell Culture
Institutions: Max von Pettenkofer Institute, University of Cambridge, Ludwig-Maximilians-University Munich.

The development of whole-transcriptome microarrays and next-generation sequencing has revolutionized our understanding of the complexity of cellular gene expression. Along with a better understanding of the involved molecular mechanisms, precise measurements of the underlying kinetics have become increasingly important. Here, these powerful methodologies face major limitations due to intrinsic properties of the template samples they study,
i.e.
total cellular RNA. In many cases changes in total cellular RNA occur either too slowly or too quickly to represent the underlying molecular events and their kinetics with sufficient resolution. In addition, the contribution of alterations in RNA synthesis, processing, and decay are not readily differentiated. We recently developed high-resolution gene expression profiling to overcome these limitations. Our approach is based on metabolic labeling of newly transcribed RNA with 4-thiouridine (thus also referred to as 4sU-tagging) followed by rigorous purification of newly transcribed RNA using thiol-specific biotinylation and streptavidin-coated magnetic beads. It is applicable to a broad range of organisms including vertebrates,
Drosophila
, and yeast. We successfully applied 4sU-tagging to study real-time kinetics of transcription factor activities, provide precise measurements of RNA half-lives, and obtain novel insights into the kinetics of RNA processing. Finally, computational modeling can be employed to generate an integrated, comprehensive analysis of the underlying molecular mechanisms.
Genetics, Issue 78, Cellular Biology, Molecular Biology, Microbiology, Biochemistry, Eukaryota, Investigative Techniques, Biological Phenomena, Gene expression profiling, RNA synthesis, RNA processing, RNA decay, 4-thiouridine, 4sU-tagging, microarray analysis, RNA-seq, RNA, DNA, PCR, sequencing
50195
A Restriction Enzyme Based Cloning Method to Assess the In vitro Replication Capacity of HIV-1 Subtype C Gag-MJ4 Chimeric Viruses
Institutions: Emory University, Emory University.

The protective effect of many HLA class I alleles on HIV-1 pathogenesis and disease progression is, in part, attributed to their ability to target conserved portions of the HIV-1 genome that escape with difficulty. Sequence changes attributed to cellular immune pressure arise across the genome during infection, and if found within conserved regions of the genome such as Gag, can affect the ability of the virus to replicate
in vitro
. Transmission of HLA-linked polymorphisms in Gag to HLA-mismatched recipients has been associated with reduced set point viral loads. We hypothesized this may be due to a reduced replication capacity of the virus. Here we present a novel method for assessing the
in vitro
replication of HIV-1 as influenced by the
gag
gene isolated from acute time points from subtype C infected Zambians. This method uses restriction enzyme based cloning to insert the
gag
gene into a common subtype C HIV-1 proviral backbone, MJ4. This makes it more appropriate to the study of subtype C sequences than previous recombination based methods that have assessed the
in vitro
replication of chronically derived
gag-pro
sequences. Nevertheless, the protocol could be readily modified for studies of viruses from other subtypes. Moreover, this protocol details a robust and reproducible method for assessing the replication capacity of the Gag-MJ4 chimeric viruses on a CEM-based T cell line. This method was utilized for the study of Gag-MJ4 chimeric viruses derived from 149 subtype C acutely infected Zambians, and has allowed for the identification of residues in Gag that affect replication. More importantly, the implementation of this technique has facilitated a deeper understanding of how viral replication defines parameters of early HIV-1 pathogenesis such as set point viral load and longitudinal CD4+ T cell decline.
Infectious Diseases, Issue 90, HIV-1, Gag, viral replication, replication capacity, viral fitness, MJ4, CEM, GXR25
51506
Analysis of RNA Processing Reactions Using Cell Free Systems: 3' End Cleavage of Pre-mRNA Substrates in vitro
Institutions: The Scripps Research Institute, City College of New York.

The 3' end of mammalian mRNAs is not formed by abrupt termination of transcription by RNA polymerase II (RNPII). Instead, RNPII synthesizes precursor mRNA beyond the end of mature RNAs, and an active process of endonuclease activity is required at a specific site. Cleavage of the precursor RNA normally occurs 10-30 nt downstream from the consensus polyA site (AAUAAA) after the CA dinucleotides. Proteins from the cleavage complex, a multifactorial protein complex of approximately 800 kDa, accomplish this specific nuclease activity. Specific RNA sequences upstream and downstream of the polyA site control the recruitment of the cleavage complex. Immediately after cleavage, pre-mRNAs are polyadenylated by the polyA polymerase (PAP) to produce mature stable RNA messages. Processing of the 3' end of an RNA transcript may be studied using cellular nuclear extracts with specific radiolabeled RNA substrates. In sum, a long
32
P-labeled uncleaved precursor RNA is incubated with nuclear extracts
in vitro
, and cleavage is assessed by gel electrophoresis and autoradiography. When proper cleavage occurs, a shorter 5' cleaved product is detected and quantified. Here, we describe the cleavage assay in detail using, as an example, the 3' end processing of HIV-1 mRNAs.
Infectious Diseases, Issue 87, Cleavage, Polyadenylation, mRNA processing, Nuclear extracts, 3' Processing Complex
51309
Non-radioactive in situ Hybridization Protocol Applicable for Norway Spruce and a Range of Plant Species
Institutions: Uppsala University, Swedish University of Agricultural Sciences.

The high-throughput expression analysis technologies available today give scientists an overflow of expression profiles but their resolution in terms of tissue specific expression is limited because of problems in dissecting individual tissues. Expression data needs to be confirmed and complemented with expression patterns using e.g.
in situ
hybridization, a technique used to localize cell specific mRNA expression. The
in situ
hybridization method is laborious, time-consuming and often requires extensive optimization depending on species and tissue.
In situ
experiments are relatively more difficult to perform in woody species such as the conifer Norway spruce (
Picea abies
). Here we present a modified DIG
in situ
hybridization protocol, which is fast and applicable on a wide range of plant species including
P. abies
. With just a few adjustments, including altered RNase treatment and proteinase K concentration, we could use the protocol to study tissue specific expression of homologous genes in male reproductive organs of one gymnosperm and two angiosperm species;
P. abies, Arabidopsis thaliana
and
Brassica napus
. The protocol worked equally well for the species and genes studied.
AtAP3
and
BnAP3
were observed in second and third whorl floral organs in
A. thaliana
and
B. napus
and DAL13 in microsporophylls of male cones from
P. abies
. For
P. abies
the proteinase K concentration, used to permeablize the tissues, had to be increased to 3 g/ml instead of 1 g/ml, possibly due to more compact tissues and higher levels of phenolics and polysaccharides. For all species the RNase treatment was removed due to reduced signal strength without a corresponding increase in specificity. By comparing tissue specific expression patterns of homologous genes from both flowering plants and a coniferous tree we demonstrate that the DIG
in situ
protocol presented here, with only minute adjustments, can be applied to a wide range of plant species. Hence, the protocol avoids both extensive species specific optimization and the laborious use of radioactively labeled probes in favor of DIG labeled probes. We have chosen to illustrate the technically demanding steps of the protocol in our film. Anna Karlgren and Jenny Carlsson contributed equally to this study. Corresponding authors: Anna Karlgren at Anna.Karlgren@ebc.uu.se and Jens F. Sundström at Jens.Sundstrom@vbsg.slu.se
Plant Biology, Issue 26, RNA, expression analysis, Norway spruce, Arabidopsis, rapeseed, conifers
1205
Scalable High Throughput Selection From Phage-displayed Synthetic Antibody Libraries
Institutions: The Recombinant Antibody Network, University of Toronto, University of California, San Francisco at Mission Bay, The University of Chicago.

The demand for antibodies that fulfill the needs of both basic and clinical research applications is high and will dramatically increase in the future. However, it is apparent that traditional monoclonal technologies are not alone up to this task. This has led to the development of alternate methods to satisfy the demand for high quality and renewable affinity reagents to all accessible elements of the proteome. Toward this end, high throughput methods for conducting selections from phage-displayed synthetic antibody libraries have been devised for applications involving diverse antigens and optimized for rapid throughput and success. Herein, a protocol is described in detail that illustrates with video demonstration the parallel selection of Fab-phage clones from high diversity libraries against hundreds of targets using either a manual 96 channel liquid handler or automated robotics system. Using this protocol, a single user can generate hundreds of antigens, select antibodies to them in parallel and validate antibody binding within 6-8 weeks. Highlighted are: i) a viable antigen format, ii) pre-selection antigen characterization, iii) critical steps that influence the selection of specific and high affinity clones, and iv) ways of monitoring selection effectiveness and early stage antibody clone characterization. With this approach, we have obtained synthetic antibody fragments (Fabs) to many target classes including single-pass membrane receptors, secreted protein hormones, and multi-domain intracellular proteins. These fragments are readily converted to full-length antibodies and have been validated to exhibit high affinity and specificity. Further, they have been demonstrated to be functional in a variety of standard immunoassays including Western blotting, ELISA, cellular immunofluorescence, immunoprecipitation and related assays. This methodology will accelerate antibody discovery and ultimately bring us closer to realizing the goal of generating renewable, high quality antibodies to the proteome.
Immunology, Issue 95, Bacteria, Viruses, Amino Acids, Peptides, and Proteins, Nucleic Acids, Nucleotides, and Nucleosides, Life Sciences (General), phage display, synthetic antibodies, high throughput, antibody selection, scalable methodology
51492
Denaturing Urea Polyacrylamide Gel Electrophoresis (Urea PAGE)
Institutions: Nanyang Technological University, Singapore - NTU, Singapore-MIT Alliance for Reserach and Technology (SMART).

Urea PAGE or denaturing urea polyacrylamide gel electrophoresis employs 6-8 M urea, which denatures secondary DNA or RNA structures and is used for their separation in a polyacrylamide gel matrix based on the molecular weight. Fragments between 2 to 500 bases, with length differences as small as a single nucleotide, can be separated using this method
1
. The migration of the sample is dependent on the chosen acrylamide concentration. A higher percentage of polyacrylamide resolves lower molecular weight fragments. The combination of urea and temperatures of 45-55 °C during the gel run allows for the separation of unstructured DNA or RNA molecules. In general this method is required to analyze or purify single stranded DNA or RNA fragments, such as synthesized or labeled oligonucleotides or products from enzymatic cleavage reactions. In this video article we show how to prepare and run the denaturing urea polyacrylamide gels. Technical tips are included, in addition to the original protocol
1,2
.
Molecular Biology, Issue 32, DNA & RNA analysis, denaturing urea polyacrylamide gel electrophoresis, Protocols
1485
Agarose Gel Electrophoresis for the Separation of DNA Fragments
Institutions: University of California Los Angeles .
Agarose gel electrophoresis is the most effective way of separating DNA fragments of varying sizes ranging from 100 bp to 25 kb
1
. Agarose is isolated from the seaweed genera
Gelidium
and
Gracilaria
, and consists of repeated agarobiose (L- and D-galactose) subunits
2
. During gelation, agarose polymers associate non-covalently and form a network of bundles whose pore sizes determine a gel's molecular sieving properties. The use of agarose gel electrophoresis revolutionized the separation of DNA. Prior to the adoption of agarose gels, DNA was primarily separated using sucrose density gradient centrifugation, which only provided an approximation of size. To separate DNA using agarose gel electrophoresis, the DNA is loaded into pre-cast wells in the gel and a current applied. The phosphate backbone of the DNA (and RNA) molecule is negatively charged, therefore when placed in an electric field, DNA fragments will migrate to the positively charged anode. Because DNA has a uniform mass/charge ratio, DNA molecules are separated by size within an agarose gel in a pattern such that the distance traveled is inversely proportional to the log of its molecular weight
3
. The leading model for DNA movement through an agarose gel is "biased reptation", whereby the leading edge moves forward and pulls the rest of the molecule along
4
. The rate of migration of a DNA molecule through a gel is determined by the following: 1) size of DNA molecule; 2) agarose concentration; 3) DNA conformation
5
; 4) voltage applied, 5) presence of ethidium bromide, 6) type of agarose and 7) electrophoresis buffer. After separation, the DNA molecules can be visualized under uv light after staining with an appropriate dye. By following this protocol, students should be able to: 1. Understand the mechanism by which DNA fragments are separated within a gel matrix 2. Understand how conformation of the DNA molecule will determine its mobility through a gel matrix 3. Identify an agarose solution of appropriate concentration for their needs 4. Prepare an agarose gel for electrophoresis of DNA samples 5. Set up the gel electrophoresis apparatus and power supply 6. Select an appropriate voltage for the separation of DNA fragments 7. Understand the mechanism by which ethidium bromide allows for the visualization of DNA bands 8. Determine the sizes of separated DNA fragments  
Genetics, Issue 62, Gel electrophoresis, agarose, DNA separation, ethidium bromide
3923
Polymalic Acid-based Nano Biopolymers for Targeting of Multiple Tumor Markers: An Opportunity for Personalized Medicine?
Institutions: Cedars-Sinai Medical Center.
Tumors with similar grade and morphology often respond differently to the same treatment because of variations in molecular profiling. To account for this diversity, personalized medicine is developed for silencing malignancy associated genes. Nano drugs fit these needs by targeting tumor and delivering antisense oligonucleotides for silencing of genes. As drugs for the treatment are often administered repeatedly, absence of toxicity and negligible immune response are desirable. In the example presented here, a nano medicine is synthesized from the biodegradable, non-toxic and non-immunogenic platform polymalic acid by controlled chemical ligation of antisense oligonucleotides and tumor targeting molecules. The synthesis and treatment is exemplified for human Her2-positive breast cancer using an experimental mouse model. The case can be translated towards synthesis and treatment of other tumors.
Chemistry, Issue 88, Cancer treatment, personalized medicine, polymalic acid, nanodrug, biopolymer, targeting, host compatibility, biodegradability
50668