ABSTRACT
Photocatalytically active nanostructures require a large specific surface area with the presence of many catalytically active sites for the oxidation and reduction half reactions, and fast electron (hole) diffusion and charge separation. Nanowires present suitable architectures to meet these requirements. Axially segmented Ag|ZnO and radially segmented (coaxial) TiO2-Ag nanowires with a diameter of 200 nm and a length of 6-20 µm were made by templated electrodeposition within the pores of polycarbonate track-etched (PCTE) or anodized aluminum oxide (AAO) membranes, respectively. In the photocatalytic experiments, the ZnO and TiO2 phases acted as photoanodes, and Ag as cathode. No external circuit is needed to connect both electrodes, which is a key advantage over conventional photo-electrochemical cells. For making segmented Ag|ZnO nanowires, the Ag salt electrolyte was replaced after formation of the Ag segment to form a ZnO segment attached to the Ag segment. For making coaxial TiO2-Ag nanowires, a TiO2 gel was first formed by the electrochemically induced sol-gel method. Drying and thermal annealing of the as-formed TiO2 gel resulted in the formation of crystalline TiO2 nanotubes. A subsequent Ag electrodeposition step inside the TiO2 nanotubes resulted in formation of coaxial TiO2-Ag nanowires. Due to the combination of an n-type semiconductor (ZnO or TiO2) and a metal (Ag) within the same nanowire, a Schottky barrier was created at the interface between the phases. To demonstrate the photocatalytic activity of these nanowires, the Ag|ZnO nanowires were used in a photocatalytic experiment in which H2 gas was detected upon UV illumination of the nanowires dispersed in a methanol/water mixture. After 17 min of illumination, approximately 0.2 vol% H2 gas was detected from a suspension of ~0.1 g of Ag|ZnO nanowires in a 50 ml 80 vol% aqueous methanol solution.
16 Related JoVE Articles!
Scanning-probe Single-electron Capacitance Spectroscopy
Institutions: Michigan State University, Mercyhurst University, Saint Louis University, Massachusetts Institute of Technology.
The integration of low-temperature scanning-probe techniques and single-electron capacitance spectroscopy represents a powerful tool to study the electronic quantum structure of small systems - including individual atomic dopants in semiconductors. Here we present a capacitance-based method, known as Subsurface Charge Accumulation (SCA) imaging, which is capable of resolving single-electron charging while achieving sufficient spatial resolution to image individual atomic dopants. The use of a capacitance technique enables observation of subsurface features, such as dopants buried many nanometers beneath the surface of a semiconductor material
1,2,3
. In principle, this technique can be applied to any system to resolve electron motion below an insulating surface. As in other electric-field-sensitive scanned-probe techniques
4
, the lateral spatial resolution of the measurement depends in part on the radius of curvature of the probe tip. Using tips with a small radius of curvature can enable spatial resolution of a few tens of nanometers. This fine spatial resolution allows investigations of small numbers (down to one) of subsurface dopants
1,2
. The charge resolution depends greatly on the sensitivity of the charge detection circuitry; using high electron mobility transistors (HEMT) in such circuits at cryogenic temperatures enables a sensitivity of approximately 0.01 electrons/Hz
½
at 0.3 K
5
.
Physics, Issue 77, Biophysics, Molecular Biology, Cellular Biology, Microscopy, Scanning Probe, Nanotechnology, Physics, Electronics, acceptors (solid state), donors (solid state), Solid-State Physics, tunneling microscopy, scanning capacitance microscopy, subsurface charge accumulation imaging, capacitance spectroscopy, scanning probe microscopy, single-electron spectroscopy, imaging
50676
Measurement of Coherence Decay in GaMnAs Using Femtosecond Four-wave Mixing
Institutions: Dalhousie University, University of Notre Dame.
The application of femtosecond four-wave mixing to the study of fundamental properties of diluted magnetic semiconductors ((s,p)-d hybridization, spin-flip scattering) is described, using experiments on GaMnAs as a prototype III-Mn-V system.  Spectrally-resolved and time-resolved experimental configurations are described, including the use of zero-background autocorrelation techniques for pulse optimization.  The etching process used to prepare GaMnAs samples for four-wave mixing experiments is also highlighted.  The high temporal resolution of this technique, afforded by the use of short (20 fsec) optical pulses, permits the rapid spin-flip scattering process in this system to be studied directly in the time domain, providing new insight into the strong exchange coupling responsible for carrier-mediated ferromagnetism.  We also show that spectral resolution of the four-wave mixing signal allows one to extract clear signatures of (s,p)-d hybridization in this system, unlike linear spectroscopy techniques.   This increased sensitivity is due to the nonlinearity of the technique, which suppresses defect-related contributions to the optical response. This method may be used to measure the time scale for coherence decay (tied to the fastest scattering processes) in a wide variety of semiconductor systems of interest for next generation electronics and optoelectronics.
Physics, Issue 82, Four-wave mixing, spin-flip scattering, ultrafast, GaMnAs, diluted magnetic semiconductor, photon echo, dephasing, GaAs, low temperature grown semiconductor, exchange, ferromagnetic
51094
Fabrication of Nano-engineered Transparent Conducting Oxides by Pulsed Laser Deposition
Institutions: Politecnico di Milano, Instituto Italiano di Tecnologia.
Nanosecond Pulsed Laser Deposition (PLD) in the presence of a background gas allows the deposition of metal oxides with tunable morphology, structure, density and stoichiometry by a proper control of the plasma plume expansion dynamics. Such versatility can be exploited to produce nanostructured films from compact and dense to nanoporous characterized by a hierarchical assembly of nano-sized clusters. In particular we describe the detailed methodology to fabricate two types of Al-doped ZnO (AZO) films as transparent electrodes in photovoltaic devices: 1) at low O
2
pressure, compact films with electrical conductivity and optical transparency close to the state of the art transparent conducting oxides (TCO) can be deposited at room temperature, to be compatible with thermally sensitive materials such as polymers used in organic photovoltaics (OPVs); 2) highly light scattering hierarchical structures resembling a forest of nano-trees are produced at higher pressures. Such structures show high Haze factor (>80%) and may be exploited to enhance the light trapping capability. The method here described for AZO films can be applied to other metal oxides relevant for technological applications such as TiO
2
, Al
2
O
3
, WO
3
and Ag
4
O
4
.
Materials Science, Issue 72, Physics, Nanotechnology, Nanoengineering, Oxides, thin films, thin film theory, deposition and growth, Pulsed laser Deposition (PLD), Transparent conducting oxides (TCO), Hierarchically organized Nanostructured oxides, Al doped ZnO (AZO) films, enhanced light scattering capability, gases, deposition, nanoporus, nanoparticles, Van der Pauw, scanning electron microscopy, SEM
50297
Quantifying Mixing using Magnetic Resonance Imaging
Institutions: University of California, Davis, Procter & Gamble Company.

Mixing is a unit operation that combines two or more components into a homogeneous mixture. This work involves mixing two viscous liquid streams using an in-line static mixer. The mixer is a split-and-recombine design that employs shear and extensional flow to increase the interfacial contact between the components. A prototype split-and-recombine (SAR) mixer was constructed by aligning a series of thin laser-cut Poly (methyl methacrylate) (PMMA) plates held in place in a PVC pipe. Mixing in this device is illustrated in the photograph in
Fig. 1
. Red dye was added to a portion of the test fluid and used as the minor component being mixed into the major (undyed) component. At the inlet of the mixer, the injected layer of tracer fluid is split into two layers as it flows through the mixing section. On each subsequent mixing section, the number of horizontal layers is duplicated. Ultimately, the single stream of dye is uniformly dispersed throughout the cross section of the device. Using a non-Newtonian test fluid of 0.2% Carbopol and a doped tracer fluid of similar composition, mixing in the unit is visualized using magnetic resonance imaging (MRI). MRI is a very powerful experimental probe of molecular chemical and physical environment as well as sample structure on the length scales from microns to centimeters. This sensitivity has resulted in broad application of these techniques to characterize physical, chemical and/or biological properties of materials ranging from humans to foods to porous media
1, 2
. The equipment and conditions used here are suitable for imaging liquids containing substantial amounts of NMR mobile
1
H such as ordinary water and organic liquids including oils. Traditionally MRI has utilized super conducting magnets which are not suitable for industrial environments and not portable within a laboratory (
Fig. 2
). Recent advances in magnet technology have permitted the construction of large volume industrially compatible magnets suitable for imaging process flows. Here, MRI provides spatially resolved component concentrations at different axial locations during the mixing process. This work documents real-time mixing of highly viscous fluids via distributive mixing with an application to personal care products.
Biophysics, Issue 59, Magnetic resonance imaging, MRI, mixing, rheology, static mixer, split-and-recombine mix
3493
Solubilization and Bio-conjugation of Quantum Dots and Bacterial Toxicity Assays by Growth Curve and Plate Count
Institutions: McGill University, Montreal, QC Canada.

Quantum dots (QDs) are fluorescent semiconductor nanoparticles with size-dependent emission spectra that can be excited by a broad choice of wavelengths. QDs have attracted a lot of interest for imaging, diagnostics, and therapy due to their bright, stable fluorescence
1,2 3,4,5
. QDs can be conjugated to a variety of bio-active molecules for binding to bacteria and mammalian cells
6
. QDs are also being widely investigated as cytotoxic agents for targeted killing of bacteria. The emergence of multiply-resistant bacterial strains is rapidly becoming a public health crisis, particularly in the case of Gram negative pathogens
7
. Because of the well-known antimicrobial effect of certain nanomaterials, especially Ag, there are hundreds of studies examining the toxicity of nanoparticles to bacteria
8
. Bacterial studies have been performed with other types of semiconductor nanoparticles as well, especially TiO
2
9,10-11
, but also ZnO
12
and others including CuO
13
. Some comparisons of bacterial strains have been performed in these studies, usually comparing a Gram negative strain with a Gram positive. With all of these particles, mechanisms of toxicity are attributed to oxidation: either the photogeneration of reactive oxygen species (ROS) by the particles or the direct release of metal ions that can cause oxidative toxicity. Even with these materials, results of different studies vary greatly. In some studies the Gram positive test strain is reportedly more sensitive than the Gram negative
10
; in others it is the opposite
14
. These studies have been well reviewed
15
. In all nanoparticle studies, particle composition, size, surface chemistry, sample aging/breakdown, and wavelength, power, and duration of light exposure can all dramatically affect the results. In addition, synthesis byproducts and solvents must be considered
16 17
. High-throughput screening techniques are needed to be able to develop effective new nanomedicine agents. CdTe QDs have anti-microbial effects alone
18
or in combination with antibiotics. In a previous study, we showed that coupling of antibiotics to CdTe can increase toxicity to bacteria but decrease toxicity to mammalian cells, due to decreased production of reactive oxygen species from the conjugates
19
. Although it is unlikely that cadmium-containing compounds will be approved for use in humans, such preparations could be used for disinfection of surfaces or sterilization of water. In this protocol, we give a straightforward approach to solubilizing CdTe QDs with mercaptopropionic acid (MPA). The QDs are ready to use within an hour. We then demonstrate coupling to an antimicrobial agent. The second part of the protocol demonstrates a 96-well bacterial inhibition assay using the conjugated and unconjugated QDs. The optical density is read over many hours, permitting the effects of QD addition and light exposure to be evaluated immediately as well as after a recovery period. We also illustrate a colony count for quantifying bacterial survival.
Biomedical Engineering, Issue 65, Bioengineering, Molecular Biology, Quantum dots, solubilization, conjugation, cytotoxicity, phototoxicity, growth curve, plate count
3969
Sputter Growth and Characterization of Metamagnetic B2-ordered FeRh Epilayers
Institutions: University of Leeds, University of Leeds, University of Edinburgh, Northeastern University, Northeastern University.

Chemically ordered alloys are useful in a variety of magnetic nanotechnologies. They are most conveniently prepared at an industrial scale using sputtering techniques. Here we describe a method for preparing epitaxial thin films of B2-ordered FeRh by sputter deposition onto single crystal MgO substrates. Deposition at a slow rate onto a heated substrate allows time for the adatoms to both settle into a lattice with a well-defined epitaxial relationship with the substrate and also to find their proper places in the Fe and Rh sublattices of the B2 structure. The structure is conveniently characterized with X-ray reflectometry and diffraction and can be visualised directly using transmission electron micrograph cross-sections. B2-ordered FeRh exhibits an unusual metamagnetic phase transition: the ground state is antiferromagnetic but the alloy transforms into a ferromagnet on heating with a typical transition temperature of about 380 K. This is accompanied by a 1% volume expansion of the unit cell: isotropic in bulk, but laterally clamped in an epilayer. The presence of the antiferromagnetic ground state and the associated first order phase transition is very sensitive to the correct equiatomic stoichiometry and proper B2 ordering, and so is a convenient means to demonstrate the quality of the layers that can be deposited with this approach. We also give some examples of the various techniques by which the change in phase can be detected.
Physics, Issue 80, Sputtering, epitaxial growth, magnetism, ordered alloys
50603
Synthesis of Immunotargeted Magneto-plasmonic Nanoclusters
Institutions: University of Texas at Austin, University of Texas M.D. Anderson Cancer Center.

Magnetic and plasmonic properties combined in a single nanoparticle provide a synergy that is advantageous in a number of biomedical applications including contrast enhancement in novel magnetomotive imaging modalities, simultaneous capture and detection of circulating tumor cells (CTCs), and multimodal molecular imaging combined with photothermal therapy of cancer cells. These applications have stimulated significant interest in development of protocols for synthesis of magneto-plasmonic nanoparticles with optical absorbance in the near-infrared (NIR) region and a strong magnetic moment. Here, we present a novel protocol for synthesis of such hybrid nanoparticles that is based on an oil-in-water microemulsion method. The unique feature of the protocol described herein is synthesis of magneto-plasmonic nanoparticles of various sizes from primary blocks which also have magneto-plasmonic characteristics. This approach yields nanoparticles with a high density of magnetic and plasmonic functionalities which are uniformly distributed throughout the nanoparticle volume. The hybrid nanoparticles can be easily functionalized by attaching antibodies through the Fc moiety leaving the Fab portion that is responsible for antigen binding available for targeting.
Chemistry, Issue 90, nanoparticles, plasmonic, magnetic, nanocomposites, magnetic trapping, circulating tumor cells, dark-field imaging
52090
Optimized Negative Staining: a High-throughput Protocol for Examining Small and Asymmetric Protein Structure by Electron Microscopy
Institutions: The Molecular Foundry.

Structural determination of proteins is rather challenging for proteins with molecular masses between 40 - 200 kDa. Considering that more than half of natural proteins have a molecular mass between 40 - 200 kDa
1,2
, a robust and high-throughput method with a nanometer resolution capability is needed. Negative staining (NS) electron microscopy (EM) is an easy, rapid, and qualitative approach which has frequently been used in research laboratories to examine protein structure and protein-protein interactions. Unfortunately, conventional NS protocols often generate structural artifacts on proteins, especially with lipoproteins that usually form presenting rouleaux artifacts. By using images of lipoproteins from cryo-electron microscopy (cryo-EM) as a standard, the key parameters in NS specimen preparation conditions were recently screened and reported as the optimized NS protocol (OpNS), a modified conventional NS protocol
3
. Artifacts like rouleaux can be greatly limited by OpNS, additionally providing high contrast along with reasonably high‐resolution (near 1 nm) images of small and asymmetric proteins. These high-resolution and high contrast images are even favorable for an individual protein (a single object, no average) 3D reconstruction, such as a 160 kDa antibody, through the method of electron tomography
4,5
. Moreover, OpNS can be a high‐throughput tool to examine hundreds of samples of small proteins. For example, the previously published mechanism of 53 kDa cholesteryl ester transfer protein (CETP) involved the screening and imaging of hundreds of samples
6
. Considering cryo-EM rarely successfully images proteins less than 200 kDa has yet to publish any study involving screening over one hundred sample conditions, it is fair to call OpNS a high-throughput method for studying small proteins. Hopefully the OpNS protocol presented here can be a useful tool to push the boundaries of EM and accelerate EM studies into small protein structure, dynamics and mechanisms.
Environmental Sciences, Issue 90, small and asymmetric protein structure, electron microscopy, optimized negative staining
51087
Fabrication of Gate-tunable Graphene Devices for Scanning Tunneling Microscopy Studies with Coulomb Impurities
Institutions: University of California at Berkeley, University of California at Berkeley, University of California at Berkeley, National Institute for Materials Science (Japan), Lawrence Berkeley National Laboratory, University of California at Berkeley and Lawrence Berkeley National Laboratory.
Owing to its relativistic low-energy charge carriers, the interaction between graphene and various impurities leads to a wealth of new physics and degrees of freedom to control electronic devices. In particular, the behavior of graphene's charge carriers in response to potentials from charged Coulomb impurities is predicted to differ significantly from that of most materials. Scanning tunneling microscopy (STM) and scanning tunneling spectroscopy (STS) can provide detailed information on both the spatial and energy dependence of graphene's electronic structure in the presence of a charged impurity. The design of a hybrid impurity-graphene device, fabricated using controlled deposition of impurities onto a back-gated graphene surface, has enabled several novel methods for controllably tuning graphene's electronic properties.
1-8
Electrostatic gating enables control of the charge carrier density in graphene and the ability to reversibly tune the charge
2
and/or molecular
5
states of an impurity. This paper outlines the process of fabricating a gate-tunable graphene device decorated with individual Coulomb impurities for combined STM/STS studies.
2-5
These studies provide valuable insights into the underlying physics, as well as signposts for designing hybrid graphene devices.
Engineering, Issue 101, Physics, graphene, electrostatic gating, scanning tunneling microscopy (STM), Coulomb impurity, chemical vapor deposition (CVD), poly(methyl methacrylate) (PMMA) transfer, wire bonding
52711
Reconstitution of a Kv Channel into Lipid Membranes for Structural and Functional Studies
Institutions: University of Texas Southwestern Medical Center at Dallas.

To study the lipid-protein interaction in a reductionistic fashion, it is necessary to incorporate the membrane proteins into membranes of well-defined lipid composition. We are studying the lipid-dependent gating effects in a prototype voltage-gated potassium (Kv) channel, and have worked out detailed procedures to reconstitute the channels into different membrane systems. Our reconstitution procedures take consideration of both detergent-induced fusion of vesicles and the fusion of protein/detergent micelles with the lipid/detergent mixed micelles as well as the importance of reaching an equilibrium distribution of lipids among the protein/detergent/lipid and the detergent/lipid mixed micelles. Our data suggested that the insertion of the channels in the lipid vesicles is relatively random in orientations, and the reconstitution efficiency is so high that no detectable protein aggregates were seen in fractionation experiments. We have utilized the reconstituted channels to determine the conformational states of the channels in different lipids, record electrical activities of a small number of channels incorporated in planar lipid bilayers, screen for conformation-specific ligands from a phage-displayed peptide library, and support the growth of 2D crystals of the channels in membranes. The reconstitution procedures described here may be adapted for studying other membrane proteins in lipid bilayers, especially for the investigation of the lipid effects on the eukaryotic voltage-gated ion channels.
Molecular Biology, Issue 77, Biochemistry, Genetics, Cellular Biology, Structural Biology, Biophysics, Membrane Lipids, Phospholipids, Carrier Proteins, Membrane Proteins, Micelles, Molecular Motor Proteins, life sciences, biochemistry, Amino Acids, Peptides, and Proteins, lipid-protein interaction, channel reconstitution, lipid-dependent gating, voltage-gated ion channel, conformation-specific ligands, lipids
50436
Characterization of Thermal Transport in One-dimensional Solid Materials
Institutions: Iowa State University.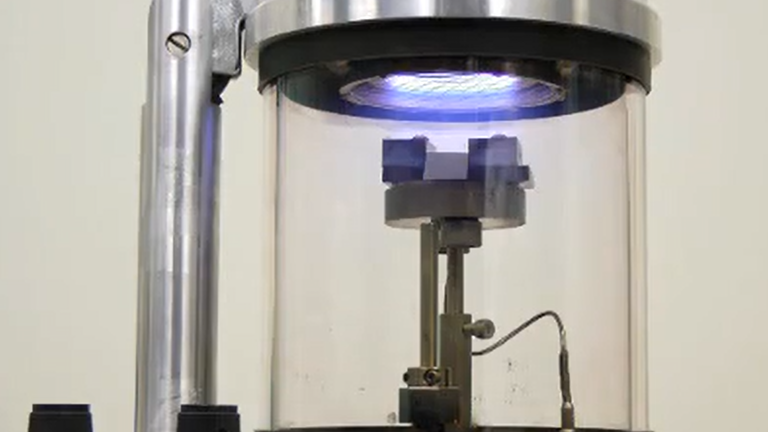 The TET (transient electro-thermal) technique is an effective approach developed to measure the thermal diffusivity of solid materials, including conductive, semi-conductive or nonconductive one-dimensional structures. This technique broadens the measurement scope of materials (conductive and nonconductive) and improves the accuracy and stability. If the sample (especially biomaterials, such as human head hair, spider silk, and silkworm silk) is not conductive, it will be coated with a gold layer to make it electronically conductive. The effect of parasitic conduction and radiative losses on the thermal diffusivity can be subtracted during data processing. Then the real thermal conductivity can be calculated with the given value of volume-based specific heat (
ρcp
), which can be obtained from calibration, noncontact photo-thermal technique or measuring the density and specific heat separately. In this work, human head hair samples are used to show how to set up the experiment, process the experimental data, and subtract the effect of parasitic conduction and radiative losses.
Physics, Issue 83, thermal transport, thermal diffusivity, thermal conductivity, transient electro-thermal technique, volume-based specific heat, human head hair
51144
Integrating a Triplet-triplet Annihilation Up-conversion System to Enhance Dye-sensitized Solar Cell Response to Sub-bandgap Light
Institutions: The University of Wollongong, The University of Sydney, The University of New South Wales.

The poor response of dye-sensitized solar cells (DSCs) to red and infrared light is a significant impediment to the realization of higher photocurrents and hence higher efficiencies. Photon up-conversion by way of triplet-triplet annihilation (TTA-UC) is an attractive technique for using these otherwise wasted low energy photons to produce photocurrent, while not interfering with the photoanodic performance in a deleterious manner. Further to this, TTA-UC has a number of features, distinct from other reported photon up-conversion technologies, which renders it particularly suitable for coupling with DSC technology. In this work, a proven high performance TTA-UC system, comprising a palladium porphyrin sensitizer and rubrene emitter, is combined with a high performance DSC (utilizing the organic dye D149) in an integrated device. The device shows an enhanced response to sub-bandgap light over the absorption range of the TTA-UC sub-unit resulting in the highest figure of merit for up-conversion assisted DSC performance to date.
Physics, Issue 91, Third generation photovoltaics, upconversion, organic electronics, device architecture, porphyrins, photovoltaic testing
52028
Silicon Metal-oxide-semiconductor Quantum Dots for Single-electron Pumping
Institutions: University of New South Wales, Aalto University.
As mass-produced silicon transistors have reached the nano-scale, their behavior and performances are increasingly affected, and often deteriorated, by quantum mechanical effects such as tunneling through single dopants, scattering via interface defects, and discrete trap charge states. However, progress in silicon technology has shown that these phenomena can be harnessed and exploited for a new class of quantum-based electronics. Among others, multi-layer-gated silicon metal-oxide-semiconductor (MOS) technology can be used to control single charge or spin confined in electrostatically-defined quantum dots (QD). These QD-based devices are an excellent platform for quantum computing applications and, recently, it has been demonstrated that they can also be used as single-electron pumps, which are accurate sources of quantized current for metrological purposes. Here, we discuss in detail the fabrication protocol for silicon MOS QDs which is relevant to both quantum computing and quantum metrology applications. Moreover, we describe characterization methods to test the integrity of the devices after fabrication. Finally, we give a brief description of the measurement set-up used for charge pumping experiments and show representative results of electric current quantization.
Engineering, Issue 100, Physics, Silicon, Quantum Dots, Quantum Metrology, Nanoelectronics, Charge Pumping
52852
Monolayer Contact Doping of Silicon Surfaces and Nanowires Using Organophosphorus Compounds
Institutions: The Hebrew University of Jerusalem, The Hebrew University of Jerusalem.

Monolayer Contact Doping (MLCD) is a simple method for doping of surfaces and nanostructures
1
. MLCD results in the formation of highly controlled, ultra shallow and sharp doping profiles at the nanometer scale. In MLCD process the dopant source is a monolayer containing dopant atoms. In this article a detailed procedure for surface doping of silicon substrate as well as silicon nanowires is demonstrated. Phosphorus dopant source was formed using tetraethyl methylenediphosphonate monolayer on a silicon substrate. This monolayer containing substrate was brought to contact with a pristine intrinsic silicon target substrate and annealed while in contact. Sheet resistance of the target substrate was measured using 4 point probe. Intrinsic silicon nanowires were synthesized by chemical vapor deposition (CVD) process using a vapor-liquid-solid (VLS) mechanism; gold nanoparticles were used as catalyst for nanowire growth. The nanowires were suspended in ethanol by mild sonication. This suspension was used to dropcast the nanowires on silicon substrate with a silicon nitride dielectric top layer. These nanowires were doped with phosphorus in similar manner as used for the intrinsic silicon wafer. Standard photolithography process was used to fabricate metal electrodes for the formation of nanowire based field effect transistor (NW-FET). The electrical properties of a representative nanowire device were measured by a semiconductor device analyzer and a probe station.
Basic Protocol, Issue 82, nanotechnology, chemistry, monolayer contact doping (MLCD), nanowire, silicon substrate, chemical vapor deposition (CVD),
50770
Synthesis and Functionalization of Nitrogen-doped Carbon Nanotube Cups with Gold Nanoparticles as Cork Stoppers
Institutions: University of Pittsburgh.
Nitrogen-doped carbon nanotubes consist of many cup-shaped graphitic compartments termed as nitrogen-doped carbon nanotube cups (NCNCs). These as-synthesized graphitic nanocups from chemical vapor deposition (CVD) method were stacked in a head-to-tail fashion held only through noncovalent interactions. Individual NCNCs can be isolated out of their stacking structure through a series of chemical and physical separation processes. First, as-synthesized NCNCs were oxidized in a mixture of strong acids to introduce oxygen-containing defects on the graphitic walls. The oxidized NCNCs were then processed using high-intensity probe-tip sonication which effectively separated the stacked NCNCs into individual graphitic nanocups. Owing to their abundant oxygen and nitrogen surface functionalities, the resulted individual NCNCs are highly hydrophilic and can be effectively functionalized with gold nanoparticles (GNPs), which preferentially fit in the opening of the cups as cork stoppers. These graphitic nanocups corked with GNPs may find promising applications as nanoscale containers and drug carriers.
Physics, Issue 75, Chemistry, Chemical Engineering, Materials Science, Physical Chemistry, Nanotechnology, Metal Nanoparticles, carbon nanotubes (synthesis and properties), carbon nanotubes, chemical vapor deposition, CVD, gold nanoparticles, probe-tip sonication, nitrogen-doped carbon nanotube cups, nanotubes, nanoparticles, nanomaterial, synthesis
50383
Automated, Quantitative Cognitive/Behavioral Screening of Mice: For Genetics, Pharmacology, Animal Cognition and Undergraduate Instruction
Institutions: Rutgers University, Koç University, New York University, Fairfield University.
We describe a high-throughput, high-volume, fully automated, live-in 24/7 behavioral testing system for assessing the effects of genetic and pharmacological manipulations on basic mechanisms of cognition and learning in mice. A standard polypropylene mouse housing tub is connected through an acrylic tube to a standard commercial mouse test box. The test box has 3 hoppers, 2 of which are connected to pellet feeders. All are internally illuminable with an LED and monitored for head entries by infrared (IR) beams. Mice live in the environment, which eliminates handling during screening. They obtain their food during two or more daily feeding periods by performing in operant (instrumental) and Pavlovian (classical) protocols, for which we have written protocol-control software and quasi-real-time data analysis and graphing software. The data analysis and graphing routines are written in a MATLAB-based language created to simplify greatly the analysis of large time-stamped behavioral and physiological event records and to preserve a full data trail from raw data through all intermediate analyses to the published graphs and statistics within a single data structure. The data-analysis code harvests the data several times a day and subjects it to statistical and graphical analyses, which are automatically stored in the "cloud" and on in-lab computers. Thus, the progress of individual mice is visualized and quantified daily. The data-analysis code talks to the protocol-control code, permitting the automated advance from protocol to protocol of individual subjects. The behavioral protocols implemented are matching, autoshaping, timed hopper-switching, risk assessment in timed hopper-switching, impulsivity measurement, and the circadian anticipation of food availability. Open-source protocol-control and data-analysis code makes the addition of new protocols simple. Eight test environments fit in a 48 in x 24 in x 78 in cabinet; two such cabinets (16 environments) may be controlled by one computer.
Behavior, Issue 84, genetics, cognitive mechanisms, behavioral screening, learning, memory, timing
51047