A Quantitative Evaluation of Cell Migration by the Phagokinetic Track Motility Assay
Published: 12-04-2012
ABSTRACT
Cellular motility is an important biological process for both unicellular and multicellular organisms. It is essential for movement of unicellular organisms towards a source of nutrients or away from unsuitable conditions, as well as in multicellular organisms for tissue development, immune surveillance and wound healing, just to mention a few roles1,2,3. Deregulation of this process can lead to serious neurological, cardiovascular and immunological diseases, as well as exacerbated tumor formation and spread4,5. Molecularly, actin polymerization and receptor recycling have been shown to play important roles in creating cellular extensions (lamellipodia), that drive the forward movement of the cell6,7,8. However, many biological questions about cell migration remain unanswered. The central role for cellular motility in human health and disease underlines the importance of understanding the specific mechanisms involved in this process and makes accurate methods for evaluating cell motility particularly important. Microscopes are usually used to visualize the movement of cells. However, cells move rather slowly, making the quantitative measurement of cell migration a resource-consuming process requiring expensive cameras and software to create quantitative time-lapsed movies of motile cells. Therefore, the ability to perform a quantitative measurement of cell migration that is cost-effective, non-laborious, and that utilizes common laboratory equipment is a great need for many researchers. The phagokinetic track motility assay utilizes the ability of a moving cell to clear gold particles from its path to create a measurable track on a colloidal gold-coated glass coverslip9,10. With the use of freely available software, multiple tracks can be evaluated for each treatment to accomplish statistical requirements. The assay can be utilized to assess motility of many cell types, such as cancer cells11,12, fibroblasts9, neutrophils13, skeletal muscle cells14, keratinocytes15, trophoblasts16, endothelial cells17, and monocytes10,18-22. The protocol involves the creation of slides coated with gold nanoparticles (Au°) that are generated by a reduction of chloroauric acid (Au3+) by sodium citrate. This method was developed by Turkevich et al. in 195123 and then improved in the 1970s by Frens et al.24,25. As a result of this chemical reduction step, gold particles (10-20 nm in diameter) precipitate from the reaction mixture and can be applied to glass coverslips, which are then ready for use in cellular migration analyses9,26,27. In general, the phagokinetic track motility assay is a quick, quantitative and easy measure of cellular motility. In addition, it can be utilized as a simple high-throughput assay, for use with cell types that are not amenable to time-lapsed imaging, as well as other uses depending on the needs of the researcher. Together, the ability to quantitatively measure cellular motility of multiple cell types without the need for expensive microscopes and software, along with the use of common laboratory equipment and chemicals, make the phagokinetic track motility assay a solid choice for scientists with an interest in understanding cellular motility.
23 Related JoVE Articles!
Intravital Imaging of the Mouse Popliteal Lymph Node
Institutions: Case Western Reserve University , Case Western Reserve University .

Lymph nodes (LNs) are secondary lymphoid organs, which are strategically located throughout the body to allow for trapping and presentation of foreign antigens from peripheral tissues to prime the adaptive immune response. Juxtaposed between innate and adaptive immune responses, the LN is an ideal site to study immune cell interactions
1,2
. Lymphocytes (T cells, B cells and NK cells), dendritic cells (DCs), and macrophages comprise the bulk of bone marrow-derived cellular elements of the LN. These cells are strategically positioned in the LN to allow efficient surveillance of self antigens and potential foreign antigens
3-5
. The process by which lymphocytes successfully encounter cognate antigens is a subject of intense investigation in recent years, and involves an integration of molecular contacts including antigen receptors, adhesion molecules, chemokines, and stromal structures such as the fibro-reticular network
2,6-12
. Prior to the development of high-resolution real-time fluorescent in vivo imaging, investigators relied on static imaging, which only offers answers regarding morphology, position, and architecture. While these questions are fundamental in our understanding of immune cell behavior, the limitations intrinsic with this technique does not permit analysis to decipher lymphocyte trafficking and environmental clues that affect dynamic cell behavior. Recently, the development of intravital two-photon laser scanning microscopy (2P-LSM) has allowed investigators to view the dynamic movements and interactions of individual cells within live LNs
in situ
12-16
. In particular, we and others have applied this technique to image cellular behavior and interactions within the popliteal LN, where its compact, dense nature offers the advantage of multiplex data acquisition over a large tissue area with diverse tissue sub-structures
11,17-18
. It is important to note that this technique offers added benefits over explanted tissue imaging techniques, which require disruption of blood, lymph flow, and ultimately the cellular dynamics of the system. Additionally, explanted tissues have a very limited window of time in which the tissue remains viable for imaging after explant. With proper hydration and monitoring of the animal's environmental conditions, the imaging time can be significantly extended with this intravital technique. Here, we present a detailed method of preparing mouse popliteal LN for the purpose of performing intravital imaging.
Immunology, Issue 60, Lymph node, popliteal, intravital, multi-photon, microscopy, cell trafficking, mouse, tumor immunology
3720
Recording Multicellular Behavior in Myxococcus xanthus Biofilms using Time-lapse Microcinematography
Institutions: University of South Carolina (USC), Syracuse University.

A swarm of the δ-proteobacterium
Myxococcus xanthus
contains millions of cells that act as a collective, coordinating movement through a series of signals to create complex, dynamic patterns as a response to environmental cues. These patterns are self-organizing and emergent; they cannot be predicted by observing the behavior of the individual cells. Using a time-lapse microcinematography tracking assay, we identified a distinct emergent pattern in
M. xanthus
called chemotaxis, defined as the directed movement of a swarm up a nutrient gradient toward its source
1
. In order to efficiently characterize chemotaxis via time-lapse microcinematography, we developed a highly modifiable plate complex (Figure 1) and constructed a cluster of 8 microscopes (Figure 2), each capable of capturing time-lapse videos. The assay is rigorous enough to allow consistent replication of quantifiable data, and the resulting videos allow us to observe and track subtle changes in swarm behavior. Once captured, the videos are transferred to an analysis/storage computer with enough memory to process and store thousands of videos. The flexibility of this setup has proven useful to several members of the
M. xanthus
community.
Microbiology, Issue 42, microcinematography, Myxococcus, chemotaxis, time-lapse
2038
Investigating Outer Hair Cell Motility with a Combination of External Alternating Electrical Field Stimulation and High-speed Image Analysis
Institutions: House Ear Institute.

OHCs are cylindrical sensorimotor cells located in the Organ of Corti, the auditory organ inside the mammalian inner ear. The name "hair cells" derives from their characteristic apical bundle of stereocilia, a critical element for detection and transduction of sound energy
1
. OHCs are able to change shape —elongate, shorten and bend— in response to electrical, mechanical and chemical stimulation, a motor response considered crucial for cochlear amplification of acoustic signals
2
. OHC stimulation induces two different motile responses: i) electromotility, a.k.a fast motility, changes in length in the microsecond range derived from electrically-driven conformational changes in motor proteins densely packed in OHC plasma membrane, and ii) slow motility, shape changes in the millisecond to seconds range involving cytoskeletal reorganization
2, 3
. OHC bending is associated with electromotility, and result either from an asymmetric distribution of motor proteins in the lateral plasma membrane, or asymmetric electrical stimulation of those motor proteins (e.g., with an electrical field perpendicular to the long axis of the cells)
4
. Mechanical and chemical stimuli induce essentially slow motile responses, even though changes in the ionic conditions of the cells and/or their environment can also stimulate the plasma membrane-embedded motor proteins
5, 6
. Since OHC motile responses are an essential component of the cochlear amplifier, the qualitative and quantitative analysis of these motile responses at acoustic frequencies (roughly from 20 Hz to 20 kHz in humans) is a very important matter in the field of hearing research
7
. The development of new imaging technology combining high-speed videocameras, LED-based illumination systems, and sophisticated image analysis software now provides the ability to perform reliable qualitative and quantitative studies of the motile response of isolated OHCs to an external alternating electrical field (EAEF)
8
. This is a simple and non-invasive technique that circumvents most of the limitations of previous approaches
9-11
. Moreover, the LED-based illumination system provides extreme brightness with insignificant thermal effects on the samples and, because of the use of video microscopy, optical resolution is at least 10-fold higher than with conventional light microscopy techniques
12
. For instance, with the experimental setup described here, changes in cell length of about 20 nm can be routinely and reliably detected at frequencies of 10 kHz, and this resolution can be further improved at lower frequencies. We are confident that this experimental approach will help to extend our understanding of the cellular and molecular mechanisms underlying OHC motility.
Neuroscience, Issue 53, Outer Hair Cell, Electromotility, Slow Motility, External Alternating Electrical Field, High-speed Imaging Analysis, Cochlea
2965
Imaging Effector Memory T cells in the Ear After Induction of Adoptive DTH
Institutions: University of California, Irvine (UCI), University of California, Irvine (UCI).

Delayed type hypersensitivity (DTH) is an immune reaction in which the main players are CCR7
-
effector / memory T lymphocytes. Here, we demonstrate a method for inducing and recording the progress of a DTH reaction in the rat ear. This is followed by a demonstration of the preparation of rat ear tissue for two-photon imaging of the CCR7
-
effector / memory T cell response. An adoptive DTH is induced by the intraperitoneal injection of GFP-labeled Ova-specific CCR7
-
effector / memory T cell line (Beeton, C J. Visualized Experiments, Issue 8). Cells are then allowed to equilibrate in the rat for 48 hours before challenge by injecting one ear with saline (control ear) and the other with a 1:1 mix of Ova and Ova conjugated to Texas-Red (Ova-TR) to allow visualization of resident antigen-presenting cells. We describe a method of tissue preparation useful for imaging the motility of cells within the deep dermal layer during an immune response, in conjunction with visualization of collagen fibers by second harmonic generation. Ear tissue is cut into 5 x 5 mm squares (slightly larger is better) and mounted onto plastic cover slips using Vetbond™, which are then secured using silicone grease in an imaging chamber and superfused by oxygen-bubbled tissue culture medium at 37°C.
Immunology, Issue 18, 2-photon imaging, delayed type hypersensitivity, inflammation, T cells, antigen presenting cells, ear, rat,
907
Gastrointestinal Motility Monitor (GIMM)
Institutions: The University of Vermont.

The Gastrointestinal Motility Monitor (GIMM; Catamount Research and Development; St. Albans, VT) is an
in vitro
system that monitors propulsive motility in isolated segments of guinea pig distal colon. The complete system consists of a computer, video camera, illuminated organ bath, peristaltic and heated water bath circulating pumps, and custom GIMM software to record and analyze data. Compared with traditional methods of monitoring colonic peristalsis, the GIMM system allows for continuous, quantitative evaluation of motility. The guinea pig distal colon is bathed in warmed, oxygenated Krebs solution, and fecal pellets inserted in the oral end are propelled along the segment of colon at a rate of about 2 mm/sec. Movies of the fecal pellet proceeding along the segment are captured, and the GIMM software can be used track the progress of the fecal pellet. Rates of propulsive motility can be obtained for the entire segment or for any particular region of interest. In addition to analysis of bolus-induced motility patterns, spatiotemporal maps can be constructed from captured video segments to assess spontaneous motor activity patterns. Applications of this system include pharmacological evaluation of the effects of receptor agonists and antagonists on propulsive motility, as well as assessment of changes that result from pathophysiological conditions, such as inflammation or stress. The guinea pig distal colon propulsive motility assay, using the GIMM system, is straightforward and simple to learn, and it provides a reliable and reproducible method of assessing propulsive motility.
Medicine, Issue 46, peristalsis, colon, in vitro, video tracking, video analysis, GIMM, guinea pig,
2435
Long Term Intravital Multiphoton Microscopy Imaging of Immune Cells in Healthy and Diseased Liver Using CXCR6.Gfp Reporter Mice
Institutions: RWTH University-Hospital Aachen, RWTH University-Hospital Aachen, RWTH Aachen University, RWTH University-Hospital Aachen.

Liver inflammation as a response to injury is a highly dynamic process involving the infiltration of distinct subtypes of leukocytes including monocytes, neutrophils, T cell subsets, B cells, natural killer (NK) and NKT cells. Intravital microscopy of the liver for monitoring immune cell migration is particularly challenging due to the high requirements regarding sample preparation and fixation, optical resolution and long-term animal survival. Yet, the dynamics of inflammatory processes as well as cellular interaction studies could provide critical information to better understand the initiation, progression and regression of inflammatory liver disease. Therefore, a highly sensitive and reliable method was established to study migration and cell-cell-interactions of different immune cells in mouse liver over long periods (about 6 hr) by intravital two-photon laser scanning microscopy (TPLSM) in combination with intensive care monitoring. The method provided includes a gentle preparation and stable fixation of the liver with minimal perturbation of the organ; long term intravital imaging using multicolor multiphoton microscopy with virtually no photobleaching or phototoxic effects over a time period of up to 6 hr, allowing tracking of specific leukocyte subsets; and stable imaging conditions due to extensive monitoring of mouse vital parameters and stabilization of circulation, temperature and gas exchange. To investigate lymphocyte migration upon liver inflammation CXCR6.gfp knock-in mice were subjected to intravital liver imaging under baseline conditions and after acute and chronic liver damage induced by intraperitoneal injection(s) of carbon tetrachloride (CCl
4
). CXCR6 is a chemokine receptor expressed on lymphocytes, mainly on Natural Killer T (NKT)-, Natural Killer (NK)- and subsets of T lymphocytes such as CD4 T cells but also mucosal associated invariant (MAIT) T cells
1
. Following the migratory pattern and positioning of CXCR6.gfp
+
immune cells allowed a detailed insight into their altered behavior upon liver injury and therefore their potential involvement in disease progression.
Immunology, Issue 97, intravital imaging, TPLSM, two-photon microscopy, liver, migration, microscopy, leukocyte traffic, inflammation
52607
Rapid and Robust Analysis of Cellular and Molecular Polarization Induced by Chemokine Signaling
Institutions: Institut Cochin, Cnrs, UMR8104, Sorbonne Paris Cité.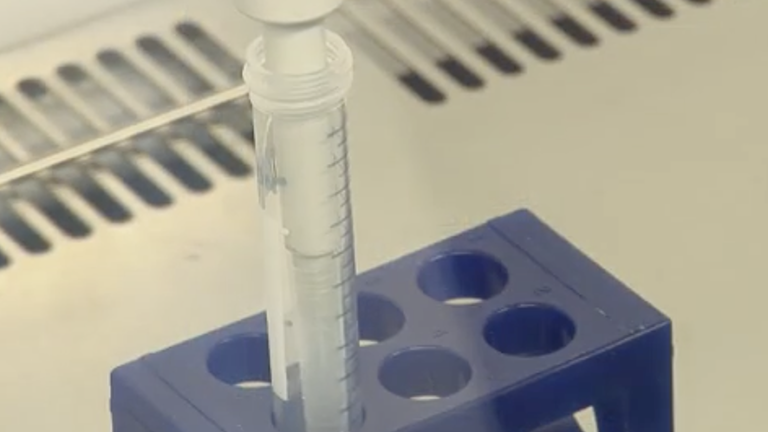 Cells respond to chemokine stimulation by losing their round shape in a process called polarization, and by altering the subcellular localization of many proteins. Classic imaging techniques have been used to study these phenomena. However, they required the manual acquisition of many cells followed by time consuming quantification of the morphology and the co-localization of the staining of tens of cells. Here, a rapid and powerful method is described to study these phenomena on samples consisting of several thousands of cells using an imaging flow cytometry technology that combines the advantages of a microscope with those of a cytometer. Using T lymphocytes stimulated with CCL19 and staining for MHC Class I molecules and filamentous actin, a gating strategy is presented to measure simultaneously the degree of shape alterations and the extent of co-localization of markers that are affected by CCL19 signaling. Moreover, this gating strategy allowed us to observe the segregation of filamentous actin (at the front) and phosphorylated Ezrin-Radixin-Moesin (phospho-ERM) proteins (at the rear) in polarized T cells after CXCL12 stimulation. This technique was also useful to observe the blocking effect on polarization of two different elements: inhibition of actin polymerization by a pharmacological inhibitor and expression of mutants of the Par6/atypical PKC signaling pathway. Thus, evidence is shown that this technique is useful to analyze both morphological alterations and protein redistributions.
Immunology, Issue 94, Chemokine, T lymphocytes, morphology, protein redistribution, actin, polarization.
52140
Automated, Quantitative Cognitive/Behavioral Screening of Mice: For Genetics, Pharmacology, Animal Cognition and Undergraduate Instruction
Institutions: Rutgers University, Koç University, New York University, Fairfield University.
We describe a high-throughput, high-volume, fully automated, live-in 24/7 behavioral testing system for assessing the effects of genetic and pharmacological manipulations on basic mechanisms of cognition and learning in mice. A standard polypropylene mouse housing tub is connected through an acrylic tube to a standard commercial mouse test box. The test box has 3 hoppers, 2 of which are connected to pellet feeders. All are internally illuminable with an LED and monitored for head entries by infrared (IR) beams. Mice live in the environment, which eliminates handling during screening. They obtain their food during two or more daily feeding periods by performing in operant (instrumental) and Pavlovian (classical) protocols, for which we have written protocol-control software and quasi-real-time data analysis and graphing software. The data analysis and graphing routines are written in a MATLAB-based language created to simplify greatly the analysis of large time-stamped behavioral and physiological event records and to preserve a full data trail from raw data through all intermediate analyses to the published graphs and statistics within a single data structure. The data-analysis code harvests the data several times a day and subjects it to statistical and graphical analyses, which are automatically stored in the "cloud" and on in-lab computers. Thus, the progress of individual mice is visualized and quantified daily. The data-analysis code talks to the protocol-control code, permitting the automated advance from protocol to protocol of individual subjects. The behavioral protocols implemented are matching, autoshaping, timed hopper-switching, risk assessment in timed hopper-switching, impulsivity measurement, and the circadian anticipation of food availability. Open-source protocol-control and data-analysis code makes the addition of new protocols simple. Eight test environments fit in a 48 in x 24 in x 78 in cabinet; two such cabinets (16 environments) may be controlled by one computer.
Behavior, Issue 84, genetics, cognitive mechanisms, behavioral screening, learning, memory, timing
51047
Tracking Mouse Bone Marrow Monocytes In Vivo
Institutions: Sorbonne Universités, UPMC Univ Paris 06, CR7.
Real time multiphoton imaging provides a great opportunity to study cell trafficking and cell-to-cell interactions in their physiological 3-dimensionnal environment. Biological activities of immune cells mainly rely on their motility capacities. Blood monocytes have short half-life in the bloodstream; they originate in the bone marrow and are constitutively released from it. In inflammatory condition, this process is enhanced, leading to blood monocytosis and subsequent infiltration of the peripheral inflammatory tissues. Identifying the biomechanical events controlling monocyte trafficking from the bone marrow towards the vascular network is an important step to understand monocyte physiopathological relevance. We performed
in vivo
time-lapse imaging by two-photon microscopy of the skull bone marrow of the
Csf1r
-Gal4VP16/UAS-ECFP (MacBlue) mouse. The MacBlue mouse expresses the fluorescent reporters enhanced cyan fluorescent protein (ECFP) under the control of a myeloid specific promoter
1
, in combination with vascular network labelling. We describe how this approach enables the tracking of individual medullar monocytes in real time to further quantify the migratory behaviour within the bone marrow parenchyma and the vasculature, as well as cell-to-cell interactions. This approach provides novel insights into the biology of the bone marrow monocyte subsets and allows to further address how these cells can be influenced in specific pathological conditions.
Immunology, Issue 96, Immunology, hematology, Intravital imaging, bone marrow, monocytes, cell trafficking.
52476
Observation of the Ciliary Movement of Choroid Plexus Epithelial Cells Ex Vivo
Institutions: Waseda University, University of Yamanashi.
The choroid plexus is located in the ventricular wall of the brain, the main function of which is believed to be production of cerebrospinal fluid. Choroid plexus epithelial cells (CPECs) covering the surface of choroid plexus tissue harbor multiple unique cilia, but most of the functions of these cilia remain to be investigated. To uncover the function of CPEC cilia with particular reference to their motility, an
ex vivo
observation system was developed to monitor ciliary motility during embryonic, perinatal and postnatal periods. The choroid plexus was dissected out of the brain ventricle and observed under a video-enhanced contrast microscope equipped with differential interference contrast optics. Under this condition, a simple and quantitative method was developed to analyze the motile profiles of CPEC cilia for several hours
ex vivo
. Next, the morphological changes of cilia during development were observed by scanning electron microscopy to elucidate the relationship between the morphological maturity of cilia and motility. Interestingly, this method could delineate changes in the number and length of cilia, which peaked at postnatal day (P) 2, while the beating frequency reached a maximum at P10, followed by abrupt cessation at P14. These techniques will enable elucidation of the functions of cilia in various tissues. While related techniques have been published in a previous report
1
, the current study focuses on detailed techniques to observe the motility and morphology of CPEC cilia
ex vivo
.
Neurobiology, Issue 101, motile cilia, fast video microscopy, scanning electron microscopy, choroid plexus epithelial cells, motion tracking, video-enhanced contrast-differential interference contrast
52991
Ex vivo Imaging of T Cells in Murine Lymph Node Slices with Widefield and Confocal Microscopes
Institutions: Université Paris Descartes, CNRS (UMR 8104), U1016, Paris, France.

Naïve T cells continuously traffic to secondary lymphoid organs, including peripheral lymph nodes, to detect rare expressed antigens. The migration of T cells into lymph nodes is a complex process which involves both cellular and chemical factors including chemokines. Recently, the use of two-photon microscopy has permitted to track T cells in intact lymph nodes and to derive some quantitative information on their behavior and their interactions with other cells. While there are obvious advantages to an
in vivo
system, this approach requires a complex and expensive instrumentation and provides limited access to the tissue. To analyze the behavior of T cells within murine lymph nodes, we have developed a slice assay
1
, originally set up by neurobiologists and transposed recently to murine thymus
2
. In this technique, fluorescently labeled T cells are plated on top of an acutely prepared lymph node slice. In this video-article, the localization and migration of T cells into the tissue are analyzed in real-time with a widefield and a confocal microscope. The technique which complements
in vivo
two-photon microscopy offers an effective approach to image T cells in their natural environment and to elucidate mechanisms underlying T cell migration.
Immunology, Issue 53, mouse, lymph node, organotypic slices, T cell, migration, fluorescence, microscopy, confocal
3054
Isolation of CD4+ T cells from Mouse Lymph Nodes Using Miltenyi MACS Purification
Institutions: University of California, Irvine (UCI).

Isolation of cells from the primary source is a necessary step in many more complex protocols. Miltenyi offers kits to isolate cells from several organisms including humans, non-human primates, rat and, as we describe here, mice. Magnetic bead-based cell separation allows for either positive selection (or cell depletion) as well as negative selection. Here, we demonstrate negative selection of untouched or na ve CD4+ helper T cells. Using this standard protocol we typically purify cells that are ≥ 96% pure CD4+/CD3+. This protocol is used in conjunction with the protocol Dissection and 2-Photon Imaging of Peripheral Lymph Nodes in Mice published in issue 7 of JoVE, for purification of T cells and other cell types to adoptively transfer for imaging purposes. Although we did not demonstrate FACS analysis in this protocol video, it is highly recommended to check the overall purity of isolated cells using the appropriate antibodies via FACS. In addition, we demonstrate the non-sterile method of T cell isolation. If sterile cells are needed for your particular end-user application, be sure to do all of the demonstrated procedures in the tissue culture hood under standard sterile conditions. Thank you for watching and good luck with your own experiments!
Immunology, Issue 9, Cell isolation, Cell separation, T cells, Purification, Mouse, Lymphocyte, Purification, Miltenyi, MACS kit,
409
Analysis of Dendritic Spine Morphology in Cultured CNS Neurons
Institutions: Northwestern University Feinberg School of Medicine, Northwestern University Feinberg School of Medicine.

Dendritic spines are the sites of the majority of excitatory connections within the brain, and form the post-synaptic compartment of synapses. These structures are rich in actin and have been shown to be highly dynamic. In response to classical Hebbian plasticity as well as neuromodulatory signals, dendritic spines can change shape and number, which is thought to be critical for the refinement of neural circuits and the processing and storage of information within the brain. Within dendritic spines, a complex network of proteins link extracellular signals with the actin cyctoskeleton allowing for control of dendritic spine morphology and number. Neuropathological studies have demonstrated that a number of disease states, ranging from schizophrenia to autism spectrum disorders, display abnormal dendritic spine morphology or numbers. Moreover, recent genetic studies have identified mutations in numerous genes that encode synaptic proteins, leading to suggestions that these proteins may contribute to aberrant spine plasticity that, in part, underlie the pathophysiology of these disorders. In order to study the potential role of these proteins in controlling dendritic spine morphologies/number, the use of cultured cortical neurons offers several advantages. Firstly, this system allows for high-resolution imaging of dendritic spines in fixed cells as well as time-lapse imaging of live cells. Secondly, this in vitro system allows for easy manipulation of protein function by expression of mutant proteins, knockdown by shRNA constructs, or pharmacological treatments. These techniques allow researchers to begin to dissect the role of disease-associated proteins and to predict how mutations of these proteins may function
in vivo
.
Neuroscience, Issue 53, Excitatory synapse, neuroscience, brain, cortex, cortical neurons, primary culture, confocal microscopy, time-lapse imaging, remodeling.
2794
Automated Quantification of Hematopoietic Cell – Stromal Cell Interactions in Histological Images of Undecalcified Bone
Institutions: German Rheumatism Research Center, a Leibniz Institute, German Rheumatism Research Center, a Leibniz Institute, Max-Delbrück Center for Molecular Medicine, Wimasis GmbH, Charité - University of Medicine.

Confocal microscopy is the method of choice for the analysis of localization of multiple cell types within complex tissues such as the bone marrow. However, the analysis and quantification of cellular localization is difficult, as in many cases it relies on manual counting, thus bearing the risk of introducing a rater-dependent bias and reducing interrater reliability. Moreover, it is often difficult to judge whether the co-localization between two cells results from random positioning, especially when cell types differ strongly in the frequency of their occurrence. Here, a method for unbiased quantification of cellular co-localization in the bone marrow is introduced. The protocol describes the sample preparation used to obtain histological sections of whole murine long bones including the bone marrow, as well as the staining protocol and the acquisition of high-resolution images. An analysis workflow spanning from the recognition of hematopoietic and non-hematopoietic cell types in 2-dimensional (2D) bone marrow images to the quantification of the direct contacts between those cells is presented. This also includes a neighborhood analysis, to obtain information about the cellular microenvironment surrounding a certain cell type. In order to evaluate whether co-localization of two cell types is the mere result of random cell positioning or reflects preferential associations between the cells, a simulation tool which is suitable for testing this hypothesis in the case of hematopoietic as well as stromal cells, is used. This approach is not limited to the bone marrow, and can be extended to other tissues to permit reproducible, quantitative analysis of histological data.
Developmental Biology, Issue 98, Image analysis, neighborhood analysis, bone marrow, stromal cells, bone marrow niches, simulation, bone cryosectioning, bone histology
52544
Preparation of Segmented Microtubules to Study Motions Driven by the Disassembling Microtubule Ends
Institutions: Russian Academy of Sciences, Federal Research Center of Pediatric Hematology, Oncology and Immunology, Moscow, Russia, University of Pennsylvania.

Microtubule depolymerization can provide force to transport different protein complexes and protein-coated beads
in vitro
. The underlying mechanisms are thought to play a vital role in the microtubule-dependent chromosome motions during cell division, but the relevant proteins and their exact roles are ill-defined. Thus, there is a growing need to develop assays with which to study such motility
in vitro
using purified components and defined biochemical milieu. Microtubules, however, are inherently unstable polymers; their switching between growth and shortening is stochastic and difficult to control. The protocols we describe here take advantage of the segmented microtubules that are made with the photoablatable stabilizing caps. Depolymerization of such segmented microtubules can be triggered with high temporal and spatial resolution, thereby assisting studies of motility at the disassembling microtubule ends. This technique can be used to carry out a quantitative analysis of the number of molecules in the fluorescently-labeled protein complexes, which move processively with dynamic microtubule ends. To optimize a signal-to-noise ratio in this and other quantitative fluorescent assays, coverslips should be treated to reduce nonspecific absorption of soluble fluorescently-labeled proteins. Detailed protocols are provided to take into account the unevenness of fluorescent illumination, and determine the intensity of a single fluorophore using equidistant Gaussian fit. Finally, we describe the use of segmented microtubules to study microtubule-dependent motions of the protein-coated microbeads, providing insights into the ability of different motor and nonmotor proteins to couple microtubule depolymerization to processive cargo motion.
Basic Protocol, Issue 85, microscopy flow chamber, single-molecule fluorescence, laser trap, microtubule-binding protein, microtubule-dependent motor, microtubule tip-tracking
51150
Preparation, Imaging, and Quantification of Bacterial Surface Motility Assays
Institutions: University of Notre Dame, University of Notre Dame, University of Notre Dame, INRS-Institut Armand-Frappier, Indiana University, University of Notre Dame.

Bacterial surface motility, such as swarming, is commonly examined in the laboratory using plate assays that necessitate specific concentrations of agar and sometimes inclusion of specific nutrients in the growth medium. The preparation of such explicit media and surface growth conditions serves to provide the favorable conditions that allow not just bacterial growth but coordinated motility of bacteria over these surfaces within thin liquid films. Reproducibility of swarm plate and other surface motility plate assays can be a major challenge. Especially for more "temperate swarmers" that exhibit motility only within agar ranges of 0.4%-0.8% (wt/vol), minor changes in protocol or laboratory environment can greatly influence swarm assay results. "Wettability", or water content at the liquid-solid-air interface of these plate assays, is often a key variable to be controlled. An additional challenge in assessing swarming is how to quantify observed differences between any two (or more) experiments. Here we detail a versatile two-phase protocol to prepare and image swarm assays. We include guidelines to circumvent the challenges commonly associated with swarm assay media preparation and quantification of data from these assays. We specifically demonstrate our method using bacteria that express fluorescent or bioluminescent genetic reporters like green fluorescent protein (GFP), luciferase (
lux
operon), or cellular stains to enable time-lapse optical imaging. We further demonstrate the ability of our method to track competing swarming species in the same experiment.
Microbiology, Issue 98, Surface motility, Swarming, Imaging, Pseudomonas aeruginosa, Salmonella Typhimurium, Bacillus subtilis, Myxococcus xanthus, Flagella
52338
Analysis of Tubular Membrane Networks in Cardiac Myocytes from Atria and Ventricles
Institutions: Heart Research Center Goettingen, University Medical Center Goettingen, German Center for Cardiovascular Research (DZHK) partner site Goettingen, University of Maryland School of Medicine.

In cardiac myocytes a complex network of membrane tubules - the transverse-axial tubule system (TATS) - controls deep intracellular signaling functions. While the outer surface membrane and associated TATS membrane components appear to be continuous, there are substantial differences in lipid and protein content. In ventricular myocytes (VMs), certain TATS components are highly abundant contributing to rectilinear tubule networks and regular branching 3D architectures. It is thought that peripheral TATS components propagate action potentials from the cell surface to thousands of remote intracellular sarcoendoplasmic reticulum (SER) membrane contact domains, thereby activating intracellular Ca
2+
release units (CRUs). In contrast to VMs, the organization and functional role of TATS membranes in atrial myocytes (AMs) is significantly different and much less understood. Taken together, quantitative structural characterization of TATS membrane networks in healthy and diseased myocytes is an essential prerequisite towards better understanding of functional plasticity and pathophysiological reorganization. Here, we present a strategic combination of protocols for direct quantitative analysis of TATS membrane networks in living VMs and AMs. For this, we accompany primary cell isolations of mouse VMs and/or AMs with critical quality control steps and direct membrane staining protocols for fluorescence imaging of TATS membranes. Using an optimized workflow for confocal or superresolution TATS image processing, binarized and skeletonized data are generated for quantitative analysis of the TATS network and its components. Unlike previously published indirect regional aggregate image analysis strategies, our protocols enable direct characterization of specific components and derive complex physiological properties of TATS membrane networks in living myocytes with high throughput and open access software tools. In summary, the combined protocol strategy can be readily applied for quantitative TATS network studies during physiological myocyte adaptation or disease changes, comparison of different cardiac or skeletal muscle cell types, phenotyping of transgenic models, and pharmacological or therapeutic interventions.
Bioengineering, Issue 92, cardiac myocyte, atria, ventricle, heart, primary cell isolation, fluorescence microscopy, membrane tubule, transverse-axial tubule system, image analysis, image processing, T-tubule, collagenase
51823
Investigating the Spreading and Toxicity of Prion-like Proteins Using the Metazoan Model Organism C. elegans
Institutions: Northwestern University.

Prions are unconventional self-propagating proteinaceous particles, devoid of any coding nucleic acid. These proteinaceous seeds serve as templates for the conversion and replication of their benign cellular isoform. Accumulating evidence suggests that many protein aggregates can act as self-propagating templates and corrupt the folding of cognate proteins. Although aggregates can be functional under certain circumstances, this process often leads to the disruption of the cellular protein homeostasis (proteostasis), eventually leading to devastating diseases such as Alzheimer's disease (AD), Parkinson's disease (PD), Amyotrophic lateral sclerosis (ALS), or transmissible spongiform encephalopathies (TSEs). The exact mechanisms of prion propagation and cell-to-cell spreading of protein aggregates are still subjects of intense investigation. To further this knowledge, recently a new metazoan model in
Caenorhabditis elegans
, for expression of the prion domain of the cytosolic yeast prion protein Sup35 has been established. This prion model offers several advantages, as it allows direct monitoring of the fluorescently tagged prion domain in living animals and ease of genetic approaches. Described here are methods to study prion-like behavior of protein aggregates and to identify modifiers of prion-induced toxicity using
C. elegans
.
Cellular Biology, Issue 95, Caenorhabditis elegans, neurodegenerative diseases, protein misfolding diseases, prion-like spreading, cell-to-cell transmission, protein aggregation, non-cell autonomous toxicity, proteostasis
52321
Analysis of Cell Migration within a Three-dimensional Collagen Matrix
Institutions: Witten/Herdecke University.

The ability to migrate is a hallmark of various cell types and plays a crucial role in several physiological processes, including embryonic development, wound healing, and immune responses. However, cell migration is also a key mechanism in cancer enabling these cancer cells to detach from the primary tumor to start metastatic spreading. Within the past years various cell migration assays have been developed to analyze the migratory behavior of different cell types. Because the locomotory behavior of cells markedly differs between a two-dimensional (2D) and three-dimensional (3D) environment it can be assumed that the analysis of the migration of cells that are embedded within a 3D environment would yield in more significant cell migration data. The advantage of the described 3D collagen matrix migration assay is that cells are embedded within a physiological 3D network of collagen fibers representing the major component of the extracellular matrix. Due to time-lapse video microscopy real cell migration is measured allowing the determination of several migration parameters as well as their alterations in response to pro-migratory factors or inhibitors. Various cell types could be analyzed using this technique, including lymphocytes/leukocytes, stem cells, and tumor cells. Likewise, also cell clusters or spheroids could be embedded within the collagen matrix concomitant with analysis of the emigration of single cells from the cell cluster/ spheroid into the collagen lattice. We conclude that the 3D collagen matrix migration assay is a versatile method to analyze the migration of cells within a physiological-like 3D environment.
Bioengineering, Issue 92, cell migration, 3D collagen matrix, cell tracking
51963
Characterization of Complex Systems Using the Design of Experiments Approach: Transient Protein Expression in Tobacco as a Case Study
Institutions: RWTH Aachen University, Fraunhofer Gesellschaft.

Plants provide multiple benefits for the production of biopharmaceuticals including low costs, scalability, and safety. Transient expression offers the additional advantage of short development and production times, but expression levels can vary significantly between batches thus giving rise to regulatory concerns in the context of good manufacturing practice. We used a design of experiments (DoE) approach to determine the impact of major factors such as regulatory elements in the expression construct, plant growth and development parameters, and the incubation conditions during expression, on the variability of expression between batches. We tested plants expressing a model anti-HIV monoclonal antibody (2G12) and a fluorescent marker protein (DsRed). We discuss the rationale for selecting certain properties of the model and identify its potential limitations. The general approach can easily be transferred to other problems because the principles of the model are broadly applicable: knowledge-based parameter selection, complexity reduction by splitting the initial problem into smaller modules, software-guided setup of optimal experiment combinations and step-wise design augmentation. Therefore, the methodology is not only useful for characterizing protein expression in plants but also for the investigation of other complex systems lacking a mechanistic description. The predictive equations describing the interconnectivity between parameters can be used to establish mechanistic models for other complex systems.
Bioengineering, Issue 83, design of experiments (DoE), transient protein expression, plant-derived biopharmaceuticals, promoter, 5'UTR, fluorescent reporter protein, model building, incubation conditions, monoclonal antibody
51216
Highly Resolved Intravital Striped-illumination Microscopy of Germinal Centers
Institutions: Leibniz Institute, Max-Delbrück Center for Molecular Medicine, Leibniz Institute, LaVision Biotec GmbH, Charité - University of Medicine.
Monitoring cellular communication by intravital deep-tissue multi-photon microscopy is the key for understanding the fate of immune cells within thick tissue samples and organs in health and disease. By controlling the scanning pattern in multi-photon microscopy and applying appropriate numerical algorithms, we developed a striped-illumination approach, which enabled us to achieve 3-fold better axial resolution and improved signal-to-noise ratio,
i.e.
contrast, in more than 100 µm tissue depth within highly scattering tissue of lymphoid organs as compared to standard multi-photon microscopy. The acquisition speed as well as photobleaching and photodamage effects were similar to standard photo-multiplier-based technique, whereas the imaging depth was slightly lower due to the use of field detectors. By using the striped-illumination approach, we are able to observe the dynamics of immune complex deposits on secondary follicular dendritic cells – on the level of a few protein molecules in germinal centers.
Immunology, Issue 86, two-photon laser scanning microscopy, deep-tissue intravital imaging, germinal center, lymph node, high-resolution, enhanced contrast
51135
Dissection and 2-Photon Imaging of Peripheral Lymph Nodes in Mice
Institutions: University of California, Irvine (UCI), University of California, Irvine (UCI).

Two-photon imaging has revealed an elegant choreography of motility and cellular interactions within the lymph node under basal conditions and at the initiation of an immune response
1
. Here, we present methods for adoptive transfer of labeled T cells, isolation of lymph nodes, and imaging motility of CD4+ T cells in the explanted lymph node as first described in 2002
2
. Two-photon imaging of immune cells requires that the cells are fluorescently labeled, either by staining with a cell tracker dye or by expressing a fluorescent protein. We demonstrate the adoptive transfer procedure of injecting cells derived from donor mice into the tail vein of a recipient animal, where they home to lymphoid organs within approximately 15-30 min. We illustrate the isolation of a lymph node and describe methods to ensure proper mounting of the excised lymph node. Other considerations such as proper oxygenation of perfused media, temperature, and laser power are discussed. Finally, we present 3D video images of naive CD4+ T cells exhibiting steady state motility at 37°C.
Issue 7, Immunology, T Lymphocytes, Lymph Node, 2-photon Imaging, Tail Vein Injections
265
Intravital Imaging of Axonal Interactions with Microglia and Macrophages in a Mouse Dorsal Column Crush Injury
Institutions: Case Western Reserve University, Case Western Reserve University, Case Western Reserve University.

Traumatic spinal cord injury causes an inflammatory reaction involving blood-derived macrophages and central nervous system (CNS)-resident microglia. Intra-vital two-photon microscopy enables the study of macrophages and microglia in the spinal cord lesion in the living animal. This can be performed in adult animals with a traumatic injury to the dorsal column. Here, we describe methods for distinguishing macrophages from microglia in the CNS using an irradiation bone marrow chimera to obtain animals in which only macrophages or microglia are labeled with a genetically encoded green fluorescent protein. We also describe a injury model that crushes the dorsal column of the spinal cord, thereby producing a simple, easily accessible, rectangular lesion that is easily visualized in an animal through a laminectomy. Furthermore, we will outline procedures to sequentially image the animals at the anatomical site of injury for the study of cellular interactions during the first few days to weeks after injury.
Cellular Biology, Issue 93, Intravital, spinal cord crush injury, chimera, microglia, macrophages, dorsal column crush, axonal dieback
52228