Intravitreous Injection for Establishing Ocular Diseases Model
Published: 10-01-2007
ABSTRACT
Intravitreous injection is a widely used technique in visual sciences research. It can be used to establish animal models with ocular diseases or as direct application of local treatment. This video introduces how to use simple and inexpensive tools to finish the intravitreous injection procedure. Use of a 1 ml syringe, instead of a hemilton syringe, is used. Practical tips for how to make appropriate injection needles using glass pipettes with perfect tips, and how to easily connect the syringe needle with the glass pipette tightly together, are given. To conduct a good intravitreous injection, there are three aspects to be observed: 1) injection site should not disrupt retina structure; 2) bleeding should be avoided to reduce the risk of infection; 3) lens should be untouched to avoid traumatic cataract. In brief, the most important point is to reduce the interruption of normal ocular structure. To avoid interruption of retina, the superior nasal region of rat eye was chosen. Also, the puncture point of the needle was at the par planar, which was about 1.5 mm from the limbal region of the rat eye. A small amount of vitreous is gently pushed out through the puncture hole to reduce the intraocular pressure before injection. With the 45° injection angle, it is less likely to cause traumatic cataract in the rat eye, thus avoiding related complications and influence from lenticular factors. In this operation, there was no cutting of the conjunctiva and ocular muscle, no bleeding. With quick and minor injury, a successful intravitreous injection can be done in minutes. The injection set outlined in this particular protocol is specific for intravitreous injection. However, the methods and materials presented here can also be used for other injection procedures in drug delivery to the brain, spinal cord or other organs in small mammals.
27 Related JoVE Articles!
Strategies for Tracking Anastasis, A Cell Survival Phenomenon that Reverses Apoptosis
Institutions: Johns Hopkins University Bloomberg School of Public Health, Chinese University of Hong Kong, Johns Hopkins University School of Medicine.
Anastasis (Greek for "rising to life") refers to the recovery of dying cells. Before these cells recover, they have passed through important checkpoints of apoptosis, including mitochondrial fragmentation, release of mitochondrial cytochrome
c
into the cytosol, activation of caspases, chromatin condensation, DNA damage, nuclear fragmentation, plasma membrane blebbing, cell shrinkage, cell surface exposure of phosphatidylserine, and formation of apoptotic bodies. Anastasis can occur when apoptotic stimuli are removed prior to death, thereby allowing dying cells to reverse apoptosis and potentially other death mechanisms. Therefore, anastasis appears to involve physiological healing processes that could also sustain damaged cells inappropriately. The functions and mechanisms of anastasis are still unclear, hampered in part by the limited tools for detecting past events after the recovery of apparently healthy cells. Strategies to detect anastasis will enable studies of the physiological mechanisms, the hazards of undead cells in disease pathology, and potential therapeutics to modulate anastasis. Here, we describe effective strategies using live cell microscopy and a mammalian caspase biosensor for identifying and tracking anastasis in mammalian cells.
Cellular Biology, Issue 96, Anastasis, apoptosis, apoptotic bodies, caspase, cell death, cell shrinkage, cell suicide, cytochrome c, DNA damage, genetic alterations, mitochondrial outer membrane permeabilization (MOMP), programmed cell death, reversal of apoptosis
51964
Implantation of Fibrin Gel on Mouse Lung to Study Lung-specific Angiogenesis
Institutions: Boston Children's Hospital and Harvard Medical School.

Recent significant advances in stem cell research and bioengineering techniques have made great progress in utilizing biomaterials to regenerate and repair damage in simple tissues in the orthopedic and periodontal fields. However, attempts to regenerate the structures and functions of more complex three-dimensional (3D) organs such as lungs have not been very successful because the biological processes of organ regeneration have not been well explored. It is becoming clear that angiogenesis, the formation of new blood vessels, plays key roles in organ regeneration. Newly formed vasculatures not only deliver oxygen, nutrients and various cell components that are required for organ regeneration but also provide instructive signals to the regenerating local tissues. Therefore, to successfully regenerate lungs in an adult, it is necessary to recapitulate the lung-specific microenvironments in which angiogenesis drives regeneration of local lung tissues. Although conventional
in vivo
angiogenesis assays, such as subcutaneous implantation of extracellular matrix (ECM)-rich hydrogels (
e.g.
, fibrin or collagen gels or Matrigel - ECM protein mixture secreted by Engelbreth-Holm-Swarm mouse sarcoma cells), are extensively utilized to explore the general mechanisms of angiogenesis, lung-specific angiogenesis has not been well characterized because methods for orthotopic implantation of biomaterials in the lung have not been well established. The goal of this protocol is to introduce a unique method to implant fibrin gel on the lung surface of living adult mouse, allowing for the successful recapitulation of host lung-derived angiogenesis inside the gel. This approach enables researchers to explore the mechanisms by which the lung-specific microenvironment controls angiogenesis and alveolar regeneration in both normal and pathological conditions. Since implanted biomaterials release and supply physical and chemical signals to adjacent lung tissues, implantation of these biomaterials on diseased lung can potentially normalize the adjacent diseased tissues, enabling researchers to develop new therapeutic approaches for various types of lung diseases.
Basic Protocol, Issue 94, lung, angiogenesis, regeneration, fibrin, gel implantation, microenvironment
52012
Isolation and Quantitative Immunocytochemical Characterization of Primary Myogenic Cells and Fibroblasts from Human Skeletal Muscle
Institutions: King's College London, Cambridge Stem Cell Institute.

The repair and regeneration of skeletal muscle requires the action of satellite cells, which are the resident muscle stem cells. These can be isolated from human muscle biopsy samples using enzymatic digestion and their myogenic properties studied in culture. Quantitatively, the two main adherent cell types obtained from enzymatic digestion are: (i) the satellite cells (termed myogenic cells or muscle precursor cells), identified initially as CD56
+
and later as CD56
+
/desmin
+
cells and (ii) muscle-derived fibroblasts, identified as CD56
–
and TE-7
+
. Fibroblasts proliferate very efficiently in culture and in mixed cell populations these cells may overrun myogenic cells to dominate the culture. The isolation and purification of different cell types from human muscle is thus an important methodological consideration when trying to investigate the innate behavior of either cell type in culture. Here we describe a system of sorting based on the gentle enzymatic digestion of cells using collagenase and dispase followed by magnetic activated cell sorting (MACS) which gives both a high purity (>95% myogenic cells) and good yield (~2.8 x 10
6
± 8.87 x 10
5
cells/g tissue after 7 days
in vitro
) for experiments in culture. This approach is based on incubating the mixed muscle-derived cell population with magnetic microbeads beads conjugated to an antibody against CD56 and then passing cells though a magnetic field. CD56
+
cells bound to microbeads are retained by the field whereas CD56
–
cells pass unimpeded through the column. Cell suspensions from any stage of the sorting process can be plated and cultured. Following a given intervention, cell morphology, and the expression and localization of proteins including nuclear transcription factors can be quantified using immunofluorescent labeling with specific antibodies and an image processing and analysis package.
Developmental Biology, Issue 95, Stem cell Biology, Tissue Engineering, Stem Cells, Satellite Cells, Skeletal Muscle, Adipocytes, Myogenic Cells, Myoblasts, Fibroblasts, Magnetic Activated Cell Sorting, Image Analysis
52049
Isolation, Cryopreservation and Culture of Human Amnion Epithelial Cells for Clinical Applications
Institutions: Wake Forest University Health Sciences, Monash University.
Human amnion epithelial cells (hAECs) derived from term or pre-term amnion membranes have attracted attention from researchers and clinicians as a potential source of cells for regenerative medicine. The reason for this interest is evidence that these cells have highly multipotent differentiation ability, low immunogenicity, and anti-inflammatory functions. These properties have prompted researchers to investigate the potential of hAECs to be used to treat a variety of diseases and disorders in pre-clinical animal studies with much success. hAECs have found widespread application for the treatment of a range of diseases and disorders. Potential clinical applications of hAECs include the treatment of stroke, multiple sclerosis, liver disease, diabetes and chronic and acute lung diseases. Progressing from pre-clinical animal studies into clinical trials requires a higher standard of quality control and safety for cell therapy products. For safety and quality control considerations, it is preferred that cell isolation protocols use animal product-free reagents. We have developed protocols to allow researchers to isolate, cryopreserve and culture hAECs using animal product-free reagents. The advantage of this method is that these cells can be isolated, characterized, cryopreserved and cultured without the risk of delivering potentially harmful animal pathogens to humans, while maintaining suitable cell yields, viabilities and growth potential. For researchers moving from pre-clinical animal studies to clinical trials, these methodologies will greatly accelerate regulatory approval, decrease risks and improve the quality of their therapeutic cell population.
Medicine, Issue 94, Amnion Membrane, Amniotic, Stem Cells, Epithelial, Cell Therapy, Perinatal, Placenta
52085
Automated Measurement of Pulmonary Emphysema and Small Airway Remodeling in Cigarette Smoke-exposed Mice
Institutions: Brigham and Women's Hospital - Harvard Medical School, University of Cambridge - Addenbrooke's Hospital, Brigham and Women's Hospital - Harvard Medical School, Lovelace Respiratory Research Institute.

COPD is projected to be the third most common cause of mortality world-wide by 2020
(1)
. Animal models of COPD are used to identify molecules that contribute to the disease process and to test the efficacy of novel therapies for COPD. Researchers use a number of models of COPD employing different species including rodents, guinea-pigs, rabbits, and dogs
(2)
. However, the most widely-used model is that in which mice are exposed to cigarette smoke. Mice are an especially useful species in which to model COPD because their genome can readily be manipulated to generate animals that are either deficient in, or over-express individual proteins. Studies of gene-targeted mice that have been exposed to cigarette smoke have provided valuable information about the contributions of individual molecules to different lung pathologies in COPD
(3-5)
. Most studies have focused on pathways involved in emphysema development which contributes to the airflow obstruction that is characteristic of COPD. However, small airway fibrosis also contributes significantly to airflow obstruction in human COPD patients
(6)
, but much less is known about the pathogenesis of this lesion in smoke-exposed animals. To address this knowledge gap, this protocol quantifies both emphysema development and small airway fibrosis in smoke-exposed mice. This protocol exposes mice to CS using a whole-body exposure technique, then measures respiratory mechanics in the mice, inflates the lungs of mice to a standard pressure, and fixes the lungs in formalin. The researcher then stains the lung sections with either Gill's stain to measure the mean alveolar chord length (as a readout of emphysema severity) or Masson's trichrome stain to measure deposition of extracellular matrix (ECM) proteins around small airways (as a readout of small airway fibrosis). Studies of the effects of molecular pathways on both of these lung pathologies will lead to a better understanding of the pathogenesis of COPD.
Medicine, Issue 95, COPD, mice, small airway remodeling, emphysema, pulmonary function test
52236
Method of Isolated Ex Vivo Lung Perfusion in a Rat Model: Lessons Learned from Developing a Rat EVLP Program
Institutions: Ohio State University Wexner Medical Center, Ohio State University Wexner Medical Center, Ohio State University Wexner Medical Center, Ohio State University Wexner Medical Center, Ohio State University, Nationwide Children's Hospital, Ohio State University Wexner Medical Center.
The number of acceptable donor lungs available for lung transplantation is severely limited due to poor quality.
Ex-Vivo
Lung Perfusion (EVLP) has allowed lung transplantation in humans to become more readily available by enabling the ability to assess organs and expand the donor pool. As this technology expands and improves, the ability to potentially evaluate and improve the quality of substandard lungs prior to transplant is a critical need. In order to more rigorously evaluate these approaches, a reproducible animal model needs to be established that would allow for testing of improved techniques and management of the donated lungs as well as to the lung-transplant recipient. In addition, an EVLP animal model of associated pathologies,
e.g.,
ventilation induced lung injury (VILI), would provide a novel method to evaluate treatments for these pathologies. Here, we describe the development of a rat EVLP lung program and refinements to this method that allow for a reproducible model for future expansion. We also describe the application of this EVLP system to model VILI in rat lungs. The goal is to provide the research community with key information and "pearls of wisdom"/techniques that arose from trial and error and are critical to establishing an EVLP system that is robust and reproducible.
Medicine, Issue 96, EVLP, VILI, tidal volume, PEEP, lung transplant, positive pressure ventilation
52309
Measurement of the Pressure-volume Curve in Mouse Lungs
Institutions: Johns Hopkins University.
In recent decades the mouse has become the primary animal model of a variety of lung diseases. In models of emphysema or fibrosis, the essential phenotypic changes are best assessed by measurement of the changes in lung elasticity. To best understand specific mechanisms underlying such pathologies in mice, it is essential to make functional measurements that can reflect the developing pathology. Although there are many ways to measure elasticity, the classical method is that of the total lung pressure-volume (PV) curve done over the whole range of lung volumes. This measurement has been made on adult lungs from nearly all mammalian species dating back almost 100 years, and such PV curves also played a major role in the discovery and understanding of the function of pulmonary surfactant in fetal lung development. Unfortunately, such total PV curves have not been widely reported in the mouse, despite the fact that they can provide useful information on the macroscopic effects of structural changes in the lung. Although partial PV curves measuring just the changes in lung volume are sometimes reported, without a measure of absolute volume, the nonlinear nature of the total PV curve makes these partial ones very difficult to interpret. In the present study, we describe a standardized way to measure the total PV curve. We have then tested the ability of these curves to detect changes in mouse lung structure in two common lung pathologies, emphysema and fibrosis. Results showed significant changes in several variables consistent with expected structural changes with these pathologies. This measurement of the lung PV curve in mice thus provides a straightforward means to monitor the progression of the pathophysiologic changes over time and the potential effect of therapeutic procedures.
Medicine, Issue 95, Lung compliance, Lung hysteresis, Pulmonary surfactant, Lung elasticity, Quasistatic compliance, Fibrosis, Emphysema
52376
Three-dimensional Co-culture Model for Tumor-stromal Interaction
Institutions: The University of Tokyo, The University of Tokyo, The University of Tokyo, Nihon University School of Dentistry, Ohu University School of Pharmaceutical Sciences.

Cancer progression (initiation, growth, invasion and metastasis) occurs through interactions between malignant cells and the surrounding tumor stromal cells. The tumor microenvironment is comprised of a variety of cell types, such as fibroblasts, immune cells, vascular endothelial cells, pericytes and bone-marrow-derived cells, embedded in the extracellular matrix (ECM). Cancer-associated fibroblasts (CAFs) have a pro-tumorigenic role through the secretion of soluble factors, angiogenesis and ECM remodeling. The experimental models for cancer cell survival, proliferation, migration, and invasion have mostly relied on two-dimensional monocellular and monolayer tissue cultures or Boyden chamber assays. However, these experiments do not precisely reflect the physiological or pathological conditions in a diseased organ. To gain a better understanding of tumor stromal or tumor matrix interactions, multicellular and three-dimensional cultures provide more powerful tools for investigating intercellular communication and ECM-dependent modulation of cancer cell behavior. As a platform for this type of study, we present an experimental model in which cancer cells are cultured on collagen gels embedded with primary cultures of CAFs.
Medicine, Issue 96, Three-dimensional co-culture, cancer, fibroblast, invasion, tumor stroma, collagen
52469
Forward Genetics Screens Using Macrophages to Identify Toxoplasma gondii Genes Important for Resistance to IFN-γ-Dependent Cell Autonomous Immunity
Institutions: New York Medical College.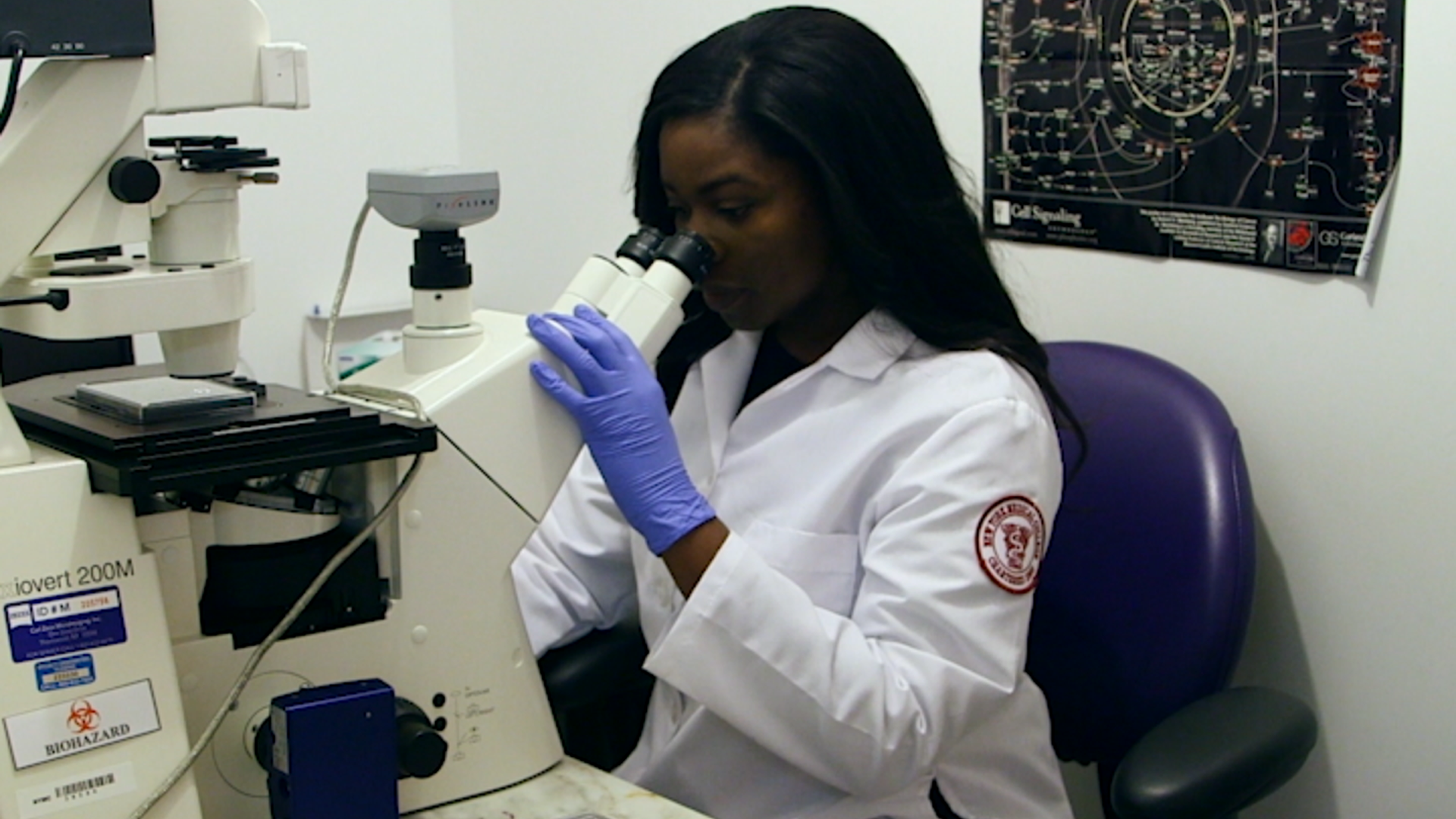 Toxoplasma gondii,
the causative agent of toxoplasmosis, is an obligate intracellular protozoan pathogen. The parasite invades and replicates within virtually any warm blooded vertebrate cell type. During parasite invasion of a host cell, the parasite creates a parasitophorous vacuole (PV) that originates from the host cell membrane independent of phagocytosis within which the parasite replicates. While IFN-dependent-innate and cell mediated immunity is important for eventual control of infection, innate immune cells, including neutrophils, monocytes and dendritic cells, can also serve as vehicles for systemic dissemination of the parasite early in infection. An approach is described that utilizes the host innate immune response, in this case macrophages, in a forward genetic screen to identify parasite mutants with a fitness defect in infected macrophages following activation but normal invasion and replication in naïve macrophages. Thus, the screen isolates parasite mutants that have a specific defect in their ability to resist the effects of macrophage activation. The paper describes two broad phenotypes of mutant parasites following activation of infected macrophages: parasite stasis versus parasite degradation, often in amorphous vacuoles. The parasite mutants are then analyzed to identify the responsible parasite genes specifically important for resistance to induced mediators of cell autonomous immunity. The paper presents a general approach for the forward genetics screen that, in theory, can be modified to target parasite genes important for resistance to specific antimicrobial mediators. It also describes an approach to evaluate the specific macrophage antimicrobial mediators to which the parasite mutant is susceptible. Activation of infected macrophages can also promote parasite differentiation from the tachyzoite to bradyzoite stage that maintains chronic infection. Therefore, methodology is presented to evaluate the importance of the identified parasite gene to establishment of chronic infection.
Immunology, Issue 97, Toxoplasma, macrophages, innate immunity, intracellular pathogen, immune evasion, infectious disease, forward genetics, parasite
52556
Primary Tumor and MEF Cell Isolation to Study Lung Metastasis
Institutions: Louisiana State University Health Sciences Center.

In breast tumorigenesis, the metastatic stage of the disease poses the greatest threat to the affected individual. Normal breast cells with altered genotypes now possess the ability to invade and survive in other tissues. In this protocol, mouse mammary tumors are removed and primary cells are prepared from tumors. The cells isolated from this procedure are then available for gene profiling experiments. For successful metastasis, these cells must be able to intravasate, survive in circulation, extravasate to distant organs, and survive in that new organ system. The lungs are the typical target of breast cancer metastasis. A set of genes have been discovered that mediates the selectivity of metastasis to the lung. Here we describe a method of studying lung metastasis from a genetically engineered mouse model.. Furthermore, another protocol for analyzing mouse embryonic fibroblasts (MEFs) from the mouse embryo is included. MEF cells from the same animal type provide a clue of non-cancer cell gene expression. Together, these techniques are useful in studying mouse mammary tumorigenesis, its associated signaling mechanisms and pathways of the abnormalities in embryos.
Medicine, Issue 99, Tumor, breast, lung, primary, MEF, embryo, fibroblasts, cancer, cell, mouse
52609
Analyzing the Functions of Mast Cells In Vivo Using 'Mast Cell Knock-in' Mice
Institutions: Stanford University School of Medicine, Stanford University School of Medicine.

Mast cells (MCs) are hematopoietic cells which reside in various tissues, and are especially abundant at sites exposed to the external environment, such as skin, airways and gastrointestinal tract. Best known for their detrimental role in IgE-dependent allergic reactions, MCs have also emerged as important players in host defense against venom and invading bacteria and parasites. MC phenotype and function can be influenced by microenvironmental factors that may differ according to anatomic location and/or based on the type or stage of development of immune responses. For this reason, we and others have favored
in vivo
approaches over
in vitro
methods to gain insight into MC functions. Here, we describe methods for the generation of mouse bone marrow-derived cultured MCs (BMCMCs), their adoptive transfer into genetically MC-deficient mice, and the analysis of the numbers and distribution of adoptively transferred MCs at different anatomical sites. This method, named the '
mast cell knock-in'
approach, has been extensively used over the past 30 years to assess the functions of MCs and MC-derived products
in vivo
. We discuss the advantages and limitations of this method, in light of alternative approaches that have been developed in recent years.
Immunology, Issue 99, c-kit, stem cell factor, FcεRI, immunoglobulin E, mouse model, adoptive transfer, immunology, allergy
52753
Scalable 96-well Plate Based iPSC Culture and Production Using a Robotic Liquid Handling System
Institutions: InvivoSciences, Inc., Gilson, Inc..

Continued advancement in pluripotent stem cell culture is closing the gap between bench and bedside for using these cells in regenerative medicine, drug discovery and safety testing. In order to produce stem cell derived biopharmaceutics and cells for tissue engineering and transplantation, a cost-effective cell-manufacturing technology is essential. Maintenance of pluripotency and stable performance of cells in downstream applications (
e.g.
, cell differentiation) over time is paramount to large scale cell production. Yet that can be difficult to achieve especially if cells are cultured manually where the operator can introduce significant variability as well as be prohibitively expensive to scale-up. To enable high-throughput, large-scale stem cell production and remove operator influence novel stem cell culture protocols using a bench-top multi-channel liquid handling robot were developed that require minimal technician involvement or experience. With these protocols human induced pluripotent stem cells (iPSCs) were cultured in feeder-free conditions directly from a frozen stock and maintained in 96-well plates. Depending on cell line and desired scale-up rate, the operator can easily determine when to passage based on a series of images showing the optimal colony densities for splitting. Then the necessary reagents are prepared to perform a colony split to new plates without a centrifugation step. After 20 passages (~3 months), two iPSC lines maintained stable karyotypes, expressed stem cell markers, and differentiated into cardiomyocytes with high efficiency. The system can perform subsequent high-throughput screening of new differentiation protocols or genetic manipulation designed for 96-well plates. This technology will reduce the labor and technical burden to produce large numbers of identical stem cells for a myriad of applications.
Developmental Biology, Issue 99, iPSC, high-throughput, robotic, liquid-handling, scalable, stem cell, automated stem cell culture, 96-well
52755
Combining Magnetic Sorting of Mother Cells and Fluctuation Tests to Analyze Genome Instability During Mitotic Cell Aging in Saccharomyces cerevisiae
Institutions: Rensselaer Polytechnic Institute.

Saccharomyces cerevisiae
has been an excellent model system for examining mechanisms and consequences of genome instability. Information gained from this yeast model is relevant to many organisms, including humans, since DNA repair and DNA damage response factors are well conserved across diverse species. However,
S. cerevisiae
has not yet been used to fully address whether the rate of accumulating mutations changes with increasing replicative (mitotic) age due to technical constraints. For instance, measurements of yeast replicative lifespan through micromanipulation involve very small populations of cells, which prohibit detection of rare mutations. Genetic methods to enrich for mother cells in populations by inducing death of daughter cells have been developed, but population sizes are still limited by the frequency with which random mutations that compromise the selection systems occur. The current protocol takes advantage of magnetic sorting of surface-labeled yeast mother cells to obtain large enough populations of aging mother cells to quantify rare mutations through phenotypic selections. Mutation rates, measured through fluctuation tests, and mutation frequencies are first established for young cells and used to predict the frequency of mutations in mother cells of various replicative ages. Mutation frequencies are then determined for sorted mother cells, and the age of the mother cells is determined using flow cytometry by staining with a fluorescent reagent that detects bud scars formed on their cell surfaces during cell division. Comparison of predicted mutation frequencies based on the number of cell divisions to the frequencies experimentally observed for mother cells of a given replicative age can then identify whether there are age-related changes in the rate of accumulating mutations. Variations of this basic protocol provide the means to investigate the influence of alterations in specific gene functions or specific environmental conditions on mutation accumulation to address mechanisms underlying genome instability during replicative aging.
Microbiology, Issue 92, Aging, mutations, genome instability, Saccharomyces cerevisiae, fluctuation test, magnetic sorting, mother cell, replicative aging
51850
Feeder-free Derivation of Neural Crest Progenitor Cells from Human Pluripotent Stem Cells
Institutions: Sloan-Kettering Institute for Cancer Research, The Rockefeller University.

Human pluripotent stem cells (hPSCs) have great potential for studying human embryonic development, for modeling human diseases in the dish and as a source of transplantable cells for regenerative applications after disease or accidents. Neural crest (NC) cells are the precursors for a large variety of adult somatic cells, such as cells from the peripheral nervous system and glia, melanocytes and mesenchymal cells. They are a valuable source of cells to study aspects of human embryonic development, including cell fate specification and migration. Further differentiation of NC progenitor cells into terminally differentiated cell types offers the possibility to model human diseases
in vitro
, investigate disease mechanisms and generate cells for regenerative medicine. This article presents the adaptation of a currently available
in vitro
differentiation protocol for the derivation of NC cells from hPSCs. This new protocol requires 18 days of differentiation, is feeder-free, easily scalable and highly reproducible among human embryonic stem cell (hESC) lines as well as human induced pluripotent stem cell (hiPSC) lines. Both old and new protocols yield NC cells of equal identity.
Neuroscience, Issue 87, Embryonic Stem Cells (ESCs), Pluripotent Stem Cells, Induced Pluripotent Stem Cells (iPSCs), Neural Crest, Peripheral Nervous System (PNS), pluripotent stem cells, neural crest cells, in vitro differentiation, disease modeling, differentiation protocol, human embryonic stem cells, human pluripotent stem cells
51609
Technical Demonstration of Whole Genome Array Comparative Genomic Hybridization
Institutions: BC Cancer Research Centre, BC Cancer Agency, BC Cancer Agency.

Array comparative genomic hybridization (array CGH) is a method for detecting gains and losses of DNA segments or gene dosage in the genome
1
. Recent advances in this technology have enabled high resolution comparison of whole genomes for the identification of genetic alterations in cancer and other genetic diseases
2
. The Sub-Megabase Resolution Tiling-set array (or SMRT) array is comprised of a set of approximately thirty thousand overlapping bacterial artificial chromosome (BAC) clones that span the human genome in ~100 kilobase pair (kb) segments
2
. These BAC targets are individually synthesized and spotted in duplicate on a single glass slide
2-4
. Array CGH is based on the principle of competitive hybridization. Sample and reference DNA are differentially labeled with Cyanine-3 and Cyanine-5 fluorescent dyes, and co-hybridized to the array. After an incubation period the unbound samples are washed from the slide and the array is imaged. A freely available custom software package called SeeGH (www.flintbox.ca) is used to process the large volume of data collected - a single experiment generates 53,892 data points. SeeGH visualizes the log2 signal intensity ratio between the 2 samples at each BAC target which is vertically aligned with chromosomal position
5,6
. The SMRT array can detect alterations as small as 50 kb in size
7
. The SMRT array can detect a variety of DNA rearrangement events including DNA gains, losses, amplifications and homozygous deletions. A unique advantage of the SMRT array is that one can use DNA isolated from formalin fixed paraffin embedded samples. When combined with the low input requirements of unamplified DNA (25-100ng) this allows profiling of precious samples such as those produced by microdissection
7,8
. This is attributed to the large size of each BAC hybridization target that allows the binding of sufficient labeled samples to produce signals for detection. Another advantage of this platform is the tolerance of tissue heterogeneity, decreasing the need for tedious tissue microdissection
8
. This video protocol is a step-by-step tutorial from labeling the input DNA through to signal acquisition for the whole genome tiling path SMRT array.
Cellular Biology, Issue 18, Genomics, array comparative genomic hybridization, aCGH, microarray, DNA profile, genetic signature
870
Establishing Primary Adult Fibroblast Cultures From Rodents
Institutions: University of Rochester.

The importance of using primary cells, rather than cancer cell lines, for biological studies is becoming widely recognized. Primary cells are preferred in studies of cell cycle control, apoptosis, and DNA repair, as cancer cells carry mutations in genes involved in these processes. Primary cells cannot be cultured indefinitely due to the onset of replicative senescence or aneuploidization. Hence, new cultures need to be established regularly. The procedure for isolation of rodent embryonic fibroblasts is well established, but isolating adult fibroblast cultures often presents a challenge. Adult rodent fibroblasts isolated from mouse models of human disease may be a preferred control when comparing them to fibroblasts from human patients. Furthermore, adult fibroblasts are the only available material when working with wild rodents where pregnant females cannot be easily obtained. Here we provide a protocol for isolation and culture of adult fibroblasts from rodent skin and lungs. We used this procedure successfully to isolate fibroblasts from over twenty rodent species from laboratory mice and rats to wild rodents such as beaver, porcupine, and squirrel.
Cellular Biology, Issue 44, Primary cells, fibroblasts, rodents, cell culture
2033
Experimental Metastasis and CTL Adoptive Transfer Immunotherapy Mouse Model
Institutions: Medical College of Georgia.

Experimental metastasis mouse model is a simple and yet physiologically relevant metastasis model. The tumor cells are injected intravenously (i.v) into mouse tail veins and colonize in the lungs, thereby, resembling the last steps of tumor cell spontaneous metastasis: survival in the circulation, extravasation and colonization in the distal organs. From a therapeutic point of view, the experimental metastasis model is the simplest and ideal model since the target of therapies is often the end point of metastasis: established metastatic tumor in the distal organ. In this model, tumor cells are injected i.v into mouse tail veins and allowed to colonize and grow in the lungs. Tumor-specific CTLs are then injected i.v into the metastases-bearing mouse. The number and size of the lung metastases can be controlled by the number of tumor cells to be injected and the time of tumor growth. Therefore, various stages of metastasis, from minimal metastasis to extensive metastasis, can be modeled. Lung metastases are analyzed by inflation with ink, thus allowing easier visual observation and quantification.
Immunology, Issue 45, Metastasis, CTL adoptive transfer, Lung, Tumor Immunology
2077
Isolation & Characterization of Hoechstlow CD45negative Mouse Lung Mesenchymal Stem Cells
Institutions: University of Colorado Denver, University of Colorado Denver, University of Colorado Denver, University of Colorado Denver.

Tissue resident mesenchymal stem cells (MSC) are important regulators of tissue repair or regeneration, fibrosis, inflammation, angiogenesis and tumor formation. Taken together these studies suggest that resident lung MSC play a role during pulmonary tissue homeostasis, injury and repair during diseases such as pulmonary fibrosis (PF) and arterial hypertension (PAH). Here we describe a technology to define a population of resident lung MSC. The definition of this population
in vivo
pulmonary tissue using a define set of markers facilitates the repeated isolation of a well-characterized stem cell population by flow cytometry and the study of a specific cell type and function.
Developmental Biology, Issue 56, mesenchymal stem cell, MSC, lung stem cell, resident lung mesenchymal stem cells, stem cells
3159
Experimental Generation of Carcinoma-Associated Fibroblasts (CAFs) from Human Mammary Fibroblasts
Institutions: University of Manchester, Juntendo University.

Carcinomas are complex tissues comprised of neoplastic cells and a non-cancerous compartment referred to as the 'stroma'. The stroma consists of extracellular matrix (ECM) and a variety of mesenchymal cells, including fibroblasts, myofibroblasts, endothelial cells, pericytes and leukocytes
1-3
. The tumour-associated stroma is responsive to substantial paracrine signals released by neighbouring carcinoma cells. During the disease process, the stroma often becomes populated by carcinoma-associated fibroblasts (CAFs) including large numbers of myofibroblasts. These cells have previously been extracted from many different types of human carcinomas for their
in vitro
culture. A subpopulation of CAFs is distinguishable through their up-regulation of α-smooth muscle actin (α-SMA) expression
4,5
. These cells are a hallmark of 'activated fibroblasts' that share similar properties with myofibroblasts commonly observed in injured and fibrotic tissues
6
. The presence of this myofibroblastic CAF subset is highly related to high-grade malignancies and associated with poor prognoses in patients. Many laboratories, including our own, have shown that CAFs, when injected with carcinoma cells into immunodeficient mice, are capable of substantially promoting tumourigenesis
7-10
. CAFs prepared from carcinoma patients, however, frequently undergo senescence during propagation in culture limiting the extensiveness of their use throughout ongoing experimentation. To overcome this difficulty, we developed a novel technique to experimentally generate immortalised human mammary CAF cell lines (exp-CAFs) from human mammary fibroblasts, using a coimplantation breast tumour xenograft model. In order to generate exp-CAFs, parental human mammary fibroblasts, obtained from the reduction mammoplasty tissue, were first immortalised with hTERT, the catalytic subunit of the telomerase holoenzyme, and engineered to express GFP and a puromycin resistance gene. These cells were coimplanted with MCF-7 human breast carcinoma cells expressing an activated
ras
oncogene (MCF-7-ras cells) into a mouse xenograft. After a period of incubation
in vivo
, the initially injected human mammary fibroblasts were extracted from the tumour xenografts on the basis of their puromycin resistance
11
. We observed that the resident human mammary fibroblasts have differentiated, adopting a myofibroblastic phenotype and acquired tumour-promoting properties during the course of tumour progression. Importantly, these cells, defined as exp-CAFs, closely mimic the tumour-promoting myofibroblastic phenotype of CAFs isolated from breast carcinomas dissected from patients. Our tumour xenograft-derived exp-CAFs therefore provide an effective model to study the biology of CAFs in human breast carcinomas. The described protocol may also be extended for generating and characterising various CAF populations derived from other types of human carcinomas.
Medicine, Issue 56, cancer, stromal myofibroblasts, experimentally generated carcinoma-associated fibroblasts (exp-CAFs), fibroblast, human mammary carcinomas, tumour xenografts
3201
Isolation of Mammary Epithelial Cells from Three-dimensional Mixed-cell Spheroid Co-culture
Institutions: Tufts Medical Center.

While enormous efforts have gone into identifying signaling pathways and molecules involved in normal and malignant cell behaviors
1-2
, much of this work has been done using classical two-dimensional cell culture models, which allow for easy cell manipulation. It has become clear that intracellular signaling pathways are affected by extracellular forces, including dimensionality and cell surface tension
3-4
. Multiple approaches have been taken to develop three-dimensional models that more accurately represent biologic tissue architecture
3
. While these models incorporate multi-dimensionality and architectural stresses, study of the consequent effects on cells is less facile than in two-dimensional tissue culture due to the limitations of the models and the difficulty in extracting cells for subsequent analysis. The important role of the microenvironment around tumors in tumorigenesis and tumor behavior is becoming increasingly recognized
4
. Tumor stroma is composed of multiple cell types and extracellular molecules. During tumor development there are bidirectional signals between tumor cells and stromal cells
5
. Although some factors participating in tumor-stroma co-evolution have been identified, there is still a need to develop simple techniques to systematically identify and study the full array of these signals
6
. Fibroblasts are the most abundant cell type in normal or tumor-associated stromal tissues, and contribute to deposition and maintenance of basement membrane and paracrine growth factors
7
. Many groups have used three dimensional culture systems to study the role of fibroblasts on various cellular functions, including tumor response to therapies, recruitment of immune cells, signaling molecules, proliferation, apoptosis, angiogenesis, and invasion
8-15
. We have optimized a simple method for assessing the effects of mammary fibroblasts on mammary epithelial cells using a commercially available extracellular matrix model to create three-dimensional cultures of mixed cell populations (co-cultures)
16-22
. With continued co-culture the cells form spheroids with the fibroblasts clustering in the interior and the epithelial cells largely on the exterior of the spheroids and forming multi-cellular projections into the matrix. Manipulation of the fibroblasts that leads to altered epithelial cell invasiveness can be readily quantified by changes in numbers and length of epithelial projections
23
. Furthermore, we have devised a method for isolating epithelial cells out of three-dimensional co-culture that facilitates analysis of the effects of fibroblast exposure on epithelial behavior. We have found that the effects of co-culture persist for weeks after epithelial cell isolation, permitting ample time to perform multiple assays. This method is adaptable to cells of varying malignant potential and requires no specialized equipment. This technique allows for rapid evaluation of in vitro cell models under multiple conditions, and the corresponding results can be compared to
in vivo
animal tissue models as well as human tissue samples.
Molecular Biology, Issue 62, Tumor microenvironment, extracellular matrix, three-dimensional, co-culture, spheroid, mixed-cell, cell culture
3760
Naïve Adult Stem Cells Isolation from Primary Human Fibroblast Cultures
Institutions: Technische Universität München, Technische Universität München.
Over the last decade, several adult stem cell populations have been identified in human skin
1-4
. The isolation of multipotent adult dermal precursors was first reported by Miller F. D laboratory
5, 6
. These early studies described a multipotent precursor cell population from adult mammalian dermis
5
. These cells--termed SKPs, for skin-derived precursors-- were isolated and expanded from rodent and human skin and differentiated into both neural and mesodermal progeny, including cell types never found in skin, such as neurons
5
. Immunocytochemical studies on cultured SKPs revealed that cells expressed vimentin and nestin, an intermediate filament protein expressed in neural and skeletal muscle precursors, in addition to fibronectin and multipotent stem cell markers
6
. Until now, the adult stem cells population SKPs have been isolated from freshly collected mammalian skin biopsies. Recently, we have established and reported that a population of skin derived precursor cells could remain present in primary fibroblast cultures established from skin biopsies
7
. The assumption that a few somatic stem cells might reside in primary fibroblast cultures at early population doublings was based upon the following observations: (1) SKPs and primary fibroblast cultures are derived from the dermis, and therefore a small number of SKP cells could remain present in primary dermal fibroblast cultures and (2) primary fibroblast cultures grown from frozen aliquots that have been subjected to unfavorable temperature during storage or transfer contained a small number of cells that remained viable
7
. These rare cells were able to expand and could be passaged several times. This observation suggested that a small number of cells with high proliferation potency and resistance to stress were present in human fibroblast cultures
7
. We took advantage of these findings to establish a protocol for rapid isolation of adult stem cells from primary fibroblast cultures that are readily available from tissue banks around the world (
Figure 1
). This method has important significance as it allows the isolation of precursor cells when skin samples are not accessible while fibroblast cultures may be available from tissue banks, thus, opening new opportunities to dissect the molecular mechanisms underlying rare genetic diseases as well as modeling diseases in a dish.
Stem Cell Biology, Issue 75, Cellular Biology, Molecular Biology, Anatomy, Physiology, Biomedical Engineering, Medicine, Dermatology, Cells, Cultured, Stem Cells, biology (general), Skin and Connective Tissue Diseases, Biological Phenomena, Adult stem cells, skin derived precursor cells, fibroblasts, sphere culture, skin-derived precursors, SKP, PCR, qPCR, immunocytochemistry, isolation, cell culture
50185
Induction and Analysis of Epithelial to Mesenchymal Transition
Institutions: R&D Systems, Inc., R&D Systems, Inc..

Epithelial to mesenchymal transition (EMT) is essential for proper morphogenesis during development. Misregulation of this process has been implicated as a key event in fibrosis and the progression of carcinomas to a metastatic state. Understanding the processes that underlie EMT is imperative for the early diagnosis and clinical control of these disease states. Reliable induction of EMT
in vitro
is a useful tool for drug discovery as well as to identify common gene expression signatures for diagnostic purposes. Here we demonstrate a straightforward method for the induction of EMT in a variety of cell types. Methods for the analysis of cells pre- and post-EMT induction by immunocytochemistry are also included. Additionally, we demonstrate the effectiveness of this method through antibody-based array analysis and migration/invasion assays.
Molecular Biology, Issue 78, Cellular Biology, Biochemistry, Biomedical Engineering, Stem Cell Biology, Cancer Biology, Medicine, Bioengineering, Anatomy, Physiology, biology (general), Pathological Conditions, Signs and Symptoms, Wounds and Injuries, Neoplasms, Diagnosis, Therapeutics, Epithelial to mesenchymal transition, EMT, cancer, metastasis, cancer stem cell, cell, assay, immunohistochemistry
50478
Nonhuman Primate Lung Decellularization and Recellularization Using a Specialized Large-organ Bioreactor
Institutions: Tulane University School of Medicine, Tulane National Primate Research Center, Tulane University School of Medicine, Tulane University School of Medicine.

There are an insufficient number of lungs available to meet current and future organ transplantation needs. Bioartificial tissue regeneration is an attractive alternative to classic organ transplantation. This technology utilizes an organ's natural biological extracellular matrix (ECM) as a scaffold onto which autologous or stem/progenitor cells may be seeded and cultured in such a way that facilitates regeneration of the original tissue. The natural ECM is isolated by a process called decellularization. Decellularization is accomplished by treating tissues with a series of detergents, salts, and enzymes to achieve effective removal of cellular material while leaving the ECM intact. Studies conducted utilizing decellularization and subsequent recellularization of rodent lungs demonstrated marginal success in generating pulmonary-like tissue which is capable of gas exchange
in vivo
. While offering essential proof-of-concept, rodent models are not directly translatable to human use. Nonhuman primates (NHP) offer a more suitable model in which to investigate the use of bioartificial organ production for eventual clinical use. The protocols for achieving complete decellularization of lungs acquired from the NHP rhesus macaque are presented. The resulting acellular lungs can be seeded with a variety of cells including mesenchymal stem cells and endothelial cells. The manuscript also describes the development of a bioreactor system in which cell-seeded macaque lungs can be cultured under conditions of mechanical stretch and strain provided by negative pressure ventilation as well as pulsatile perfusion through the vasculature; these forces are known to direct differentiation along pulmonary and endothelial lineages, respectively. Representative results of decellularization and cell seeding are provided.
Bioengineering, Issue 82, rhesus macaque, decellularization, recellularization, detergent, matrix, scaffold, large-organ bioreactor, mesenchymal stem cells
50825
A Novel Three-dimensional Flow Chamber Device to Study Chemokine-directed Extravasation of Cells Circulating under Physiological Flow Conditions
Institutions: Torrey Pines Institute for Molecular Studies, Cascade LifeSciences Inc..

Extravasation of circulating cells from the bloodstream plays a central role in many physiological and pathophysiological processes, including stem cell homing and tumor metastasis. The three-dimensional flow chamber device (hereafter the 3D device) is a novel
in vitro
technology that recreates physiological shear stress and allows each step of the cell extravasation cascade to be quantified. The 3D device consists of an upper compartment in which the cells of interest circulate under shear stress, and a lower compartment of static wells that contain the chemoattractants of interest. The two compartments are separated by porous inserts coated with a monolayer of endothelial cells (EC). An optional second insert with microenvironmental cells of interest can be placed immediately beneath the EC layer. A gas exchange unit allows the optimal CO
2
tension to be maintained and provides an access point to add or withdraw cells or compounds during the experiment. The test cells circulate in the upper compartment at the desired shear stress (flow rate) controlled by a peristaltic pump. At the end of the experiment, the circulating and migrated cells are collected for further analyses. The 3D device can be used to examine cell rolling on and adhesion to EC under shear stress, transmigration in response to chemokine gradients, resistance to shear stress, cluster formation, and cell survival. In addition, the optional second insert allows the effects of crosstalk between EC and microenvironmental cells to be examined. The translational applications of the 3D device include testing of drug candidates that target cell migration and predicting the
in vivo
behavior of cells after intravenous injection. Thus, the novel 3D device is a versatile and inexpensive tool to study the molecular mechanisms that mediate cellular extravasation.
Bioengineering, Issue 77, Cellular Biology, Biophysics, Physiology, Molecular Biology, Biomedical Engineering, Immunology, Cells, Biological Factors, Equipment and Supplies, Cell Physiological Phenomena, Natural Science Disciplines, Life Sciences (General), circulating cells, extravasation, physiological shear stress, endothelial cells, microenvironment, chemokine gradient, flow, chamber, cell culture, assay
50959
Setting-up an In Vitro Model of Rat Blood-brain Barrier (BBB): A Focus on BBB Impermeability and Receptor-mediated Transport
Institutions: VECT-HORUS SAS, CNRS, NICN UMR 7259.

The blood brain barrier (BBB) specifically regulates molecular and cellular flux between the blood and the nervous tissue. Our aim was to develop and characterize a highly reproducible rat syngeneic
in vitro
model of the BBB using co-cultures of primary rat brain endothelial cells (RBEC) and astrocytes to study receptors involved in transcytosis across the endothelial cell monolayer. Astrocytes were isolated by mechanical dissection following trypsin digestion and were frozen for later co-culture. RBEC were isolated from 5-week-old rat cortices. The brains were cleaned of meninges and white matter, and mechanically dissociated following enzymatic digestion. Thereafter, the tissue homogenate was centrifuged in bovine serum albumin to separate vessel fragments from nervous tissue. The vessel fragments underwent a second enzymatic digestion to free endothelial cells from their extracellular matrix. The remaining contaminating cells such as pericytes were further eliminated by plating the microvessel fragments in puromycin-containing medium. They were then passaged onto filters for co-culture with astrocytes grown on the bottom of the wells. RBEC expressed high levels of tight junction (TJ) proteins such as occludin, claudin-5 and ZO-1 with a typical localization at the cell borders. The transendothelial electrical resistance (TEER) of brain endothelial monolayers, indicating the tightness of TJs reached 300 ohm·cm
2
on average. The endothelial permeability coefficients (Pe) for lucifer yellow (LY) was highly reproducible with an average of 0.26 ± 0.11 x 10
-3
cm/min. Brain endothelial cells organized in monolayers expressed the efflux transporter P-glycoprotein (P-gp), showed a polarized transport of rhodamine 123, a ligand for P-gp, and showed specific transport of transferrin-Cy3 and DiILDL across the endothelial cell monolayer. In conclusion, we provide a protocol for setting up an
in vitro
BBB model that is highly reproducible due to the quality assurance methods, and that is suitable for research on BBB transporters and receptors.
Medicine, Issue 88, rat brain endothelial cells (RBEC), mouse, spinal cord, tight junction (TJ), receptor-mediated transport (RMT), low density lipoprotein (LDL), LDLR, transferrin, TfR, P-glycoprotein (P-gp), transendothelial electrical resistance (TEER),
51278
Linear Amplification Mediated PCR – Localization of Genetic Elements and Characterization of Unknown Flanking DNA
Institutions: National Center for Tumor Diseases (NCT) and German Cancer Research Center (DKFZ).

Linear-amplification mediated PCR (LAM-PCR) has been developed to study hematopoiesis in gene corrected cells of patients treated by gene therapy with integrating vector systems. Due to the stable integration of retroviral vectors, integration sites can be used to study the clonal fate of individual cells and their progeny. LAM- PCR for the first time provided evidence that leukemia in gene therapy treated patients originated from provirus induced overexpression of a neighboring proto-oncogene. The high sensitivity and specificity of LAM-PCR compared to existing methods like inverse PCR and ligation mediated (LM)-PCR is achieved by an initial preamplification step (linear PCR of 100 cycles) using biotinylated vector specific primers which allow subsequent reaction steps to be carried out on solid phase (magnetic beads). LAM-PCR is currently the most sensitive method available to identify unknown DNA which is located in the proximity of known DNA. Recently, a variant of LAM-PCR has been developed that circumvents restriction digest thus abrogating retrieval bias of integration sites and enables a comprehensive analysis of provirus locations in host genomes. The following protocol explains step-by-step the amplification of both 3'- and 5'- sequences adjacent to the integrated lentiviral vector.
Genetics, Issue 88, gene therapy, integrome, integration site analysis, LAM-PCR, retroviral vectors, lentiviral vectors, AAV, deep sequencing, clonal inventory, mutagenesis screen
51543
Adapting the Electrospinning Process to Provide Three Unique Environments for a Tri-layered In Vitro Model of the Airway Wall
Institutions: University of Nottingham, University of Nottingham, University of Nottingham, University of Nottingham, University of Leicester, Loughborough University.
Electrospinning is a highly adaptable method producing porous 3D fibrous scaffolds that can be exploited in
in vitro
cell culture. Alterations to intrinsic parameters within the process allow a high degree of control over scaffold characteristics including fiber diameter, alignment and porosity. By developing scaffolds with similar dimensions and topographies to organ- or tissue-specific extracellular matrices (ECM), micro-environments representative to those that cells are exposed to
in situ
can be created. The airway bronchiole wall, comprised of three main micro-environments, was selected as a model tissue. Using decellularized airway ECM as a guide, we electrospun the non-degradable polymer, polyethylene terephthalate (PET), by three different protocols to produce three individual electrospun scaffolds optimized for epithelial, fibroblast or smooth muscle cell-culture. Using a commercially available bioreactor system, we stably co-cultured the three cell-types to provide an
in vitro
model of the airway wall over an extended time period. This model highlights the potential for such methods being employed in
in vitro
diagnostic studies investigating important inter-cellular cross-talk mechanisms or assessing novel pharmaceutical targets, by providing a relevant platform to allow the culture of fully differentiated adult cells within 3D, tissue-specific environments.
Bioengineering, Issue 101, Electrospinning, 3D Cell Culture, Bioreactor, Airway, Tissue Engineering, In Vitro Model
52986