Uncovering Beat Deafness: Detecting Rhythm Disorders with Synchronized Finger Tapping and Perceptual Timing Tasks
Published: 03-16-2015
ABSTRACT
A set of behavioral tasks for assessing perceptual and sensorimotor timing abilities in the general population (i.e., non-musicians) is presented here with the goal of uncovering rhythm disorders, such as beat deafness. Beat deafness is characterized by poor performance in perceiving durations in auditory rhythmic patterns or poor synchronization of movement with auditory rhythms (e.g., with musical beats). These tasks include the synchronization of finger tapping to the beat of simple and complex auditory stimuli and the detection of rhythmic irregularities (anisochrony detection task) embedded in the same stimuli. These tests, which are easy to administer, include an assessment of both perceptual and sensorimotor timing abilities under different conditions (e.g., beat rates and types of auditory material) and are based on the same auditory stimuli, ranging from a simple metronome to a complex musical excerpt. The analysis of synchronized tapping data is performed with circular statistics, which provide reliable measures of synchronization accuracy (e.g., the difference between the timing of the taps and the timing of the pacing stimuli) and consistency. Circular statistics on tapping data are particularly well-suited for detecting individual differences in the general population. Synchronized tapping and anisochrony detection are sensitive measures for identifying profiles of rhythm disorders and have been used with success to uncover cases of poor synchronization with spared perceptual timing. This systematic assessment of perceptual and sensorimotor timing can be extended to populations of patients with brain damage, neurodegenerative diseases (e.g., Parkinson's disease), and developmental disorders (e.g., Attention Deficit Hyperactivity Disorder).
20 Related JoVE Articles!
Assessing the Multiple Dimensions of Engagement to Characterize Learning: A Neurophysiological Perspective
Institutions: Université du Québec à Montréal, HEC Montreal, HEC Montreal, Université du Québec à Montréal.

In a recent theoretical synthesis on the concept of engagement, Fredricks, Blumenfeld and Paris
1
defined engagement by its multiple dimensions: behavioral, emotional and cognitive. They observed that individual types of engagement had not been studied in conjunction, and little information was available about interactions or synergy between the dimensions; consequently, more studies would contribute to creating finely tuned teaching interventions. Benefiting from the recent technological advances in neurosciences, this paper presents a recently developed methodology to gather and synchronize data on multidimensional engagement during learning tasks. The technique involves the collection of (a) electroencephalography, (b) electrodermal, (c) eye-tracking, and (d) facial emotion recognition data on four different computers. This led to synchronization issues for data collected from multiple sources. Post synchronization in specialized integration software gives researchers a better understanding of the dynamics between the multiple dimensions of engagement. For curriculum developers, these data could provide informed guidelines for achieving better instruction/learning efficiency. This technique also opens up possibilities in the field of brain-computer interactions, where adaptive learning or assessment environments could be developed.
Behavior, Issue 101, Measurement of engagement, learning, neurophysiology, electroencephalography, signal synchronization, electrodermal activity, automatic facial emotion recognition, emotional valence, arousal
52627
High-Resolution Endocardial and Epicardial Optical Mapping in a Sheep Model of Stretch-Induced Atrial Fibrillation
Institutions: University of Michigan .

Atrial fibrillation (AF) is a complex cardiac arrhythmia with high morbidity and mortality.
1,2
It is the most common sustained cardiac rhythm disturbance seen in clinical practice and its prevalence is expected to increase in the coming years.
3
Increased intra-atrial pressure and dilatation have been long recognized to lead to AF,
1,4
which highlights the relevance of using animal models and stretch to study AF dynamics. Understanding the mechanisms underlying AF requires visualization of the cardiac electrical waves with high spatial and temporal resolution. While high-temporal resolution can be achieved by conventional electrical mapping traditionally used in human electrophysiological studies, the small number of intra-atrial electrodes that can be used simultaneously limits the spatial resolution and precludes any detailed tracking of the electrical waves during the arrhythmia. The introduction of optical mapping in the early 90's enabled wide-field characterization of fibrillatory activity together with sub-millimeter spatial resolution in animal models
5,6
and led to the identification of rapidly spinning electrical wave patterns (rotors) as the sources of the fibrillatory activity that may occur in the ventricles or the atria.
7-9
Using combined time- and frequency-domain analyses of optical mapping it is possible to demonstrate discrete sites of high frequency periodic activity during AF, along with frequency gradients between left and right atrium. The region with fastest rotors activates at the highest frequency and drives the overall arrhythmia.
10,11
The waves emanating from such rotor interact with either functional or anatomic obstacles in their path, resulting in the phenomenon of fibrillatory conduction.
12
Mapping the endocardial surface of the posterior left atrium (PLA) allows the tracking of AF wave dynamics in the region with the highest rotor frequency. Importantly, the PLA is the region where intracavitary catheter-based ablative procedures are most successful terminating AF in patients,
13
which underscores the relevance of studying AF dynamics from the interior of the left atrium. Here we describe a sheep model of acute stretch-induced AF, which resembles some of the characteristics of human paroxysmal AF. Epicardial mapping on the left atrium is complemented with endocardial mapping of the PLA using a dual-channel rigid borescope c-mounted to a CCD camera, which represents the most direct approach to visualize the patterns of activation in the most relevant region for AF maintenance.
Medicine, Issue 53, atrial fibrillation, endocardial mapping, patterns of activation, posterior left atrium
3103
Synchronization of Caulobacter Crescentus for Investigation of the Bacterial Cell Cycle
Institutions: Stanford University School of Medicine.
The cell cycle is important for growth, genome replication, and development in all cells. In bacteria, studies of the cell cycle have focused largely on unsynchronized cells making it difficult to order the temporal events required for cell cycle progression, genome replication, and division.
Caulobacter crescentus
provides an excellent model system for the bacterial cell cycle whereby cells can be rapidly synchronized in a G0 state by density centrifugation. Cell cycle synchronization experiments have been used to establish the molecular events governing chromosome replication and segregation, to map a genetic regulatory network controlling cell cycle progression, and to identify the establishment of polar signaling complexes required for asymmetric cell division. Here we provide a detailed protocol for the rapid synchronization of
Caulobacter
NA1000 cells. Synchronization can be performed in a large-scale format for gene expression profiling and western blot assays, as well as a small-scale format for microscopy or FACS assays. The rapid synchronizability and high cell yields of
Caulobacter
make this organism a powerful model system for studies of the bacterial cell cycle.
Cellular Biology, Issue 98, cell cycle, cell biology, systems biology, synchronization, Caulobacter, asymmetric cell division
52633
Using MazeSuite and Functional Near Infrared Spectroscopy to Study Learning in Spatial Navigation
Institutions: Drexel University, Drexel University.
MazeSuite is a complete toolset to prepare, present and analyze navigational and spatial experiments
1
. MazeSuite can be used to design and edit adapted virtual 3D environments, track a participants' behavioral performance within the virtual environment and synchronize with external devices for physiological and neuroimaging measures, including electroencephalogram and eye tracking. Functional near-infrared spectroscopy (fNIR) is an optical brain imaging technique that enables continuous, noninvasive, and portable monitoring of changes in cerebral blood oxygenation related to human brain functions
2-7
. Over the last decade fNIR is used to effectively monitor cognitive tasks such as attention, working memory and problem solving
7-11
. fNIR can be implemented in the form of a wearable and minimally intrusive device; it has the capacity to monitor brain activity in ecologically valid environments. Cognitive functions assessed through task performance involve patterns of brain activation of the prefrontal cortex (PFC) that vary from the initial novel task performance, after practice and during retention
12
. Using positron emission tomography (PET), Van Horn and colleagues found that regional cerebral blood flow was activated in the right frontal lobe during the encoding (i.e., initial naïve performance) of spatial navigation of virtual mazes while there was little to no activation of the frontal regions after practice and during retention tests. Furthermore, the effects of contextual interference, a learning phenomenon related to organization of practice, are evident when individuals acquire multiple tasks under different practice schedules
13,14
. High contextual interference (random practice schedule) is created when the tasks to be learned are presented in a non-sequential, unpredictable order. Low contextual interference (blocked practice schedule) is created when the tasks to be learned are presented in a predictable order. Our goal here is twofold: first to illustrate the experimental protocol design process and the use of MazeSuite, and second, to demonstrate the setup and deployment of the fNIR brain activity monitoring system using Cognitive Optical Brain Imaging (COBI) Studio software
15
. To illustrate our goals, a subsample from a study is reported to show the use of both MazeSuite and COBI Studio in a single experiment. The study involves the assessment of cognitive activity of the PFC during the acquisition and learning of computer maze tasks for blocked and random orders. Two right-handed adults (one male, one female) performed 315 acquisition, 30 retention and 20 transfer trials across four days. Design, implementation, data acquisition and analysis phases of the study were explained with the intention to provide a guideline for future studies.
Neuroscience, Issue 56, Cognitive, optical, brain, imaging, functional near-infrared spectroscopy, fNIR, spatial, navigation, software
3443
Differential Imaging of Biological Structures with Doubly-resonant Coherent Anti-stokes Raman Scattering (CARS)
Institutions: University of California, Davis, University of California, Davis.

Coherent Raman imaging techniques have seen a dramatic increase in activity over the past decade due to their promise to enable label-free optical imaging with high molecular specificity
1
. The sensitivity of these techniques, however, is many orders of magnitude weaker than fluorescence, requiring milli-molar molecular concentrations
1,2
. Here, we describe a technique that can enable the detection of weak or low concentrations of Raman-active molecules by amplifying their signal with that obtained from strong or abundant Raman scatterers. The interaction of short pulsed lasers in a biological sample generates a variety of coherent Raman scattering signals, each of which carry unique chemical information about the sample. Typically, only one of these signals, e.g. Coherent Anti-stokes Raman scattering (CARS), is used to generate an image while the others are discarded. However, when these other signals, including 3-color CARS and four-wave mixing (FWM), are collected and compared to the CARS signal, otherwise difficult to detect information can be extracted
3
. For example, doubly-resonant CARS (DR-CARS) is the result of the constructive interference between two resonant signals
4
. We demonstrate how tuning of the three lasers required to produce DR-CARS signals to the 2845 cm
-1
CH stretch vibration in lipids and the 2120 cm
-1
CD stretching vibration of a deuterated molecule (e.g. deuterated sugars, fatty acids, etc.) can be utilized to probe both Raman resonances simultaneously. Under these conditions, in addition to CARS signals from each resonance, a combined DR-CARS signal probing both is also generated. We demonstrate how detecting the difference between the DR-CARS signal and the amplifying signal from an abundant molecule's vibration can be used to enhance the sensitivity for the weaker signal. We further demonstrate that this approach even extends to applications where both signals are generated from different molecules, such that e.g. using the strong Raman signal of a solvent can enhance the weak Raman signal of a dilute solute.
Cellular Biology, Issue 44, Raman scattering, Four-wave mixing, Coherent anti-Stokes Raman scattering, Microscopy, Coherent Raman Scattering
2085
Best Current Practice for Obtaining High Quality EEG Data During Simultaneous fMRI
Institutions: University of Nottingham , Brain Products GmbH.

Simultaneous EEG-fMRI allows the excellent temporal resolution of EEG to be combined with the high spatial accuracy of fMRI. The data from these two modalities can be combined in a number of ways, but all rely on the acquisition of high quality EEG and fMRI data. EEG data acquired during simultaneous fMRI are affected by several artifacts, including the gradient artefact (due to the changing magnetic field gradients required for fMRI), the pulse artefact (linked to the cardiac cycle) and movement artifacts (resulting from movements in the strong magnetic field of the scanner, and muscle activity). Post-processing methods for successfully correcting the gradient and pulse artifacts require a number of criteria to be satisfied during data acquisition. Minimizing head motion during EEG-fMRI is also imperative for limiting the generation of artifacts. Interactions between the radio frequency (RF) pulses required for MRI and the EEG hardware may occur and can cause heating. This is only a significant risk if safety guidelines are not satisfied. Hardware design and set-up, as well as careful selection of which MR sequences are run with the EEG hardware present must therefore be considered. The above issues highlight the importance of the choice of the experimental protocol employed when performing a simultaneous EEG-fMRI experiment. Based on previous research we describe an optimal experimental set-up. This provides high quality EEG data during simultaneous fMRI when using commercial EEG and fMRI systems, with safety risks to the subject minimized. We demonstrate this set-up in an EEG-fMRI experiment using a simple visual stimulus. However, much more complex stimuli can be used. Here we show the EEG-fMRI set-up using a Brain Products GmbH (Gilching, Germany) MRplus, 32 channel EEG system in conjunction with a Philips Achieva (Best, Netherlands) 3T MR scanner, although many of the techniques are transferable to other systems.
Behavior, Issue 76, Neuroscience, Neurobiology, Molecular Biology, Biophysics, Medicine, Neuroimaging, Functional Neuroimaging, Investigative Techniques, neurosciences, EEG, functional magnetic resonance imaging, fMRI, magnetic resonance imaging, MRI, simultaneous, recording, imaging, clinical techniques
50283
Fabrication and Testing of Microfluidic Optomechanical Oscillators
Institutions: University of Illinois at Urbana-Champaign, University of Michigan, University of Michigan.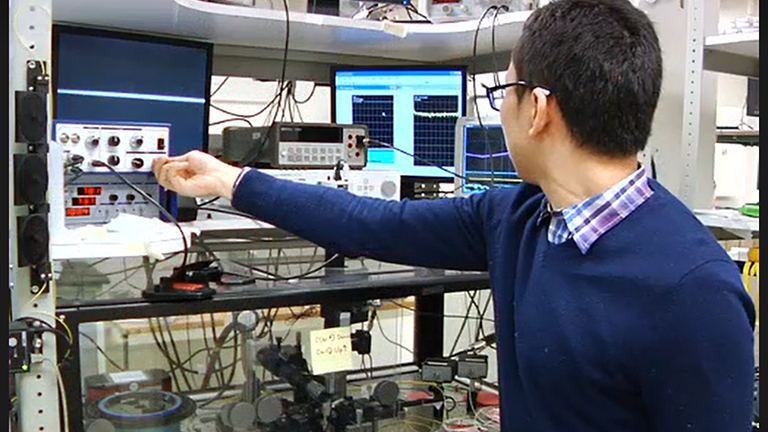 Cavity optomechanics experiments that parametrically couple the phonon modes and photon modes have been investigated in various optical systems including microresonators. However, because of the increased acoustic radiative losses during direct liquid immersion of optomechanical devices, almost all published optomechanical experiments have been performed in solid phase. This paper discusses a recently introduced hollow microfluidic optomechanical resonator. Detailed methodology is provided to fabricate these ultra-high-Q microfluidic resonators, perform optomechanical testing, and measure radiation pressure-driven breathing mode and SBS-driven whispering gallery mode parametric vibrations. By confining liquids inside the capillary resonator, high mechanical- and optical- quality factors are simultaneously maintained.
Physics, Issue 87, Optomechanics, Radiation pressure, Stimulated Brillouin scattering (SBS), Whispering gallery resonators (WGR), Oscillators, Microfluidics, Nonlinear Optics
51497
Construction and Characterization of a Novel Vocal Fold Bioreactor
Institutions: University of Delaware, University of Delaware.
In vitro
engineering of mechanically active tissues requires the presentation of physiologically relevant mechanical conditions to cultured cells. To emulate the dynamic environment of vocal folds, a novel vocal fold bioreactor capable of producing vibratory stimulations at fundamental phonation frequencies is constructed and characterized. The device is composed of a function generator, a power amplifier, a speaker selector and parallel vibration chambers. Individual vibration chambers are created by sandwiching a custom-made silicone membrane between a pair of acrylic blocks. The silicone membrane not only serves as the bottom of the chamber but also provides a mechanism for securing the cell-laden scaffold. Vibration signals, generated by a speaker mounted underneath the bottom acrylic block, are transmitted to the membrane aerodynamically by the oscillating air. Eight identical vibration modules, fixed on two stationary metal bars, are housed in an anti-humidity chamber for long-term operation in a cell culture incubator. The vibration characteristics of the vocal fold bioreactor are analyzed non-destructively using a Laser Doppler Vibrometer (LDV). The utility of the dynamic culture device is demonstrated by culturing cellular constructs in the presence of 200-Hz sinusoidal vibrations with a mid-membrane displacement of 40 µm. Mesenchymal stem cells cultured in the bioreactor respond to the vibratory signals by altering the synthesis and degradation of vocal fold-relevant, extracellular matrix components. The novel bioreactor system presented herein offers an excellent
in vitro
platform for studying vibration-induced mechanotransduction and for the engineering of functional vocal fold tissues.
Bioengineering, Issue 90, vocal fold; bioreactor; speaker; silicone membrane; fibrous scaffold; mesenchymal stem cells; vibration; extracellular matrix
51594
Proton Transfer and Protein Conformation Dynamics in Photosensitive Proteins by Time-resolved Step-scan Fourier-transform Infrared Spectroscopy
Institutions: Freie Universität Berlin.

Monitoring the dynamics of protonation and protein backbone conformation changes during the function of a protein is an essential step towards understanding its mechanism. Protonation and conformational changes affect the vibration pattern of amino acid side chains and of the peptide bond, respectively, both of which can be probed by infrared (IR) difference spectroscopy. For proteins whose function can be repetitively and reproducibly triggered by light, it is possible to obtain infrared difference spectra with (sub)microsecond resolution over a broad spectral range using the step-scan Fourier transform infrared technique. With ~10
2
-10
3
repetitions of the photoreaction, the minimum number to complete a scan at reasonable spectral resolution and bandwidth, the noise level in the absorption difference spectra can be as low as ~10
-
4
, sufficient to follow the kinetics of protonation changes from a single amino acid. Lower noise levels can be accomplished by more data averaging and/or mathematical processing. The amount of protein required for optimal results is between 5-100 µg, depending on the sampling technique used. Regarding additional requirements, the protein needs to be first concentrated in a low ionic strength buffer and then dried to form a film. The protein film is hydrated prior to the experiment, either with little droplets of water or under controlled atmospheric humidity. The attained hydration level (g of water / g of protein) is gauged from an IR absorption spectrum. To showcase the technique, we studied the photocycle of the light-driven proton-pump bacteriorhodopsin in its native purple membrane environment, and of the light-gated ion channel channelrhodopsin-2 solubilized in detergent.
Biophysics, Issue 88, bacteriorhodopsin, channelrhodopsin, attenuated total reflection, proton transfer, protein dynamics, infrared spectroscopy, time-resolved spectroscopy, step-scan, membrane proteins, singular value decomposition
51622
Characterization of Complex Systems Using the Design of Experiments Approach: Transient Protein Expression in Tobacco as a Case Study
Institutions: RWTH Aachen University, Fraunhofer Gesellschaft.

Plants provide multiple benefits for the production of biopharmaceuticals including low costs, scalability, and safety. Transient expression offers the additional advantage of short development and production times, but expression levels can vary significantly between batches thus giving rise to regulatory concerns in the context of good manufacturing practice. We used a design of experiments (DoE) approach to determine the impact of major factors such as regulatory elements in the expression construct, plant growth and development parameters, and the incubation conditions during expression, on the variability of expression between batches. We tested plants expressing a model anti-HIV monoclonal antibody (2G12) and a fluorescent marker protein (DsRed). We discuss the rationale for selecting certain properties of the model and identify its potential limitations. The general approach can easily be transferred to other problems because the principles of the model are broadly applicable: knowledge-based parameter selection, complexity reduction by splitting the initial problem into smaller modules, software-guided setup of optimal experiment combinations and step-wise design augmentation. Therefore, the methodology is not only useful for characterizing protein expression in plants but also for the investigation of other complex systems lacking a mechanistic description. The predictive equations describing the interconnectivity between parameters can be used to establish mechanistic models for other complex systems.
Bioengineering, Issue 83, design of experiments (DoE), transient protein expression, plant-derived biopharmaceuticals, promoter, 5'UTR, fluorescent reporter protein, model building, incubation conditions, monoclonal antibody
51216
Magnetic Tweezers for the Measurement of Twist and Torque
Institutions: Delft University of Technology.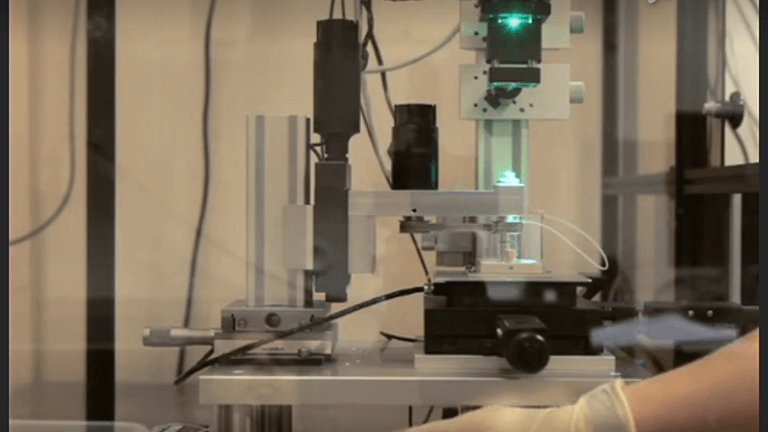 Single-molecule techniques make it possible to investigate the behavior of individual biological molecules in solution in real time. These techniques include so-called force spectroscopy approaches such as atomic force microscopy, optical tweezers, flow stretching, and magnetic tweezers. Amongst these approaches, magnetic tweezers have distinguished themselves by their ability to apply torque while maintaining a constant stretching force. Here, it is illustrated how such a "conventional" magnetic tweezers experimental configuration can, through a straightforward modification of its field configuration to minimize the magnitude of the transverse field, be adapted to measure the degree of twist in a biological molecule. The resulting configuration is termed the freely-orbiting magnetic tweezers. Additionally, it is shown how further modification of the field configuration can yield a transverse field with a magnitude intermediate between that of the "conventional" magnetic tweezers and the freely-orbiting magnetic tweezers, which makes it possible to directly measure the torque stored in a biological molecule. This configuration is termed the magnetic torque tweezers. The accompanying video explains in detail how the conversion of conventional magnetic tweezers into freely-orbiting magnetic tweezers and magnetic torque tweezers can be accomplished, and demonstrates the use of these techniques. These adaptations maintain all the strengths of conventional magnetic tweezers while greatly expanding the versatility of this powerful instrument.
Bioengineering, Issue 87, magnetic tweezers, magnetic torque tweezers, freely-orbiting magnetic tweezers, twist, torque, DNA, single-molecule techniques
51503
Quantifying Learning in Young Infants: Tracking Leg Actions During a Discovery-learning Task
Institutions: University of Southern California, Temple University, Niigata University of Health and Welfare.

Task-specific actions emerge from spontaneous movement during infancy. It has been proposed that task-specific actions emerge through a discovery-learning process. Here a method is described in which 3-4 month old infants learn a task by discovery and their leg movements are captured to quantify the learning process. This discovery-learning task uses an infant activated mobile that rotates and plays music based on specified leg action of infants. Supine infants activate the mobile by moving their feet vertically across a virtual threshold. This paradigm is unique in that as infants independently discover that their leg actions activate the mobile, the infants' leg movements are tracked using a motion capture system allowing for the quantification of the learning process. Specifically, learning is quantified in terms of the duration of mobile activation, the position variance of the end effectors (feet) that activate the mobile, changes in hip-knee coordination patterns, and changes in hip and knee muscle torque. This information describes infant exploration and exploitation at the interplay of person and environmental constraints that support task-specific action. Subsequent research using this method can investigate how specific impairments of different populations of infants at risk for movement disorders influence the discovery-learning process for task-specific action.
Behavior, Issue 100, infant, discovery-learning, motor learning, motor control, kinematics, kinetics
52841
The Generation of Higher-order Laguerre-Gauss Optical Beams for High-precision Interferometry
Institutions: University of Birmingham.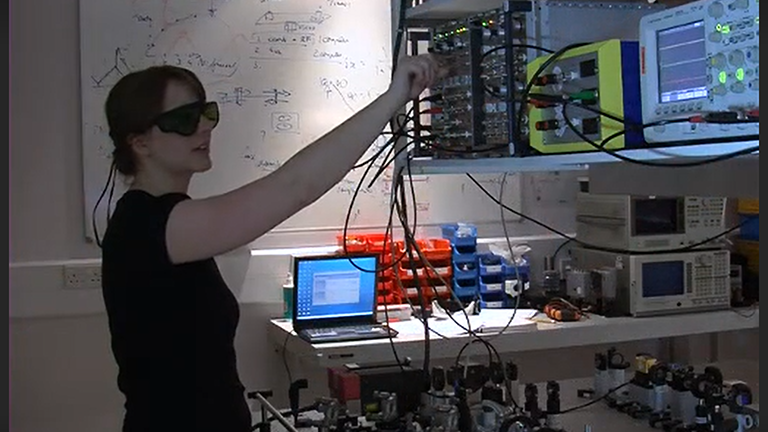 Thermal noise in high-reflectivity mirrors is a major impediment for several types of high-precision interferometric experiments that aim to reach the standard quantum limit or to cool mechanical systems to their quantum ground state. This is for example the case of future gravitational wave observatories, whose sensitivity to gravitational wave signals is expected to be limited in the most sensitive frequency band, by atomic vibration of their mirror masses. One promising approach being pursued to overcome this limitation is to employ higher-order Laguerre-Gauss (LG) optical beams in place of the conventionally used fundamental mode. Owing to their more homogeneous light intensity distribution these beams average more effectively over the thermally driven fluctuations of the mirror surface, which in turn reduces the uncertainty in the mirror position sensed by the laser light. We demonstrate a promising method to generate higher-order LG beams by shaping a fundamental Gaussian beam with the help of diffractive optical elements. We show that with conventional sensing and control techniques that are known for stabilizing fundamental laser beams, higher-order LG modes can be purified and stabilized just as well at a comparably high level. A set of diagnostic tools allows us to control and tailor the properties of generated LG beams. This enabled us to produce an LG beam with the highest purity reported to date. The demonstrated compatibility of higher-order LG modes with standard interferometry techniques and with the use of standard spherical optics makes them an ideal candidate for application in a future generation of high-precision interferometry.
Physics, Issue 78, Optics, Astronomy, Astrophysics, Gravitational waves, Laser interferometry, Metrology, Thermal noise, Laguerre-Gauss modes, interferometry
50564
Long-term Behavioral Tracking of Freely Swimming Weakly Electric Fish
Institutions: University of Ottawa, University of Ottawa, University of Ottawa.

Long-term behavioral tracking can capture and quantify natural animal behaviors, including those occurring infrequently. Behaviors such as exploration and social interactions can be best studied by observing unrestrained, freely behaving animals. Weakly electric fish (WEF) display readily observable exploratory and social behaviors by emitting electric organ discharge (EOD). Here, we describe three effective techniques to synchronously measure the EOD, body position, and posture of a free-swimming WEF for an extended period of time. First, we describe the construction of an experimental tank inside of an isolation chamber designed to block external sources of sensory stimuli such as light, sound, and vibration. The aquarium was partitioned to accommodate four test specimens, and automated gates remotely control the animals' access to the central arena. Second, we describe a precise and reliable real-time EOD timing measurement method from freely swimming WEF. Signal distortions caused by the animal's body movements are corrected by spatial averaging and temporal processing stages. Third, we describe an underwater near-infrared imaging setup to observe unperturbed nocturnal animal behaviors. Infrared light pulses were used to synchronize the timing between the video and the physiological signal over a long recording duration. Our automated tracking software measures the animal's body position and posture reliably in an aquatic scene. In combination, these techniques enable long term observation of spontaneous behavior of freely swimming weakly electric fish in a reliable and precise manner. We believe our method can be similarly applied to the study of other aquatic animals by relating their physiological signals with exploratory or social behaviors.
Neuroscience, Issue 85, animal tracking, weakly electric fish, electric organ discharge, underwater infrared imaging, automated image tracking, sensory isolation chamber, exploratory behavior
50962
Fluorescence Lifetime Imaging of Molecular Rotors in Living Cells
Institutions: King's College London, Imperial College London , PhotoBiotics Ltd.

Diffusion is often an important rate-determining step in chemical reactions or biological processes and plays a role in a wide range of intracellular events. Viscosity is one of the key parameters affecting the diffusion of molecules and proteins, and changes in viscosity have been linked to disease and malfunction at the cellular level.
1-3
While methods to measure the bulk viscosity are well developed, imaging microviscosity remains a challenge. Viscosity maps of microscopic objects, such as single cells, have until recently been hard to obtain. Mapping viscosity with fluorescence techniques is advantageous because, similar to other optical techniques, it is minimally invasive, non-destructive and can be applied to living cells and tissues. Fluorescent molecular rotors exhibit fluorescence lifetimes and quantum yields which are a function of the viscosity of their microenvironment.
4,5
Intramolecular twisting or rotation leads to non-radiative decay from the excited state back to the ground state. A viscous environment slows this rotation or twisting, restricting access to this non-radiative decay pathway. This leads to an increase in the fluorescence quantum yield and the fluorescence lifetime. Fluorescence Lifetime Imaging (FLIM) of modified hydrophobic BODIPY dyes that act as fluorescent molecular rotors show that the fluorescence lifetime of these probes is a function of the microviscosity of their environment.
6-8
A logarithmic plot of the fluorescence lifetime versus the solvent viscosity yields a straight line that obeys the Förster Hoffman equation.
9
This plot also serves as a calibration graph to convert fluorescence lifetime into viscosity. Following incubation of living cells with the modified BODIPY fluorescent molecular rotor, a punctate dye distribution is observed in the fluorescence images. The viscosity value obtained in the puncta in live cells is around 100 times higher than that of water and of cellular cytoplasm.
6,7
Time-resolved fluorescence anisotropy measurements yield rotational correlation times in agreement with these large microviscosity values. Mapping the fluorescence lifetime is independent of the fluorescence intensity, and thus allows the separation of probe concentration and viscosity effects. In summary, we have developed a practical and versatile approach to map the microviscosity in cells based on FLIM of fluorescent molecular rotors.
Bioengineering, Issue 60, fluorescence, microscopy, FLIM, fluorescent molecular rotors
2925
Measurement and Analysis of Atomic Hydrogen and Diatomic Molecular AlO, C2, CN, and TiO Spectra Following Laser-induced Optical Breakdown
Institutions: University of Tennessee Space Institute.

In this work, we present time-resolved measurements of atomic and diatomic spectra following laser-induced optical breakdown. A typical LIBS arrangement is used. Here we operate a Nd:YAG laser at a frequency of 10 Hz at the fundamental wavelength of 1,064 nm. The 14 nsec pulses with anenergy of 190 mJ/pulse are focused to a 50 µm spot size to generate a plasma from optical breakdown or laser ablation in air. The microplasma is imaged onto the entrance slit of a 0.6 m spectrometer, and spectra are recorded using an 1,800 grooves/mm grating an intensified linear diode array and optical multichannel analyzer (OMA) or an ICCD. Of interest are Stark-broadened atomic lines of the hydrogen Balmer series to infer electron density. We also elaborate on temperature measurements from diatomic emission spectra of aluminum monoxide (AlO), carbon (C
2
), cyanogen (CN), and titanium monoxide (TiO). The experimental procedures include wavelength and sensitivity calibrations. Analysis of the recorded molecular spectra is accomplished by the fitting of data with tabulated line strengths. Furthermore, Monte-Carlo type simulations are performed to estimate the error margins. Time-resolved measurements are essential for the transient plasma commonly encountered in LIBS.
Physics, Issue 84, Laser Induced Breakdown Spectroscopy, Laser Ablation, Molecular Spectroscopy, Atomic Spectroscopy, Plasma Diagnostics
51250
Simultaneous Multicolor Imaging of Biological Structures with Fluorescence Photoactivation Localization Microscopy
Institutions: University of Maine.

Localization-based super resolution microscopy can be applied to obtain a spatial map (image) of the distribution of individual fluorescently labeled single molecules within a sample with a spatial resolution of tens of nanometers. Using either photoactivatable (PAFP) or photoswitchable (PSFP) fluorescent proteins fused to proteins of interest, or organic dyes conjugated to antibodies or other molecules of interest, fluorescence photoactivation localization microscopy (FPALM) can simultaneously image multiple species of molecules within single cells. By using the following approach, populations of large numbers (thousands to hundreds of thousands) of individual molecules are imaged in single cells and localized with a precision of ~10-30 nm. Data obtained can be applied to understanding the nanoscale spatial distributions of multiple protein types within a cell. One primary advantage of this technique is the dramatic increase in spatial resolution: while diffraction limits resolution to ~200-250 nm in conventional light microscopy, FPALM can image length scales more than an order of magnitude smaller. As many biological hypotheses concern the spatial relationships among different biomolecules, the improved resolution of FPALM can provide insight into questions of cellular organization which have previously been inaccessible to conventional fluorescence microscopy. In addition to detailing the methods for sample preparation and data acquisition, we here describe the optical setup for FPALM. One additional consideration for researchers wishing to do super-resolution microscopy is cost: in-house setups are significantly cheaper than most commercially available imaging machines. Limitations of this technique include the need for optimizing the labeling of molecules of interest within cell samples, and the need for post-processing software to visualize results. We here describe the use of PAFP and PSFP expression to image two protein species in fixed cells. Extension of the technique to living cells is also described.
Basic Protocol, Issue 82, Microscopy, Super-resolution imaging, Multicolor, single molecule, FPALM, Localization microscopy, fluorescent proteins
50680
Detection of Architectural Distortion in Prior Mammograms via Analysis of Oriented Patterns
Institutions: University of Calgary , University of Calgary .

We demonstrate methods for the detection of architectural distortion in prior mammograms of interval-cancer cases based on analysis of the orientation of breast tissue patterns in mammograms. We hypothesize that architectural distortion modifies the normal orientation of breast tissue patterns in mammographic images before the formation of masses or tumors. In the initial steps of our methods, the oriented structures in a given mammogram are analyzed using Gabor filters and phase portraits to detect node-like sites of radiating or intersecting tissue patterns. Each detected site is then characterized using the node value, fractal dimension, and a measure of angular dispersion specifically designed to represent spiculating patterns associated with architectural distortion. Our methods were tested with a database of 106 prior mammograms of 56 interval-cancer cases and 52 mammograms of 13 normal cases using the features developed for the characterization of architectural distortion, pattern classification
via
quadratic discriminant analysis, and validation with the leave-one-patient out procedure. According to the results of free-response receiver operating characteristic analysis, our methods have demonstrated the capability to detect architectural distortion in prior mammograms, taken 15 months (on the average) before clinical diagnosis of breast cancer, with a sensitivity of 80% at about five false positives per patient.
Medicine, Issue 78, Anatomy, Physiology, Cancer Biology, angular spread, architectural distortion, breast cancer, Computer-Assisted Diagnosis, computer-aided diagnosis (CAD), entropy, fractional Brownian motion, fractal dimension, Gabor filters, Image Processing, Medical Informatics, node map, oriented texture, Pattern Recognition, phase portraits, prior mammograms, spectral analysis
50341
Protein WISDOM: A Workbench for In silico De novo Design of BioMolecules
Institutions: Princeton University.

The aim of
de novo
protein design is to find the amino acid sequences that will fold into a desired 3-dimensional structure with improvements in specific properties, such as binding affinity, agonist or antagonist behavior, or stability, relative to the native sequence. Protein design lies at the center of current advances drug design and discovery. Not only does protein design provide predictions for potentially useful drug targets, but it also enhances our understanding of the protein folding process and protein-protein interactions. Experimental methods such as directed evolution have shown success in protein design. However, such methods are restricted by the limited sequence space that can be searched tractably. In contrast, computational design strategies allow for the screening of a much larger set of sequences covering a wide variety of properties and functionality. We have developed a range of computational
de novo
protein design methods capable of tackling several important areas of protein design. These include the design of monomeric proteins for increased stability and complexes for increased binding affinity. To disseminate these methods for broader use we present Protein WISDOM (https://www.proteinwisdom.org), a tool that provides automated methods for a variety of protein design problems. Structural templates are submitted to initialize the design process. The first stage of design is an optimization sequence selection stage that aims at improving stability through minimization of potential energy in the sequence space. Selected sequences are then run through a fold specificity stage and a binding affinity stage. A rank-ordered list of the sequences for each step of the process, along with relevant designed structures, provides the user with a comprehensive quantitative assessment of the design. Here we provide the details of each design method, as well as several notable experimental successes attained through the use of the methods.
Genetics, Issue 77, Molecular Biology, Bioengineering, Biochemistry, Biomedical Engineering, Chemical Engineering, Computational Biology, Genomics, Proteomics, Protein, Protein Binding, Computational Biology, Drug Design, optimization (mathematics), Amino Acids, Peptides, and Proteins, De novo protein and peptide design, Drug design, In silico sequence selection, Optimization, Fold specificity, Binding affinity, sequencing
50476
Synthesis of Nine-atom Deltahedral Zintl Ions of Germanium and their Functionalization with Organic Groups
Institutions: University of Notre Dame .

Although the first studies of Zintl ions date between the late 1890's and early 1930's they were not structurally characterized until many years later.
1,2
Their redox chemistry is even younger, just about ten years old, but despite this short history these deltahedral clusters ions E
9
n-
(E = Si, Ge, Sn, Pb; n = 2, 3, 4) have already shown interesting and diverse reactivity and have been at the forefront of rapidly developing and exciting new chemistry.
3-6
Notable milestones are the oxidative coupling of Ge
9
4-
clusters to oligomers and infinite chains,
7-19
their metallation,
14-16,20-25
capping by transition-metal organometallic fragments,
26-34
insertion of a transition-metal atom at the center of the cluster which is sometimes combined with capping and oligomerization,
35-47
addition of main-group organometallic fragments as exo-bonded substituents,
48-50
and functionalization with various organic residues by reactions with organic halides and alkynes.
51-58
This latter development of attaching organic fragments directly to the clusters has opened up a new field, namely organo-Zintl chemistry, that is potentially fertile for further synthetic explorations, and it is the step-by-step procedure for the synthesis of germanium-divinyl clusters described herein. The initial steps outline the synthesis of an intermetallic precursor of K
4
Ge
9
from which the Ge
9
4-
clusters are extracted later in solution. This involves fused-silica glass blowing, arc-welding of niobium containers, and handling of highly air-sensitive materials in a glove box. The air-sensitive K
4
Ge
9
is then dissolved in ethylenediamine in the box and then alkenylated by a reaction with Me
3
SiC≡CSiMe
3
. The reaction is followed by electrospray mass spectrometry while the resulting solution is used for obtaining single crystals containing the functionalized clusters [H
2
C=CH-Ge
9
-CH=CH
2
]
2-
. For this purpose the solution is centrifuged, filtered, and carefully layered with a toluene solution of 18-crown-6. Left undisturbed for a few days, the so-layered solutions produced orange crystalline blocks of [K(18-crown-6)]
2
[Ge
9
(HCCH
2
)
2
]•en which were characterized by single-crystal X-ray diffraction. The process highlights standard reaction techniques, work-up, and analysis towards functionalized deltahedral Zintl clusters. It is hoped that it will help towards further development and understanding of these compounds in the community at large.
Biochemistry, Issue 60, Zintl ions, deltahedral clusters, germanium, intermetallics, alkali metals
3532