In vitro Labeling of Human Embryonic Stem Cells for Magnetic Resonance Imaging
Published: 08-03-2008
ABSTRACT
Human embryonic stem cells (hESC) have demonstrated the ability to restore the injured myocardium. Magnetic resonance imaging (MRI) has emerged as one of the predominant imaging modalities to assess the restoration of the injured myocardium. Furthermore, ex-vivo labeling agents, such as iron-oxide nanoparticles, have been employed to track and localize the transplanted stem cells. However, this method does not monitor a fundamental cellular biology property regarding the viability of transplanted cells. It has been known that manganese chloride (MnCl2) enters the cells via voltage-gated calcium (Ca2+) channels when the cells are biologically active, and accumulates intracellularly to generate T1 shortening effect. Therefore, we suggest that manganese-guided MRI can be useful to monitor cell viability after the transplantation of hESC into the myocardium. In this video, we will show how to label hESC with MnCl2 and how those cells can be clearly seen by using MRI in vitro. At the same time, biological activity of Ca2+-channels will be modulated utilizing both Ca2+-channel agonist and antagonist to evaluate concomitant signal changes.
24 Related JoVE Articles!
Confocal Time Lapse Imaging as an Efficient Method for the Cytocompatibility Evaluation of Dental Composites
Institutions: UMR CNRS 5615, Université Lyon1, Hospices Civils de Lyon, APHP, Hôpital Rothschild.

It is generally accepted that
in vitro
cell material interaction is a useful criterion in the evaluation of dental material biocompatibility. The objective of this study was to use 3D CLSM time lapse confocal imaging to assess the
in vitro
biocompatibility of dental composites. This method provides an accurate and sensitive indication of viable cell rate in contact with dental composite extracts. The ELS extra low shrinkage, a dental composite used for direct restoration, has been taken as example.
In vitro
assessment was performed on cultured primary human gingival fibroblast cells using Live/Dead staining. Images were obtained with the FV10i confocal biological inverted system and analyzed with the FV10-ASW 3.1 Software. Image analysis showed a very slight cytotoxicity in the presence of the tested composite after 5 hours of time lapse. A slight decrease of cell viability was shown in contact with the tested composite extracts compared to control cells. The findings highlighted the use of 3D CLSM time lapse imaging as a sensitive method to qualitatively and quantitatively evaluate the biocompatibility behavior of dental composites.
Medicine, Issue 93, In vitro biocompatibility, dental composites, Live/Deadstaining, 3D imaging, Confocal Microscopy, Time lapse imaging
51949
Single Plane Illumination Module and Micro-capillary Approach for a Wide-field Microscope
Institutions: Aalen University.

A module for light sheet or single plane illumination microscopy (SPIM) is described which is easily adapted to an inverted wide-field microscope and optimized for 3-dimensional cell cultures,
e.g.,
multi-cellular tumor spheroids (MCTS). The SPIM excitation module shapes and deflects the light such that the sample is illuminated by a light sheet perpendicular to the detection path of the microscope. The system is characterized by use of a rectangular capillary for holding (and in an advanced version also by a micro-capillary approach for rotating) the samples, by synchronous adjustment of the illuminating light sheet and the objective lens used for fluorescence detection as well as by adaptation of a microfluidic system for application of fluorescent dyes, pharmaceutical agents or drugs in small quantities. A protocol for working with this system is given, and some technical details are reported. Representative results include (1) measurements of the uptake of a cytostatic drug (doxorubicin) and its partial conversion to a degradation product, (2) redox measurements by use of a genetically encoded glutathione sensor upon addition of an oxidizing agent, and (3) initiation and labeling of cell necrosis upon inhibition of the mitochondrial respiratory chain. Differences and advantages of the present SPIM module in comparison with existing systems are discussed.
Physics, Issue 90, Fluorescence, light sheet, single plane illumination microscopy (SPIM), 3D cell cultures, rectangular capillary, microfluidics, multi-cellular tumor spheroids (MCTS), wide-field microscopy
51993
Porous Silicon Microparticles for Delivery of siRNA Therapeutics
Institutions: Houston Methodist Research Institute, Sun Yat-sen University, Huazhong University of Science and Technology, National Center for Nanoscience & Technology of China, Weill Cornell Medical College, Weill Cornell Medical College.
Small interfering RNA (siRNA) can be used to suppress gene expression, thereby providing a new avenue for the treatment of various diseases. However, the successful implementation of siRNA therapy requires the use of delivery platforms that can overcome the major challenges of siRNA delivery, such as enzymatic degradation, low intracellular uptake and lysosomal entrapment. Here, a protocol for the preparation and use of a biocompatible and effective siRNA delivery system is presented. This platform consists of polyethylenimine (PEI) and arginine (Arg)-grafted porous silicon microparticles, which can be loaded with siRNA by performing a simple mixing step. The silicon particles are gradually degraded over time, thereby triggering the formation of Arg-PEI/siRNA nanoparticles. This delivery vehicle provides a means for protecting and internalizing siRNA, without causing cytotoxicity. The major steps of polycation functionalization, particle characterization, and siRNA loading are outlined in detail. In addition, the procedures for determining particle uptake, cytotoxicity, and transfection efficacy are also described.
Bioengineering, Issue 95, Porous silicon, siRNA, Nanodelivery system, Cancer therapy, Transfection, Polycation functionalization
52075
Fluorescence Based Primer Extension Technique to Determine Transcriptional Starting Points and Cleavage Sites of RNases In Vivo
Institutions: University of Tübingen.

Fluorescence based primer extension (FPE) is a molecular method to determine transcriptional starting points or processing sites of RNA molecules. This is achieved by reverse transcription of the RNA of interest using specific fluorescently labeled primers and subsequent analysis of the resulting cDNA fragments by denaturing polyacrylamide gel electrophoresis. Simultaneously, a traditional Sanger sequencing reaction is run on the gel to map the ends of the cDNA fragments to their exact corresponding bases. In contrast to 5'-RACE (Rapid Amplification of cDNA Ends), where the product must be cloned and multiple candidates sequenced, the bulk of cDNA fragments generated by primer extension can be simultaneously detected in one gel run. In addition, the whole procedure (from reverse transcription to final analysis of the results) can be completed in one working day. By using fluorescently labeled primers, the use of hazardous radioactive isotope labeled reagents can be avoided and processing times are reduced as products can be detected during the electrophoresis procedure. In the following protocol, we describe an
in vivo
fluorescent primer extension method to reliably and rapidly detect the 5' ends of RNAs to deduce transcriptional starting points and RNA processing sites (
e.g.,
by toxin-antitoxin system components) in
S. aureus, E. coli
and other bacteria.
Molecular Biology, Issue 92, Primer extension, RNA mapping, 5' end, fluorescent primer, transcriptional starting point, TSP, RNase, toxin-antitoxin, cleavage site, gel electrophoresis, DNA isolation, RNA processing
52134
Human Pluripotent Stem Cell Based Developmental Toxicity Assays for Chemical Safety Screening and Systems Biology Data Generation
Institutions: University of Cologne, University of Konstanz, Technical University of Dortmund, Technical University of Dortmund.

Efficient protocols to differentiate human pluripotent stem cells to various tissues in combination with -omics technologies opened up new horizons for
in vitro
toxicity testing of potential drugs. To provide a solid scientific basis for such assays, it will be important to gain quantitative information on the time course of development and on the underlying regulatory mechanisms by systems biology approaches. Two assays have therefore been tuned here for these requirements. In the UKK test system, human embryonic stem cells (hESC) (or other pluripotent cells) are left to spontaneously differentiate for 14 days in embryoid bodies, to allow generation of cells of all three germ layers. This system recapitulates key steps of early human embryonic development, and it can predict human-specific early embryonic toxicity/teratogenicity, if cells are exposed to chemicals during differentiation. The UKN1 test system is based on hESC differentiating to a population of neuroectodermal progenitor (NEP) cells for 6 days. This system recapitulates early neural development and predicts early developmental neurotoxicity and epigenetic changes triggered by chemicals. Both systems, in combination with transcriptome microarray studies, are suitable for identifying toxicity biomarkers. Moreover, they may be used in combination to generate input data for systems biology analysis. These test systems have advantages over the traditional toxicological studies requiring large amounts of animals. The test systems may contribute to a reduction of the costs for drug development and chemical safety evaluation. Their combination sheds light especially on compounds that may influence neurodevelopment specifically.
Developmental Biology, Issue 100, Human embryonic stem cells, developmental toxicity, neurotoxicity, neuroectodermal progenitor cells, immunoprecipitation, differentiation, cytotoxicity, embryopathy, embryoid body
52333
An In Vitro Enzymatic Assay to Measure Transcription Inhibition by Gallium(III) and H3 5,10,15-tris(pentafluorophenyl)corroles
Institutions: California Institute of Technology, Beckman Research Institute of the City of Hope.

Chemotherapy often involves broad-spectrum cytotoxic agents with many side effects and limited targeting. Corroles are a class of tetrapyrrolic macrocycles that exhibit differential cytostatic and cytotoxic properties in specific cell lines, depending on the identities of the chelated metal and functional groups. The unique behavior of functionalized corroles towards specific cell lines introduces the possibility of targeted chemotherapy. Many anticancer drugs are evaluated by their ability to inhibit RNA transcription. Here we present a step-by-step protocol for RNA transcription in the presence of known and potential inhibitors. The evaluation of the RNA products of the transcription reaction by gel electrophoresis and UV-Vis spectroscopy provides information on inhibitive properties of potential anticancer drug candidates and, with modifications to the assay, more about their mechanism of action. Little is known about the molecular mechanism of action of corrole cytotoxicity. In this experiment, we consider two corrole compounds: gallium(III) 5,10,15-(tris)pentafluorophenylcorrole (Ga(tpfc)) and freebase analogue 5,10,15-(tris)pentafluorophenylcorrole (tpfc). An RNA transcription assay was used to examine the inhibitive properties of the corroles. Five transcription reactions were prepared: DNA treated with Actinomycin D, triptolide, Ga(tpfc), tpfc at a [complex]:[template DNA base] ratio of 0.01, respectively, and an untreated control. The transcription reactions were analyzed after 4 hr using agarose gel electrophoresis and UV-Vis spectroscopy. There is clear inhibition by Ga(tpfc), Actinomycin D, and triptolide. This RNA transcription assay can be modified to provide more mechanistic detail by varying the concentrations of the anticancer complex, DNA, or polymerase enzyme, or by incubating the DNA or polymerase with the complexes prior to RNA transcription; these modifications would differentiate between an inhibition mechanism involving the DNA or the enzyme. Adding the complex after RNA transcription can be used to test whether the complexes degrade or hydrolyze the RNA. This assay can also be used to study additional anticancer candidates.
Bioengineering, Issue 97, Corrole, RNA, transcription, inhibition, anti-cancer, DNA, binding, Actinomycin D, triptolide
52355
A Comparative Analysis of Recombinant Protein Expression in Different Biofactories: Bacteria, Insect Cells and Plant Systems
Institutions: University of Verona, Verona, Italy, University of Perugia, Perugia, Italy.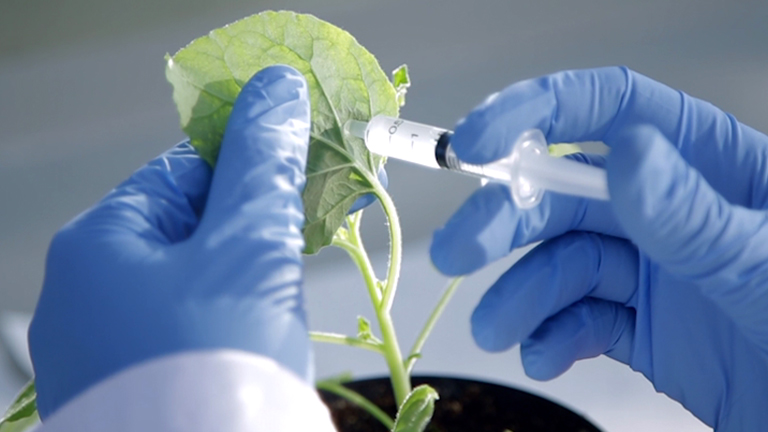 Plant-based systems are considered a valuable platform for the production of recombinant proteins as a result of their well-documented potential for the flexible, low-cost production of high-quality, bioactive products. In this study, we compared the expression of a target human recombinant protein in traditional fermenter-based cell cultures (bacterial and insect) with plant-based expression systems, both transient and stable. For each platform, we described the set-up, optimization and length of the production process, the final product quality and the yields and we evaluated provisional production costs, specific for the selected target recombinant protein. Overall, our results indicate that bacteria are unsuitable for the production of the target protein due to its accumulation within insoluble inclusion bodies. On the other hand, plant-based systems are versatile platforms that allow the production of the selected protein at lower-costs than Baculovirus/insect cell system. In particular, stable transgenic lines displayed the highest-yield of the final product and transient expressing plants the fastest process development. However, not all recombinant proteins may benefit from plant-based systems but the best production platform should be determined empirically with a case-by-case approach, as described here.
Plant Biology, Issue 97, Plant biotechnology, transient expression, stable expression, transgenic plant, Nicotiana tabacum, Nicotiana benthamiana, Baculovirus/insect cells, recombinant protein
52459
Biofunctionalized Prussian Blue Nanoparticles for Multimodal Molecular Imaging Applications
Institutions: Children's National Medical Center, University of Maryland, George Washington University, George Washington University.
Multimodal, molecular imaging allows the visualization of biological processes at cellular, subcellular, and molecular-level resolutions using multiple, complementary imaging techniques. These imaging agents facilitate the real-time assessment of pathways and mechanisms
in vivo
, which enhance both diagnostic and therapeutic efficacy. This article presents the protocol for the synthesis of biofunctionalized Prussian blue nanoparticles (PB NPs) - a novel class of agents for use in multimodal, molecular imaging applications. The imaging modalities incorporated in the nanoparticles, fluorescence imaging and magnetic resonance imaging (MRI), have complementary features. The PB NPs possess a core-shell design where gadolinium and manganese ions incorporated within the interstitial spaces of the PB lattice generate MRI contrast, both in T
1
and T
2
-weighted sequences. The PB NPs are coated with fluorescent avidin using electrostatic self-assembly, which enables fluorescence imaging. The avidin-coated nanoparticles are modified with biotinylated ligands that confer molecular targeting capabilities to the nanoparticles. The stability and toxicity of the nanoparticles are measured, as well as their MRI relaxivities. The multimodal, molecular imaging capabilities of these biofunctionalized PB NPs are then demonstrated by using them for fluorescence imaging and molecular MRI
in vitro
.
Bioengineering, Issue 98, Prussian blue, nanoparticles, multimodal imaging, molecular imaging, fluorescence, magnetic resonance imaging, gadolinium, manganese
52621
Removal of Trace Elements by Cupric Oxide Nanoparticles from Uranium In Situ Recovery Bleed Water and Its Effect on Cell Viability
Institutions: University of New Mexico, University of Wyoming, University of Wyoming, Colorado State University, Colorado State University, California Northstate University.

In situ
recovery (ISR) is the predominant method of uranium extraction in the United States. During ISR, uranium is leached from an ore body and extracted through ion exchange. The resultant production bleed water (PBW) contains contaminants such as arsenic and other heavy metals. Samples of PBW from an active ISR uranium facility were treated with cupric oxide nanoparticles (CuO-NPs). CuO-NP treatment of PBW reduced priority contaminants, including arsenic, selenium, uranium, and vanadium. Untreated and CuO-NP treated PBW was used as the liquid component of the cell growth media and changes in viability were determined by the MTT (3-(4,5-dimethylthiazol-2-yl)-2,5-diphenyltetrazolium bromide) assay in human embryonic kidney (HEK 293) and human hepatocellular carcinoma (Hep G2) cells. CuO-NP treatment was associated with improved HEK and HEP cell viability. Limitations of this method include dilution of the PBW by growth media components and during osmolality adjustment as well as necessary pH adjustment. This method is limited in its wider context due to dilution effects and changes in the pH of the PBW which is traditionally slightly acidic however; this method could have a broader use assessing CuO-NP treatment in more neutral waters.
Environmental Sciences, Issue 100, Energy production, uranium in situ recovery, water decontamination, nanoparticles, toxicity, cytotoxicity, in vitro cell culture
52715
Characterization of Thymic Settling Progenitors in the Mouse Embryo Using In Vivo and In Vitro Assays
Institutions: Institut Cochin, University of Pierre & Marie Curie, University Paris Diderot, Sorbonne Paris Cité, Cellule Pasteur, Institut Pasteur.
Characterizing thymic settling progenitors is important to understand the pre-thymic stages of T cell development, essential to devise strategies for T cell replacement in lymphopenic patients. We studied thymic settling progenitors from murine embryonic day 13 and 18 thymi by two complementary
in vitro
and
in vivo
techniques, both based on the "hanging drop" method. This method allowed colonizing irradiated fetal thymic lobes with E13 and/or E18 thymic progenitors distinguished by CD45 allotypic markers and thus following their progeny. Colonization with mixed populations allows analyzing cell autonomous differences in biologic properties of the progenitors while colonization with either population removes possible competitive selective pressures. The colonized thymic lobes can also be grafted in immunodeficient male recipient mice allowing the analysis of the mature T cell progeny
in vivo
, such as population dynamics of the peripheral immune system and colonization of different tissues and organs. Fetal thymic organ cultures revealed that E13 progenitors developed rapidly into all mature CD3
+
cells and gave rise to the canonical γδ T cell subset, known as dendritic epithelial T cells. In comparison, E18 progenitors have a delayed differentiation and were unable to generate dendritic epithelial T cells. The monitoring of peripheral blood of thymus-grafted CD3
-/-
mice further showed that E18 thymic settling progenitors generate, with time, larger numbers of mature T cells than their E13 counterparts, a feature that could not be appreciated in the short term fetal thymic organ cultures.
Developmental Biology, Issue 100, Thymopoiesis, Progenitors, Proliferation, Differentiation, FTOC (Fetal Thymic Organ Culture), Graft, Kidney capsule
52795
Metabolomic Analysis of Rat Brain by High Resolution Nuclear Magnetic Resonance Spectroscopy of Tissue Extracts
Institutions: Aix-Marseille Université, Aix-Marseille Université.

Studies of gene expression on the RNA and protein levels have long been used to explore biological processes underlying disease. More recently, genomics and proteomics have been complemented by comprehensive quantitative analysis of the metabolite pool present in biological systems. This strategy, termed metabolomics, strives to provide a global characterization of the small-molecule complement involved in metabolism. While the genome and the proteome define the tasks cells can perform, the metabolome is part of the actual phenotype. Among the methods currently used in metabolomics, spectroscopic techniques are of special interest because they allow one to simultaneously analyze a large number of metabolites without prior selection for specific biochemical pathways, thus enabling a broad unbiased approach. Here, an optimized experimental protocol for metabolomic analysis by high-resolution NMR spectroscopy is presented, which is the method of choice for efficient quantification of tissue metabolites. Important strengths of this method are (i) the use of crude extracts, without the need to purify the sample and/or separate metabolites; (ii) the intrinsically quantitative nature of NMR, permitting quantitation of all metabolites represented by an NMR spectrum with one reference compound only; and (iii) the nondestructive nature of NMR enabling repeated use of the same sample for multiple measurements. The dynamic range of metabolite concentrations that can be covered is considerable due to the linear response of NMR signals, although metabolites occurring at extremely low concentrations may be difficult to detect. For the least abundant compounds, the highly sensitive mass spectrometry method may be advantageous although this technique requires more intricate sample preparation and quantification procedures than NMR spectroscopy. We present here an NMR protocol adjusted to rat brain analysis; however, the same protocol can be applied to other tissues with minor modifications.
Neuroscience, Issue 91, metabolomics, brain tissue, rodents, neurochemistry, tissue extracts, NMR spectroscopy, quantitative metabolite analysis, cerebral metabolism, metabolic profile
51829
Multi-step Preparation Technique to Recover Multiple Metabolite Compound Classes for In-depth and Informative Metabolomic Analysis
Institutions: National Jewish Health, University of Colorado Denver.

Metabolomics is an emerging field which enables profiling of samples from living organisms in order to obtain insight into biological processes. A vital aspect of metabolomics is sample preparation whereby inconsistent techniques generate unreliable results. This technique encompasses protein precipitation, liquid-liquid extraction, and solid-phase extraction as a means of fractionating metabolites into four distinct classes. Improved enrichment of low abundance molecules with a resulting increase in sensitivity is obtained, and ultimately results in more confident identification of molecules. This technique has been applied to plasma, bronchoalveolar lavage fluid, and cerebrospinal fluid samples with volumes as low as 50 µl.  Samples can be used for multiple downstream applications; for example, the pellet resulting from protein precipitation can be stored for later analysis. The supernatant from that step undergoes liquid-liquid extraction using water and strong organic solvent to separate the hydrophilic and hydrophobic compounds. Once fractionated, the hydrophilic layer can be processed for later analysis or discarded if not needed. The hydrophobic fraction is further treated with a series of solvents during three solid-phase extraction steps to separate it into fatty acids, neutral lipids, and phospholipids. This allows the technician the flexibility to choose which class of compounds is preferred for analysis. It also aids in more reliable metabolite identification since some knowledge of chemical class exists.
Bioengineering, Issue 89, plasma, chemistry techniques, analytical, solid phase extraction, mass spectrometry, metabolomics, fluids and secretions, profiling, small molecules, lipids, liquid chromatography, liquid-liquid extraction, cerebrospinal fluid, bronchoalveolar lavage fluid
51670
The Use of Magnetic Resonance Spectroscopy as a Tool for the Measurement of Bi-hemispheric Transcranial Electric Stimulation Effects on Primary Motor Cortex Metabolism
Institutions: University of Montréal, McGill University, University of Minnesota.

Transcranial direct current stimulation (tDCS) is a neuromodulation technique that has been increasingly used over the past decade in the treatment of neurological and psychiatric disorders such as stroke and depression. Yet, the mechanisms underlying its ability to modulate brain excitability to improve clinical symptoms remains poorly understood
33
. To help improve this understanding, proton magnetic resonance spectroscopy (
1
H-MRS) can be used as it allows the
in vivo
quantification of brain metabolites such as γ-aminobutyric acid (GABA) and glutamate in a region-specific manner
41
. In fact, a recent study demonstrated that
1
H-MRS is indeed a powerful means to better understand the effects of tDCS on neurotransmitter concentration
34
. This article aims to describe the complete protocol for combining tDCS (NeuroConn MR compatible stimulator) with
1
H-MRS at 3 T using a MEGA-PRESS sequence. We will describe the impact of a protocol that has shown great promise for the treatment of motor dysfunctions after stroke, which consists of bilateral stimulation of primary motor cortices
27,30,31
. Methodological factors to consider and possible modifications to the protocol are also discussed.
Neuroscience, Issue 93, proton magnetic resonance spectroscopy, transcranial direct current stimulation, primary motor cortex, GABA, glutamate, stroke
51631
Noninvasive In Vivo Small Animal MRI and MRS: Basic Experimental Procedures
Institutions: University of Washington, University of Washington.

Small animal Magnetic Resonance (MR) research has emerged as an important element of modern biomedical research due to its non-invasive nature and the richness of biological information it provides. MR does not require any ionizing radiation and can noninvasively provide higher resolution and better signal-to-noise ratio in comparison to other tomographic or spectroscopic modalities. In this protocol, we will focus on small animal MR imaging and MR spectroscopy (MRI/MRS) to noninvasively acquire relaxation weighted
1
H images of mouse and to obtain
31
P spectra of mouse muscle. This work does not attempt to cover every aspect of small animal MRI/MRS but rather introduces basic procedures of mouse MRI/MRS experiments. The main goal of this work is to inform researchers of the basic procedures for
in vivo
MR experiments on small animals. The goal is to provide a better understanding of basic experimental procedures to allow researchers new to the MR field to better plan for non-MR components of their studies so that both MR and non-MR procedures are seamlessly integrated.
Medicine, Issue 32, Small animal, MRI, MRS, mouse, brain, skeletal muscle, tumor, ischemia
1592
Magnetic Resonance Spectroscopy of live Drosophila melanogaster using Magic Angle Spinning
Institutions: Massachusetts General Hospital, Harvard Medical School, Shriners Burn Institute, Harvard Medical School, Massachusetts General Hospital, Harvard Medical School.

High-Resolution Magic Angle Spinning (HRMAS) proton magnetic resonance spectroscopy (
1
H-MRS) is a novel non-destructive technique that improves spectral line-widths and allows high-resolution spectra to be obtained from extracts, intact cells, cell cultures, and more importantly intact tissue to investigate relationships between metabolites and cellular processes.
In vivo
HRMAS
1
H-MRS studies have yet to be reported in the live fruit fly
Drosophila melanogaster.
Drosophila,
as a simpler genetic organism, allows the multiple biological functions and various evolutionarily conserved signaling pathways to be examined at the whole organism level and it is a useful model for investigating genetics and physiology. To this end, we developed and implemented an
in vivo
HRMAS
1
H-MRS method to investigate live
Drosophila
at 14.1 T. Here, we outline an HRMAS
1
H-MRS protocol for the molecular characterization of
Drosophila
with a conventional MR spectrometer equipped with an HRMAS probe. This technique is a novel,
in vivo,
non-destructive
Drosophila
metabolite measurement approach, which enables the identification of disease biomarkers and thus may contribute to novel therapeutic development.
Neuroscience, Issue 38, Magnetic Resonance Spectroscopy (MRS), High Resolution Magic Angle Spinning (HRMAS), Total Through Bond Correlation Spectroscopy (TOBSY), Drosophila melanogaster
1710
Registered Bioimaging of Nanomaterials for Diagnostic and Therapeutic Monitoring
Institutions: University of Nebraska Medical Center, University of Nebraska Medical Center.

Nanomedications can be carried by blood borne monocyte-macrophages into the reticuloendothelial system (RES; spleen, liver, lymph nodes) and to end organs. The latter include the lung, RES, and brain and are operative during human immunodeficiency virus type one (HIV-1) infection. Macrophage entry into tissues is notable in areas of active HIV-1 replication and sites of inflammation. In order to assess the potential of macrophages as nanocarriers, superparamagnetic iron-oxide and/or drug laden particles coated with surfactants were parenterally injected into HIV-1 encephalitic mice. This was done to quantitatively assess particle and drug biodistribution. Magnetic resonance imaging (MRI) test results were validated by histological coregistration and enhanced image processing. End organ disease as typified by altered brain histology were assessed by MRI. The demonstration of robust migration of nanoformulations into areas of focal encephalitis provides '"proof of concept" for the use of advanced bioimaging techniques to monitor macrophage migration. Importantly, histopathological aberrations in brain correlate with bioimaging parameters making the general utility of MRI in studies of cell distribution in disease feasible. We posit that using such methods can provide a real time index of disease burden and therapeutic efficacy with translational potential to humans.
Infectious Disease, Issue 46, neuroimaging, mouse, magnetic resonance imaging, magnetic resonance spectroscopy
2459
Concentration of Metabolites from Low-density Planktonic Communities for Environmental Metabolomics using Nuclear Magnetic Resonance Spectroscopy
Institutions: RIKEN Advanced Science Institute, Yokohama City University, RIKEN Plant Science Center, Nagoya University.

Environmental metabolomics is an emerging field that is promoting new understanding in how organisms respond to and interact with the environment and each other at the biochemical level
1
. Nuclear magnetic resonance (NMR) spectroscopy is one of several technologies, including gas chromatography–mass spectrometry (GC-MS), with considerable promise for such studies. Advantages of NMR are that it is suitable for untargeted analyses, provides structural information and spectra can be queried in quantitative and statistical manners against recently available databases of individual metabolite spectra
2,3
. In addition, NMR spectral data can be combined with data from other omics levels (e.g. transcriptomics, genomics) to provide a more comprehensive understanding of the physiological responses of taxa to each other and the environment
4,5,6
. However, NMR is less sensitive than other metabolomic techniques, making it difficult to apply to natural microbial systems where sample populations can be low-density and metabolite concentrations low compared to metabolites from well-defined and readily extractable sources such as whole tissues, biofluids or cell-cultures. Consequently, the few direct environmental metabolomic studies of microbes performed to date have been limited to culture-based or easily defined high-density ecosystems such as host-symbiont systems, constructed co-cultures or manipulations of the gut environment where stable isotope labeling can be additionally used to enhance NMR signals
7,8,9,10,11,12
. Methods that facilitate the concentration and collection of environmental metabolites at concentrations suitable for NMR are lacking. Since recent attention has been given to the environmental metabolomics of organisms within the aquatic environment, where much of the energy and material flow is mediated by the planktonic community
13,14
, we have developed a method for the concentration and extraction of whole-community metabolites from planktonic microbial systems by filtration. Commercially available hydrophilic poly-1,1-difluoroethene (PVDF) filters are specially treated to completely remove extractables, which can otherwise appear as contaminants in subsequent analyses. These treated filters are then used to filter environmental or experimental samples of interest. Filters containing the wet sample material are lyophilized and aqueous-soluble metabolites are extracted directly for conventional NMR spectroscopy using a standardized potassium phosphate extraction buffer
2
. Data derived from these methods can be analyzed statistically to identify meaningful patterns, or integrated with other omics levels for comprehensive understanding of community and ecosystem function.
Molecular Biology, Issue 62, environmental metabolomics, metabolic profiling, microbial ecology, plankton, NMR spectroscopy, PCA
3163
Magnetic Resonance Elastography Methodology for the Evaluation of Tissue Engineered Construct Growth
Institutions: University of Nebraska-Lincoln, University of Nebraska-Lincoln.

Traditional mechanical testing often results in the destruction of the sample, and in the case of long term tissue engineered construct studies, the use of destructive assessment is not acceptable. A proposed alternative is the use of an imaging process called magnetic resonance elastography. Elastography is a nondestructive method for determining the engineered outcome by measuring local mechanical property values (i.e., complex shear modulus), which are essential markers for identifying the structure and functionality of a tissue. As a noninvasive means for evaluation, the monitoring of engineered constructs with imaging modalities such as magnetic resonance imaging (MRI) has seen increasing interest in the past decade
1
. For example, the magnetic resonance (MR) techniques of diffusion and relaxometry have been able to characterize the changes in chemical and physical properties during engineered tissue development
2
. The method proposed in the following protocol uses microscopic magnetic resonance elastography (μMRE) as a noninvasive MR based technique for measuring the mechanical properties of small soft tissues
3
. MRE is achieved by coupling a sonic mechanical actuator with the tissue of interest and recording the shear wave propagation with an MR scanner
4
. Recently, μMRE has been applied in tissue engineering to acquire essential growth information that is traditionally measured using destructive mechanical macroscopic techniques
5
. In the following procedure, elastography is achieved through the imaging of engineered constructs with a modified Hahn spin-echo sequence coupled with a mechanical actuator. As shown in Figure 1, the modified sequence synchronizes image acquisition with the transmission of external shear waves; subsequently, the motion is sensitized through the use of oscillating bipolar pairs. Following collection of images with positive and negative motion sensitization, complex division of the data produce a shear wave image. Then, the image is assessed using an inversion algorithm to generate a shear stiffness map
6
. The resulting measurements at each voxel have been shown to strongly correlate (R
2
>0.9914) with data collected using dynamic mechanical analysis
7
. In this study, elastography is integrated into the tissue development process for monitoring human mesenchymal stem cell (
h
MSC) differentiation into adipogenic and osteogenic constructs as shown in Figure 2.
Bioengineering, Issue 60, mesenchymal stem cells, tissue engineering (TE), regenerative medicine, adipose TE, magnetic resonance elastography (MRE), biomechanics, elasticity
3618
Assessing Hepatic Metabolic Changes During Progressive Colonization of Germ-free Mouse by 1H NMR Spectroscopy
Institutions: The University of Reading, The University of Reading .

It is well known that gut bacteria contribute significantly to the host homeostasis, providing a range of benefits such as immune protection and vitamin synthesis. They also supply the host with a considerable amount of nutrients, making this ecosystem an essential metabolic organ. In the context of increasing evidence of the link between the gut flora and the metabolic syndrome, understanding the metabolic interaction between the host and its gut microbiota is becoming an important challenge of modern biology.
1-4
Colonization (also referred to as normalization process) designates the establishment of micro-organisms in a former germ-free animal. While it is a natural process occurring at birth, it is also used in adult germ-free animals to control the gut floral ecosystem and further determine its impact on the host metabolism. A common procedure to control the colonization process is to use the gavage method with a single or a mixture of micro-organisms. This method results in a very quick colonization and presents the disadvantage of being extremely stressful
5
. It is therefore useful to minimize the stress and to obtain a slower colonization process to observe gradually the impact of bacterial establishment on the host metabolism. In this manuscript, we describe a procedure to assess the modification of hepatic metabolism during a gradual colonization process using a non-destructive metabolic profiling technique. We propose to monitor gut microbial colonization by assessing the gut microbial metabolic activity reflected by the urinary excretion of microbial co-metabolites by
1
H NMR-based metabolic profiling. This allows an appreciation of the stability of gut microbial activity beyond the stable establishment of the gut microbial ecosystem usually assessed by monitoring fecal bacteria by DGGE (denaturing gradient gel electrophoresis).
6
The colonization takes place in a conventional open environment and is initiated by a dirty litter soiled by conventional animals, which will serve as controls. Rodents being coprophagous animals, this ensures a homogenous colonization as previously described.
7
Hepatic metabolic profiling is measured directly from an intact liver biopsy using
1
H High Resolution Magic Angle Spinning NMR spectroscopy. This semi-quantitative technique offers a quick way to assess, without damaging the cell structure, the major metabolites such as triglycerides, glucose and glycogen in order to further estimate the complex interaction between the colonization process and the hepatic metabolism
7-10
. This method can also be applied to any tissue biopsy
11,12
.
Immunology, Issue 58, Germ-free animal, colonization, NMR, HR MAS NMR, metabonomics
3642
Purification of Transcripts and Metabolites from Drosophila Heads
Institutions: University of Florida , University of Florida , University of Florida , University of Florida .
For the last decade, we have tried to understand the molecular and cellular mechanisms of neuronal degeneration using
Drosophila
as a model organism. Although fruit flies provide obvious experimental advantages, research on neurodegenerative diseases has mostly relied on traditional techniques, including genetic interaction, histology, immunofluorescence, and protein biochemistry. These techniques are effective for mechanistic, hypothesis-driven studies, which lead to a detailed understanding of the role of single genes in well-defined biological problems. However, neurodegenerative diseases are highly complex and affect multiple cellular organelles and processes over time. The advent of new technologies and the omics age provides a unique opportunity to understand the global cellular perturbations underlying complex diseases. Flexible model organisms such as
Drosophila
are ideal for adapting these new technologies because of their strong annotation and high tractability. One challenge with these small animals, though, is the purification of enough informational molecules (DNA, mRNA, protein, metabolites) from highly relevant tissues such as fly brains. Other challenges consist of collecting large numbers of flies for experimental replicates (critical for statistical robustness) and developing consistent procedures for the purification of high-quality biological material. Here, we describe the procedures for collecting thousands of fly heads and the extraction of transcripts and metabolites to understand how global changes in gene expression and metabolism contribute to neurodegenerative diseases. These procedures are easily scalable and can be applied to the study of proteomic and epigenomic contributions to disease.
Genetics, Issue 73, Biochemistry, Molecular Biology, Neurobiology, Neuroscience, Bioengineering, Cellular Biology, Anatomy, Neurodegenerative Diseases, Biological Assay, Drosophila, fruit fly, head separation, purification, mRNA, RNA, cDNA, DNA, transcripts, metabolites, replicates, SCA3, neurodegeneration, NMR, gene expression, animal model
50245
Monitoring Dendritic Cell Migration using 19F / 1H Magnetic Resonance Imaging
Institutions: A joint cooperation between the Charité Medical Faculty and the Max Delbrück Center for Molecular Medicine, Max Delbrück Center for Molecular Medicine.

Continuous advancements in noninvasive imaging modalities such as magnetic resonance imaging (MRI) have greatly improved our ability to study physiological or pathological processes in living organisms. MRI is also proving to be a valuable tool for capturing transplanted cells
in vivo
. Initial cell labeling strategies for MRI made use of contrast agents that influence the MR relaxation times (T1, T2, T2*) and lead to an enhancement (T1) or depletion (T2*) of signal where labeled cells are present. T2* enhancement agents such as ultrasmall iron oxide agents (USPIO) have been employed to study cell migration and some have also been approved by the FDA for clinical application. A drawback of T2* agents is the difficulty to distinguish the signal extinction created by the labeled cells from other artifacts such as blood clots, micro bleeds or air bubbles. In this article, we describe an emerging technique for tracking cells
in vivo
that is based on labeling the cells with fluorine (
19
F)-rich particles. These particles are prepared by emulsifying perfluorocarbon (PFC) compounds and then used to label cells, which subsequently can be imaged by
19
F MRI. Important advantages of PFCs for cell tracking
in vivo
include (i) the absence of carbon-bound
19
F
in vivo
, which then yields background-free images and complete cell selectivityand(ii) the possibility to quantify the cell signal by
19
F MR spectroscopy.
Molecular Biology, Issue 73, Immunology, Cellular Biology, Physiology, Anatomy, Biomedical Engineering, Hematology, nuclear magnetic resonance, NMR, Fluorine, dendritic cells, migration, lymph nodes, magnetic resonance imaging, MRI, magnetic resonance spectroscopy, MRS, spectroscopy, imaging, cell tracking, clinical techniques
50251
Methods to Identify the NMR Resonances of the 13C-Dimethyl N-terminal Amine on Reductively Methylated Proteins
Institutions: Louisiana State University.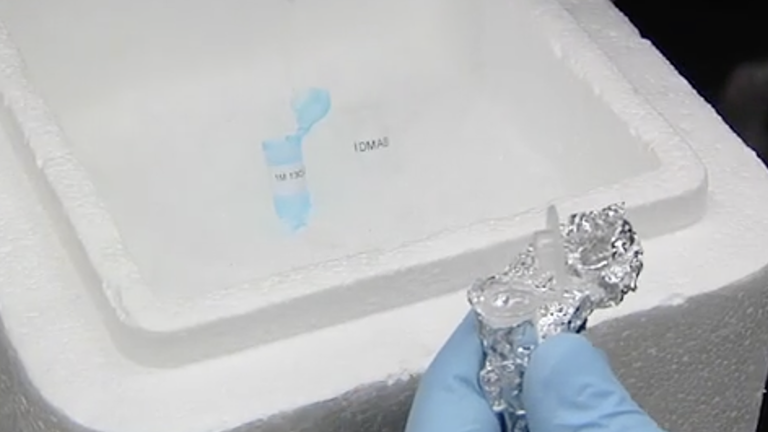 Nuclear magnetic resonance (NMR) spectroscopy is a proven technique for protein structure and dynamic studies. To study proteins with NMR, stable magnetic isotopes are typically incorporated metabolically to improve the sensitivity and allow for sequential resonance assignment. Reductive
13
C-methylation is an alternative labeling method for proteins that are not amenable to bacterial host over-expression, the most common method of isotope incorporation. Reductive
13
C-methylation is a chemical reaction performed under mild conditions that modifies a protein's primary amino groups (lysine ε-amino groups and the
N
-terminal α-amino group) to
13
C-dimethylamino groups. The structure and function of most proteins are not altered by the modification, making it a viable alternative to metabolic labeling. Because reductive
13
C-methylation adds sparse, isotopic labels, traditional methods of assigning the NMR signals are not applicable. An alternative assignment method using mass spectrometry (MS) to aid in the assignment of protein
13
C-dimethylamine NMR signals has been developed. The method relies on partial and different amounts of
13
C-labeling at each primary amino group. One limitation of the method arises when the protein's
N
-terminal residue is a lysine because the α- and ε-dimethylamino groups of Lys1 cannot be individually measured with MS. To circumvent this limitation, two methods are described to identify the NMR resonance of the
13
C-dimethylamines associated with both the
N
-terminal α-amine and the side chain ε-amine. The NMR signals of the
N
-terminal α-dimethylamine and the side chain ε-dimethylamine of hen egg white lysozyme, Lys1, are identified in
1
H-
13
C heteronuclear single-quantum coherence spectra.
Chemistry, Issue 82, Boranes, Formaldehyde, Dimethylamines, Tandem Mass Spectrometry, nuclear magnetic resonance, MALDI-TOF, Reductive methylation, lysozyme, dimethyllysine, mass spectrometry, NMR
50875
A Strategy for Sensitive, Large Scale Quantitative Metabolomics
Institutions: Cornell University, Cornell University.

Metabolite profiling has been a valuable asset in the study of metabolism in health and disease. However, current platforms have different limiting factors, such as labor intensive sample preparations, low detection limits, slow scan speeds, intensive method optimization for each metabolite, and the inability to measure both positively and negatively charged ions in single experiments. Therefore, a novel metabolomics protocol could advance metabolomics studies. Amide-based hydrophilic chromatography enables polar metabolite analysis without any chemical derivatization. High resolution MS using the Q-Exactive (QE-MS) has improved ion optics, increased scan speeds (256 msec at resolution 70,000), and has the capability of carrying out positive/negative switching. Using a cold methanol extraction strategy, and coupling an amide column with QE-MS enables robust detection of 168 targeted polar metabolites and thousands of additional features simultaneously.  Data processing is carried out with commercially available software in a highly efficient way, and unknown features extracted from the mass spectra can be queried in databases.
Chemistry, Issue 87, high-resolution mass spectrometry, metabolomics, positive/negative switching, low mass calibration, Orbitrap
51358
Phage Phenomics: Physiological Approaches to Characterize Novel Viral Proteins
Institutions: San Diego State University, San Diego State University, San Diego State University, San Diego State University, San Diego State University, Argonne National Laboratory, Broad Institute.

Current investigations into phage-host interactions are dependent on extrapolating knowledge from (meta)genomes. Interestingly, 60 - 95% of all phage sequences share no homology to current annotated proteins. As a result, a large proportion of phage genes are annotated as hypothetical. This reality heavily affects the annotation of both structural and auxiliary metabolic genes. Here we present phenomic methods designed to capture the physiological response(s) of a selected host during expression of one of these unknown phage genes. Multi-phenotype Assay Plates (MAPs) are used to monitor the diversity of host substrate utilization and subsequent biomass formation, while metabolomics provides bi-product analysis by monitoring metabolite abundance and diversity. Both tools are used simultaneously to provide a phenotypic profile associated with expression of a single putative phage open reading frame (ORF). Representative results for both methods are compared, highlighting the phenotypic profile differences of a host carrying either putative structural or metabolic phage genes. In addition, the visualization techniques and high throughput computational pipelines that facilitated experimental analysis are presented.
Immunology, Issue 100, phenomics, phage, viral metagenome, Multi-phenotype Assay Plates (MAPs), continuous culture, metabolomics
52854