Analysis of Physiologic E-Selectin-Mediated Leukocyte Rolling on Microvascular Endothelium
Published: 02-11-2009
ABSTRACT
E-selectin is a type-1 membrane protein on microvascular endothelial cells that helps initiate recruitment of circulating leukocytes to cutaneous, bone and inflamed tissues. E-selectin expression is constitutive on dermal and bone microvessels and is inducible by pro-inflammatory cytokines, such as IL-1α/ and TNF-α, on microvessels in inflamed tissues. This lectin receptor mediates weak binding interactions with carbohydrate counter-receptor ligands on circulating leukocytes, which results in a characteristic rolling behavior. Because these interactions precede more stable adhesive events and diapedesis activity, characterization of leukocyte rolling activity and identification of leukocyte E-selectin ligands have been major goals in studies of leukocyte trafficking and inflammation and in the development of anti-inflammatory therapeutics (1-5). The intent of this report is to provide a visual, comprehensive description of the most widely-used technology for studying E-selectin E-selectin ligand interactions under physiologic blood flow conditions. Our laboratory in conjunction with the Harvard Skin Disease Research Center uses a state-of-the-art parallel-plate flow chamber apparatus accompanied by digital visualization and new recording software, NIS-Elements. This technology allows us to analyze adhesion events in real time for onscreen visualization as well as record rolling activity in a video format. Cell adhesion parameters, such as rolling frequency, shear resistance and binding/tethering efficiency, are calculated with NIS-Elements software, exported to an Excel spreadsheet and subjected to statistical analysis. In the demonstration presented here, we employed the parallel-plate flow chamber to investigate E-selectin-dependent leukocyte rolling activity on live human bone marrow endothelial cells (hBMEC). Human hematopoietic progenitor KG1a cells, which express a high level of E-selectin ligand, were used as our leukocyte model, while an immortalized hBMEC cell line, HBMEC-60 cells, was used as our endothelial cell model (6). To induce and simulate native E-selectin expression in the flow chamber, HBMEC-60 cells were first activated with IL-1 . Our video presentation showed that parallel-plate flow analysis is a suitable method for studying physiologic E-selectin-mediated leukocyte rolling activities and that functional characterization of leukocyte E-selectin ligand(s) in the flow chamber can be ascertained by implementing protease or glycosidase digestions.
23 Related JoVE Articles!
Human Neutrophil Flow Chamber Adhesion Assay
Institutions: University of Alabama at Birmingham, Birmingham Veterans Affairs Medical Center, University of Alabama at Birmingham, University of Alabama at Birmingham, University of Alabama at Birmingham.

Neutrophil firm adhesion to endothelial cells plays a critical role in inflammation in both health and disease. The process of neutrophil firm adhesion involves many different adhesion molecules including members of the β
2
integrin family and their counter-receptors of the ICAM family. Recently, naturally occurring genetic variants in both β
2
integrins and ICAMs are reported to be associated with autoimmune disease. Thus, the quantitative adhesive capacity of neutrophils from individuals with varying allelic forms of these adhesion molecules is important to study in relation to mechanisms underlying development of autoimmunity. Adhesion studies in flow chamber systems can create an environment with fluid shear stress similar to that observed in the blood vessel environment
in vivo
. Here, we present a method using a flow chamber assay system to study the quantitative adhesive properties of human peripheral blood neutrophils to human umbilical vein endothelial cell (HUVEC) and to purified ligand substrates. With this method, the neutrophil adhesive capacities from donors with different allelic variants in adhesion receptors can be assessed and compared. This method can also be modified to assess adhesion of other primary cell types or cell lines.
Immunology, Issue 89, neutrophil adhesion, flow chamber, human umbilical vein endothelial cell (HUVEC), purified ligand
51410
Combining Single-molecule Manipulation and Imaging for the Study of Protein-DNA Interactions
Institutions: University of Florence, University of Oxford, University of Florence, University of Florence, National Institute of Optics-National Research Council, Italy, International Center of Computational Neurophotonics.
The paper describes the combination of optical tweezers and single molecule fluorescence detection for the study of protein-DNA interaction. The method offers the opportunity of investigating interactions occurring in solution (thus avoiding problems due to closeby surfaces as in other single molecule methods), controlling the DNA extension and tracking interaction dynamics as a function of both mechanical parameters and DNA sequence. The methods for establishing successful optical trapping and nanometer localization of single molecules are illustrated. We illustrate the experimental conditions allowing the study of interaction of lactose repressor (lacI), labeled with Atto532, with a DNA molecule containing specific target sequences (operators) for LacI binding. The method allows the observation of specific interactions at the operators, as well as one-dimensional diffusion of the protein during the process of target search. The method is broadly applicable to the study of protein-DNA interactions but also to molecular motors, where control of the tension applied to the partner track polymer (for example actin or microtubules) is desirable.
Bioengineering, Issue 90, Single molecule biophysics, Optical tweezers, fluorescence microscopy, DNA binding proteins, lactose repressor, microfluidics
51446
Real-time Imaging of Endothelial Cell-cell Junctions During Neutrophil Transmigration Under Physiological Flow
Institutions: Sanquin Research and Landsteiner Laboratory, AMC at University of Amsterdam.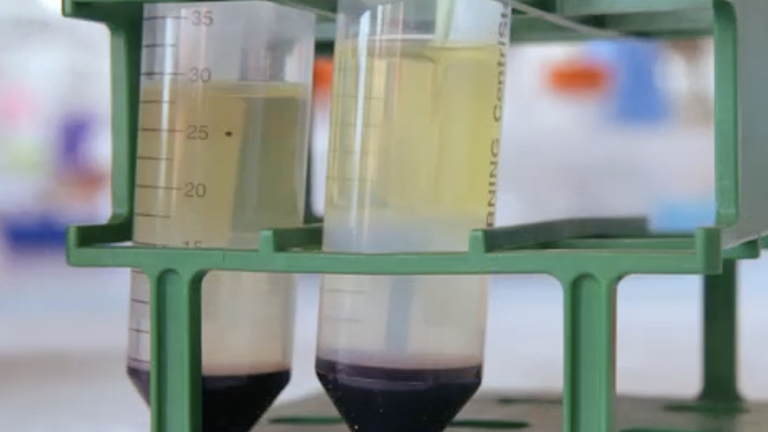 During inflammation, leukocytes leave the circulation and cross the endothelium to fight invading pathogens in underlying tissues. This process is known as leukocyte transendothelial migration. Two routes for leukocytes to cross the endothelial monolayer have been described: the paracellular route,
i.e.,
through the cell-cell junctions and the transcellular route,
i.e.,
through the endothelial cell body. However, it has been technically difficult to discriminate between the para- and transcellular route. We developed a simple
in vitro
assay to study the distribution of endogenous VE-cadherin and PECAM-1 during neutrophil transendothelial migration under physiological flow conditions. Prior to neutrophil perfusion, endothelial cells were briefly treated with fluorescently-labeled antibodies against VE-cadherin and PECAM-1. These antibodies did not interfere with the function of both proteins, as was determined by electrical cell-substrate impedance sensing and FRAP measurements. Using this assay, we were able to follow the distribution of endogenous VE-cadherin and PECAM-1 during transendothelial migration under flow conditions and discriminate between the para- and transcellular migration routes of the leukocytes across the endothelium.
Immunology, Issue 90, Leukocytes, Human Umbilical Vein Endothelial Cells (HUVECs), transmigration, VE-cadherin, PECAM-1, endothelium, transcellular, paracellular
51766
The Attentional Set Shifting Task: A Measure of Cognitive Flexibility in Mice
Institutions: University of Texas Health Science Center at San Antonio, South Texas Veteran's Health Care System.

Cognitive impairment, particularly involving dysfunction of circuitry within the prefrontal cortex (PFC), represents a core feature of many neuropsychiatric and neurodevelopmental disorders, including depression, post-traumatic stress disorder, schizophrenia and autism spectrum disorder. Deficits in cognitive function also represent the most difficult symptom domain to successfully treat, as serotonin reuptake inhibitors and tricyclic antidepressants have only modest effects. Functional neuroimaging studies and postmortem analysis of human brain tissue implicate the PFC as being a primary region of dysregulation in patients with these disorders. However, preclinical behavioral assays used to assess these deficits in mouse models which can be readily manipulated genetically and could provide the basis for studies of new treatment avenues have been underutilized. Here we describe the adaptation of a behavioral assay, the attentional set shifting task (AST), to be performed in mice to assess prefrontal cortex mediated cognitive deficits. The neural circuits underlying behavior during the AST are highly conserved across humans, nonhuman primates and rodents, providing excellent face, construct and predictive validity.
Behavior, Issue 96, cognitive flexibility, prefrontal cortex, behavior, attention, mouse, neuropsychiatric symptom, cognitive dysfunction
51944
Assessing Leukocyte-endothelial Interactions Under Flow Conditions in an Ex Vivo Autoperfused Microflow Chamber Assay
Institutions: Harvard Medical School, Massachusetts Eye & Ear Infirmary, St. Elizabeth's Medical Center.
Leukocyte-endothelial interactions are early and critical events in acute and chronic inflammation and can, when dysregulated, mediate tissue injury leading to permanent pathological damage. Existing conventional assays allow the analysis of leukocyte adhesion molecules only after the extraction of leukocytes from the blood. This requires the blood to undergo several steps before peripheral blood leukocytes (PBLs) can be ready for analysis, which in turn can stimulate PBLs influencing the research findings. The autoperfused micro flow chamber assay, however, allows scientists to study early leukocytes functional dysregulation using the systemic flow of a live mouse while having the freedom of manipulating a coated chamber. Through a disease model, the functional expression of leukocyte adhesion molecules can be assessed and quantified in a micro-glass chamber coated with immobilized endothelial adhesion molecules
ex vivo
. In this model, the blood flows between the right common carotid artery and left external jugular vein of a live mouse under anesthesia, allowing the interaction of native PBLs in the chamber. Real-time experimental analysis is achieved with the assistance of an intravital microscope as well as a Harvard Apparatus pressure device. The application of a flow regulator at the input point of the glass chamber allows comparable physiological flow conditions amongst the experiments. Leukocyte rolling velocity is the main outcome and is measured using the National Institutes of Health open-access software ImageJ. In summary, the autoperfused micro flow chamber assay provides an optimal physiological environment to study leukocytes endothelial interaction and allows researchers to draw accurate conclusions when studying inflammation.
Bioengineering, Issue 94, Leukocyte recruitment, endothelium, flow chamber, adhesion, velocity, rolling, integrins, ex vivo
52130
Analyzing the Effects of Stromal Cells on the Recruitment of Leukocytes from Flow
Institutions: University of Birmingham, University of Birmingham, University of Birmingham.

Stromal cells regulate the recruitment of circulating leukocytes during inflammation through cross-talk with neighboring endothelial cells. Here we describe two
in vitro
"vascular" models for studying the recruitment of circulating neutrophils from flow by inflamed endothelial cells. A major advantage of these models is the ability to analyze each step in the leukocyte adhesion cascade in order, as would occur
in vivo
. We also describe how both models can be adapted to study the role of stromal cells, in this case mesenchymal stem cells (MSC), in regulating leukocyte recruitment. Primary endothelial cells were cultured alone or together with human MSC in direct contact on Ibidi microslides or on opposite sides of a Transwell filter for 24 hr. Cultures were stimulated with tumor necrosis factor alpha (TNFα) for 4 hr and incorporated into a flow-based adhesion assay. A bolus of neutrophils was perfused over the endothelium for 4 min. The capture of flowing neutrophils and their interactions with the endothelium was visualized by phase-contrast microscopy. In both models, cytokine-stimulation increased endothelial recruitment of flowing neutrophils in a dose-dependent manner. Analysis of the behavior of recruited neutrophils showed a dose-dependent decrease in rolling and a dose-dependent increase in transmigration through the endothelium. In co-culture, MSC suppressed neutrophil adhesion to TNFα-stimulated endothelium. Our flow based-adhesion models mimic the initial phases of leukocyte recruitment from the circulation. In addition to leukocytes, they can be used to examine the recruitment of other cell types, such as therapeutically administered MSC or circulating tumor cells. Our multi-layered co-culture models have shown that MSC communicate with endothelium to modify their response to pro-inflammatory cytokines, altering the recruitment of neutrophils. Further research using such models is required to fully understand how stromal cells from different tissues and conditions (inflammatory disorders or cancer) influence the recruitment of leukocytes during inflammation.
Immunology, Issue 95, Endothelial cells, leukocytes, mesenchymal stromal cells, mesenchymal stem cells, co-culture, adhesion, inflammation, recruitment, flow based adhesion assay, Ibidi microslide, neutrophil
52480
Isolation of Leukocytes from the Human Maternal-fetal Interface
Institutions: NICHD/NIH/DHHS, University of Michigan, Michigan State University, Wayne State University, Wayne State University School of Medicine, Wayne State University School of Medicine.

Pregnancy is characterized by the infiltration of leukocytes in the reproductive tissues and at the maternal-fetal interface (decidua basalis and decidua parietalis). This interface is the anatomical site of contact between maternal and fetal tissues; therefore, it is an immunological site of action during pregnancy. Infiltrating leukocytes at the maternal-fetal interface play a central role in implantation, pregnancy maintenance, and timing of delivery. Therefore, phenotypic and functional characterizations of these leukocytes will provide insight into the mechanisms that lead to pregnancy disorders. Several protocols have been described in order to isolate infiltrating leukocytes from the decidua basalis and decidua parietalis; however, the lack of consistency in the reagents, enzymes, and times of incubation makes it difficult to compare these results. Described herein is a novel approach that combines the use of gentle mechanical and enzymatic dissociation techniques to preserve the viability and integrity of extracellular and intracellular markers in leukocytes isolated from the human tissues at the maternal-fetal interface. Aside from immunophenotyping, cell culture, and cell sorting, the future applications of this protocol are numerous and varied. Following this protocol, the isolated leukocytes can be used to determine DNA methylation, expression of target genes,
in vitro
leukocyte functionality (
i.e.
, phagocytosis, cytotoxicity, T-cell proliferation, and plasticity,
etc.
), and the production of reactive oxygen species at the maternal-fetal interface. Additionally, using the described protocol, this laboratory has been able to describe new and rare leukocytes at the maternal-fetal interface.
Immunology, Issue 99, Accutase, Decidua Basalis, Decidua Parietalis, Flow Cytometry, Immunophenotyping, Pregnancy
52863
Isolation of Leukocytes from the Murine Tissues at the Maternal-Fetal Interface
Institutions: Wayne State University School of Medicine, The University of Adelaide, Wayne State University School of Medicine, NICHD/NIH/DHHS.

Immune tolerance in pregnancy requires that the immune system of the mother undergoes distinctive changes in order to accept and nurture the developing fetus. This tolerance is initiated during coitus, established during fecundation and implantation, and maintained throughout pregnancy. Active cellular and molecular mediators of maternal-fetal tolerance are enriched at the site of contact between fetal and maternal tissues, known as the maternal-fetal interface, which includes the placenta and the uterine and decidual tissues. This interface is comprised of stromal cells and infiltrating leukocytes, and their abundance and phenotypic characteristics change over the course of pregnancy. Infiltrating leukocytes at the maternal-fetal interface include neutrophils, macrophages, dendritic cells, mast cells, T cells, B cells, NK cells, and NKT cells that together create the local micro-environment that sustains pregnancy. An imbalance among these cells or any inappropriate alteration in their phenotypes is considered a mechanism of disease in pregnancy. Therefore, the study of leukocytes that infiltrate the maternal-fetal interface is essential in order to elucidate the immune mechanisms that lead to pregnancy-related complications. Described herein is a protocol that uses a combination of gentle mechanical dissociation followed by a robust enzymatic disaggregation with a proteolytic and collagenolytic enzymatic cocktail to isolate the infiltrating leukocytes from the murine tissues at the maternal-fetal interface. This protocol allows for the isolation of high numbers of viable leukocytes (>70%) with sufficiently conserved antigenic and functional properties. Isolated leukocytes can then be analyzed by several techniques, including immunophenotyping, cell sorting, imaging, immunoblotting, mRNA expression, cell culture, and
in vitro
functional assays such as mixed leukocyte reactions, proliferation, or cytotoxicity assays.
Immunology, Issue 99, Decidua, Dissociation, Isolation, Leukocytes, Myometrium, Placenta, Pregnancy, Uterus
52866
Generation of Induced Pluripotent Stem Cells from Frozen Buffy Coats using Non-integrating Episomal Plasmids
Institutions: European Academy Bozen/Bolzano (EURAC), Fondazione IRCCS Ca´ Granda, Ospedale Maggiore Policlinico, Sanford-Burnham Medical Research Institute.

Somatic cells can be reprogrammed into induced pluripotent stem cells (iPSCs) by forcing the expression of four transcription factors (Oct-4, Sox-2, Klf-4, and c-Myc), typically expressed by human embryonic stem cells (hESCs). Due to their similarity with hESCs, iPSCs have become an important tool for potential patient-specific regenerative medicine, avoiding ethical issues associated with hESCs. In order to obtain cells suitable for clinical application, transgene-free iPSCs need to be generated to avoid transgene reactivation, altered gene expression and misguided differentiation. Moreover, a highly efficient and inexpensive reprogramming method is necessary to derive sufficient iPSCs for therapeutic purposes. Given this need, an efficient non-integrating episomal plasmid approach is the preferable choice for iPSC derivation. Currently the most common cell type used for reprogramming purposes are fibroblasts, the isolation of which requires tissue biopsy, an invasive surgical procedure for the patient. Therefore, human peripheral blood represents the most accessible and least invasive tissue for iPSC generation. In this study, a cost-effective and viral-free protocol using non-integrating episomal plasmids is reported for the generation of iPSCs from human peripheral blood mononuclear cells (PBMNCs) obtained from frozen buffy coats after whole blood centrifugation and without density gradient separation.
Developmental Biology, Issue 100, Stem cell biology, cellular biology, molecular biology, induced pluripotent stem cells, peripheral blood mononuclear cells, reprogramming, episomal plasmids.
52885
Isolation and Characterization of Neutrophils with Anti-Tumor Properties
Institutions: Hebrew University Medical School, Hadassah-Hebrew University Medical Center.

Neutrophils, the most abundant of all white blood cells in the human circulation, play an important role in the host defense against invading microorganisms. In addition, neutrophils play a central role in the immune surveillance of tumor cells. They have the ability to recognize tumor cells and induce tumor cell death either through a cell contact-dependent mechanism involving hydrogen peroxide or through antibody-dependent cell-mediated cytotoxicity (ADCC). Neutrophils with anti-tumor activity can be isolated from peripheral blood of cancer patients and of tumor-bearing mice. These neutrophils are termed tumor-entrained neutrophils (TEN) to distinguish them from neutrophils of healthy subjects or naïve mice that show no significant tumor cytotoxic activity. Compared with other white blood cells, neutrophils show different buoyancy making it feasible to obtain a > 98% pure neutrophil population when subjected to a density gradient. However, in addition to the normal high-density neutrophil population (HDN), in cancer patients, in tumor-bearing mice, as well as under chronic inflammatory conditions, distinct low-density neutrophil populations (LDN) appear in the circulation. LDN co-purify with the mononuclear fraction and can be separated from mononuclear cells using either positive or negative selection strategies. Once the purity of the isolated neutrophils is determined by flow cytometry, they can be used for
in vitro
and
in vivo
functional assays. We describe techniques for monitoring the anti-tumor activity of neutrophils, their ability to migrate and to produce reactive oxygen species, as well as monitoring their phagocytic capacity
ex vivo
. We further describe techniques to label the neutrophils for
in vivo
tracking, and to determine their anti-metastatic capacity
in vivo
. All these techniques are essential for understanding how to obtain and characterize neutrophils with anti-tumor function.
Immunology, Issue 100, Neutrophil isolation, tumor-entrained neutrophils, high-density neutrophils, low-density neutrophils, anti-tumor cytotoxicity, BrdU labeling, CFSE labeling, luciferase assay, neutrophil depletion, anti-metastatic activity, lung metastatic seeding assay, neutrophil adoptive transfer.
52933
A Flow Adhesion Assay to Study Leucocyte Recruitment to Human Hepatic Sinusoidal Endothelium Under Conditions of Shear Stress
Institutions: University of Birmingham.

Leucocyte infiltration into human liver tissue is a common process in all adult inflammatory liver diseases. Chronic infiltration can drive the development of fibrosis and progression to cirrhosis. Understanding the molecular mechanisms that mediate leucocyte recruitment to the liver could identify important therapeutic targets for liver disease. The key interaction during leucocyte recruitment is that of inflammatory cells with endothelium under conditions of shear stress. Recruitment to the liver occurs within the low shear channels of the hepatic sinusoids which are lined by hepatic sinusoidal endothelial cells (HSEC). The conditions within the hepatic sinusoids can be recapitulated by perfusing leucocytes through channels lined by human HSEC monolayers at specific flow rates. In these conditions leucocytes undergo a brief tethering step followed by activation and firm adhesion, followed by a crawling step and subsequent transmigration across the endothelial layer. Using phase contrast microscopy, each step of this 'adhesion cascade' can be visualized and recorded followed by offline analysis. Endothelial cells or leucocytes can be pretreated with inhibitors to determine the role of specific molecules during this process.
Immunology, Issue 85, Leucocyte trafficking, liver, hepatic sinusoidal endothelial cells, peripheral blood lymphocytes, flow adhesion assay
51330
Setting-up an In Vitro Model of Rat Blood-brain Barrier (BBB): A Focus on BBB Impermeability and Receptor-mediated Transport
Institutions: VECT-HORUS SAS, CNRS, NICN UMR 7259.

The blood brain barrier (BBB) specifically regulates molecular and cellular flux between the blood and the nervous tissue. Our aim was to develop and characterize a highly reproducible rat syngeneic
in vitro
model of the BBB using co-cultures of primary rat brain endothelial cells (RBEC) and astrocytes to study receptors involved in transcytosis across the endothelial cell monolayer. Astrocytes were isolated by mechanical dissection following trypsin digestion and were frozen for later co-culture. RBEC were isolated from 5-week-old rat cortices. The brains were cleaned of meninges and white matter, and mechanically dissociated following enzymatic digestion. Thereafter, the tissue homogenate was centrifuged in bovine serum albumin to separate vessel fragments from nervous tissue. The vessel fragments underwent a second enzymatic digestion to free endothelial cells from their extracellular matrix. The remaining contaminating cells such as pericytes were further eliminated by plating the microvessel fragments in puromycin-containing medium. They were then passaged onto filters for co-culture with astrocytes grown on the bottom of the wells. RBEC expressed high levels of tight junction (TJ) proteins such as occludin, claudin-5 and ZO-1 with a typical localization at the cell borders. The transendothelial electrical resistance (TEER) of brain endothelial monolayers, indicating the tightness of TJs reached 300 ohm·cm
2
on average. The endothelial permeability coefficients (Pe) for lucifer yellow (LY) was highly reproducible with an average of 0.26 ± 0.11 x 10
-3
cm/min. Brain endothelial cells organized in monolayers expressed the efflux transporter P-glycoprotein (P-gp), showed a polarized transport of rhodamine 123, a ligand for P-gp, and showed specific transport of transferrin-Cy3 and DiILDL across the endothelial cell monolayer. In conclusion, we provide a protocol for setting up an
in vitro
BBB model that is highly reproducible due to the quality assurance methods, and that is suitable for research on BBB transporters and receptors.
Medicine, Issue 88, rat brain endothelial cells (RBEC), mouse, spinal cord, tight junction (TJ), receptor-mediated transport (RMT), low density lipoprotein (LDL), LDLR, transferrin, TfR, P-glycoprotein (P-gp), transendothelial electrical resistance (TEER),
51278
Adult and Embryonic Skeletal Muscle Microexplant Culture and Isolation of Skeletal Muscle Stem Cells
Institutions: University of Birmingham.

Cultured embryonic and adult skeletal muscle cells have a number of different uses. The micro-dissected explants technique described in this chapter is a robust and reliable method for isolating relatively large numbers of proliferative skeletal muscle cells from juvenile, adult or embryonic muscles as a source of skeletal muscle stem cells. The authors have used micro-dissected explant cultures to analyse the growth characteristics of skeletal muscle cells in wild-type and dystrophic muscles. Each of the components of tissue growth, namely cell survival, proliferation, senescence and differentiation can be analysed separately using the methods described here. The net effect of all components of growth can be established by means of measuring explant outgrowth rates. The micro-explant method can be used to establish primary cultures from a wide range of different muscle types and ages and, as described here, has been adapted by the authors to enable the isolation of embryonic skeletal muscle precursors. Uniquely, micro-explant cultures have been used to derive clonal (single cell origin) skeletal muscle stem cell (SMSc) lines which can be expanded and used for
in vivo
transplantation.
In vivo
transplanted SMSc behave as functional, tissue-specific, satellite cells which contribute to skeletal muscle fibre regeneration but which are also retained (in the satellite cell niche) as a small pool of undifferentiated stem cells which can be re-isolated into culture using the micro-explant method.
Cellular Biology, Issue 43, Skeletal muscle stem cell, embryonic tissue culture, apoptosis, growth factor, proliferation, myoblast, myogenesis, satellite cell, skeletal muscle differentiation, muscular dystrophy
2051
Imaging Leukocyte Adhesion to the Vascular Endothelium at High Intraluminal Pressure
Institutions: Monash University.

Worldwide, hypertension is reported to be in approximately a quarter of the population and is the leading biomedical risk factor for mortality worldwide. In the vasculature hypertension is associated with endothelial dysfunction and increased inflammation leading to atherosclerosis and various disease states such as chronic kidney disease
2
, stroke
3
and heart failure
4
. An initial step in vascular inflammation leading to atherogenesis is the adhesion cascade which involves the rolling, tethering, adherence and subsequent transmigration of leukocytes through the endothelium. Recruitment and accumulation of leukocytes to the endothelium is mediated by an upregulation of adhesion molecules such as vascular cell adhesion molecule-1 (VCAM-1), intracellular cell adhesion molecule-1 (ICAM-1) and E-selectin as well as increases in cytokine and chemokine release and an upregulation of reactive oxygen species
5
.
In vitro
methods such as static adhesion assays help to determine mechanisms involved in cell-to-cell adhesion as well as the analysis of cell adhesion molecules. Methods employed in previous
in vitro
studies have demonstrated that acute increases in pressure on the endothelium can lead to monocyte adhesion, an upregulation of adhesion molecules and inflammatory markers
6
however, similar to many
in vitro
assays, these findings have not been performed in real time under physiological flow conditions, nor with whole blood. Therefore,
in vivo
assays are increasingly utilised in animal models to demonstrate vascular inflammation and plaque development. Intravital microscopy is now widely used to assess leukocyte adhesion, rolling, migration and transmigration
7-9
. When combining the effects of pressure on leukocyte to endothelial adhesion the
in vivo
studies are less extensive. One such study examines the real time effects of flow and shear on arterial growth and remodelling but inflammatory markers were only assessed via immunohistochemistry
10
. Here we present a model for recording leukocyte adhesion in real time in intact pressurised blood vessels using whole blood perfusion. The methodology is a modification of an
ex vivo
vessel chamber perfusion model
9
which enables real-time analysis of leukocyte -endothelial adhesive interactions in intact vessels. Our modification enables the manipulation of the intraluminal pressure up to 200 mmHg allowing for study not only under physiological flow conditions but also pressure conditions. While pressure myography systems have been previously demonstrated to observe vessel wall and lumen diameter
11
as well as vessel contraction this is the first time demonstrating leukocyte-endothelial interactions in real time. Here we demonstrate the technique using carotid arteries harvested from rats and cannulated to a custom-made flow chamber coupled to a fluorescent microscope. The vessel chamber is equipped with a large bottom coverglass allowing a large diameter objective lens with short working distance to image the vessel. Furthermore, selected agonist and/or antagonists can be utilized to further investigate the mechanisms controlling cell adhesion. Advantages of this method over intravital microscopy include no involvement of invasive surgery and therefore a higher throughput can be obtained. This method also enables the use of localised inhibitor treatment to the desired vessel whereas intravital only enables systemic inhibitor treatment.
Immunology, Issue 54, Leukocyte adhesion, intraluminal pressure, endothelial dysfunction, inflammation, hypertension
3221
Isolation of Human Umbilical Vein Endothelial Cells and Their Use in the Study of Neutrophil Transmigration Under Flow Conditions
Institutions: University of Calgary .

Neutrophils are the most abundant type of white blood cell. They form an essential part of the innate immune system
1
. During acute inflammation, neutrophils are the first inflammatory cells to migrate to the site of injury. Recruitment of neutrophils to an injury site is a stepwise process that includes first, dilation of blood vessels to increase blood flow; second, microvascular structural changes and escape of plasma proteins from the bloodstream; third, rolling, adhesion and transmigration of the neutrophil across the endothelium; and fourth accumulation of neutrophils at the site of injury
2,3
. A wide array of
in vivo
and
in vitro
methods has evolved to enable the study of these processes
4
. This method focuses on neutrophil transmigration across human endothelial cells. One popular method for examining the molecular processes involved in neutrophil transmigration utilizes human neutrophils interacting with primary human umbilical vein endothelial cells (HUVEC)
5
. Neutrophil isolation has been described visually elsewhere
6
; thus this article will show the method for isolation of HUVEC. Once isolated and grown to confluence, endothelial cells are activated resulting in the upregulation of adhesion and activation molecules. For example, activation of endothelial cells with cytokines like TNF-α results in increased E-selectin and IL-8 expression
7
. E-selectin mediates capture and rolling of neutrophils and IL-8 mediates activation and firm adhesion of neutrophils. After adhesion neutrophils transmigrate. Transmigration can occur paracellularly (through endothelial cell junctions) or transcellularly (through the endothelial cell itself). In most cases, these interactions occur under flow conditions found in the vasculature
7,8
. The parallel plate flow chamber is a widely used system that mimics the hydrodynamic shear stresses found
in vivo
and enables the study of neutrophil recruitment under flow condition
in vitro
9,10
. Several companies produce parallel plate flow chambers and each have advantages and disadvantages. If fluorescent imaging is needed, glass or an optically similar polymer needs to be used. Endothelial cells do not grow well on glass. Here we present an easy and rapid method for phase-contrast, DIC and fluorescent imaging of neutrophil transmigration using a low volume ibidi channel slide made of a polymer that supports the rapid adhesion and growth of human endothelial cells and has optical qualities that are comparable to glass. In this method, endothelial cells were grown and stimulated in an ibidi μslide. Neutrophils were introduced under flow conditions and transmigration was assessed. Fluorescent imaging of the junctions enabled real-time determination of the extent of paracellular versus transcellular transmigration.
Immunology, Issue 66, Medicine, Physiology, Cellular Biology, HUVEC, ibidi, leukocyte recruitment, neutrophil, flow chamber
4032
Rapid Isolation of Viable Circulating Tumor Cells from Patient Blood Samples
Institutions: Cornell University, BioCytics, Inc., Carolina BioOncology Institute, PLLC.

Circulating tumor cells (CTC) are cells that disseminate from a primary tumor throughout the circulatory system and that can ultimately form secondary tumors at distant sites. CTC count can be used to follow disease progression based on the correlation between CTC concentration in blood and disease severity
1
. As a treatment tool, CTC could be studied in the laboratory to develop personalized therapies. To this end, CTC isolation must cause no cellular damage, and contamination by other cell types, particularly leukocytes, must be avoided as much as possible
2
. Many of the current techniques, including the sole FDA-approved device for CTC enumeration, destroy CTC as part of the isolation process (for more information see Ref. 2). A microfluidic device to capture viable CTC is described, consisting of a surface functionalized with E-selectin glycoprotein in addition to antibodies against epithelial markers
3
. To enhance device performance a nanoparticle coating was applied consisting of halloysite nanotubes, an aluminosilicate nanoparticle harvested from clay
4
. The E-selectin molecules provide a means to capture fast moving CTC that are pumped through the device, lending an advantage over alternative microfluidic devices wherein longer processing times are necessary to provide target cells with sufficient time to interact with a surface. The antibodies to epithelial targets provide CTC-specificity to the device, as well as provide a readily adjustable parameter to tune isolation. Finally, the halloysite nanotube coating allows significantly enhanced isolation compared to other techniques by helping to capture fast moving cells, providing increased surface area for protein adsorption, and repelling contaminating leukocytes
3,4
. This device is produced by a straightforward technique using off-the-shelf materials, and has been successfully used to capture cancer cells from the blood of metastatic cancer patients. Captured cells are maintained for up to 15 days in culture following isolation, and these samples typically consist of >50% viable primary cancer cells from each patient. This device has been used to capture viable CTC from both diluted whole blood and buffy coat samples. Ultimately, we present a technique with functionality in a clinical setting to develop personalized cancer therapies.
Bioengineering, Issue 64, Biomedical Engineering, Cancer Biology, Circulating tumor cells, metastasis, selectin, nanotechnology, halloysite nanotubes, cell isolation, cancer
4248
Identification of Disease-related Spatial Covariance Patterns using Neuroimaging Data
Institutions: The Feinstein Institute for Medical Research.

The scaled subprofile model (SSM)
1-4
is a multivariate PCA-based algorithm that identifies major sources of variation in patient and control group brain image data while rejecting lesser components (
Figure 1
). Applied directly to voxel-by-voxel covariance data of steady-state multimodality images, an entire group image set can be reduced to a few significant linearly independent covariance patterns and corresponding subject scores. Each pattern, termed a group invariant subprofile (GIS), is an orthogonal principal component that represents a spatially distributed network of functionally interrelated brain regions. Large global mean scalar effects that can obscure smaller network-specific contributions are removed by the inherent logarithmic conversion and mean centering of the data
2,5,6
. Subjects express each of these patterns to a variable degree represented by a simple scalar score that can correlate with independent clinical or psychometric descriptors
7,8
. Using logistic regression analysis of subject scores (
i.e.
pattern expression values), linear coefficients can be derived to combine multiple principal components into single disease-related spatial covariance patterns,
i.e.
composite networks with improved discrimination of patients from healthy control subjects
5,6
. Cross-validation within the derivation set can be performed using bootstrap resampling techniques
9
. Forward validation is easily confirmed by direct score evaluation of the derived patterns in prospective datasets
10
. Once validated, disease-related patterns can be used to score individual patients with respect to a fixed reference sample, often the set of healthy subjects that was used (with the disease group) in the original pattern derivation
11
. These standardized values can in turn be used to assist in differential diagnosis
12,13
and to assess disease progression and treatment effects at the network level
7,14-16
. We present an example of the application of this methodology to FDG PET data of Parkinson's Disease patients and normal controls using our in-house software to derive a characteristic covariance pattern biomarker of disease.
Medicine, Issue 76, Neurobiology, Neuroscience, Anatomy, Physiology, Molecular Biology, Basal Ganglia Diseases, Parkinsonian Disorders, Parkinson Disease, Movement Disorders, Neurodegenerative Diseases, PCA, SSM, PET, imaging biomarkers, functional brain imaging, multivariate spatial covariance analysis, global normalization, differential diagnosis, PD, brain, imaging, clinical techniques
50319
Real-time Imaging of Heterotypic Platelet-neutrophil Interactions on the Activated Endothelium During Vascular Inflammation and Thrombus Formation in Live Mice
Institutions: University of Illinois at Chicago , University of Illinois at Chicago .
Interaction of activated platelets and leukocytes (mainly neutrophils) on the activated endothelium mediates thrombosis and vascular inflammation.
1,2
During thrombus formation at the site of arteriolar injury, platelets adherent to the activated endothelium and subendothelial matrix proteins support neutrophil rolling and adhesion.
3
Conversely, under venular inflammatory conditions, neutrophils adherent to the activated endothelium can support adhesion and accumulation of circulating platelets. Heterotypic platelet-neutrophil aggregation requires sequential processes by the specific receptor-counter receptor interactions between cells.
4
It is known that activated endothelial cells release adhesion molecules such as von Willebrand factor, thereby initiating platelet adhesion and accumulation under high shear conditions.
5
Also, activated endothelial cells support neutrophil rolling and adhesion by expressing selectins and intercellular adhesion molecule-1 (ICAM-1), respectively, under low shear conditions.
4
Platelet P-selectin interacts with neutrophils through P-selectin glycoprotein ligand-1 (PSGL-1), thereby inducing activation of neutrophil β2 integrins and firm adhesion between two cell types. Despite the advances in
in vitro
experiments in which heterotypic platelet-neutrophil interactions are determined in whole blood or isolated cells,
6,7
those studies cannot manipulate oxidant stress conditions during vascular disease. In this report, using fluorescently-labeled, specific antibodies against a mouse platelet and neutrophil marker, we describe a detailed intravital microscopic protocol to monitor heterotypic interactions of platelets and neutrophils on the activated endothelium during TNF-α-induced inflammation or following laser-induced injury in cremaster muscle microvessels of live mice.
Immunology, Issue 74, Medicine, Cellular Biology, Molecular Biology, Inflammation, Hematology, Neutrophils, Microscopy, Video, Thrombosis, Platelet Activation, Platelet Aggregation, Intravital microscopy, platelet, neutrophil, rolling, adhesion, vascular inflammation, thrombus formation, mice, animal model
50329
Quantitative In vitro Assay to Measure Neutrophil Adhesion to Activated Primary Human Microvascular Endothelial Cells under Static Conditions
Institutions: University of California, San Francisco, University of California, San Francisco.

The vascular endothelium plays an integral part in the inflammatory response. During the acute phase of inflammation, endothelial cells (ECs) are activated by host mediators or directly by conserved microbial components or host-derived danger molecules. Activated ECs express cytokines, chemokines and adhesion molecules that mobilize, activate and retain leukocytes at the site of infection or injury. Neutrophils are the first leukocytes to arrive, and adhere to the endothelium through a variety of adhesion molecules present on the surfaces of both cells. The main functions of neutrophils are to directly eliminate microbial threats, promote the recruitment of other leukocytes through the release of additional factors, and initiate wound repair. Therefore, their recruitment and attachment to the endothelium is a critical step in the initiation of the inflammatory response. In this report, we describe an
in vitro
neutrophil adhesion assay using calcein AM-labeled primary human neutrophils to quantitate the extent of microvascular endothelial cell activation under static conditions. This method has the additional advantage that the same samples quantitated by fluorescence spectrophotometry can also be visualized directly using fluorescence microscopy for a more qualitative assessment of neutrophil binding.
Immunology, Issue 78, Cellular Biology, Infection, Molecular Biology, Medicine, Biomedical Engineering, Biophysics, Endothelium, Vascular, Neutrophils, Inflammation, Inflammation Mediators, Neutrophil, Leukocyte Adhesion, Endothelial cells, assay
50677
In vitro Coculture Assay to Assess Pathogen Induced Neutrophil Trans-epithelial Migration
Institutions: Harvard Medical School, MGH for Children, Massachusetts General Hospital.

Mucosal surfaces serve as protective barriers against pathogenic organisms. Innate immune responses are activated upon sensing pathogen leading to the infiltration of tissues with migrating inflammatory cells, primarily neutrophils. This process has the potential to be destructive to tissues if excessive or held in an unresolved state.  Cocultured
in vitro
models can be utilized to study the unique molecular mechanisms involved in pathogen induced neutrophil trans-epithelial migration. This type of model provides versatility in experimental design with opportunity for controlled manipulation of the pathogen, epithelial barrier, or neutrophil. Pathogenic infection of the apical surface of polarized epithelial monolayers grown on permeable transwell filters instigates physiologically relevant basolateral to apical trans-epithelial migration of neutrophils applied to the basolateral surface. The
in vitro
model described herein demonstrates the multiple steps necessary for demonstrating neutrophil migration across a polarized lung epithelial monolayer that has been infected with pathogenic
P. aeruginosa
(PAO1). Seeding and culturing of permeable transwells with human derived lung epithelial cells is described, along with isolation of neutrophils from whole human blood and culturing of PAO1 and nonpathogenic K12
E. coli
(MC1000).  The emigrational process and quantitative analysis of successfully migrated neutrophils that have been mobilized in response to pathogenic infection is shown with representative data, including positive and negative controls. This
in vitro
model system can be manipulated and applied to other mucosal surfaces. Inflammatory responses that involve excessive neutrophil infiltration can be destructive to host tissues and can occur in the absence of pathogenic infections. A better understanding of the molecular mechanisms that promote neutrophil trans-epithelial migration through experimental manipulation of the
in vitro
coculture assay system described herein has significant potential to identify novel therapeutic targets for a range of mucosal infectious as well as inflammatory diseases.
Infection, Issue 83, Cellular Biology, Epithelium, Neutrophils, Pseudomonas aeruginosa, Respiratory Tract Diseases, Neutrophils, epithelial barriers, pathogens, transmigration
50823
Systematic Analysis of In Vitro Cell Rolling Using a Multi-well Plate Microfluidic System
Institutions: Brigham and Women's Hospital, Brigham and Women's Hospital, Harvard University, Harvard University, Harvard-MIT Division of Health Sciences and Technology, Massachusetts Institute of Technology.

A major challenge for cell-based therapy is the inability to systemically target a large quantity of viable cells with high efficiency to tissues of interest following intravenous or intraarterial infusion. Consequently, increasing cell homing is currently studied as a strategy to improve cell therapy. Cell rolling on the vascular endothelium is an important step in the process of cell homing and can be probed
in-vitro
using a parallel plate flow chamber (PPFC). However, this is an extremely tedious, low throughput assay, with poorly controlled flow conditions. Instead, we used a multi-well plate microfluidic system that enables study of cellular rolling properties in a higher throughput under precisely controlled, physiologically relevant shear flow
1,2
. In this paper, we show how the rolling properties of HL-60 (human promyelocytic leukemia) cells on P- and E-selectin-coated surfaces as well as on cell monolayer-coated surfaces can be readily examined. To better simulate inflammatory conditions, the microfluidic channel surface was coated with endothelial cells (ECs), which were then activated with tumor necrosis factor-α (TNF-α), significantly increasing interactions with HL-60 cells under dynamic conditions. The enhanced throughput and integrated multi-parameter software analysis platform, that permits rapid analysis of parameters such as rolling velocities and rolling path, are important advantages for assessing cell rolling properties
in-vitro
. Allowing rapid and accurate analysis of engineering approaches designed to impact cell rolling and homing, this platform may help advance exogenous cell-based therapy.
Bioengineering, Issue 80, Microfluidics, Endothelial Cells, Leukocyte Rolling, HL-60 cells, TNF-α, P-selectin, E-selectin
50866
A Novel Three-dimensional Flow Chamber Device to Study Chemokine-directed Extravasation of Cells Circulating under Physiological Flow Conditions
Institutions: Torrey Pines Institute for Molecular Studies, Cascade LifeSciences Inc..

Extravasation of circulating cells from the bloodstream plays a central role in many physiological and pathophysiological processes, including stem cell homing and tumor metastasis. The three-dimensional flow chamber device (hereafter the 3D device) is a novel
in vitro
technology that recreates physiological shear stress and allows each step of the cell extravasation cascade to be quantified. The 3D device consists of an upper compartment in which the cells of interest circulate under shear stress, and a lower compartment of static wells that contain the chemoattractants of interest. The two compartments are separated by porous inserts coated with a monolayer of endothelial cells (EC). An optional second insert with microenvironmental cells of interest can be placed immediately beneath the EC layer. A gas exchange unit allows the optimal CO
2
tension to be maintained and provides an access point to add or withdraw cells or compounds during the experiment. The test cells circulate in the upper compartment at the desired shear stress (flow rate) controlled by a peristaltic pump. At the end of the experiment, the circulating and migrated cells are collected for further analyses. The 3D device can be used to examine cell rolling on and adhesion to EC under shear stress, transmigration in response to chemokine gradients, resistance to shear stress, cluster formation, and cell survival. In addition, the optional second insert allows the effects of crosstalk between EC and microenvironmental cells to be examined. The translational applications of the 3D device include testing of drug candidates that target cell migration and predicting the
in vivo
behavior of cells after intravenous injection. Thus, the novel 3D device is a versatile and inexpensive tool to study the molecular mechanisms that mediate cellular extravasation.
Bioengineering, Issue 77, Cellular Biology, Biophysics, Physiology, Molecular Biology, Biomedical Engineering, Immunology, Cells, Biological Factors, Equipment and Supplies, Cell Physiological Phenomena, Natural Science Disciplines, Life Sciences (General), circulating cells, extravasation, physiological shear stress, endothelial cells, microenvironment, chemokine gradient, flow, chamber, cell culture, assay
50959
Fluorescence Biomembrane Force Probe: Concurrent Quantitation of Receptor-ligand Kinetics and Binding-induced Intracellular Signaling on a Single Cell
Institutions: Georgia Institute of Technology, Georgia Institute of Technology, The University of Sydney, Chinese Academy of Sciences, University of Chinese Academy of Sciences, Zhejiang University.
Membrane receptor-ligand interactions mediate many cellular functions. Binding kinetics and downstream signaling triggered by these molecular interactions are likely affected by the mechanical environment in which binding and signaling take place. A recent study demonstrated that mechanical force can regulate antigen recognition by and triggering of the T-cell receptor (TCR). This was made possible by a new technology we developed and termed fluorescence biomembrane force probe (fBFP), which combines single-molecule force spectroscopy with fluorescence microscopy. Using an ultra-soft human red blood cell as the sensitive force sensor, a high-speed camera and real-time imaging tracking techniques, the fBFP is of ~1 pN (10
-12
N), ~3 nm and ~0.5 msec in force, spatial and temporal resolution. With the fBFP, one can precisely measure single receptor-ligand binding kinetics under force regulation and simultaneously image binding-triggered intracellular calcium signaling on a single live cell. This new technology can be used to study other membrane receptor-ligand interaction and signaling in other cells under mechanical regulation.
Bioengineering, Issue 102, single cell, single molecule, receptor-ligand binding, kinetics, fluorescence and force spectroscopy, adhesion, mechano-transduction, calcium
52975