Robotic Production of Cancer Cell Spheroids with an Aqueous Two-phase System for Drug Testing
Published: 04-23-2015
ABSTRACT
Cancer cell spheroids present a relevant in vitro model of avascular tumors for anti-cancer drug testing applications. A detailed protocol for producing both mono-culture and co-culture spheroids in a high throughput 96-well plate format is described in this work. This approach utilizes an aqueous two-phase system to confine cells into a drop of the denser aqueous phase immersed within the second aqueous phase. The drop rests on the well surface and keeps cells in close proximity to form a single spheroid. This technology has been adapted to a robotic liquid handler to produce size-controlled spheroids and expedite the process of spheroid production for compound screening applications. Spheroids treated with a clinically-used drug show reduced cell viability with increase in the drug dose. The use of a standard micro-well plate for spheroid generation makes it straightforward to analyze viability of cancer cells of drug-treated spheroids with a micro-plate reader. This technology is straightforward to implement both robotically and with other liquid handling tools such as manual pipettes.
17 Related JoVE Articles!
Human Neuroendocrine Tumor Cell Lines as a Three-Dimensional Model for the Study of Human Neuroendocrine Tumor Therapy
Institutions: Raymond and Beverly Sackler Foundation, University of Medicine and Dentistry of New Jersey, Institute for Advanced Study, Princeton, New Jersey.

Neuroendocrine tumors (NETs) are rare tumors, with an incidence of two per 100, 000 individuals per year, and they account for 0.5% of all human malignancies.
1
Other than surgery for the minority of patients who present with localized disease, there is little or no survival benefit of systemic therapy. Therefore, there is a great need to better understand the biology of NETs, and in particular define new therapeutic targets for patients with nonresectable or metastatic neuroendocrine tumors. 3D cell culture is becoming a popular method for drug screening due to its relevance in modeling the
in vivo
tumor tissue organization and microenvironment.
2,3
The 3D multicellular spheroids could provide valuable information in a more timely and less expensive manner than directly proceeding from 2D cell culture experiments to animal (murine) models. To facilitate the discovery of new therapeutics for NET patients, we have developed an
in vitro
3D multicellular spheroids model using the human NET cell lines. The NET cells are plated in a non-adhesive agarose-coated 24-well plate and incubated under physiological conditions (5% CO
2
, 37 °C) with a very slow agitation for 16-24 hr after plating. The cells form multicellular spheroids starting on the 3
rd
or 4
th
day. The spheroids become more spherical by the 6
th
day, at which point the drug treatments are initiated. The efficacy of the drug treatments on the NET spheroids is monitored based on the morphology, shape and size of the spheroids with a phase-contrast light microscope. The size of the spheroids is estimated automatically using a custom-developed MATLAB program based on an active contour algorithm. Further, we demonstrate a simple method to process the HistoGel embedding on these 3D spheroids, allowing the use of standard histological and immunohistochemical techniques. This is the first report on generating 3D spheroids using NET cell lines to examine the effect of therapeutic drugs. We have also performed histology on these 3D spheroids, and displayed an example of a single drug's effect on growth and proliferation of the NET spheroids. Our results support that the NET spheroids are valuable for further studies of NET biology and drug development.
Cancer Biology, Issue 66, Medicine, Neuroscience, Cell Culture, Tissue Engineering, 3D model, multicellular spheroids, therapeutic drugs, neuroendocrine tumor cell lines, agarose overlay platform, paraffin embedding
4218
Single Plane Illumination Module and Micro-capillary Approach for a Wide-field Microscope
Institutions: Aalen University.

A module for light sheet or single plane illumination microscopy (SPIM) is described which is easily adapted to an inverted wide-field microscope and optimized for 3-dimensional cell cultures,
e.g.,
multi-cellular tumor spheroids (MCTS). The SPIM excitation module shapes and deflects the light such that the sample is illuminated by a light sheet perpendicular to the detection path of the microscope. The system is characterized by use of a rectangular capillary for holding (and in an advanced version also by a micro-capillary approach for rotating) the samples, by synchronous adjustment of the illuminating light sheet and the objective lens used for fluorescence detection as well as by adaptation of a microfluidic system for application of fluorescent dyes, pharmaceutical agents or drugs in small quantities. A protocol for working with this system is given, and some technical details are reported. Representative results include (1) measurements of the uptake of a cytostatic drug (doxorubicin) and its partial conversion to a degradation product, (2) redox measurements by use of a genetically encoded glutathione sensor upon addition of an oxidizing agent, and (3) initiation and labeling of cell necrosis upon inhibition of the mitochondrial respiratory chain. Differences and advantages of the present SPIM module in comparison with existing systems are discussed.
Physics, Issue 90, Fluorescence, light sheet, single plane illumination microscopy (SPIM), 3D cell cultures, rectangular capillary, microfluidics, multi-cellular tumor spheroids (MCTS), wide-field microscopy
51993
High-throughput Image Analysis of Tumor Spheroids: A User-friendly Software Application to Measure the Size of Spheroids Automatically and Accurately
Institutions: Raymond and Beverly Sackler Foundation, New Jersey, Rutgers University, Rutgers University, Institute for Advanced Study, New Jersey.

The increasing number of applications of three-dimensional (3D) tumor spheroids as an
in vitro
model for drug discovery requires their adaptation to large-scale screening formats in every step of a drug screen, including large-scale image analysis. Currently there is no ready-to-use and free image analysis software to meet this large-scale format. Most existing methods involve manually drawing the length and width of the imaged 3D spheroids, which is a tedious and time-consuming process. This study presents a high-throughput image analysis software application – SpheroidSizer, which measures the major and minor axial length of the imaged 3D tumor spheroids automatically and accurately; calculates the volume of each individual 3D tumor spheroid; then outputs the results in two different forms in spreadsheets for easy manipulations in the subsequent data analysis. The main advantage of this software is its powerful image analysis application that is adapted for large numbers of images. It provides high-throughput computation and quality-control workflow. The estimated time to process 1,000 images is about 15 min on a minimally configured laptop, or around 1 min on a multi-core performance workstation. The graphical user interface (GUI) is also designed for easy quality control, and users can manually override the computer results. The key method used in this software is adapted from the active contour algorithm, also known as Snakes, which is especially suitable for images with uneven illumination and noisy background that often plagues automated imaging processing in high-throughput screens. The complimentary "Manual Initialize" and "Hand Draw" tools provide the flexibility to SpheroidSizer in dealing with various types of spheroids and diverse quality images. This high-throughput image analysis software remarkably reduces labor and speeds up the analysis process. Implementing this software is beneficial for 3D tumor spheroids to become a routine
in vitro
model for drug screens in industry and academia.
Cancer Biology, Issue 89, computer programming, high-throughput, image analysis, tumor spheroids, 3D, software application, cancer therapy, drug screen, neuroendocrine tumor cell line, BON-1, cancer research
51639
Three-Dimensional (3D) Tumor Spheroid Invasion Assay
Institutions: The Institute of Cancer Research, The Institute of Cancer Research.
Invasion of surrounding normal tissues is generally considered to be a key hallmark of malignant (as opposed to benign) tumors. For some cancers in particular (
e.g
., brain tumors such as
glioblastoma multiforme
and squamous cell carcinoma of the head and neck – SCCHN) it is a cause of severe morbidity and can be life-threatening even in the absence of distant metastases. In addition, cancers which have relapsed following treatment unfortunately often present with a more aggressive phenotype. Therefore, there is an opportunity to target the process of invasion to provide novel therapies that could be complementary to standard anti-proliferative agents. Until now, this strategy has been hampered by the lack of robust, reproducible assays suitable for a detailed analysis of invasion and for drug screening. Here we provide a simple micro-plate method (based on uniform, self-assembling 3D tumor spheroids) which has great potential for such studies. We exemplify the assay platform using a human glioblastoma cell line and also an SCCHN model where the development of resistance against targeted epidermal growth factor receptor (EGFR) inhibitors is associated with enhanced matrix-invasive potential. We also provide two alternative methods of semi-automated quantification: one using an imaging cytometer and a second which simply requires standard microscopy and image capture with digital image analysis.
Medicine, Issue 99, invasion, metastasis, 3D, tumor spheroids, extracellular matrix, imaging, high-throughput, drug development.
52686
The Multi-organ Chip - A Microfluidic Platform for Long-term Multi-tissue Coculture
Institutions: Technische Universität Berlin, TissUse GmbH, Fraunhofer IWS.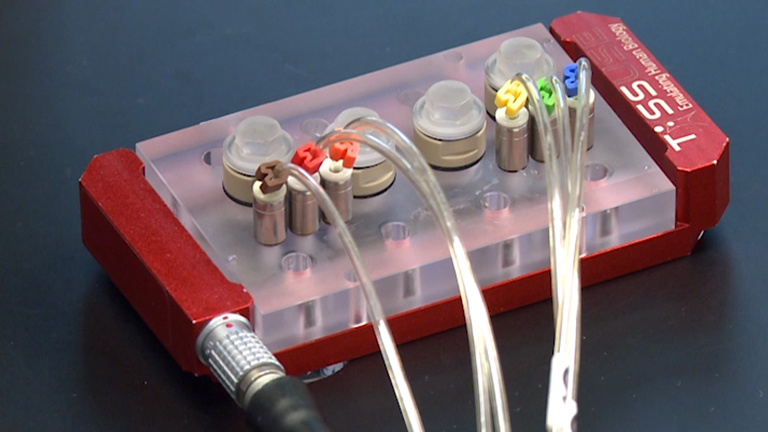 The ever growing amount of new substances released onto the market and the limited predictability of current
in vitro
test systems has led to a high need for new solutions for substance testing. Many drugs that have been removed from the market due to drug-induced liver injury released their toxic potential only after several doses of chronic testing in humans. However, a controlled microenvironment is pivotal for long-term multiple dosing experiments, as even minor alterations in extracellular conditions may greatly influence the cell physiology. We focused within our research program on the generation of a microengineered bioreactor, which can be dynamically perfused by an on-chip pump and combines at least two culture spaces for multi-organ applications. This circulatory system mimics the
in vivo
conditions of primary cell cultures better and assures a steadier, more quantifiable extracellular relay of signals to the cells. For demonstration purposes, human liver equivalents, generated by aggregating differentiated HepaRG cells with human hepatic stellate cells in hanging drop plates, were cocultured with human skin punch biopsies for up to 28 days inside the microbioreactor. The use of cell culture inserts enables the skin to be cultured at an air-liquid interface, allowing topical substance exposure. The microbioreactor system is capable of supporting these cocultures at near physiologic fluid flow and volume-to-liquid ratios, ensuring stable and organotypic culture conditions. The possibility of long-term cultures enables the repeated exposure to substances. Furthermore, a vascularization of the microfluidic channel circuit using human dermal microvascular endothelial cells yields a physiologically more relevant vascular model.
Bioengineering, Issue 98, Multi-organ chip, human-on-a-chip, body-on-a-chip, organs-on-a-chip, microphysiological systems, organoids, tissue engineering, in vitro substance testing, toxicity test, liver, skin, vasculature
52526
In vitro Enrichment of Ovarian Cancer Tumor-initiating Cells
Institutions: National Cancer Institute.

Evidence suggests that small subpopulations of tumor cells maintain a unique self-renewing and differentiation capacity and may be responsible for tumor initiation and/or relapse. Clarifying the mechanisms by which these tumor-initiating cells (TICs) support tumor formation and progression could lead to the development of clinically favorable therapies. Ovarian cancer is a heterogeneous and highly recurrent disease. Recent studies suggest TICs may play an important role in disease biology. We have identified culture conditions that enrich for TICs from ovarian cancer cell lines. Growing either adherent cells or non-adherent 'floater' cells in a low attachment plate with serum free media in the presence of growth factors supports the propagation of ovarian cancer TICs with stem cell markers (CD133 and ALDH activity) and increased tumorigenicity without the need to physically separate the TICs from other cell types within the culture. Although the presence of floater cells is not common for all cell lines, this population of cells with innate low adherence may have high tumorigenic potential.Compared to adherent cells grown in the presence of serum, TICs readily form spheres, are significantly more tumorigenic in mice, and express putative stem cell markers. The conditions are easy to establish in a timely manner and can be used to study signaling pathways important for maintaining stem characteristics, and to identify drugs or combinations of drugs targeting TICs. The culture conditions described herein are applicable for a variety of ovarian cancer cells of epithelial origin and will be critical in providing new information about the role of TICs in tumor initiation, progression, and relapse.
Medicine, Issue 96, Ovarian cancer, tumor-initiating cells, cancer stem cell, tumorigenicity, spheroid, mouse, gynecological cancer
52446
Human Pluripotent Stem Cell Based Developmental Toxicity Assays for Chemical Safety Screening and Systems Biology Data Generation
Institutions: University of Cologne, University of Konstanz, Technical University of Dortmund, Technical University of Dortmund.

Efficient protocols to differentiate human pluripotent stem cells to various tissues in combination with -omics technologies opened up new horizons for
in vitro
toxicity testing of potential drugs. To provide a solid scientific basis for such assays, it will be important to gain quantitative information on the time course of development and on the underlying regulatory mechanisms by systems biology approaches. Two assays have therefore been tuned here for these requirements. In the UKK test system, human embryonic stem cells (hESC) (or other pluripotent cells) are left to spontaneously differentiate for 14 days in embryoid bodies, to allow generation of cells of all three germ layers. This system recapitulates key steps of early human embryonic development, and it can predict human-specific early embryonic toxicity/teratogenicity, if cells are exposed to chemicals during differentiation. The UKN1 test system is based on hESC differentiating to a population of neuroectodermal progenitor (NEP) cells for 6 days. This system recapitulates early neural development and predicts early developmental neurotoxicity and epigenetic changes triggered by chemicals. Both systems, in combination with transcriptome microarray studies, are suitable for identifying toxicity biomarkers. Moreover, they may be used in combination to generate input data for systems biology analysis. These test systems have advantages over the traditional toxicological studies requiring large amounts of animals. The test systems may contribute to a reduction of the costs for drug development and chemical safety evaluation. Their combination sheds light especially on compounds that may influence neurodevelopment specifically.
Developmental Biology, Issue 100, Human embryonic stem cells, developmental toxicity, neurotoxicity, neuroectodermal progenitor cells, immunoprecipitation, differentiation, cytotoxicity, embryopathy, embryoid body
52333
Assessment of Ovarian Cancer Spheroid Attachment and Invasion of Mesothelial Cells in Real Time
Institutions: MIMR-PHI Institute of Medical Research, Monash University.

Ovarian cancers metastasize by shedding into the peritoneal fluid and dispersing to distal sites within the peritoneum. Monolayer cultures do not accurately model the behaviors of cancer cells within a nonadherent environment, as cancer cells inherently aggregate into multicellular structures which contribute to the metastatic process by attaching to and invading the peritoneal lining to form secondary tumors. To model this important stage of ovarian cancer metastasis, multicellular aggregates, or spheroids, can be generated from established ovarian cancer cell lines maintained under nonadherent conditions. To mimic the peritoneal microenvironment encountered by tumor cells
in vivo
, a spheroid-mesothelial co-culture model was established in which preformed spheroids are plated on top of a human mesothelial cell monolayer, formed over an extracellular matrix barrier. Methods were then developed using a real-time cell analyzer to conduct quantitative real time measurements of the invasive capacity of different ovarian cancer cell lines grown as spheroids. This approach allows for the continuous measurement of invasion over long periods of time, which has several advantages over traditional endpoint assays and more laborious real time microscopy image analyses. In short, this method enables a rapid, determination of factors which regulate the interactions between ovarian cancer spheroid cells invading through mesothelial and matrix barriers over time.
Medicine, Issue 87, Ovarian cancer, metastasis, invasion, mesothelial cells, spheroids, real time analysis
51655
Longitudinal Measurement of Extracellular Matrix Rigidity in 3D Tumor Models Using Particle-tracking Microrheology
Institutions: University of Massachusetts Boston.

The mechanical microenvironment has been shown to act as a crucial regulator of tumor growth behavior and signaling, which is itself remodeled and modified as part of a set of complex, two-way mechanosensitive interactions. While the development of biologically-relevant 3D tumor models have facilitated mechanistic studies on the impact of matrix rheology on tumor growth, the inverse problem of mapping changes in the mechanical environment induced by tumors remains challenging. Here, we describe the implementation of particle-tracking microrheology (PTM) in conjunction with 3D models of pancreatic cancer as part of a robust and viable approach for longitudinally monitoring physical changes in the tumor microenvironment,
in situ
. The methodology described here integrates a system of preparing
in vitro
3D models embedded in a model extracellular matrix (ECM) scaffold of Type I collagen with fluorescently labeled probes uniformly distributed for position- and time-dependent microrheology measurements throughout the specimen.
In vitro
tumors are plated and probed in parallel conditions using multiwell imaging plates. Drawing on established methods, videos of tracer probe movements are transformed via the Generalized Stokes Einstein Relation (GSER) to report the complex frequency-dependent viscoelastic shear modulus,
G*(ω)
. Because this approach is imaging-based, mechanical characterization is also mapped onto large transmitted-light spatial fields to simultaneously report qualitative changes in 3D tumor size and phenotype. Representative results showing contrasting mechanical response in sub-regions associated with localized invasion-induced matrix degradation as well as system calibration, validation data are presented. Undesirable outcomes from common experimental errors and troubleshooting of these issues are also presented. The 96-well 3D culture plating format implemented in this protocol is conducive to correlation of microrheology measurements with therapeutic screening assays or molecular imaging to gain new insights into impact of treatments or biochemical stimuli on the mechanical microenvironment.
Bioengineering, Issue 88, viscoelasticity, mechanobiology, extracellular matrix (ECM), matrix remodeling, 3D tumor models, tumor microenvironment, stroma, matrix metalloprotease (MMP), epithelial-mesenchymal transition (EMT)
51302
Setting-up an In Vitro Model of Rat Blood-brain Barrier (BBB): A Focus on BBB Impermeability and Receptor-mediated Transport
Institutions: VECT-HORUS SAS, CNRS, NICN UMR 7259.

The blood brain barrier (BBB) specifically regulates molecular and cellular flux between the blood and the nervous tissue. Our aim was to develop and characterize a highly reproducible rat syngeneic
in vitro
model of the BBB using co-cultures of primary rat brain endothelial cells (RBEC) and astrocytes to study receptors involved in transcytosis across the endothelial cell monolayer. Astrocytes were isolated by mechanical dissection following trypsin digestion and were frozen for later co-culture. RBEC were isolated from 5-week-old rat cortices. The brains were cleaned of meninges and white matter, and mechanically dissociated following enzymatic digestion. Thereafter, the tissue homogenate was centrifuged in bovine serum albumin to separate vessel fragments from nervous tissue. The vessel fragments underwent a second enzymatic digestion to free endothelial cells from their extracellular matrix. The remaining contaminating cells such as pericytes were further eliminated by plating the microvessel fragments in puromycin-containing medium. They were then passaged onto filters for co-culture with astrocytes grown on the bottom of the wells. RBEC expressed high levels of tight junction (TJ) proteins such as occludin, claudin-5 and ZO-1 with a typical localization at the cell borders. The transendothelial electrical resistance (TEER) of brain endothelial monolayers, indicating the tightness of TJs reached 300 ohm·cm
2
on average. The endothelial permeability coefficients (Pe) for lucifer yellow (LY) was highly reproducible with an average of 0.26 ± 0.11 x 10
-3
cm/min. Brain endothelial cells organized in monolayers expressed the efflux transporter P-glycoprotein (P-gp), showed a polarized transport of rhodamine 123, a ligand for P-gp, and showed specific transport of transferrin-Cy3 and DiILDL across the endothelial cell monolayer. In conclusion, we provide a protocol for setting up an
in vitro
BBB model that is highly reproducible due to the quality assurance methods, and that is suitable for research on BBB transporters and receptors.
Medicine, Issue 88, rat brain endothelial cells (RBEC), mouse, spinal cord, tight junction (TJ), receptor-mediated transport (RMT), low density lipoprotein (LDL), LDLR, transferrin, TfR, P-glycoprotein (P-gp), transendothelial electrical resistance (TEER),
51278
Optimization of High Grade Glioma Cell Culture from Surgical Specimens for Use in Clinically Relevant Animal Models and 3D Immunochemistry
Institutions: Henry Ford Hospital.

Glioblastomas, the most common and aggressive form of astrocytoma, are refractory to therapy, and molecularly heterogeneous. The ability to establish cell cultures that preserve the genomic profile of the parental tumors, for use in patient specific
in vitro
and
in vivo
models, has the potential to revolutionize the preclinical development of new treatments for glioblastoma tailored to the molecular characteristics of each tumor. Starting with fresh high grade astrocytoma tumors dissociated into single cells, we use the neurosphere assay as an enrichment method for cells presenting cancer stem cell phenotype, including expression of neural stem cell markers, long term self-renewal
in vitro
, and the ability to form orthotopic xenograft tumors. This method has been previously proposed, and is now in use by several investigators. Based on our experience of dissociating and culturing 125 glioblastoma specimens, we arrived at the detailed protocol we present here, suitable for routine neurosphere culturing of high grade astrocytomas and large scale expansion of tumorigenic cells for preclinical studies. We report on the efficiency of successful long term cultures using this protocol and suggest affordable alternatives for culturing dissociated glioblastoma cells that fail to grow as neurospheres. We also describe in detail a protocol for preserving the neurospheres 3D architecture for immunohistochemistry. Cell cultures enriched in CSCs, capable of generating orthotopic xenograft models that preserve the molecular signatures and heterogeneity of GBMs, are becoming increasingly popular for the study of the biology of GBMs and for the improved design of preclinical testing of potential therapies.
Medicine, Issue 83, Primary Cell Culture, animal models, Nervous System Diseases, Neoplasms, glioblastoma, neurosphere, surgical specimens, long-term self-renewal
51088
Production of Large Numbers of Size-controlled Tumor Spheroids Using Microwell Plates
Institutions: University of Calgary.
Tumor spheroids are increasingly recognized as an important
in vitro
model for the behavior of tumor cells in three dimensions. More physiologically relevant than conventional adherent-sheet cultures, they more accurately recapitulate the complexity and interactions present in real tumors. In order to harness this model to better assess tumor biology, or the efficacy of novel therapeutic agents, it is necessary to be able to generate spheroids reproducibly, in a controlled manner and in significant numbers. The AggreWell system consists of a high-density array of pyramid-shaped microwells, into which a suspension of single cells is centrifuged. The numbers of cells clustering at the bottom of each microwell, and the number and ratio of distinct cell types involved depend only on the properties of the suspension introduced by the experimenter. Thus, we are able to generate tumor spheroids of arbitrary size and composition without needing to modify the underlying platform technology. The hundreds of microwells per square centimeter of culture surface area in turn ensure that extremely high production levels may be attained via a straightforward, nonlabor-intensive process. We therefore expect that this protocol will be broadly useful to researchers in the tumor spheroid field.
Bioengineering, Issue 81, tumor spheroid, size control, scalable, mixed cell types, microwell, forced aggregation, microtissue
50665
In vitro Mesothelial Clearance Assay that Models the Early Steps of Ovarian Cancer Metastasis
Institutions: Harvard Medical School.

Ovarian cancer is the fifth leading cause of cancer related deaths in the United States
1
. Despite a positive initial response to therapies, 70 to 90 percent of women with ovarian cancer develop new metastases, and the recurrence is often fatal
2
. It is, therefore, necessary to understand how secondary metastases arise in order to develop better treatments for intermediate and late stage ovarian cancer. Ovarian cancer metastasis occurs when malignant cells detach from the primary tumor site and disseminate throughout the peritoneal cavity. The disseminated cells can form multicellular clusters, or spheroids, that will either remain unattached, or implant onto organs within the peritoneal cavity
3
(Figure 1, Movie 1). All of the organs within the peritoneal cavity are lined with a single, continuous, layer of mesothelial cells
4-6
(Figure 2). However, mesothelial cells are absent from underneath peritoneal tumor masses, as revealed by electron micrograph studies of excised human tumor tissue sections
3,5-7
(Figure 2). This suggests that mesothelial cells are excluded from underneath the tumor mass by an unknown process. Previous
in vitro
experiments demonstrated that primary ovarian cancer cells attach more efficiently to extracellular matrix than to mesothelial cells
8
, and more recent studies showed that primary peritoneal mesothelial cells actually provide a barrier to ovarian cancer cell adhesion and invasion (as compared to adhesion and invasion on substrates that were not covered with mesothelial cells)
9,10
. This would suggest that mesothelial cells act as a barrier against ovarian cancer metastasis. The cellular and molecular mechanisms by which ovarian cancer cells breach this barrier, and exclude the mesothelium have, until recently, remained unknown. Here we describe the methodology for an
in vitro
assay that models the interaction between ovarian cancer cell spheroids and mesothelial cells
in vivo
(Figure 3, Movie 2). Our protocol was adapted from previously described methods for analyzing ovarian tumor cell interactions with mesothelial monolayers
8-16
, and was first described in a report showing that ovarian tumor cells utilize an integrin –dependent activation of myosin and traction force to promote the exclusion of the mesothelial cells from under a tumor spheroid
17
. This model takes advantage of time-lapse fluorescence microscopy to monitor the two cell populations in real time, providing spatial and temporal information on the interaction. The ovarian cancer cells express red fluorescent protein (RFP) while the mesothelial cells express green fluorescent protein (GFP). RFP-expressing ovarian cancer cell spheroids attach to the GFP-expressing mesothelial monolayer. The spheroids spread, invade, and force the mesothelial cells aside creating a hole in the monolayer. This hole is visualized as the negative space (black) in the GFP image. The area of the hole can then be measured to quantitatively analyze differences in clearance activity between control and experimental populations of ovarian cancer and/ or mesothelial cells. This assay requires only a small number of ovarian cancer cells (100 cells per spheroid X 20-30 spheroids per condition), so it is feasible to perform this assay using precious primary tumor cell samples. Furthermore, this assay can be easily adapted for high throughput screening.
Medicine, Issue 60, Ovarian Cancer, Metastasis, In vitro Model, Mesothelial, Spheroid
3888
Isolation of Mammary Epithelial Cells from Three-dimensional Mixed-cell Spheroid Co-culture
Institutions: Tufts Medical Center.

While enormous efforts have gone into identifying signaling pathways and molecules involved in normal and malignant cell behaviors
1-2
, much of this work has been done using classical two-dimensional cell culture models, which allow for easy cell manipulation. It has become clear that intracellular signaling pathways are affected by extracellular forces, including dimensionality and cell surface tension
3-4
. Multiple approaches have been taken to develop three-dimensional models that more accurately represent biologic tissue architecture
3
. While these models incorporate multi-dimensionality and architectural stresses, study of the consequent effects on cells is less facile than in two-dimensional tissue culture due to the limitations of the models and the difficulty in extracting cells for subsequent analysis. The important role of the microenvironment around tumors in tumorigenesis and tumor behavior is becoming increasingly recognized
4
. Tumor stroma is composed of multiple cell types and extracellular molecules. During tumor development there are bidirectional signals between tumor cells and stromal cells
5
. Although some factors participating in tumor-stroma co-evolution have been identified, there is still a need to develop simple techniques to systematically identify and study the full array of these signals
6
. Fibroblasts are the most abundant cell type in normal or tumor-associated stromal tissues, and contribute to deposition and maintenance of basement membrane and paracrine growth factors
7
. Many groups have used three dimensional culture systems to study the role of fibroblasts on various cellular functions, including tumor response to therapies, recruitment of immune cells, signaling molecules, proliferation, apoptosis, angiogenesis, and invasion
8-15
. We have optimized a simple method for assessing the effects of mammary fibroblasts on mammary epithelial cells using a commercially available extracellular matrix model to create three-dimensional cultures of mixed cell populations (co-cultures)
16-22
. With continued co-culture the cells form spheroids with the fibroblasts clustering in the interior and the epithelial cells largely on the exterior of the spheroids and forming multi-cellular projections into the matrix. Manipulation of the fibroblasts that leads to altered epithelial cell invasiveness can be readily quantified by changes in numbers and length of epithelial projections
23
. Furthermore, we have devised a method for isolating epithelial cells out of three-dimensional co-culture that facilitates analysis of the effects of fibroblast exposure on epithelial behavior. We have found that the effects of co-culture persist for weeks after epithelial cell isolation, permitting ample time to perform multiple assays. This method is adaptable to cells of varying malignant potential and requires no specialized equipment. This technique allows for rapid evaluation of in vitro cell models under multiple conditions, and the corresponding results can be compared to
in vivo
animal tissue models as well as human tissue samples.
Molecular Biology, Issue 62, Tumor microenvironment, extracellular matrix, three-dimensional, co-culture, spheroid, mixed-cell, cell culture
3760
Spheroid Assay to Measure TGF-β-induced Invasion
Institutions: Leiden University Medical Centre.

TGF-β has opposing roles in breast cancer progression by acting as a tumor suppressor in the initial phase, but stimulating invasion and metastasis at later stage
1,2
. Moreover, TGF-β is frequently overexpressed in breast cancer and its expression correlates with poor prognosis and metastasis
3,4
. The mechanisms by which TGF-β induces invasion are not well understood. TGF-β elicits its cellular responses via TGF-β type II (TβRII) and type I (TβRI) receptors. Upon TGF-β-induced heteromeric complex formation, TβRII phosphorylates the TβRI. The activated TβRI initiates its intracellular canonical signaling pathway by phosphorylating receptor Smads (R-Smads), i.e. Smad2 and Smad3. These activated R-Smads form heteromeric complexes with Smad4, which accumulate in the nucleus and regulate the transcription of target genes
5
. In addition to the previously described Smad pathway, receptor activation results in activation of several other non-Smad signaling pathways, for example Mitogen Activated Protein Kinase (MAPK) pathways
6
. To study the role of TGF-β in different stages of breast cancer, we made use of the MCF10A cell system. This system consists of spontaneously immortalized MCF10A1 (M1) breast epithelial cells
7
, the H-RAS transformed M1-derivative MCF10AneoT (M2), which produces premalignant lesions in mice
8
, and the M2-derivative MCF10CA1a (M4), which was established from M2 xenografts and forms high grade carcinomas with the ability to metastasize to the lung
9
. This MCF10A series offers the possibility to study the responses of cells with different grades of malignancy that are not biased by a different genetic background. For the analysis of TGF-β-induced invasion, we generated homotypic MCF10A spheroid cell cultures embedded in a 3D collagen matrix
in vitro
(Fig 1). Such models closely resemble human tumors
in vivo
by establishing a gradient of oxygen and nutrients, resulting in active and invasive cells on the outside and quiescent or even necrotic cells in the inside of the spheroid
10
. Spheroid based assays have also been shown to better recapitulate drug resistance than monolayer cultures
11
. This MCF10 3D model system allowed us to investigate the impact of TGF-β signaling on the invasive properties of breast cells in different stages of malignancy.
Medicine, Issue 57, TGF-β, TGF, breast cancer, assay, invasion, collagen, spheroids, oncology
3337
A Simple Hanging Drop Cell Culture Protocol for Generation of 3D Spheroids
Institutions: UMDNJ-Robert Wood Johnson Medical School.
Studies of cell-cell cohesion and cell-substratum adhesion have historically been performed on monolayer cultures adherent to rigid substrates. Cells within a tissue, however, are typically encased within a closely packed tissue mass in which cells establish intimate connections with many near-neighbors and with extracellular matrix components. Accordingly, the chemical milieu and physical forces experienced by cells within a 3D tissue are fundamentally different than those experienced by cells grown in monolayer culture. This has been shown to markedly impact cellular morphology and signaling. Several methods have been devised to generate 3D cell cultures including encapsulation of cells in collagen gels
1
or in biomaterial scaffolds
2
. Such methods, while useful, do not recapitulate the intimate direct cell-cell adhesion architecture found in normal tissues. Rather, they more closely approximate culture systems in which single cells are loosely dispersed within a 3D meshwork of ECM products. Here, we describe a simple method in which cells are placed in hanging drop culture and incubated under physiological conditions until they form true 3D spheroids in which cells are in direct contact with each other and with extracellular matrix components. The method requires no specialized equipment and can be adapted to include addition of any biological agent in very small quantities that may be of interest in elucidating effects on cell-cell or cell-ECM interaction. The method can also be used to co-culture two (or more) different cell populations so as to elucidate the role of cell-cell or cell-ECM interactions in specifying spatial relationships between cells. Cell-cell cohesion and cell-ECM adhesion are the cornerstones of studies of embryonic development, tumor-stromal cell interaction in malignant invasion, wound healing, and for applications to tissue engineering. This simple method will provide a means of generating tissue-like cellular aggregates for measurement of biomechanical properties or for molecular and biochemical analysis in a physiologically relevant model.
Bioengineering, Issue 51, 3D, hanging drop cultures, cell sorting-out, differential adhesion
2720
Microfluidic Device for Recreating a Tumor Microenvironment in Vitro
Institutions: University Of Massachusetts Amherst.

We have developed a microfluidic device that mimics the delivery and systemic clearance of drugs to heterogeneous three-dimensional tumor tissues in vitro. Nutrients delivered by vasculature fail to reach all parts of tumors, giving rise to heterogeneous microenvironments consisting of viable, quiescent and necrotic cell types. Many cancer drugs fail to effectively penetrate and treat all types of cells because of this heterogeneity. Monolayers of cancer cells do not mimic this heterogeneity, making it difficult to test cancer drugs with a suitable in vitro model. Our microfluidic devices were fabricated out of PDMS using soft lithography. Multicellular tumor spheroids, formed by the hanging drop method, were inserted and constrained into rectangular chambers on the device and maintained with continuous medium perfusion on one side. The rectangular shape of chambers on the device created linear gradients within tissue. Fluorescent stains were used to quantify the variability in apoptosis within tissue. Tumors on the device were treated with the fluorescent chemotherapeutic drug doxorubicin, time-lapse microscopy was used to monitor its diffusion into tissue, and the effective diffusion coefficient was estimated. The hanging drop method allowed quick formation of uniform spheroids from several cancer cell lines. The device enabled growth of spheroids for up to 3 days. Cells in proximity of flowing medium were minimally apoptotic and those far from the channel were more apoptotic, thereby accurately mimicking regions in tumors adjacent to blood vessels. The estimated value of the doxorubicin diffusion coefficient agreed with a previously reported value in human breast cancer. Because the penetration and retention of drugs in solid tumors affects their efficacy, we believe that this device is an important tool in understanding the behavior of drugs, and developing new cancer therapeutics.
Bioengineering, Issue 57, Microfluidic Device, Tumor Microenvironment, Hanging Drop Spheroids, Apoptosis, Drug Penetration
2425