Imaging Cell Membrane Injury and Subcellular Processes Involved in Repair
Published: 03-24-2014
ABSTRACT
The ability of injured cells to heal is a fundamental cellular process, but cellular and molecular mechanisms involved in healing injured cells are poorly understood. Here assays are described to monitor the ability and kinetics of healing of cultured cells following localized injury. The first protocol describes an end point based approach to simultaneously assess cell membrane repair ability of hundreds of cells. The second protocol describes a real time imaging approach to monitor the kinetics of cell membrane repair in individual cells following localized injury with a pulsed laser. As healing injured cells involves trafficking of specific proteins and subcellular compartments to the site of injury, the third protocol describes the use of above end point based approach to assess one such trafficking event (lysosomal exocytosis) in hundreds of cells injured simultaneously and the last protocol describes the use of pulsed laser injury together with TIRF microscopy to monitor the dynamics of individual subcellular compartments in injured cells at high spatial and temporal resolution. While the protocols here describe the use of these approaches to study the link between cell membrane repair and lysosomal exocytosis in cultured muscle cells, they can be applied as such for any other adherent cultured cell and subcellular compartment of choice.
17 Related JoVE Articles!
Quantitative Analysis of Synaptic Vesicle Pool Replenishment in Cultured Cerebellar Granule Neurons using FM Dyes
Institutions: University of Edinburgh.

After neurotransmitter release in central nerve terminals, SVs are rapidly retrieved by endocytosis. Retrieved SVs are then refilled with neurotransmitter and rejoin the recycling pool, defined as SVs that are available for exocytosis
1,2
. The recycling pool can generally be subdivided into two distinct pools - the readily releasable pool (RRP) and the reserve pool (RP). As their names imply, the RRP consists of SVs that are immediately available for fusion while RP SVs are released only during intense stimulation
1,2
. It is important to have a reliable assay that reports the differential replenishment of these SV pools in order to understand 1) how SVs traffic after different modes of endocytosis (such as clathrin-dependent endocytosis and activity-dependent bulk endocytosis) and 2) the mechanisms controlling the mobilisation of both the RRP and RP in response to different stimuli. FM dyes are routinely employed to quantitatively report SV turnover in central nerve terminals
3-8
. They have a hydrophobic hydrocarbon tail that allows reversible partitioning in the lipid bilayer, and a hydrophilic head group that blocks passage across membranes. The dyes have little fluorescence in aqueous solution, but their quantum yield increases dramatically when partitioned in membrane
9
. Thus FM dyes are ideal fluorescent probes for tracking actively recycling SVs. The standard protocol for use of FM dye is as follows. First they are applied to neurons and are taken up during endocytosis (Figure 1). After non-internalised dye is washed away from the plasma membrane, recycled SVs redistribute within the recycling pool. These SVs are then depleted using unloading stimuli (Figure 1). Since FM dye labelling of SVs is quantal
10
, the resulting fluorescence drop is proportional to the amount of vesicles released. Thus, the recycling and fusion of SVs generated from the previous round of endocytosis can be reliably quantified. Here, we present a protocol that has been modified to obtain two additional elements of information. Firstly, sequential unloading stimuli are used to differentially unload the RRP and the RP, to allow quantification of the replenishment of specific SV pools. Secondly, each nerve terminal undergoes the protocol twice. Thus, the response of the same nerve terminal at S1 can be compared against the presence of a test substance at phase S2 (Figure 2), providing an internal control. This is important, since the extent of SV recycling across different nerve terminals is highly variable
11
. Any adherent primary neuronal cultures may be used for this protocol, however the plating density, solutions and stimulation conditions are optimised for cerebellar granule neurons (CGNs)
12,13
.
Neuroscience, Issue 57, synaptic vesicle, neuron, recycling pool, readily releasable pool, reserve pool, replenishment, FM dyes, exocytosis, endocytosis
3143
TIRFM and pH-sensitive GFP-probes to Evaluate Neurotransmitter Vesicle Dynamics in SH-SY5Y Neuroblastoma Cells: Cell Imaging and Data Analysis
Institutions: Università degli Studi di Milano, San Raffaele Scientific Institute and Vita-Salute University, Università degli Studi di Milano.

Synaptic vesicles release neurotransmitters at chemical synapses through a dynamic cycle of fusion and retrieval. Monitoring synaptic activity in
real time
and dissecting the different steps of exo-endocytosis at the single-vesicle level are crucial for understanding synaptic functions in health and disease. Genetically-encoded pH-sensitive probes directly targeted to synaptic vesicles and Total Internal Reflection Fluorescence Microscopy (TIRFM) provide the spatio-temporal resolution necessary to follow vesicle dynamics. The evanescent field generated by total internal reflection can only excite fluorophores placed in a thin layer (<150 nm) above the glass cover on which cells adhere, exactly where the processes of exo-endocytosis take place. The resulting high-contrast images are ideally suited for vesicles tracking and quantitative analysis of fusion events. In this protocol, SH-SY5Y human neuroblastoma cells are proposed as a valuable model for studying neurotransmitter release at the single-vesicle level by TIRFM, because of their flat surface and the presence of dispersed vesicles. The methods for growing SH-SY5Y as adherent cells and for transfecting them with synapto-pHluorin are provided, as well as the technique to perform TIRFM and imaging. Finally, a strategy aiming to select, count, and analyze fusion events at whole-cell and single-vesicle levels is presented. To validate the imaging procedure and data analysis approach, the dynamics of pHluorin-tagged vesicles are analyzed under resting and stimulated (depolarizing potassium concentrations) conditions. Membrane depolarization increases the frequency of fusion events and causes a parallel raise of the net fluorescence signal recorded in whole cell. Single-vesicle analysis reveals modifications of fusion-event behavior (increased peak height and width). These data suggest that potassium depolarization not only induces a massive neurotransmitter release but also modifies the mechanism of vesicle fusion and recycling. With the appropriate fluorescent probe, this technique can be employed in different cellular systems to dissect the mechanisms of constitutive and stimulated secretion.
Neuroscience, Issue 95, Synaptic vesicles, neurotransmission, Total Internal Reflection Fluorescence Microscopy, pHluorin, neuroblastoma cells
52267
Imaging Plasma Membrane Deformations With pTIRFM
Institutions: Wayne State University.

To gain novel insights into the dynamics of exocytosis, our group focuses on the changes in lipid bilayer shape that must be precisely regulated during the fusion of vesicle and plasma membranes. These rapid and localized changes are achieved by dynamic interactions between lipids and specialized proteins that control membrane curvature. The absence of such interactions would not only have devastating consequences for vesicle fusion, but a host of other cellular functions that involve control of membrane shape. In recent years, the identity of a number of proteins with membrane-shaping properties has been determined. What remains missing is a roadmap of when, where, and how they act as fusion and content release progress. Our understanding of the molecular events that enable membrane remodeling has historically been limited by a lack of analytical methods that are sensitive to membrane curvature or have the temporal resolution to track rapid changes. PTIRFM satisfies both of these criteria. We discuss how pTIRFM is implemented to visualize and interpret rapid, submicron changes in the orientation of chromaffin cell membranes during dense core vesicle (DCV) fusion. The chromaffin cells we use are isolated from bovine adrenal glands. The membrane is stained with a lipophilic carbocyanine dye,1,1'-dioctadecyl-3,3,3',3'-tetramethylindodicarbocyanine, 4-chlorobenzenesulfonate, or diD. DiD intercalates in the membrane plane with a "fixed" orientation and is therefore sensitive to the polarization of the evanescent field. The diD-stained cell membrane is sequentially excited with orthogonal polarizations of a 561 nm laser (p-pol, s-pol). A 488 nm laser is used to visualize vesicle constituents and time the moment of fusion. Exocytosis is triggered by locally perfusing cells with a depolarizing KCl solution. Analysis is performed offline using custom-written software to understand how diD emission intensity changes relate to fusion pore dilation.
Biochemistry, Issue 86, Chromaffin Cells, Lipid Bilayers, Microscopy, Fluorescence, Polarization, Exocytosis, membrane, TIRF, pTIRF, chromaffin, polarization, vesicle
51334
Immunohistochemistry and Multiple Labeling with Antibodies from the Same Host Species to Study Adult Hippocampal Neurogenesis
Institutions: Jena University Hospital.

Adult neurogenesis is a highly regulated, multi-stage process in which new neurons are generated from an activated neural stem cell via increasingly committed intermediate progenitor subtypes. Each of these subtypes expresses a set of specific molecular markers that, together with specific morphological criteria, can be used for their identification. Typically, immunofluorescent techniques are applied involving subtype-specific antibodies in combination with exo- or endogenous proliferation markers. We herein describe immunolabeling methods for the detection and quantification of all stages of adult hippocampal neurogenesis. These comprise the application of thymidine analogs, transcardial perfusion, tissue processing, heat-induced epitope retrieval, ABC immunohistochemistry, multiple indirect immunofluorescence, confocal microscopy and cell quantification. Furthermore we present a sequential multiple immunofluorescence protocol which circumvents problems usually arising from the need of using primary antibodies raised in the same host species. It allows an accurate identification of all hippocampal progenitor subtypes together with a proliferation marker within a single section. These techniques are a powerful tool to study the regulation of different progenitor subtypes in parallel, their involvement in brain pathologies and their role in specific brain functions.
Neuroscience, Issue 98, Immunohistochemistry, immunofluorescence, antibodies, epitope retrieval, thymidine analogs, 5-Chloro-2′-deoxyuridine (CldU), 5-Iodo-2′-deoxyuridine (IdU), 5-Bromo-2′-deoxyuridine (BrdU), dentate gyrus, adult neurogenesis, free-floating, hippocampal progenitor cells
52551
Investigating Mast Cell Secretory Granules; from Biosynthesis to Exocytosis
Institutions: Sackler Faculty of Medicine, Tel Aviv University, Cincinnati Children's Hospital Medical Center, University of Cincinnati College of Medicine, Graduate School of Life Sciences, Tohoku University.

Mast Cells (MC) are secretory cells of the immune system that accomplish their physiological and pathological functions by releasing pre-formed and newly synthesized allergic, inflammatory and immunoregulatory mediators. MCs' mediators affect multiple tissues and organs culminating in allergic and immune responses. The synthesis, storage and release of the MC mediators are highly regulated. The pre-formed mediators are packed in cytoplasmic secretory granules (SG) that fuse with the plasma membrane and release their content by regulated exocytosis. We present a protocol, based on the co-expression of a gene of interest with a reporter gene that is targeted to the SGs and is released in a regulated fashion alongside the endogenous SG mediators. The protocol enables high resolution four dimensional confocal analyses of the MC SGs and monitoring their timeline from biogenesis to triggered exocytosis. Thus, using this protocol for screening genes of interest for their phenotypic and functional impact allows deciphering the molecular mechanisms that govern the biogenesis and exocytosis of the MC SGs and identifying the regulators involved. Thereby, further insights into the cellular mechanisms that account for MCs function in health and disease should be provided.
Immunology, Issue 95, Mast cells, exocytosis, secretory granules, live cell imaging, Rab5, reporter gene, confocal imaging, transfection
52505
Methods for Cell-attached Capacitance Measurements in Mouse Adrenal Chromaffin Cell
Institutions: University of Illinois at Chicago.
Neuronal transmission is an integral part of cellular communication within the brain. Depolarization of the presynaptic membrane leads to vesicle fusion known as exocytosis that mediates synaptic transmission. Subsequent retrieval of synaptic vesicles is necessary to generate new neurotransmitter-filled vesicles in a process identified as endocytosis. During exocytosis, fusing vesicle membranes will result in an increase in surface area and subsequent endocytosis results in a decrease in the surface area. Here, our lab demonstrates a basic introduction to cell-attached capacitance recordings of single endocytic events in the mouse adrenal chromaffin cell. This type of electrical recording is useful for high-resolution recordings of exocytosis and endocytosis at the single vesicle level. While this technique can detect both vesicle exocytosis and endocytosis, the focus of our lab is vesicle endocytosis. Moreover, this technique allows us to analyze the kinetics of single endocytic events. Here the methods for mouse adrenal gland tissue dissection, chromaffin cell culture, basic cell-attached techniques, and subsequent examples of individual traces measuring singular endocytic event are described.
Neuroscience, Issue 92, Cell-attached capacitance measurements, chromaffin cells, single vesicles, endocytosis, exocytosis, clathrin-mediated endocytosis (CME), patch clamp
52024
Acute Dissociation of Lamprey Reticulospinal Axons to Enable Recording from the Release Face Membrane of Individual Functional Presynaptic Terminals
Institutions: University of Illinois at Chicago.

Synaptic transmission is an extremely rapid process. Action potential driven influx of Ca
2+
 into the presynaptic terminal, through voltage-gated calcium channels (VGCCs) located in the release face membrane, is the trigger for vesicle fusion and neurotransmitter release. Crucial to the rapidity of synaptic transmission is the spatial and temporal synchrony between the arrival of the action potential, VGCCs and the neurotransmitter release machinery. The ability to directly record Ca
2+
 currents from the release face membrane of individual presynaptic terminals is imperative for a precise understanding of the relationship between presynaptic Ca
2+
 and neurotransmitter release. Access to the presynaptic release face membrane for electrophysiological recording is not available in most preparations and presynaptic Ca
2+
 entry has been characterized using imaging techniques and macroscopic current measurements – techniques that do not have sufficient temporal resolution to visualize Ca
2+
entry. The characterization of VGCCs directly at single presynaptic terminals has not been possible in central synapses and has thus far been successfully achieved only in the calyx-type synapse of the chick ciliary ganglion and in rat calyces. We have successfully addressed this problem in the giant reticulospinal synapse of the lamprey spinal cord by developing an acutely dissociated preparation of the spinal cord that yields isolated reticulospinal axons with functional presynaptic terminals devoid of postsynaptic structures. We can fluorescently label and identify individual presynaptic terminals and target them for recording. Using this preparation, we have characterized VGCCs directly at the release face of individual presynaptic terminals using immunohistochemistry and electrophysiology approaches. Ca
2+
currents have been recorded directly at the release face membrane of individual presynaptic terminals, the first such recording to be carried out at central synapses.
Neuroscience, Issue 92, reticulospinal synapse, reticulospinal axons, presynaptic terminal, presynaptic calcium, voltage-gated calcium channels, vesicle fusion, synaptic transmission, neurotransmitter release, spinal cord, lamprey, synaptic vesicles, acute dissociation
51925
Preparation of Segmented Microtubules to Study Motions Driven by the Disassembling Microtubule Ends
Institutions: Russian Academy of Sciences, Federal Research Center of Pediatric Hematology, Oncology and Immunology, Moscow, Russia, University of Pennsylvania.

Microtubule depolymerization can provide force to transport different protein complexes and protein-coated beads
in vitro
. The underlying mechanisms are thought to play a vital role in the microtubule-dependent chromosome motions during cell division, but the relevant proteins and their exact roles are ill-defined. Thus, there is a growing need to develop assays with which to study such motility
in vitro
using purified components and defined biochemical milieu. Microtubules, however, are inherently unstable polymers; their switching between growth and shortening is stochastic and difficult to control. The protocols we describe here take advantage of the segmented microtubules that are made with the photoablatable stabilizing caps. Depolymerization of such segmented microtubules can be triggered with high temporal and spatial resolution, thereby assisting studies of motility at the disassembling microtubule ends. This technique can be used to carry out a quantitative analysis of the number of molecules in the fluorescently-labeled protein complexes, which move processively with dynamic microtubule ends. To optimize a signal-to-noise ratio in this and other quantitative fluorescent assays, coverslips should be treated to reduce nonspecific absorption of soluble fluorescently-labeled proteins. Detailed protocols are provided to take into account the unevenness of fluorescent illumination, and determine the intensity of a single fluorophore using equidistant Gaussian fit. Finally, we describe the use of segmented microtubules to study microtubule-dependent motions of the protein-coated microbeads, providing insights into the ability of different motor and nonmotor proteins to couple microtubule depolymerization to processive cargo motion.
Basic Protocol, Issue 85, microscopy flow chamber, single-molecule fluorescence, laser trap, microtubule-binding protein, microtubule-dependent motor, microtubule tip-tracking
51150
Measuring Exocytosis in Neurons Using FM Labeling
Institutions: Harvard.
The ability to measure the kinetics of vesicle release can help provide insight into some of the basics of neurotransmission. Here we used real-time imaging of vesicles labeled with FM dye to monitor the rate of presynaptic vesicle release. FM4-64 is a red fluorescent amphiphilic styryl dye that embeds into the membranes of synaptic vesicles as endocytosis is stimulated. Lipophilic interactions cause the dye to greatly increase in fluorescence, thus emitting a bright signal when associated with vesicles and a nominal one when in the extracellular fluid. After a wash step is used to help remove external dye within the plasma membrane, the remaining FM is concentrated within the vesicles and is then expelled when exocytosis is induced by another round of electrical stimulation. The rate of vesicles release is measured from the resulting decrease in fluorescence. Since FM dye can be applied external and transiently, it is a useful tool for determining rates of exocytosis in neuronal cultures, especially when comparing the rates between transfected synapses and neighboring control boutons.
Neuroscience, Issue 1, neuron, imaging, exocytosis
117
Use of pHluorin to Assess the Dynamics of Axon Guidance Receptors in Cell Culture and in the Chick Embryo
Institutions: University of Lyon.

During development,
axon guidance receptors play a crucial role in regulating axons sensitivity to both attractive and repulsive cues. Indeed, activation of the guidance receptors is the first step of the signaling mechanisms allowing axon tips, the growth cones, to respond to the ligands. As such, the modulation of their availability at the cell surface is one of the mechanisms that participate in setting the growth cone sensitivity. We describe here a method to precisely visualize the spatio-temporal cell surface dynamics of an axon guidance receptor both
in vitro
and
in vivo
in the developing chick spinal cord. We took advantage of the pH-dependent fluorescence property of a green fluorescent protein (GFP) variant to specifically detect the fraction of the axon guidance receptor that is addressed to the plasma membrane. We first describe the
in vitro
validation of such pH-dependent constructs and we further detail their use
in vivo
, in the chick spinal chord, to assess the spatio-temporal dynamics of the axon guidance receptor of interest.
Neuroscience, Issue 83, Neurons, Axons, Cell Differentiation, Embryonic Development, Life Sciences (General), Axon guidance receptor, trafficking, pHluorin, in ovo electroporation, commissural neurons, Plexin,
50883
A Microplate Assay to Assess Chemical Effects on RBL-2H3 Mast Cell Degranulation: Effects of Triclosan without Use of an Organic Solvent
Institutions: University of Maine, Orono, University of Maine, Orono.

Mast cells play important roles in allergic disease and immune defense against parasites. Once activated (
e.g.
by an allergen), they degranulate, a process that results in the exocytosis of allergic mediators. Modulation of mast cell degranulation by drugs and toxicants may have positive or adverse effects on human health. Mast cell function has been dissected in detail with the use of rat basophilic leukemia mast cells (RBL-2H3), a widely accepted model of human mucosal mast cells
3-5
. Mast cell granule component and the allergic mediator β-hexosaminidase, which is released linearly in tandem with histamine from mast cells
6
, can easily and reliably be measured through reaction with a fluorogenic substrate, yielding measurable fluorescence intensity in a microplate assay that is amenable to high-throughput studies
1
. Originally published by Naal
et al.
1
, we have adapted this degranulation assay for the screening of drugs and toxicants and demonstrate its use here. Triclosan is a broad-spectrum antibacterial agent that is present in many consumer products and has been found to be a therapeutic aid in human allergic skin disease
7-11
, although the mechanism for this effect is unknown. Here we demonstrate an assay for the effect of triclosan on mast cell degranulation. We recently showed that triclosan strongly affects mast cell function
2
. In an effort to avoid use of an organic solvent, triclosan is dissolved directly into aqueous buffer with heat and stirring, and resultant concentration is confirmed using UV-Vis spectrophotometry (using ε
280
= 4,200 L/M/cm)
12
. This protocol has the potential to be used with a variety of chemicals to determine their effects on mast cell degranulation, and more broadly, their allergic potential.
Immunology, Issue 81, mast cell, basophil, degranulation, RBL-2H3, triclosan, irgasan, antibacterial, β-hexosaminidase, allergy, Asthma, toxicants, ionophore, antigen, fluorescence, microplate, UV-Vis
50671
Intravital Microscopy for Imaging Subcellular Structures in Live Mice Expressing Fluorescent Proteins
Institutions: National Institutes of Health, University of North Carolina at Chapel Hill , Rutgers University .

Here we describe a procedure to image subcellular structures in live rodents that is based on the use of confocal intravital microscopy. As a model organ, we use the salivary glands of live mice since they provide several advantages. First, they can be easily exposed to enable access to the optics, and stabilized to facilitate the reduction of the motion artifacts due to heartbeat and respiration. This significantly facilitates imaging and tracking small subcellular structures. Second, most of the cell populations of the salivary glands are accessible from the surface of the organ. This permits the use of confocal microscopy that has a higher spatial resolution than other techniques that have been used for
in vivo
imaging, such as two-photon microscopy. Finally, salivary glands can be easily manipulated pharmacologically and genetically, thus providing a robust system to investigate biological processes at a molecular level. In this study we focus on a protocol designed to follow the kinetics of the exocytosis of secretory granules in acinar cells and the dynamics of the apical plasma membrane where the secretory granules fuse upon stimulation of the beta-adrenergic receptors. Specifically, we used a transgenic mouse that co-expresses cytosolic GFP and a membrane-targeted peptide fused with the fluorescent protein tandem-Tomato. However, the procedures that we used to stabilize and image the salivary glands can be extended to other mouse models and coupled to other approaches to label
in vivo
cellular components, enabling the visualization of various subcellular structures, such as endosomes, lysosomes, mitochondria, and the actin cytoskeleton.
Cellular Biology, Issue 79, Microscopy, Confocal Microscopy, Fluorescence, Multiphoton, Exocytosis, Cell Biology, animal biology, animal models, Intravital Microscopy, Salivary glands, Exocytosis, In Vivo Imaging
50558
Examination of Synaptic Vesicle Recycling Using FM Dyes During Evoked, Spontaneous, and Miniature Synaptic Activities
Institutions: University of Iowa Carver College of Medicine, University of Bath.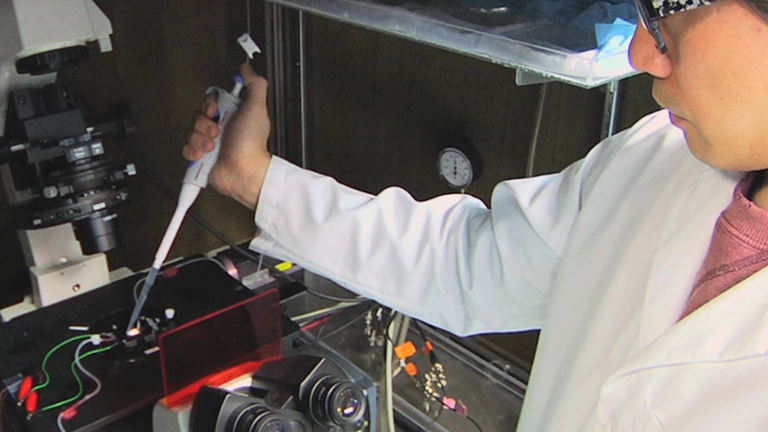 Synaptic vesicles in functional nerve terminals undergo exocytosis and endocytosis. This synaptic vesicle recycling can be effectively analyzed using styryl FM dyes, which reveal membrane turnover. Conventional protocols for the use of FM dyes were designed for analyzing neurons following stimulated (evoked) synaptic activity. Recently, protocols have become available for analyzing the FM signals that accompany weaker synaptic activities, such as spontaneous or miniature synaptic events. Analysis of these small changes in FM signals requires that the imaging system is sufficiently sensitive to detect small changes in intensity, yet that artifactual changes of large amplitude are suppressed. Here we describe a protocol that can be applied to evoked, spontaneous, and miniature synaptic activities, and use cultured hippocampal neurons as an example. This protocol also incorporates a means of assessing the rate of photobleaching of FM dyes, as this is a significant source of artifacts when imaging small changes in intensity.
Neuroscience, Issue 85, Presynaptic Terminals, Synaptic Vesicles, Microscopy, Biological Assay, Nervous System, Endocytosis, exocytosis, fluorescence imaging, FM dye, neuron, photobleaching
50557
Lateral Diffusion and Exocytosis of Membrane Proteins in Cultured Neurons Assessed using Fluorescence Recovery and Fluorescence-loss Photobleaching
Institutions: University of Bristol.

Membrane proteins such as receptors and ion channels undergo active trafficking in neurons, which are highly polarised and morphologically complex. This directed trafficking is of fundamental importance to deliver, maintain or remove synaptic proteins. Super-ecliptic pHluorin (SEP) is a pH-sensitive derivative of eGFP that has been extensively used for live cell imaging of plasma membrane proteins
1-2
. At low pH, protonation of SEP decreases photon absorption and eliminates fluorescence emission. As most intracellular trafficking events occur in compartments with low pH, where SEP fluorescence is eclipsed, the fluorescence signal from SEP-tagged proteins is predominantly from the plasma membrane where the SEP is exposed to a neutral pH extracellular environment. When illuminated at high intensity SEP, like every fluorescent dye, is irreversibly photodamaged (photobleached)
3-5
. Importantly, because low pH quenches photon absorption, only surface expressed SEP can be photobleached whereas intracellular SEP is unaffected by the high intensity illumination
6-10
. FRAP (fluorescence recovery after photobleaching) of SEP-tagged proteins is a convenient and powerful technique for assessing protein dynamics at the plasma membrane. When fluorescently tagged proteins are photobleached in a region of interest (ROI) the recovery in fluorescence occurs due to the movement of unbleached SEP-tagged proteins into the bleached region. This can occur via lateral diffusion and/or from exocytosis of non-photobleached receptors supplied either by
de novo
synthesis or recycling (see Fig. 1). The fraction of immobile and mobile protein can be determined and the mobility and kinetics of the diffusible fraction can be interrogated under basal and stimulated conditions such as agonist application or neuronal activation stimuli such as NMDA or KCl application
8,10
. We describe photobleaching techniques designed to selectively visualize the recovery of fluorescence attributable to exocytosis. Briefly, an ROI is photobleached once as with standard FRAP protocols, followed, after a brief recovery, by repetitive bleaching of the flanking regions. This 'FRAP-FLIP' protocol, developed in our lab, has been used to characterize AMPA receptor trafficking at dendritic spines
10
, and is applicable to a wide range of trafficking studies to evaluate the intracellular trafficking and exocytosis.
Neuroscience, Issue 60, Fluorescence Recovery After Photobleaching, FRAP, Confocal imaging, fluorophore, GFP, Super-ecliptic pHluorin, SEP, fluorescence loss in photobleach, FLIP, neuron, protein traffic, synapse
3747
Studying Synaptic Vesicle Pools using Photoconversion of Styryl Dyes
Institutions: European Neuroscience Institute Göttingen.

The fusion of synaptic vesicles with the plasma membrane (exocytosis) is a required step in neurotransmitter release and neuronal communication. The vesicles are then retrieved from the plasma membrane (endocytosis) and grouped together with the general pool of vesicles within the nerve terminal, until they undergo a new exo- and endocytosis cycle (vesicle recycling). These processes have been studied using a variety of techniques such as electron microscopy, electrophysiology recordings, amperometry and capacitance measurements. Importantly, during the last two decades a number of fluorescently labeled markers emerged, allowing optical techniques to track vesicles in their recycling dynamics. One of the most commonly used markers is the styryl or FM dye
1
; structurally, all FM dyes contain a hydrophilic head and a lipophilic tail connected through an aromatic ring and one or more double bonds (Fig. 1B). A classical FM dye experiment to label a pool of vesicles consists in bathing the preparation (Fig. 1Ai) with the dye during the stimulation of the nerve (electrically or with high K
+
). This induces vesicle recycling and the subsequent loading of the dye into recently endocytosed vesicles (Fig. 1A
i-iii
). After loading the vesicles with dye, a second round of stimulation in a dye-free bath would trigger the FM release through exocytosis (Fig. 1A
iv-v
), process that can be followed by monitoring the fluorescence intensity decrease (destaining). Although FM dyes have contributed greatly to the field of vesicle recycling, it is not possible to determine the exact localization or morphology of individual vesicles by using conventional fluorescence microscopy. For that reason, we explain here how FM dyes can also be used as endocytic markers using electron microscopy, through photoconversion. The photoconversion technique exploits the property of fluorescent dyes to generate reactive oxygen species under intense illumination. Fluorescently labeled preparations are submerged in a solution containing diaminobenzidine (DAB) and illuminated. Reactive species generated by the dye molecules oxidize the DAB, which forms a stable, insoluble precipitate that has a dark appearance and can be easily distinguished in electron microscopy
2,3
. As DAB is only oxidized in the immediate vicinity of fluorescent molecules (as the reactive oxygen species are short-lived), the technique ensures that only fluorescently labeled structures are going to contain the electron-dense precipitate. The technique thus allows the study of the exact location and morphology of actively recycling organelles.
JoVE Neuroscience, Issue 36, Photoconversion, FM1-43, Electron Microscope, Fluorescence, Drosophila, NMJ
1790
Methods for Patch Clamp Capacitance Recordings from the Calyx
Institutions: National Institute of Health.

We demonstrate the basic techniques for presynaptic patch clamp recording at the calyx of Held, a mammalian central nervous system nerve terminal. Electrical recordings from the presynaptic terminal allow the measurement of action potentials, calcium channel currents, vesicle fusion (exocytosis) and subsequent membrane uptake (endocytosis). The fusion of vesicles containing neurotransmitter causes the vesicle membrane to be added to the cell membrane of the calyx. This increase in the amount of cell membrane is measured as an increase in capacitance. The subsequent reduction in capacitance indicates endocytosis, the process of membrane uptake or removal from the calyx membrane. Endocytosis, is necessary to maintain the structure of the calyx and it is also necessary to form vesicles that will be filled with neurotransmitter for future exocytosis events. Capacitance recordings at the calyx of Held have made it possible to directly and rapidly measure vesicular release and subsequent endocytosis in a mammalian CNS nerve terminal. In addition, the corresponding postsynaptic activity can be simultaneously measured by using paired recordings. Thus a complete picture of the presynaptic and postsynaptic electrical activity at a central nervous system synapse is achievable using this preparation. Here, the methods for slice preparation, morphological features for identification of calyces of Held, basic patch clamping techniques, and examples of capacitance recordings to measure exocytosis and endocytosis are presented.
Neuroscience, Issue 6, membrane fusion, exocytosis, endocytosis
244
Leprdb Mouse Model of Type 2 Diabetes: Pancreatic Islet Isolation and Live-cell 2-Photon Imaging Of Intact Islets
Institutions: The University of Queensland.
Type 2 diabetes is a chronic disease affecting 382 million people in 2013, and is expected to rise to 592 million by 2035
1
. During the past 2 decades, the role of beta-cell dysfunction in type 2 diabetes has been clearly established
2
. Research progress has required methods for the isolation of pancreatic islets. The protocol of the islet isolation presented here shares many common steps with protocols from other groups, with some modifications to improve the yield and quality of isolated islets from both the wild type and diabetic Lepr
db
(db/db) mice. A live-cell 2-photon imaging method is then presented that can be used to investigate the control of insulin secretion within islets.
Medicine, Issue 99, Pancreatic islets, Leprdb, db/db, isolation, liberase, collagenase, 2-photon imaging, exocytosis, insulin, beta cell, diabetes
52632