Preparation of Artificial Bilayers for Electrophysiology Experiments
Published: 10-31-2008
ABSTRACT
Planar lipid bilayers, also called artificial lipid bilayers, allow you to study ion-conducting channels in a well-defined environment. These bilayers can be used for many different studies, such as the characterization of membrane-active peptides, the reconstitution of ion channels or investigations on how changes in lipid bilayer properties alter the function of bilayer-spanning channels. Here, we show how to form a planar bilayer and how to isolate small patches from the bilayer, and in a second video will also demonstrate a procedure for using gramicidin channels to determine changes in lipid bilayer elastic properties. We also demonstrate the individual steps needed to prepare the bilayer chamber, the electrodes and how to test that the bilayer is suitable for single-channel measurements.
24 Related JoVE Articles!
Combination of Microstereolithography and Electrospinning to Produce Membranes Equipped with Niches for Corneal Regeneration
Institutions: University of Sheffield, University of Sheffield, L. V. Prasad Eye Institute.

Corneal problems affect millions of people worldwide reducing their quality of life significantly. Corneal disease can be caused by illnesses such as Aniridia or Steven Johnson Syndrome as well as by external factors such as chemical burns or radiation. Current treatments are (i) the use of corneal grafts and (ii) the use of stem cell expanded in the laboratory and delivered on carriers (
e.g.
, amniotic membrane); these treatments are relatively successful but unfortunately they can fail after 3-5 years. There is a need to design and manufacture new corneal biomaterial devices able to mimic in detail the physiological environment where stem cells reside in the cornea. Limbal stem cells are located in the limbus (circular area between cornea and sclera) in specific niches known as the Palisades of Vogt. In this work we have developed a new platform technology which combines two cutting-edge manufacturing techniques (microstereolithography and electrospinning) for the fabrication of corneal membranes that mimic to a certain extent the limbus. Our membranes contain artificial micropockets which aim to provide cells with protection as the Palisades of Vogt do in the eye.
Bioengineering, Issue 91, electrospinning, microstereolithography, stem cell niche, storage, limbal explants
51826
Isolation and Quantitative Immunocytochemical Characterization of Primary Myogenic Cells and Fibroblasts from Human Skeletal Muscle
Institutions: King's College London, Cambridge Stem Cell Institute.

The repair and regeneration of skeletal muscle requires the action of satellite cells, which are the resident muscle stem cells. These can be isolated from human muscle biopsy samples using enzymatic digestion and their myogenic properties studied in culture. Quantitatively, the two main adherent cell types obtained from enzymatic digestion are: (i) the satellite cells (termed myogenic cells or muscle precursor cells), identified initially as CD56
+
and later as CD56
+
/desmin
+
cells and (ii) muscle-derived fibroblasts, identified as CD56
–
and TE-7
+
. Fibroblasts proliferate very efficiently in culture and in mixed cell populations these cells may overrun myogenic cells to dominate the culture. The isolation and purification of different cell types from human muscle is thus an important methodological consideration when trying to investigate the innate behavior of either cell type in culture. Here we describe a system of sorting based on the gentle enzymatic digestion of cells using collagenase and dispase followed by magnetic activated cell sorting (MACS) which gives both a high purity (>95% myogenic cells) and good yield (~2.8 x 10
6
± 8.87 x 10
5
cells/g tissue after 7 days
in vitro
) for experiments in culture. This approach is based on incubating the mixed muscle-derived cell population with magnetic microbeads beads conjugated to an antibody against CD56 and then passing cells though a magnetic field. CD56
+
cells bound to microbeads are retained by the field whereas CD56
–
cells pass unimpeded through the column. Cell suspensions from any stage of the sorting process can be plated and cultured. Following a given intervention, cell morphology, and the expression and localization of proteins including nuclear transcription factors can be quantified using immunofluorescent labeling with specific antibodies and an image processing and analysis package.
Developmental Biology, Issue 95, Stem cell Biology, Tissue Engineering, Stem Cells, Satellite Cells, Skeletal Muscle, Adipocytes, Myogenic Cells, Myoblasts, Fibroblasts, Magnetic Activated Cell Sorting, Image Analysis
52049
High Throughput Characterization of Adult Stem Cells Engineered for Delivery of Therapeutic Factors for Neuroprotective Strategies
Institutions: Iowa State University, Iowa State University, Iowa State University.
Mesenchymal stem cells (MSCs) derived from bone marrow are a powerful cellular resource and have been used in numerous studies as potential candidates to develop strategies for treating a variety of diseases. The purpose of this study was to develop and characterize MSCs as cellular vehicles engineered for delivery of therapeutic factors as part of a neuroprotective strategy for rescuing the damaged or diseased nervous system. In this study we used mouse MSCs that were genetically modified using lentiviral vectors, which encoded brain-derived neurotrophic factor (BDNF) or glial cell-derived neurotrophic factor (GDNF), together with green fluorescent protein (GFP). Before proceeding with
in vivo
transplant studies it was important to characterize the engineered cells to determine whether or not the genetic modification altered aspects of normal cell behavior. Different culture substrates were examined for their ability to support cell adhesion, proliferation, survival, and cell migration of the four subpopulations of engineered MSCs. High content screening (HCS) was conducted and image analysis performed. Substrates examined included: poly-L-lysine, fibronectin, collagen type I, laminin, entactin-collagen IV-laminin (ECL). Ki67 immunolabeling was used to investigate cell proliferation and Propidium Iodide staining was used to investigate cell viability. Time-lapse imaging was conducted using a transmitted light/environmental chamber system on the high content screening system. Our results demonstrated that the different subpopulations of the genetically modified MSCs displayed similar behaviors that were in general comparable to that of the original, non-modified MSCs. The influence of different culture substrates on cell growth and cell migration was not dramatically different between groups comparing the different MSC subtypes, as well as culture substrates. This study provides an experimental strategy to rapidly characterize engineered stem cells and their behaviors before their application in long-term
in vivo
transplant studies for nervous system rescue and repair.
Medicine, Issue 95, Mesenchymal stem cells, high throughput screening, genetic modification, cell tracking, neurotrophic factors, high content screening, HCS, neuroprotection
52242
Reconstitution of a Transmembrane Protein, the Voltage-gated Ion Channel, KvAP, into Giant Unilamellar Vesicles for Microscopy and Patch Clamp Studies
Institutions: Université Pierre et Marie Curie, University of California, San Diego, National Institute of Health.

Giant Unilamellar Vesicles (GUVs) are a popular biomimetic system for studying membrane associated phenomena. However, commonly used protocols to grow GUVs must be modified in order to form GUVs containing functional transmembrane proteins. This article describes two dehydration-rehydration methods — electroformation and gel-assisted swelling — to form GUVs containing the voltage-gated potassium channel, KvAP. In both methods, a solution of protein-containing small unilamellar vesicles is partially dehydrated to form a stack of membranes, which is then allowed to swell in a rehydration buffer. For the electroformation method, the film is deposited on platinum electrodes so that an AC field can be applied during film rehydration. In contrast, the gel-assisted swelling method uses an agarose gel substrate to enhance film rehydration. Both methods can produce GUVs in low (
e.g.,
5 mM) and physiological (
e.g.,
100 mM) salt concentrations. The resulting GUVs are characterized via fluorescence microscopy, and the function of reconstituted channels measured using the inside-out patch-clamp configuration. While swelling in the presence of an alternating electric field (electroformation) gives a high yield of defect-free GUVs, the gel-assisted swelling method produces a more homogeneous protein distribution and requires no special equipment.
Biochemistry, Issue 95, Biomimetic model system, Giant Unilamellar Vesicle, reconstitution, ion channel, transmembrane protein, KvAP, electroformation, gel assisted swelling, agarose, inside-out patch clamp, electrophysiology, fluorescence microscopy
52281
Genome-wide Snapshot of Chromatin Regulators and States in Xenopus Embryos by ChIP-Seq
Institutions: MRC National Institute for Medical Research.

The recruitment of chromatin regulators and the assignment of chromatin states to specific genomic loci are pivotal to cell fate decisions and tissue and organ formation during development. Determining the locations and levels of such chromatin features
in vivo
will provide valuable information about the spatio-temporal regulation of genomic elements, and will support aspirations to mimic embryonic tissue development
in vitro
. The most commonly used method for genome-wide and high-resolution profiling is chromatin immunoprecipitation followed by next-generation sequencing (ChIP-Seq). This protocol outlines how yolk-rich embryos such as those of the frog
Xenopus
can be processed for ChIP-Seq experiments, and it offers simple command lines for post-sequencing analysis. Because of the high efficiency with which the protocol extracts nuclei from formaldehyde-fixed tissue, the method allows easy upscaling to obtain enough ChIP material for genome-wide profiling. Our protocol has been used successfully to map various DNA-binding proteins such as transcription factors, signaling mediators, components of the transcription machinery, chromatin modifiers and post-translational histone modifications, and for this to be done at various stages of embryogenesis. Lastly, this protocol should be widely applicable to other model and non-model organisms as more and more genome assemblies become available.
Developmental Biology, Issue 96, Chromatin immunoprecipitation, next-generation sequencing, ChIP-Seq, developmental biology, Xenopus embryos, cross-linking, transcription factor, post-sequencing analysis, DNA occupancy, metagene, binding motif, GO term
52535
A Hydrogel Construct and Fibrin-based Glue Approach to Deliver Therapeutics in a Murine Myocardial Infarction Model.
Institutions: University of Illinois at Urbana-Champaign.
The murine MI model is widely recognized in the field of cardiovascular disease, and has consistently been used as a first step to test the efficacy of treatments
in vivo
1
. The traditional, established protocol has been further fine-tuned to minimize the damage to the animal. Notably, the pectoral muscle layers are teased away rather than simply cut, and the thoracotomy is approached intercostally as opposed to breaking the ribs in a sternotomy, preserving the integrity of the ribcage. With these changes, the overall stress on the animal is decreased. Stem cell therapies aimed to alleviate the damage caused by MIs have shown promise over the years for their pro-angiogenic and anti-apoptotic benefits. Current approaches of delivering cells to the heart surface typically involve the injection of the cells either near the damaged site, within a coronary artery, or into the peripheral blood stream
2-4
. While the cells have proven to home to the damaged myocardium, functionality is limited by their poor engraftment at the site of injury, resulting in diffusion into the blood stream
5
. This manuscript highlights a procedure that overcomes this obstacle with the use of a cell-encapsulated hydrogel patch. The patch is fabricated prior to the surgical procedure and is placed on the injured myocardium immediately following the occlusion of the left coronary artery. To adhere the patch in place, biocompatible external fibrin glue is placed directly on top of the patch, allowing for it to dry to both the patch and the heart surface. This approach provides a novel adhesion method for the application of a delicate cell-encapsulating therapeutic construct.
Medicine, Issue 100, Myocardial infarction, stem cell therapy, hydrogel, fibrin-based glue, cell-encapsulated patch, hydrogel adhesion
52562
Experimental Demyelination and Remyelination of Murine Spinal Cord by Focal Injection of Lysolecithin
Institutions: Hotchkiss Brain Institute at University of Calgary, Hotchkiss Brain Institute at University of Calgary.

Multiple sclerosis is an inflammatory demyelinating disease of the central nervous system characterized by plaque formation containing lost oligodendrocytes, myelin, axons, and neurons. Remyelination is an endogenous repair mechanism whereby new myelin is produced subsequent to proliferation, recruitment, and differentiation of oligodendrocyte precursor cells into myelin-forming oligodendrocytes, and is necessary to protect axons from further damage. Currently, all therapeutics for the treatment of multiple sclerosis target the aberrant immune component of the disease, which reduce inflammatory relapses but do not prevent progression to irreversible neurological decline. It is therefore imperative that remyelination-promoting strategies be developed which may delay disease progression and perhaps reverse neurological symptoms. Several animal models of demyelination exist, including experimental autoimmune encephalomyelitis and curprizone; however, there are limitations in their use for studying remyelination. A more robust approach is the focal injection of toxins into the central nervous system, including the detergent lysolecithin into the spinal cord white matter of rodents. In this protocol, we demonstrate that the surgical procedure involved in injecting lysolecithin into the ventral white matter of mice is fast, cost-effective, and requires no additional materials than those commercially available. This procedure is important not only for studying the normal events involved in the remyelination process, but also as a pre-clinical tool for screening candidate remyelination-promoting therapeutics.
Neuroscience, Issue 97, demyelination, remyelination, lysolecithin, spinal cord, oligodendrocyte, myelin, multiple sclerosis
52679
Concentric Gel System to Study the Biophysical Role of Matrix Microenvironment on 3D Cell Migration
Institutions: FOM Institute AMOLF, National University of Singapore, National University of Singapore.
The ability of cells to migrate is crucial in a wide variety of cell functions throughout life from embryonic development and wound healing to tumor and cancer metastasis. Despite intense research efforts, the basic biochemical and biophysical principles of cell migration are still not fully understood, especially in the physiologically relevant three-dimensional (3D) microenvironments. Here, we describe an
in vitro
assay designed to allow quantitative examination of 3D cell migration behaviors. The method exploits the cell's mechanosensing ability and propensity to migrate into previously unoccupied extracellular matrix (ECM). We use the invasion of highly invasive breast cancer cells, MDA-MB-231, in collagen gels as a model system. The spread of cell population and the migration dynamics of individual cells over weeks of culture can be monitored using live-cell imaging and analyzed to extract spatiotemporally-resolved data. Furthermore, the method is easily adaptable for diverse extracellular matrices, thus offering a simple yet powerful way to investigate the role of biophysical factors in the microenvironment on cell migration.
Bioengineering, Issue 98, cell migration, collagen, biomechanics, 3D cell culture, live-cell imaging, cancer invasion, metastasis, extracellular matrix, pore size, biopolymer, cytoskeleton, confocal microscopy
52735
Athymic Rat Model for Evaluation of Engineered Anterior Cruciate Ligament Grafts
Institutions: University of California Los Angeles, University of California Los Angeles.

Anterior cruciate ligament (ACL) rupture is a common ligamentous injury that often requires surgery because the ACL does not heal well without intervention. Current treatment strategies include ligament reconstruction with either autograft or allograft, which each have their associated limitations. Thus, there is interest in designing a tissue-engineered graft for use in ACL reconstruction. We describe the fabrication of an electrospun polymer graft for use in ACL tissue engineering. This polycaprolactone graft is biocompatible, biodegradable, porous, and is comprised of aligned fibers. Because an animal model is necessary to evaluate such a graft, this paper describes an intra-articular athymic rat model of ACL reconstruction that can be used to evaluate engineered grafts, including those seeded with xenogeneic cells. Representative histology and biomechanical testing results at 16 weeks postoperatively are presented, with grafts tested immediately post-implantation and contralateral native ACLs serving as controls. The present study provides a reproducible animal model with which to evaluate tissue engineered ACL grafts, and demonstrates the potential of a regenerative medicine approach to treatment of ACL rupture.
Bioengineering, Issue 97, Anterior cruciate ligament, tissue engineering, animal model, biodegradable scaffold, rat, knee
52797
Engineering 3D Cellularized Collagen Gels for Vascular Tissue Regeneration
Institutions: Laval University, Laval University, Politecnico di Milano, University of Alberta, National Research Council (Canada), University of Western Ontario.

Synthetic materials are known to initiate clinical complications such as inflammation, stenosis, and infections when implanted as vascular substitutes. Collagen has been extensively used for a wide range of biomedical applications and is considered a valid alternative to synthetic materials due to its inherent biocompatibility (
i.e.
, low antigenicity, inflammation, and cytotoxic responses). However, the limited mechanical properties and the related low hand-ability of collagen gels have hampered their use as scaffold materials for vascular tissue engineering. Therefore, the rationale behind this work was first to engineer cellularized collagen gels into a tubular-shaped geometry and second to enhance smooth muscle cells driven reorganization of collagen matrix to obtain tissues stiff enough to be handled. The strategy described here is based on the direct assembling of collagen and smooth muscle cells (construct) in a 3D cylindrical geometry with the use of a molding technique. This process requires a maturation period, during which the constructs are cultured in a bioreactor under static conditions (without applied external dynamic mechanical constraints) for 1 or 2 weeks. The "static bioreactor" provides a monitored and controlled sterile environment (pH, temperature, gas exchange, nutrient supply and waste removal) to the constructs. During culture period, thickness measurements were performed to evaluate the cells-driven remodeling of the collagen matrix, and glucose consumption and lactate production rates were measured to monitor the cells metabolic activity. Finally, mechanical and viscoelastic properties were assessed for the resulting tubular constructs. To this end, specific protocols and a focused know-how (manipulation, gripping, working in hydrated environment, and so on) were developed to characterize the engineered tissues.
Bioengineering, Issue 100, Collagen gel, cell culture, 3D constructs, vascular tissue engineering, bioreactor, mechanical characterization
52812
Experimental Protocol for Manipulating Plant-induced Soil Heterogeneity
Institutions: Case Western Reserve University.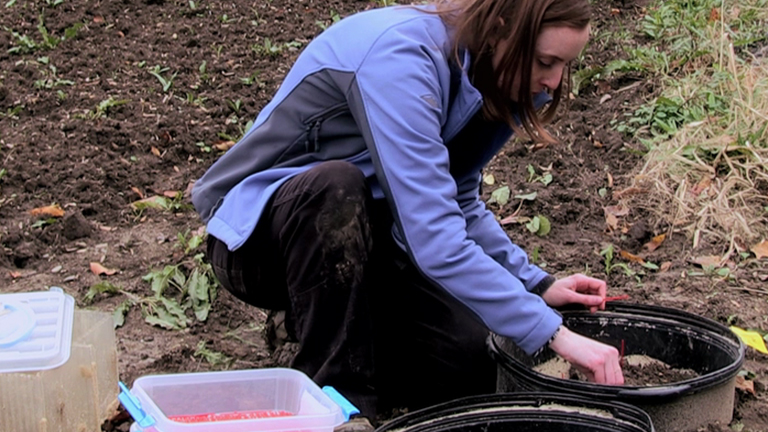 Coexistence theory has often treated environmental heterogeneity as being independent of the community composition; however biotic feedbacks such as plant-soil feedbacks (PSF) have large effects on plant performance, and create environmental heterogeneity that depends on the community composition. Understanding the importance of PSF for plant community assembly necessitates understanding of the role of heterogeneity in PSF, in addition to mean PSF effects. Here, we describe a protocol for manipulating plant-induced soil heterogeneity. Two example experiments are presented: (1) a field experiment with a 6-patch grid of soils to measure plant population responses and (2) a greenhouse experiment with 2-patch soils to measure individual plant responses. Soils can be collected from the zone of root influence (soils from the rhizosphere and directly adjacent to the rhizosphere) of plants in the field from conspecific and heterospecific plant species. Replicate collections are used to avoid pseudoreplicating soil samples. These soils are then placed into separate patches for heterogeneous treatments or mixed for a homogenized treatment. Care should be taken to ensure that heterogeneous and homogenized treatments experience the same degree of soil disturbance. Plants can then be placed in these soil treatments to determine the effect of plant-induced soil heterogeneity on plant performance. We demonstrate that plant-induced heterogeneity results in different outcomes than predicted by traditional coexistence models, perhaps because of the dynamic nature of these feedbacks. Theory that incorporates environmental heterogeneity influenced by the assembling community and additional empirical work is needed to determine when heterogeneity intrinsic to the assembling community will result in different assembly outcomes compared with heterogeneity extrinsic to the community composition.
Environmental Sciences, Issue 85, Coexistence, community assembly, environmental drivers, plant-soil feedback, soil heterogeneity, soil microbial communities, soil patch
51580
Setting-up an In Vitro Model of Rat Blood-brain Barrier (BBB): A Focus on BBB Impermeability and Receptor-mediated Transport
Institutions: VECT-HORUS SAS, CNRS, NICN UMR 7259.

The blood brain barrier (BBB) specifically regulates molecular and cellular flux between the blood and the nervous tissue. Our aim was to develop and characterize a highly reproducible rat syngeneic
in vitro
model of the BBB using co-cultures of primary rat brain endothelial cells (RBEC) and astrocytes to study receptors involved in transcytosis across the endothelial cell monolayer. Astrocytes were isolated by mechanical dissection following trypsin digestion and were frozen for later co-culture. RBEC were isolated from 5-week-old rat cortices. The brains were cleaned of meninges and white matter, and mechanically dissociated following enzymatic digestion. Thereafter, the tissue homogenate was centrifuged in bovine serum albumin to separate vessel fragments from nervous tissue. The vessel fragments underwent a second enzymatic digestion to free endothelial cells from their extracellular matrix. The remaining contaminating cells such as pericytes were further eliminated by plating the microvessel fragments in puromycin-containing medium. They were then passaged onto filters for co-culture with astrocytes grown on the bottom of the wells. RBEC expressed high levels of tight junction (TJ) proteins such as occludin, claudin-5 and ZO-1 with a typical localization at the cell borders. The transendothelial electrical resistance (TEER) of brain endothelial monolayers, indicating the tightness of TJs reached 300 ohm·cm
2
on average. The endothelial permeability coefficients (Pe) for lucifer yellow (LY) was highly reproducible with an average of 0.26 ± 0.11 x 10
-3
cm/min. Brain endothelial cells organized in monolayers expressed the efflux transporter P-glycoprotein (P-gp), showed a polarized transport of rhodamine 123, a ligand for P-gp, and showed specific transport of transferrin-Cy3 and DiILDL across the endothelial cell monolayer. In conclusion, we provide a protocol for setting up an
in vitro
BBB model that is highly reproducible due to the quality assurance methods, and that is suitable for research on BBB transporters and receptors.
Medicine, Issue 88, rat brain endothelial cells (RBEC), mouse, spinal cord, tight junction (TJ), receptor-mediated transport (RMT), low density lipoprotein (LDL), LDLR, transferrin, TfR, P-glycoprotein (P-gp), transendothelial electrical resistance (TEER),
51278
Tissue Engineering: Construction of a Multicellular 3D Scaffold for the Delivery of Layered Cell Sheets
Institutions: University of California, Merced.
Many tissues, such as the adult human hearts, are unable to adequately regenerate after damage.
2,3
Strategies in tissue engineering propose innovations to assist the body in recovery and repair. For example, TE approaches may be able to attenuate heart remodeling after myocardial infarction (MI) and possibly increase total heart function to a near normal pre-MI level.
4
As with any functional tissue, successful regeneration of cardiac tissue involves the proper delivery of multiple cell types with environmental cues favoring integration and survival of the implanted cell/tissue graft. Engineered tissues should address multiple parameters including: soluble signals, cell-to-cell interactions, and matrix materials evaluated as delivery vehicles, their effects on cell survival, material strength, and facilitation of cell-to-tissue organization. Studies employing the direct injection of graft cells only ignore these essential elements.
2,5,6
A tissue design combining these ingredients has yet to be developed. Here, we present an example of integrated designs using layering of patterned cell sheets with two distinct types of biological-derived materials containing the target organ cell type and endothelial cells for enhancing new vessels formation in the "tissue". Although these studies focus on the generation of heart-like tissue, this tissue design can be applied to many organs other than heart with minimal design and material changes, and is meant to be an off-the-shelf product for regenerative therapies. The protocol contains five detailed steps. A temperature sensitive Poly(
N
-isopropylacrylamide) (pNIPAAM) is used to coat tissue culture dishes. Then, tissue specific cells are cultured on the surface of the coated plates/micropattern surfaces to form cell sheets with strong lateral adhesions. Thirdly, a base matrix is created for the tissue by combining porous matrix with neovascular permissive hydrogels and endothelial cells. Finally, the cell sheets are lifted from the pNIPAAM coated dishes and transferred to the base element, making the complete construct.
Bioengineering, Issue 92, Cell Delivery, Matrices, Tissue Engineering, Cardiac Patch, Cell Sheet Engineering
51044
Isolation and Culture of Avian Embryonic Valvular Progenitor Cells
Institutions: Cornell University.

Proper formation and function of embryonic heart valves is critical for developmental progression. The early embryonic heart is a U-shaped tube of endocardium surrounded by myocardium. The myocardium secretes cardiac jelly, a hyaluronan-rich gelatinous matrix, into the atrioventricular (AV) junction and outflow tract (OFT) lumen. At stage HH14 valvulogenesis begins when a subset of endocardial cells receive signals from the myocardium, undergo endocardial to mesenchymal transformation (EMT), and invade the cardiac jelly. At stage HH25 the valvular cushions are fully mesenchymalized, and it is this mesenchyme that eventually forms the valvular and septal apparatus of the heart. Understanding the mechanisms that initiate and modulate the process of EMT and cell differentiation are important because of their connection to serious congenital heart defects. In this study we present methods to isolate pre-EMT endocardial and post-EMT mesenchymal cells, which are the two different cell phenotypes of the prevalvular cushion. Pre-EMT endocardial cells can be cultured with or without the myocardium. Post-EMT AV cushion mesenchymal cells can be cultured inside mechanically constrained or stress-free collagen gels. These 3D
in vitro
models mimic key valvular morphogenic events and are useful for deconstructing the mechanisms of early and late stage valvulogenesis.
Developmental Biology, Issue 44, quail, chicken, HH14-, HH25, endocardial, explant, mesenchymal, cushion, valve progenitor
2159
Fabrication of Micro-tissues using Modules of Collagen Gel Containing Cells
Institutions: University of Toronto, University of Toronto.

This protocol describes the fabrication of a type of micro-tissues called modules. The module approach generates uniform, scalable and vascularized tissues. The modules can be made of collagen as well as other gelable or crosslinkable materials. They are approximately 2 mm in length and 0.7 mm in diameter upon fabrication but shrink in size with embedded cells or when the modules are coated with endothelial cells. The modules individually are small enough that the embedded cells are within the diffusion limit of oxygen and other nutrients but modules can be packed together to form larger tissues that are perfusable. These tissues are modular in construction because different cell types can be embedded in or coated on the modules before they are packed together to form complex tissues. There are three main steps to making the modules: (1) neutralizing the collagen and embedding cells in it, (2) gelling the collagen in the tube and cutting the modules and (3) coating the modules with endothelial cells.
Bioengineering, Issue 46, Tissue engineering, micro-tissue, endothelial cells, collagen gels, modules, 3D tissue culture.
2177
Application of a Mouse Ligated Peyer's Patch Intestinal Loop Assay to Evaluate Bacterial Uptake by M cells
Institutions: RIKEN Research Center for Allergy and Immunology.

The inside of our gut is inhabited with enormous number of commensal bacteria. The mucosal surface of the gastrointestinal tract is continuously exposed to them and occasionally to pathogens. The gut-associated lymphoid tissue (GALT) play a key role for induction of the mucosal immune response to these microbes
1, 2
. To initiate the mucosal immune response, the mucosal antigens must be transported from the gut lumen across the epithelial barrier into organized lymphoid follicles such as Peyer's patches. This antigen transcytosis is mediated by specialized epithelial M cells
3, 4
. M cells are atypical epithelial cells that actively phagocytose macromolecules and microbes. Unlike dendritic cells (DCs) and macrophages, which target antigens to lysosomes for degradation, M cells mainly transcytose the internalized antigens. This vigorous macromolecular transcytosis through M cells delivers antigen to the underlying organized lymphoid follicles and is believed to be essential for initiating antigen-specific mucosal immune responses. However, the molecular mechanisms promoting this antigen uptake by M cells are largely unknown. We have previously reported that glycoprotein 2 (Gp2), specifically expressed on the apical plasma membrane of M cells among enterocytes, serves as a transcytotic receptor for a subset of commensal and pathogenic enterobacteria, including
Escherichia coli
and
Salmonella enterica
serovar Typhimurium (
S.
Typhimurium), by recognizing FimH, a component of type I pili on the bacterial outer membrane
5
. Here, we present a method for the application of a mouse Peyer's patch intestinal loop assay to evaluate bacterial uptake by M cells. This method is an improved version of the mouse intestinal loop assay previously described
6, 7
. The improved points are as follows: 1. Isoflurane was used as an anesthetic agent. 2. Approximately 1 cm ligated intestinal loop including Peyer's patch was set up. 3. Bacteria taken up by M cells were fluorescently labeled by fluorescence labeling reagent or by overexpressing fluorescent protein such as green fluorescent protein (GFP). 4. M cells in the follicle-associated epithelium covering Peyer's patch were detected by whole-mount immunostainig with anti Gp2 antibody. 5. Fluorescent bacterial transcytosis by M cells were observed by confocal microscopic analysis. The mouse Peyer's patch intestinal loop assay could supply the answer what kind of commensal or pathogenic bacteria transcytosed by M cells, and may lead us to understand the molecular mechanism of how to stimulate mucosal immune system through M cells.
Neuroscience, Issue 58, M cell, Peyer's patch, bacteria, immunosurveillance, confocal microscopy, Glycoprotein 2
3225
Constructing a Collagen Hydrogel for the Delivery of Stem Cell-loaded Chitosan Microspheres
Institutions: United States Army Institute of Surgical Research.

Multipotent stem cells have been shown to be extremely useful in the field of regenerative medicine
1-3
. However, in order to use these cells effectively for tissue regeneration, a number of variables must be taken into account. These variables include: the total volume and surface area of the implantation site, the mechanical properties of the tissue and the tissue microenvironment, which includes the amount of vascularization and the components of the extracellular matrix. Therefore, the materials being used to deliver these cells must be biocompatible with a defined chemical composition while maintaining a mechanical strength that mimics the host tissue. These materials must also be permeable to oxygen and nutrients to provide a favorable microenvironment for cells to attach and proliferate. Chitosan, a cationic polysaccharide with excellent biocompatibility, can be easily chemically modified and has a high affinity to bind with
in vivo
macromolecules
4-5
. Chitosan mimics the glycosaminoglycan portion of the extracellular matrix, enabling it to function as a substrate for cell adhesion, migration and proliferation. In this study we utilize chitosan in the form of microspheres to deliver adipose-derived stem cells (ASC) into a collagen based three-dimensional scaffold
6
. An ideal cell-to-microsphere ratio was determined with respect to incubation time and cell density to achieve maximum number of cells that could be loaded. Once ASC are seeded onto the chitosan microspheres (CSM), they are embedded in a collagen scaffold and can be maintained in culture for extended periods. In summary, this study provides a method to precisely deliver stem cells within a three dimensional biomaterial scaffold.
Bioengineering, Issue 64, Biomedical Engineering, Tissue Engineering, chitosan, microspheres, collagen, hydrogel, cell delivery, adipose-derived stem cells, ASC, CSM
3624
Engineering a Bilayered Hydrogel to Control ASC Differentiation
Institutions: United States Army Institute of Surgical Research, The University of Texas at Austin.

Natural polymers over the years have gained more importance because of their host biocompatibility and ability to interact with cells
in vitro
and
in vivo.
An area of research that holds promise in regenerative medicine is the combinatorial use of novel biomaterials and stem cells. A fundamental strategy in the field of tissue engineering is the use of three-dimensional scaffold (e.g., decellularized extracellular matrix, hydrogels, micro/nano particles) for directing cell function. This technology has evolved from the discovery that cells need a substrate upon which they can adhere, proliferate, and express their differentiated cellular phenotype and function
2-3
. More recently, it has also been determined that cells not only use these substrates for adherence, but also interact and take cues from the matrix substrate (e.g., extracellular matrix, ECM)
4
. Therefore, the cells and scaffolds have a reciprocal connection that serves to control tissue development, organization, and ultimate function. Adipose-derived stem cells (ASCs) are mesenchymal, non-hematopoetic stem cells present in adipose tissue that can exhibit multi-lineage differentiation and serve as a readily available source of cells (i.e. pre-vascular endothelia and pericytes). Our hypothesis is that adipose-derived stem cells can be directed toward differing phenotypes simultaneously by simply co-culturing them in bilayered matrices
1
. Our laboratory is focused on dermal wound healing. To this end, we created a single composite matrix from the natural biomaterials, fibrin, collagen, and chitosan that can mimic the characteristics and functions of a dermal-specific wound healing ECM environment.
Bioengineering, Issue 63, Biomedical Engineering, Tissue Engineering, chitosan, microspheres, collagen, hydrogel, PEG fibrin, cell delivery, adipose-derived stem cells, ASC, CSM
3953
Matrix-assisted Autologous Chondrocyte Transplantation for Remodeling and Repair of Chondral Defects in a Rabbit Model
Institutions: Klinikum rechts der Isar der Technischen Universität München, Klinikum rechts der Isar der Technischen Universität München, Klinikum rechts der Isar der Technischen Universität München, Uniklinik Köln.

Articular cartilage defects are considered a major health problem because articular cartilage has a limited capacity for self-regeneration
1
. Untreated cartilage lesions lead to ongoing pain, negatively affect the quality of life and predispose for osteoarthritis. During the last decades, several surgical techniques have been developed to treat such lesions. However, until now it was not possible to achieve a full repair in terms of covering the defect with hyaline articular cartilage or of providing satisfactory long-term recovery
2-4
. Therefore, articular cartilage injuries remain a prime target for regenerative techniques such as Tissue Engineering. In contrast to other surgical techniques, which often lead to the formation of fibrous or fibrocartilaginous tissue, Tissue Engineering aims at fully restoring the complex structure and properties of the original articular cartilage by using the chondrogenic potential of transplanted cells. Recent developments opened up promising possibilities for regenerative cartilage therapies. The first cell based approach for the treatment of full-thickness cartilage or osteochondral lesions was performed in 1994 by Lars Peterson and Mats Brittberg who pioneered clinical autologous chondrocyte implantation (ACI)
5
. Today, the technique is clinically well-established for the treatment of large hyaline cartilage defects of the knee, maintaining good clinical results even 10 to 20 years after implantation
6
. In recent years, the implantation of autologous chondrocytes underwent a rapid progression. The use of an artificial three-dimensional collagen-matrix on which cells are subsequently replanted became more and more popular
7-9
. MACT comprises of two surgical procedures: First, in order to collect chondrocytes, a cartilage biopsy needs to be performed from a non weight-bearing cartilage area of the knee joint. Then, chondrocytes are being extracted, purified and expanded to a sufficient cell number
in vitro
. Chondrocytes are then seeded onto a three-dimensional matrix and can subsequently be re-implanted. When preparing a tissue-engineered implant, proliferation rate and differentiation capacity are crucial for a successful tissue regeneration
10
. The use of a three-dimensional matrix as a cell carrier is thought to support these cellular characteristics
11
. The following protocol will summarize and demonstrate a technique for the isolation of chondrocytes from cartilage biopsies, their proliferation
in vitro
and their seeding onto a 3D-matrix (
Chondro-Gide
, Geistlich Biomaterials, Wollhusen, Switzerland). Finally, the implantation of the cell-matrix-constructs into artificially created chondral defects of a rabbit's knee joint will be described. This technique can be used as an experimental setting for further experiments of cartilage repair.
Biomedical Engineering, Issue 75, Medicine, Anatomy, Physiology, Cellular Biology, Molecular Biology, Tissue Engineering, Surgery, Autologous chondrocyte implantation, matrix-assisted, matrix, collagen scaffold, chondral lesion, cartilage, rabbit, experimental, cartilage defects, cartilage repair, regenerative therapy, chondrocytes, cell culture, isolation, transplantation, animal model
4422
Use of In vivo Imaging to Monitor the Progression of Experimental Mouse Cytomegalovirus Infection in Neonates
Institutions: Université de Strasbourg.

Human Cytomegalovirus (HCMV or HHV-5) is a life-threatening pathogen in immune-compromised individuals. Upon congenital or neonatal infection, the virus can infect and replicate in the developing brain, which may induce severe neurological damage, including deafness and mental retardation. Despite the potential severity of the symptoms, the therapeutic options are limited by the unavailability of a vaccine and the absence of a specific antiviral therapy. Furthermore, a precise description of the molecular events occurring during infection of the central nervous system (CNS) is still lacking since observations mostly derive from the autopsy of infected children. Several animal models, such as rhesus macaque CMV, have been developed and provided important insights into CMV pathogenesis in the CNS. However, despite its evolutionary proximity with humans, this model was limited by the intracranial inoculation procedure used to infect the animals and consistently induce CNS infection. Furthermore, ethical considerations have promoted the development of alternative models, among which neonatal infection of newborn mice with mouse cytomegalovirus (MCMV) has recently led to significant advances. For instance, it was reported that intraperitoneal injection of MCMV to Balb/c neonates leads to infection of neurons and glial cells in specific areas of the brain. These findings suggested that experimental inoculation of mice might recapitulate the deficits induced by HCMV infection in children. Nevertheless, a dynamic analysis of MCMV infection of neonates is difficult to perform because classical methodology requires the sacrifice of a significant number of animals at different time points to analyze the viral burden and/or immune-related parameters. To circumvent this bottleneck and to enable future investigations of rare mutant animals, we applied
in vivo
imaging technology to perform a time-course analysis of the viral dissemination in the brain upon peripheral injection of a recombinant MCMV expressing luciferase to C57Bl/6 neonates.
Infection, Issue 77, Infectious Diseases, Virology, Microbiology, Immunology, Medicine, Neuroscience, Molecular Biology, Cellular Biology, Biomedical Engineering, Herpesviridae Infections, Encephalitis, Viral, animal models, MCMV, encephalitis, neonates, in vivo imaging, Human Cytomegalovirus, HCMV, HHV-5, virus, animal model
50409
A Decellularization Methodology for the Production of a Natural Acellular Intestinal Matrix
Institutions: University College London.

Successful tissue engineering involves the combination of scaffolds with appropriate cells
in vitro
or
in vivo
. Scaffolds may be synthetic, naturally-derived or derived from tissues/organs. The latter are obtained using a technique called decellularization. Decellularization may involve a combination of physical, chemical, and enzymatic methods. The goal of this technique is to remove all cellular traces whilst maintaining the macro- and micro-architecture of the original tissue. Intestinal tissue engineering has thus far used relatively simple scaffolds that do not replicate the complex architecture of the native organ. The focus of this paper is to describe an efficient decellularization technique for rat small intestine. The isolation of the small intestine so as to ensure the maintenance of a vascular connection is described. The combination of chemical and enzymatic solutions to remove the cells whilst preserving the villus-crypt axis in the luminal aspect of the scaffold is also set out. Finally, assessment of produced scaffolds for appropriate characteristics is discussed.
Bioengineering, Issue 80, Tissue Engineering, Manufactured Materials, Biocompatible Materials, materials fabrication, Decellularization, scaffold, artificial intestine, natural acellular matrix
50658
Designing Silk-silk Protein Alloy Materials for Biomedical Applications
Institutions: Rowan University, Rowan University, Cooper Medical School of Rowan University, Rowan University.

Fibrous proteins display different sequences and structures that have been used for various applications in biomedical fields such as biosensors, nanomedicine, tissue regeneration, and drug delivery. Designing materials based on the molecular-scale interactions between these proteins will help generate new multifunctional protein alloy biomaterials with tunable properties. Such alloy material systems also provide advantages in comparison to traditional synthetic polymers due to the materials biodegradability, biocompatibility, and tenability in the body. This article used the protein blends of wild tussah silk (
Antheraea pernyi
) and domestic mulberry silk (
Bombyx mori
) as an example to provide useful protocols regarding these topics, including how to predict protein-protein interactions by computational methods, how to produce protein alloy solutions, how to verify alloy systems by thermal analysis, and how to fabricate variable alloy materials including optical materials with diffraction gratings, electric materials with circuits coatings, and pharmaceutical materials for drug release and delivery. These methods can provide important information for designing the next generation multifunctional biomaterials based on different protein alloys.
Bioengineering, Issue 90, protein alloys, biomaterials, biomedical, silk blends, computational simulation, implantable electronic devices
50891
Observing and Quantifying Fibroblast-mediated Fibrin Gel Compaction
Institutions: University of Iowa.
Cells embedded in collagen and fibrin gels attach and exert traction forces on the fibers of the gel. These forces can lead to local and global reorganization and realignment of the gel microstructure. This process proceeds in a complex manner that is dependent in part on the interplay between the location of the cells, the geometry of the gel, and the mechanical constraints on the gel. To better understand how these variables produce global fiber alignment patterns, we use time-lapse differential interference contrast (DIC) microscopy coupled with an environmentally controlled bioreactor to observe the compaction process between geometrically spaced explants (clusters of fibroblasts). The images are then analyzed with a custom image processing algorithm to obtain maps of the strain. The information obtained from this technique can be used to probe the mechanobiology of various cell-matrix interactions, which has important implications for understanding processes in wound healing, disease development, and tissue engineering applications.
Bioengineering, Issue 83, Fibrin, bioreactor, compaction, anisotropy, time-lapse microscopy, mechanobiology
50918
Enrichment of Extracellular Matrix Proteins from Tissues and Digestion into Peptides for Mass Spectrometry Analysis
Institutions: Massachusetts Institute of Technology, Broad Institute.
The extracellular matrix (ECM) is a complex meshwork of cross-linked proteins that provides biophysical and biochemical cues that are major regulators of cell proliferation, survival, migration,
etc.
The ECM plays important roles in development and in diverse pathologies including cardio-vascular and musculo-skeletal diseases, fibrosis, and cancer. Thus, characterizing the composition of ECMs of normal and diseased tissues could lead to the identification of novel prognostic and diagnostic biomarkers and potential novel therapeutic targets. However, the very nature of ECM proteins (large in size, cross-linked and covalently bound, heavily glycosylated) has rendered biochemical analyses of ECMs challenging. To overcome this challenge, we developed a method to enrich ECMs from fresh or frozen tissues and tumors that takes advantage of the insolubility of ECM proteins. We describe here in detail the decellularization procedure that consists of sequential incubations in buffers of different pH and salt and detergent concentrations and that results in 1) the extraction of intracellular (cytosolic, nuclear, membrane and cytoskeletal) proteins and 2) the enrichment of ECM proteins. We then describe how to deglycosylate and digest ECM-enriched protein preparations into peptides for subsequent analysis by mass spectrometry.
Biochemistry, Issue 101, Extracellular Matrix, Matrisome, Proteins, Decellularization, Sequential solubilization, Deglycosylation, Tryptic digestion, Proteomics, Mass Spectrometry
53057