Optogenetic Stimulation of the Auditory Nerve
Published: 10-08-2014
ABSTRACT
Direct electrical stimulation of spiral ganglion neurons (SGNs) by cochlear implants (CIs) enables open speech comprehension in the majority of implanted deaf subjects1-6. Nonetheless, sound coding with current CIs has poor frequency and intensity resolution due to broad current spread from each electrode contact activating a large number of SGNs along the tonotopic axis of the cochlea7-9. Optical stimulation is proposed as an alternative to electrical stimulation that promises spatially more confined activation of SGNs and, hence, higher frequency resolution of coding. In recent years, direct infrared illumination of the cochlea has been used to evoke responses in the auditory nerve10. Nevertheless it requires higher energies than electrical stimulation10,11 and uncertainty remains as to the underlying mechanism12. Here we describe a method based on optogenetics to stimulate SGNs with low intensity blue light, using transgenic mice with neuronal expression of channelrhodopsin 2 (ChR2)13 or virus-mediated expression of the ChR2-variant CatCh14. We used micro-light emitting diodes (µLEDs) and fiber-coupled lasers to stimulate ChR2-expressing SGNs through a small artificial opening (cochleostomy) or the round window. We assayed the responses by scalp recordings of light-evoked potentials (optogenetic auditory brainstem response: oABR) or by microelectrode recordings from the auditory pathway and compared them with acoustic and electrical stimulation.
18 Related JoVE Articles!
Testing Sensory and Multisensory Function in Children with Autism Spectrum Disorder
Institutions: Vanderbilt University Medical Center, University of Toronto, Vanderbilt University.

In addition to impairments in social communication and the presence of restricted interests and repetitive behaviors, deficits in sensory processing are now recognized as a core symptom in autism spectrum disorder (ASD). Our ability to perceive and interact with the external world is rooted in sensory processing. For example, listening to a conversation entails processing the auditory cues coming from the speaker (speech content, prosody, syntax) as well as the associated visual information (facial expressions, gestures). Collectively, the "integration" of these multisensory (
i.e.
, combined audiovisual) pieces of information results in better comprehension. Such multisensory integration has been shown to be strongly dependent upon the temporal relationship of the paired stimuli. Thus, stimuli that occur in close temporal proximity are highly likely to result in behavioral and perceptual benefits – gains believed to be reflective of the perceptual system's judgment of the likelihood that these two stimuli came from the same source. Changes in this temporal integration are expected to strongly alter perceptual processes, and are likely to diminish the ability to accurately perceive and interact with our world. Here, a battery of tasks designed to characterize various aspects of sensory and multisensory temporal processing in children with ASD is described. In addition to its utility in autism, this battery has great potential for characterizing changes in sensory function in other clinical populations, as well as being used to examine changes in these processes across the lifespan.
Behavior, Issue 98, Temporal processing, multisensory integration, psychophysics, computer based assessments, sensory deficits, autism spectrum disorder
52677
Uncovering Beat Deafness: Detecting Rhythm Disorders with Synchronized Finger Tapping and Perceptual Timing Tasks
Institutions: University of Montpellier, Institut Universitaire de France, University of Finance and Management in Warsaw, International Laboratory for Brain, Music, and Sound Research (BRAMS).

A set of behavioral tasks for assessing perceptual and sensorimotor timing abilities in the general population (
i.e.,
non-musicians) is presented here with the goal of uncovering rhythm disorders, such as beat deafness. Beat deafness is characterized by poor performance in perceiving durations in auditory rhythmic patterns or poor synchronization of movement with auditory rhythms (
e.g.,
with musical beats). These tasks include the synchronization of finger tapping to the beat of simple and complex auditory stimuli and the detection of rhythmic irregularities (anisochrony detection task) embedded in the same stimuli. These tests, which are easy to administer, include an assessment of both perceptual and sensorimotor timing abilities under different conditions (
e.g.,
beat rates and types of auditory material) and are based on the same auditory stimuli, ranging from a simple metronome to a complex musical excerpt. The analysis of synchronized tapping data is performed with circular statistics, which provide reliable measures of synchronization accuracy (
e.g.,
the difference between the timing of the taps and the timing of the pacing stimuli) and consistency. Circular statistics on tapping data are particularly well-suited for detecting individual differences in the general population. Synchronized tapping and anisochrony detection are sensitive measures for identifying profiles of rhythm disorders and have been used with success to uncover cases of poor synchronization with spared perceptual timing. This systematic assessment of perceptual and sensorimotor timing can be extended to populations of patients with brain damage, neurodegenerative diseases (
e.g.,
Parkinson's disease), and developmental disorders (
e.g.,
Attention Deficit Hyperactivity Disorder).
Behavior, Issue 97, rhythm, timing, synchronization, disorders, beat deafness, perception and action
51761
Behavioral Determination of Stimulus Pair Discrimination of Auditory Acoustic and Electrical Stimuli Using a Classical Conditioning and Heart-rate Approach
Institutions: La Trobe University.

Acute animal preparations have been used in research prospectively investigating electrode designs and stimulation techniques for integration into neural auditory prostheses, such as auditory brainstem implants
1-3
and auditory midbrain implants
4,5
. While acute experiments can give initial insight to the effectiveness of the implant, testing the chronically implanted and awake animals provides the advantage of examining the psychophysical properties of the sensations induced using implanted devices
6,7
. Several techniques such as reward-based operant conditioning
6-8
, conditioned avoidance
9-11
, or classical fear conditioning
12
have been used to provide behavioral confirmation of detection of a relevant stimulus attribute. Selection of a technique involves balancing aspects including time efficiency (often poor in reward-based approaches), the ability to test a plurality of stimulus attributes simultaneously (limited in conditioned avoidance), and measure reliability of repeated stimuli (a potential constraint when physiological measures are employed). Here, a classical fear conditioning behavioral method is presented which may be used to simultaneously test both detection of a stimulus, and discrimination between two stimuli. Heart-rate is used as a measure of fear response, which reduces or eliminates the requirement for time-consuming video coding for freeze behaviour or other such measures (although such measures could be included to provide convergent evidence). Animals were conditioned using these techniques in three 2-hour conditioning sessions, each providing 48 stimulus trials. Subsequent 48-trial testing sessions were then used to test for detection of each stimulus in presented pairs, and test discrimination between the member stimuli of each pair. This behavioral method is presented in the context of its utilisation in auditory prosthetic research. The implantation of electrocardiogram telemetry devices is shown. Subsequent implantation of brain electrodes into the Cochlear Nucleus, guided by the monitoring of neural responses to acoustic stimuli, and the fixation of the electrode into place for chronic use is likewise shown.
Neuroscience, Issue 64, Physiology, auditory, hearing, brainstem, stimulation, rat, abi
3598
Surgical Method for Virally Mediated Gene Delivery to the Mouse Inner Ear through the Round Window Membrane
Institutions: University of California, San Francisco.
Gene therapy, used to achieve functional recovery from sensorineural deafness, promises to grant better understanding of the underlying molecular and genetic mechanisms that contribute to hearing loss. Introduction of vectors into the inner ear must be done in a way that widely distributes the agent throughout the cochlea while minimizing injury to the existing structures. This manuscript describes a post-auricular surgical approach that can be used for mouse cochlear therapy using molecular, pharmacologic, and viral delivery to mice postnatal day 10 and older via the round window membrane (RWM). This surgical approach enables rapid and direct delivery into the scala tympani while minimizing blood loss and avoiding animal mortality. This technique involves negligible or no damage to essential structures of the inner and middle ear as well as neck muscles while wholly preserving hearing. To demonstrate the efficacy of this surgical technique, the vesicular glutamate transporter 3 knockout (VGLUT3 KO) mice will be used as an example of a mouse model of congenital deafness that recovers hearing after delivery of VGLUT3 to the inner ear using an adeno-associated virus (AAV-1).
Neuroscience, Issue 97, Gene therapy, Transfection, Adeno-associated virus (AAV), Mouse, Cochlea, Inner hair cells (IHC), Vesicular glutamate transporter 3 (VGLUT3).
52187
A Cognitive Paradigm to Investigate Interference in Working Memory by Distractions and Interruptions
Institutions: University of New Mexico, University of California, San Francisco, University of California, San Francisco, University of California, San Francisco.

Goal-directed behavior is often impaired by interference from the external environment, either in the form of distraction by irrelevant information that one attempts to ignore, or by interrupting information that demands attention as part of another (secondary) task goal. Both forms of external interference have been shown to detrimentally impact the ability to maintain information in working memory (WM). Emerging evidence suggests that these different types of external interference exert different effects on behavior and may be mediated by distinct neural mechanisms. Better characterizing the distinct neuro-behavioral impact of irrelevant distractions versus attended interruptions is essential for advancing an understanding of top-down attention, resolution of external interference, and how these abilities become degraded in healthy aging and in neuropsychiatric conditions. This manuscript describes a novel cognitive paradigm developed the Gazzaley lab that has now been modified into several distinct versions used to elucidate behavioral and neural correlates of interference, by to-be-ignored
distractors
versus to-be-attended
interruptors
. Details are provided on variants of this paradigm for investigating interference in visual and auditory modalities, at multiple levels of stimulus complexity, and with experimental timing optimized for electroencephalography (EEG) or functional magnetic resonance imaging (fMRI) studies. In addition, data from younger and older adult participants obtained using this paradigm is reviewed and discussed in the context of its relationship with the broader literatures on external interference and age-related neuro-behavioral changes in resolving interference in working memory.
Behavior, Issue 101, Attention, interference, distraction, interruption, working memory, aging, multi-tasking, top-down attention, EEG, fMRI
52226
Infant Auditory Processing and Event-related Brain Oscillations
Institutions: Rutgers University, State University of New Jersey, Newark, University of the Pacific, Stanford University.

Rapid auditory processing and acoustic change detection abilities play a critical role in allowing human infants to efficiently process the fine spectral and temporal changes that are characteristic of human language. These abilities lay the foundation for effective language acquisition; allowing infants to hone in on the sounds of their native language. Invasive procedures in animals and scalp-recorded potentials from human adults suggest that simultaneous, rhythmic activity (oscillations) between and within brain regions are fundamental to sensory development; determining the resolution with which incoming stimuli are parsed. At this time, little is known about oscillatory dynamics in human infant development. However, animal neurophysiology and adult EEG data provide the basis for a strong hypothesis that rapid auditory processing in infants is mediated by oscillatory synchrony in discrete frequency bands. In order to investigate this, 128-channel, high-density EEG responses of 4-month old infants to frequency change in tone pairs, presented in two rate conditions (Rapid: 70 msec ISI and Control: 300 msec ISI) were examined. To determine the frequency band and magnitude of activity, auditory evoked response averages were first co-registered with age-appropriate brain templates. Next, the principal components of the response were identified and localized using a two-dipole model of brain activity. Single-trial analysis of oscillatory power showed a robust index of frequency change processing in bursts of Theta band (3 - 8 Hz) activity in both right and left auditory cortices, with left activation more prominent in the Rapid condition. These methods have produced data that are not only some of the first reported evoked oscillations analyses in infants, but are also, importantly, the product of a well-established method of recording and analyzing clean, meticulously collected, infant EEG and ERPs. In this article, we describe our method for infant EEG net application, recording, dynamic brain response analysis, and representative results.
Behavior, Issue 101, Infant, Infant Brain, Human Development, Auditory Development, Oscillations, Brain Oscillations, Theta, Electroencephalogram, Child Development, Event-related Potentials, Source Localization, Auditory Cortex
52420
Methods to Test Visual Attention Online
Institutions: University of Rochester, University of Geneva, University of Wisconsin-Madison, University of Rochester.
Online data collection methods have particular appeal to behavioral scientists because they offer the promise of much larger and much more representative data samples than can typically be collected on college campuses. However, before such methods can be widely adopted, a number of technological challenges must be overcome – in particular in experiments where tight control over stimulus properties is necessary. Here we present methods for collecting performance data on two tests of visual attention. Both tests require control over the visual angle of the stimuli (which in turn requires knowledge of the viewing distance, monitor size, screen resolution,
etc.
) and the timing of the stimuli (as the tests involve either briefly flashed stimuli or stimuli that move at specific rates). Data collected on these tests from over 1,700 online participants were consistent with data collected in laboratory-based versions of the exact same tests. These results suggest that with proper care, timing/stimulus size dependent tasks can be deployed in web-based settings.
Behavior, Issue 96, Behavior, visual attention, web-based assessment, computer-based assessment, visual search, multiple object tracking
52470
Vision Training Methods for Sports Concussion Mitigation and Management
Institutions: University of Cincinnati, University of Cincinnati, University of Cincinnati, University of Cincinnati, University of Cincinnati, Cincinnati Children's Hospital Medical Center.

There is emerging evidence supporting the use vision training, including light board training tools, as a concussion baseline and neuro-diagnostic tool and potentially as a supportive component to concussion prevention strategies. This paper is focused on providing detailed methods for select vision training tools and reporting normative data for comparison when vision training is a part of a sports management program. The overall program includes standard vision training methods including tachistoscope, Brock's string, and strobe glasses, as well as specialized light board training algorithms. Stereopsis is measured as a means to monitor vision training affects. In addition, quantitative results for vision training methods as well as baseline and post-testing *A and Reaction Test measures with progressive scores are reported. Collegiate athletes consistently improve after six weeks of training in their stereopsis, *A and Reaction Test scores. When vision training is initiated as a team wide exercise, the incidence of concussion decreases in players who participate in training compared to players who do not receive the vision training. Vision training produces functional and performance changes that, when monitored, can be used to assess the success of the vision training and can be initiated as part of a sports medical intervention for concussion prevention.
Behavior, Issue 99, Vision training, peripheral vision, functional peripheral vision, concussion, concussion management, diagnosis, rehabilitation, eyes, sight, seeing, sight
52648
Determining heat and mechanical pain threshold in inflamed skin of human subjects
Institutions: Stanford University School of Medicine.

In a previous article in the Journal of Visualized Experiments we have demonstrated skin microdialysis techniques for the collection of tissue-specific nociceptive and inflammatory biochemicals in humans. In this article we will show pain-testing paradigms that are often used in tandem with microdialysis procedures. Combining pain tests with microdialysis provides the critical link between behavioral and biochemical data that allows identifying key biochemicals responsible for generating and propagating pain. Two models of evoking pain in inflamed skin of human study participants are shown. The first model evokes pain with aid of heat stimuli. Heat evoked pain as described here is predominantly mediated by small, non-myelinated peripheral nociceptive nerve fibers (C-fibers). The second model evokes pain via punctuated pressure stimuli. Punctuated pressure evoked pain is predominantly mediated by small, myelinated peripheral nociceptive nerve fibers (A-delta fibers). The two models are mechanistically distinct and independently examine nociceptive processing by the two major peripheral nerve fiber populations involved in pain signaling. Heat pain is evoked with aid of the TSA II, a commercially available thermo-sensory analyzer (Medoc Advanced Medical Systems, Durham, NC). Stimulus configuration and delivery is handled with aid of specific software. Thermodes vary in size and shape but in principle consist of a metal plate that can be heated or cooled at various rates and for different periods of time. Algorithms assessing heat-evoked pain are manifold. In the experiments shown here, study participants are asked to indicate at what point they start experiencing pain while the thermode in contact with skin is heated at a predetermined rate starting at a temperature that does not evoke pain. The thermode temperature at which a subject starts experiencing pain constitutes the heat pain threshold. Mechanical pain is evoked with punctuated probes. Such probes are commercially available from several manufacturers (von Frey hairs). However, the accuracy of von Frey hairs has been criticized and many investigators use custom made punctuated pressure probes. In the experiments shown here eight custom-made punctuated probes of different weights are applied in consecutive order, a procedure called up-down algorithm, to identify perceptional deflection points, i.e., a change from feeling no pain to feeling pain or vice versa. The average weight causing a perceptional deflection constitutes the mechanical pain threshold.
Medicine, Issue 23, Experimental pain, experimental inflammation, human, skin, heat stimuli, mechanical stimuli, pain threshold, psychophysics, non-myelinated nociceptive nerve fiber, small myelinated nociceptive nerve fiber
1092
A Procedure to Observe Context-induced Renewal of Pavlovian-conditioned Alcohol-seeking Behavior in Rats
Institutions: Concordia University.

Environmental contexts in which drugs of abuse are consumed can trigger craving, a subjective Pavlovian-conditioned response that can facilitate drug-seeking behavior and prompt relapse in abstinent drug users. We have developed a procedure to study the behavioral and neural processes that mediate the impact of context on alcohol-seeking behavior in rats. Following acclimation to the taste and pharmacological effects of 15% ethanol in the home cage, male Long-Evans rats receive Pavlovian discrimination training (PDT) in conditioning chambers. In each daily (Mon-Fri) PDT session, 16 trials each of two different 10 sec auditory conditioned stimuli occur. During one stimulus, the CS+, 0.2 ml of 15% ethanol is delivered into a fluid port for oral consumption. The second stimulus, the CS-, is not paired with ethanol. Across sessions, entries into the fluid port during the CS+ increase, whereas entries during the CS- stabilize at a lower level, indicating that a predictive association between the CS+ and ethanol is acquired. During PDT each chamber is equipped with a specific configuration of visual, olfactory and tactile contextual stimuli. Following PDT, extinction training is conducted in the same chamber that is now equipped with a different configuration of contextual stimuli. The CS+ and CS- are presented as before, but ethanol is withheld, which causes a gradual decline in port entries during the CS+. At test, rats are placed back into the PDT context and presented with the CS+ and CS- as before, but without ethanol. This manipulation triggers a robust and selective increase in the number of port entries made during the alcohol predictive CS+, with no change in responding during the CS-. This effect, referred to as context-induced renewal, illustrates the powerful capacity of contexts associated with alcohol consumption to stimulate alcohol-seeking behavior in response to Pavlovian alcohol cues.
Behavior, Issue 91, Behavioral neuroscience, alcoholism, relapse, addiction, Pavlovian conditioning, ethanol, reinstatement, discrimination, conditioned approach
51898
Stimulating the Lip Motor Cortex with Transcranial Magnetic Stimulation
Institutions: University of Oxford.

Transcranial magnetic stimulation (TMS) has proven to be a useful tool in investigating the role of the articulatory motor cortex in speech perception. Researchers have used single-pulse and repetitive TMS to stimulate the lip representation in the motor cortex. The excitability of the lip motor representation can be investigated by applying single TMS pulses over this cortical area and recording TMS-induced motor evoked potentials (MEPs) via electrodes attached to the lip muscles (electromyography; EMG). Larger MEPs reflect increased cortical excitability. Studies have shown that excitability increases during listening to speech as well as during viewing speech-related movements. TMS can be used also to disrupt the lip motor representation. A 15-min train of low-frequency sub-threshold repetitive stimulation has been shown to suppress motor excitability for a further 15-20 min. This TMS-induced disruption of the motor lip representation impairs subsequent performance in demanding speech perception tasks and modulates auditory-cortex responses to speech sounds. These findings are consistent with the suggestion that the motor cortex contributes to speech perception. This article describes how to localize the lip representation in the motor cortex and how to define the appropriate stimulation intensity for carrying out both single-pulse and repetitive TMS experiments.
Behavior, Issue 88, electromyography, motor cortex, motor evoked potential, motor excitability, speech, repetitive TMS, rTMS, virtual lesion, transcranial magnetic stimulation
51665
Long-term Behavioral Tracking of Freely Swimming Weakly Electric Fish
Institutions: University of Ottawa, University of Ottawa, University of Ottawa.

Long-term behavioral tracking can capture and quantify natural animal behaviors, including those occurring infrequently. Behaviors such as exploration and social interactions can be best studied by observing unrestrained, freely behaving animals. Weakly electric fish (WEF) display readily observable exploratory and social behaviors by emitting electric organ discharge (EOD). Here, we describe three effective techniques to synchronously measure the EOD, body position, and posture of a free-swimming WEF for an extended period of time. First, we describe the construction of an experimental tank inside of an isolation chamber designed to block external sources of sensory stimuli such as light, sound, and vibration. The aquarium was partitioned to accommodate four test specimens, and automated gates remotely control the animals' access to the central arena. Second, we describe a precise and reliable real-time EOD timing measurement method from freely swimming WEF. Signal distortions caused by the animal's body movements are corrected by spatial averaging and temporal processing stages. Third, we describe an underwater near-infrared imaging setup to observe unperturbed nocturnal animal behaviors. Infrared light pulses were used to synchronize the timing between the video and the physiological signal over a long recording duration. Our automated tracking software measures the animal's body position and posture reliably in an aquatic scene. In combination, these techniques enable long term observation of spontaneous behavior of freely swimming weakly electric fish in a reliable and precise manner. We believe our method can be similarly applied to the study of other aquatic animals by relating their physiological signals with exploratory or social behaviors.
Neuroscience, Issue 85, animal tracking, weakly electric fish, electric organ discharge, underwater infrared imaging, automated image tracking, sensory isolation chamber, exploratory behavior
50962
Perceptual and Category Processing of the Uncanny Valley Hypothesis' Dimension of Human Likeness: Some Methodological Issues
Institutions: University of Zurich.

Mori's Uncanny Valley Hypothesis
1,2
proposes that the perception of humanlike characters such as robots and, by extension, avatars (computer-generated characters) can evoke negative or positive affect (valence) depending on the object's degree of visual and behavioral realism along a
dimension of human likeness
(
DHL
) (
Figure 1
). But studies of affective valence of subjective responses to variously realistic non-human characters have produced inconsistent findings
3, 4, 5, 6
. One of a number of reasons for this is that human likeness is not perceived as the hypothesis assumes. While the DHL can be defined following Mori's description as a smooth linear change in the degree of physical humanlike similarity, subjective perception of objects along the DHL can be understood in terms of the psychological effects of categorical perception (CP)
7
. Further behavioral and neuroimaging investigations of category processing and CP along the DHL and of the potential influence of the dimension's underlying category structure on affective experience are needed. This protocol therefore focuses on the DHL and allows examination of CP. Based on the protocol presented in the video as an example, issues surrounding the methodology in the protocol and the use in "uncanny" research of stimuli drawn from morph continua to represent the DHL are discussed in the article that accompanies the video. The use of neuroimaging and morph stimuli to represent the DHL in order to disentangle brain regions neurally responsive to physical human-like similarity from those responsive to category change and category processing is briefly illustrated.
Behavior, Issue 76, Neuroscience, Neurobiology, Molecular Biology, Psychology, Neuropsychology, uncanny valley, functional magnetic resonance imaging, fMRI, categorical perception, virtual reality, avatar, human likeness, Mori, uncanny valley hypothesis, perception, magnetic resonance imaging, MRI, imaging, clinical techniques
4375
Making Sense of Listening: The IMAP Test Battery
Institutions: MRC Institute of Hearing Research, National Biomedical Research Unit in Hearing.

The ability to hear is only the first step towards making sense of the range of information contained in an auditory signal. Of equal importance are the abilities to extract and use the information encoded in the auditory signal. We refer to these as listening skills (or auditory processing AP). Deficits in these skills are associated with delayed language and literacy development, though the nature of the relevant deficits and their causal connection with these delays is hotly debated. When a child is referred to a health professional with normal hearing and unexplained difficulties in listening, or associated delays in language or literacy development, they should ideally be assessed with a combination of psychoacoustic (AP) tests, suitable for children and for use in a clinic, together with cognitive tests to measure attention, working memory, IQ, and language skills. Such a detailed examination needs to be relatively short and within the technical capability of any suitably qualified professional. Current tests for the presence of AP deficits tend to be poorly constructed and inadequately validated within the normal population. They have little or no reference to the presenting symptoms of the child, and typically include a linguistic component. Poor performance may thus reflect problems with language rather than with AP. To assist in the assessment of children with listening difficulties, pediatric audiologists need a single, standardized child-appropriate test battery based on the use of language-free stimuli. We present the IMAP test battery which was developed at the MRC Institute of Hearing Research to supplement tests currently used to investigate cases of suspected AP deficits. IMAP assesses a range of relevant auditory and cognitive skills and takes about one hour to complete. It has been standardized in 1500 normally-hearing children from across the UK, aged 6-11 years. Since its development, it has been successfully used in a number of large scale studies both in the UK and the USA. IMAP provides measures for separating out sensory from cognitive contributions to hearing. It further limits confounds due to procedural effects by presenting tests in a child-friendly game-format. Stimulus-generation, management of test protocols and control of test presentation is mediated by the IHR-STAR software platform. This provides a standardized methodology for a range of applications and ensures replicable procedures across testers. IHR-STAR provides a flexible, user-programmable environment that currently has additional applications for hearing screening, mapping cochlear implant electrodes, and academic research or teaching.
Neuroscience, Issue 44, Listening skills, auditory processing, auditory psychophysics, clinical assessment, child-friendly testing
2139
Monitoring Plant Hormones During Stress Responses
Institutions: University of Texas.
Plant hormones and related signaling compounds play an important role in the regulation of plant responses to various environmental stimuli and stresses. Among the most severe stresses are insect herbivory, pathogen infection, and drought stress. For each of these stresses a specific set of hormones and/or combinations thereof are known to fine-tune the responses, thereby ensuring the plant's survival. The major hormones involved in the regulation of these responses are jasmonic acid (JA), salicylic acid (SA), and abscisic acid (ABA). To better understand the role of individual hormones as well as their potential interaction during these responses it is necessary to monitor changes in their abundance in a temporal as well as in a spatial fashion. For the easy, sensitive, and reproducible quantification of these and other signaling compounds we developed a method based on vapor phase extraction and gas chromatography/mass spectrometry (GC/MS) analysis (1, 2, 3, 4). After extracting these compounds from the plant tissue by acidic aqueous 1-propanol mixed with dichloromethane the carboxylic acid-containing compounds are methylated, volatilized under heat, and collected on a polymeric absorbent. After elution into a sample vial the analytes are separated by gas chromatography and detected by chemical ionization mass spectrometry. The use of appropriate internal standards then allows for the simple quantification by relating the peak areas of analyte and internal standard.
Plant Biology, Issue 28, Jasmonic acid, salicylic acid, abscisic acid, plant hormones, GC/MS, vapor phase extraction
1127
Use of Electromagnetic Navigational Transthoracic Needle Aspiration (E-TTNA) for Sampling of Lung Nodules
Institutions: Johns Hopkins University.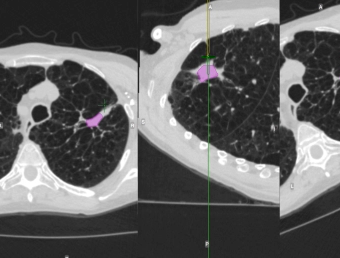 Lung nodule evaluation represents a clinical challenge especially in patients with intermediate risk for malignancy. Multiple technologies are presently available to sample nodules for pathological diagnosis. Those technologies can be divided into bronchoscopic and non-bronchoscopic interventions. Electromagnetic navigational bronchoscopy is being extensively used for the endobronchial approach to peripheral lung nodules but has been hindered by anatomic challenges resulting in a 70% diagnostic yield. Electromagnetic navigational guided transthoracic needle lung biopsy is novel non-bronchoscopic method that uses a percutaneous electromagnetic tip tracked needle to obtain core biopsy specimens. Electromagnetic navigational transthoracic needle aspiration complements bronchoscopic techniques potentially allowing the provider to maximize the diagnostic yield during one single procedure. This article describes a novel integrated diagnostic approach to pulmonary lung nodules. We propose the use of endobronchial ultrasound transbronchial needle aspiration (EBUS-TBNA) for mediastinal staging; radial EBUS, navigational bronchoscopy and E-TTNA during one single procedure to maximize diagnostic yield and minimize the number of invasive procedures needed to obtain a diagnosis. This manuscript describes in detail how the navigation transthoracic procedure is performed. Additional clinical studies are needed to determine the clinical utility of this novel technology.
Medicine, Issue 99, Lung nodule, Electromagnetic navigational bronchoscopy, Transthoracic needle aspiration.
52723
Selective Tracing of Auditory Fibers in the Avian Embryonic Vestibulocochlear Nerve
Institutions: University of California, Irvine.
The embryonic chick is a widely used model for the study of peripheral and central ganglion cell projections. In the auditory system, selective labeling of auditory axons within the VIIIth cranial nerve would enhance the study of central auditory circuit development. This approach is challenging because multiple sensory organs of the inner ear contribute to the VIIIth nerve
1
. Moreover, markers that reliably distinguish auditory versus vestibular groups of axons within the avian VIIIth nerve have yet to be identified. Auditory and vestibular pathways cannot be distinguished functionally in early embryos, as sensory-evoked responses are not present before the circuits are formed. Centrally projecting VIIIth nerve axons have been traced in some studies, but auditory axon labeling was accompanied by labeling from other VIIIth nerve components
2,3
. Here, we describe a method for anterograde tracing from the acoustic ganglion to selectively label auditory axons within the developing VIIIth nerve. First, after partial dissection of the anterior cephalic region of an 8-day chick embryo immersed in oxygenated artificial cerebrospinal fluid, the cochlear duct is identified by anatomical landmarks. Next, a fine pulled glass micropipette is positioned to inject a small amount of rhodamine dextran amine into the duct and adjacent deep region where the acoustic ganglion cells are located. Within thirty minutes following the injection, auditory axons are traced centrally into the hindbrain and can later be visualized following histologic preparation. This method provides a useful tool for developmental studies of peripheral to central auditory circuit formation.
Neurobiology, Issue 73, Neuroscience, Behavior, Developmental Biology, Anatomy, Biomedical Engineering, Surgery, Development, Inner Ear, Cochlea, Auditory, Chick, Axon Tracing, VIIIth Cranial Nerve, nerve, ganglion, fiber, cochlear duct, basilar papilla, embryo, microinjection, animal model
50305
Direct Visualization of the Murine Dorsal Cochlear Nucleus for Optogenetic Stimulation of the Auditory Pathway
Institutions: Harvard Medical School, Worcester State University.
Investigation into the use of virus-mediated gene transfer to arrest or reverse hearing loss has largely been relegated to the peripheral auditory system. Few studies have examined gene transfer to the central auditory system. The dorsal cochlear nucleus (DCN) of the brainstem, which contains second order neurons of the auditory pathway, is a potential site for gene transfer. In this protocol, a technique for direct and maximal exposure of the murine DCN via a posterior fossa approach is demonstrated. This approach allows for either acute or survival surgery. Following direct visualization of the DCN, a host of experiments are possible, including injection of opsins into the cochlear nucleus and subsequent stimulation by an optical fiber coupled to a blue light laser. Other neurophysiology experiments, such as electrical stimulation and neural injector tracings are also feasible. The level of visualization and the duration of stimulation achievable make this approach applicable to a wide range of experiments.
Neuroscience, Issue 95, Optogenetics, dorsal cochlear nucleus, virus-mediated gene transfer, auditory system
52426