Overview
Cette vidéo décrit une méthode pour tester le comportement exploratoire olfactif dans la mouche des fruits, appelée le labyrinthe Y. Le clip de protocole en vedette montre comment configurer et effectuer l'analyse.
Protocol
Ce texte de protocole est un extrait de Simonnet et coll., Testing Drosophila Olfaction with a Y-maze Assay, J. Vis. Exp. (2014).
1. Avant de commencer
Utilisez un stock de référence isogénéisé portant des phénotypes comportementaux stables et robustes. Il n'y a pas de règle générale pour choisir ce stock, puisque tous les contrôles potentiels peuvent porter des allèles de fond hétérogènes.
Utilisez cette souche de contrôle pour recroiser tous les autres stocks nécessaires pour les étapes ultérieures. Cette étape de croisement est généralement représentée par au moins 5 croisements successifs d'une seule femelle vierge (pour permettre un croisement possible entre les chromosomes homologues) à 2-3 mâles isogéniques de référence. Cette étape est importante pour homogénéiser l'arrière-plan génétique entre les différents stocks de mouches.
Maintenir les stocks de drosophile sur une farine de maïs standard (9 %), la levure (10 %) et le milieu de l'agar (1,5 %) avec antibiotique (0,4% méthyle para-hydroxy-benzoate) dans un cycle clair/sombre de 12 heures à 25 °C.
Réaliser des expériences chimiosensorielles dans une pièce à température contrôlée (25 °C) sous une lumière rouge lointaine (pour éliminer la contribution des indices visuels et se concentrer sur les signaux chimiosensoriels). Renouveler régulièrement l'air de la pièce pour aérer la zone entre chaque expérience.
2. Réponse olfactive à l'aide d'un essai de labyrinthe Y
Affamer les mouches pendant 16-18 heures à 25 °C dans des tubes en verre contenant du papier absorbant humide avant les essais.
Joignez-vous à un connecteur en forme de Y à deux flacons de verre et à un flacon en plastique plus petit (flacon de chargement). Utilisez des pointes de pipette de 1 ml qui passent à travers les bouchons en mousse pour relier le connecteur aux trois flacons, et pour obtenir un labyrinthe Y hermétiquement scellé. Couper les extrémités étroites de deux pointes de pipette (~2 mm de diamètre, pour éviter tout retour de la mouche une fois qu'elle a pris sa décision) pour former deux flacons de « piège » et une grande extrémité d'une pointe de pipette pour former le tube de « chargement » (figure 1A).
Juste avant de connecter les flacons « piège » (Figure 1B), placez un papier filtre de diamètre ~ 6 mm dans chaque flacon. Ajouter 40 μl de solution d'odorant sur un papier filtre et 40 μl du solvant correspondant sur le deuxième papier filtre.
Introduisez dix mouches de 4 à 9 jours dans le flacon de chargement. N'utilisez pasd'anesthésie co 2 pendant ce transfert, car elle a un fort effet sur le comportement. Utilisez plutôt un bref refroidissement sur la glace. Une manipulation adéquate des mouches anesthésiées est importante pour limiter autant que possible le stress sur les sujets.

Effectuez une série de tests de labyrinthe Y à 25 °C sous la lumière rouge lointaine (en utilisant des ampoules LED pour limiter la source de chauffage possible) afin d'éviter autant que possible les stimuli visuels. Veillez à alterner les orientations des labyrinthes Y (odorant contenant du tube sur la gauche, ou à droite, et tube de chargement à l'avant ou à l'arrière; Figure 1C).
Prévoyez plusieurs heures pour que les mouches entrent dans le flacon de piège contenant le odorant ou le solvant. Count vole après 24 heures pour augmenter la participation jusqu'à plus de 80% et fournir la valeur maximale de l'indice olfactif (Simonnet, communication personnelle).
Calculez l'indice olfactif qui en résulte à l'aide de la formule suivante : (nombre dans le tube d'odeur - nombre dans le tube solvant)/nombre total de mouches chargées.

Wash Y-maze mis en place comme suit: tremper l'ensemble démonté dans RBS 35 MD pendant la nuit. Rincer soigneusement à l'eau du robinet. Rincer enfin à l'eau déionisée et laisser sécher.
3. Analyse statistique des données
Effectuez un t-test, un ANOVA uni-sens ou un ANOVA dans les deux sens en fonction des données et des variables.
Subscription Required. Please recommend JoVE to your librarian.
Representative Results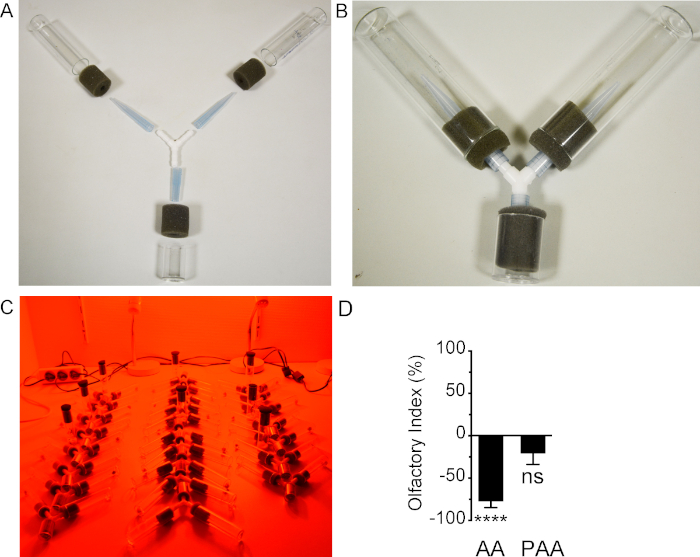 Figure 1 : Réponse olfactive masculine évaluée au moyen d'une mise en place du labyrinthe Y. A) Split dispositif. B) Dispositif assemblé. C) Mise en place en état de fonctionnement sous un feu rouge lointain. D) Quantification des réponses olfactives mâles à l'acide acétique (AA) ou à l'acide phénotyacétique (AAP) diluée dans de l'eau distillée (10 % v/v) (N = 11, représentant un total de 110 mouches). L'analyse statistique a été effectuée à l'aide d'un t-test comparant les données à 0. 0 signifie pas de préférence. Une valeur négative indique une aversion pour l'odorant, et une valeur positive une attraction. : p < 0,0001; ns : non significatif (p = 0,1680). S'il vous plaît cliquez ici pour voir une version plus grande de ce chiffre.
Subscription Required. Please recommend JoVE to your librarian.
Materials
Name
Company
Catalog Number
Comments
Drosophila Polystyrene tube
VWR europe
734-2255
30 x 25 mm Y-maze
Drosophila Borosilicate tube
Dijon verre
95 X 25 mm Y-maze
Foam stopper
Dutscher
999038
Y-maze
Y-shaped connector
Europrix
11020605
Y-maze
100-1,000 µl pipette tips
Corning
4868
Join the following pipette tips to the Y-shaped connector.
Cut 2 pipette tips at 65 mm from the wide end, and connect the narrow end (with a ~2 mm opening) to 2 test vials.
These openings will limit the U-turns once the flies enter the tubes containing the odors.
Cut 1 pipette tip at 35 mm from the wide end, and connect it to the loading vial.
Far-Red LED Bulb
Rubin-Lacaque
0RB180238
625-630 nm
Acetic Acid
Sigma-Aldrich
45725
Phenylacetic Acid
Sigma-Aldrich
P16621
Yeast
Sensient Flavors Strasbourg
1018880464
Cornmeal
eurogerm
Farine de maïs
Agar
Kalys
HP-697-25
Methyl hydroxy 4 benzoate
VWR international
25605293