Summary
Vi presenterar detaljerade protokoll för Agrobacterium-medierad virusinducerade geners uttryck (VIGS) analys i bomull. Tobaken skallra virus (TRV)-härledda VIGS vektorer utplacerades att inducera RNA tysta av bomull GrCLA1, Cloroplastos alterados 1-genen. Den albino fenotyp orsakas av tysta GrCLA1 ​​observerades vid plantan skede inom 2 veckor efter ympningen.
Abstract
Bomull (Gossypium hirsutum) är en av de viktigaste grödorna i världen. Betydande insatser har gjorts på molekylär förädling av nya sorter. Den storskaliga genen funktionell analys i bomull har halkat efter de flesta moderna växtarter, sannolikt på grund av sin stora storlek genom, gen dubbelarbete och polyploidi, lång tillväxt cykel och motspänstighet för genetisk förändring 1. För att underlätta hög genomströmning funktionella genetiska / genetiska studier i bomull, försöker vi att utveckla snabb och effektiv övergående testmetoder för att bedöma funktioner bomull genen.
Virusinducerade geners uttryck (VIGS) är en kraftfull teknik som har utvecklats baserat på värden efter transkriptionella geners uttryck (PTGS) att undertrycka virus spridning 2,3. Agrobacterium-medierad VIGS har framgångsrikt tillämpats i ett brett spektrum av dicots arter som Solanaceae, Arabidopsis och arter baljväxter och monocots arter, inklusive korn, vete och majs, för olika funktionella genomiska studier 3,4. Eftersom detta snabba och effektiva metoden undviker anläggning omvandling och övervinner funktionell redundans, är det särskilt intressant och lämplig för funktionell genomforskning studie i grödor som bomull inte mottagliga för förändring.
I denna studie rapporterar vi den detaljerade protokoll från Agrobacterium-medierad VIGS system i bomull. Bland flera virala VIGS vektorer, invaderar tobak skallra virus (TRV) ett brett utbud av värdar och kan sprida sig kraftfullt genom hela anläggningen men ge lindriga symtom på hosts5. Att övervaka tysta effektivitet, GrCLA1, en ​​homolog gen i Arabidopsis Cloroplastos alterados 1-genen (AtCLA1) i bomull, har klonats och in i VIGS binära vektorn pYL156. CLA1 genen är inblandad i kloroplast utveckling 6, och tidigare studier har visat att förlust-av-funktion AtCLA1 resulterade i en albino fenotyp på äkta blad 7, vilket ger en utmärkt visuell markör för ljuddämpning effektivitet. Vid ungefär två veckor efter Agrobacterium infiltration började albino fenotypen ska visas på den sanna blad, med 100% tysta effektivitet i alla replikerade experiment. Den tysta endogena genuttryck bekräftades också av RT-PCR-analys. Betecknande nog kunde tysta förekomma kraftigt i alla de sorter vi testade, inklusive olika odlas kommersiellt sorter i Texas. Denna snabba och effektiva Agrobacterium-medierade VIGS analysen ger ett mycket kraftfullt verktyg för snabb storskalig analys av genen funktioner på arvsmassan-nivå i bomull.
Protocol
1. Odla bomull plantor
Så frön av den höglänta bomull (Gossypium hirsutum) sort Fibermax 832, Phytogen 425RF, Phytogen 480WR och Deltapine 90 i krukor (7 cm i diameter) som innehåller Metro Mix 700 (SunGR, Beavile, WA).
Håll krukor i en bricka täckt med en plast kupol vid 23 ° C, 120 μE m -2 s -1 ljus, med en 12 timmars light/12 timmars mörker fotoperiod i en tillväxtfas rum.
Ta bort kupolen när två hjärtblad har uppstått.
Ungefär två veckor senare, använd växter med två fullt utbyggt hjärtbladen för VIGS analysen. I detta skede har den sanna bladen som ännu inte uppstått (Figur 1).
2. Konstruera VIGS vektor bär GrCLA1 ​​gen
Förstärka Cloroplastos alterados 1-genen i bomull (GrCLA1) med PCR med primers GrCLA1-F, 5'-GCCCTTTGTGCATCTTC-3 "och GrCLA1-R, 5'-CTCTAGGGGCATTGAAG-3" från ett cDNA bibliotek av G. raimondii blad vävnader.
Digest PCR-produkter av GrCLA1 ​​med EcoRI och KpnI och sätt in i pYL156 (pTRV-RNA2) vektor med ligatur.
Screen klonerna på plåtar LB agar innehåller 50 mikrogram / ml Kanamycin. Kontrollera att konstruktioner av restriktionsenzymanalys matsmältning och sekvensering.
Omvandla den plasmiden i Agrobacterium tumefaciens GV3101 av elektroporation och återhämta sig i LB vätska vid 28 ° C. Välj transformants på plattor med LB + Kanamycin (50 mikrogram / ml) + Gentamycin (25 mikrogram / ml). Bakterierna kan lagras i 25% glycerol vid -80 ° C för långtidsanvändning.
3. Utför VIGS ympning
Tre dagar innan vaccinationen strimma frysta glycerol lager av Agrobacterium tumefaciens bära pYL192 (TRV): RNA1, pYL156 (TRV): RNA2 (vektor ensam) och pYL156 (TRV): RNA2-GrCLA1 ​​på tallrikar LB agar innehåller 50 mikrogram / ​​ml Kanamycin och 25 mikrogram / ml Gentamycin. Inkubera plattorna vid 28 ° C i 24 timmar.
Två dagar före VIGS infiltration, plocka en enda koloni för varje bygga från ovanstående plattorna och inokulera den i 5 ml LB-mediet kompletteras med 50 mikrogram / ml Kanamycin och 25 mikrogram / ml Gentamycin, Odla bakterieodling vid 28 ° C för natten i en berg-trumma med en hastighet av 50 rpm.
Överför ovanstående kultur till en kolv med 50 ml LB-mediet kompletteras med 50 mikrogram / ml Kanamycin och 25 mikrogram / ml Gentamycin, plus 10 mM MES (2 - (4 morpholino)-etan sulfonsyra) och 20 mikroM acetosyringone. Odla kulturen vid 28 ° C över natten i en shaker med en hastighet av 50 rpm.
Dagen därpå, spinn ner jordbrukets bakteriecellerna vid 4000 rpm i 5 minuter, återsuspendera kultur i infiltrationen buffert innehållande 10 mM MgCl 2, 10 mm MES och 200 mikroM acetosyringone. Justera OD 600 av kulturen till 1,5.
Låt kulturen på bänken i rumstemperatur i 3 timmar.
Före Agrobacterial infiltration, punch undersidan av hjärtbladens av bomull anläggningar med en 25 G-nål utan piercing genom hjärtbladen. En eller två hål (beroende på mjukhet i vävnad) stansades på varje avsnitt av hjärtbladsnod (Figur 2).
Blanda Agrobacterial kultur suspension av pYL192 (TRV): RNA1 och pYL156 (TRV): RNA2 eller pYL156 (TRV): RNA2-GrCLA1 ​​i förhållandet 1:1, dels infiltrera blandning från undersidan av hjärtbladen genom såra webbplatser som använder en 1 mL needleless sprutan (Figur 3).
Täck växter med plast kupol och lämna infiltrerat växterna i rumstemperatur vid dåliga ljusförhållanden för övernattning.
Överför växter till en tillväxt rum med temperaturen 23 ° C, 120 μE m -2 s -1 ljus med en 12 timmars ljus / 12 timmars mörker-cykel.
Obs: VIGS fungerar när växterna är under antingen 23 ° C eller i växthus (25-28 ° C). När temperaturen är relativt låg (23 till 25 ° C), är det lättare för inympning och fenotyp är mer enhetlig än högre (28-30 ° C) eller fluktuerade temperaturen. Omfattar växter med en kupol gör också VIGS effektivare.
Undersök tysta fenotypen vid 7 ~ 8 dagar efter infiltration. Den sanna blad tystas växter genom pYL156 (TRV): RNA2-GrCLA1 ​​började visa albino fenotyp (Figur 4). Växterna infiltrerade med Agrobacteria bära pYL156 (TRV): RNA2 fungera som en kontroll.
Verifiera effektiviteten geners uttryck genom att undersöka uttrycket nivån av endogena gener med hjälp av omvänd transkription polymeraskedjereaktion (RT-PCR) med RNA isoleras från kontroll och tystade växter bomull.
Obs: VIGS-ED växter bör hållas under innehöll karantän villkor och växter bör väl autoklaveras och kasseras efter analyser som TRV har en bred värdspektrum och är en anmälningspliktig patogen.
4.Representativa resultat:
Ungefär två veckor efter hand infiltration med Agrobacterial blandning var albino fenotypen orsakas av GrCLA1 ​​tysta tydligt observerats på sanna bladen. Den tysta verkningsgrad når nästan 100% i flera experiment med mer än 50 växter. Den tystade växterna visa en jämnt fördelad och mycket starka albino fenotyp på nyligen att utveckla blad med en mosaik på den äldre bladen (Figur 4).

Figur 1. En bomull plantor på ca två veckor gamla scenen med två fullt utbyggt hjärtbladen används för Agrobacterial infiltration.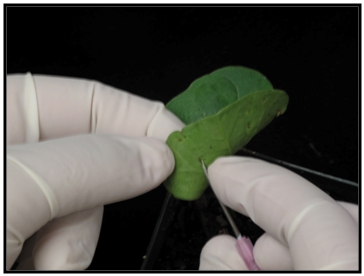 Figur 2. Stansning små hål på undersidan av hjärtbladens av bomull som använder en 25 G-nål för att underlätta Agrobacterial infiltration.

Figur 3. Hand infiltration av Agrobacterial blandningen i hjärtbladen av bomull, genom att såra webbplatser med ett needleless spruta

Figur 4. Albino fenotyp dök upp på VIGS tystas bomull växter. Fyra sorter visas. A) Fibermax 832, B) Phytogen 480WR, C) Phytogen 425RF, D) Deltapine 90.
Subscription Required. Please recommend JoVE to your librarian.
Discussion
VIGS har visat sig vara ett kraftfullt verktyg inom funktionell genomik analys av övergående knacka ner uttrycket av endogena gener. I denna studie har vi utvecklat en Agrobacterium-medierad VIGS genom att använda en TRV-baserade binär vektor. Bomullen CLA1 (GrCLA1) gen utvecklades som en visuell markör för att övervaka tysta effektivitet. Vi har genomgående fått 100% av geners uttryck effektivitet, vilket framgår av albino fenotyp som finns på den sanna löv i alla sorter testas, med början ungefär två veckor efter infiltration. Men CLA1-tystade bomullsplantor knappast utvecklats till fiber eller frö skede, vilket sannolikt beror på stark defekter på kloroplast utveckling. Den framgångsrika utvecklingen av bomull VIGS ger ett alternativ till att snabbt tysta gener av intresse för förlust-av-funktion analyser och lägger grunden för bomull funktionell genetik / genomik i ilfart postgenom eran 8.
Subscription Required. Please recommend JoVE to your librarian.
Disclosures
Inga intressekonflikter deklareras.
Acknowledgments
Vi är tacksamma att Dr. SP Dinesh-Kumar och Yule Liu för TRV-VIGS vektorer, och Dr. Chuck Kenerley, Terry Wheeler, Jim Starr och Bayer CropScience för att ge bomullsfrön. Detta arbete har finansierats av NSF till LS och NIH till PH
Materials
| | | | |
| --- | --- | --- | --- |
| Name | Company | Catalog Number | Comments |
| Roller drum | Glas-Col | 099A TC108 | Agro-bacterium culture |
| Incubator | Sheldon Manufacturing, Inc. | 01046209 | Agro-bacterium culture |
| UV/Vis spectrophotometer | Beckman Coulter Inc. | Model: DU530 | Measuring OD |
| Gene Pulser | Bio-Rad | Model: 1652076; Serial: 154BR3880 | Electroporation |
| Pulser Controller | Bio-Rad | Model: 1652098; Serial: 232BR4833 | Electroporation |
| Micropulser Electroporation cuvette | Bio-Rad | 165-2081 | Electroporation |
| 1 ml Syringe | BD Biosciences | 30962 | Inoculation of agro-bacterium |
| Metro Mix 700 | SUNGR | SKU# 553001 | Growing seedling |
| Terra Cotta pot | T.O.Plastics | GPS 3001B2 | Growing seedling |
| MES monohydrate | USB Corp., Affymetrix | 18886 | Infiltration buffer |
| Acetosyringone | Sigma-Aldrich | D134406 | Infiltration buffer |