Cite this Article
Copy Citation | Download Citations

Claessens, A., Rowe, J. A. Selection of Plasmodium falciparum Parasites for Cytoadhesion to Human Brain Endothelial Cells. J. Vis. Exp. (59), e3122, doi:10.3791/3122 (2012).
Abstract
De meeste menselijke doden malaria wordt veroorzaakt door bloed-stage Plasmodium falciparum parasieten. Cerebrale malaria, de meest levensbedreigende complicatie van de ziekte, wordt gekenmerkt door een opeenstapeling van Plasmodium falciparum geïnfecteerde rode bloedcellen (iRBC) in gepigmenteerde trophozoite fase van de microvasculatuur van de hersenen 2-4. Dit microvessel obstructie (conservatoir beslag) leidt tot acidose, hypoxie en schadelijke inflammatoire cytokines (beoordeeld in 5). Sekwester wordt ook gevonden in de meeste microvasculaire weefsels van het menselijk lichaam 2, 3. Het mechanisme waardoor iRBC hechten aan de vaatwanden is nog steeds slecht begrepen.
De vereeuwigd Human Brain microvasculaire endotheelcellen lijn (HBEC-5i) is gebruikt als een in vitro model van de bloed-hersenbarrière 6. Echter, Plasmodium falciparum iRBC alleen slecht hechten aan HBEC-5i in vitro, in tegenstelling tot de dichte sequestration die optreedt in de cerebrale malaria gevallen. We hebben daarom een test om panning (verrijken) diverse P. te selecteren falciparum stammen voor de hechting aan HBEC-5i om populaties van high-bindende parasieten, meer representatief voor wat er gebeurt in vivo te verkrijgen.
Een voorbeeld van een parasiet cultuur (mengsel van iRBC en niet-geïnfecteerde RBC) op de gepigmenteerde trophozoite fase wordt gewassen en geïncubeerd op een laag HBEC-5i gekweekt op een petrischaaltje. Na de incubatie wordt de schotel voorzichtig gewassen vrij van uRBC en ongebonden iRBC. Verse uRBC worden toegevoegd aan de weinige iRBC aan HBEC-5i en geïncubeerd gedurende de nacht. Als schizont stadium parasieten barsten, merozoïeten reinvade RBC en deze ring podium parasieten zijn geoogst de volgende dag. Parasieten zijn gekweekt totdat er voldoende materiaal is verkregen (meestal 2 tot 4 weken) en een nieuwe ronde van selectie kan worden uitgevoerd. Afhankelijk van de P. falciparum stam, 4 tot 7 ronden van selectie nodig zijn om een populatie te krijgenwaar de meeste parasieten binden aan HBEC-5i. De binding fenotype wordt geleidelijk verloren na een paar weken, wat wijst op een schakelaar in variant oppervlakte-antigeen expressie van genen, dus regelmatig selectie op HBEC-5i nodig is om het fenotype te behouden.
Samengevat hebben we een selectie test rendering P. falciparum parasieten een meer "cerebrale malaria lijm" fenotype. We waren in staat om 3 te selecteren van de 4 P. falciparum stammen op HBEC-5i. Deze test is ook met succes gebruikt om parasieten voor binding aan menselijke dermale en pulmonale endotheliale cellen te selecteren. Belangrijker is, kan deze methode worden gebruikt om weefsel-specifieke parasiet bevolkingsgroepen te selecteren om de kandidaat-parasiet liganden te identificeren voor binding aan de hersenen endotheel. Bovendien kan deze test gebruikt worden om te screenen op vermeende anti-opslag drugs 7.
Protocol
Algemene aanbevelingen
Menselijk brein microvasculaire endotheelcellen (HBEC-5i) cultuur is eerder beschreven in 6, 8. P. falciparum parasieten werden gekweekt als in 9. Zowel HBEC-5i en P. falciparum parasiet culturen moeten worden bewaard in steriele omstandigheden te allen tijde. Alle reagentia moeten worden voorverwarmd bij 37 ° C. We raden aan om regelmatig te controleren op mycoplasma besmetting 10 door middel van PCR (Minevera Biolabs, na instructies van de fabrikant). Het protocol is samengevat in figuur 1.
1. Endotheelcellen routine cultuur
Bereid de benodigde reagentia.
| | | |
| --- | --- | --- |
| Medium voor te bereiden | Reagentia | Hoeveelheid |
| "DMEM incomplete" | DMEM-F12 Ham | 500ml |
|   | L-glutamine 200mm | 5ml |
| | Penicilline / streptomycine 100X | 5 ml |
| | NaOH 1M | 1,3 ml (de pH instellen op 7,4) |
| "DMEM complete" | "DMEM incomplete" | 450ml |
| | Foetale Bovine Serum hitte-geïnactiveerd | 50ml |
| | Endotheliale celgroei te vullen | 5 ml |
Cultuur HBEC-5i in een geventileerde 25cm 2 kolf met 10 ml DMEM compleet medium in een 37 ° C incubator met 5% CO 2.
Passage-cellen wanneer ze confluent. Verwijder de oude medium door zuiging en was twee keer met behulp van DMEM medium onvolledige of weefselkweek kwaliteit PBS (Ca 2 + en Mg 2 + vrij) voorverwarmd tot 37 ° C.
Voeg 1 ml van de voorverwarmde Trypsin-EDTA (0,025% trypsine, 0,5 mm EDTA), zwenk om het geheel van de kolf te dekken en incubeer ~ 2 min bij 37 ° C.
Kijk onder omkeermicroscoop dat ten minste 90% van de cellen zijn losgemaakt. Indien nodig, voorzichtig kloppen de bodem van de kolf te hechtende cellen los te maken. Voeg 10 ml DMEM compleet medium om de trypsine en overdracht cellen blok in een 15 ml conische buis. Centrifugeer gedurende 4 min bij 300 g bij kamertemperatuur (RT).
Verwijder het supernatant en resuspendeer de pellet met 10 ml van DMEM compleet medium. Pipetteer de oplossing op en neer om grondig te resuspendeer de cellen.
Voeg 1 of 2 ml van de celsuspensie in een nieuwe cultuur kolf en voeg 8 ml vers medium om de cultuur te behouden. Beoordeel cultuur groei elke dag onder een omgekeerde microscoop en verander medium om de 2 à 3 dagen voordat het wordt geel.
2. Voorbereiden endotheelcellen voor een selectie
Twee dagen voor de dag van de selectio n, toe te voegen fibronectine verdund in een steriele PBS (2 ug / cm 2) in een (of meer) 60 mm petrischaal. Incubeer de schotel gedurende 5 tot 20 minuten bij 37 ° C, verwijder vervolgens de fibronectine-oplossing, die kan bij 4 ° C worden opgeslagen voor een maand en een keer opnieuw gebruikt.
Passage-cellen zoals beschreven in paragraaf 1.3. tot 1,5. Uitgaande van 100% confluent cellen werden losgemaakt en geresuspendeerd in 10 ml DMEM compleet medium (paragraaf 1.6., Resuspendeer met een gelijkwaardige hoeveelheid medium als de confluentie lager is, bijvoorbeeld mengen met 8ml als de confluentie was 80%), voeg 1,5 ml van de geschorste cellen om de fibronectine gecoate petrischaal en een andere 1,5 ml van DMEM compleet medium.
Plaats de geplaatste petrischaal in de incubator. Let op: In het ideale geval de confluentie zal rond de 90% op het moment van de selectie twee dagen later.
Optioneel. Te activeren HBEC-5i, voeg de TNF (Tumor Necrosis Factor) cytokine op een uiteindelijke concentratie van 50μg/ml 24 uur voorafgaand aan de selectie.
e_title "> 3.
Plasmodium falciparum
routine cultuur
Bereid de benodigde reagentia (zie de tabel hier onder). Bereid menselijke rode bloedcellen (RBC) door het scheiden van vol bloed (groep O +) door passage door een leukocytenafscheiding filter (zie "Methods in Malaria onderzoek" publicatie 11 voor algemene malaria parasieten kweken). Twee keer wassen RBC door centrifugeren bij 400 g gedurende 5 minuten en resuspenderen ze met 10 ml RPMI onvolledig. Houden gewassen RBC bij 4 ° C in incomplete medium bij 50% hematocriet.
Medium voor te bereiden
Reagentia
Hoeveelheid
"RPMI incomplete"
RPMI 1640 (met bicarbonaat)
500ml
Hepes 1M
12.5ml
Glucose 20%
5ml
L-glutamine 200mm
5ml
Gentamycine 50mg/ml
250μl
NaOH 1M
0,7 ml (de pH instellen op 7,2)
"RPMI complete"
"RPMI incomplete"
450ml
Menselijke (niet-immune) serum Samengevoegde
50ml
Cultuur P. falciparum geïnfecteerde RBC met RPMI complete medium op 2% hematocriet en incubeer bij 37 ° C met 3% CO 2, 1% O 2, en 96% N 2. Maak Giemsa uitstrijkje 11 per dag om het stadium van de ontwikkeling van parasieten (figuur 2) te beoordelen.
Regelmatig (ongeveer eenmaal per week) te synchroniseren cultuur door sorbitol behandeling 12. De dag voor de selectie assay, streven naar een ring-stage cultuur op 5% parasitemie of meer (bij voorkeur minimaal 10%).
4. Selectie van P. falciparum voor cytoadhesion aan endotheelcellen
Op de dag van de test, moet de parasiet cultuur in gepigmenteerde trophozoite fase (Figuur 2) (bij voorkeur 10% parasitemie) terwijl HBEC-5i cultuur moet worden bij 50 tot 100% confluentie (bij voorkeur 90%). 30μl hematocriet van de parasiet cultuur is nodig per HBEC-5i petrischaal.
Twee keer wassen parasieten door centrifugeren (500 g voor 5 min) 1,5 ml van de parasiet cultuur. Gooi supernatant en resuspendeer met 10 ml van vers gemaakte, warme, DMEM onvolledige medium. Herhaal de wasbeurt een tweede keer. Resuspendeer de 30μl hematocriet met 1,5 ml van DMEM onvolledige met 1% BSA.
Was de HBEC-5i gecoate petrischaal twee keer opzuigen medium en het toevoegen van 3 ml van onvolledige DMEM.
Voeg de oplossing van parasieten aan de HBEC-5i schotel en incubeer bij 37 ° C voor 75min. Twee keer Resuspendeer parasieten (na 30 en 60 min) tijdens de incubatiedoor zachtjes schommelen de schotel in de vier richtingen, maar ook met de klok mee en tegen de klok.
Na de incubatie, was het gerecht 5 keer door opzuigen medium, met behulp van een plastic Pasteur pipet à 3 ml warm DMEM onvolledige medium, en zachte schommelen toe te voegen. Als er veel gerechten worden gebruikt, bewaar ze op een warme ondergrond, zoals een grote fles gevuld met water van 37 ° C.
Controleer de schotel onder een omgekeerde microscoop. Als er veel niet-geïnfecteerde rode bloedcellen zijn nog steeds zichtbaar zijn, meer doen wast zoals hierboven beschreven. Behandel de petrischaal zeer zorgvuldig om elk risico van besmetting te vermijden.
Verwijder medium van de schotel en voeg 3 ml van de warme RPMI compleet medium met 40μl hematocriet van verse uRBC.
Zet de schaal in een luchtdichte kamer uitbroeden, gas dat zij gedurende 3 minuten en zet de kamer in een incubator bij 37 ° C gedurende de nacht.
De dag na, de oogst van de parasieten door wassen met RPMI onvolledige medium, op een vergelijkbare manier zoals beschreven in paragraaf 4.4. maar krachtiger. Keep alle gebruikte medium (met geresuspendeerd RBC) in een 15 ml conische buis. Kijk onder omkeermicroscoop dat alle RBC zijn verwijderd uit de schotel.
Pellet de parasieten, gooi het supernatant, opnieuw in suspensie in 5 ml RPMI compleet medium en plaats het mengsel in een kolf voor normale kweken.
5. Representatieve resultaten
Ongeselecteerde parasieten tonen een laag niveau van de binding aan HBEC-5i (Figuur 3A). Zo, na de eerste ronde van de selectie, zal zeer weinig parasieten worden geoogst en kan oplopen tot een maand van het kweken van een parasitemie voldoende voor de tweede ronde van de selectie te komen. Na elke ronde van selectie, meer en meer parasieten binden aan de endotheelcellen en de selecties kan worden herhaald met kortere tussenpozen. Na 4-5 ronden van selectie, zijn hoog-bindend parasiet populaties verkregen (figuur 3).
In onze handen, de binding van HB3-HBEC naar HBEC-5i of TNF geactiveerd HBEC-5i was van de simextra bel niveau (gegevens niet getoond).
Het protocol hier beschreven werd getest met 4 P. falciparum stammen: HB3, IT/FCR3, 3D7 en DD2 (tabel 1). Alleen de laatste bleek niet in staat te binden aan HBEC-5i, zelfs na 5 ronden van selectie.
HB3 parasieten werden ook geselecteerd voor cytoadherence om menselijke dermale en Pulmonary microvasculaire endotheelcellen (HDMEC en HPMEC). Na 4 ronden van selectie, volgens de methode hier beschreven, was een high-bindend bevolking verkregen over zowel de HDMEC en HPMEC (figuur 4).

Figuur 1. Overzicht van het selectieproces.

Figuur 2. Ontwikkeling stadia van P. falciparum geïnfecteerde rode bloedcellen. Giemsa uitstrijkje gevisualiseerd onder de microscoop bij een vergroting 1000X.

Figuur 3. Typisch voorbeeld van parasieten binding aan HBEC-5i. (A) De blauwe laag is HBEC-5i vast met glutaaraldehyde en gekleurd met Giemsa, gevisualiseerd onder de microscoop bij een vergroting 1000X. Foto's werden genomen na uRBC en ongebonden iRBC werden weggespoeld. Het linker paneel toont een P. falciparum HB3 (ongeselecteerd) parasiet gebonden aan HBEC-5i. In het rechter paneel van de HB3-HBEC parasieten was geselecteerd voor de 5 rondes. (B) De gegevens vertegenwoordigt het gemiddelde van twee onafhankelijke experimenten, elk in duplo uitgevoerd. Het aantal parasieten gebonden per endotheelcellen was geteld.

Tabel 1. Samenvatting van de Plasmodium falciparum stammen die met succes werden geselecteerd voor binding aan HBEC-5i. Merk op dat HB3 was ook geselecteerd op TNF-geactiveerde HBEC-5i. Na 5 ronden van selectie, de DD2 stam toonden geen toename van de binding aan HBEC-5i in vergelijking met niet-geselecteerde-DD2.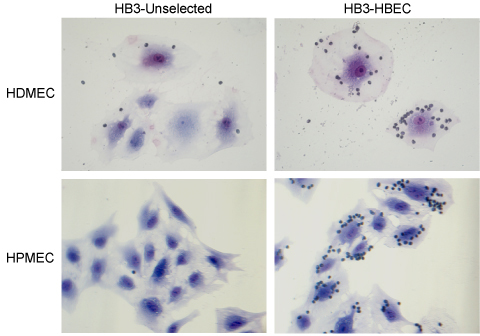 Figuur 4. Binding van P. falciparum HB3 parasieten op de huid (HDMEC) en pulmonale (HPMEC) endotheelcellen, voor en na vier ronden van selectie. Hoewel het kweekmedium voor HDMEC en HPMEC iets verschilt (zie de leverancier instructies), het protocol dat wordt gebruikt voor de selectie was identiek als bij HBEC-5i. Foto's genomen op 400X vergroting.
| | | | |
| --- | --- | --- | --- |
| Naam van het reagens | Vennootschap | Catalogus nummer | Reacties |
| DMEM-F12 Ham | Sigma | D6421 | Voor DMEM complete medium |
| L-glutamine 200mm | GIBCO | 25030 | Voor DMEM en RPMI complete medium |
| Penicilline / streptomycine 100X (10.000 eenheden / ml en 10mg/ml) | ScienCell | 0503 | Voor DMEM complete medium |
| Foetale Bovine Serum hitte-geïnactiveerd | ScienCell | 0025 | Voor DMEM complete medium |
| Trypsine-EDTA (0,025% trypsine, 0,5 mm EDTA) | ScienCell | 0103 | |
| Endotheliale celgroei te vullen | ScienCell | 1052 | Voor DMEM complete medium |
| Weefselkweek behandelde 60 mm x 15 mm petrischaaltjes | BD | 353002 | |
| Human Fibronectine | Millipore | FC010 | Gebruik op 2 ug / cm 2 |
| TNF | R &D Systems | 210-TA | optioneel, gebruik bij 50 ug / ml |
| RPMI 1640 | Lonza | BE12-167F | Voor RPMI complete medium |
| Gentamycine 50mg/ml | Lonza | 17-518Z | Voor RPMI complete medium |
| Hepes 1M | Lonza | Be17-737E | Voor RPMI complete medium |
| HDMEC | ScienCell | 2000 | Primaire cellijn |
| HPMEC | ScienCell | 3000 | Primaire cellijn |
| HBEC-5i | | | Verkregen van Francisco Candal (fcandal@cdc.gov) |
Tabel 2. Materialen
Discussion
Het kenmerk van cerebrale malaria is sekwestratie van P. falciparum iRBC in de hersenen microvasculatuur 2, 3. Echter, in vitro culturen van P. falciparum alleen slecht cytoadhere aan HBEC-5i, een model voor het menselijk brein microvasculaire endotheel. Hier hebben we ontwikkelden een eenvoudige test om een bevolking te verrijken voor binding aan HBEC-5i, een meer "in-vivo als" fenotype. Drie van de vier P. falciparum stammen werden met succes geselecteerd met behulp van deze methode. Verder werd HB3 ook geselecteerd op HDMEC en HPMEC, wat aangeeft dat dit protocol kan worden gebruikt voor verschillende parasieten en endotheliale celtypes.
Verschillende hypotheses kunnen verklaren het gebrek aan binding met de DD2 stam. Het meest waarschijnlijke dat het feit dat deze parasiet lijn knobless is, wat belemmert diep de cytoadherence 13, 14.
We raden aan het kweken van niet-geselecteerde parasieten naast de selectie van progang tot een controle voor vergelijking. Dit zal zorgen voor bijvoorbeeld het vergelijken van de transcriptoom van bindende en niet-bindende parasieten, in de hoop te ontdekken parasiet ligand kandidaten.
TNF is een cytokine gevonden op hoog niveau in cerebrale malaria patiënten en is te tonen aan de expressie van vele oppervlakte-eiwitten van HBEC-5i (Claessens et al., in voorbereiding en 8, 15, 16) veroorzaken. In dit geval is de hoeveelheid gebonden iRBC was vergelijkbaar in de normale HBEC-5i in vergelijking met geactiveerde HBEC-5i.
Deze "sekwester model" kan ook gebruikt worden om de moleculaire interactie tussen de iRBC en de endotheelcellen, evenals het effect van de vermeende anti-cytoadherence medicijnen studeren. In dit geval raden we plating HBEC-5i in kleinere putten, zoals "8-well kamer dia's" (BD 354628) of "CultureWell" (Sigma C7735-20 sexies bis).
Disclosures
We hebben niets te onthullen.
Acknowledgments
Wij danken Francisco Candal, CDC Technology Transfer Office, Atlanta Georgia voor HBEC-5i cellen. Dit werk werd gefinancierd door de Wellcome Trust (4 jaar PhD studententijd aan AC en Senior Fellowship in Basic Biomedische Wetenschappen aan JAR, licentienummer 084226).