Cite this Article
Copy Citation | Download Citations

Claessens, A., Rowe, J. A. Selection of Plasmodium falciparum Parasites for Cytoadhesion to Human Brain Endothelial Cells. J. Vis. Exp. (59), e3122, doi:10.3791/3122 (2012).
Abstract
De flesta mänskliga malaria dödsfall orsakas av blod steg Plasmodium falciparum parasiter. Cerebral malaria, den mest livshotande komplikation till sjukdomen, kännetecknas av en ansamling av Plasmodium falciparum infekterade röda blodkroppar (iRBC) i pigmenterad trophozoite skede i mikrocirkulation av hjärnan 2-4. Detta microvessel obstruktion (kvarstad) leder till acidos, hypoxi och skadliga inflammatoriska cytokiner (över 5). Kvarstad är också återfinns i de flesta mikrovaskulära vävnader i människokroppen 2, 3. Den mekanism genom vilken iRBC fäster blodkärlens väggar är fortfarande dåligt kända.
Den förevigade Human Brain mikrovaskulära endotelceller linje (HBEC-5i) har använts som ett in vitro-modell av blod-hjärnbarriären 6. Men Plasmodium falciparum iRBC fäster bara dåligt på HBEC-5i in vitro, till skillnad från den täta sequestration som sker i cerebral malaria. Vi utvecklade därför en panorering analys för att välja (berika) olika P. falciparum-stammar för vidhäftning till HBEC-5i för att få befolkningen med hög-bindande parasiter, mer representativ för vad som sker in vivo.
Ett urval av en parasit kultur (blandning av iRBC och oinfekterade RBC) i pigmenterad trophozoite scenen tvättas och inkuberas på ett lager av HBEC-5i odlas på en petriskål. Efter inkubationen skålen försiktigt spolas rena från uRBC och obundna iRBC. Färska uRBC läggs till de få iRBC bifogas HBEC-5i och inkuberas över natten. Som schizont skede parasiter sprack merozoites reinvade RBC och dessa ring parasiter skede skördas dagen därpå. Parasiter är odlade fram tillräckligt med material erhålls (normalt 2 till 4 veckor) och en ny omgång av urval kan göras. Beroende på P. falciparum stam, 4 till 7 v av urval behövs för att få en befolkningdär de flesta parasiter binder till HBEC-5i. Bindningen fenotyp gradvis försvinner efter några veckor, vilket indikerar en switch i variant ytantigen genuttryck, vilket regelbundna val på HBEC-5i krävs för att upprätthålla fenotyp.
Sammanfattningsvis utvecklade vi ett urval analys rendering s. falciparum parasiter en mer "cerebral malaria lim" fenotyp. Vi kunde välja 3 av 4 s. falciparum-stammar på HBEC-5i. Denna analys har också framgångsrikt använts för att välja parasiter för bindning till mänsklig hud och lungor endotelceller. Viktigare, kan denna metod användas för att välja vävnadsspecifika parasit populationer i syfte att identifiera ligander kandidat parasit för bindning till hjärnan endotelet. Dessutom kan detta test användas för att screena för förmodade anti-beslag droger 7.
Protocol
Allmänna rekommendationer
Mänskliga hjärnan mikrovaskulära endotelceller (HBEC-5i) kulturen har tidigare beskrivits i 6, 8. P. falciparum parasiter odlades som i 9. Både HBEC-5i och P. falciparum parasiten kulturer bör förvaras i sterila förhållanden hela tiden. Alla reagenser ska förvärmas vid 37 ° C. Vi rekommenderar att regelbundet kontrollera om mykoplasma kontamination 10 med PCR (Minevera Biolabs, enligt tillverkarens anvisningar). Protokollet sammanfattas i Figur 1.
1. Endotelceller rutin kultur
Förbereda de nödvändiga reagenser.
| | | |
| --- | --- | --- |
| Medel för att förbereda | Reagenser | Kvantitet |
| "DMEM ofullständiga" | DMEM-F12 Ham | 500ml |
|   | L-glutamin 200mm | 5ml |
| | Penicillin / streptomycin 100X | 5 ml |
| | NaOH 1M | 1,3 ml (justera pH till 7,4) |
| "DMEM komplett" | "DMEM ofullständiga" | 450 ml |
| | Fetal bovint serum värmeinaktiveras | 50ml |
| | Endothelial celltillväxt komplettera | 5 ml |
Kultur HBEC-5i i en portad 25 cm 2-kolv med 10ml DMEM komplett medium i ett 37 ° C inkubator med 5% CO 2.
Passage cellerna när de blir sammanhängande. Ta bort den gamla medium genom avsugning och skölj två gånger med DMEM ofullständiga medium eller vävnadsodling kvalitet PBS (Ca 2 + och Mg 2 + free) förvärmas till 37 ° C.
Tillsätt 1 ml förvärmda Försökpsin-EDTA (0,025% trypsin, 0,5 mm EDTA), snurra för att täcka hela den kolven och inkubera ~ 2 minuter vid 37 ° C.
Kolla under inverterat mikroskop att minst 90% av cellerna har lossnat. Om det behövs, försiktigt knacka ner kolven för att lossa fastsittande celler. Tillsätt 10 ml DMEM kompletta medelhög att blockera trypsin och överföra celler till en 15 ml koniska rör. Centrifugera i 4 min vid 300 g vid rumstemperatur (RT).
Kassera supernatanten och suspendera pelleten med 10 ml DMEM komplett medium. Pipettera lösningen upp och ner att grundligt resuspendera cellerna.
Tillsätt 1 eller 2 ml av cellsuspensionen i en ny kultur och tillsätt 8ml av färska medel för att upprätthålla kulturen. Bedöm kultur tillväxt varje dag under ett inverterat mikroskop och ändra medelstora var 2 eller 3 dagar innan den blir gul.
2. Förbereda endotelceller för ett urval
Två dagar före dagen för selectio n, lägga fibronektin utspätt i steril PBS (2 mikrogram / ​​cm 2) i ett (eller flera) 60 mm petriskål. Inkubera skålen för 5 till 20 minuter vid 37 ° C, ta sedan bort fibronektin lösning, som kan lagras vid 4 ° C i en månad och återanvändas gång.
Passage celler som beskrivs i avsnitt 1.3. till 1,5. Anta att 100% konfluenta celler var loss och suspenderade i 10ml DMEM komplett medium (avsnitt 1.6., Resuspendera med en motsvarande volym av medium om confluency är lägre, t.ex. resuspendera med 8ml om confluency var 80%), tillsätt 1,5 ml av suspenderade celler till fibronektin belagda petriskål och ytterligare 1,5 ml av DMEM komplett medium.
Placera seedade petriskål i inkubatorn. Obs: Helst ska de confluency vara runt 90% vid tidpunkten för valet två dagar senare.
Valfritt. För att aktivera HBEC-5i, lägg till TNF (tumörnekrosfaktor) cytokin vid en slutlig koncentration av 50μg/ml 24 timmar före valet.
e_title "> 3.
Plasmodium falciparum
rutin kultur
Förbereda de nödvändiga reagenser (se tabellen här under). Förbered människans röda blodkroppar (RBC) genom att separera helblod (grupp O +) genom passage genom ett leukocyt utarmning filter (se "Methods in Malaria Research" publikation 11 för allmän malariaparasiter odling). Tvätta RBC två gånger genom centrifugering vid 400 gi 5 min och resuspending dem med 10 ml RPMI ofullständig. Håll tvättas RBC vid 4 ° C i ofullständigt medium vid 50% hematokrit.
Medel för att förbereda
Reagenser
Kvantitet
"RPMI ofullständiga"
RPMI 1640 (med bikarbonat)
500ml
Hepes 1M
12,5 ml
Glukos 20%
5ml
L-glutamin 200mm
5ml
Gentamycin 50mg/ml
250μl
NaOH 1M
0,7 ml (justera pH till 7,2)
"RPMI komplett"
"RPMI ofullständiga"
450 ml
Poolade humana (icke-immuna) i serum
50ml
Kultur P. falciparum infekterade RBC med RPMI komplett medium vid 2% hematokrit och inkubera vid 37 ° C med 3% CO 2, 1% O 2, och 96% N 2. Gör Giemsa smutskasta 11 dagligen för att bedöma hur långt utvecklingen av parasiter (figur 2).
Regelbundet (ungefär en gång i veckan) synkronisera kultur genom sorbitol behandling 12. Dagen före valet analysen, sikta på en ring steg kultur på 5% parasitemin eller mer (helst minst 10%).
4. Val av P. falciparum för cytoadhesion till endotelceller
På dagen för analysen bör parasiten kulturen vara pigmenterade trophozoite skede (Figur 2) (helst 10% parasitemin) medan HBEC-5i kulturen bör vara 50 till 100% confluency (helst 90%). 30μl hematokritvärdet av parasit kulturen behövs per HBEC-5i petriskål.
Tvätta parasiter två gånger genom centrifugering (500 g för 5 min) 1,5 ml av parasit kultur. Kassera supernatanten och återsuspendera med 10 ml av nybakade uppvärmd,, DMEM ofullständig medium. Upprepa tvätta en andra gång. Resuspendera 30μl hematokrit med 1,5 ml av DMEM ofullständig med 1% BSA.
Tvätta HBEC-5i belagd petriskål två aspirerande mediet och lägga 3ml av ofullständig DMEM.
Tillsätt av parasiter till HBEC-5i maträtt och inkubera vid 37 ° C i 75min. Resuspendera parasiter två gånger (efter 30 och 60 minuter) under inkubationstidengenom att försiktigt gungande skålen i fyra riktningar, samt medurs och moturs.
Efter inkubation, skölj skålen 5 gånger aspirera medium, med hjälp av en plast pasteurpipett att lägga till 3 ml varmt DMEM ofullständig medium och mild gunga. Om många rätter används, hålla dem på en varm yta, t.ex. en stor kolv fylld med vatten vid 37 ° C.
Kontrollera skålen i ett inverterat mikroskop. Om många infekterade RBC är fortfarande synliga, göra mer tvättar som beskrivs ovan. Hantera petriskål mycket noggrant för att undvika risken för kontaminering.
Ta ut mediet från skålen och tillsätt 3 ml varmt RPMI komplett medium med 40μl hematokritvärdet färska uRBC.
Placera skålen i en lufttät inkubering kammare, gas det i 3 min och placera den kammare i en inkubator vid 37 ° C över natten.
Dagen efter skörd parasiterna genom att tvätta med RPMI ofullständiga medium, på liknande sätt som beskrivs i avsnitt 4.4. men mer kraftfullt. Keep alla medium som används (som innehåller suspenderade RBC) i ett 15 ml koniskt rör. Kolla under inverterat mikroskop att alla RBC har tagits bort från skålen.
Pellets parasiterna, kassera supernatanten, återsuspendera i 5ml RPMI komplett medium och plats blandningen i en kolv för normal odling.
5. Representativa resultat
Omarkerade parasiter visar en låg bindning till HBEC-5i (figur 3a). Alltså, efter den första omgången av valet, kommer mycket få parasiter skall skördas och det kan ta upp till en månad av odling för att nå en parasitemin tillräcklig för den andra omgången av valet. Efter varje omgång av urval, fler och fler parasiter binda till endotelceller och val kan upprepas med kortare tidsintervall. Efter 4-5 rundor av urval, är hög-bindande parasit populationer erhållits (Figur 3).
I våra händer, var bindningen av HB3-HBEC till HBEC-5i eller TNF aktiveras HBEC-5i av SIM-Ilar nivå (data visas inte).
Protokollet beskrivs här testades med 4 s. falciparum-stammar: HB3, IT/FCR3, 3D7 och DD2 (tabell 1). Endast det senare visade sig inte kunna binda till HBEC-5i, även efter 5 rundor av urval.
HB3 parasiter också ut för cytoadherence till Human Dermal och Pulmonary endotelceller i små kärl (HDMEC och HPMEC). Efter 4 rundor av urval, enligt den metod som beskrivs här, var en högt bindande befolkningen erhållits för både HDMEC och HPMEC (Figur 4).

Figur 1. Översikt över urvalsprocessen.

Figur 2. Utvecklingsstadier P. falciparum infekterade röda blodkroppar. Giemsa smetar visualiseras i mikroskop vid 1000 gångers förstoring.

Figur 3. Typiska exempel på parasiter bindning till HBEC-5i. (A) Den blå skiktet är HBEC-5i fast med glutaraldehyd och färgas med Giemsa, visualiseras i mikroskop vid 1000 gångers förstoring. Bilderna är tagna efter uRBC och obundet iRBC spolades bort. Den vänstra panelen visar en enda s. falciparum HB3 (omarkerade) parasit bundna till HBEC-5i. I den högra panelen HB3-HBEC parasiter hade valts ut för 5 omgångar. (B) Data representerar ett genomsnitt av två oberoende experiment, varje utförd i två exemplar. Antalet parasiter bunden per endotelceller räknades.

Tabell 1. Sammanfattning av Plasmodium falciparum-stammar som framgångsrikt valdes ut för bindning till HBEC-5i. Observera att HB3 också valdes på TNF-aktiverade HBEG-5i. Efter 5 omgångar av valet visade DD2 stam ingen ökad bindning till HBEC-5i jämfört med omarkerade-DD2.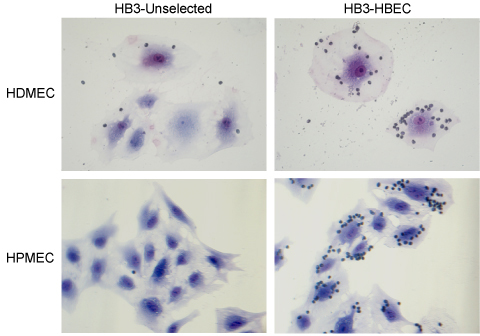 Figur 4. Bindning av P. falciparum HB3 parasiter av huden (HDMEC) och pulmonell (HPMEC) endotelceller, före och efter fyra rundor av urval. Även om kultur medium för HDMEC och HPMEC något annorlunda (se leverantörens anvisningar), var det protokoll som används för att välja samma som med HBEC-5i. Bilder tagna vid 400X förstoring.
| | | | |
| --- | --- | --- | --- |
| Reagensets namn | Företag | Katalognummer | Kommentarer |
| DMEM-F12 Ham | Sigma | D6421 | För DMEM komplett medelstora |
| L-glutamin 200mm | GIBCO | 25.030 | För DMEM och RPMI komplett medelstora |
| Penicillin / streptomycin 100X (10000 enheter / ml och 10mg/ml) | ScienCell | 0503 | För DMEM komplett medelstora |
| Fetal bovint serum värmeinaktiveras | ScienCell | 0025 | För DMEM komplett medelstora |
| Trypsin-EDTA (0,025% trypsin, 0,5 mm EDTA) | ScienCell | 0103 | |
| Endothelial celltillväxt komplettera | ScienCell | 1052 | För DMEM komplett medelstora |
| Vävnadskultur behandlade 60 mm x 15 mm petriskålar | BD | 353.002 | |
| Mänskliga Fibronectin | Millipore | FC010 | Använd vid 2 mikrogram / ​​cm 2 |
| TNF | FoUD Systems | 210-TA | valfria, använd vid 50 mikrogram / ml |
| RPMI 1640 | Lonza | BE12-167F | För RPMI komplett medelstora |
| Gentamycin 50mg/ml | Lonza | 17-518Z | För RPMI komplett medelstora |
| Hepes 1M | Lonza | BE17-737E | För RPMI komplett medelstora |
| HDMEC | ScienCell | 2000 | Primär cellinje |
| HPMEC | ScienCell | 3000 | Primär cellinje |
| HBEC-5i | | | Framställda av Francisco Candal (fcandal@cdc.gov) |
Tabell 2. Material
Discussion
Det kännetecknande för cerebral malaria är upptag av P. falciparum iRBC i hjärnan mikrocirkulation 2, 3. Men in vitro-kulturer av P. falciparum bara dåligt cytoadhere till HBEC-5i, en modell för mänskliga hjärnan mikrovaskulära endotelet. Här har vi utvecklat en enkel analys för att berika en befolkning för bindning till HBEC-5i, ett mer "in-vivo som" fenotyp. Tre av 4 s. falciparum-stammar med framgång valt att använda denna metod. Dessutom var HB3 också valts HDMEC och HPMEC, vilket indikerar att detta protokoll kan användas för olika parasit och endothelial celltyper.
Olika hypoteser kan förklara bristen på bindande med DD2 stam. Den mest troliga är att denna parasit raden är knobless, vilket försvårar djupt cytoadherence 13, 14.
Vi rekommenderar odling omarkerade parasiter vid sidan av valet process för att ge en kontroll för jämförelse. Detta gör att till exempel jämföra transkriptom av bindande och icke-bindande parasiter, med hopp om att upptäcka parasit ligand kandidater.
TNF är en cytokin som finns på hög nivå i cerebral malaria patienter och har visar att inducera uttrycket av många ytproteiner av HBEC-5i (Claessens et al, som en förberedelse och 8, 15, 16). I detta fall var mängden bundet iRBC likartad för normala HBEC-5i jämfört med aktiverade HBEC-5i.
Denna "kvarstad modell" kan också användas för att studera de molekylära samspelet mellan iRBC och endotelceller, samt effekten av förmodade anti-cytoadherence droger. I detta fall rekommenderar vi plätering HBEC-5i i mindre brunnar, till exempel "8-brunnars kammare slides" (BD 354.628) eller "CultureWell" (Sigma C7735-20EA).
Disclosures
Vi har ingenting att lämna ut.
Acknowledgments
Vi tackar Francisco Candal, CDC Technology Transfer Office, Atlanta Georgia för HBEC-5i celler. Detta arbete har finansierats av Wellcome Trust (4 år doktorand till AC och Senior Fellowship i Basic Biomedicinsk vetenskap till JAR, licensnummer 084.226).