Cite this Article
Copy Citation | Download Citations

Claessens, A., Rowe, J. A. Selection of Plasmodium falciparum Parasites for Cytoadhesion to Human Brain Endothelial Cells. J. Vis. Exp. (59), e3122, doi:10.3791/3122 (2012).
Abstract
De fleste mennesker malaria dødsfald er forårsaget af blod-trins Plasmodium falciparum parasitter. Cerebral malaria, den mest livstruende komplikation af sygdommen, er karakteriseret ved en ophobning af Plasmodium falciparum inficerede røde blodlegemer (iRBC) på pigmenteret trophozoite stadium i microvasculature af hjernen 2-4. Denne microvessel obstruktion (optag) fører til acidose, hypoxi og skadelige inflammatoriske cytokiner (revideret i 5). Binding findes også i de fleste mikrovaskulære væv af det menneskelige legeme 2, 3. Den mekanisme, hvormed iRBC tillægger blodkarrenes vægge er stadig dårligt forstået.
Den udødeliggjort Human Brain mikrovaskulære endotelceller linje (HBEC-5i) har været anvendt som en in vitro model af blod-hjerne barrieren 6. Men Plasmodium falciparum iRBC vedhæfte kun dårligt på HBEC-5i in vitro, i modsætning til den tætte sequestration, der forekommer i cerebral malaria tilfælde. Vi har derfor udviklet en panorering assay for at vælge (berige) diverse P. falciparum stammer til vedhæftning på HBEC-5i for at få populationer af høj-bindende parasitter, mere repræsentative for, hvad der sker in vivo.
En prøve af en parasit kultur (blanding af iRBC og ikke-inficerede RBC) på pigmenteret trophozoite scenen er vasket og inkuberes på et lag af HBEC-5i dyrket på en petriskål. Efter inkubation, er fadet vaskes forsigtigt fri for uRBC og ubundet iRBC. Frisk uRBC føjes til de få iRBC knyttet til HBEC-5i og inkuberes natten over. Som schizont fase parasitter brast, merozoites reinvade RBC, og disse ring fase parasitter er høstet den følgende dag. Parasitter dyrkes, indtil nok materiale er opnået (typisk 2 til 4 uger), og en ny runde af valg kan udføres. Afhængig af P. falciparum stamme, fra 4 til 7 runder til udvælgelse er nødvendige for at få en befolkninghvor de fleste parasitter binder sig til HBEC-5i. Bindingen fænotypen er gradvist mistet efter et par uger, hvilket indikerer et skifte i variant overfladeantigen genekspression og dermed regelmæssig udvælgelse på HBEC-5i er forpligtet til at opretholde fænotype.
Sammenfattende har vi udviklet et udvalg assay rendering s. falciparum parasitter en mere "cerebral malaria lim" fænotype. Vi var i stand til at vælge 3 ud af 4 s. falciparum pres på HBEC-5i. Denne analyse har også med succes blevet brugt til at vælge parasitter for binding til humane dermal og pulmonal endotelceller. Vigtigt er det, kan denne metode bruges til at vælge vævsspecifikke parasit populationer for at identificere kandidat parasit ligander for binding til hjernens endotel. Desuden kan denne analyse bruges til at screene for formodede anti-beslaglæggelse medicin 7.
Protocol
Generelle anbefalinger
Menneskelige hjerne mikrovaskulære endotelceller (HBEC-5i) kultur tidligere har været beskrevet i 6, 8. S. falciparum parasitter blev dyrket som i 9. Både HBEC-5i og P. falciparum-parasit kulturer bør holdes under sterile forhold på alle tidspunkter. Alle reagenser skal være forvarmet ved 37 ° C. Vi anbefaler regelmæssigt at tjekke for mycoplasma forurening 10 ved PCR (Minevera Biolabs, efter producentens anvisninger). Protokollen er opsummeret i figur 1.
1. Endotelceller rutine kultur
Forberede de nødvendige reagenser.
| | | |
| --- | --- | --- |
| Medium til at forberede | Reagenser | Mængde |
| "DMEM ufuldstændig" | DMEM-F12 Ham | 500ml |
|   | L-glutamin 200mm | 5ml |
| | Penicillin / streptomycin 100X | 5 ml |
| | NaOH 1M | 1,3 ml (justering af pH til 7,4) |
| "DMEM komplet" | "DMEM ufuldstændig" | 450ml |
| | Føtal Bovin Serum varmeinaktiveres | 50ml |
| | Endotel cellevækst supplement | 5 ml |
Kultur HBEC-5i i en ventileret 25cm 2 kolbe med 10ml DMEM komplette medium i en 37 ° C inkubator med 5% CO 2.
Passage celler, når de bliver sammenflydende. Fjern det gamle medie ved at suge og vaske to gange med DMEM ufuldstændige medium eller vævskultur klasse PBS (Ca 2 + og Mg 2 + free) forhaand opvarmes til 37 ° C.
Tilsæt 1 ml forvarmet Prøvpsin-EDTA (0,025% trypsin, 0.5mm EDTA), hvirvles at dække hele kolben og der inkuberes i ~ 2 min ved 37 ° C.
Check under omvendt mikroskop, at mindst 90% af cellerne er blevet skilt. Hvis det er nødvendigt, banke forsigtigt i bunden af ​​kolben at løsne Tilhænger celler. Tilsæt 10ml af DMEM komplette medium til at blokere for trypsin og overfør celler til en 15ml konisk rør. Centrifuger i 4 min ved 300 g ved stuetemperatur (RT).
Supernatanten fjernes, og resuspender pellet med 10 ml DMEM komplette medium. Pipette løsningen op og ned til grundigt at opblande cellerne.
Tilsæt 1 eller 2 ml af cellesuspensionen i en ny kultur kolbe og tilsættes 8ml af frisk medium for at bevare kulturen. Vurdere kultur væksten hver dag under en omvendt mikroskop og ændre mellemstore hver 2 eller 3 dage før det bliver gult.
2. Forberedelse endotelceller for et udvalg
To dage før dagen for selectio n, tilføje fibronektin fortyndet med steril PBS (2 mg / cm 2) i en (eller flere) 60 mm petriskål. Inkubér fadet i 5 til 20 min ved 37 ° C, og fjern derefter fibronektin løsning, som kan opbevares ved 4 ° C for en måned og igen bruges én gang.
Passage celler som beskrevet i afsnit 1.3. til 1,5. Under forudsætning af 100% sammenflydende celler var løs og resuspenderes i 10 ml DMEM komplette medium (afsnit 1.6., Resuspender med en tilsvarende mængde medium, hvis de confluency er lavere, f.eks resuspender med 8ml hvis confluency var 80%), tilsættes 1,5 ml af det suspenderede celler til fibronektin coatede petriskål og en anden 1,5 ml af DMEM komplette medium.
Placer seedede petriskålen i inkubatoren. Bemærk: Ideelt set vil confluency blive omkring 90% ved tidspunktet for udvælgelsen to dage senere.
Valgfri. For at aktivere HBEC-5i, tilsæt TNF (Tumor Nekrose Faktor) cytokin i en endelig koncentration af 50μg/ml 24 timer før valget.
e_title "> 3.
Plasmodium falciparum
rutine kultur
Forberede de nødvendige reagenser (se tabel her under). Forbered humane røde blodlegemer (RBC) ved at adskille fuldblod (gruppe O +) ved passage gennem et leukocytdepletering filter (se "Metoder i Malaria Research" publikation 11 for generelle malaria parasitter dyrkning). Vask RBC to gange ved centrifugering ved 400 gi 5 min og opblandes dem med 10 ml RPMI ufuldstændig. Hold vasket RBC ved 4 ° C i ufuldstændig medium ved 50% hæmatokrit.
Medium til at forberede
Reagenser
Mængde
"RPMI ufuldstændig"
RPMI 1640 (med bikarbonat)
500ml
HEPES 1M
12.5ml
Glucose 20%
5ml
L-glutamin 200mm
5ml
Gentamycin 50mg/ml
250μl
NaOH 1M
0,7 ml (justering af pH til 7,2)
"RPMI komplet"
"RPMI ufuldstændig"
450ml
Poolede humane (ikke-immune) serum
50ml
Kultur P. falciparum inficerede RBC med RPMI komplette medium på 2% hæmatokrit og inkuberes ved 37 ° C med 3% CO 2, 1% O 2, og 96% N 2. Gør Giemsa smøre 11 daglige til at vurdere den fase af udviklingen af parasitter (figur 2).
Regelmæssigt (cirka en gang om ugen) synkronisere kultur ved sorbitol behandling 12. Dagen før valget analysen, mål for en ring-trins kultur på 5% parasitaemia eller mere (helst mindst 10%).
4. Valg af P. falciparum for cytoadhesion til endotelceller
På dagen for analysen, bør parasitten kulturen være pigmenterede trophozoite etape (figur 2) (ideelt 10% parasitaemia), mens HBEC-5i kultur bør være på 50 til 100% confluency (helst 90%). 30μl hæmatokrit af parasit kultur er nødvendige pr HBEC-5i petriskål.
Vask parasitter to gange ved centrifugering (500 g for 5 min) 1,5 ml af parasit kultur. Kassér supernatanten og resuspender med 10ml af frisklavet, varm, DMEM ufuldstændige medium. Gentag Vask endnu en gang. Resuspender 30μl hæmatokrit med 1,5 ml af DMEM ufuldstændige med 1% BSA.
Vask HBEC-5i belagt petriskål to gange sugning mellemstore og tilføje 3 ml af ufuldstændig DMEM.
Tilsæt løsningen af ​​parasitter til HBEC-5i fad og inkuberes ved 37 ° C i 75min. Resuspender parasitter to gange (efter 30 og 60 min) under inkubationenved forsigtigt at rokke fadet i de fire retninger, samt med uret og mod uret.
Efter inkubation vaskes fadet 5 gange ved sugning medium, ved hjælp af en plastik Pasteur pipette for at tilføje 3 ml varm DMEM ufuldstændige medium, og blide vuggende. Hvis mange retter bliver brugt, holde dem på en varm overflade, såsom en stor flaske fyldt med vand ved 37 ° C.
Check fadet under et inverteret mikroskop. Hvis mange inficerede RBC er stadig synlige, gøre mere vasker som beskrevet ovenfor. Håndter petriskålen meget omhyggeligt for at undgå enhver risiko for forurening.
Fjern medie fra fadet og tilsæt 3 ml af varme RPMI komplette medium med 40μl hæmatokrit af frisk uRBC.
Sæt fadet i en lufttæt inkubere kammer, gas det i 3 min og sted kammeret i en inkubator ved 37 ° C natten over.
Dagen efter, høste parasitter ved vask med RPMI ufuldstændig medium, på samme måde som beskrevet i afsnit 4.4. men mere energisk. Keep alle medie, der anvendes (indeholdende resuspenderet RBC) i en 15ml konisk rør. Check under omvendt mikroskop, at alle RBC er blevet fjernet fra fadet.
Pelleter parasitter, Supernatanten fjernes, resuspender i 5ml RPMI komplette medium og læg blandingen i en kolbe for normal dyrkning.
5. Repræsentative resultater
Umarkerede parasitter viser et lavt niveau af binding til HBEC-5i (figur 3A). Således, efter første runde af valget, vil meget få parasitter høstes og det kan tage op til en måned med dyrkning at nå et parasitaemia tilstrækkelig til den anden runde af valget. Efter hver runde af valget, binde flere og flere parasitter til endotelceller og valgene kan gentages med kortere intervaller. Efter 4-5 runder af udvælgelse, er høj-bindende parasit befolkninger opnået (Figur 3).
I vores hænder, var bindingen af ​​HB3-HBEC til HBEC-5i eller TNF aktiveret HBEC-5i af simhuske at tage niveau (data ikke vist).
Protokollen beskrives her blev testet med 4 s. falciparum stammer: HB3, IT/FCR3, 3D7 og DD2 (Tabel 1). Kun sidstnævnte viste sig ikke i stand til at binde sig til HBEC-5i, selv efter 5 runder for udvælgelsen.
HB3 parasitter blev også udvalgt til cytoadherence til Human Dermal og pulmonal mikrovaskulære endotelceller (HDMEC og HPMEC). Efter 4 runder for udvælgelse, ved metoden beskrevet her, var en højt bindende befolkning opnået på både HDMEC og HPMEC (Figur 4).

Figur 1. Oversigt over udvælgelsesprocessen.

Figur 2. Udviklingsstadier af P. falciparum inficerede røde blodlegemer. Giemsa smøre visualiseret under mikroskop på 1000x forstørrelse.

Figur 3. Typisk eksempel parasitter binding til HBEC-5i. (A) Den blå lag er HBEC-5i fast med glutaraldehyd og farves med Giemsa, visualiseret under mikroskop på 1000x forstørrelse. Billeder blev taget, efter uRBC og ubundet iRBC blev skyllet væk. Det venstre panel viser et enkelt s. falciparum HB3 (umarkerede) parasit bundet til HBEC-5i. I højre panel af HB3-HBEC parasitter var blevet udvalgt i 5 runder. (B) Data repræsenterer gennemsnittet af to uafhængige forsøg, hver udført i to eksemplarer. Antallet af parasitter bundet pr endotelceller blev talt.

Tabel 1. Resumé af Plasmodium falciparum-stammer, som det lykkedes udvalgt til at binde sig til HBEC-5i. Bemærk, at HB3 også blev udvalgt på TNF-aktiverede HBEF-5i. Efter 5 runder af valg, viste DD2 stammen ingen stigning i binding til HBEC-5i forhold til umarkeret-DD2.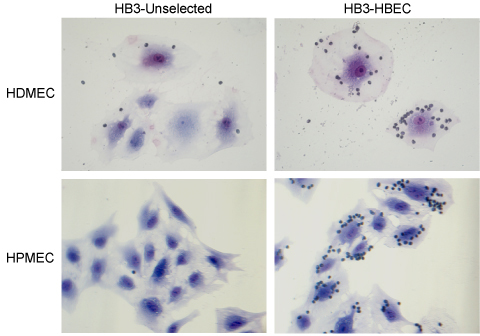 Figur 4. Binding af P. falciparum HB3 parasitter til dermal (HDMEC) og pulmonal (HPMEC) endotelceller, før og efter 4 runder for udvælgelsen. Selv om kulturen medium for HDMEC og HPMEC svagt anderledes (se leverandørens anvisninger), den protokol, der bruges til udvælgelse var identisk som med HBEC-5i. Billeder taget ved 400X forstørrelse.
| | | | |
| --- | --- | --- | --- |
| Navn på reagenset | Firma | Katalog nummer | Kommentarer |
| DMEM-F12 Ham | Sigma | D6421 | For DMEM komplette medium |
| L-glutamin 200mm | GIBCO | 25030 | For DMEM og RPMI komplette medium |
| Penicillin / streptomycin 100X (10000 enheder / ml og 10mg/ml) | ScienCell | 0503 | For DMEM komplette medium |
| Føtal Bovin Serum varmeinaktiveres | ScienCell | 0025 | For DMEM komplette medium |
| Trypsin-EDTA (0,025% trypsin, 0.5mm EDTA) | ScienCell | 0103 | |
| Endotel cellevækst supplement | ScienCell | 1052 | For DMEM komplette medium |
| Vævskultur behandlet 60 mm x 15 mm petriskåle | BD | 353002 | |
| Menneskelige Fibronektin | Millipore | FC010 | Brug ved 2 mg / cm 2 |
| TNF | R &D Systems | 210-TA | valgfrit, til 50 mg / ml |
| RPMI 1640 | Lonza | BE12-167F | For RPMI komplette medium |
| Gentamycin 50mg/ml | Lonza | 17-518Z | For RPMI komplette medium |
| HEPES 1M | Lonza | BE17-737E | For RPMI komplette medium |
| HDMEC | ScienCell | 2000 | Primær cellelinie |
| HPMEC | ScienCell | 3000 | Primær cellelinie |
| HBEC-5i | | | Stammer fra Francisco Candal (fcandal@cdc.gov) |
Tabel 2. Materialer
Discussion
Kendetegnet for cerebral malaria er binding af P. falciparum iRBC i hjernen microvasculature 2, 3. Men in vitro kulturer af P. falciparum kun dårligt cytoadhere til HBEC-5i, en model for den menneskelige hjerne microvascular endothelium. Her har vi udviklet en enkel assay at berige en befolkning for binding til HBEC-5i, en mere "in vivo-lignende" fænotype. Tre ud af 4 s. falciparum stammer blev med succes valgt at bruge denne metode. Endvidere blev HB3 også valgt på HDMEC og HPMEC, hvilket indikerer, at denne protokol kan bruges til forskellige parasit og endotelceller typer.
Forskellige hypoteser kan forklare den manglende bindende med DD2 stamme. Det mest sandsynlige er, at denne parasit linje er knobless, som dybt hindrer cytoadherence 13, 14.
Vi anbefaler dyrkning fravalgt parasitter sammen med udvælgelsen Proces at give en kontrol for sammenligning. Dette vil gøre det muligt for eksempel at sammenligne transkriptom af bindende og ikke-bindende parasitter, med håbet om at opdage parasitten ligand kandidater.
TNF er et cytokin findes på højt niveau i cerebral malaria patienter og har vist at inducere udtryk for mange overfladeproteiner af HBEC-5i (Claessens et al, i forberedelse og 8, 15, 16). I dette tilfælde, var mængden af ​​bundet iRBC lignende i normale HBEC-5i forhold til aktiverede HBEC-5i.
Denne "binding-modellen" kan også bruges til at studere de molekylære samspil mellem iRBC og endotelceller samt effekten af ​​formodede anti-cytoadherence narkotika. I dette tilfælde anbefaler vi plating HBEC-5i i mindre brønde, såsom "8-godt kammer slides" (BD 354628) eller "CultureWell" (Sigma C7735-20EA).
Disclosures
Vi har intet at afsløre.
Acknowledgments
Vi takker Francisco Candal, CDC Technology Transfer Office, Atlanta Georgia for HBEC-5i celler. Dette arbejde blev finansieret af Wellcome Trust (4 årige ph.d. studentship til AC og Senior Fellowship i Basic Biomedical Science til JAR, yde nummer 084226).