Cite this Article
Copy Citation | Download Citations

Claessens, A., Rowe, J. A. Selection of Plasmodium falciparum Parasites for Cytoadhesion to Human Brain Endothelial Cells. J. Vis. Exp. (59), e3122, doi:10.3791/3122 (2012).
Abstract
De fleste mennesker malaria dødsfall er forårsaket av blod-trinns Plasmodium falciparum parasitter. Cerebral malaria, den mest livstruende komplikasjon av sykdommen, er preget av en opphopning av Plasmodium falciparum infiserte røde blodceller (iRBC) på pigmentert trophozoite stadium i microvasculature av hjernen 2-4. Dette microvessel obstruksjon (deponering) fører til acidose, hypoksi og skadelige inflammatoriske cytokiner (anmeldt i 5). Deponering er også funnet i de fleste mikrovaskulær vev i menneskekroppen 2, 3. Den mekanismen som iRBC fester seg til blod fartøy vegger er fremdeles dårlig forstått.
Den udødeliggjort Human Brain mikrovaskulær endotelcelle line (HBEC-5i) har vært brukt som en in vitro modell av blod-hjerne barrieren 6. Men Plasmodium falciparum iRBC feste bare dårlig på HBEC-5i in vitro, i motsetning til den tette sequestration som oppstår i cerebral malaria tilfeller. Vi har derfor utviklet en panorering analysen å velge (berike) diverse P. falciparum-stammer for vedheft til HBEC-5i for å få bestander av high-binding parasitter, mer representativt for hva som skjer in vivo.
En prøve av en parasitt kultur (blanding av iRBC og friske RBC) på det pigmenterte trophozoite scenen er vasket og inkubert på et lag av HBEC-5i dyrket på en petriskål. Etter inkubasjon er fatet forsiktig vasket fri for uRBC og ubundet iRBC. Fresh uRBC legges til de få iRBC festet til HBEC-5i og inkubert over natten. Som schizont scenen parasitter briste, merozoites reinvade RBC og disse ring scenen parasittene er høstet påfølgende dag. Parasitter er dyrket fram nok materiale er oppnådd (vanligvis 2 til 4 uker) og en ny runde av utvalget kan utføres. Avhengig av P. falciparum belastning, 4-7 runder med utvelgelse er nødvendig for å få en befolkningder de fleste parasitter binder seg til HBEC-5i. Bindingen fenotypen er gradvis tapt etter noen uker, noe som indikerer en bryter i variant overflateantigen genekspresjon, og dermed regelmessige valg på HBEC-5i er nødvendig for å opprettholde fenotype.
I sammendraget, utviklet vi et utvalg analysen rendering P. falciparum-parasitter et mer "cerebral malaria lim" fenotype. Vi var i stand til å velge 3 av 4 P. falciparum-stammer på HBEC-5i. Denne analysen har også med hell blitt brukt til å velge parasitter for binding til menneskelig dermal og pulmonal endotelceller. Viktigere, kan denne metoden brukes til å velge vev-spesifikk parasitt populasjoner for å identifisere kandidat parasitt ligander for binding til hjernen endotelet. Videre kan denne analysen brukes til å screene for utlagde anti-håndtering narkotika 7.
Protocol
Generelle anbefalinger
Menneskelige hjerne mikrovaskulære endotelceller (HBEC-5i) kultur har tidligere blitt beskrevet i 6, 8. P. falciparum-parasitter ble dyrket som i 9. Både HBEC-5i og P. Falsiparumparasitten kulturer bør holdes i sterile forhold til alle tider. Alle reagenser skal forvarmes ved 37 ° C. Vi anbefaler å jevnlig sjekke for mycoplasma forurensning 10 ved PCR (Minevera Biolabs etter produsentens instruksjoner). Protokollen er oppsummert i figur 1.
1. Endotelcelle rutine kultur
Klargjør de nødvendige reagenser.
| | | |
| --- | --- | --- |
| Middels å forberede | Reagenser | Antall |
| "DMEM ufullstendig" | DMEM-F12 Ham | 500ml |
|   | L-glutamin 200MM | 5ml |
| | Penicillin / streptomycin 100X | 5 ml |
| | NaOH 1M | 1,3 ml (juster pH til 7,4) |
| "DMEM komplett" | "DMEM ufullstendig" | 450ML |
| | Føtal Bovine Serum varme-inaktivert | 50ml |
| | Endotelcelle vekst supplement | 5 ml |
Kultur HBEC-5i i en ventilert 25cm 2 flaske med 10ml DMEM komplett medium i en 37 ° C inkubator med 5% CO 2.
Passage celler når de blir confluent. Fjern det gamle mediet ved suging og vask to ganger med DMEM ufullstendig medium eller vev kultur grade PBS (Ca 2 + og Mg 2 + gratis) forvarmet til 37 ° C.
Legg til 1 ml forvarmet Prøvpsin-EDTA (0,025% Trypsin, 0.5mm EDTA), virvel for å dekke helheten av flaska og inkuber for ~ 2 min ved 37 ° C.
Sjekk under invertert mikroskop at minst 90% av cellene er blitt løsrevet. Hvis nødvendig, forsiktig banke bunnen av flaska for å fjerne tilhenger celler. Legg 10ml av DMEM komplett medium for å blokkere trypsin og overfør cellene til et 15ml konisk tube. Sentrifuger i 4 min ved 300 g ved romtemperatur (RT).
Kast supernatanten og resuspender pelleten med 10ml av DMEM komplett medium. Pipetter løsningen opp og ned å grundig resuspender cellene.
Tilsett 1 eller 2 ml av cellesuspensjonen inn i en ny kultur kolbe og tilsett 8ml av frisk medium å opprettholde kulturen. Vurdere kultur vekst hver dag under en invertert mikroskop og endre medium hver 2 eller 3 dager før den blir gul.
2. Forbereder endotelceller for et utvalg
To dager før dagen av selectio n, legger fibronektin fortynnet i sterile PBS (2 mikrogram / ​​cm 2) i ett (eller flere) 60 mm petriskål. Inkuber parabolen i 5 til 20 min ved 37 ° C, deretter fjerne fibronektin løsning, som kan lagres ved 4 ° C for en måned og gjenbrukt en gang.
Passage celler som beskrevet i avsnitt 1.3. til 1.5. Forutsatt 100% confluent celler ble frittliggende og resuspendert i 10ml DMEM komplett medium (pkt. 1.6., Resuspender med en tilsvarende mengde medium dersom confluency er lavere, f.eks resuspender med 8ml hvis confluency var 80%), legger 1.5ml av suspendert celler til fibronektin belagt petriskål og en annen 1.5ml av DMEM komplett medium.
Plasser seeded petriskål i kuvøse. Merk: Ideelt sett vil confluency være rundt 90% ved valget to dager senere.
Valgfritt. For å aktivere HBEC-5i, legger TNF (tumor nekrose faktor) cytokin med en endelig konsentrasjon på 50μg/ml 24 timer før valget.
e_title "> 3.
Plasmodium falciparum
rutine kultur
Klargjør de nødvendige reagenser (se tabellen her under). Forbered humane røde blodceller (RBC) ved å skille fullblod (gruppe O +) ved passering gjennom en leukocytt uttømming filter (se "Metoder i Malaria Research" publikasjon 11 for generell malaria parasitter dyrkning). Vask RBC to ganger ved sentrifugering på 400 g for 5 min og resuspending dem med 10 ml RPMI ufullstendig. Hold vasket RBC ved 4 ° C i ufullstendig medium på 50% hematokritt.
Middels å forberede
Reagenser
Antall
"RPMI ufullstendig"
RPMI 1640 (med bikarbonat)
500ml
Hepes 1M
12.5ml
Glukose 20%
5ml
L-glutamin 200MM
5ml
Gentamycin 50mg/ml
250μl
NaOH 1M
0,7 ml (juster pH til 7.2)
"RPMI komplett"
"RPMI ufullstendig"
450ML
Sammenslåtte human (non-immune) serum
50ml
Kultur P. falciparum smittet RBC med RPMI komplett medium på 2% hematokritt og inkuber ved 37 ° C med 3% CO 2, 1% O 2, og 96% N 2. Gjør Giemsa smear 11 daglig for å vurdere stadium i utviklingen av parasitter (Figur 2).
Regelmessig (ca en gang i uken) synkronisere kultur ved sorbitol behandling 12. Dagen før valget analysen, sikter for en ring-trinns kultur ved 5% parasittmengden eller mer (helst minst 10%).
Fire. Valg av P. falciparum for cytoadhesion til endotelceller
På dagen av analysen, bør parasitten kulturen være pigmentert trophozoite scenen (figur 2) (ideelt 10% parasittmengden), mens HBEC-5i kultur bør være 50 til 100% confluency (ideelt 90%). 30μl hematokrit av parasitt kultur er nødvendig per HBEC-5i petriskål.
Vask parasitter to ganger ved sentrifugering (500 g for 5 min) 1.5ml av parasitt kultur. Kast supernatant og resuspender med 10ml av nystekte, varme, DMEM ufullstendig medium. Gjenta vaske en gang til. Resuspender 30μl hematokrit med 1.5ml av DMEM ufullstendig med 1% BSA.
Vask HBEC-5i belagt petriskål dobbelt aspirere medium og legge 3ml av ufullstendig DMEM.
Legg til løsning av parasitter til HBEC-5i parabolen og Inkuber ved 37 ° C i 75min. Resuspender parasitter to ganger (etter 30 og 60 min) under inkuberingved å forsiktig rocking fatet i fire retninger, samt klokken og mot klokken.
Etter inkubasjon vaske fatet 5 ganger ved å aspirere medium, bruker en plast Pasteur pipette til å legge 3 ml varm DMEM ufullstendig medium, og milde rocking. Hvis mange retter blir brukt, holde dem på en varm overflate, for eksempel en stor flaske fylt med vann ved 37 ° C.
Sjekk fatet under en invertert mikroskop. Hvis mange friske RBC er fortsatt synlig, gjøre mer vasker som beskrevet ovenfor. Håndter petriskål svært nøye for å unngå enhver risiko for forurensning.
Fjern medium fra fatet og legg 3ml varmt RPMI komplett medium med 40μl hematokrit av fersk uRBC.
Sett fatet i en lufttett incubating kammer, gass det for 3 min og plassere kammer i en inkubator ved 37 ° C over natten.
Dagen etter, høste parasitter ved å vaske med RPMI ufullstendig medium, på samme måte som beskrevet i pkt. 4.4. men hardere. Keep alle medium som brukes (som inneholder resuspendert RBC) i en 15ml konisk tube. Sjekk under invertert mikroskop at alle RBC har blitt fjernet fra fatet.
Pellet parasittene, kast supernatanten, resuspender i 5ml RPMI komplett medium og legg blandingen i en flaske for normal dyrking.
5. Representant Resultater
Uselektert parasitter viser et lavt nivå av binding til HBEC-5i (figur 3A). Dermed etter den første runden av valget, vil svært få parasitter høstes og det kan ta opptil en måned av dyrking for å nå et parasittmengden tilstrekkelig for andre runde av valget. Etter hver runde med utvalg, flere og flere parasitter binde til endotelceller og valgene kan gjentas med kortere tidsintervaller. Etter 4-5 runder med valg, er høy-bindende parasitt populasjoner innhentet (figur 3).
I våre hender, var bindingen av HB3-HBEC til HBEC-5i eller TNF aktivert HBEC-5i av simlignende for nivå (data ikke vist).
Protokollen er beskrevet her ble testet med 4 P. falciparum stammer: HB3, IT/FCR3, 3D7 og DD2 (Tabell 1). Bare sistnevnte viste seg ikke i stand til å binde seg til HBEC-5i, selv etter 5 runder av utvalget.
HB3 parasitter ble også valgt for cytoadherence Human Dermal og Pulmonary mikrovaskulære endotelceller (HDMEC og HPMEC). Etter 4 runder med valg, ved hjelp av metoden beskrevet her, var en høy-bindende befolkningen innhentet på både HDMEC og HPMEC (figur 4).

Figur 1. Oversikt over utvelgelsesprosessen.

Figur 2. Utviklingsstadier av P. falciparum infiserte røde blodceller. Giemsa smear visualiseres under mikroskop på 1000x forstørrelse.

Figur 3. Typiske eksempel på parasitter binding til HBEC-5i. (A) Det blå laget er HBEC-5i fast med glutaraldehyd og farget med Giemsa, visualiseres under mikroskop på 1000x forstørrelse. Bilder ble tatt etter uRBC og ubundet iRBC var vasket bort. Det venstre panelet viser en enkelt P. falciparum HB3 (umerket) parasitt bundet til HBEC-5i. I høyre panel i HB3-HBEC parasitter hadde blitt valgt for 5 runder. (B) Data representerer gjennomsnittet av to uavhengige eksperimenter, hver utført i duplikat. Antall parasitter bundet per endotelcelle ble regnet.

Tabell 1. Oppsummering av Plasmodium falciparum stammer som var vellykket valgt for binding til HBEC-5i. Merk at HB3 ble også valgt på TNF-aktivert HBEC-5i. Etter 5 runder av utvalget, viste DD2 belastningen ingen økning i binding til HBEC-5i sammenlignet med umerket-DD2.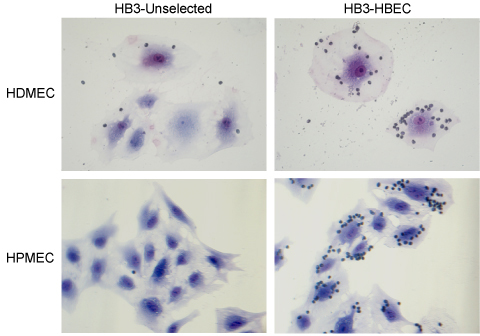 Figur 4. Binding av P. falciparum HB3 parasitter til dermal (HDMEC) og lunge (HPMEC) endotelceller, før og etter 4 runder av utvalget. Selv om kulturen medium for HDMEC og HPMEC litt forskjellig (se leverandørens anvisninger), ble protokollen som brukes for valg identiske som med HBEC-5i. Bilder tatt på 400x forstørrelse.
| | | | |
| --- | --- | --- | --- |
| Navn på reagens | Firma | Katalognummer | Kommentarer |
| DMEM-F12 Ham | Sigma | D6421 | For DMEM komplett medium |
| L-glutamin 200MM | GIBCO | 25030 | For DMEM og RPMI komplett medium |
| Penicillin / streptomycin 100X (10000 enheter / ml og 10mg/ml) | ScienCell | 0503 | For DMEM komplett medium |
| Føtal Bovine Serum varme-inaktivert | ScienCell | 0025 | For DMEM komplett medium |
| Trypsin-EDTA (0,025% Trypsin, 0.5mm EDTA) | ScienCell | 0103 | |
| Endotelcelle vekst supplement | ScienCell | 1052 | For DMEM komplett medium |
| Tissue kultur behandlet 60 mm X 15 mm petriskåler | BD | 353002 | |
| Menneskelig fibronektin | Millipore | FC010 | Bruk ved 2 mg / cm 2 |
| TNF | R &D Systems | 210-TA | valgfritt, bruk på 50 mikrogram / ml |
| RPMI 1640 | Lonza | BE12-167F | For RPMI komplett medium |
| Gentamycin 50mg/ml | Lonza | 17-518Z | For RPMI komplett medium |
| Hepes 1M | Lonza | BE17-737E | For RPMI komplett medium |
| HDMEC | ScienCell | 2000 | Primary cellelinje |
| HPMEC | ScienCell | 3000 | Primary cellelinje |
| HBEC-5i | | | Hentet fra Francisco Candal (fcandal@cdc.gov) |
Tabell 2. Materialer
Discussion
Kjennetegnet av cerebral malaria er lagring av P. falciparum iRBC i hjernen 2 microvasculature, 3. Men in vitro kulturer av P. falciparum bare dårlig cytoadhere til HBEC-5i, en modell for menneskelig hjerne mikrovaskulær endotelet. Her har vi utviklet en enkel analyse for å berike en befolkning for binding til HBEC-5i, en mer "in-vivo som" fenotype. Tre av fire P. falciparum-stammer var hell valgt å bruke denne metoden. Videre ble HB3 også valgt på HDMEC og HPMEC, noe som indikerer at denne protokollen kan brukes for ulike parasitten og endotelcelle typer.
Ulike hypoteser kan forklare den manglende binding med DD2 belastning. Det mest sannsynlige er at denne parasitten linjen er knobless, hindrer som dypt cytoadherence 13, 14.
Vi anbefaler dyrking umarkert parasitter langs utvalg prosessen for å gi en kontroll for sammenligning. Dette vil tillate, for eksempel sammenligne transkriptom av bindende og ikke-bindende parasitter, med håp om å oppdage parasitt ligand kandidater.
TNF er et cytokin funnet på høyt nivå i cerebral malaria pasienter og har blitt vist å indusere uttrykk for mange overflate proteiner av HBEC-5i (Claessens et al, i forberedelse og 8, 15, 16). I dette tilfellet var mengden bundet iRBC lignende i normal HBEC-5i sammenlignet med aktivert HBEC-5i.
Denne "deponering modellen" kan også brukes til å studere den molekylære interaksjonen mellom iRBC og endotelcelle, samt effekten av mulige anti-cytoadherence narkotika. I dette tilfellet anbefaler vi plating HBEC-5i i mindre brønner, slik som "8-brønn kammer slides" (BD 354 628) eller "CultureWell" (Sigma C7735-20EA).
Disclosures
Vi har ingenting å avsløre.
Acknowledgments
Vi takker Francisco Candal, CDC Technology Transfer Office, Atlanta Georgia for HBEC-5i celler. Dette arbeidet ble finansiert av Wellcome Trust (4 års PhD studentship til AC og Senior Fellowship i Basic Biomedical Science til JAR, gi nummer 084 226).