Summary
Primære hepatocytter give et værdifuldt redskab til at vurdere biokemiske, molekylære og metaboliske funktioner i et fysiologisk relevant eksperimentelt system. Vi beskriver en pålidelig protokol for rotten in situ lever perfusion, som konsekvent genererer levedygtige hepatocytter op to1.0 × 10
Abstract
Primær hepatocyt kultur er et værdifuldt værktøj, der er blevet flittigt brugt i grundforskning af leverfunktion, sygdom, patofysiologi, farmakologi og andre relaterede emner. Metoden er baseret på to-trins collagenaseperfusion til isolering af intakte hepatocytter blev først introduceret af Berry og Friend i 1969 1, og siden da har undergået mange ændringer. Den mest almindeligt anvendte teknik er beskrevet af Seglenin 1976 to. Væsentlige hepatocytter er adskilt fra anæsteserede voksne rotter af en ikke-recirkulerende collagenaseperfusion gennem portvenen. De isolerede celler blev derefter filtreret gennem en 100 um porestørrelse mesh nylonfilter og dyrket på plader. Efter 4 timers dyrkning, mediet erstattes med serumholdigt eller serumfrit medium, f.eks HepatoZYME-SFM, for yderligere tid til kulturen. Disse procedurer kræver kirurgiske og steril kultur skridt, der bedre kan påvises ved hjælp af video end tekst. HERE vi dokumentere de detaljerede trin for disse procedurer ved både video og skrevet protokol, der tillader ensartet i dannelsen af ​​levedygtige hepatocytter i stort antal.
Protocol
1. Forberedelse
Alle buffere er friskfremstillet ved hjælp af steril teknik og filtersteriliseres anvendelse af en Corning 0,22 um filter.
Forberede perfusionsbuffer I ved tilsætning af følgende til Hanks Balanced Salt Solution (HBSS uden Ca2 + og Mg2 +, se tabel 1): Mg2 + (MgCl2) til 0,9 mM, EDTA til 0,5 mM, og HEPES til 25 mM.
Forberede perfusionsbuffer II ved at tilsætte følgende til HBSS (med Ca2 + og Mg2 +, se tabel 1): HEPES til 25 mM.
Forbered perfusionspufferen II plus collagenaseII: Opløs kollagenase II (1000 U) med 300 ml perfusionspufferen II og holder den løsning, varme i vandbad før perfusion. Denne opløsning bør anvendes inden for 30 minutter, idet aktiviteten af ​​collagenase II faldt med tiden.
Forbered William fuldstændige Medium: Der tilføjes følgendetil Williams 'Medium E: L-glutamin til 2 mm, føtalt bovint serum (FBS) til 5%, insulin til 100 nM, dexamethason til 100 nm, penicillin til 100 IU / ml og streptomycin til 100 mg / ml.
Disse buffere bør opvarmes i 30 minutter i vandbad ved 42 ° C, en optimal temperatur, der svarer til en udløbstemperatur på kanylen på 37 ° C.
2. Rotte Perfusion for leveren Isolation
Perfusionen består af pumpen, autoklaverbart silastic-rør og et vandbad (se figur 1). Forudindstille strømningshastigheden af ​​den peristaltiske perfusion til 10 ml / min.
Bedøve en voksen rotte (300 g legemsvægt) med intraperitoneal (ip) ketamin (87 mg / kg legemsvægt) plus xylazin (13 mg / kg). Dybde af anæstesi skal overvåges ved tå knivspids. Når rotten ikke længere reagerer på skadelig stimulus, barbering abdominal hår og prep maven med betadin og ethanol. Ind gennem en midtlinjeincision.
Exposeportårevenen ved forsigtigt at bevæge organer til højre ydersiden af den abdominale kavitet, og indsætte en 18-gauge angiokateter i portårevenen (se figur 1).
Forbinde perfusatet slangen til nålen og initiere infusion in situ ved en lav strømningshastighed (10 ml / min) med forvarmet (37 ° C) perfusionsbuffer I.
Hvis udført korrekt, skal leveren øjeblikkeligt begynder at blancher. Når vellykket kanylering bekræftes, at lave et snit i vena cava inferior (IVC) for at tillade udstrømning (figur 1). En yderligere test for vellykket kanylering kan udføres ved at anvende et let tryk med steril vatpind på IVC, alle kamre af leveren bør hurtigt begynde at kvælde.
Forøge hastigheden af ​​strømningen til 25 ml / min. Leveren bør blive bleg i farven.
Skifte perfusionsopløsning til perfusionspufferen II plus collagenase II uden afbrydelse af strømmen i yderligere 6 minutter.
<li> periodisk (5-10 gange under fordøjelsen) lægge pres med vatpinden til IVC for 5-sekunders intervaller. Leveren vil kvælde, hvilket fører til forøget hepatisk celledissociering, hvilket igen reducerer total fordøjelse tid og øge den endelige udbytte.
Efter collagenaseperfusion bør leveren begynde at lede blød. Skær leveren fri, sted i en præ-afkølet sterilt bæger med 20 ml William fuldstændige Medium, og derefter tage det til væv cellekultur hætte.
3. Hepatocyt celleisolering
I cellekultur hætten, anvender en celleskraber til forsigtigt dispergere cellerne i Williams komplet medium i en steril petriskål.
Filtrere cellen dispersionen gennem en 100 um porestørrelse cellefilter i et 50 ml konisk rør med henblik på at fjerne bindevæv og ufordøjet vævsfragmenter.
Suspendere cellerne i 40 ml Williams komplet medium og centrifugeres ved 50 x g i 3 min ved 4 ° C.
Aspirer supernatanten, ogforsigtigt genopslæmmes celler i 40 ml kold Williams komplet medium til at vaske cellerne. Gentages centrifugering.
Aspirer supernatanten, og forsigtigt resuspendere cellerne med 25 ml Williams komplet medium. Tilsættes 25 ml 90% Percoll-opløsning i PBS i røret og forsigtigt blandes.
Centrifuger ved 200 xg i 10 minutter ved 4 ° C. Indsuges døde celler fra toppen af ​​gradienten, fordi de levedygtige celler forbliver ved bunden af ​​Percoll-gradient.
Suspendere cellepelleten i 30 ml varm Williams komplet medium og derefter gentage centrifugering og genopslæmmes cellepelleten i 20 ml varm Williams komplet medium.
Tæl cellerne i cellesuspensionen anvendelse af et hæmocytometer og bestemme cellelevedygtighed ved trypan blue-farvning.
4. Hepatocyt Kultur
Fortynd cellerne med varm Williams komplet medium til foretrukne koncentration, fx 2,5 x 10 5 celler / ml. Plade celler i et ønsket volumen på cellekulturplader, f.eks. 5 x 10 5 celler / 2 ml / brønd, 6 brønde / plade, eller 2,5 x 10 5 celler / 1,5 ml / brønd, 12 brønde / plade. Un-belagt plade er fint for hepatiske cellekulturer.
I et typisk præparativ med> 85% levedygtige celler skal celledensiteten når 60-70% konfluens, hvilket tillader celle-celle-kontakt, mens der opretholdes tilstrækkelig plads til hepatocytter til at vokse til fuld cellestørrelse og give en endelig sammenløb af 90-95%.
For at danne en jævn monolag af hepatocytter, med andre ord for at minimere tendensen til cellerne til at aggregere i det centrale område af brønden (sandsynligvis på grund af luft-strømmen inde i celleinkubator), tillader, at pladerne forbliver inde cellekulturen hætten i 30 minutter, før de bringes i en inkubator.
Dyrke cellerne ved 37 ° C i en befugtet atmosfære af 95% luft og 5% CO2. Efter 4 timer kultur, kan cellerne enten forblive i den samme serum-holdigt medium eller erstatte mediet med serum-fREE medium, f.eks HepatoZYME-SFM (se tabel 1). Serum-frit medium hjælper til at opretholde celle morfologi uden bivirkninger fra hormoner, når et serumfrit medium anvendes.
Tillader celler at genvinde og vokse mindst natten over forud for eksperimenteren. Vi anbefaler at bruge cellerne til test inden for 24 timer, da dette kan bidrage til at bevare funktionen af ​​kritiske enzymer (f.eks P450er).
Udskifte vækstmediet med 2 dages intervaller, hvis det er nødvendigt.
5. Repræsentative resultater
De beskrevne jævne generere celle høst på 1,0 x 10 8 celler pr forberedelsen fra en rottelever. Levedygtigheden af ​​hepatocytterne målt ved trypan blå eksklusion var konsekvent i området 88 ~ 96%.
Som afbildet i figur 2 hepatocytter aggregerer og danner klynger efter 4 timer podning. Mest isolerede celler flade og spredes i typiske monolayer vækst. Ved 24 timer, er kanterne af celler defineres overfladen af ​​celler er temmelig jævn og lipiddråber er synlige. Cellerne har et til tre nucleoli, som er runde, placeret i midten af cellerne, og kernerne displayet ensartet størrelse blandt celler (figur 2).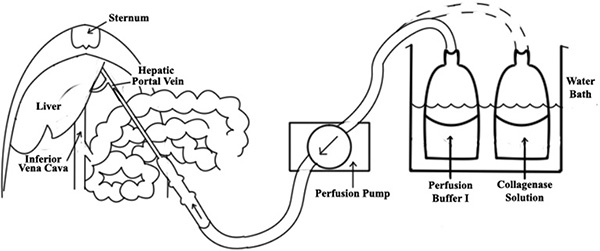 Figur 1. Et diagram af leveren perfusion. En 18-gauge angiokateter indsættes i den portale vene leveren, derefter en perfusatet rør er forbundet til nålen. Når vellykket kanylering er bekræftet, at en nedskæring på inferior vena cava (IVC) for at tillade udstrømning.

Figur 2. Morfologi af dyrkede hepatocytter over tid (4 time til 24 timer), forstørrelse x 200. Efter dyrkning i 24 timer, cellerne fordelt i typiske monolag vækst, og forbindelser mellem cellerne er lineær.
| | | |
| --- | --- | --- |
| Navn på reagenset | Firma | Katalog nr. |
| HBSS (uden Ca2 + og Mg2 +) | Invitrogen | 14174 |
| HBSS (med Ca2 + og Mg2 +) | Invitrogen | 14025 |
| Williams Medium E | Invitrogen | 12551-032 |
| Collegenase II | Worthington | LS004176 |
| Cellefilter (100 um) | BD | 352360 |
| HepatoZYME-SFM | Invitrogen | 17705 |
| Percoll | Sigma | P4937 |
| Angiokateter (18-gauge) | BD | 381705 |
Tabel 1.
Subscription Required. Please recommend JoVE to your librarian.
Discussion
Primær kultur af hepatocytter er en in vitro model er almindeligt anvendt til at undersøge forskellige aspekter af leveren fysiologi og patologi. For eksempel er den primære kultur anvendes til at vurdere ekspression og funktion af narkotika-enzymer, herunder cytochrom P450 og lægemiddelmetabolisme og lægemiddel-lægemiddelinteraktioner, og de ​​mekanismer cytotoksicitet og genotoksicitet 3-7. Protokollen beskriver isolering og dyrkning af rotte leverceller er tilpasset fra de tidligere rapporter Aiken et al. 8, og andre 2,9,10 med modifikationer. De beskrevne forhold konsekvent generere levedygtige hepatocytter op til 1,0 x 10 8 celler pr forberedelse med cellelevedygtigheden mellem 88 ~ 96%. Følgende er andre kritiske trin:
Som med enhver protokol beskriver cellekultur, er det mest kritiske aspekt at undgå forurening fra bakterielle eller fungale patogener ved hjælp af strenge aseptiske teknikker 11.
Desmosom, også kendt som macula adherens er en cellestruktur specialiseret for celle-til-celle-adhæsion. Integriteten af ​​desmosom kræver calcium, og det er opdelt efter EDTA og calcium-frie medier. Enzymerne collagenase kan dissociere desmosom, der fører til isolering leverceller. Derfor perfusion anvender Ca 2 +-frit medium og efterfølgende Ca 2 +-rigt medium indeholdende Ca2 +-afhængig collagenase, for fordøjelsen.
Passende kollagenase behandling er helt afgørende for hepatocyt forberedelse. Strømningshastigheden af Perfussion buffer II plus collegenase II bør holdes på 25 ml / min. Almindelige årsager til mislykket hepatocyt kultur omfatter: 1) dårlig celledissociering, hvilket kunne skyldes perfusion buffere utilstrækkeligt opvarmet til 37 ° C og / eller langsom perfusion hastighed, og 2) celledød, hvilket Could skyldes overdreven collagenase fordøjelse.
Vær forsigtig, når du skifter medierne efter den første 4-h kultur, da hepatocytter er stadig relativt skrøbelige og kan nemt blive beskadiget eller ødelagt ved direkte kontakt; pipette kun ned langs siden af ​​brønden, og aldrig direkte på toppen af ​​cellerne.
Subscription Required. Please recommend JoVE to your librarian.
Disclosures
Ingen interessekonflikter erklæret.
Acknowledgments
Forfatterne vil gerne takke hr. Josh Basford og Dr. Xiao-min Li til teknisk bistand. Dette arbejde blev delvist støttet af NIH tilskud (DK70992 og DK92779 til ML).