Summary
Minimalt invasiv kirurgisk (MIS) procedurer er afhængige af anatomiske referencer til at lokalisere strukturer ikke direkte synlige for kirurgen. Dette manuskript beskriver en kombineret metode af flyet ved fly dissektion og tværsnit anatomi af frisk frosset prøver at finde strukturer i fare under MIS procedurer.
Cite this Article
Copy Citation | Download Citations | Reprints and Permissions

Dalmau-Pastor, M., Vega, J., Malagelada, F., Peña, F., Manzanares-Céspedes, M. C. An Anatomical Study of Nerves at Risk During Minimally Invasive Hallux Valgus Surgery. J. Vis. Exp. (132), e56232, doi:10.3791/56232 (2018).
Abstract
Den stigende popularitet af minimalt invasiv kirurgisk (MIS) procedurer gør det nødvendigt, at nye anatomiske referencer opstår, for at støtte i tridimensional retning og lokalisering af strukturer, der ikke er direkte synlige for kirurgen. Dette er især afgørende for strukturer i fare som nerver og blodkar. Optimering af håndteringen af dødt materiale og kombinationen af flere teknikker kompensere for de begrænsede mængder af passende prøver. Den beskrevne protokol kombinerer anatomisk flyet ved fly dissektion og tværsnit anatomi af frisk frosset prøver at hjælpe med at lokalisere relevante strukturer, såsom nerver, arterier, vener og til korrekt position portalerne under MIS procedurer. Skildringen af disse strukturer i anatomi lærebøger kan afvige fra hvad er stødt på i feltet kirurgisk; og af denne grund, nye anatomiske undersøgelser med en kirurgisk orientering er nødvendige. Dette er imidlertid en kompleks og tidskrævende teknik kræver særlig uddannelse. De anatomiske referencer beskrevet med de såkaldte 'ur metode' giver kirurgen med en let og reproducerbare system for at finde sti af nerverne i fare i Hallux Valgus MIS procedurer. Denne model kan ekstrapoleres til mange andre minimalt invasive kirurgiske procedurer.
Introduction
Hallux valgus er en fælles patologi påvirker den første tå, som den proksimale falanks afveg sideværts, mens den første metatarsal er afveget medialt1. Perkutan eller minimalt invasiv kirurgisk (MIS) teknikker for hallux valgus var blandt de første, der er beskrevet i denne disciplin, og talrige undersøgelser rapporterer deres fordele, men også deres risici2. Hallux Valgus MIS korrektion indebærer osteotomier udføres gennem små indsnit ved hjælp af specifikke kirurgiske instrumenter. Givet at åbne dissektioner udføres ikke, risikoen for skader på neurovaskulære strukturer er højere end når disse identificeres under åben kirurgi. Også, som i enhver kirurgisk procedure, positionering af patienten og kirurgen omkring operationsbordet er langt fra den anatomiske holdning afbildet i klassiske anatomiske bøger eller papirer.
De neurologiske strukturer i fare under Hallux Valgus kirurgi er dorsomedial nerven af storetåen, grenen af den overfladiske peroneal nerve og dorsolateral nerve af storetåen, gren af den dybe peroneal nerve. Formålet med denne undersøgelse er at beskrive placeringen af disse nerver med hensyn til snit anvendt i hallux kirurgi og illustrere det med en ny metode, der er let at reproducere i kirurgisk betingelser. Desuden er en sikker portal for brug af perkutan instrumenter beskrevet.
En grundig anatomiske viden er afgørende i enhver kirurgisk område, især i løbet af minimalt invasive procedurer. Udviklingen af nye kirurgiske og billedbehandling teknikker kræver en ny forståelse af både den bi-dimensionel og tri-dimensionelle placeringen af anatomiske landemærker. Tidligere rapporteret anatomiske dissektion teknikker blev udviklet af vores team for at overvinde begrænsningerne af den klassiske dissektion teknikker3,4,5,6 og her anvendes for at reproducere hud indsnit og instrument post portaler svarende til de MIS, der anvendes til behandling af hallux valgus (HV) og rigidus (HR) patologi. Metoden gælder således for de kirurgiske teknikker, der udviklede sig fra traditionelle åben kirurgi til MIS3,4,5,6.
Subscription Required. Please recommend JoVE to your librarian.
Protocol
Denne undersøgelse blev godkendt af det institutionelle etiske udvalg (Comissió de Bioètica, UB). Dissektion procedurer blev udført af en erfaren anatom, specielt uddannet i flyet ved fly dissektion teknik. Dette er en væsentlig forudsætning at sikre et vellykket resultat af forsøget.
1. forberedelse
Vælg enhederne, der skal indgå i undersøgelsen. Bruge nedenfor knæet dødt frisk frosset menneskers fødder.

Udelukke følgende: enhver form for misdannelser i ben, ankel eller fod (som dette kunne påvirke løbet af nerver og i sidste ende påvirke resultaterne af undersøgelsen), sår, ar eller indlysende tegn på tidligere kirurgiske procedurer eller enhver anden betingelse, der kunne vanskeligt lokalisering af nerver.

Vælg ti uparret fødder (fem venstre og fem ret, amputeret på niveau med den distale tibia), fra kaukasiske frisk frosset ikke exsanguinated enhederne; modellerne inkluderet 5 mænd og 5 kvinder med en median alder af 80 (range, 53-95) år.
Afrimning enhederne ved optøning dem i stuetemperatur vand fra hanen i 6-8 timer. Brug ikke varmt vand, da det kan ændre egenskaberne for modellerne.
Forberede feltet dissektion. Placere modellen på en ikke-steril kirurgiske drapere på tabellen dissektion. Placer modellen i en stabil stilling, der giver en behagelig adgang til området dissektion; Brug fortrinsvis, en støtte, der tillader modellen skal flyttes efter behov.
Forberede dissektion instrumenter skal anvendes sammen med nogle gaze puder for at rengøre området under dissektion proces.
2. dissektion
Med en skalpel, incise kun huden for at oprette et vindue på ca 20 cm x 5 cm på den mediale del af foden, orienteret på langs. Start 15 cm proksimalt for den første metatarso-phalangeal fælles, og slut 5 cm distalt, ca.

Dissekere huden uden at forstyrre det subkutane væv og undgå enhver fordrivelse af de nervøse strukturer. Bruge friske skalpel vinger til hvert fly.
Udføre snit med forkant af skalpel vender ud og ikke står over for modellen. Dette følger en af principperne om et fly af flyet anatomiske dissektion af huden. Bruge tandede pincet i dette trin til tæt hold huden.

Fjerne den hud, der dækker området vindue. Bruge gaze til at rydde feltet dissekere, hvis nødvendigt.
Udføre en omhyggelig dissektion af det subkutane væv til at identificere dorsomedial og dorsolateral nerver af den første tå. Brug ikke-tandede pincet og nye skalpel vinger for at undgå at beskadige strukturer opstod. Iris saks og periosteotome er nyttigt at fremskridt i dissektion af området hvor nerverne findes (men er stadig ikke synlig), da de giver mulighed for en mindre aggressiv dissektion og forebygge skader på nerverne.
Dissekere i den proksimale del af vinduet, for at undgå utilsigtet skære nerver. Identificere nerverne uden afmontering fra den ringere del af det subkutane væv forhindre fortrængning. Når hver nerve er identificeret, dissekere gennem sin kurs indtil den første metatarso-phalangeal fælles.
Fiksere nerver i sin oprindelige holdning med hensyn til den første metatarso-phalangeal fælles, med en nål, der vil gennembore både nerve og den første metatarsofalangealled fælles linje.
Udføre manuel trækkraft af de første tå, så placeringen på den fælles linje er gjort tydeligt mellem chefen for den første metatarsal og bunden af den proksimale falanks af de første tå. Nålen skal punktere nerven først og derefter indføres i den metatarso-phalangeal fælles. Dette trin sikrer, at nerve med hensyn til fælles holdning vil være stabil i hele undersøgelsen.
3. indefrysningen
Beskytte hver prøve med bobleplast og selvklæbende tape, for at undgå kolde afbrænding. Passe under indpakningen processen ikke at flytte Nålene holder nerverne.
Tag hver prøve korrekt.
Indføre enhederne i fryseren mellem-17 ° C og -20 ° C.
Vent i mindst 6 timer (eller natten) for prøver at fryse før du udfører det næste trin i protokollen.
4. savning
Kontrollere savning udstyr. Bruge en diamant sav med vandkølingssystem.
Forberede feltet arbejde hvor modellerne vil blive manipuleret efter afsnittet.
Åbne vandflow og starte Båndsavens rotation. Juster hastigheden på skæring af saven og vandgennemstrømningen til køling.
Når frosne, Placer modellen i saw bestyrelsen. Justere linjen skæring 1 cm posteriort for den metatarso-phalangeal fælles, da dette er det punkt, hvor de relevante kirurgiske snit er placeret. Udføre afsnittet umiddelbart efter prøven er fjernet fra fryseren til at undgå optøning.
Indstille vandmængden til et minimum for at beskytte modellen fra afbrænding på grund af friktion af Båndsavens, samtidig undgå optøning prøvemateriale ved vand og enhver senere ændring af de anatomiske strukturer.
Når den første del er færdig, kassere den forreste blok af prøven (der indeholder tæerne).
Udføre en anden sektion. Fyldes et parallelt snit, 1 cm posterior til den første, for at opnå en 1 cm tykke blok. Dette er den standard tykkelse, da tyndere sektioner kan forårsage strukturer til at flytte fra deres oprindelige sti.
Kassér resten af modellen eller gemme til yderligere undersøgelser. Modellerne kan genindfrosset eller fast ved nedsænkning i Fikseringsvæske løsninger.
5. målinger
Placer sektioneret blokken fladt på tabellen arbejde og vinkelmåleren fladt på overfladen af skåret modellen.
Brug en standard goniometer med sin center er beliggende i centrum af den første metatarsal diaphysis. Placer en akse på den mediale kant af extensor digitorum longus senen, dorsalt.
Måle placeringen af dorsomedial og dorsolateral nerver af den første tå ved hjælp af goniometer anden akse.
Ekstrapolere målinger til et ur model, hvor kuglen er omridset af den første metatarsal diaphysis.
Subscription Required. Please recommend JoVE to your librarian.
Representative Results
Ved hjælp af metoden ur, var dorsomedial og dorsolateral nerver konsekvent fundet mellem 10 og 2 klokken (figur 1). Dorsomedial nerven blev fundet på et gennemsnit af 26,2 ° mediale til den mediale kant af EHL, hvilket svarer til en zone mellem 12 og 2 klokken i en højre fod og mellem 10 og 12 klokken i en venstre fod. Den dorsolateral nerve var 32,3 ° lateral til den mediale kant af EHL i gennemsnit, hvilket svarer til en zone mellem 12 og 2 klokken i en venstre fod og mellem 10 og 12 klokken i en højre fod.
Figur 2 viser den typiske fordeling af dorsomedial og dorsolateral nerver som afsløret ved anatomiske flyet ved fly dissektion.

Figur 1 : Frontal grænseoverskridende afsnit af en højre fod viser placeringen af den dorsomedial nerve (1) og dorsolateral nerve (2). En ur kugle har været overlejret på de første metatarsal hovedet. To spidser pile viser det område, hvor nerverne er blevet fundet for at være i denne undersøgelse. Venligst klik her for at se en større version af dette tal.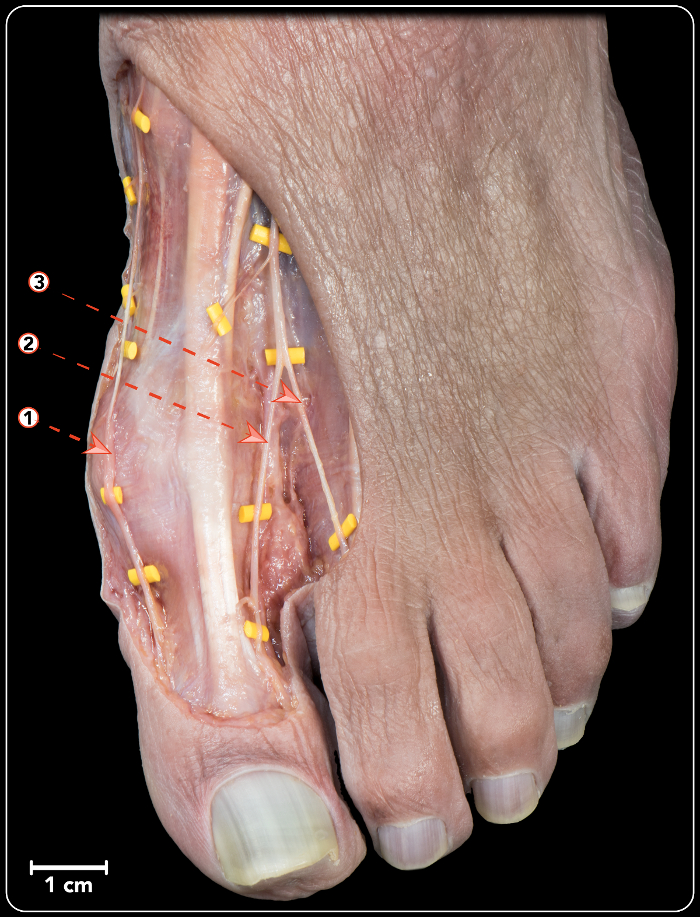 Figur 2 : Anatomisk fly pr. fly dissektion (dorsale udsigt af en fod) viser den typiske fordeling af dorsomedial og dorsolateral nerver, som er blevet fundet i denne undersøgelse. 1. Dorsomedial nerve i den første tå. 2. dorsolateral nerve i den første tå. 3. Dorsomedial nerve i den anden tå. Venligst klik her for at se en større version af dette tal.
Subscription Required. Please recommend JoVE to your librarian.
Discussion
Grundlaget for metoden anvendt i denne undersøgelse er en kombination af tværsnit anatomi og anatomiske flyet ved fly dissektion, som det har været praktiseret historisk7. Dette kræver ikke kun anatomiske viden, men også specifik uddannelse for hvad er en tid-krævende teknik, der er stærkt afhængig af dissector færdigheder. Derfor nogle anatomiske billeder i anatomiske lærebøger eller videnskabelige afhandlinger, især inden for ortopædisk kirurgi, manglende nøjagtighed og er ikke lærerigt nok at være nyttig for kirurgen udfører banebrydende teknikker, som minimalt invasive procedurer. Derfor er det blevet foreslået i litteraturen, at anatomiske undersøgelser bør udføres med et tæt samarbejde mellem eksperter, kirurger og tærede8.
Anvendelse af frisk frosset prøvemateriale er afgørende for at opnå pålidelige anatomiske resultater, især når man studerer overfladiske strukturer som nerver. Brugen af fikseret prøver producerer ofte ændringer i mængde og placering af de anatomiske strukturer. Ligeledes, nerve- og vaskulære strukturer er modtagelige for deplacement under håndteringen på tidspunktet for dissektion. Derfor har vi medtaget tre kritiske trin i vores teknik til at sikre, at nerverne ikke forskydes: dissektion udført i undersøgelsen påvirker ikke det subkutane væv, nerverne er rettet med intra-artikulær nåle på først metatarsofalangealled fælles og prøver er frosset før savning processen.
Optøning af prøverne kunne føre til fortrængning af relevante anatomiske strukturer, således behovet for omhyggelig forberedelse og indefrysning af prøverne. Tidligere forberedelse og montering af skæring materiale er vigtigt at opnå pålidelige foranstaltninger.
En af de mulige begrænsninger af denne teknik opstår når den frækhed at blive undersøgt ikke er i nærheden af en fælles, der vil udelukke fiksering af nerven med en nål. Brug af en vaskulær mærkning teknik kunne afhjælpe dette problem, som vaskulære strukturer er i de fleste tilfælde parallelt med nerver9.
Et stigende antal kirurgiske procedurer udføres i dag af minimalt invasive metoder, hvor neurologiske strukturer ikke er direkte visualiseret2,3. I disse tilfælde er tredimensionale orientering altafgørende for kirurgen. Anatomiske referencer med metoden ur giver kirurgen med en let og reproducerbare system for at finde nerve holdning i forbindelse med kirurgiske snit for Hallux Valgus minimalt Invasive procedurer.
Denne teknik, der kombinerer flyet ved fly dissektion og tværsnit anatomi i frisk frosset prøvemateriale har held været anvendt til at vejlede de nyeste minimalt invasive kirurgiske procedurer3,4, anatomiske 10,11.
Subscription Required. Please recommend JoVE to your librarian.
Disclosures
Forfatterne har ikke konkurrerer finansielle interesser vedrører eller påvirker denne undersøgelse.
Acknowledgments
Vi vil gerne takke det tekniske personale af dissekere rummet i Bellvitge Campus i University of Barcelona for deres dygtige bistand. Vi takker den audiovisuelle Institut for deres arbejde med video inkluderet som en del af denne publikation. Vi takker krop donorer af det medicinske fakultet på universitetet i Barcelona.
Materials
| | | | |
| --- | --- | --- | --- |
| Name | Company | Catalog Number | Comments |
| Adson Non-Toothed dissection forceps | Bontempi | BD-31 | |
| Adson Toothed dissection forceps | Bontempi | BD-30 | |
| Surgical scalpel handle nº 4 | Swann-Morton | 4 | |
| Surgical scalpel blades nº 24 | Swann-Morton | 24 | Ad libitum |
| Iris scissors- curved | Bontempi | FG-2 | |
| Periostotome P-24 | Bontempi | 718-24G | |
| Intramuscular 23G sterile needles | Totclinic | 23 | Ad libitum |
| Goniometer | | | |
| Latex gloves | | | Ad libitum |
| Gauze pads | | | Ad libitum |
| Non-Sterile surgical drape | | | |
| Saw | EXAKT Advanced Technologies GmbH | EXAKT 312 Pathology Saw | |