Overview
Fruktfluer har et komplekst olfaktorisk system, kan diskriminere hundrevis av luktstoffer og bruke luktesansen til å lede atferdsbeslutninger. Denne videoen beskriver den fireveis olfactometeranalysen, en metode for å studere olfaktoriske atferdsresponser hos fluer. Det utvalgte protokollklippet viser hvordan du håndterer testfluer og hva som er kritiske trinn mens du utfører analysen.
Protocol
Denne protokollen er et utdrag fra Lin et al., Olfactory Behaviors Assayed by Computer Tracking Of Drosophila in a Four-quadrant Olfactometer, J. Vis. Exp. (2016).
1. Atferdsrespons på attraktive og avstøtende luktstoffer
Slå på temperaturregulatoren og sett den på 25 °C.
Koble luktkamrene (kontroll og test luktstoffer) ved å sette slangen inn i utløpet av luktkammeret og til push-to-connect-beslaget på atferdsboksen.
Kontroller strømningshastigheten i hver kvadrant ved å bruke luftstrømsmåleren for å sikre at kontroll- og luktluftstrømmene er lik 100 ml/min.
Rengjør PTFE flyarenaen og glassplatene med 70% etanol 2-3 ganger og la dem lufttørke fullt ut (~ 3-4 min).
Fest glassplatene til arenaen med klemmer.
Overfør fluer uten CO2 anestesi inn i arenaen gjennom hullet i en av glassplatene. Etter overføringen legger du et sirkulært nett på hullet for å forhindre at fluer unnslipper.
MERK: CO2 anestesi har vist seg å påvirke Drosophila oppførsel og bør ikke brukes innen 24 timer etter et atferdseksperiment.
Plasser arenaen med fluer inn i det lyse tette kammeret, koble de fire kontrollluftstrømmene ved å koble slangen festet til push-to-connect-beslaget på atferdsboksen til arenahjørnene, lukk døren til kammeret og vent 10-15 min for å la fluene akklimatisere seg til det nye miljøet. Hvis det er mulig, slå av lysene i rommet der forsøkene utføres, for å unngå mulig minimal lyslekkasje som kan påvirke det eksperimentelle utfallet.
Kjør et 5-10 min kontrolleksperiment, der fluer blir utsatt for 4 kontrollluftstrømmer.
Analyser dataene umiddelbart (se Dataanalyse-delen nedenfor) for å sikre at fluene fordeles jevnt i arenaen, og attraksjonsindeksen er nær 0. Dette trinnet er viktig, da det bekrefter at det ikke er noen ukontrollerte kilder til preferanse eller unngåelse i arenaen (f.eks. lyslekkasje fra utsiden, ujevn temperaturfordeling, ujevn arena, luktforurensning, etc.). Hvis fluene fordeles ulikt eller deres lokomotoriske aktivitet er lav, kast fluene, rengjør arenaen igjen (trinn 1.4) og bruk en ny gruppe fluer for å gjenta eksperimentet.
Koble testluktantkammeret til oppsettet ved å slå på 3-veisventilene eller koble kontaktrørene på nytt.
Kjør testeksperiment i 5-10 min og analyser dataene som beskrevet i avsnitt 2 nedenfor (Figur 1). Opptak som er lengre enn 20 minutter, kan føre til datafiler som kan være vanskelige å behandle. Hvis det ønskes lengre eksperimentelle opptak, stopper du raskt og starter sporingsprogrammet på nytt. Dette resulterer i et gap på ~ 10 sek mellom eksperimentelle opptak.
Kast fluer.
Rengjør arena- og glassplatene med 70 % etanol (trinn 1.4) og skift ut koblingsrørene i det lyse tette kabinettet. For å fremskynde eksperimenter kan en ny ren arena brukes, og den skitne arenaen rengjøres mens du utfører eksperimentelle løp.
Kjør et nytt eksperiment med en ny gruppe fluer, om nødvendig. Hvis flere eksperimenter kjøres på samme dag, må du være svært forsiktig med å sikre at det ikke blir igjen lukt i systemet fra en tidligere testkjøring. Dette er normalt ikke et problem med lave konsentrasjoner av luktstoffer eller med CO2, men for svært konsentrerte stimuli opptil 24 timers gap mellom eksperimentelle løp kan det være nødvendig. I tillegg kan alle slanger etter strømningsrørene byttes ut hvis luktforurensning mistenkes under kontrollforsøk. La alltid den tørre luften stå på mellom forsøkene for å skylle systemet kontinuerlig.
2. Dataanalyse
MERK: Den foreslåtte programvaren for flysporingsanskaffelse (beskrevet i Materialer), sporer fluer i sanntid under oppkjøpet, og sparer tidsstempel og koordinater for alle oppdagede fluer i * .dat format. Vi har utviklet en skreddersydd Matlab-rutine for å konvertere dataene til et Matlab-format, og for å analysere dataene. Kodeeksempler er gitt i tilleggsmaterialer, men detaljer om implementering vil avhenge av programvaren som brukes til datainnsamling.
Last inn rådataene. Opprett en romlig maske som følger konturene av arenaen, og bruk masken på rådataene for å fjerne alle datapunkter som faller utenfor arenaen når de representerer støy (Figur 2A, EkstrakodemaskeSpatialFiltering.m, Resultat.m, DrawCircMaskular.m).
Fjern alle datapunkter som beveger seg med en hastighet under 0,163 cm/s lenger enn 3, da disse dataene sannsynligvis vil være støy eller generert av fluer som ikke beveger seg (Figur 2B, Tilleggskode TemporalFiltrering.m).
Visualiser gjenværende datapunkter ved å plotte dem ut på en gang eller som enkeltbaner (Figur 1, Tilleggskode SingleTrajectoryViewer.m).
MERK: Plasseringen av luktgrenser i firefeltet avhenger sannsynligvis av en rekke faktorer, for eksempel egenskapene til hvert luktstoff og luftstrømmen som brukes. For eksempel vil svært flyktige luktstoffer sannsynligvis fylle luktkvadranten mer fullstendig enn mindre flyktige luktstoffer. Dermed er det sannsynlig at hver luktkant kan vise litt forskjellige luktgrenser. Bruken av en fotoioniseringsdetektor for å måle luktgrenser kan være problematisk da den bruker et vakuum for å prøve luft fra et bestemt sted, og forstyrrer luktkonsentrasjonen på det stedet. Likevel kan luktgrenser raskt estimeres basert på flyadferdsdata. For eksempel kan en luktgrense basert på kumulerte flyspor som svar på forskjellige lukt, tydelig observeres i figur 1C og 1D.
Beregn en tiltrekningsindeks for å avgjøre om kontrolleksperimenter ikke genererer noen preferanserespons, og også for å få tilgang til responsen på en lukt (eller optogenetisk) stimulans. Hvis du vil beregne en tiltrekningsindeks (AI), bruker du de siste 5 min av en kontroll eller testregistrering. For å oppnå et mål på tiltrekning som faller mellom +1 (absolutt tiltrekning) og -1 (absolutt frastøtelse), brukes følgende formel til å beregne AI:

der N-test er antall datapunkter i testkvadranten, er N-kontroll gjennomsnittlig antall datapunkter i de tre kontrollkvadrantene. Dette tiltaket er intuitivt, da ingen preferanser vil bli indikert med nesten null verdier. Det indikerer imidlertid ikke riktig andelen av det totale antall fluer som ligger i den luktende kvadranten. For å oppnå dette målet kan en prosentindeks (PI) brukes:

der N-test er antall datapunkter i testkvadranten, og Ntotalt er det totale antallet datapunkter i alle fire kvadrantene. Denne formelen gir et mål som faller mellom 0 og 1, med 0,25 som tilsvarer ingen atferdsmessig preferanse (Figur 1E og 2C, Tilleggskode AttractionIndex.m).
Kjør 5-10 repetisjoner av hver eksperimentelle tilstand, ved hjelp av en ny gruppe fluer for hver repetisjon. Sammenlign tiltrekningsindeksene mellom betingelser eller kontroller ved hjelp av kolmogorov-Smirnov ikke-parametrisk test (Figur 1F, kstest2-funksjonen i Matlab).
Subscription Required. Please recommend JoVE to your librarian.
Representative Results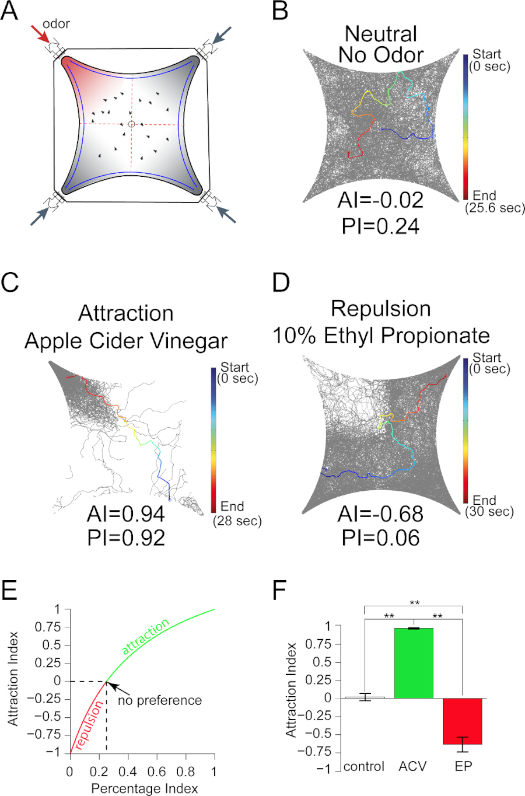 Figur 1: Eksempeldata generert ved hjelp av en olfaktorisk analyse med fire felt. (A) Skjematisk for firefeltsarenaen. (B) Nøytrale reaksjoner observeres når alle fire kvadrantene bare inneholder tørrluftperfusjon. (C) Tiltrekning svar på en 6,25% fortynning av eple cider eddik perfused fra venstre øvre kvadrant. (D) Avstøtningsvirkemåter utløst av 10 % etylprofionat. I figur 2B-2D plottes en enkelt bane fra de innhentede dataene. En fargegradient brukes til å betegne tidsforløpet for opptak, med henholdsvis blå og røde farger som start og slutt på innspillinger. (E) Sammenligning av attraksjonsindeksen (AI) og prosentindeksen (PI). (F) Gjennomsnittlig AI-er med 3-6 eksperimenter uten lukt (Kontroll), Apple Cider Eddik (ACV) og 10% Ethyl Propionate (EP). Feilfelt indikerer SEM. Statistisk forskjell ble evaluert av Kolmogorov-Smirnov-testen. Klikk her for å se en større versjon av denne figuren.

Figur 2: Eksempeldata generert av dataanalysetrinnene. (A) Romlig filtrering av dataene, utført av MaskSpatialFiltering.m for å fjerne datapunkter som faller utenfor arenaen. Røde sirkler viser innledende posisjoner for sirklene som brukes til å definere grensene til arenaen. Svarte sirkler er de endelige posisjonene, oppnådd ved å tilpasse sirkelomrissene til dataene (grått skyggelagt område inne i firefeltet). Røde prikker og svarte pilspisser angir datapunkt som vil bli fjernet fra datasettet etter dette filtreringstrinnet. (B) Tidsfiltrering av data, utført av TemporalFiltering.m. Dette filtreringstrinnet fjerner datapunkter som beveger seg veldig sakte eller ikke i det hele tatt, da de sannsynligvis vil bli generert av ikke-bevegelige fluer eller av smuss / refleksjoner fra arenaen. En rød prikk omgitt av en stiplet rød boks angir plasseringen av ~6 000 datapunkt med identiske koordinater som vil bli fjernet av dette filtreringstrinnet. (C) Attraksjonsindeks (AI) og prosentindeks (PI), beregnet i 10-sekunders intervaller i løpet av de siste 5 minutter av et eksperiment av AttractionIndex.m. Temporale profiler av disse indeksene inneholder informasjon om dynamikken i atferdsresponser og kan brukes til detaljert analyse av atferd. Klikk her for å se en større versjon av denne figuren.
Tilleggskodefil. Klikk her for å vise denne filen (Høyreklikk for å laste ned).
Subscription Required. Please recommend JoVE to your librarian.
Materials
| | | | |
| --- | --- | --- | --- |
| Name | Company | Catalog Number | Comments |
| Air delivery system | | | (Quantity needed) |
| Tubing and connectors | | | |
| Thermoplastic NPT(F) Manifolds | Cole-Parmer, IL, USA | R-31522-31 | 1 |
| Hex reducing nipple (1/4MNPT->1/8MNPT) | McMaster-Carr, IL, USA | 5232T314 | 1 |
| Tubing (ID:1/8) | McMaster-Carr, IL, USA | 5108K43 | 50 Ft |
| Tubing (ID:1/16) | McMaster-Carr, IL, USA | 52355K41 | 100 Ft |
| Barbed tube fittings | McMaster-Carr, IL, USA | 5117K71 | 1 pack |
| Push-to-connect tube fittings | McMaster-Carr, IL, USA | 5779K102 | 4 |
| Barbed Tube Fittings (1/4MNPT->1/8BF) | McMaster-Carr, IL, USA | 5463K439 | 1 pack (10) |
| Barbed Tube Fittings (1/8MNPT->1/8BF) | McMaster-Carr, IL, USA | 5463K438 | 2 pack (10) |
| Barbed Tube Fittings (1/8MNPT->1/16BF) | McMaster-Carr, IL, USA | 5463K4 | 2 pack (10) |
| Barbed Tube Fittings (1/4MNPT->1/4BF) | McMaster-Carr, IL, USA | 5670K84 | 1 |
| Hex head plug | McMaster-Carr, IL, USA | 48335K152 | 1 |
| Air pressure regulator, air filter and flowmeters | | | (Quantity needed) |
| Labatory gas drying unit | W A HAMMOND DRIERITE CO LTD, OH, USA | Model: L68-NP-303; stock #26840 | 1 |
| Multitube frames for 150 mm flowtubes | Cole-Parmer, IL, USA | R03215-30 | 1 |
| Multitube frames for 150 mm flowtubes | Cole-Parmer, IL, USA | R03215-76 | 1 |
| 150 mm flowtubes | Cole-Parmer, IL, USA | R-03217-15 | 9 |
| Valve Cartridge | Cole-Parmer, IL, USA | R-03218-72 | 9 |
| Precision Air regulator | McMaster-Carr, IL, USA | 6162K13 | 1 |
| Soleniod valves | Automate Scientific, Berkeley, CA | 02-10i | 4 |
| Solenoid valve controller | ValveLink 8.2, Automate Scientific, Berkeley, CA | 18-Jan | 1 |
| Electronic flow meter | Honeywell | AWM3100V | 1 |
| DAQ (NI USB-6009, National Instruments) and a | National Instruments | NI USB-6009 | 1 |
| Power supply | Extech Instruments | 382200 | 1 |
| Odor chambers | | | |
| Polypropylene Wide Mouth jar 2 oz; 60 ml | Nalgene | 562118-0002 | At least 5 are required per experiment, but a separate chamber is required for each dillution of each odorant. Available at Container Store, part #635114) |
| Glass odor chamber, 0.25 oz | Sunburst Bottle | LB4B | At least 5 are required per experiment |
| "In" valve for odor chamber | Smart Products, Inc., CA, USA | 214224PB-0011S000-4074 | 1 of these parts is used per odor chamber but they need to be replaced frequently |
| "Out" valve for odor chamber | Smart Products, Inc., CA, USA | 224214PB-0011S000-4074 | 1 of these parts is used per odor chamber but they need to be replaced frequently |
| O ring | RT Dygert International, MN, USA | AS568-029 Buna-N O-R | 1 pack (100) |
| Fly arena, camera and behavior boxes | | | (Quantity needed) |
| Behavior and camera box material | Interstate plastics, CA, USA | ABS black extruded (https://www.interstateplastics.com/Abs-Black-Extruded-Sheet-ABSBE~~ST.php) | 1803 sq inch |
| Teflon for fly arena and odor chamber inserts, 3/8" thick, 12" x 12" | McMaster-Carr, IL, USA | 8545K27 | 1 |
| Glass plates, 1/8" Thick, 9" x 9" | McMaster-Carr, IL, USA | 8476K191 | 2 |
| Dual action thermoelectric controller | WAtronix Inc, CA, USA | DA12V-K-0 | 1 |
| IR LED array | Advanced Illumination, Rochester, VT, USA | AL4554-88024, PS24-TL | 2 LED arrays and one power supply |
| Air conditioner Unit | Melcor Store | MAA280T-12 | 1 |
| Imaging system | | | (Quantity needed) |
| Cosmicar/Pentax C21211TH (12.5 mm F/1.4) C-mount Lens | B AND H PHOTO AND ELECTRONICS CORP, NY, USA | PEC21211 KP | 1 |
| CCXC-12P05N Interconnect Cable | B AND H PHOTO AND ELECTRONICS CORP, NY, USA | SOCCXC12P05N | 1 |
| DC-700 Camera Adapter | B AND H PHOTO AND ELECTRONICS CORP, NY, USA | SODC700 | 1 |
| B+W 40,5 093 IR filter | B AND H PHOTO AND ELECTRONICS CORP, NY, USA | 65-072442 | 1 |
| TiFFEN 40.5 mm Circular polarizer | Amazon | | 1 |
| IR Videocamera | Industrial Vision Source, FL, USA | Sony XC-EI50 (SY-XC-E150) | 1 |
| USB video converter | The Imagingsource, NC, USA | DFG/USB2-It | 1 |
| iFlySpy2 (fly tracking software) | Julian Brown, Stanford, Calfornia: julianrbrown@gmail.com | iFlySpy2 | 1 |
| IC Capture software | The Imagingsource, NC, USA | (http://www.theimagingsource.com/) | |
| Miscellaneous | | | (Quantity needed) |
| Dremel rotary tool | Dremel, Racine, WI, USA | Dremel 8000-03 | 1 |
| Diamond-coated drill bits for glass cutting | Available from various suppliers; MSC industrial Supply Co, Melville, NY | 90606328 | 1 |